Back when I made my Aromatherapy Eye Pillows from vintage scarves, I had mentioned that my good friend, Kate DiNatale Vintage, had given me a bag of vintage scarves that she couldn't sell. As I pawed through them, I noticed that some of them reminded me of faux stained glass. So, I decided to upcycle them into suncatchers that would act as bird window decals.
*****
*****
Upcycling Vintage Scarves into Suncatchers
I dug through the bag of scarves looking for the ones that looked best when held up to the light- so the gossamer scarves were set aside for a different project, while I gathered some of the brighter, more opaque scarves.
Once I had the scarves that looked like faux stained glass gathered up, I was ready to put my upcycling idea in action.
This post contains affiliate links for your crafting convenience. As an Amazon Affiliate, I earn from qualifying purchases.
Suncatcher Craft with Scarf Fabric
In addition to my clutch of vintage scarves, I grabbed a handful of small vintage embroidery hoops (think 3"-5" sizes) from my stash.
I decided to focus on just one scarf from the bunch. Its colors and designs were just divine when held up to the sun! I set my hoops on the scarf here and there to figure out which snippets of scarf fabric would work the best for my suncatcher craft.
Then, I ran a quick iron over the scarf fabric to ease out any creases. Then, I set the inner ring under the sections I wanted to isolate and pushed the outer ring over it.
Another future faux stained glass suncatcher here…
After tightening it a bit, I tugged the scarf all around the hoop to make sure my design was centered and the fabric taut. Then, I simply trimmed off the excess as closely to the hoop as I could. Once I finished creating my suncatchers, I dabbed a bit of Fray-Stop all along the raw edge to ensure it didn't fray out of control AND stay in place- like an insurance policy.
Now they were ready to hang and serve the same purpose as bird window decals or bird window stickers: to prevent birds from hitting our windows.
Scarf Material Suncatchers that Act as Bird Window Stickers
To hang them, I simply used white thread (this fishing line would be perfect– I just didn't have any on hand at the time) and suction cups with hooks.
When all was said and done, I was mighty happy with the results of this suncatcher craft!
Don't they look fantastic (if I do say so myself)? I just LOVE the bright, whimsical colors and funky vintage design of the scarf fabric.
Plus, I don't have to worry about them shattering all over the floor if the suction cup fails. Let's not forget that a VERY curious cat lives in my house!
Here's hoping they serve the same purpose as bird window decals and prevent birds from hitting our windows.
While they DO look pretty hanging there, that is the ultimate goal, after all.
Speaking of birds, if you enjoyed this upcycling idea, then you might also be interested in my upcycled coffee cup suet feeder project, as well!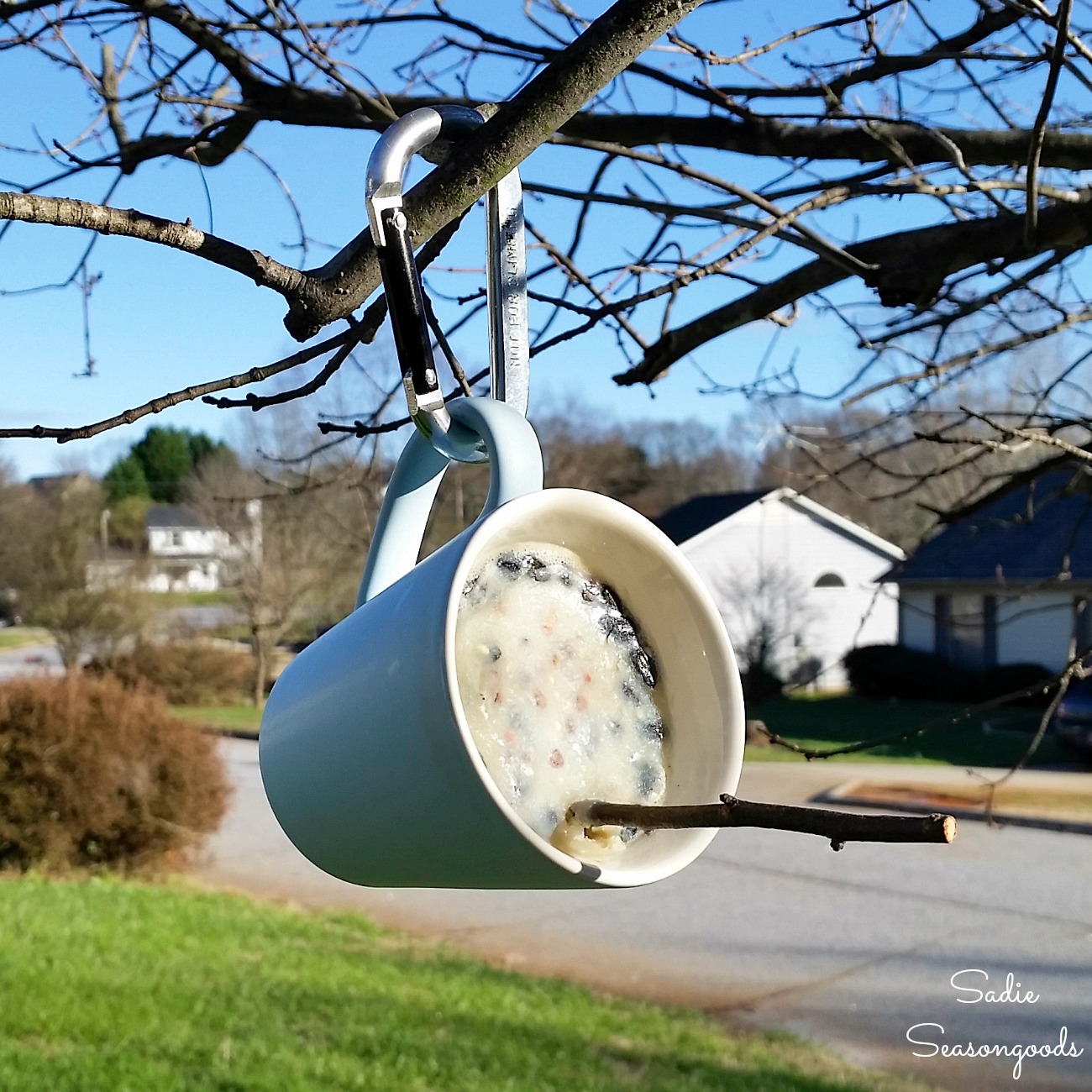 Craft on!
S
Want to be notified when I publish my next upcycling project tutorial?
Subscribe to Blog via Email
Join me on Social Media: