It's been a long time since I traveled so far from home for one of my Junkin' Journey trips. Recently, though, I had to make an emergency trip to Fort Myers, Florida (where my parents live) while my father was hospitalized. Thankfully, he's on the mend and recovering, but it was a very heavy, worrisome time (as you can likely imagine).
I stayed down there for a few weeks, mostly to care for my mother while he was in the hospital. And Mom and I fell into a comfortable routine each afternoon: she'd lay down for her daily nap and I'd recharge for a bit by thrifting. The respite was good for us both and it allowed me to visit my father; run some necessary errands; and be (somewhat) professionally productive during my extended stay.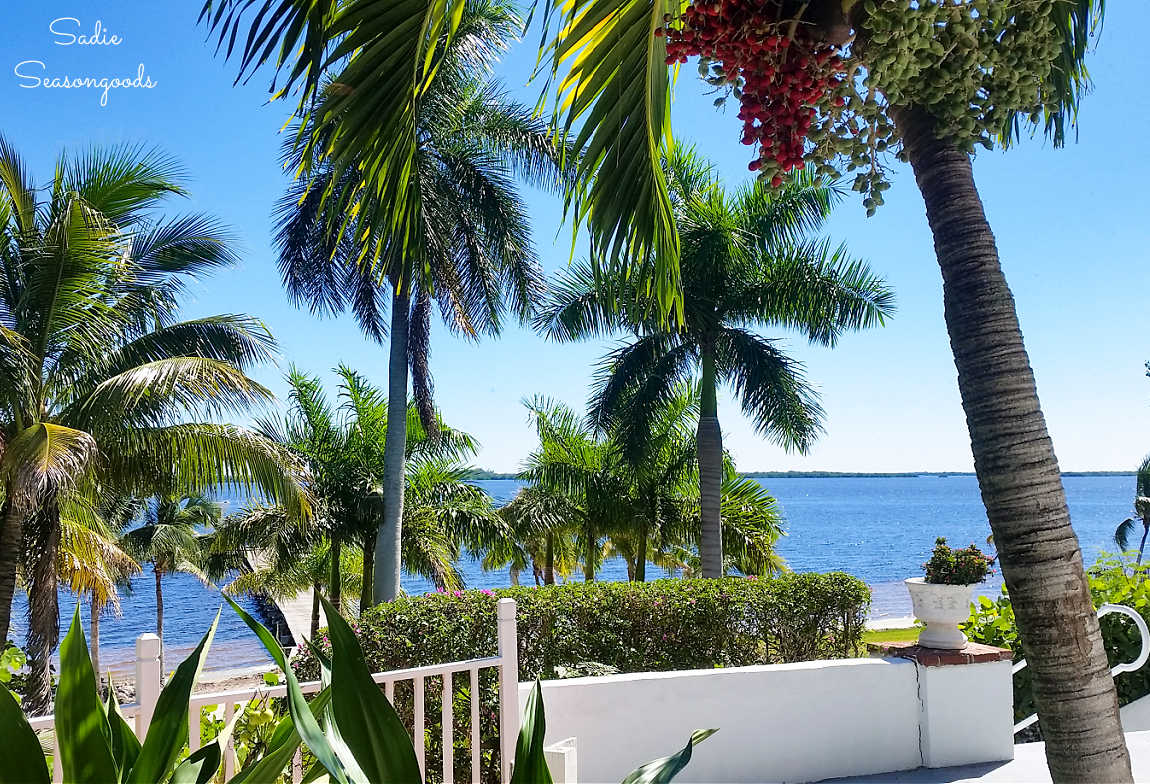 And, let's face it, there are worse places to be than southwest Florida. Fort Myers and the barrier islands around it are still recovering from Hurricane Ian, but it's still a lovely area.
Lucky for me, Fort Myers also boasts a good number of secondhand shops for me to hit- especially thrift stores! Now, admittedly, I didn't (couldn't) check out each and every store on my visit.
Geographically, I primarily stayed close to the central-south portion of town. I was uncomfortable driving up to North Fort Myers, out to Cape Coral, or down south towards Estero- in case either parent needed me.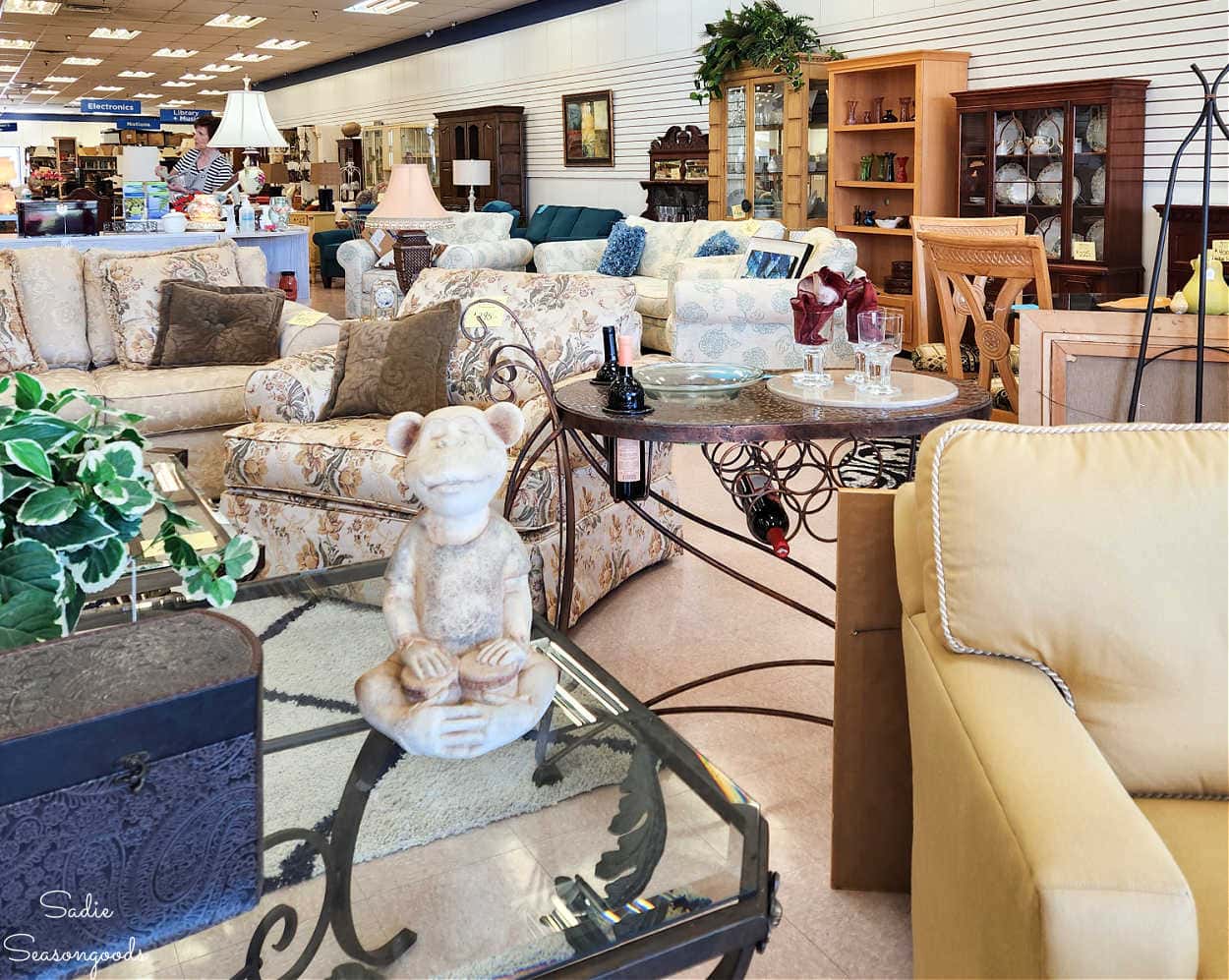 But I was still able to check out a good number of shops and wanted to share my favorites with you! Ready to tag along with me on my thrifting adventure?
Antique and Thrift Stores in Fort Myers
It should come as no surprise that I made a beeline to this mid-century modern showroom in Fort Myers! In fact, I make an effort to visit this store every time I visit my parents, which is usually under healthier circumstances.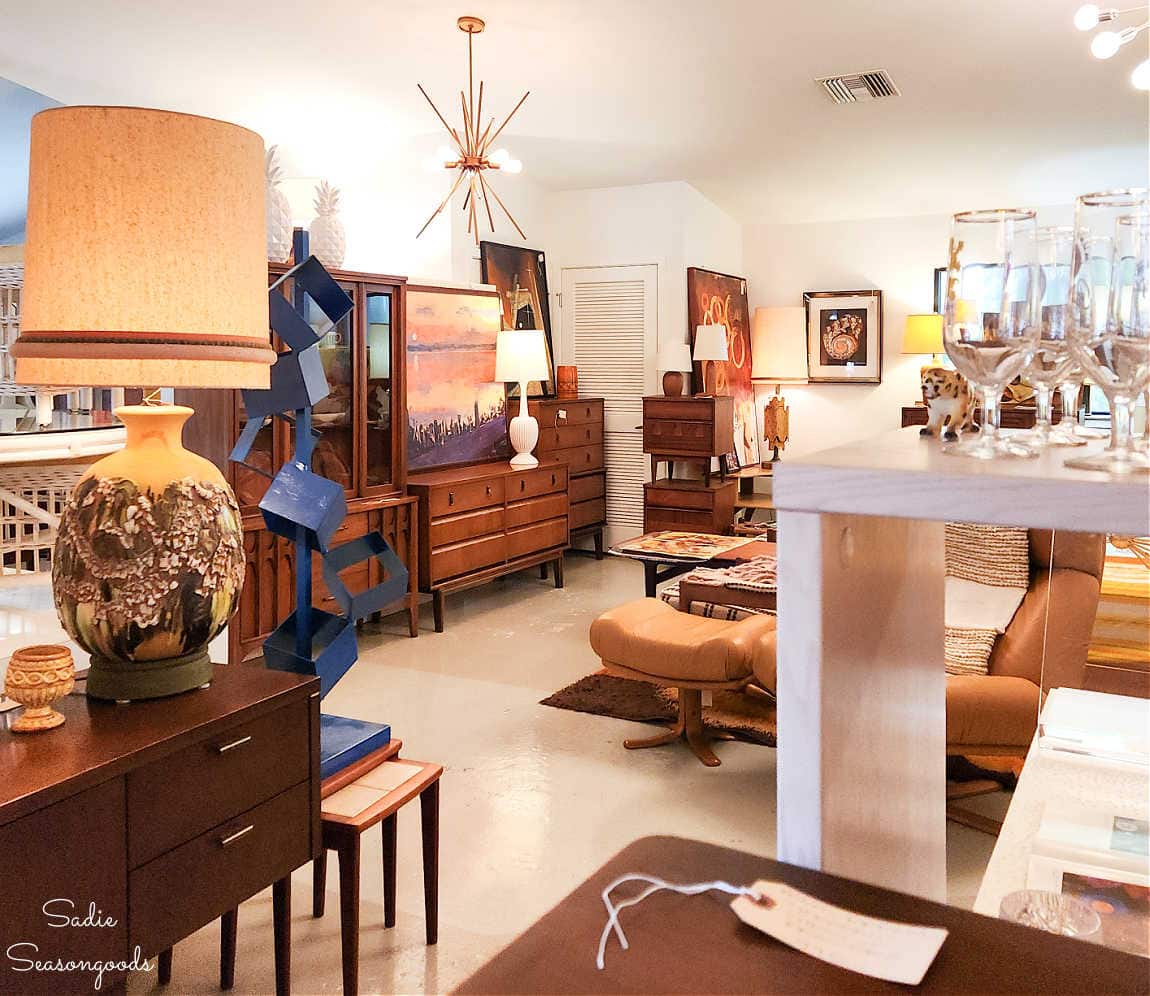 Tucked away off of U.S. 41, Retro Home is a hotspot for all things mid century and atomic era. They keep an enormous amount of authentic inventory in a not-that-big space, and everything is in glorious condition. If you're a fan of furnishings from this time period and find yourself in southwest Florida, you won't want to miss an opportunity to visit Retro Home.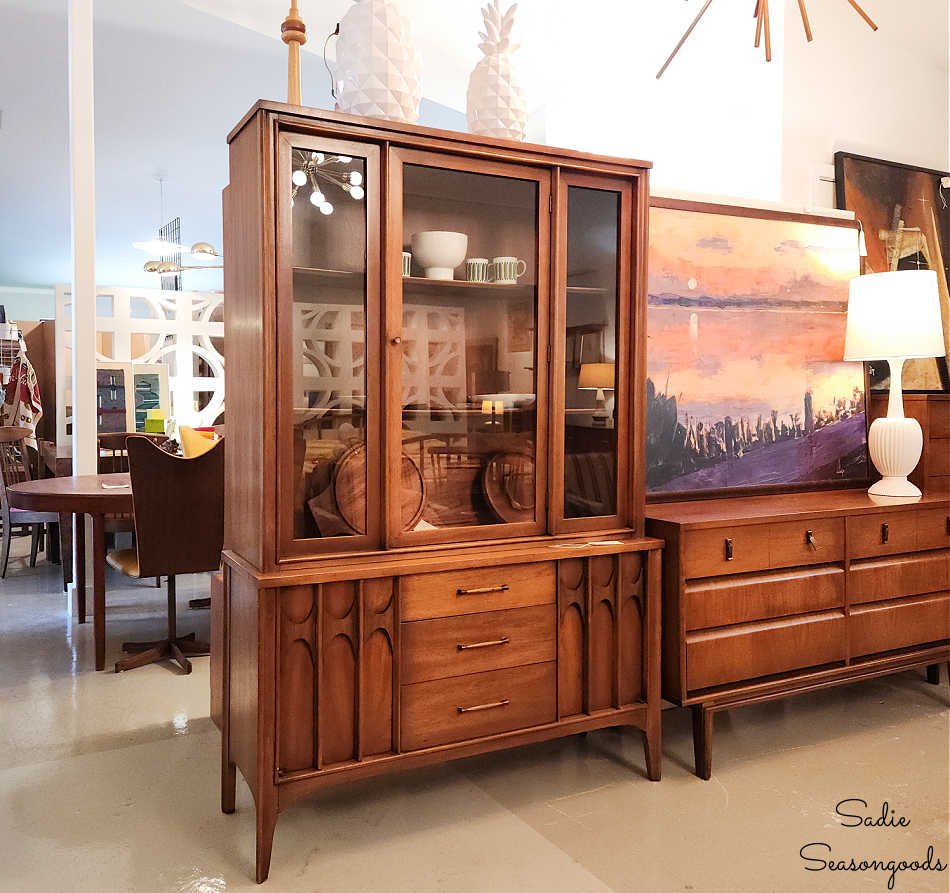 This thrift store was brand new to me! I've been to several of the Fort Myers thrift stores before, but somehow never Paws Crossed. But boy am I glad to have discovered it!
By now you know how much I love thrift stores that benefit an animal welfare charity!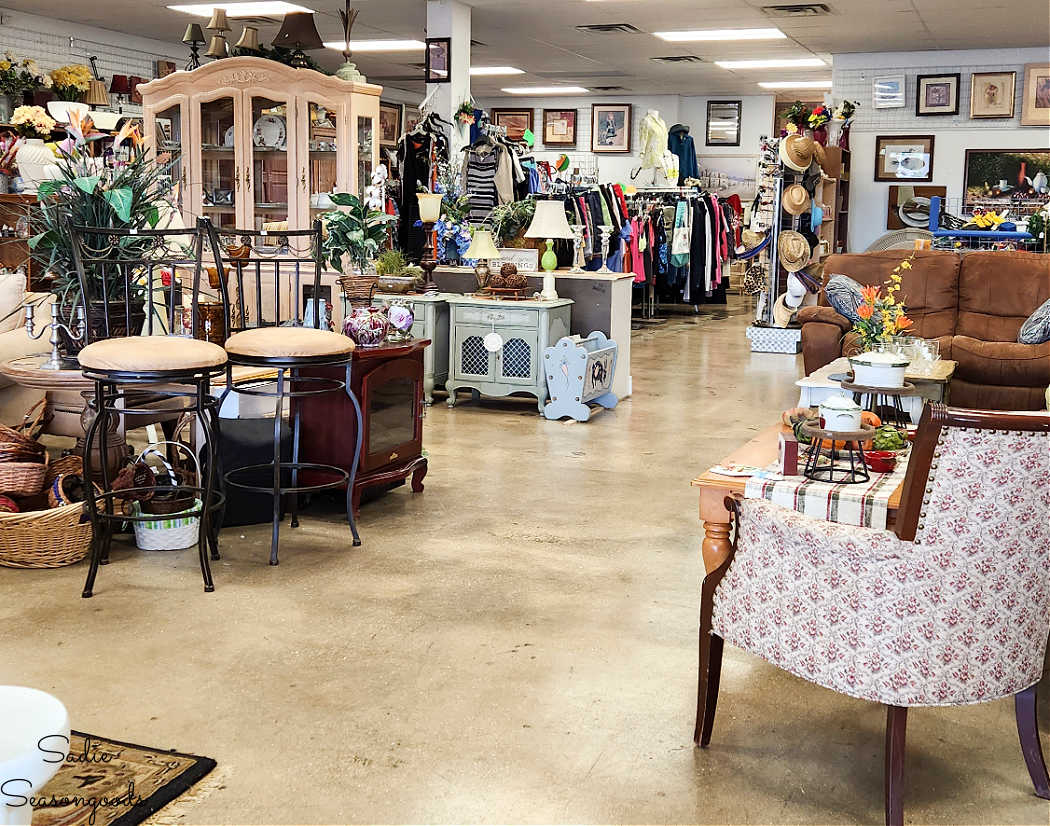 Heavily leaning towards home decor and furnishings, Paws Crossed was an absolute delight to visit. I found houseware items that will become future projects down the road. And they also had quite a few vintage treasures that caught my eye, as well. Plus, they were reasonably priced- always a bonus.
I'll definitely be visiting Paws Crossed again, whenever I'm back in the Fort Myers area for a visit.
Hope Chest is one of my absolute favorite thrift stores in the area! They actually have three shops in Lee County, but I always visit the South Fort Myers shop.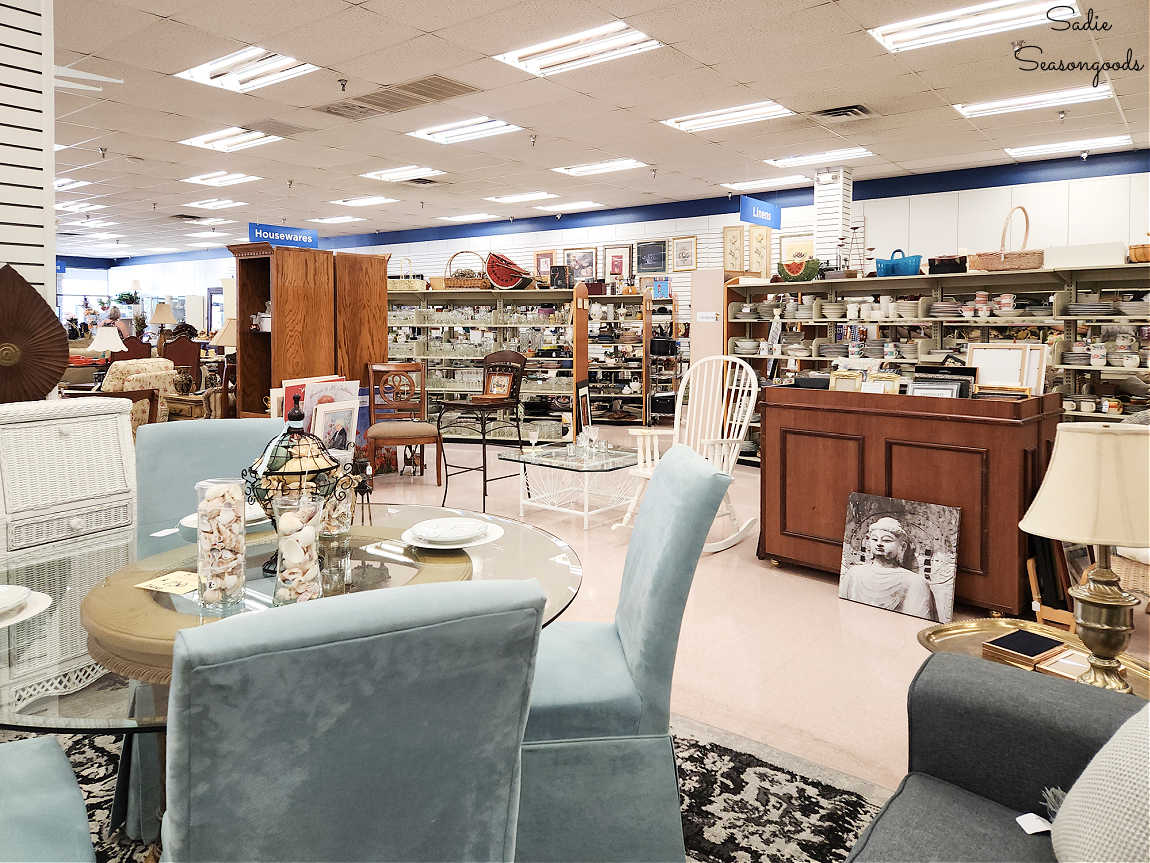 It's brightly lit and large- ironically not something you often find both of at a thrift store! And it has some of the best used furniture and furnishings in all of Fort Myers, if you ask me. Furniture from all eras, though mostly from the 80s through early 2000s, if I had to guess.
Plus, they have oodles of housewares and other "smalls" that are always a bonus for an upcycler like me. I actually talked to a woman who was helping her son outfit his first apartment. And nearly everything they were buying came from Hope Chest Resale!
So, if you're a thrifting aficionado in this part of Fort Myers, I highly, HIGHLY recommend this particular shop.
In between thrift stores, I did hit some more dedicated antiques shops! And Pickin' Boots was an absolute delight for a vintage lover such as myself.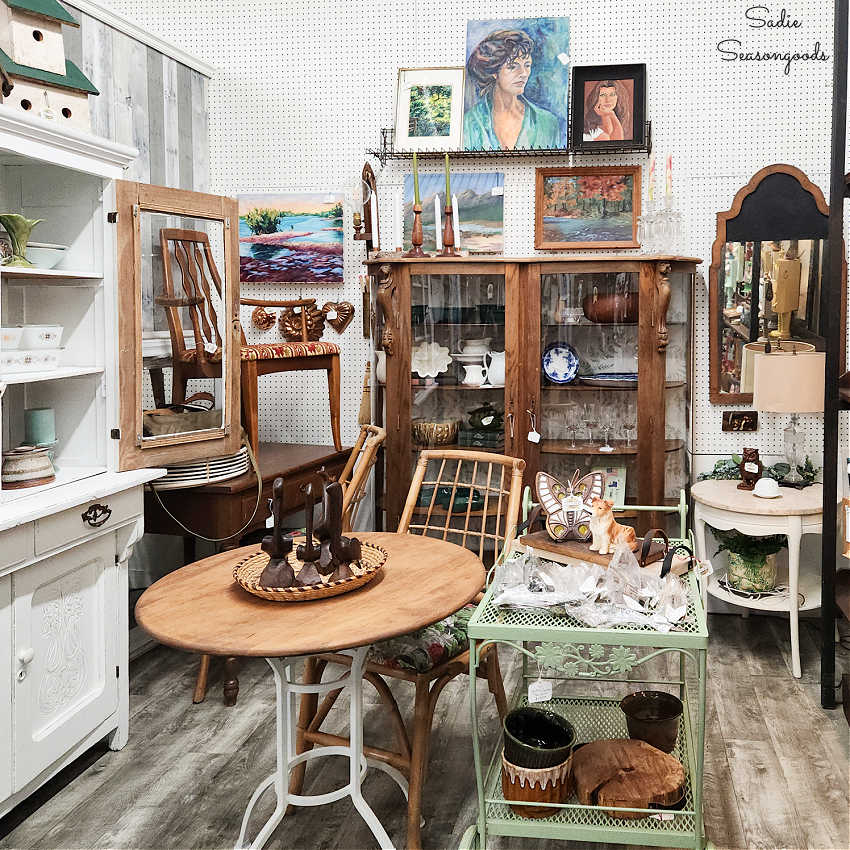 Not too big but not too small, Pickin' Boots offered all sorts of vintage treasures. Various eras and styles were represented, and there is also a huge furniture painting aspect to the shop, as well. There was a vast array of painting supplies, stencils, and transfers for sale at Pickin' Boots Vintage Market.
Such a cute shop for a vintage lover!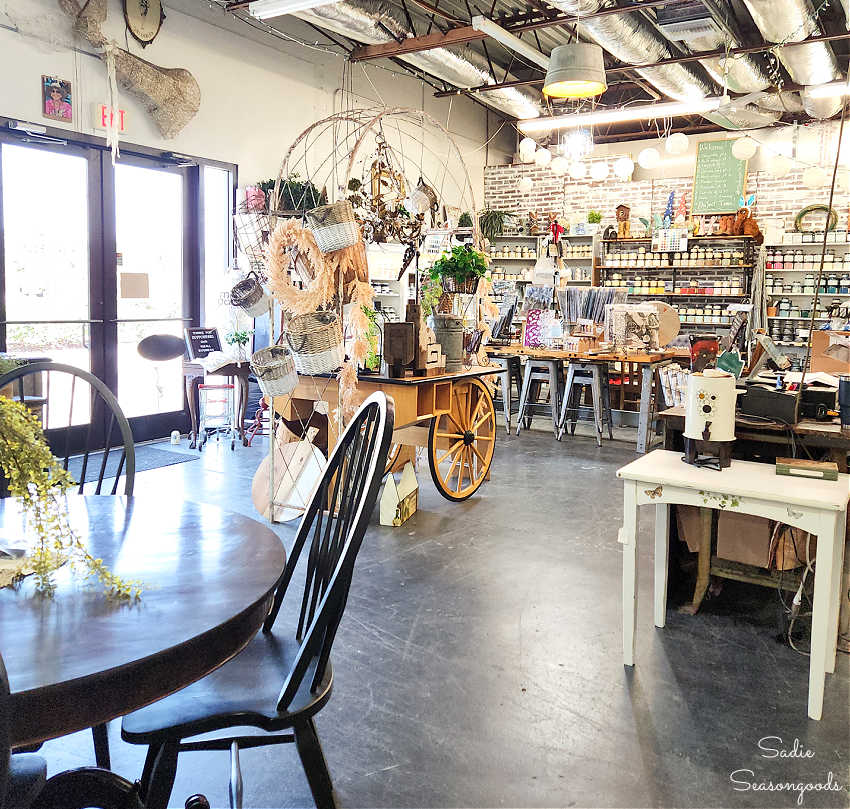 St. Matthew's House Thrift Store
This shop was another new-to-me thrift store during my visit. Turns out there are several of these thrift stores, but I happened to visit the one on Metro Parkway. And WOW, was I impressed!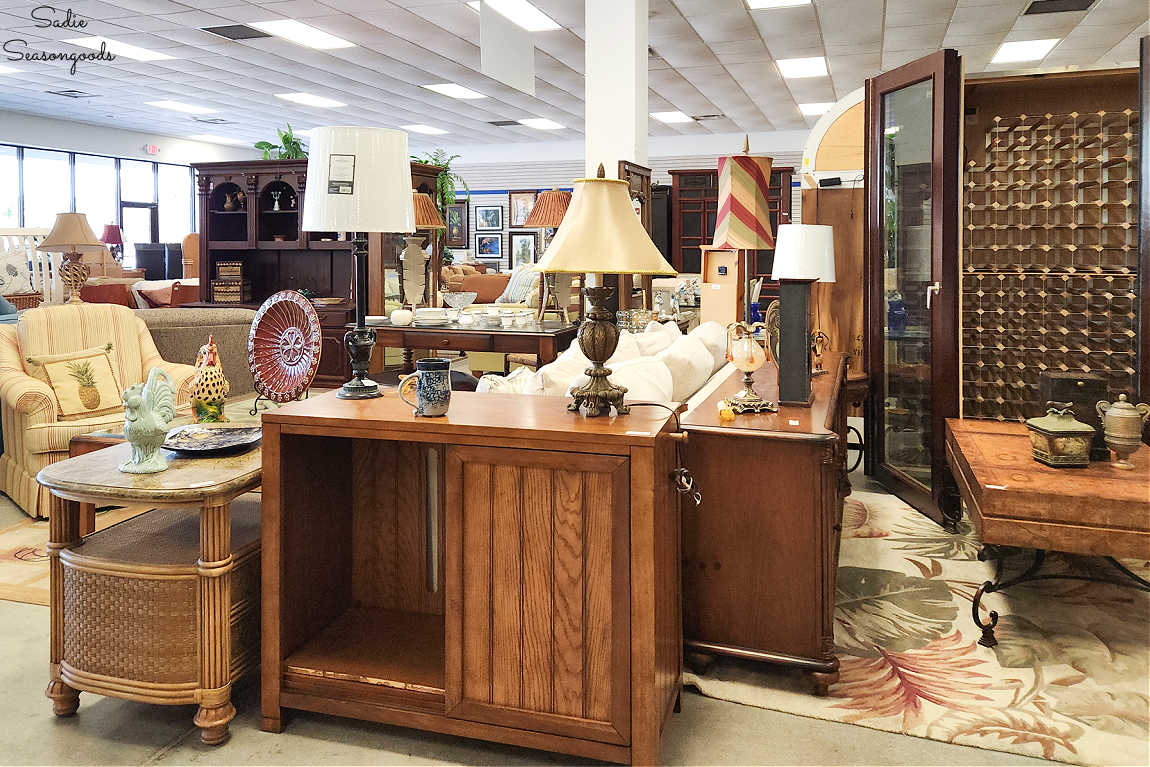 St. Matthew's House had an AMAZING selection of furniture- like, truly an impressive selection. Walking through the maze of pieces was a feast for the eyes for anyone who enjoys decorating. I highly recommend this thrift shop (at least this location!) if you're in need of secondhand furnishings for your home.
Have You Gone Junking in Fort Myers?
As I mentioned earlier, I wasn't in a position to visit every possible shop in Fort Myers- so I definitely missed a few. One of my long time favorite antiques stores in Fort Myers is Swap Shop Antiques, near Fort Myers Beach. It's a whimsical store filled with all kinds of antiques and a LOT of marine or nautical salvage, as well.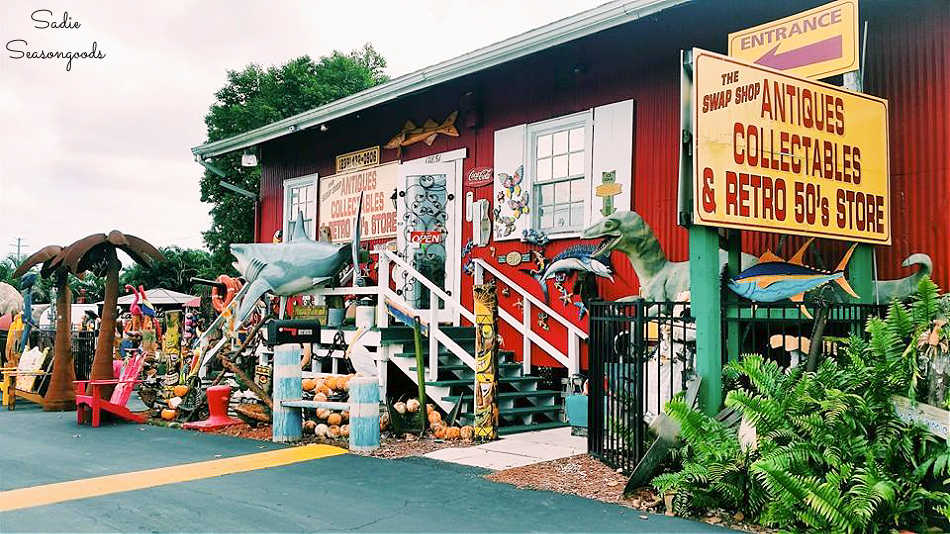 Some of the other shops I visited included TeenChallenge Super Thrift (LOTS of vintage furniture); Eyeing the Past (traditional antique mall); and the St. John XXIII Thrift Store. When my mom was still driving, she'd visit the latter store fairly frequently and affectionately referred to it as "The Pope Shop".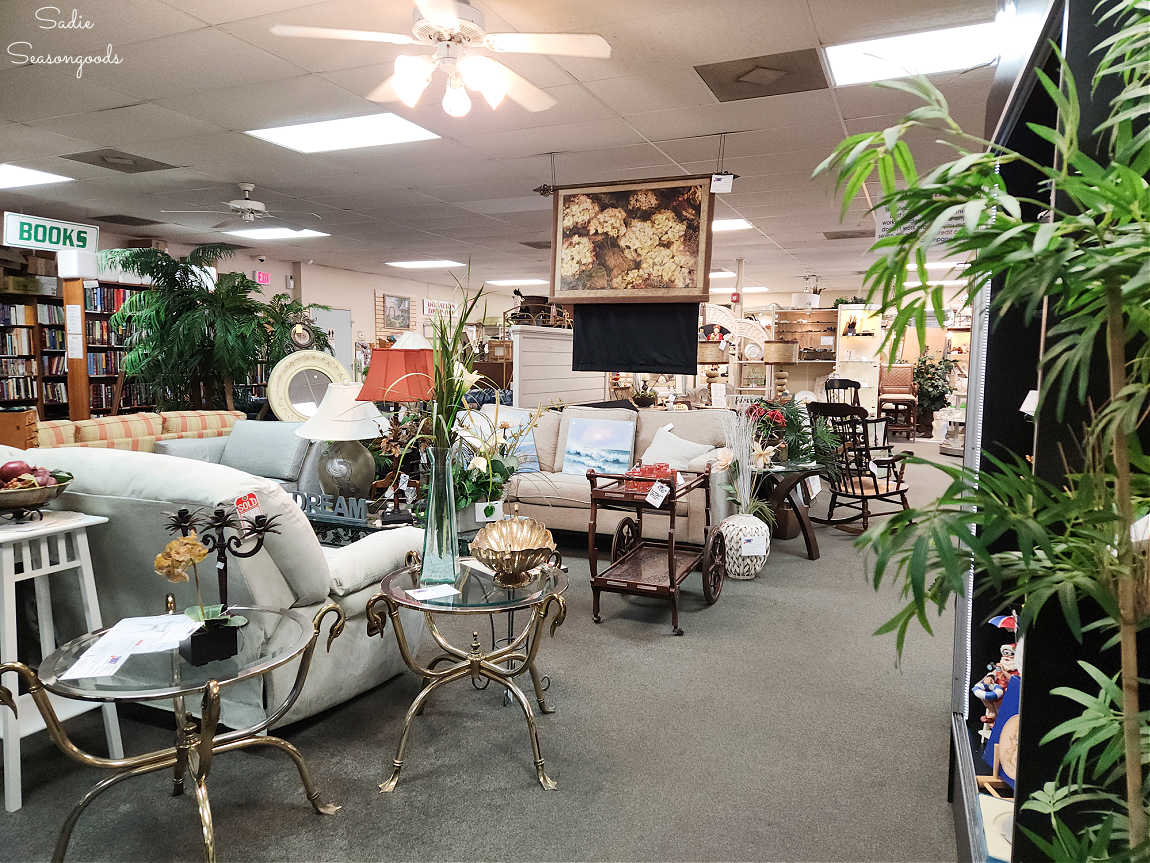 Ironically, I found treasures at both the Super Thrift and Pope Shop! So, if you have the time while visiting Southwest Florida, you may also want to add these to your thrifting list.
As you know, stores open and close all the time- and these were my favorite secondhand shops that I found in Fort Myers, FL at the time of my trip. However, it's always possible that I missed places that deserve a mention.
So, if you have suggestions for future trips to the area, please let me know! I will, as you can imagine, be back in Fort Myers again and again.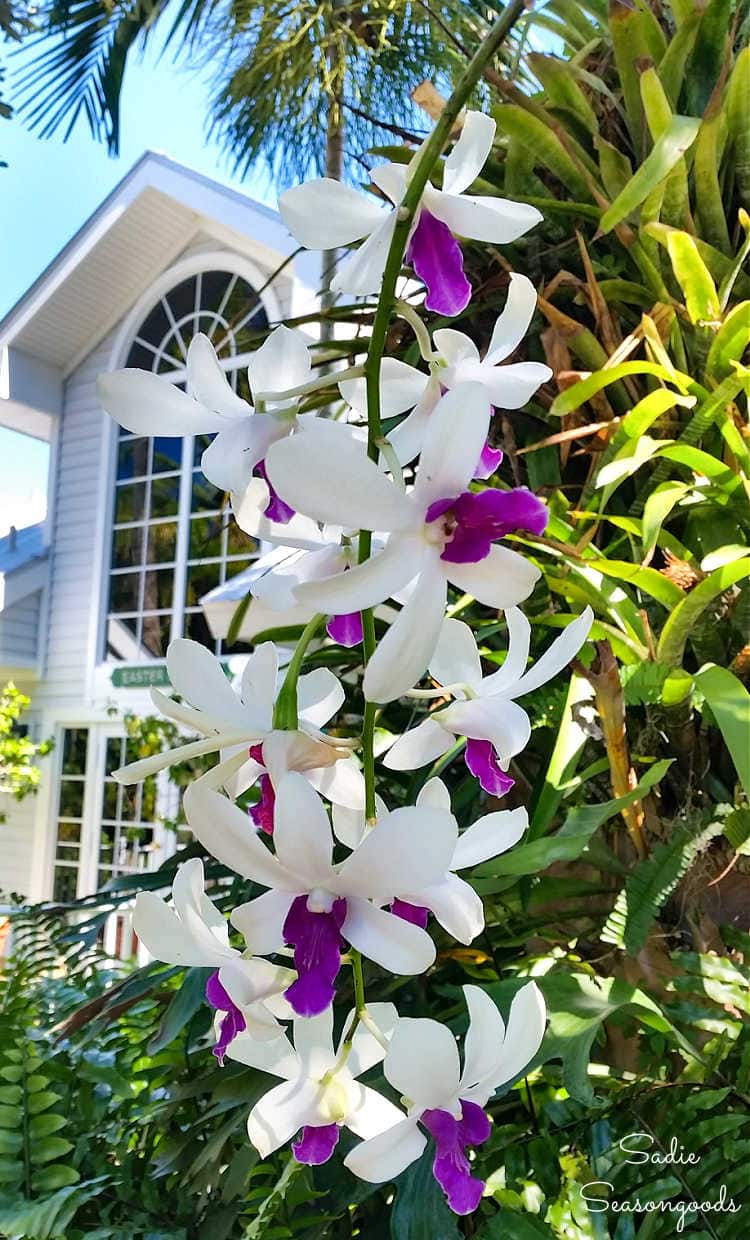 I hope you enjoyed my latest Junkin' Journey and here's hoping I hit the road more often in this year. And before I go, I wanted to give a special shout-out and virtual hug to my friend, Beth, from the craft blog "Creatively Beth". She's a Fort Myers-based blogger who was a balm for my soul during the stressful visit and a good bloggy galpal of mine.
Craft on!
S
Want to be notified when I publish my next upcycling project tutorial?
Subscribe to Blog via Email
Join me on Social Media:
PIN ME!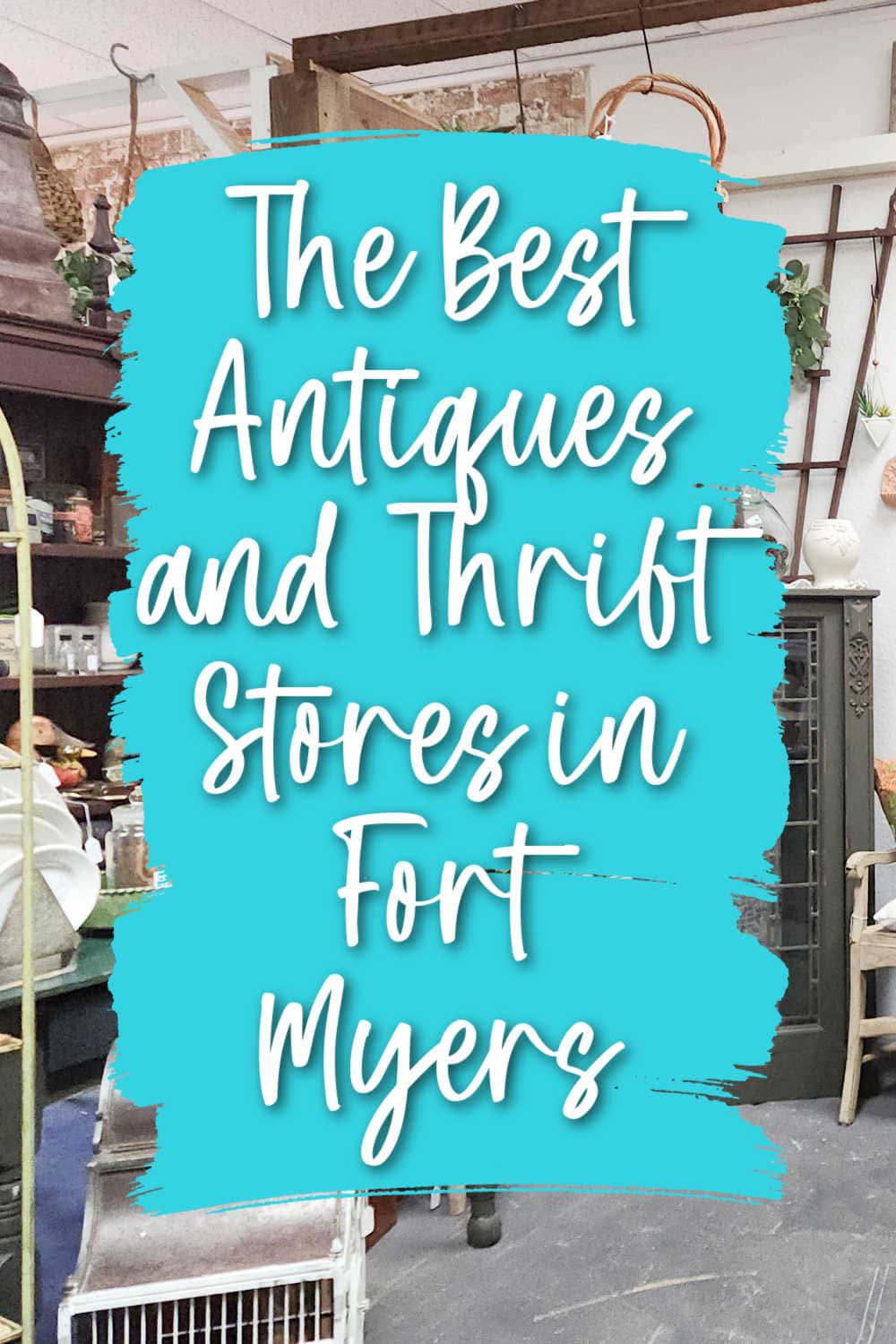 Sarah Ramberg is the owner of Sadie Seasongoods, a website that celebrates all things secondhand. From upcycling ideas and thrifted decor to vintage-centric travel itineraries, Sadie Seasongoods is a one-stop shop for anyone who loves thrifting and approachable repurposing ideas. Sarah is also the author of "Crafting with Flannel" and has been featured in numerous media outlets and magazines.