There are lots of junkin' day trip options from where I live in Charlotte, NC. And one of them is Winston-Salem, which you're likely familiar with for one thing or another. Maybe it's the tobacco history (weren't there both Winston and Salem cigarettes?) or being the home of Wake Forest University. But for me? Well, it's another collection of antiques and thrift stores for me to check out!
There is a LOT of history here, more than I even knew about. Someday, I hope to return not for junking and thrifting, but to explore the Old Salem area. But until then, I'm ok with just focusing on secondhand stores that I found there!
And a few other vintage-y things, like this old Shell Oil clamshell gas station, which is the last one remaining in the United States. Isn't it just darling?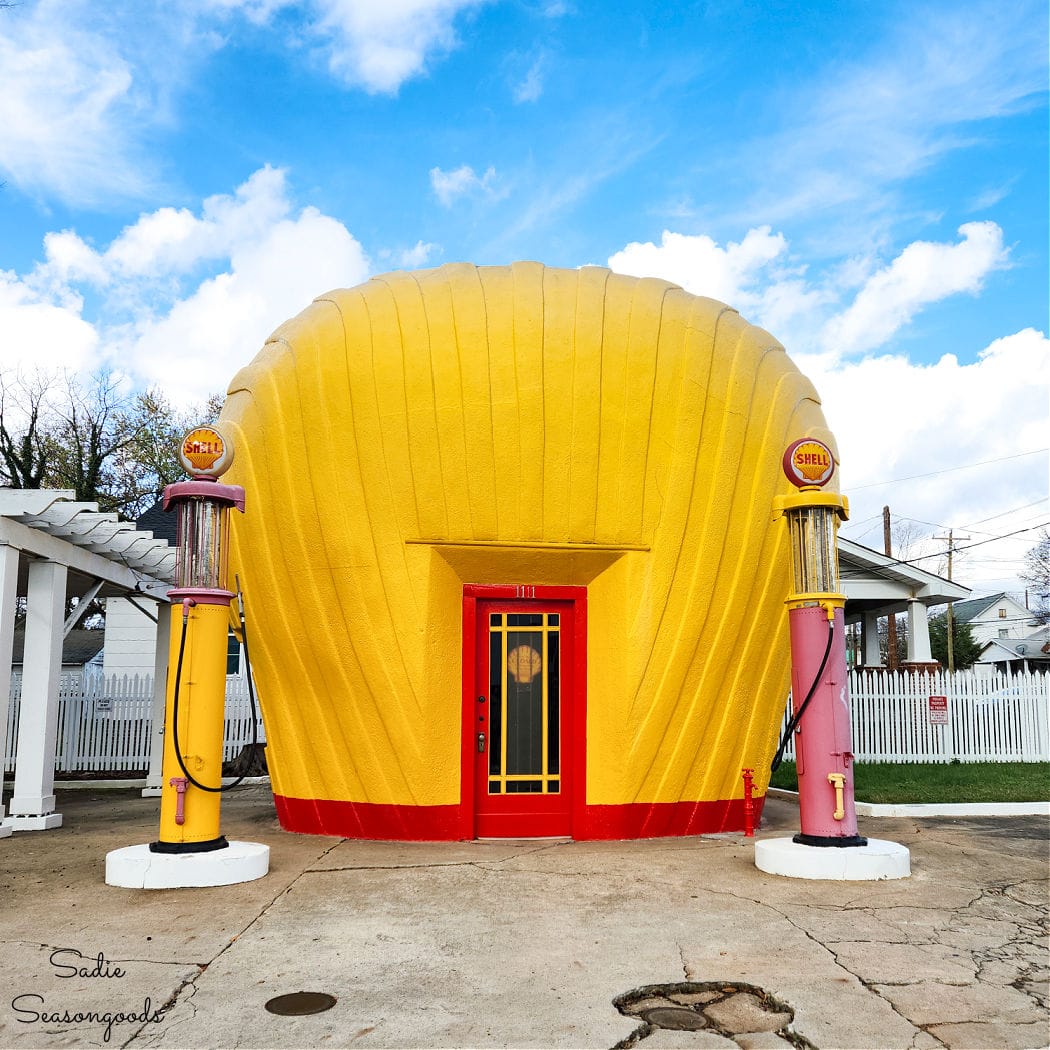 I don't do nearly as many of these travel posts as I used to. But it always feels so good to hit the road again and find new shops to share with you! And maybe next year, I'll go further away for a change of pace, who knows.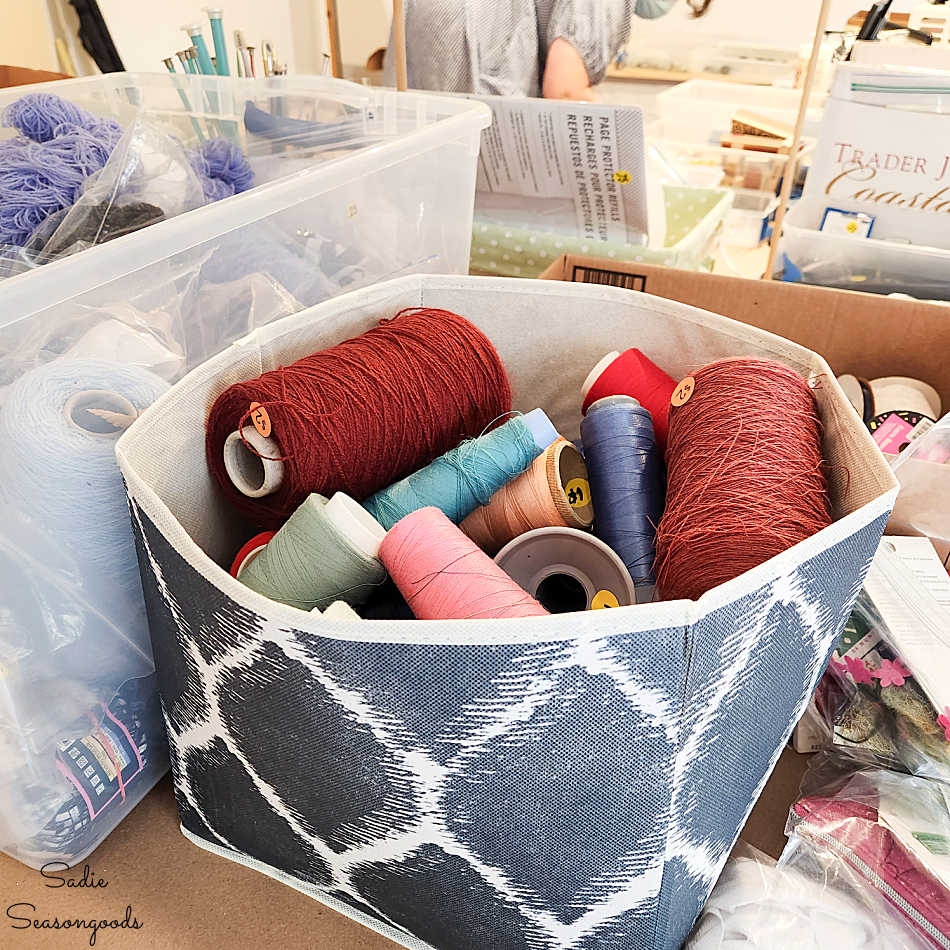 But until then, please allow me to introduce you to the antiques and thrift stores in Winston-Salem, NC that I fancy the most. And if you know the secondhand scene in this particular area and have other recommendations for me, I am definitely all ears!
Antiques and Thrift Stores in Winston-Salem
Collage was one of those stores where I wasn't sure to expect before we got there. I could tell that it had a great vintage vibe and was quite curious about what it would be like inside.
And I was not disappointed in the least!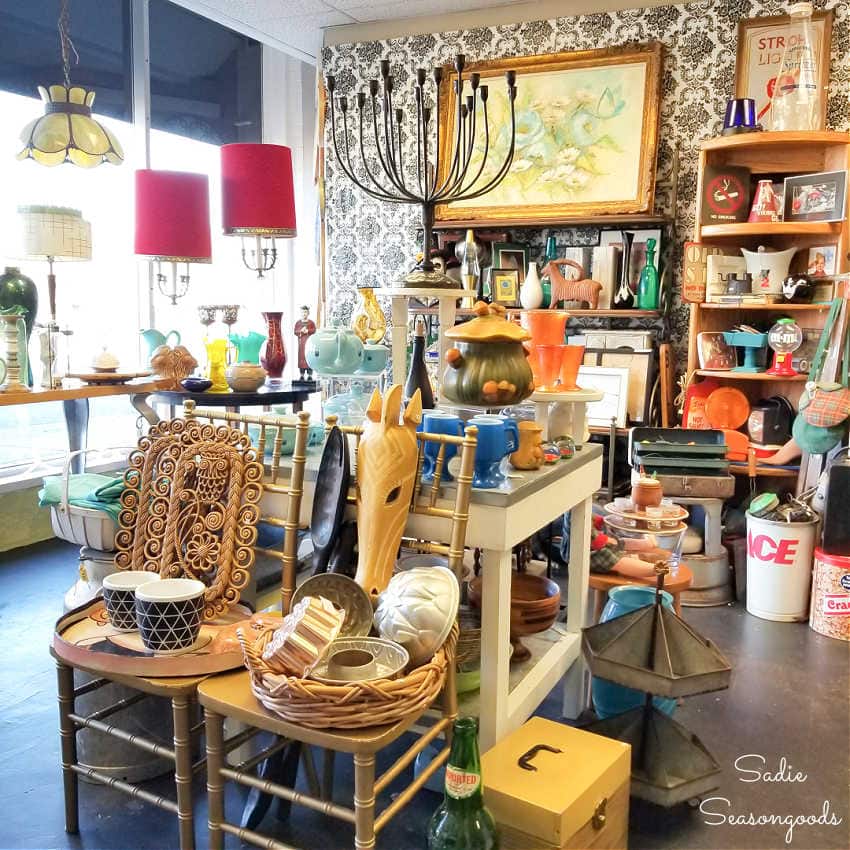 It was CHOCK FULL of great vintage and kitsch decor! Definitely the kind of store you have to wander a few times over, in different directions, in order to see everything. There was great stuff to see everywhere I looked, and I'm sure I missed treasures as I puttered around.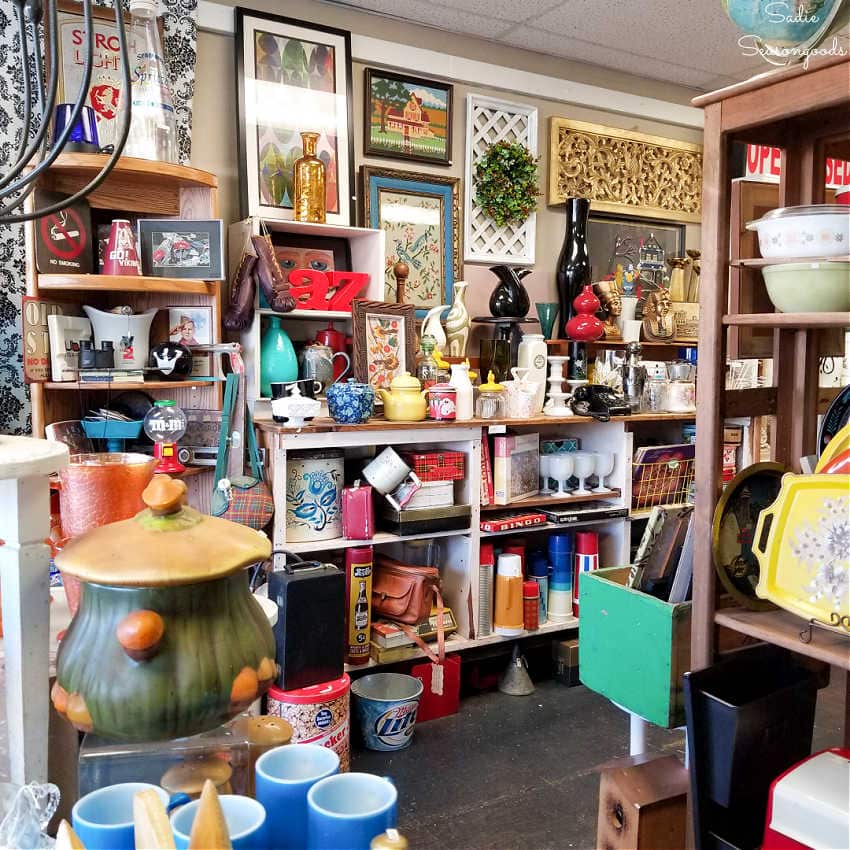 Since we're transitioning to mid century modern decor in our own home, you *know* I'm going to seek out those kind of shops in our travels. Heck, I might even create a trip around a single MCM store! So, of course we had to check out JD Salvager while we were visiting Winston-Salem.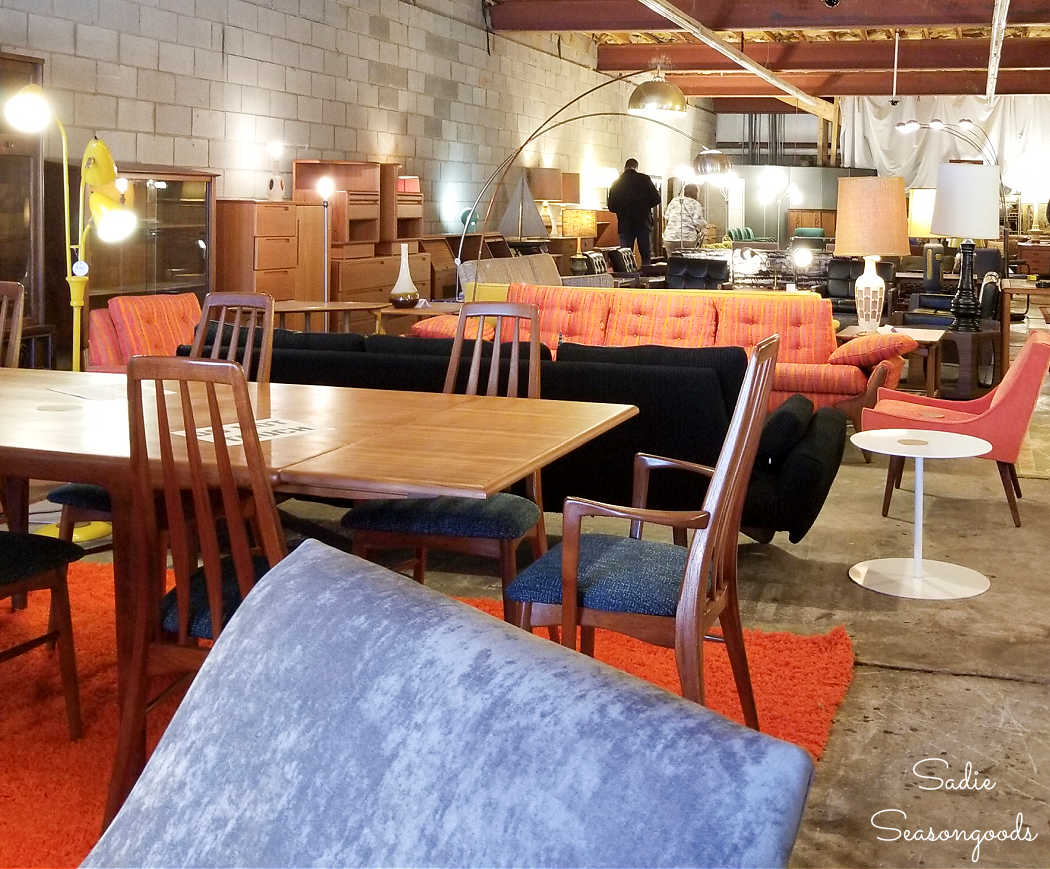 And boy, oh boy, did they have gorgeous stuff! Everything they had was in gorgeous shape, likely restored by the store owner. And while we left empty-handed, we swooned a great deal and agreed we'd need to come back many times as we shop for our home.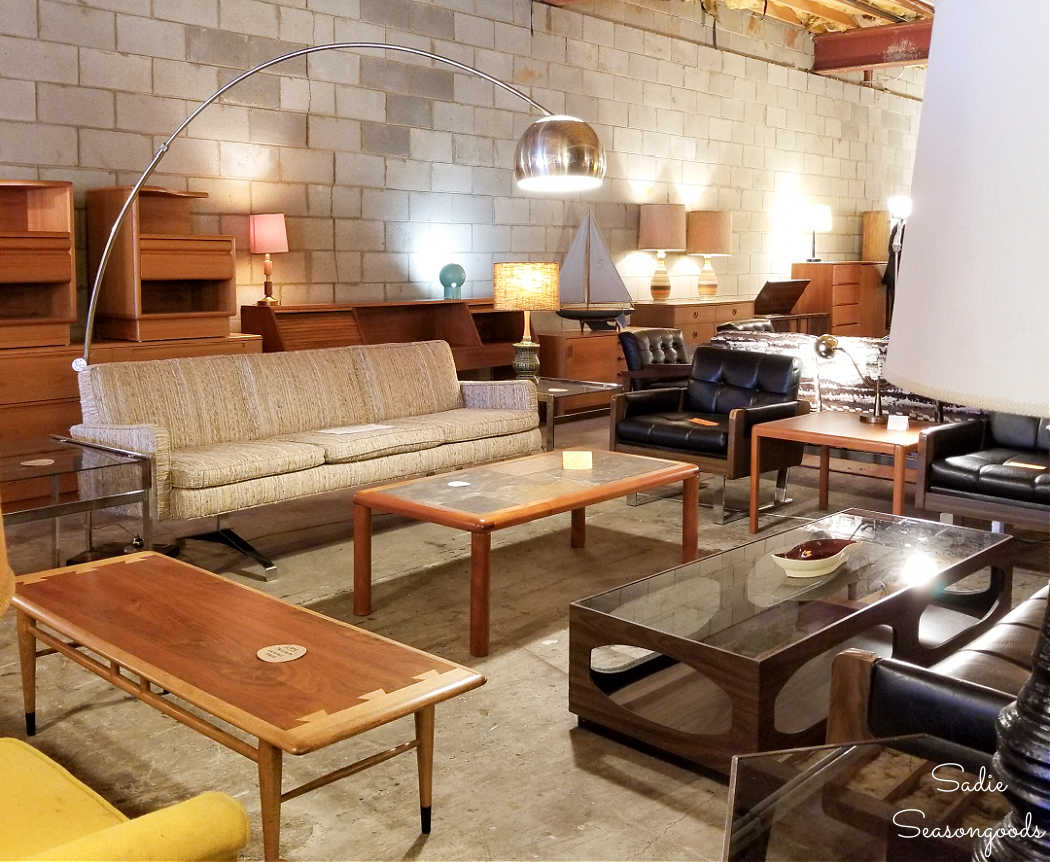 If you're interested in seeing their latest furniture inventory, their Instagram page is the best bet.
I'm sure there are national-chain thrift stores in Winston-Salem (such as Goodwill or Habitat ReStore), but I always prefer checking out the local thrifts when I travel. And the biggest one I visited in Winston was the Rescue Mission Thrift.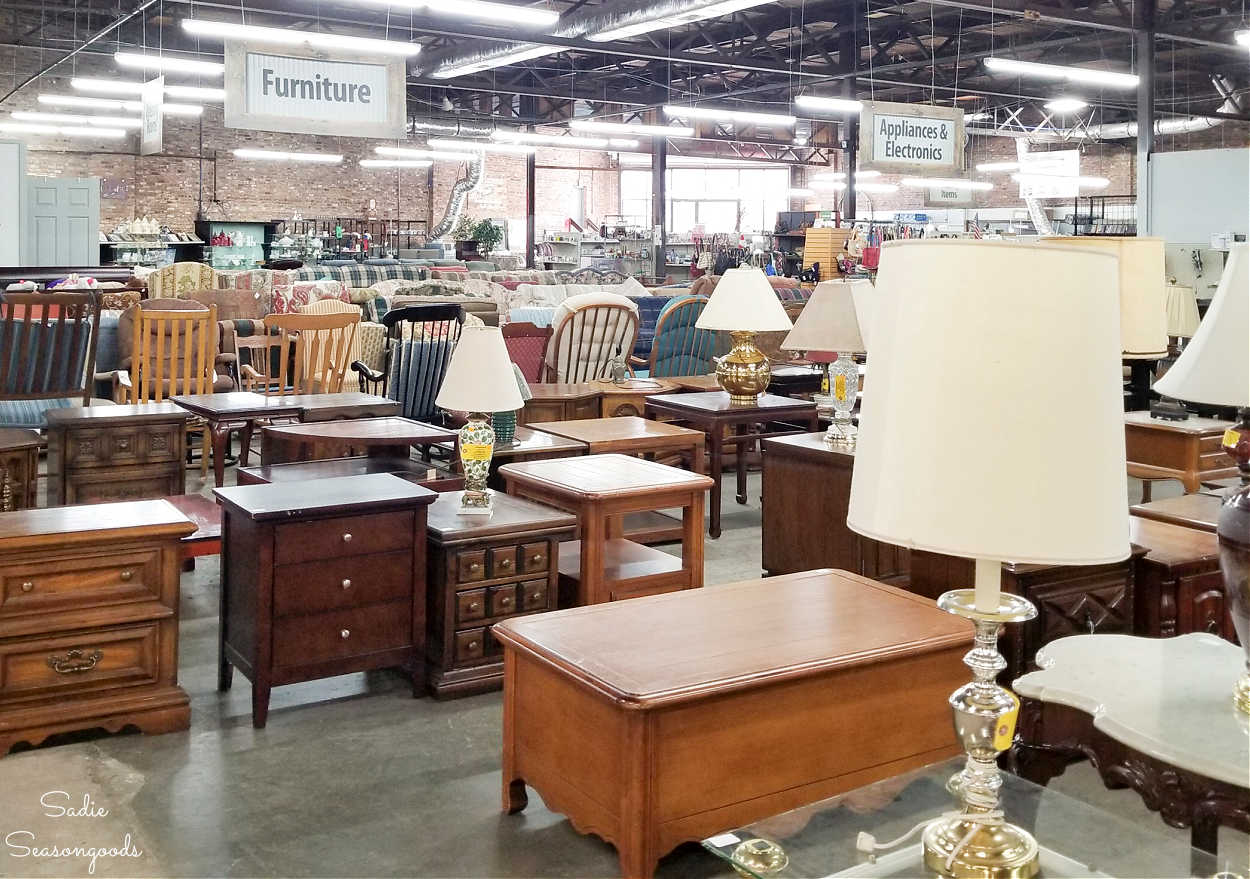 This thrift store was GIGANTIC and nearly empty (of shoppers) when we visited, believe it or not. And they had one of the largest selections of used furniture that I had ever seen. I couldn't help but think how lucky those Wake Forest students were having this in their backyard!
They had clothing and housewares, as well, but it was the quantity of furniture that truly blew me away.
Design Archives Emporium, located right in the heart of downtown Winston, is a most whimsical store with a boho-vintage vibe. It's equal parts vintage clothing, retro decor, and boho gift store wrapped up in one.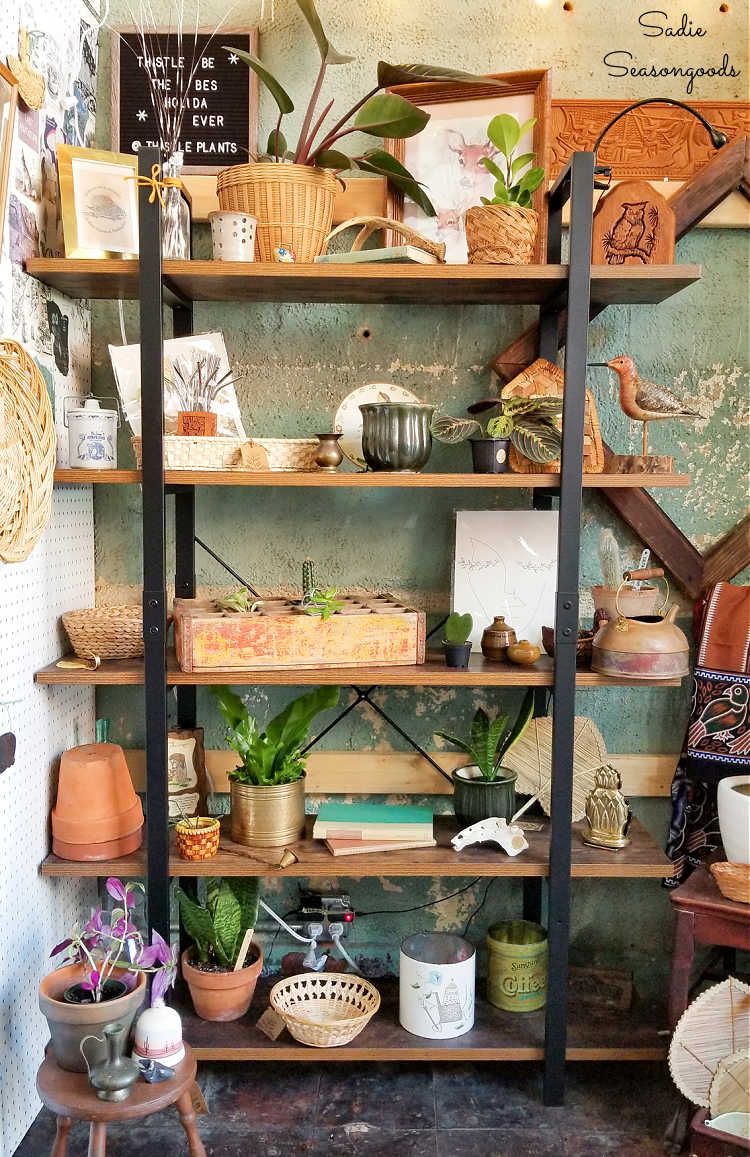 My husband and I both enjoyed strolling through this shop and we loved the funky mix of secondhand goods with cheeky artisan gifts. AND, turns out there's one in Greensboro, NC, too, which I'll definitely check out next time I'm in town.
Last but certainly not least was a very unique shop called LoLo. Located in a non-descript warehouse, LoLo is a secondhand shop full of all sorts of interesting and offbeat treasures.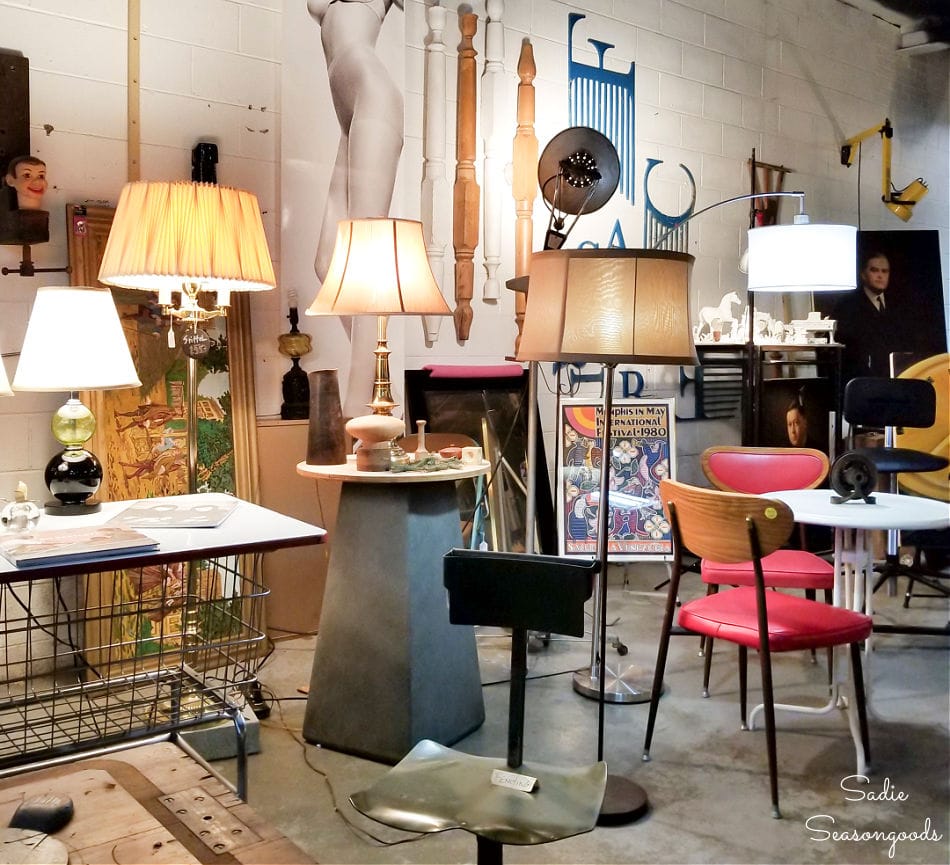 Some of it is vintage, some of it is already repurposed or upcycled, and all of it is unique and one-of-a-kind. It was almost exclusively stocked with furniture and furnishings (little to no clothing), so definitely my kind of place.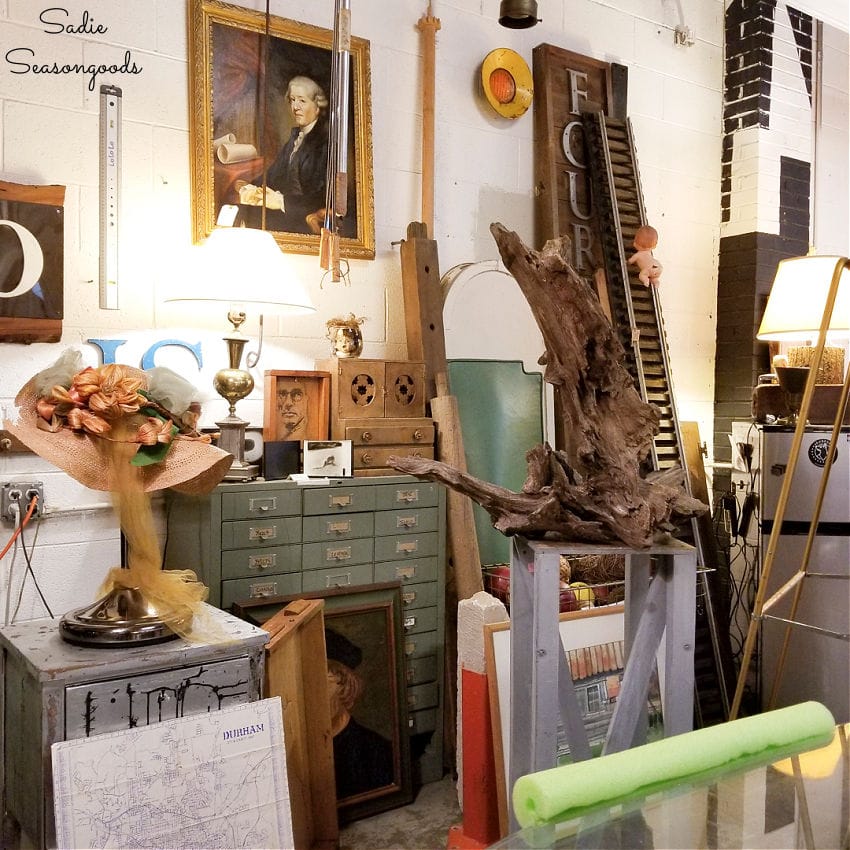 Have you gone junkin' in Winston-Salem?
Now, I did visit a few other stores while I was in town. I checked out a Mega Thrift (how could I not with that name?) and the Union Cross Thrift Store. While neither one was my favorite (though Mega Thrift had a HUGE clothing selection, if that's your jam), they certainly may be worth a visit for you.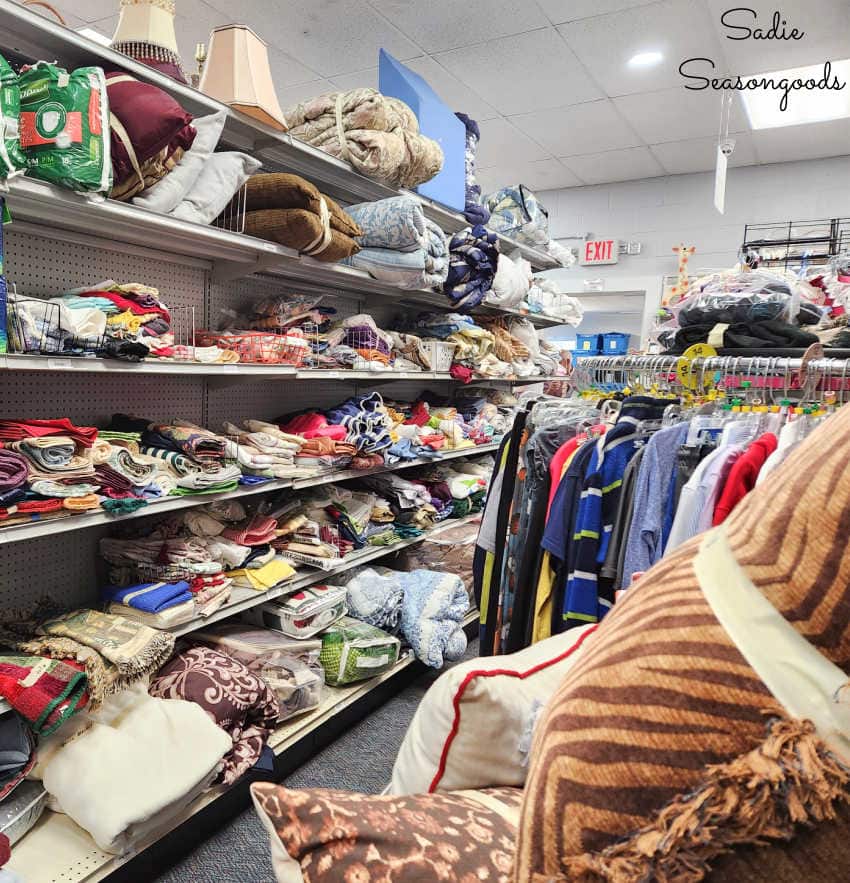 One of the exciting discoveries I made during our visit to Winston was the emerging Creative Reuse scene thanks to The Art Shac. I'm a big fan of Creative Reuse Centers and sniff them out whenever I can. And while The Art Shac doesn't have a retail store set up yet, I lucked into a pop-up shop that they were hosting at the local Art College!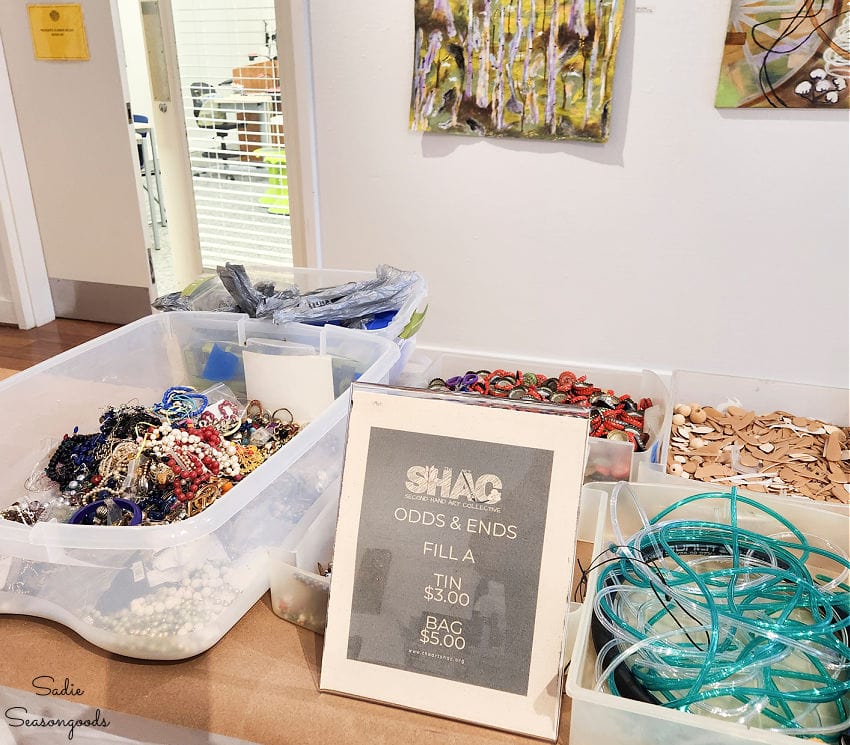 As you know, stores open and close all the time- and these were my favorite secondhand shops that I found in Winston-Salem, NC at the time of our trip. However, it's always possible that I missed places that deserve a mention.
So, if you have suggestions for future trips to the area, please let me know!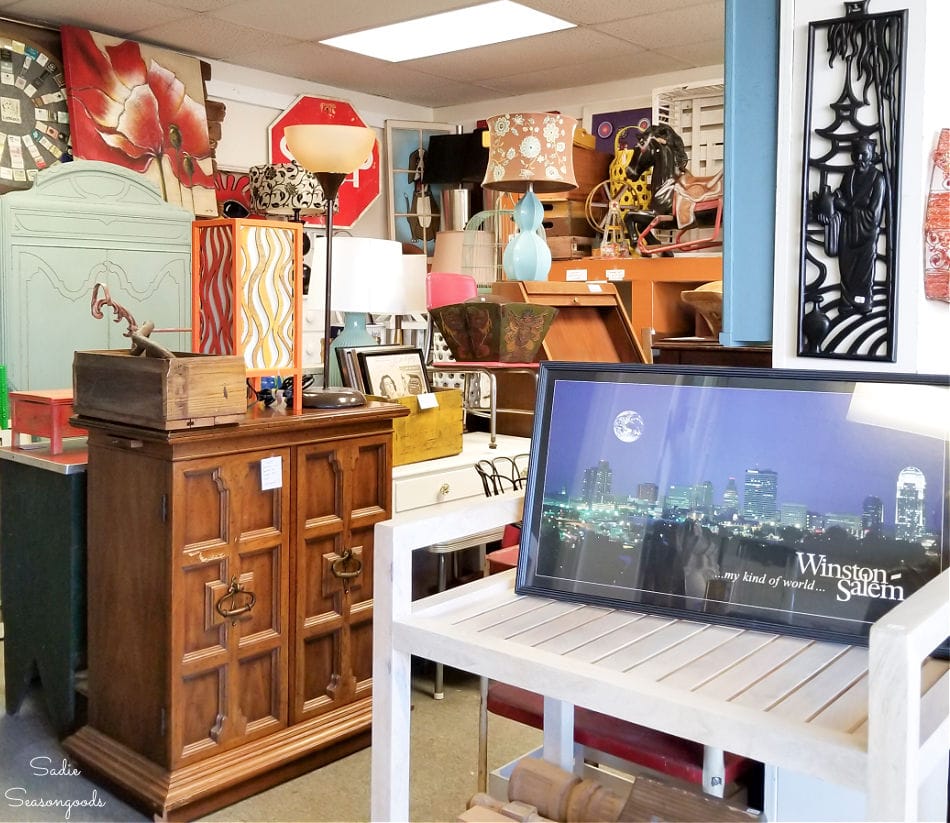 I hope you enjoyed my latest Junkin' Journey and here's hoping I hit the road more often in the coming year!
Craft on!
S
Want to be notified when I publish my next upcycling project tutorial?
Subscribe to Blog via Email
Join me on Social Media:

PIN ME!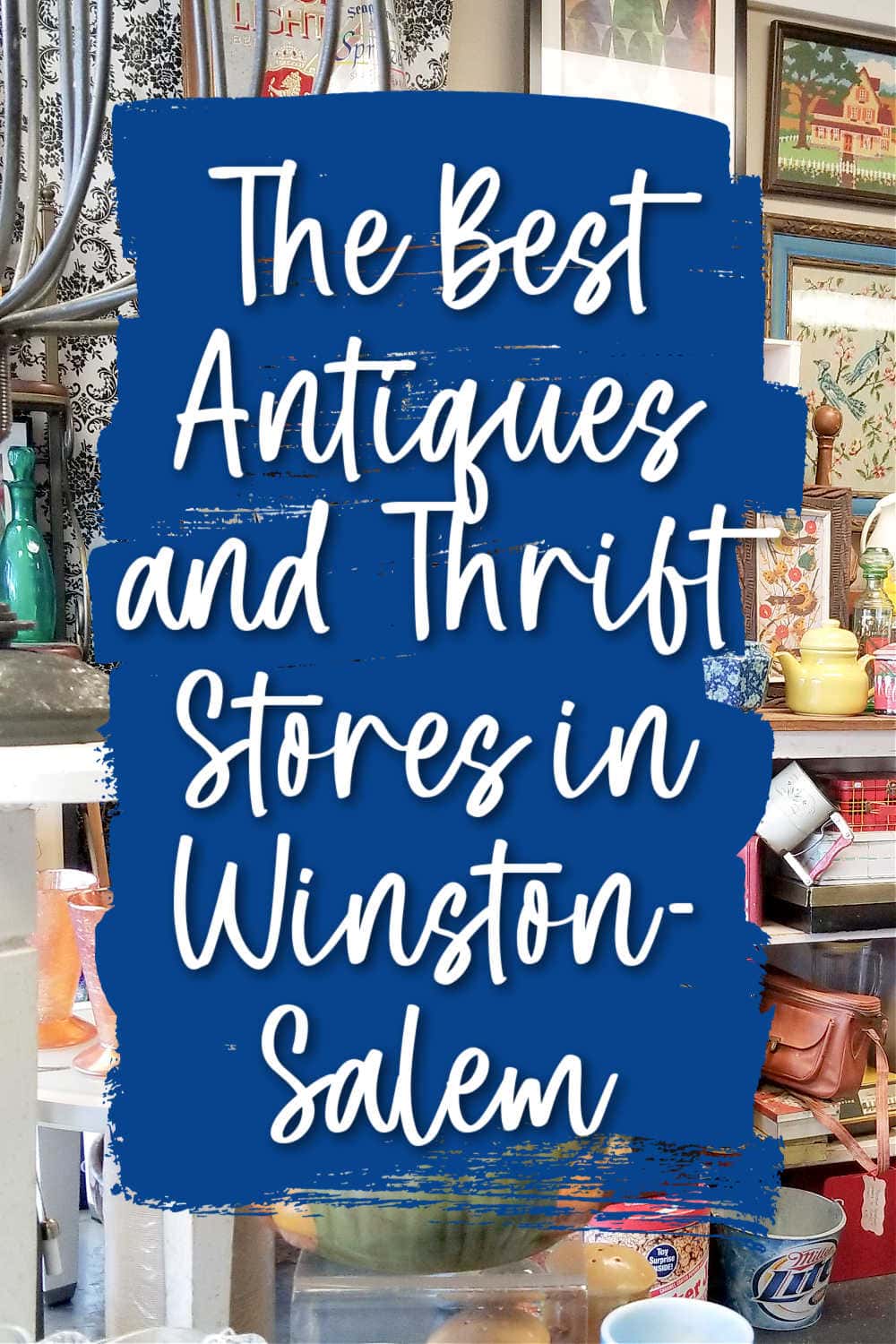 Sarah Ramberg is the owner of Sadie Seasongoods, a website that celebrates all things secondhand. From upcycling ideas and thrifted decor to vintage-centric travel itineraries, Sadie Seasongoods is a one-stop shop for anyone who loves thrifting and approachable repurposing ideas. Sarah is also the author of "Crafting with Flannel" and has been featured in numerous media outlets and magazines.