If you follow me on Facebook, then you know that we recently spent some time at our family's cabin in Blue Ridge, Georgia. We decorated the cabin Christmas tree AND we set aside some time to explore a new town not too far away: Cleveland, TN. In fact, the drive between Blue Ridge and Cleveland is really beautiful, as the road winds along the Ocoee River which then becomes Lake Ocoee…and there is just something magnificent about mountainside waterways.
ANYWAY, per usual, we explored a slew of antiques shops…gathering treasures and photos along the way. So, before the end of 2017 is here, I wanted to share our latest Junkin' Journey with you!
Here are the shops that we hit while in Cleveland…
Antiquing in Cleveland, TN
Relics Antiques & Vintage Decor
Relics was, ironically, the last shop we hit on our itinerary…but it was an absolute favorite. It's becoming harder and harder these days to find shops that carry 100% antiques/vintage, without bits and pieces of modern reproductions thrown in.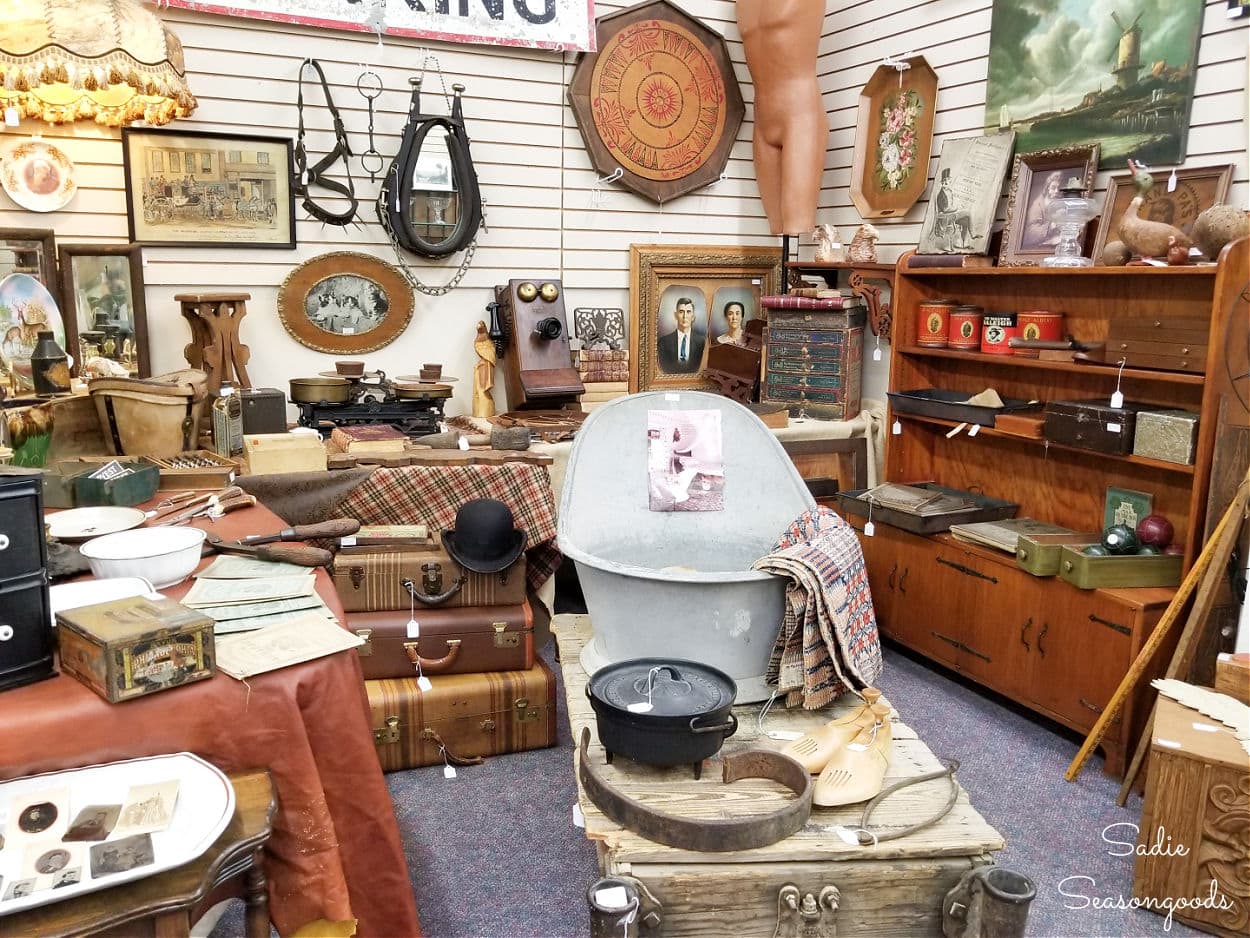 But Relics is a pure antiques mall, with finely appointed booths that showcase loads of late 19th/early 20th century treasures. But the treasures are quirky and approachable- not stuffy- so, we had a lovely time strolling through, knowing that each ware we touched had quite the tale to tell.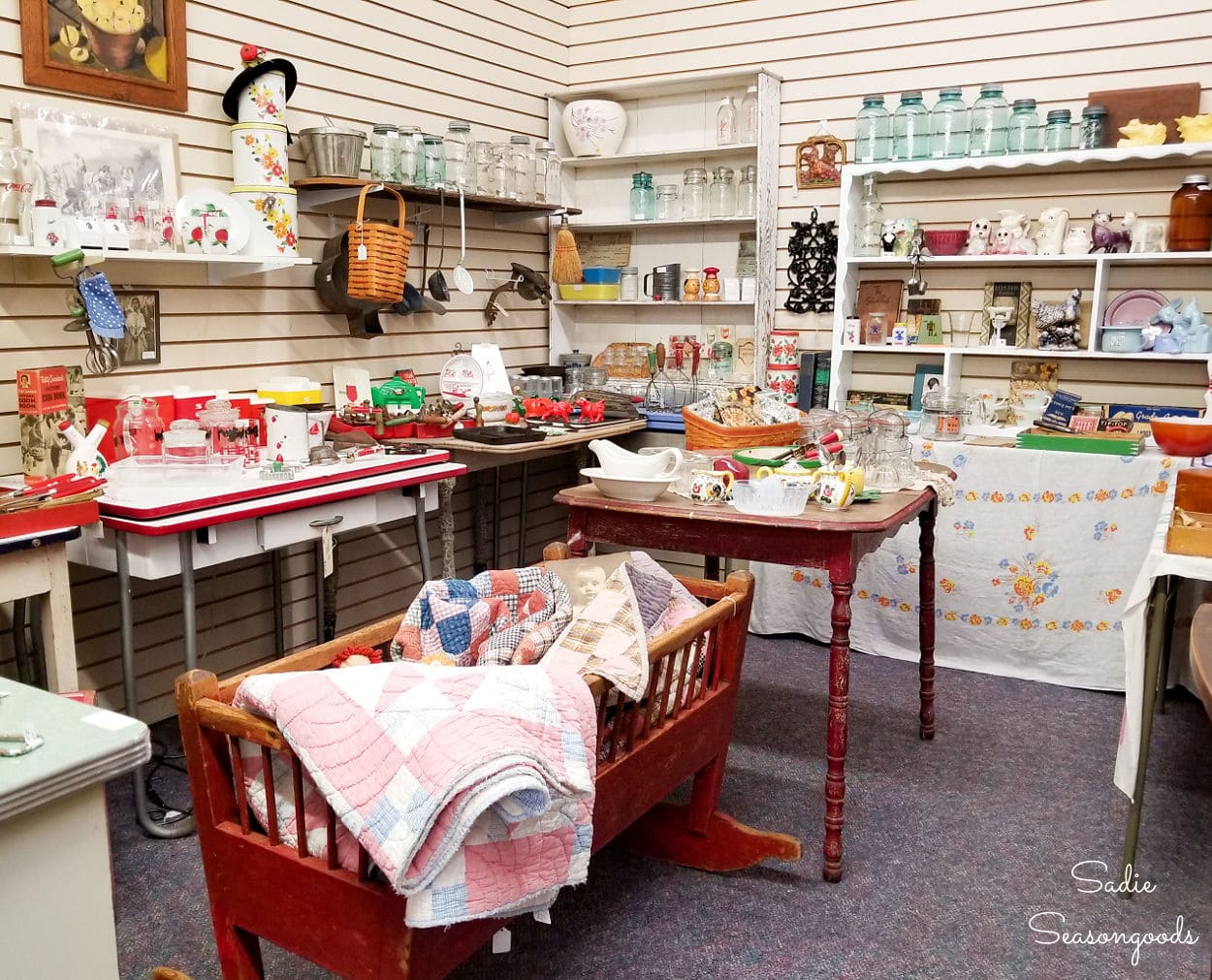 Right off the bat, this shop gets bonus points for sharing a parking lot with both a Goodwill AND a Habitat ReStore! That's truly a Sadie-style Triple Threat if I ever did see one.
Hard to beat parking once and hitting three spots…which is exactly what we did!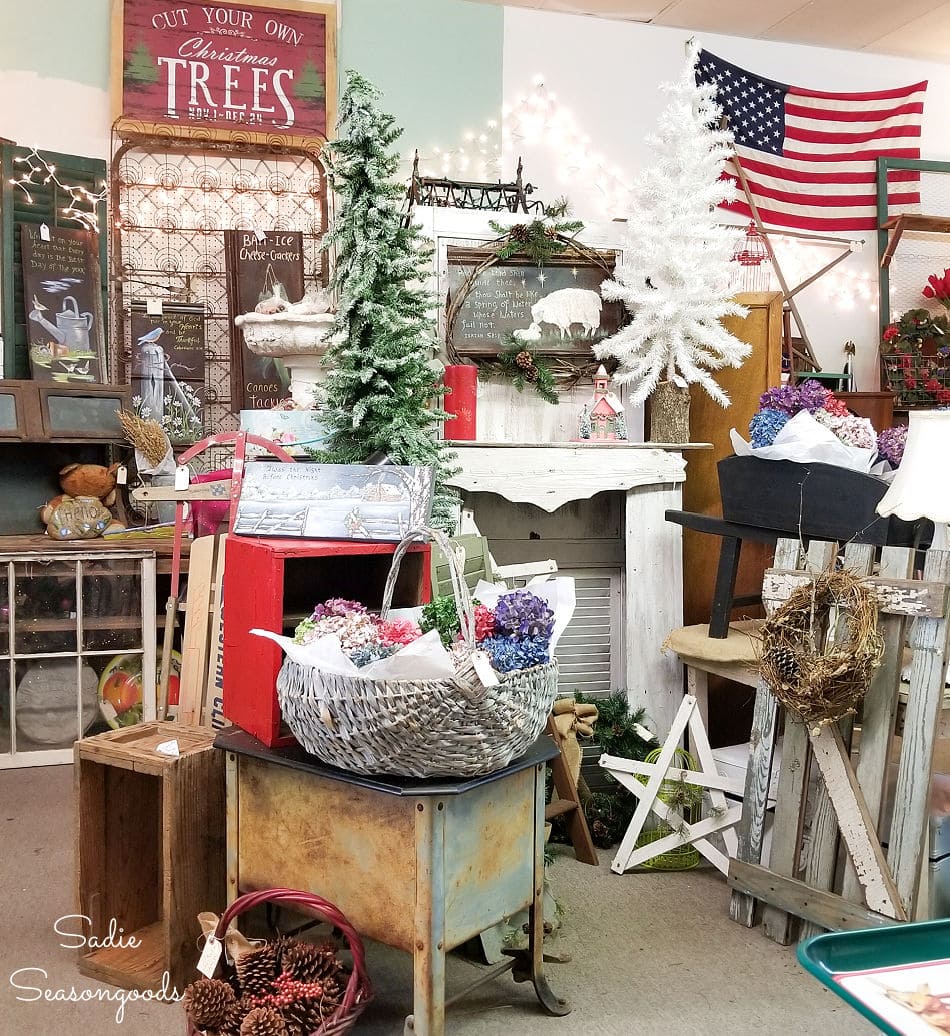 But back to The Antiques Parlour. This mall is definitely the spot for primitives and Americana! I spotted Hoosier cabinets and authentic farmhouse goodies in every corner.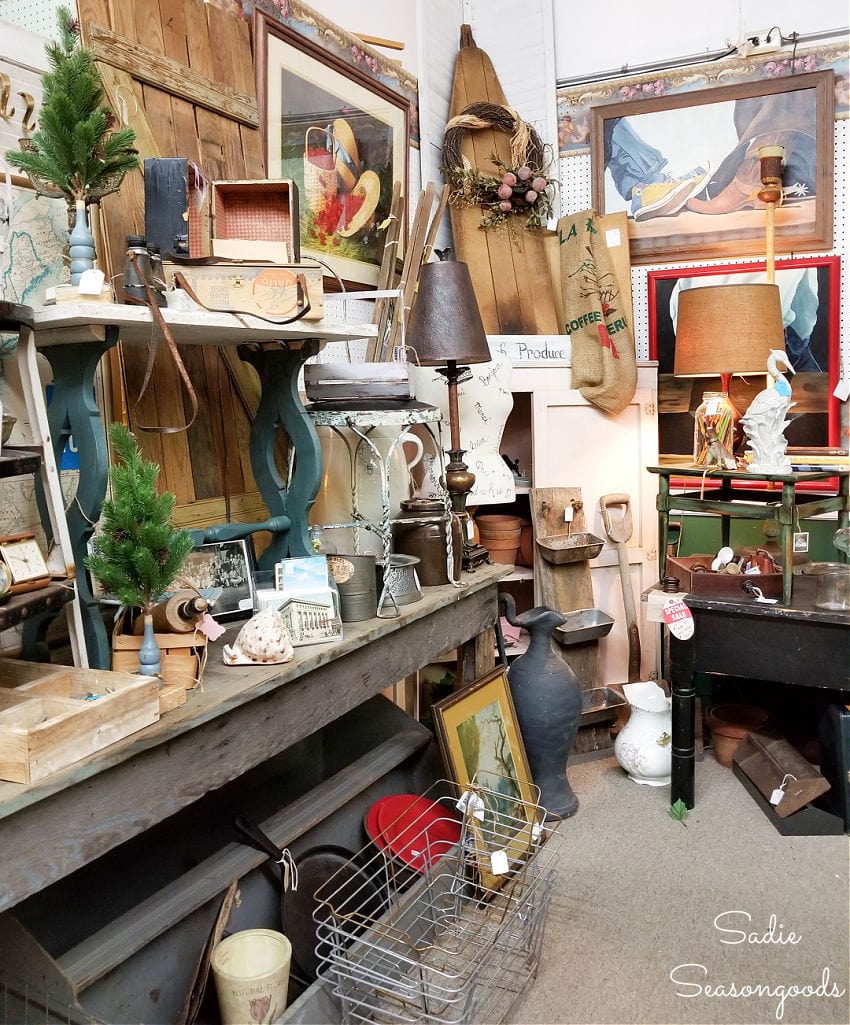 Plus, it's bigger than it looks, so set aside plenty of time to ensure you see everything housed inside!
While I enjoy large antiques malls, I always appreciate a quaint and cozy shop with less inventory, but more curation…and Vintage Sisters fits that bill to a T. Because it was December when I visited, the shop was dressed up in its Christmas finery…with trees popping up in unusual vintage goodies, like old whiskey barrels and coffee grinders!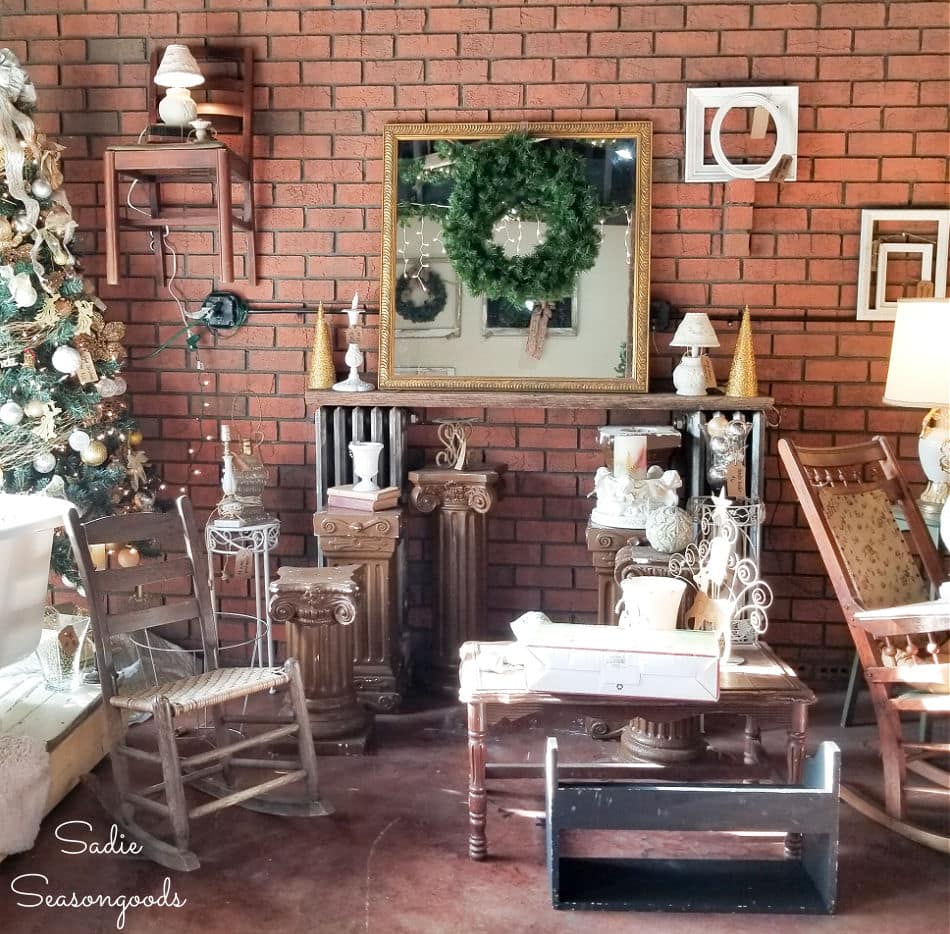 I especially loved the ladder above the mantel, holding a collection of old bottles- what a fun idea! I can only imagine how the shop changes over the seasons…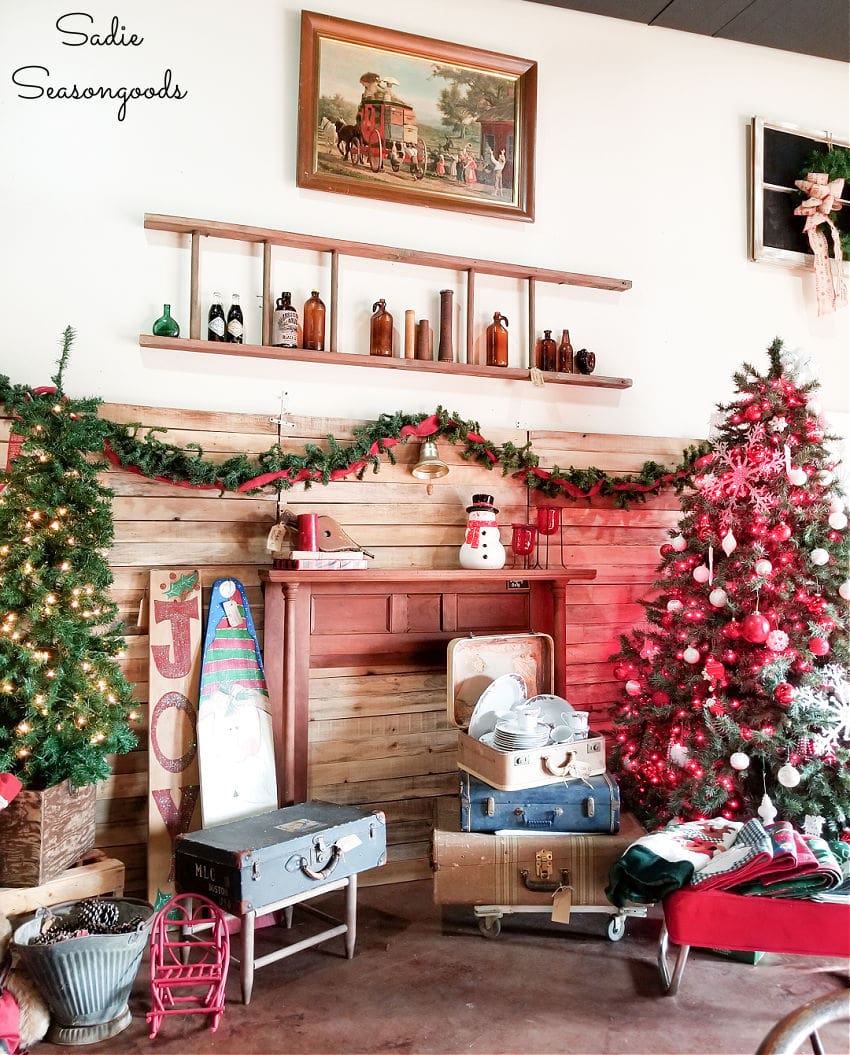 Vintage stores with shop animals (cats OR dogs) are a particular favorite of ours, and two little faces greeted us at the door before we even walked into Vintiques! This shop offers an eclectic collection that ranges from primitives/Americana, to Shabby Chic, to my personal favorite: "mantiques" (old cabin-y goodness like snowshoes and minnow buckets and old tools).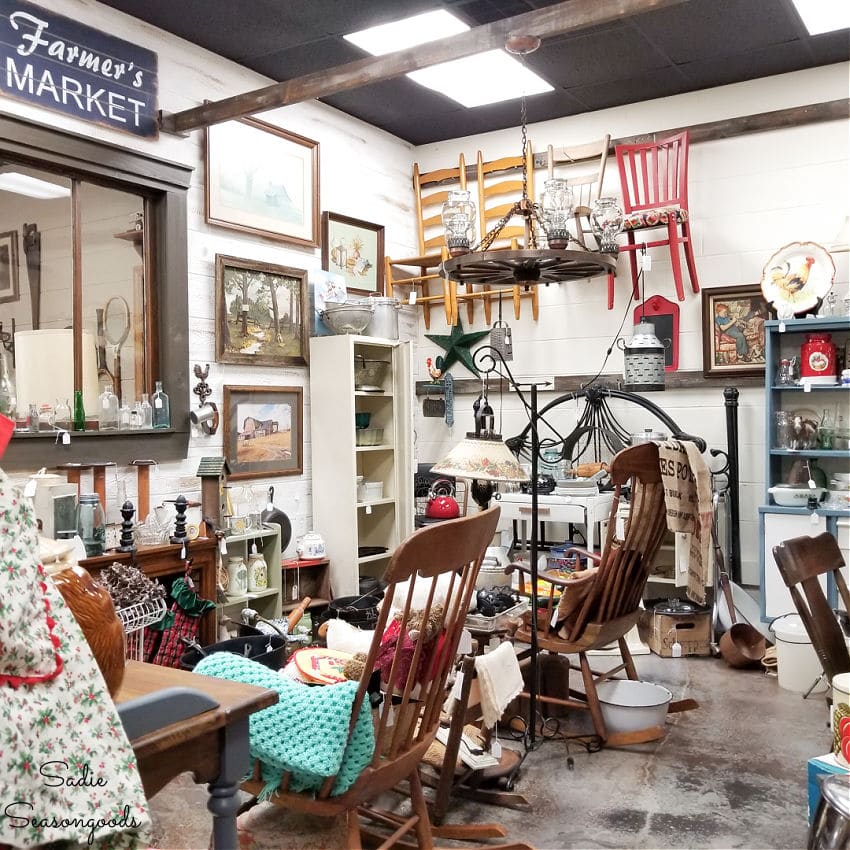 I circled the mantique room several times because I knew I was missing things to admire and consider…sometimes, a shop requires more than one lap around!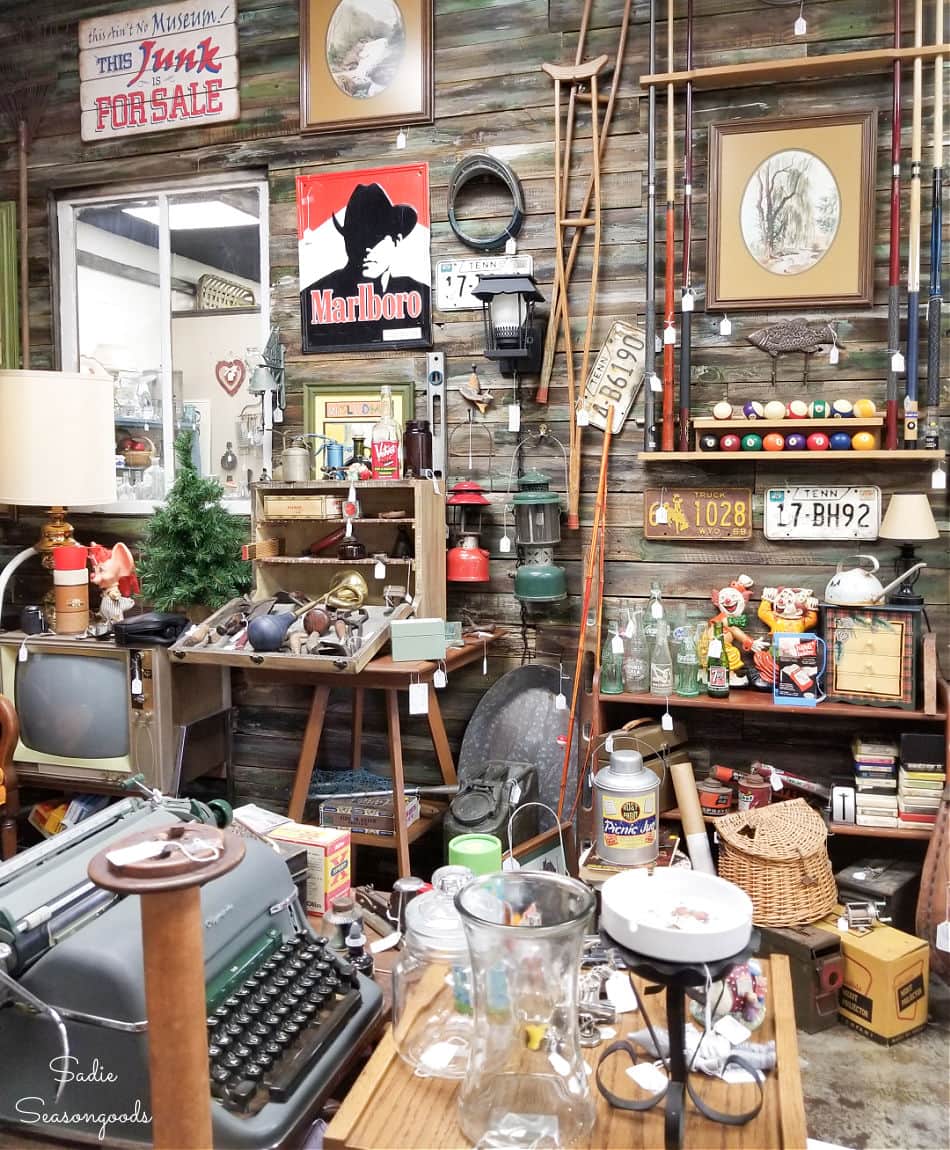 Walking into this shop has an Alice in Wonderland feel. The various personalities of the shop change from room to room (Feminine Boudoir! Military Bunker! Steampunk Curiosities!), which is enticing and entertaining all on its own.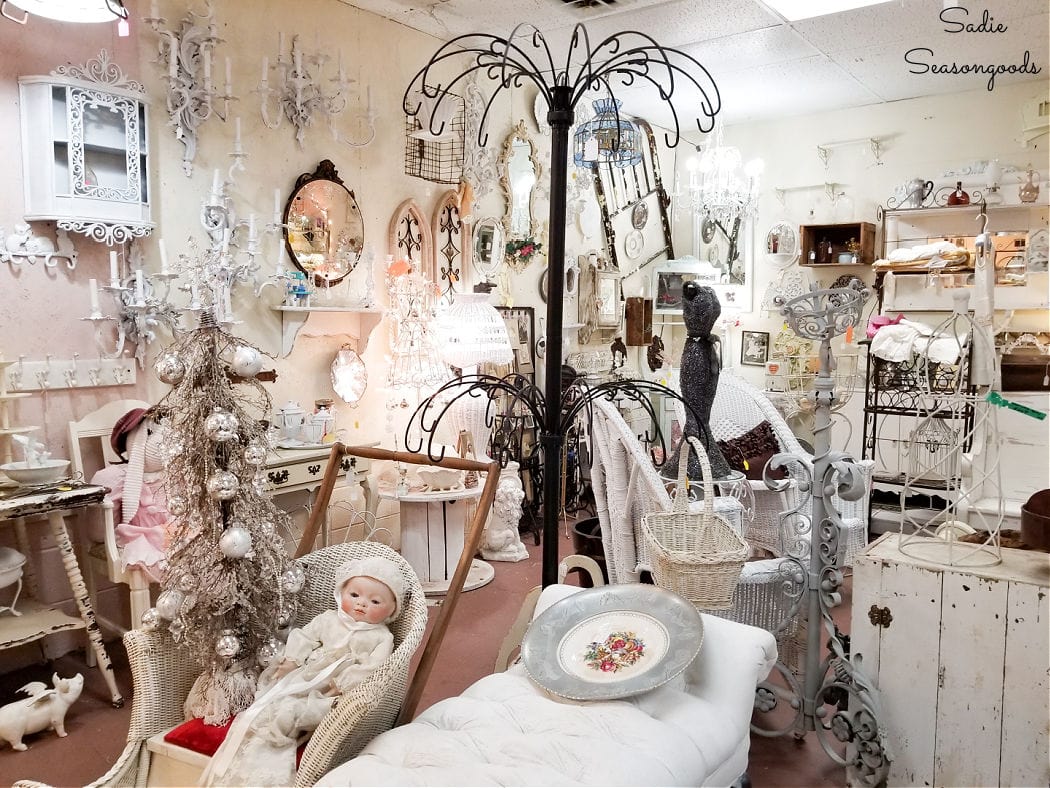 But I swear, the shop grows larger and larger as you go deeper in. Such a fun place to get lost in!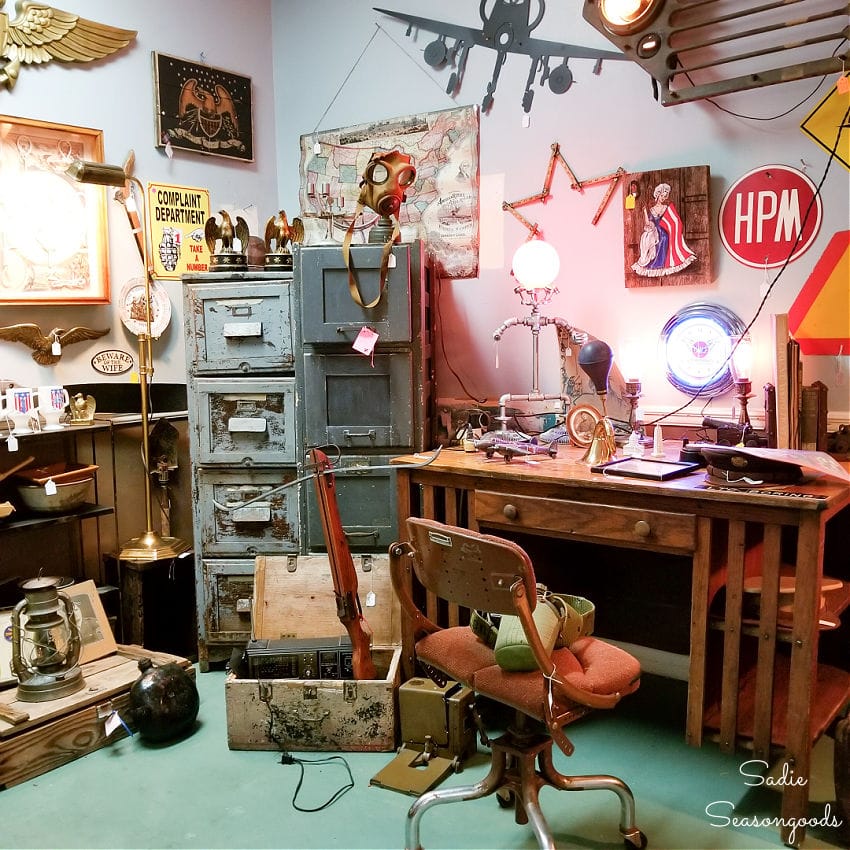 And don't forget the junk yard out back!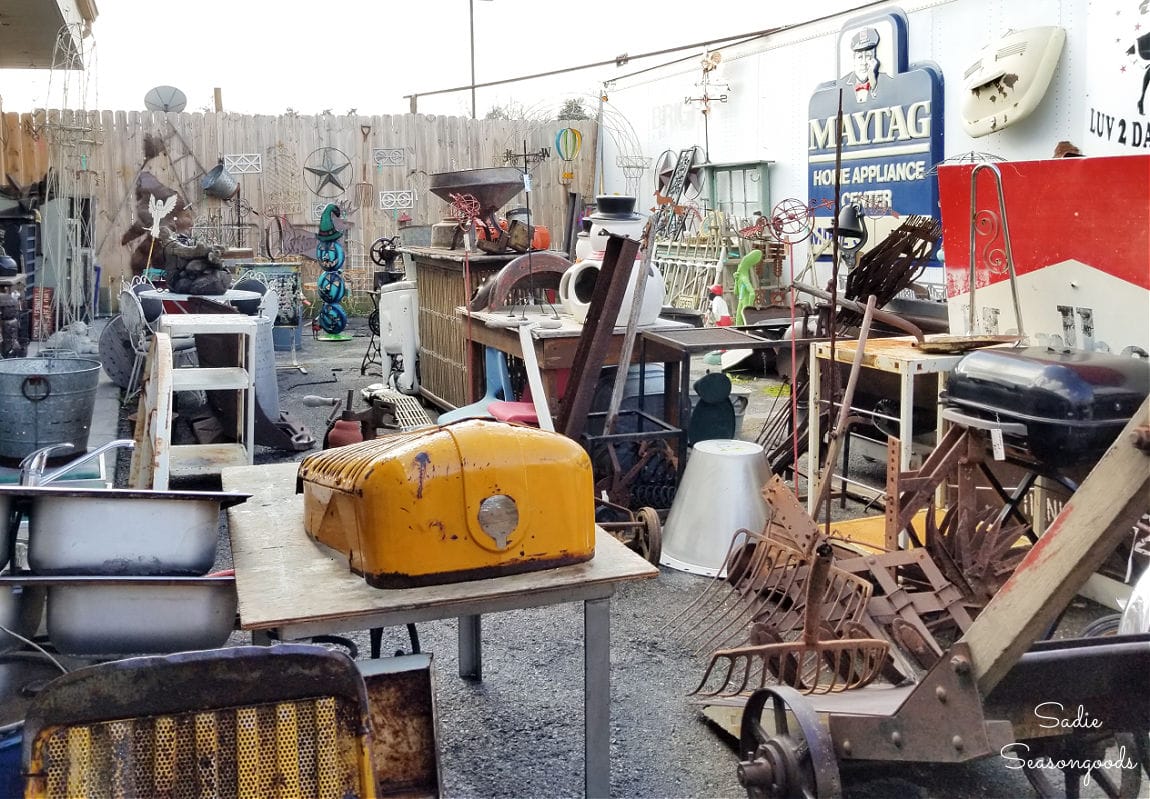 Have You Gone Junkin' in Cleveland?
When I originally published this junkin' journey, I was able to visit one thrift store (River of Life). But since then, it has closed and I removed it from my itinerary. In addition to the Goodwill and Habitat ReStore, I'm aware of (but haven't visited yet) Second Harvest.
Now that several years have passed, I'd love to hear your thoughts. Are there new antiques stores or thrift stores in Cleveland, TN that I should check out?
I'm also super excited to announce that my first book is now available! If you love working with flannel or fabric crafts in general (sewing and non-sewing), then you will LOVE "Crafting with Flannel"!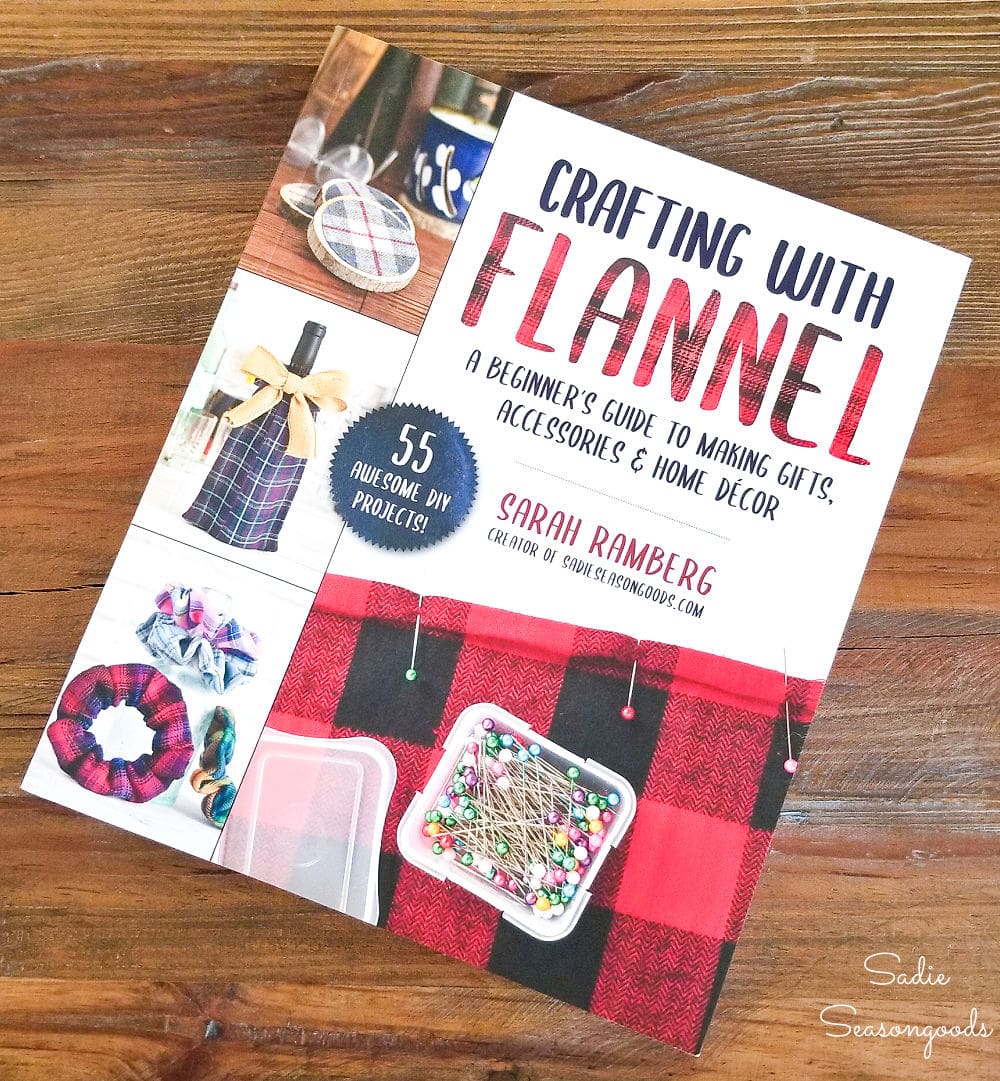 Explore on!
S
Want to be notified when I publish my next upcycling project tutorial?
Subscribe to Blog via Email
Join me on Social Media:
PIN ME!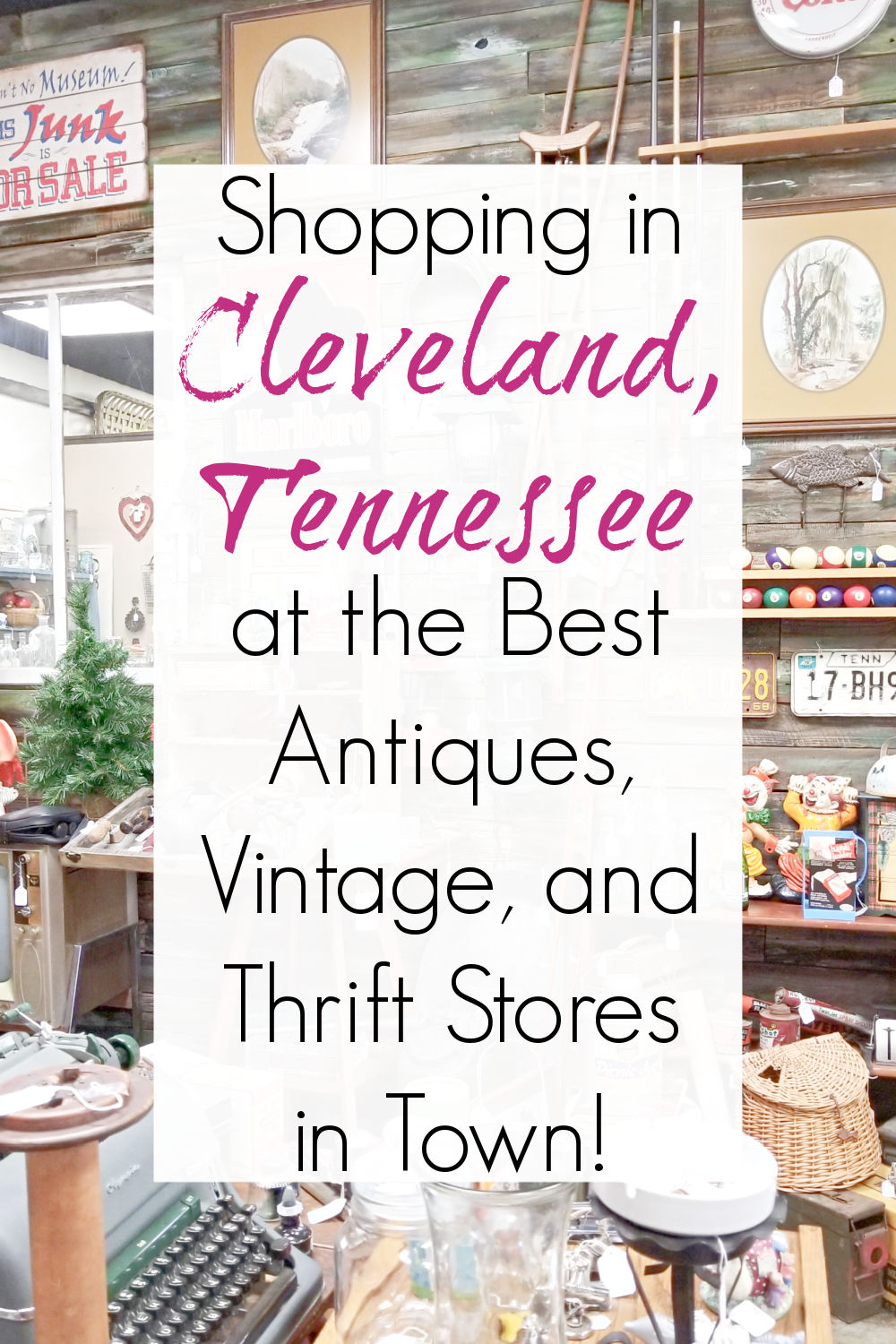 Sarah Ramberg is the owner of Sadie Seasongoods, a website that celebrates all things secondhand. From upcycling ideas and thrifted decor to vintage-centric travel itineraries, Sadie Seasongoods is a one-stop shop for anyone who loves thrifting and approachable repurposing ideas. Sarah is also the author of "Crafting with Flannel" and has been featured in numerous media outlets and magazines.