Ever since we moved to the Carolinas, I've really fallen in love with Charlotte, NC. It's just the right-sized city for me- big enough to have it all and "feel" like a city, but not ridiculously overwhelming or impossible to navigate. And so it's high time for me to blog about shopping in Charlotte, NC – specifically looking for the best antiques, vintage, architectural salvage, and thrift stores in Charlotte (and Concord, NC, as well).
*****
Shopping in Charlotte, NC
This shop may have been a last-minute addition to my original itinerary, but it ended up being one of my very favorite stops. Any time I can find a thrift store that boasts a majority percentage of vintage on its shelves, they have a fan for life in me.
Part of me would have loved to keep this shop a secret because it's that good…but most of me knew it was best to share them with you!
I've been a fan of Sleepy Poet for years now, and in a roundabout way, they helped me launch my blog (the window frame in my inaugural blog post was purchased there)! What I love about Sleepy Poet is that it's a wonderful labyrinth of antiques and vintage, but doesn't have the stuffy feel of your average antiques mall.
I always see a wide range of shoppers there – young, old, guys, gals – which tells me they appeal across the spectrum. And for good reason!
Assistance League of Charlotte Thrift Store
Of all the thrifts in Charlotte, this one came most recommended (from a variety of sources), so I had high hopes. And it did not disappoint! For a thrift store on a Thursday morning (when I visited), it was pretty crowded. But it's a huge store, so that's just an observation, not a complaint. It also confirmed to me that this is definitely a popular place.
And with so much furniture and some pretty awesome housewares, I completely understood its popularity among Charlotte locals.
I found out about The Depot many years ago while "The Hunger Games" was being filmed. Why? Because the set designers bought a ton of antiques at The Depot (for the scenes in District 12) – how cool is that? And it's seriously a "vintage destination" in the southeast.
From architectural salvage, to primitives, to midcentury modern, it's an amazing array of treasures. Just make sure you set aside a good chunk of time and wear comfortable shoes when you go- it's THAT huge!
This shop came recommended to me by my friends, The Vintage Types (who also have a few booths at The Depot). And while it's heavier on clothes than housewares, I still found a few treasures. Of particular note, CVANs has a very nice book room that was neat and tidy (often a rarity in thrift stores) and an impressive selection of plus-size clothing.
I know the latter can be hard to find in the world of secondhand shopping, so I wanted to make sure and point that out!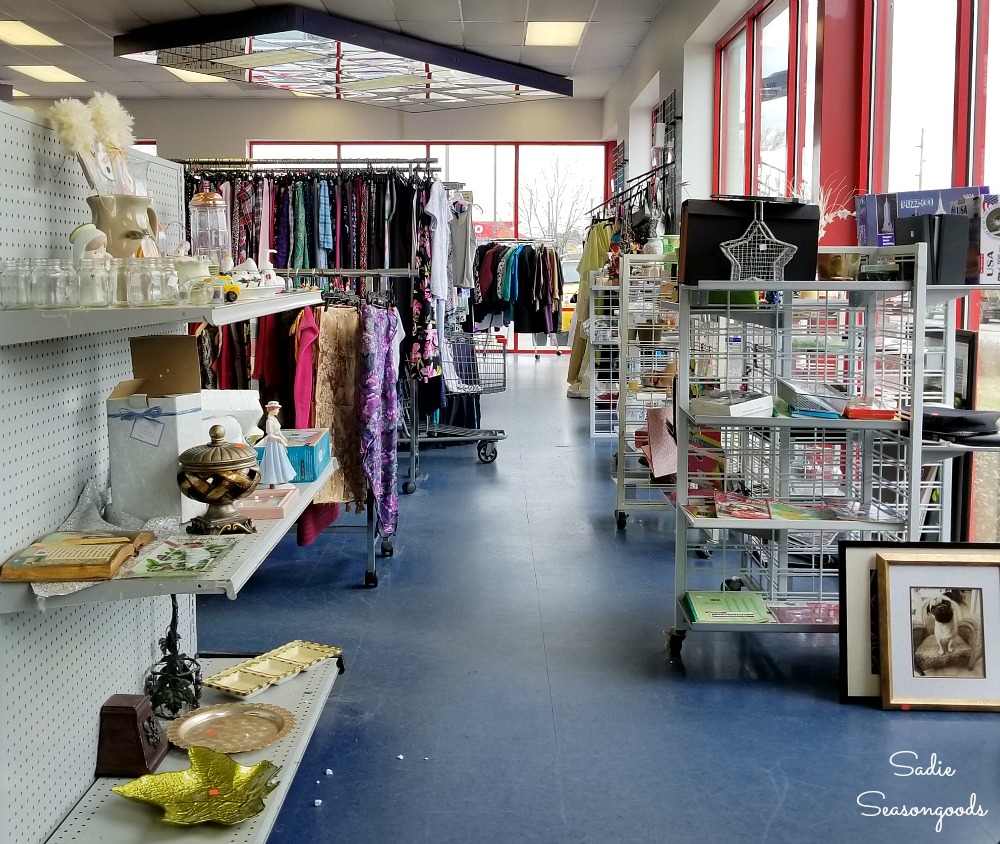 Value Village thrift stores are nationwide, but can you believe I'd never been in one before? There are actually three of them in Charlotte alone and I visited the one on South Blvd. It had a terrific selection of housewares which made me regret not checking out the other two! (The clothing selection was impressive, too – but I'm a heat seeking missile when it comes to the housewares section.).
Prices were good, selection was good, what's not to love?
Crossland Studio
I debated whether or not I should include this one because my visit came in the nick of time – the owners are retiring and this architectural salvage shop is closing (or perhaps already closed). But the interior was just so gorgeous with the stained glass windows hanging from the ceiling…so I decided to include it in my list nonetheless.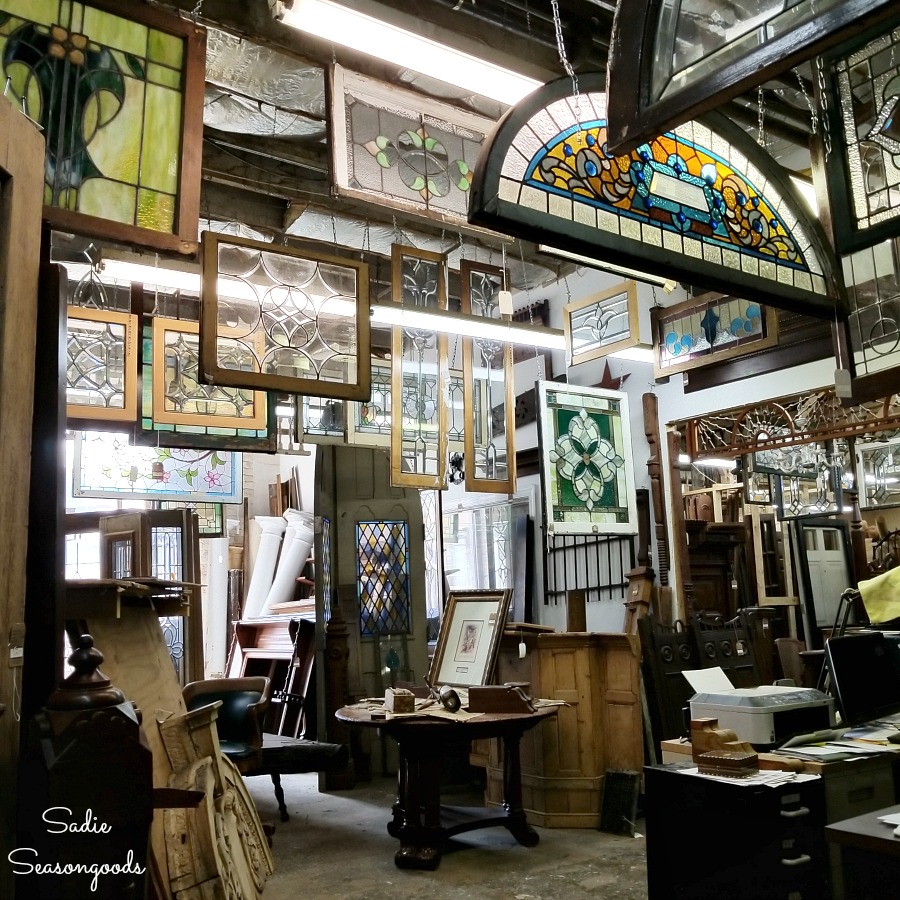 *****
Also of note – I swung by the Habitat ReStore on Wendover Rd. and let me tell you. It is MASSIVE AND AMAZING! So, if you are in the market for used furniture, housewares, or other typical Habitat wares, make sure this ReStore is on your list.
Let me know if I missed any of your favorite thrift stores, vintage, architectural salvage, or antique stores in Charlotte, NC. I'll definitely be heading back and will update this blog post the best of my ability as time goes on. And let me know if you go shopping in Charlotte, NC at any of these stores – I'd love to hear what you think!
And I've been junkin' in other places, too- check out all the places I've traveled to here and start planning your own junkin' journey!
Explore on!
S
Want to be notified when I publish my next upcycling project tutorial?
Subscribe to Blog via Email
Join me on Social Media:

PIN ME!