Once upon a time, an acquaintance of mine found some vintage Cracker Jack prizes at an antiques store. She thought that they would be perfect for upcycling into wine charms. And she very generously shared some of her collection with me so that I could make my own wine glass tags from them.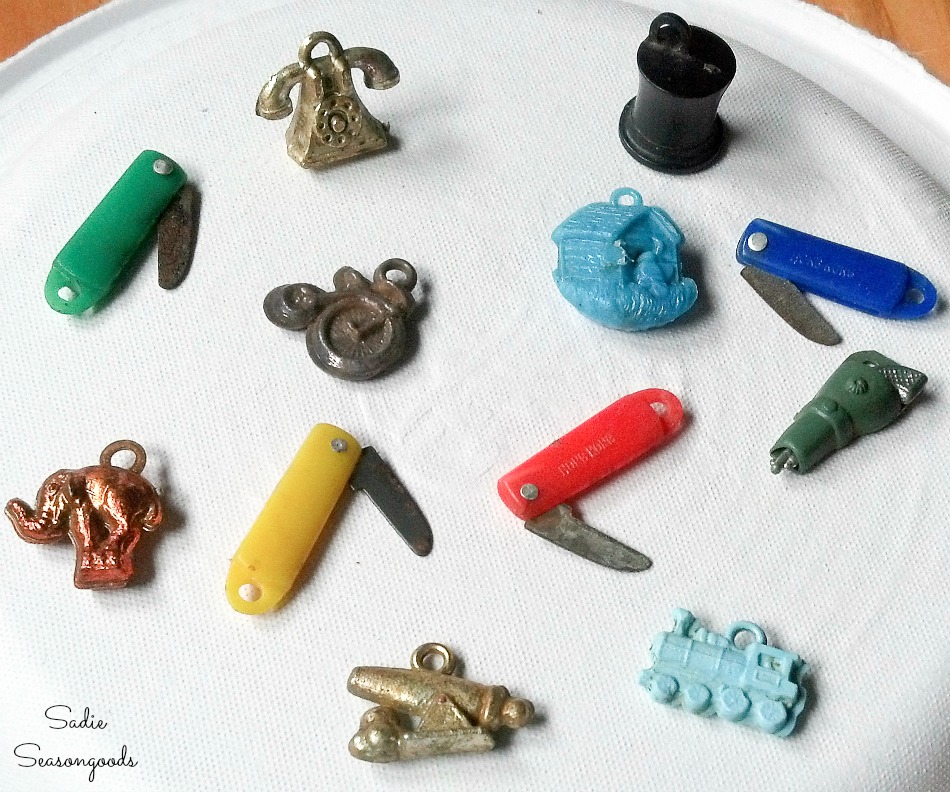 Believe it or not, but the secret to making a set of wine charms is found in the jewelry making supplies section at your local craft store! Once you have your actual charms, you just need a few bits and bobs from the jewelry aisle to complete them.
Starting with inexpensive stemware hoops like these.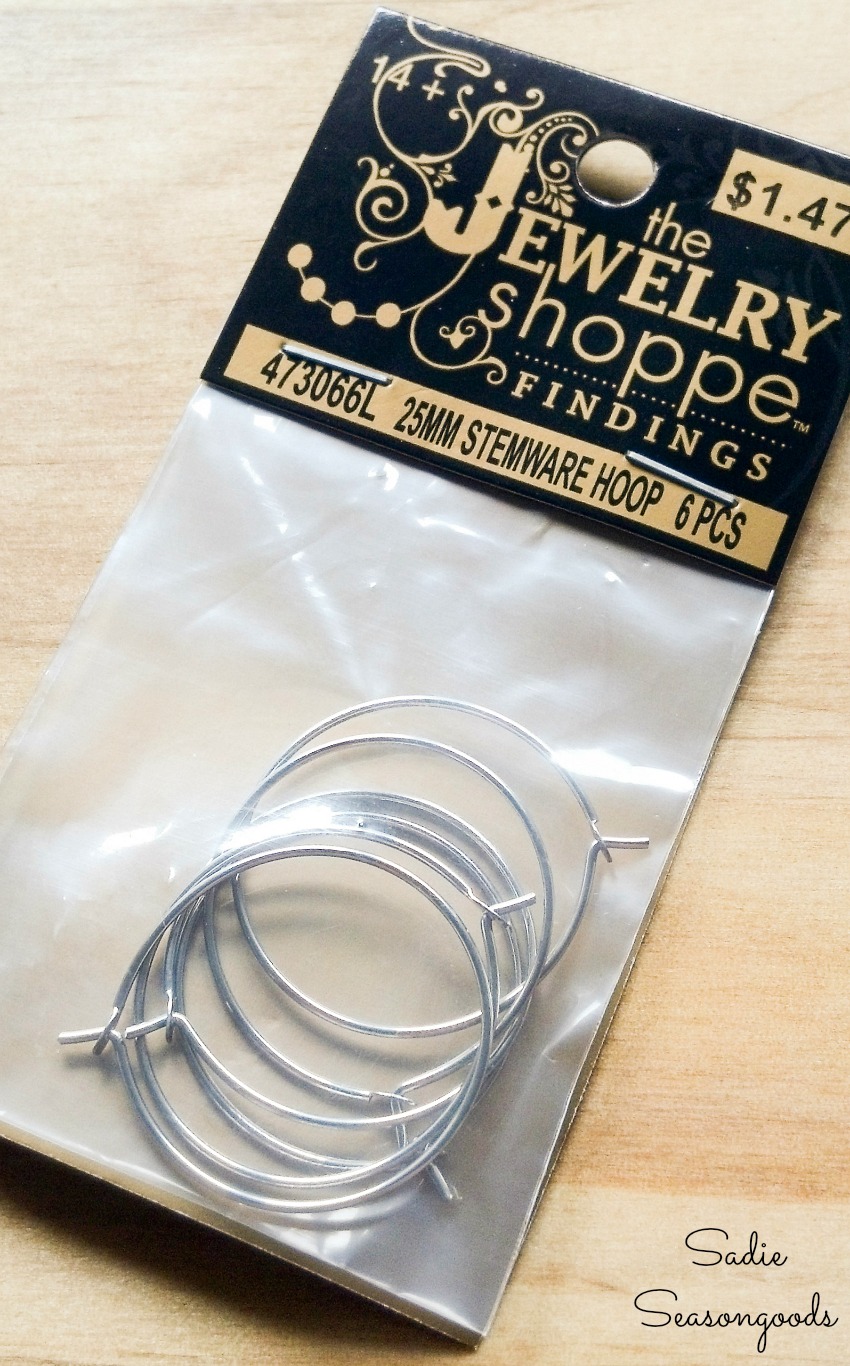 With hoops and vintage Cracker Jack toys in hand, I was ready to upcycle them into wine glass charms!
This post contains affiliate links for your crafting convenience. As an Amazon Affiliate, I earn from qualifying purchases. All blue, bold, and underlined text is a clickable link, either to a product or to a related post.
Making Wine Charms with Jewelry Supplies
Just a quick note before we get started- you can often find vintage Cracker Jack charms on Etsy! Just in case you can't find them at a local antiques shop. Ok- onto the tutorial!
First things first, I snipped off the connecting ends of the stemware hoops that I planned on using.
I did this so that they could easily slip on and off of a wine glass stem, and used my jewelry making wire cutters to do so.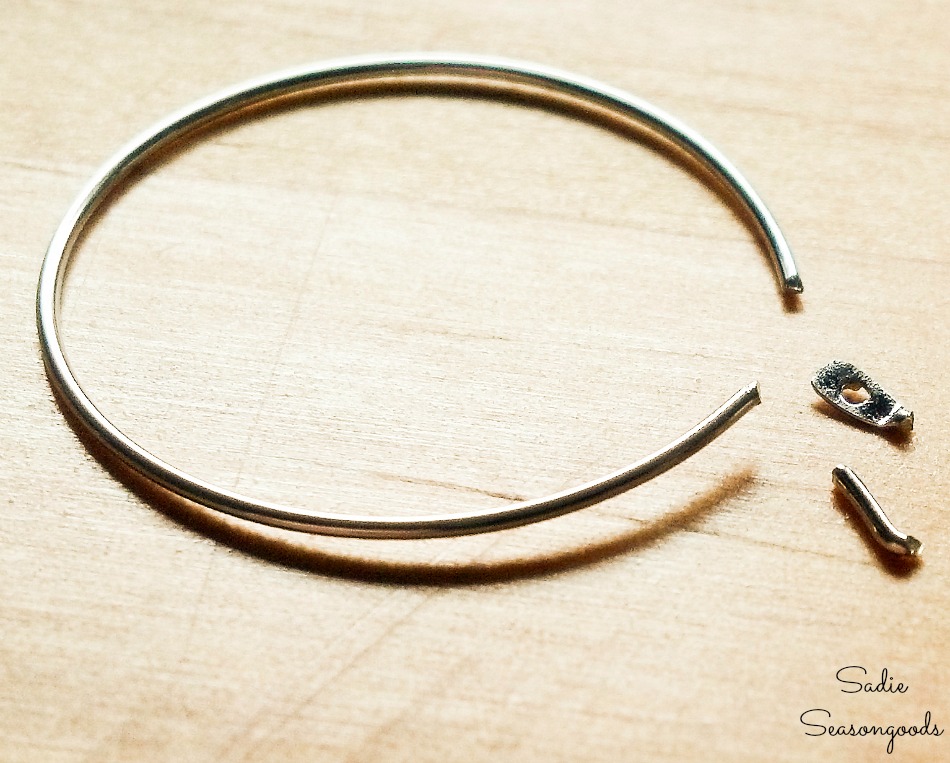 In true Sadie form, I gathered some glass beads that I already had in my stash.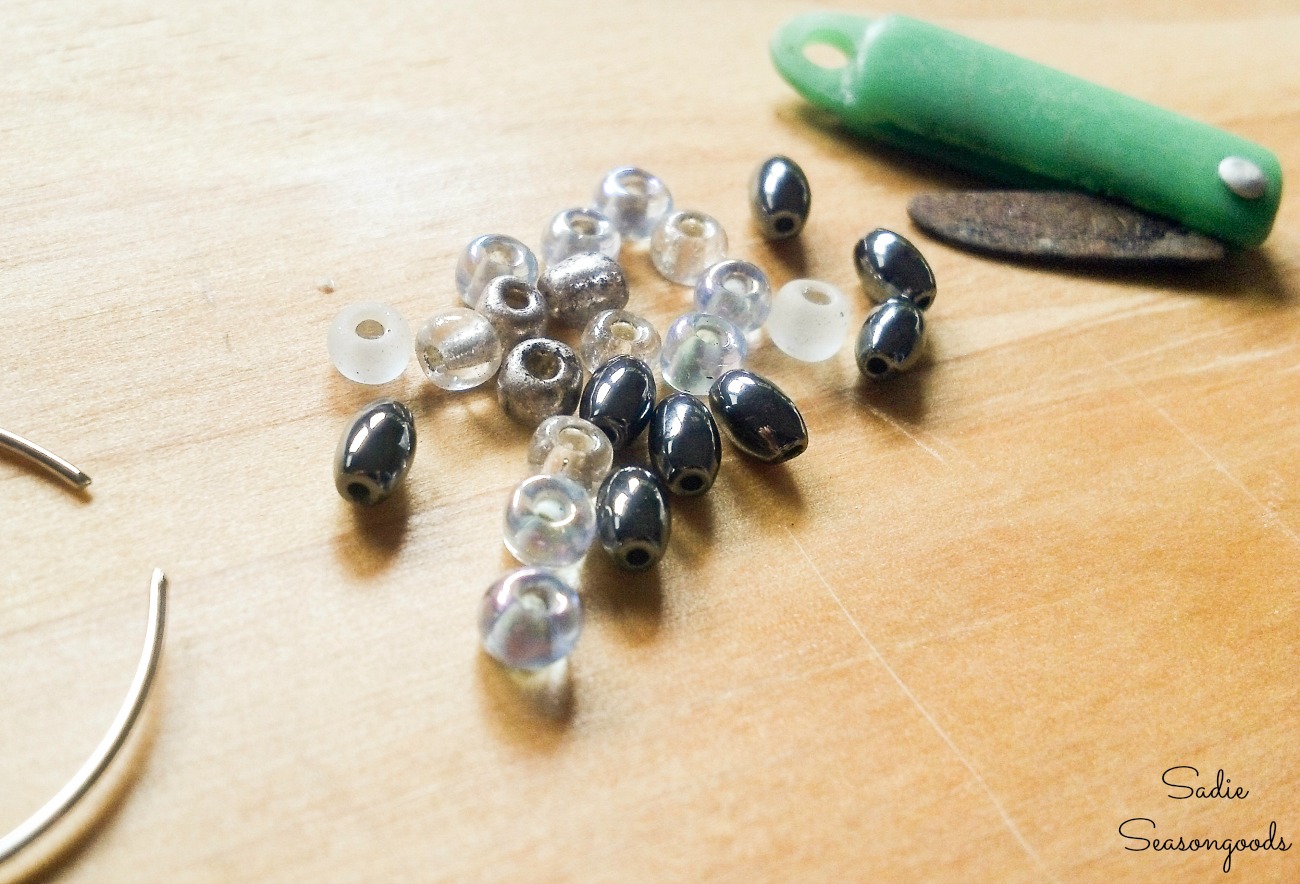 I threaded a few beads onto the stemware hoop, then I added one of the vintage Cracker Jack toys. Note that I put the Cracker Jack charm on a jump ring first, then threaded the stemware hoop through the jump ring.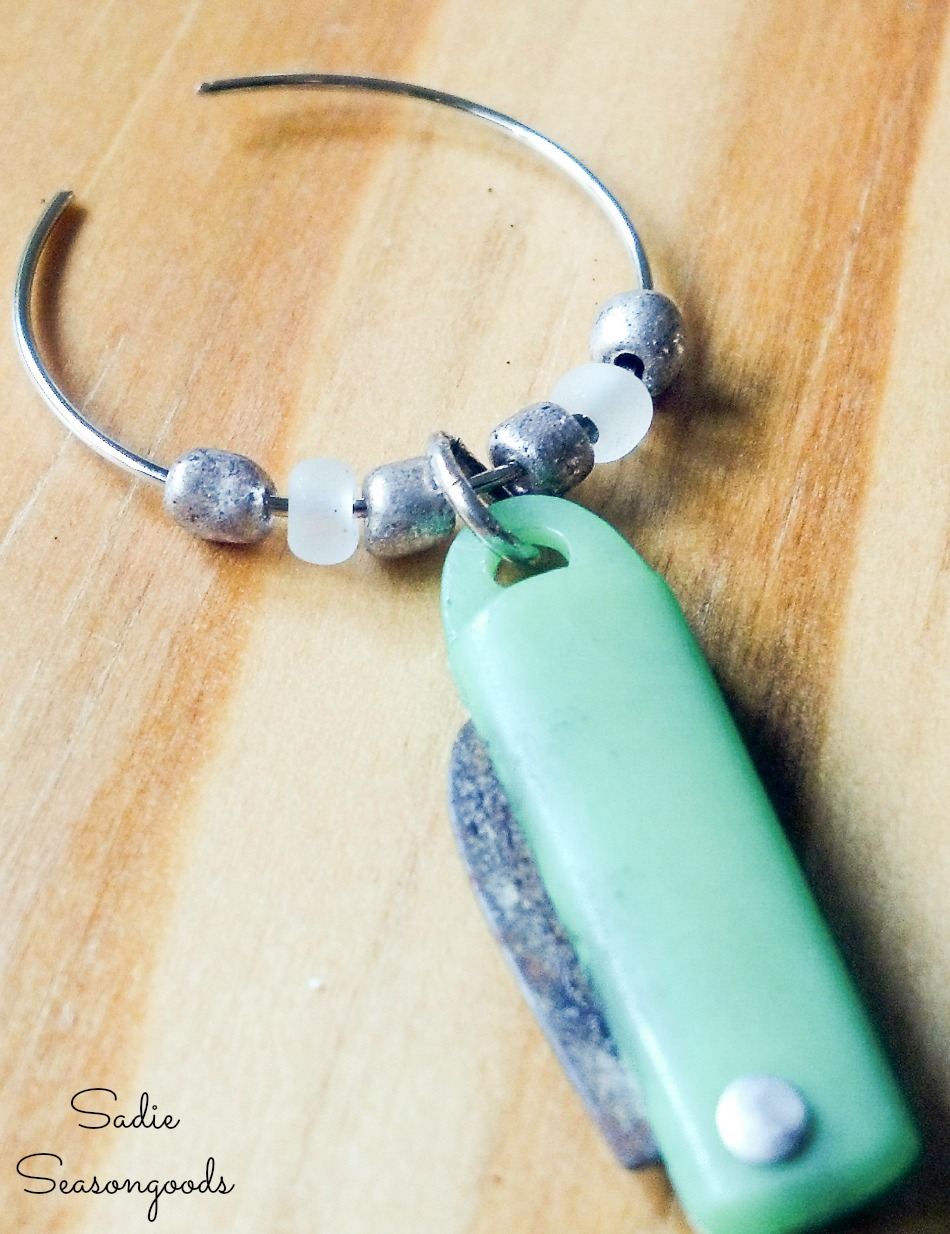 Because of the orientation of the holes or loops on the vintage Cracker Jack prizes, I needed the jump ring to allow the wine charms to lay flat on the base of a glass. Very similar to why most necklace charms or pendants have to use jump rings, too.
Next, I needed to cover up the sharp edges of the stemware hoops. I had slightly smaller beads that were perfect for this! So, I dabbed on some super glue to each end.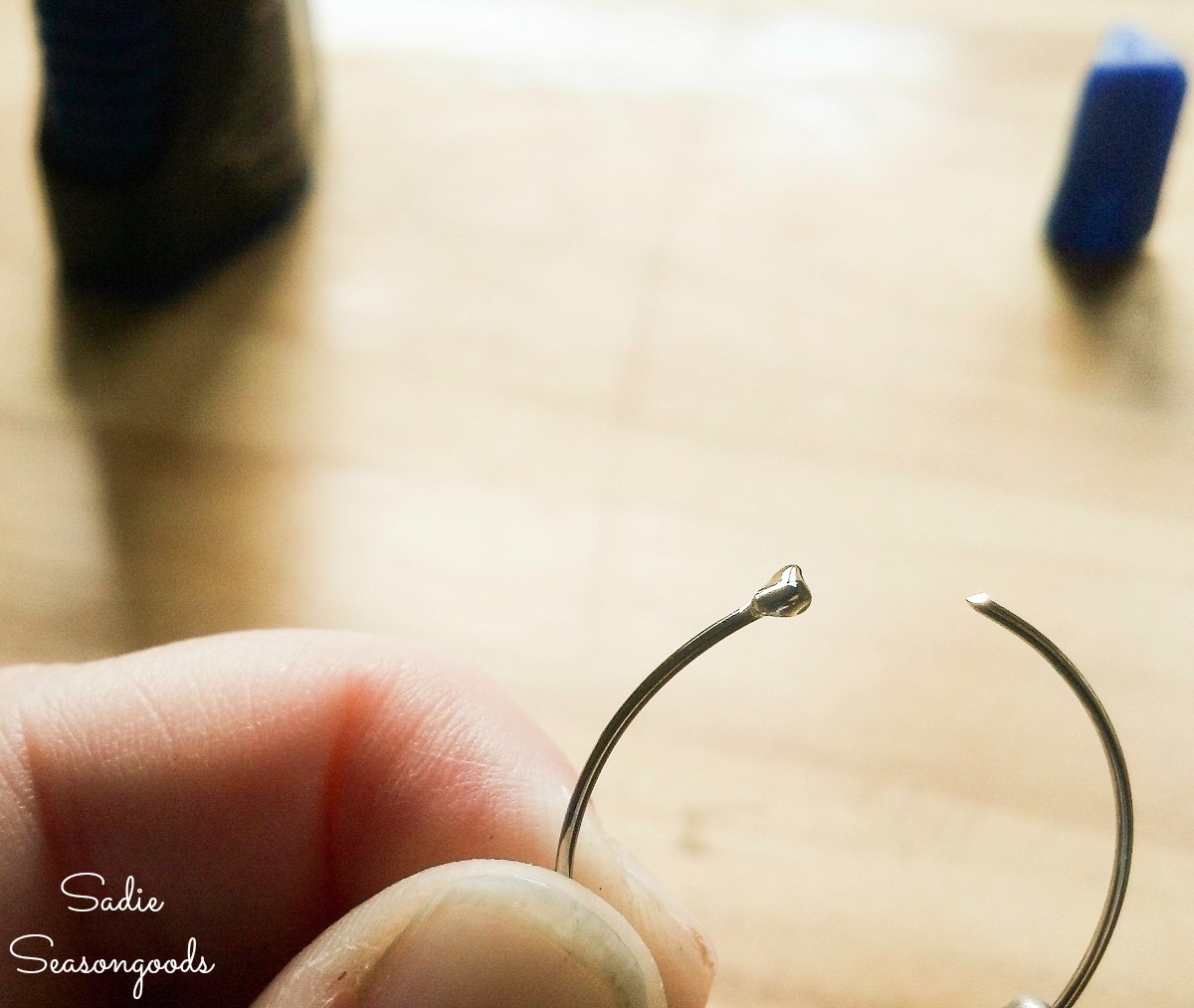 Lastly, I slipped the smaller beads onto the end of the hoops over the dab of glue.
I held them in place until the glue set and that was it! The first of my wine glass charms with vintage Cracker Jack toys was done!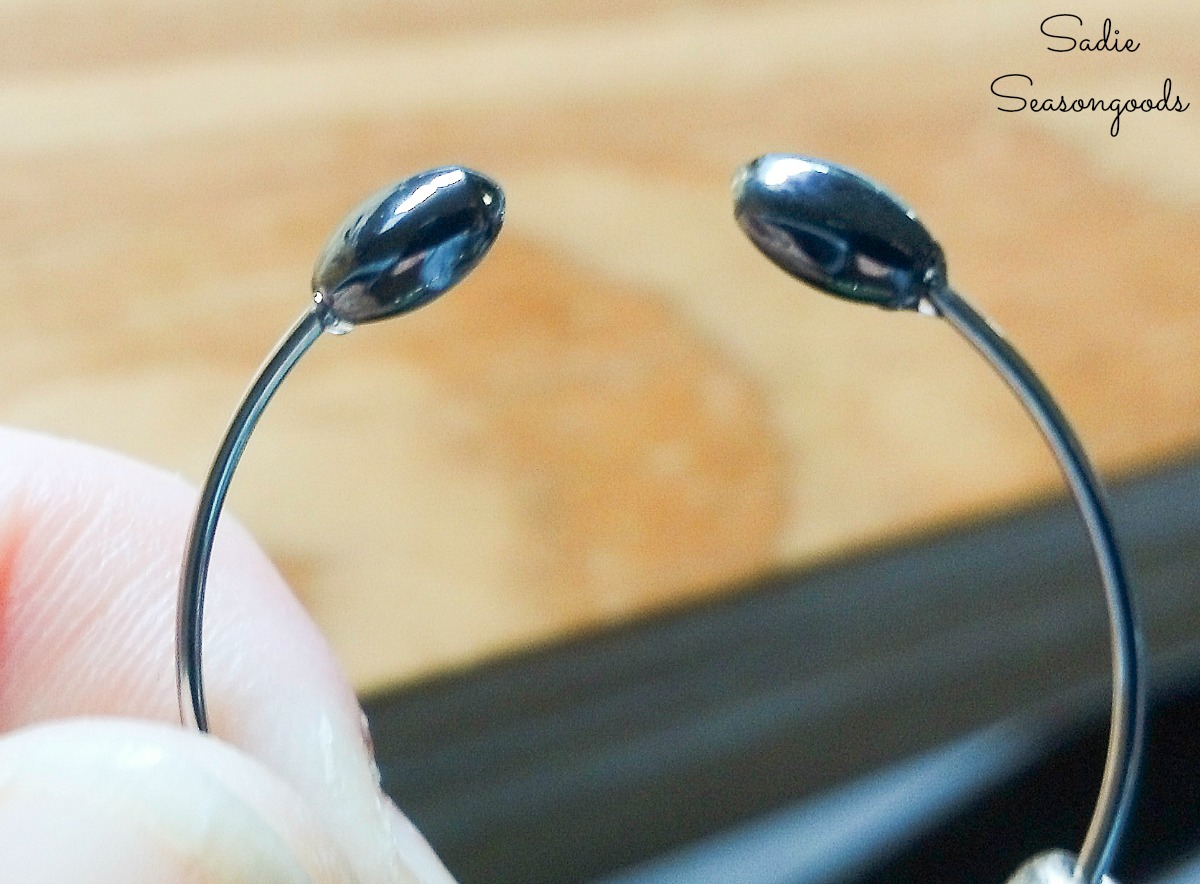 Wine Charms from Vintage Cracker Jack Prizes
From there, I made an entire set of wine charms with my vintage Cracker Jack toys.
Aren't they…charming?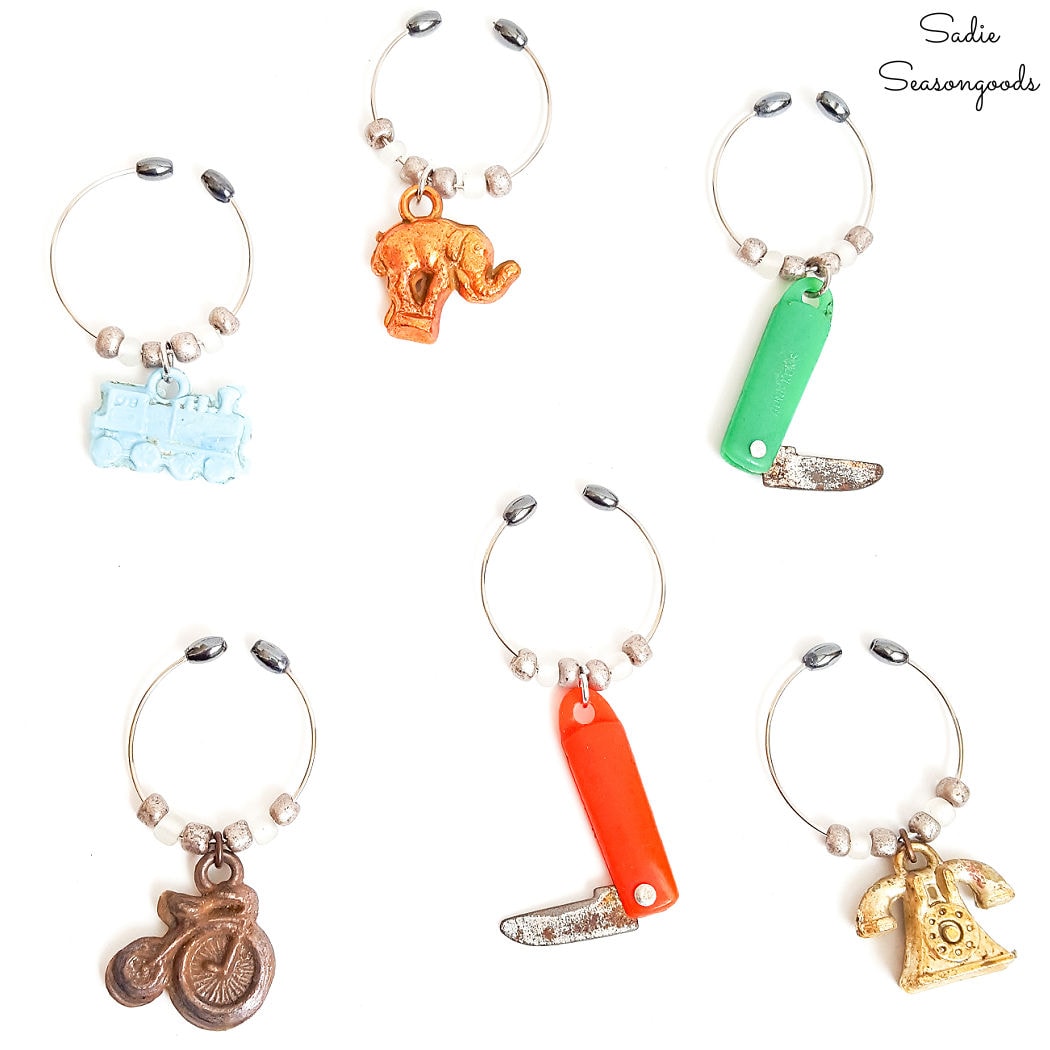 They will be PERFECT for a dinner party or a girls' night in! Everyone can pick a different wine glass marker to keep their glasses straight.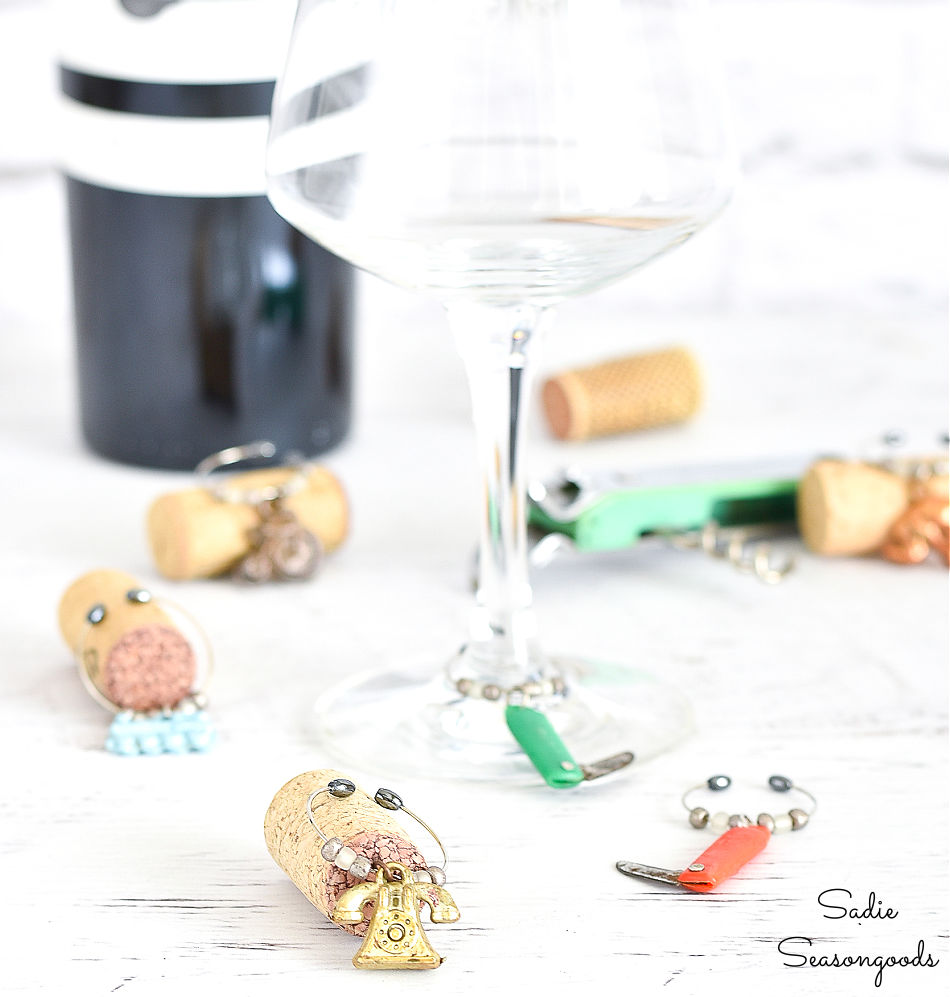 The vintage Cracker Jack prizes worked out even better than I could have hoped. They remind me of old Monopoly game pieces…which I think might ALSO work as wine charms, too.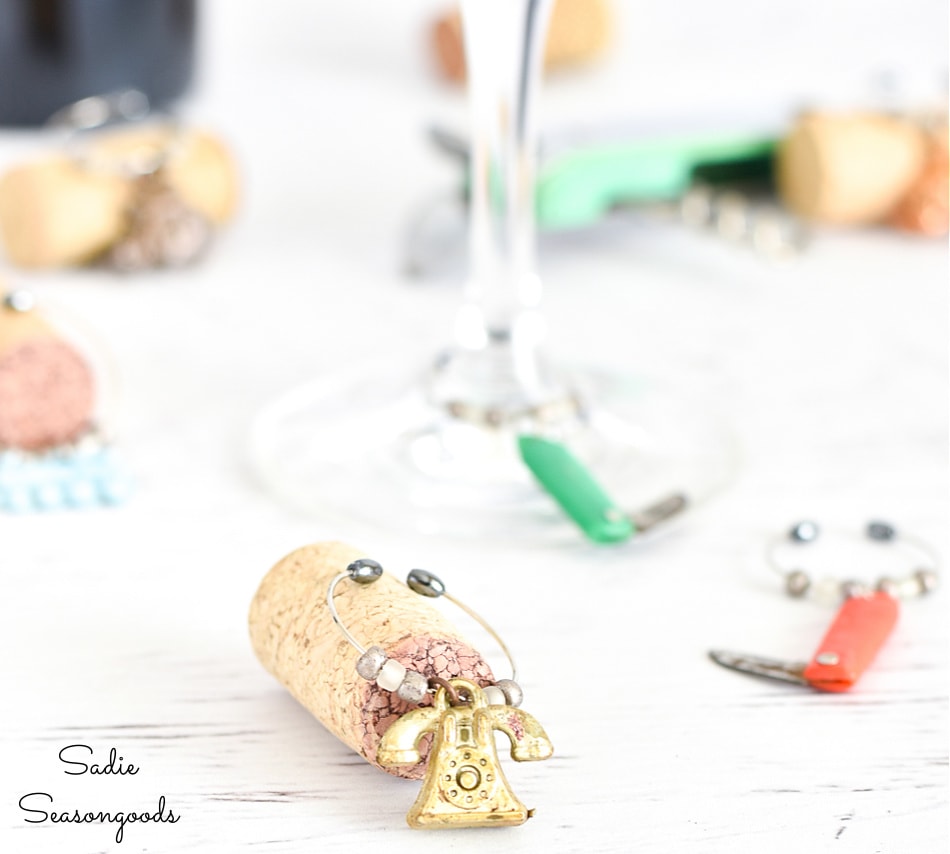 So many possibilities for this upcycling idea, don't you think?
If you enjoyed this upcycling idea for a set of wine charms or wine glass tags, then you'll love this cork trivet that I made from wine corks, too!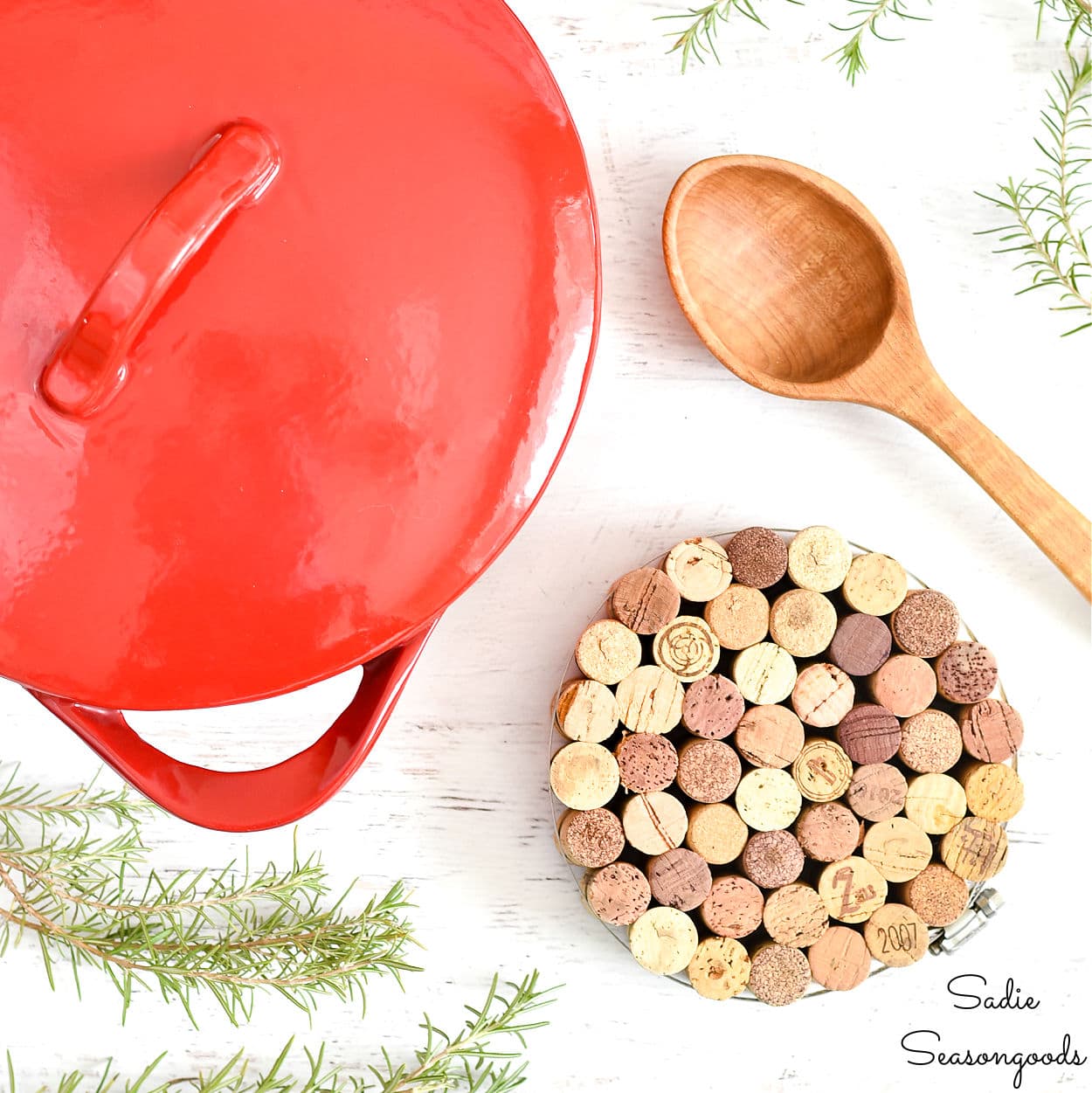 And this collection of upcycling ideas for all things wine, too!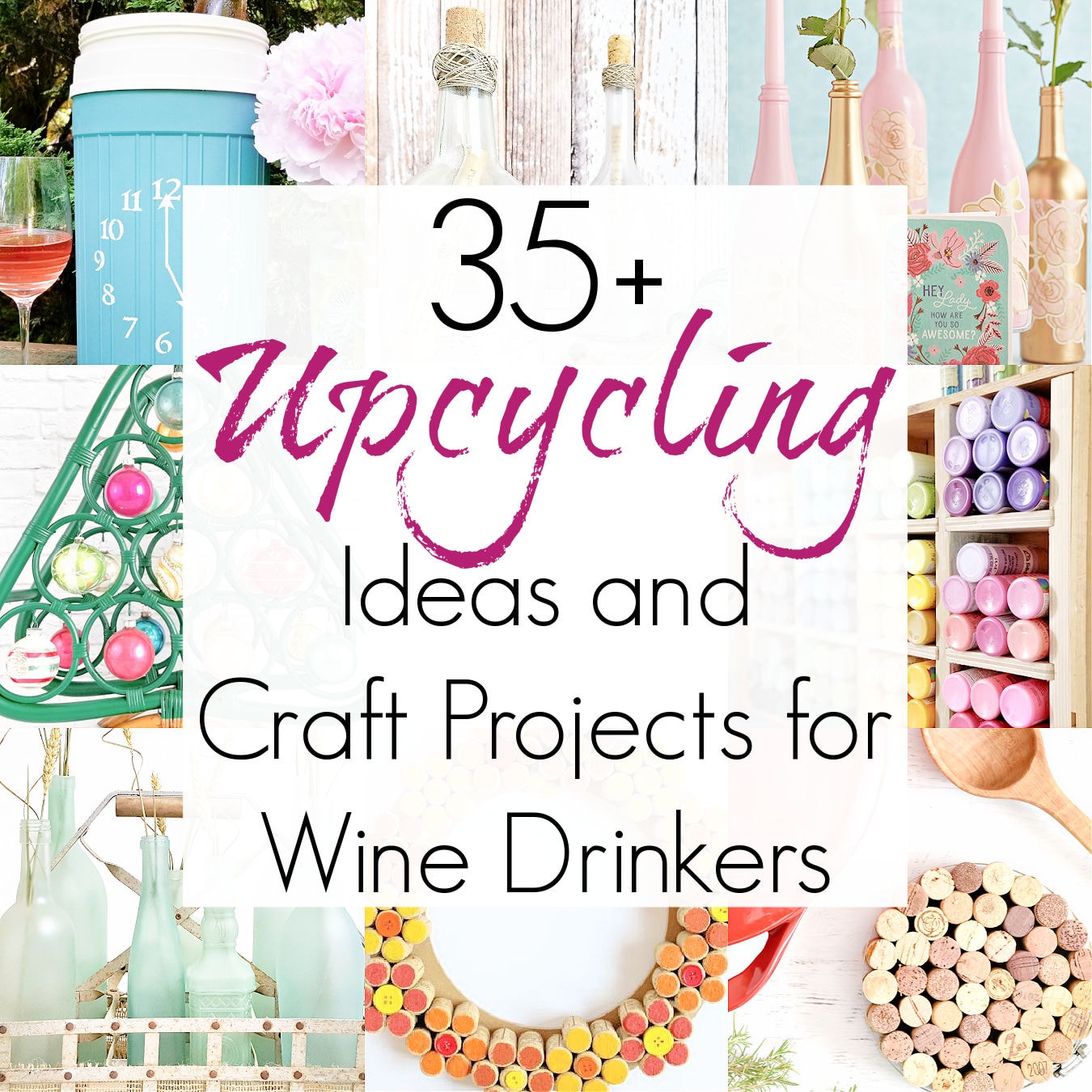 Craft on!
S
Join me on Social Media:

PIN ME!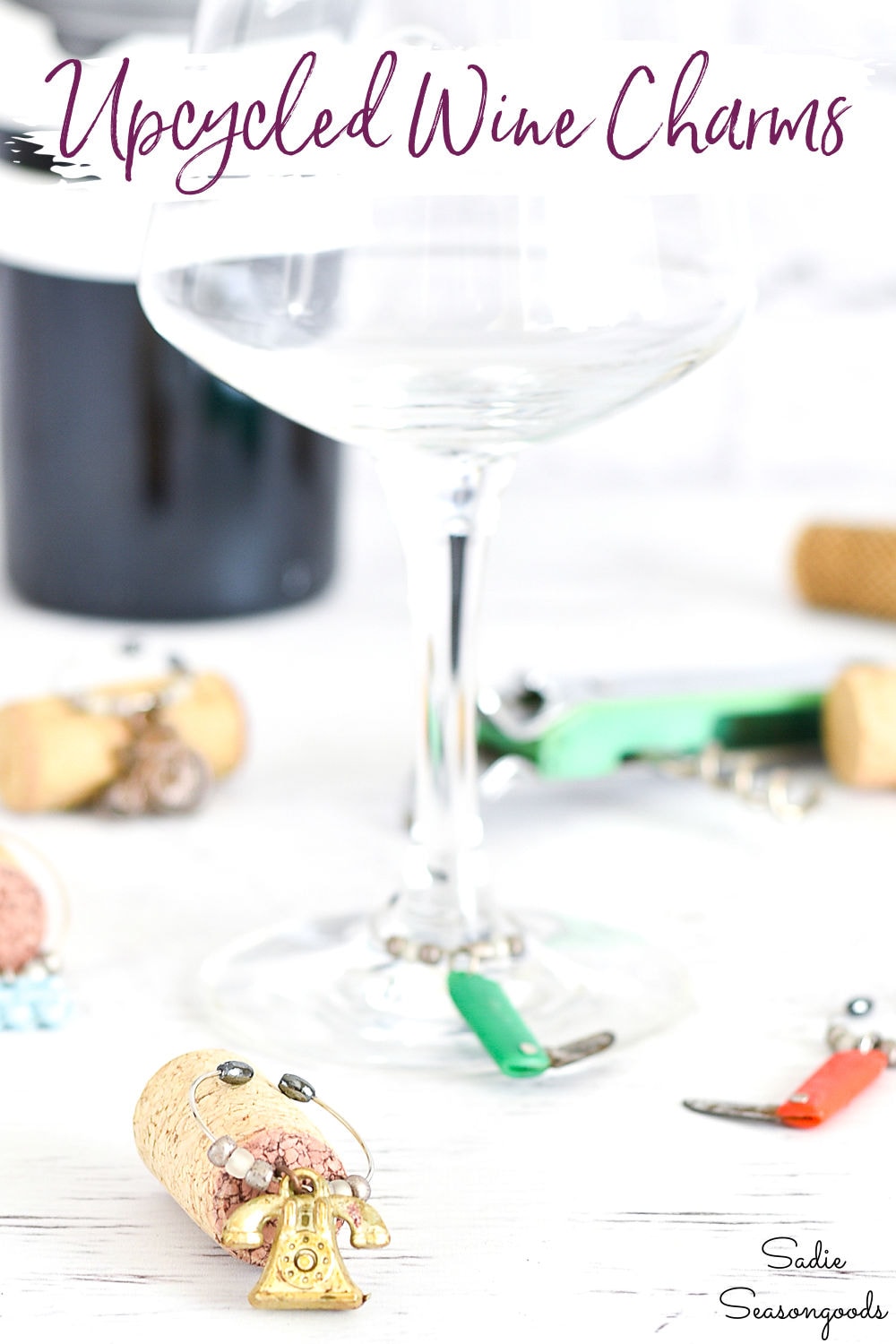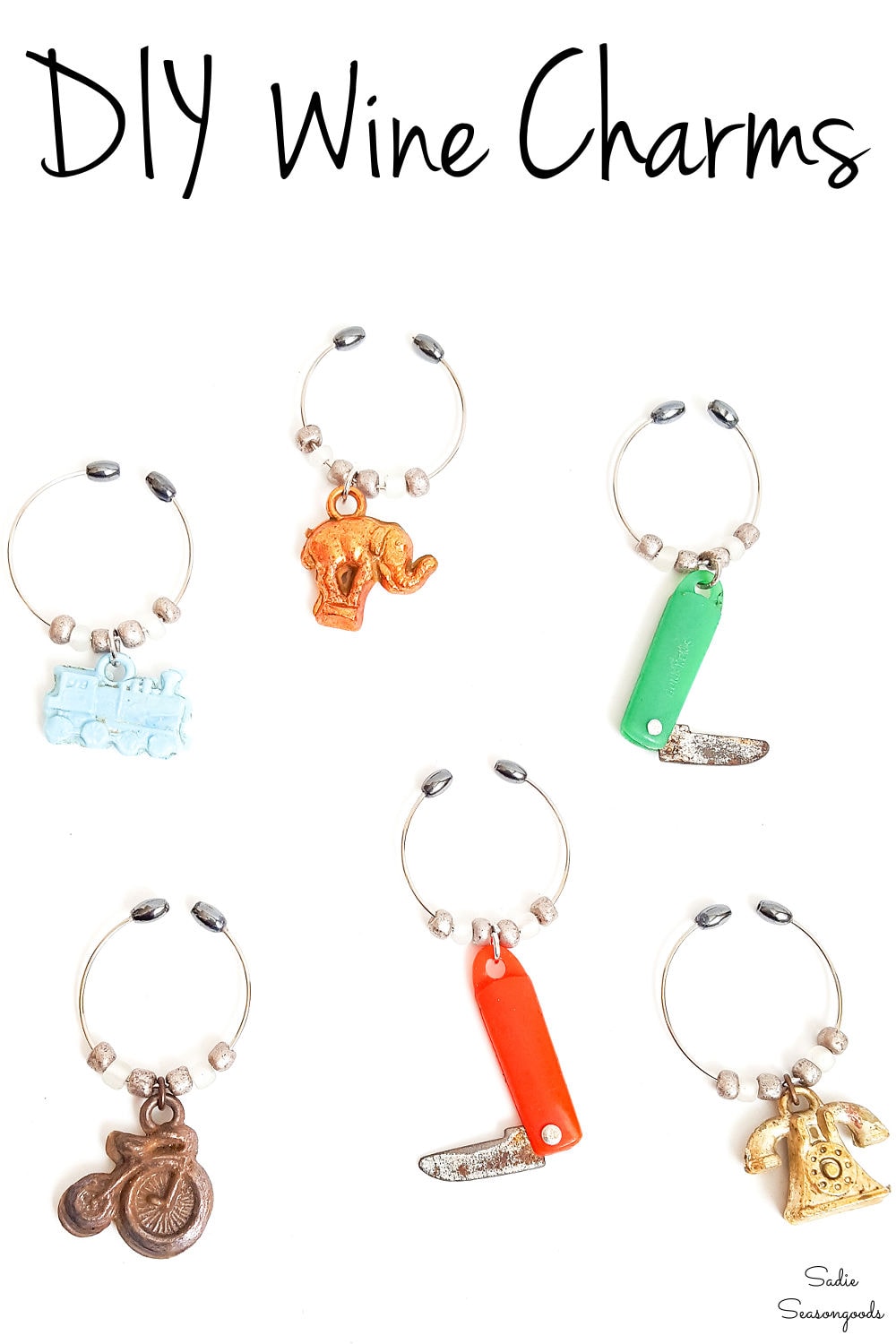 Sarah Ramberg is the owner of Sadie Seasongoods, a website that celebrates all things secondhand. From upcycling ideas and thrifted decor to vintage-centric travel itineraries, Sadie Seasongoods is a one-stop shop for anyone who loves thrifting and approachable repurposing ideas. Sarah is also the author of "Crafting with Flannel" and has been featured in numerous media outlets and magazines.