Dressing up a bottle of wine might not be the first thing that comes to mind when you're looking for gift ideas. But a wine gift bag is SURPRISINGLY easy to make if you head to the thrift store first.
Why? Because most thrift stores have an abundance of secondhand clothing, including PLENTY of dress shirts in the men's department.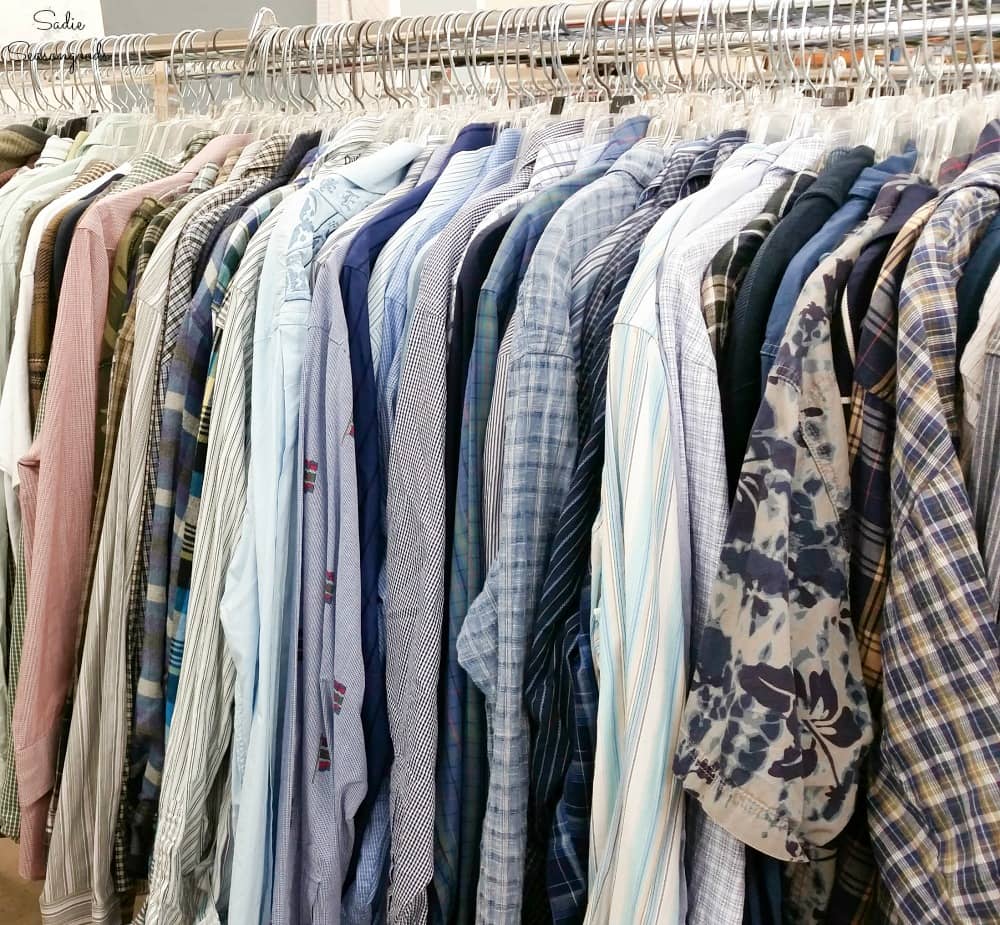 And I'm no stranger to upcycling men's button down shirts. Remember these drawer sachets I made for Father's Day?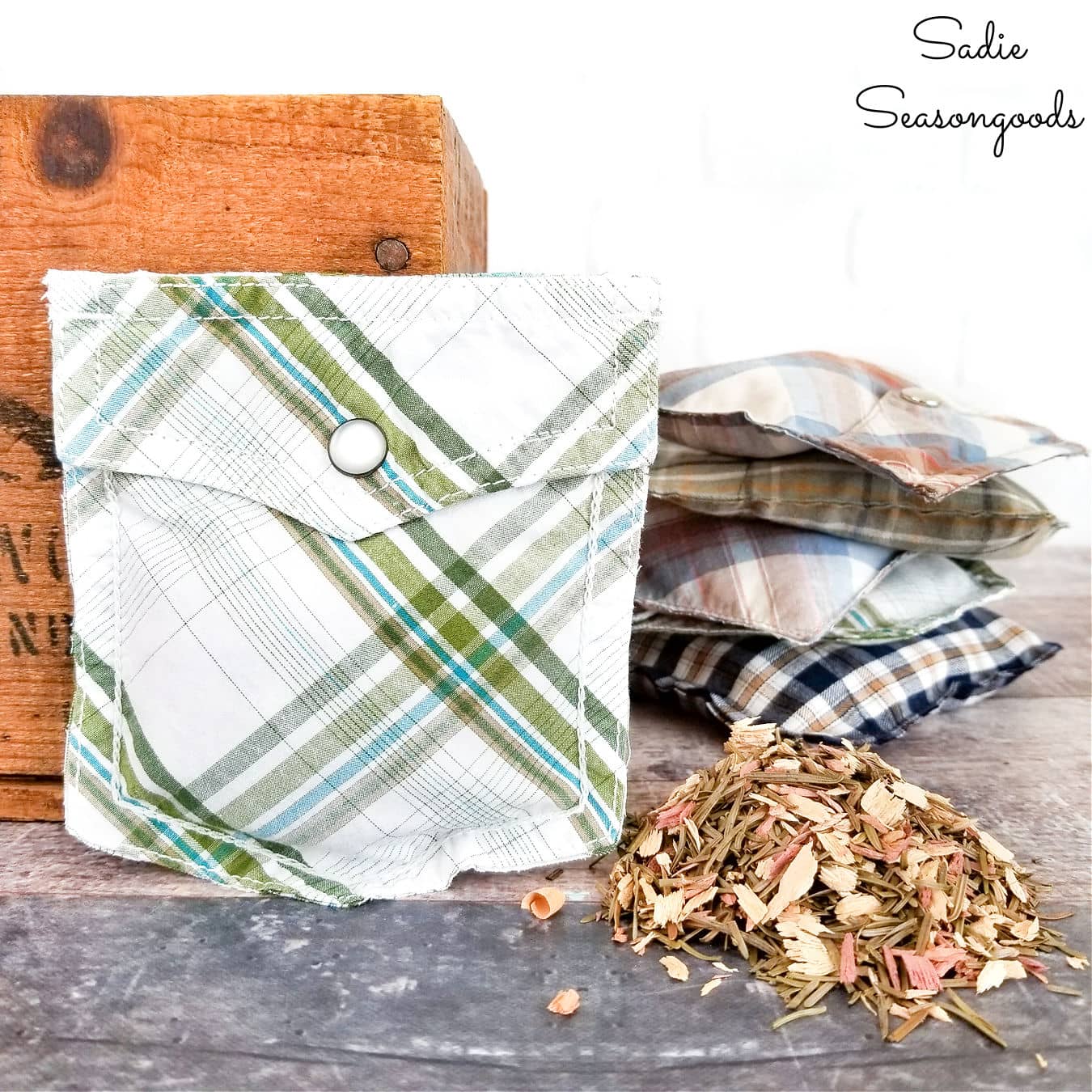 These same thrift stores usually have a stockpile of neckties, too. And plenty of 100% silk ones that are quite snazzy!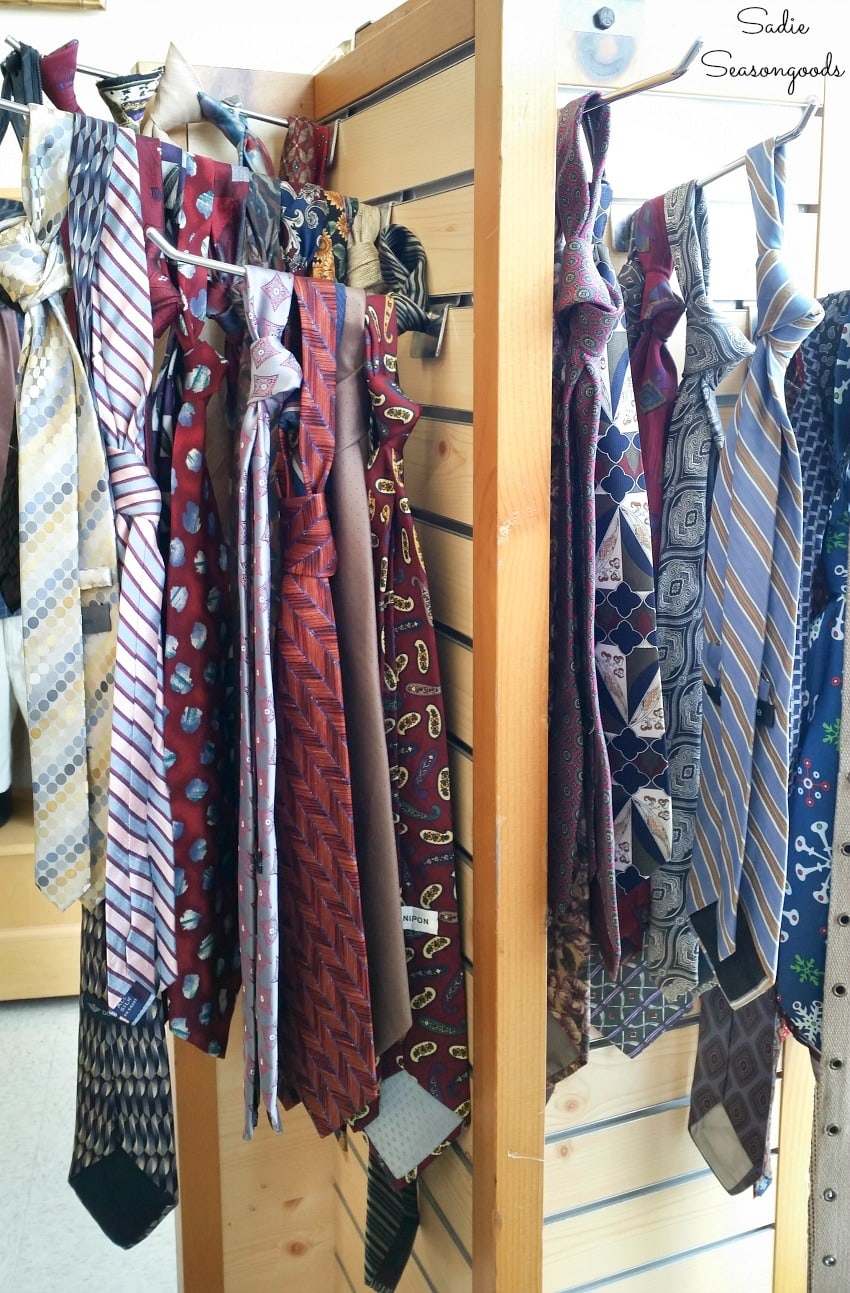 To make these DIY wine gift bags, all you need are the sleeves from the shirts you gather. But save the rest of the shirt for other upcycled clothing craft projects!
This post contains affiliate links for your crafting convenience. As an Amazon Affiliate, I earn from qualifying purchases. All blue, bold, and underlined text is a clickable link, either to a product or to a related post.
How to Make a Wine Gift Bag
First things first, you need the right button down shirt to repurpose. I say this from a size perspective- small and medium shirts tend to work best. Or a large if you're gifting an extra large bottle.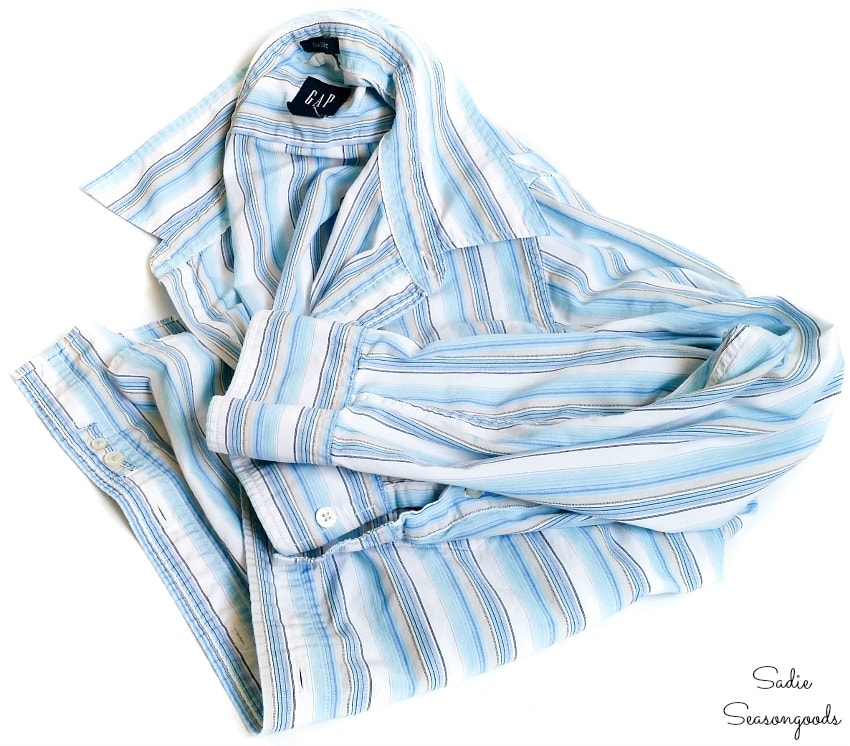 Next, lay down the bottle of wine on the sleeve to determine where to cut. You want to make sure that the neck of the bottle will show above the cuff once it's over, like a collar.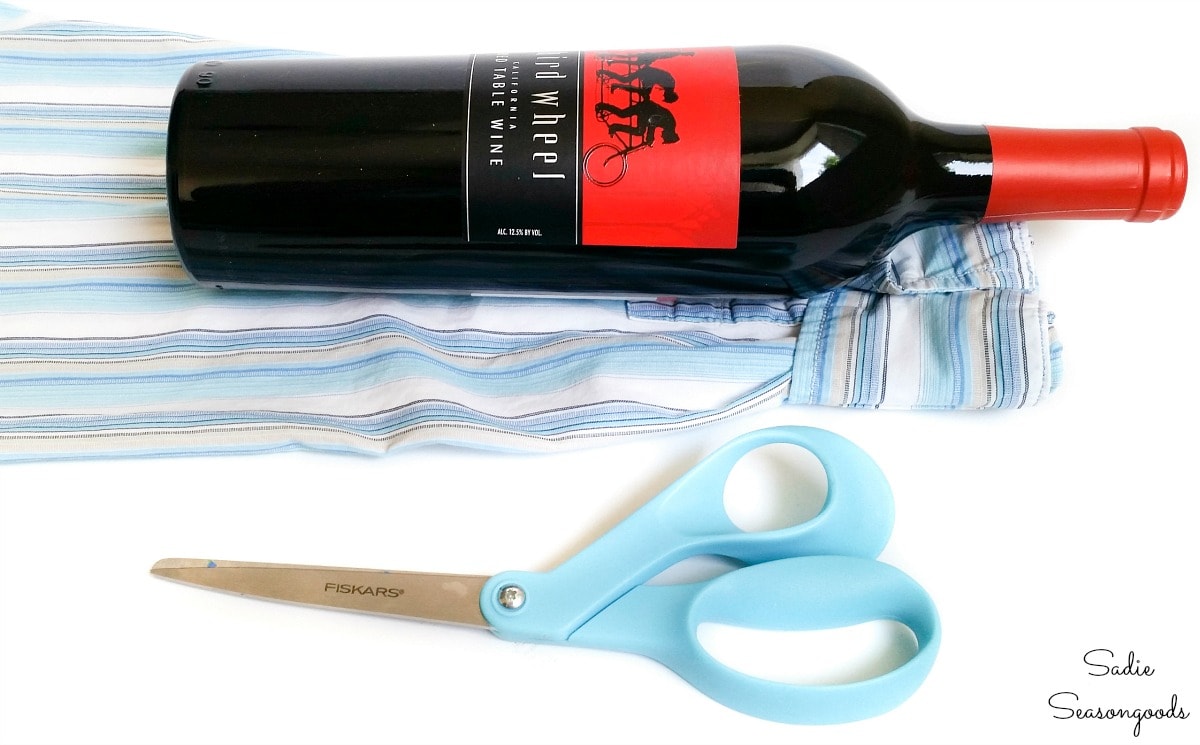 Then, cut along the bottom of your bottle (middle of sleeve) allowing a half inch allowance at the bottom for a seam.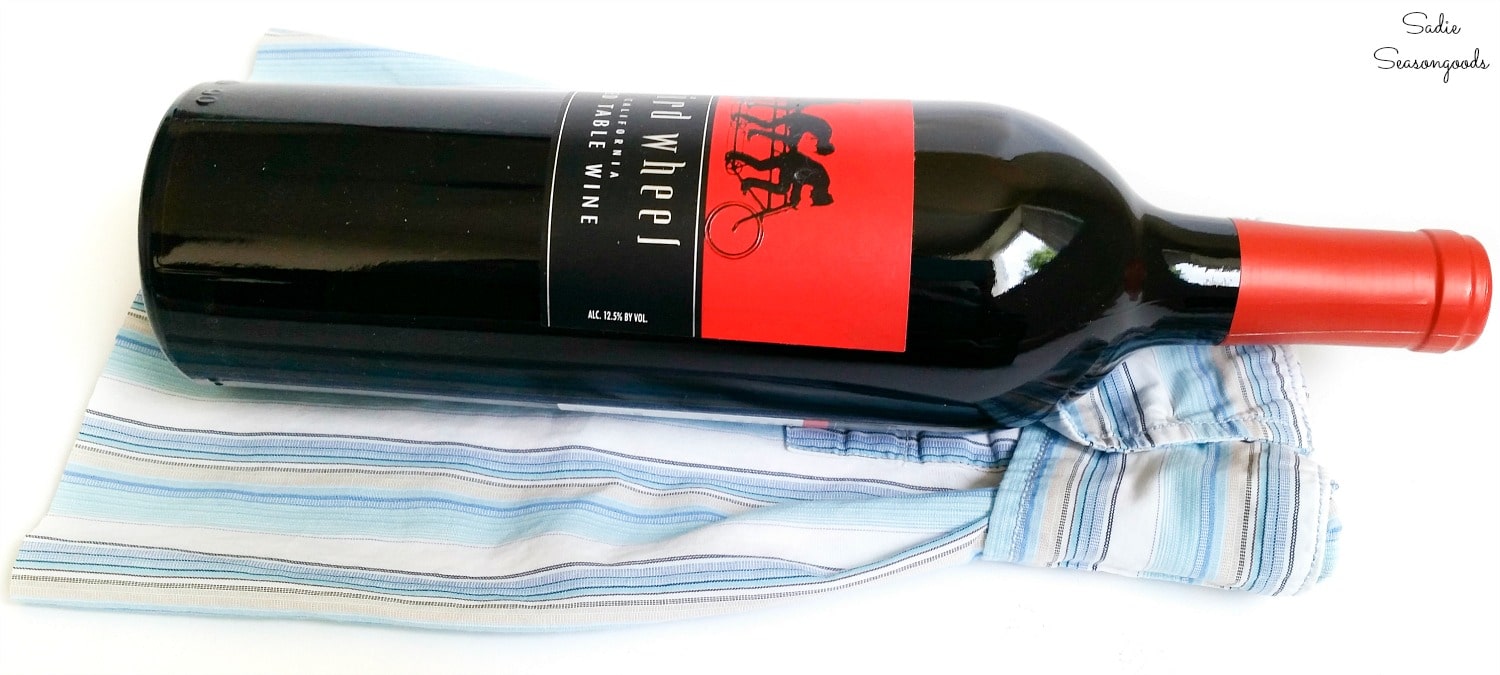 When all is said and done, this is what you'll end up with! Doesn't look like much yet, but trust me, it will soon!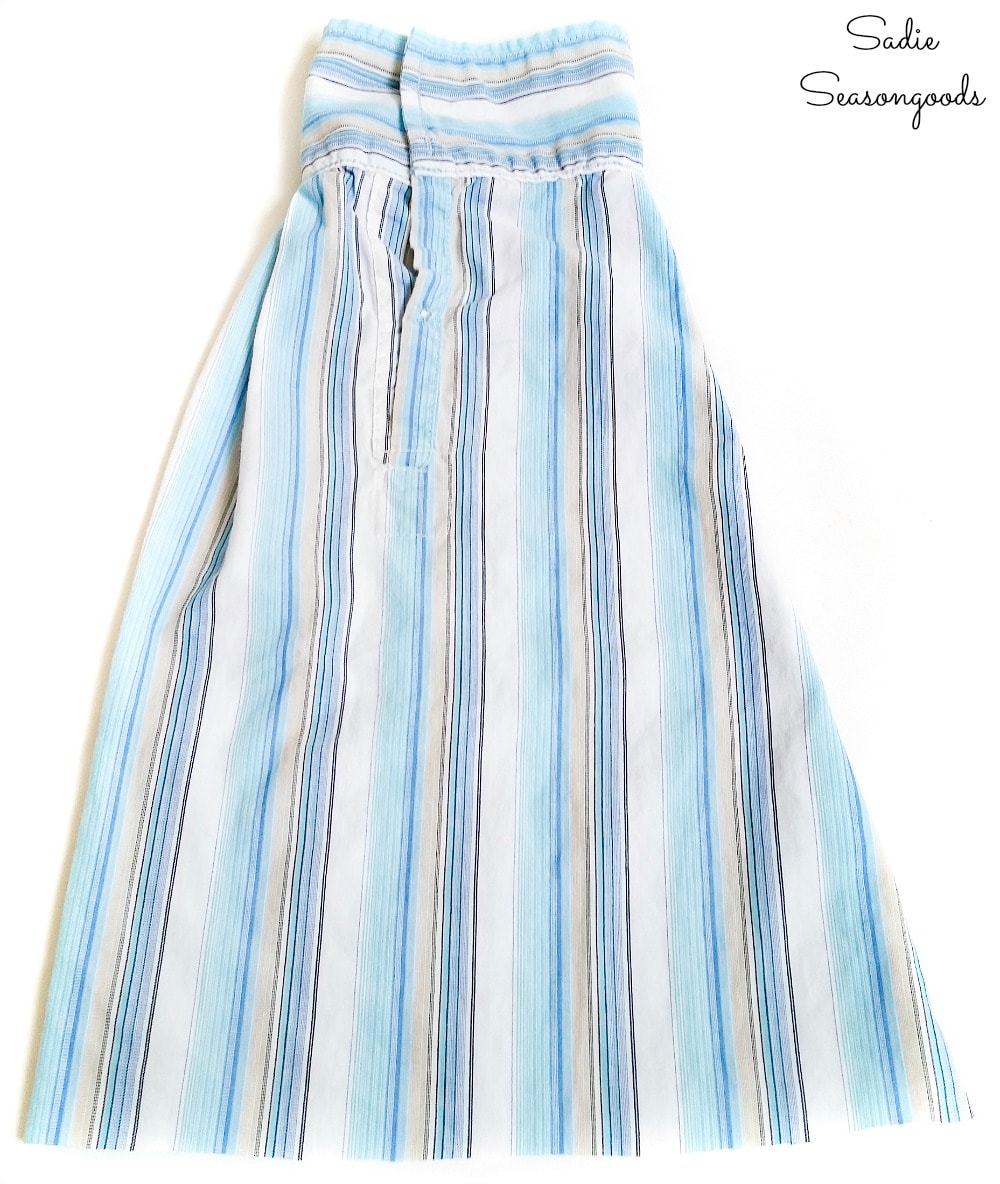 Finishing a Wine Bottle Sleeve
Now it's time to do some very simple sewing.
First, turn the sleeve inside out. Then, fold over one corner of the wide end of the sleeve so that the bag isn't quite as slouchy.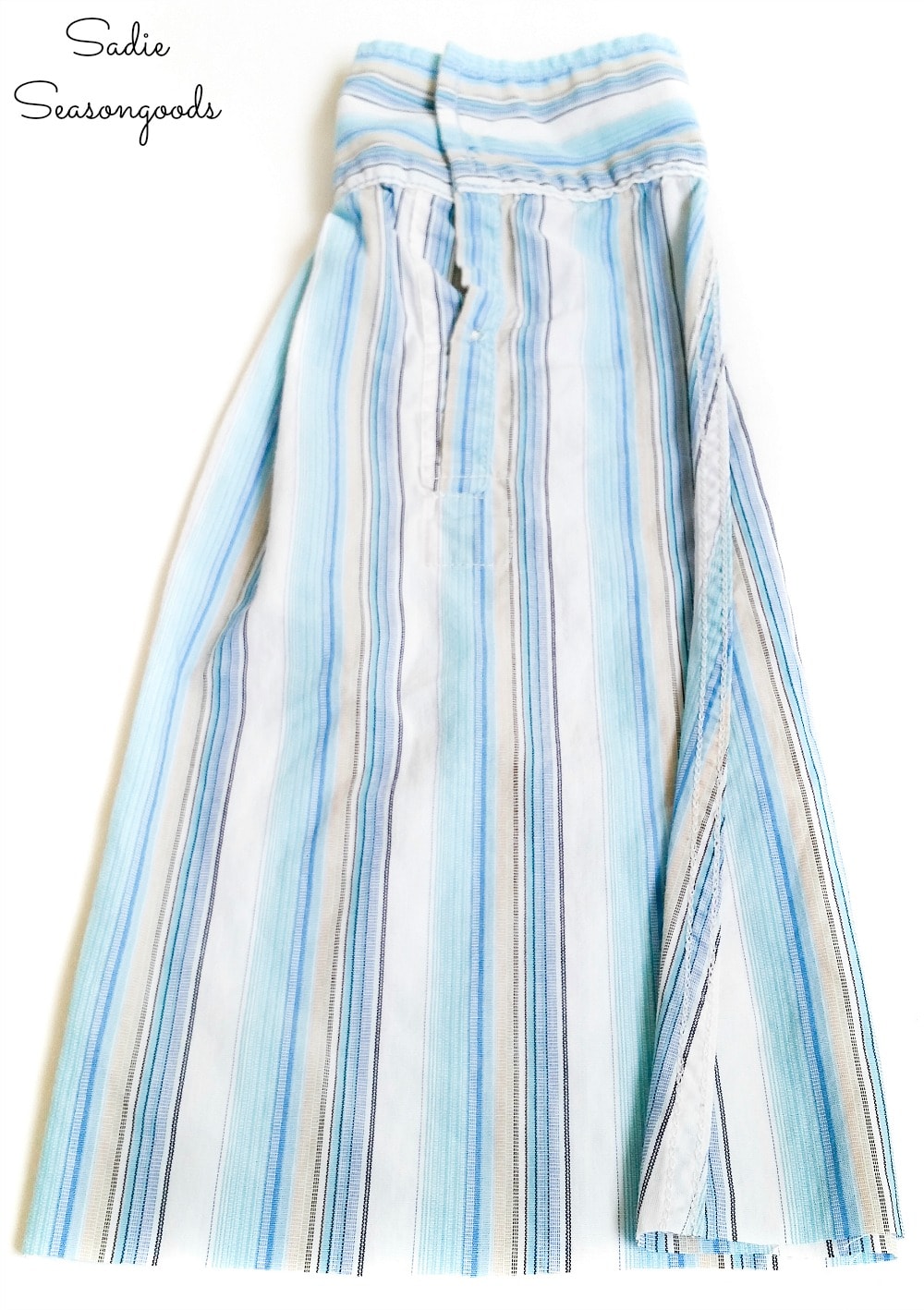 Then, with a needle and thread, straight stitch along the bottom (raw edge) of the sleeve. This will not only close up the bag so it becomes an actual bag, but this also holds the folded portion in place.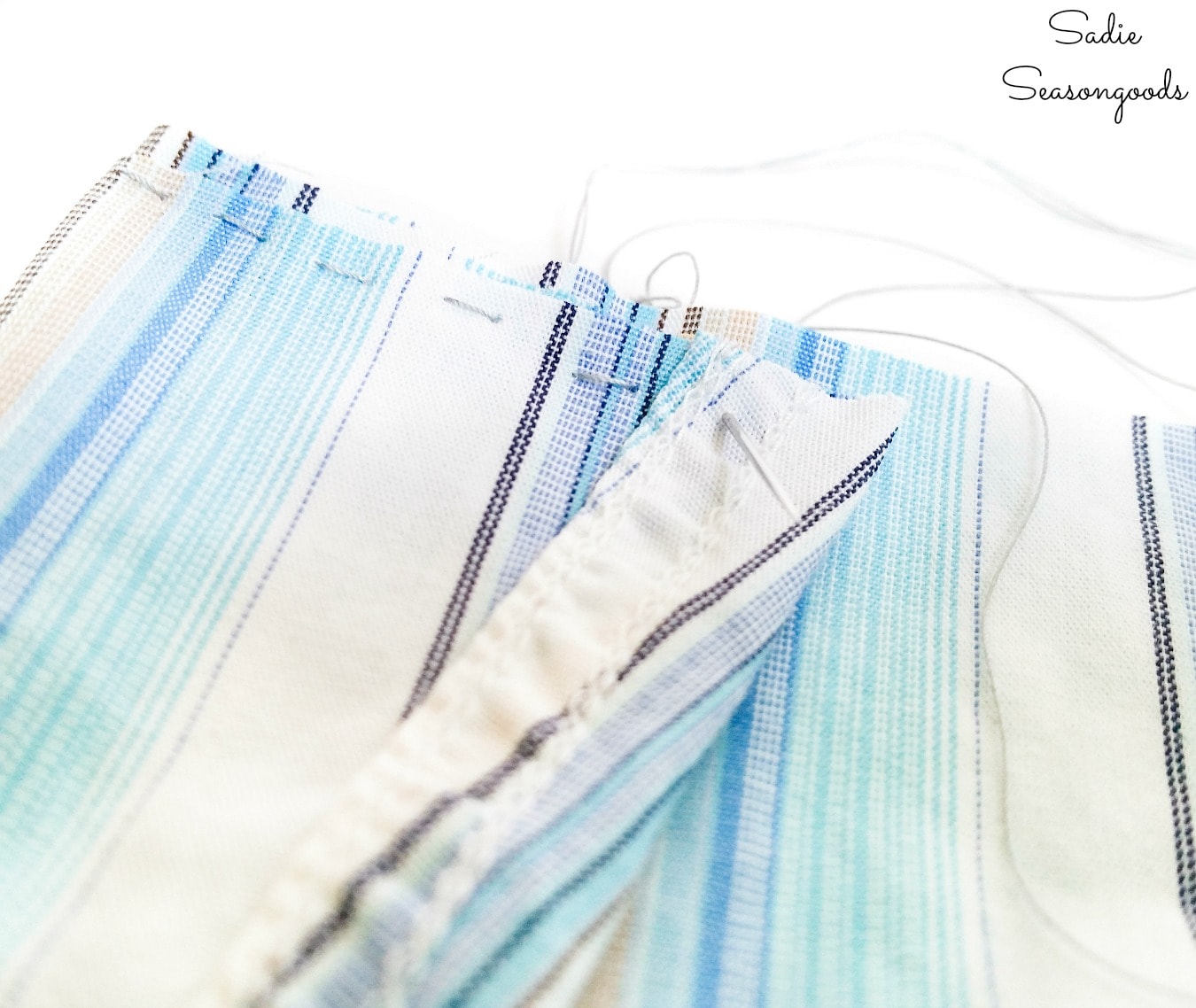 After you finish stitching, turn the sleeve back to right-side-out. Give it a quick ironing (if needed) and slip a bottle of wine into your cute bag.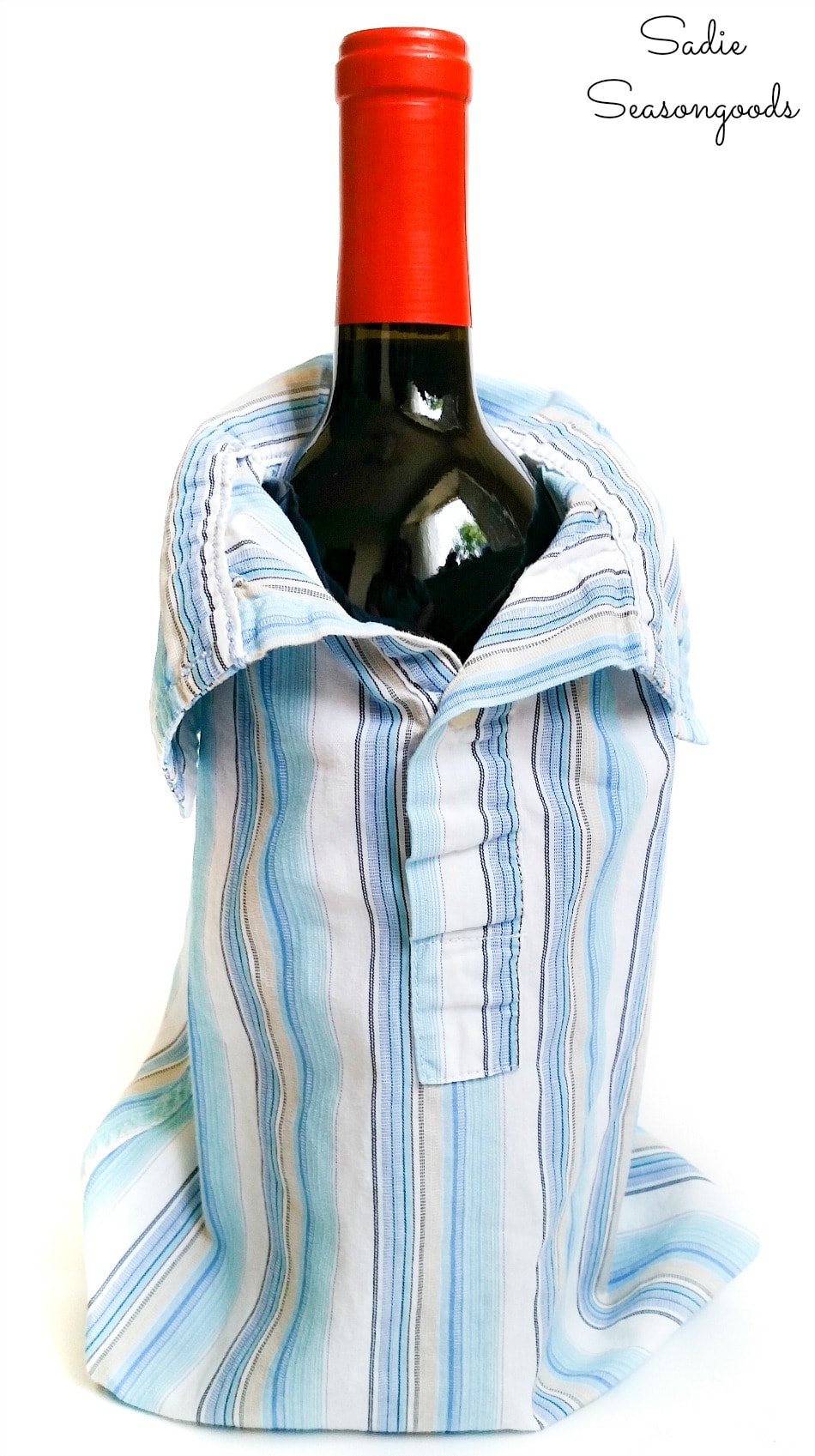 Last but not least, the pièce de résistance: a necktie!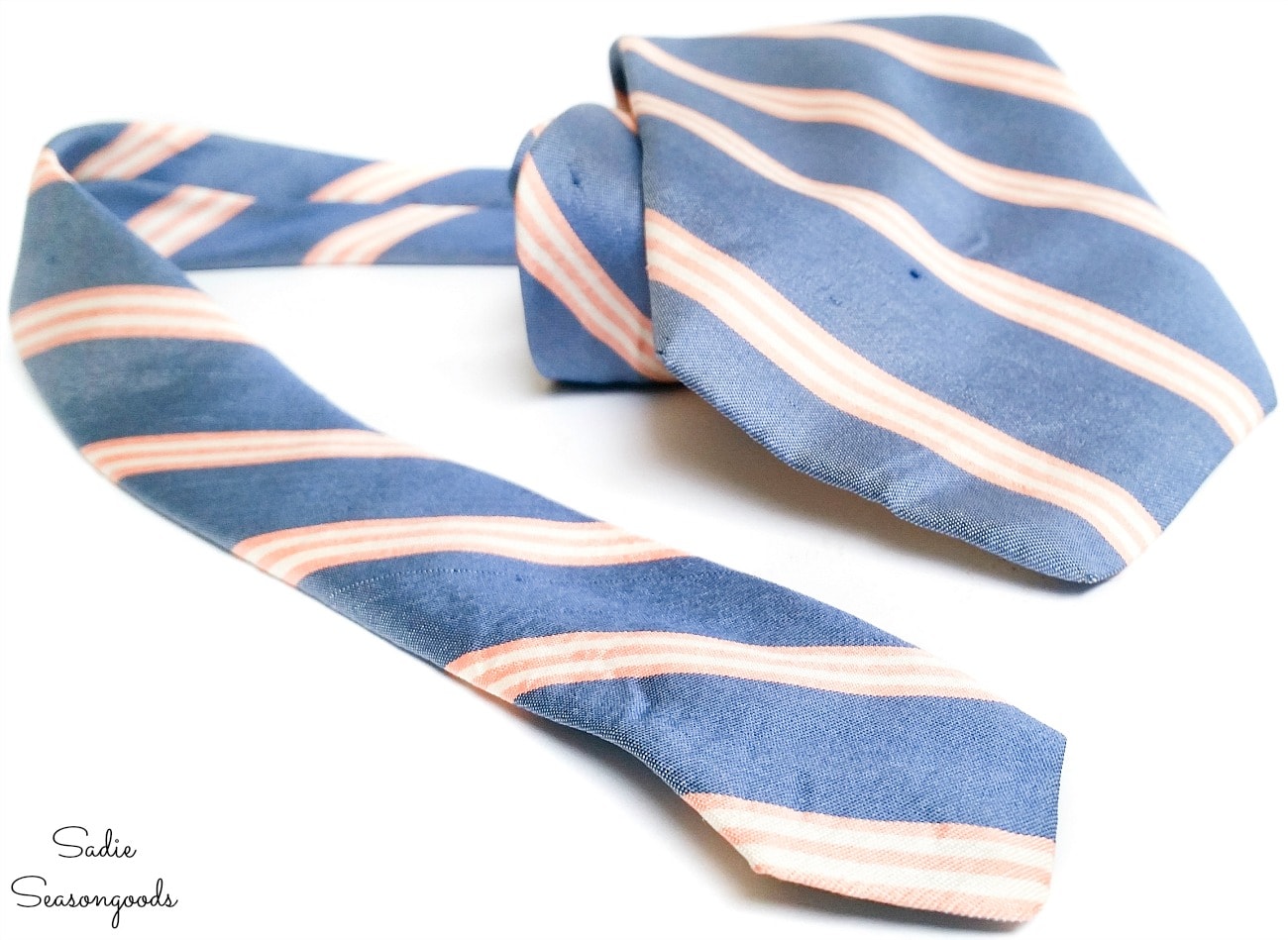 Simply cut off the skinny end of the tie (long enough to tie it around the bottle in a standard Windsor knot).
Wine Gift Bag from a Button Down Shirt
Then, use the folded over cuff as your collar and voilà- a dashing bottle of wine!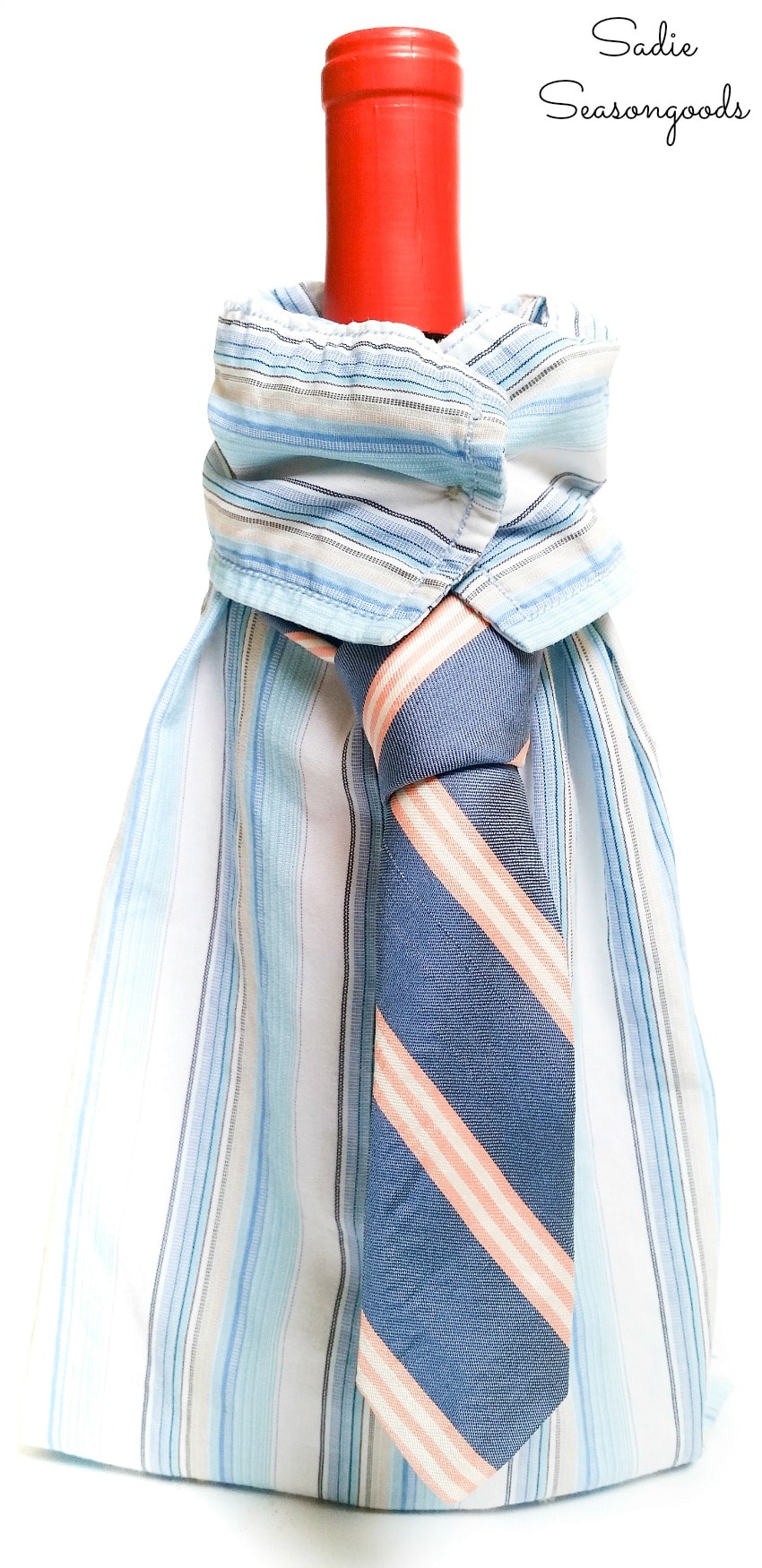 I seriously can't stop making these wine gift bags from button down shirts and ties. They're just so dang cute and easy to make.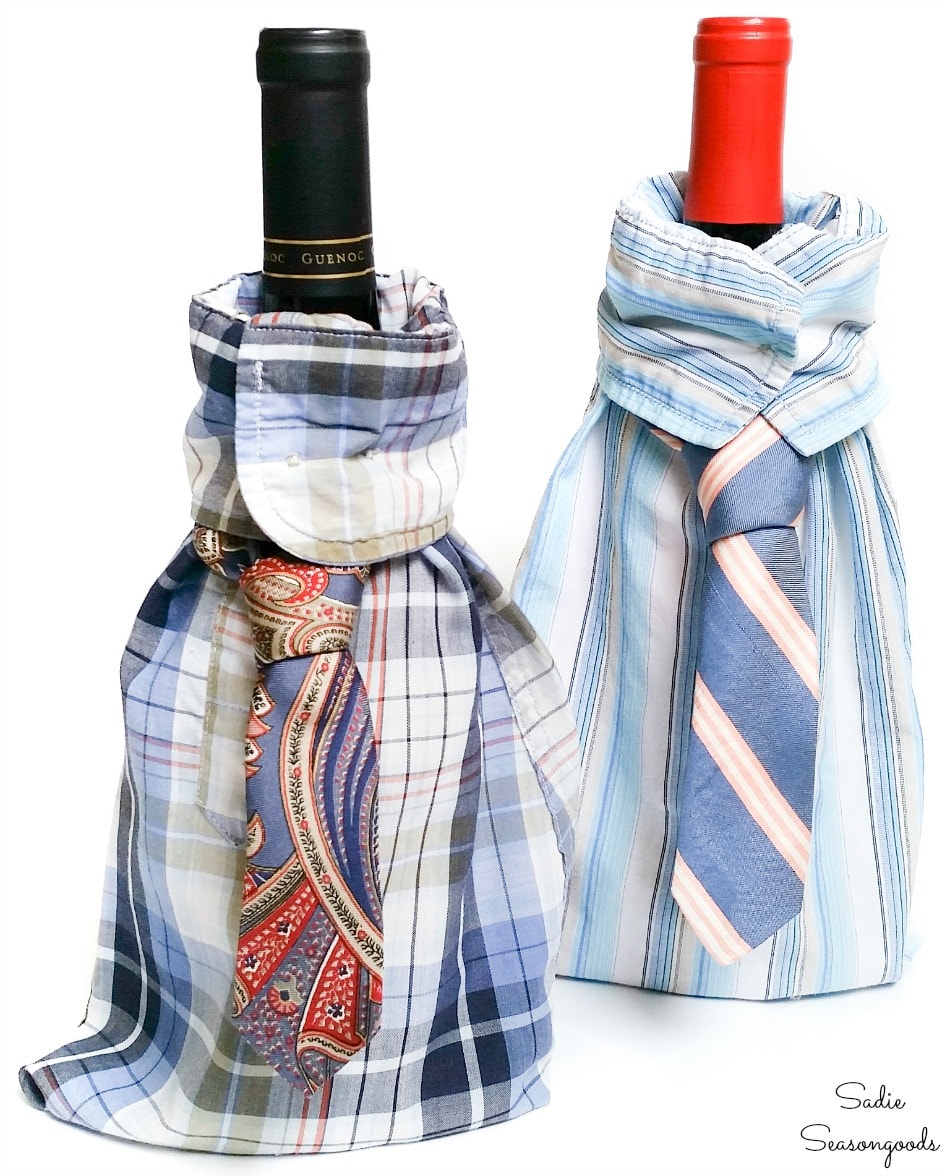 How natty is that? And undressing it is even more enjoyable.
And these wine gift bags aren't just for, well, wine. You could certainly do this for his favorite bottle of bourbon or other liquor- even large bottles of beer would work just fine!
If you enjoyed this upcycling idea for button down shirts, then you may love these upcycling crafts that use flannel shirts, too!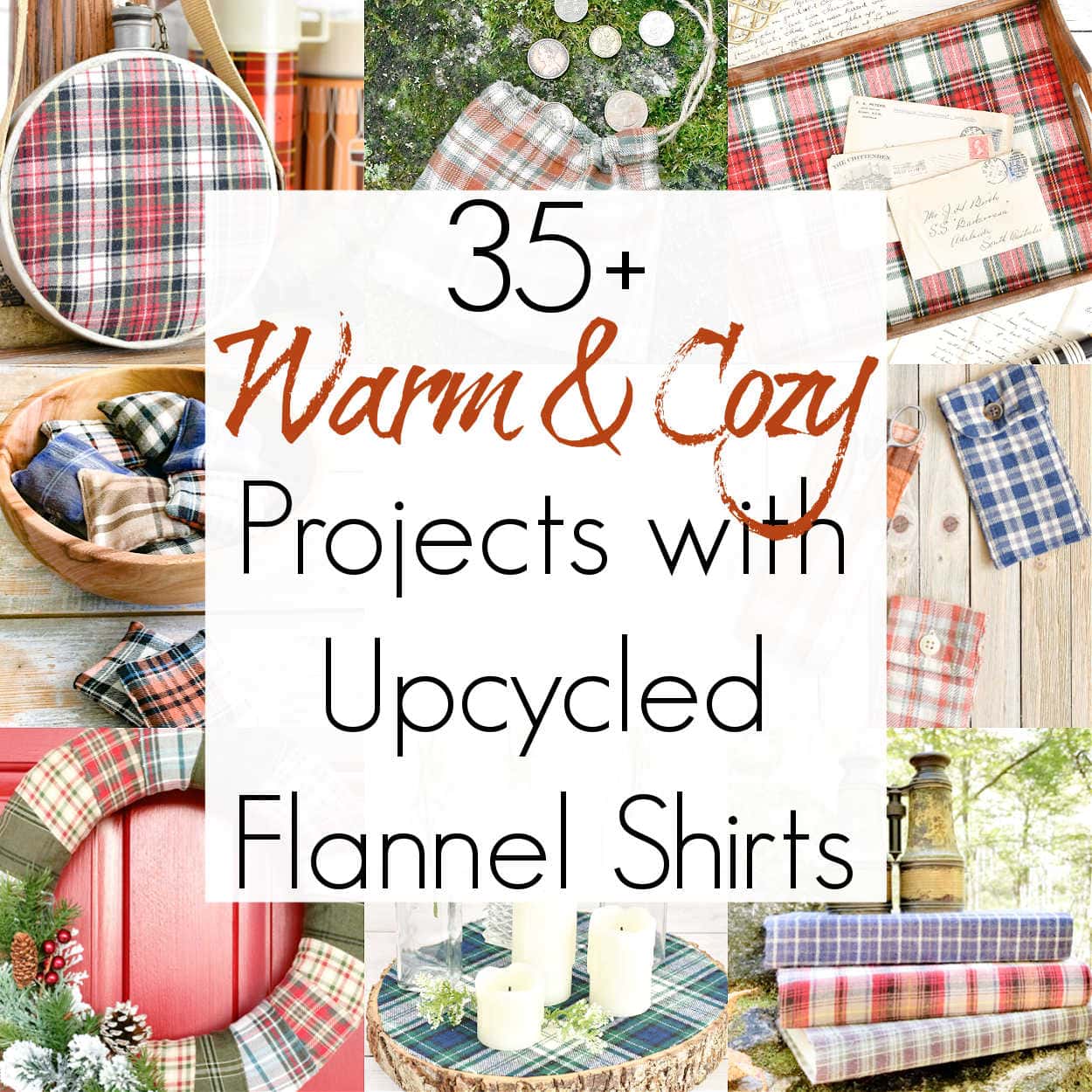 Craft on!
S
Join me on Social Media:

PIN ME!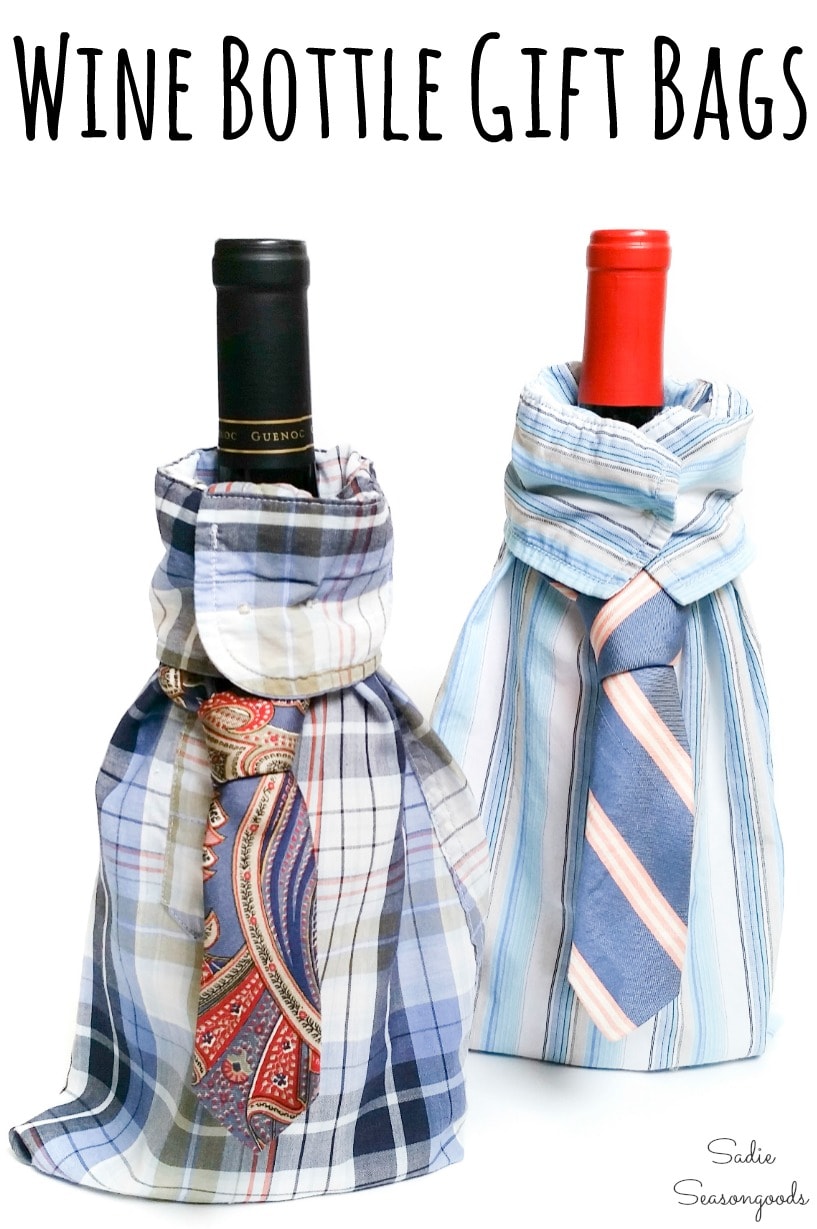 Sarah Ramberg is the owner of Sadie Seasongoods, a website that celebrates all things secondhand. From upcycling ideas and thrifted decor to vintage-centric travel itineraries, Sadie Seasongoods is a one-stop shop for anyone who loves thrifting and approachable repurposing ideas. Sarah is also the author of "Crafting with Flannel" and has been featured in numerous media outlets and magazines.