Even though I made repurposed drawer sachets once before, I had this spark of an idea and I simply had to share it with you. If you've been looking for ideas for DIY Gifts for Dad for Father's Day, then these scented sachets or sachet bags made from repurposed clothing is JUST what you've been waiting for. I like to think of them as: Shirt Pocket Sachets!
Wait, what did she just say? SHIRT. POCKET. SACHETS?
I sure did…and it all started out with a quick browse through the clearance men's clothing section at Goodwill…
I was, no surprise, looking for flannel shirts…because as the temperature rises, flannels are NOT in high demand, so I always re-stock my stash during the hotter months.
And while I found a few flannel shirts, I was struck by the number of plain cotton button down shirts. As I ran my fingers over the faux pearl snaps on a few of them, the idea of repurposing the pockets alone popped into my head. This post contains affiliate links for your crafting convenience.
Making Sachet Bags to Fill with Masculine Scents
So, here's what I did. I gathered a collection of shirts that had breast pockets from the clearance section. And while I have always recommended getting large and XL shirts (more fabric for your buck), I recommend the opposite for this project!
As it turns out, the smaller (younger?) men's shirts tend to have TWO pockets with snaps…or, at least, that was what I ran into. And smaller snapped pockets are seriously ideal for these scented sachets / sachet bags.
ANYWAY, I laundered my shirts and used fabric scissors to carefully cut out the full pocket along the stitching, being careful to not cross the stitching.
Because I'm considering these as DIY Father's Day gifts, I decided to use masculine scents for these drawer sachets. Of course, you could fill the pockets with whatever you'd like, but I went with balsam needles (from this Etsy shop) and fresh cedar wood chips (from this Etsy shop).
And before filling my sachet bags, I ran a hot iron over the pockets first.
Another option would be to mix baking soda with woodsy essential oils like these and scooping the mixture into a pocket.
Once I had filled each pocket with cedar and/or balsam (and sometimes a mix of both!), I pinned them closed (and snapped shut, if they had snaps).
I used my beloved sewing machine to run along the top of the pocket (for the snapless pockets) or along the flap of the pocket (for the snapped pockets) to keep it closed.
For added insurance, you could also run along the original pocket stitching, too. You could easily stitch them closed by hand, as well.
DIY Father's Day Gifts with Scented Sachets Made from Repurposed Clothing
How great is that!? Easy drawer sachets or sachet bags that will be a perfect gift for any "him" in your life- whether you repurpose an old shirt from his closet or find some on clearance at your local thrift store.
These scented sachets filled with masculine scents are perfect for sock and/or underwear drawers. He may not understand WHY sachets are so wonderful, but give it a few days…I think he'll come around after that!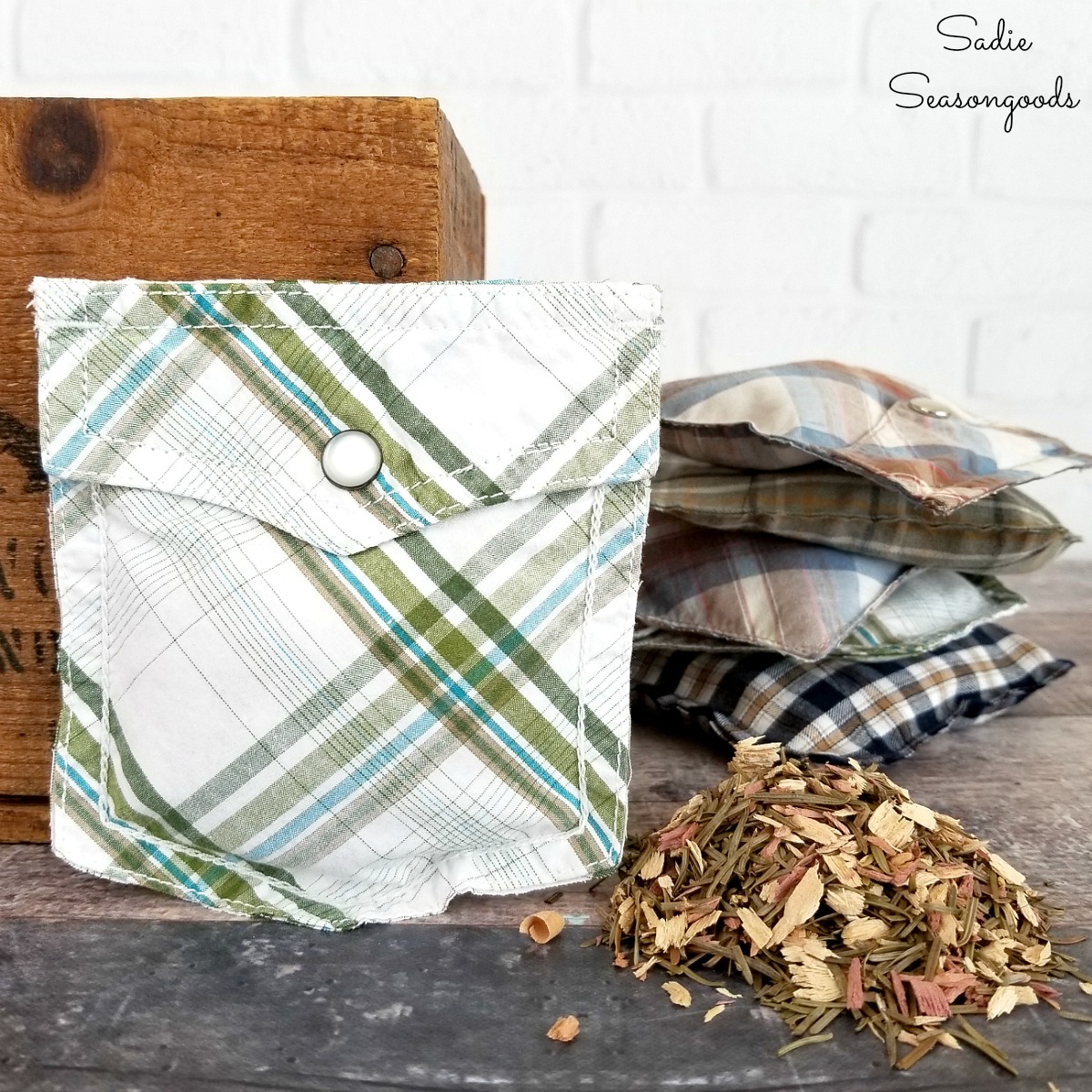 Looking for more upcycling ideas for DIY Gifts for Dad? These beer coasters made from mini tart pans might be EXACTLY what you need if your guy is a Craft Beer Lover!
Craft on!
S
Want to be notified when I publish my next upcycling project tutorial?
Subscribe to Blog via Email
Follow me on Social Media: