Earlier this year, our county stopped recycling glass of any kind. So, not only did I become a more mindful consumer at the store, but I started thinking of ways to upcycle our glass bottles. And transforming some of our empty wine bottles into sea glass bottles seemed like a GREAT place to start.
I gathered up some of our empty glass bottles and supplemented my collection with help of a local restaurant.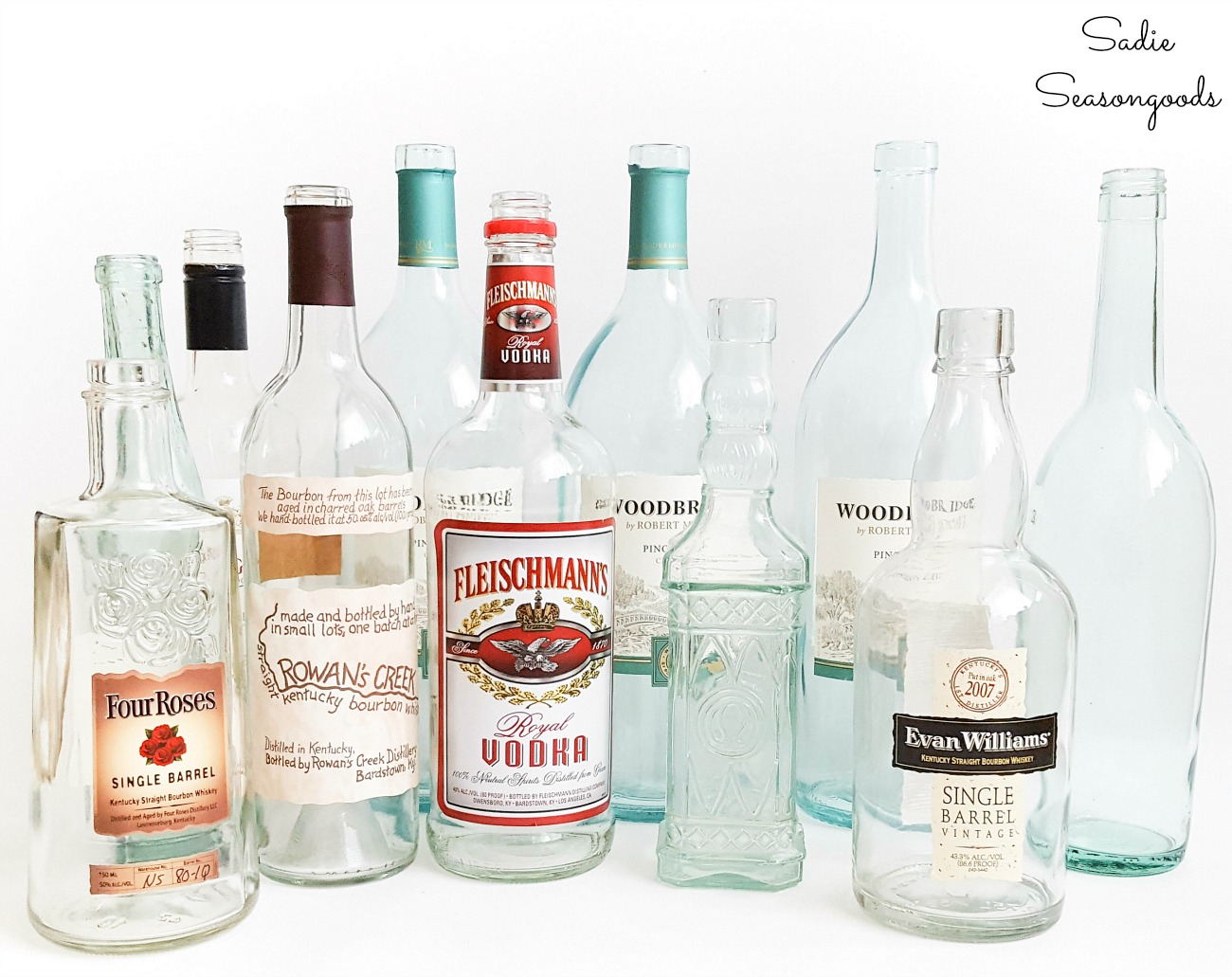 To create the sea glass bottles that I had in my mind, I planned on using this sea glass paint. It was a new-to-me craft product that I was excited to try!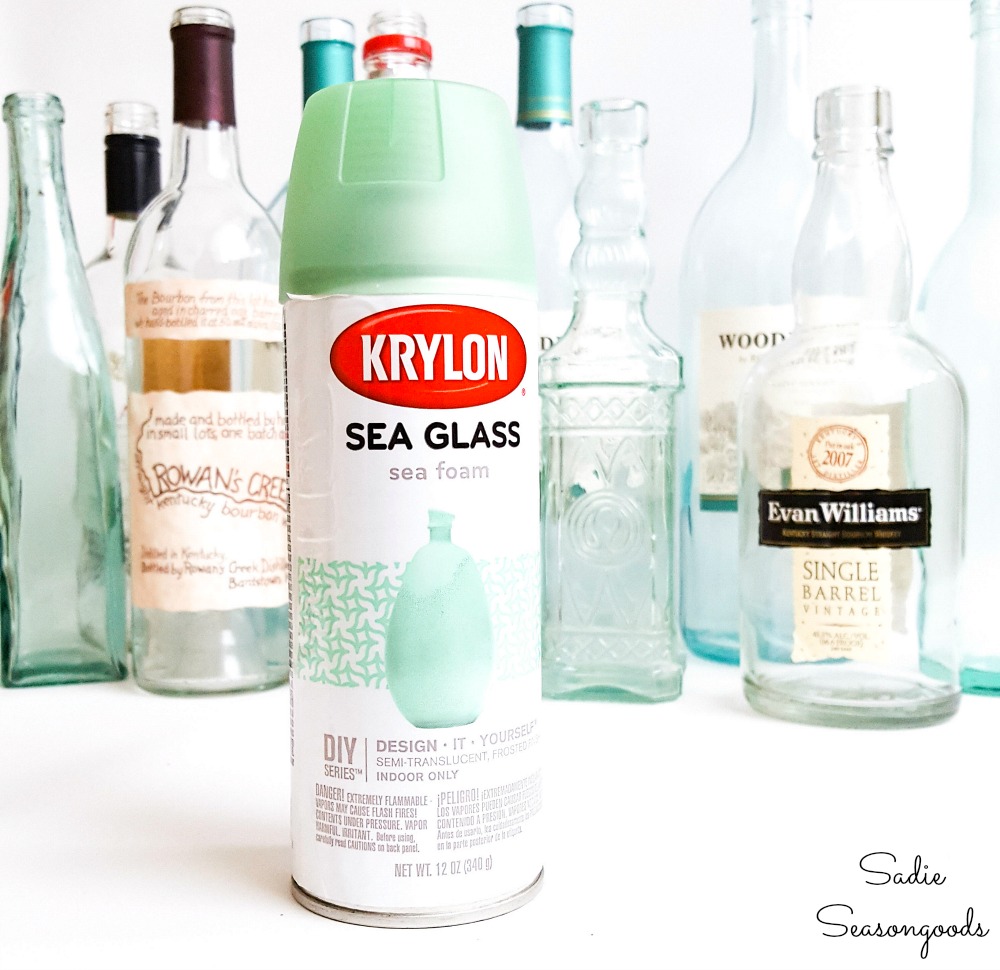 As my project vision crystallized in my mind, I dug out milk bottle carrier from my stash of vintage goodies. I can't believe I've never used this in a project before!
But if all went as planned, it would be perfect for displaying the sea glass bottles.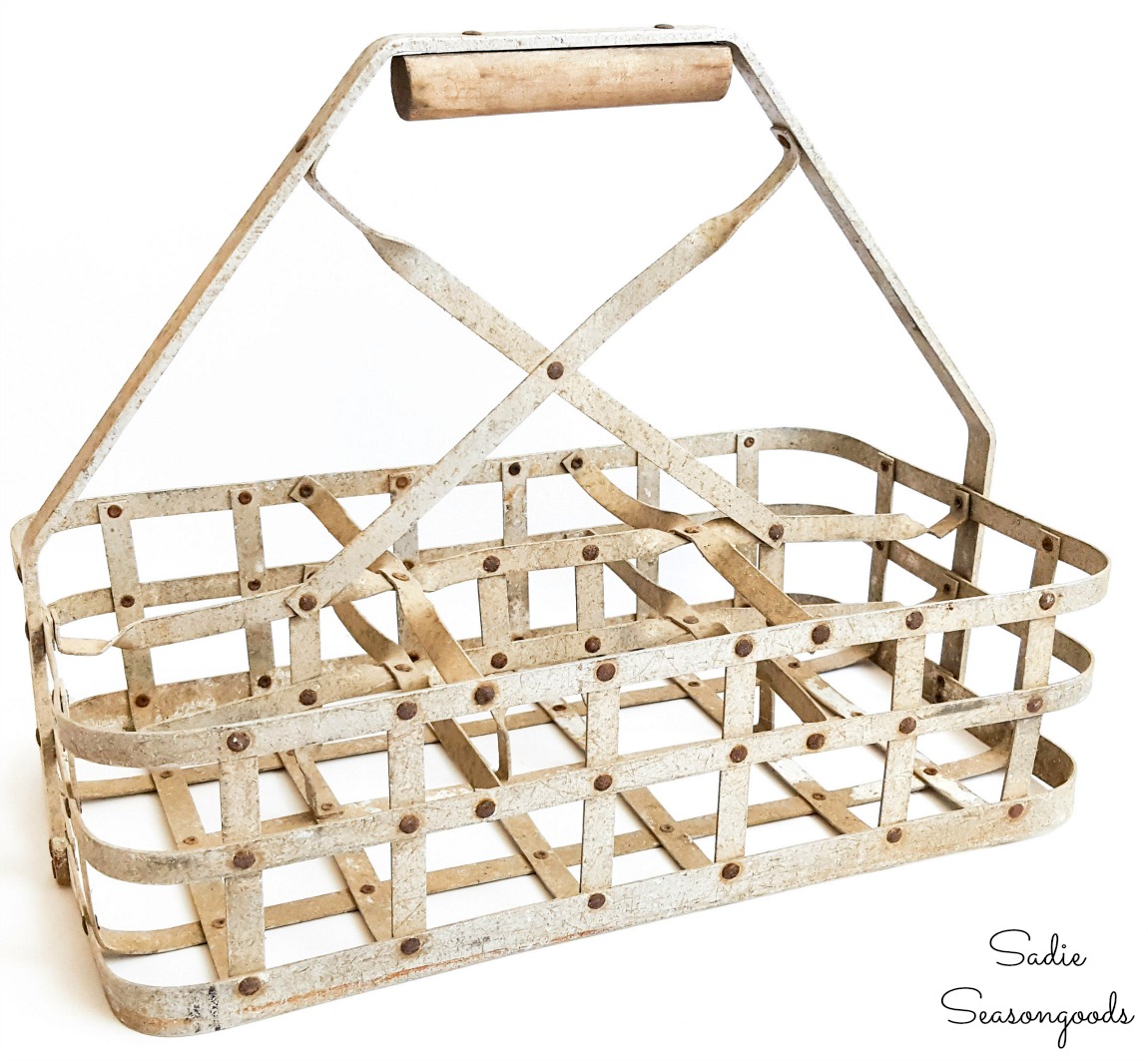 Now I would start transforming my humdrum clear and soda-bottle-green bottles into sea glass decor.
This post contains affiliate links for your crafting convenience. As an Amazon Affiliate, I earn from qualifying purchases. All blue, bold, and underlined text is a clickable link, either to a product or to a related post.
Transforming Empty Wine Bottles into Sea Glass Decor
I planned on using the Krylon sea glass spray paint which I used on the perfectly clear and colorless bottles in my collection. I figured that would allow the sea foam green to really pop.
But on the glass bottles that had a blue tint, I used a frost-effect paint (from Martha Stewart, and not to be confused with corrosive glass etching cream).
Note- I could ONLY find this stuff online!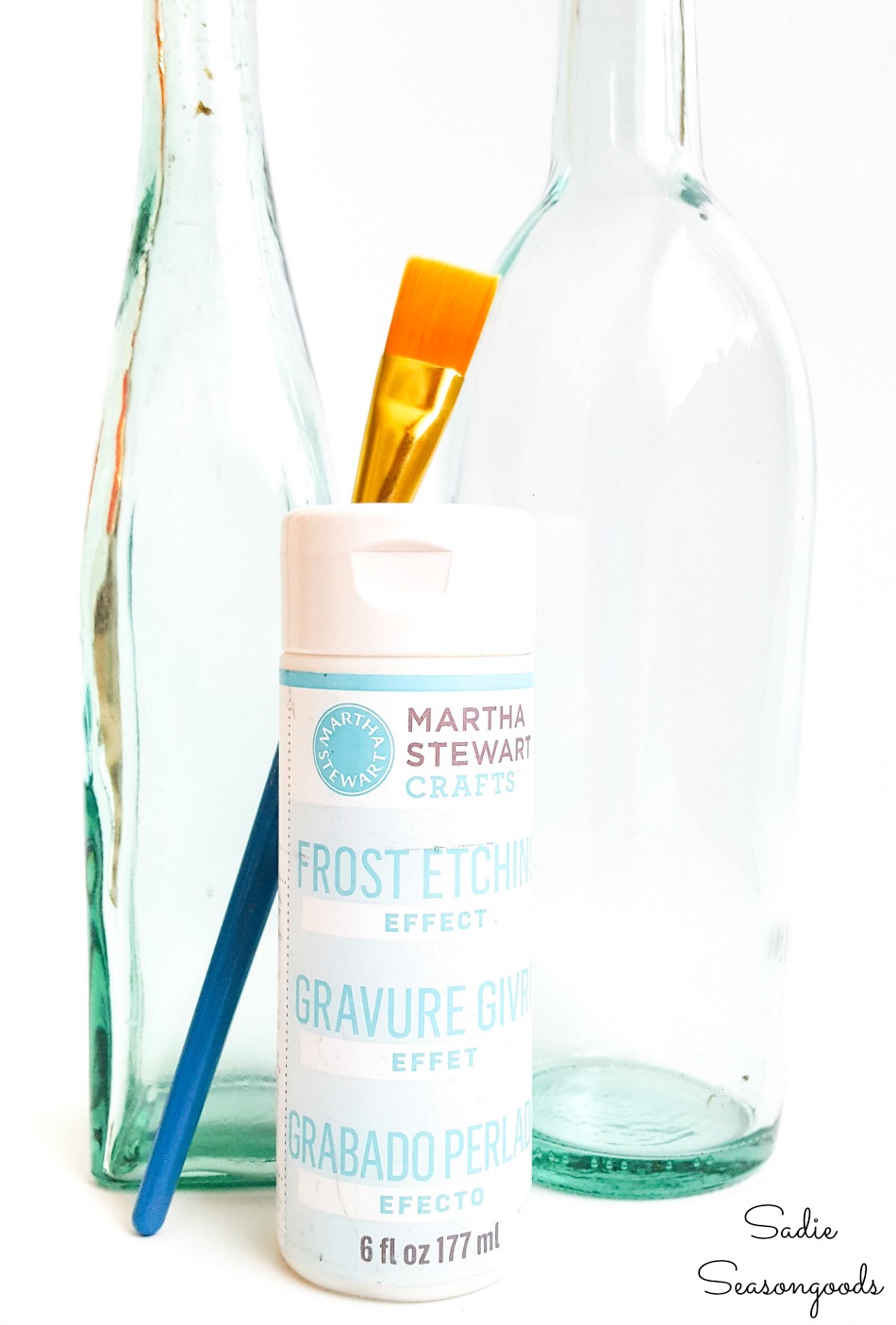 Both yielded truly excellent results, and they dried super quickly, even on a humid summer day.
So, I would definitely recommend either and/or both methods to create sea glass bottles!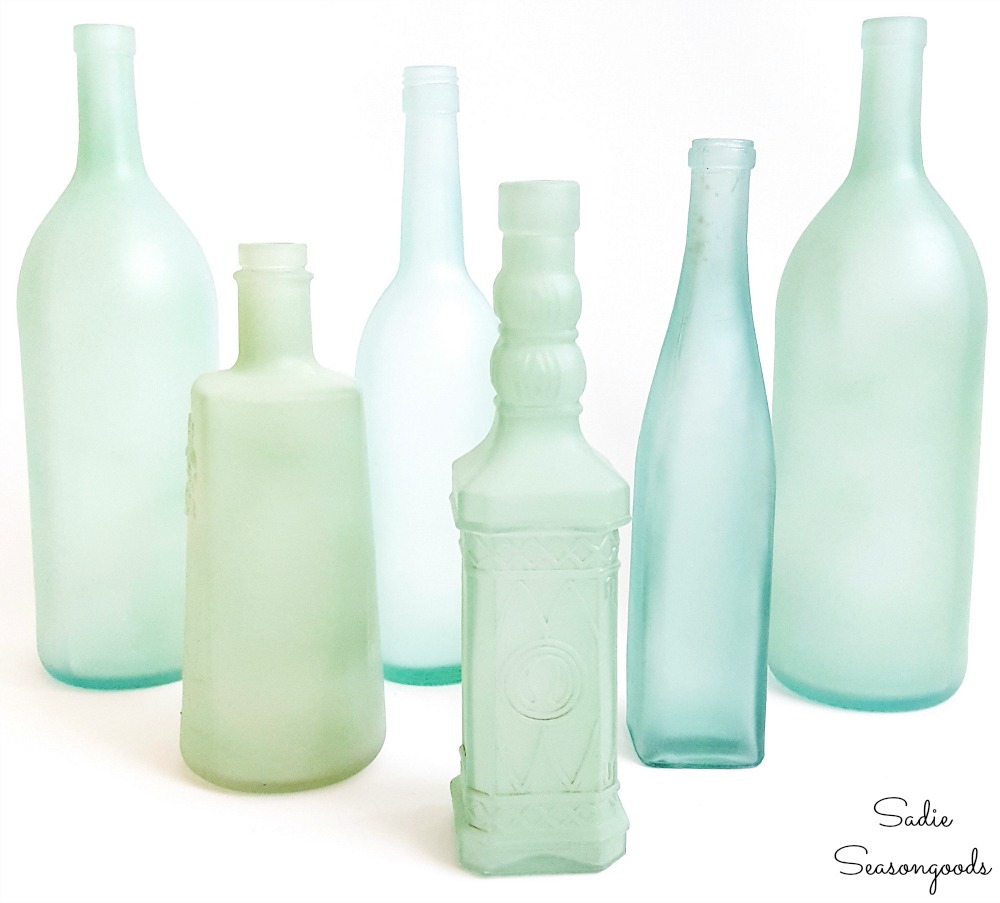 Here's a side-by-side comparison. I used the frost paint on the taller bottle on the left, and the sea glass spray paint on the bottle on the right.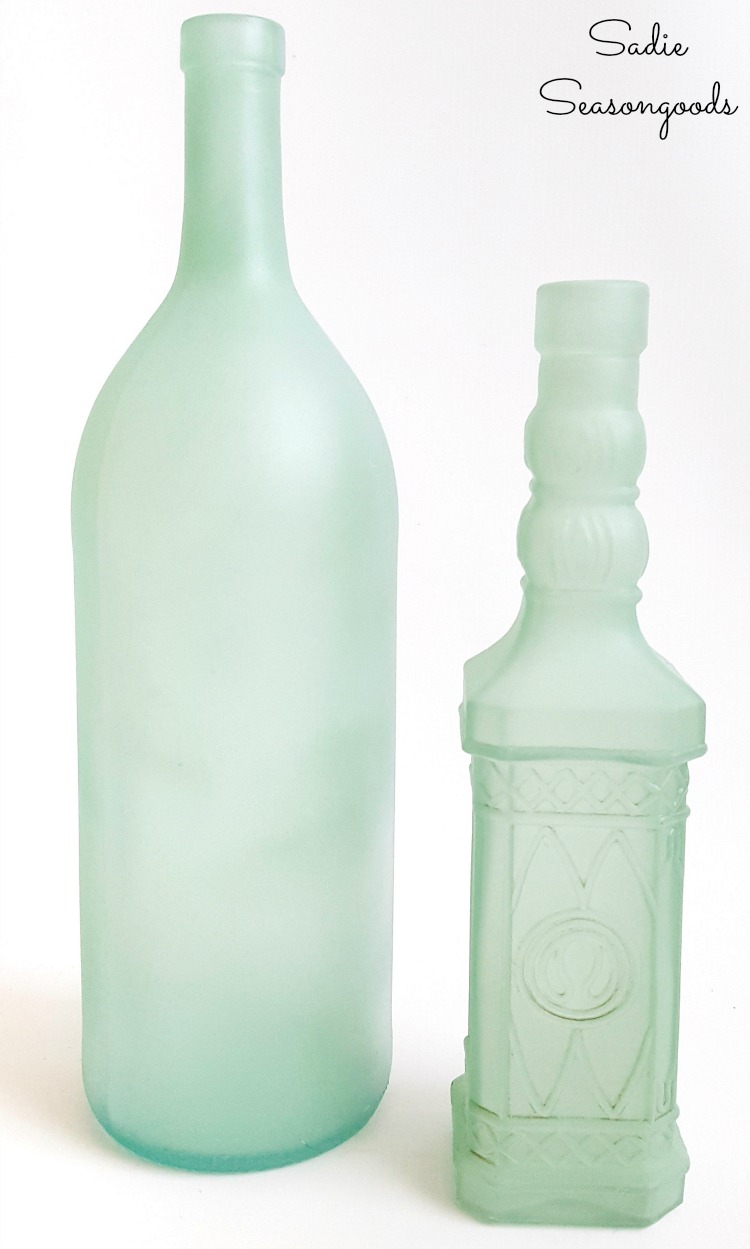 Next, I gave the bottles a thorough coat of a clear sealant to keep the frosty paint from scratching off.
A Milk Bottle Carrier to Hold the Sea Glass Bottles
Not that he needed any embellishment, but I decided to break my no-burlap rule and wrap a little burlap ribbon around the inside of the milk bottle carrier.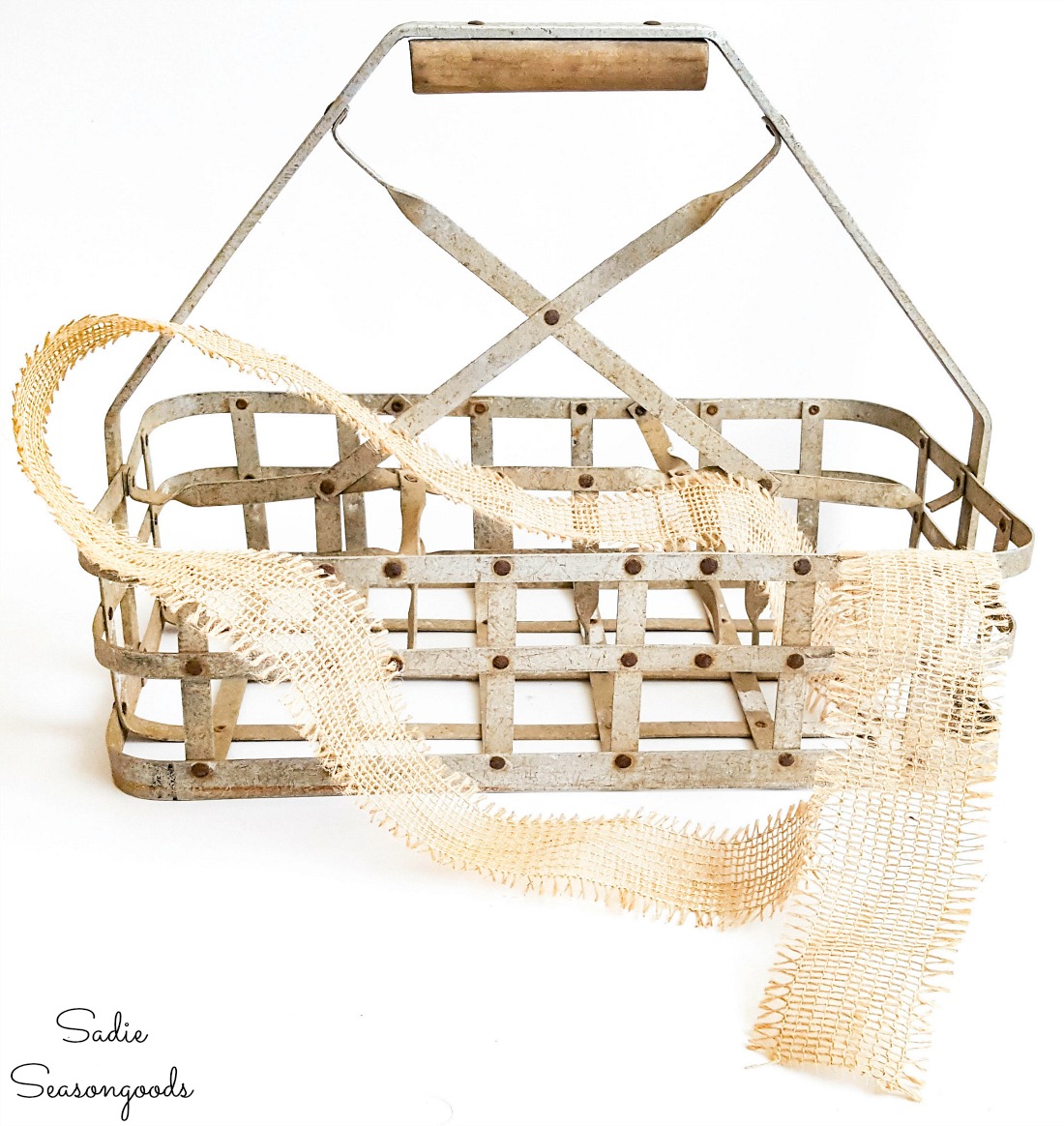 Don't get me wrong- I love burlap! But I've tried to avoid using it because it's just plain EVERYWHERE these days!
I tucked it along the inside perimeter of the milk bottle holder. Then,I snipped a little where the ribbon went under each metal divider to keep it from bunching up.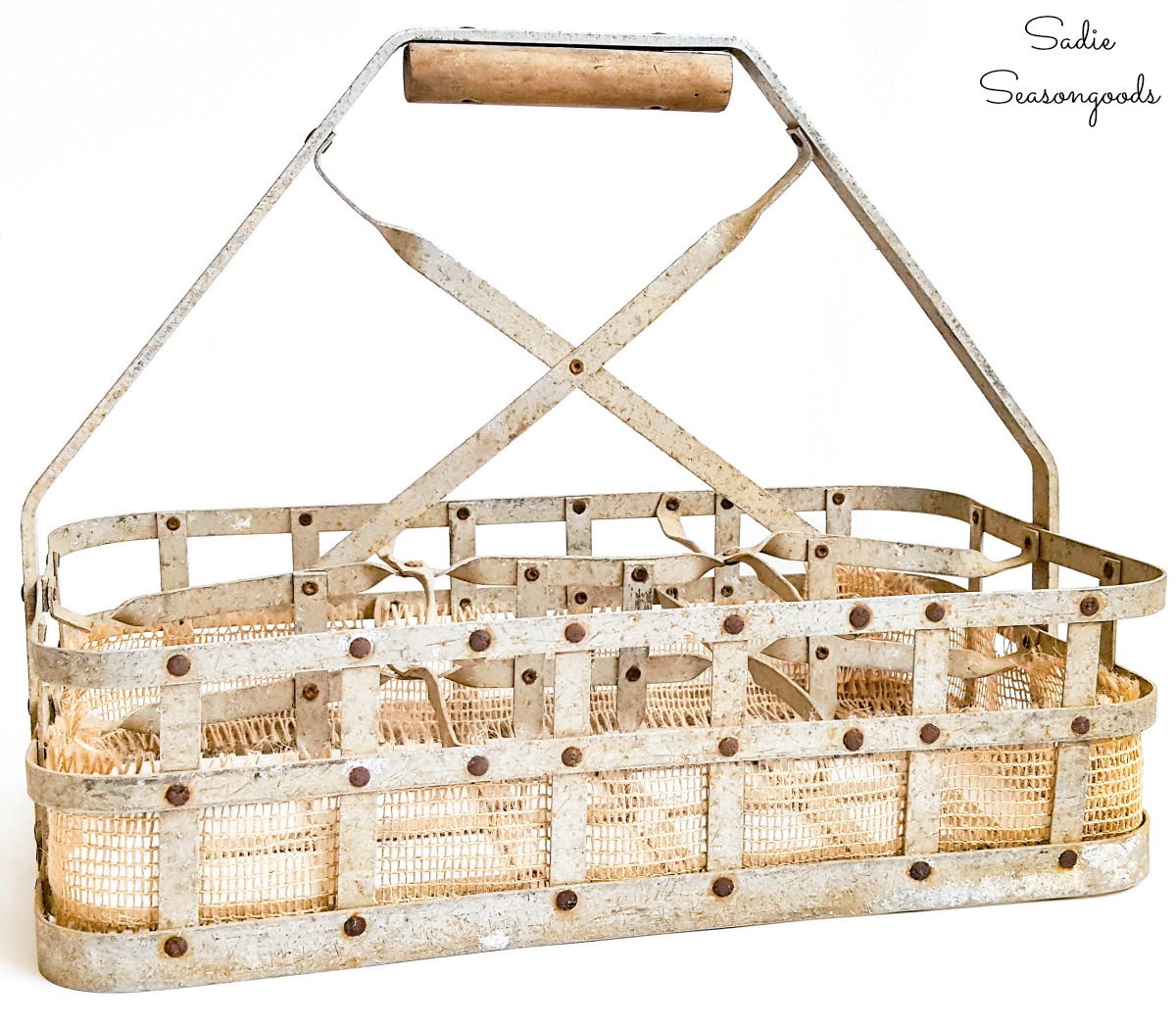 The burlap added a sandy color to my coastal decor and a nice textural change. It was going to be perfect for the sea glass bottles!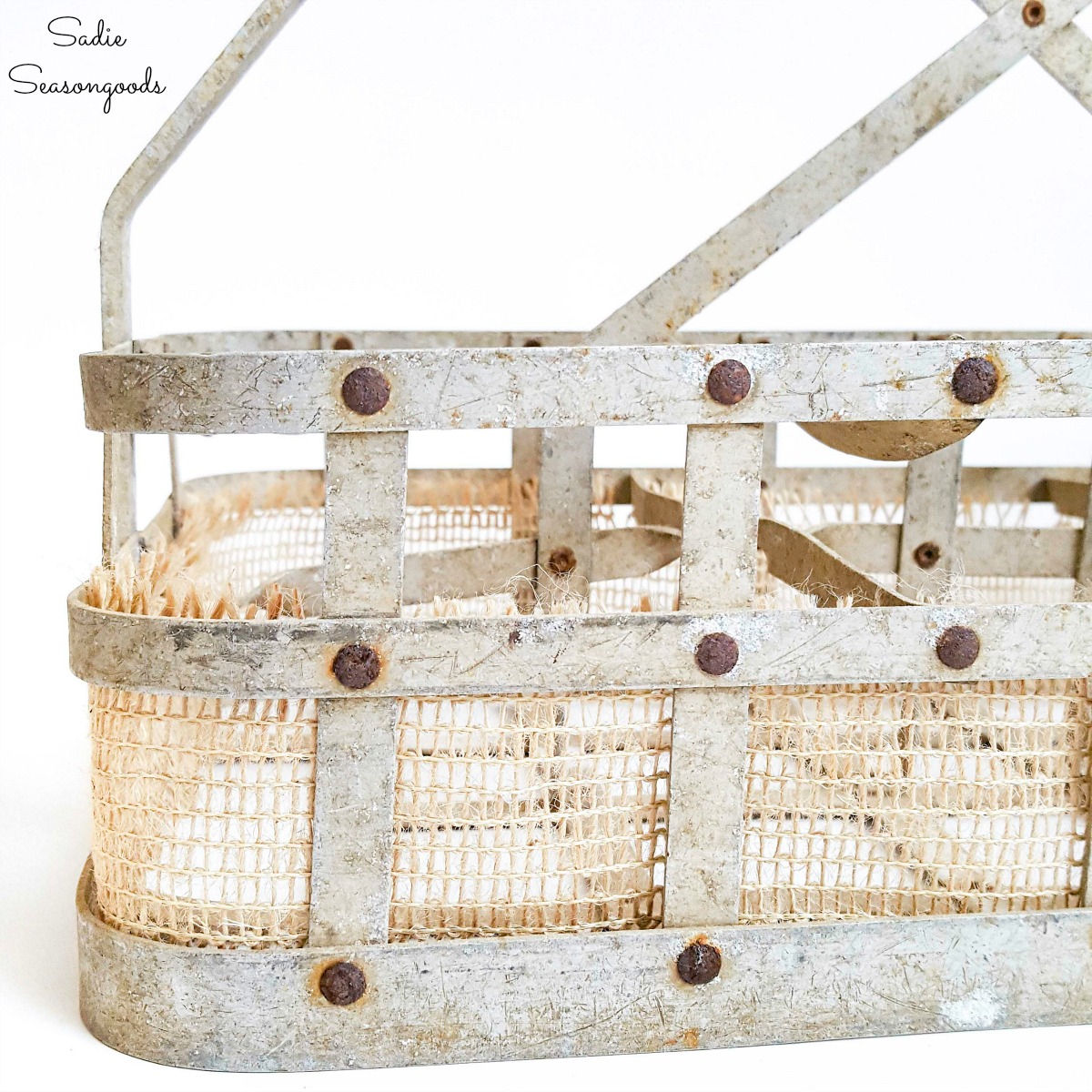 With the burlap ribbon in place, I added in the sea glass bottles.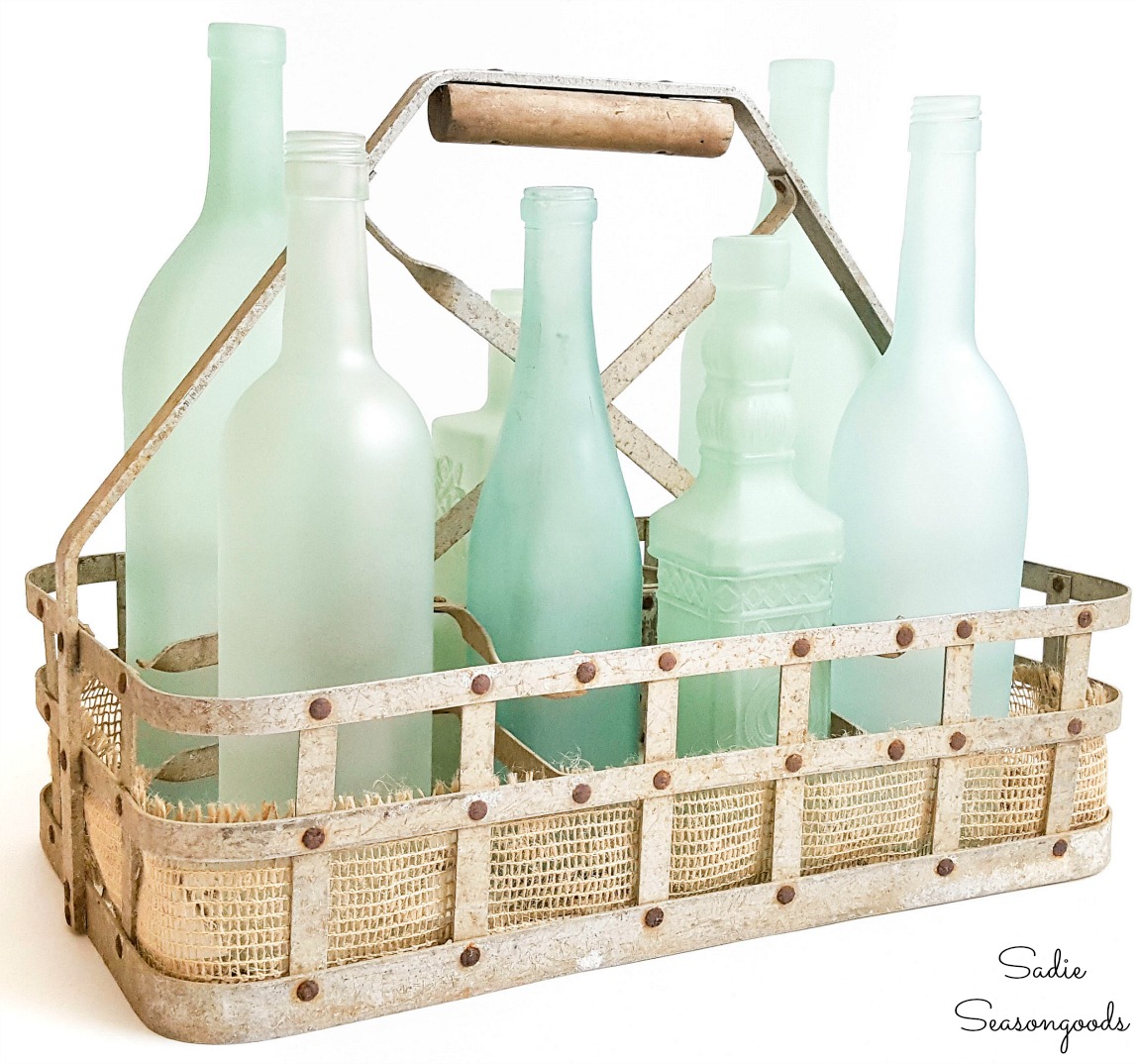 I absolutely LOVED how it looked, but decided it needed one more thing…
Sea Glass Bottles from the Recycling Bin for Coastal Decor
I decided to give a little nod to one of my favorite coastal plants, sea oats. Now, you can't pick or take home real sea oats in places like Florida and Georgia- they're important sand stabilizers along the shore.
Sorry, my marine biology degree is showing…
BUT, I chose as close a replica as I could find in my local craft store and plopped a few stems here and there in the sea glass bottles. Doesn't that just look so coastal and beachy and dune-y?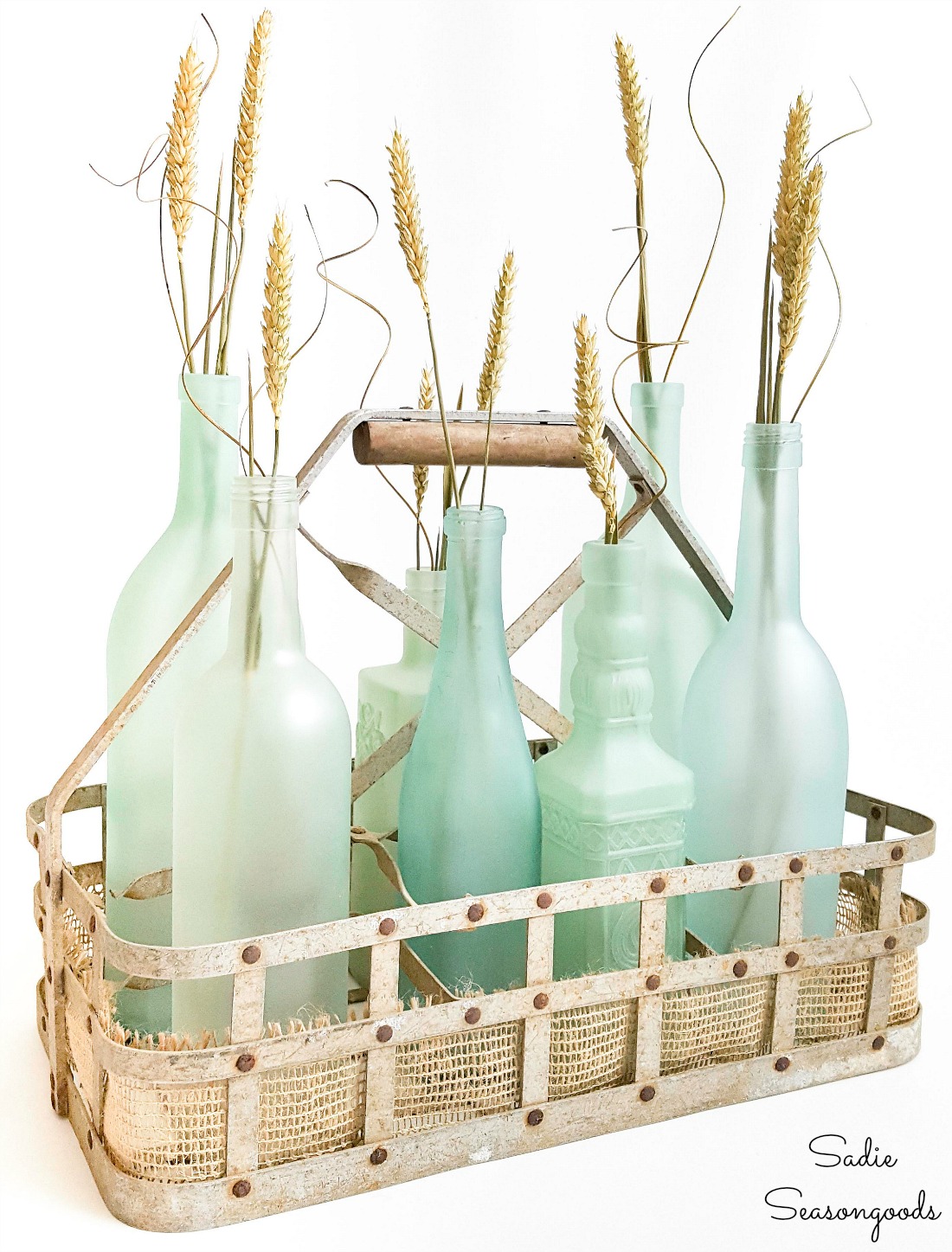 Perfect as a centerpiece or on a side table, bringing in a coastal breeze no matter where you live.
And if you close your eyes, you might just hear the wind whispering in the dunes and waves bubbling over your sand-covered toes.
You can never go wrong with sea glass decor for your coastal decorating needs!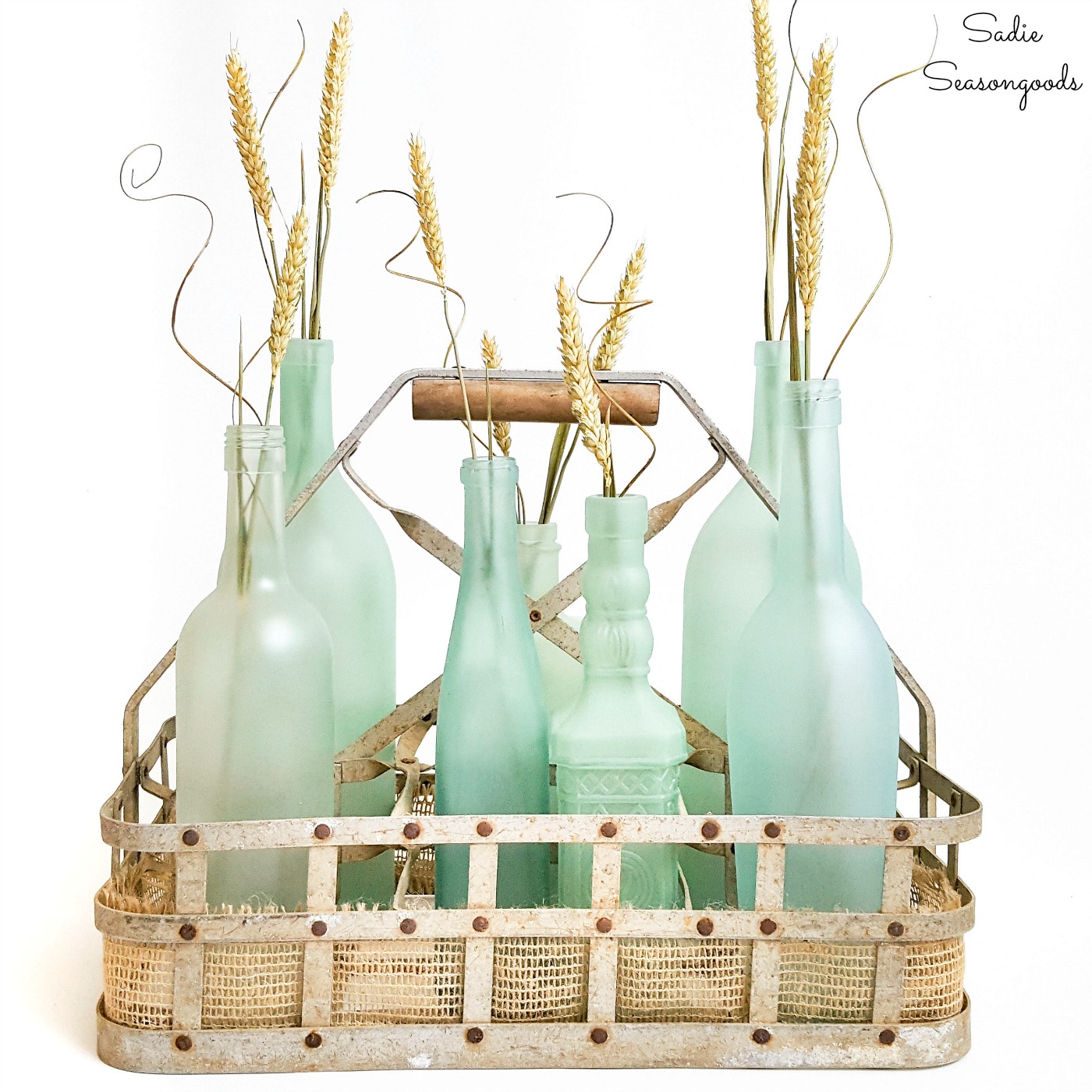 But back to reality! If you start seeing more "Repurposed Glass Bottle & Jar" projects here on the blog, you'll know why.
And if you live in Georgia or North Carolina, I might drop off some glass recycling in your blue bins late at night…just joking! (maybe…)
If you enjoyed this upcycling idea for creating sea glass bottles for coastal decor, then you may also enjoy these nautical bottles with thrift store finds, as well!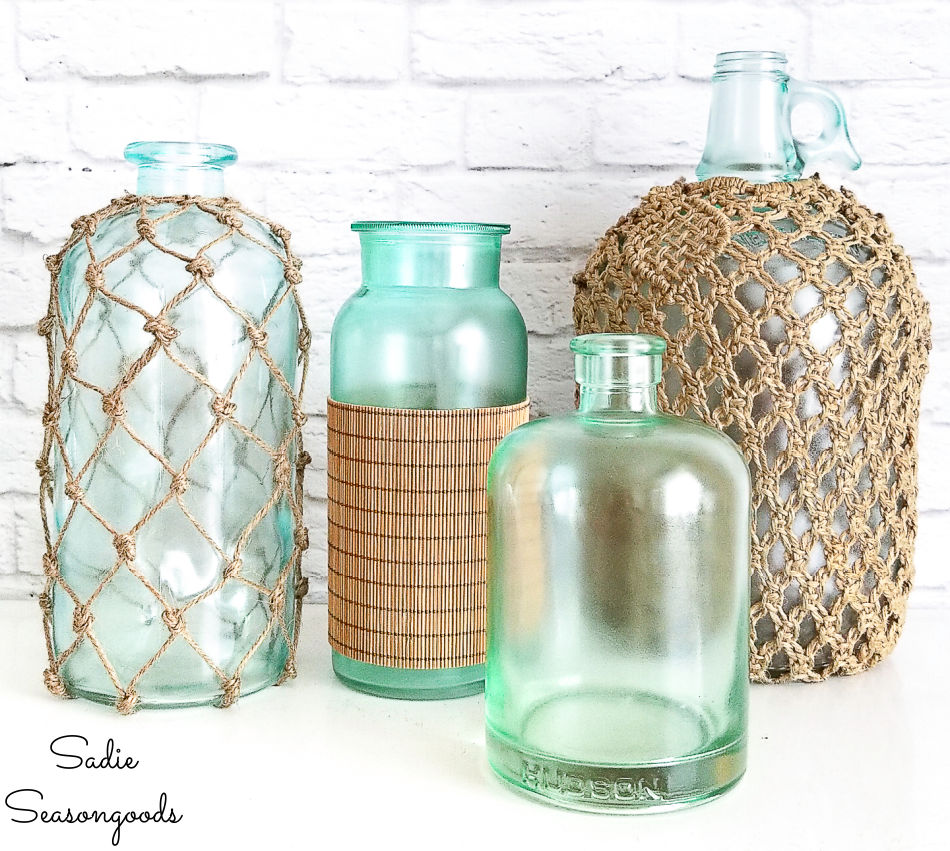 AND I'm so excited to announce that my first book is now available! If you love working with flannel or fabric crafts in general (sewing and non-sewing), then you will LOVE "Crafting with Flannel"!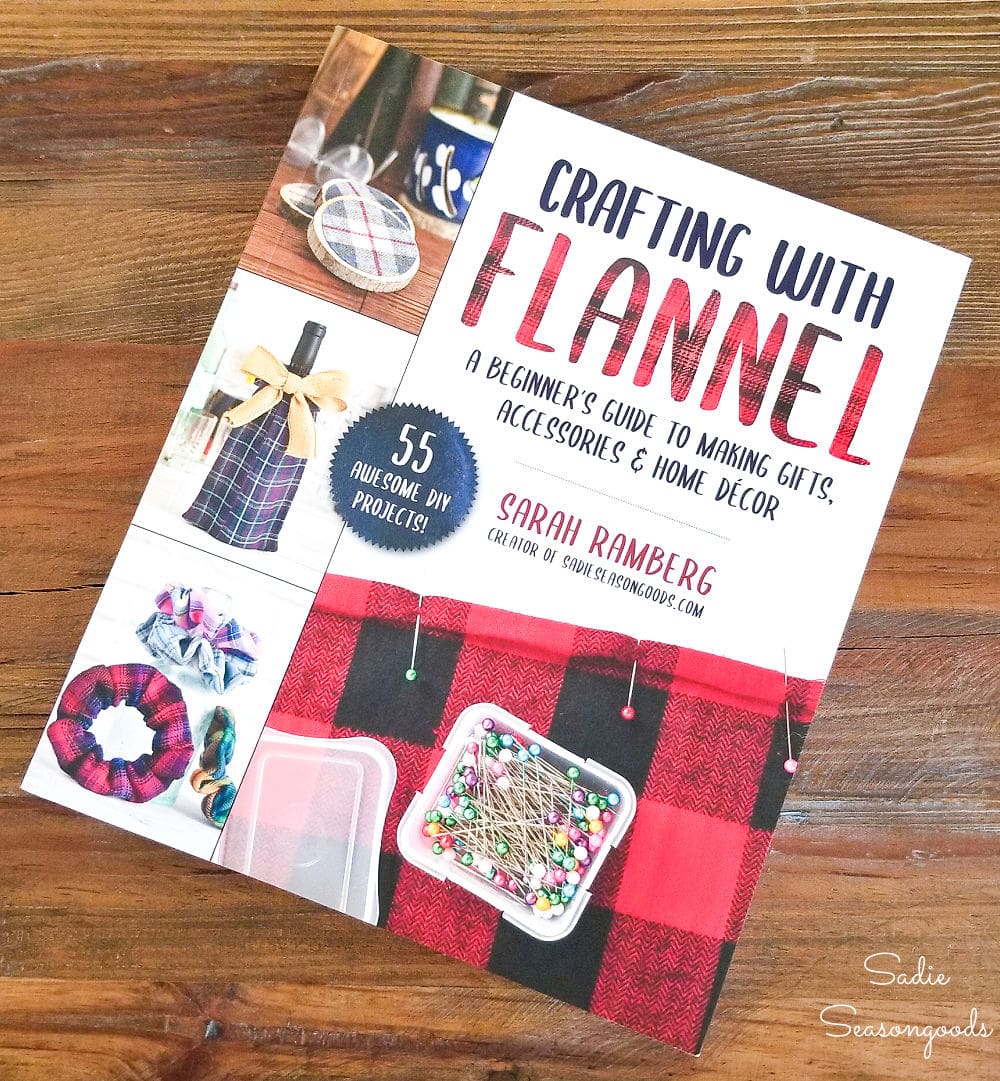 Craft on!
S
Join me on Social Media:

PIN ME!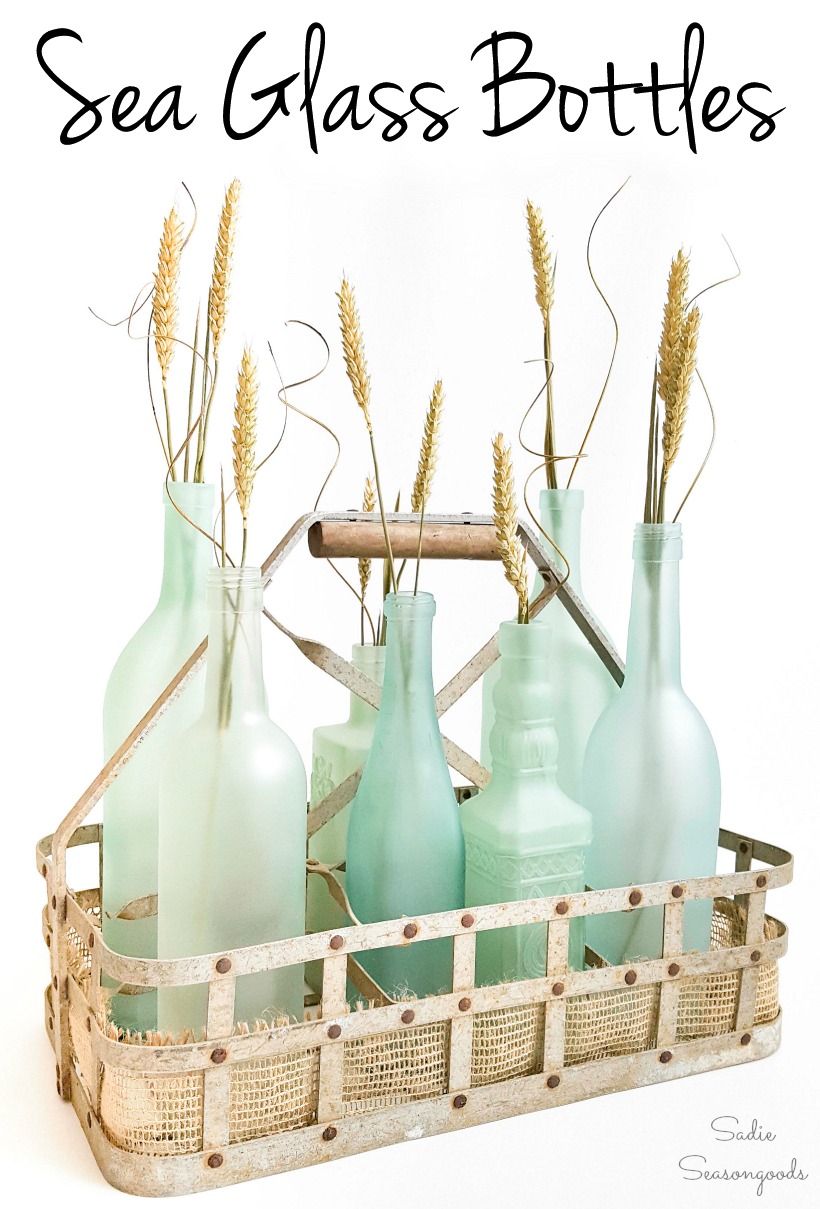 Sarah Ramberg is the owner of Sadie Seasongoods, a website that celebrates all things secondhand. From upcycling ideas and thrifted decor to vintage-centric travel itineraries, Sadie Seasongoods is a one-stop shop for anyone who loves thrifting and approachable repurposing ideas. Sarah is also the author of "Crafting with Flannel" and has been featured in numerous media outlets and magazines.