My "Thrift the Look" blog hop challenges are one of my favorite things to do. And this time around, the theme is Cottage Decor. I took it a step further and decided to recreate the decor style for a beach cottage or coastal cottage.
If you're not familiar with my Thrift the Look challenges, here's the skinny: I choose a professional photograph to recreate using thrifted pieces and upcycling ideas. And for Beach Cottage, my inspiration photo came from an unlikely source: a product photo from Birch Lane.
On the Birch Lane site, scroll to the 7th little thumbnail photo with the couch.
I was quite taken with the vignette behind the couch. It felt very Beach Cottage / Coastal Cottage to me without being overly regional. In other words, it was neither too tropical nor too nautical.
So, I honed in on vignette components – glass bottles, coastal wall art, beach treasures (shells/coral), starfish, and books. With my inspiration photo in my head and saved to my phone, I spent the next few weeks thrifting my little heart out.
And I found a TON of stuff.
Once I had a bunch of thrift store pieces to work with, I set my sights on a few upcycling ideas and repurposed projects. Fingers crossed that my version of the vignette comes together! This post contains affiliate links for your crafting convenience.
Upcycling Ideas for a Beach Cottage or Coastal Cottage
Right away, I knew that the decorative glass bottles in the inspiration photo were something I could easily recreate. I mean, I've made very similar decor before – with these glass fishing floats!
First, I needed to give my DIY nautical bottles some color, starting with the stained glass spray I've used before.
However, I changed up my approach this time – and layered both colors on each glass bottle. I varied the number of coats and dominant can of paint for each one, ending up with a nice coastal variety.
To add fishing net to the first bottle, I used none other than a similarly textured purse from Goodwill!
Crazy idea, right? But let's face it – that's pretty normal for me!
First, I removed the lining and strap from the purse. Then, I placed the largest bottle (jug, really) inside the purse.
Next, I trimmed off the excess on the bottom and the top. I used jute twine to basically stitch those openings shut – as close to the bottle as possible. Think of how corsets would be laced up – that's the "stitching" I did.
For my next bottle, I simply cut up a bamboo place mat from the thrift store and glued a strip of it around a bottle.
And for the third bottle, I knotted jute twine like fishing net (using the technique in my glass fishing floats post). With that, the DIY nautical bottles element was done!
Coastal Cottage / Beach Cottage Decor from the Thrift Store
I assembled everything else I had – coastal wall art (purchased years ago from a thrift), vintage books (from various thrifts), the picnic basket, my "starfish" (you DEFINITELY need to check out this blog post about it here), and some thrifted shells.
Ready for it? How close did my version of coastal home decor / beach decor come?
What do you think? I'm kind of loving how it all came together – and every single thing either came from a thrift store as is or as upcycled by me!
It's not, perhaps, and IDENTICAL match to the original inspiration photo, but I wouldn't say "no" to an entire home outfitted to match my vignette.
*****
Thrift the Look: Cottage Decor Challenge
NOW – check out all the kinds types of Cottage Decor that my blogging pals (the Creative Vintage Darlings on Facebook) cooked up for their Thrift the Look challenge. Everyone went with a different type of "cottage", so there is plenty of decor variety.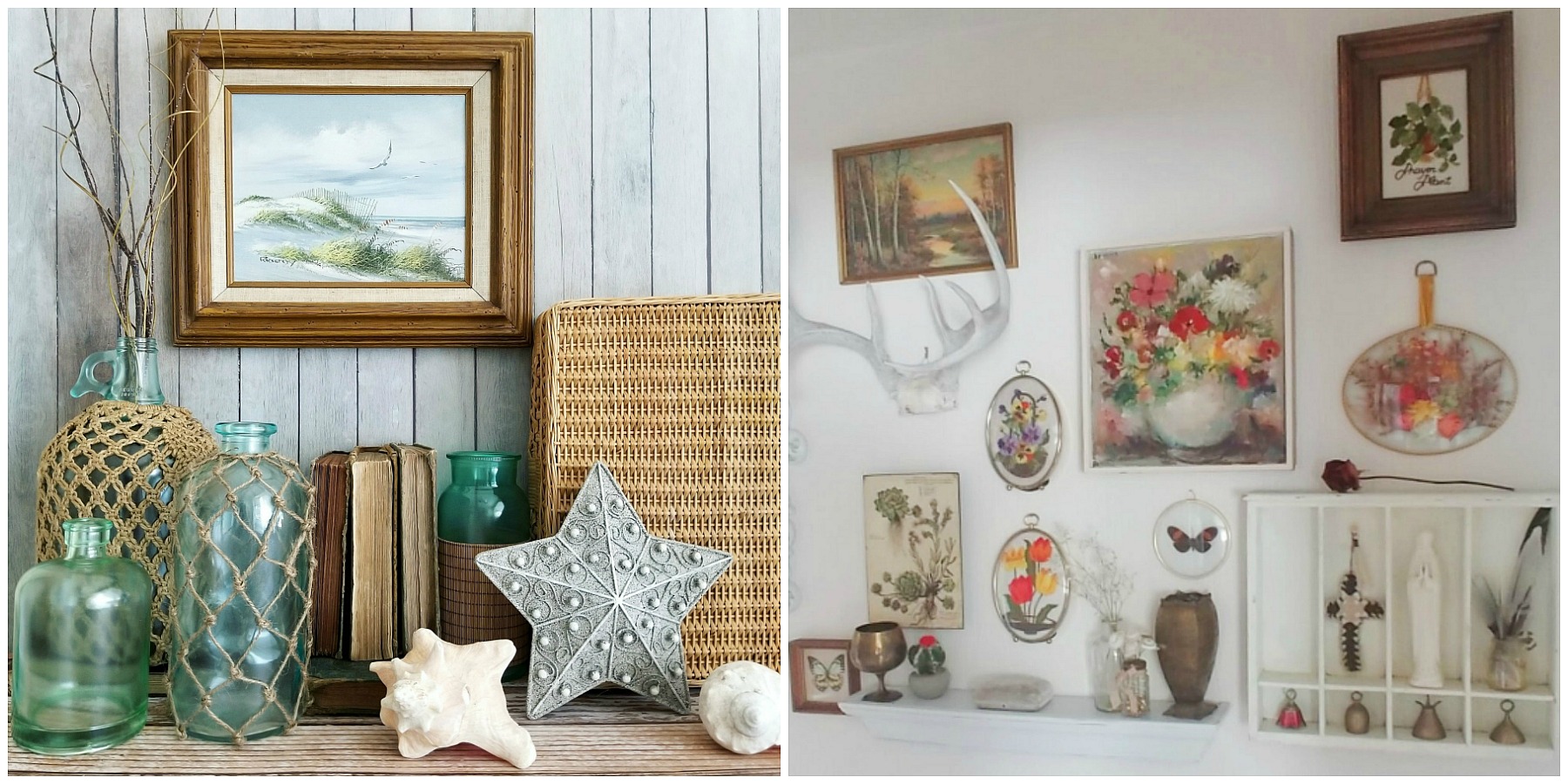 Sadie Seasongoods    |     Little Vintage Cottage

    Home to Heather  |   Itsy Bits and Pieces |  Audrey Would Vintage Home
*****
Here's a side-by-side comparison of the inspiration photo and my thrift store version of Beach Cottage / Coastal Cottage.
I hope you enjoyed this Thrift the Look challenge as much as my previous ones: French Farmhouse Decor, Lake House Decor, and Boho Decor!
If you enjoyed these upcycling ideas for beach decor or coastal home decor, then you may also be interested in these sea glass candle holders, as well.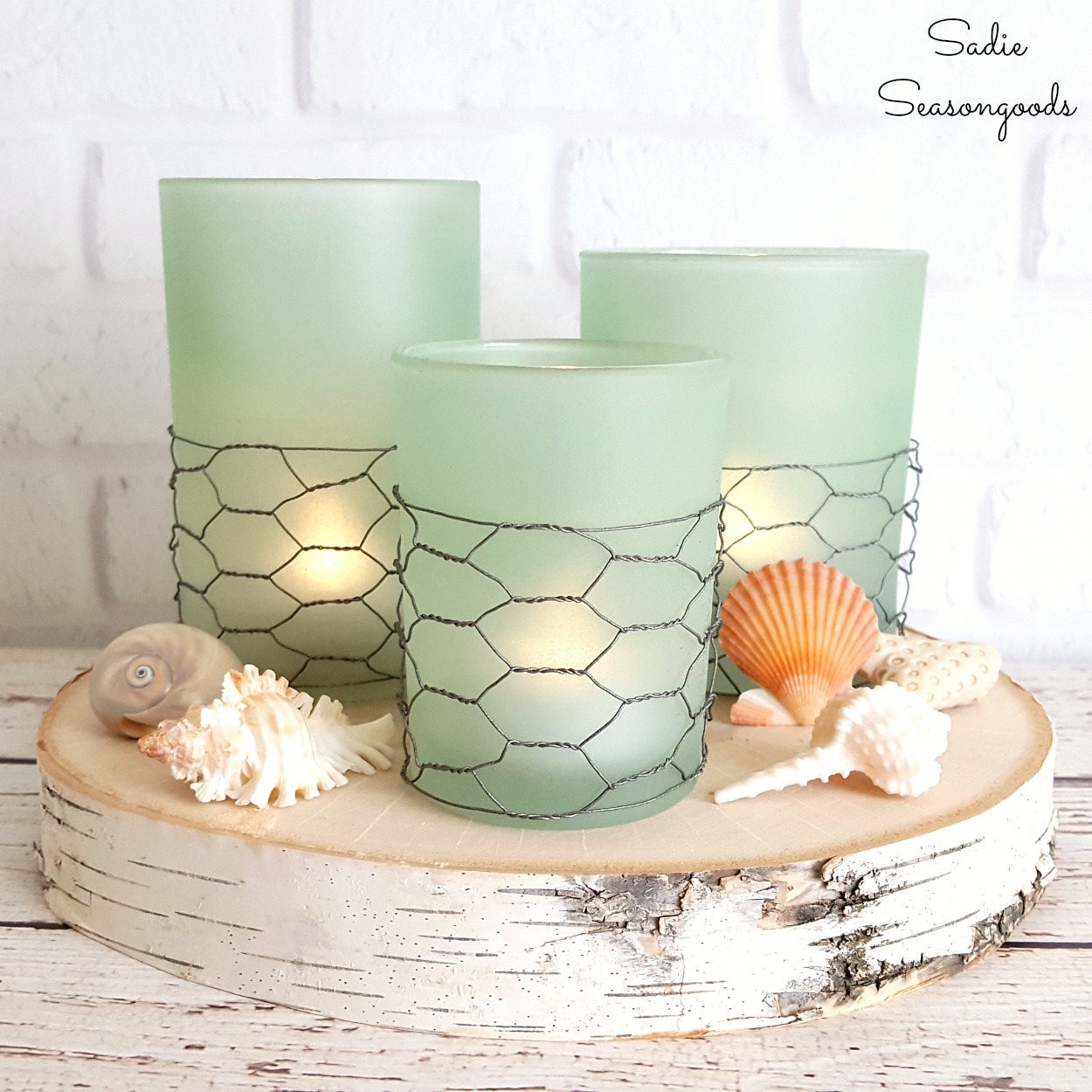 Craft on!
S
Want to be notified when I publish my next upcycling project tutorial?
Subscribe to Blog via Email
Join me on Social Media:
PIN ME!