Seven years ago, in the earliest days of my blog, I published a tutorial for felt succulents. But like all the blog posts of that time, the photos were dark, blurry, and otherwise terrible. So, I decided to re-do the entire project, and let me tell you- I am IN LOVE with the results.
In addition to those reasons, I just love to create faux plants in general- such as these wooden cacti. Since Cottonball likes to eat real plants, fake ones are my best alternative!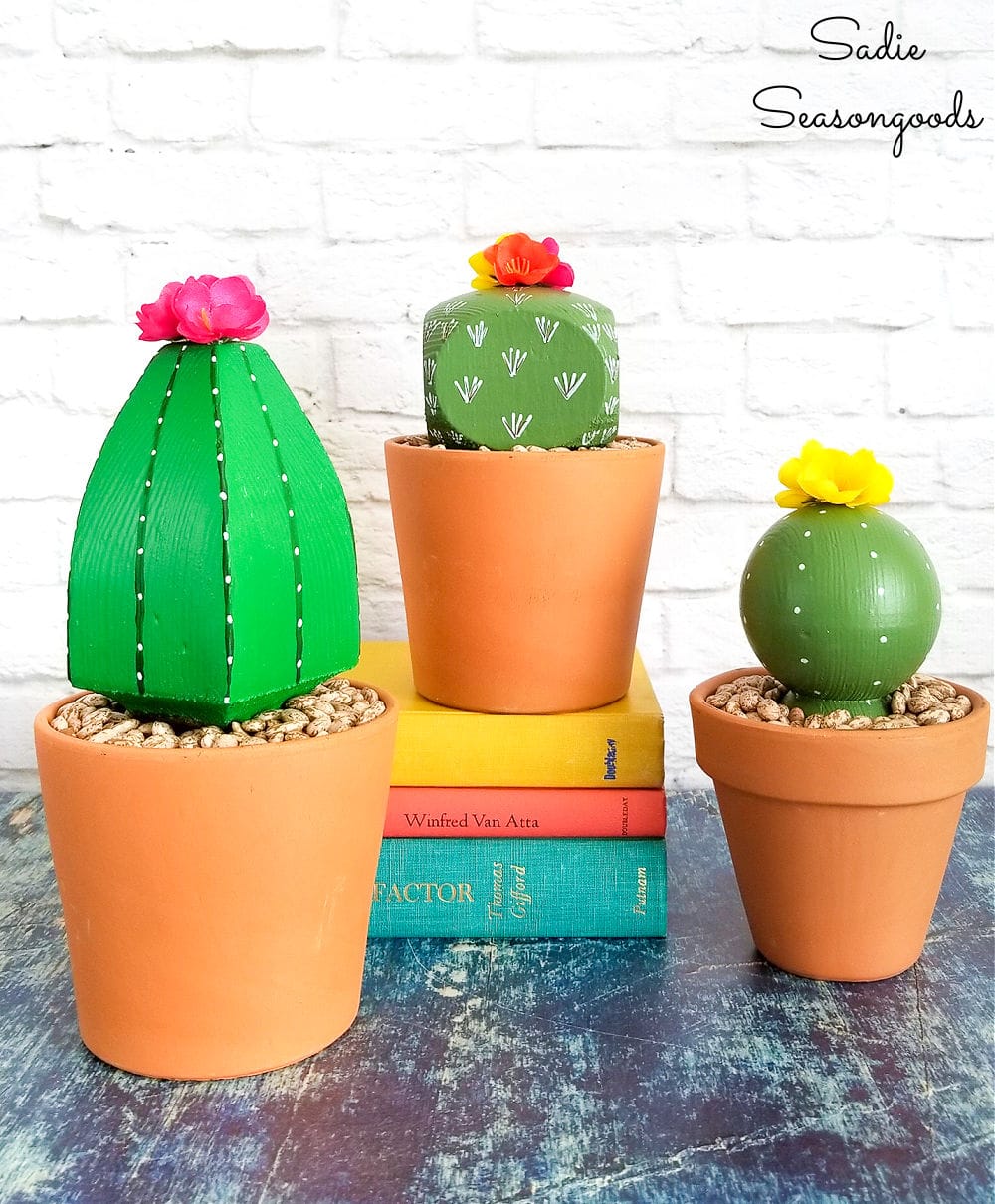 But, back to my current project! Not only are the felt succulents absolutely adorable, but I thrifted for interesting "planters" for them. Such as this snail basket…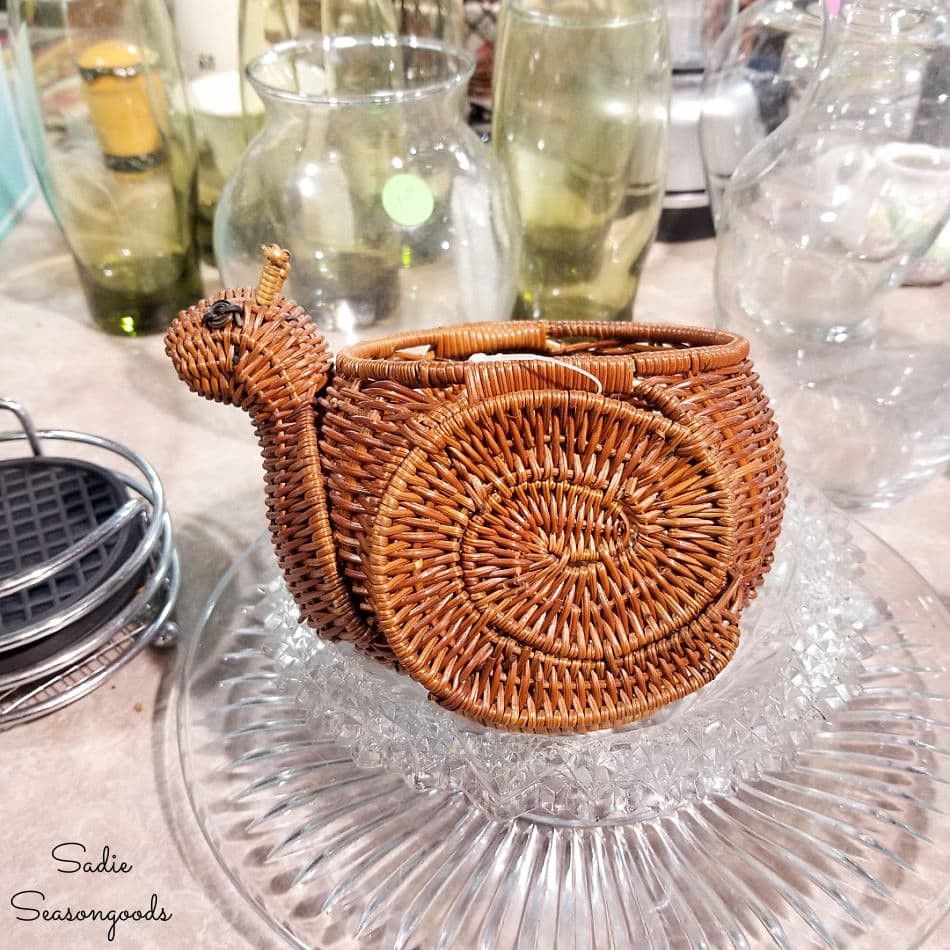 And a vintage flour sifter.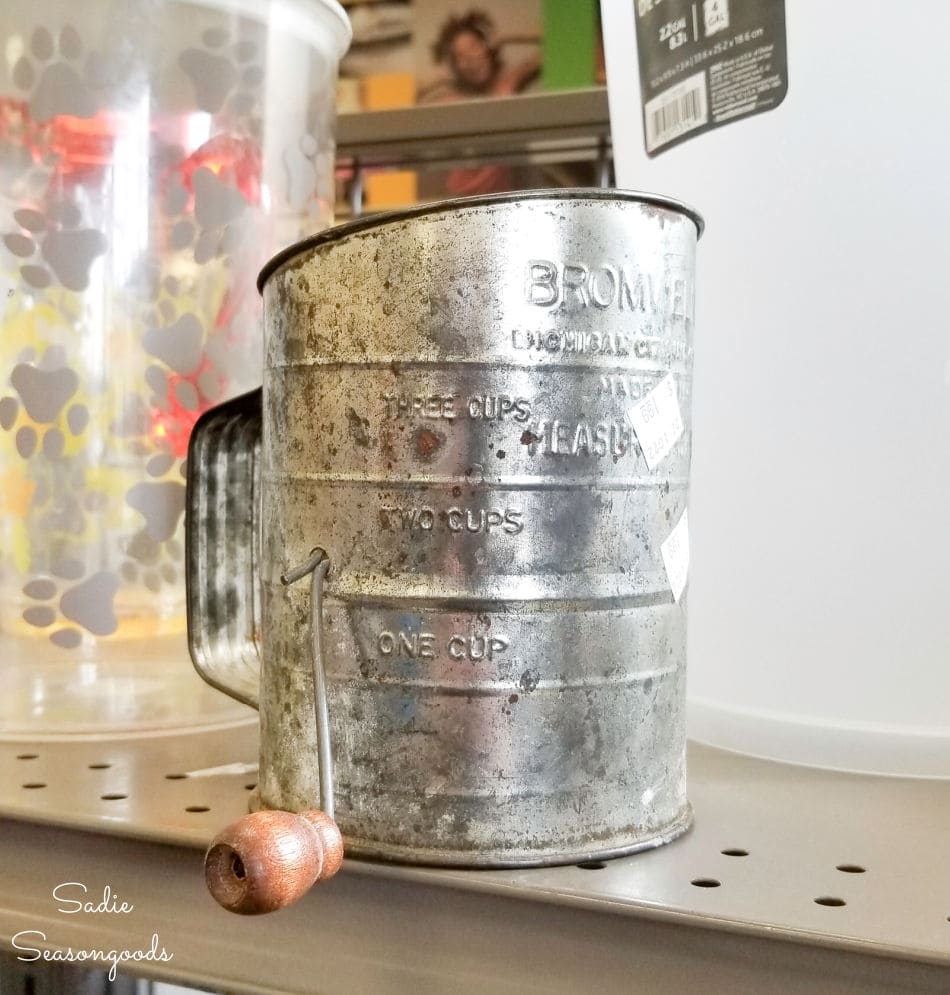 Once I had those, and some special wool blend felt (more on that in a moment), I was ready to once again, try my hand at making some DIY felt succulents.
This post contains affiliate links for your crafting convenience. As an Amazon Affiliate, I earn from qualifying purchases. All blue, bold, and underlined text is a clickable link, either to a product or to a related post.
The Art of the Felt Succulent
First, the felt. I wanted more natural colors than what craft stores typically offer. And I found just what I was looking for from this Etsy shop.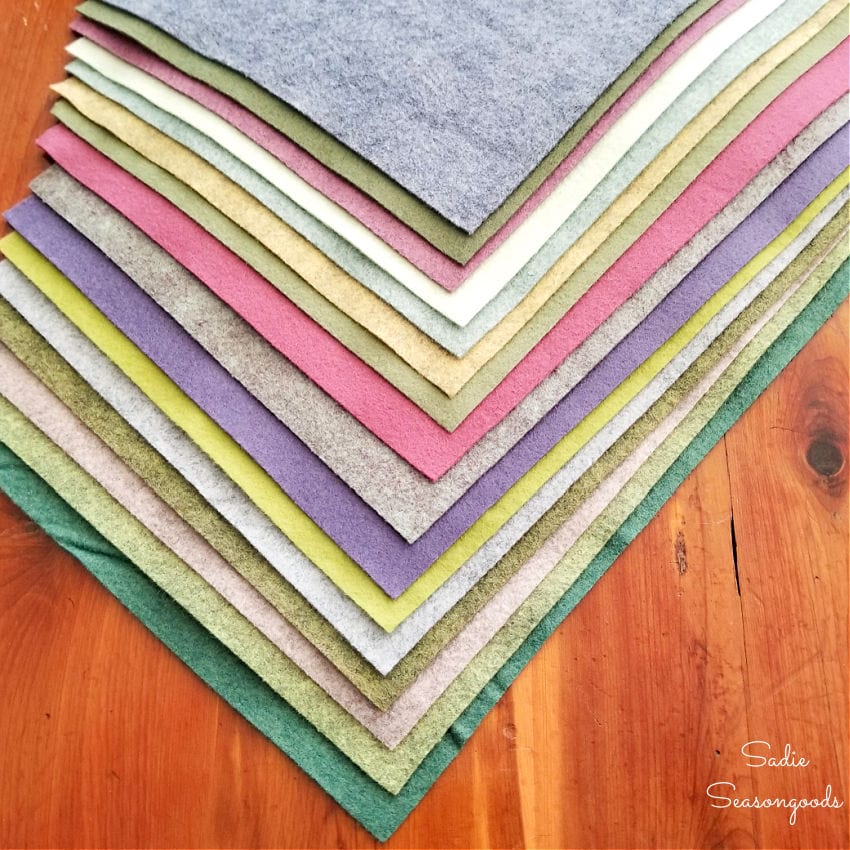 Those colors came from two different packs: The Succulent Collection and The Earthy Heathers Collection. If those sets are out of stock, this set looks like it has great succulent colors in it, too.
To get started, I only needed a sheet of felt, some sharp scissors, and my hot glue gun.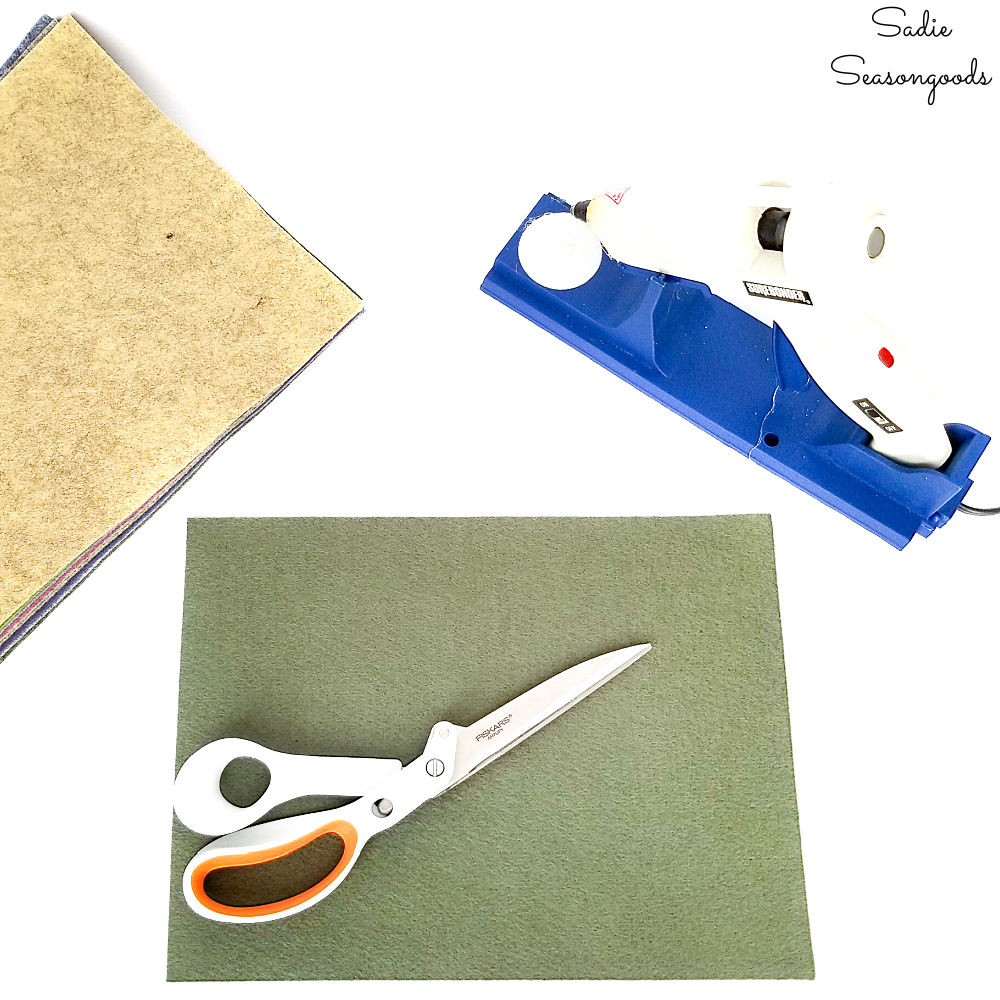 You could use other glues, like a fast-drying craft glue, but hot glue is my favorite for this project.
First, I cut out a 1" wide strip of felt that was about 3" to 3½" long. I rolled it up tightly and hot glued the flap to keep it in place.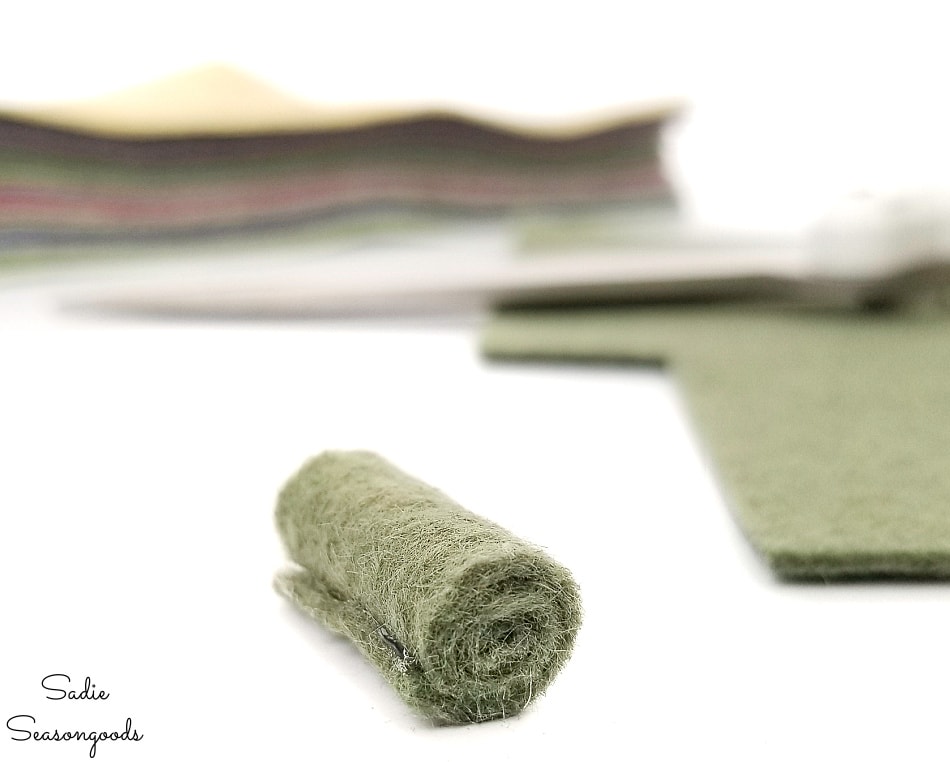 This will be the center of the felt succulent. It also acts as a "handle" to hold onto when you add leaves to it.
Next, I cut out four identical leaves that were fairly small, about ¾" tall.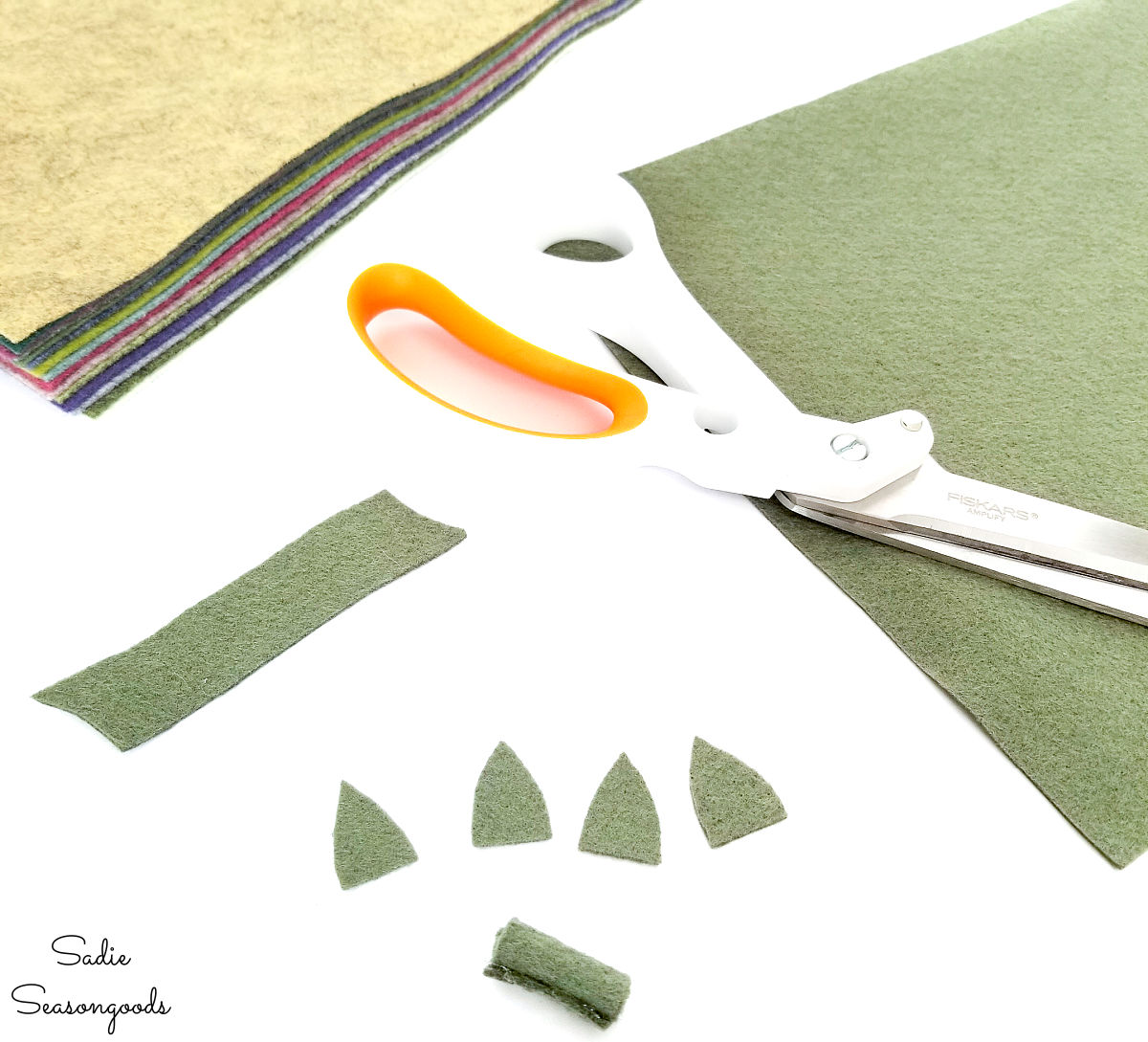 Building the Felt Succulents
Then, I simply drew a line of hot glue along the very bottom of each leaf and attached it the center coil, overlapping as I went.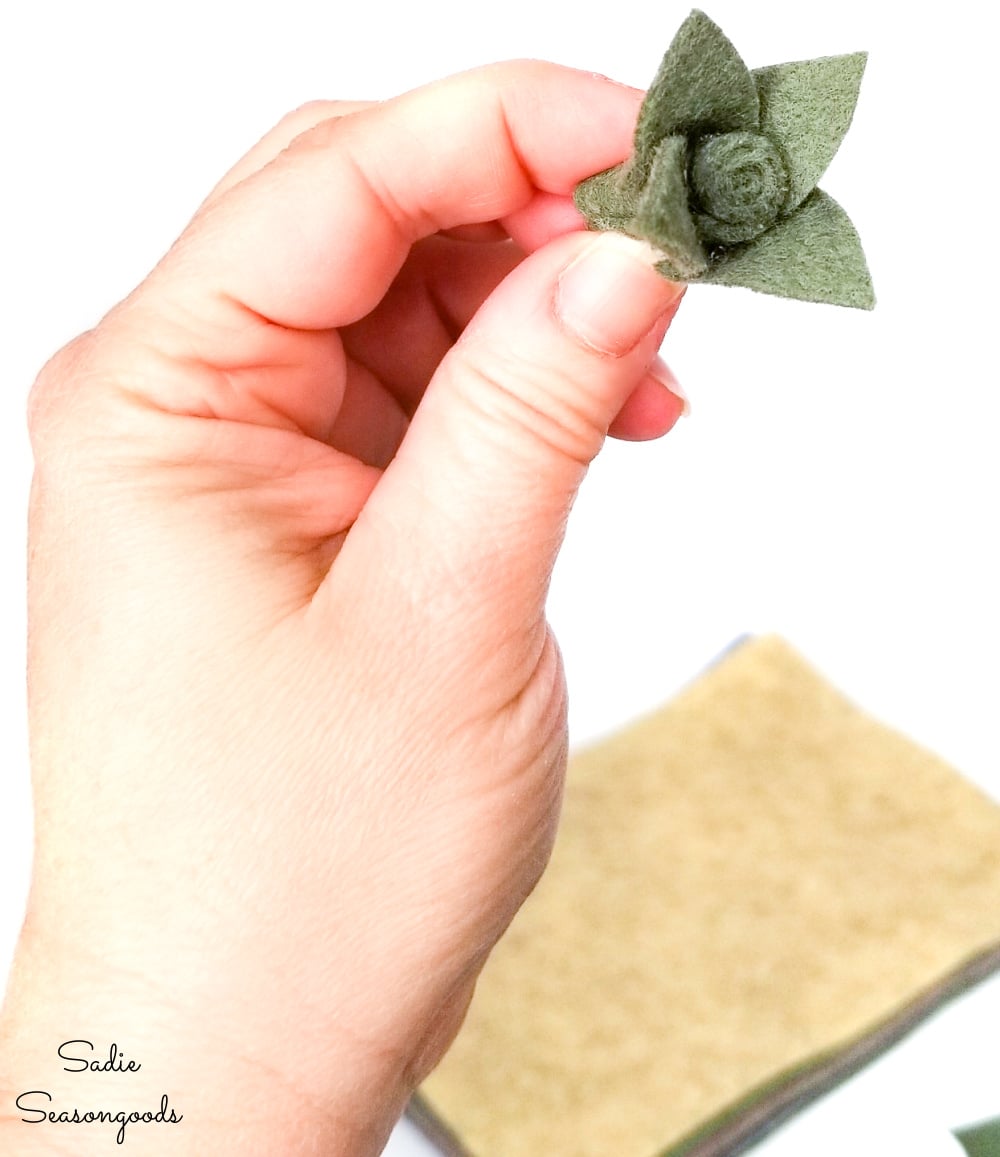 I did the same thing again, but with 4 identical leaves that were larger in size. I glued them offset to the previous leaves, so that they were fully visible between two of the smaller leaves.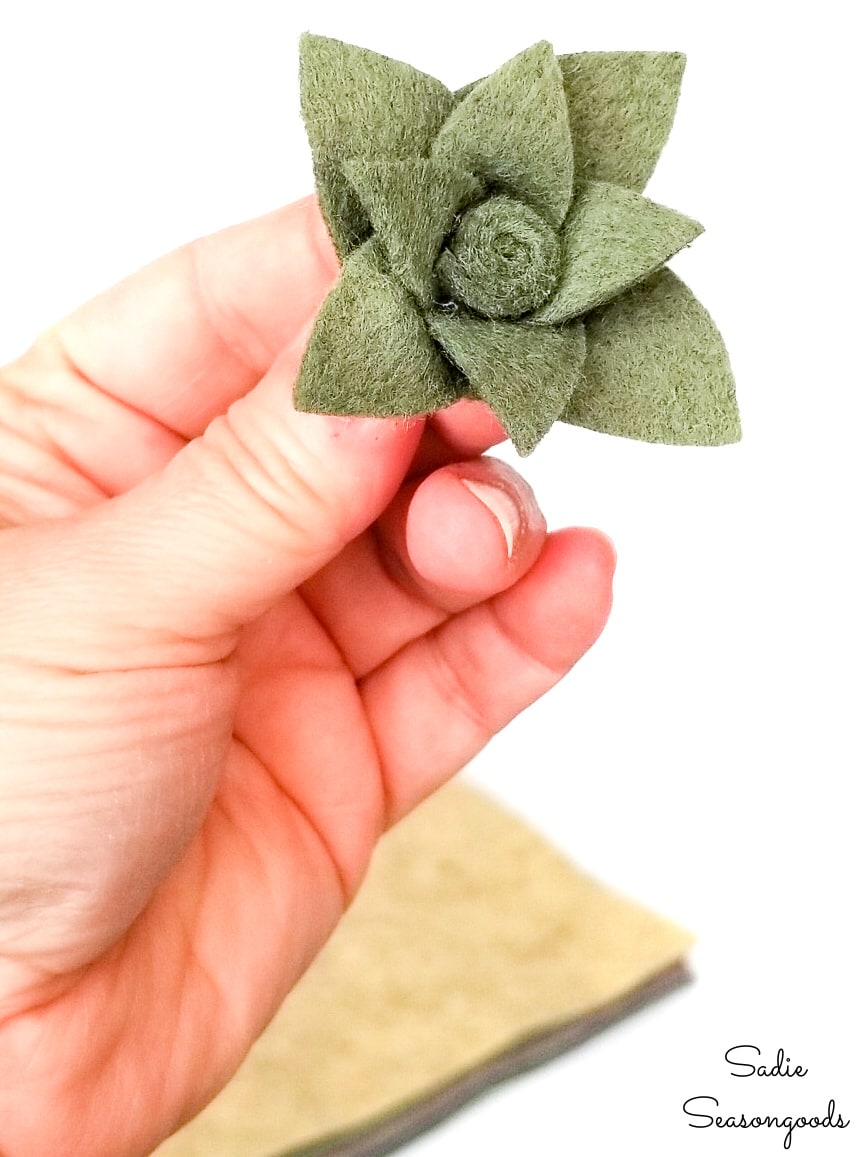 And again…you get the picture.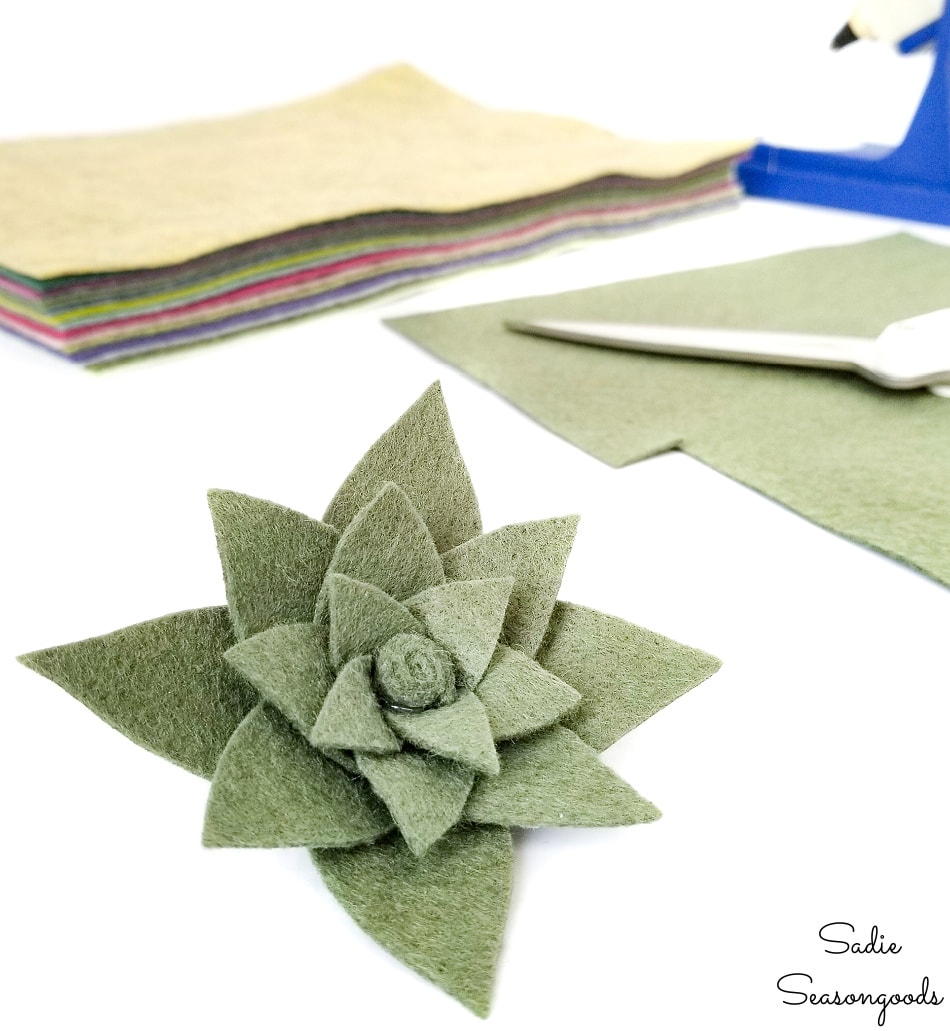 Each layer included a set of progressively larger leaves. And if you look at the sheet of felt there, you'll see that I used less than half to make this little guy!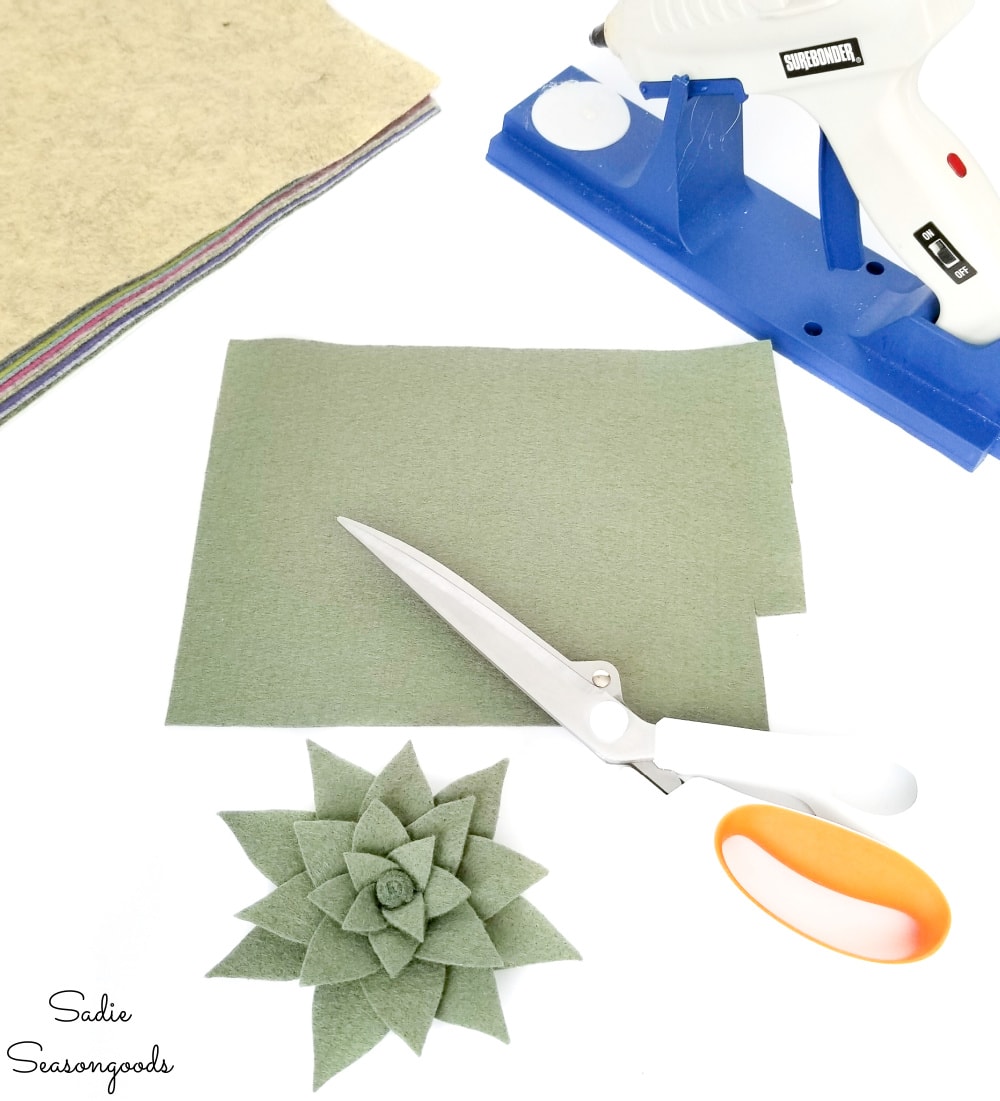 I stopped when I was satisfied- but you can literally go as long as you want. Your felt succulent just gets bigger and bigger, and I wanted fairly dainty felt succulents.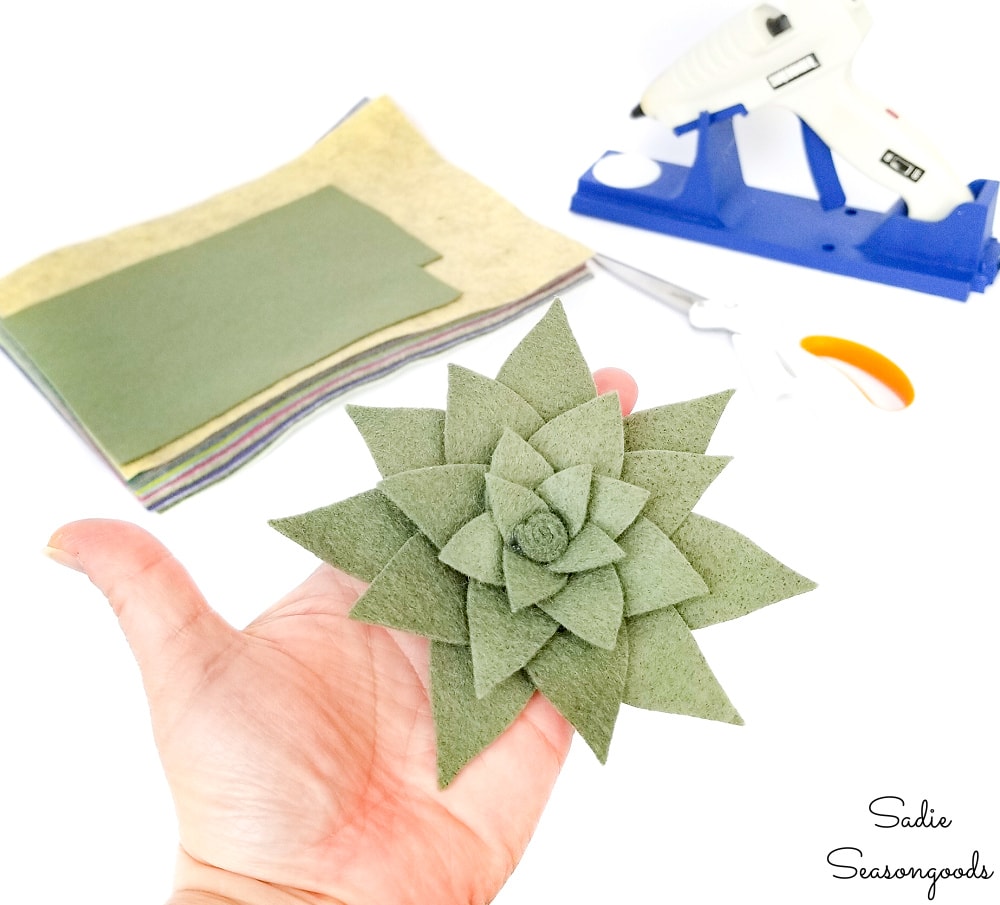 When I was done, I turned the plant over and snipped off the excess "coil" so that it had a nice flat bottom.
Faux String of Pearls Plant
As cute as my star succulent was, I have a real soft spot for the trailing succulents, like string of pearls. And I desperately wanted to make a version out of felt.
But how? How would I get the dimension right, since string of pearls have little round or oblong leaves?
I turned back to Etsy and found what I needed: Felted Wool Beads (Size 1cm)!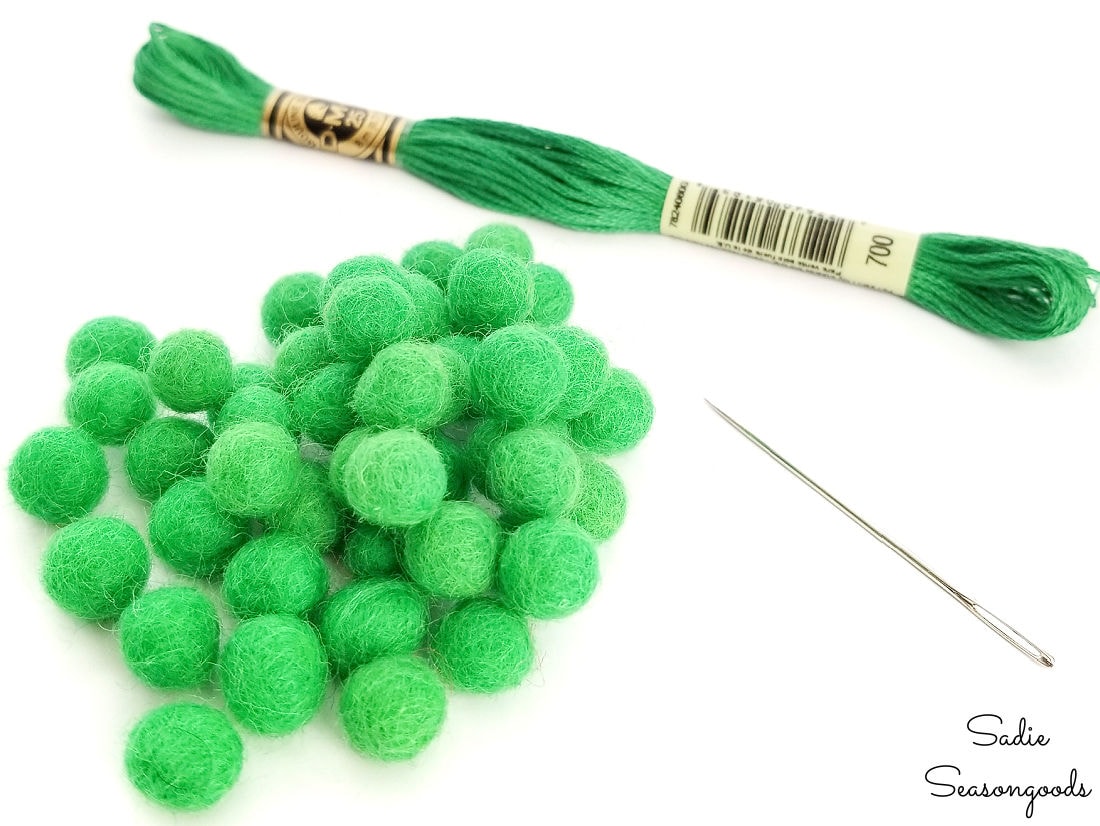 After grabbing some coordinating embroidery floss and an embroidery needle, though, I proceeded to "massage" each bead. I wanted them to be a little more oblong, closer to teardrops than spheres.
So, I simply rolled them in my hand and between my fingers to do so.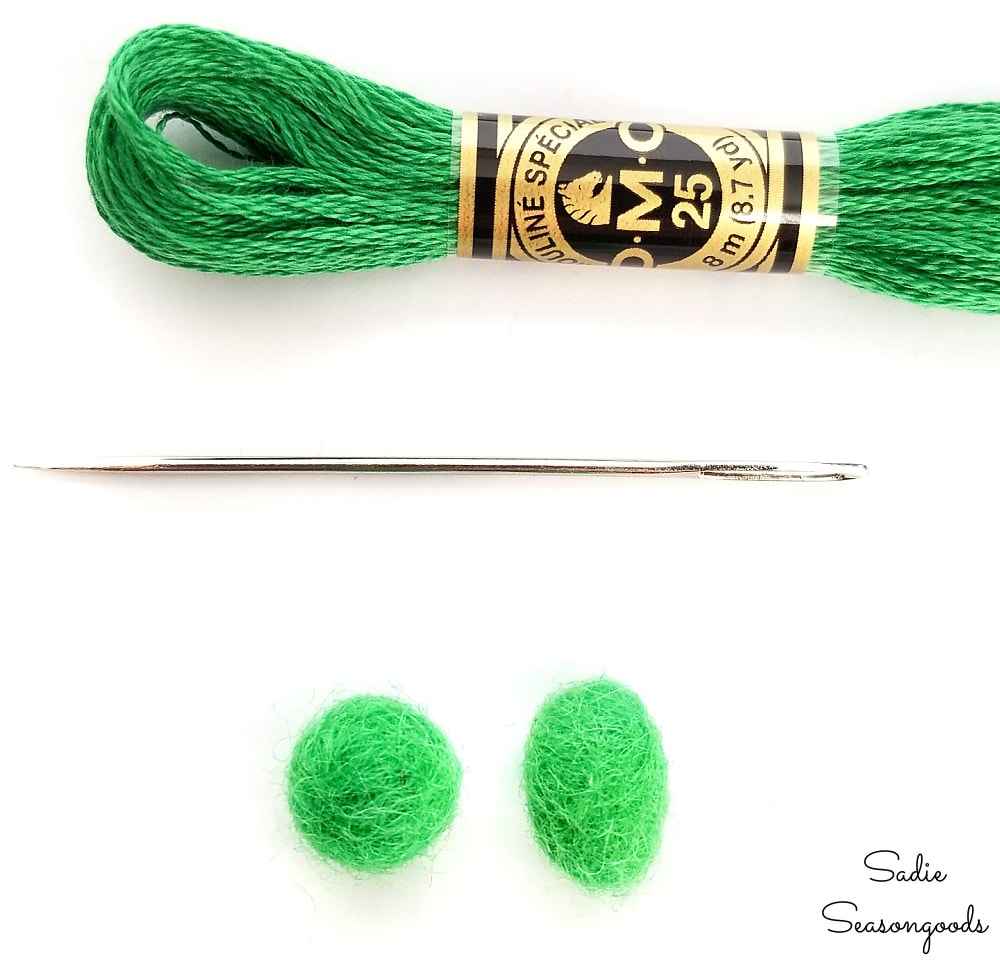 Next, I threaded my needle with a strand of floss and strung them along. I offset each one slightly and secured it in place with a tiny stitch.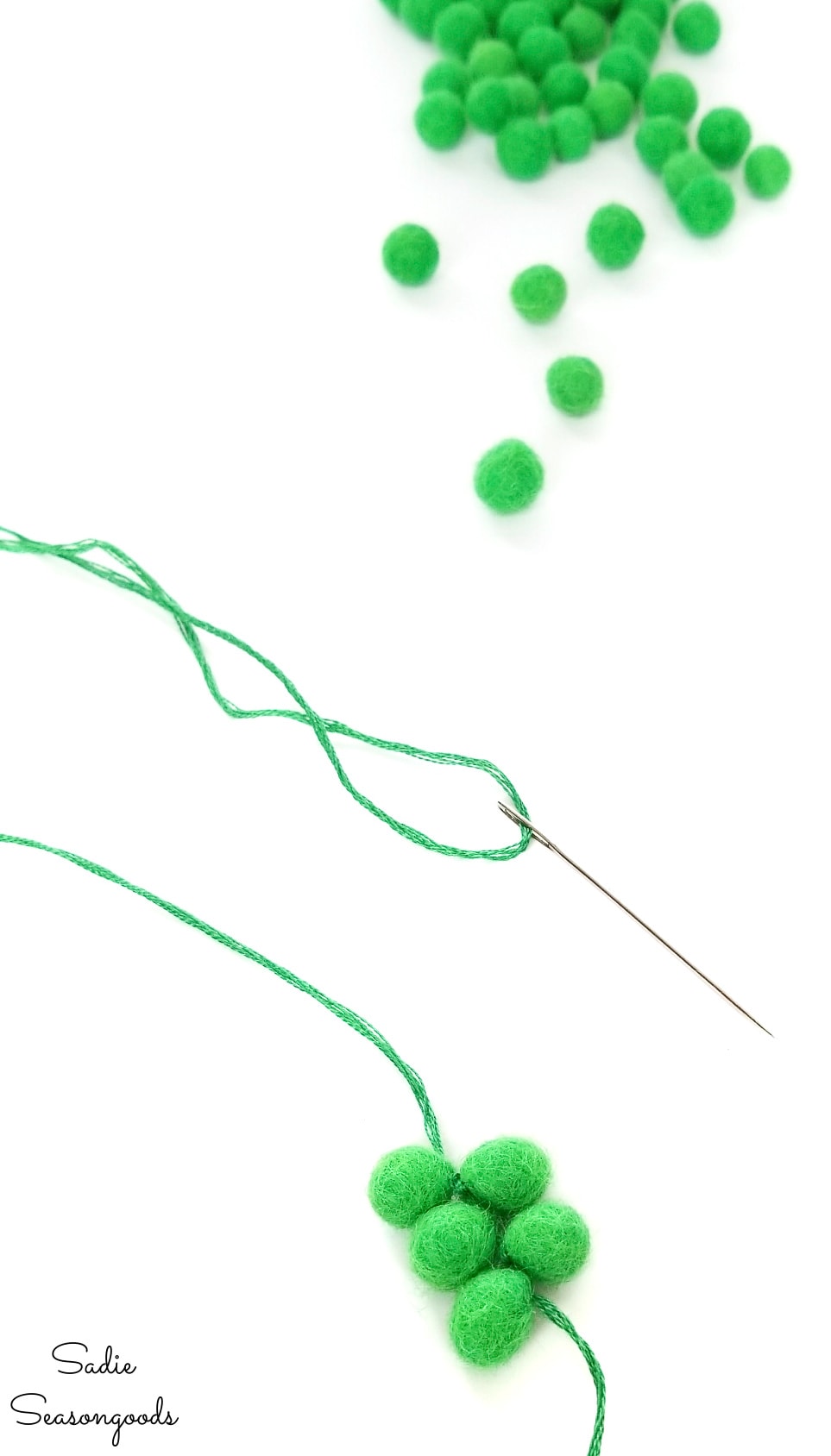 I had ordered 50 beads and ended up making two strands- one of 30 and one of 20.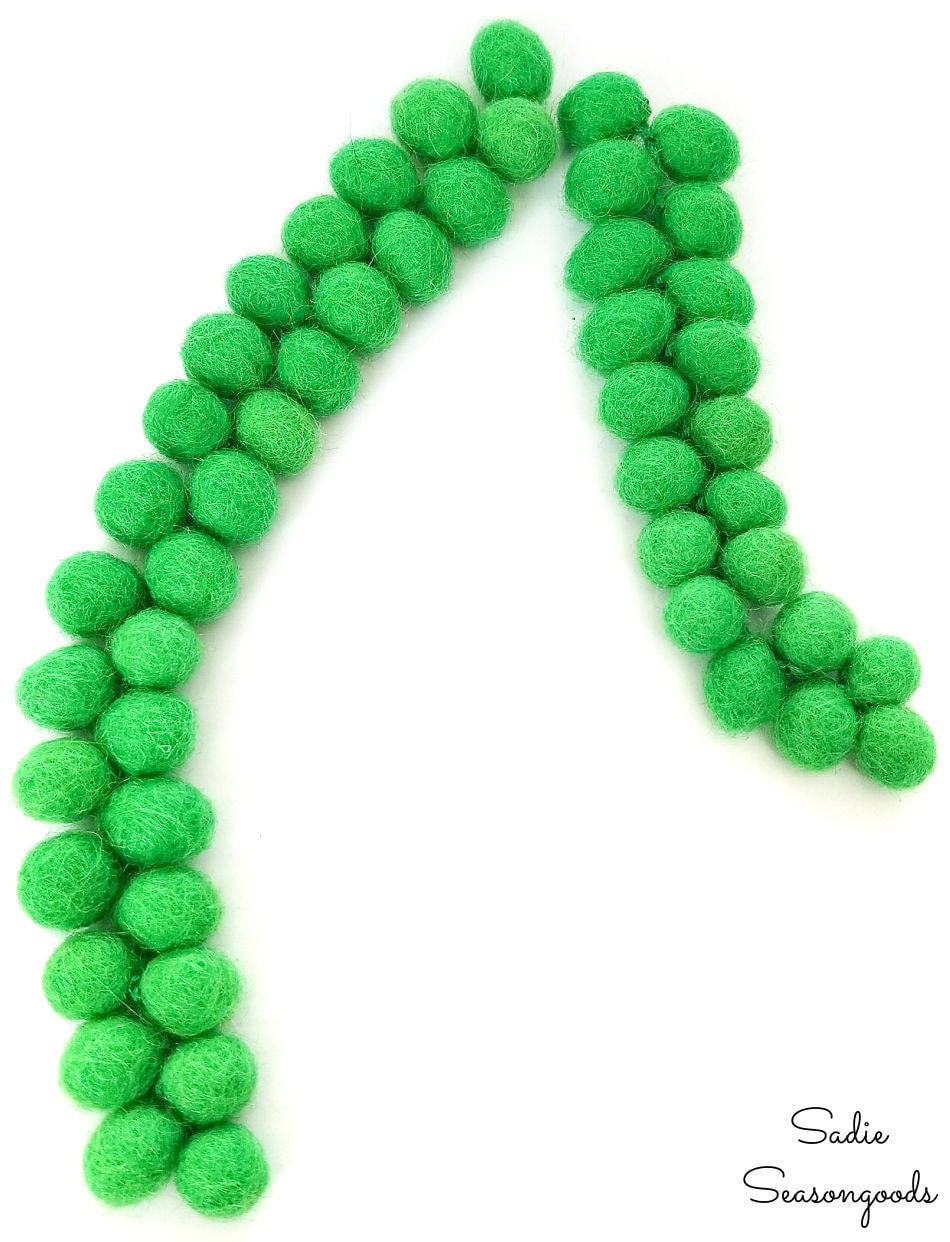 Oh my gosh, it turned out cuter than I had hoped!
Succulent Display Ideas
I made one felt succulent after another, using different techniques (such as this version I found on YouTube). As I got the hang of them, I got creative with the technique.
For instance, I pinched the leaves together with a little glue for some of them first, which added more dimension.
In the end, though, this was my collection of felt succulents (and yes, I have a TON of felt left).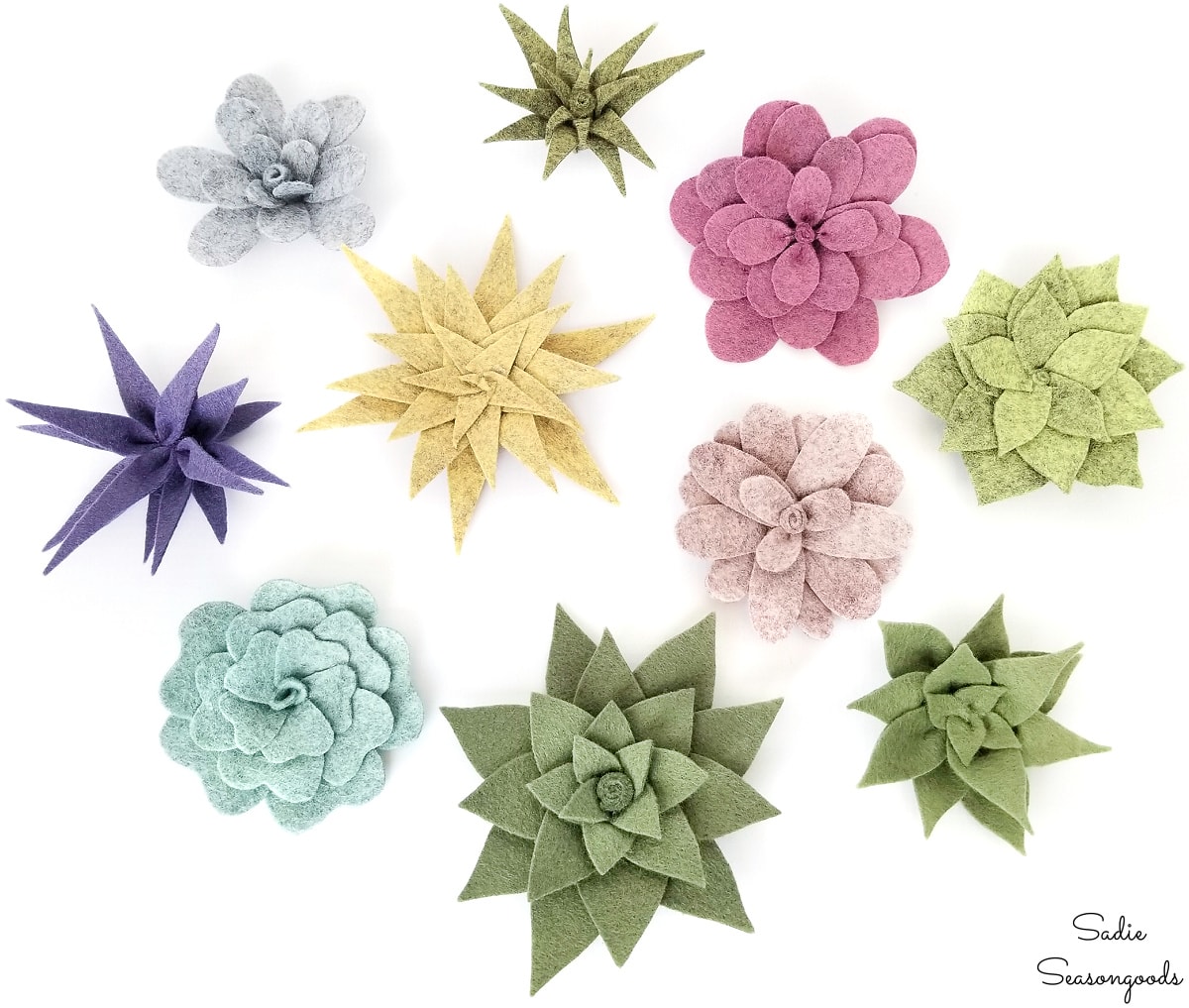 Aren't they THE CUTEST? I can't decide on a favorite…
To display my felt succulents in my unusual planters, I used floral foam. I cut the foam to fit inside the planters.
But instead of using hot glue to fix the felt succulents in place, I used extra long straight pins! I simply pierced each felt succulent through one of the lowest leaves and stuck it to the foam.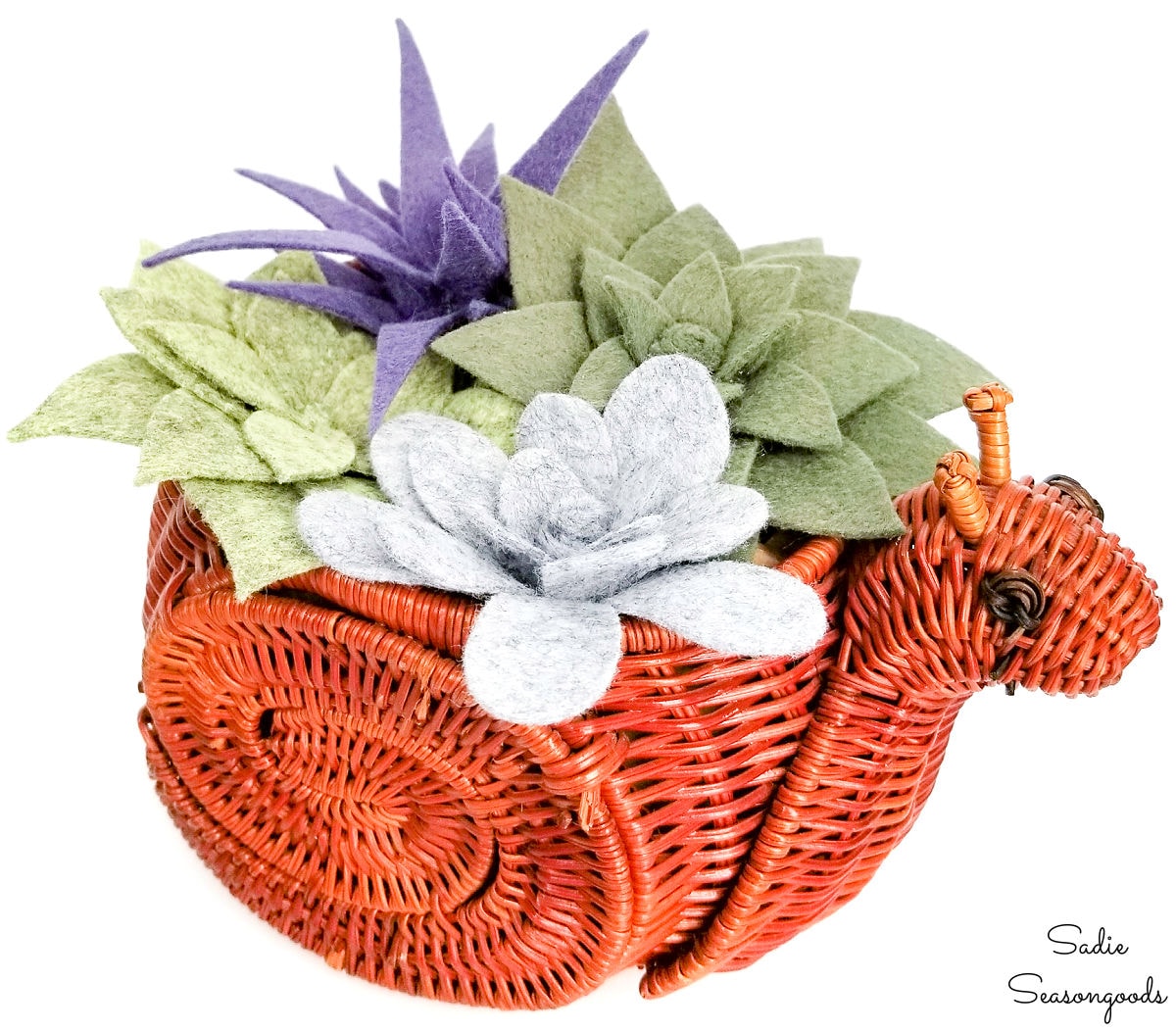 It was just a matter of layering them together in each planter. I couldn't be happier with how they turned out.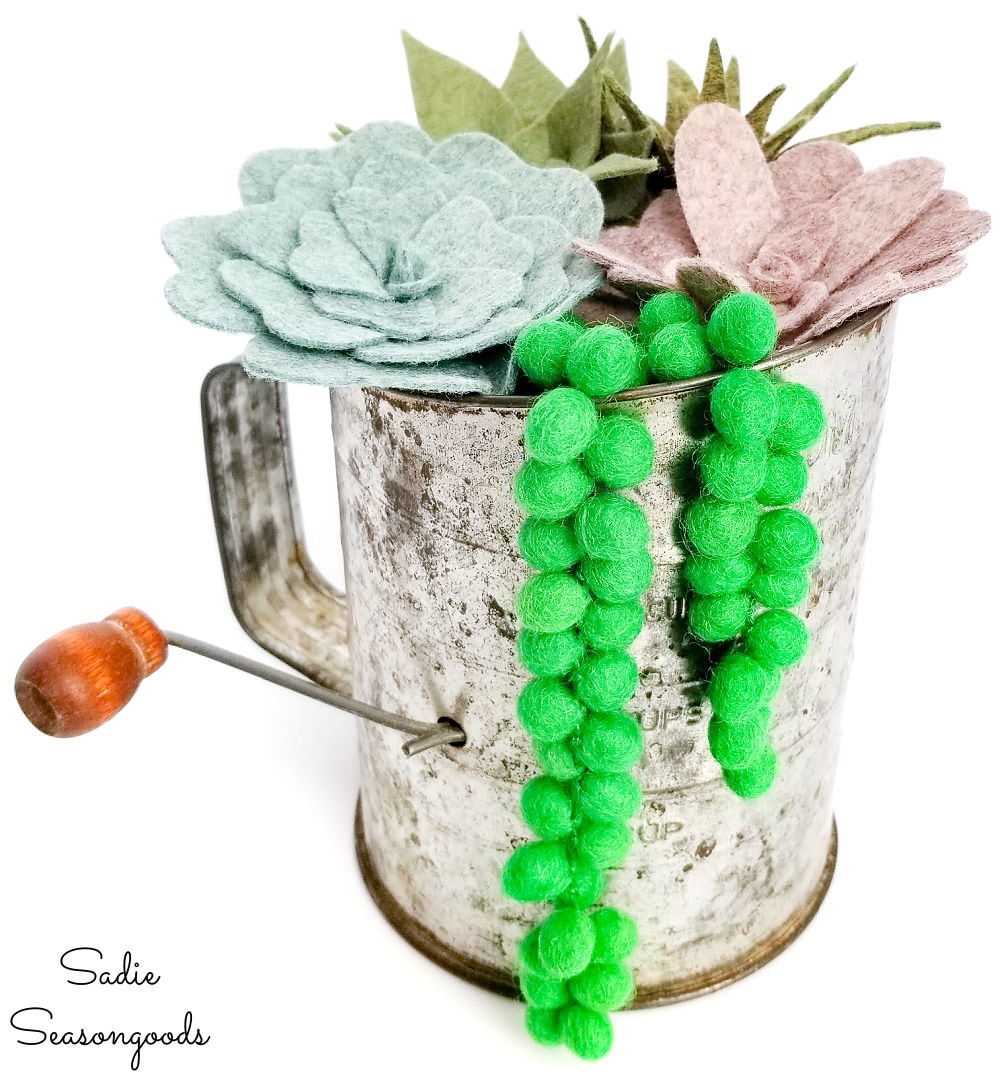 Using the long straight pins to attach them to the foam means I can change them up at any time!
Felt Succulents in Thrifted Planters
And just like that, I had some of the CUTEST little succulents I had ever seen. Whimsical planters and felt succulents were MEANT to go together.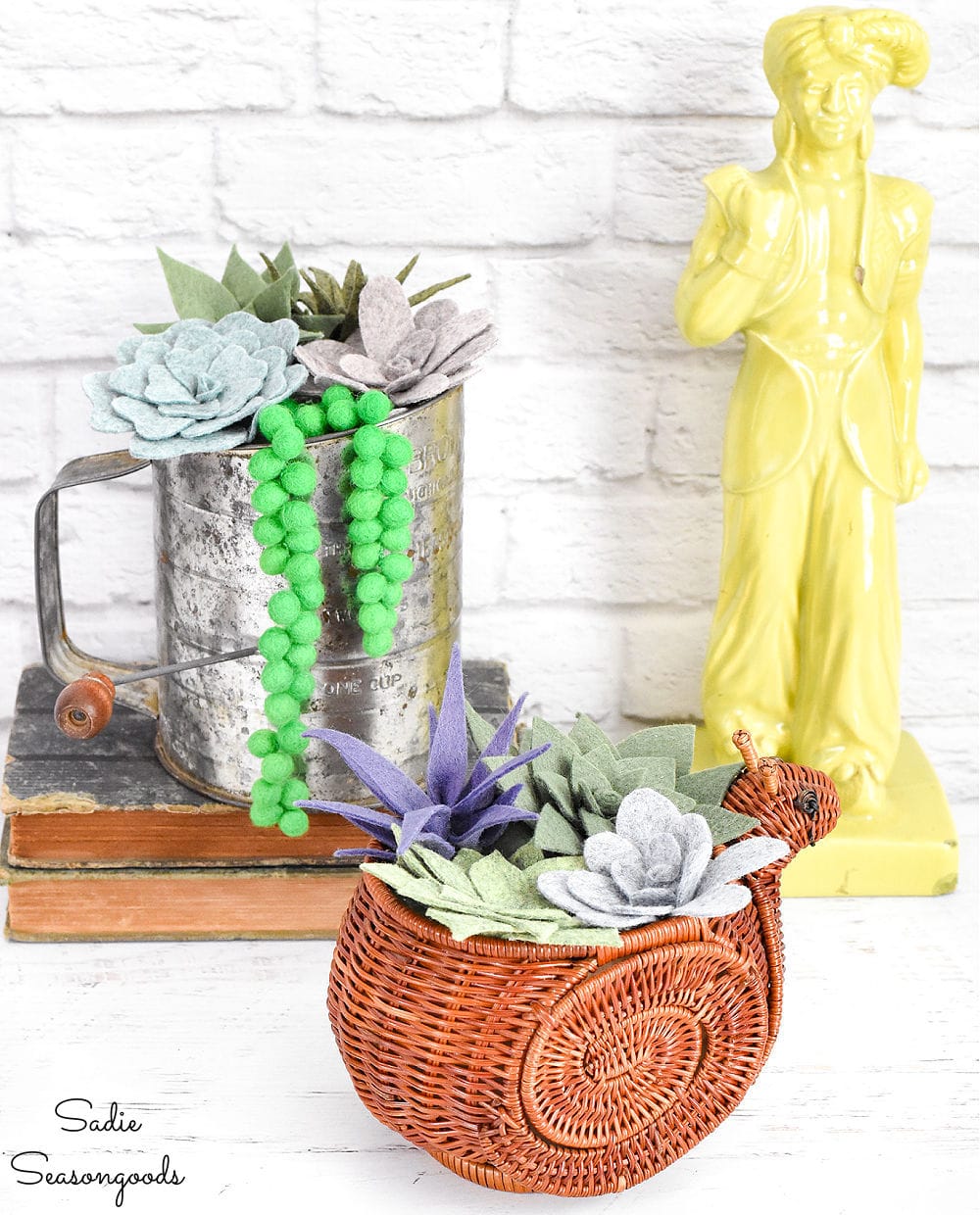 I mean…can you stand it? The cuteness? And that they will never die or rot!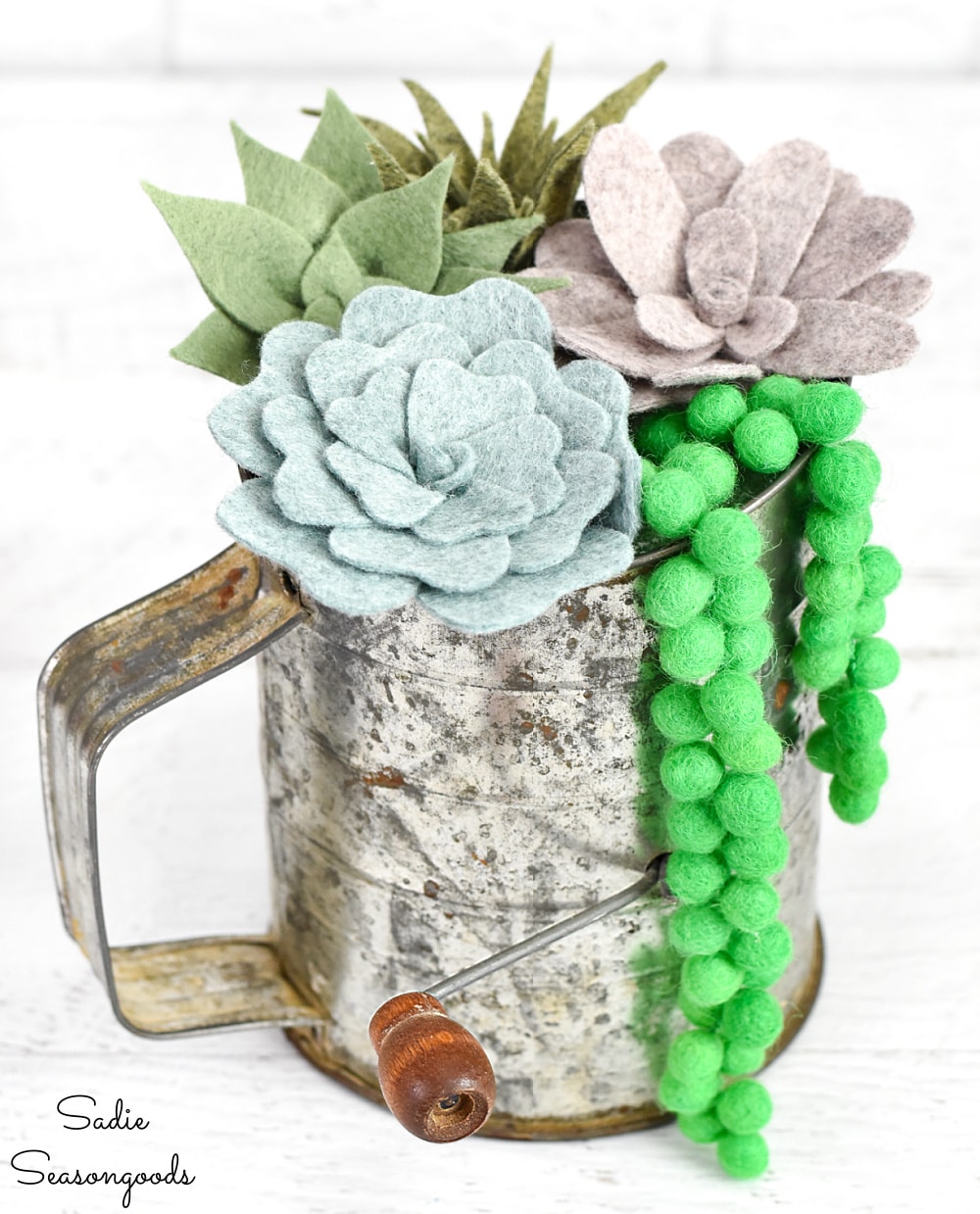 I know I'm including a LOT of photos of these felt succulents, but I'm just absolutely in love with them.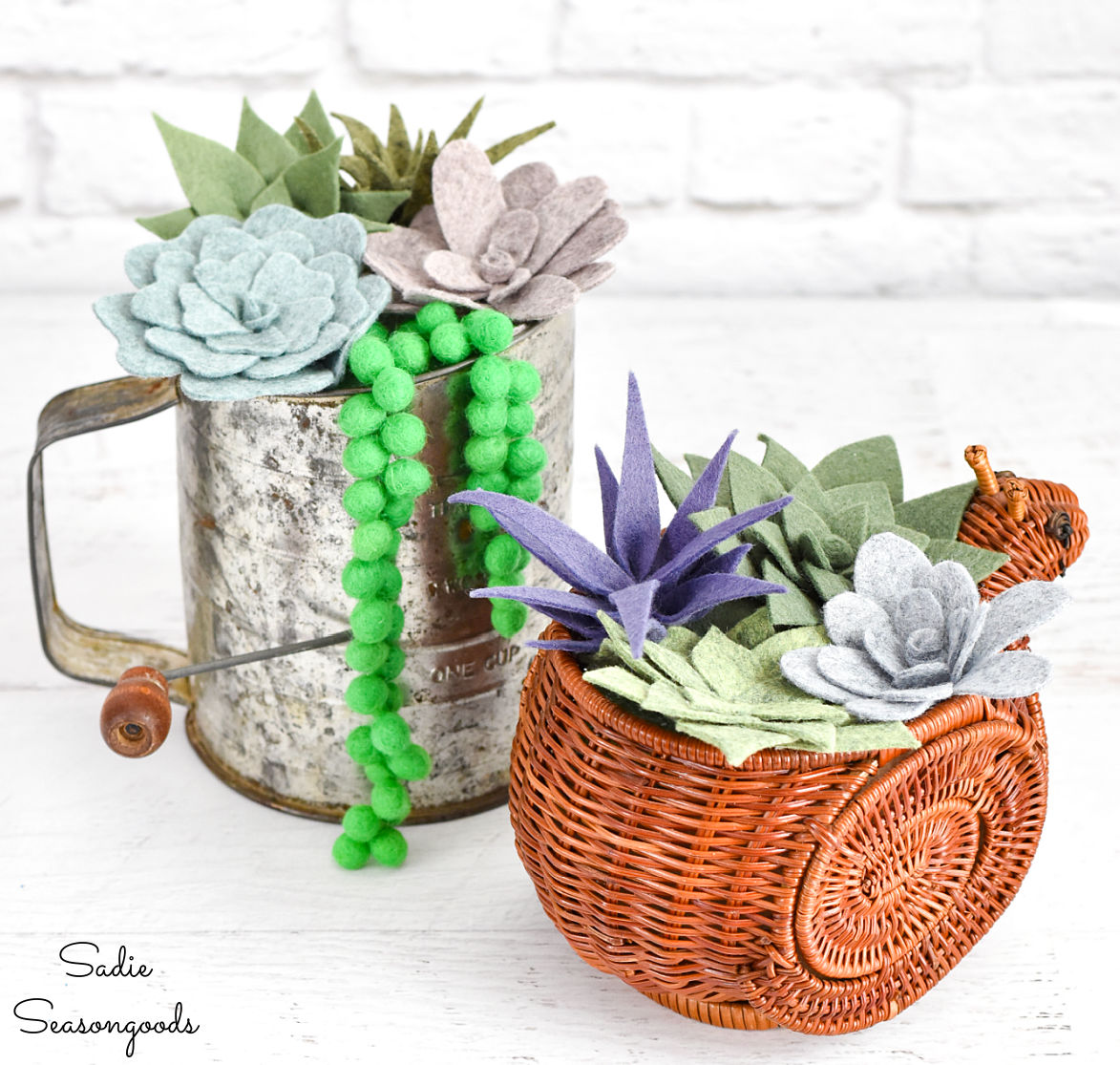 Ok, I'm done- I'll spare you any more photos. But tell me, will you be making some felt succulents soon now?
You'll love them- I promise! And funky or silly planters from the thrift store (or from the back of your cupboard) just put the cuteness over the top!
For instance, check out the desktop Zen garden with felt succulents that I made for Habitat ReStore in Charlotte, NC! I upcycled a mini muffin tin as the "planter".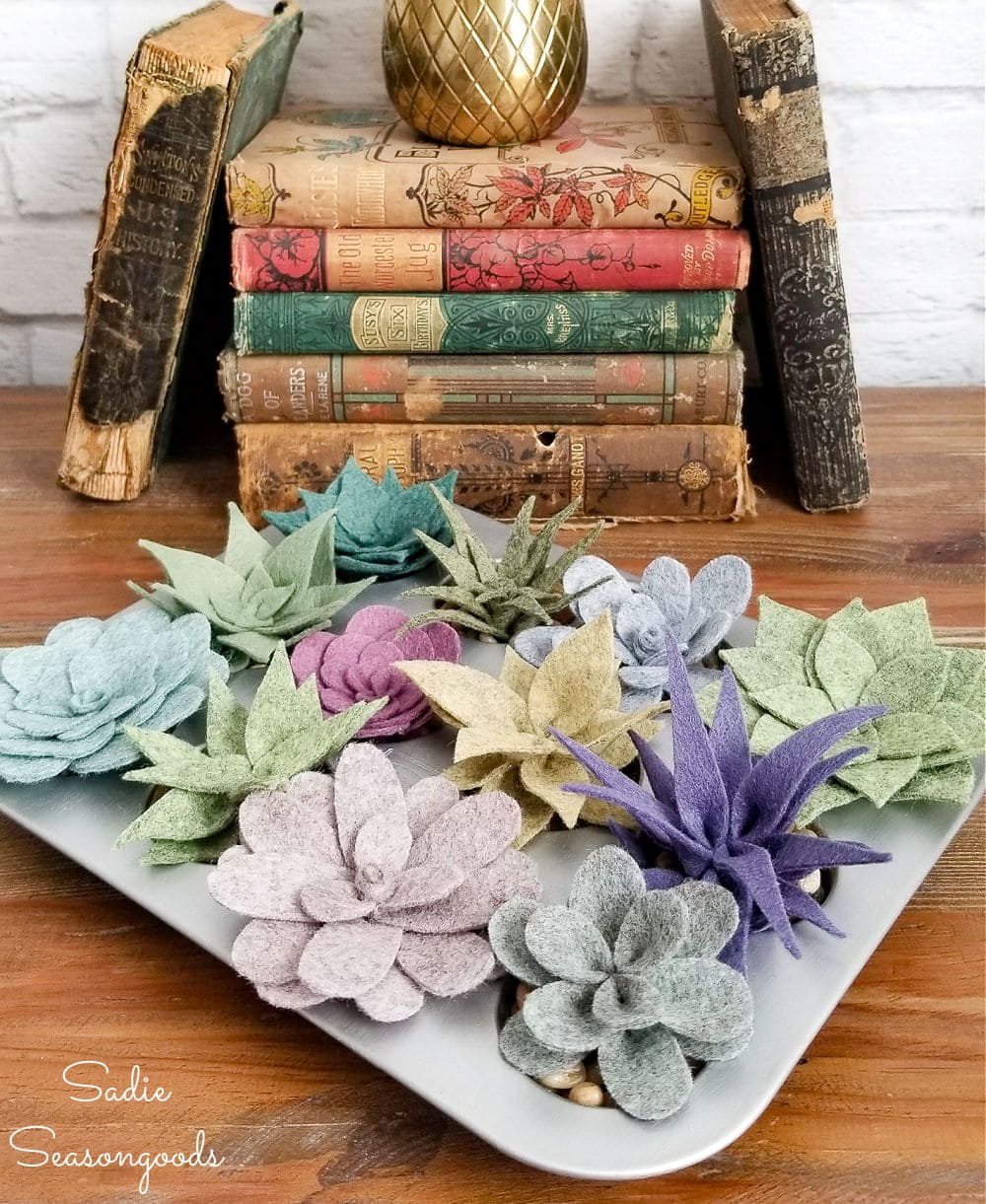 And if you enjoyed this craft idea for biophilic decor, then you may also be interested in this botanical decor idea from the thrift store!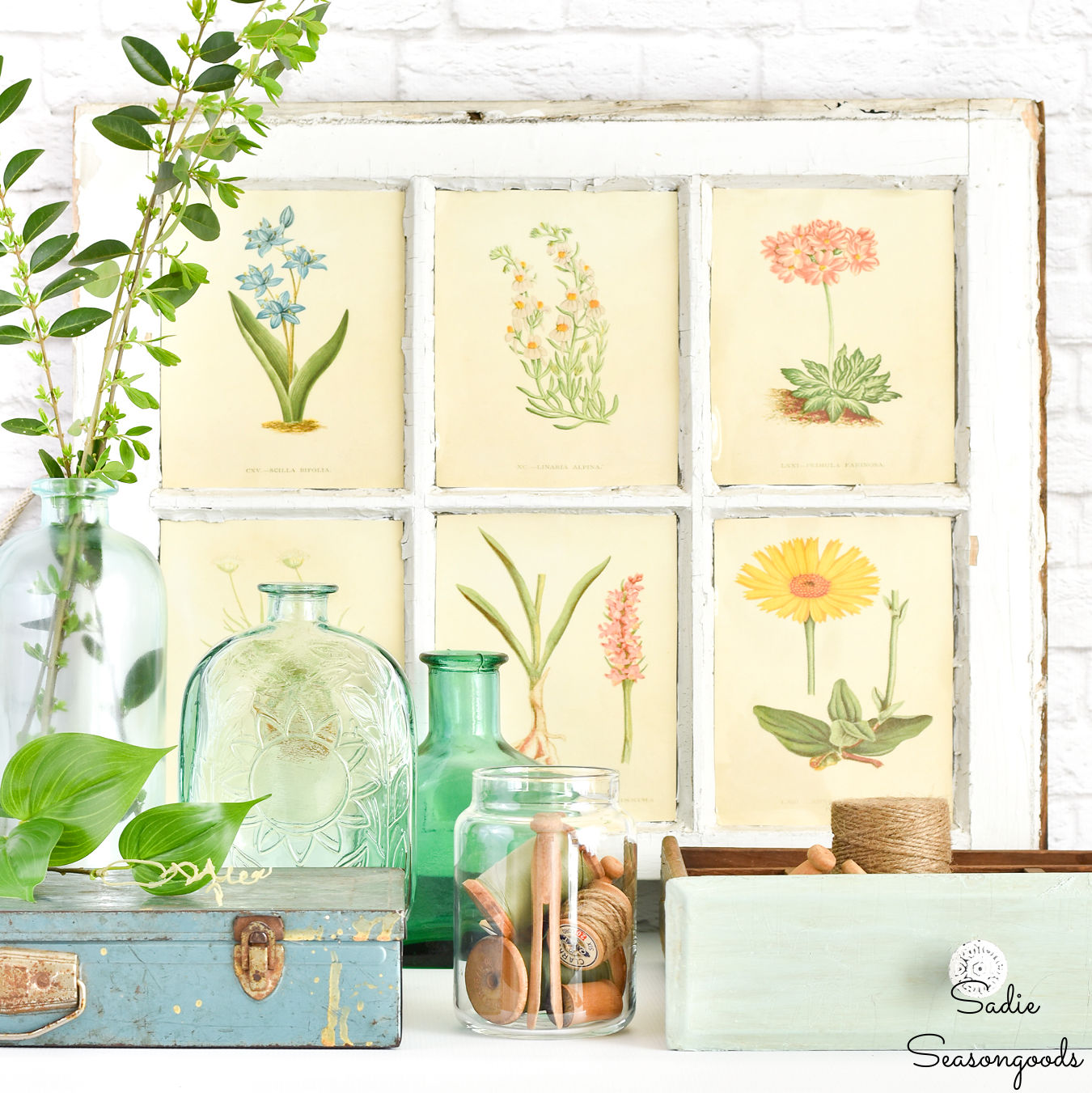 Craft on!
S
Want to be notified when I publish my next upcycling project tutorial?
Subscribe to Blog via Email
Join me on Social Media:

PIN ME!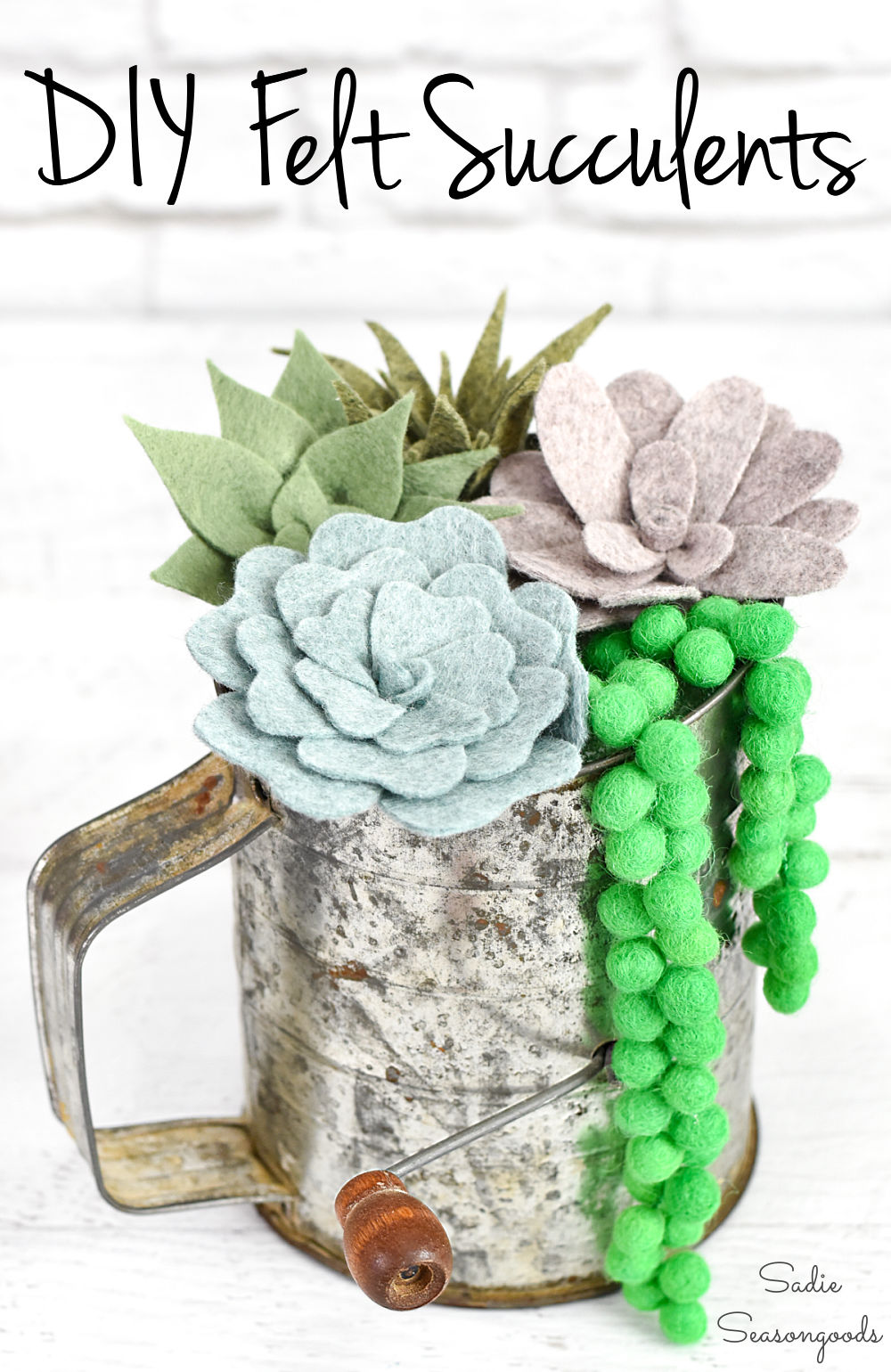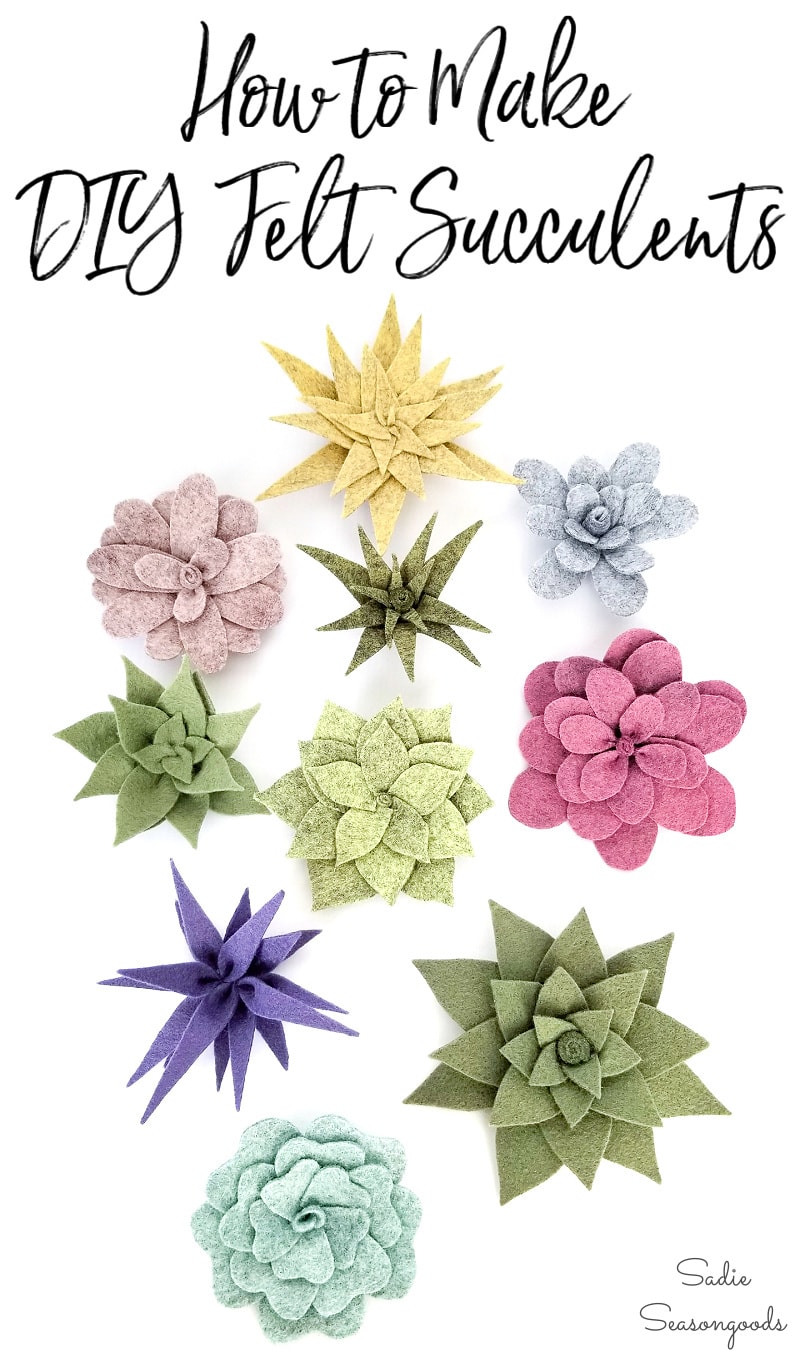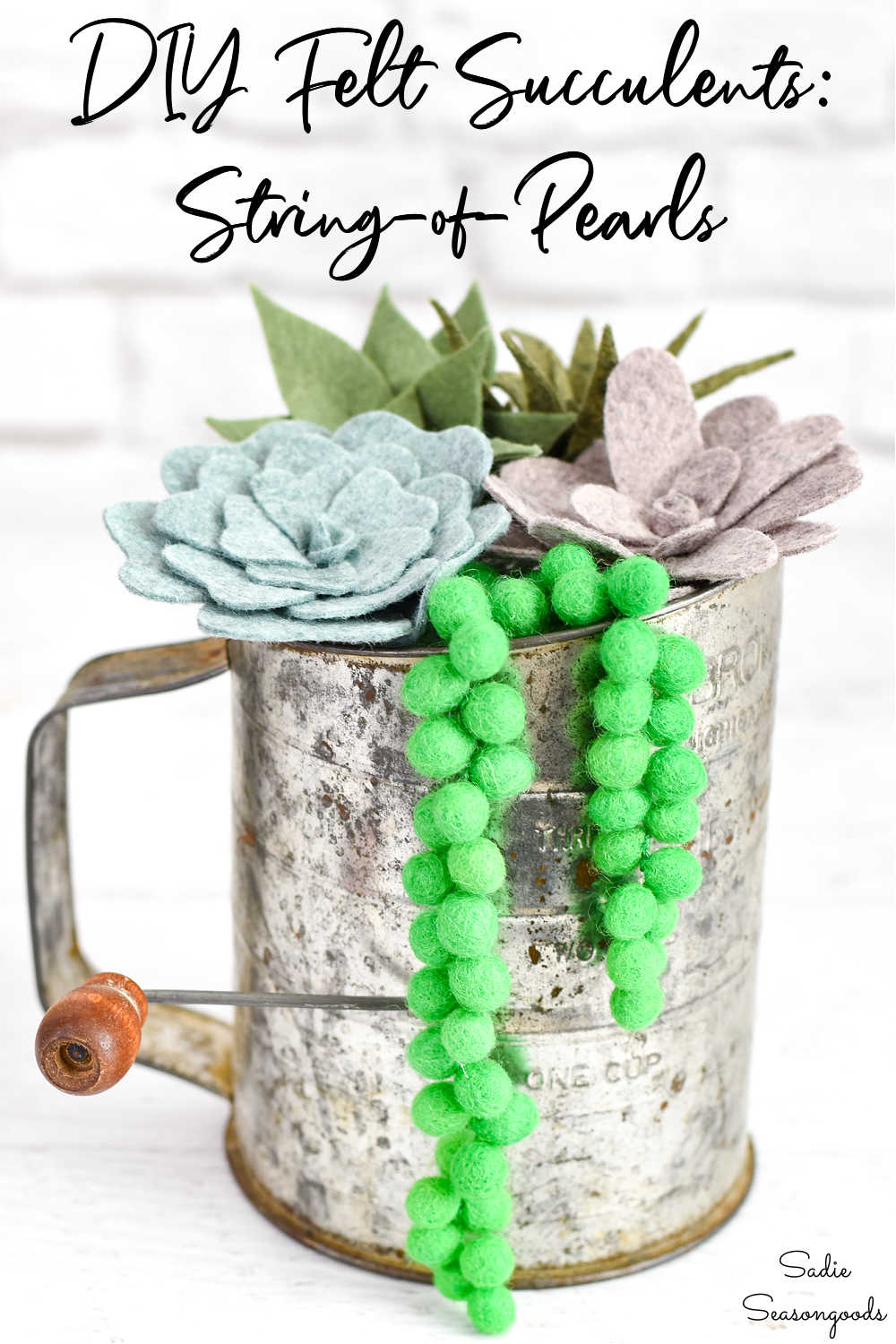 Sarah Ramberg is the owner of Sadie Seasongoods, a website that celebrates all things secondhand. From upcycling ideas and thrifted decor to vintage-centric travel itineraries, Sadie Seasongoods is a one-stop shop for anyone who loves thrifting and approachable repurposing ideas. Sarah is also the author of "Crafting with Flannel" and has been featured in numerous media outlets and magazines.