When my County stopped recycling glass, I became a more mindful consumer. But as much as I tried to avoid glass containers, I was intrigued by a certain brand of soup. I thought the glass bottle looked like one of those old milk bottles. And I wondered if I could upcycle it with milk tops into Spring decor?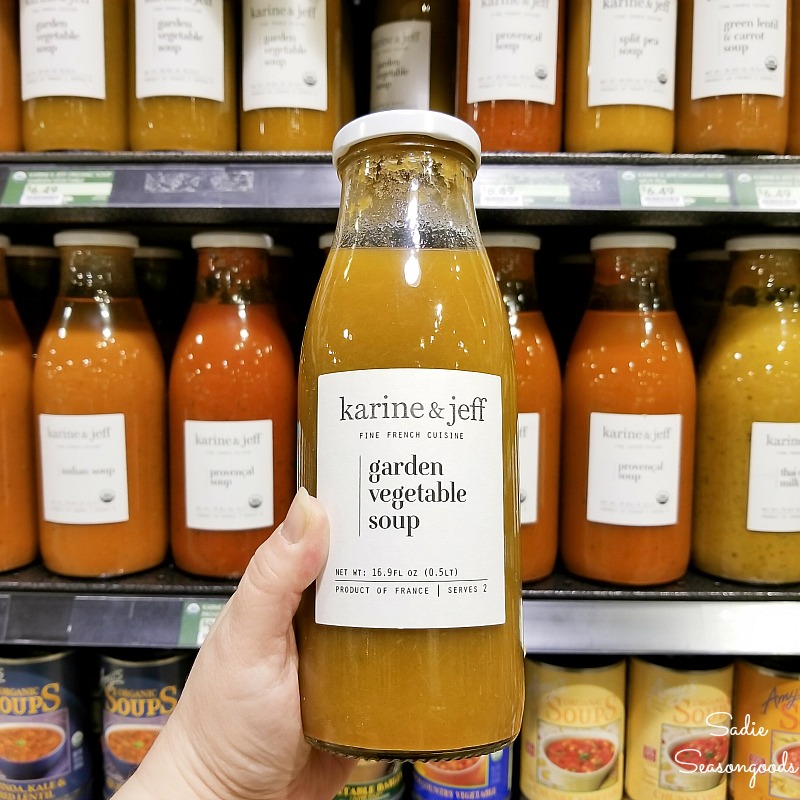 You see, I already had a nice collection of vintage milk bottles. And the soup bottle fit right in!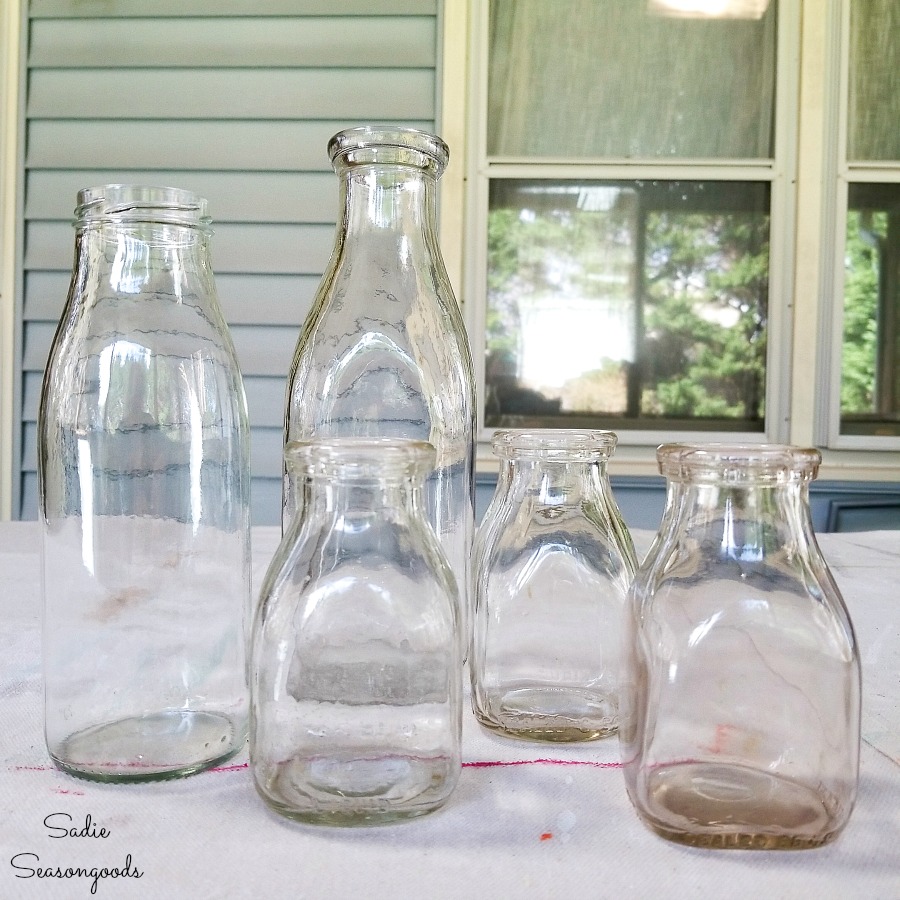 I also had quite the collection of milk tops. You know the kind that I mean, right? Those colorful cardboard disks that advertised the dairy?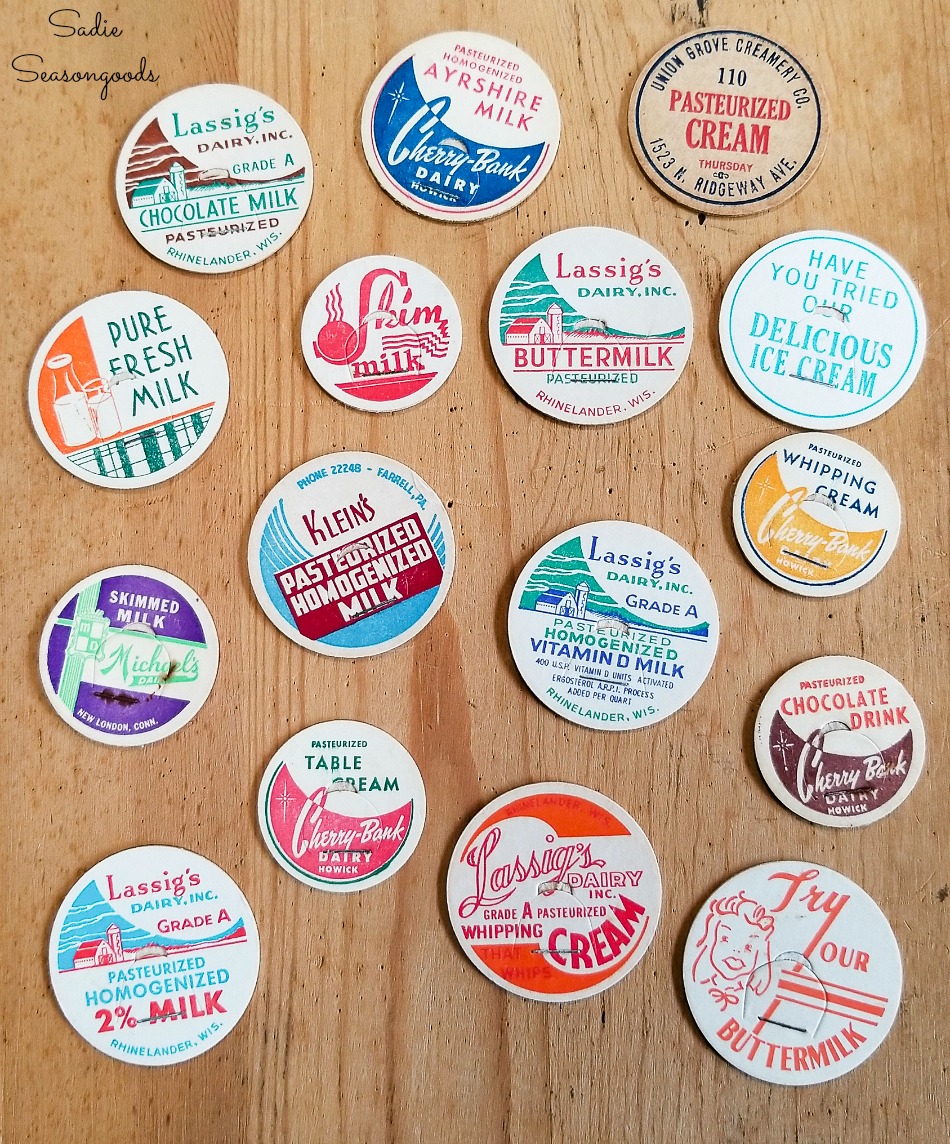 FYI- I bought many of these milk caps from Crafty Lisa's Vintage. She's my favorite source for vintage paper supplies!
My plan was to upcycle the old milk bottles with a little craft paint. And then I'd embellish them with the milk caps or milk tops. Hopefully, the end result would be colorful flower vases to use as Spring Decor!
This post contains affiliate links for your crafting convenience. As an Amazon Affiliate, I earn from qualifying purchases. All blue, bold, and underlined text is a clickable link, either to a product or to a related post.
Painting the Old Milk Bottles
Instead of spray painting the exterior of the bottles, I decided to paint the inside of them. Crafters had already been doing this for years, and I wanted to finally give it a try.
Because I was in a Spring frame of mind, I selected some craft paints in fresh pastel colors, one for each vase.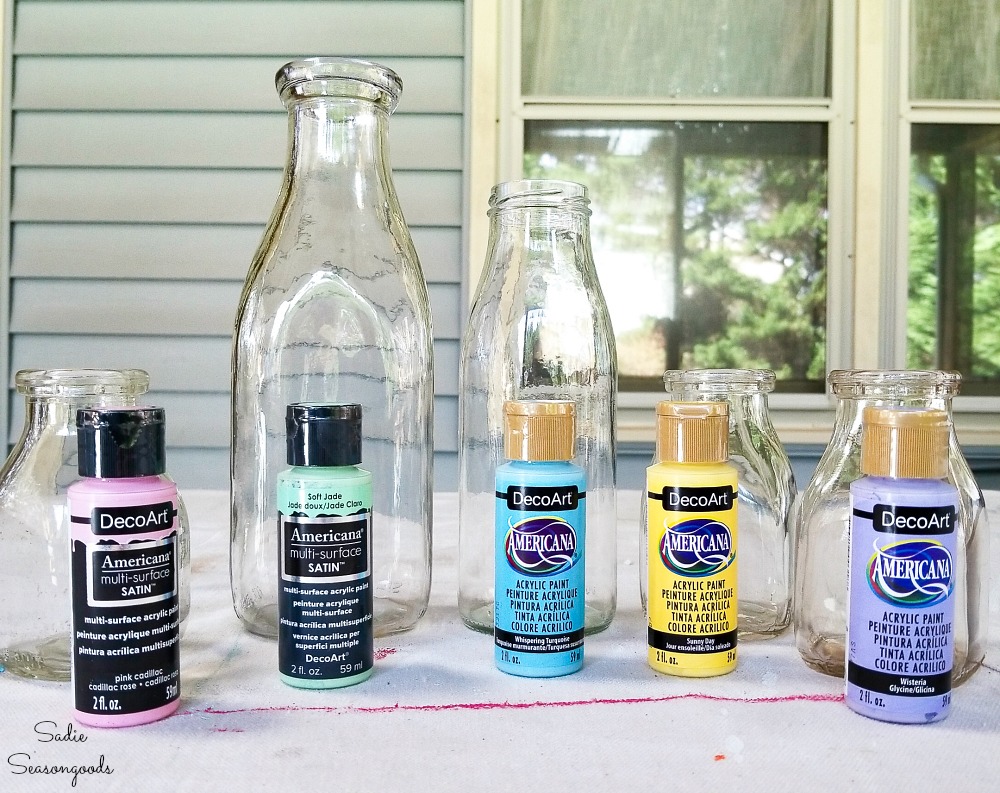 To paint the interior of the glass milk bottles, I needed to pour the paint inside and swirl it around.
But most craft paint is slightly too thick for this. So…
First, I added a couple of drops of water to one of my acrylic paint bottles. Then, I shook it vigorously to distribute evenly and thin out the paint.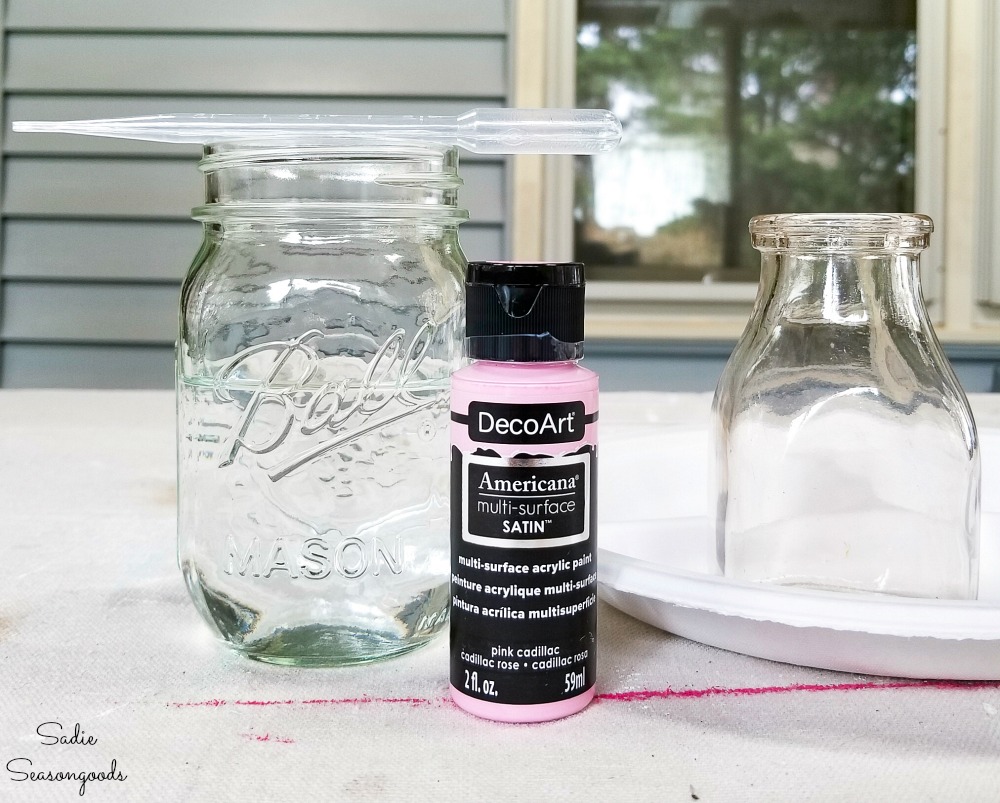 Note- for completely full or new bottles of craft paint, you may want to squeeze out a dollop of paint first. Then add the drops of water and shake.
Next, I squeezed the slightly runnier paint into each bottle. I started with less paint than I thought I'd need.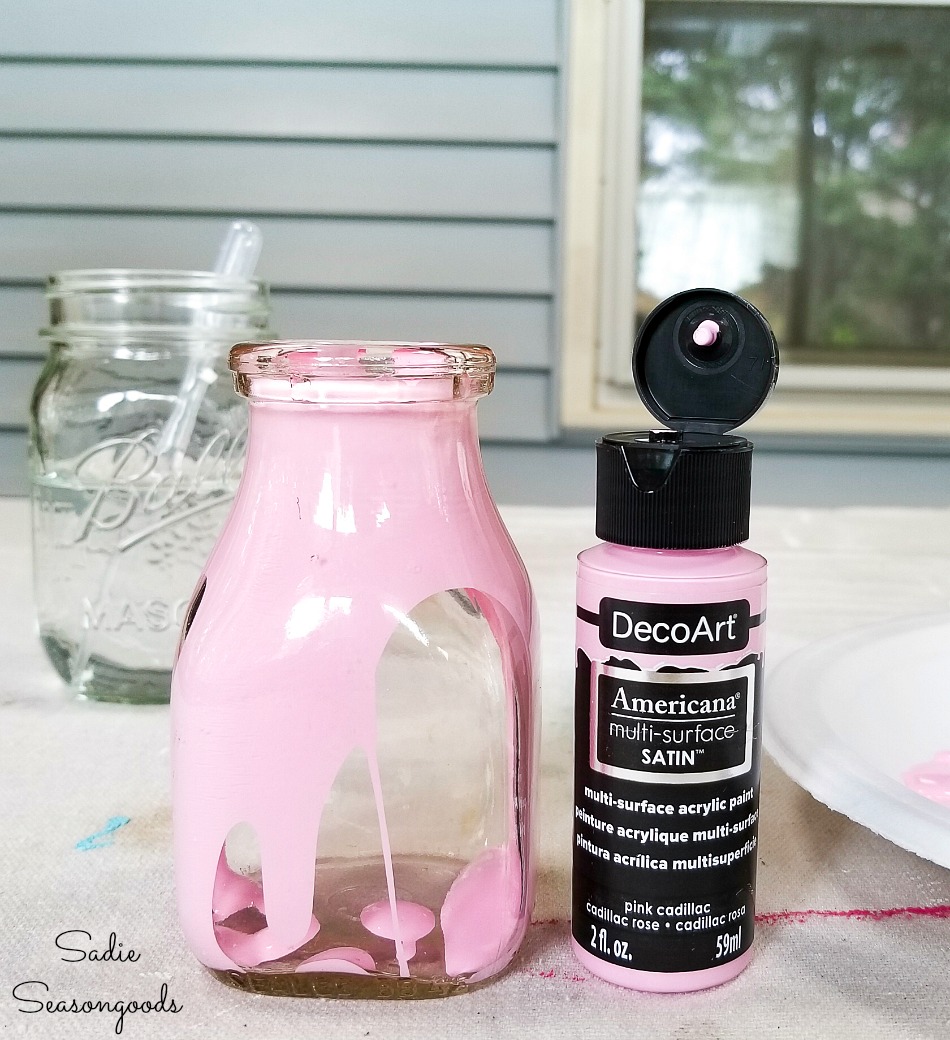 With a little patience and covering the bottle top with wax paper to shake it a bit, the craft paint coated the entire milk bottle.
Then, I drained the excess paint onto junk mail from my recycling bin!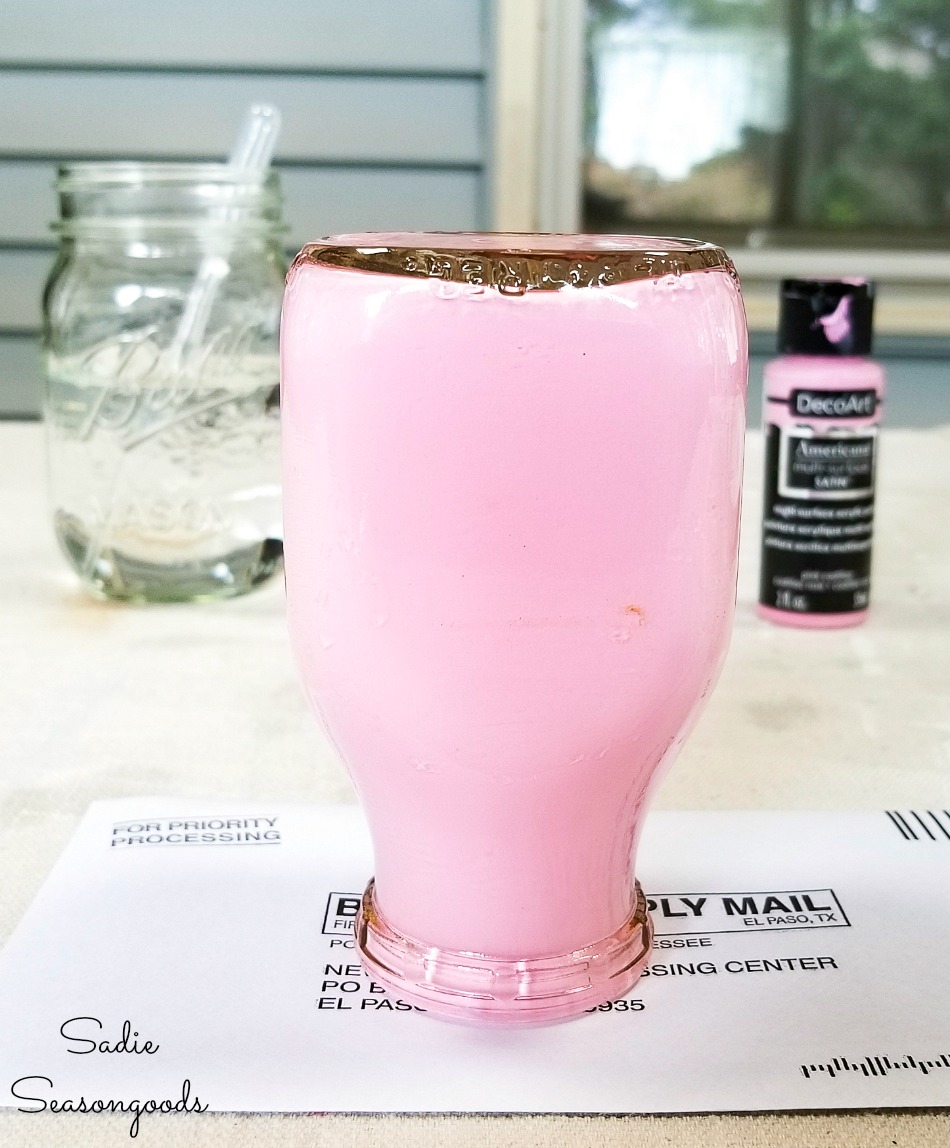 I also moved the upturned milk bottle periodically, as excess paint would pool in the neck.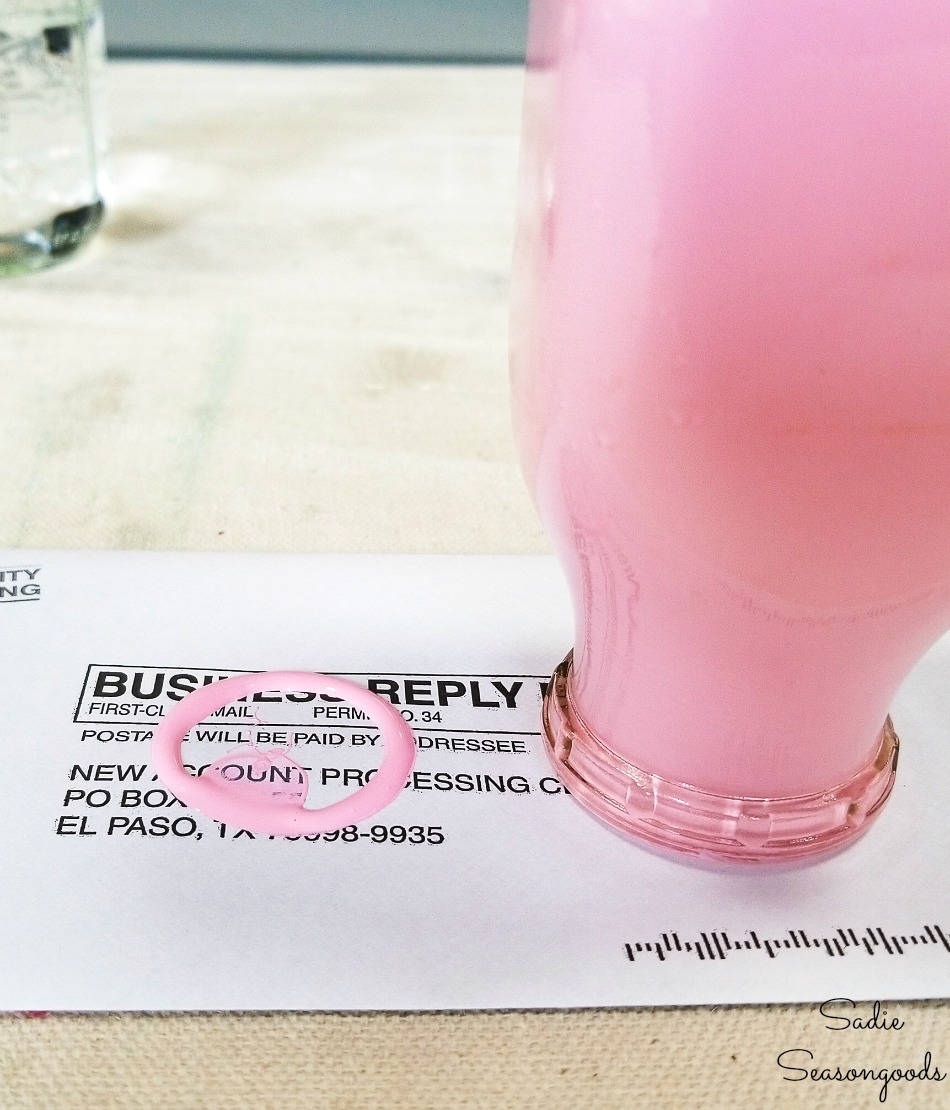 When there wasn't much or any excess paint dripping out, I turned the milk bottle upright and carefully wiped off the very top. Then, I let it dry overnight.
Then, I proceeded to repeat this process for all of the vintage milk bottles, each one with a different color.
Embellishing the Vintage Glass Milk Bottles with Milk Tops
Just like that, I had quite the collection of milk bottle vases. I loved how colorful they were and how they represented the entire pastel rainbow.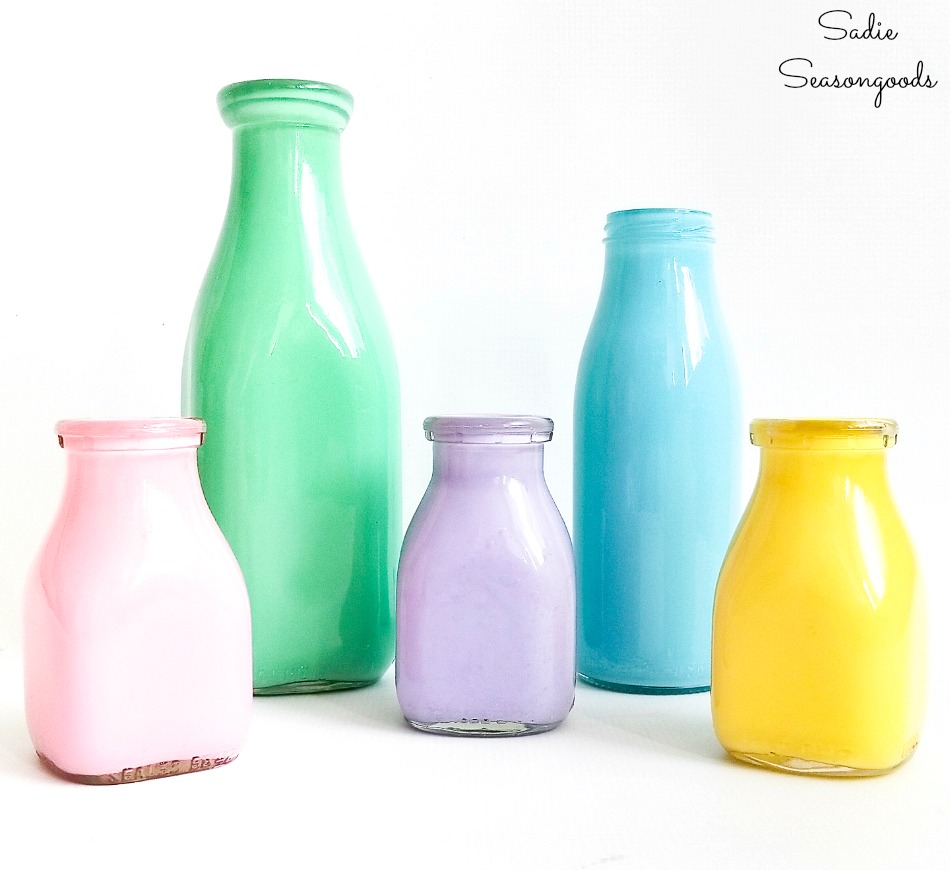 Finally, it was time to add the milk tops to the vintage milk bottles. I thought they'd be the perfect embellishment, especially since I had so many in my stash!
First, I started with the old glass milk bottles that had flat sides. Basically, that meant every bottle but the soup bottle.
For those, I matched up the milk caps with the color of the bottle and hot glued them in place.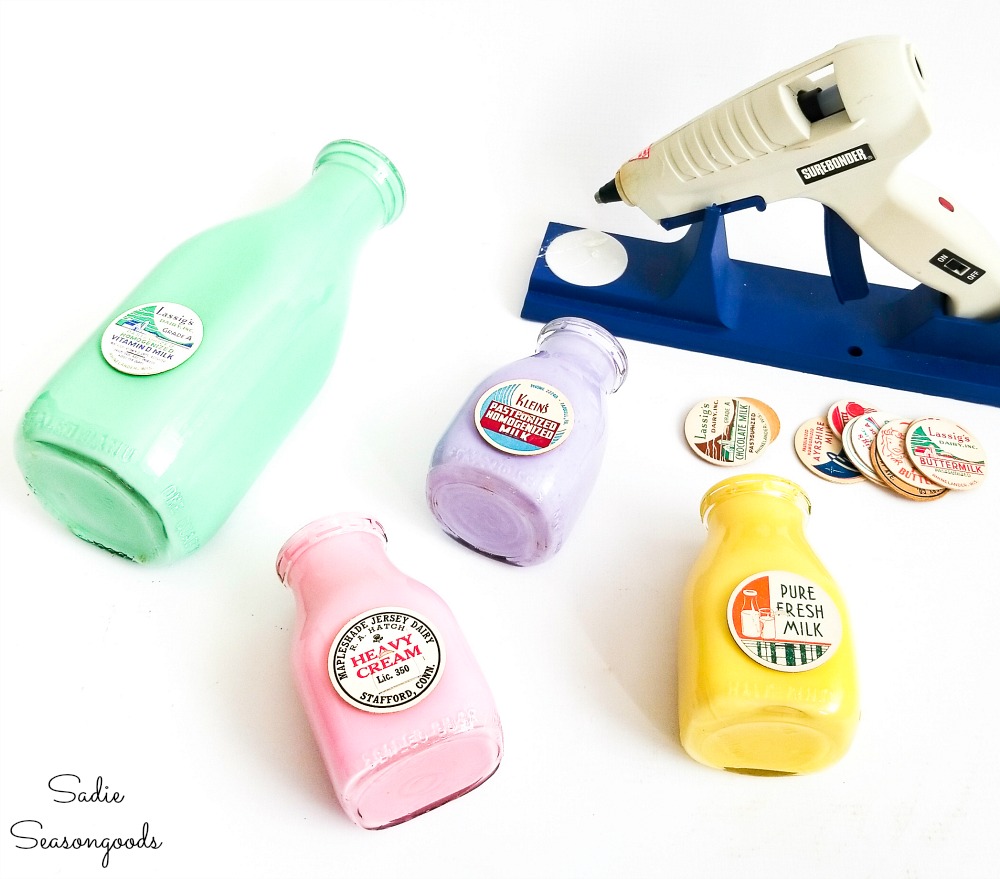 The soup bottle, however, was round. So, I attached a vintage milk label (from Crafty Lisa's Vintage on Instagram) to the glass bottle using double sided tape.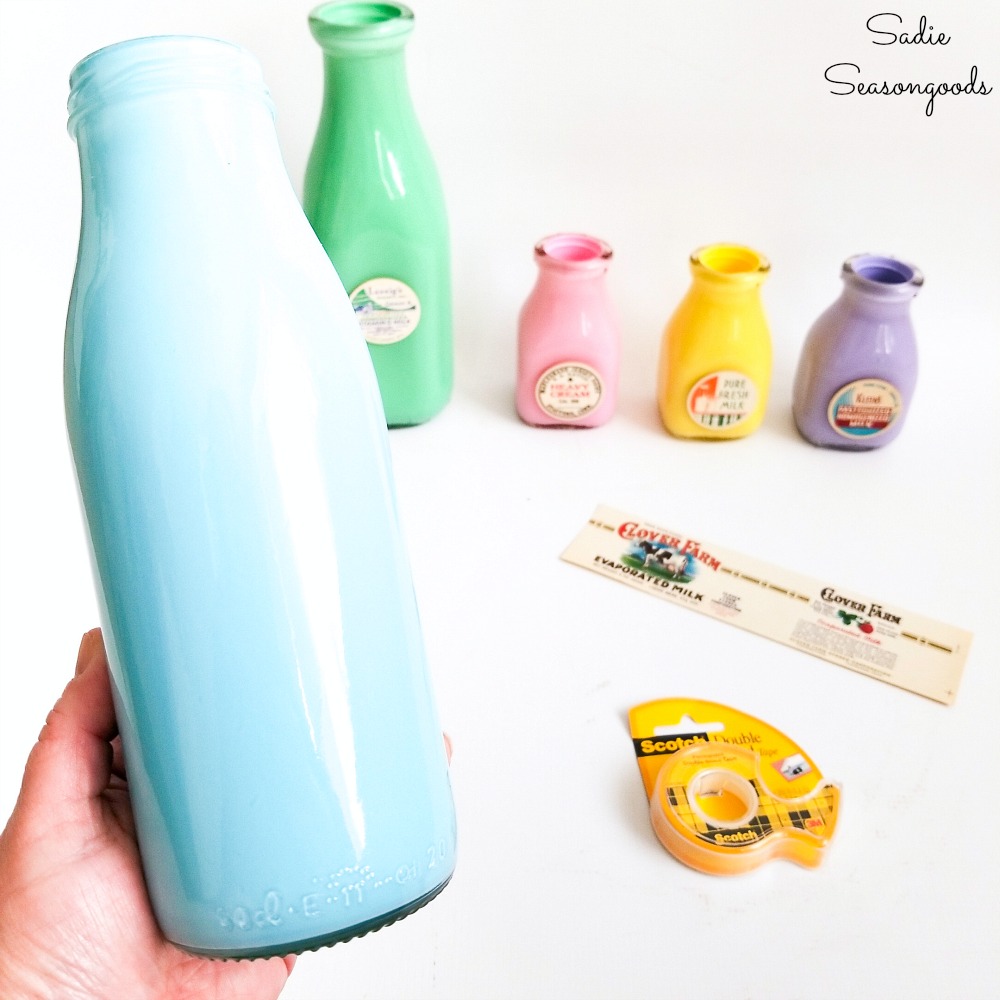 And that was it! My vintage glass milk bottles had been painted and embellished with milk caps.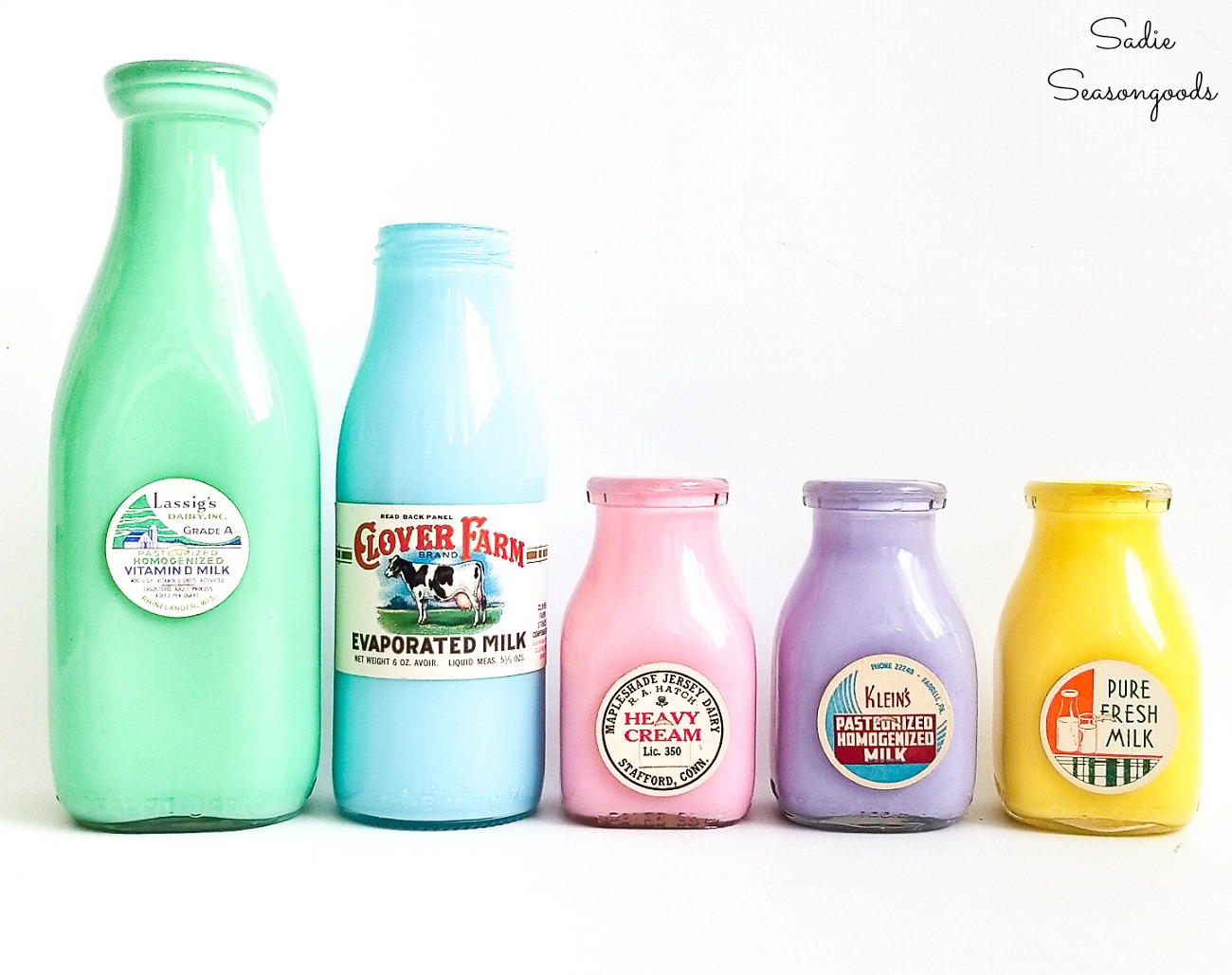 Spring Decor with Old Milk Bottles
Now, I know what you're thinking – "But Sadie, you can't use these as REAL vases because the paint is on the inside!". And you're right, I can't fill them with water because it would ruin the paint.
But, that's OK- I always planned on filling them with artificial flowers instead.
BUT, if you want to use these with real Spring flowers, you could either paint the exterior of the milk bottles or use florist water tubes, like these.
I like trying different crafting techniques AND I love how shiny the glass looks over the paint!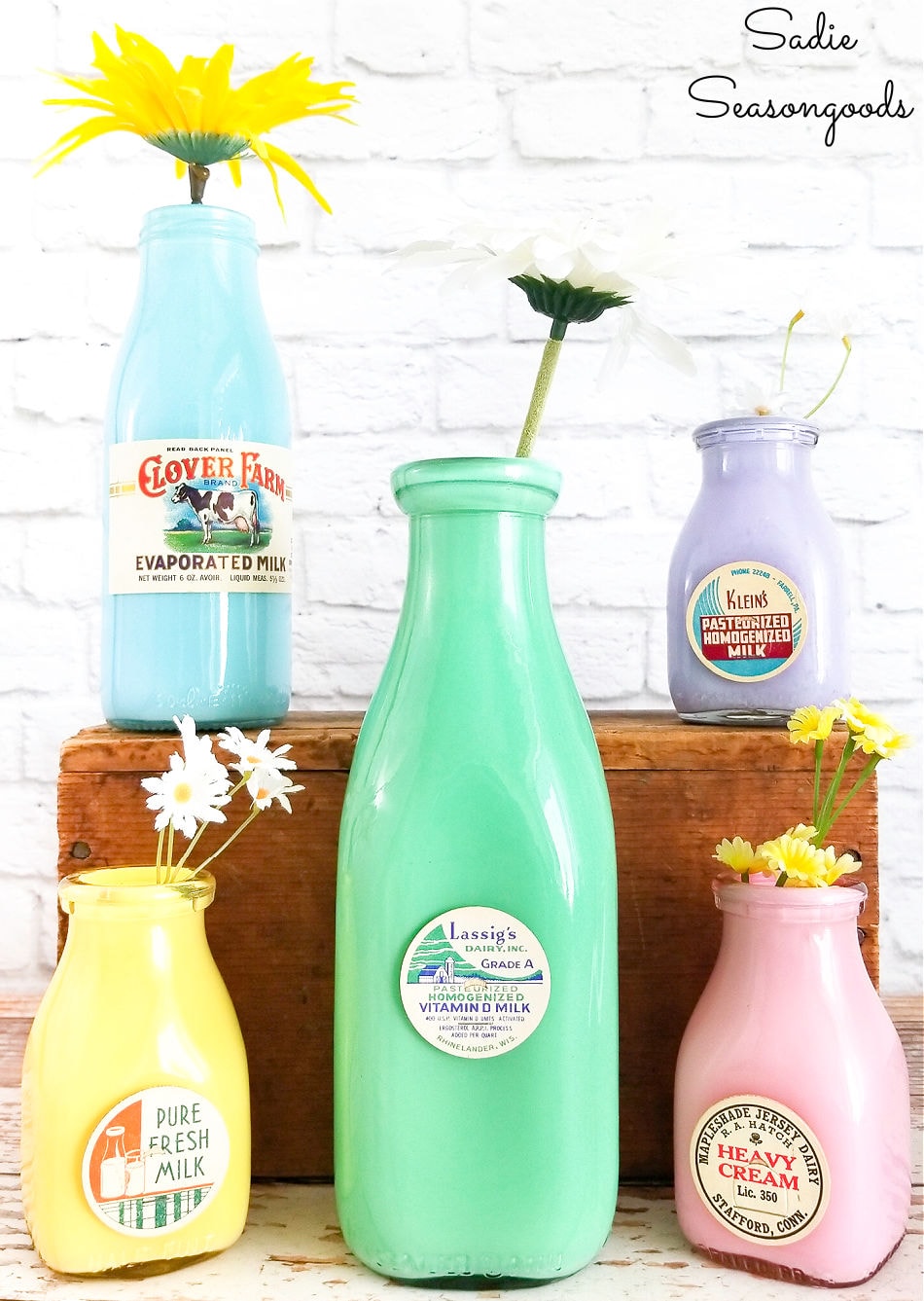 If you enjoyed my milk bottle vase project, then you might also enjoy this Easter decor idea with hobnail milk glass!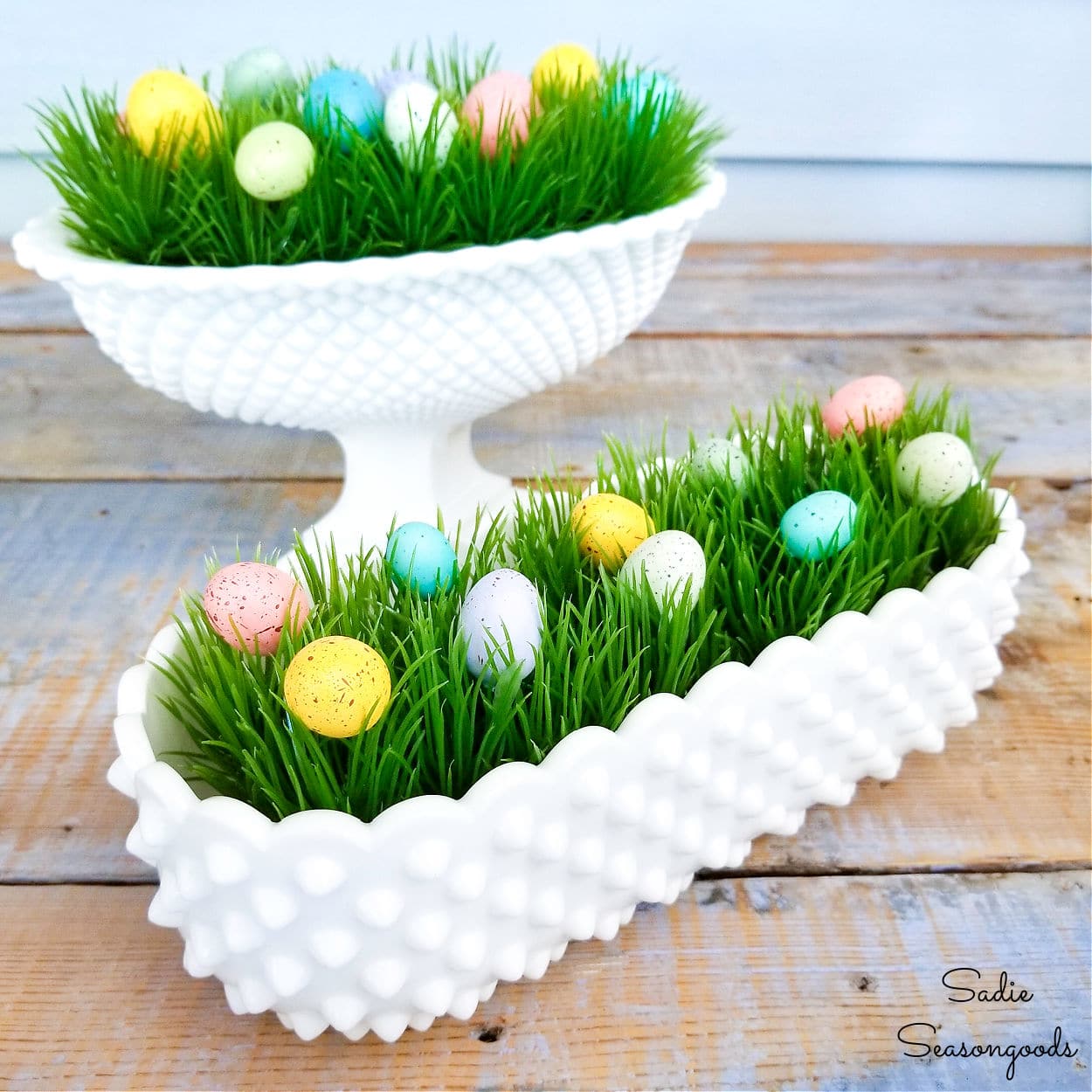 Craft on!
S
Want to be notified when I publish my next upcycling project tutorial?
Subscribe to Blog via Email
Join me on Social Media:

PIN ME!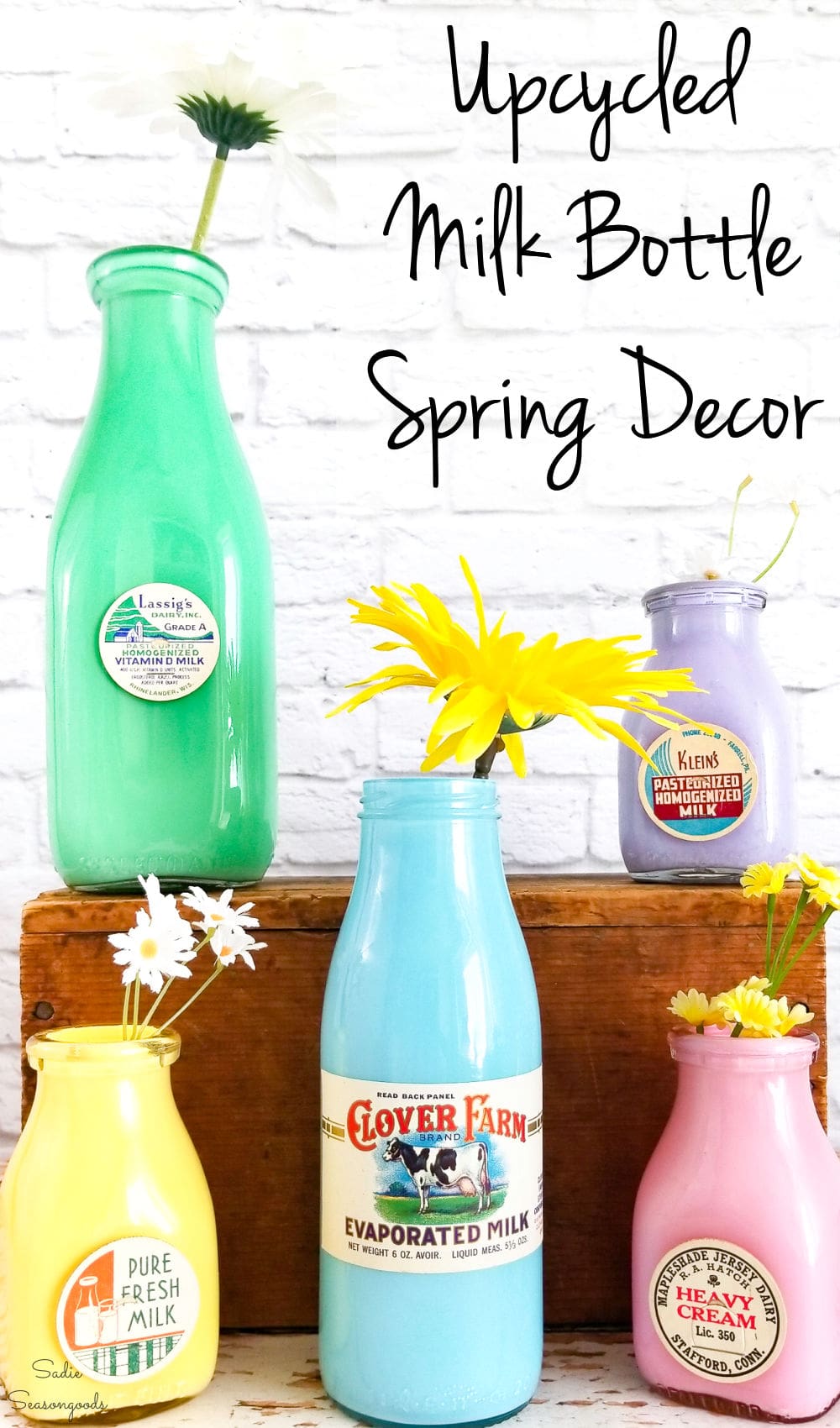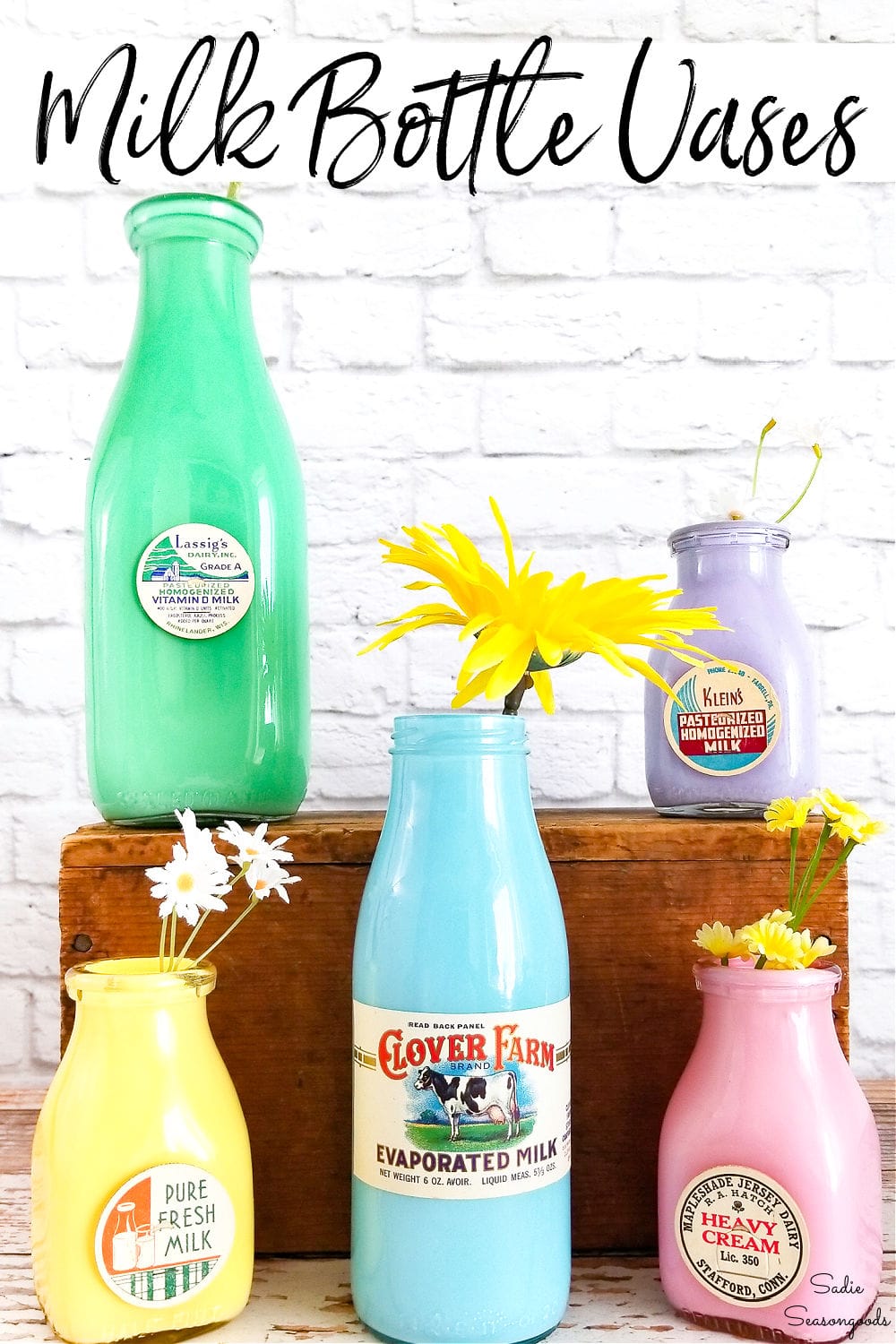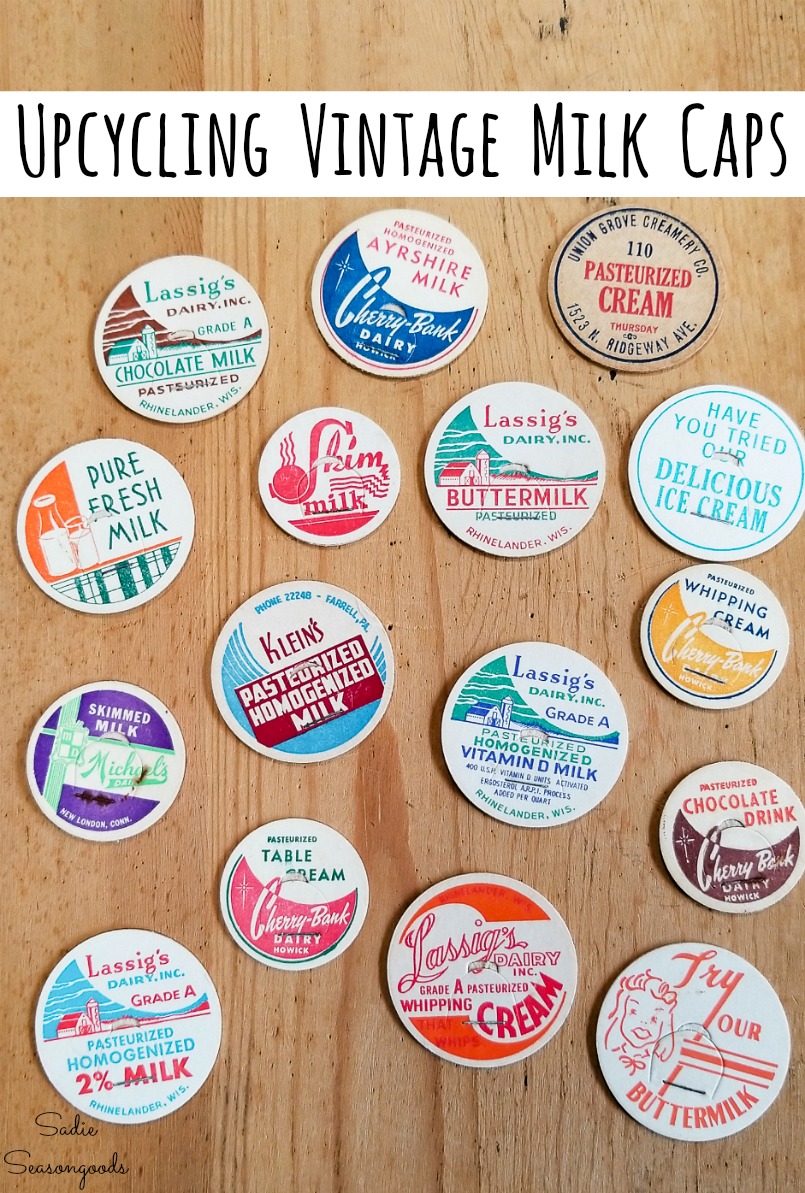 Sarah Ramberg is the owner of Sadie Seasongoods, a website that celebrates all things secondhand. From upcycling ideas and thrifted decor to vintage-centric travel itineraries, Sadie Seasongoods is a one-stop shop for anyone who loves thrifting and approachable repurposing ideas. Sarah is also the author of "Crafting with Flannel" and has been featured in numerous media outlets and magazines.