For many years now, I've been blogging here at Sadie Seasongoods about my love of secondhand shopping and upcycling projects. But, I've come to a crossroads in my life that has to do with something very personal and not something I typically ever address: my weight and my health. And even though my blog is has been completely focused on upcycling ideas for thrifted or vintage treasures, I want my weight loss journey to fit in with my blog's tagline:
Living a Firsthand Life using Secondhand Things
Why is that important to me? Because I really do want to talk the talk and walk the walk, so to speak. And if I'm encouraging others to shop secondhand whenever possible, then I need to follow suit.
And if I plan to lose a significant amount of weight, then I will be going through a lot of sizes of clothing. And used clothing / thrift store clothes will play a SIGNIFICANT role in my life – more so than ever before.
Not only do I have limited funds to spend during this process, but if I'm changing sizes periodically, then I don't want to be wasteful in my spending.
But first, let me tell you a little about my current situation and how I got here in the first place.
My Weight Loss Journey
Before my weight loss journey can even begin, I have to take a hard but careful look at how I got to be in the shape I'm in.
And that shape is short, round, and tired.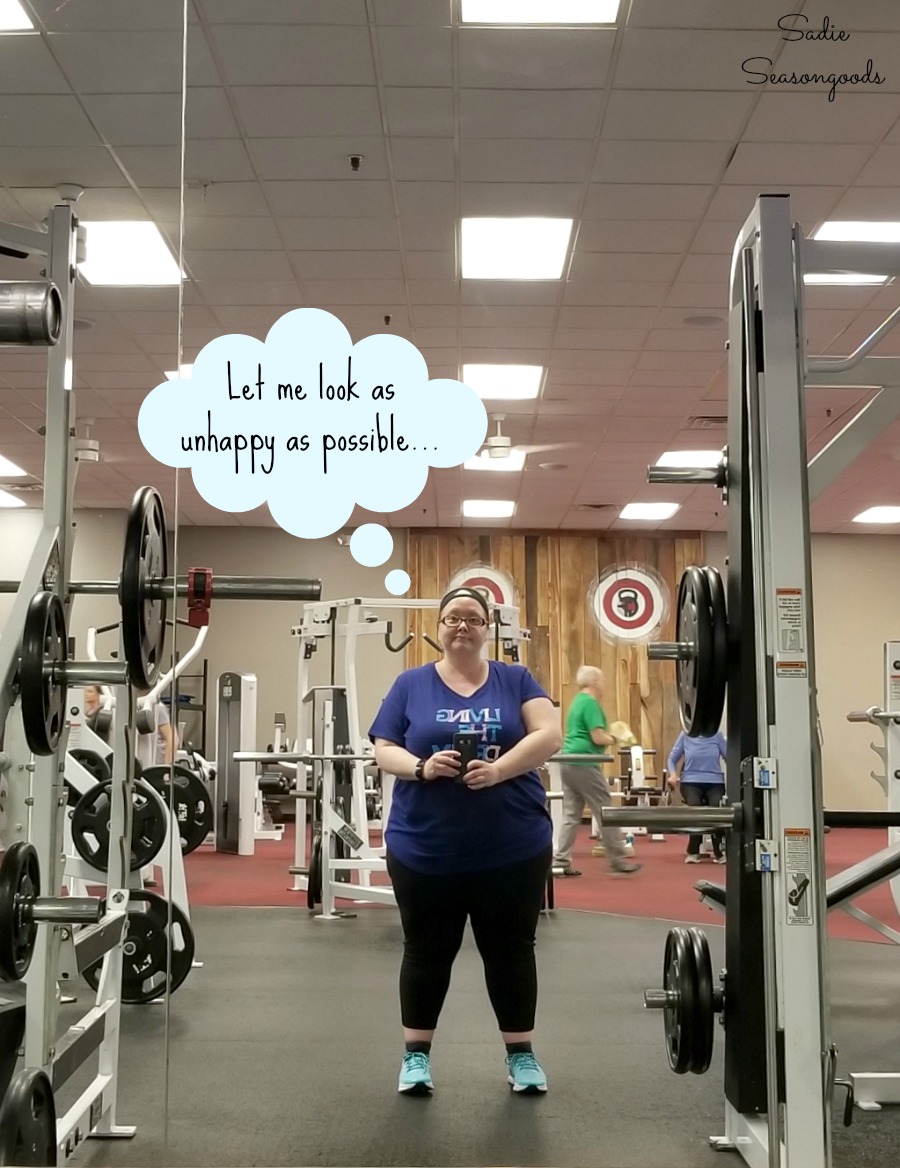 For nearly 15 years, I worked a typical white-collar corporate job that involved, well, a lot of sitting. Hours upon hours of sitting – at a desk, at my computer, in meetings, on conference calls, even on airplanes just to do MORE SITTING at my destination.
And the fact of the matter is, sitting is the new smoking…when it comes to our health.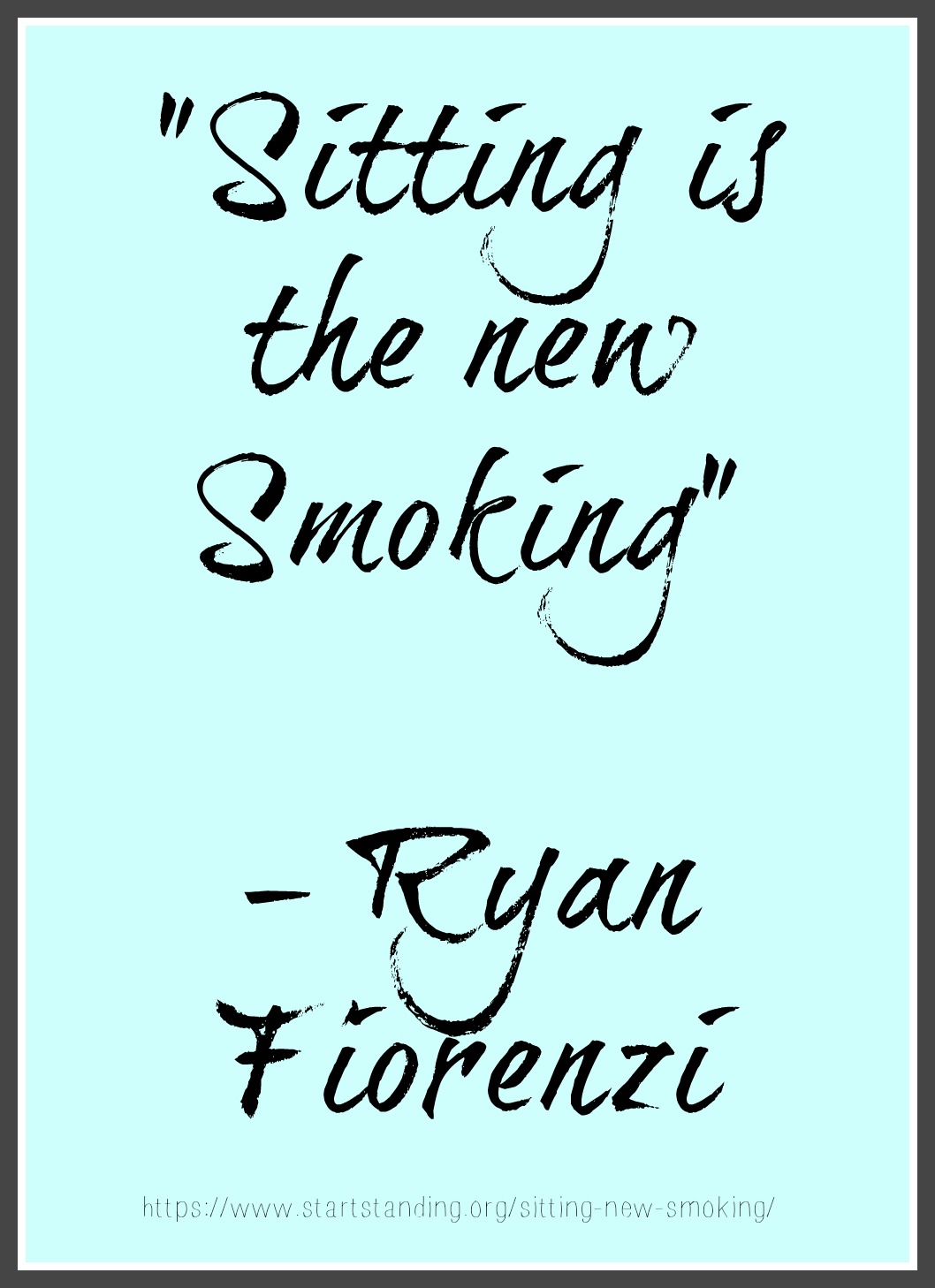 Between all of the sitting and my (historically) general apathy towards regular exercise really added up. In pounds. IN LOTS AND LOTS OF POUNDS.
I'm 5′ tall and weigh well over 200 pounds. Sorry for being vague with that number, but I'm simply too ashamed to type it out. Just know that it's well over 200 and that's a LOT more than is considered healthy for my frame.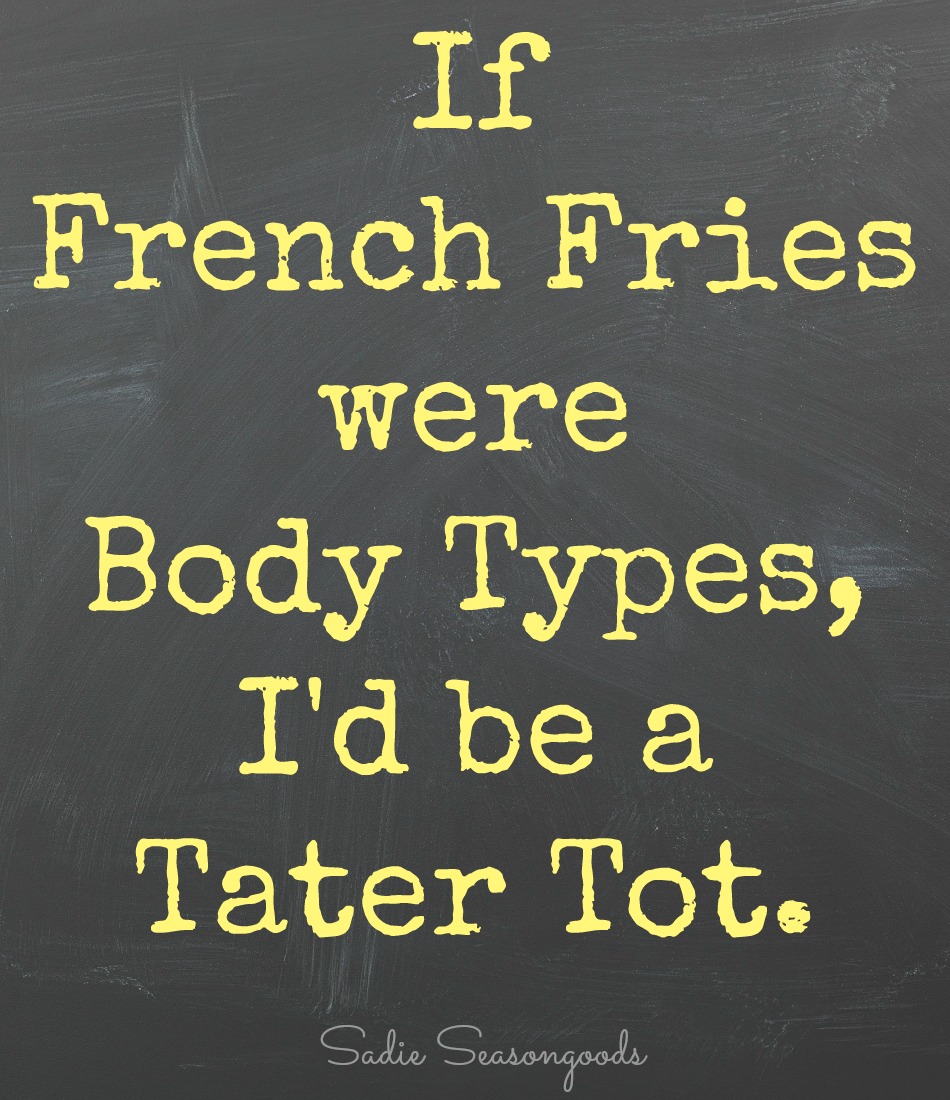 Irony of ironies, I was laid off from my corporate job in August of 2017. Even though I started my blog in 2013, I finally had the chance to work on it full time. But guess what?
THERE IS STILL A LOT OF SITTING FOR A SELF-EMPLOYED BLOGGER.
Maybe less than before, but still a lot of computer work (writing posts, editing photos, working on my social media footprint). And despite having a LOT more flexibility and time, I have still failed to address my weight.
And for those that know me may be curious how losing weight has anything to do with my blog about upcycling, thrifting, and living a firsthand life using secondhand things. Well, funny you should ask…
How does Thrifting Fit Into My Weight Loss Journey?
Up until now, whenever I've shopped for thrift store clothes, it's been for an upcycling idea…one that often involves a flannel shirt from the men's department.
To be honest, I never really shop for used clothing at thrift stores to actually wear. I mean, when you're a plus sized woman, clothing shopping isn't exactly a favorite past time (at least it hasn't been for me).
On top of that? Thrift stores rarely host a nice selection of plus size clothing (or big and tall clothing for men). If they do, they're often mixed in with the "normal" sized clothing, which is just depressing.
So, I plan to chronicle my weight loss journey in a way that sensibly connects to my blog. Instead of focusing on pounds lost, minutes of cardio, or the intake of calories, I will look at this through a thrifting lens:
Shopping for thrift store clothes during weight loss;
Refashioning used clothing for my changing body (i.e., sewing projects!); and
Secondhand-related exercise (more on that later).
My Weight Loss Journey – Let's Do This!
Maybe this is a crazy idea and I don't expect many people to see or read this. In fact, for the time being, these "Secondhand Slim Down" blog posts will not be emailed to subscribers. However, if you want to be alerted when I publish a new post about my weight loss journey, please leave me a comment or send me an email. I can always create a separate mailing list for these specific posts.
Anyway…this is me: Sarah of Sadie Seasongoods… 43 years old… and weighing well over 200 pounds. Nope, still can't type out that exact number.
This is a professional photo taken of me at a favorite thrift store when I was interviewed by a local photographer.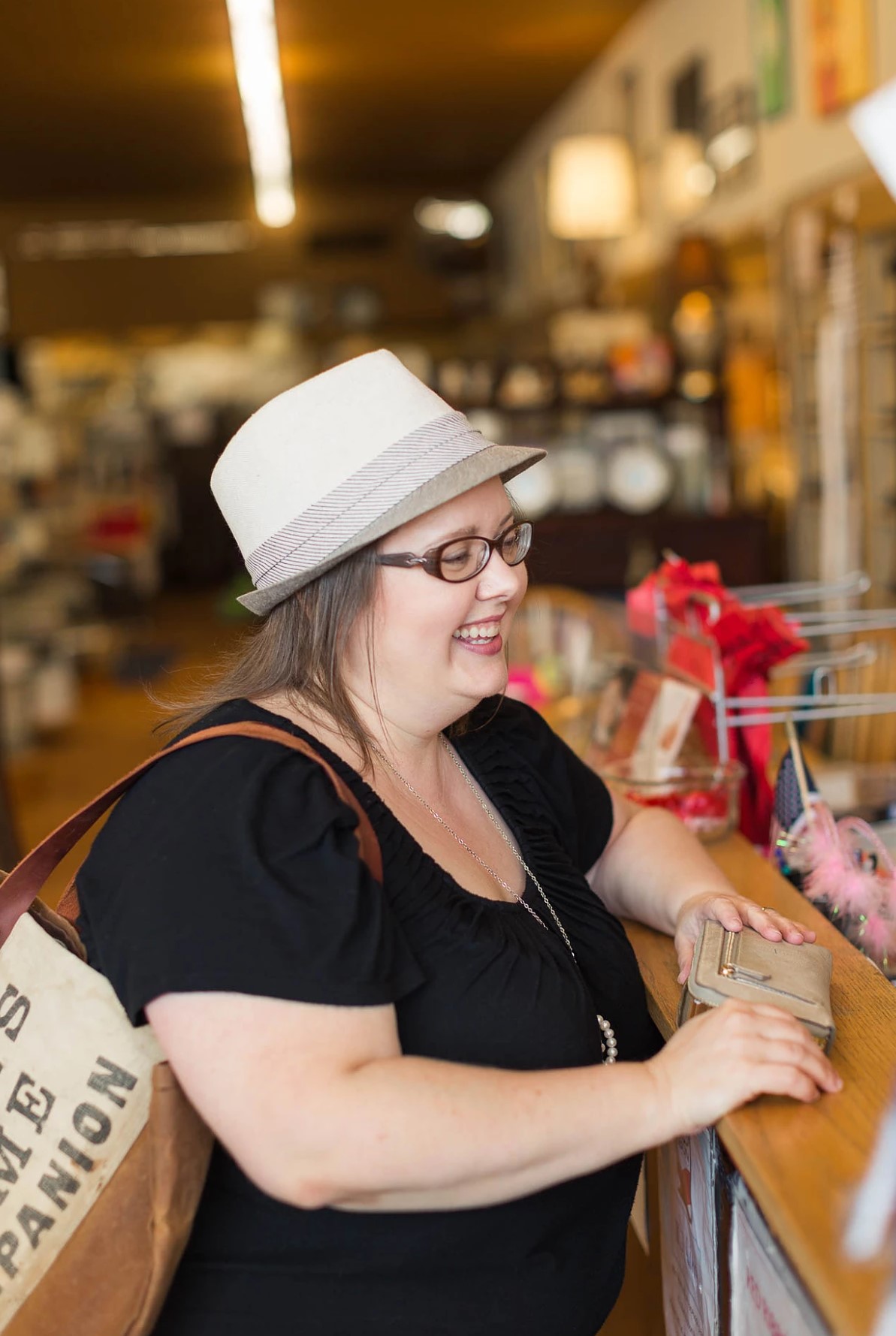 Photos never lie, do they?
How about I make a deal with you guys? If I can lose…let's say 75 pounds…I'll hire the same photographer to take new photos of me. Maybe even at the same thrift store!
And it may take a couple of years for me to do that, but if I can do it (or come close), I'll definitely pay for equally pretty photos of a definitely slimmer me.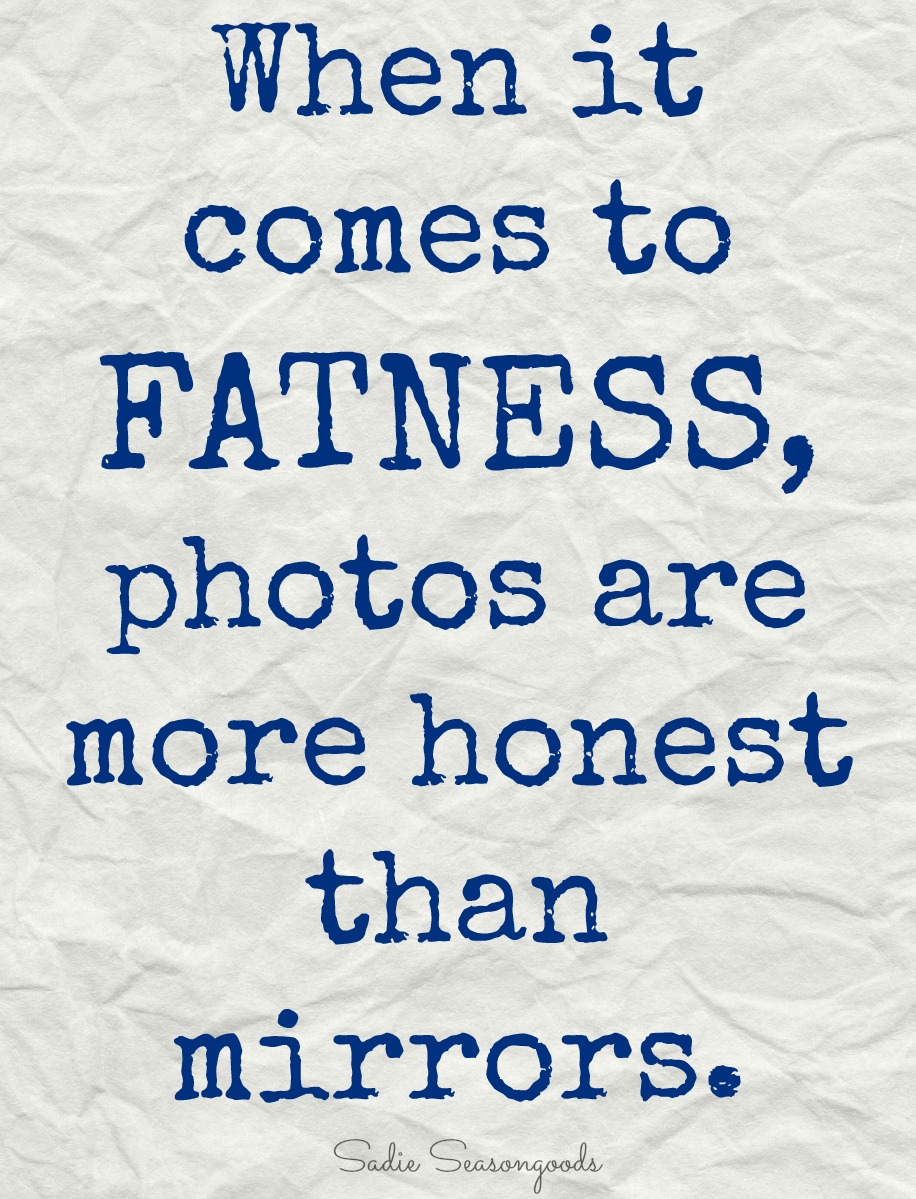 Thank you for reading this new blog series of mine. By doing this, I hope to not only stay accountable and on track, but to bring comfort to anyone else out there who is ashamed of their body or weight-related health. I am not a doctor or medical professional in any capacity, so everything I blog about during my weight loss journey is simply my own opinion and experience. Please consult a medical or health professional before beginning a weight loss program or for medical related questions.
Keep on keepin' on,
S
To be notified of my next upcycling project tutorial or Junkin' Journey Blog Post, Please Subscribe!
Subscribe to Blog via Email
Join me on Social Media: