I first spotted these pillar candle holders at one of those "color-coding" thrift stores. You know the kind I mean, right? Where they group all the housewares by color, and these wooden fellas somehow ended up on the red shelf.
Which, to me, meant that someone had picked them up…carried them about…and then changed their mind before leaving. And so they migrated from the brown shelf to the red, by no fault of their own.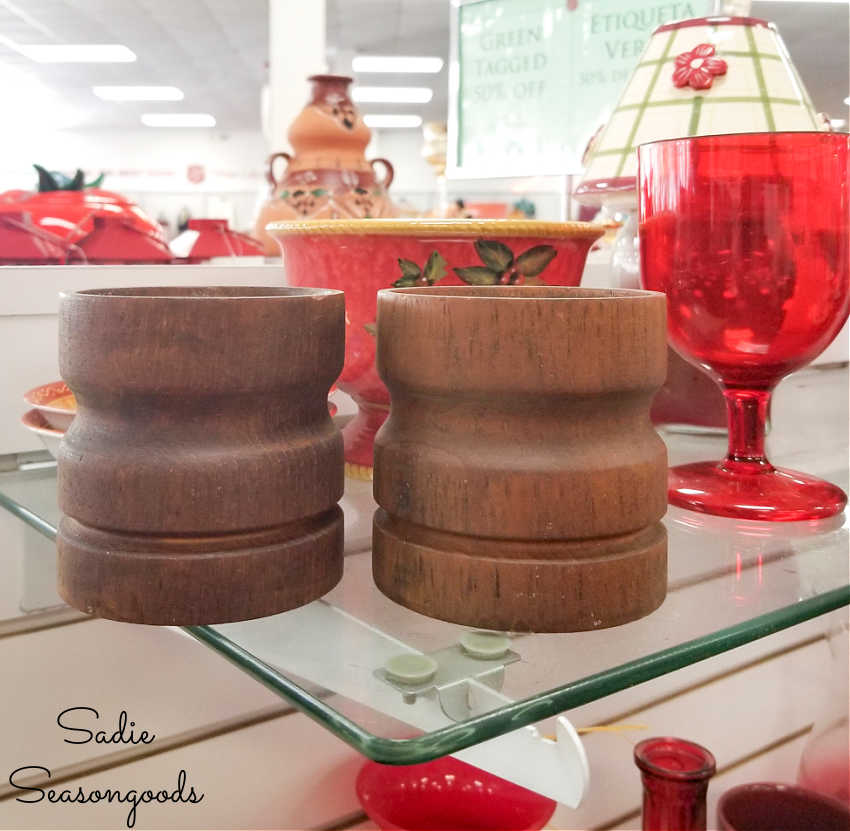 So, they caught my eye, sticking out like that. And for some reason, they reminded me of pilings- the kind that stick out above water. Did that mean they were destined for a coastal makeover?
A coastal makeover like I gave to these coasters?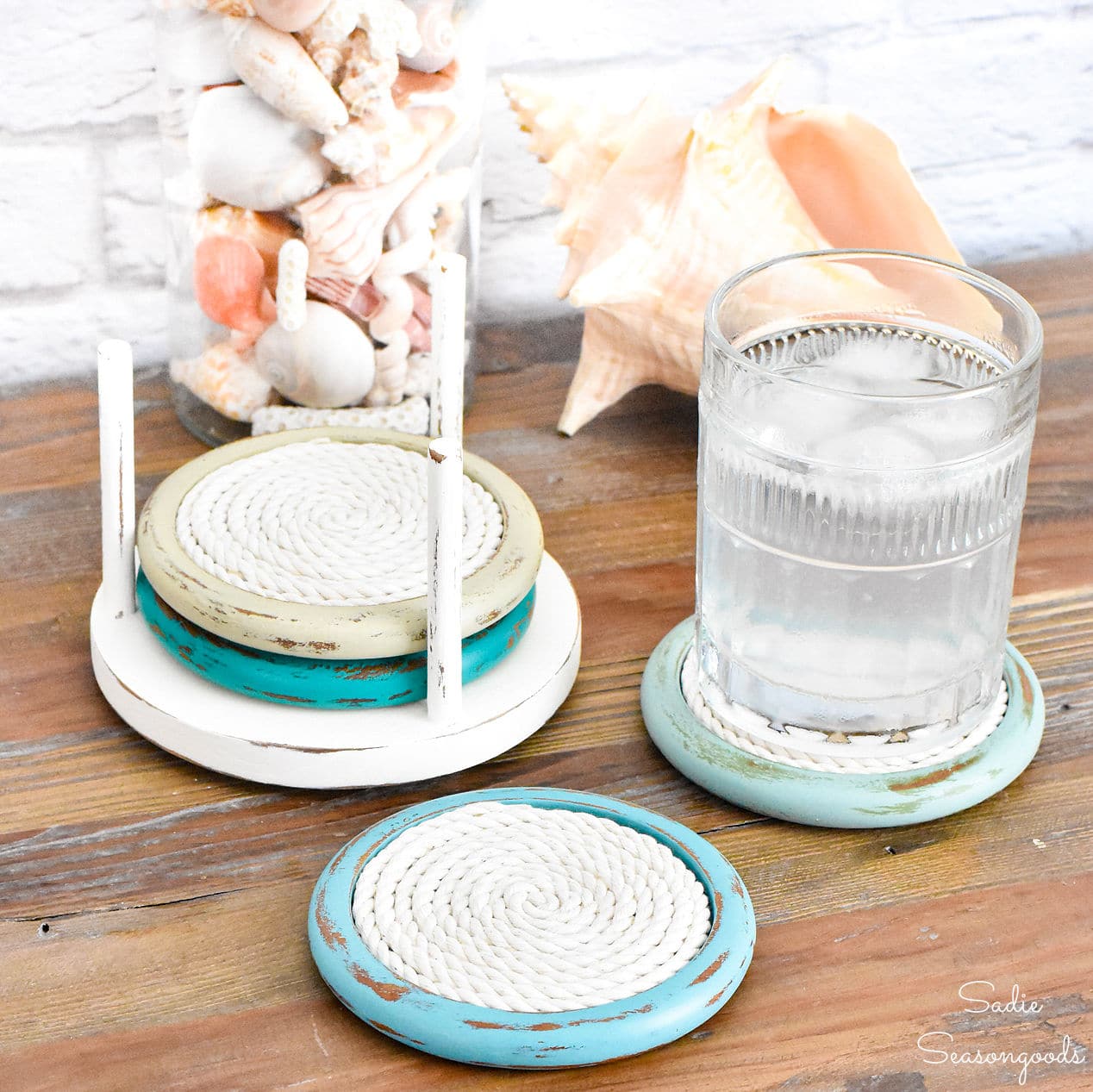 I mean, I still had leftover paints, even after reworking this tray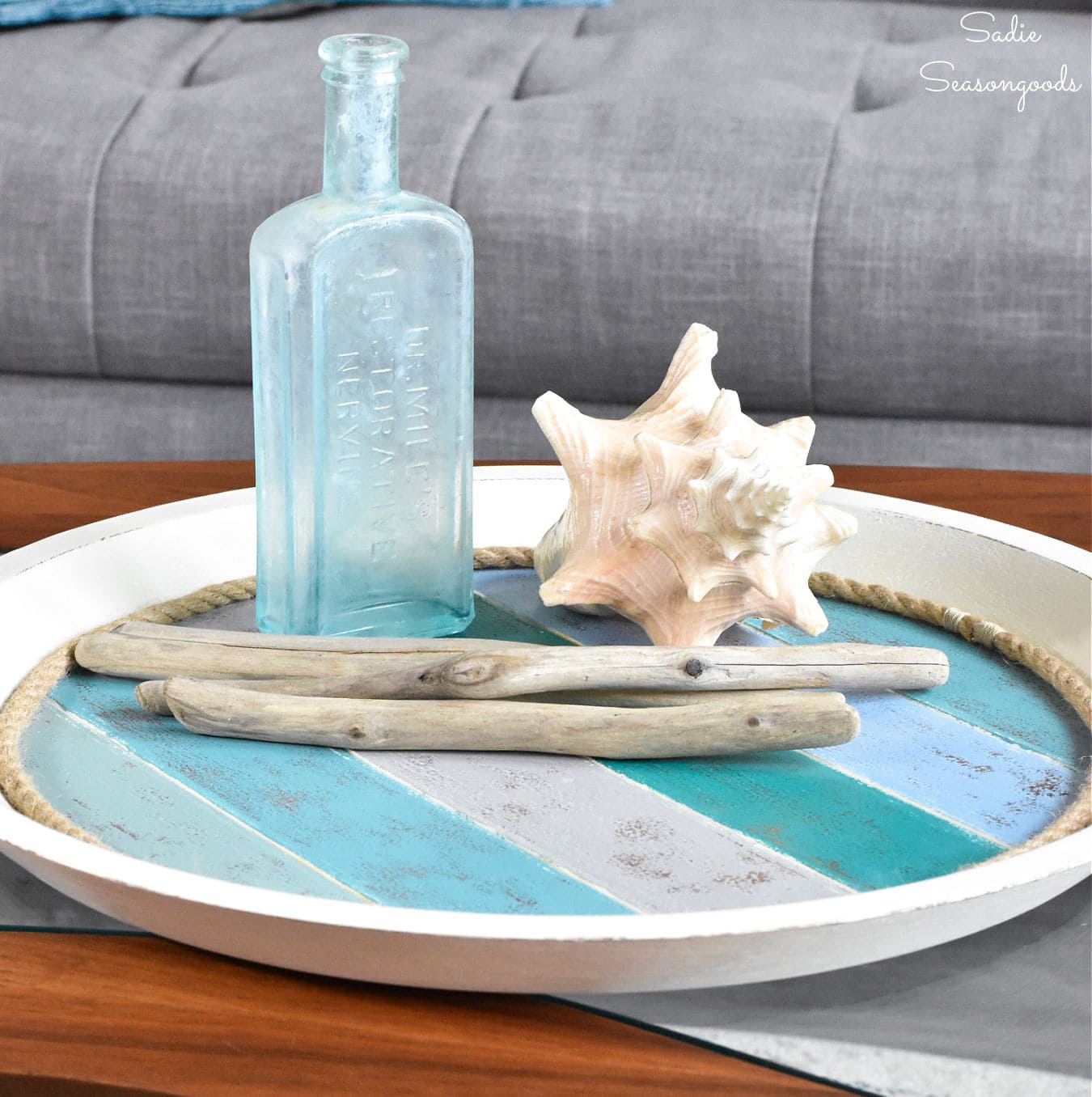 Yes. The answer was yes, and here we are today with another coastal makeover because I clearly can't get enough of this color combo!
This post contains affiliate links for your crafting convenience. As an Amazon Affiliate, I earn from qualifying purchases. All blue, bold, and underlined text is a clickable link, either to a product or to a related post.
Transforming the Pillar Candle Holders
After loving the combination of twine and coastal-colored chalk paint on those two previous projects, I knew these wood candle holders were meant for the same. Why?
Because of the perfectly shaped channels that were meant for twine and rope.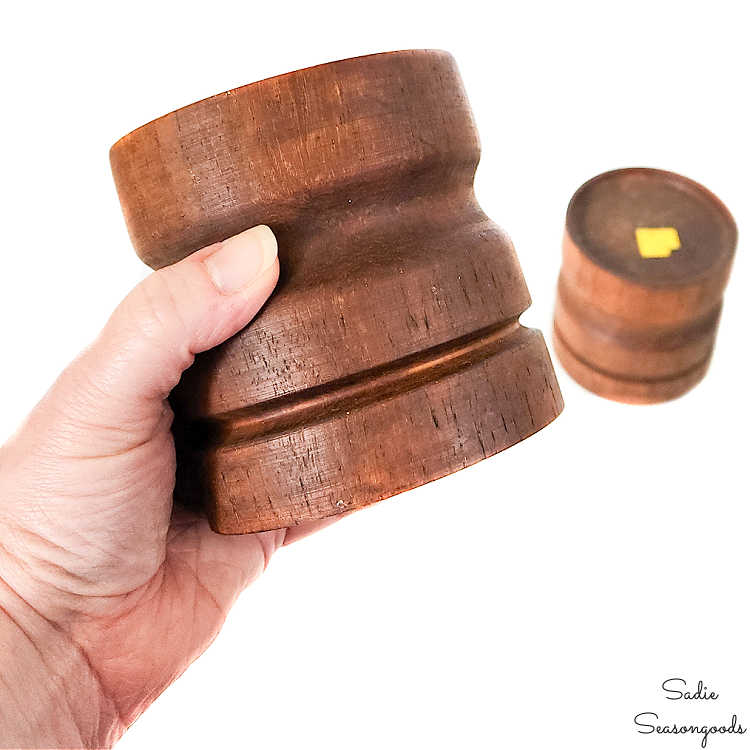 So, I went into my stash and grabbed several shades of inexpensive chalk paint and some brushes. Between those coasters and tray, I had accumulated numerous beachy shades from that line of chalk paint!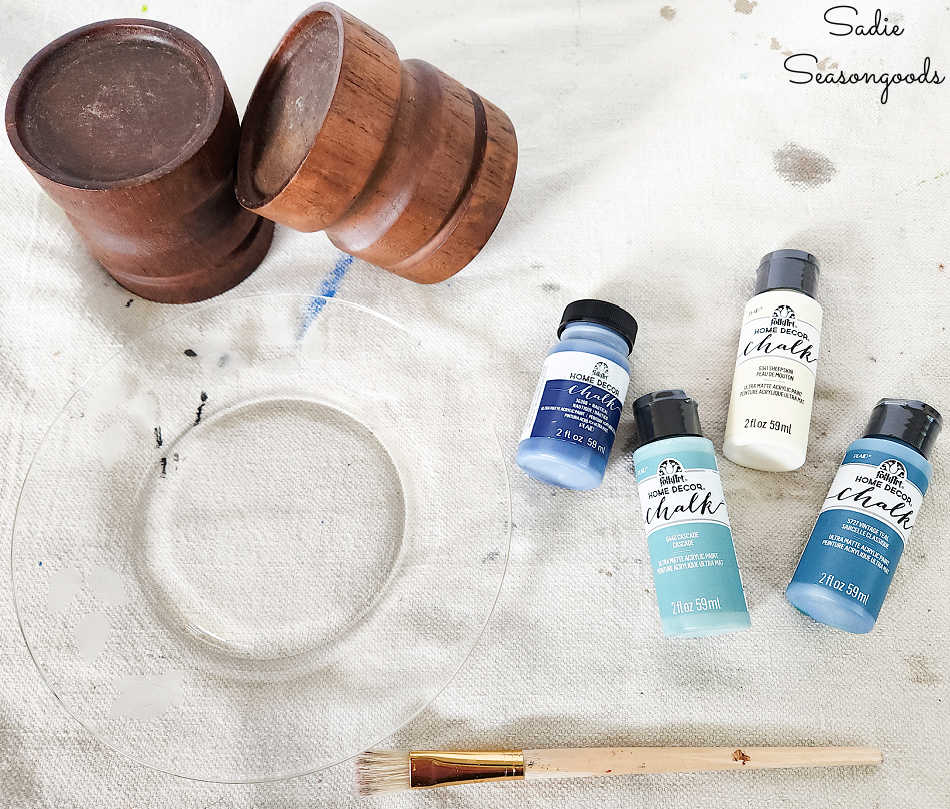 Then, I started painting. I planned to use four different colors on each pillar candle holder, in (roughly) segmented stripes or color blocks.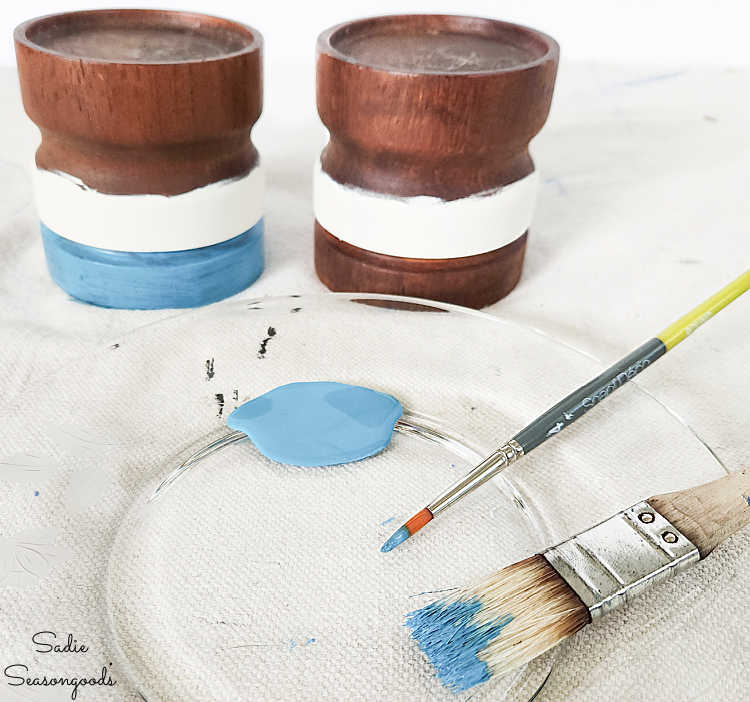 But I didn't tape anything off or worry about straight lines or uneven overlaps between shades. I really wanted them to have a weathered, imperfect look.
Ultimately, I used these four colors on the candle holders: Cascade; Sage; Sheepskin; and Vintage Teal.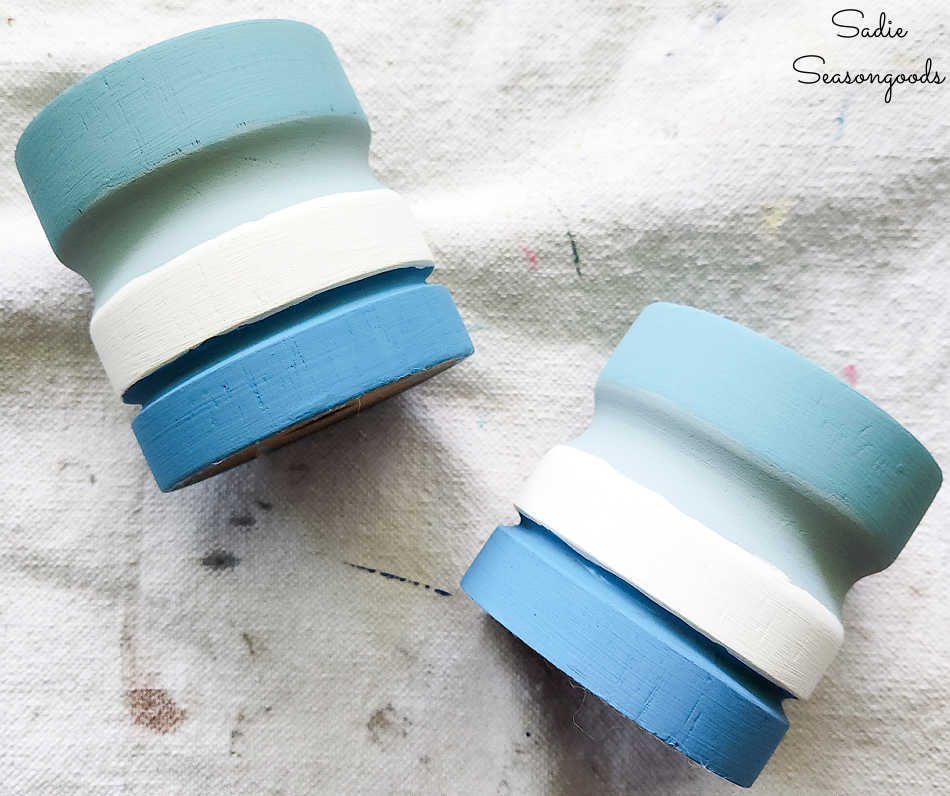 I painted on two coats of each shade before moving on to the next steps.
Coastal Color Palette and Nautical Embellishments
Next came the time to sand the chalk paint; I really wanted them to look quite chippy. So, I (gently) used some 220-grit sandpaper first to heavily distress the paint and finished with 320-grit to make them smooth.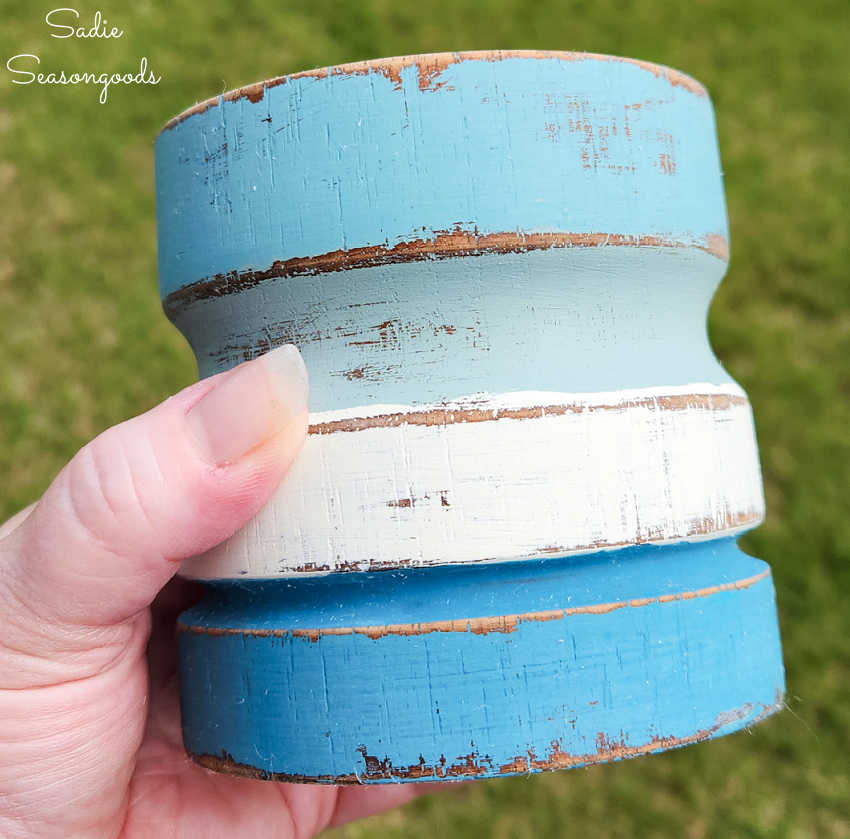 Normally I don't distress things this heavily. But with the idea of pilings in my mind, I really wanted them to look worn and weathered.
After I thoroughly wiped them down with a damp cloth to remove all the paint dust, I buffed on some clear wax to protect the paint finish.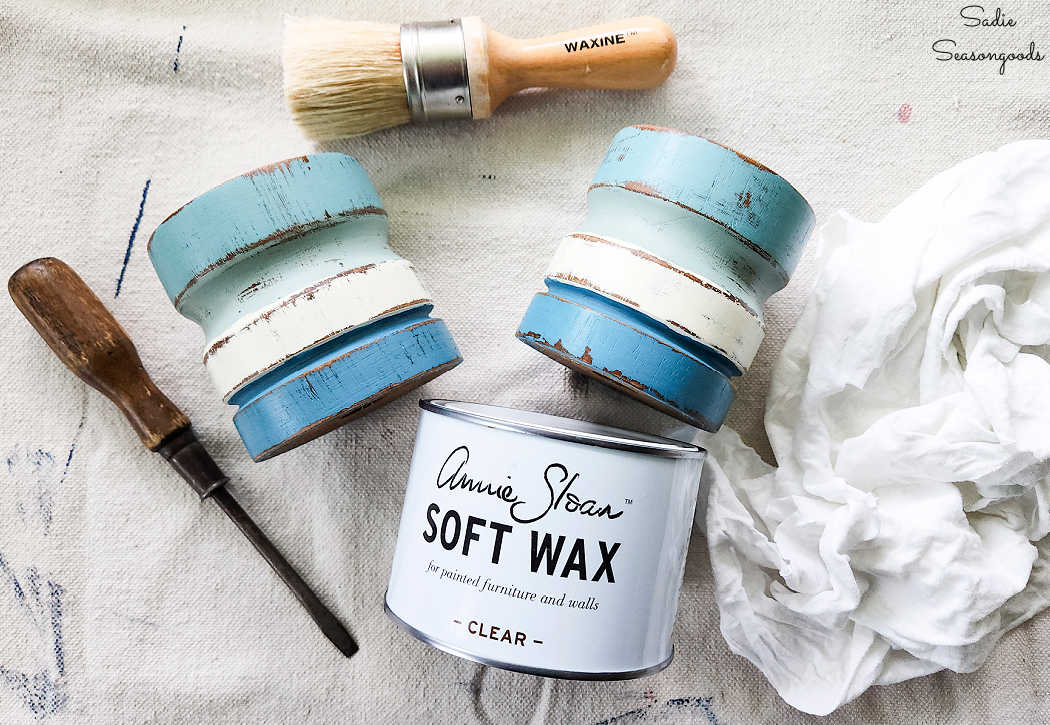 Then, I hunted down two different sizes of rope/twine to finish up the pillar candle holders. I still had larger rope left over from this pirate-inspired project, and A LOT of smaller rope left over from this beehive project.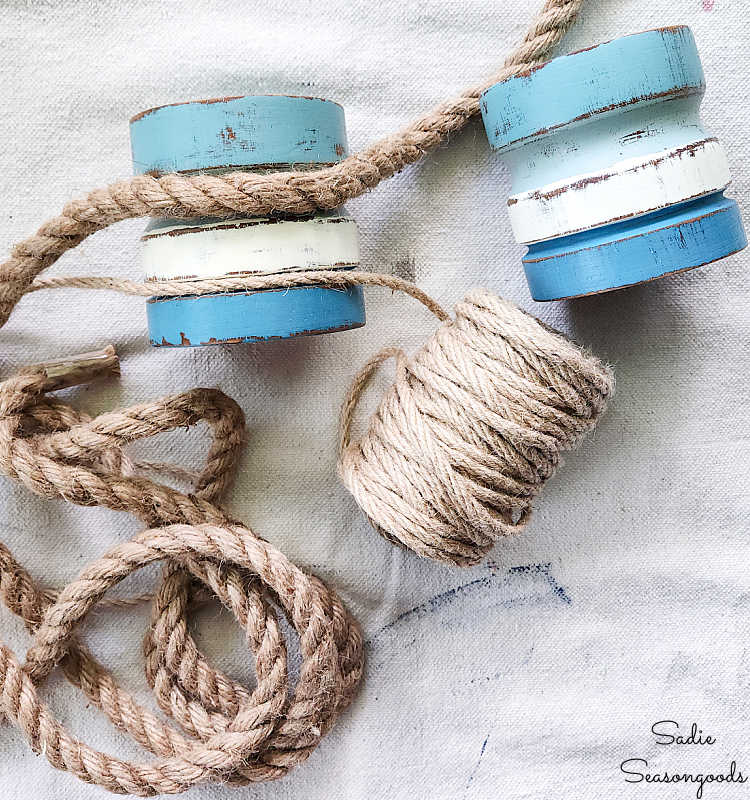 Gosh, I love it when I already have supplies on hand like this. As a small business owner, it feels SO GOOD to use up things I purchased for previous projects!
I carefully measured out the lengths of each rope I'd need; added a thin smear of hot glue to the ends after I cut them; and then whipped the ends with hemp twine. Lastly, I used hot glue to attach them to the candle holders like this.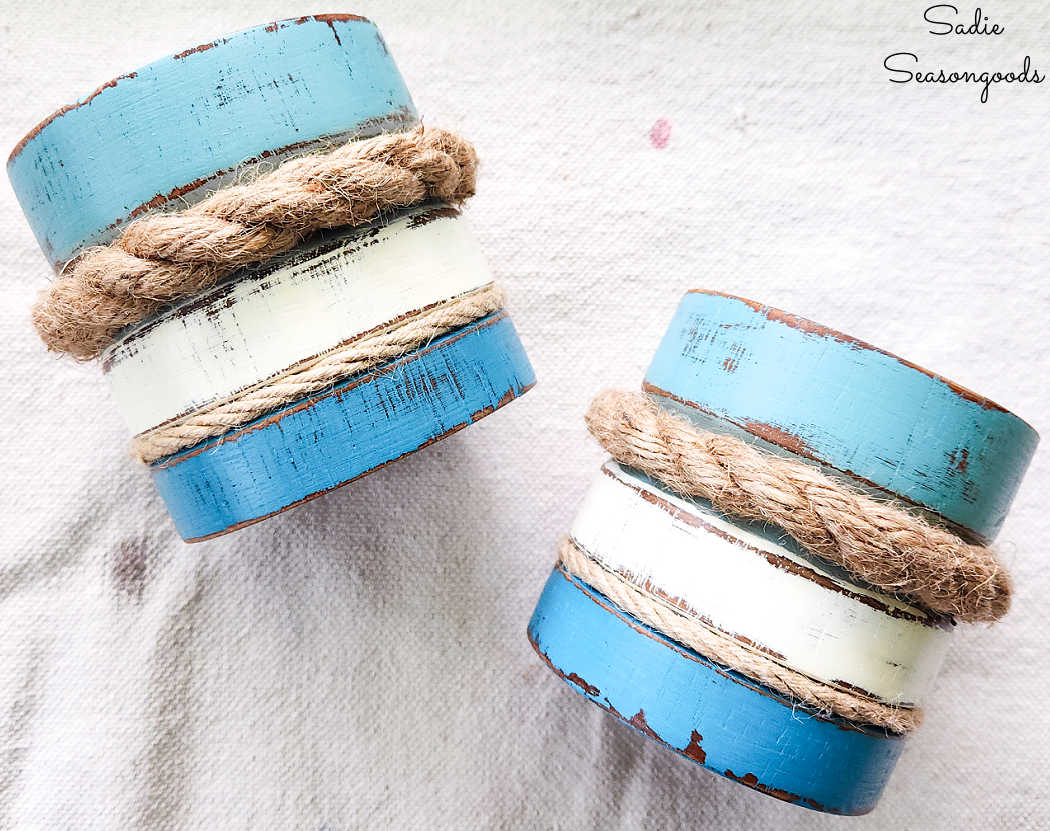 Pillar Candle Holders with Coastal Style
And that was it- my makeover was done and I had the most beachy-beautiful pillar candle holders I'd ever seen! I plopped these flameless candles in each one and styled my coffee table with other coastal treasures.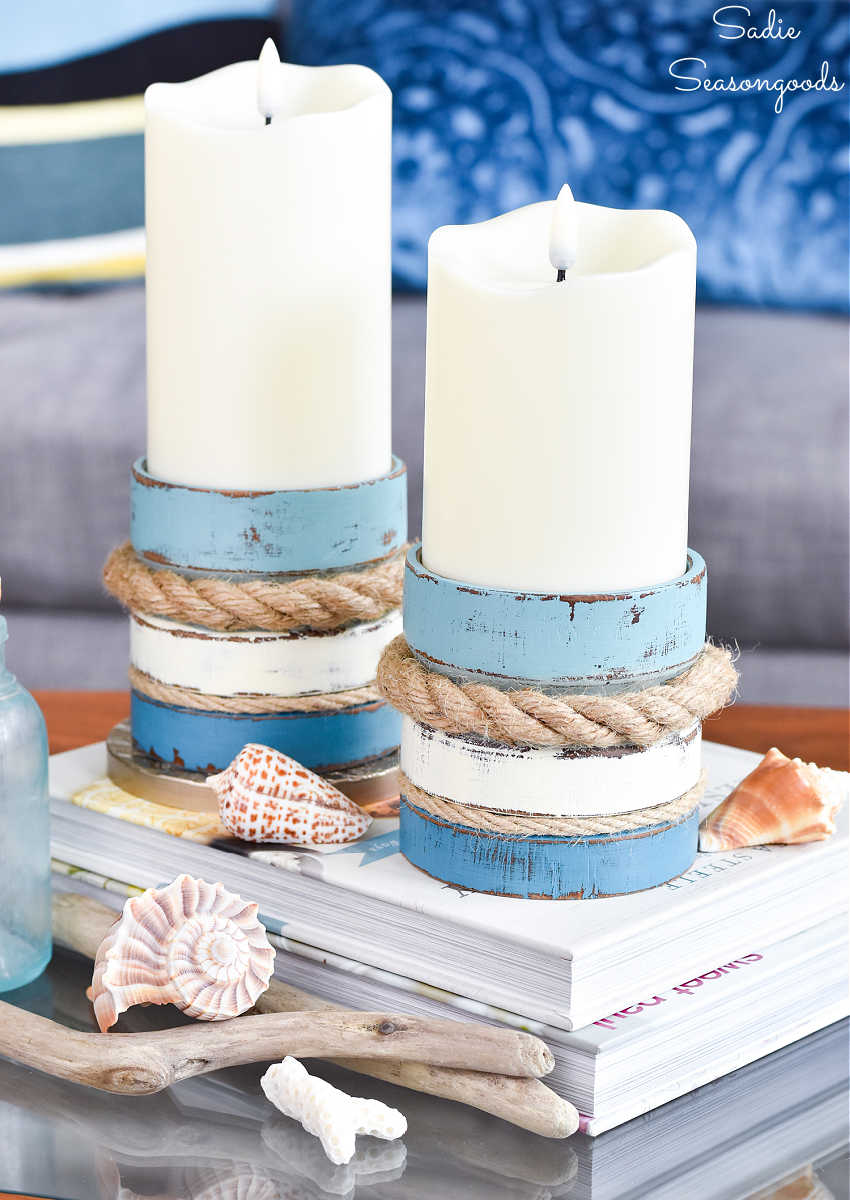 I mean, you can hear waves lapping at the shore, right? It's not just me?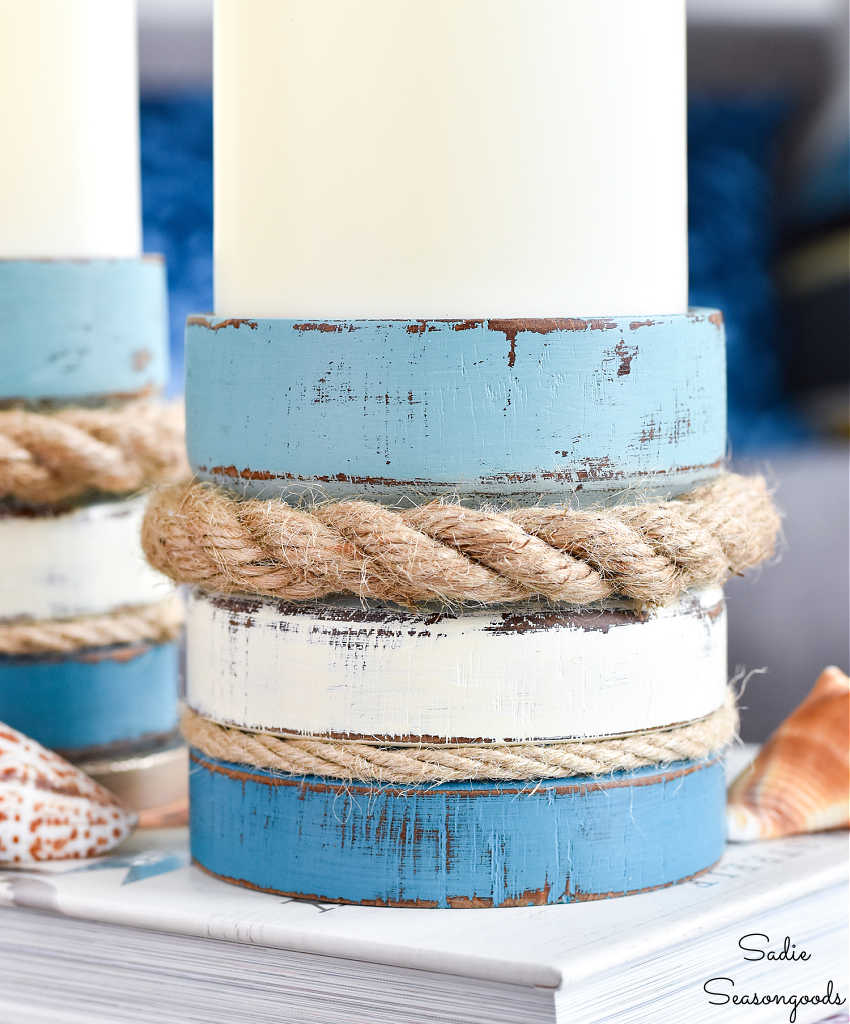 They're just so luscious- with the heavily weathered paint and the rough texture from both sizes of craft rope. I realize I am *extremely* biased, but they just give me such cool coastal vibes…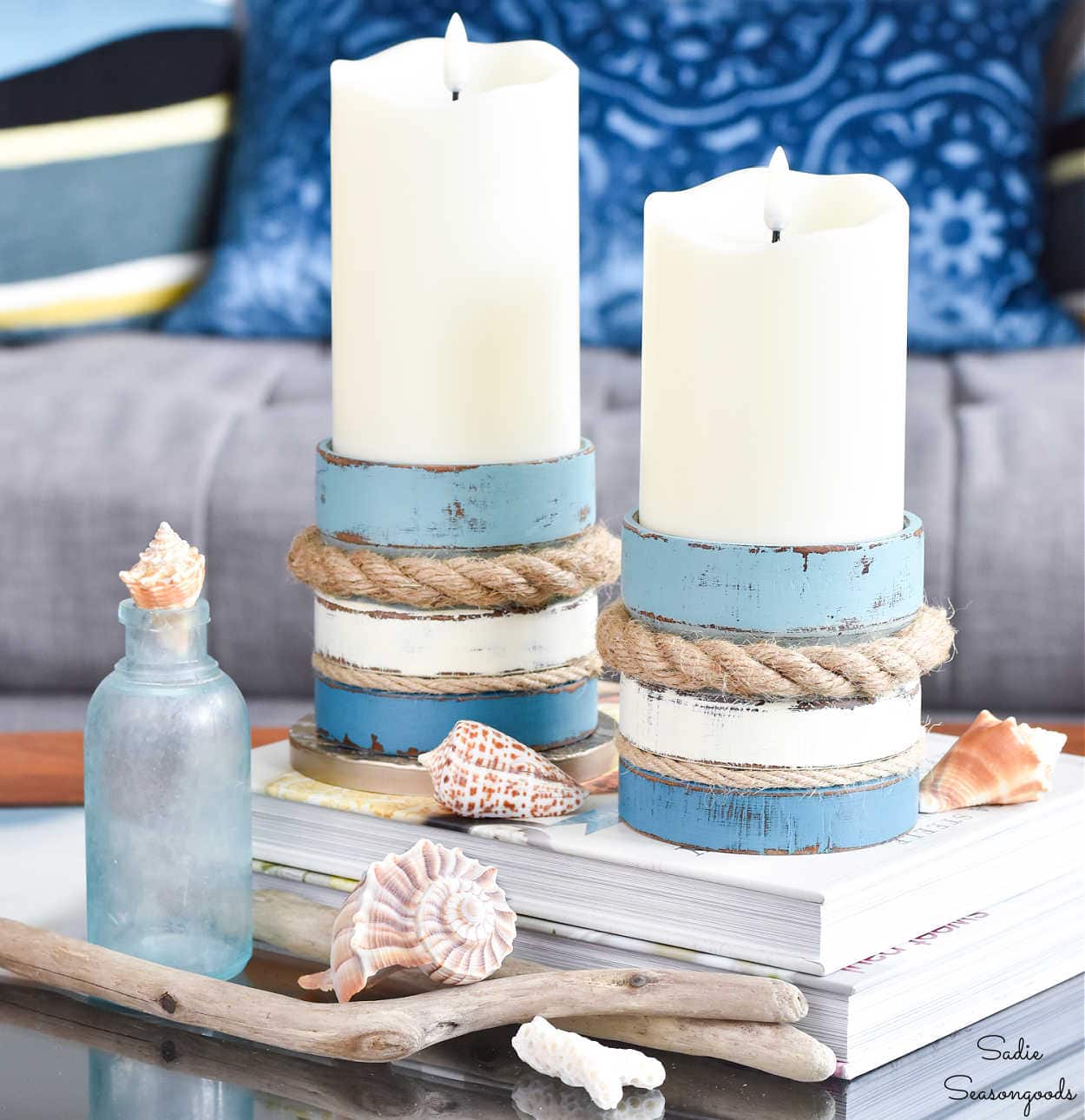 Ok, I'll stop swooning now. And fun fact: I collected these shells during my post-college internship! My job was to walk the entire Lee County, Florida coastline (Sanibel, Captiva, and all the other barrier islands) and measure sand compaction at each mile marker. These values were then compared to sea turtle nest locations at the end of the season to see if there was any correlation.
Needless to say, I collected a LOT of shells (and, of course, sand compaction data, LOL) that summer.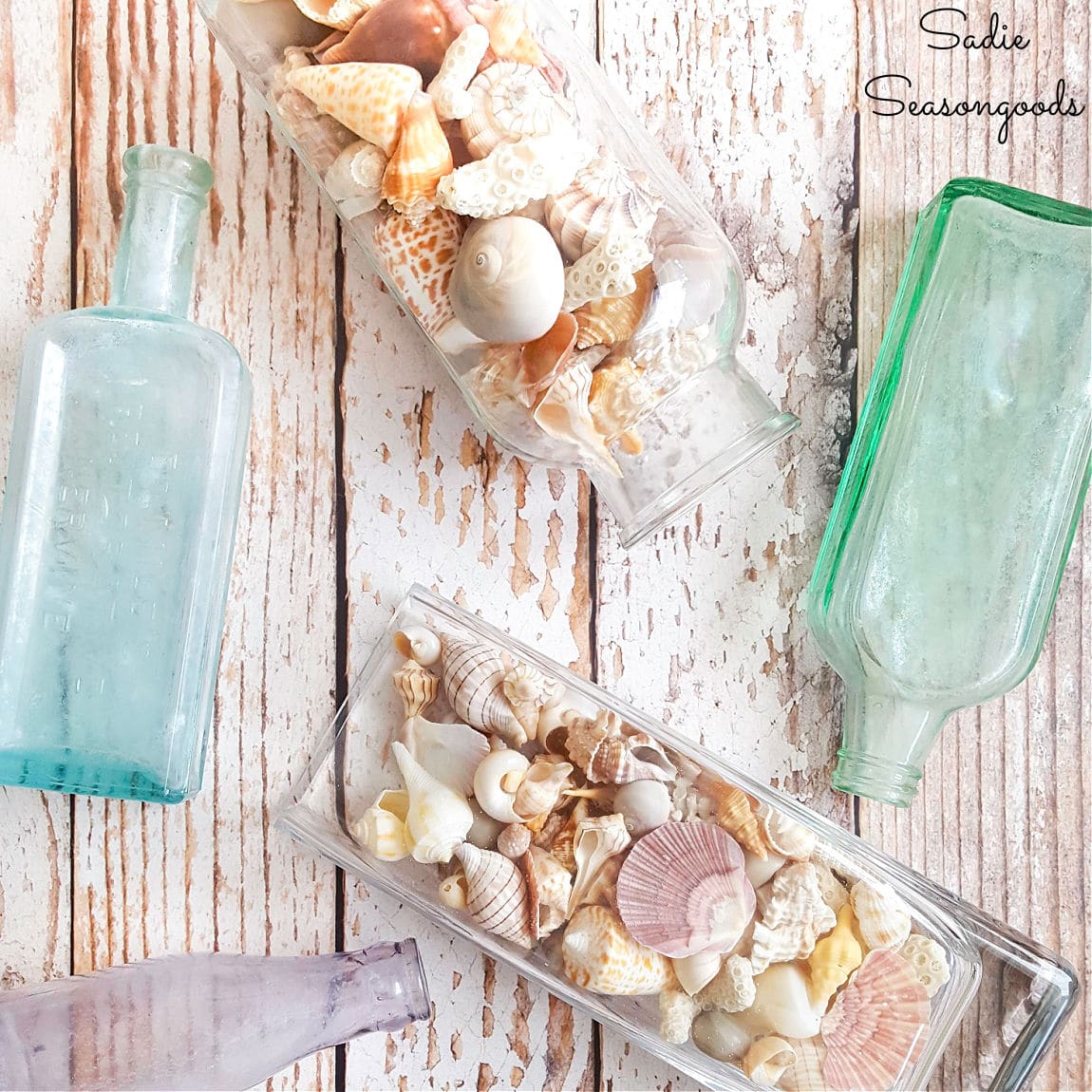 And if you enjoyed this upcycling idea for coastal decor, then you may also appreciate these decorative sailboats that I created from a very unexpected…"boat".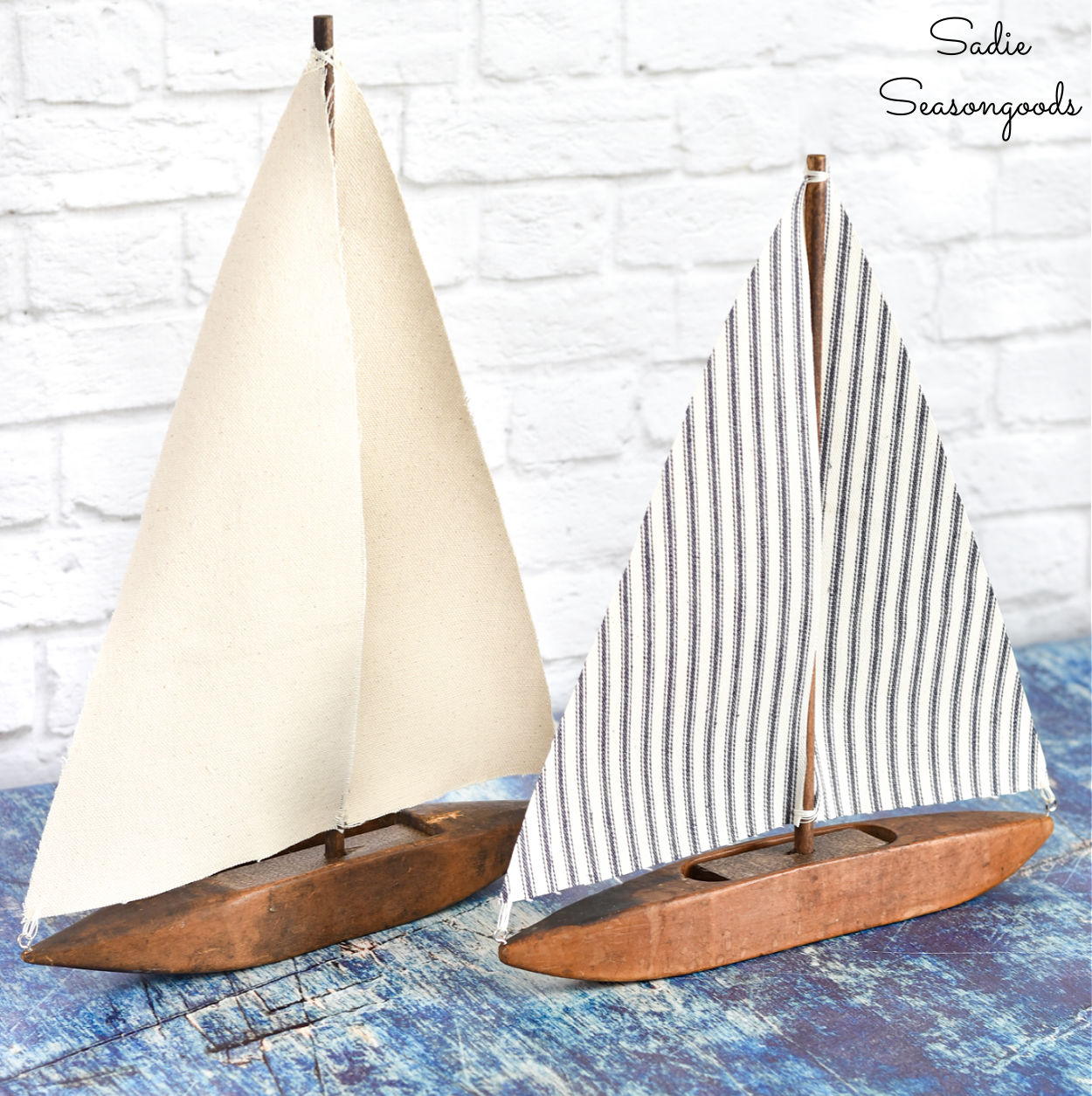 Craft on!
S
Want to be notified when I publish my next upcycling project tutorial?
Subscribe to Blog via Email
Join me on Social Media:
PIN ME!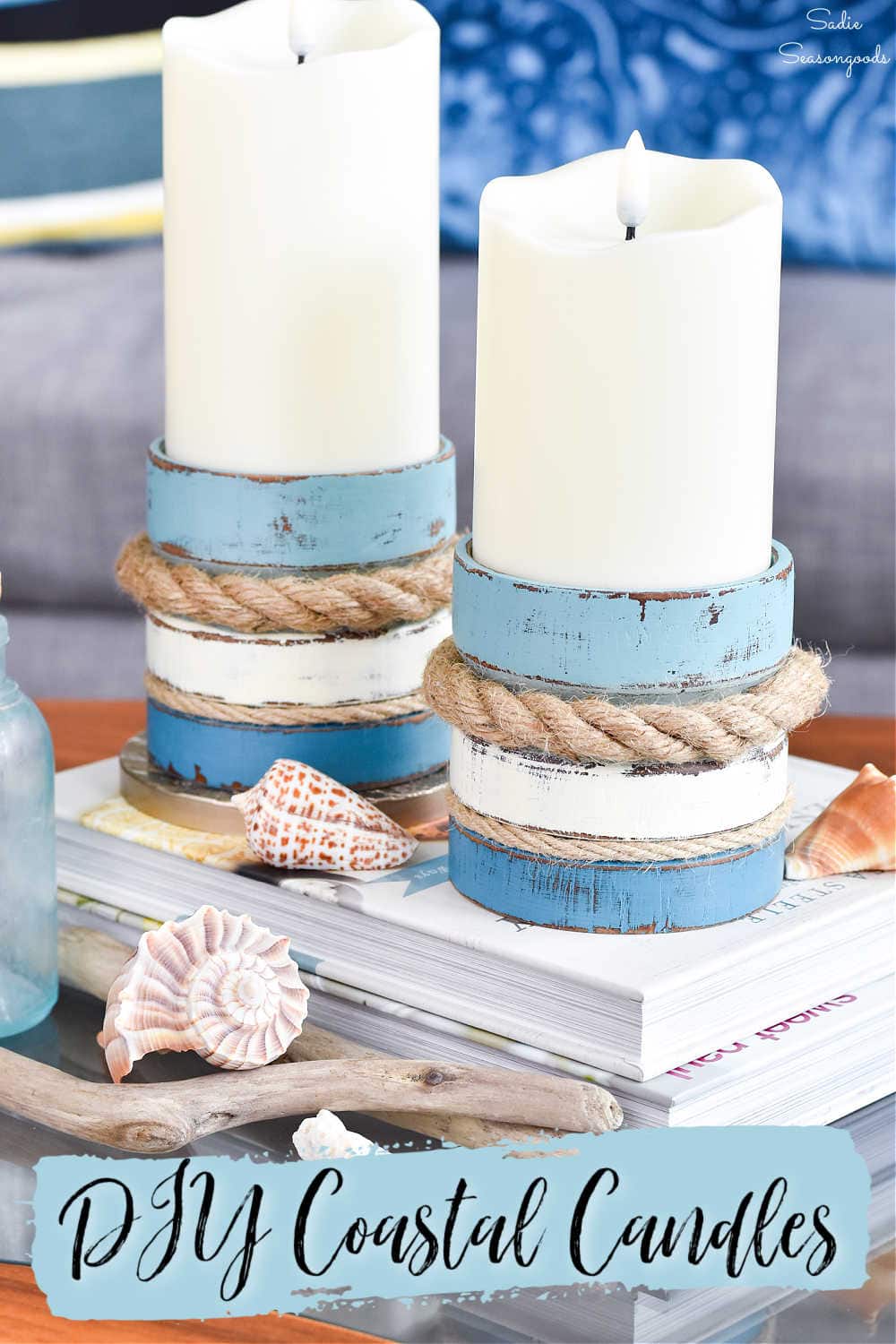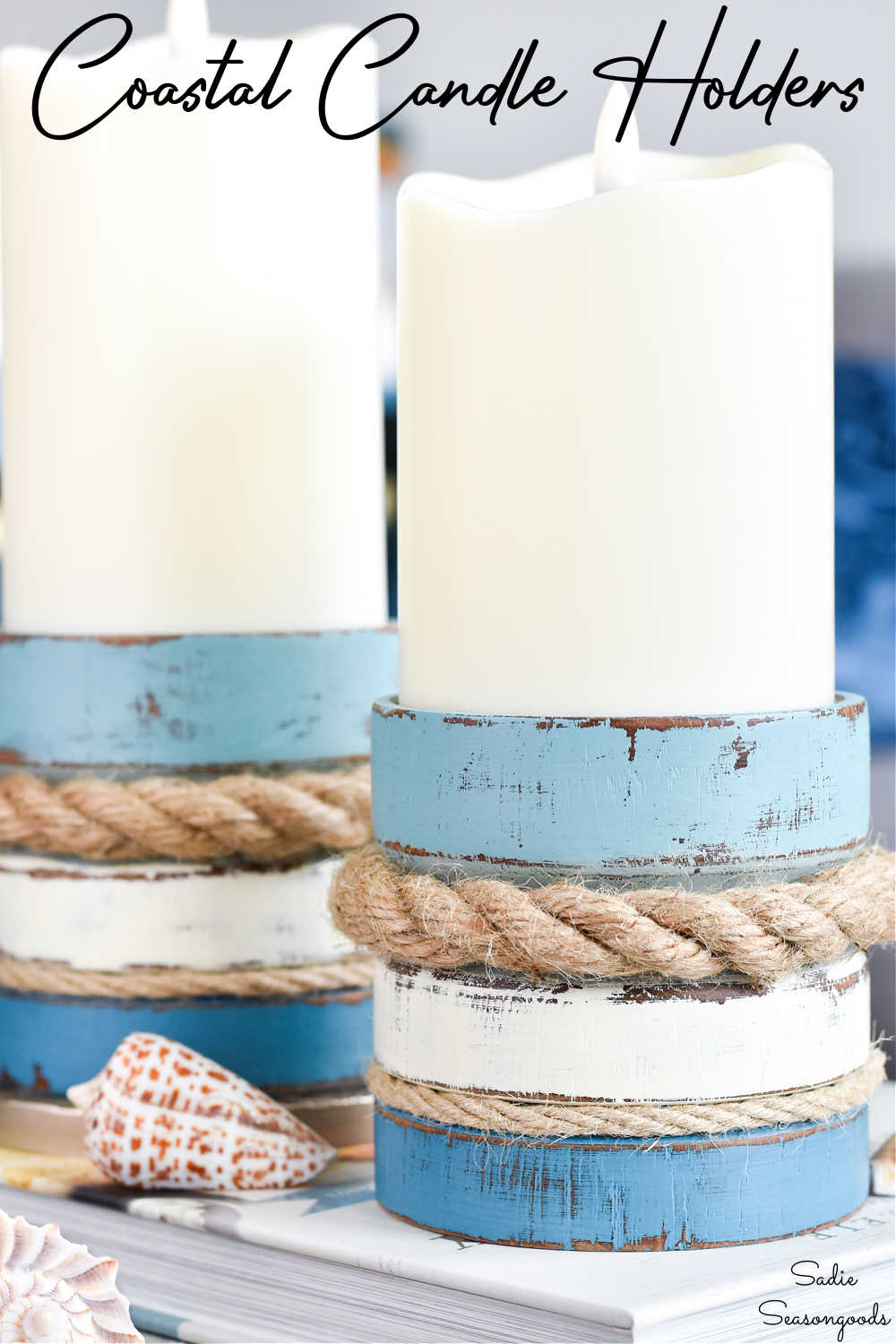 Sarah Ramberg is the owner of Sadie Seasongoods, a website that celebrates all things secondhand. From upcycling ideas and thrifted decor to vintage-centric travel itineraries, Sadie Seasongoods is a one-stop shop for anyone who loves thrifting and approachable repurposing ideas. Sarah is also the author of "Crafting with Flannel" and has been featured in numerous media outlets and magazines.