Many years ago while visiting our old stomping grounds (West Palm Beach), we visited a nautical antiques shop that was simply FABULOUS. While no longer in business there, I've had a prized pair of lobster buoys since our visit. And one of them recently inspired me to create some coastal fall decor.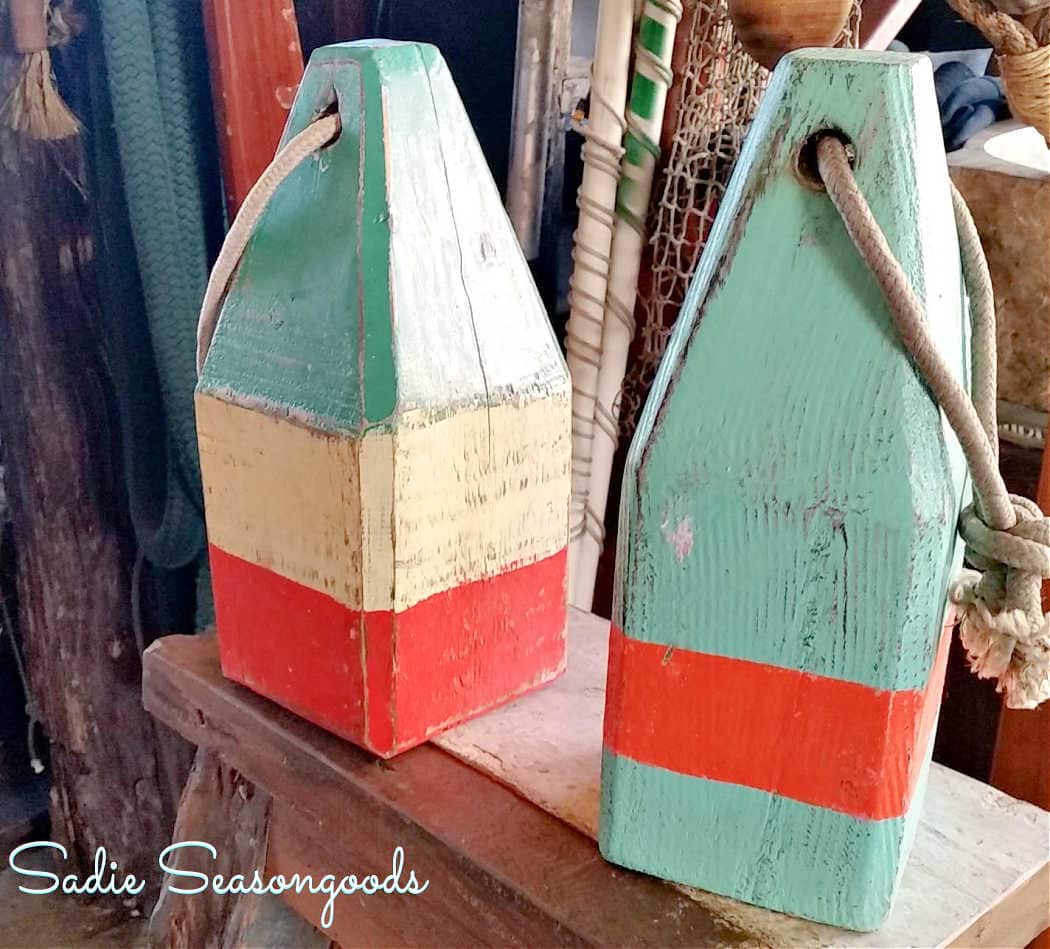 And to bring my beachy plan to life, I decided to recreate my Japanese fishing floats in a way…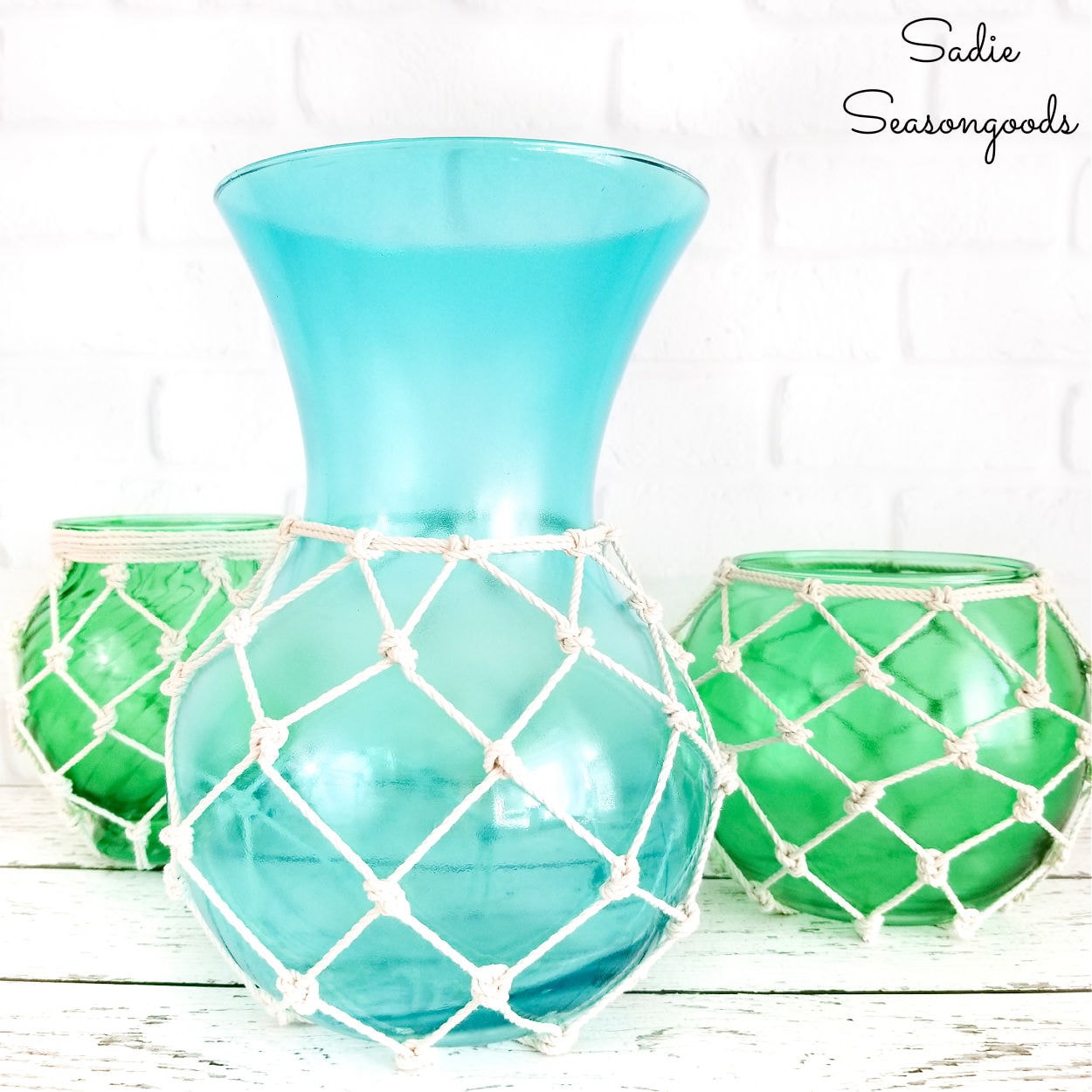 …But with pumpkins instead of glass vases from the thrift store!
Seems like a fun experiment, right? And the perfect project as we bid farewell to summer and welcome Fall with open arms.
This post contains affiliate links for your crafting convenience. As an Amazon Associate, I earn from qualifying purchases. All blue, bold, and underlined text is a clickable link, either to a product or to a related post.
A Funny Lantern Story
When I first thought about creating some coastal fall decor, I remembered that I had thrifted a very beachy lantern a couple of years ago!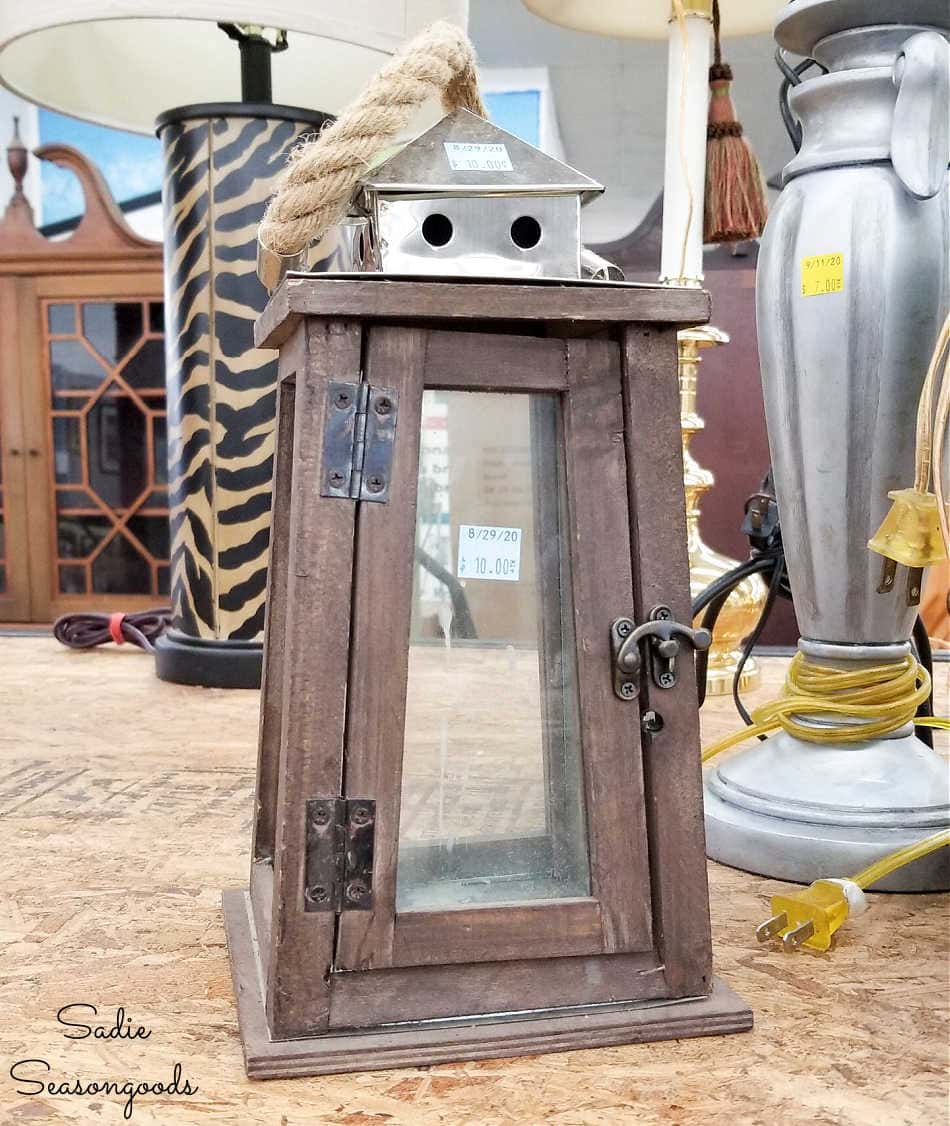 It was perfect- shaped like a lighthouse, with a driftwood finish and a nautical rope handle on top. But when I went to look for it, it was nowhere to be found.
Not in the house, not in my storage unit. I either gave it away during one of the pre-move panic purges or I somehow overlooked it in my <quite thorough> search.
SUCH A BUMMER! Until I waltzed into Michaels to get a few supplies and spotted a similar lantern in the summer clearance section.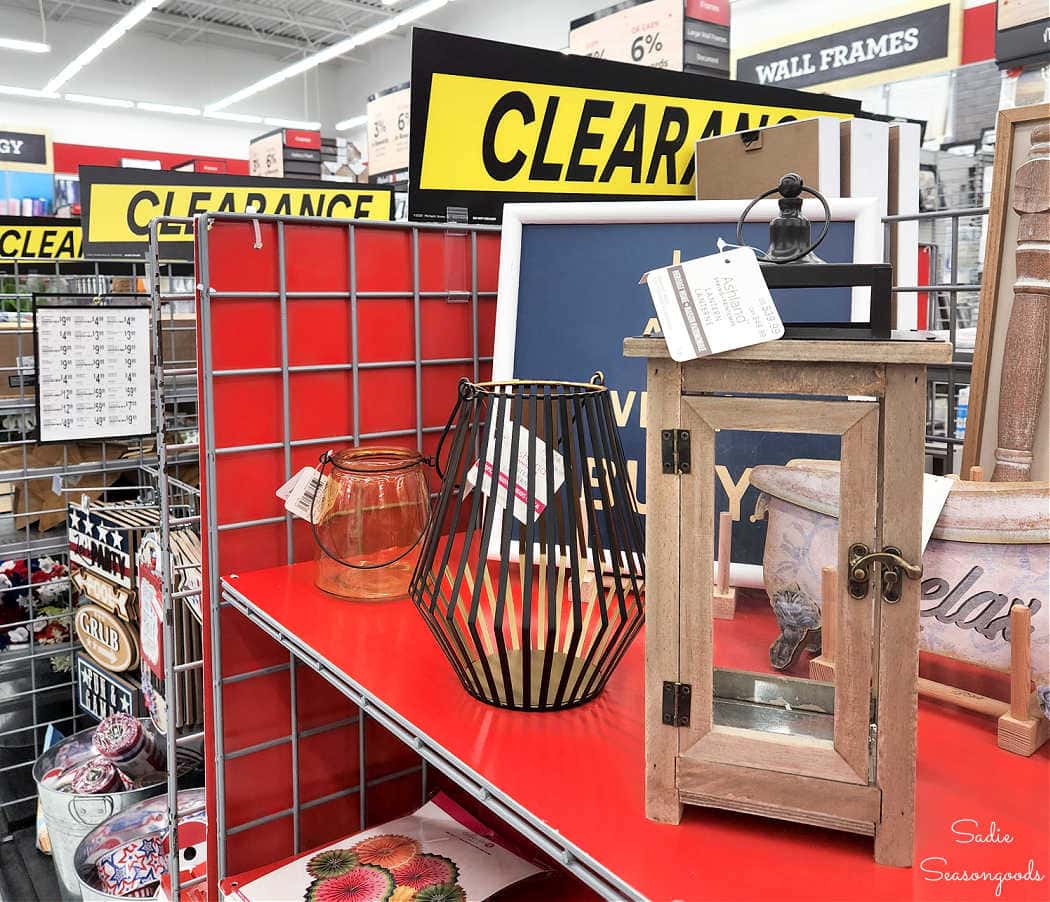 Not that I LOVED the idea of buying a NEW lantern for this post. But I was dejected, and it was 75% off…and I decided that it was meant to be.
I planned on filling the lantern with some mini pumpkins that coordinated with my orange and turquoise buoy.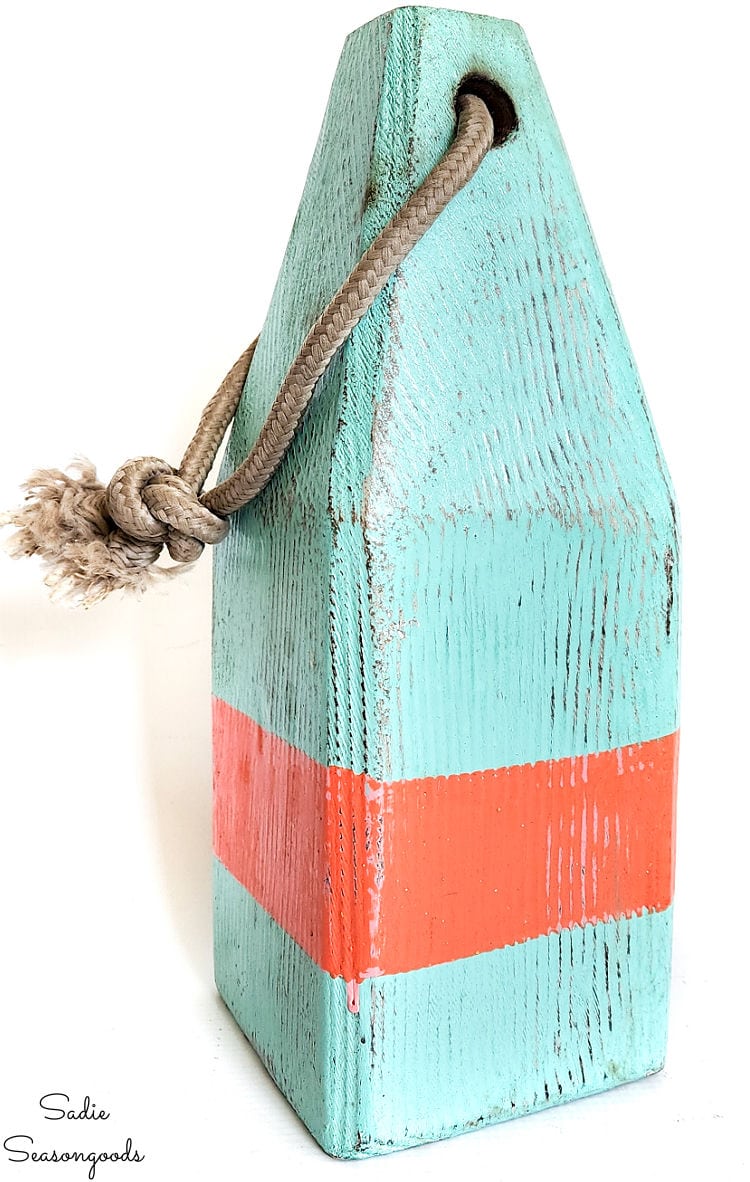 First, I grabbed some mini white pumpkins (faux, from the craft store) and matching craft paints.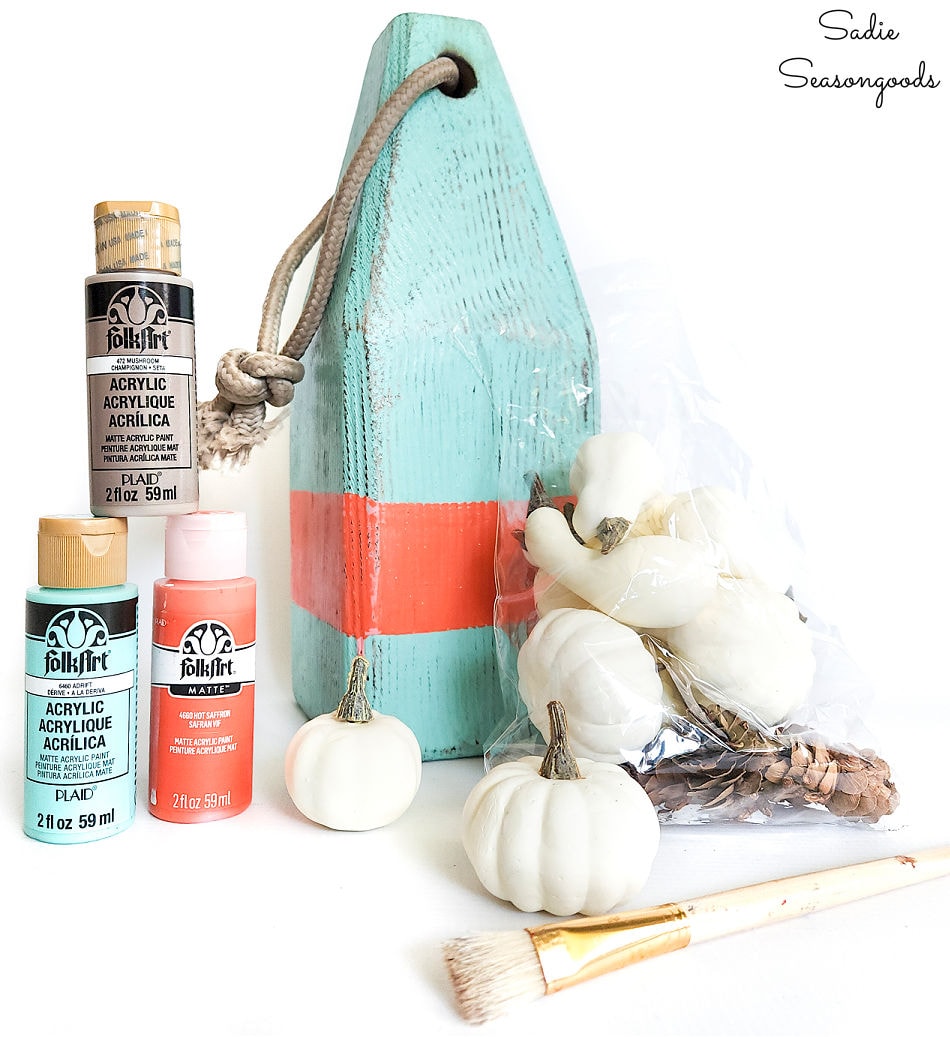 Then, I painted them in orange and turquoise, adding some dry brushed-on tan paint to tone down the color and age them a bit. Just like the inspirational buoy…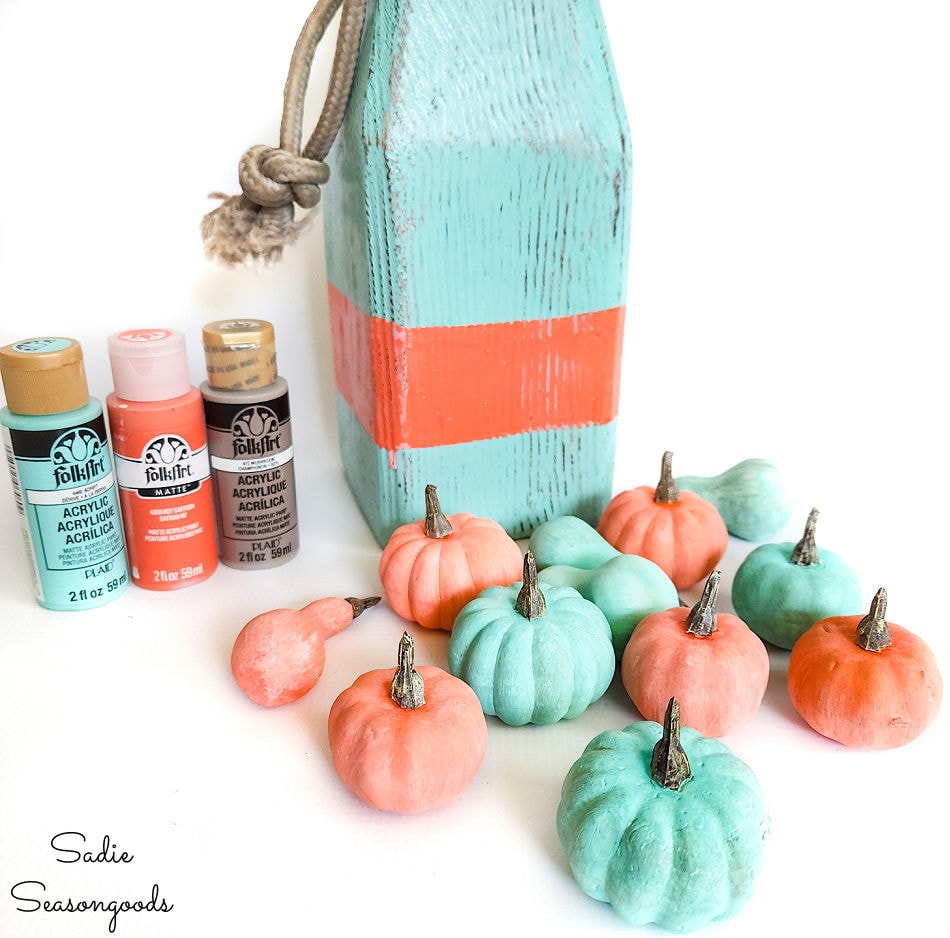 Beach Pumpkins for Coastal Fall Decor
But I wasn't done with my pumpkins, of course. Now it was time to tie the fishing net around them!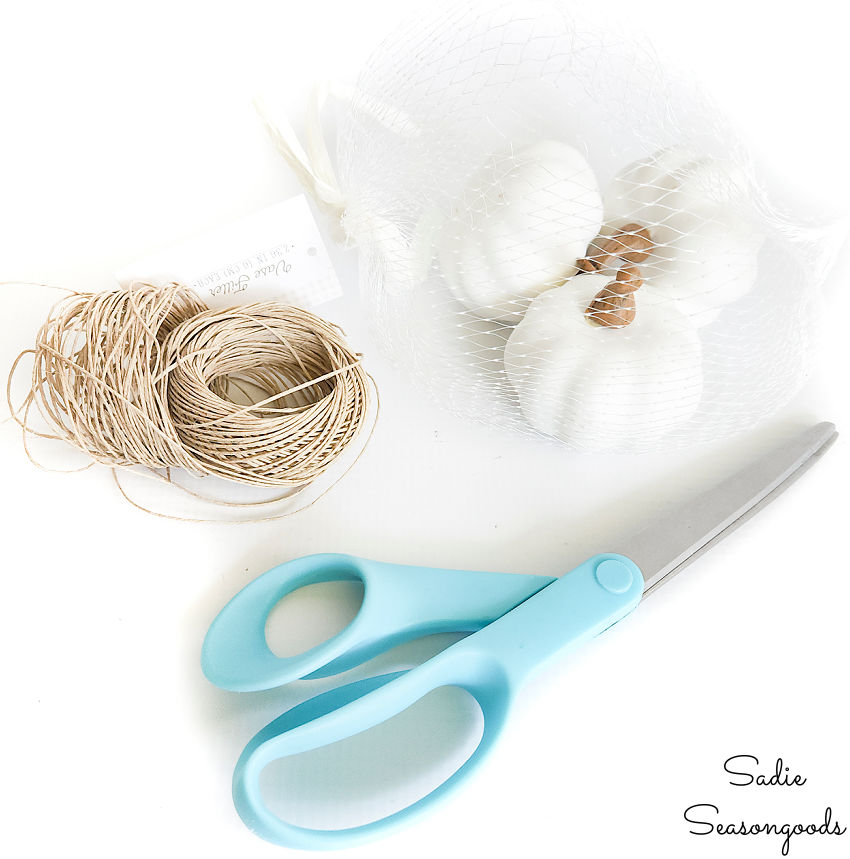 Now, I won't bog down this tutorial with the step-by-step instructions for macrame fishing net. I already did that in my Japanese Fishing Floats post here.
I followed the exact same steps here as I did on the glass floats. First, I looped everything around the stem (using hemp cord this time), then started my knotting.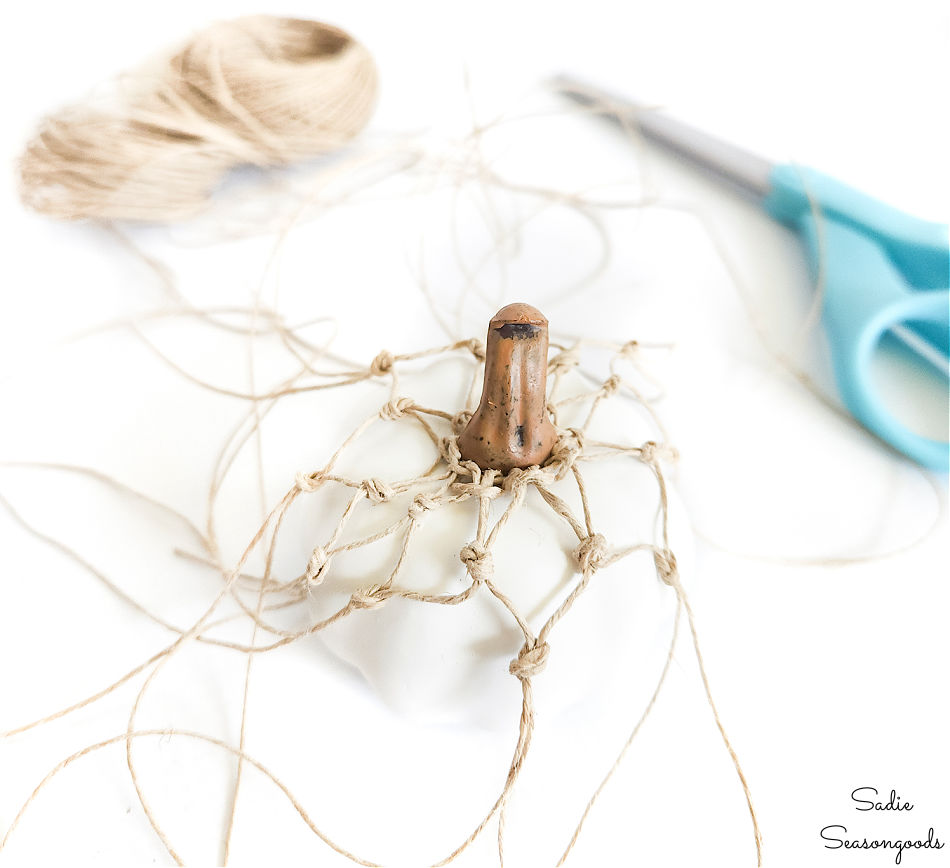 Lastly, I knotted all of the hemp cord strings underneath each mini pumpkin, cut off the tails, and gave the knot a touch of superglue to ensure it stayed put.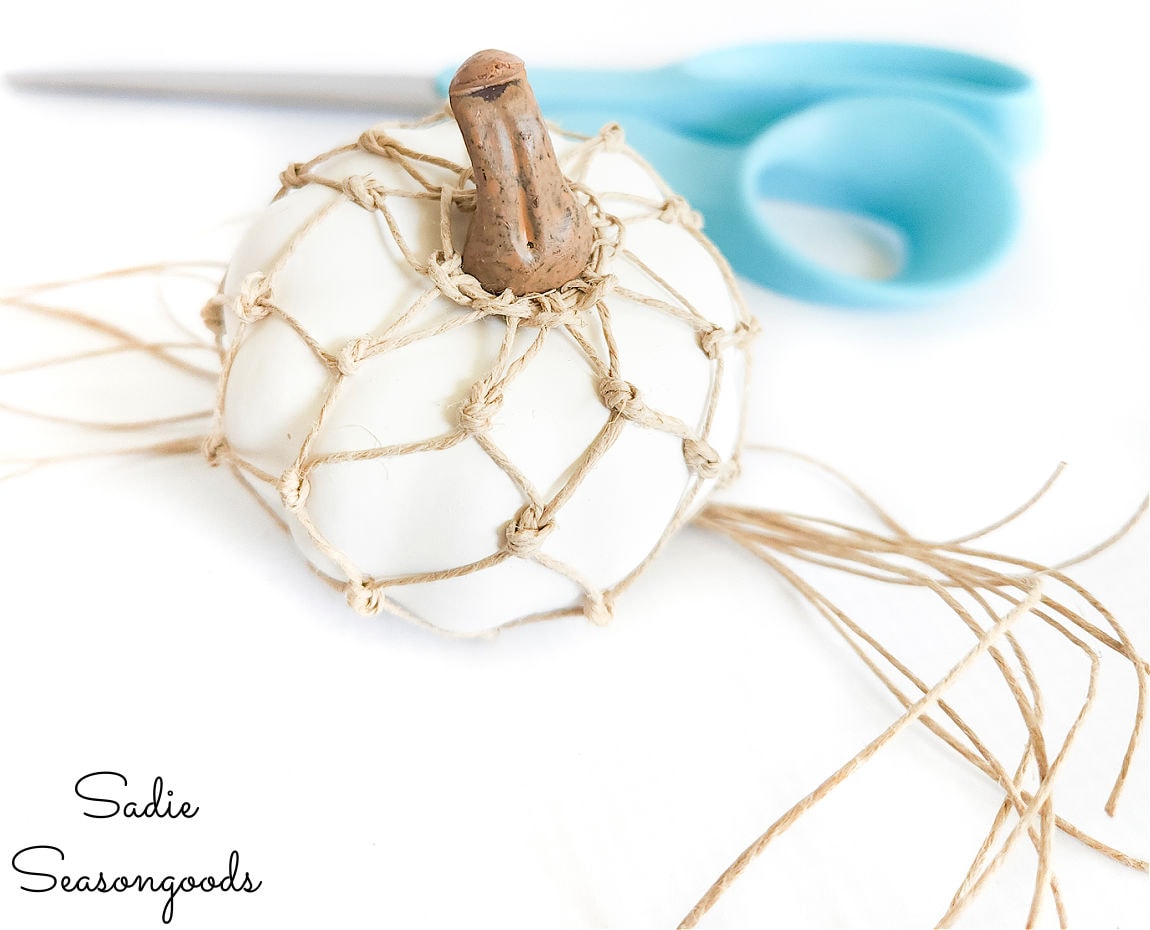 I did the same thing to a larger white pumpkin that I painted in the turquoise (with some dry brushed taupe paint to tone it down). And I used sand-colored jute twine for that netting, since the pumpkin was so much larger. Ironically, the pale jute twine was ALSO in the summer clearance section near the lantern!
Anyway, aren't they ADORABLE?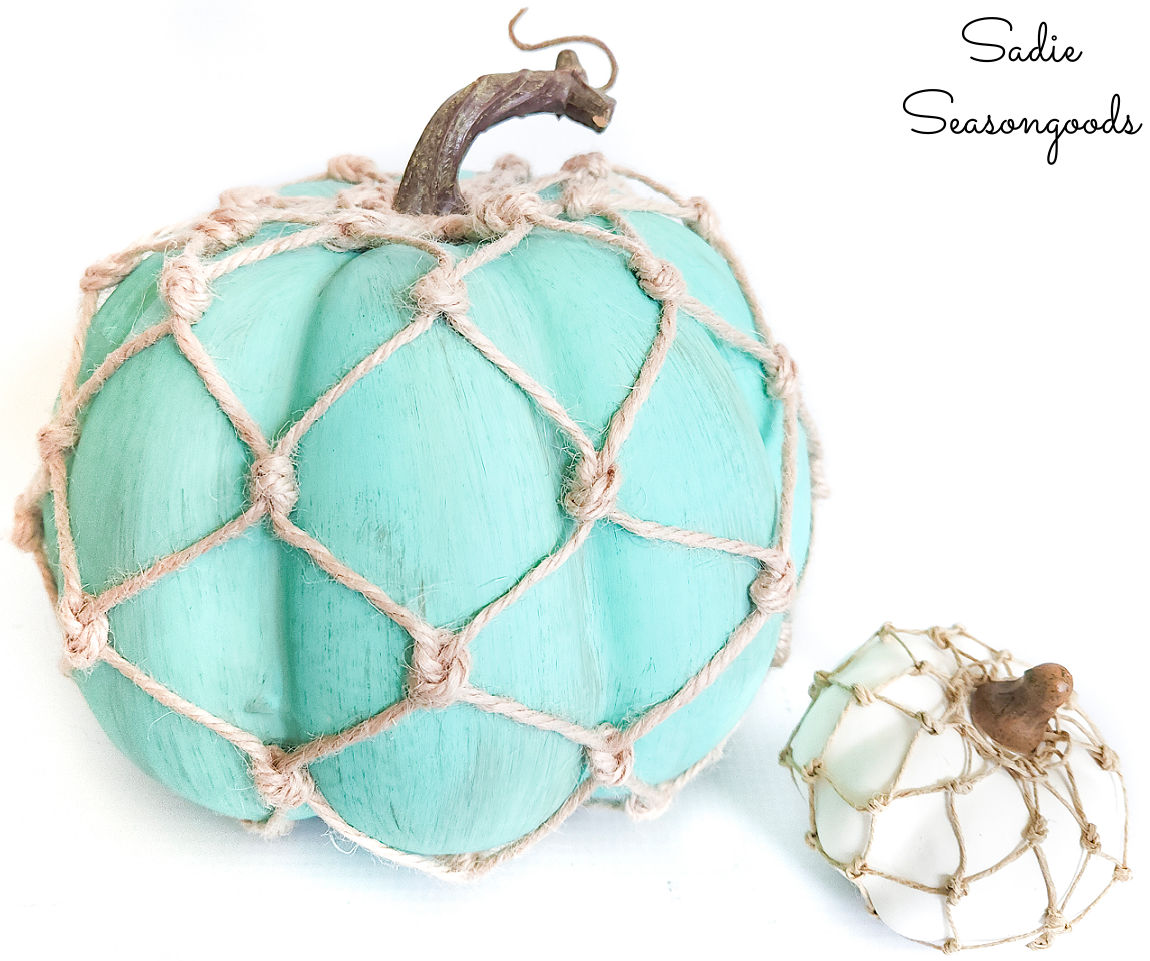 Then, I gathered all of my mini pumpkins- painted and netted- and carefully layered them in the beachy lantern. And yes, I *did* also paint a few mini pumpkins with the taupe/tan paint, as well.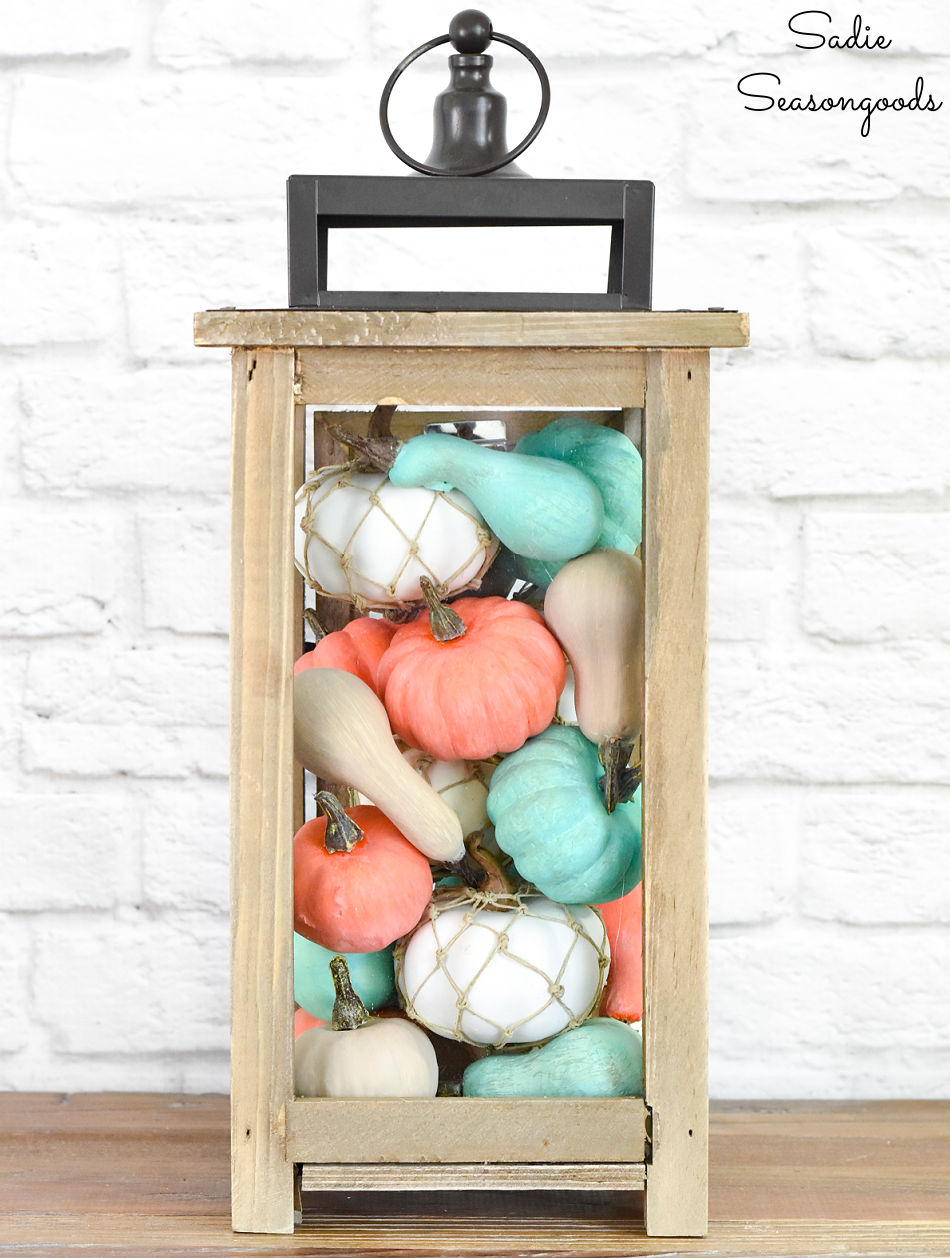 Now- ready to see how my coastal fall decor came together?
Coastal Fall Decor
Voilà- a beachy vignette inspired by my lobster buoy! It feels so good to finally use of one of them, because they're just so cool.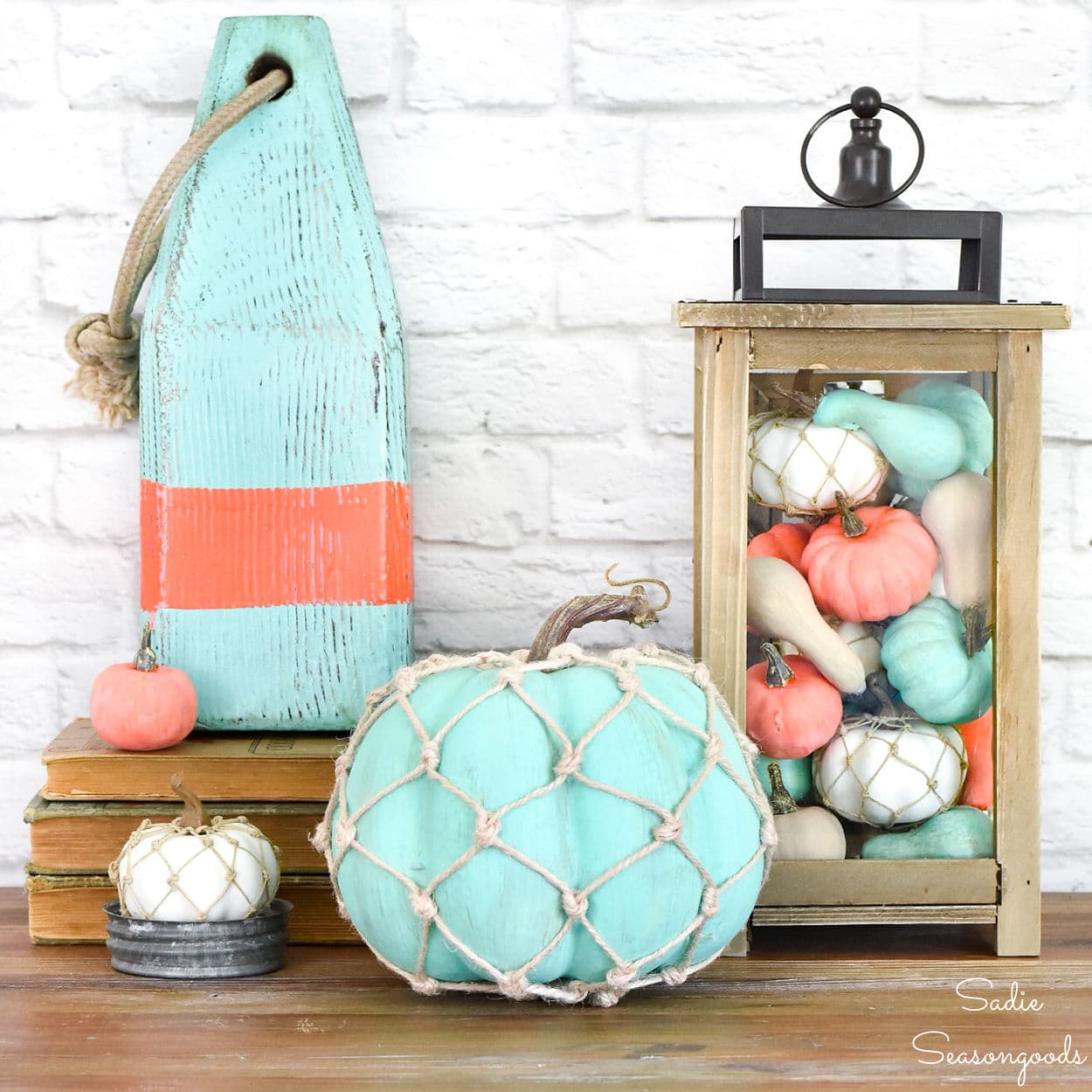 This is certainly a departure from how I normally decorate for Fall, and I'm sure it won't appeal to everyone. But I simply HAD to try tying some fishing net around pumpkins- and it worked out better than I could have hoped!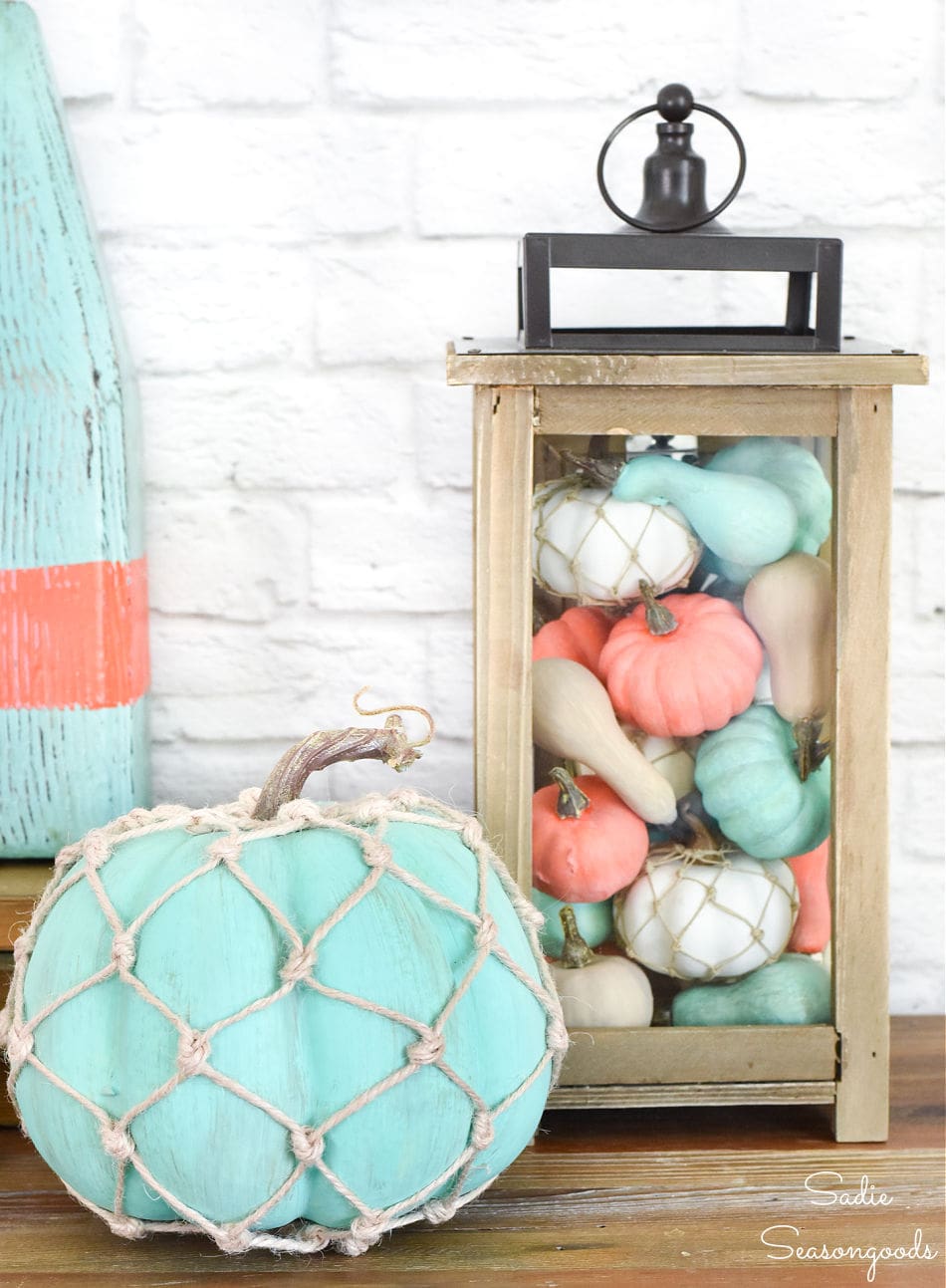 I'm so, so glad I experimented with the idea. They turned out SO cute and pumpkins are a great shape for that kind of basic macrame.
Since the little white pumpkins didn't sit very evenly (from the knot underneath), I made a makeshift stand. One vintage mason jar lid filled with sand (since we're going coastal and all) was the perfect thing!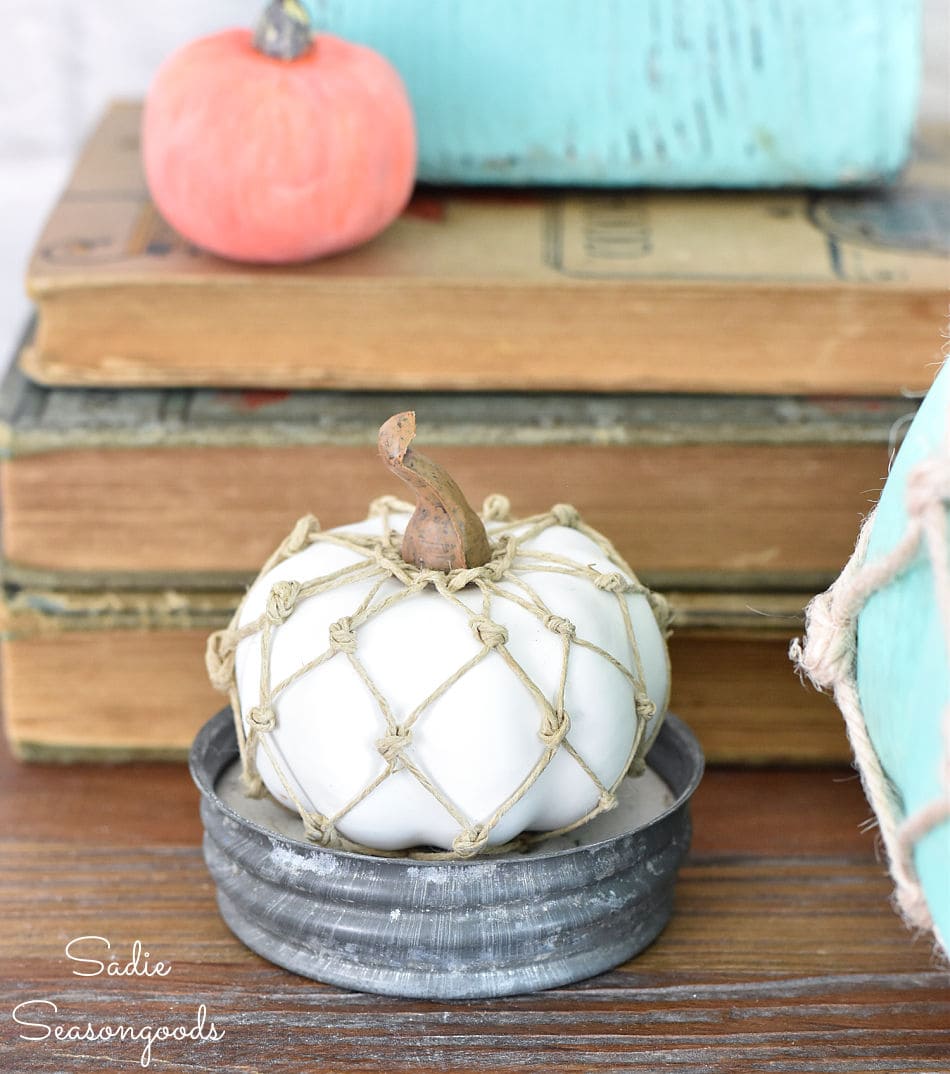 Well, what do you think? A fun departure from the norm or a little too weird for your tastes?
Speaking of blue pumpkin decor, you may also enjoy this quirky flannel project that uses a similar color palette, as well!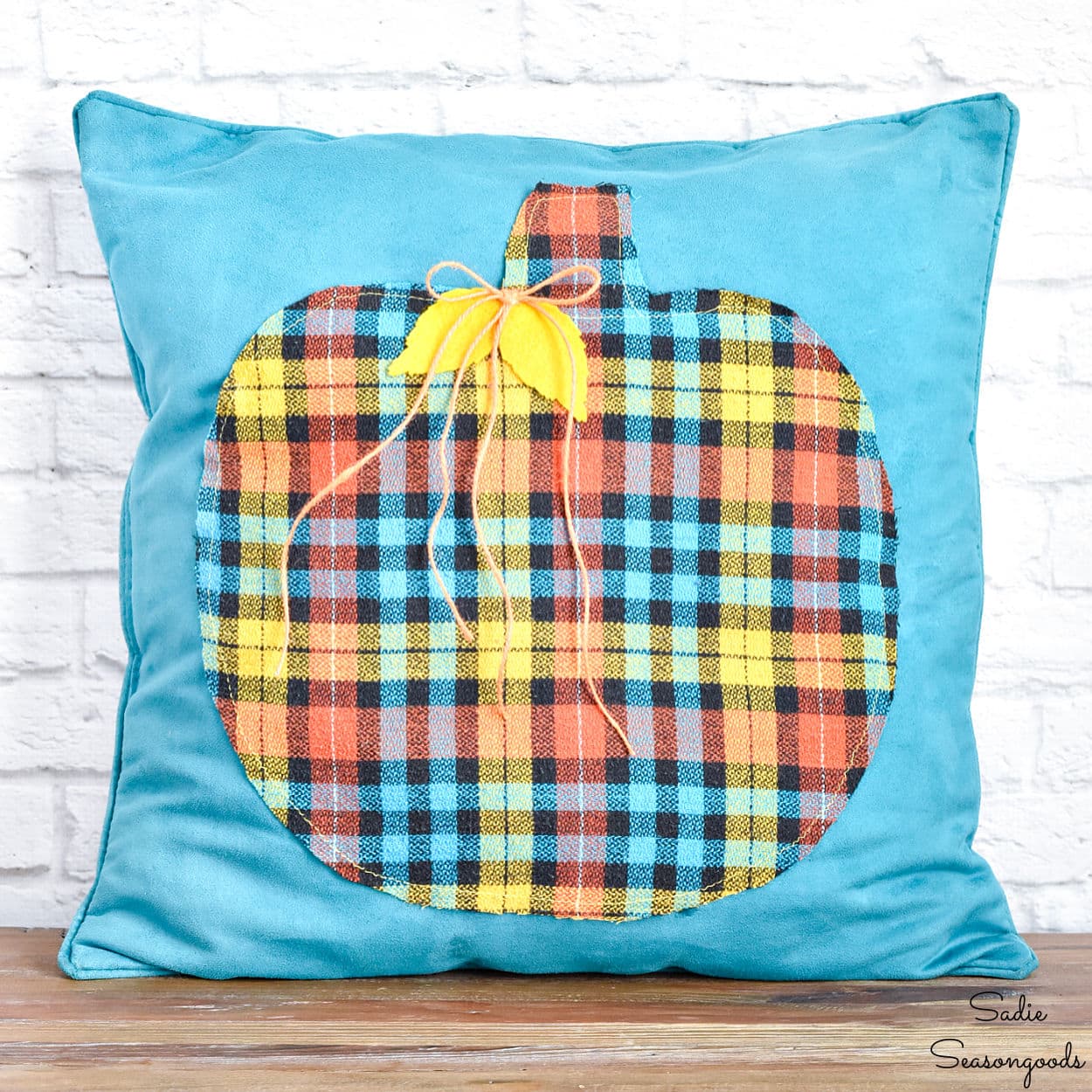 Craft on!
S
Want to be notified when I publish my next upcycling project tutorial?
Subscribe to Blog via Email
Join me on Social Media:

PIN ME!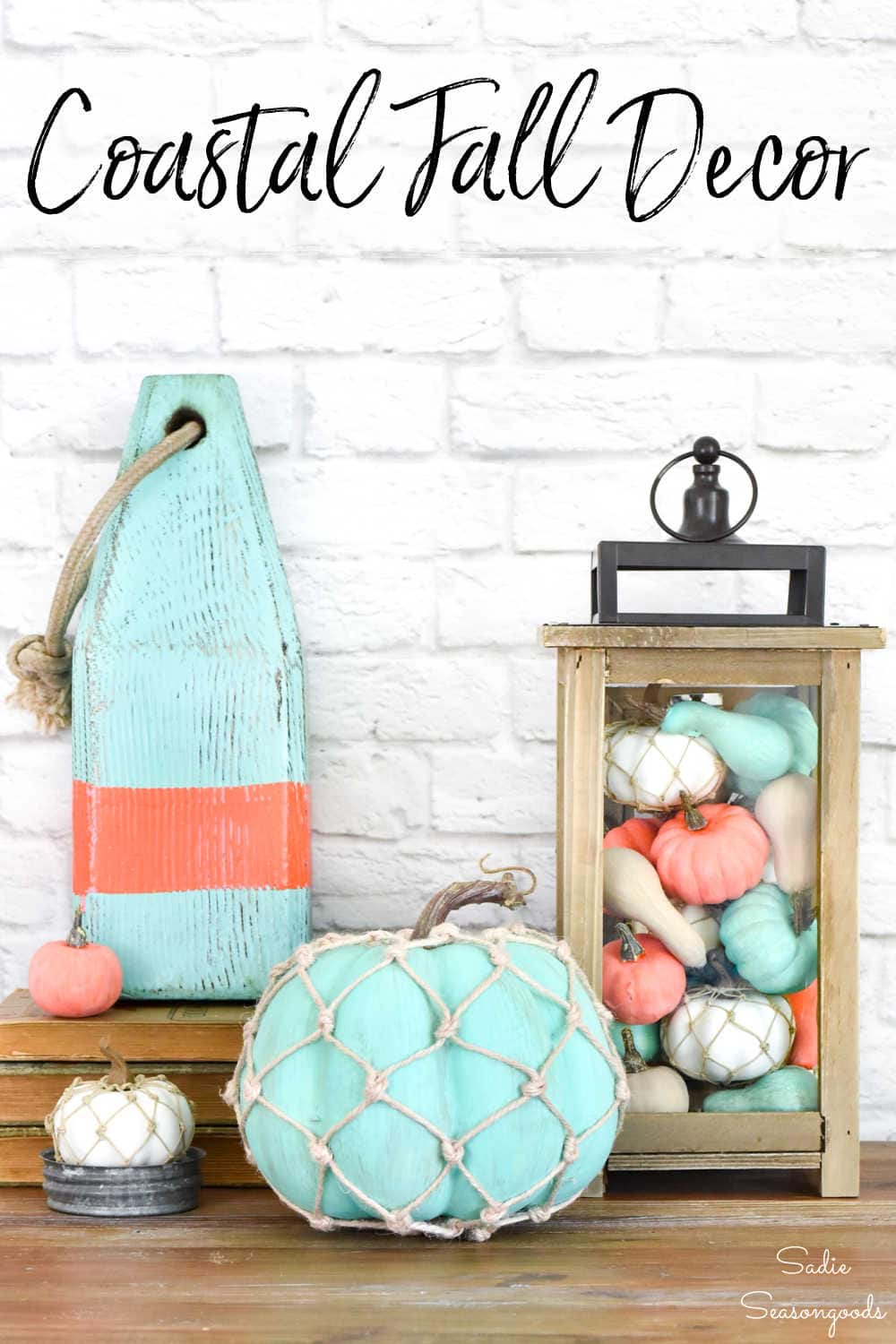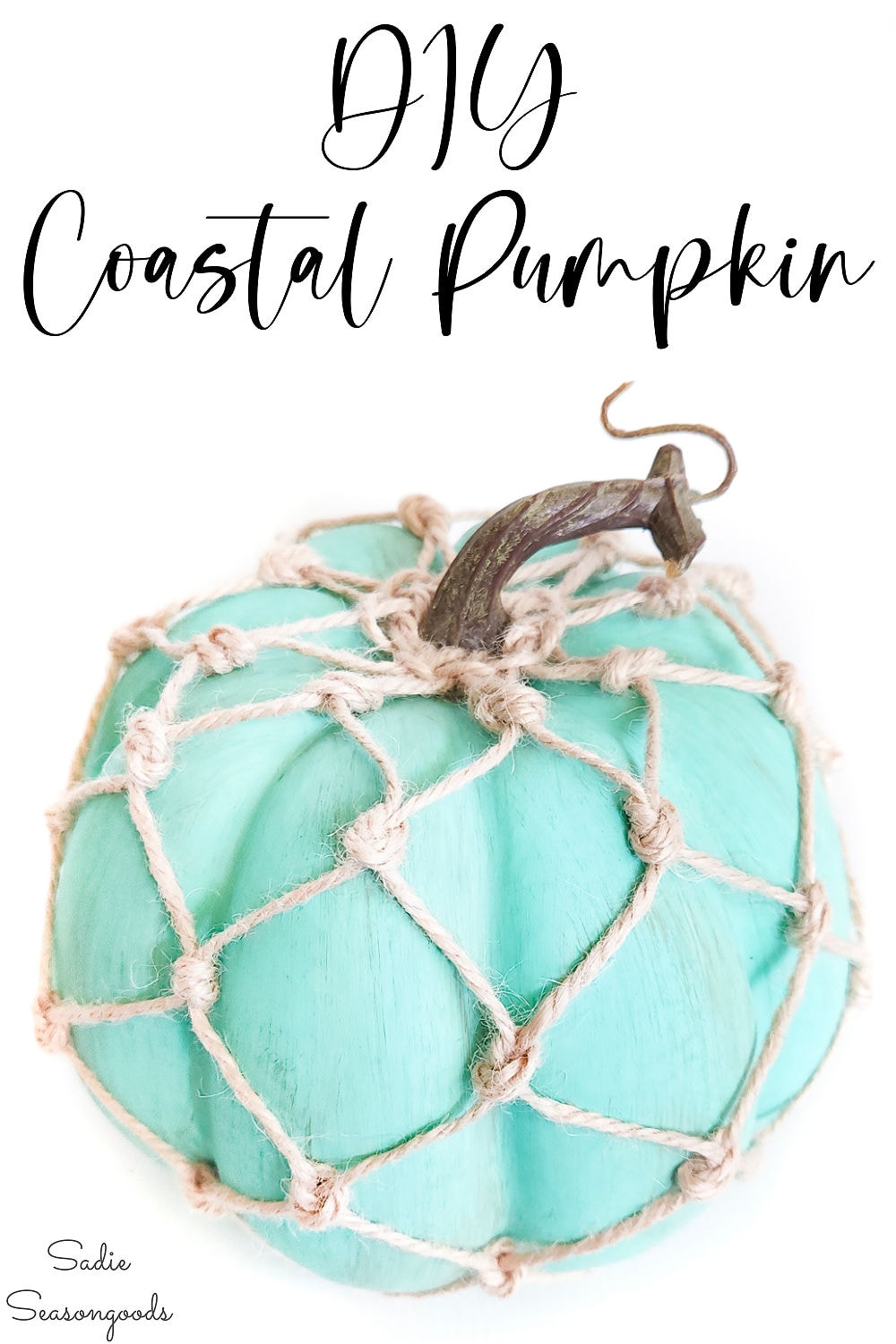 Sarah Ramberg is the owner of Sadie Seasongoods, a website that celebrates all things secondhand. From upcycling ideas and thrifted decor to vintage-centric travel itineraries, Sadie Seasongoods is a one-stop shop for anyone who loves thrifting and approachable repurposing ideas. Sarah is also the author of "Crafting with Flannel" and has been featured in numerous media outlets and magazines.