…and just like that, it's nearly time to bring 2015 to a close. The end of this year snuck up on me like nobody's business- somehow we went from Labor Day to Christmas in the blink of an eye.
I know just about all bloggers do a "Best of" post to close out the calendar year, so I appreciate you humoring me as we skip and frolic down memory lane. Some of you will recall these from months gone by, and for the friendly faces that are new to my little corner of the internet- you picked a great time to find me! I wrangled together the 12 most-viewed project posts from 2015- many of which won't be surprises for long-time friends…but there are always a few that make me go, "Huh. So that one was popular?!".
I'll probably never get the chance to thank everyone individually, but please know that your kind words, your ideas, your funny comments, your shares, your social media follows, and your subscriptions mean the absolute world to me. I know, I know…I tend to get a little sappy.
So without further ado, your top 12 favorites from 2015 are…

This post contains affiliate links for your crafting convenience.
Favorite Upcycling Ideas from Sadie Seasongoods: 2015
12. Floor Lamp Transformation to Charming Solar Lights
It was the lamp that lit a thousand midsummer night's dreams for me. In desperate need of rewiring, I decided to forgo electricity altogether and instead paired it with simple solar lamps from the hardware store. Perfect for an outdoor soirée …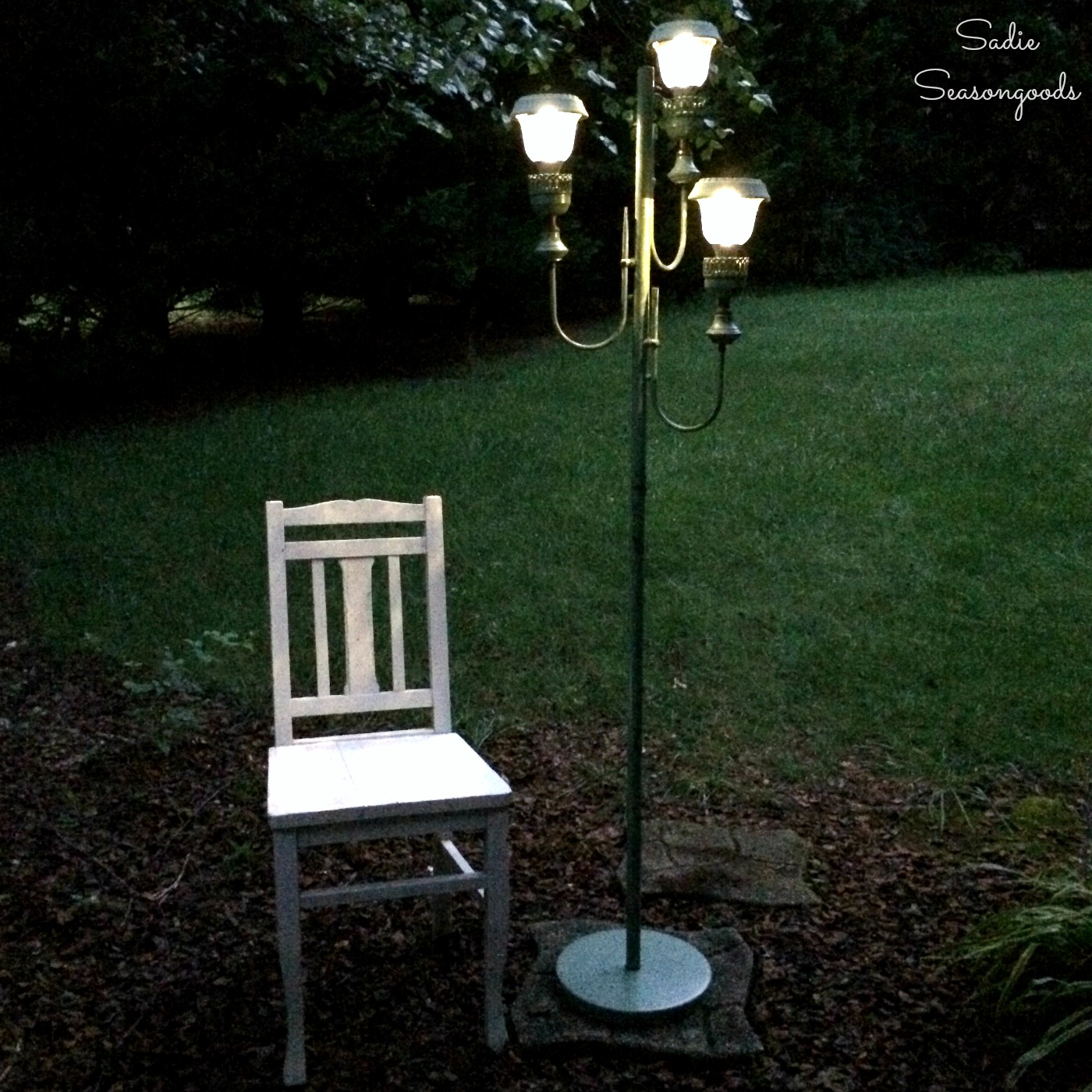 11. Fall Flannel (Shirt) and Lace Table Runner
All three of my flannel projects were popular this year, but only two of them made the final cut (shhh, don't tell my wreath or his feelings will be hurt). One of my dearest friends loved this table runner so much that I sent it to her in Arizona…Cottonball fur and all.
10. "Coined" Metal Button Jewelry
Some craft projects cause stress, but this one actually relieves it! Smashing things never felt (or looked) so good… and I was pleasantly surprised that it was such a favorite!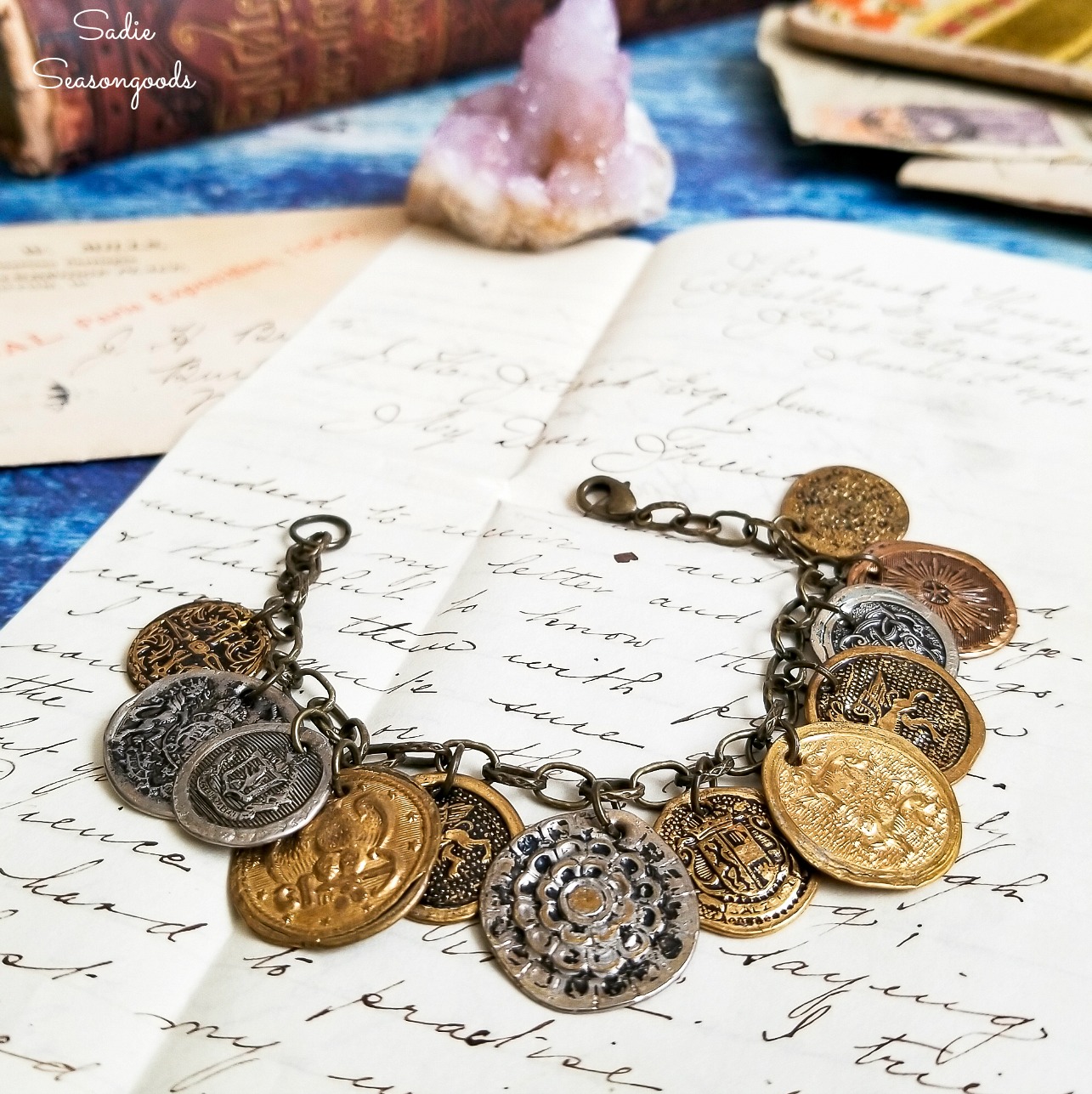 I've had a fantastic time being one of the contributors to The Good Life Blog, and this project was by far the most popular of any of the projects I created for Goodwill. Y'all just can't get enough coffee or tea.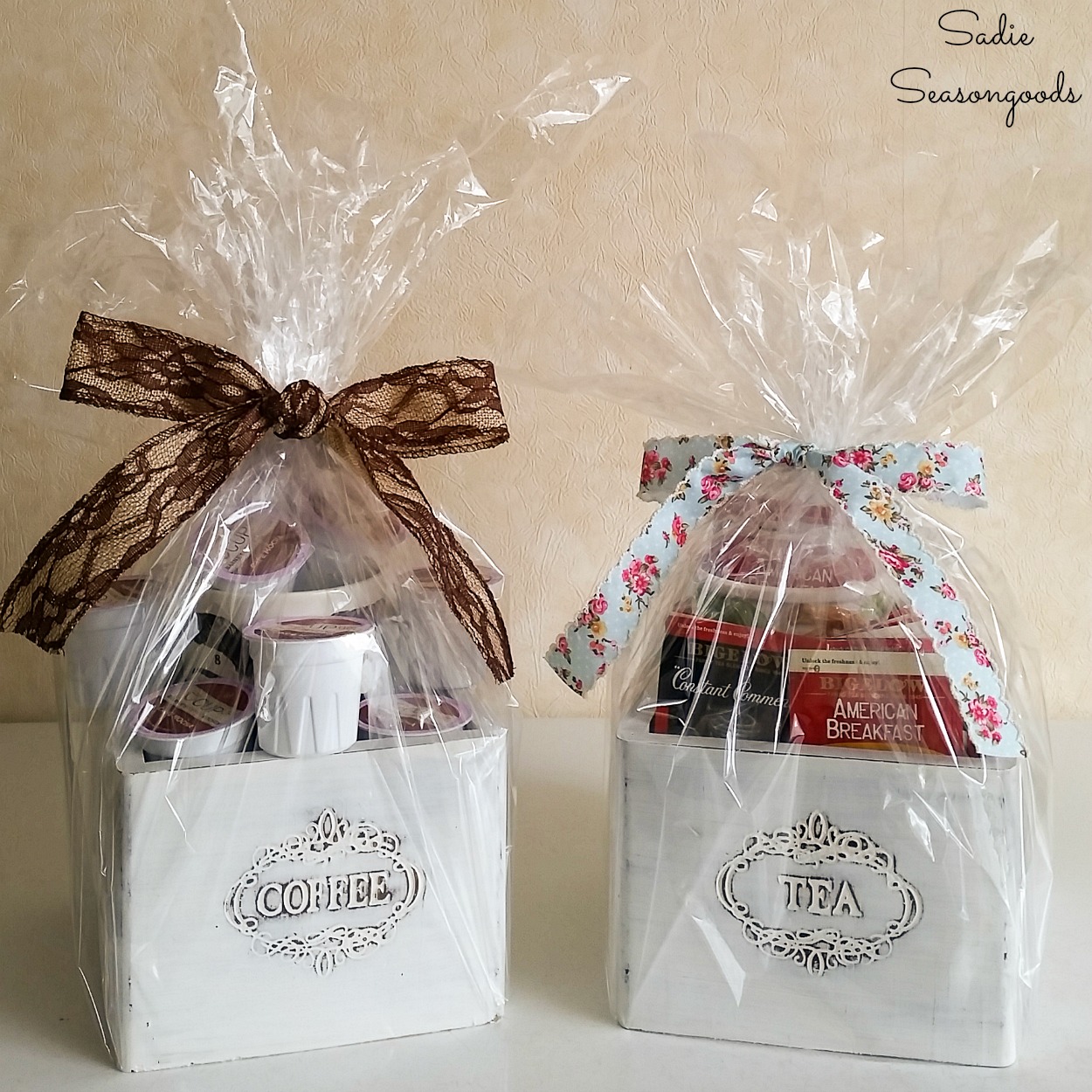 Vintage doilies dyed in pretty springtime pastels were transformed into heady blossoms across your table with this simple project. This will likely always remain a personal favorite of mine, as well.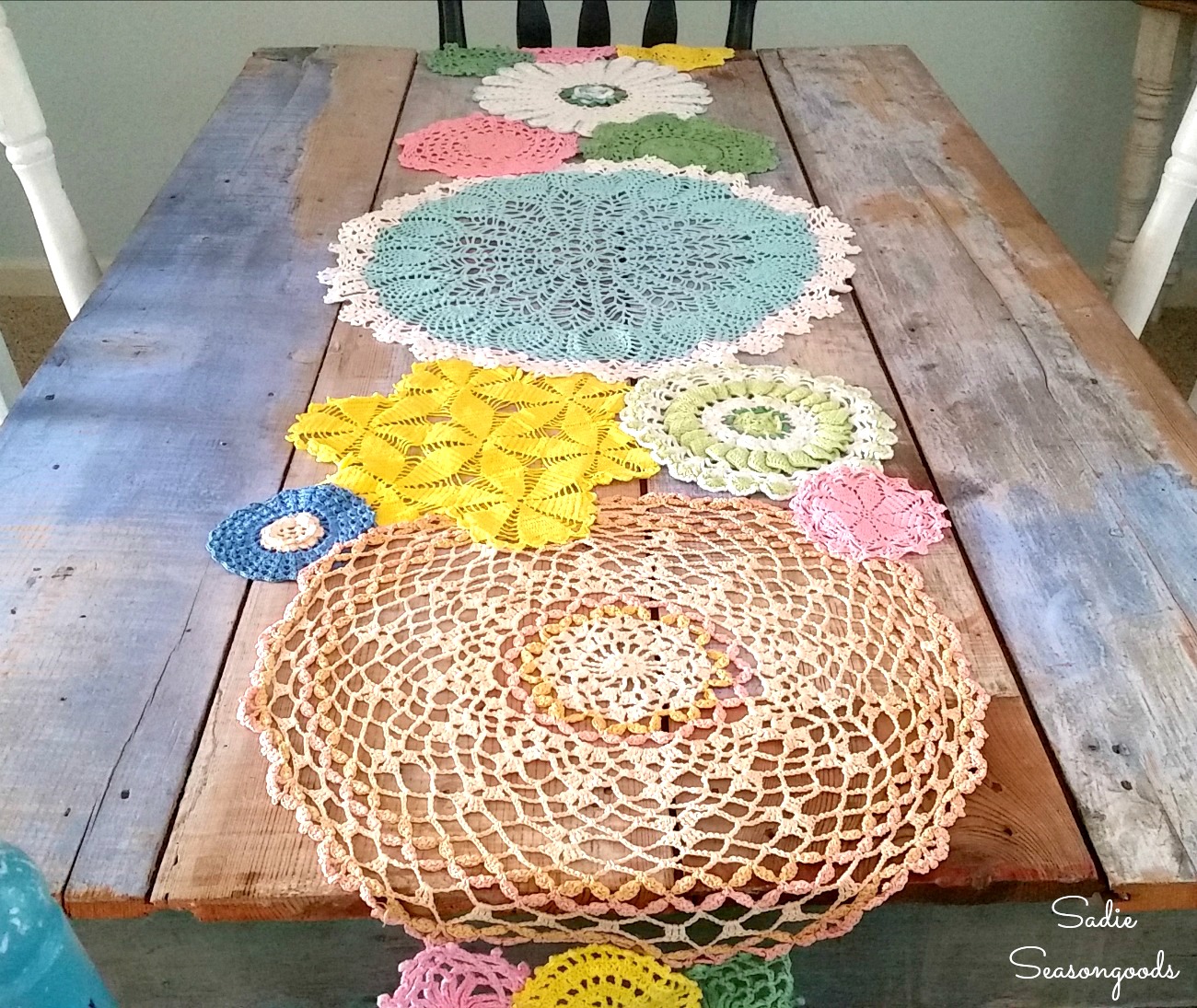 7. Thrifted Glass Lid Hanging Bird Bath
I just LOVE making projects for the yard, especially if it contributes to our wildlife habitat certification. So in other words, yes, there will be more bird/garden/yard projects in 2016.
6. Vintage Seed Packet Display
After spring melted into summer, I thought for sure I would reuse the window in a similar way for another season, but alas…it may always be a spring window from now on!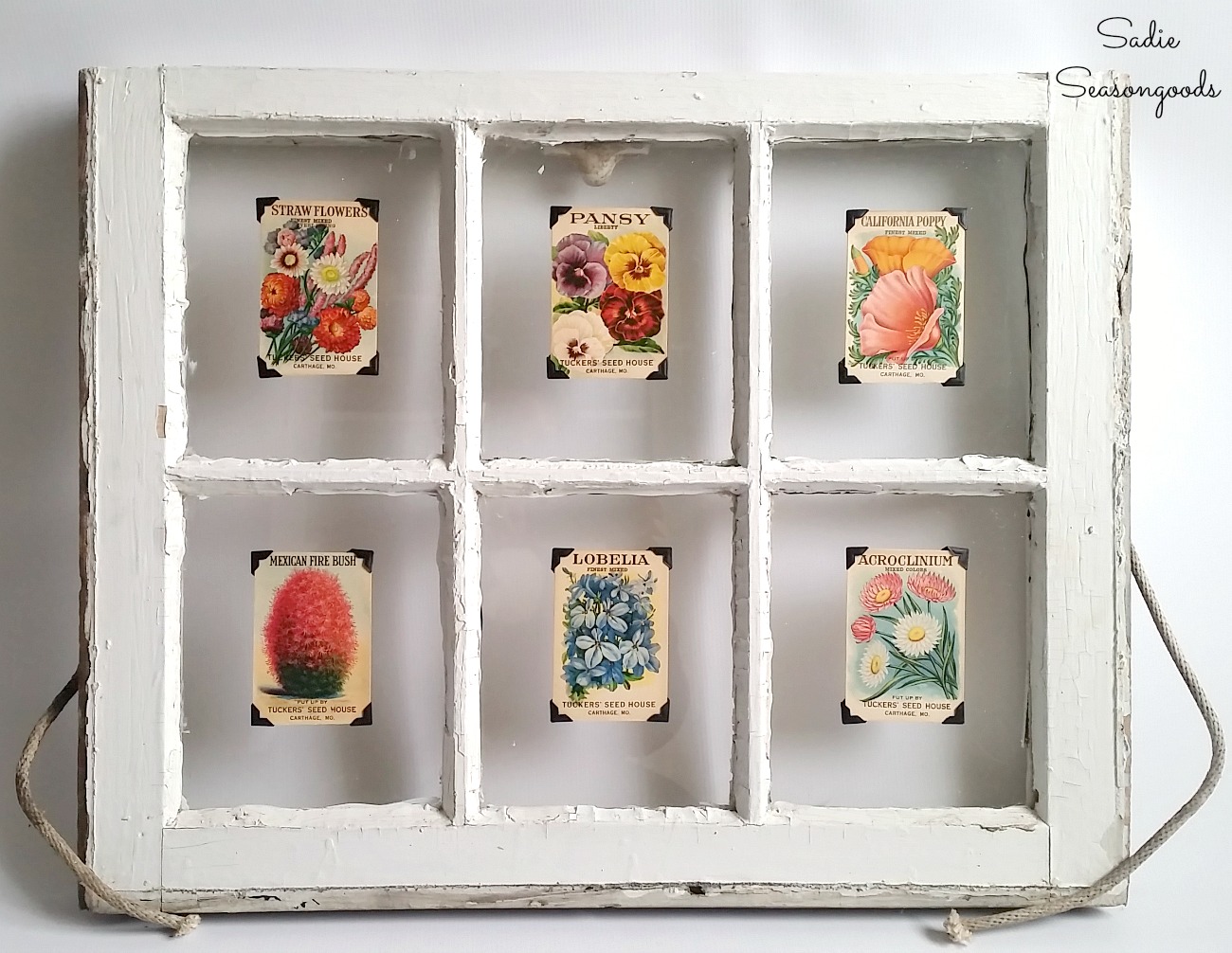 5. Flannel Scrap Reusable Hand Warmers
Flannel project #2 gave everyone the warm & fuzzies, in more ways than one.
6. Vintage Light Fixture Halloween Moon
Halloween is a big deal here at Sadie Seasongoods, but this project was the clear winner of them all. I'm not going to lie, I still think it's pretty darn awesome- and looks even cooler in person!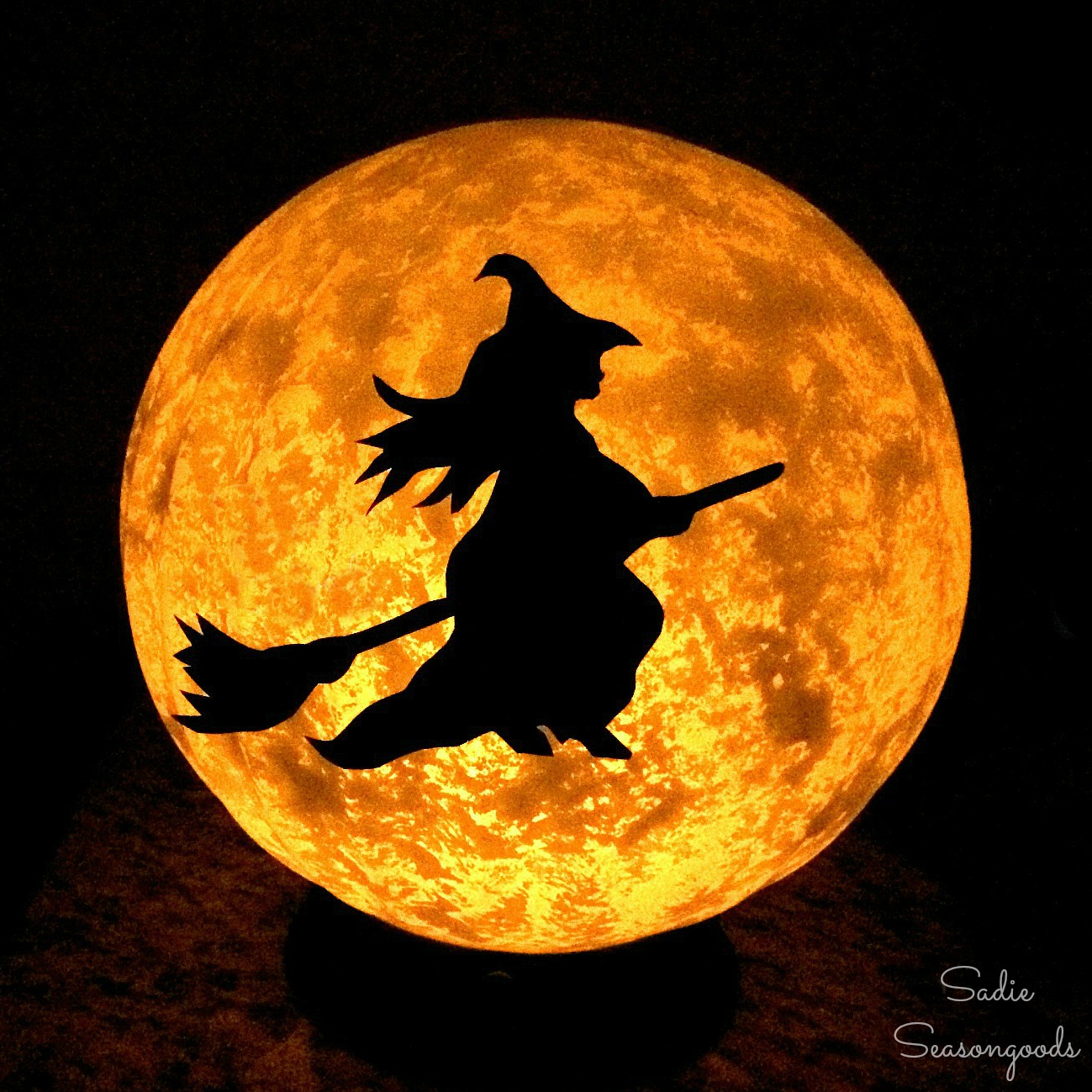 The quirkiest (and maybe cutest) pumpkin I ever did see…with a dainty hinge to make him a hideaway for your secret bits. I wish more salad bowls like these would come my way.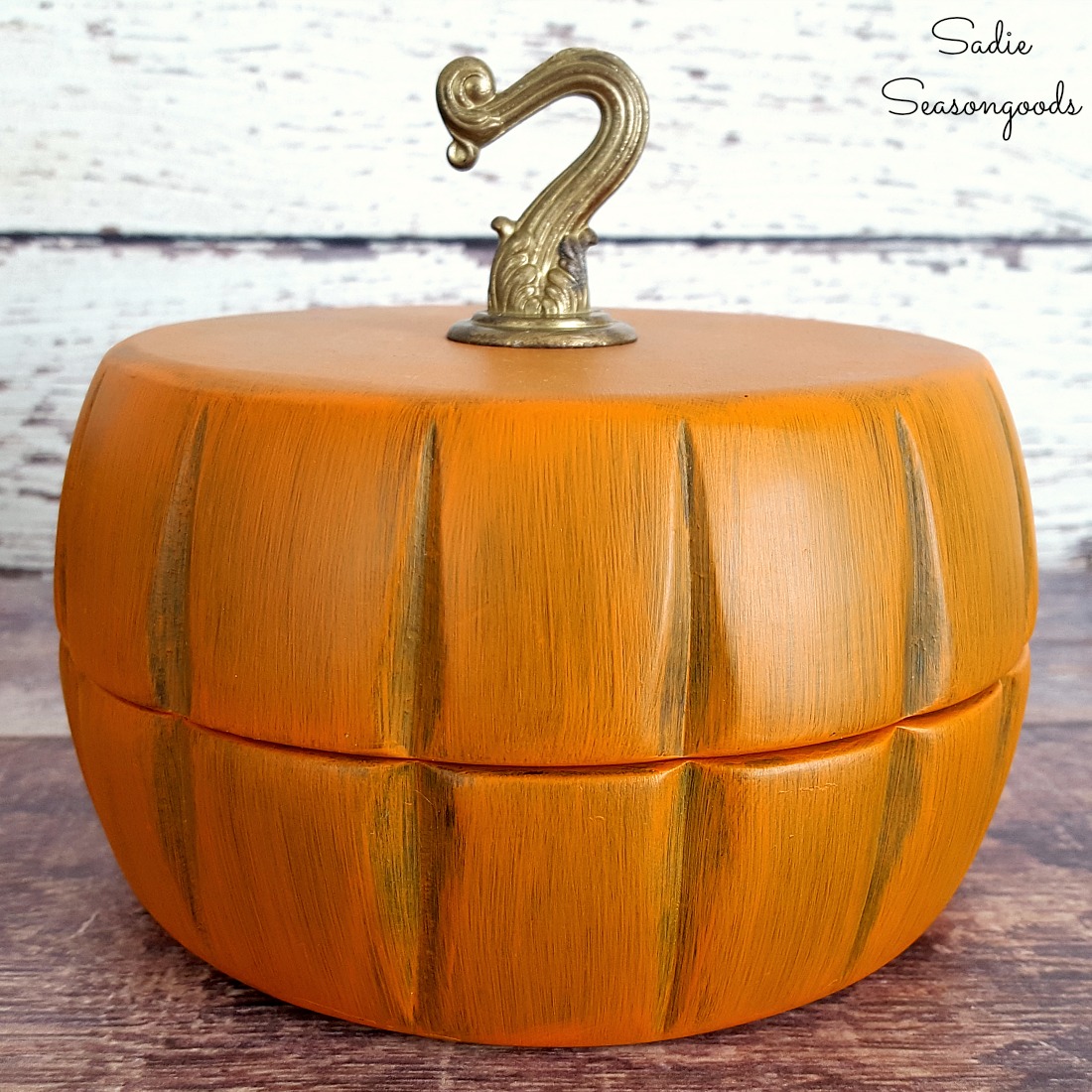 2. Teapot Pin Cushion and Sewing Caddy
Thank Cottonball for this one- his dangerous obsession with straight pins (and sewing notions altogether) led me to think outside the box once again.
1. Vintage Bandana Bowl Covers
And this, my friends, was without a doubt the most viewed project of 2015! These have long since sold, but I might just have to make a few more.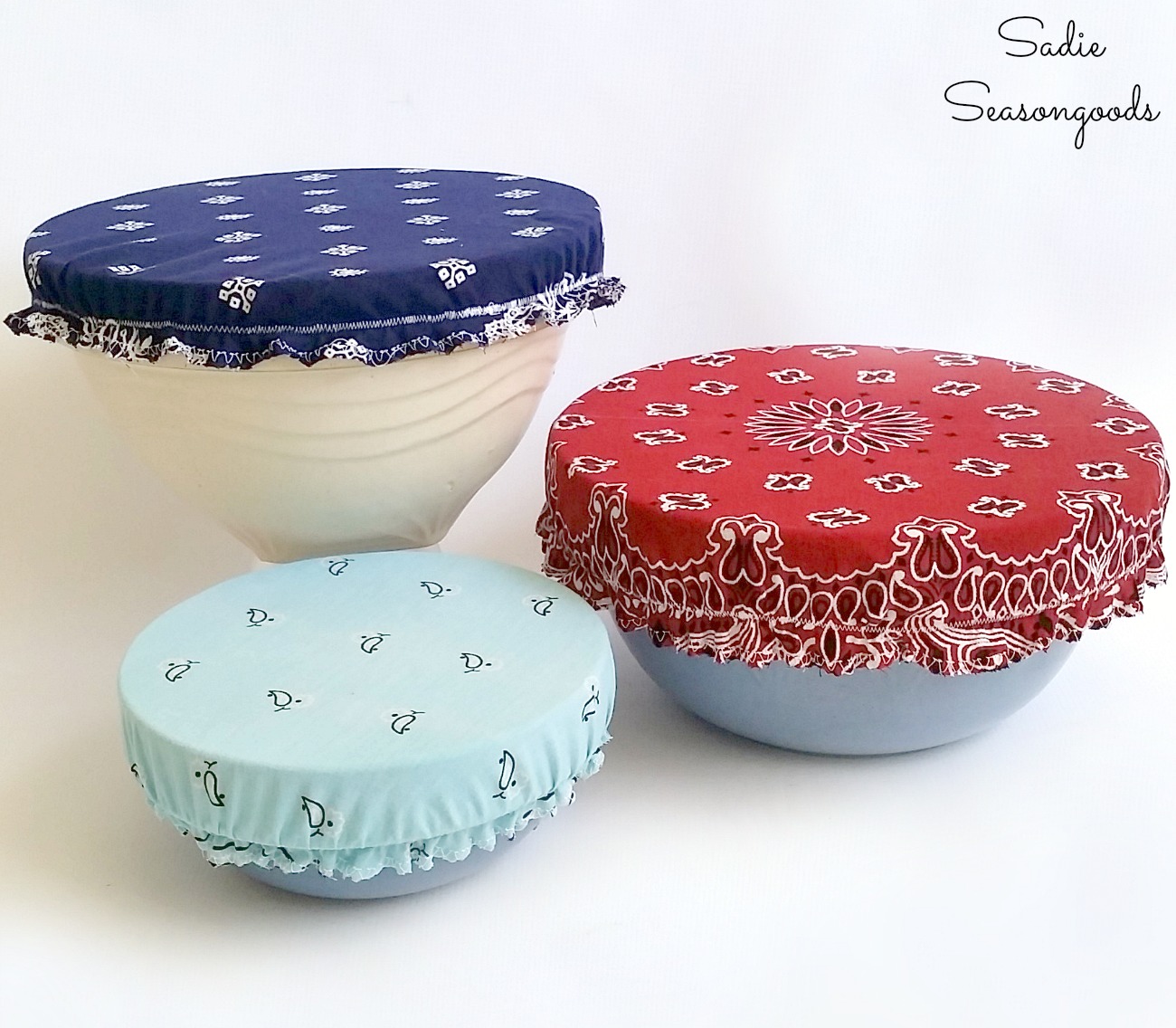 Welcome 2016!
It's been a good year, eh? Were any of your favorites in the list? I have high hopes for 2016 and can't wait to bring you new projects, ideas, and posts all year long. I still have miles to go in the blogisphere… and HIGH EXPECTATIONS for myself… and I sincerely hope you'll stick with me along the journey.
Happy New Year and as always, Craft On!
S
Want to be notified when I publish my next upcycling project tutorial?
Subscribe to Blog via Email
Join me on Social Media: