Long before I even started my blog, I found the most amazing panel from a wooden door. It was covered in layers of chippy paint. I used it's beauty to inspire the painted bedroom furniture we now own. AND, it inspired the shabby chic wall decor / window pane decor that would ultimately kick off my upcycling blog. I know it sounds crazy, but it is the absolute truth.
The creams, blues, greens, and mahogany of the panel of the wooden door were the catalyst behind our entire master bedroom redesign.  So, I started buying painted bedroom furniture to coordinate without being too matchy-matchy. Enter my fabulous dresser from Restoration 41.
Restoration 41's Melissa Crook then went on to transform my great grandfather's dresser to coordinate with the original dresser that I purchased from her.
AND she found the original price tag from John M. Smyth & Co. Furniture store in Chicago, IL! It was on the back of my great-grandfather's dresser that Restoration 41 painted for me.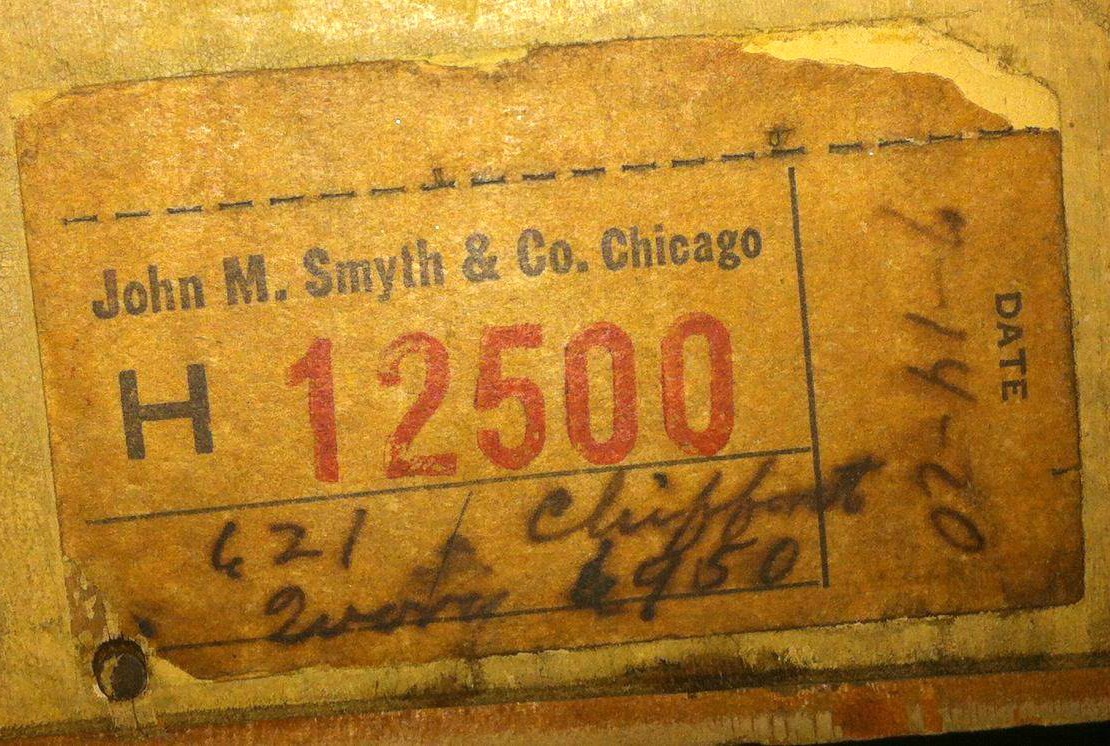 See where I am going with this? It all ties back to the panel of that wooden door- and voilà! A bedroom set was born…and I ended up starting a blog with this project. A blog that would ultimately become my full-time career.
I found several wooden window frames at an antique mall in Charlotte, NC. I selected one to display some of my grandmother's lace doilies. They seemed like would work perfectly as shabby chic wall decor that would coordinate with our painted bedroom furniture.
This post contains affiliate links for your crafting convenience. As an Amazon Associate, I earn from qualifying purchases.
Using Lace Doilies and Wooden Window Frames for Shabby Chic Wall Decor
I studied the window frame and wondered if it had been from a screened in porch, being so lightweight and thin. I placed it on the ground and arranged the lace doilies inside it, debating on what my next steps would be.
Picturing the wooden window frame in a screened porch was all I needed. Because that's when it dawned on me to use window screen for my project!
I would attach inexpensive window screen to the frame and treat it like the backdrop for cross-stitch. Then, I would pin the lace doilies to the screen where I wanted them, stitching them on with plain old thread.
First, I cut out a rectangle of window screen to fit the wooden window frame and spray painted it aqua. This tied into the chippy paint on the frame, the original panel from the wooden door, and the knobs on the painted bedroom furniture.
Then, I simply staple-gunned screen to the back of the frame, pulling it taut as I attached it.
I pinned the lace doilies (with a little overlap) onto my window pane decor and simply swooned. Yes…I swooned.
Then, I stitched the lace doilies to the screen on the backside of my window pane decor.
And when all was said and done, I removed the safety pins from the front of the shabby chic wall decor.
Shabby Chic Wall Decor / Window Pane Decor
I just love how it turned out- and it's really become the centerpiece of our bedroom.
I never imagined that this shabby chic wall decor or window pane decor would be such a life-changing project. Not only is it perfect for a our cottage style bedroom, but I seriously launched my upcycling blog with it.
Thank you for humoring me as I told the story of how everything started…our master bedroom decor, this shabby chic wall art, and ultimately, my new career!
If you enjoyed this upcycling idea, then you might also enjoy this mini library card catalog project, as well!
Craft on!
S
Want to be notified when I publish my next upcycling project tutorial?
Subscribe to Blog via Email
Join me on Social Media: