Last June, I put together a blog post that showcased all of the thrift store home decor that we had acquired for our new home. If you recall, I'd talked about how our decor style/taste had changed drastically. And when we built a new house in the Charlotte area, we were virtually starting from scratch when it came to furnishing it.
And that post, as different as it was from my normal posts (i.e., not a tutorial), was incredibly popular and well-received.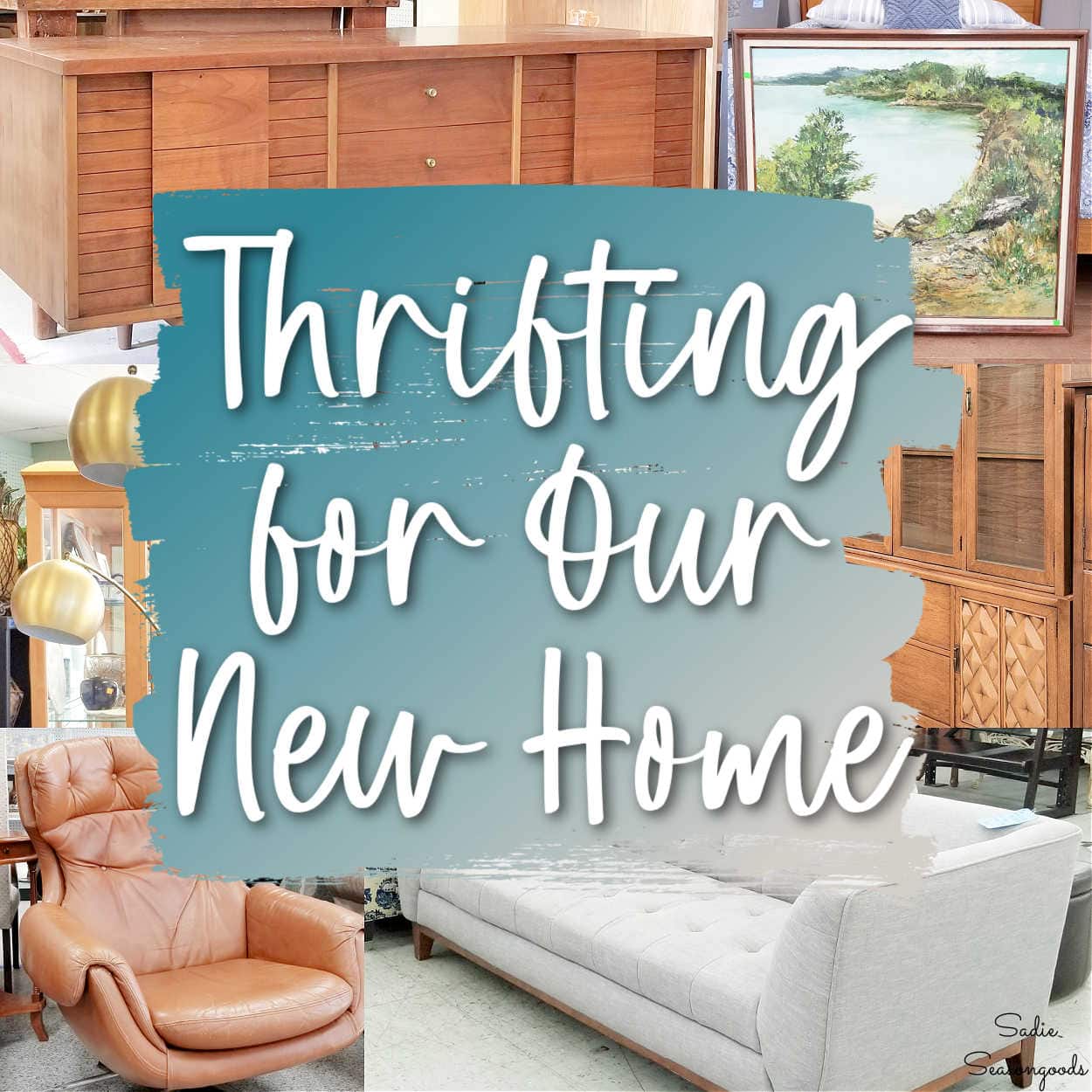 As someone playfully commented at the time, "Never underestimate how nosy your readers are!". Which made me chuckle and nod, because I totally understood what she was saying. I get nosy about blogs I read, too!
Anyway, it's been another year and we've acquired more furniture, art, and decor pieces since then. All of which have been thrifted or purchased from antiques shops.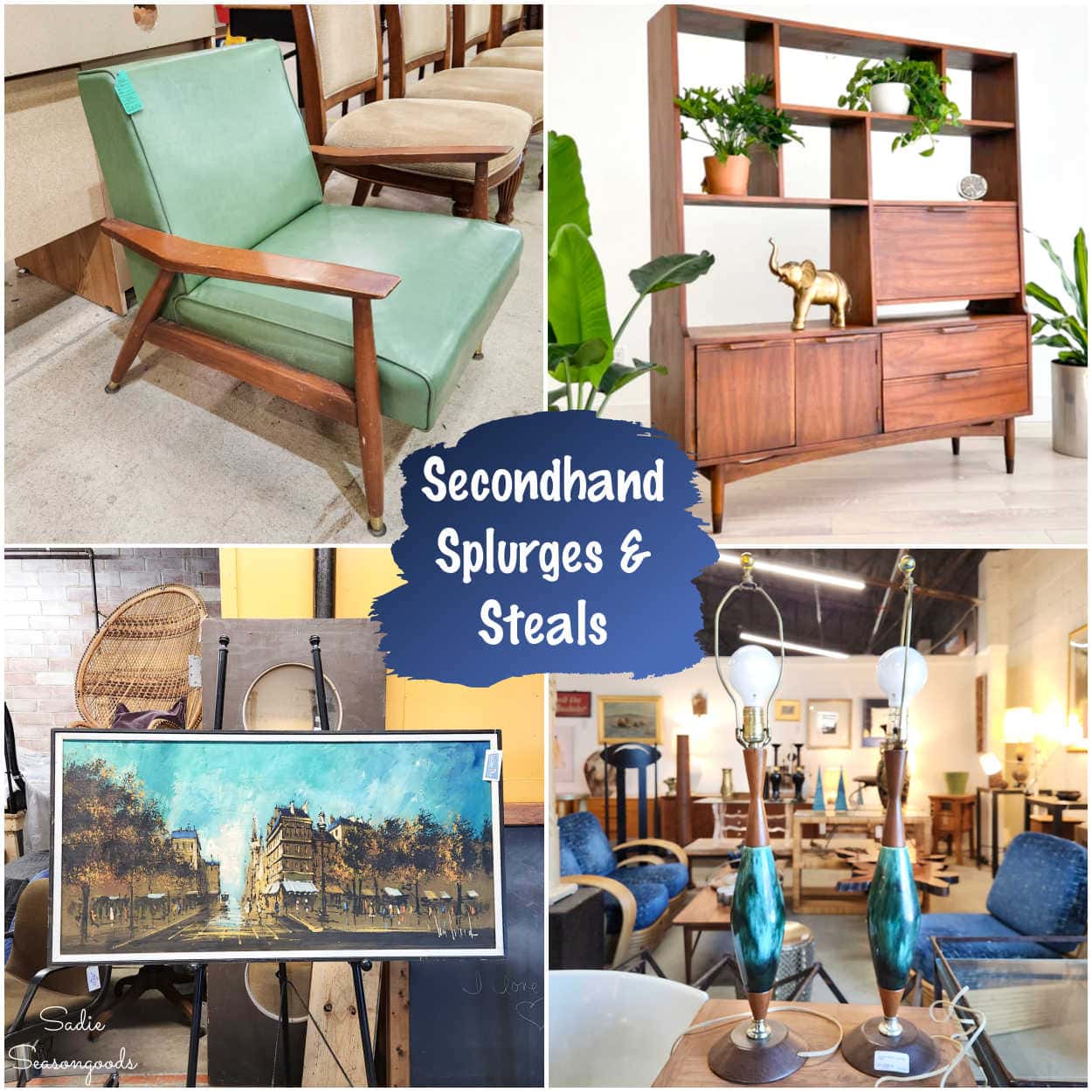 Even though we've collected fewer pieces from June 2022-June 2023 (versus June 2021-June 2022), I still wanted to share them with you! Outfitting a home with secondhand pieces is such an interesting (albeit, tedious) process.
I'm so proud of the pieces we've gotten- some were absolute steals, whereas others were DEFINITELY splurges. And as I go through everything below, I'll be transparent about the prices we paid.
I'm grateful that we're in a position to infrequently splurge on certain pieces of furniture and art. But we wouldn't be in that position without all of the thrifting luck we've had to balance it out.
So, let me show you our more recent thrift store home decor finds!
Vintage and Thrifted Furniture
For over a year, our dining room has remained empty. And it's not really a room, per se, but rather just part of the large open space at the back of the house. Either way, though, a mid century modern dining table and chairs had eluded us. Finally, though, we found a gorgeous table at our favorite antiques store here in Charlotte.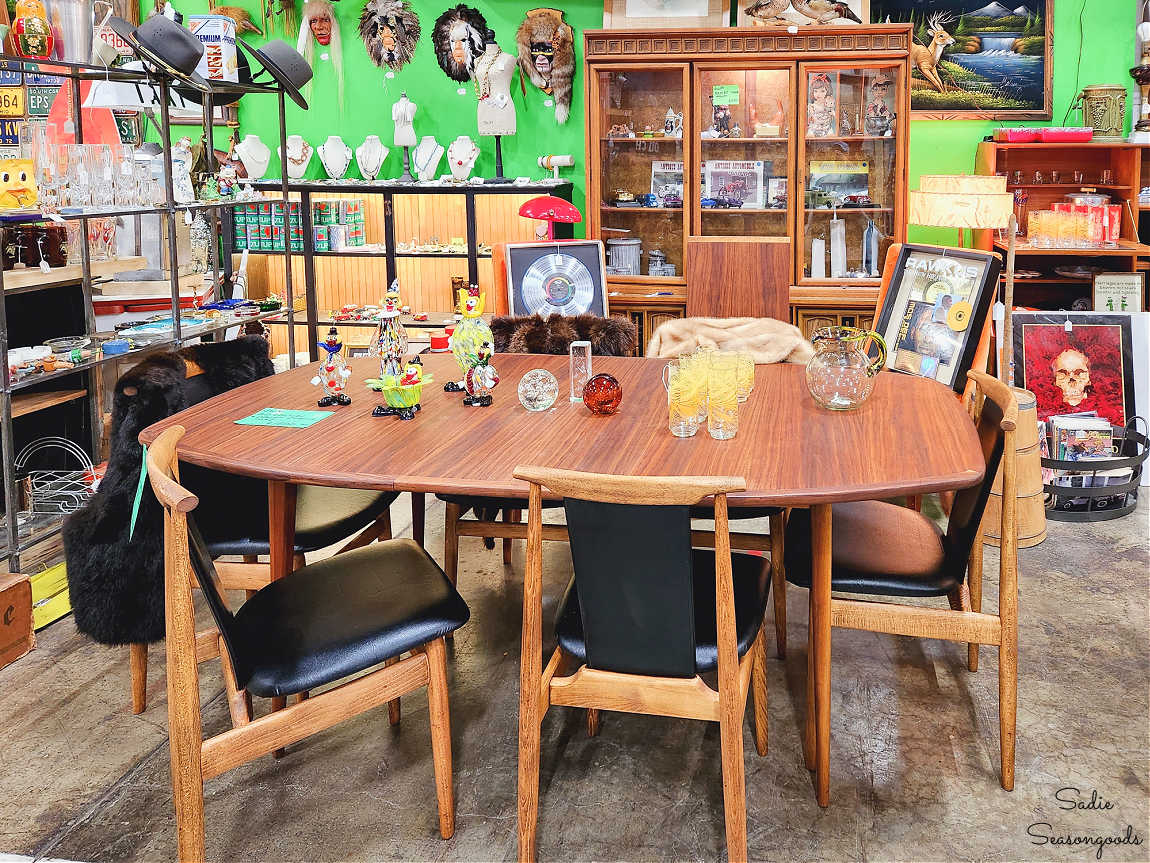 Now, we didn't get the chairs- they were sold separately and weren't a great wood-match in person (nor were they comfortable). But the table was in exquisite shape (look at that grain!) and came with two leaves. It was quite the splurge ($1500), I have to admit. But, someone had thoroughly restored it and it's a very heavy/solid piece that can easily sit 8-10 people when fully expanded.
We also acquired a single end table from the same booth at Sleepy Poet, albeit during a different visit!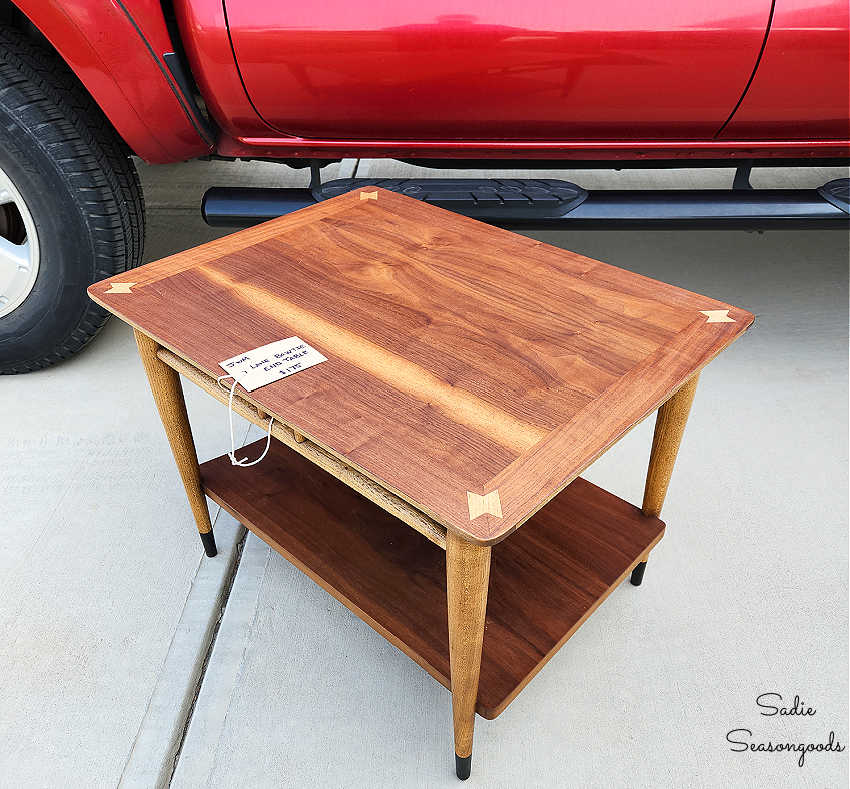 It, too, had been exquisitely restored and was $175. It was pricier than other single end tables we'd seen. But that's because it's a Lane piece from the Bowtie line. If you're familiar with Lane's mid century modern styles, the Bowtie line is related to the Acclaim line but harder to find. Or so we've heard.
Our next splurge was this mid-century modern wall unit. I follow an MCM store in Asheville, NC on Instagram and spotted this photo in their feed one evening.
It was a normally quiet and unexciting Friday night at home. But as I scrolled on Instagram, there it was- my dream piece. You see, I'd seen photos of vintage wall units like this before and wanted one BADLY. And this one was within reach!
Another splurge ($1295), mind you. But still within reach. So, that quiet Friday night turned into a pricey impulse purchase and panicked attempts to coordinate with a freight delivery service to get it from Asheville to Charlotte. I tell you what- my heart rate went from calm to insane very, very quickly that night, but it all worked out just fine in the end.
Ok, enough splurges! I was able to thrift a couple of pieces for the house, too. First up, this mid century modern chair which I scored for $15.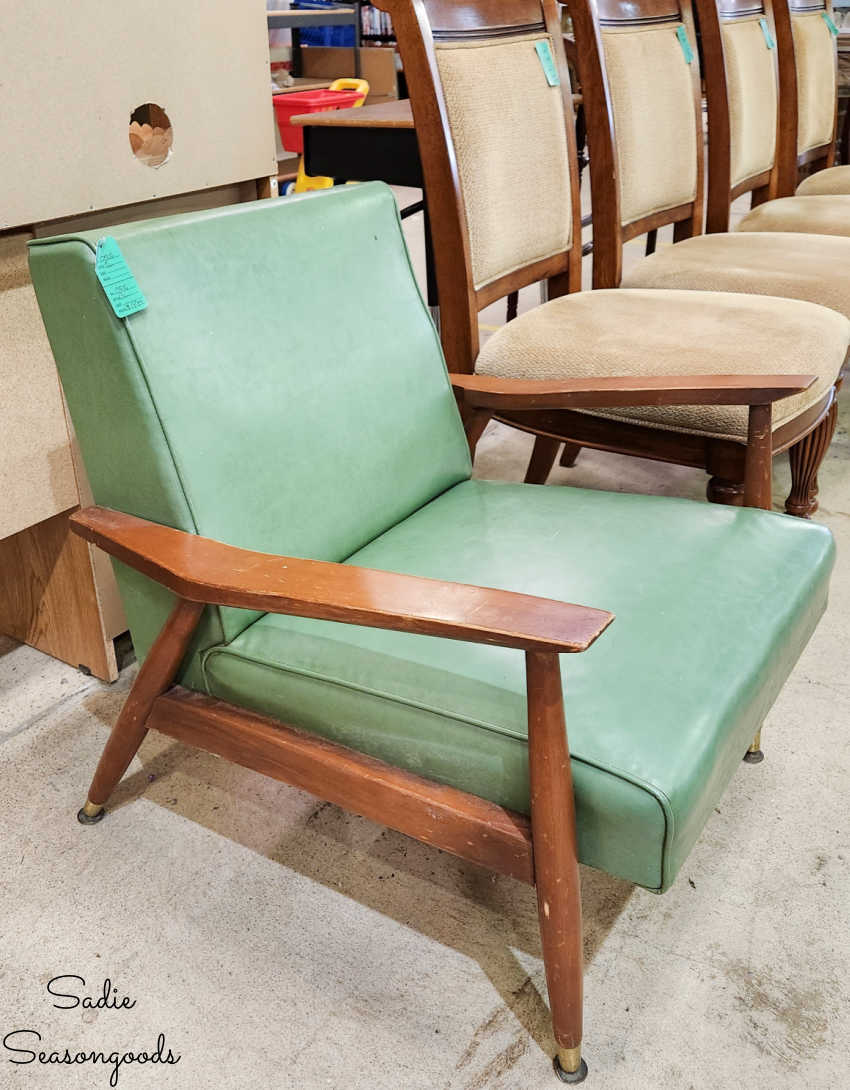 It needs a little love (scratches on the wood, missing one metal cap foot), but for $15, how could I resist? Interestingly enough, we found it at the same thrift store in Hickory, NC that we found our vintage Broyhill china cabinet!
Last but not least (furniture-wise), another steal. I scored this vintage Lane Acclaim two-tier end table for $15 at a Habitat ReStore in Lake Wylie, SC. But it is definitely to be considered a "project piece" due to the damage.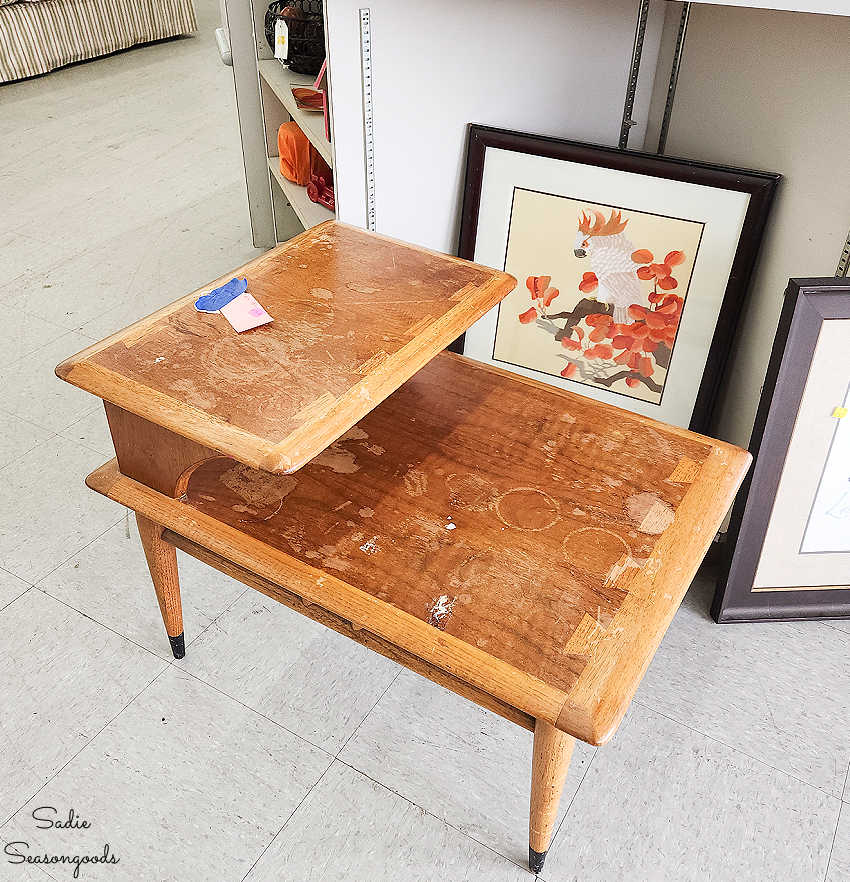 It needs a FULL restoration- stripping the varnish, sanding and re-staining, etc. Someone absolutely TRASHED this end table. But I still couldn't resist for $15, and I'm sure you'll see this piece again in a restoration blog post someday. And no, not a drop of paint will be involved!
Thrift Store Home Decor: Art
The floor is filling up with thrift store furniture, as you can imagine! But we still had loads of vertical real estate, aka walls to fill! So, I wanted to show you some of the art that we've secondhand-shopped for over the past year.
First up, this small but delightful vintage painting of a flower market for $7 at a Habitat ReStore.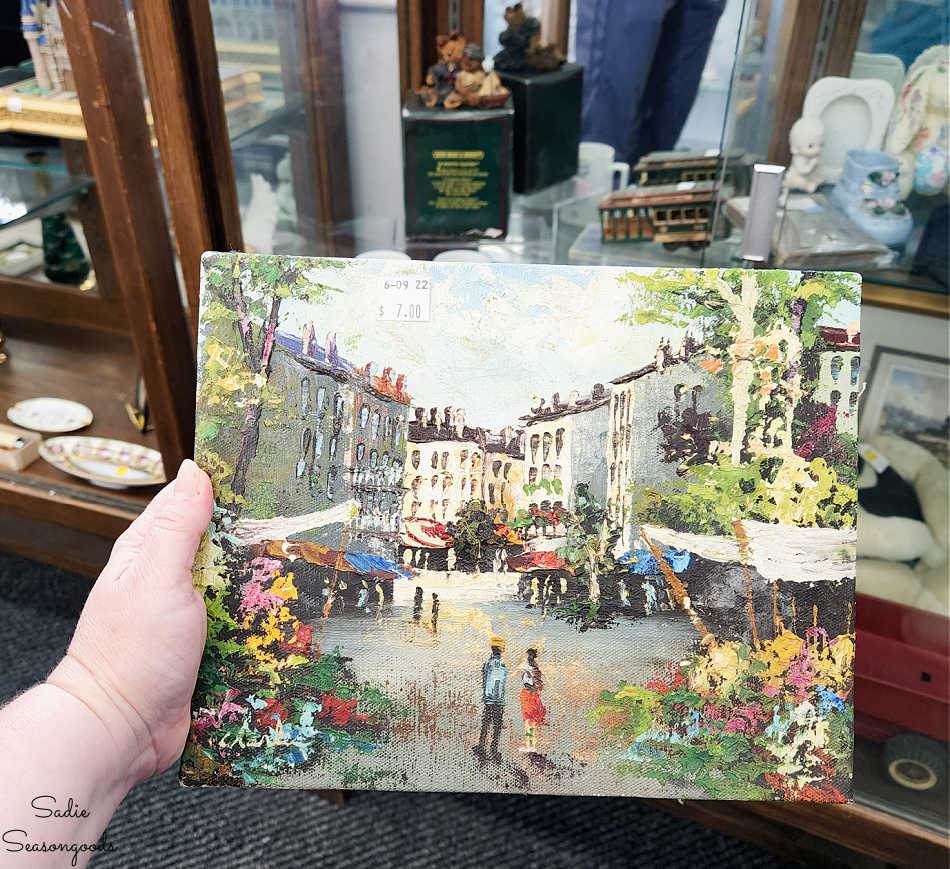 I'm not sure if I'll frame this one or not. I actually thrifted a small wooden easel that fits it quite perfectly.
Perhaps the strangest but most interesting piece of wall decor was this whale board I found at yet another Habitat ReStore! Since I'm technically a marine biologist by degree, this acquisition seems a little less weird…maybe?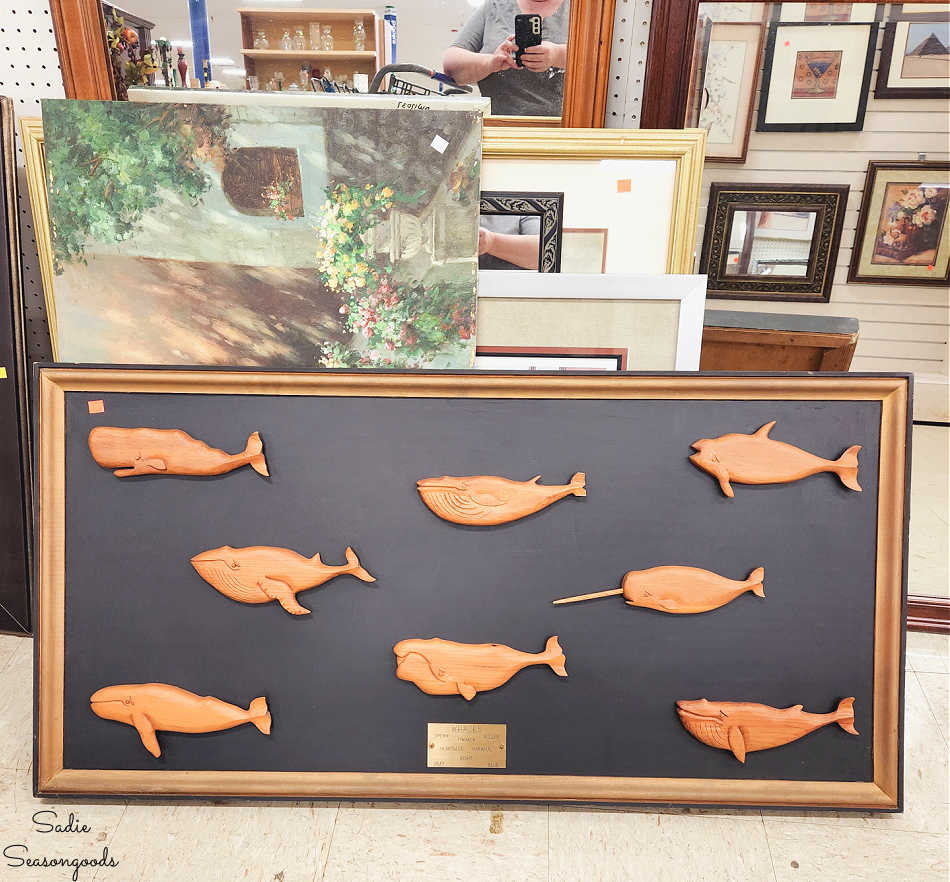 It caught my eye immediately and reminded me of something I'd see in a professor's office. Or hanging on the wall of the Biological Sciences building at FAU where I spent so much time in college. Either way, the whales are beautiful wood carvings and for $25, I couldn't pass it up. And I had to thrift-stalk another shopper who spotted it first and lingered for a long time before finally, FINALLY walking away!
The one art splurge we made was this mid century modern cityscape that we spotted at Vintage Blue in Hickory, NC. We needed a large horizontal painting for the living room to go above the couch.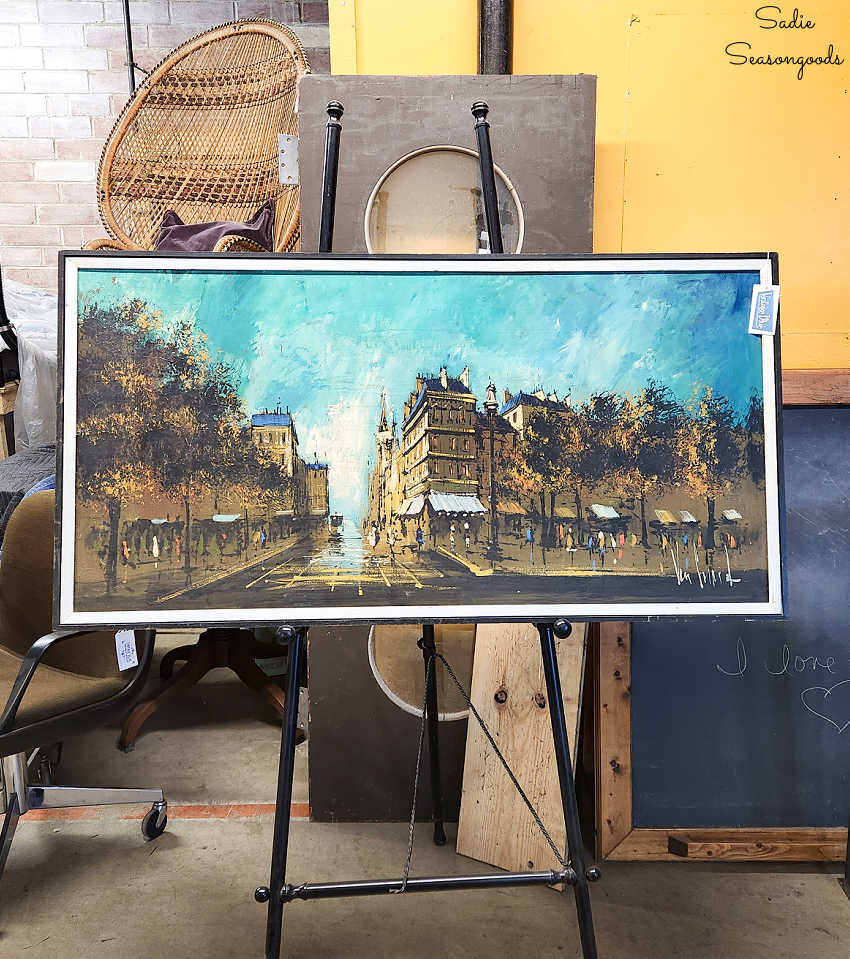 It was $400 but quite large and vivid in color. I do plan to (very, very carefully) re-paint the black frame because it's quite dingy and faded. But, otherwise, it'll go above the grey tufted couch you saw in last year's blog post.
Next up, yet another piece of thrift store art from Habitat ReStore! A vintage painting of Paris for $75 that was once again in beautiful condition.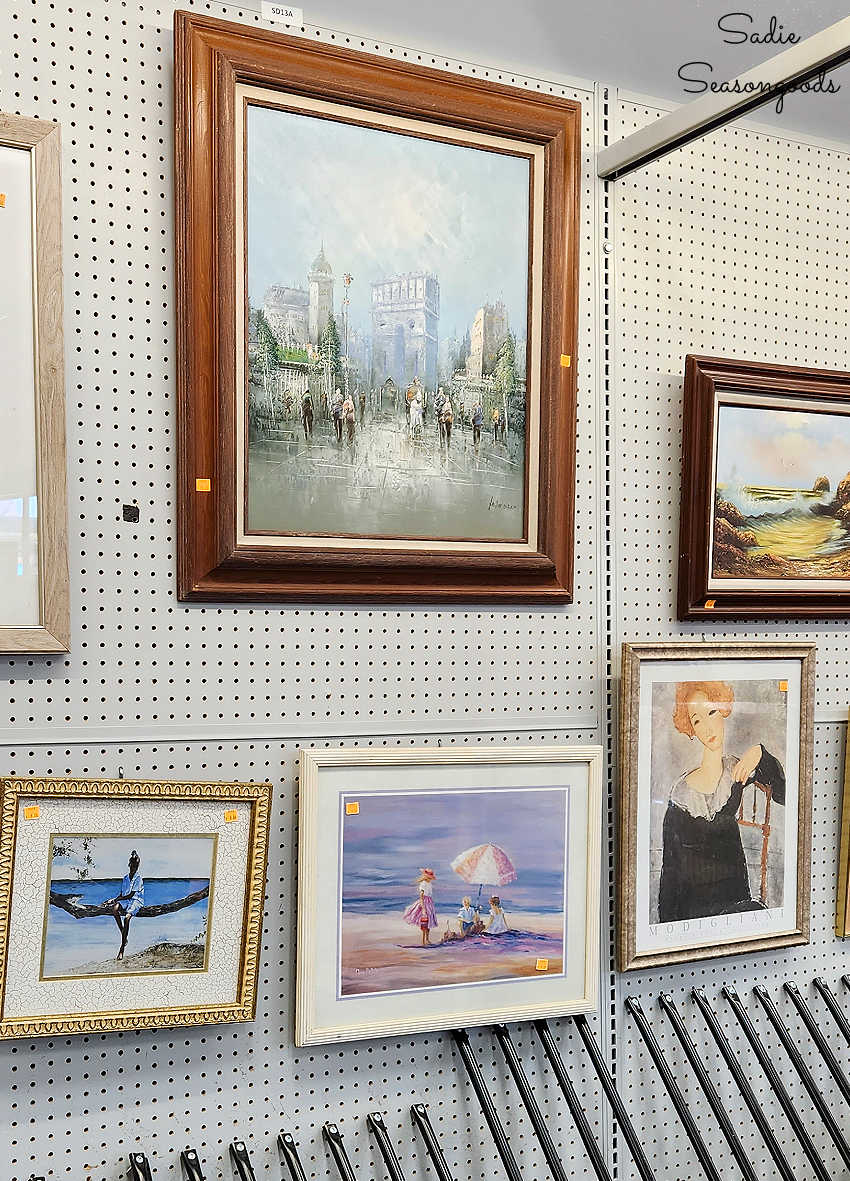 Some of you may consider $75 to be a splurge, which I absolutely can understand. Especially from a thrift store. But I like to think of thrifted art as being priceless if you love it enough.
Speaking of which, the most recent art acquisition was this MASSIVE abstract that I found in- yes, you guessed it- a Habitat ReStore! Standing at 44″ tall and lined in gold velvet, it made quite the statement as soon as I walked in the store.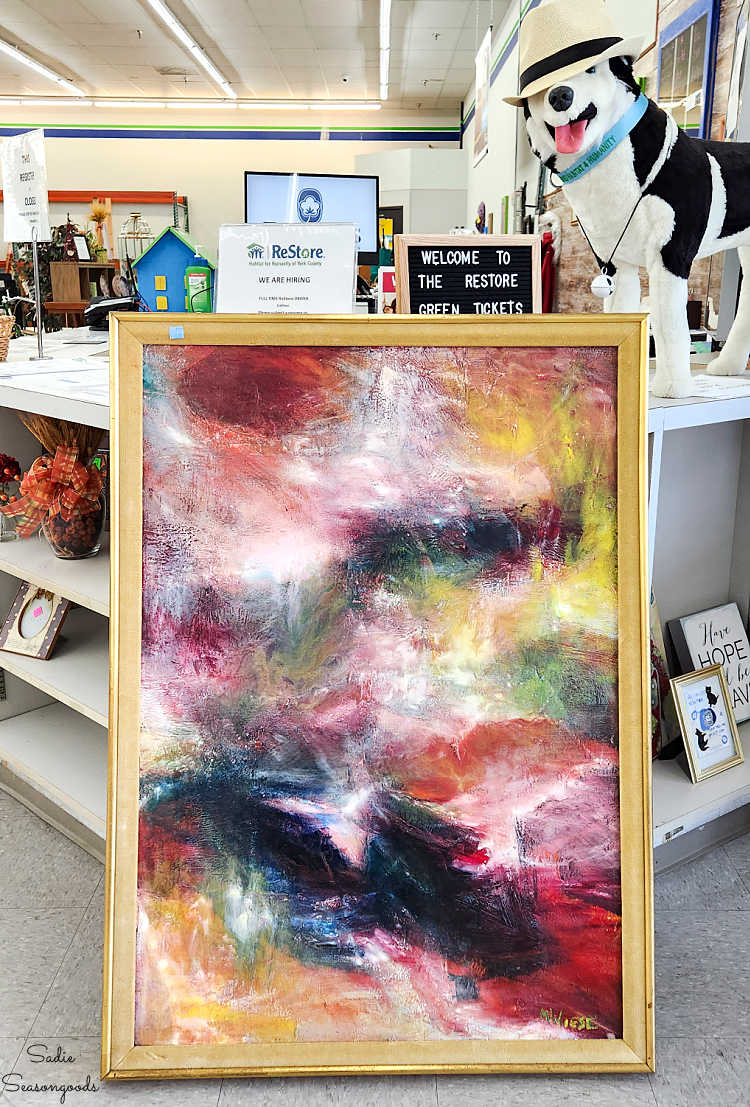 It was $85 but worth every penny, if you ask me. I can't even begin to think about how expensive a piece this size would be if purchased at a gallery- and framed, no less.
More Pieces of Thrift Store Decor
Like before, we acquired a few random pieces here and there that aren't quite furniture or art. Take this plant stand ($40) for instance. I loved it as soon as I saw it, especially with those hairpin legs.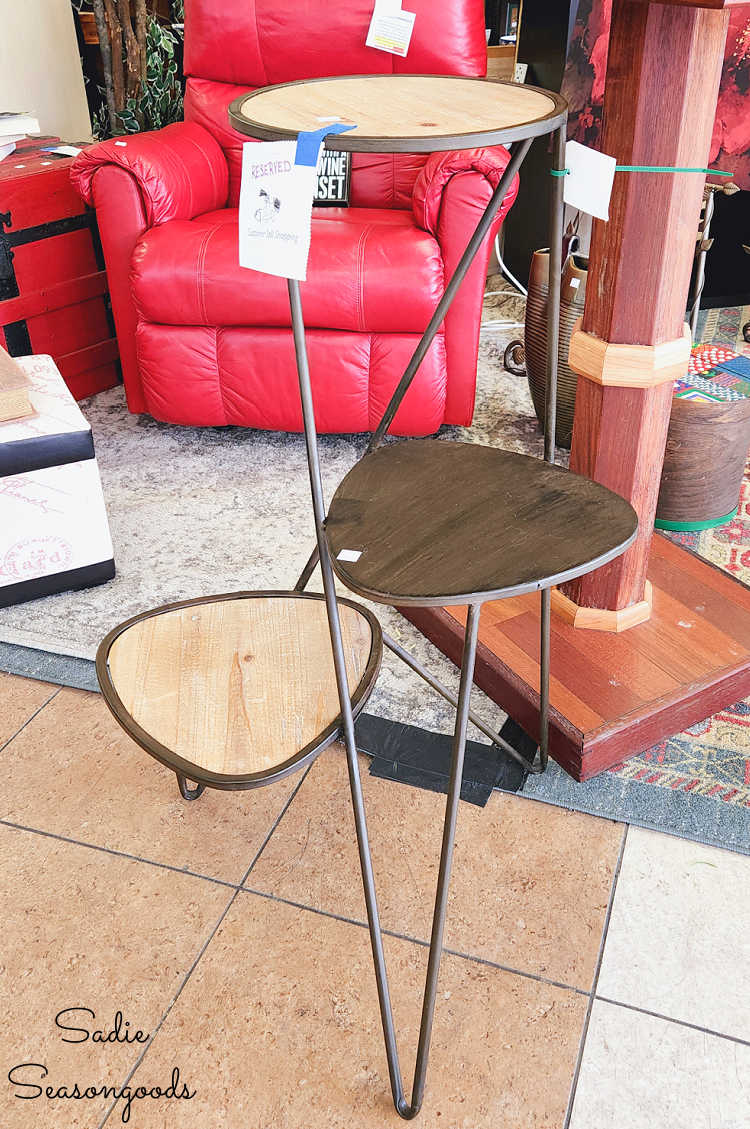 It's not vintage, but secondhand nonetheless (Habitat ReStore- AGAIN!). But I loved how it looked and knew exactly the corner of our house I planned to place it in.
We also spotted this pair of mid-century modern lamps at Marquee in Asheville. They were $179 for the pair which was pretty remarkable given that they both worked! Plus, I loved the combination of walnut wood and ceramic/pottery in the hourglass figure that they sported.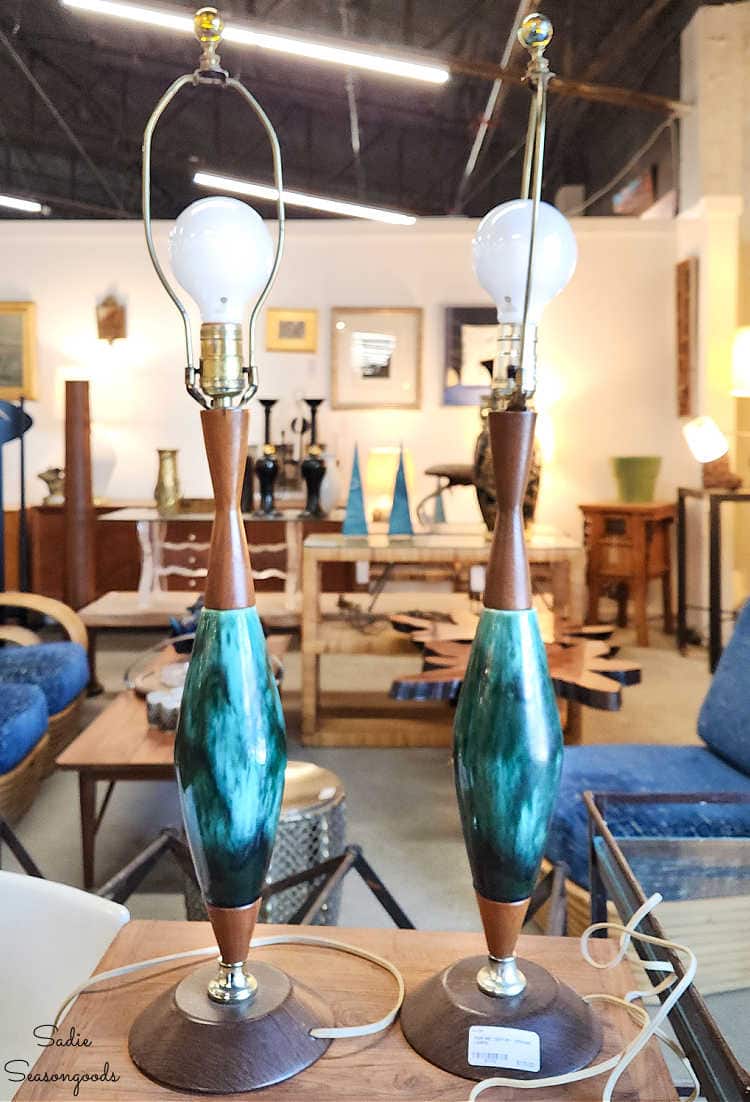 Truth be told, these will ultimately go in our bedroom once we transition that over to mid-century modern style. But we haven't bought a single dresser or bedside table yet and are using our original vintage cottage-style pieces for now.
Ok, this next find is definitely NOT the cutest vintage radio out there- not even close! But, I found him at a local Value Village here in Charlotte and couldn't resist.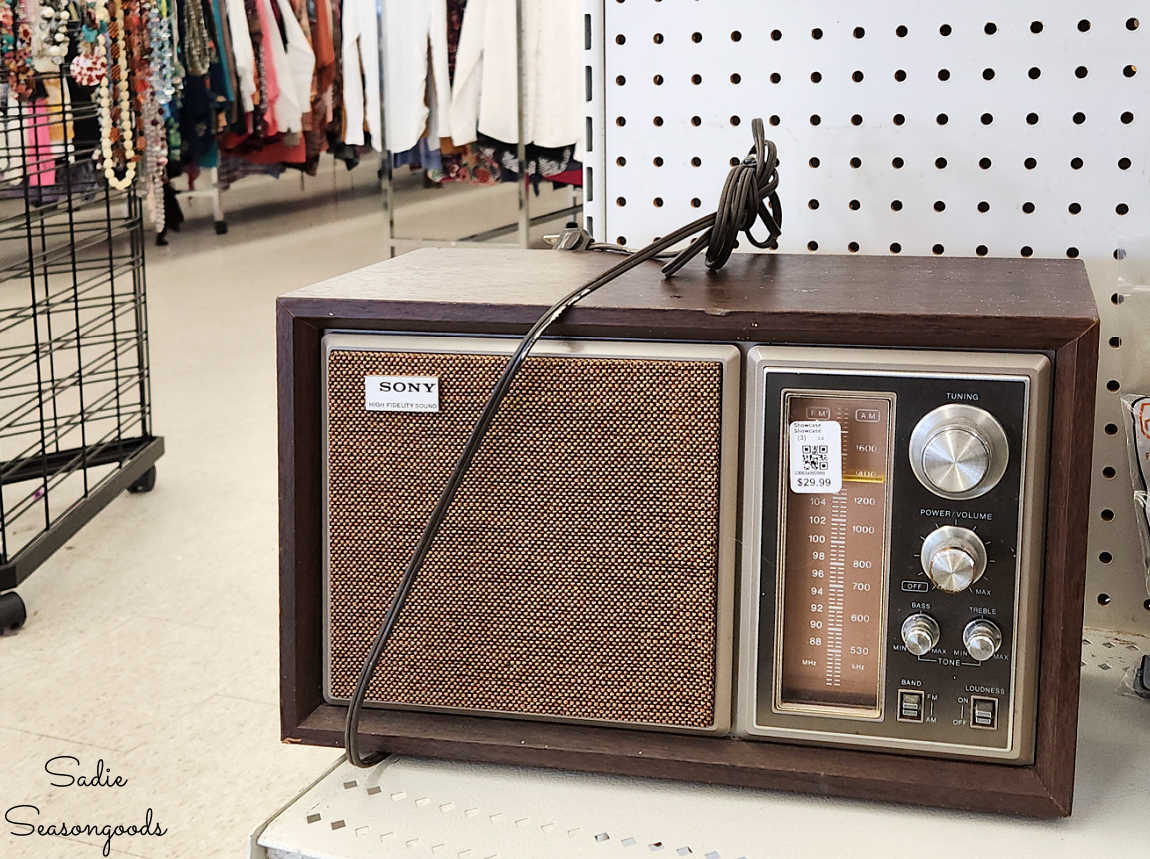 As you can see, he was $30 and worked like a charm. A little crackle when you first turn him on, but there's almost a nostalgic feel to that. And his veneer is freckled with tiny white paint drops. So, I can imagine him in a garage or workshop somewhere, pumping out tunes some 45 years ago. I don't know why that makes me smile, but it does!
Now, this wasn't on my thrifting bucket list but I couldn't pass him up for $40. A brass peacock fireplace screen- vintage/retro, but not super old, I suspect.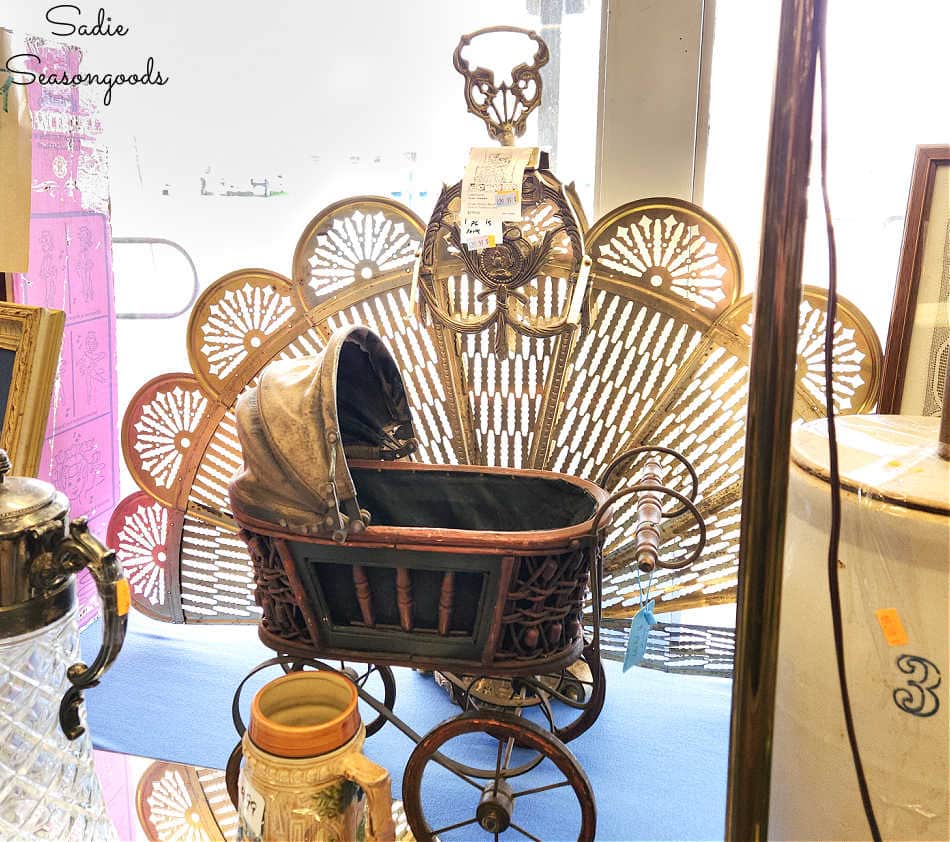 One of his brass "feathers" is a little bent and janky, but I can probably jury-rig it with some hidden brass wire and you'll never know. Now, you may recall this brass candleholder screen that I've been using on the hearth so far. So, now I've got a couple of options that I can change out through the year.
Ok, this one is NOT decor, but rather a testament to thrifting. My husband has decided that he wants to learn how to play the piano and was talking about buying a keyboard. Unbelievably, the local Assistance League thrift shop sent out their weekly newsletter that featured this Yamaha digital piano.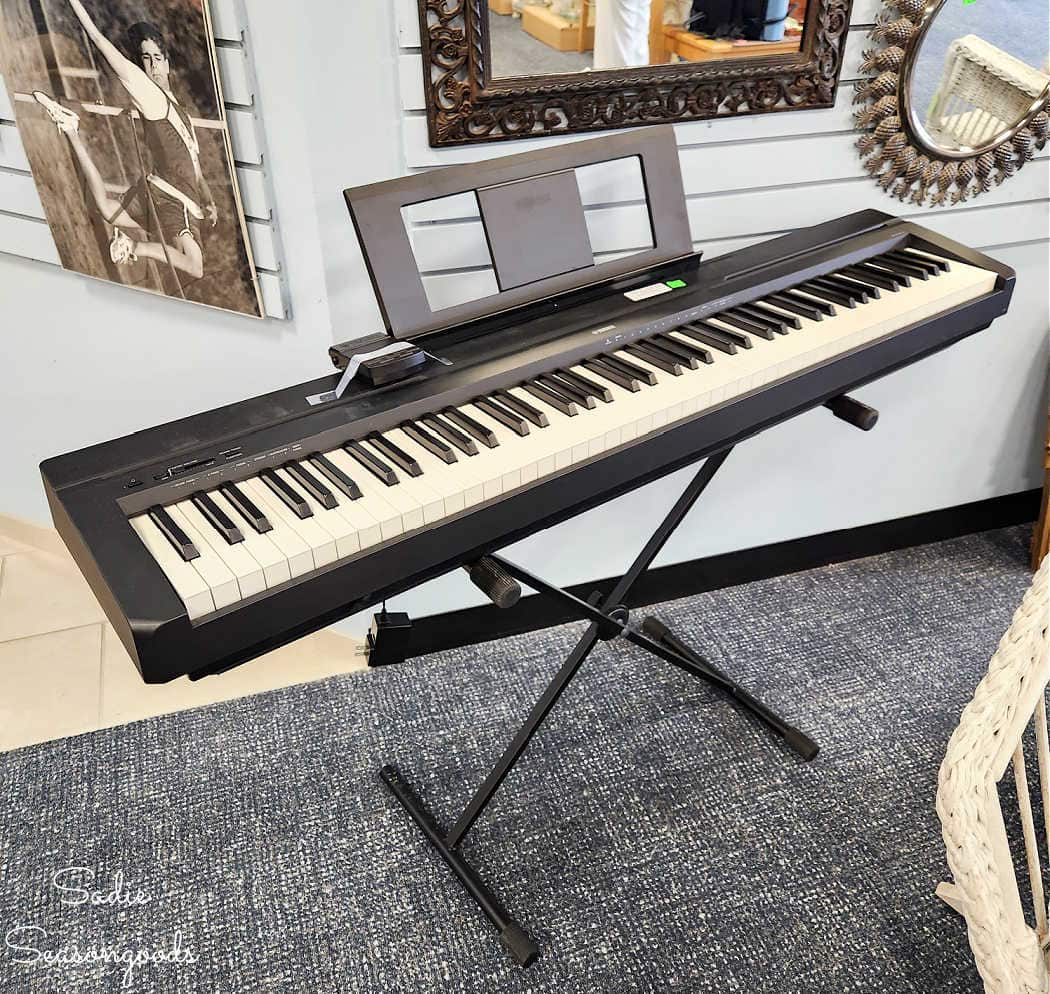 My husband couldn't believe it, either. So I went to the shop the next day and bought it for him! It was $225 which is less than half price if purchased new- and it came with the stand. And as much as I adore my husband, his interest in hobbies tends to be fleeting. So, I REALLY didn't want us to spend money on a new keyboard if his attention wanes in a few months…
And finally, all the little tchotchkes and decorative pieces that I've thrifted over the past year! These will be scattered around the house- in the china cabinet, or in the new wall unit, on the mantel, and on end tables.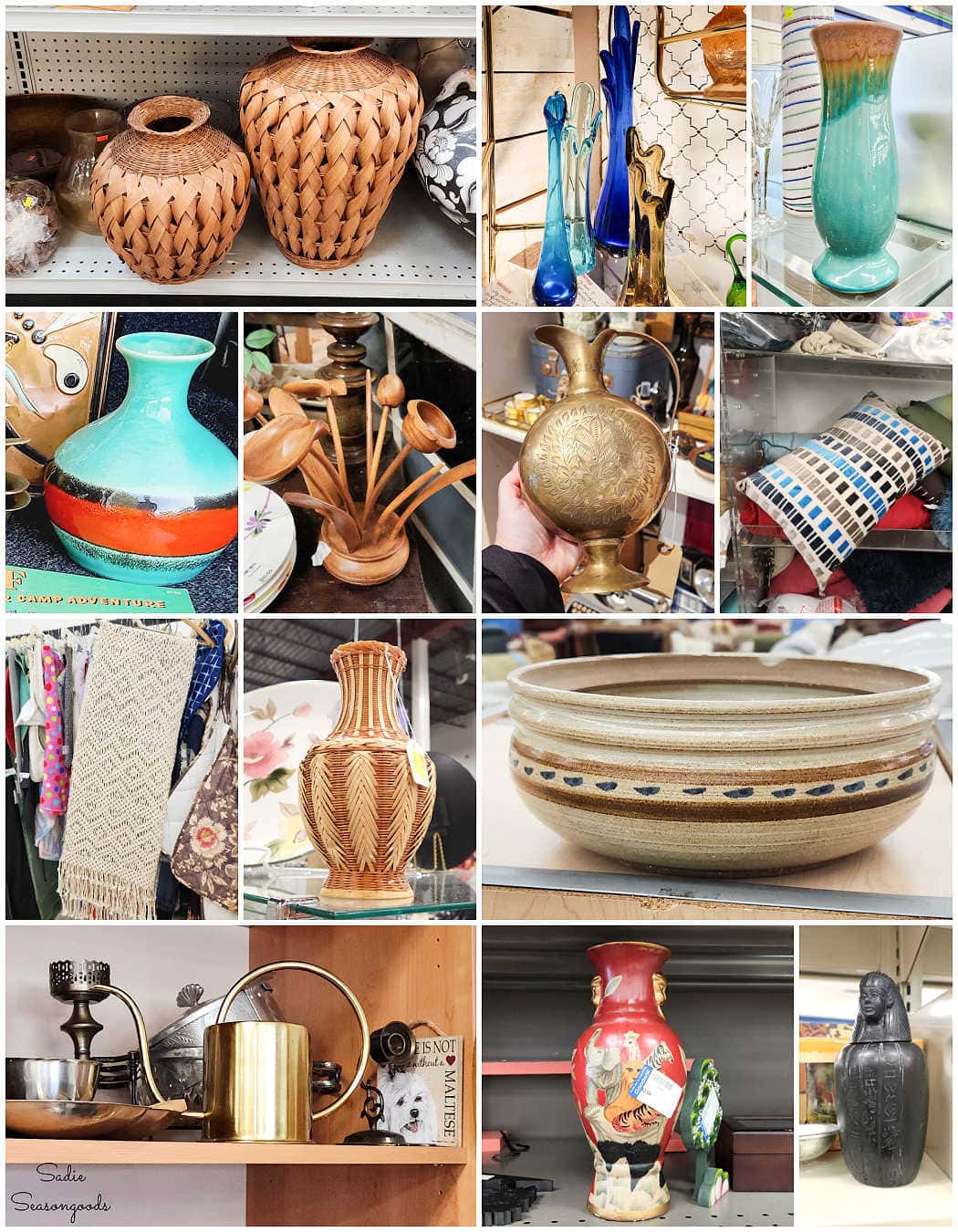 Most of them came from thrift stores and only cost a few dollars, but there are a handful exceptions. The cobalt blue swung vase ($55) and the wooden tropical plant ($25) came from antiques stores. And a couple of pieces (aqua/orange vase and brass standing vase) came from my friend, Malia, who runs a fabulous Etsy shop.
Some of them (the large braided baskets; the brass watering can; and the stone canopic jar) came from my thrifting adventures in Fort Myers, Fl! So, they traveled home with me after my extended visit while my father was in the hospital.
Thrift Store Home Decor
Now, I know what your next question is. "When can we see all of these pieces in your home?". And all I can say is, when we're done and don't need to buy anything else, I'll start taking pretty pictures!
But there are still empty spaces on the walls and a couple of missing furniture pieces in the main part of the house. But we're REALLY close to finishing the hall, dining room, and living room. Those are the spaces where everything in this post and last year's post are showcased, more or less.
But you *have* gotten glimpses through my project tutorial posts, even if you didn't realize it at the time. For instance, the radio was showcased in this blog post where I made mid-century modern art with wallpaper.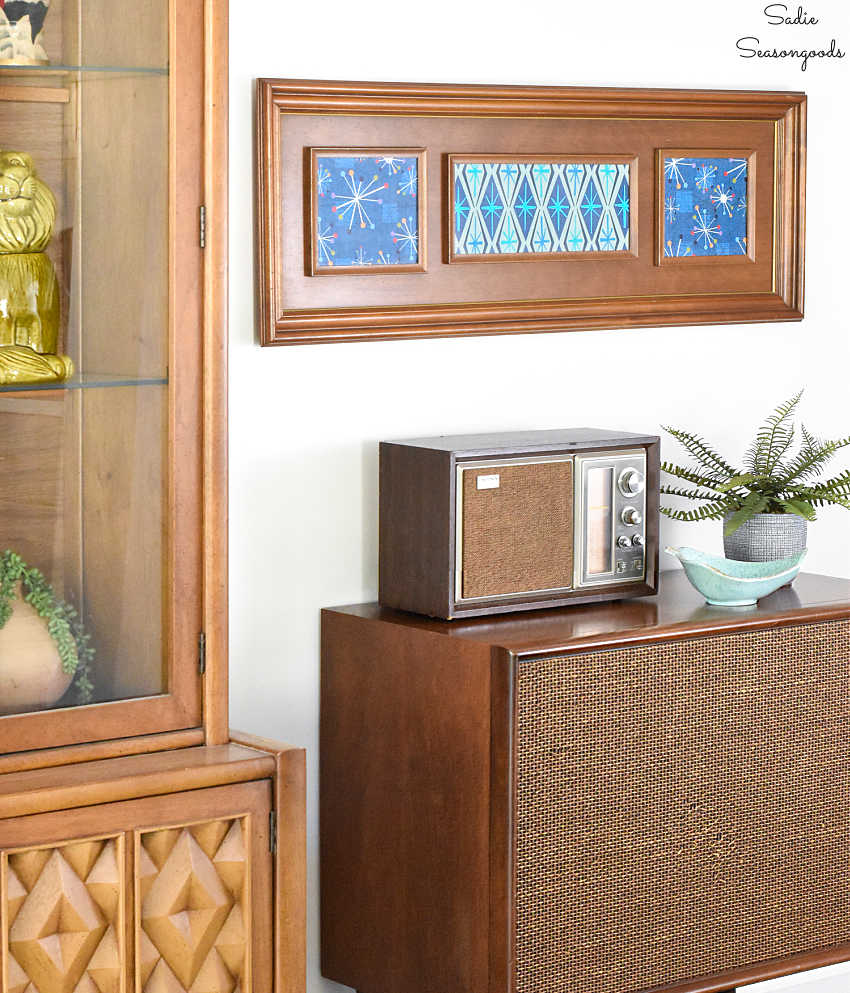 The Lane bowtie table was included in this plant cloche project post, but not showcased, per se. Definitely not something you would have objectively noticed!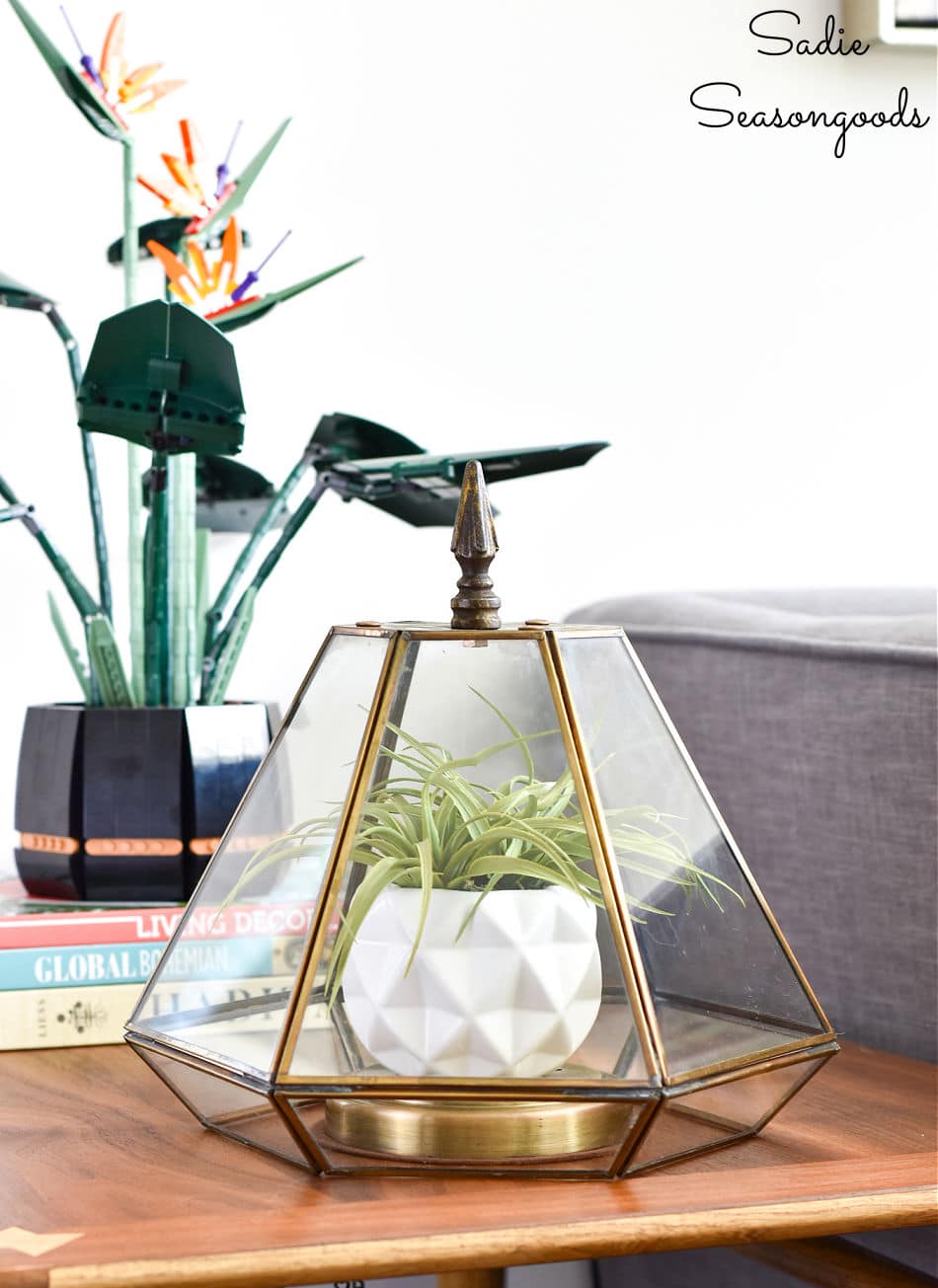 And the plant stand on hairpin legs was included in this post about framing a vintage painting. THAT was the corner of the house I had in mind when we thrifted it!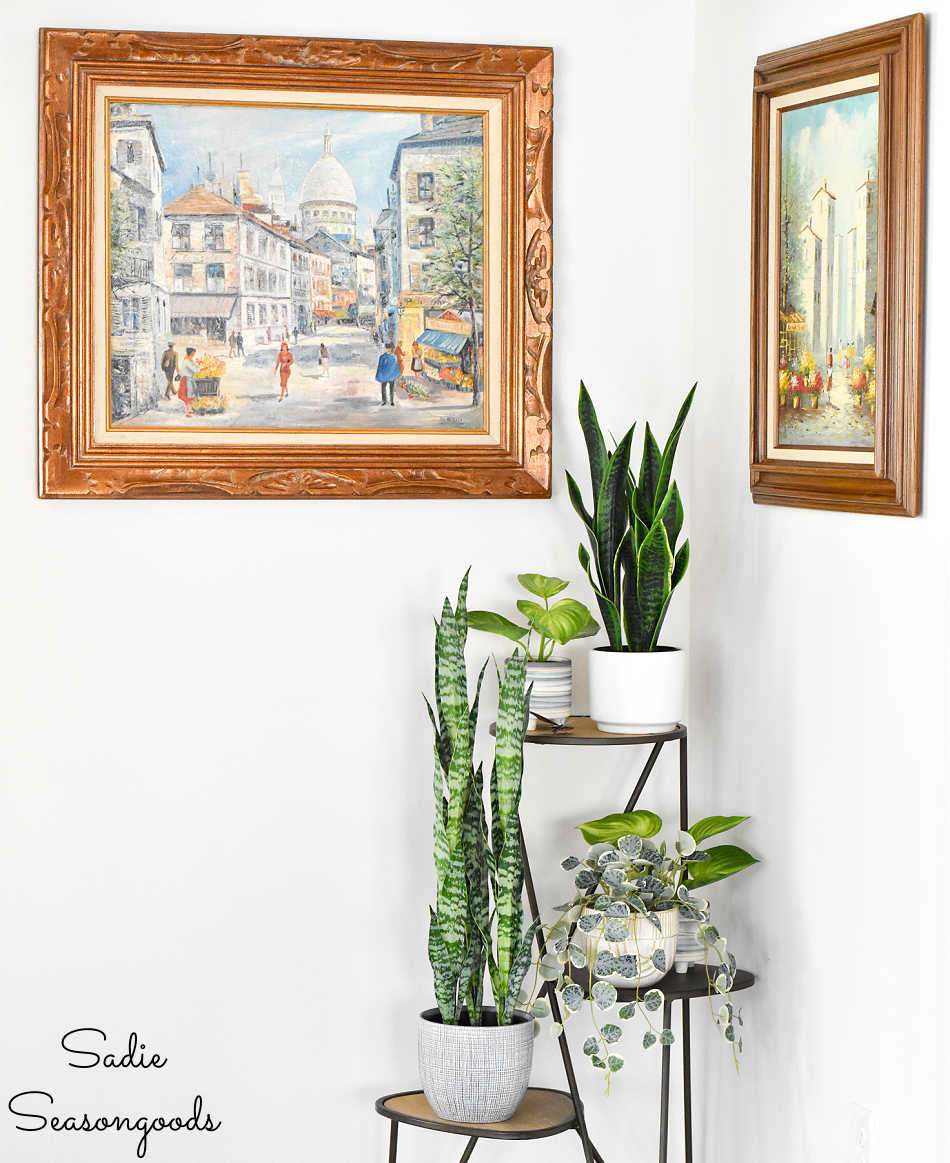 But, yes, I'll take far more photos of the house when I'm confident we're nearly done. Technically, I don't have the right kind of camera lens for this kind of photography- so I'll have to budget for that! But, your patience is appreciated while we thrift our way towards the decorating end, so to speak!
I hope you've enjoyed this update on our thrift store home decor! It has been quite the secondhand journey to fill this house, and we're not done yet. But it's come together in such a fun and quirky way- and I love telling the stories about each piece whenever some visits. That's the beauty of thrifting for your home- every piece is unique, unexpected, and comes with a tale all its own.
Thrift on!
S
Want to be notified when I publish my next upcycling project tutorial?
Subscribe to Blog via Email
Join me on Social Media:

PIN ME!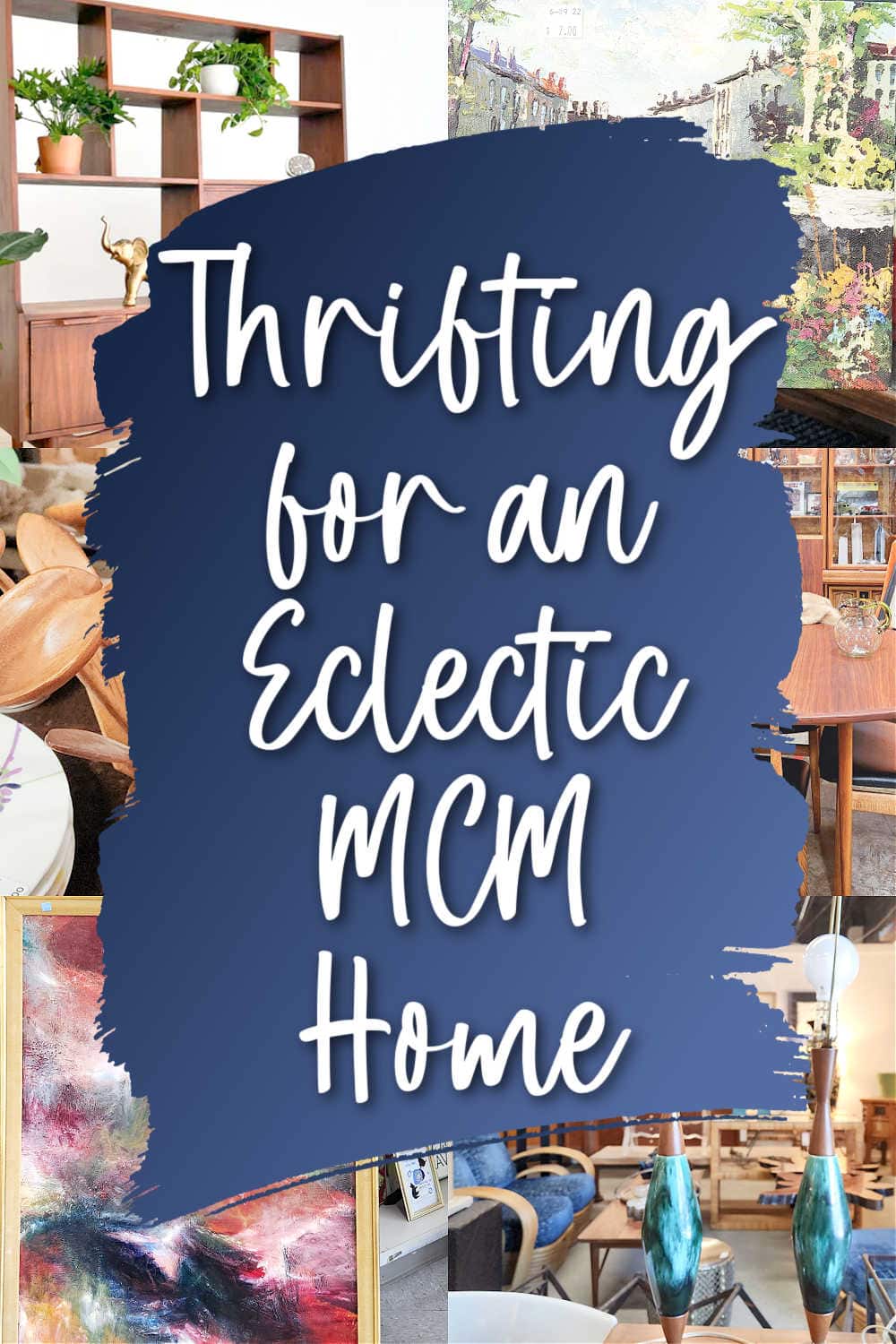 Sarah Ramberg is the owner of Sadie Seasongoods, a website that celebrates all things secondhand. From upcycling ideas and thrifted decor to vintage-centric travel itineraries, Sadie Seasongoods is a one-stop shop for anyone who loves thrifting and approachable repurposing ideas. Sarah is also the author of "Crafting with Flannel" and has been featured in numerous media outlets and magazines.