Year after year, the same thing seems to happen: I find something I want to upcycle for Christmas (such as this wooden sleigh, for instance), but then December is gone in the blink of an eye. And I'm either going to have to wait another year, or I use it for January decorating instead.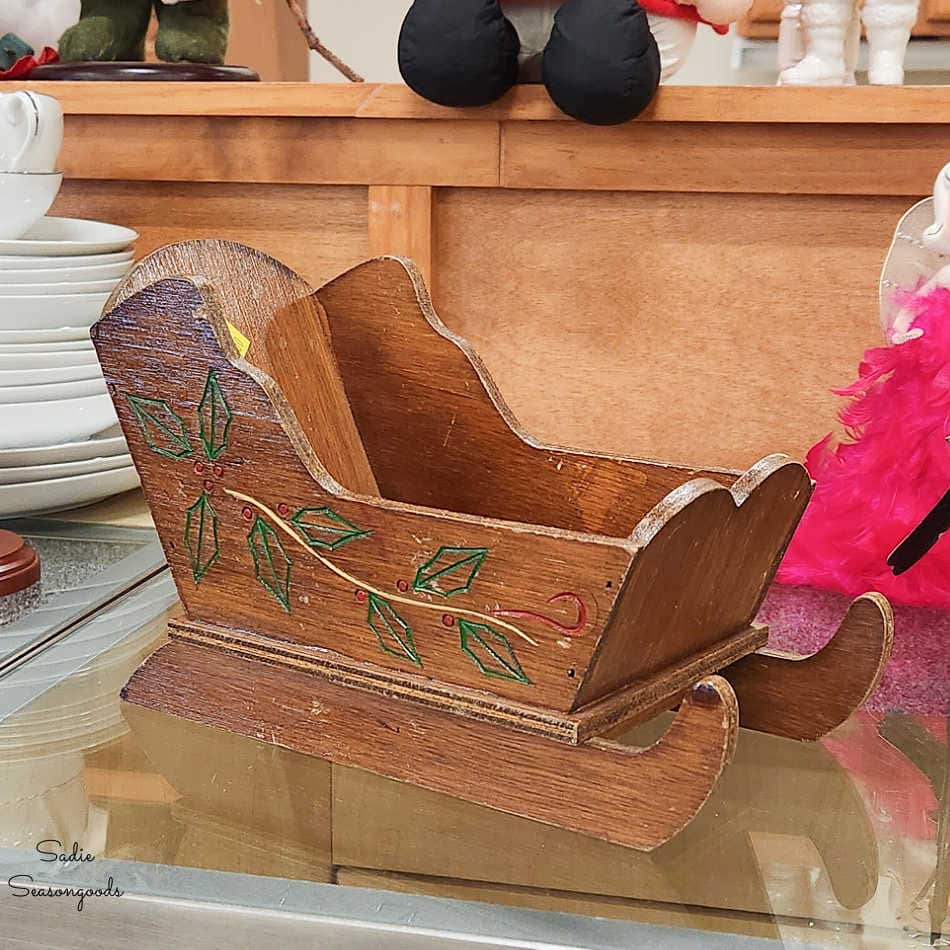 It happened with this pine tree plaque, remember? I was all set to turn it into something Christmas-y, but ran out of time and created a winter sign instead.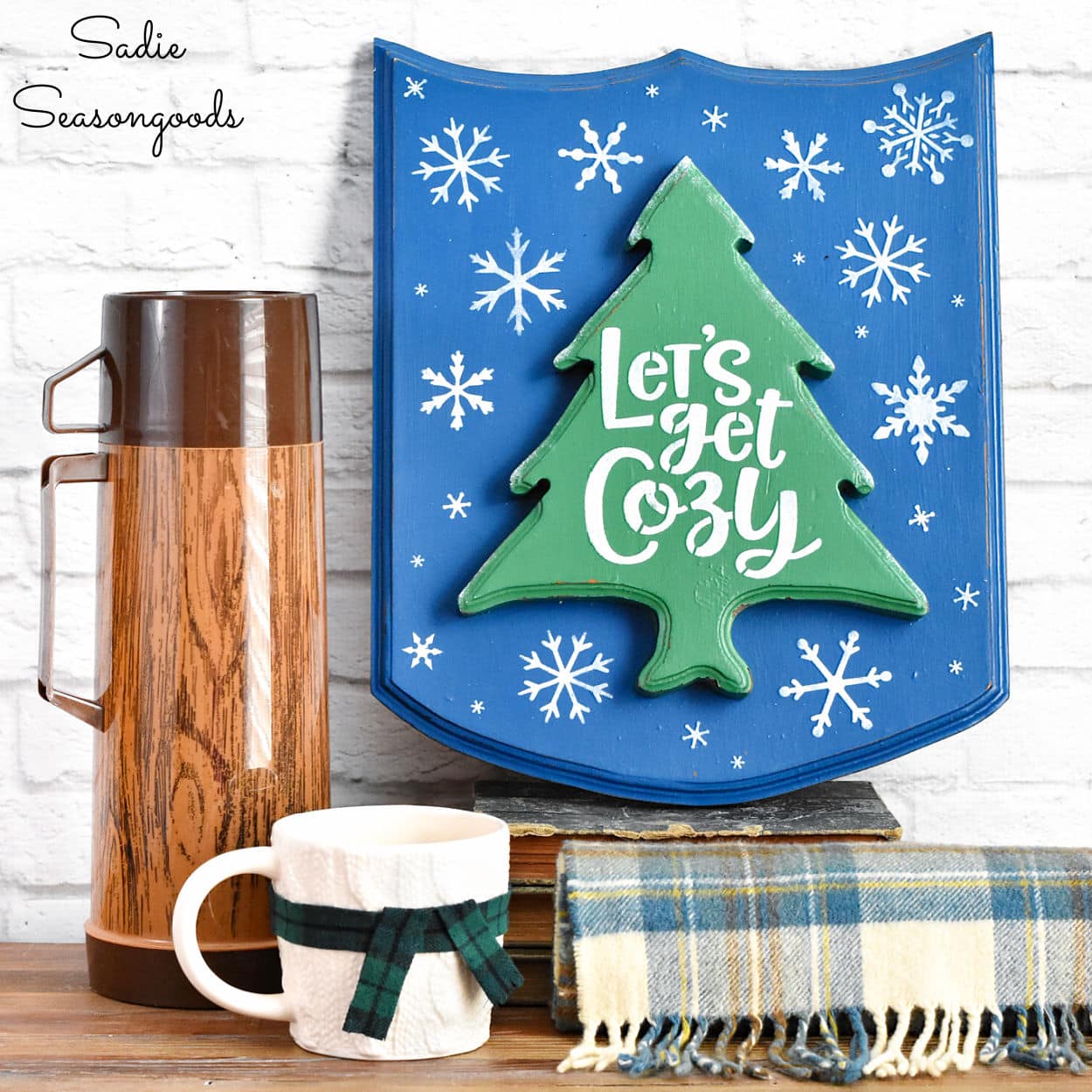 Anyway, I find myself in the same crafting predicament once again! But, I'm going to use it as an opportunity to make some January decorations instead, which I don't have much of.
Maybe it'll work out- maybe it won't. But it doesn't hurt to try, does it? So, I put my winter decor-thinking cap on and got to work!
This post contains affiliate links for your crafting convenience. As an Amazon Affiliate, I earn from qualifying purchases. All blue, bold, and underlined text is a clickable link, either to a product or to a related post.
De-Christmasing a Wooden Sleigh
First things first, I needed to de-Christmas-ify the wooden sleigh. Not that I hated the traditional pops of red and green, but the entire sleigh was pretty scuffed up.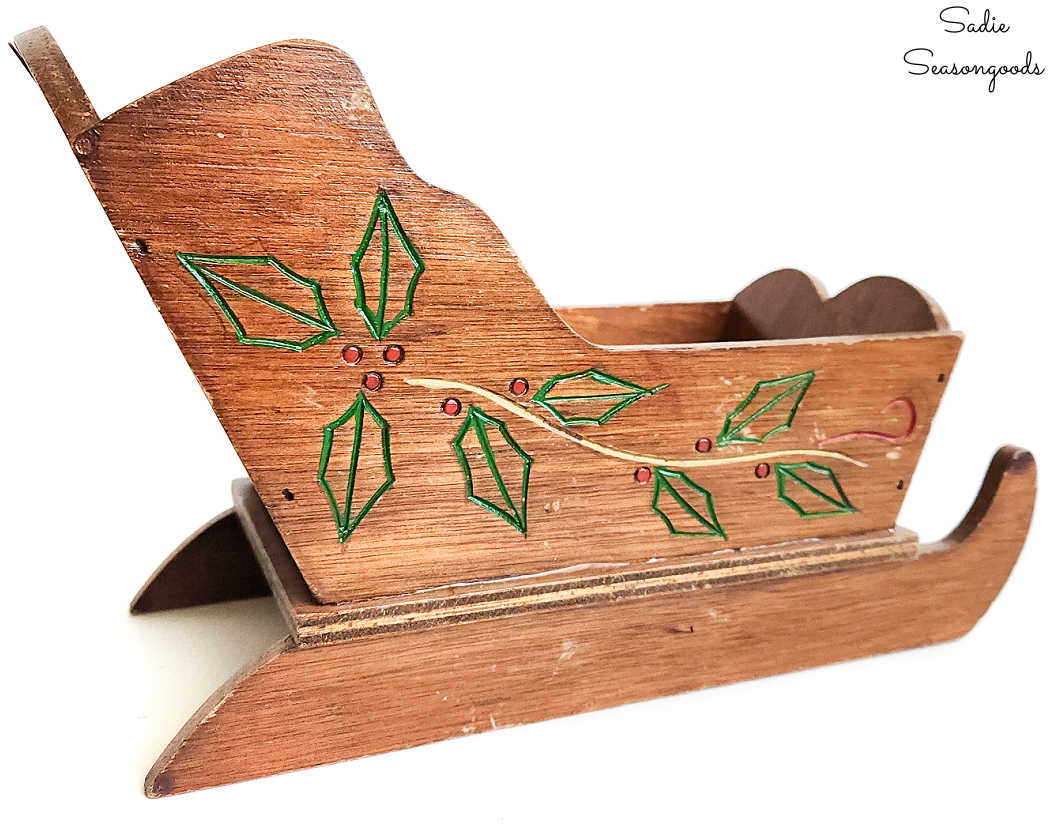 It was constructed from thin plywood, which I could tell from the weight (or rather, lack thereof).
So, I took that as a sign that making it over in wintery colors was fair game. And I selected a dark blue spray paint to do just that.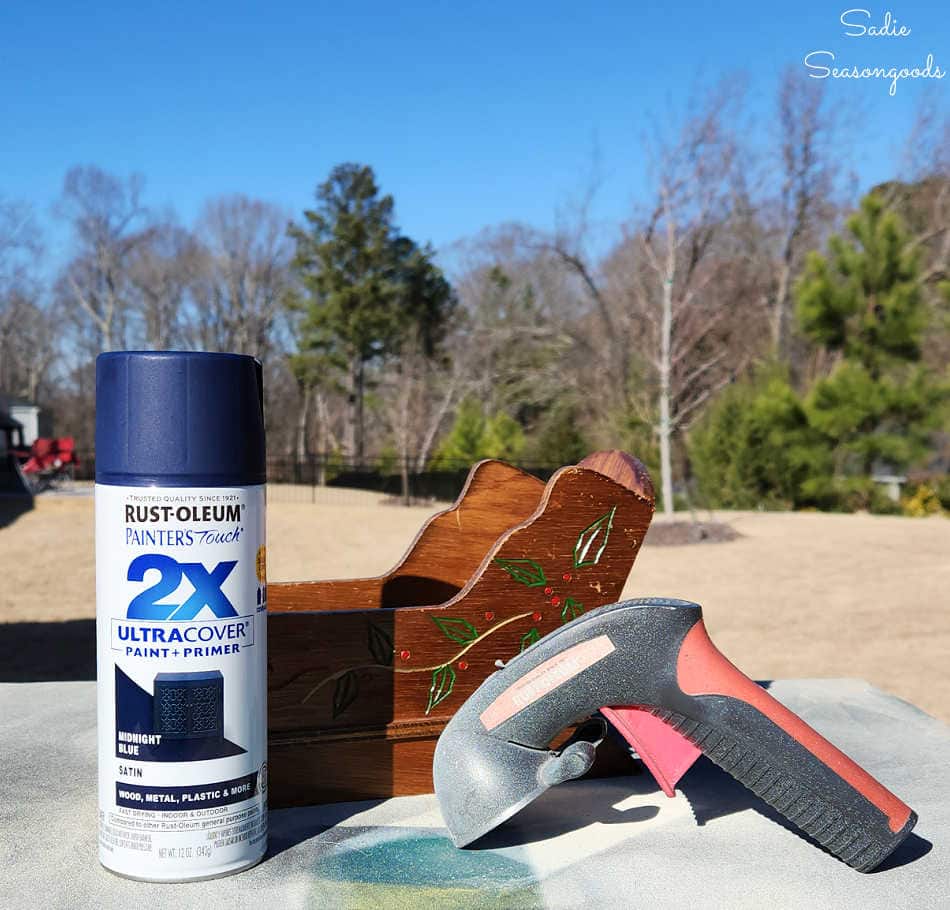 Once that dried, I grabbed some metallic paint pens to tease out the holly carvings on the sides of the sleigh.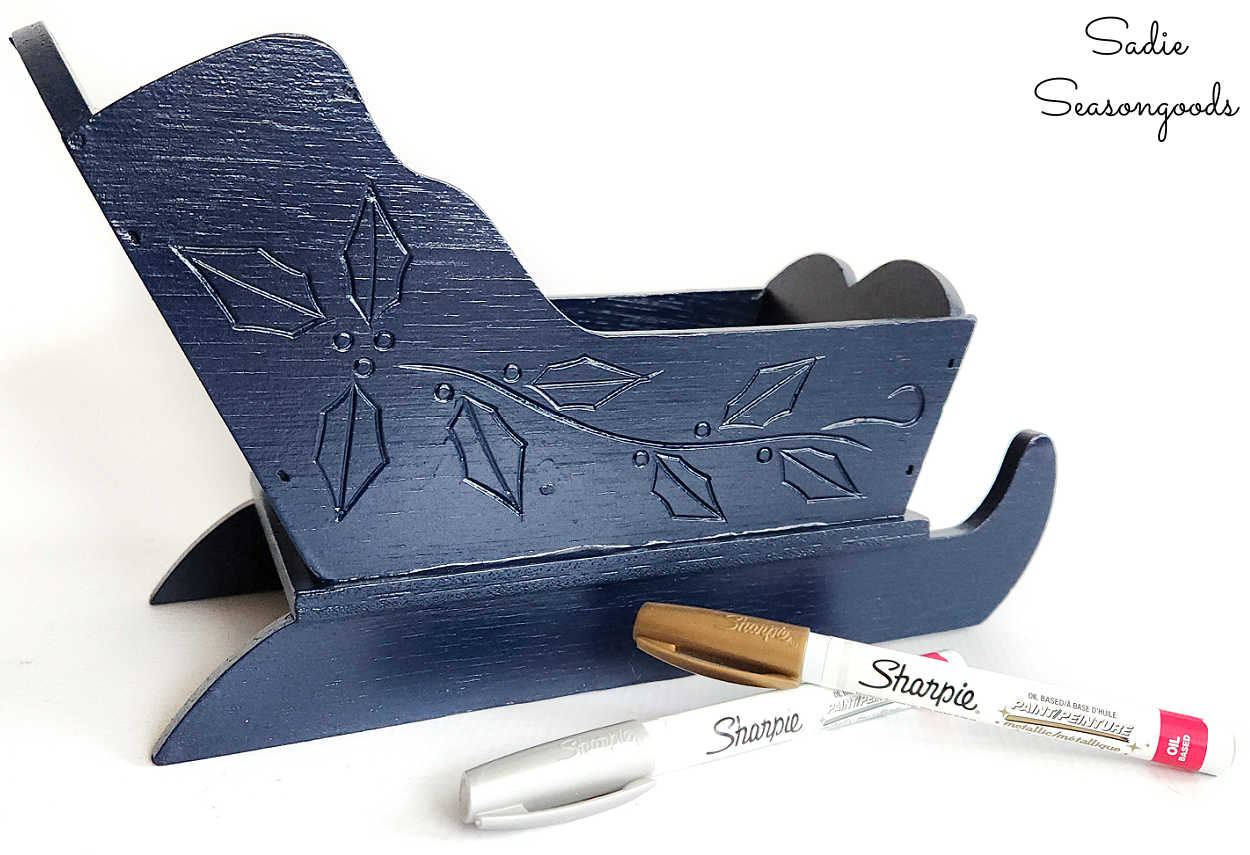 I already had a gold paint pen on hand from this recent Christmas project. But I purchased the silver paint pen specifically for this project.
And, as it turned out, I really liked how the silver looked against the dark blue. So, I used the silver paint pen to trace inside the carvings, which worked out really well!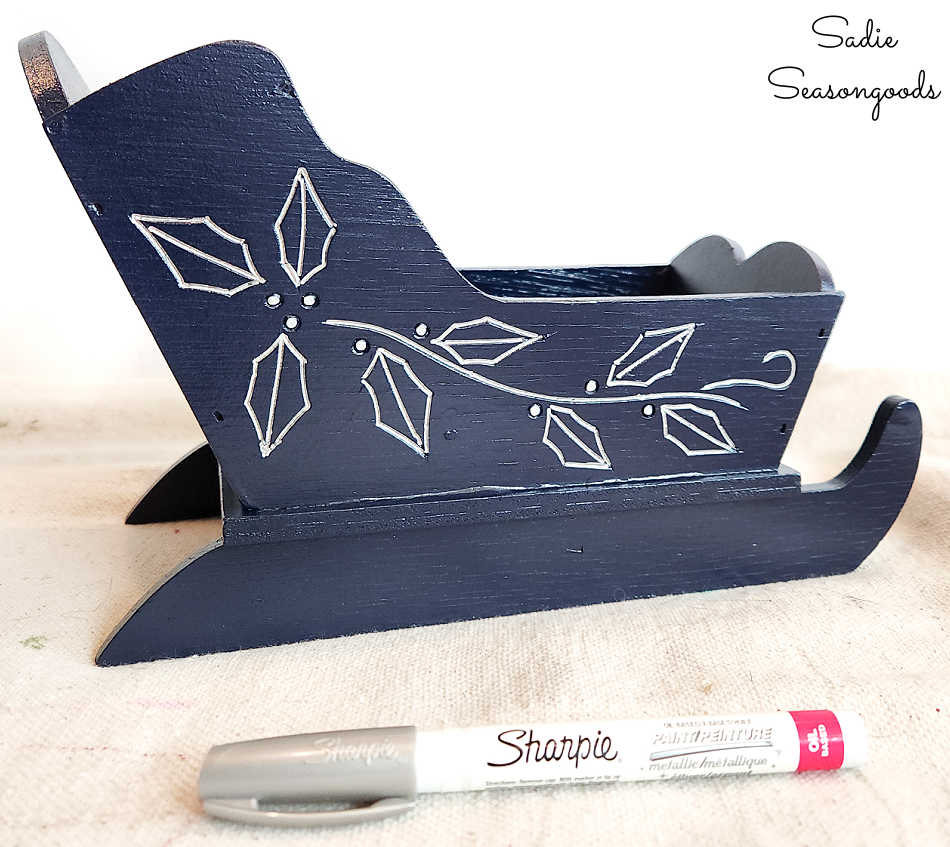 Next up, filling the wooden sleigh with all things winter!
Winter Greenery and Snow-Covered Pine Cones
With the wooden sleigh upcycled and ready to be filled, I dug through my stash of small pine cones for a little embellishment.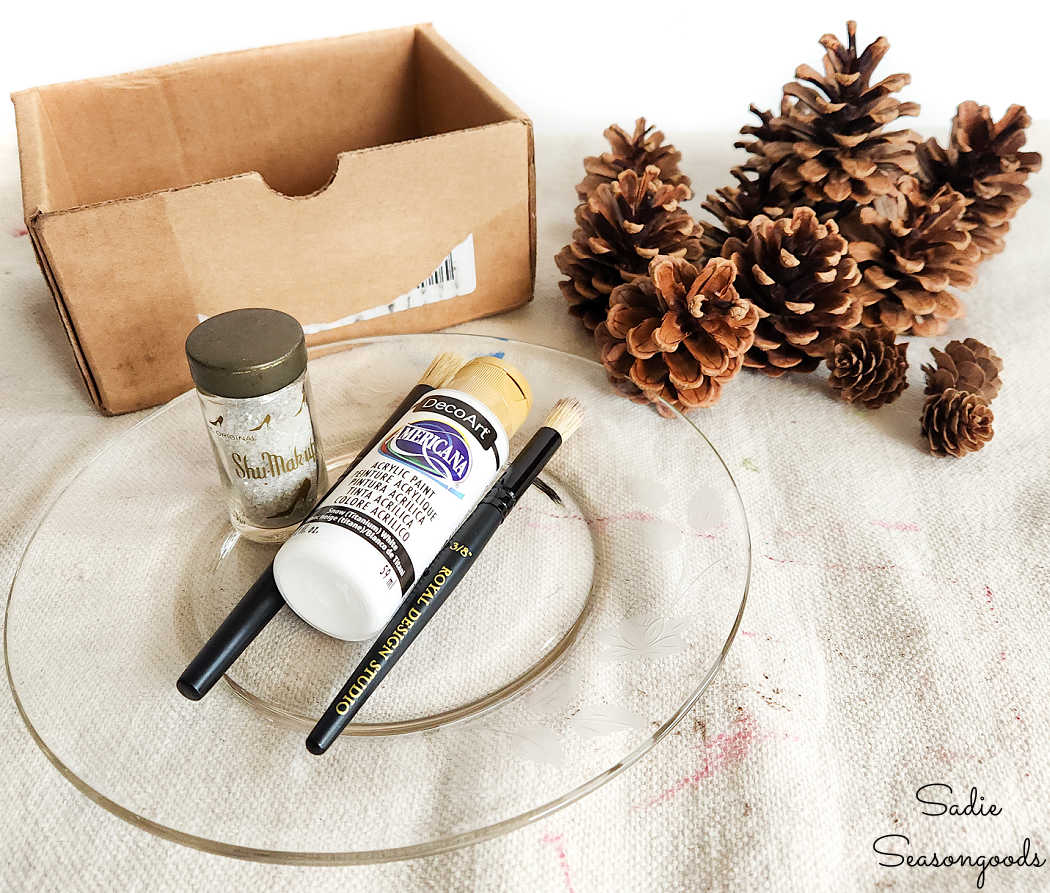 Once upon a time, I'd noticed lots of pine trees (and subsequently, cones) next to small shopping center where I'd been thrifting at. So, I filled up a small bag of pine cones before I left. Was it stealing? Or was I doing the landscaper a favor? Let's go with the latter…
Anyway, I also grabbed some white craft paint, a couple of small stencil brushes, and some shimmery glitter.
True, I usually avoid glitter and rarely use it on my projects. But I couldn't help myself- shimmering snow is one of my favorite things to look at.
First, I stencil-brushed white paint on the tips of a pre-baked* pine cone.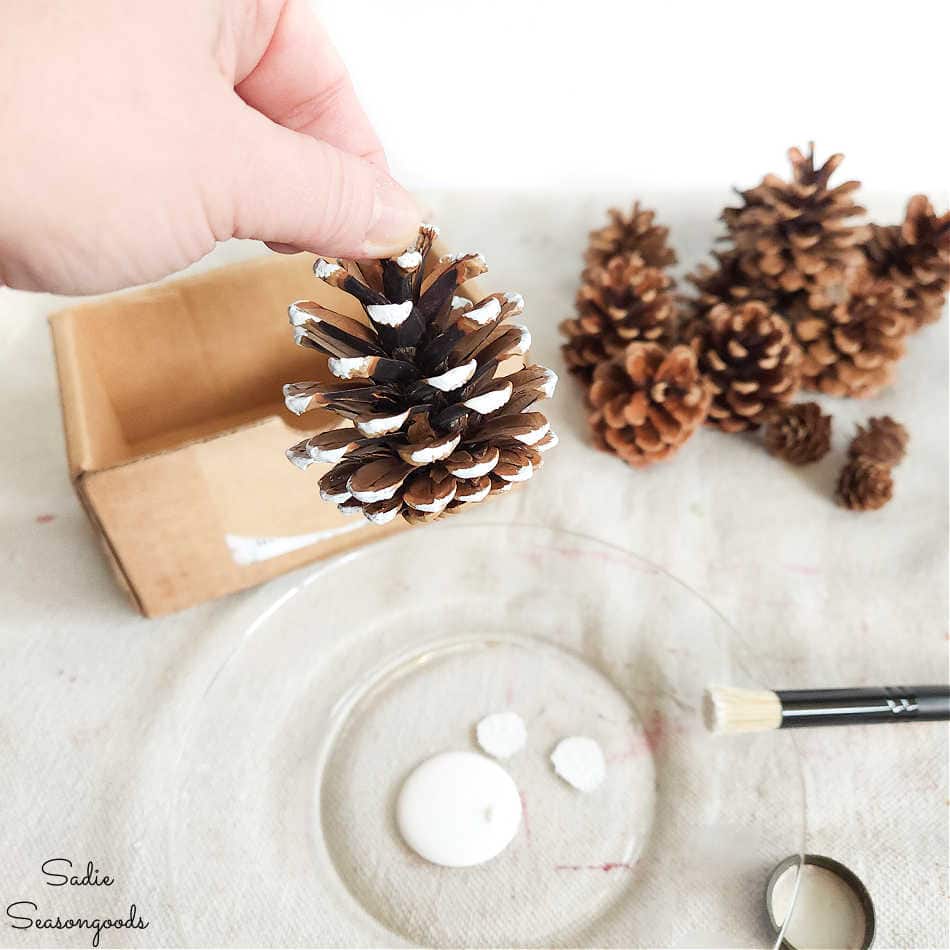 Then, while the paint was still wet, I held the pine cone by its stem over a small box and drizzled glitter over it. After dumping out as much glitter as I could from the nooks and crannies of the cone, I set it down to dry (and dabbed white paint on the stem I'd been holding).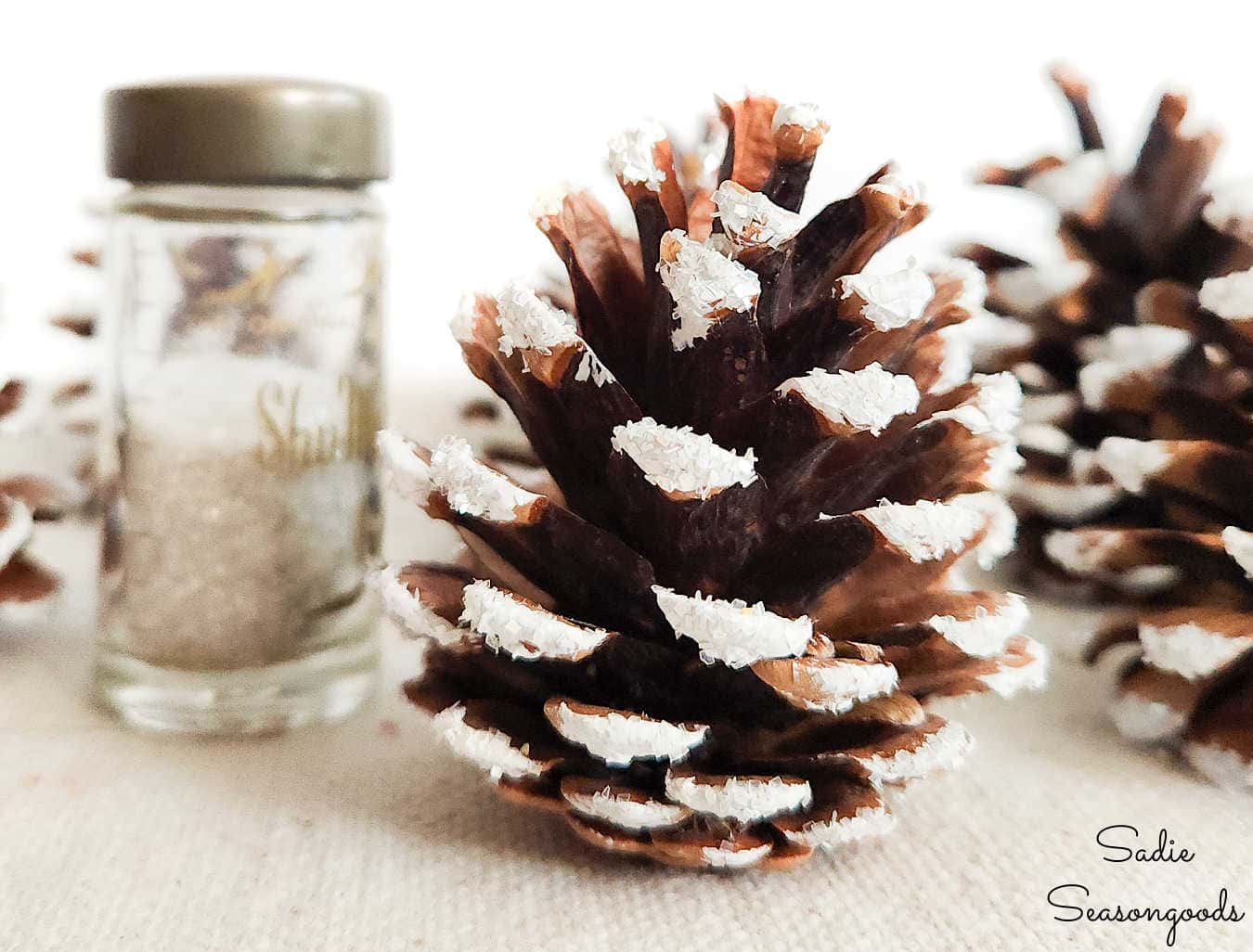 Finally, I layered all of my snow-covered pine cones and a touch of winter greenery (from Michaels) into the wooden sleigh!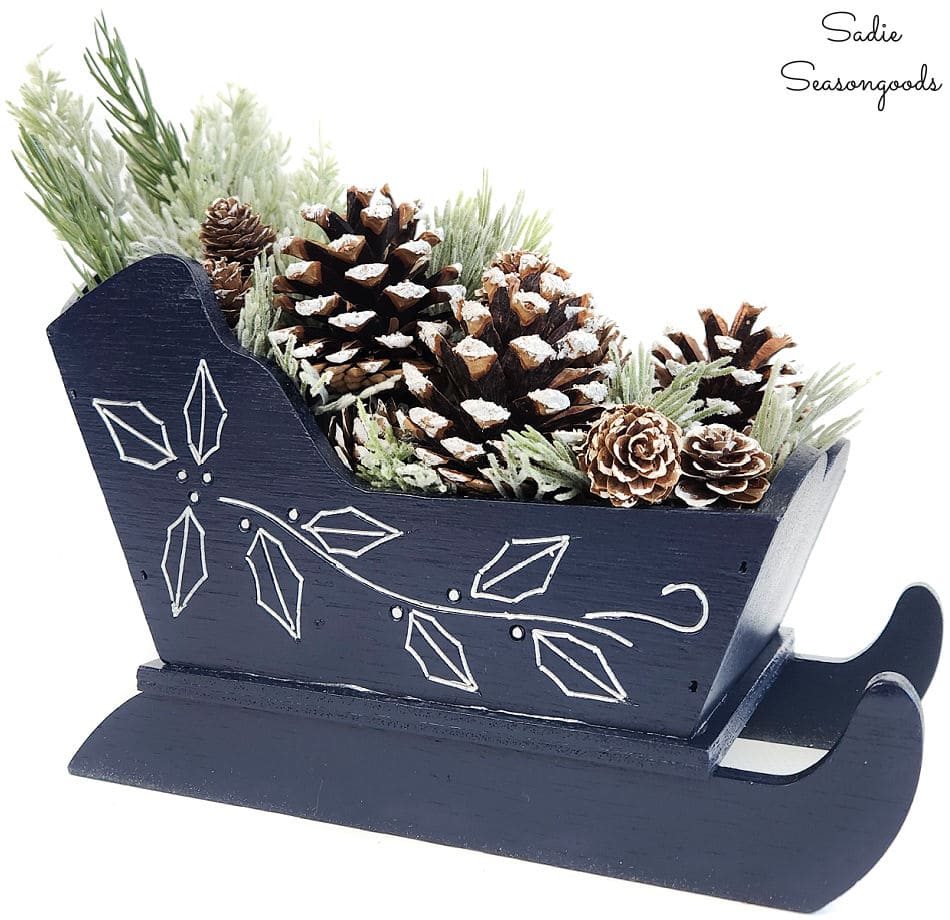 Wooden Sleigh for Winter Decor
And with that, I had a sweet little winter centerpiece for our coffee table. What do you think- is it still too Christmasy (being a sleigh and all)?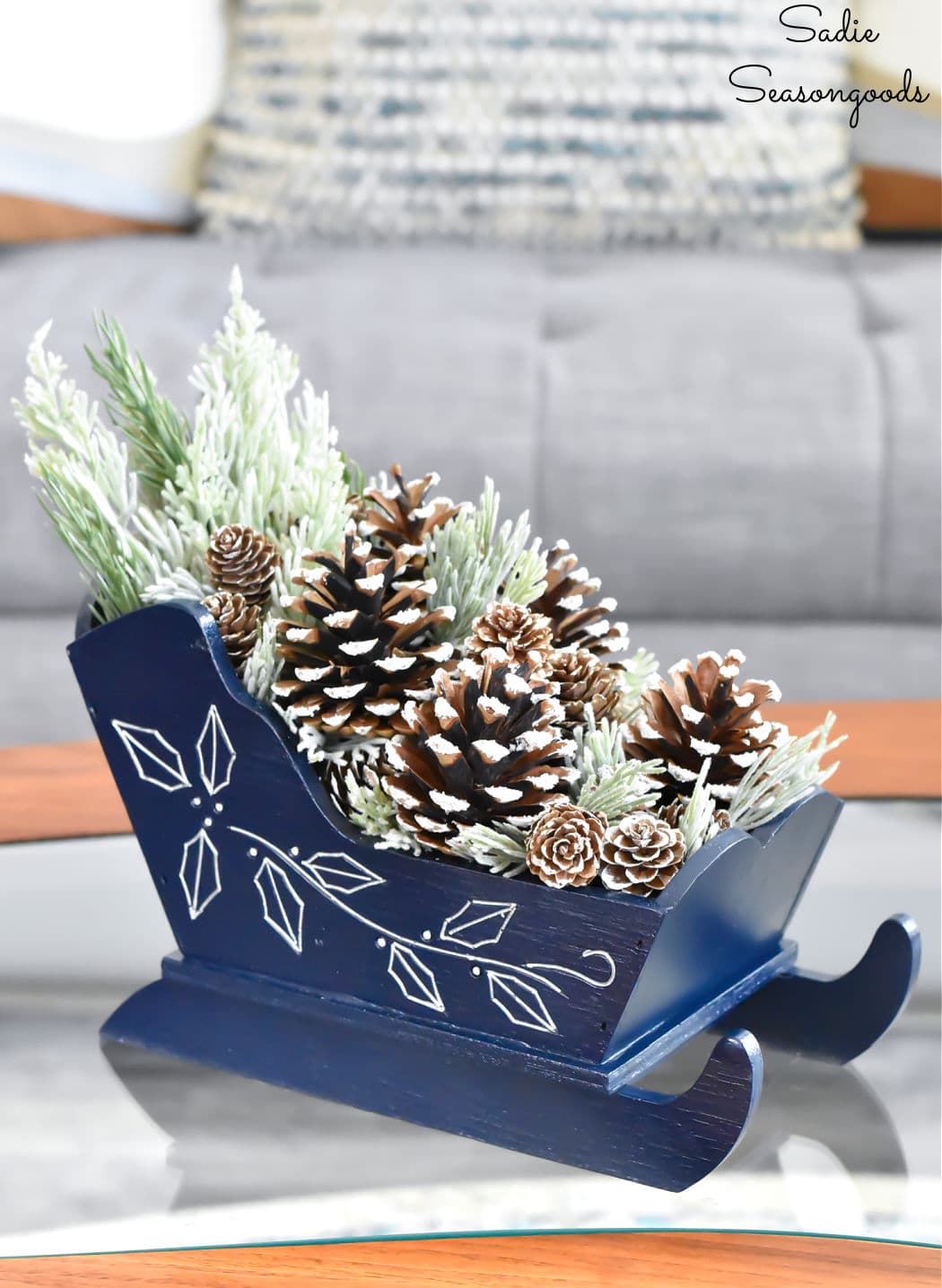 Maybe it's the kind of decorative piece you can leave out from Christmas until Spring? Kind of a Christmas-Winter Solstice-Winter Decor centerpiece that can be used for many, many weeks, before and after January!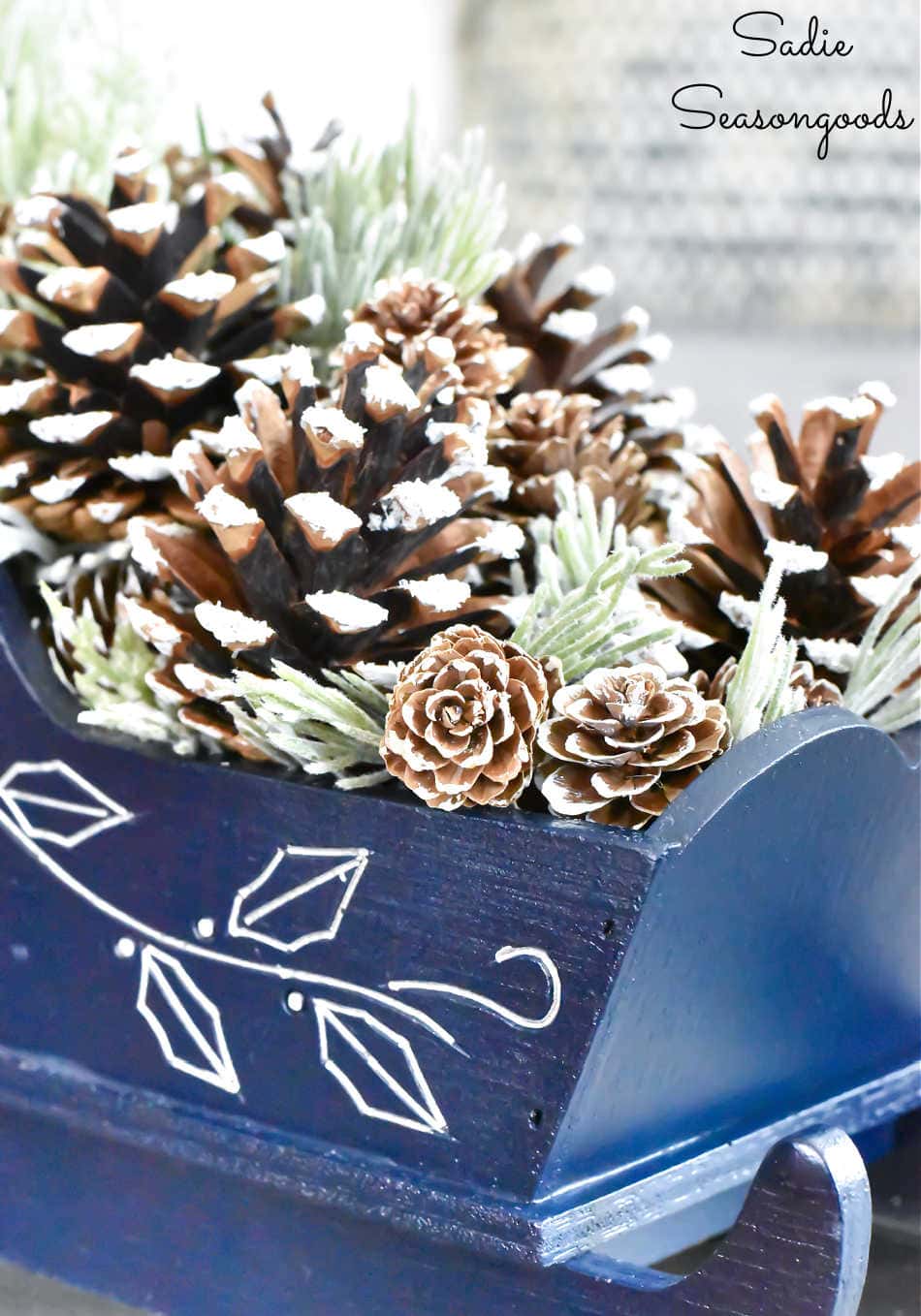 Either way, I really like how it turned out and hope you do, too! At the very least, I didn't have to store the sleigh all year long until Christmas. And let's face it, I probably would have forgotten about it by then!
*****
Oh, and guess what? It's Thrift Store Decor Team Day, so check out what my blogging pals have been up to!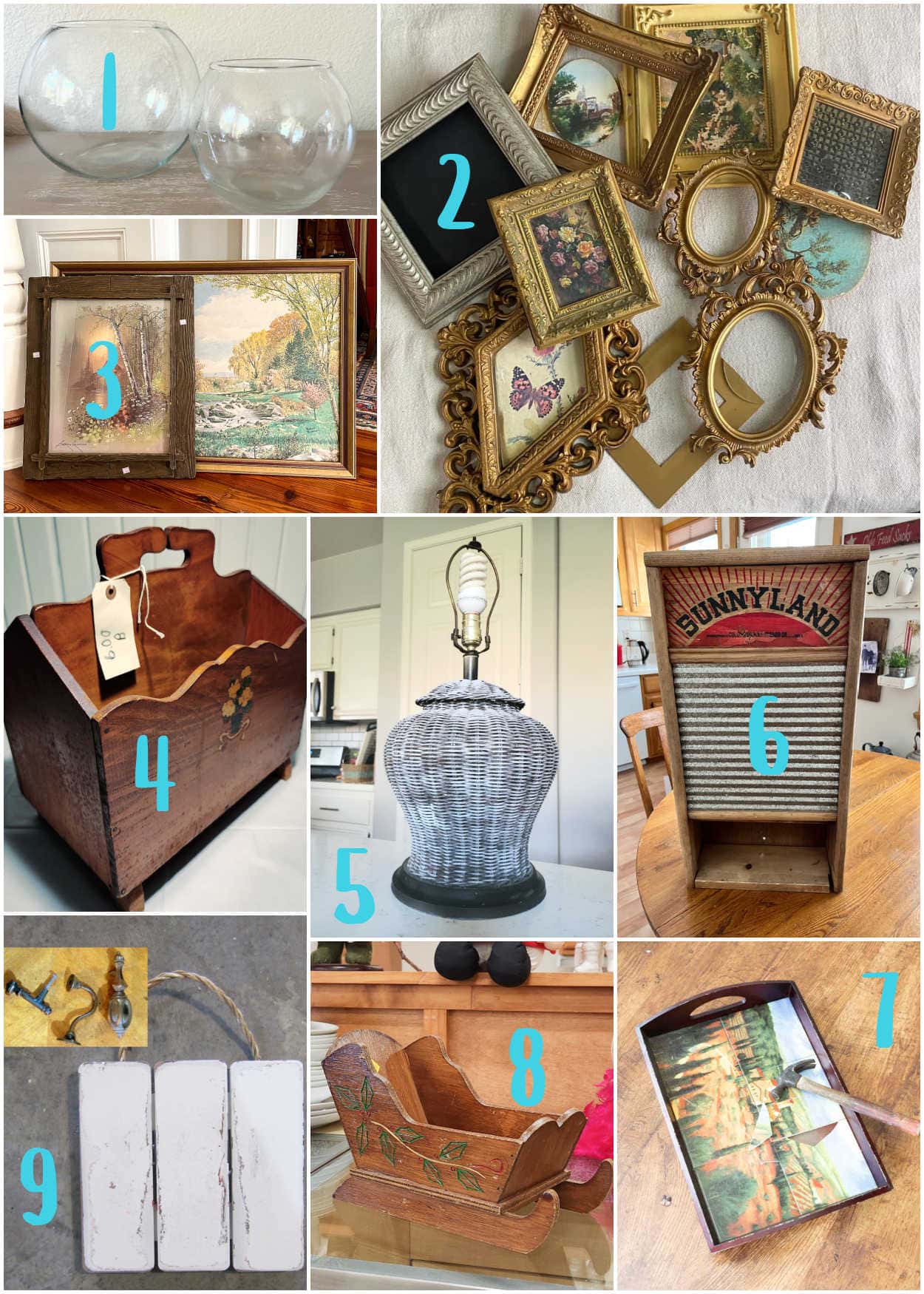 1. Hydro Dip using Spray Paint – My Uncommon Slice of Suburbia
2. Vintage Jewelry Projects – Shop at Blu
3. Updating and Decorating with Thrift Store Art – Our Southern Home
4. Get Organized with an Updated Magazine Rack – My Repurposed Life
5. Updated Rattan Wicker Lamp – Domestically Speaking
6. Washboard Cabinet Makeover – Organized Clutter
7. Upcycling Junk – Reinvented Delaware
8. Wooden Sleigh for Winter Decor – Sadie Seasongoods
9. Hanging Necklace Holder – Petticoat Junktion
****
*And about the pre-baked pinecones comment I made earlier? Pine cones procured from outside should be low-baked (200°F) for about 30 minutes before crafting/decorating with them. This will kill any small insects or mites that may be secretly living in those crevices.
If you enjoyed this upcycling idea for winter decor, then you may also be interested in this steamer pot insert that I turned into January decorations last year, too!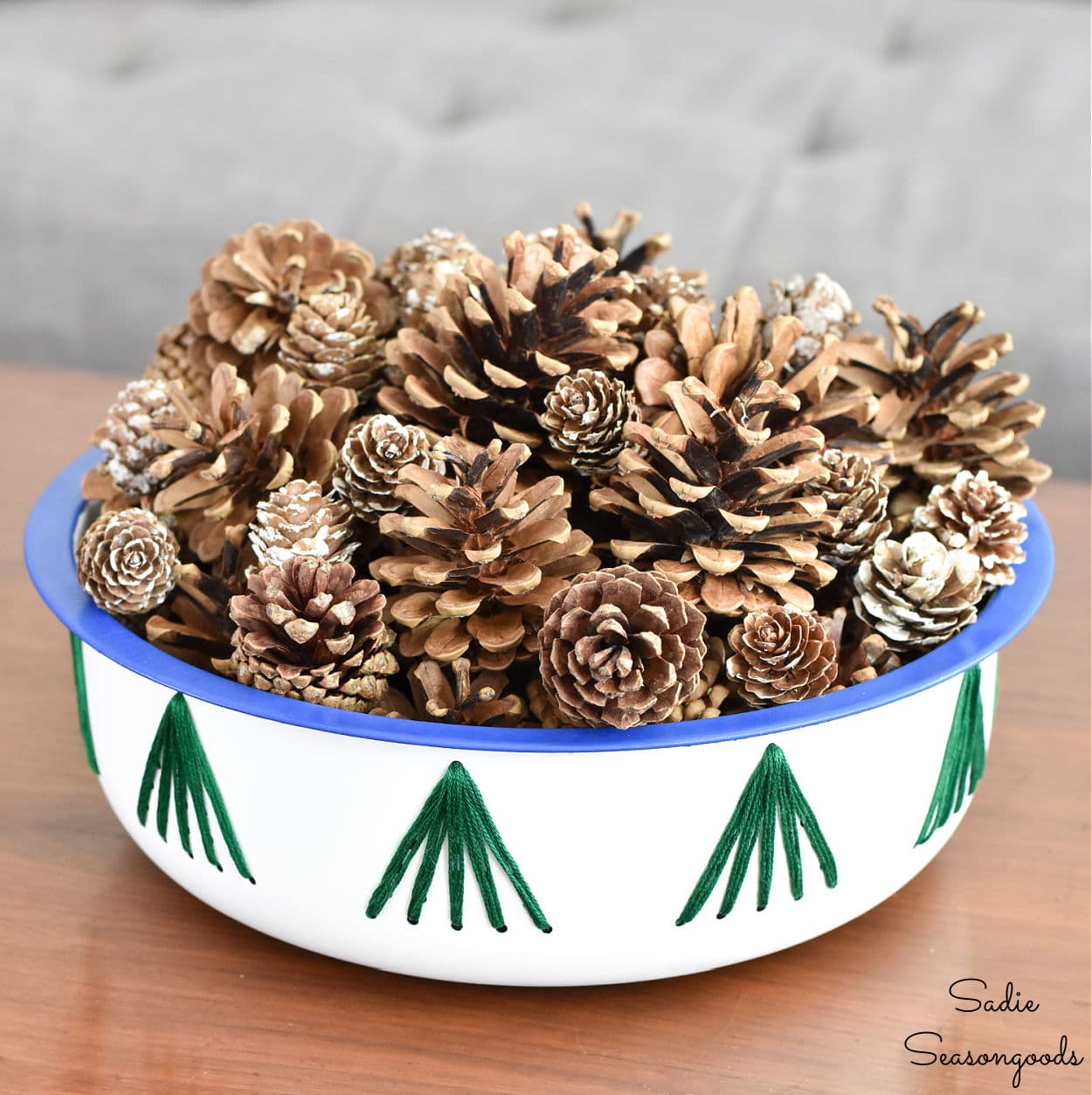 And if you want even more inspiration for decorating in January, check out this collection of winter decor ideas before you go!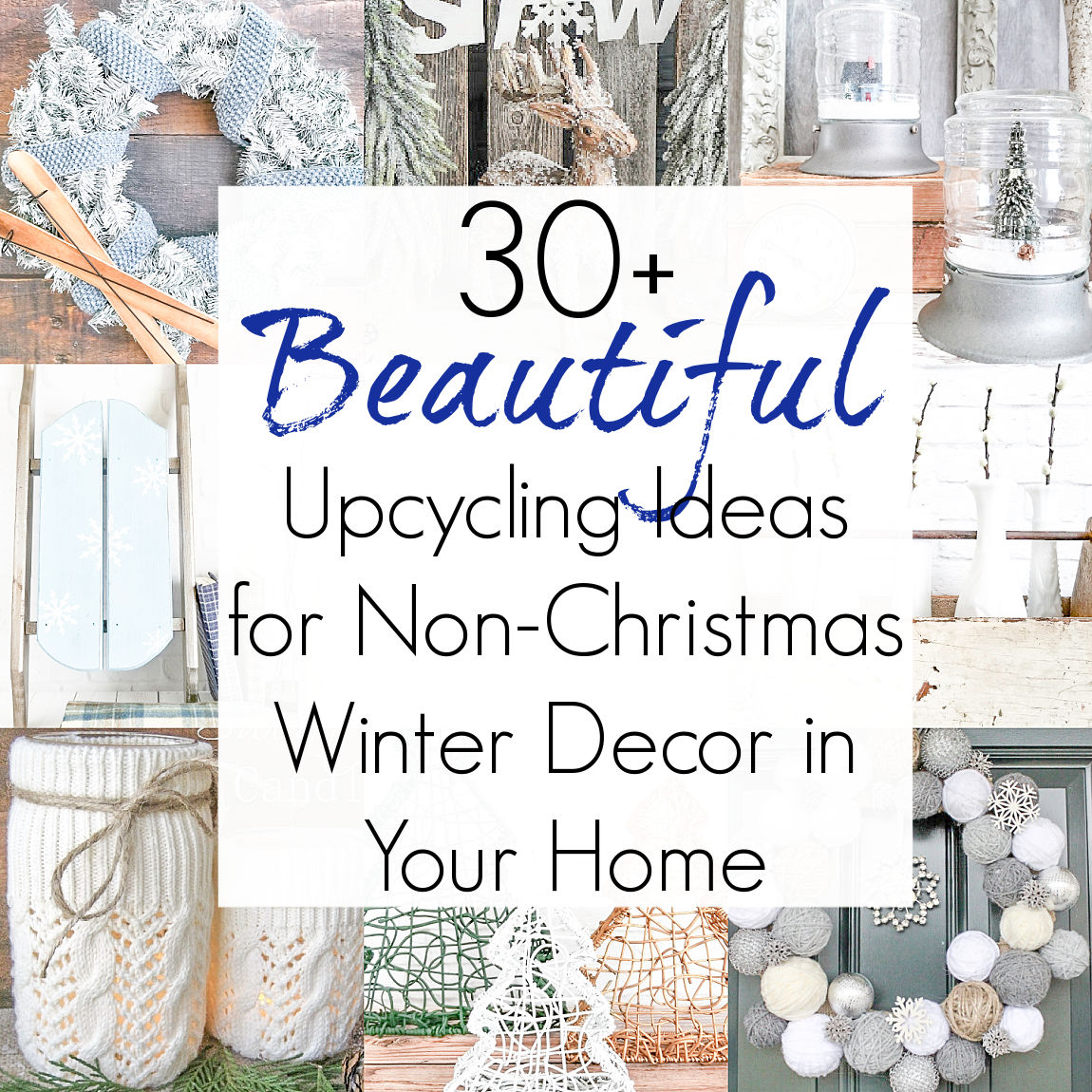 Craft on!
S
Want to be notified when I publish my next upcycling project tutorial?
Subscribe to Blog via Email
Join me on Social Media:

PIN ME!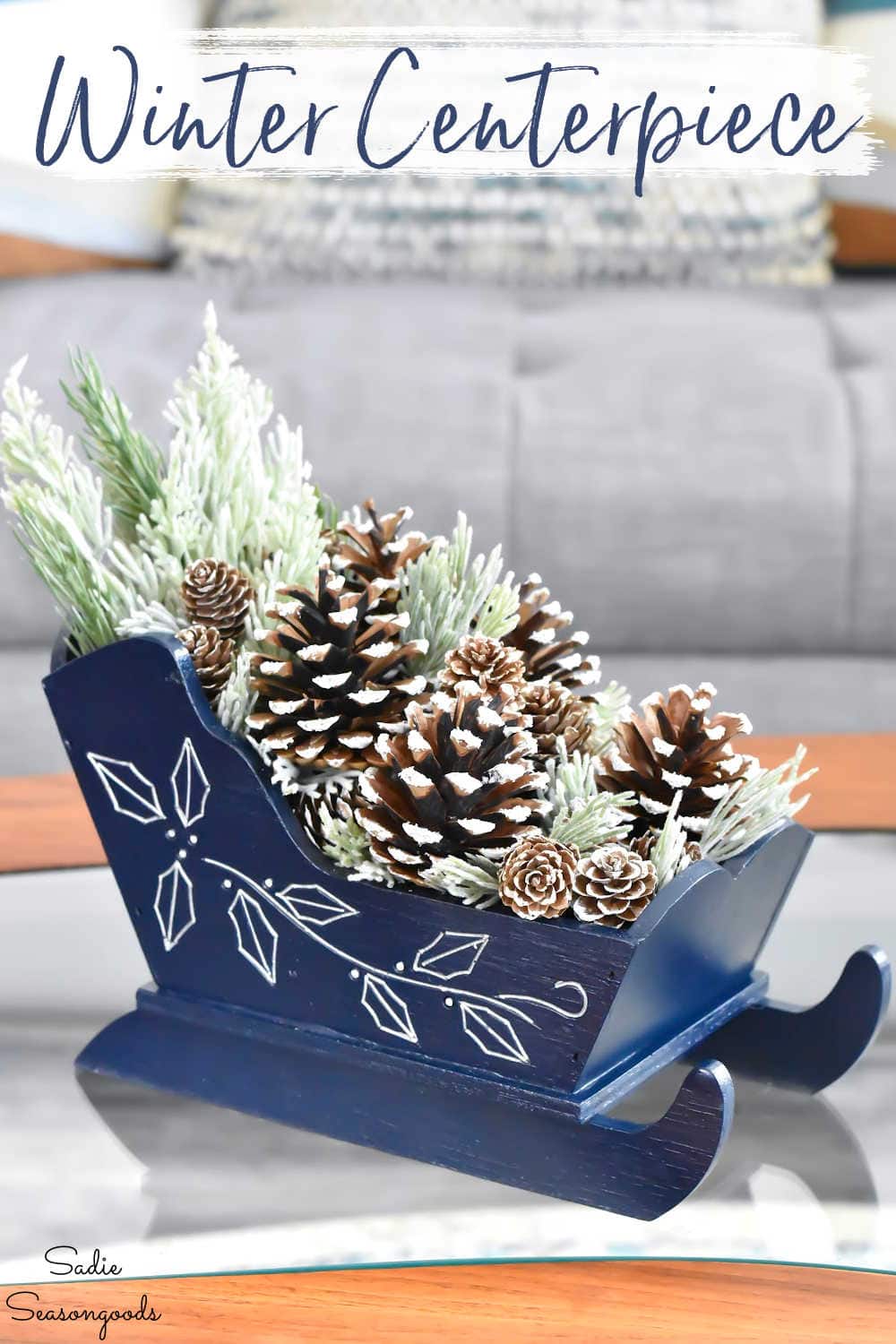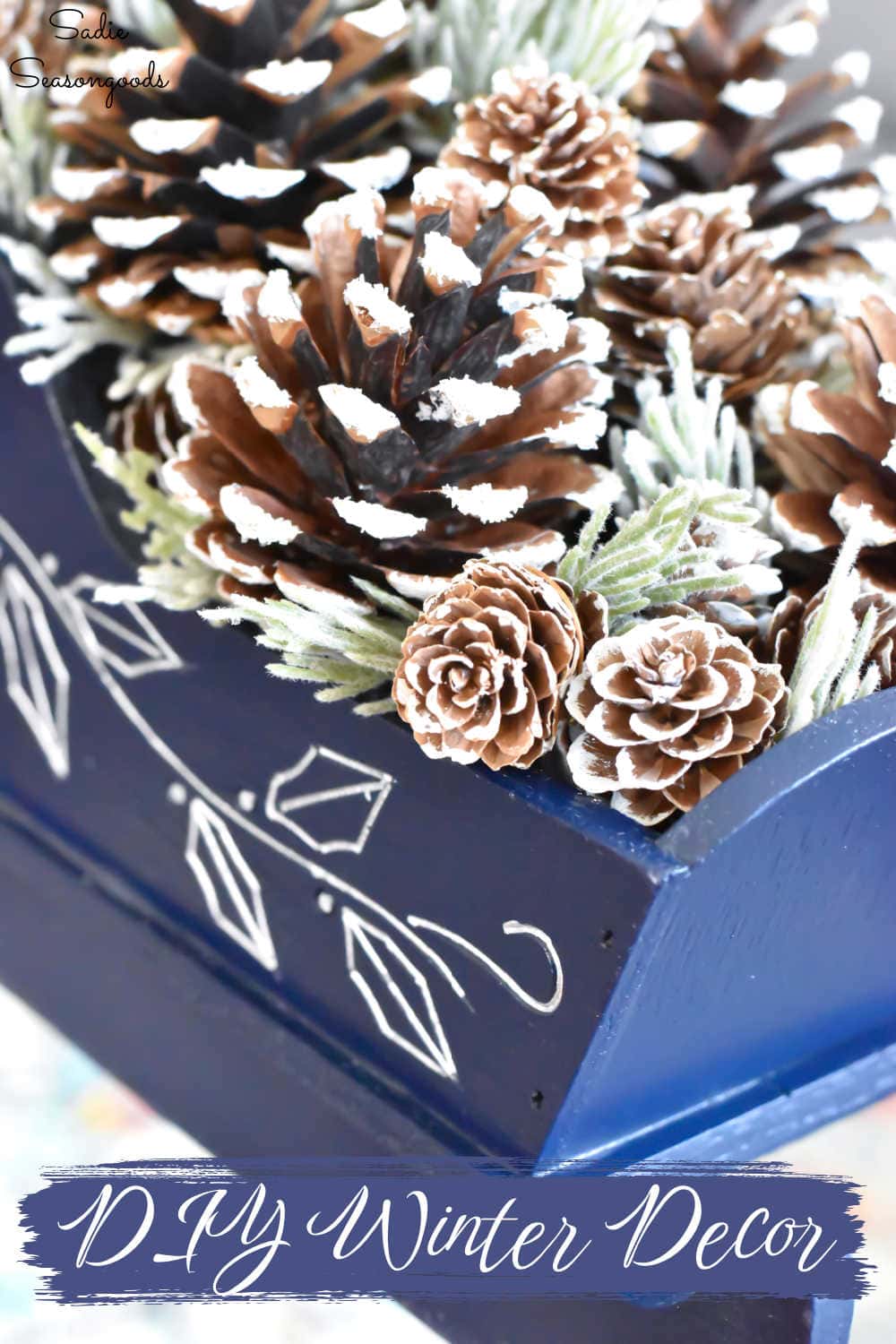 Sarah Ramberg is the owner of Sadie Seasongoods, a website that celebrates all things secondhand. From upcycling ideas and thrifted decor to vintage-centric travel itineraries, Sadie Seasongoods is a one-stop shop for anyone who loves thrifting and approachable repurposing ideas. Sarah is also the author of "Crafting with Flannel" and has been featured in numerous media outlets and magazines.