Finding these woven mats at Habitat was both exciting (ooh, fun new thrifted stuff to upcycle!) and confusing (too small to be placemats- what were these for?). Even though I couldn't figure out their original purpose, I couldn't wait to get them home. Because I had an idea for creating some botanical prints and they were the perfect medium to work with.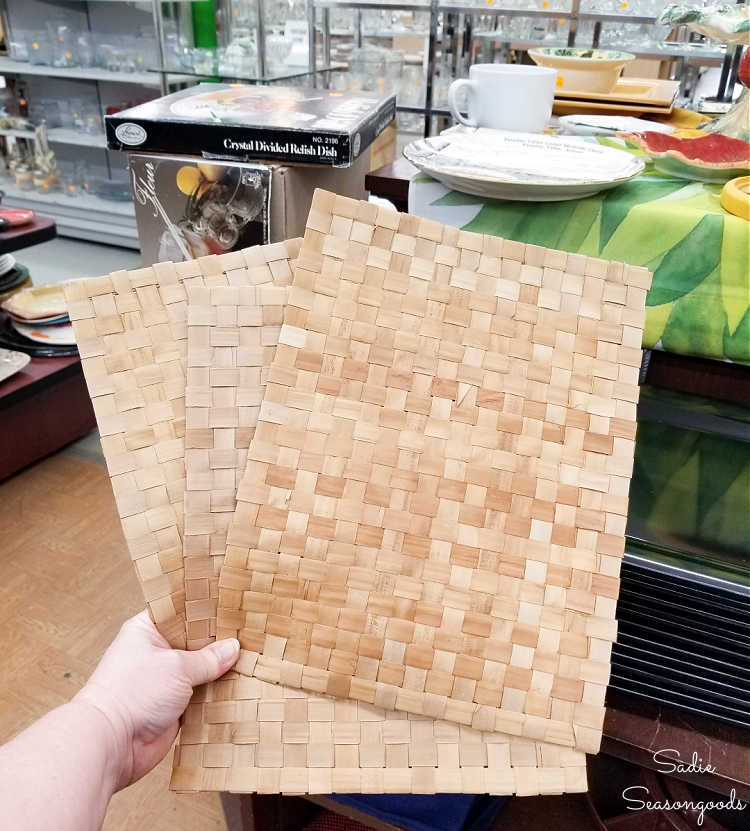 Eventually, I was able to add a couple of larger palm mats to my collection that had definitely been used as placemats originally.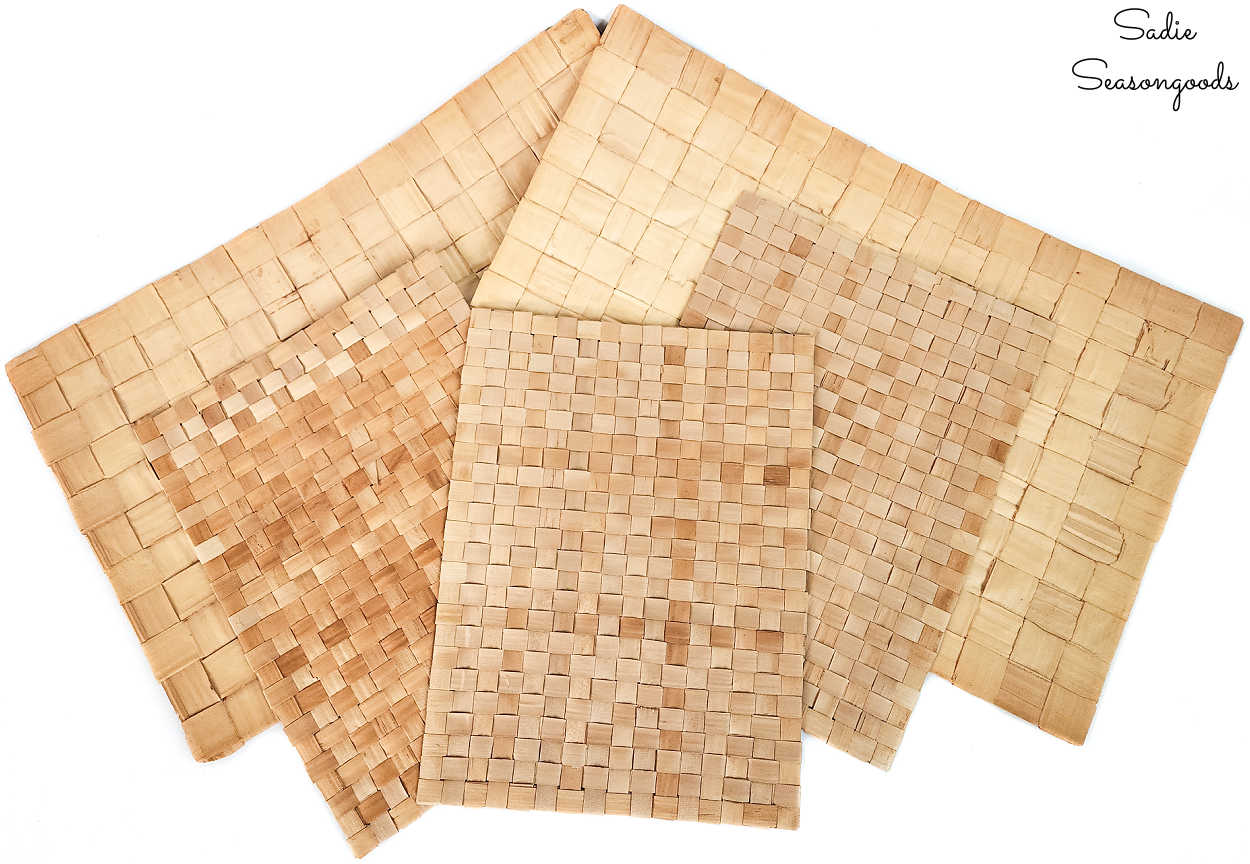 NOW I could try out my experimental project. I'd already made a framed collection of vintage botanical prints before. This time, however, I was curious about stenciling ferns directly on the woven mats.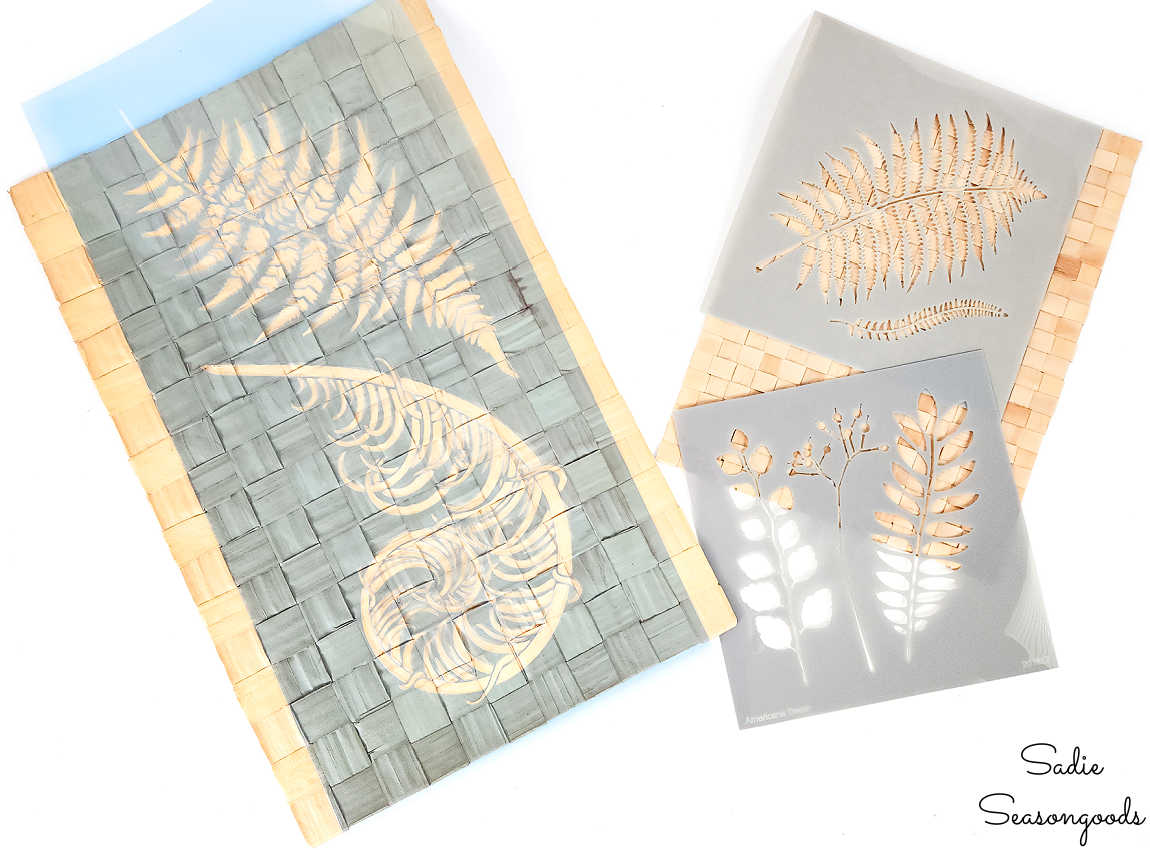 I had no idea if stenciling would look crisp and clean on the woven mats. But I figured, if it looked terrible, I'd just turn them over for Project Idea #2 (whatever that would be). Want to see if my idea panned out?
This post contains affiliate links for your crafting convenience. As an Amazon Affiliate, I earn from qualifying purchases. All blue, bold, and underlined text is a clickable link to a product or a related post.
Stenciling the Botanical Prints
My approach to stenciling on the woven mats was going to be pretty standard- and similar to any/all of my previously stenciled pursuits. The only change was that I planned to clip the stencils to the mats instead of using tape.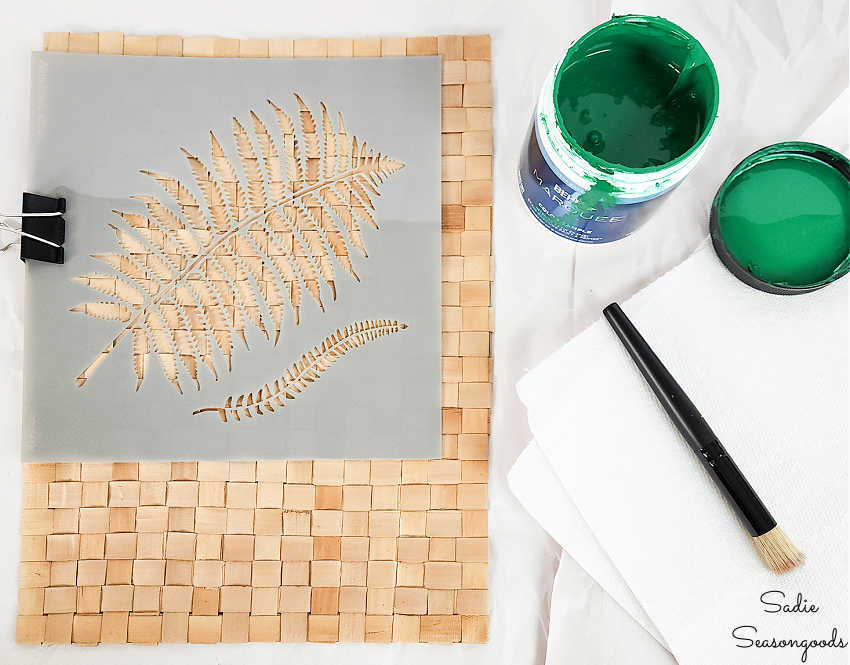 Tape might have worked out- I honestly didn't even try it out. Because I *really* wanted the stencils to stay in place and binder clips seemed like a firmer approach.
From there, I went about my normal stenciling approach: picking up paint (latex, in this case) on my brush, blotting most of it off, and stippling over the stencil.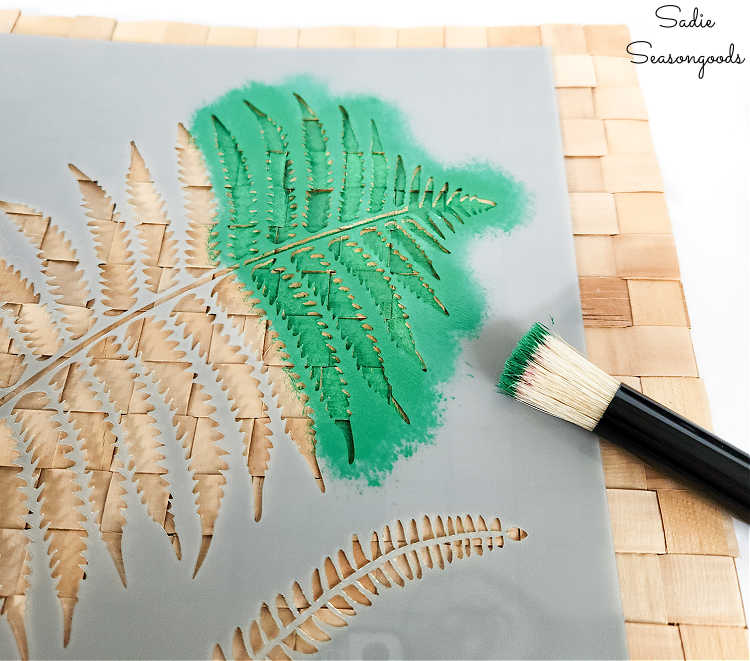 Next, the moment of truth- would my first attempt at stenciling botanical prints look nice and crisp? Or smeary and awful?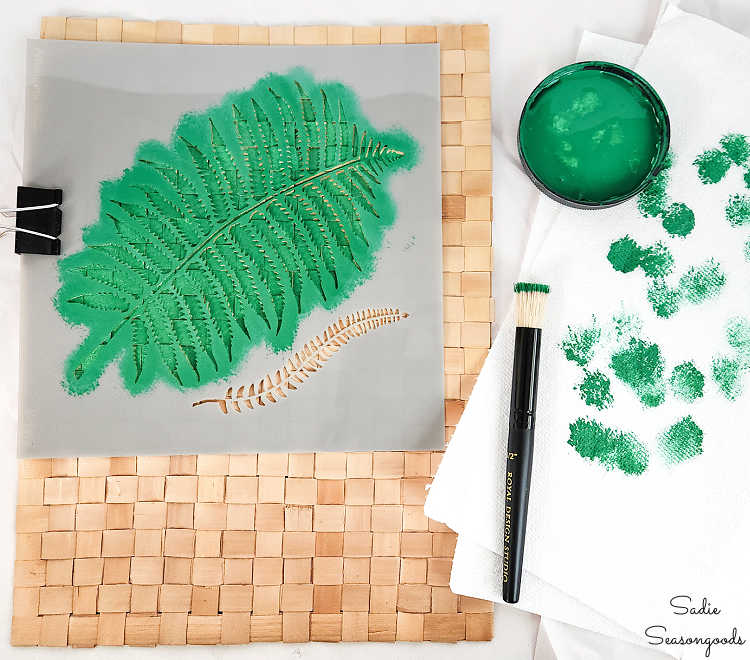 'TWAS RELIEF! It looked fantastic, to be honest- as if it had been laser-printed on the woven palm mat, not stenciled with paint.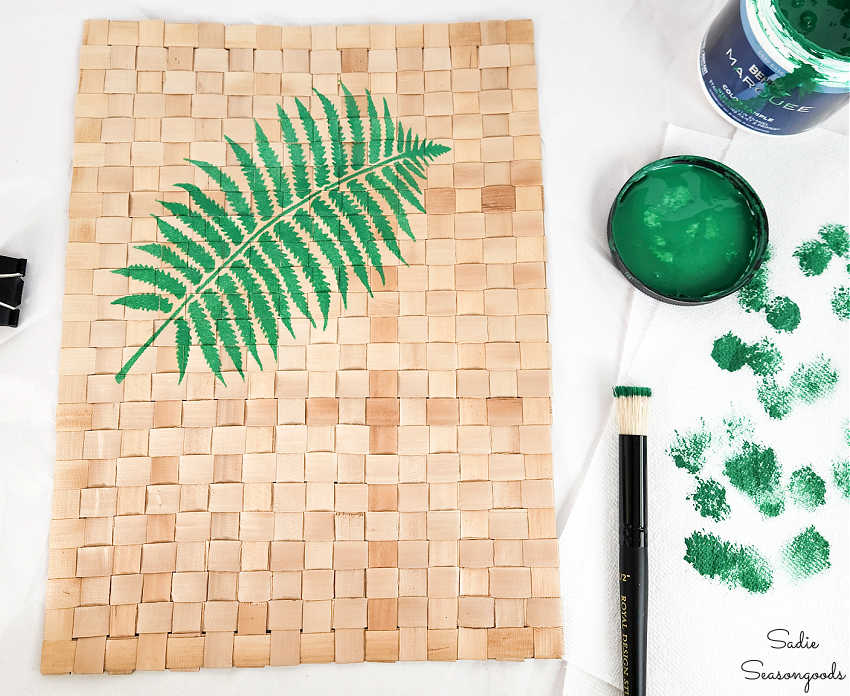 After I was certain the first fern was completely dry, I laid the second stencil (from the same pack) over my work, clipped it in place, and went to work.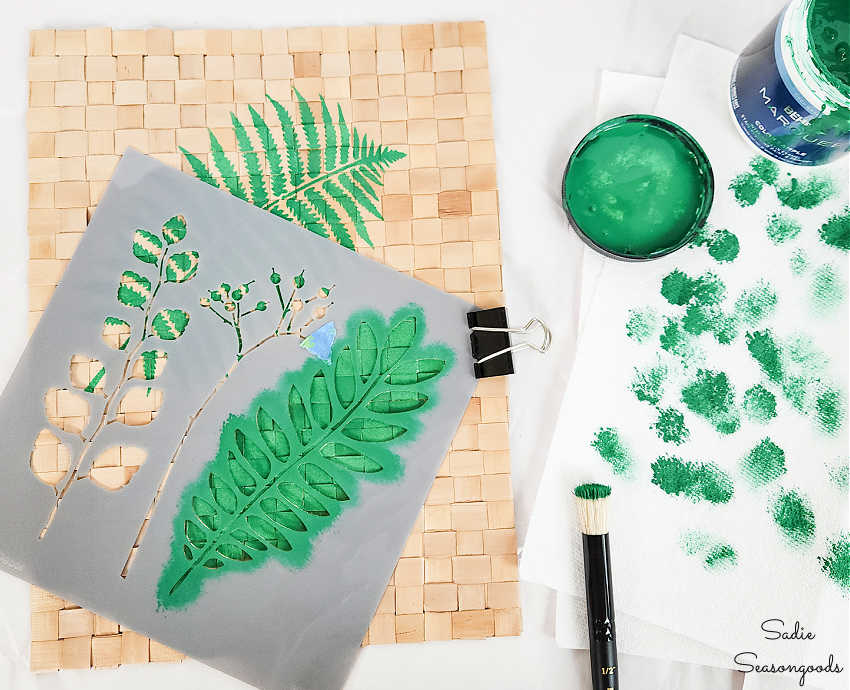 Stenciling with Chalk Paint
Now, it was time to repeat the process on the woven placemats with a different, larger stencil. And to mix things up, I planned on using chalk paint instead.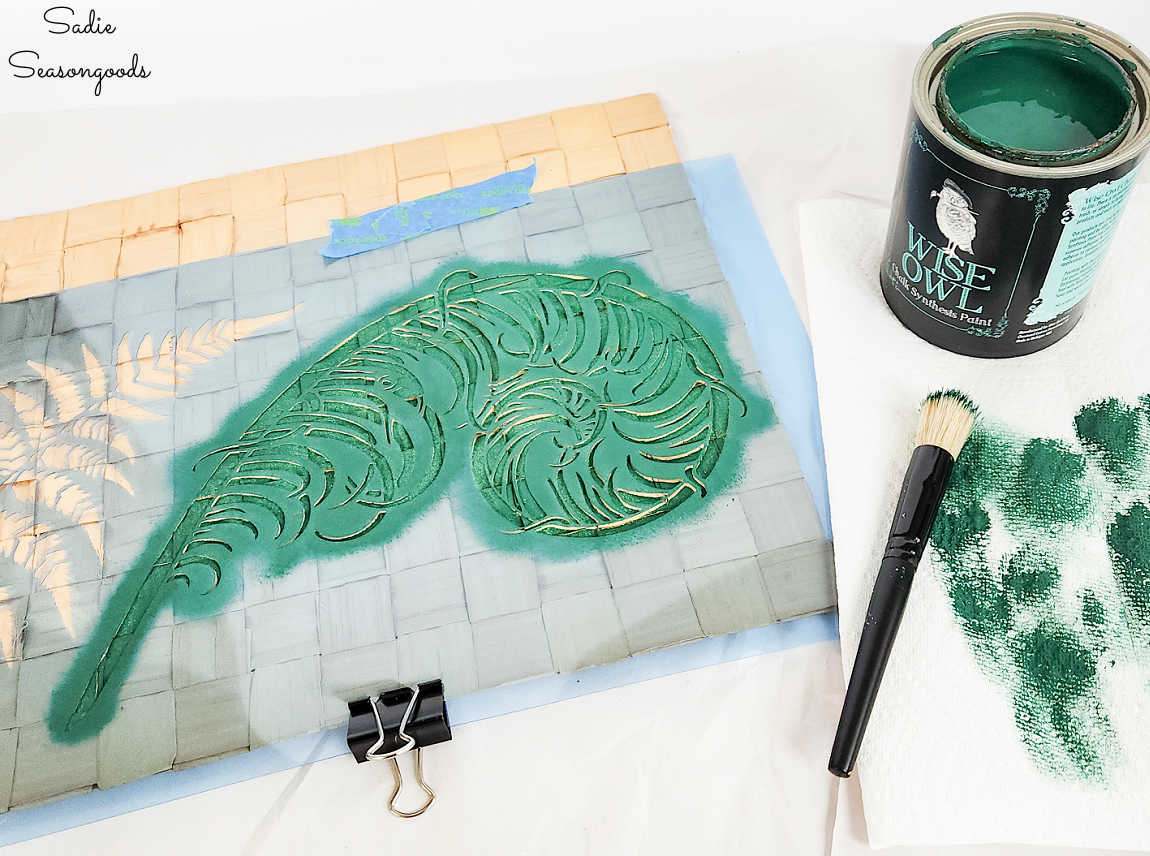 The same chalk paint I used on these boho bookends, aptly named "Botanical".
And hurray, hurray, the first of my larger botanical prints also turned out wonderfully!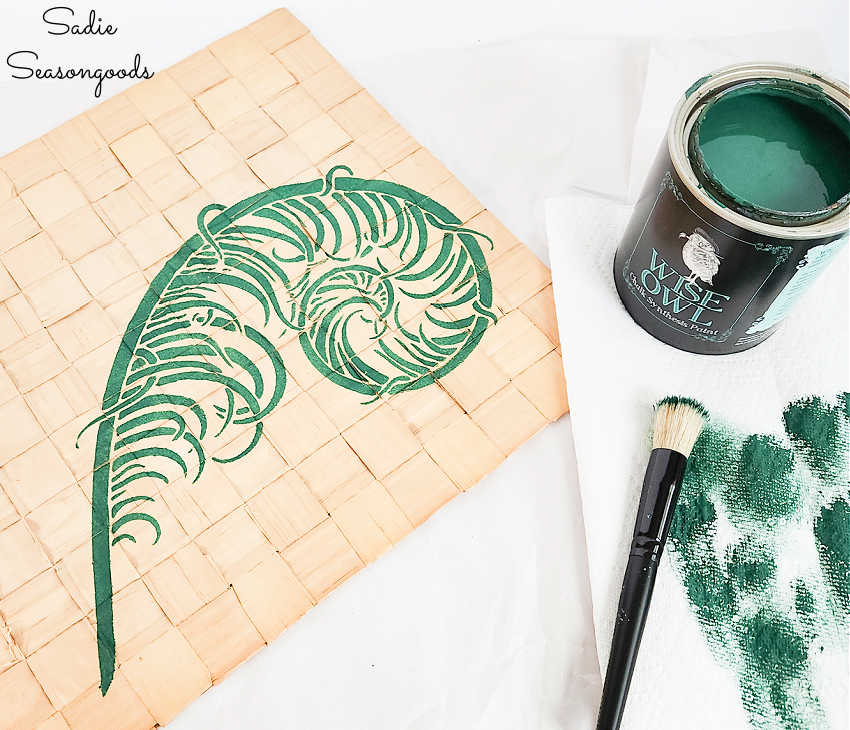 Once again, I moved the stencil over the first print once it had fully dried and repeated the process. These ferns had a lot of details, so I took my time to ensure I covered every little peak and valley.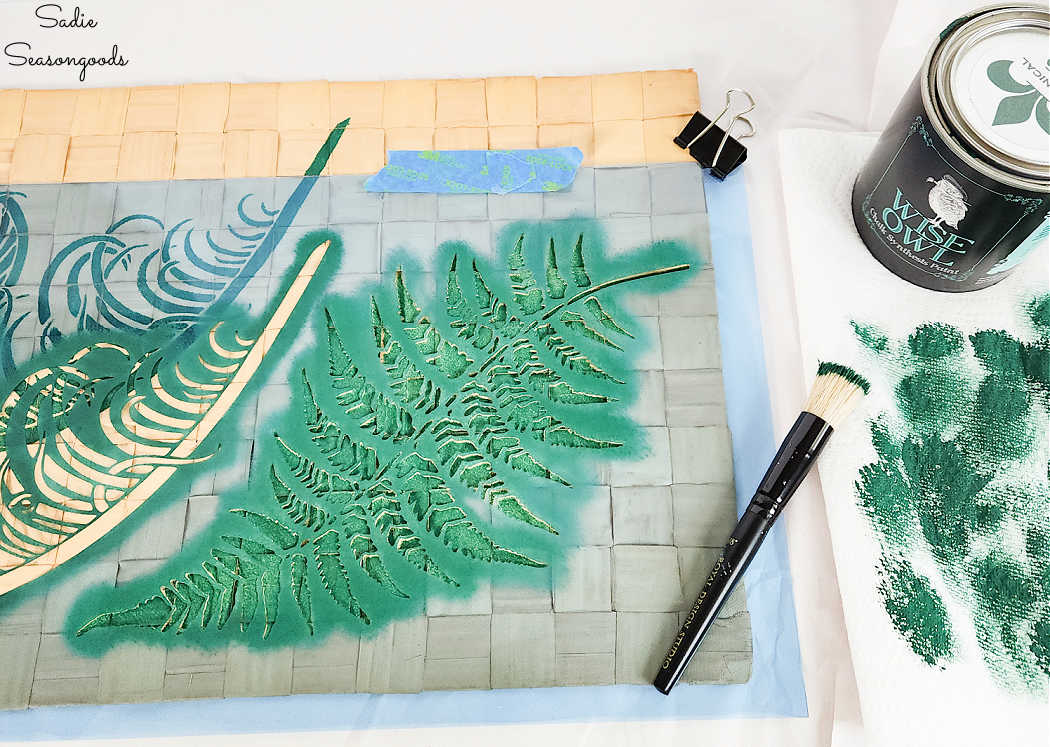 When all was said and done on the woven placemat, this is how it looked! I was thrilled with how the botanical prints looked on the natural mat.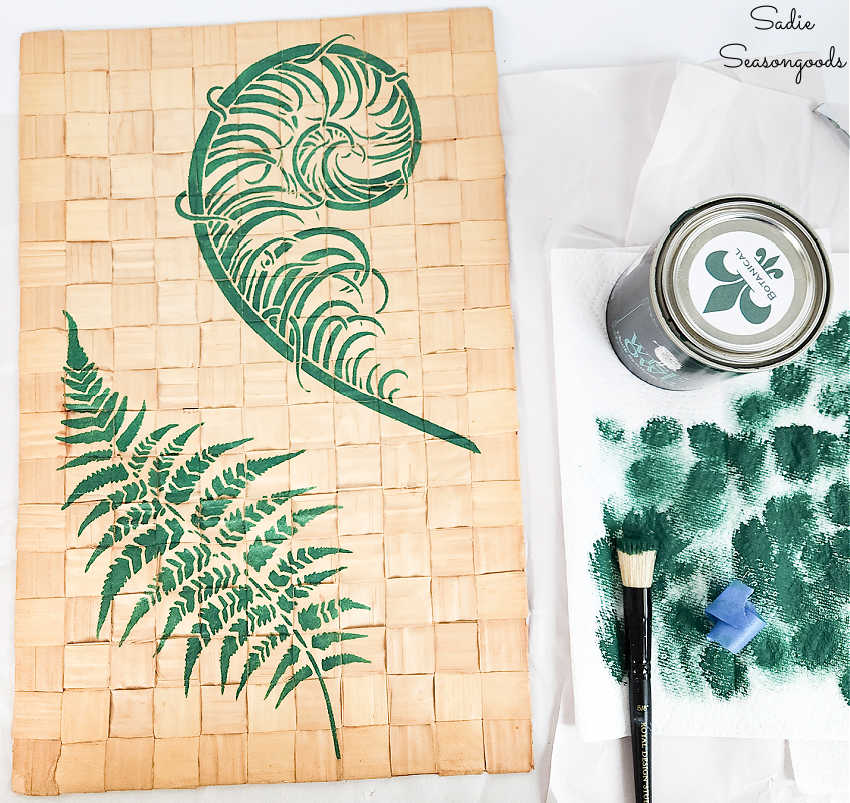 In fact, both of them turned out beautifully, if I do say so myself. The smaller botanical prints have a slight sheen (latex paint) whereas the larger ones are completely matte (chalk paint).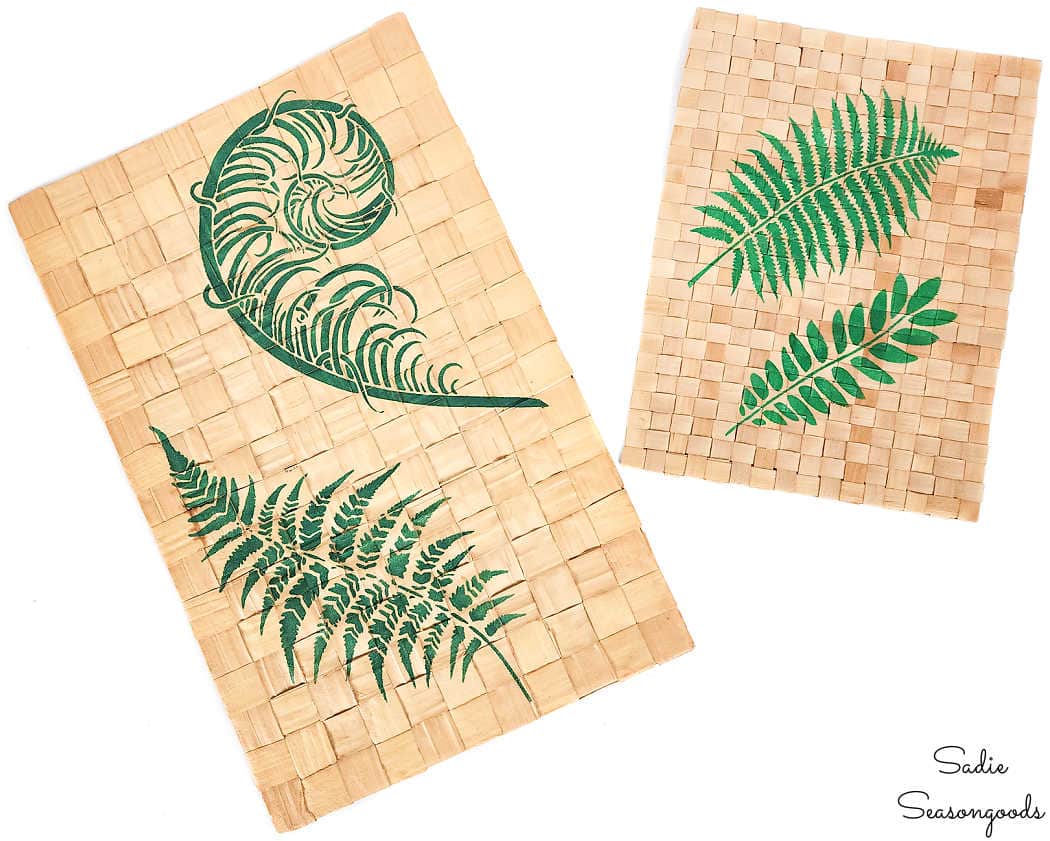 In the end, I hemmed and hawed over whether or not to seal them. I made the executive decision not too, because I wasn't sure how the top coat would interact with the natural palm mats. Maybe someday I'll experiment if I find a badly stained or otherwise damaged mat.
But not on these botanical prints that I was absolutely swooning over!
Botanical Prints on Woven Mats
At this point, I opted not to frame them- but I may go that route in the future. For now, I used a vintage pants hanger to hang the larger print, and a small thrifted easel to display the smaller one.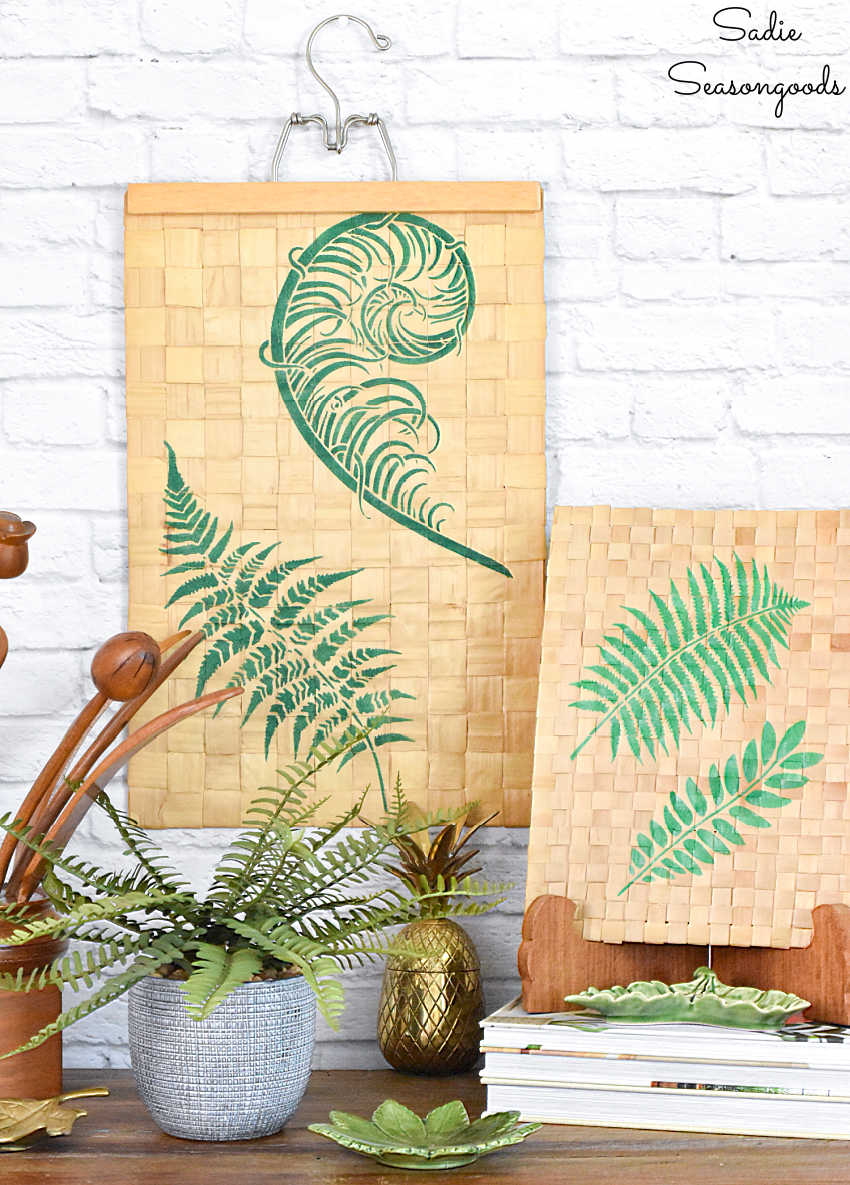 I've long-admired the botanical prints that have been in vogue in recent years- both the authentically vintage ones and the vintage-looking ones. And I couldn't be happier with how these versions on the natural mats turned out!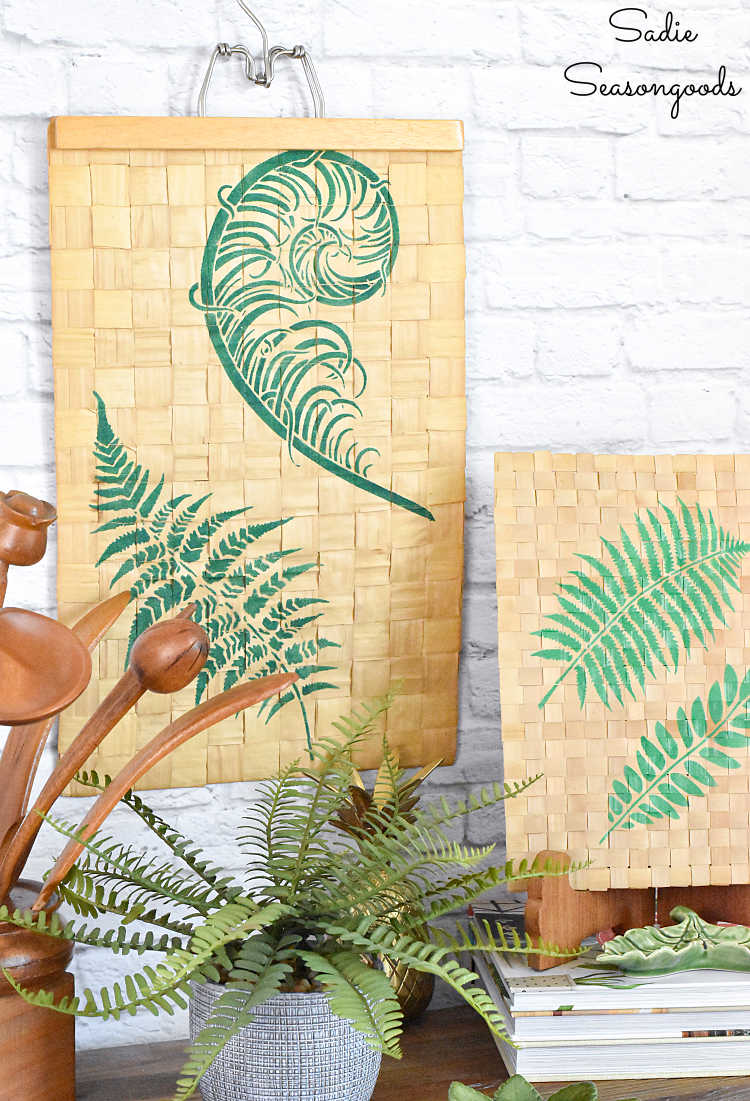 The natural texture and look of the woven palm really pairs up nicely with botanical prints, don't you think?
And, since today is the second Wednesday of the month, it's Thrift Store Decor Team Day! I hope you'll check out the projects my blogging galpals have been up to, too.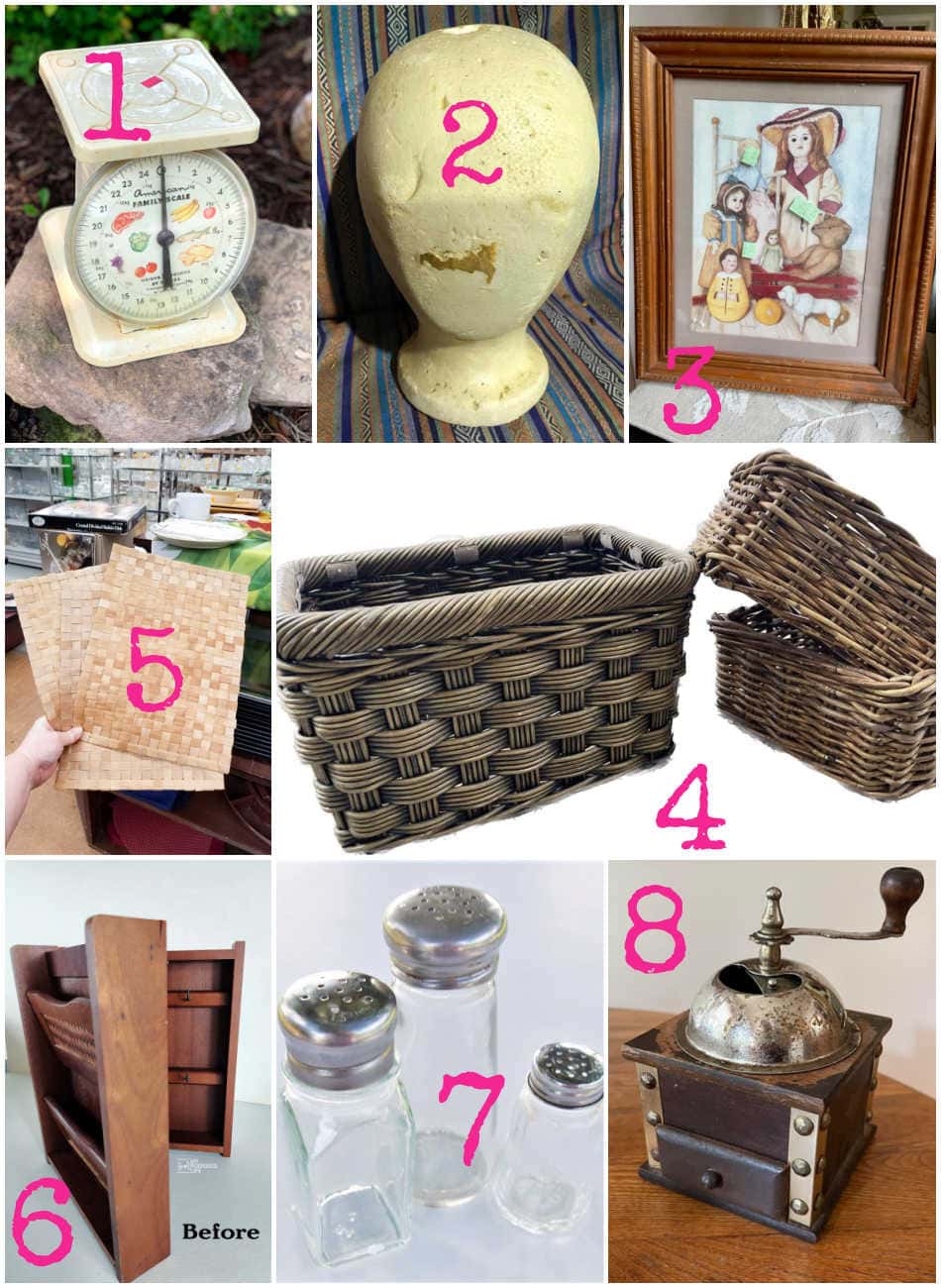 1. Vintage Scale Repurpose – House of Hawthornes
2. Decoupaged Mannequin Head – Shop at Blu
3. DIY Halloween Art – Our Southern Home
4. Update Wicker Baskets with Paint to Look Like Natural Rattan – My Uncommon Slice of Suburbia
5. Botanical Prints on Woven Mats – Sadie Seasongoods
6. Key Cabinet | Easy Makeover – My Repurposed Life
7. DIY Sea Glass Bottles – Petticoat Junktion
8. Thrifted Coffee Grinder Makeover – Organized Clutter
Craft on!
S
Want to be notified when I publish my next upcycling project tutorial?
Subscribe to Blog via Email
Join me on Social Media:

PIN ME!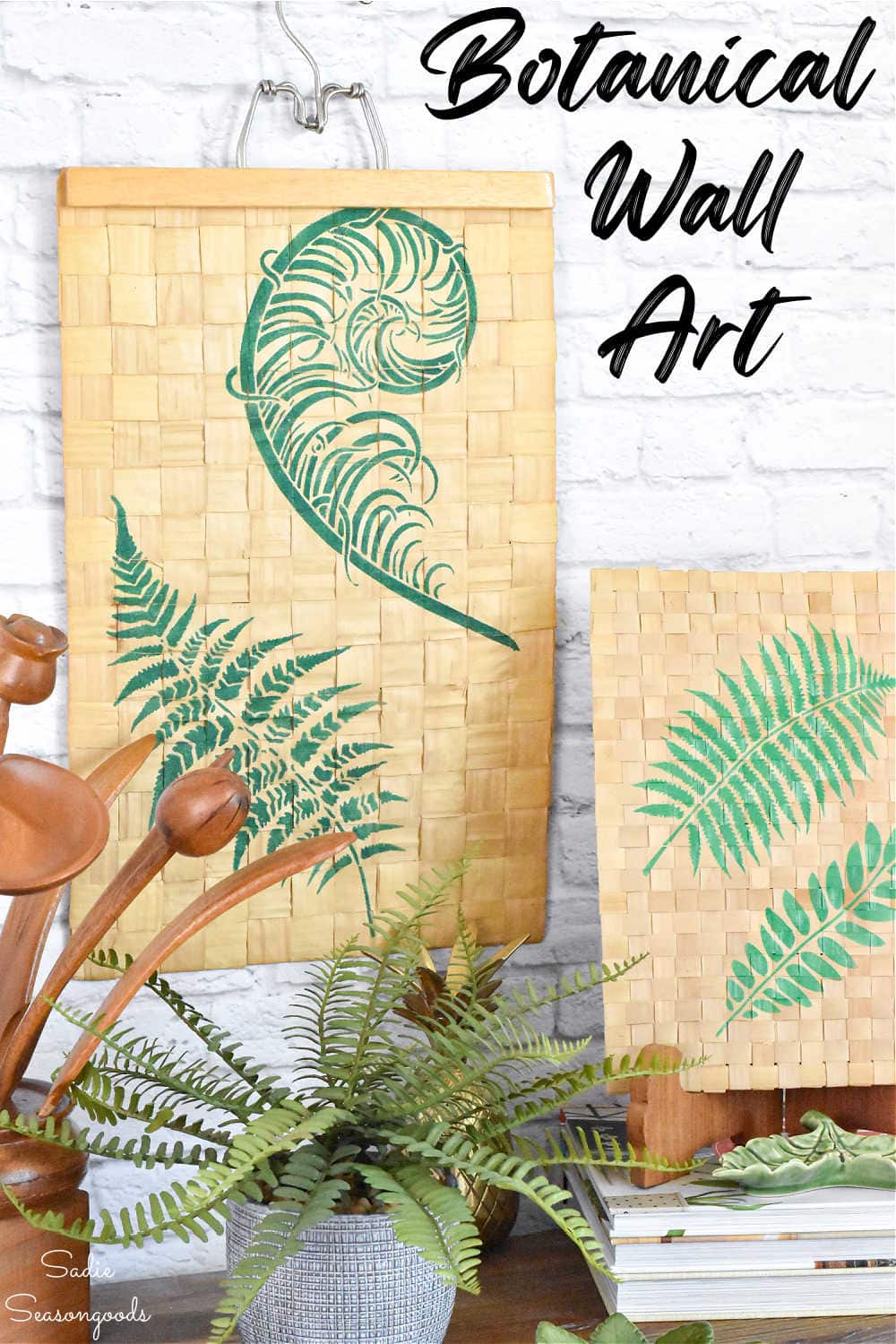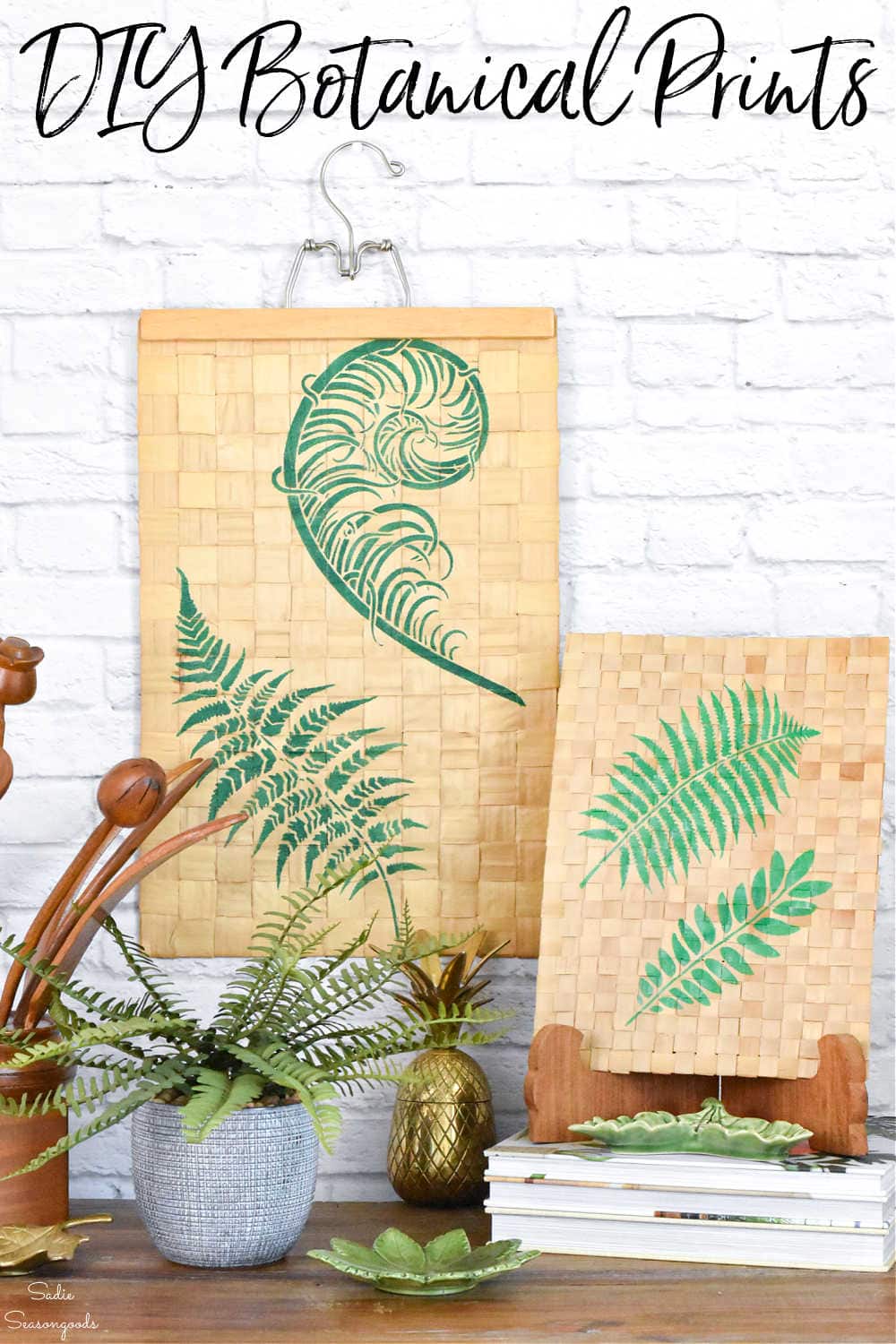 Sarah Ramberg is the owner of Sadie Seasongoods, a website that celebrates all things secondhand. From upcycling ideas and thrifted decor to vintage-centric travel itineraries, Sadie Seasongoods is a one-stop shop for anyone who loves thrifting and approachable repurposing ideas. Sarah is also the author of "Crafting with Flannel" and has been featured in numerous media outlets and magazines.