Unlike most people, I still read regular books (as opposed to the Kindle/Nook route). Hopefully I'm not the last person on Earth reading…brick and mortar(?) books. Which means, I am always in the market for bookmarks so that I don't dog ear the pages. Anyway, I decided that turning some of my vintage costume jewelry into ribbon bookmarks or charm bookmarks would be fun to do.
And if you want to make several different ribbon bookmarks, some craft stores even sell bags of random ribbon scraps!
This idea for charm bookmarks is super easy to make and is the perfect way to use a single earring, or maybe a brooch that is missing some stones. These ribbon bookmarks are perfect as gifts for readers or gifts for book lovers, too!
This post contains affiliate links for your convenience. As an Amazon Affiliate, I earn from qualifying purchases.
Upcycling Jewelry into Ribbon Bookmarks
To make these ribbon bookmarks, I gathered some materials, including jewelry pliers, jewelry-making notions (ribbon clamps and jump rings), a piece of lace ribbon (or any nice, pliable ribbon), and a piece of broken jewelry.
Scissors, too, if you are cutting off lengths of ribbon from a spool or need to trim the ribbon scraps from a bag.
First, I used my jewelry pliers to start closing the ribbon clamp – but not all the way.
Next, I slid the end of my lace ribbon into the clamp before firming clamping it down. For whatever reason, I found it was easier to do this if the clamp wasn't wide open.
I pulled on the ribbon a little to make sure it was secure, too.
Now, you could certainly leave the other end of the ribbon naked, but to prevent fraying, I went ahead and added a second ribbon clamp.
Next, I used my jewelry pliers again, this time opening up a jump ring.
Finally, I attached a piece of vintage costume jewelry to the ribbon bookmark via the jump ring, which attached to the ribbon clamp.
And that was it – the first of my charm bookmarks was done!
Ribbon Bookmarks or Charm Bookmarks with Vintage Costume Jewelry
This is SUCH a great way for upcycling jewelry! We all have broken jewelry or single earrings that we haven't gotten rid of, don't we?
And creating ribbon bookmarks with vintage costume jewelry is a natural fit. Fun to keep for yourself but even better as gifts for book lovers.
Not only are they quick and easy to make, but they use pretty basic jewelry making supplies. So, you really don't have to invest in much to make these, especially if you share the tools with friends!
This would be the perfect upcycling craft project to do with your girlfriends during a "Crafternoon" party!
If you enjoyed this upcycling idea for old jewelry / broken jewelry, then you might also enjoy this idea for BFF jewelry or friendship necklaces from clip on earrings!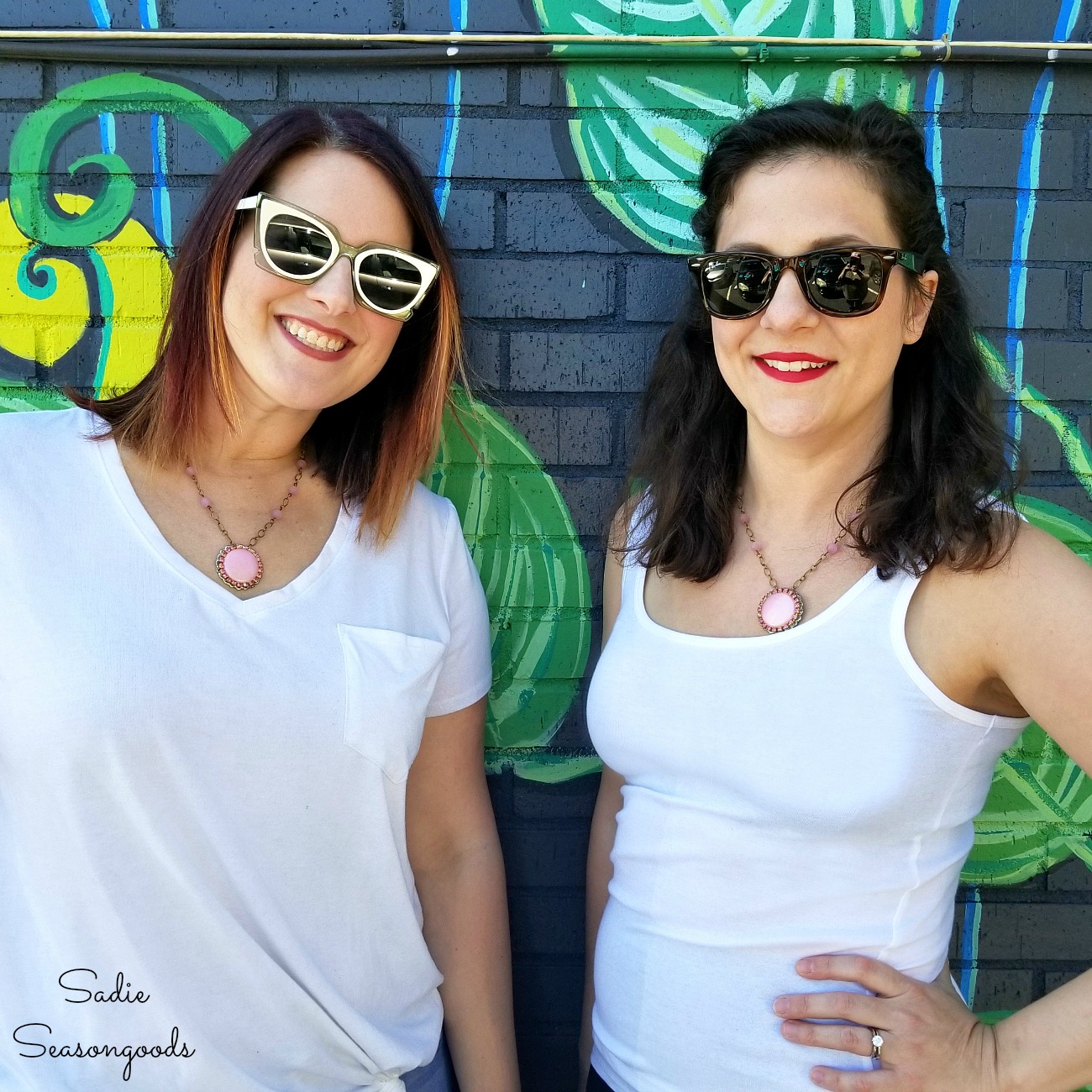 Craft on!
S
Want to be notified when I publish my next upcycling project tutorial?
Subscribe to Blog via Email
Join me on Social Media: