Grain sacks are a wonderful trend if you ask me. From their faded graphics to the texture of the fabric, I just can't get enough of them. But cutting into grain sack fabric for upcycling crafts seems almost sacrilegious, doesn't it? I wanted to create some DIY lavender sachets that looked like grain sack but not actually with grain sack fabric.
So, I started thrift shopping for just the right thing to upcycle. When I found this linen curtain panel at Goodwill, I knew it was the perfect thing to upcycle into grain sack fabric.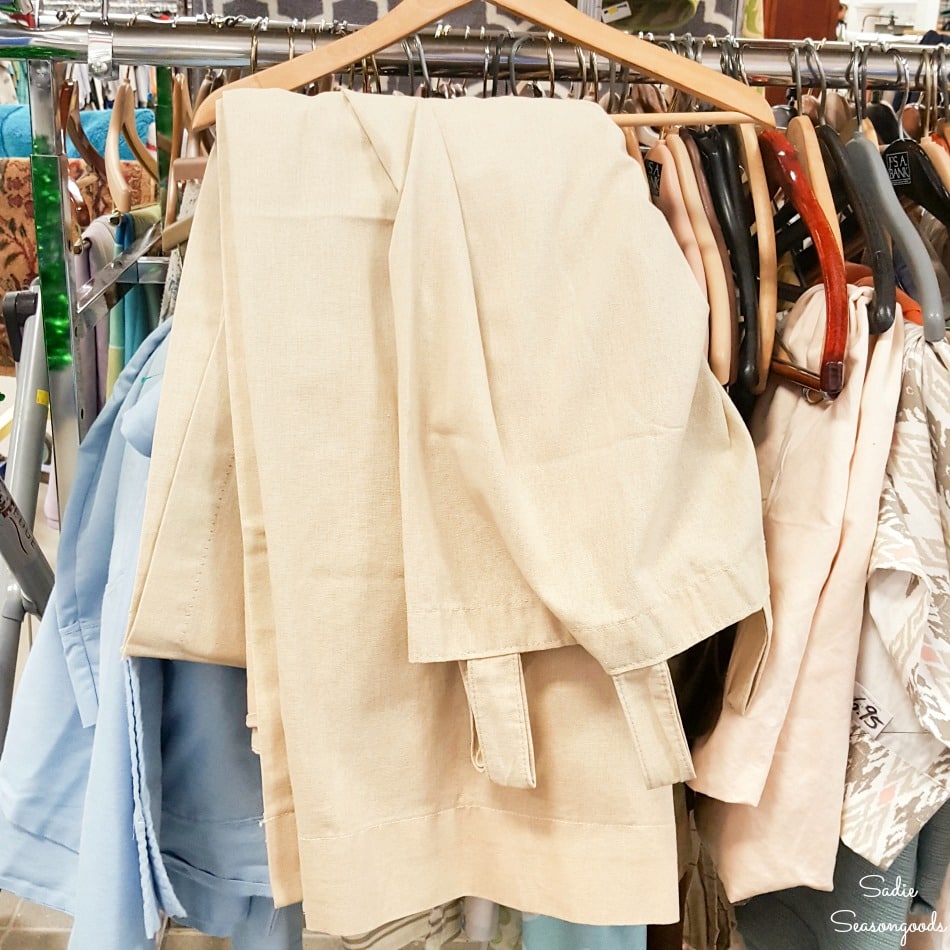 The linen curtain was exactly what I needed to create a faux version of grain sack fabric! It had the right color and texture, and I was getting a LOT of fabric for such a low price.
To get the look of feed sack fabric, I just needed a few more craft supplies. For creating some grain sack stripes, I needed painter's tape and fabric ink.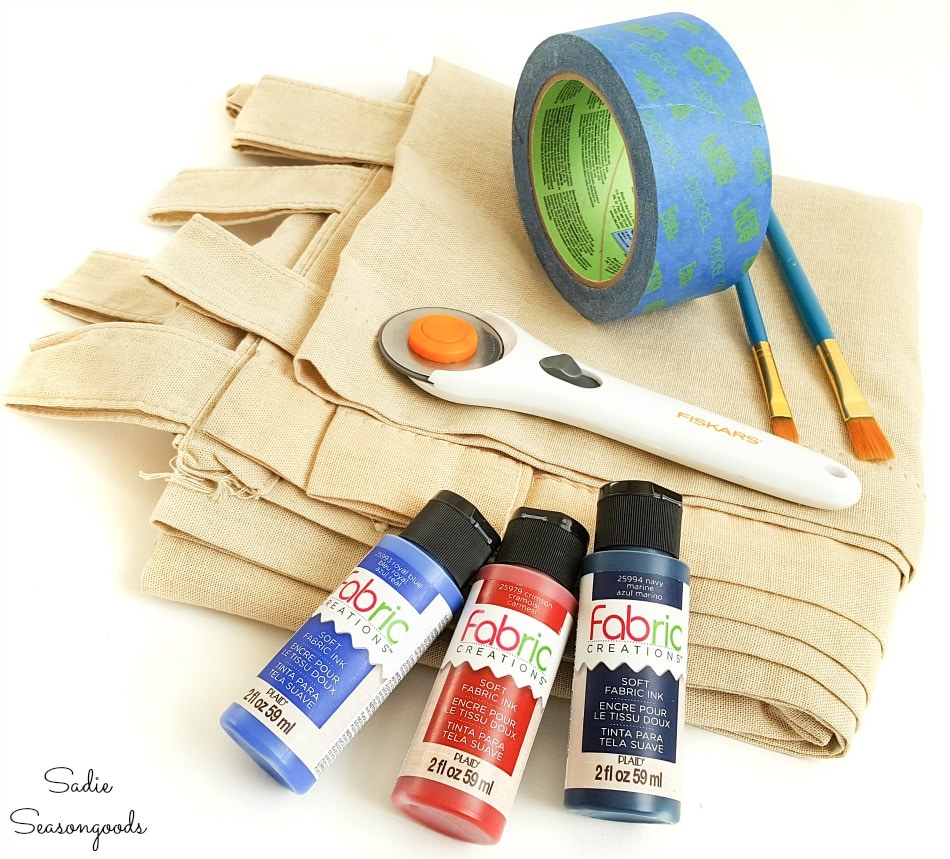 And to mix it up with some "printed" grain sack fabric, I grabbed some rubber stamps, as well.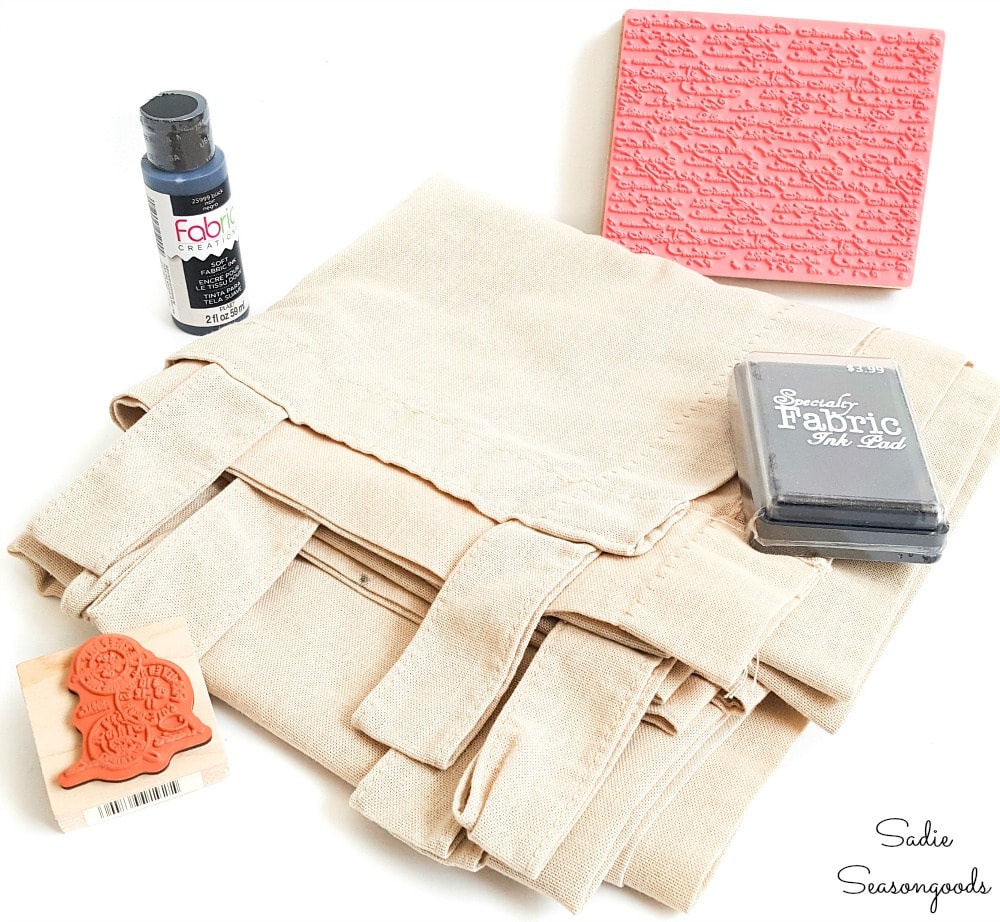 With everything in hand, I was ready to make some DIY lavender sachets!
This post contains affiliate links for your crafting convenience. As an Amazon Affiliate, I earn from qualifying purchases. All blue, bold, and underlined text is a clickable link, either to a product or to a related post.
Grain Sack Fabric from a Linen Curtain Panel
I jumped right in to faking the look of grain sack fabric. First, I played around with the fabric ink and rubber stamps to get a feel for quantity of ink, pressure to apply, etc.
I purposefully used uneven pressure while stamping to get a "faded" look!
After I played around with the fabric inks, I was ready to start work on the DIY lavender sachets. First, I cut out matching sets of 4" and 4½" fabric squares.
Then, I cut thin, even strips of painter's tape and pressed them carefully on the squares. In between the matching squares of fabric, I placed a piece of tin foil to keep the fabric ink from bleeding through.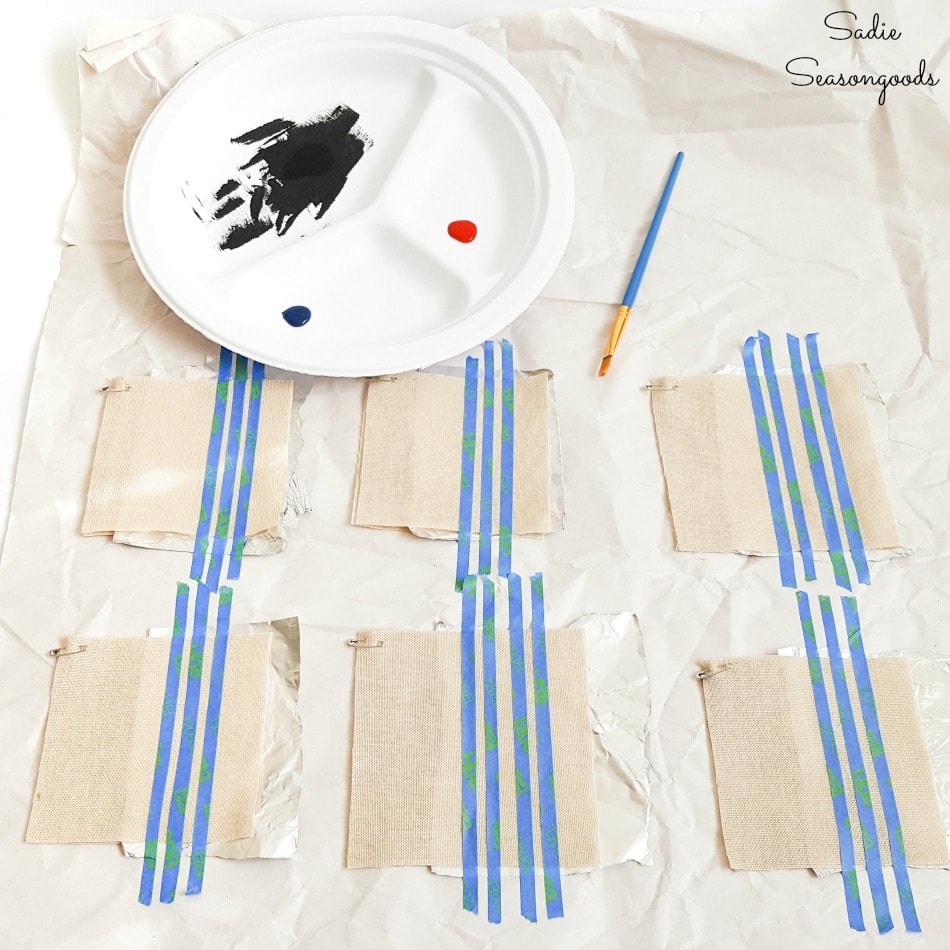 This way, I kept the pairs together and didn't have to re-match them up later on.
After effectively stenciling the fabric ink between the pieces of tape (using as little ink as possible), I let everything dry for several hours.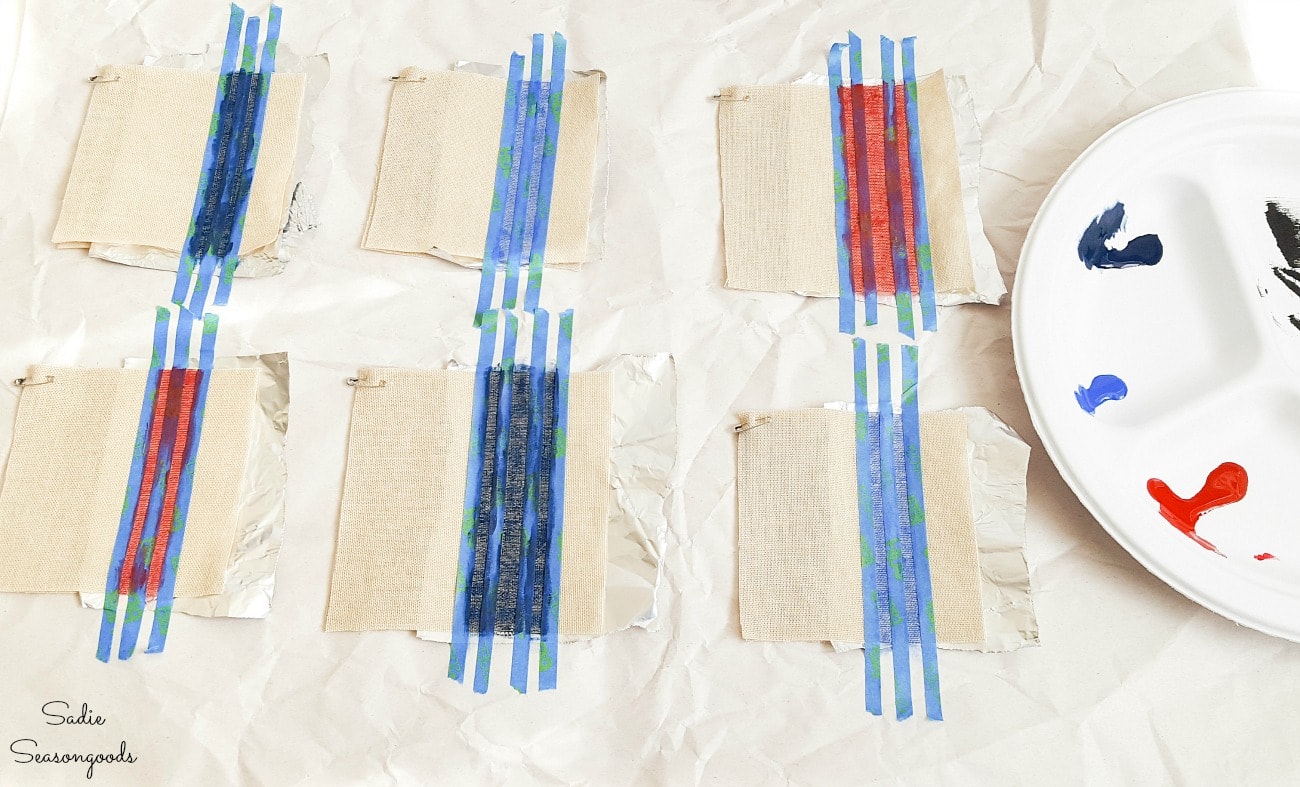 Once the fabric ink had sufficiently dried, I ironed the sets of fabric squares.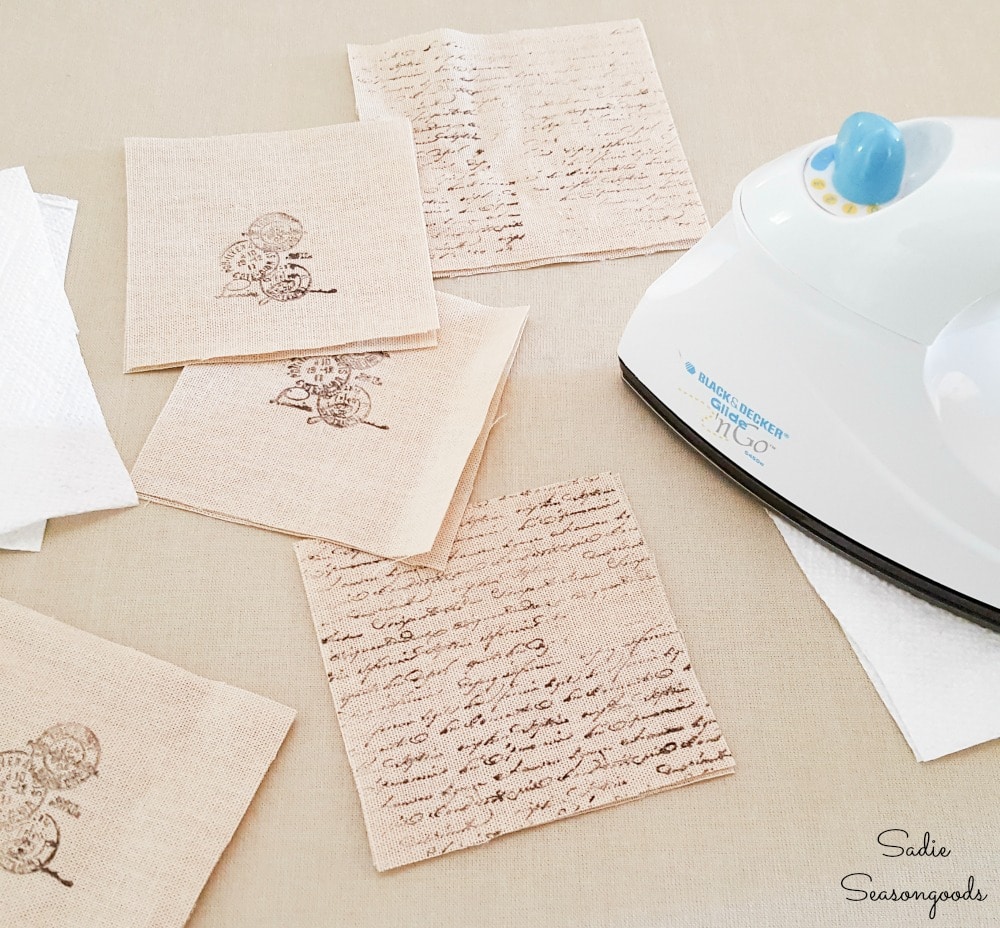 This not only removed the wrinkles, but also was an important step in "setting" the fabric ink.
And just like that, I had dozens of perfect little squares that looked like grain sack fabric! The painter's tape worked perfectly as grain sack stencils, didn't it?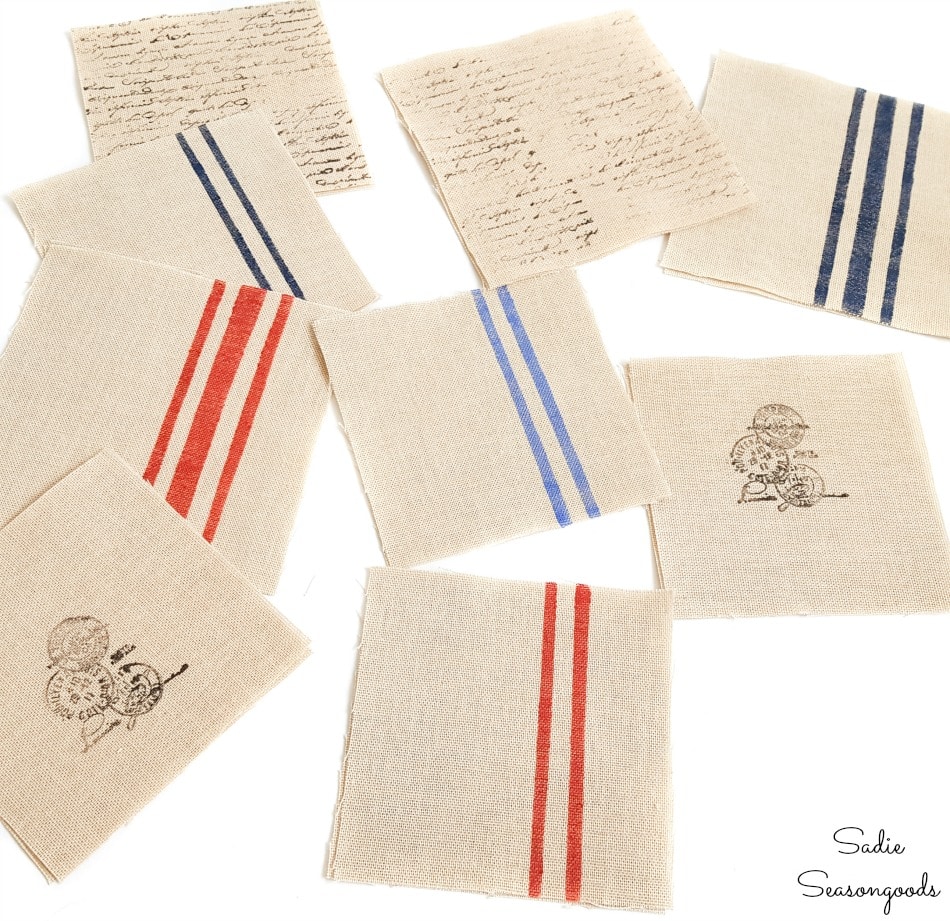 Now I was ready to start making lavender bags with them!
DIY Lavender Sachets
Using my sewing machine, I then stitched all around each set of fabric squares.
I also left a healthy ¾" margin along each side and small 1" opening on one of the sides.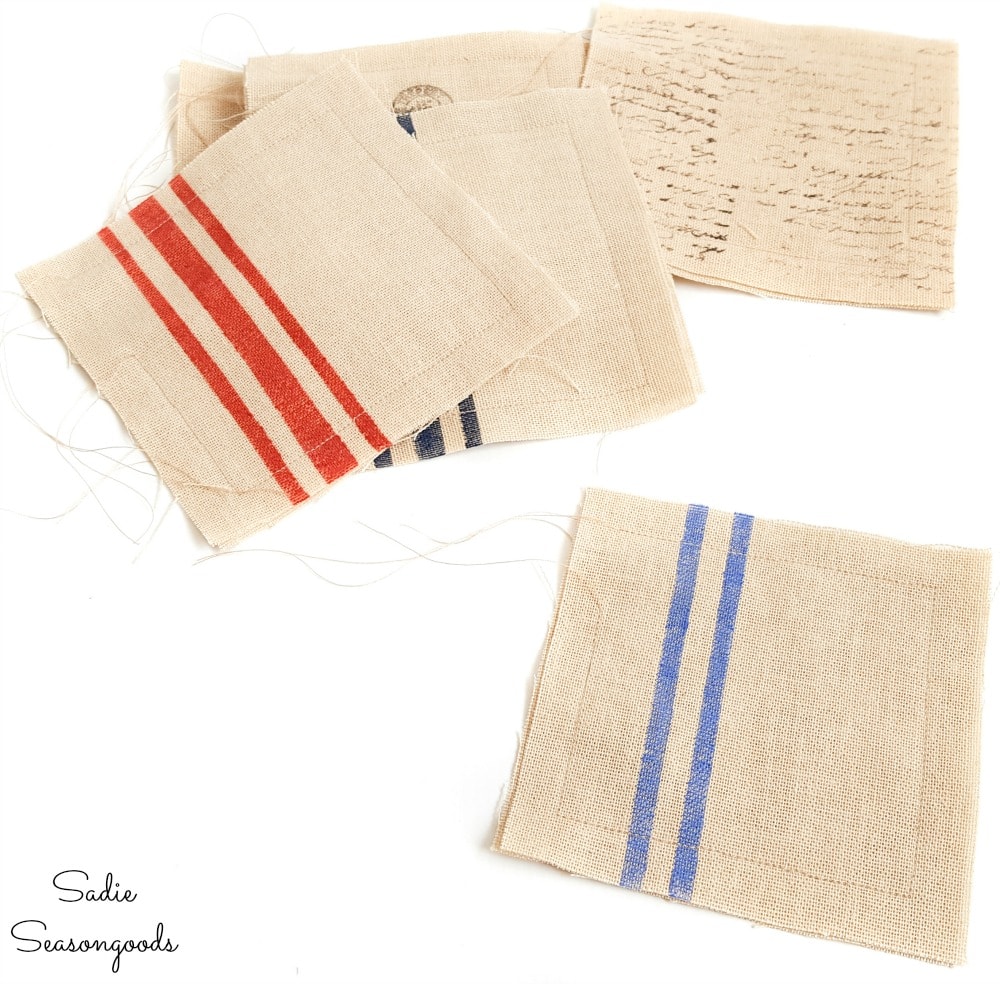 Next, I poured in plenty of dried lavender blossoms until the DIY lavender sachets were pleasantly plump.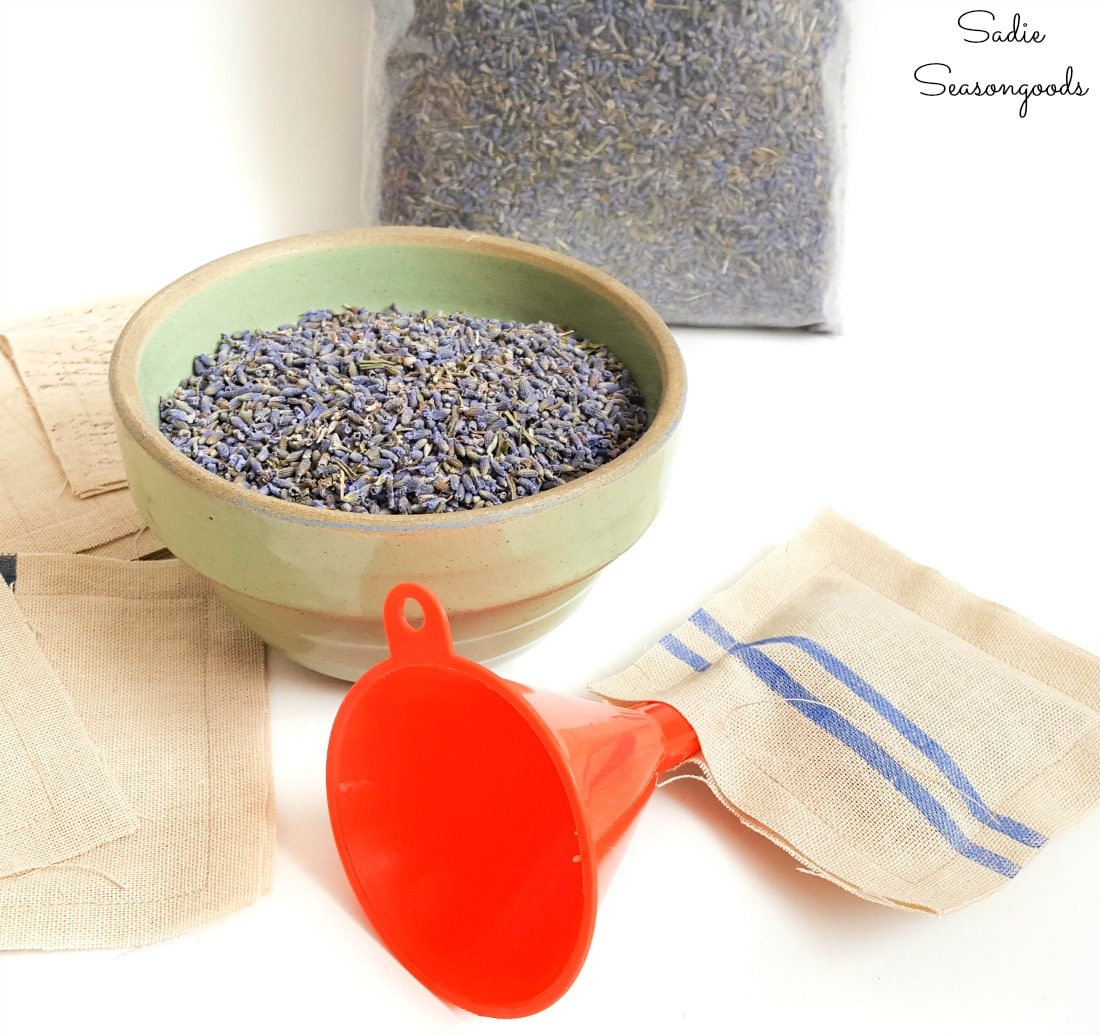 If you have lavender essential oil on hand, you could also add a few drops to the dried lavender for longer-lasting fragrance.
To finish them off, I stitched the open hole closed (carefully lining up my stitches to make it as seamless-looking as possible).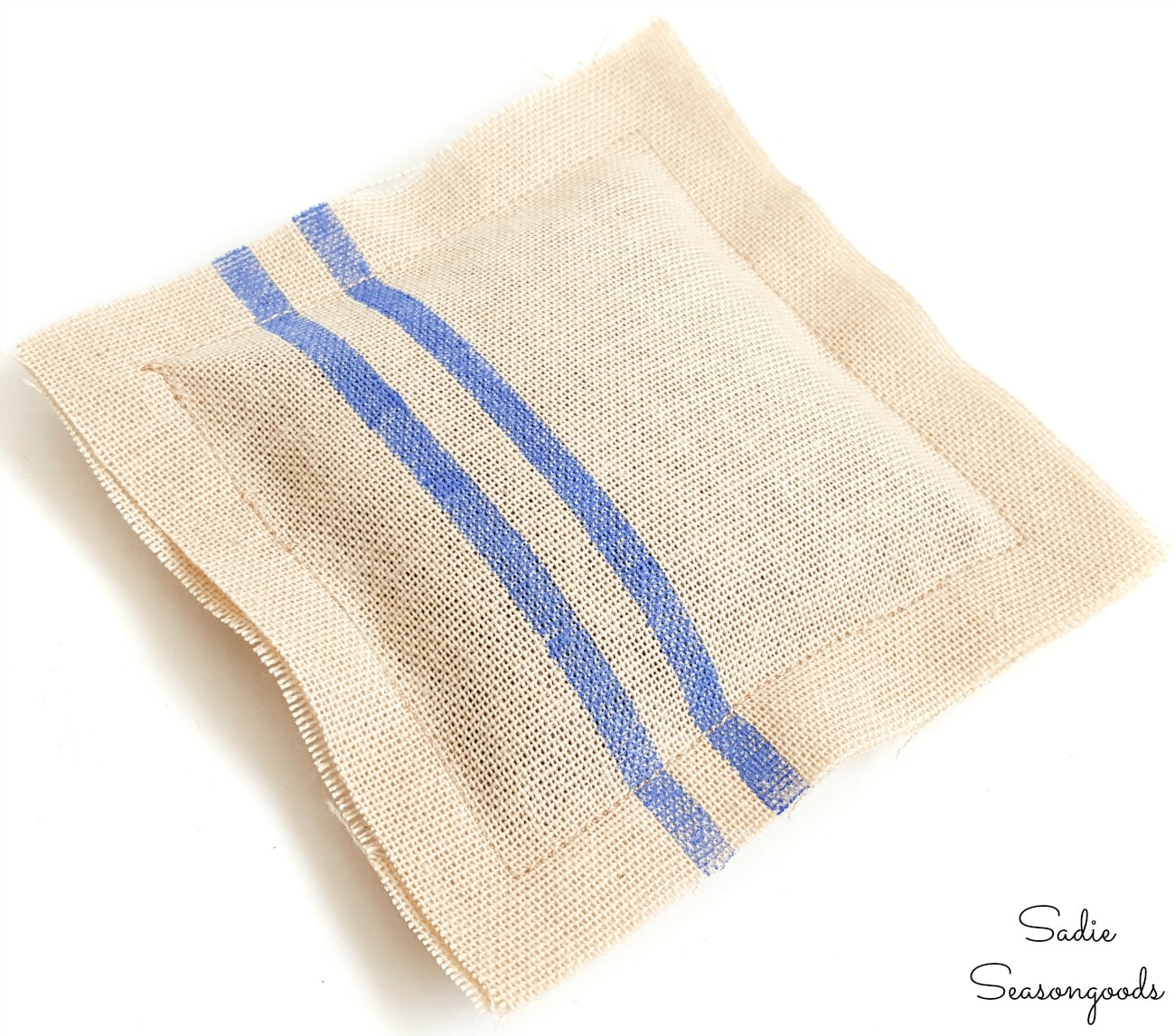 Lastly, I took my pinking shears to the raw edges to clean them up and limit the potential fraying.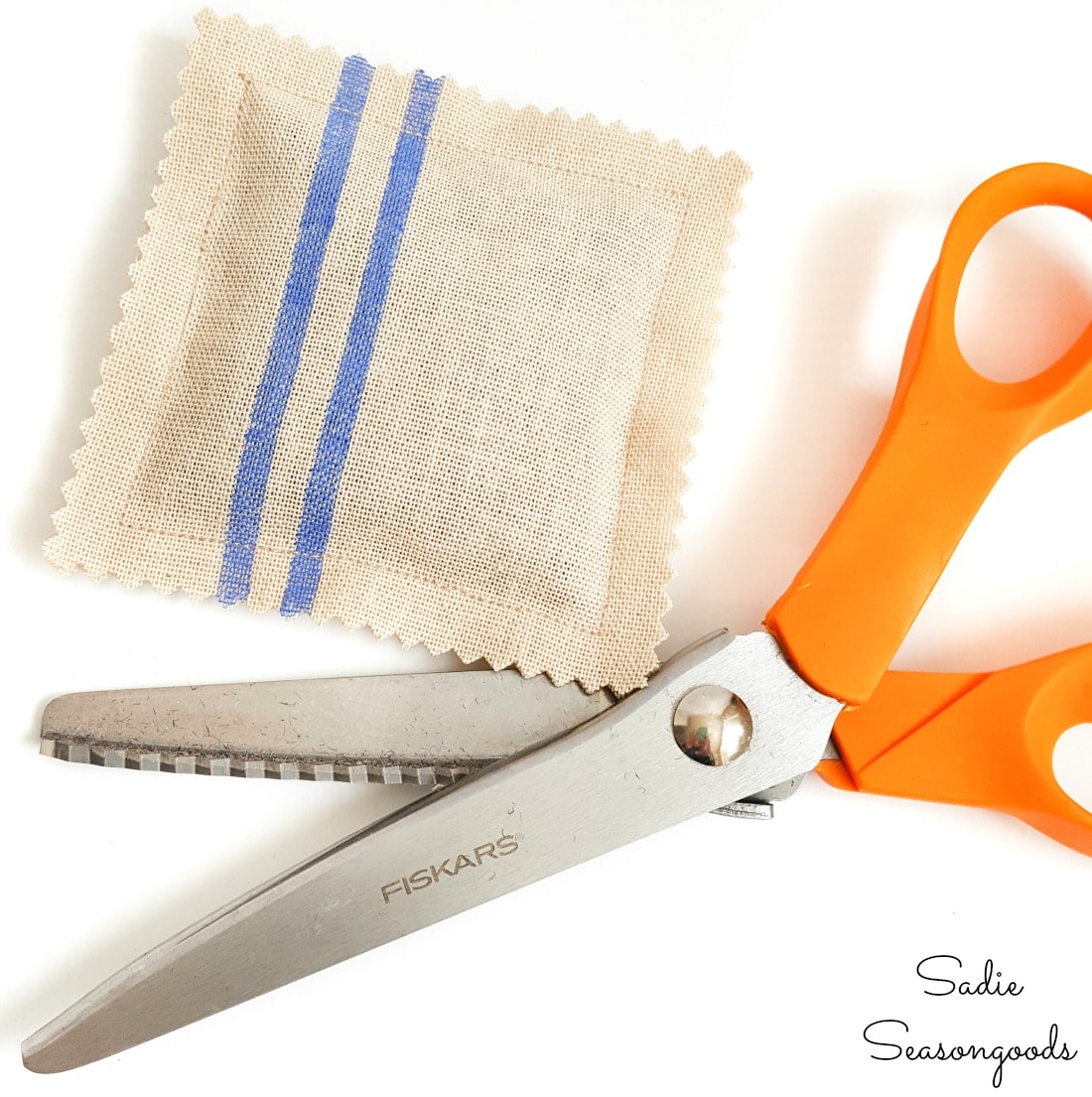 Grain Sack Fabric for Scented Sachets
And then voilà, I had an entire set of sachet bags made with my faux version of grain sack fabric!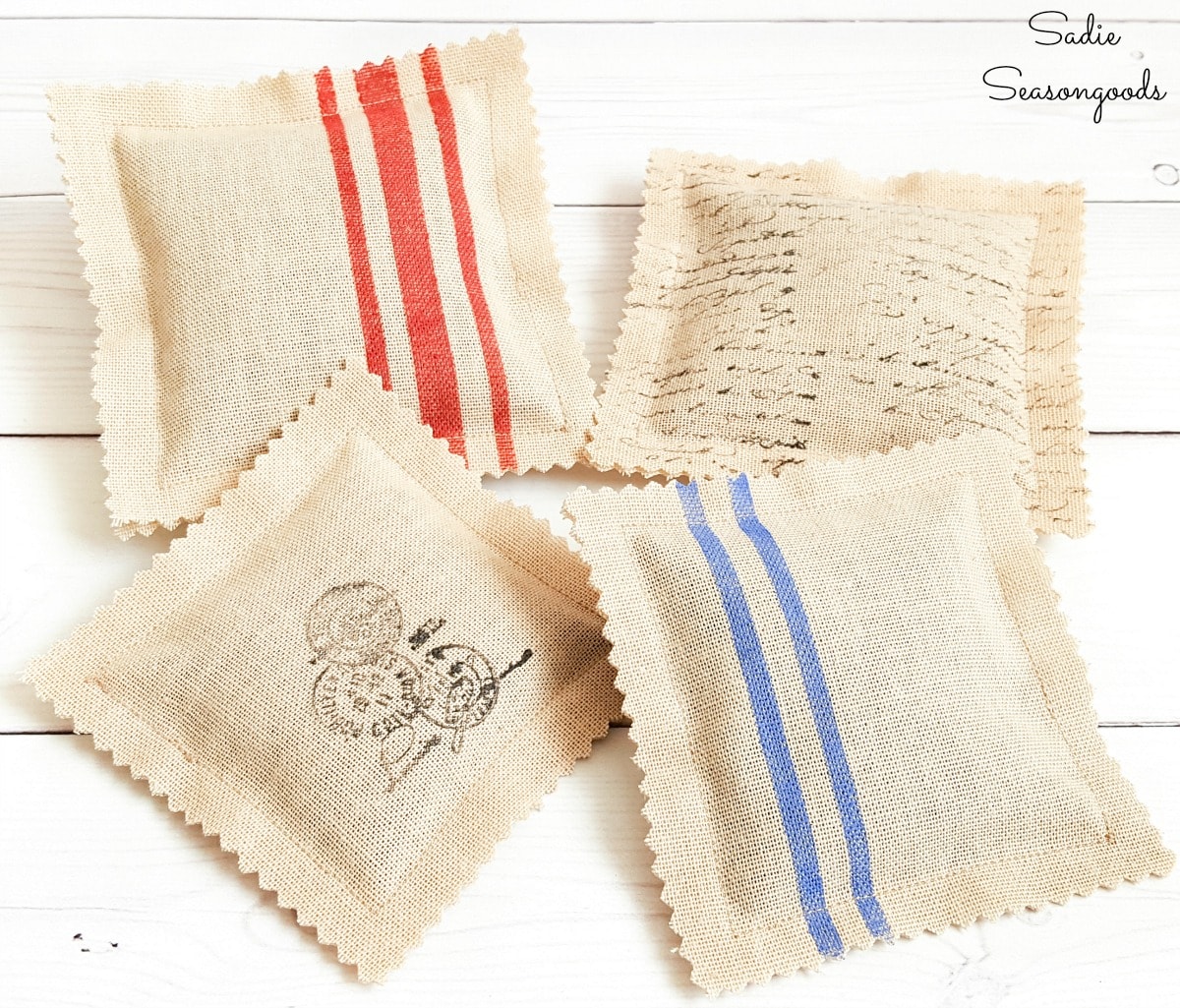 That linen curtain from Goodwill worked out better for this project than I had even hoped.
These lavender bags are perfect for dresser drawers or packing away winter clothes for the season. They're also excellent if you need some handmade gifts!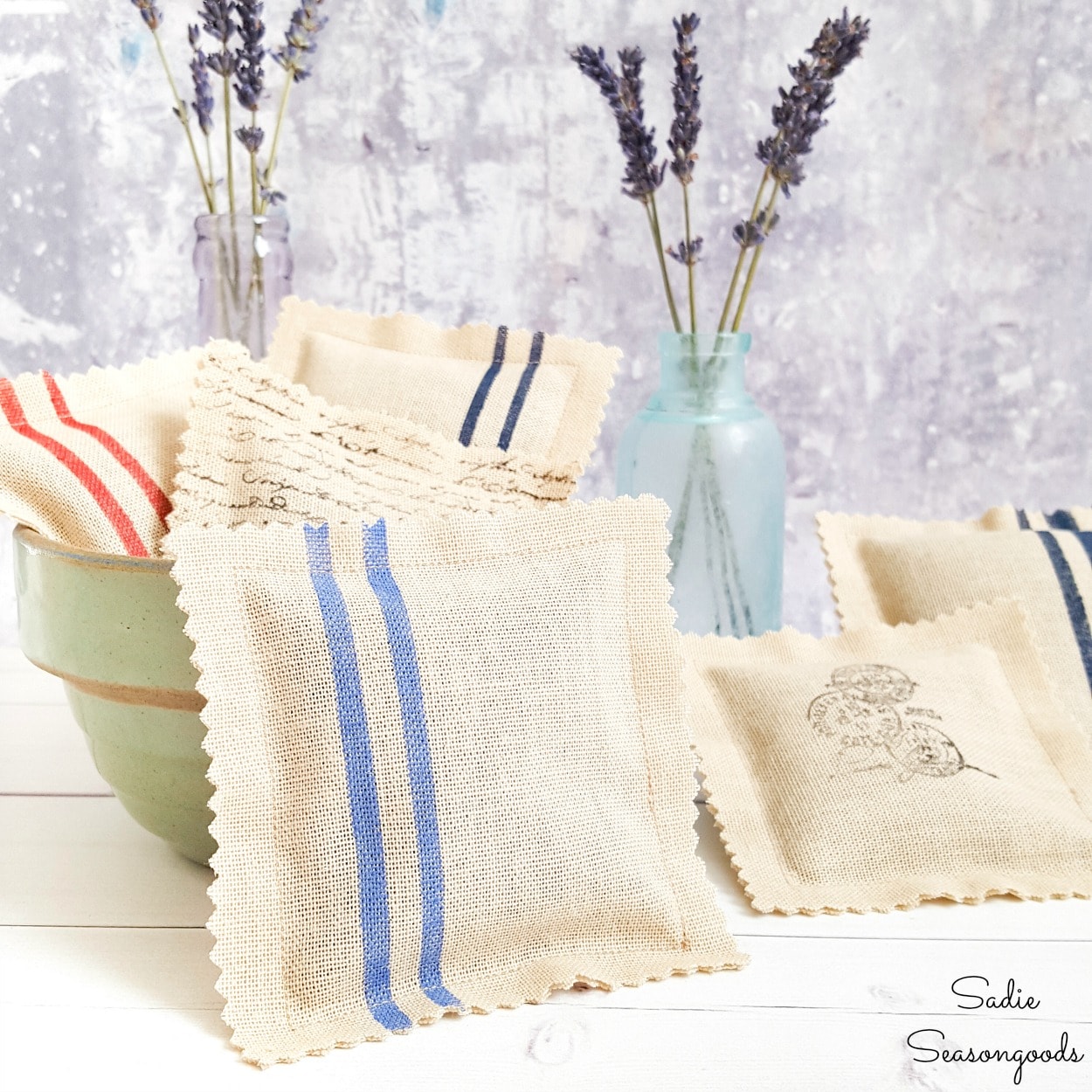 Either way, I love how my DIY grain sack fabric turned out. And I think there all kinds of applications for it. What would you make with some feed sack fabric that you made by upcycling a curtain from the thrift store?
Speaking of fabric crafts, I hope you'll check out my book, "Crafting with Flannel"! It's filled with all sorts of sewing and non-sewing project ideas with flannel fabric.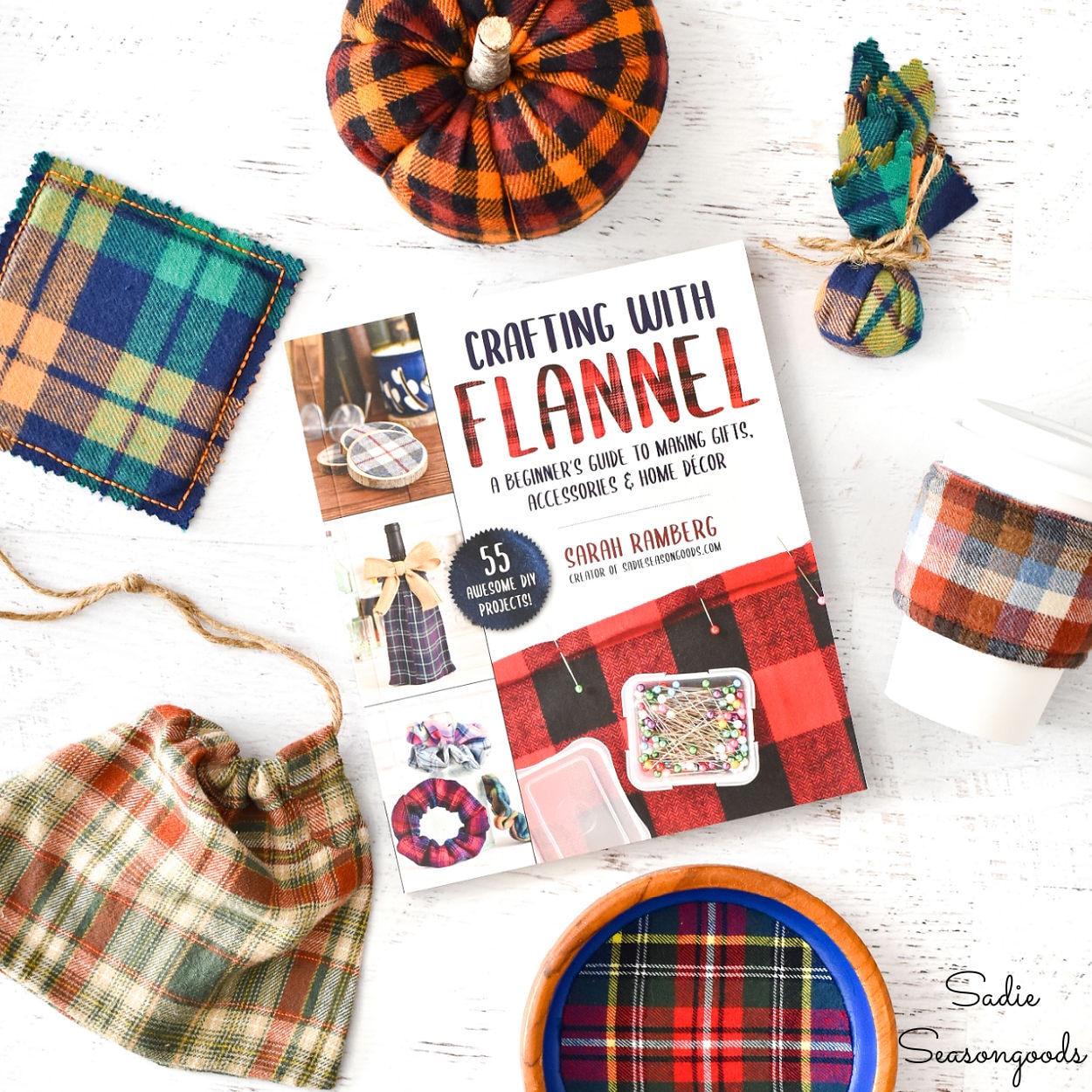 And if you enjoyed this upcycling idea for grain sack fabric, then you'll also love this French farmhouse decor idea, too!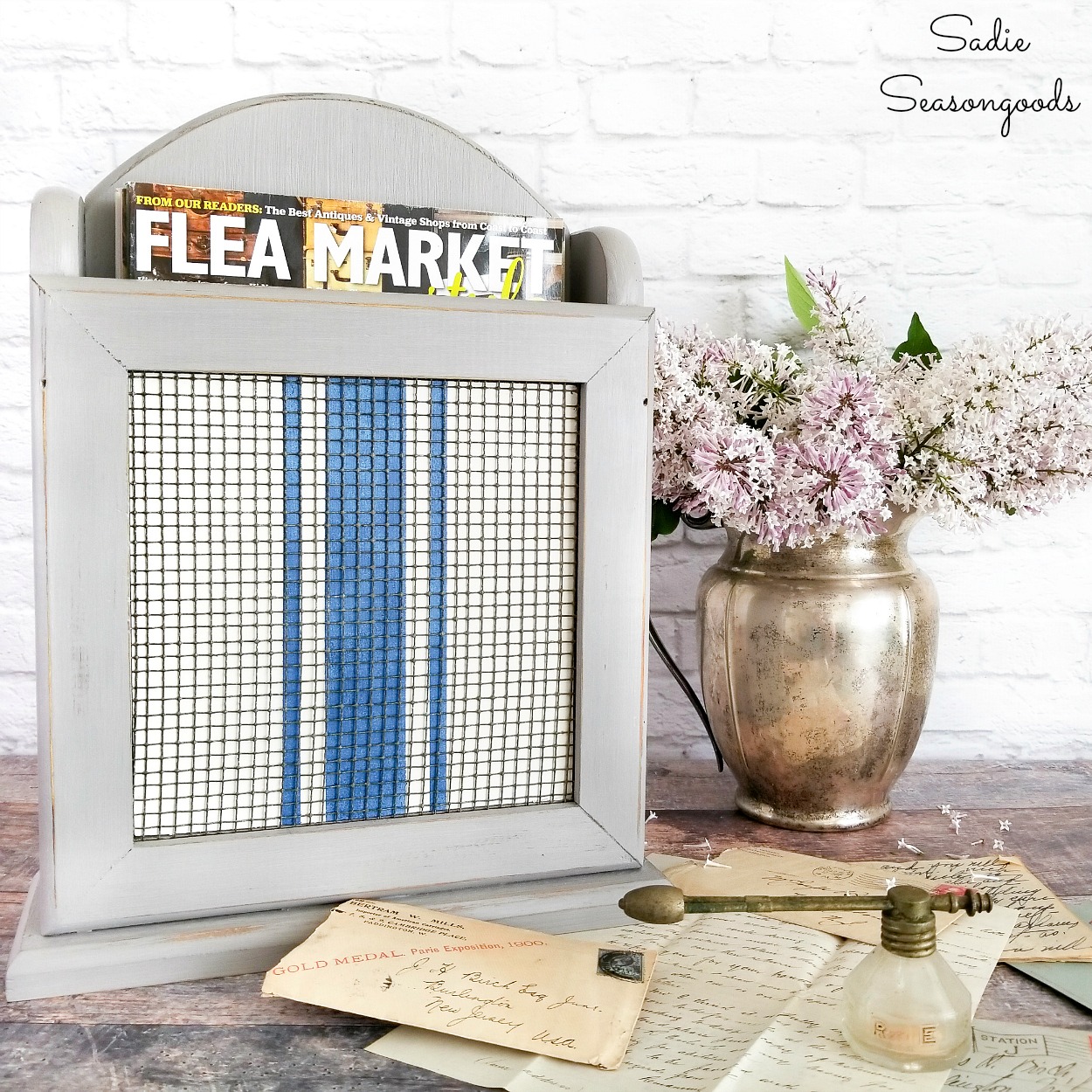 Craft on!
S
Want to be notified when I publish my next upcycling project tutorial?
Subscribe to Blog via Email
Join me on Social Media:



PIN ME!