I think I've mentioned this before, but I suffer from chronic sinus congestion and headaches. And for my fellow sufferers, I feel your pain- literally! I love to use the steam of a hot shower to open everything up. So when I came across these silicone butter molds at a thrift store, I wondered if I could use them for DIY shower melts?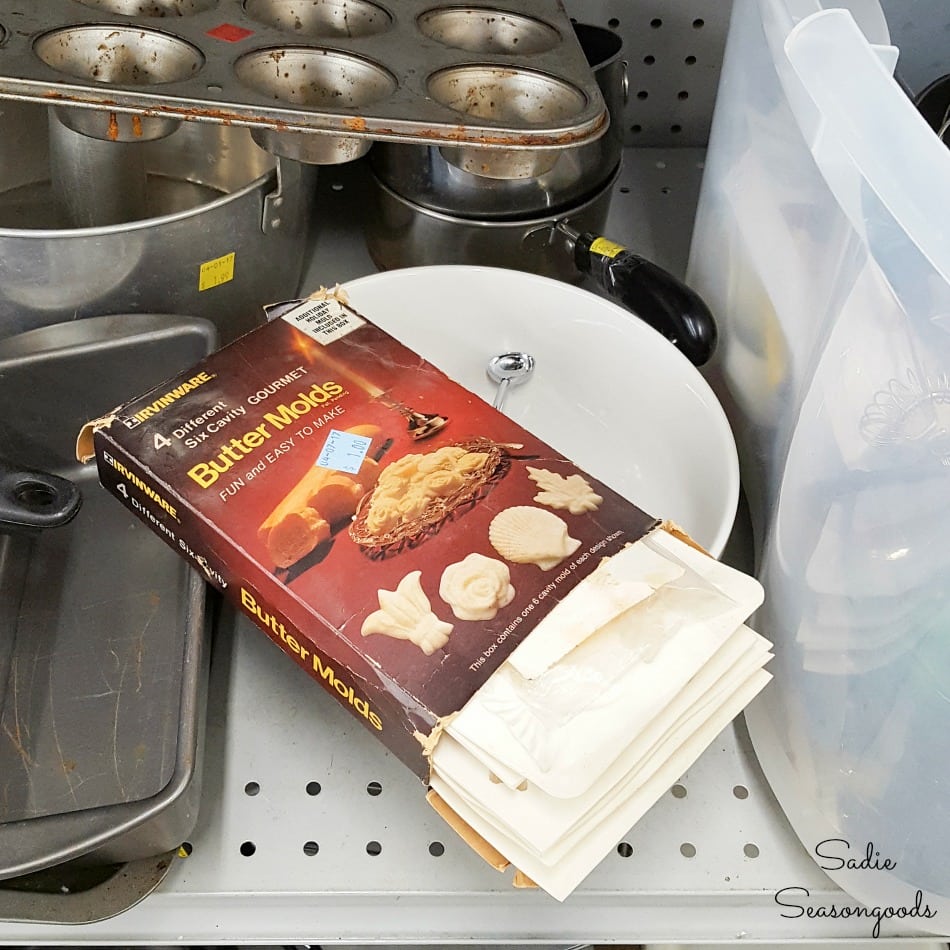 You can often find old food/candy molds at thrift stores, and I imagine that most people would be hesitant to use them for something edible.
But for making DIY all-natural body care products? They'd be perfect for that!
After I spent a whopping $1.00 on these particular butter molds, I brought the box home and opened it up. Inside were six different silicone/flexible molds, all in different shapes.
When paired with the right all-natural ingredients, they would be PERFECT for making shower melts, right?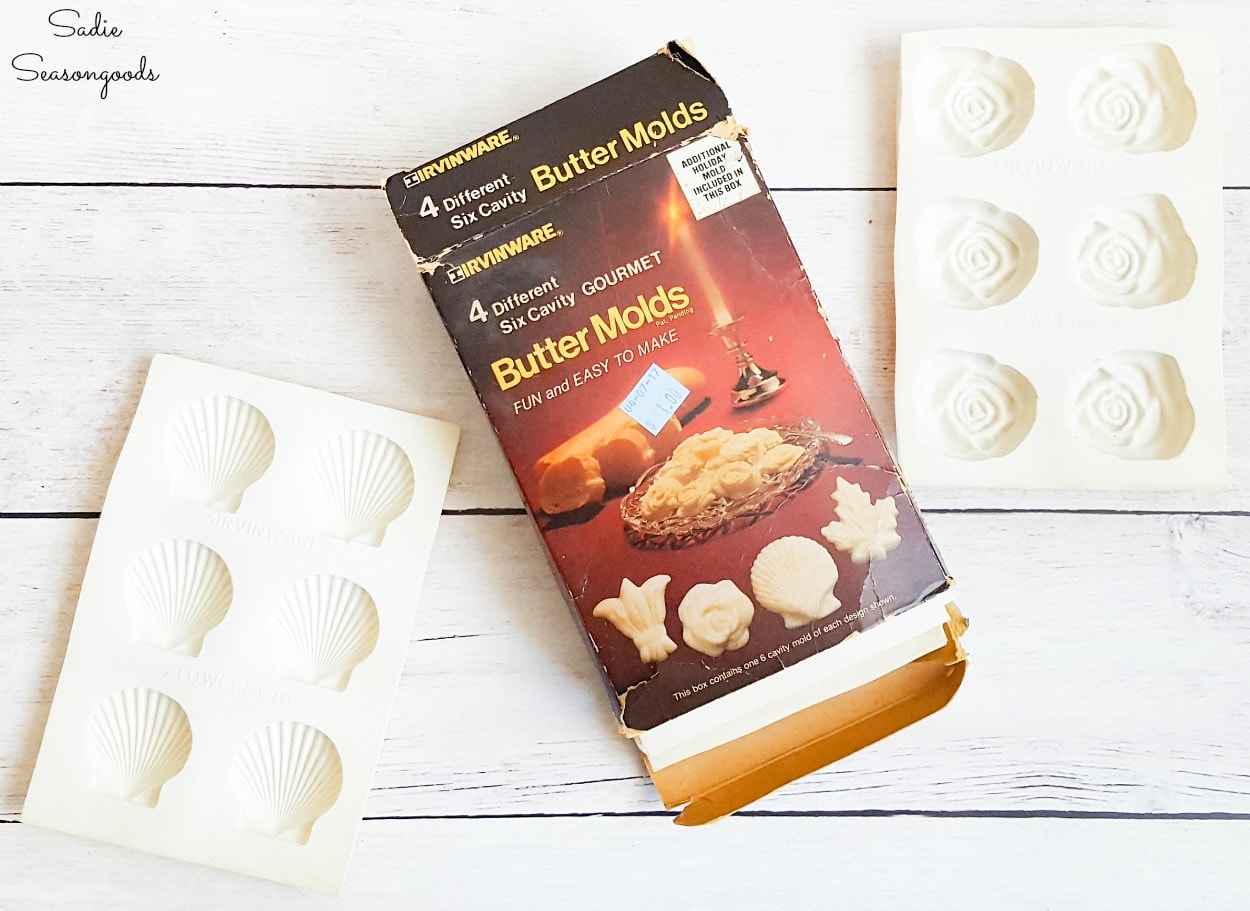 This post contains affiliate links for your crafting convenience. As an Amazon Affiliate, I earn from qualifying purchases. All blue, bold, and underlined text is a clickable link, either to a product or to a related post.
Shower Melt Recipe with Essential Oils
I could have just as easily created bath fizzies, too- those require some sort of shaping mold, as well. But I was bound and determined to sooth my sinuses with an all-natural sinus decongestant.
So, after puttering around online looking at different methods of making them, I gathered the following ingredients: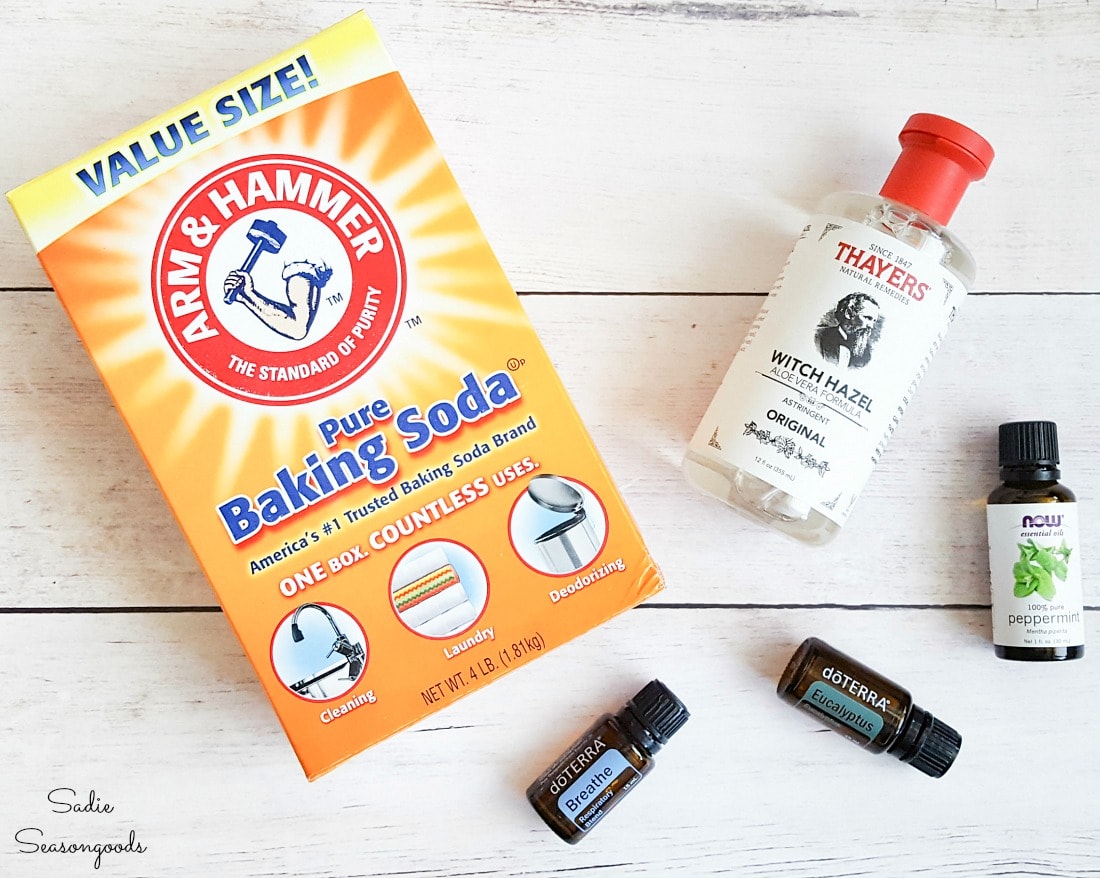 First, I blended 1 cup of baking soda with 4 tablespoons of witch hazel.
And yes, since I'm a scientist by trade, I use graduated cylinder/beaker shaped measuring cups!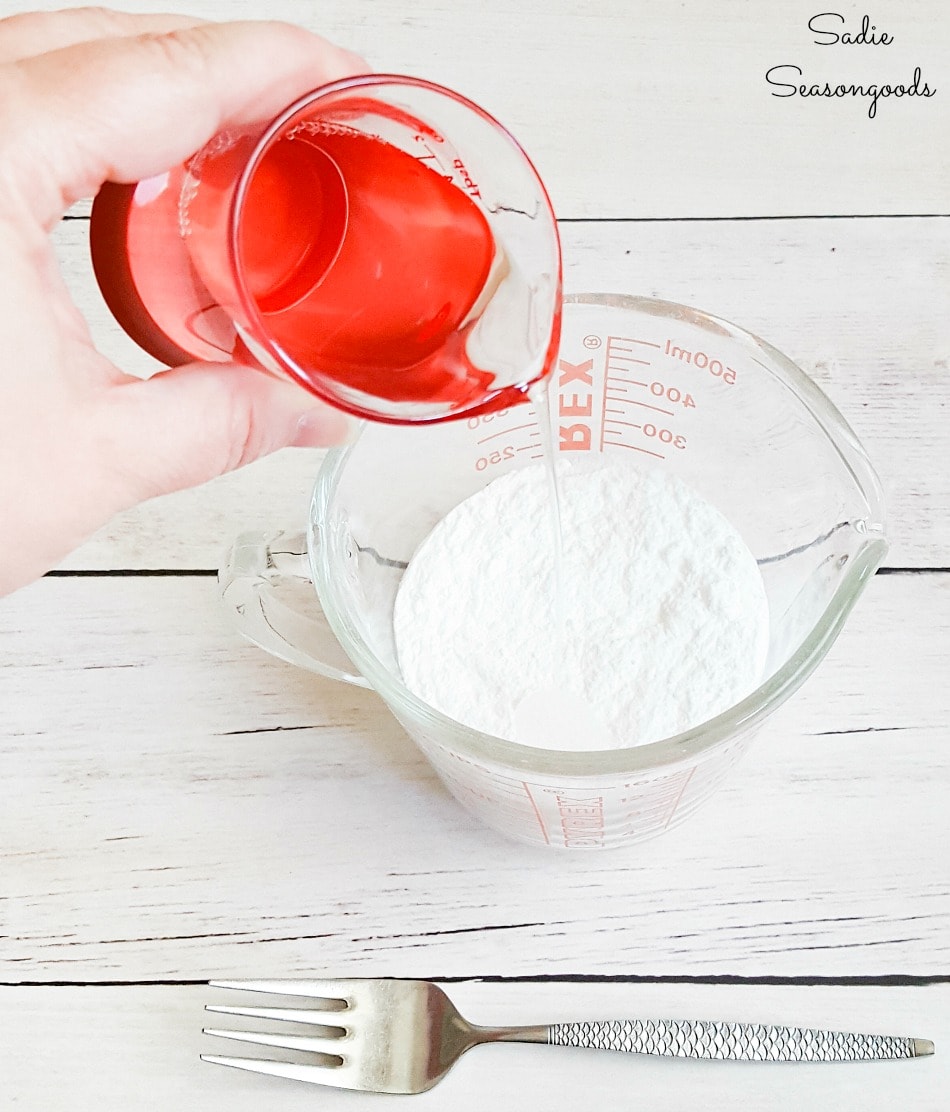 Then, I added 5-7 drops each of my essential oils sinus congestion. I love the combination of eucalyptus and peppermint, so that's what I went with.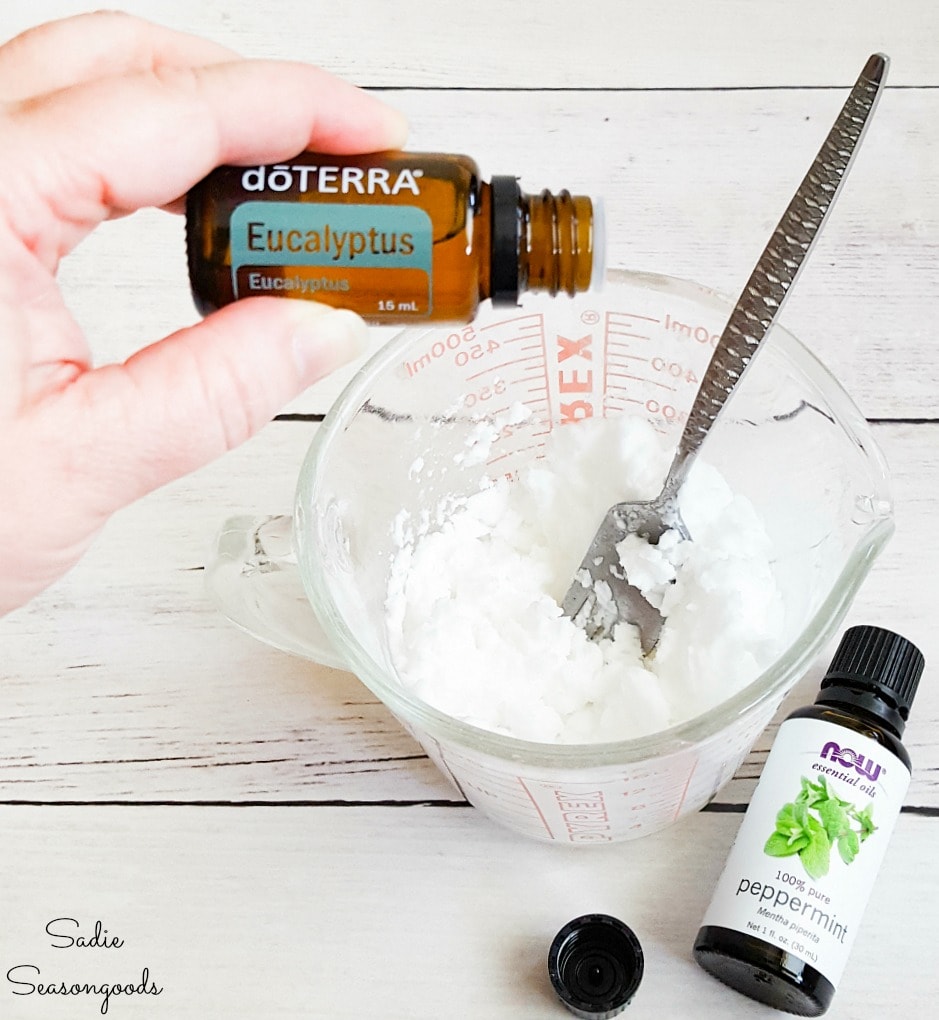 You could certainly try different amounts and combinations of oils, too.
Alternatively, I could have also replaced some of my witch hazel with this petroleum-free vapor rub since the measurements don't have to be exact.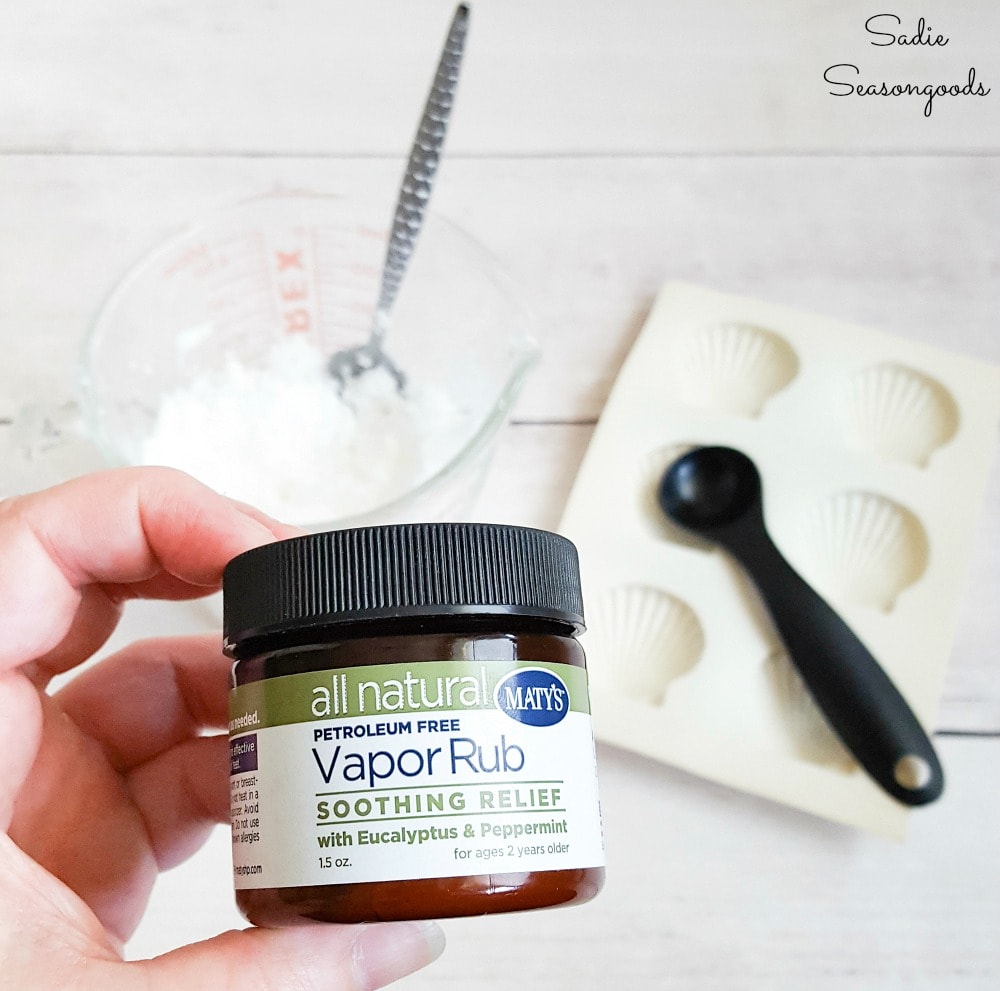 You just need a really thick paste that is crumbly (not runny) to make these shower melts in your molds.
Shower Melts for Sinus Congestion
With everything mixed together in my glass measuring cup, I pressed the shower tab paste into my butter molds. I compressed the paste as much as possible to not only ensure compact shower melts, but to also get in the nooks and crannies of each cavity.
And the aroma from the essential oils for sinuses is truly wonderful (in my opinion)!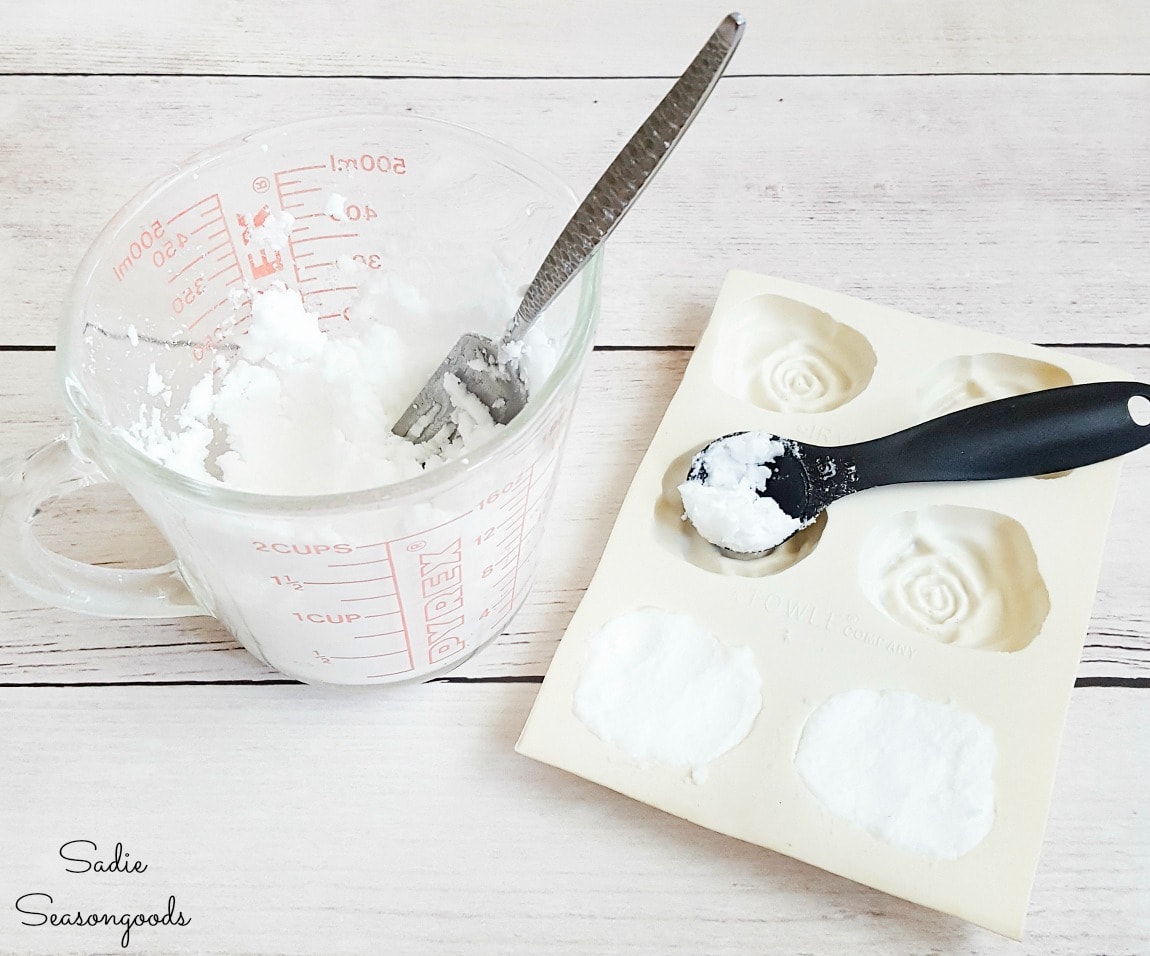 Finally, I left my butter molds alone and untouched for a minimum of 24 hours. When the shower tabs were good and dry, I gently popped them out from the molds.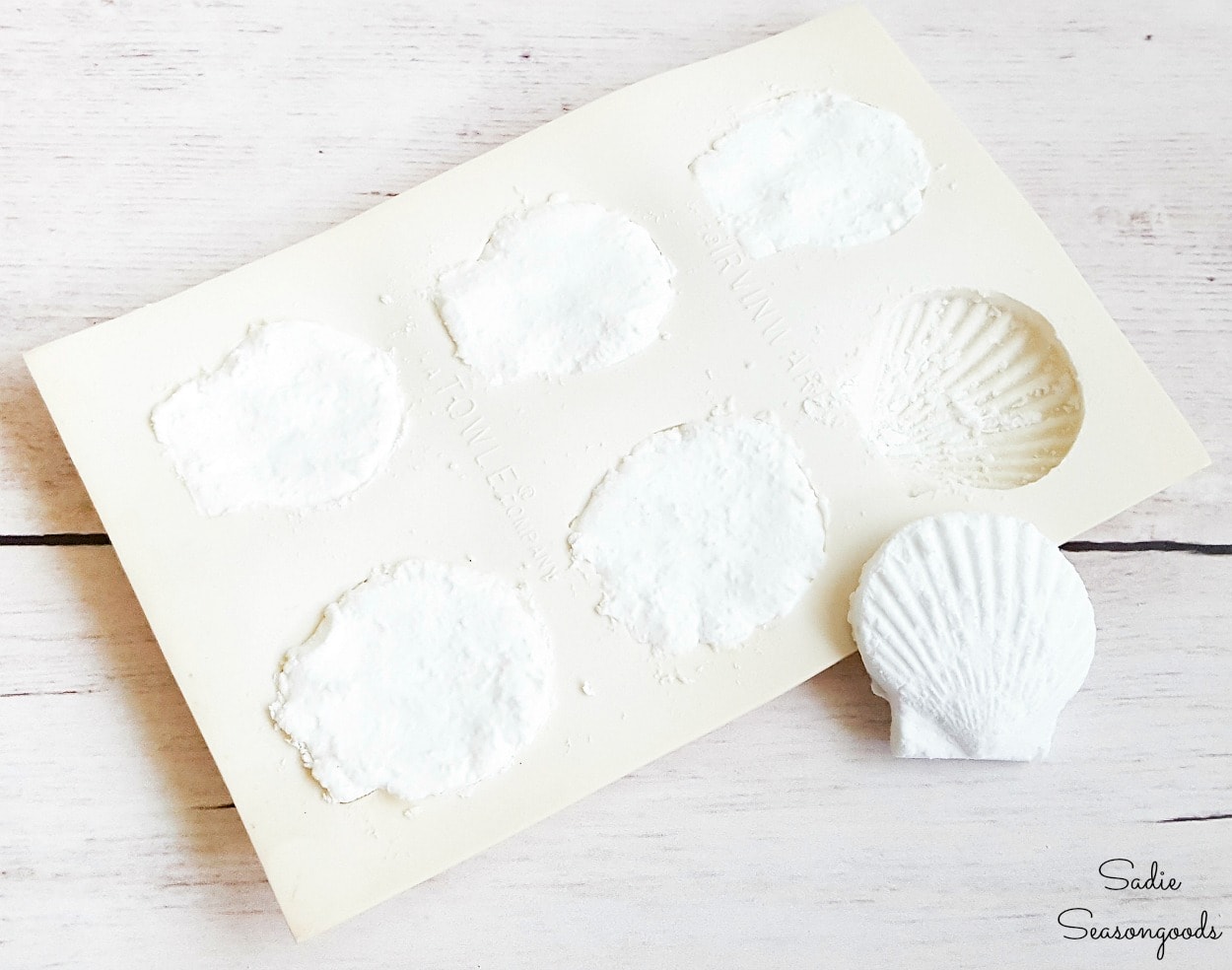 And they came out (relatively) perfect! The paste held together nicely and the use of witch hazel (instead of water) seemed to dry more quickly.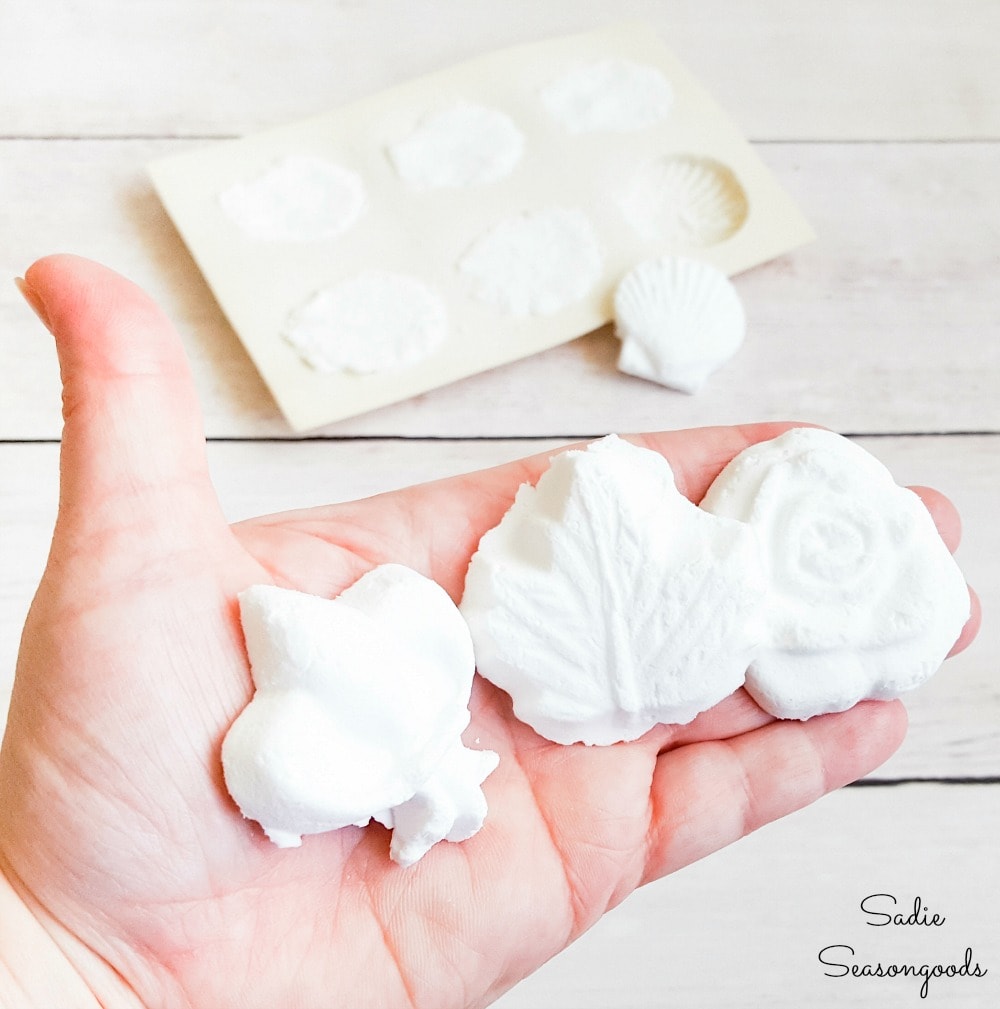 To use my shower melts, I'll set a couple on a metal soap dish in my shower. As the steam and water dissolves them, they'll release that wonderful aroma from the essential oils!
DIY Shower Melts in Silicone Butter Molds
What a wonderful way to repurpose some food molds or silicone butter molds from the thrift store, eh?
I recommend using a soap dish to keep them from becoming a hazardous slip factor. Plus, I'm blind as a bat without my glasses, and white shower melts will blend into my shower floor!
And feel free to add a few additional drops of oil on each shower melt before using, too. I think I may try to find some Camphor oil for my next batch.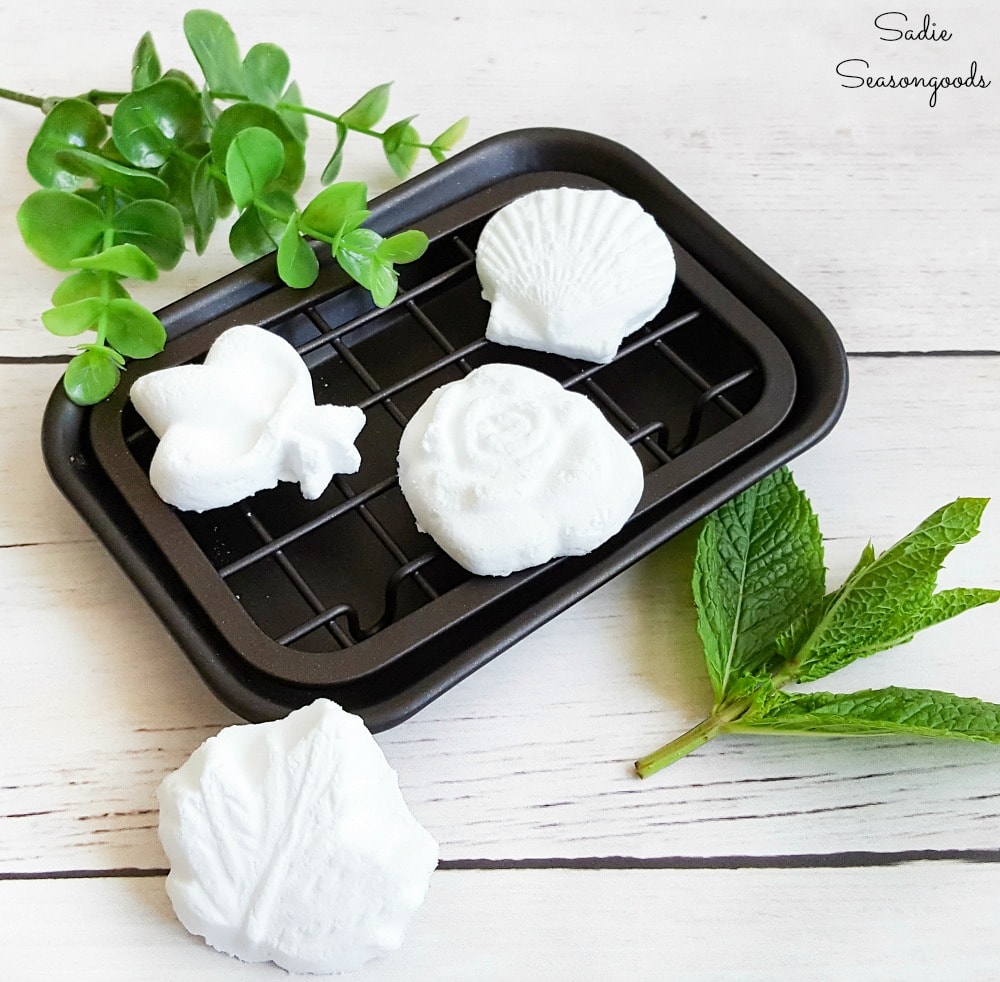 These natural decongestant shower melts can be stored for several months in an airtight container, like a mason jar! You could certainly use these as a gift, or just tuck them in your bathroom cabinet to easy retrieval.
Either way, pairing up essential oils for sinus congestion with silicone butter molds is a great way to create some DIY shower melts!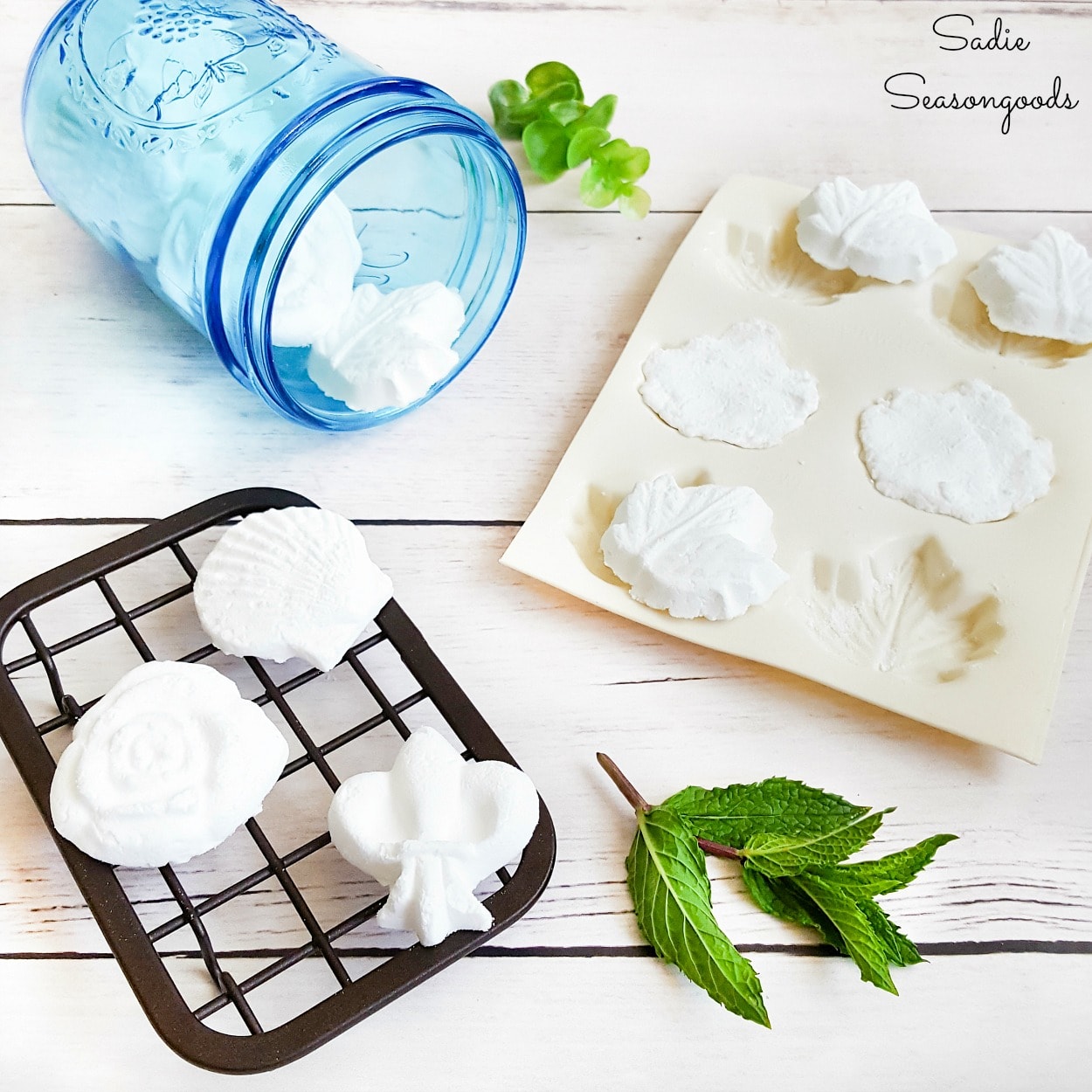 Now to think up other possibilities using essential oils; I mean, they're expensive and I want to use them as much as I can! And if you're a sinus sufferer, I'd love to hear how you manage the pressure and pain!
If you enjoyed this upcycling idea with a thrift store find, then you'll love these drawer sachets that are made with shirt pockets!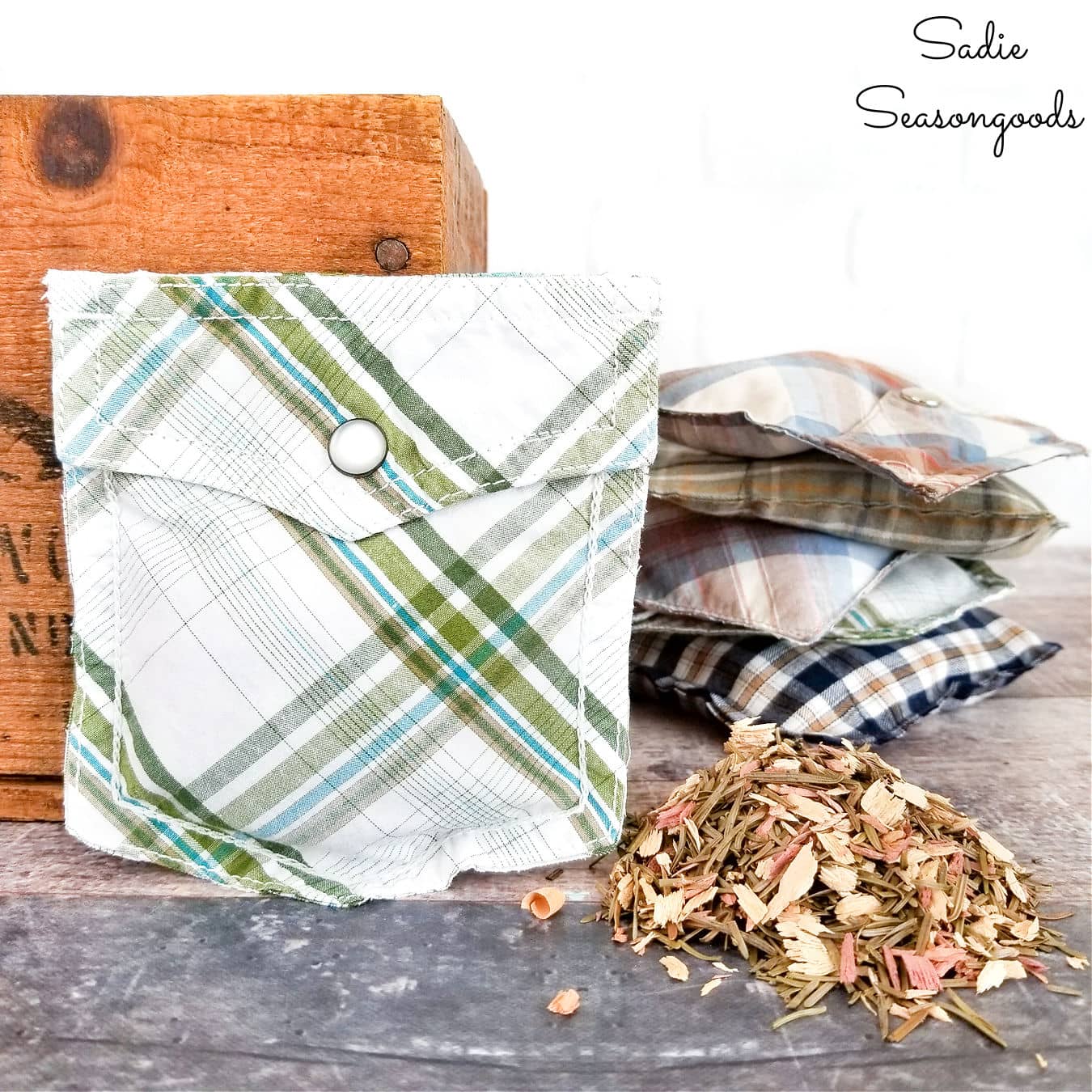 Craft on!
S
Want to be notified when I publish my next upcycling project tutorial?
Subscribe to Blog via Email
Join me on Social Media:

PIN ME!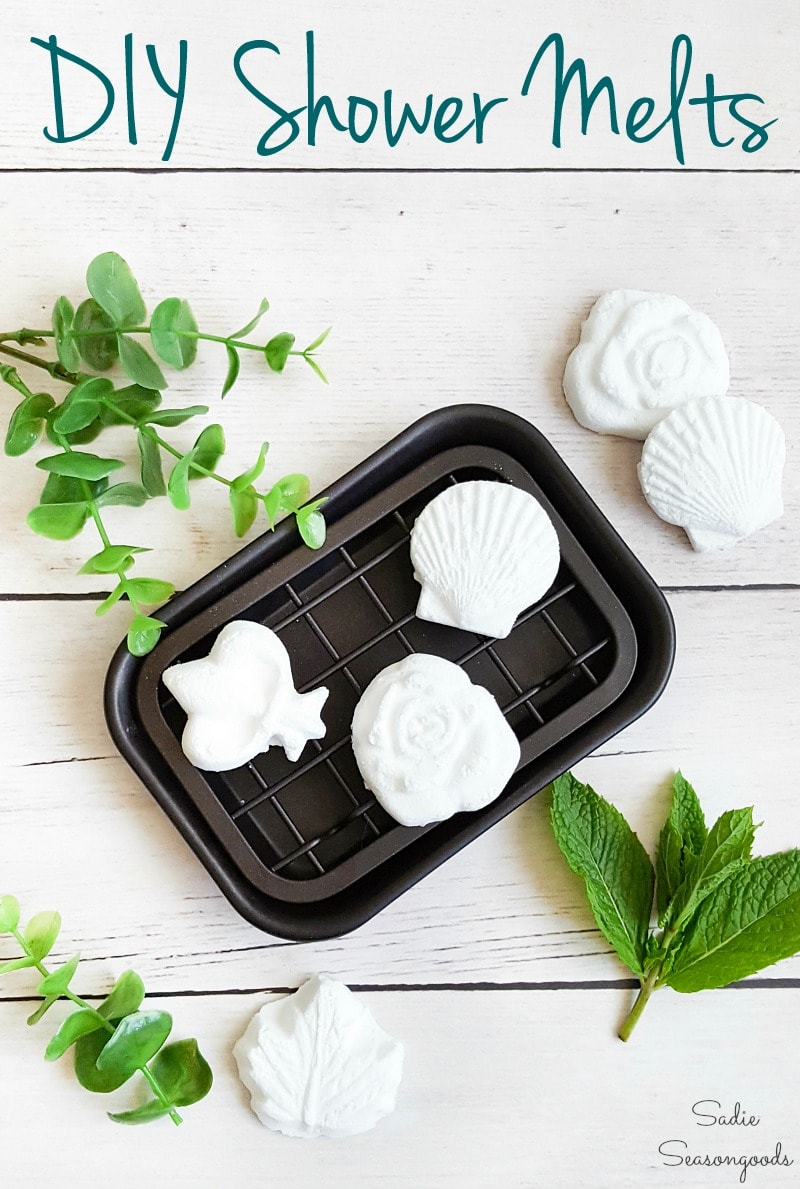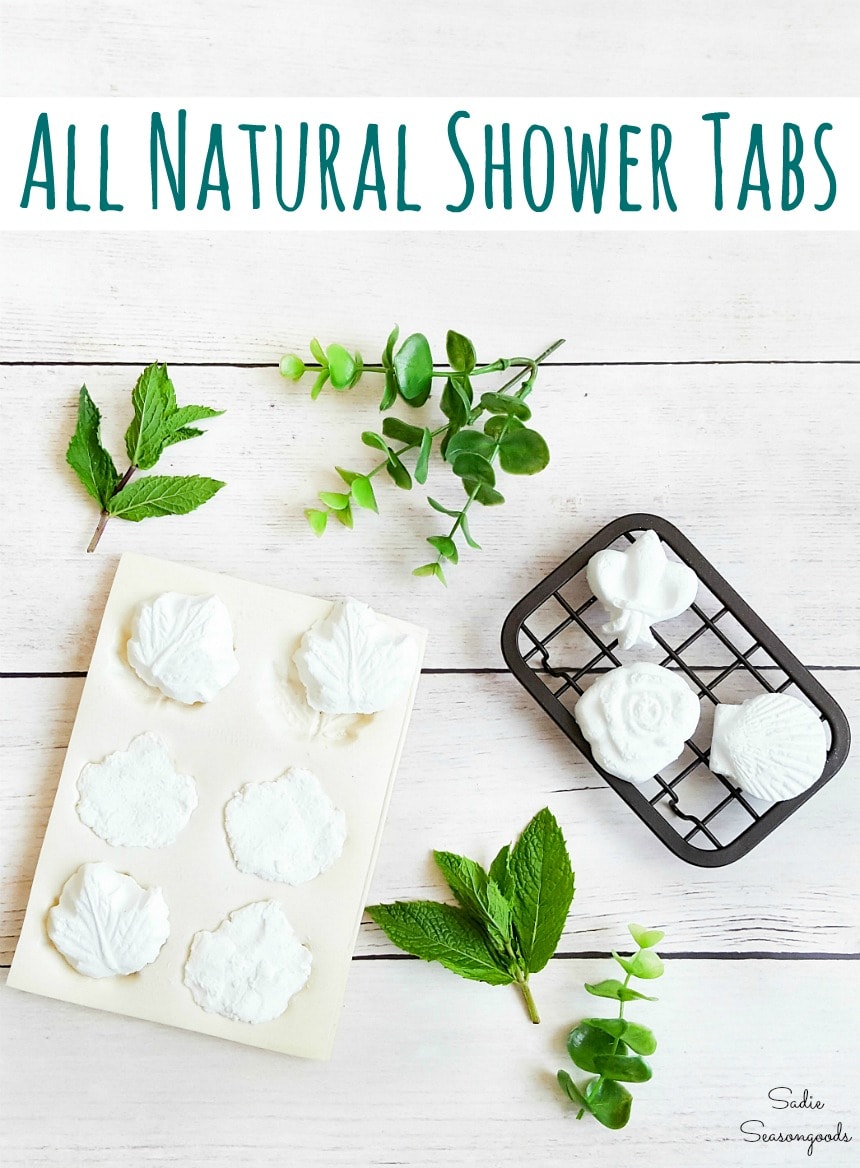 Sarah Ramberg is the owner of Sadie Seasongoods, a website that celebrates all things secondhand. From upcycling ideas and thrifted decor to vintage-centric travel itineraries, Sadie Seasongoods is a one-stop shop for anyone who loves thrifting and approachable repurposing ideas. Sarah is also the author of "Crafting with Flannel" and has been featured in numerous media outlets and magazines.