I'll be the first to admit that THIS project…is not really a project. It's more of a famous store hack idea that I turned into a hot chocolate bar. Here's the story: I was scrolling through Pinterest one day and noticed that one of my followers had pinned a photo of a condiment set from Pottery Barn.
I liked it right off the bat: a cute wooden drawer filled with clear glass jars, perfect for parties or events.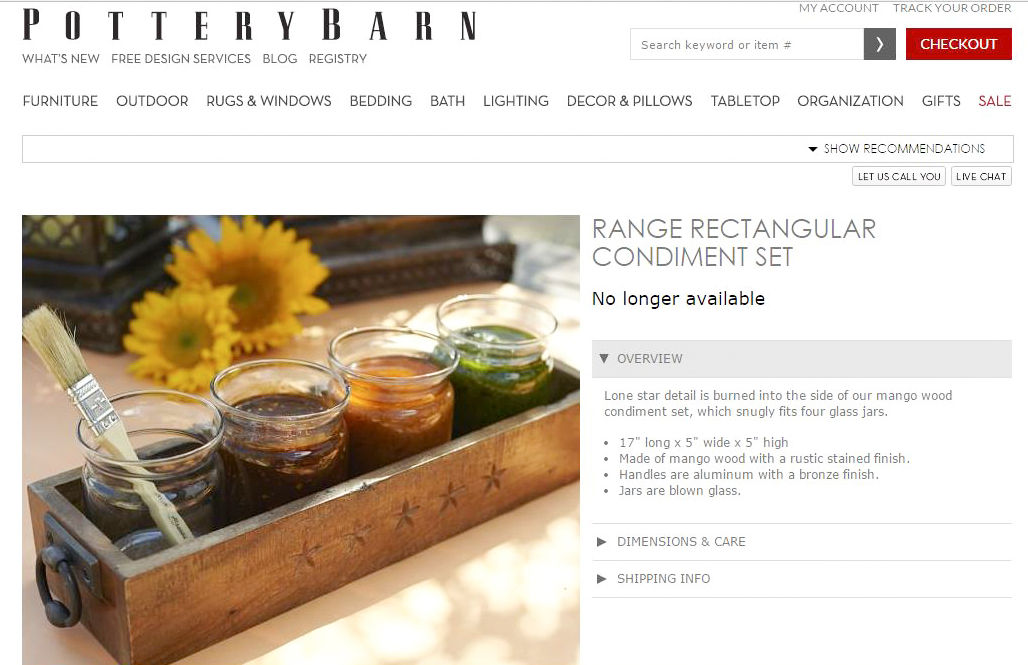 Now, this was several years ago and they no longer sell this. But it was a popular item at the height of the rustic/farmhouse phase!
It also occurred to me immediately- as it probably has done to a few other folks- that this set would be VERY easy to replicate with a few random items. From a thrift store, an antiques shop, or even your cupboards.
Which is what I decided to do, using a card catalog drawer like this!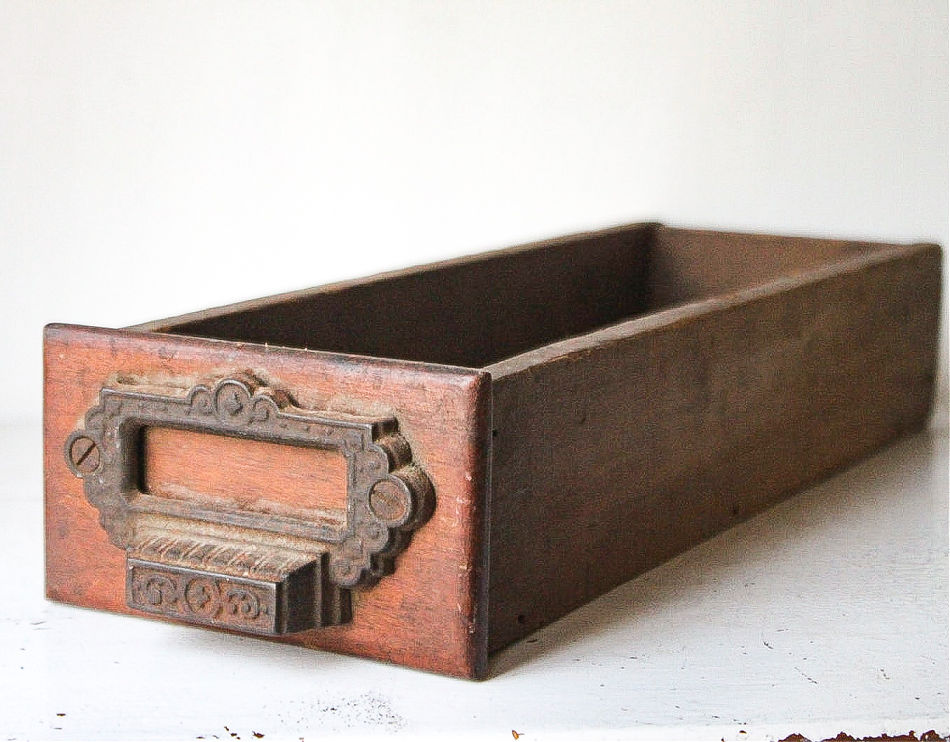 And thus, this non-tutorial blog post about a Pottery Barn hack was born!
This post contains affiliate links for your crafting convenience. As an Amazon Affiliate, I earn from qualifying purchases. All blue, bold, and underlined text is a clickable link, either to a product or to a related post.
Building a Condiment Set with Vintage Milk Glass
First things first, that card catalog drawer I showed you. I actually found this particular one on Etsy, which is often my source for specific vintage items. But an old sewing drawer would also work just as well!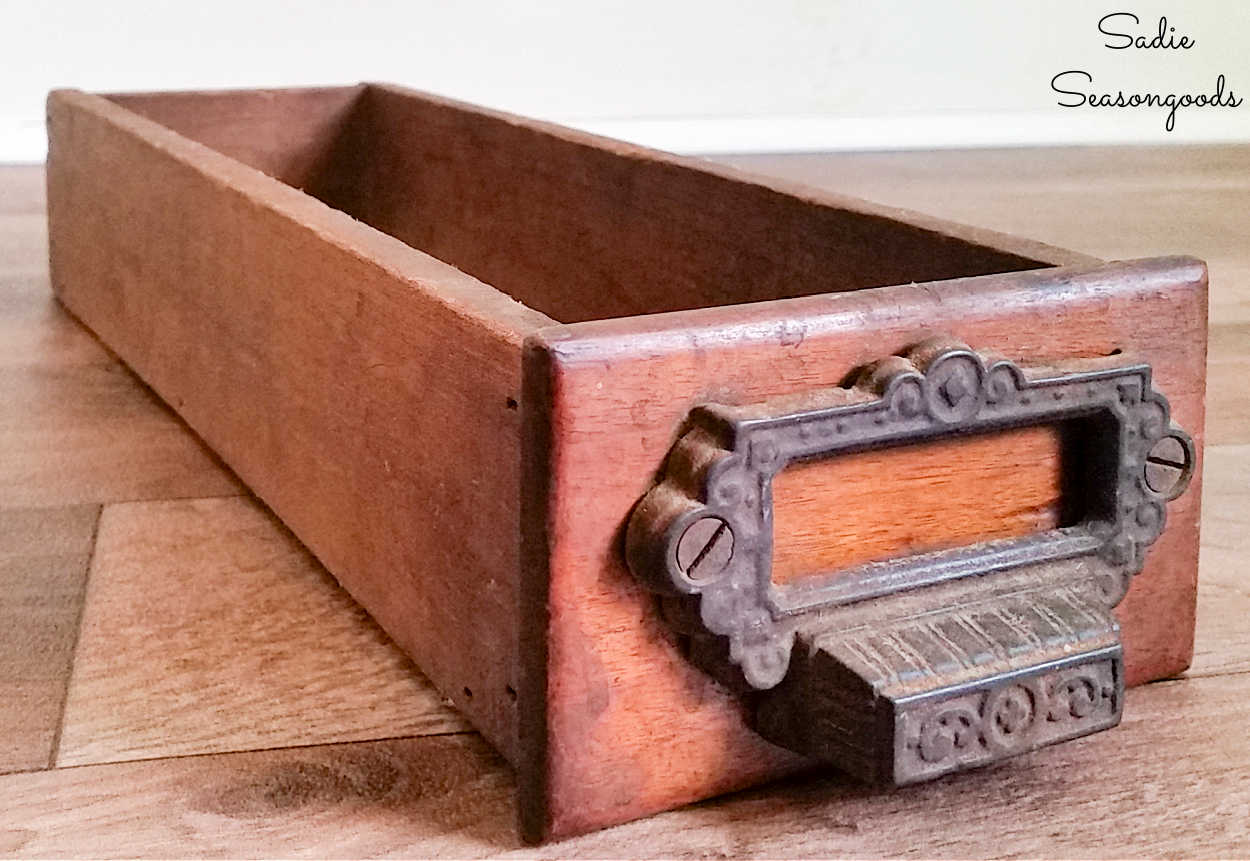 Once I had the card catalog drawer, I needed to decide what to fill it with. Mason jars would have been an obvious- and popular- idea. And I love me a mason jar, but I wanted to think a little outside the box. Or drawer, as the case may be.
Carnival glass? Silver plated goblets? Pretty colored sherbet bowls? Let's face it, the vintage options are endless.
In the spirit of the last days of winter, I decided that vintage milk glass would be a lovely option. So, I gathered two pairs of milk glass creamer and sugar sets.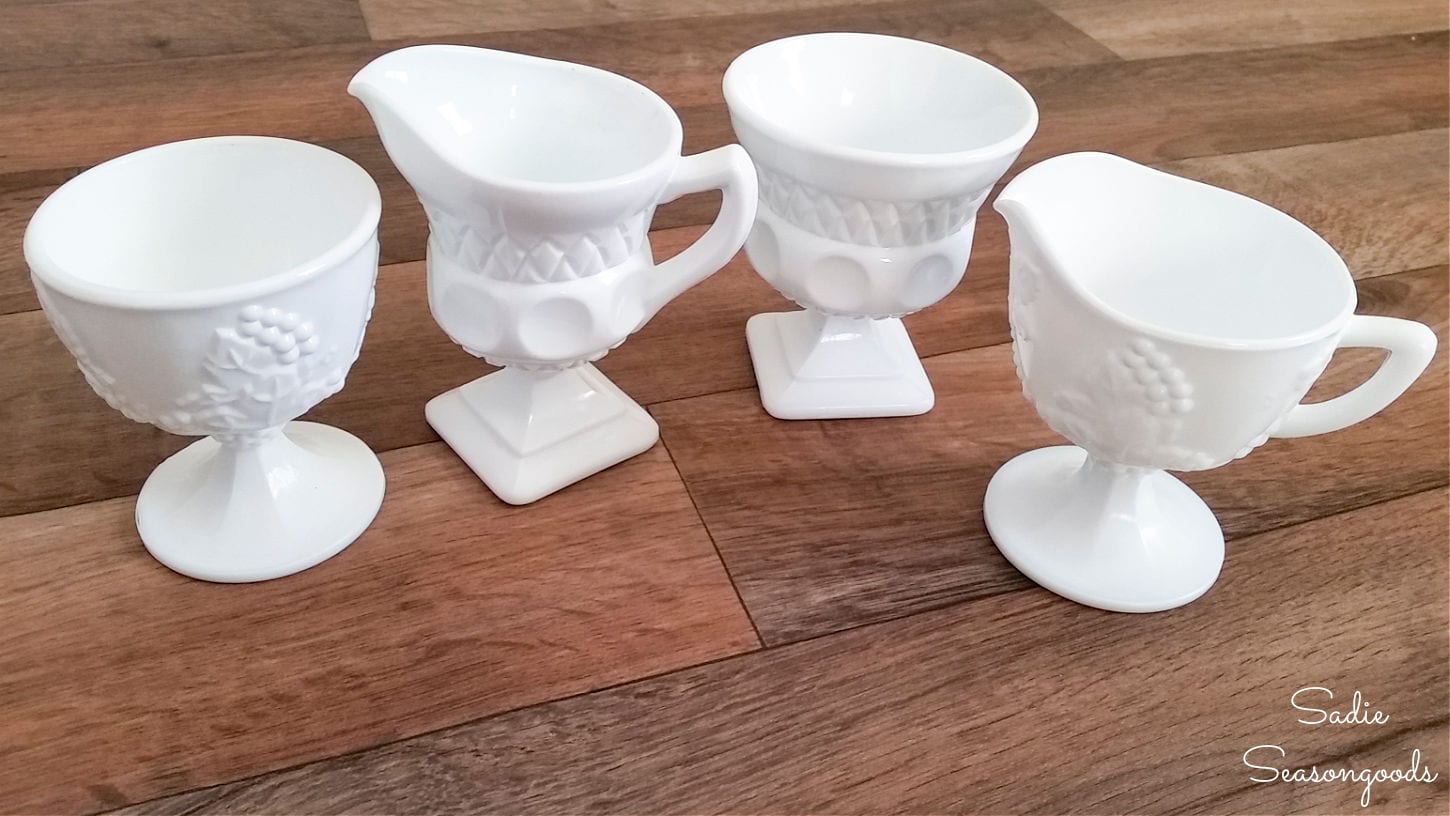 First, I placed the sugar and creamer sets inside the card catalog drawer. Thankfully, they fit perfectly!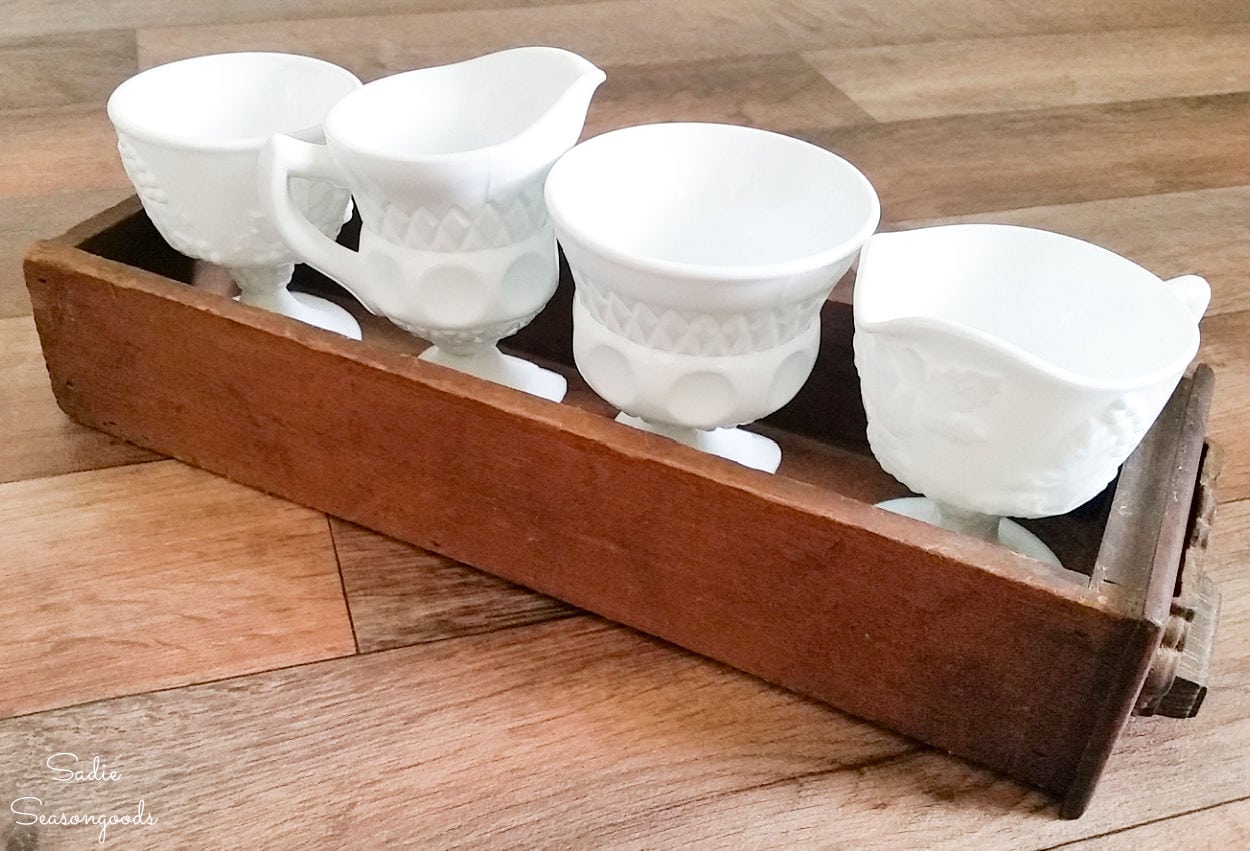 The vintage milk glass white really popped against the dark wood of my library card catalog drawer. It also had a winter decor feeling, which was perfect since I planned to use my condiment set for hot cocoa toppings!
Next, I filled up the condiment set with sweet deliciousness. Mini chocolate chips, peppermints, and marshmallows, of course.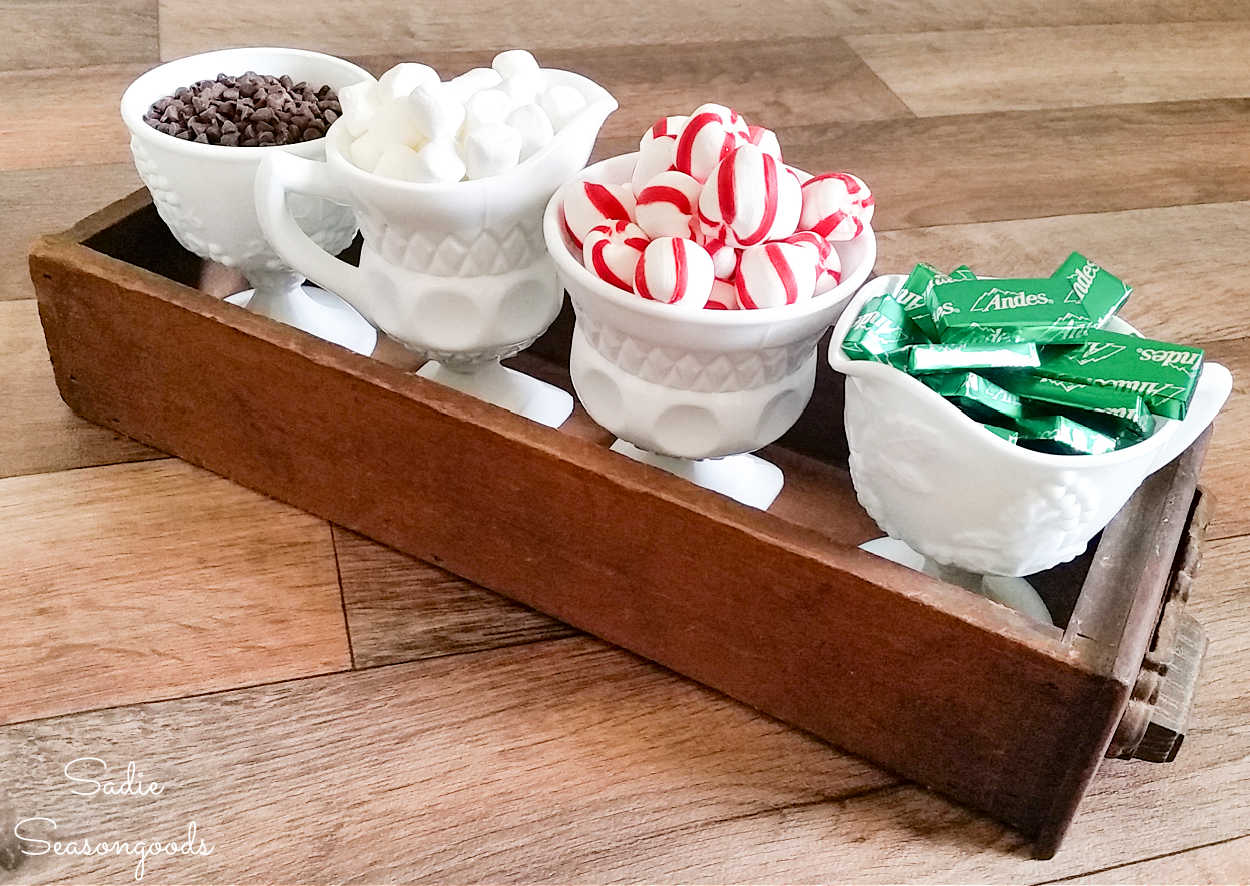 I loved my little condiment set, but felt like it needed one more thing. So, I added little chalkboard labels to the hot cocoa toppings. To keep things as easy as possible, I used a chalk marker pen, which I find much easier to work with than regular chalk.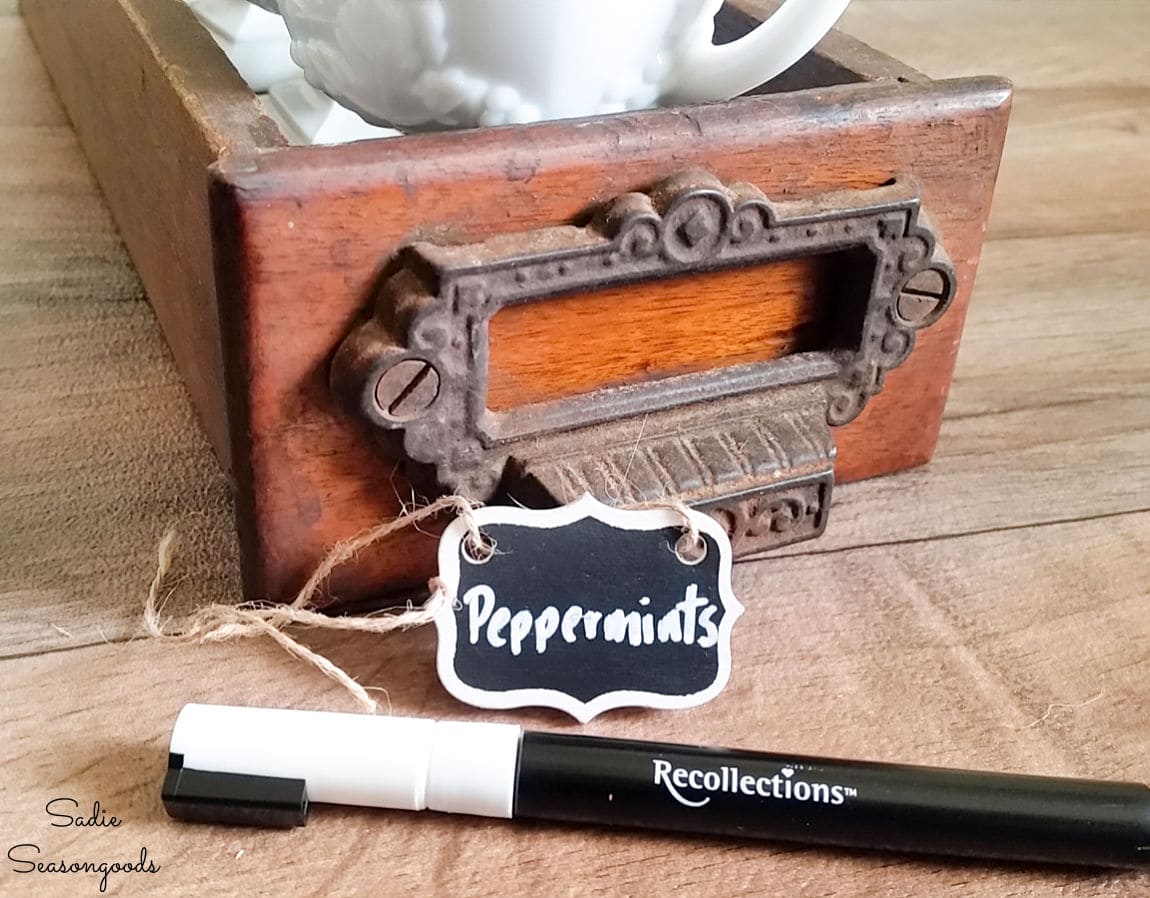 Perhaps my hot chocolate bar didn't actually *need* any labels, but depending on which toppings you use, labeling could be handy! Especially if any of your toppings or condiments are specialized, like gluten free, vegan, or sugar free.
Condiment Set in a Card Catalog Drawer
And there it is- easy as can be using all things vintage or secondhand.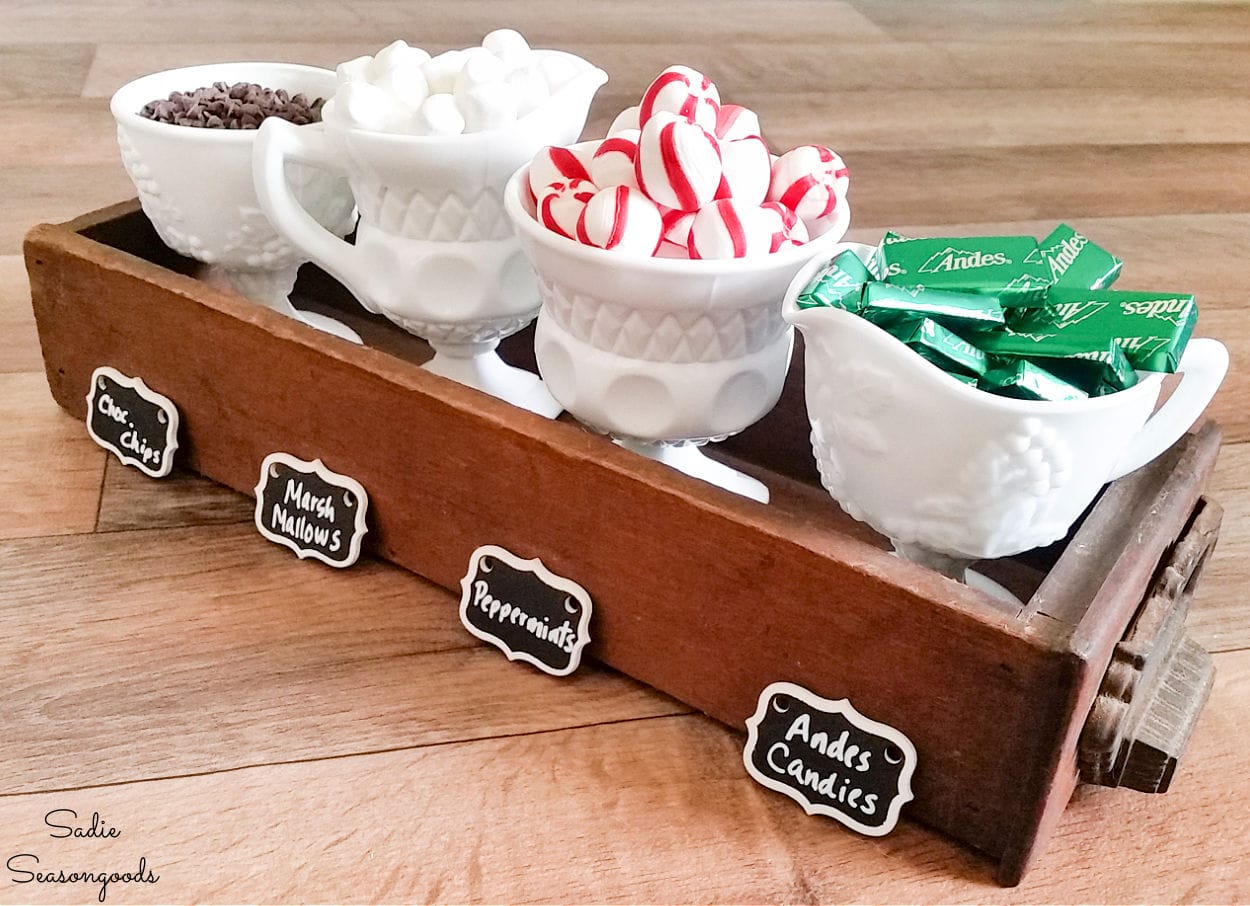 Here's a little side-by-side comparison of the Pottery Barn inspiration versus my condiment set in a card catalog drawer. And please ignore the fact that Pottery Barn has a far better photo!
Focus on the fact that my version is genuinely vintage, not recently made overseas. Anytime I can use secondhand things, I'll do it!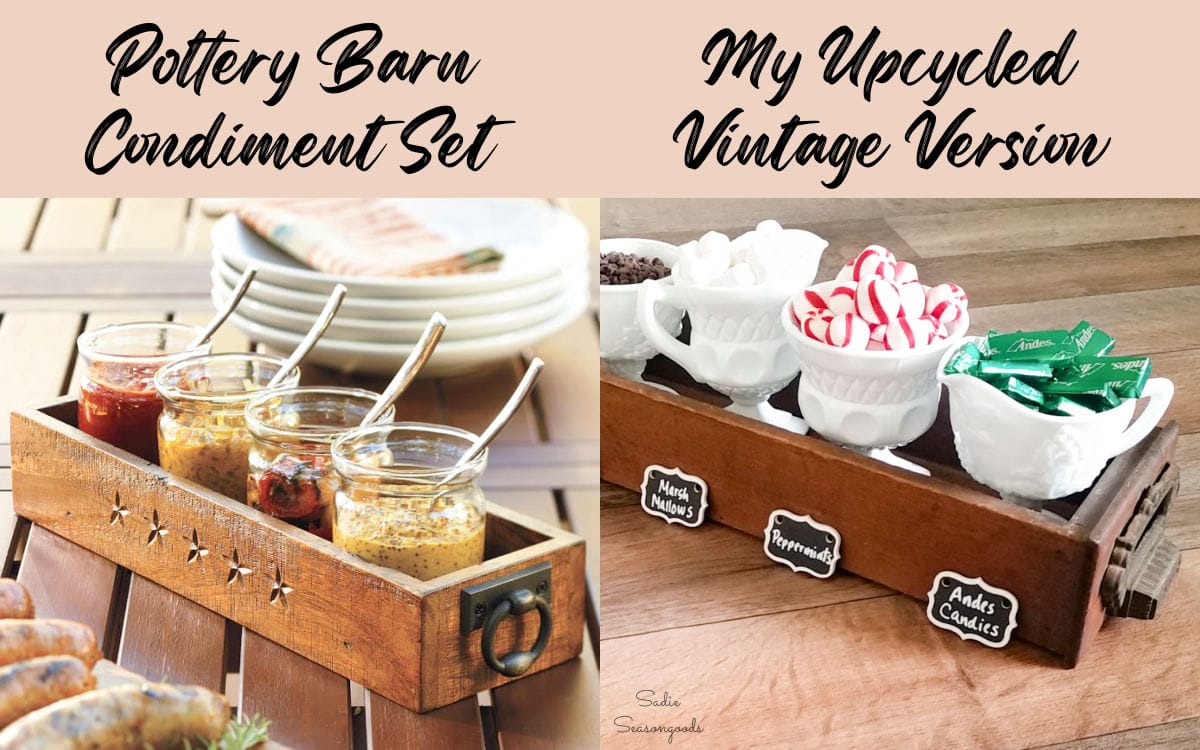 I won't be doing many "hacks" that are inspired by big box stores, but it's a fun challenge nonetheless. I did, however, create this hardware organizer after seeing a replica version online. My version, of course, used a couple of Goodwill finds!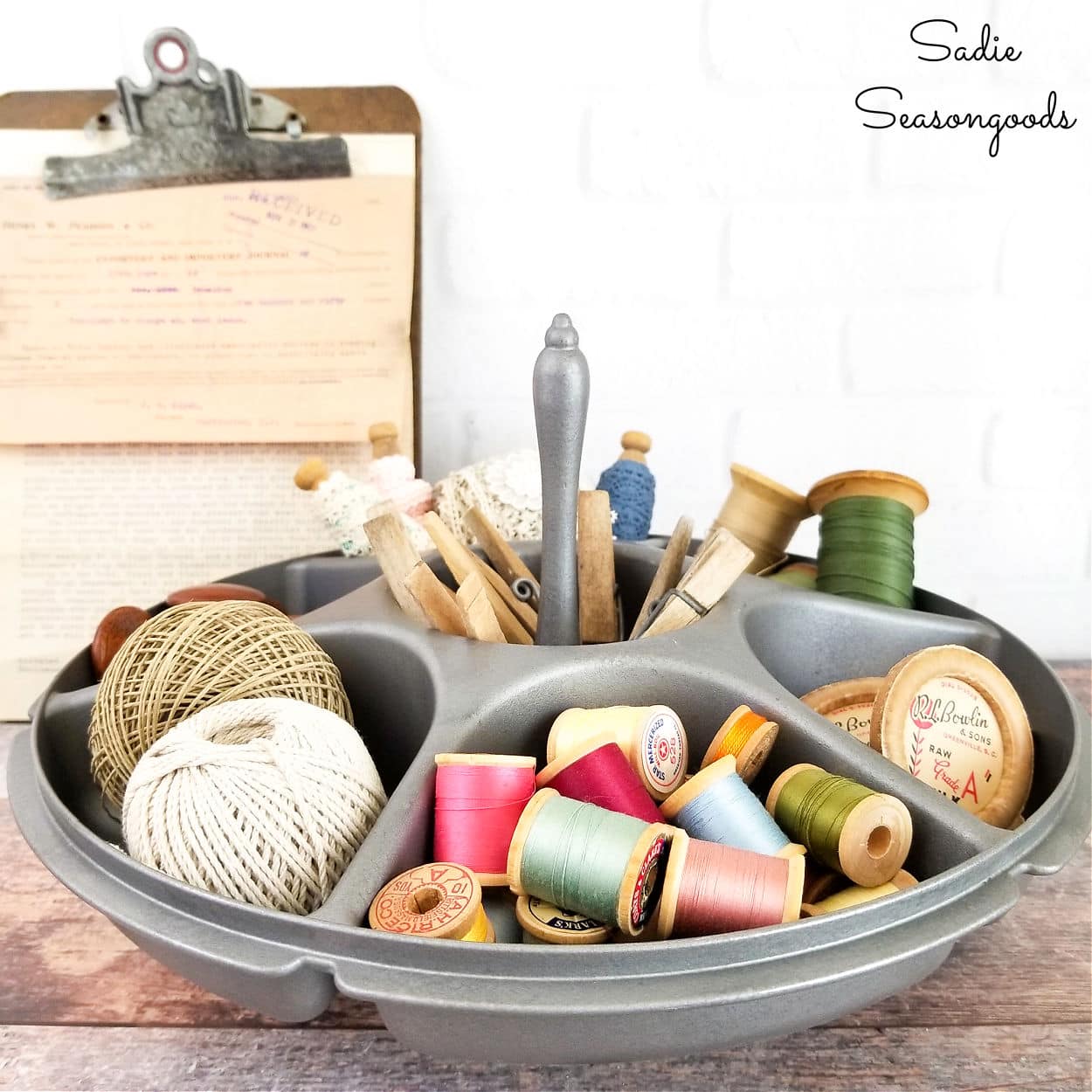 Craft on!
S
Want to be notified when I publish my next upcycling project tutorial?
Subscribe to Blog via Email
Join me on Social Media:



PIN ME!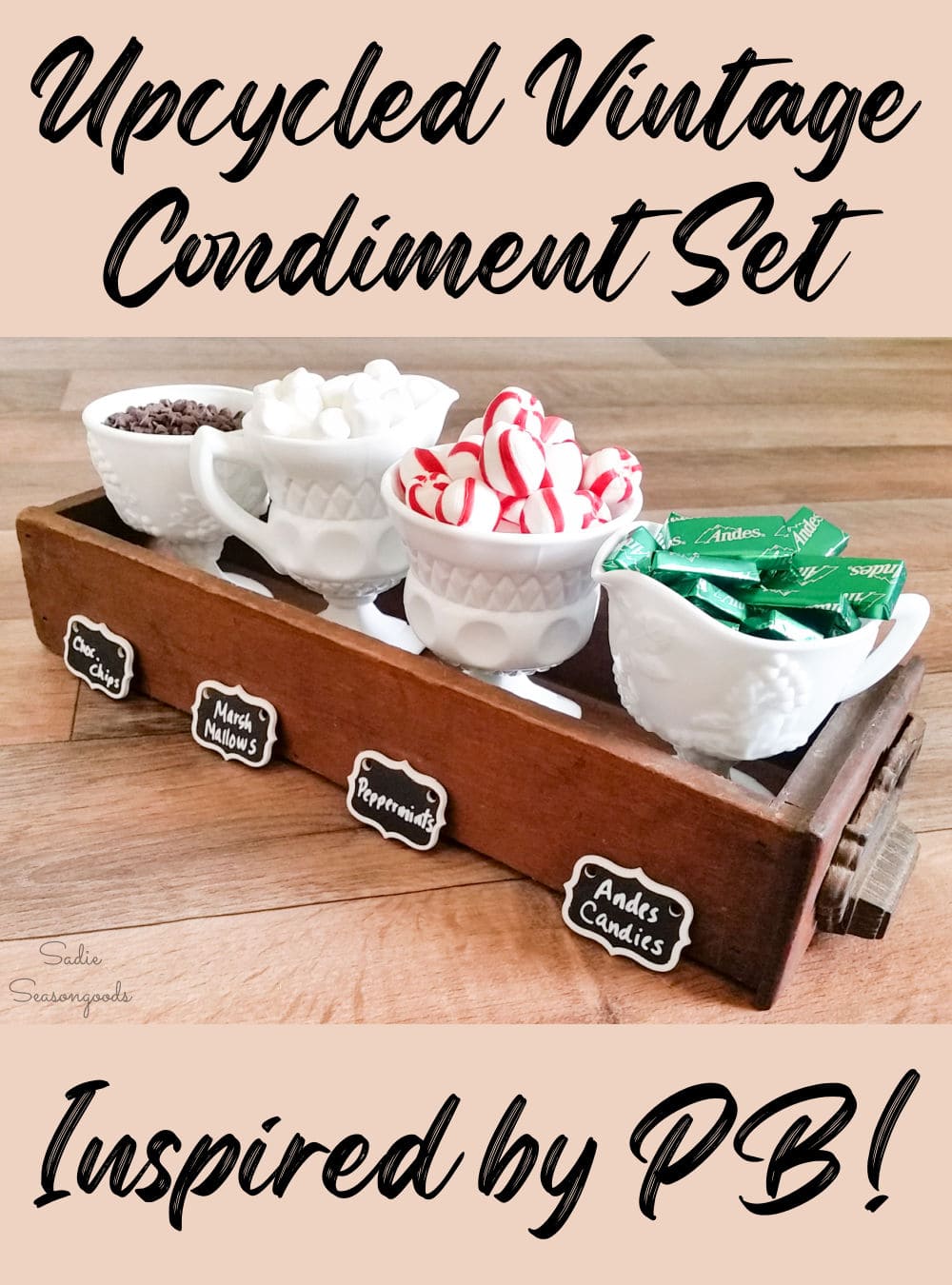 Sarah Ramberg is the owner of Sadie Seasongoods, a website that celebrates all things secondhand. From upcycling ideas and thrifted decor to vintage-centric travel itineraries, Sadie Seasongoods is a one-stop shop for anyone who loves thrifting and approachable repurposing ideas. Sarah is also the author of "Crafting with Flannel" and has been featured in numerous media outlets and magazines.