Earlier this year, I published a uniquely personal blog post that showed you our new home. In my eight years of blogging, I can count the number of personal posts that I've published on one hand. But, I have to say, the response was incredibly favorable with many requests for MORE personal (or non-tutorial) content. So, I wanted to give you a six-month update on the thrift store furniture and decor that we've purchased so far.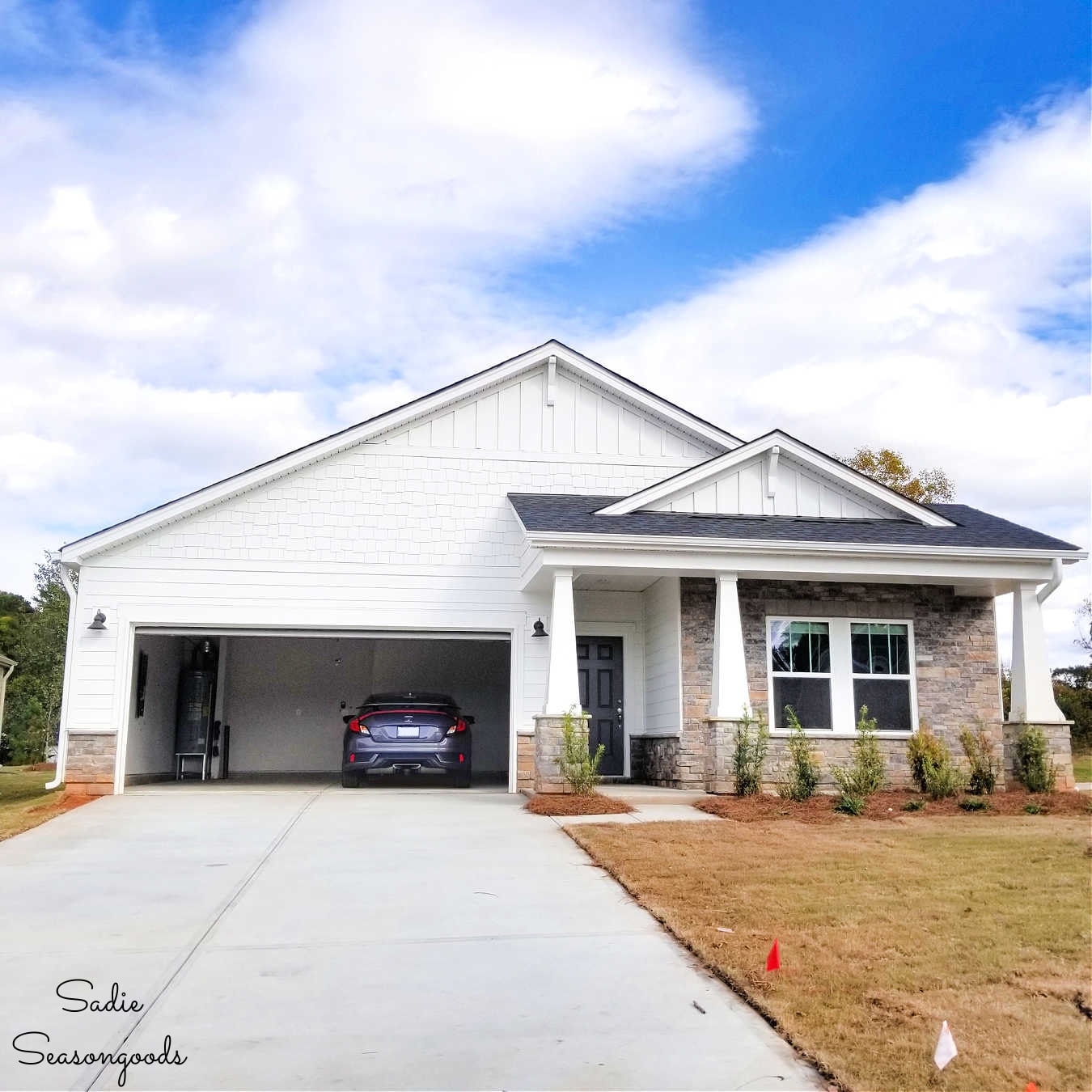 When we built this house, we decided to really start fresh (well, secondhand-fresh) with our furnishings and decor. So, we gave away and sold most of our vintage farmhouse pieces before we moved. As you can expect, that meant that the new house was a virtual echo chamber for many months!
But, we've been actively hunting for mid century modern style elements to fill up the main part of our home. And I thought you might be interested in seeing what we've found; where/how we found it; and what we paid! I'm always, always asked what we paid for our secondhand pieces, so that seems to be of exceptional interest.
Now, don't expect to see a bunch of styled photos in our home yet- that post will come later. But, if you're curious about the thrift store furniture, decor, and art details (some of which I hinted at in the original house post), then this is the post for you!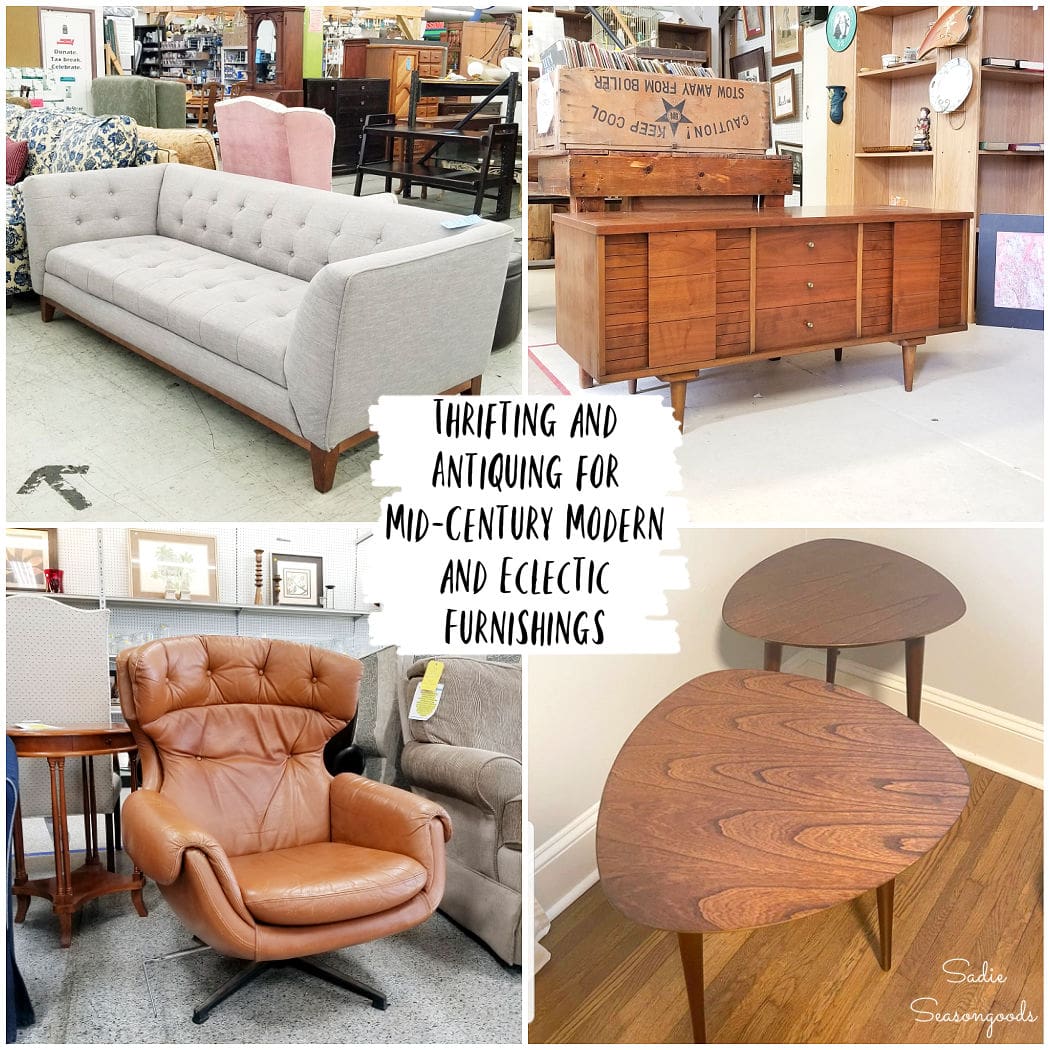 I'll preface this post by also discussing my pragmatism when it comes to furnishing a home with secondhand items. Some of our selected pieces were absolute bargains- steals, really, when you think about the value. Which allowed us to splurge (at higher end mid century modern shops) on other pieces that were far pricier.
It's just how secondhand shopping goes. You'll pay less, more, and fair prices from piece to piece. But nearly every purchase is an impulse purchase- you can't "think about" pieces very long. Because you'll inevitably fall in love with something that someone else buys if you wait or leave it behind.
Thrift Store Furniture
The very first piece of mid century modern furniture that we purchased for our new home came from Habitat ReStore here in Charlotte. A friend of mine actually alerted me when she first saw it- this Overman egg chair made in Sweden.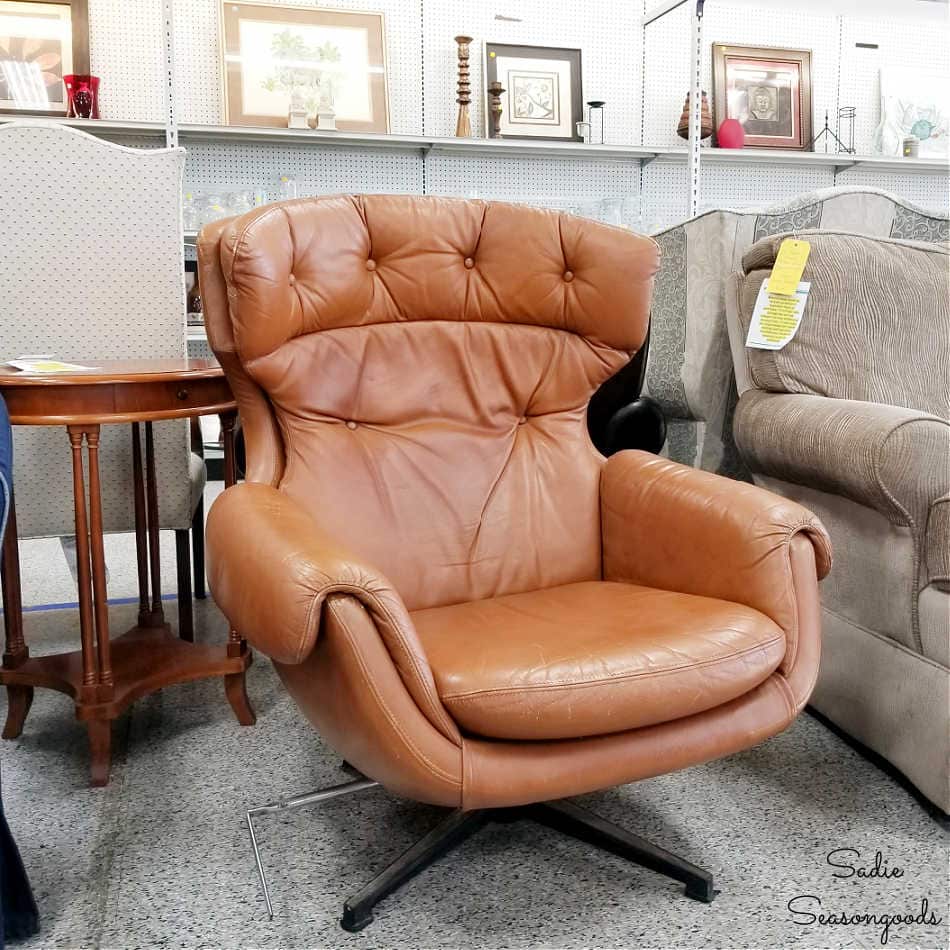 The vintage egg chair was in worn but very good condition! And to be honest, we weren't sure if the price tag read $175 or $75. But the gentleman who rang us up decided it was $75- but it would have come home with us either way!
Next came a vintage cedar chest that I spotted it in a traditional antiques mall located in Wilkesboro, NC. It was probably the ONLY piece of mid century modern furniture in the entire store! But, at $189 and in really excellent condition, it seemed like a more-than-fair price for something useful AND pretty.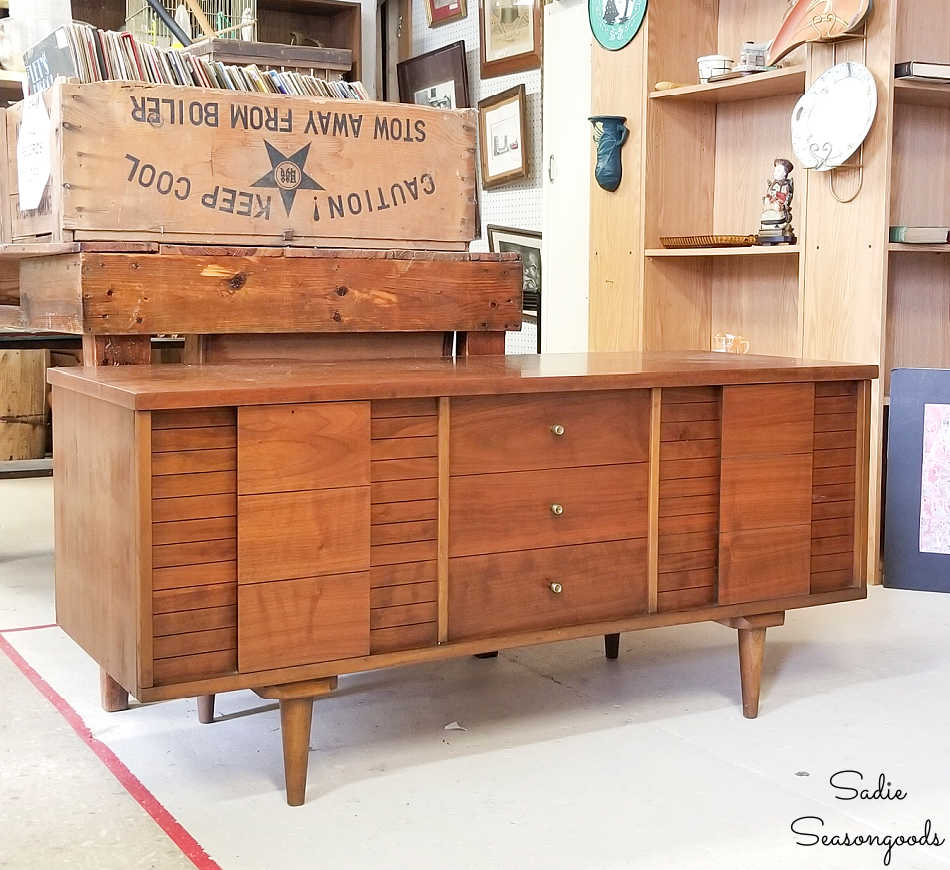 And talk about a meant-to-be treasure! Lane (the maker) usually stamped each piece with a serial number that doubled as a manufacturing date on their furniture. And this one's serial/date just happened to be my father's 18th birthday! Isn't that a delightful and unexpected connection?
This next find was probably the best (or second best) steal, as far as price goes. Anyway, let me set up the story.
As you know, I collaborate with the Charlotte Region Habitat ReStores a LOT. I also create Instagram content for them by traveling to their stores to photograph various store inventory that catches my eye. And on one particular day in one particular store, I spotted a gorgeous gray tufted sofa and snapped a few photos of it for their social media accounts.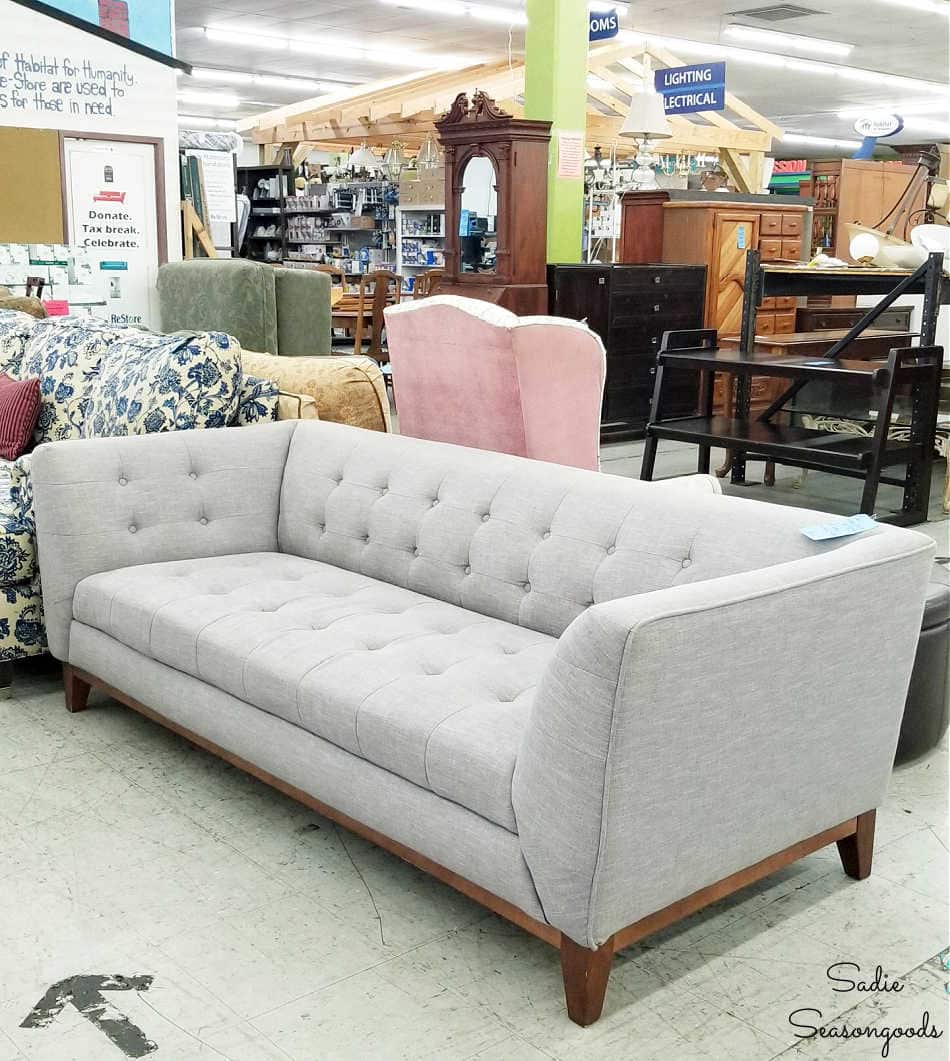 When I went to photograph the price tag, though, I nearly fell over. This gorgeous, like-new sofa was only $150! So, after a frenzied serious of texts to my husband (just to make sure he liked it well enough), I bought it! And it never made it onto the Habitat ReStore Instagram account- ha!
The other funny story with this couch is that I bought it during a particularly complicated time in life. The A/C in our rental house (where we stayed while our house was under construction) had gone out during a dangerous heat spell and we temporarily lived in a hotel. So, OF COURSE that's when I found the perfect couch. It was quite the ordeal to rent a truck, schlep the couch to our unlivable rental house, and leave it in the heat until the A/C was fixed two weeks later!
The next piece we found was this two tier end table. We found it at our very favorite mid century modern furniture store in Hickory, NC. At $200, it wasn't a steal, but it was a good sized piece and in very good condition.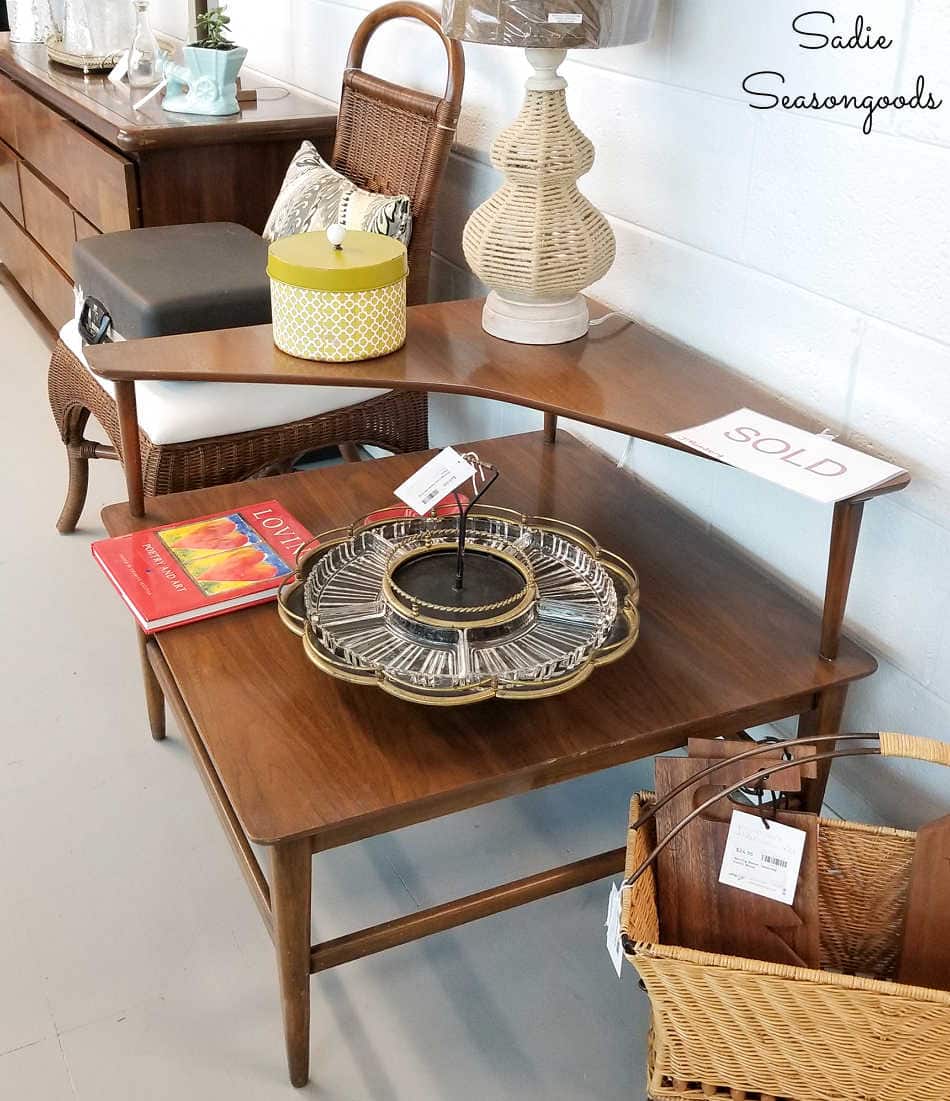 Plus, as a blogger who regularly styles photos of projects for her website, the two-tier aspect will come in handy for photography! I definitely take things like that into consideration when shopping for thrift store furniture and decor- "will it look good in blog photos?".
Next, we found our coffee table! Now, admittedly, this is the priciest piece we've purchased. BUT, I'd never seen a table quite like it and I absolutely LOVED that it was glass AND wood.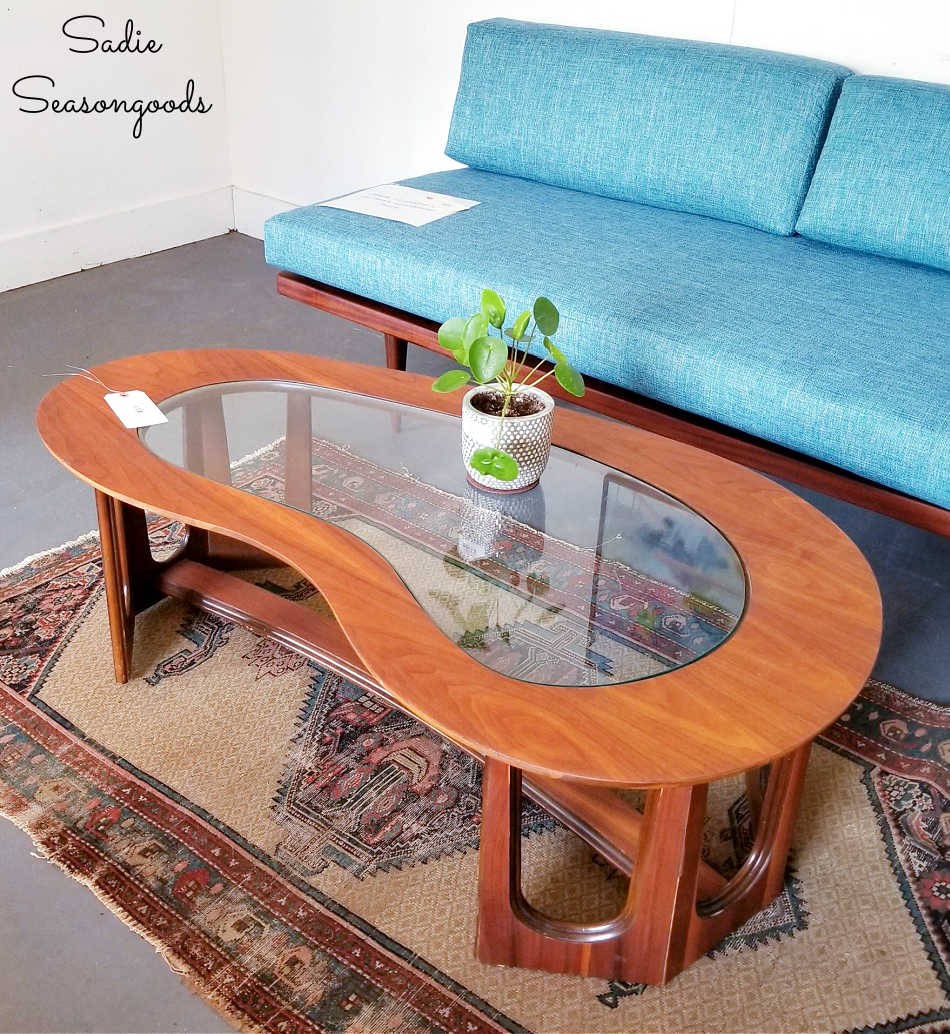 From the line of biomorphic furniture that Bassett produced in the 1960s, we paid a whopping $595 for the coffee table. But I have no regrets! It came from a favorite mid century shop in Asheville, NC and we timed it perfectly. Walked in, saw the table, grabbed the tag…and the couple that came in a few minutes later tried to buy it, too!
Thank goodness we got there a few moments before them!
Lastly (or most recently, I suppose), we found a vintage china cabinet! Now, I'll be perfectly honest with you- I wanted something similar (i.e., display shelves) but I didn't want glass doors. They don't photograph very well, and you remember what I said about judging furniture from a blogging point of view!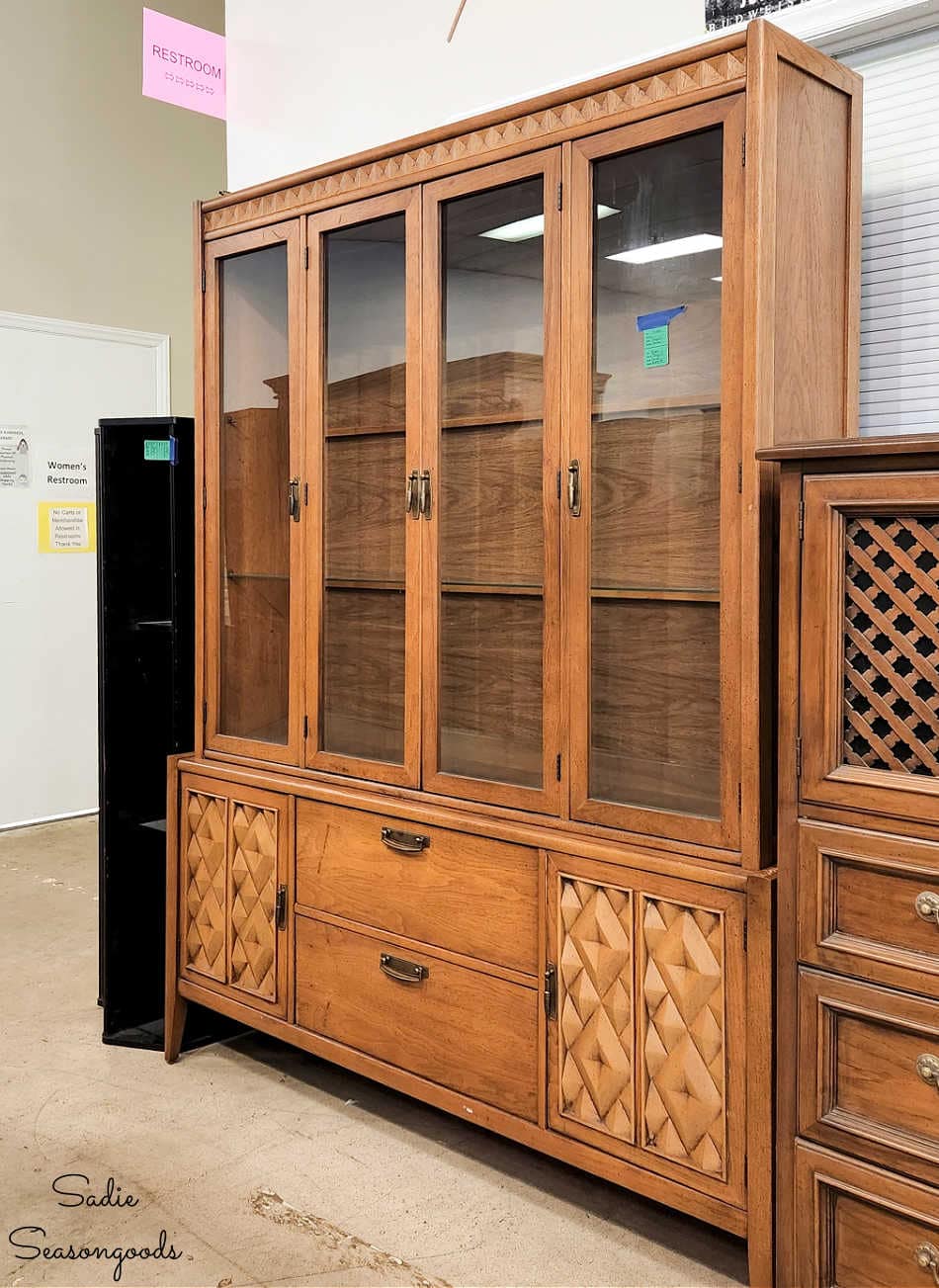 But, at $259.99 WITH the original Broyhill tag still attached inside one of the drawers? I couldn't resist. It gets better, though- because the store manager saw us standing near it it, hemming and hawing.
And she offered to knock another $50 off. So, it was $199.99. For that price, it was worth the panic and struggle to fit it into the back of our pickup truck and drive it home from a thrift store in Hickory, NC. Yes, I *will* be doing a Junkin' Journey on Hickory because it's become a favorite go-to town for our secondhand shopping needs!
Thrift Store Art and Wall Decor
While we aren't done with shopping for thrift store furniture just yet, we've filled up a lot of the house already! But we also have a TON of empty walls in our new home. So, shopping for thrift store art has become our new favorite sport.
The best part of art shopping for a new house is that you just buy whatever you like! No worries about size requirements because, well…you have an endless horizon of big empty walls.
Our good art luck began on Easter Sunday, when I learned that a favorite antiques shop here in Charlotte was open that afternoon! So, we ourselves became a secondhand Easter bunny and found three vintage paintings to launch our collection.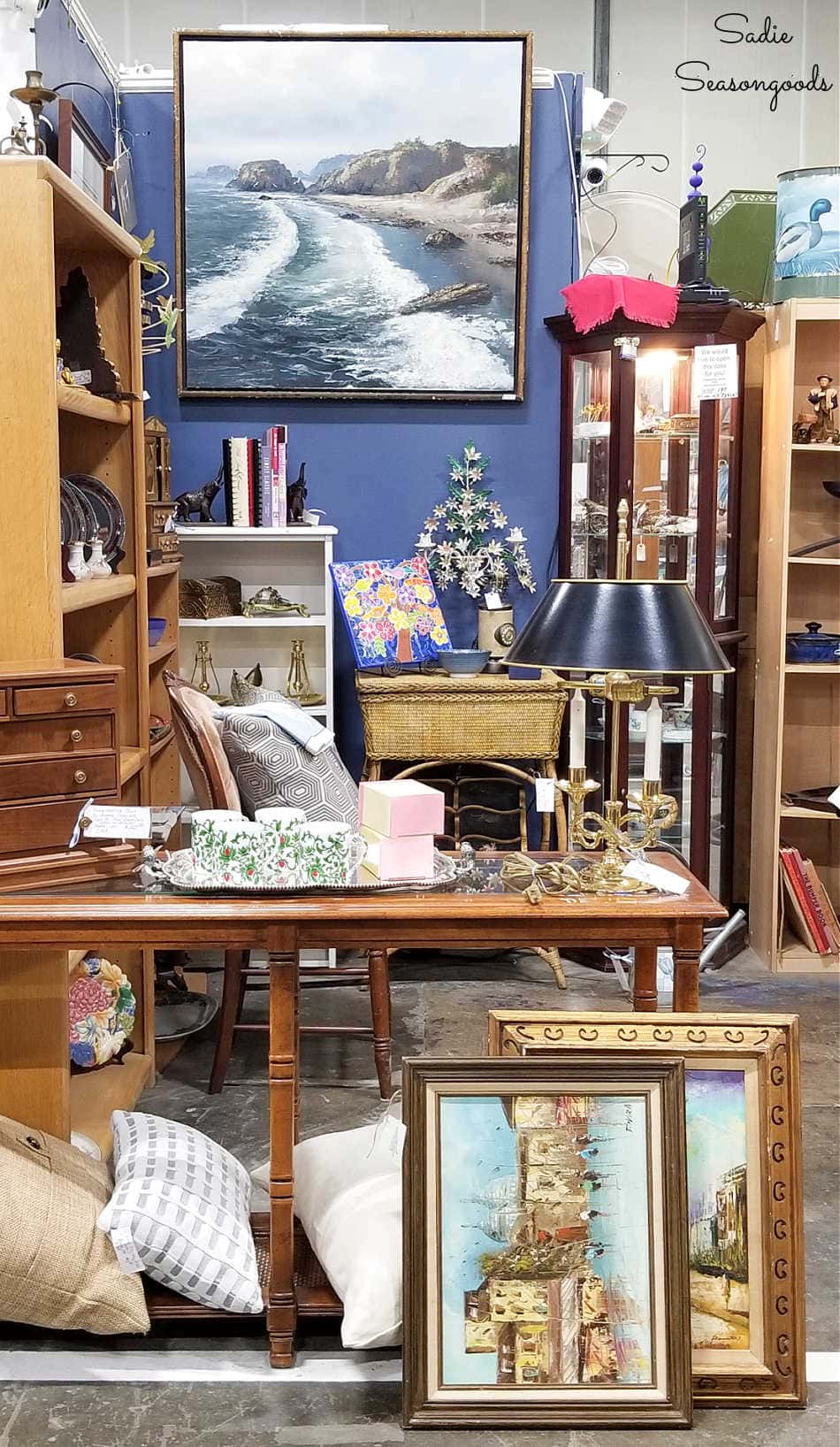 The large seascape (to go over our fireplace) was painted by Segundo Huertas and cost $300. The two European oils (one of Venice, one of Paris; to hang in our hallway) were $60-$70 each.
As time went on, I realized that I was drawn to landscapes and European cityscapes, oddly enough. For instance, I thrifted this from a local Salvation Army for $10.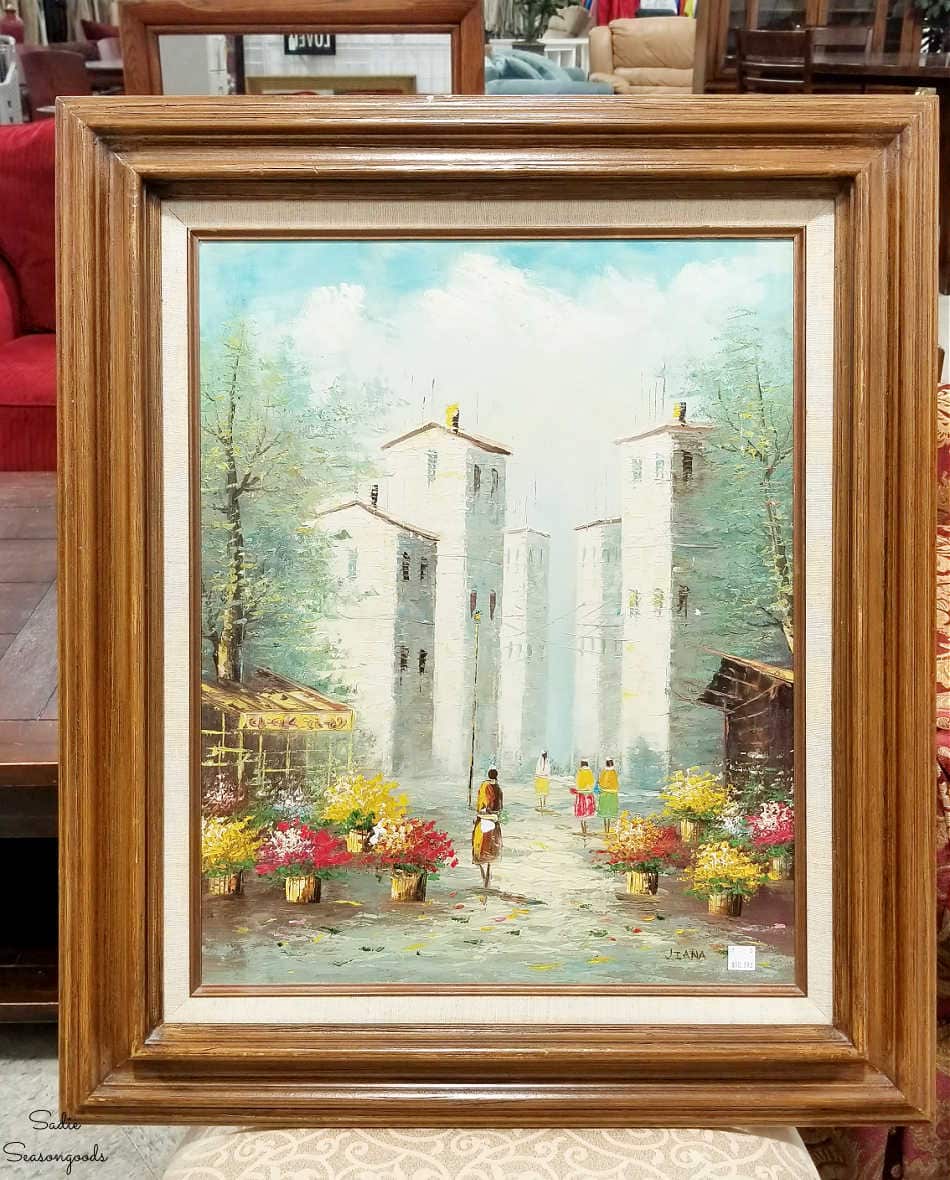 Shall we pretend it's Barcelona? Lisbon? Tangier?
And I thrifted this HUGE painting from one of my Charlotte Region ReStores! It was leaning against a wall with the painted side hidden, and I'm so glad I turned it around. $65 dollars later, I carried it to the truck.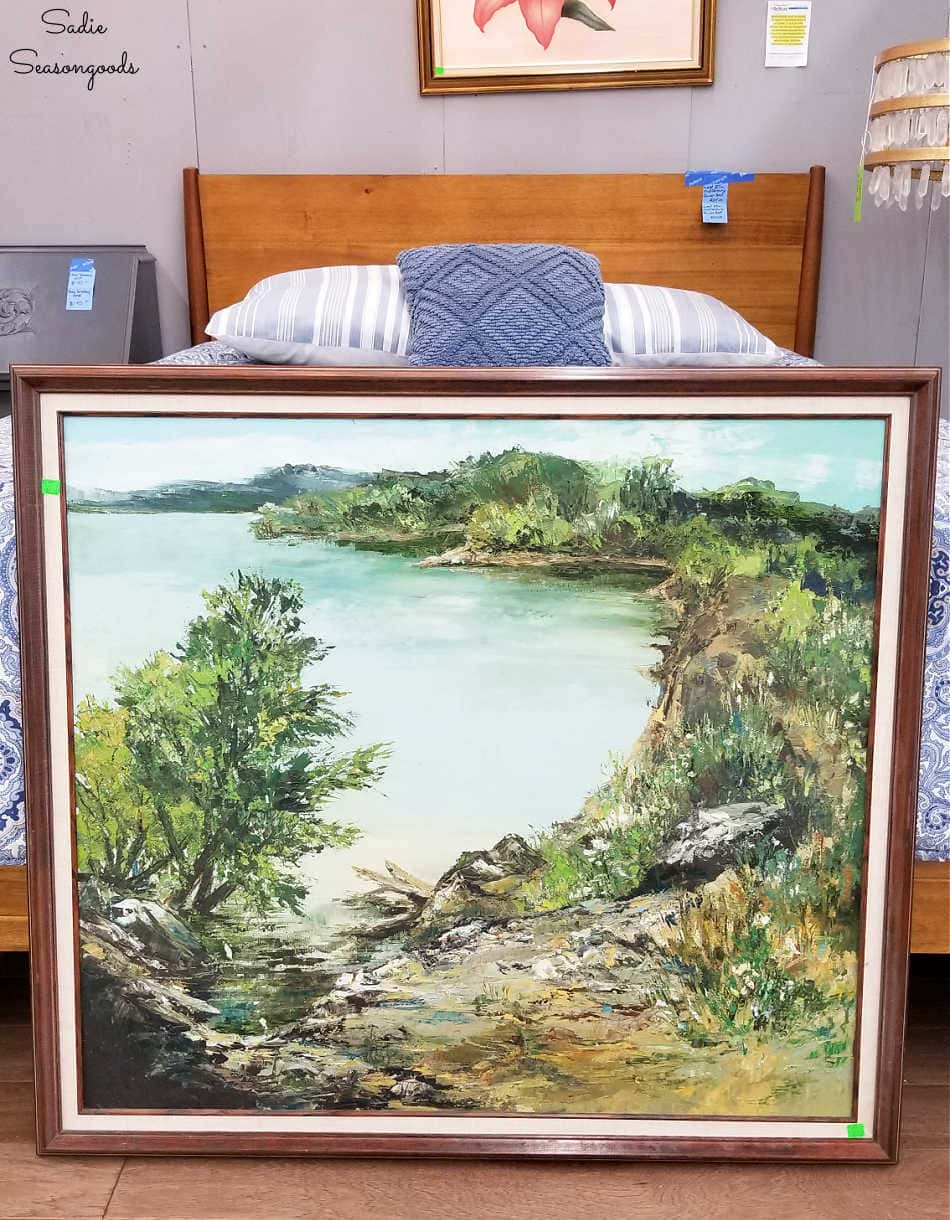 I had a fun conversation with another Habitat shopper who stopped to admire my treasure. We chatted for a bit and she asked me where we'd be hanging it in our house. When I confessed that I actually didn't know, she simply patted my arm and reminded me that thrift store art can always be a placeholder if I changed my mind later!
Next, I fell in love with this busy Paris painting, even though it was pricier ($168) and unframed. It was definitely more of a splurge, but since I found it at a consignment shop (also here in Charlotte), I couldn't expect any ridiculous bargains.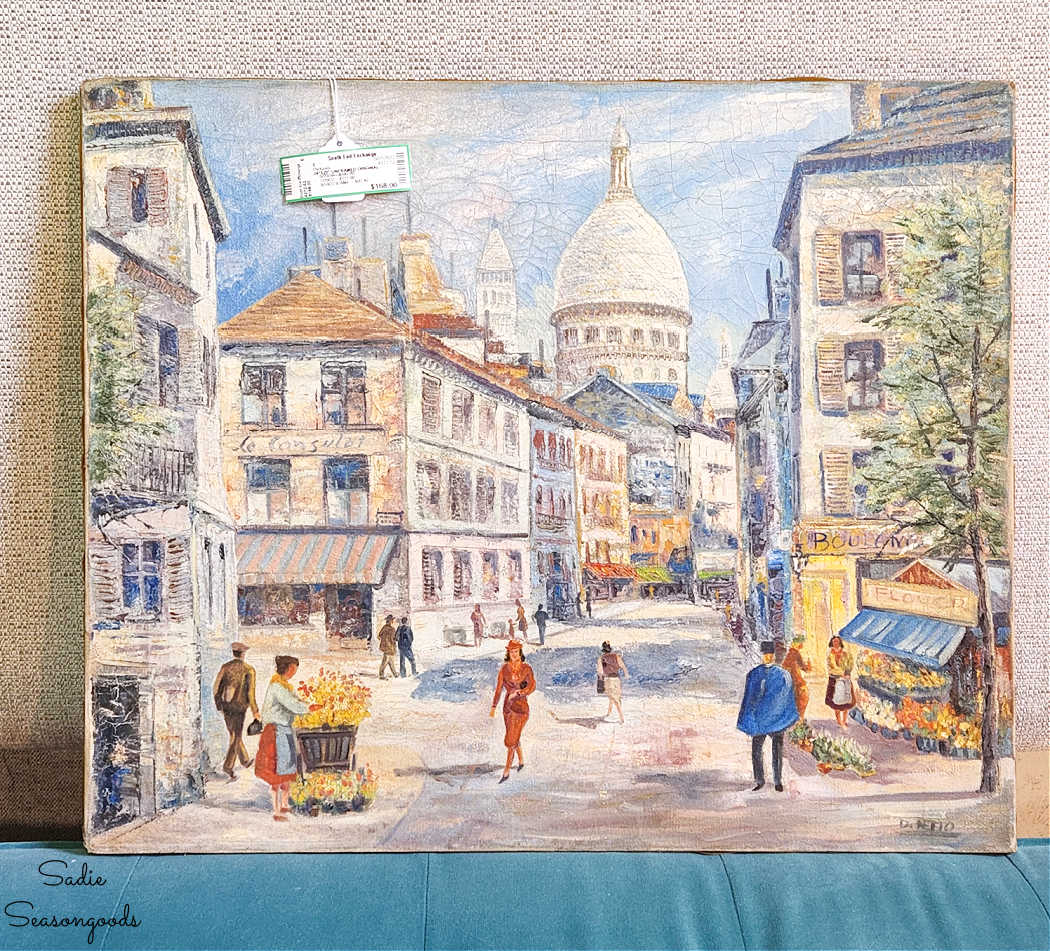 I also recently traveled to Fort Myers to visit my parents and did a little thrifting with my mom. We stopped in a very nice shop that happened to have a storewide 30% off sale! So, I picked up these two little paintings of the ocean and some birch trees.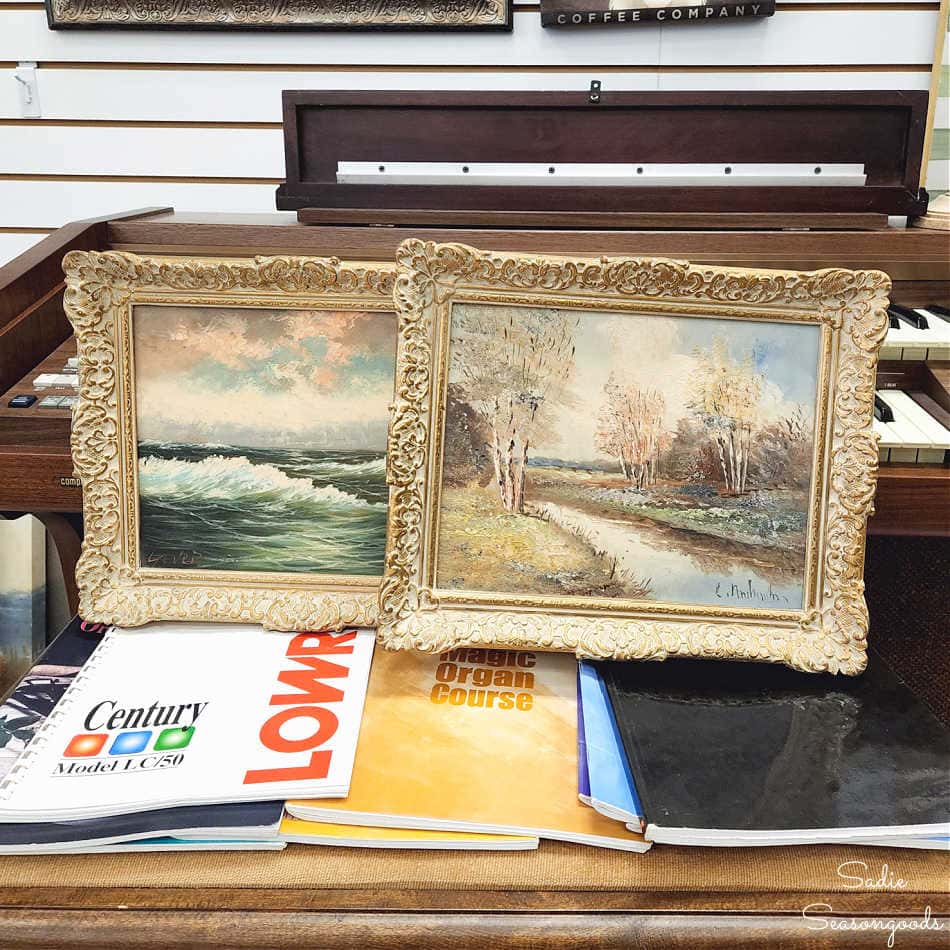 They were $20 each, but far more palatable at 30% off. Probably worth it for those frames alone, no?
Last but not least, I found this large autumnal painting for $15 at another Habitat ReStore. While it's not my favorite of our art finds and the colors aren't ideal for our general style, I couldn't resist it.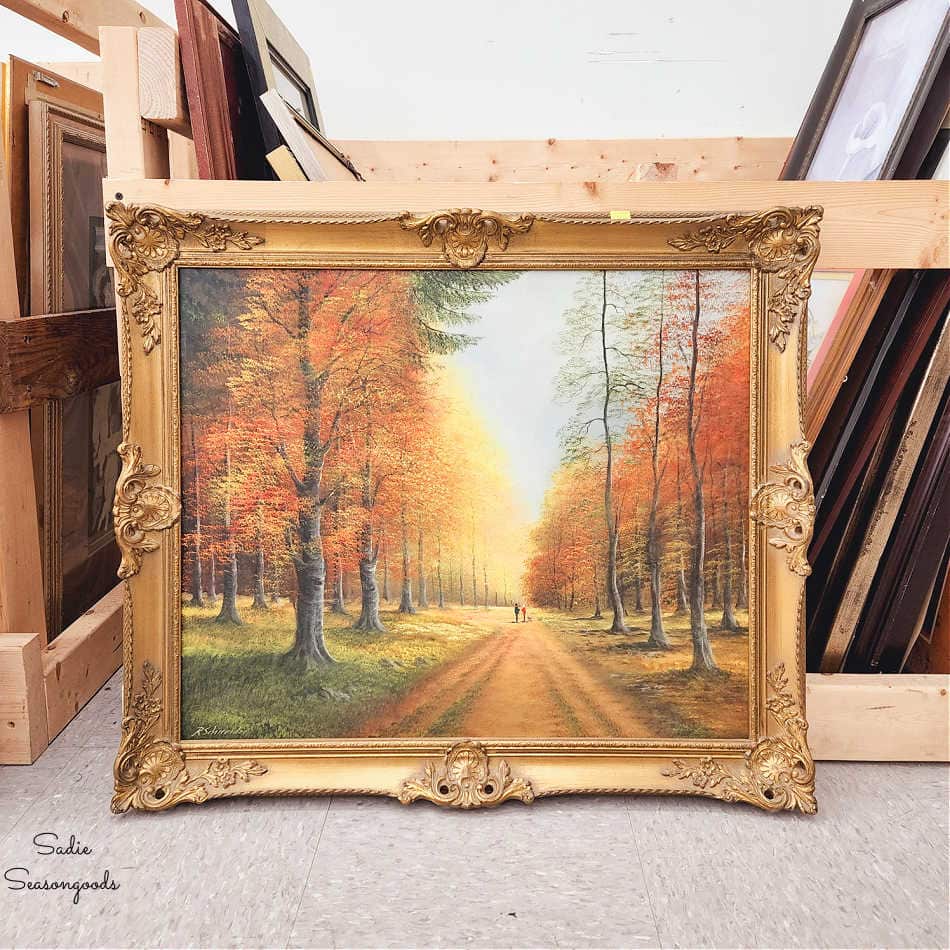 We'll have quite the thrifted gallery when all is said and done, won't we? I love that I can be a sassy docent in my own home, and make up wild tales about each piece when I show them off to friends who visit!
Thrift Store Decor and Other Treasures
Now that you've seen the furniture and paintings that I've found, let's round out this post with a few of the "extras" that have come home with us, too.
While on one of my Habitat ReStore photography adventures, I found this 3-headed brass lamp at the store in Cornelius, NC. It was $85 and makes such a statement over our gray couch!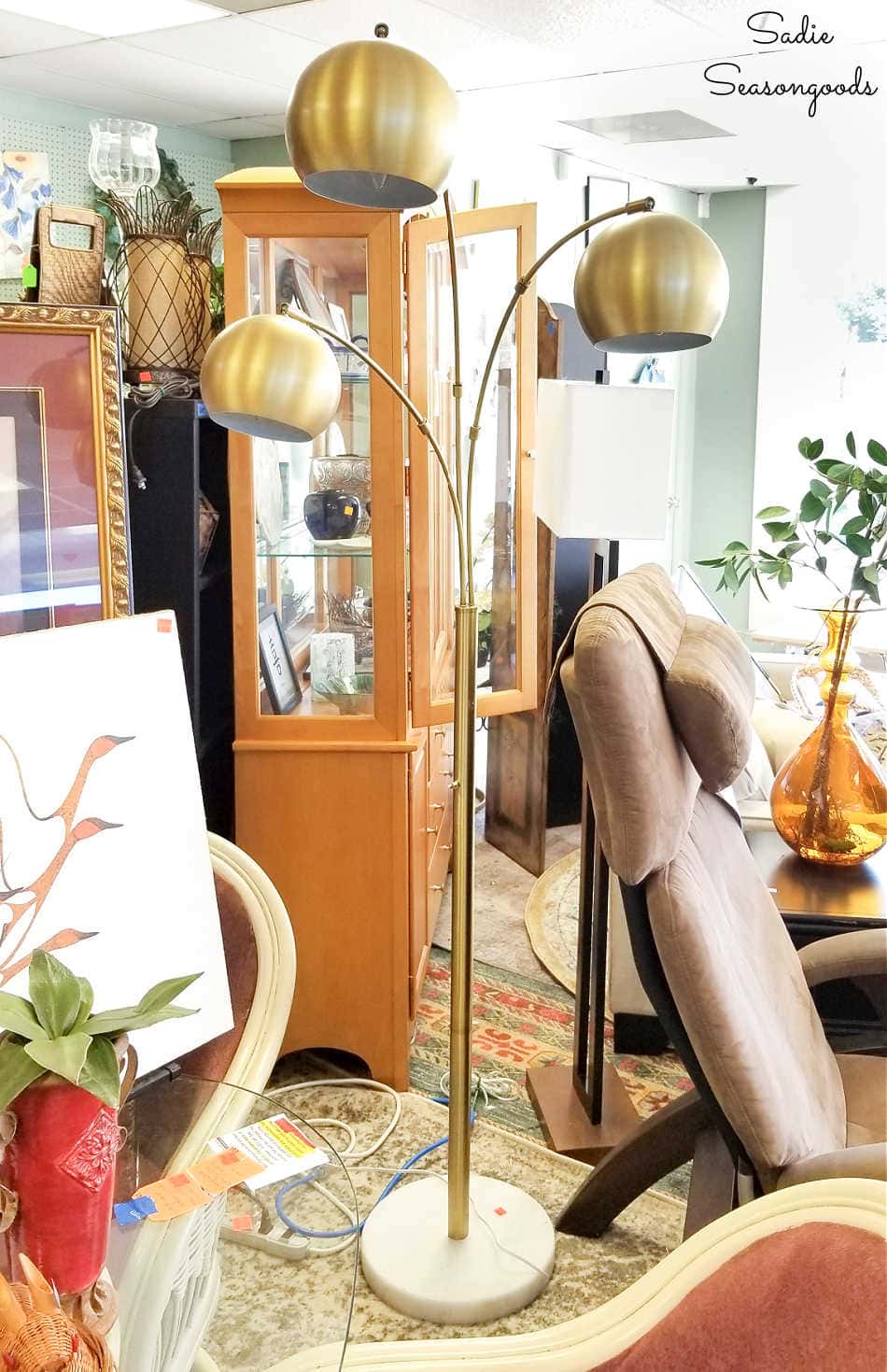 Of COURSE, I found it when I was shopping solo and maneuvering it into the truck was panic-inducing for me! But I was finally able to do it and got it home without issue- whew!
I also thrifted this metalwork record album holder from Habitat for $10. It's a small treasure, but that's ok- my favorite part is the "Made in Portugal" sticker that it still sports on the bottom.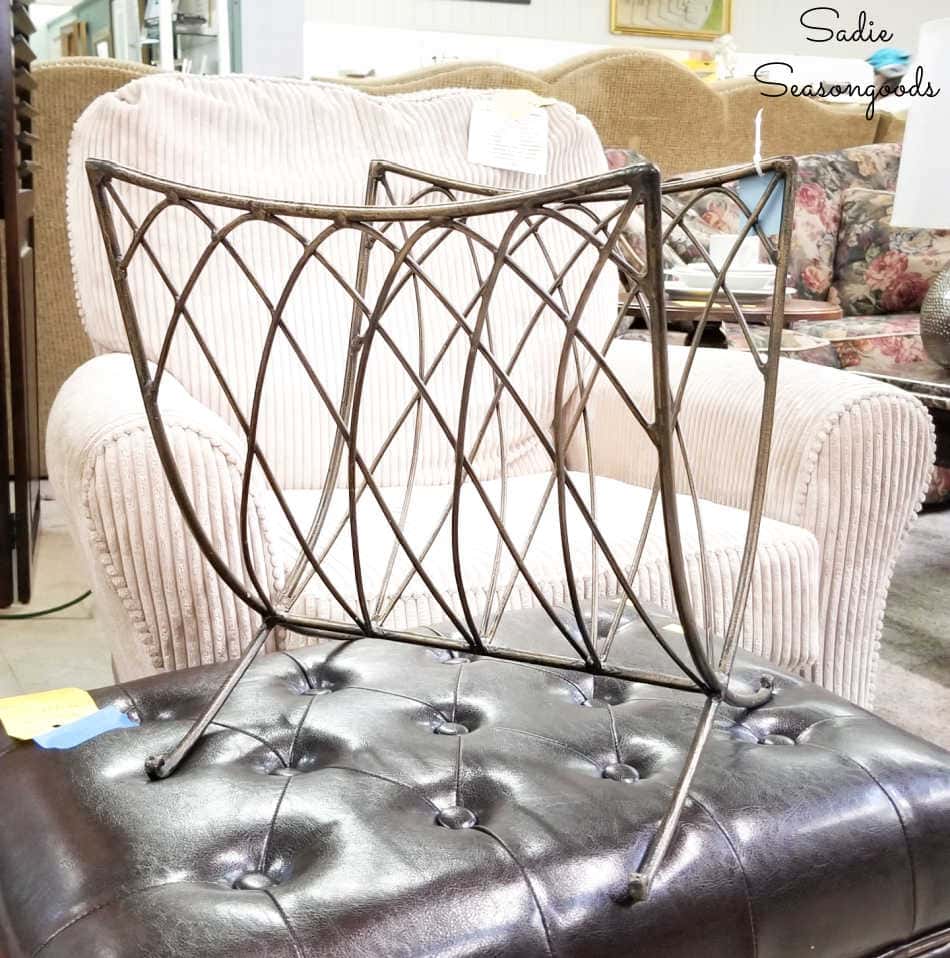 My husband's favorite treasure is probably this vintage floor speaker by Packard Bell! Maybe it's his favorite because he picked it out. It doesn't work perfectly, but since it doubles as an accent table, it was worth the $250 price tag (from an antique store in Charlotte).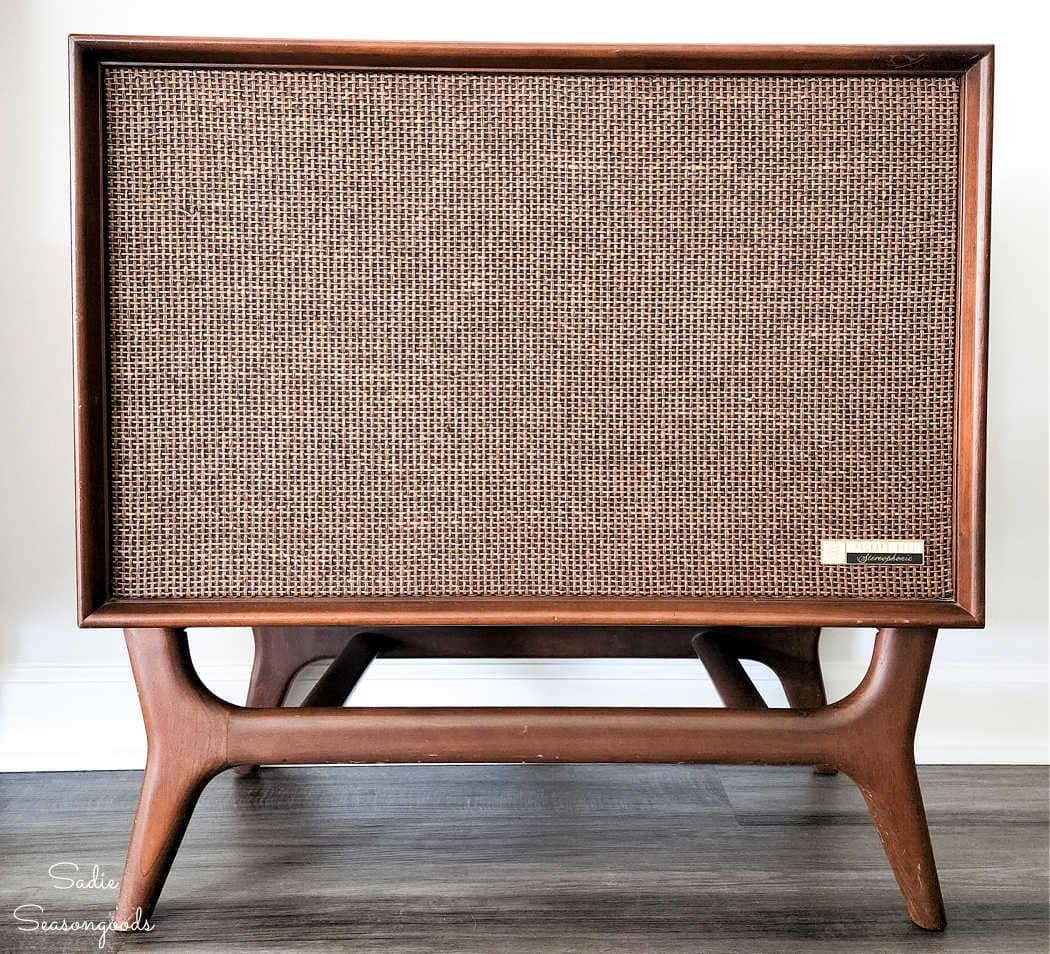 Yes, I fully expect to use it in blog project photos in the future! And I'll keep you posted if we're able to get it working, too.
I've also been gathering a lot of colorful and unique treasures to display in the Broyhill china cabinet that I showed you earlier in this post. Now, I grew up with a hutch full of fine china, silverplate, and cut crystal. But MY hutch will be far funkier and full of whimsy…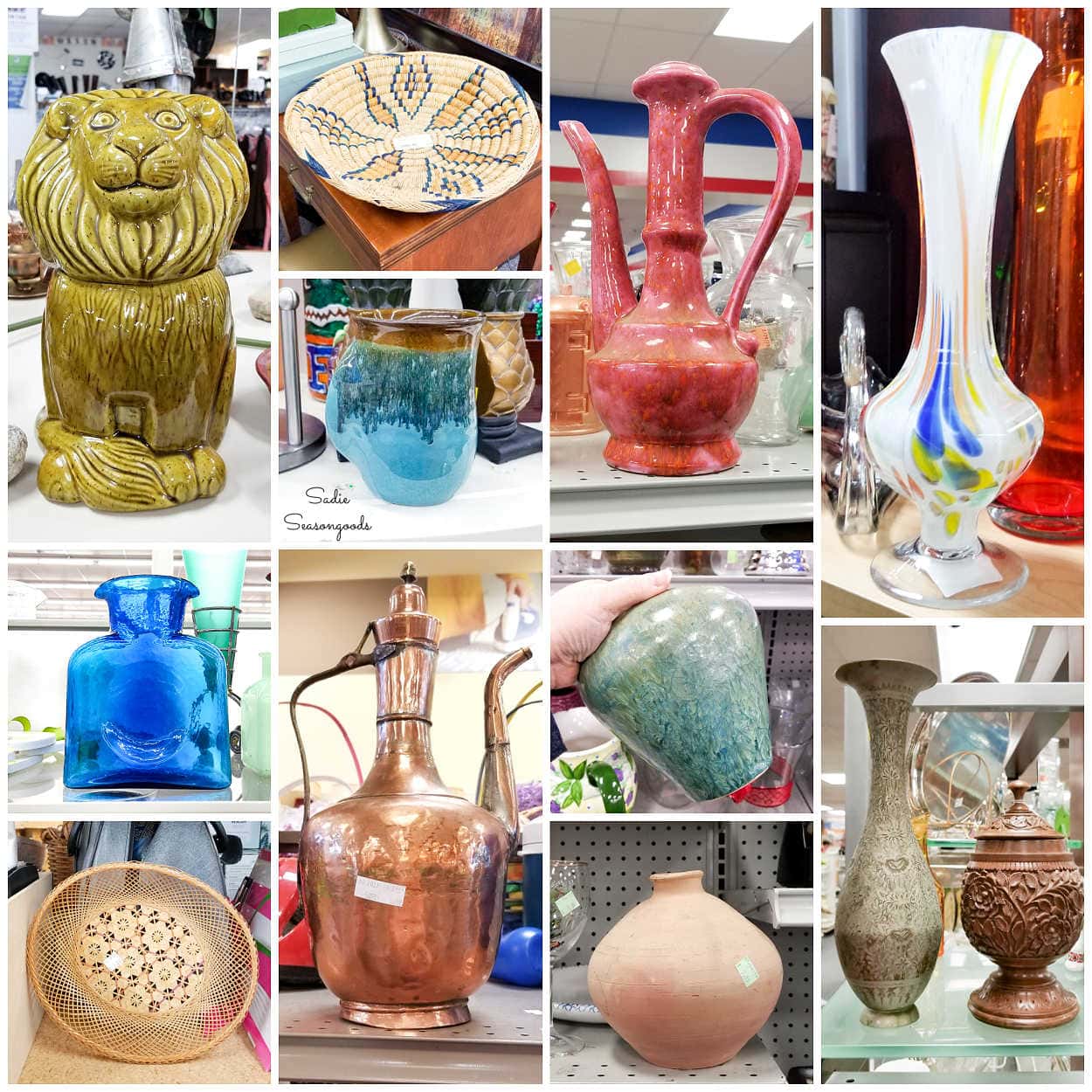 As far as prices are concerned, I know that the vintage lion cookie jar (stamped Los Angeles Pottery 1969 on the bottom) was $15. Definitely the priciest piece in this bunch- everything else was $1-$5 each from thrift stores in South and North Carolina. Several of these pieces have been used in various Thrift the Look blog posts, including Boho Decor and Eclectic Decor.
Thrift Store Furniture, Art, and Decor for Our New Home
So, now you can see a LOT of what we've thrifted and secondhand-shopped for our home. Very mid century modern, very eclectic. Nothing matches and yet everything coordinates well enough.
And I do promise that I'll eventually get to a done or nearly-done point and take photos of the main rooms with everything styled. But I hope this is a good midway point so that you could catch of a glimpse of our decorating direction.
And insight into the prices that we paid for things. As I prefaced at the beginning, there were plenty of bargains and few full-price vintage items that we decided to "splurge" on.
I can also give you a couple of preview photos that I shared on my Facebook and Instagram pages. Here is that large seascape painting before we hung it over the fireplace. And Ruthie claiming ownership over the biomorphic coffee table!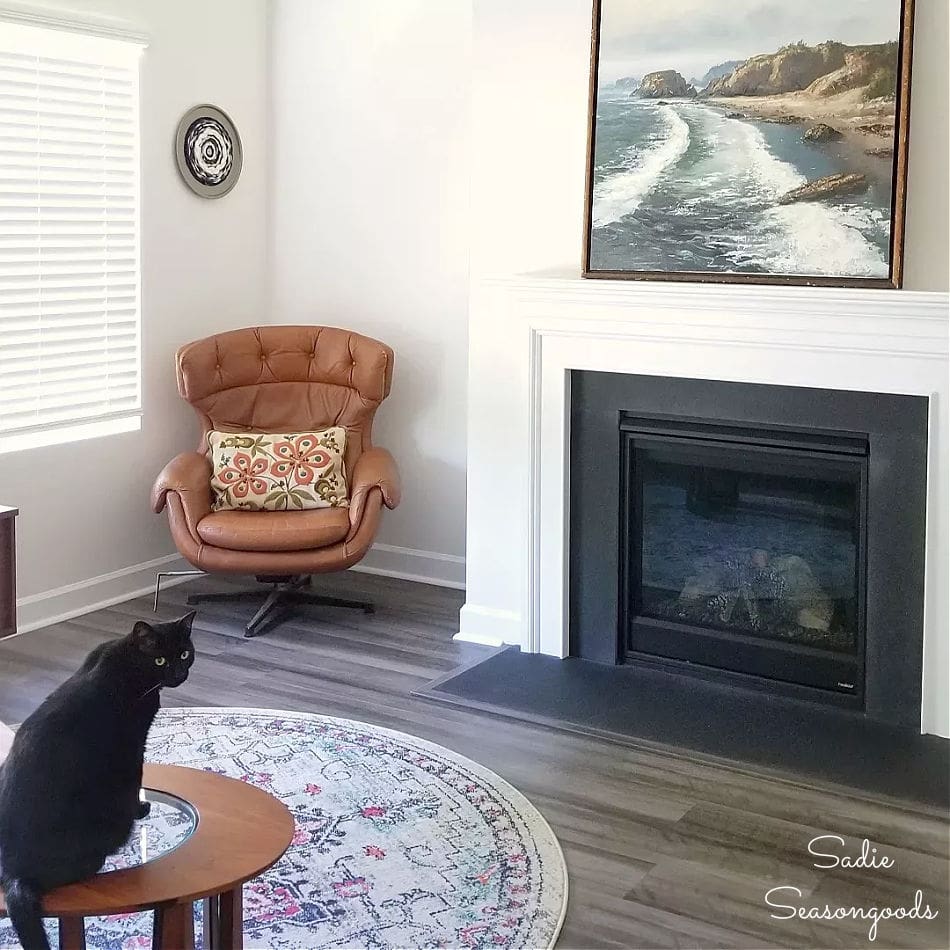 And a turn-around shot of the area that faces the fireplace! The art above the couch was bought at a consignment shop after this post was published.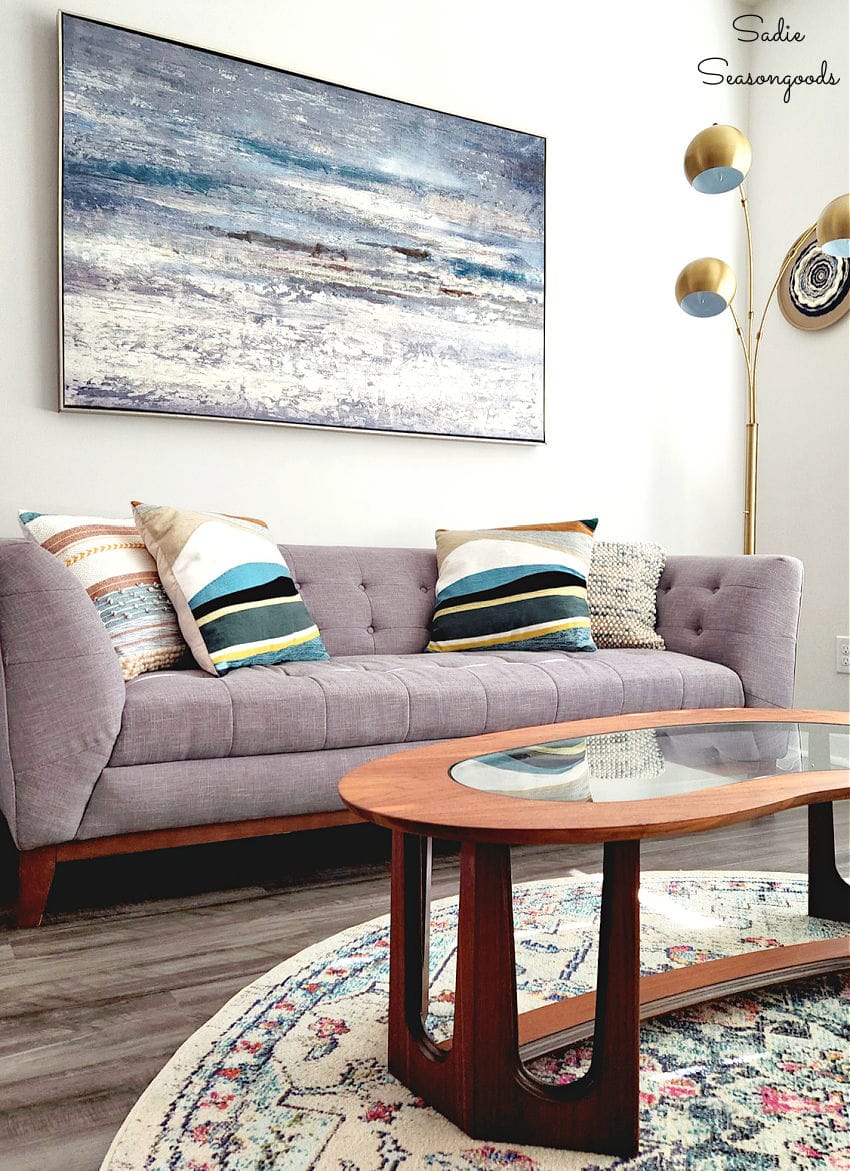 And a preview of my china cabinet filled with colorful and thrifted treasures. Those glass doors will give me photography fits, but that bargain basement price was too good to pass up! And they WILL keep the dust at bay, so that's always a plus, too.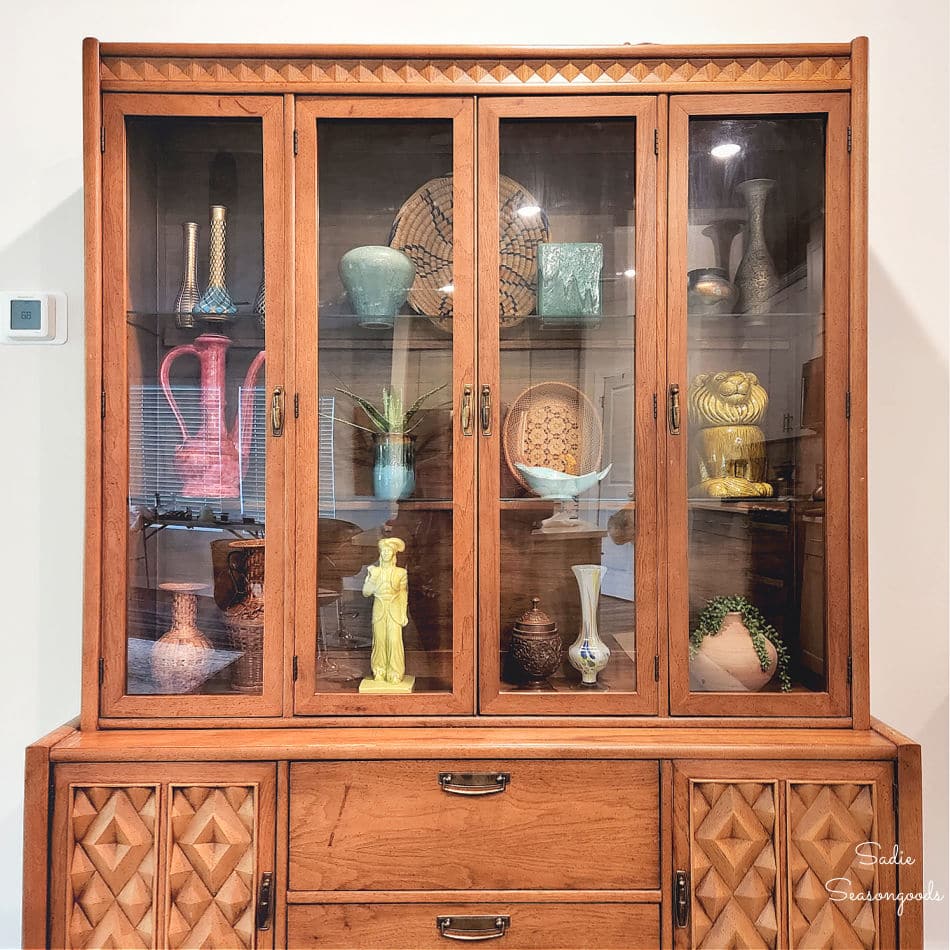 So, what else are we in the market for? Dining room furniture! But we may end up buying new for that. Neither my husband nor I are dainty people (he's tall and strong, I'm short and round) and we both find vintage dining chairs uncomfortable.
But, also more artwork, an entryway table, and another chair for our sitting room, as well. So, our thrifting and vintage shopping adventures will surely continue. Thank you so much for taking the time to read about our treasures thus far. I hope you enjoyed this post as much as I enjoyed pulling it all together!
Craft (and Thrift) on!
S
Want to be notified when I publish my next upcycling project tutorial?
Subscribe to Blog via Email
Join me on Social Media:

PIN ME!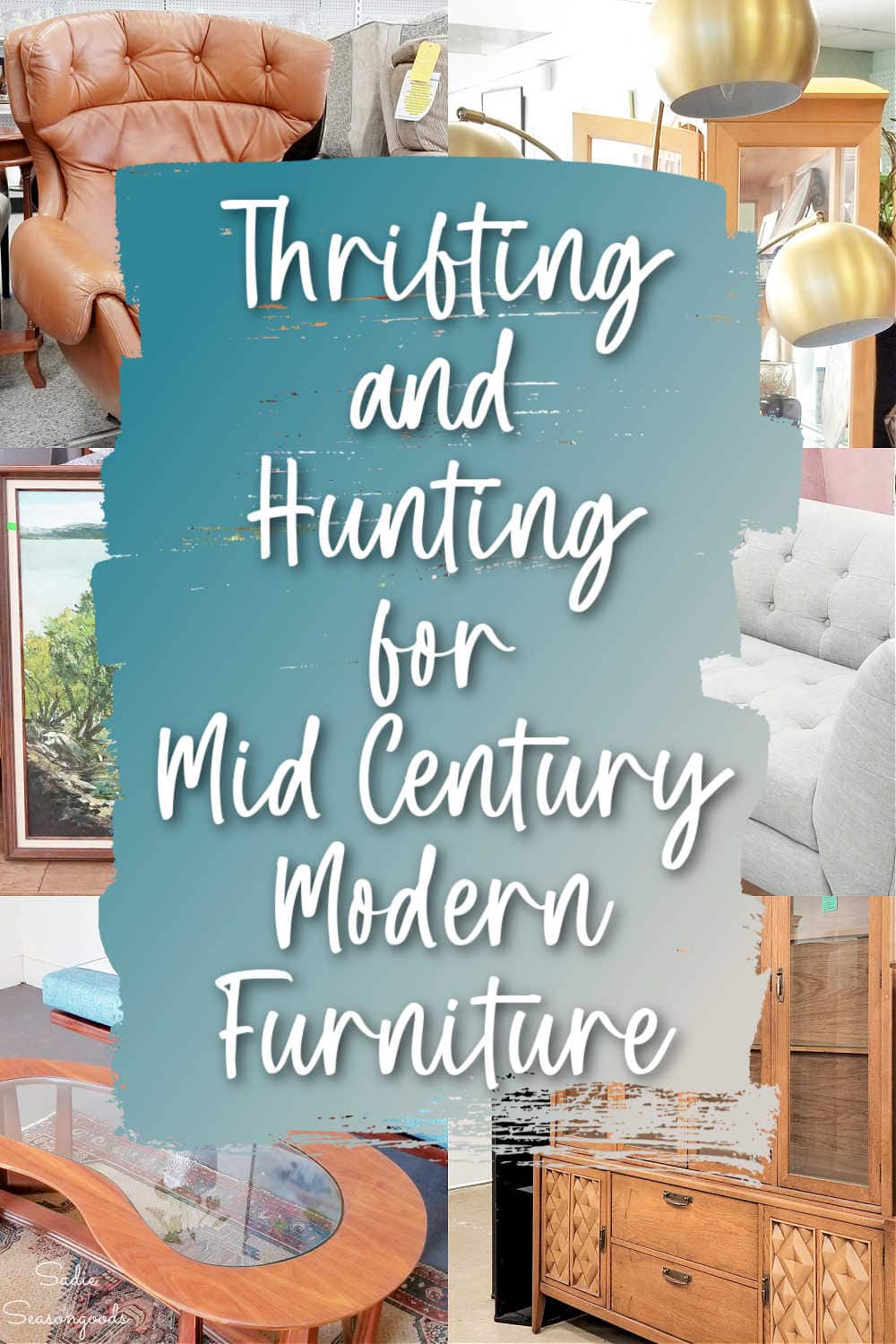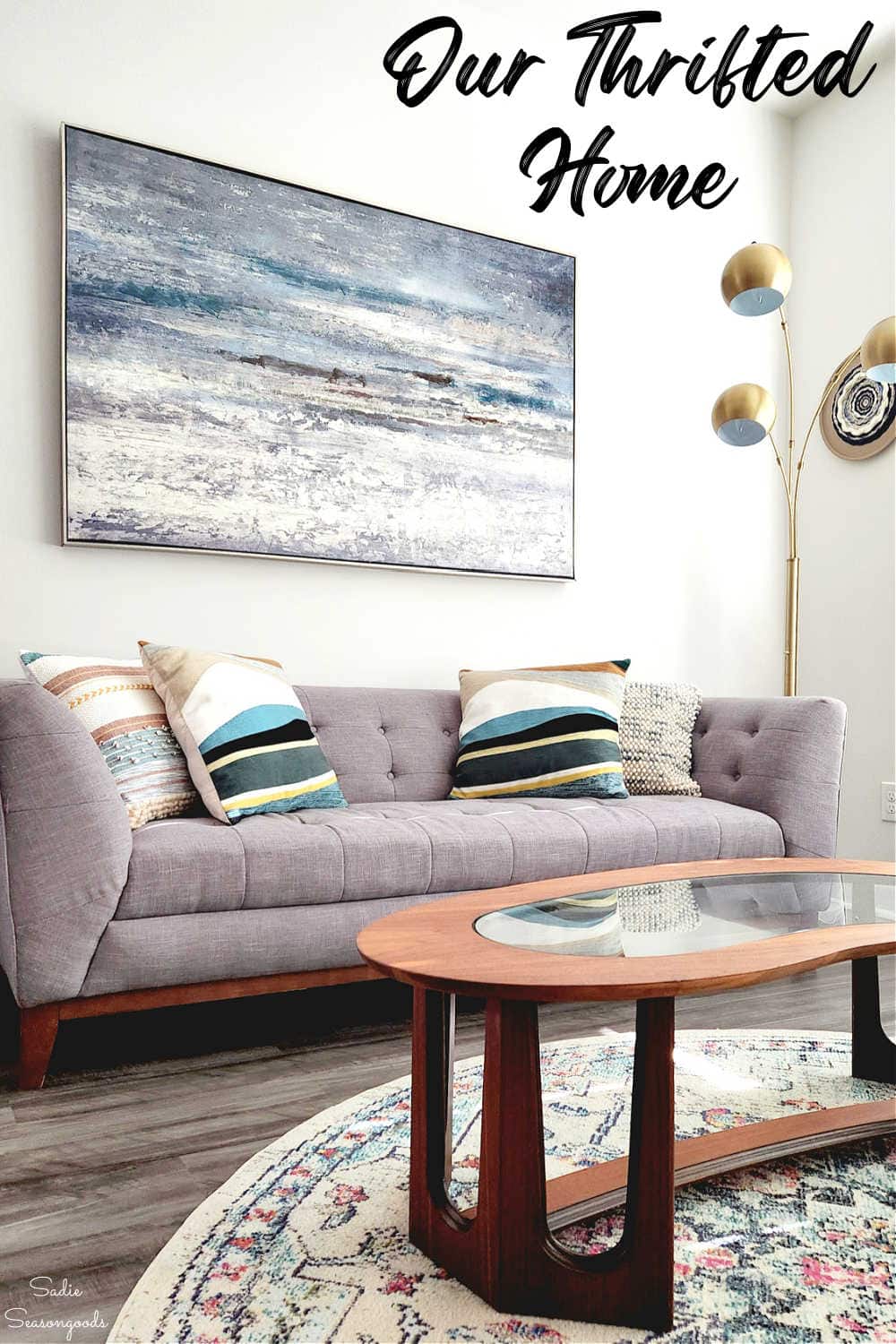 Sarah Ramberg is the owner of Sadie Seasongoods, a website that celebrates all things secondhand. From upcycling ideas and thrifted decor to vintage-centric travel itineraries, Sadie Seasongoods is a one-stop shop for anyone who loves thrifting and approachable repurposing ideas. Sarah is also the author of "Crafting with Flannel" and has been featured in numerous media outlets and magazines.