Sometimes my Christmas projects are really "out there" as far as upcycling ideas go, but this one is, perhaps, not so "out there". It was, however, fortuitous for many reasons, which I'll explain momentarily. But let's first chat about this wooden jewelry box I recently found at the Goodwill Bins. I decided that it was the perfect piece to upcycle into a holiday card holder.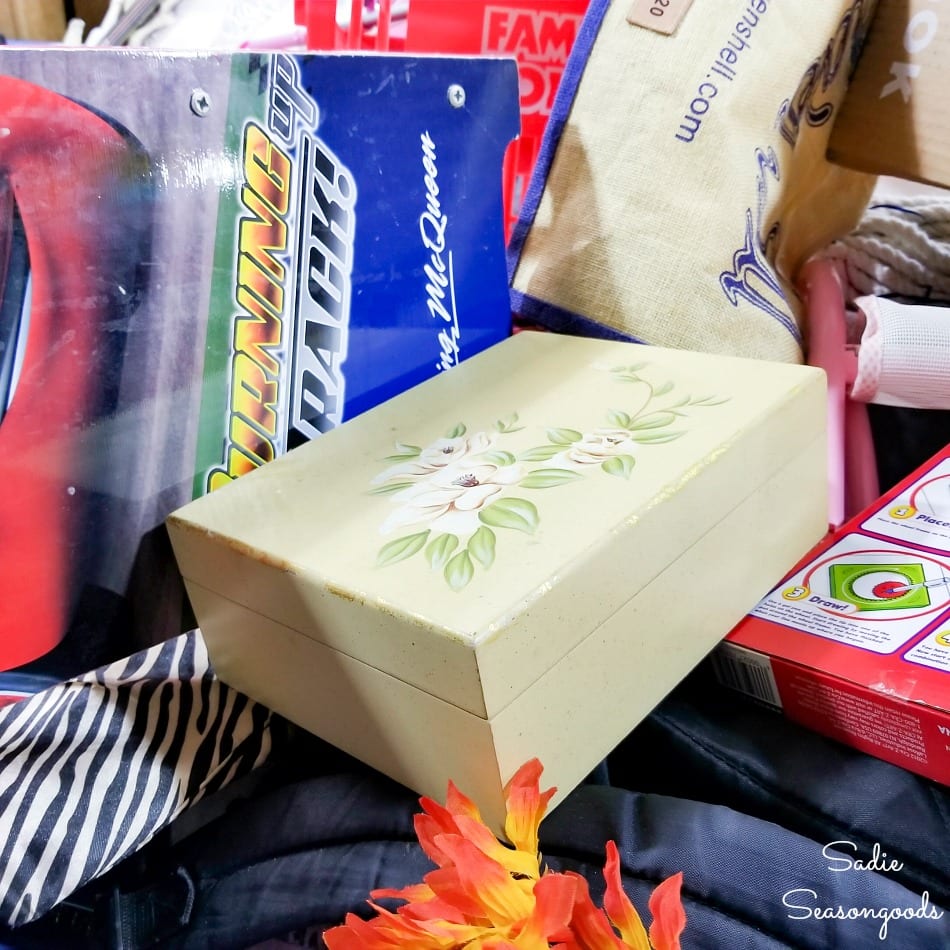 Now, if you absolutely adore the existing paint job, then I'm afraid you'll be dismayed if you keep reading.
If you're like me, though, you probably feel inspired to update the wooden jewelry box to your own liking. And I might have upcycled it to match this cooler project that I worked on, too!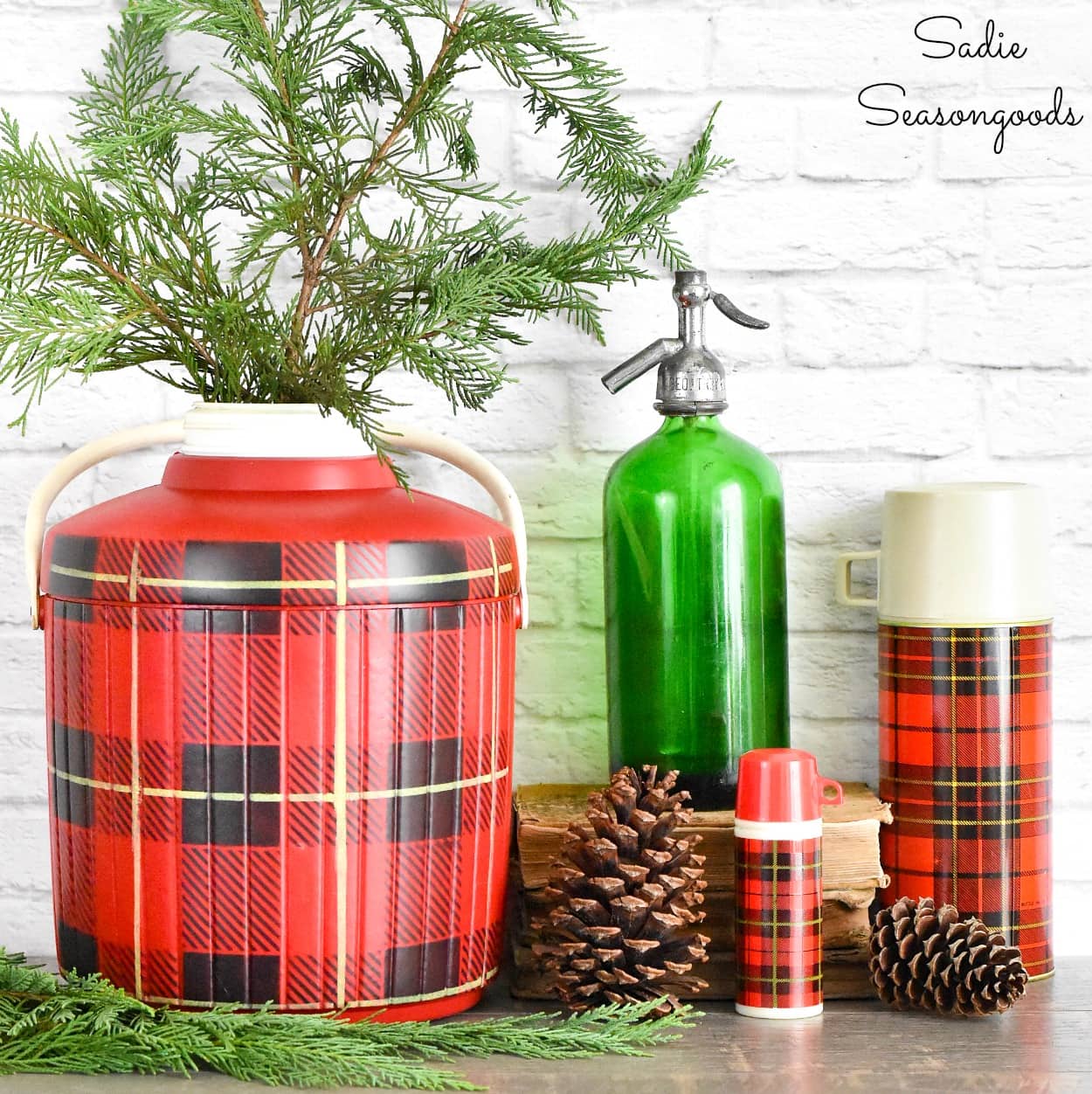 This post contains affiliate links for your crafting convenience. As an Amazon Affiliate I earn from qualifying purchases. All blue, bold, and underlined text is a clickable link, either to a product or to a related post.
The Buffalo Check stencil used in this tutorial was provided to me free of charge by Funky Junk's Old Sign Stencils; however, all opinions are my own. All blue, bold, and underlined text is a clickable link, either to a product or to a related post.
How to Paint Buffalo Plaid for Woodland Christmas Decor
To update the jewelry box into a holiday card holder, I wanted to paint it a nice rich red. Had the weather been more cooperative, I would have spray painted it.
BUT, that wasn't the case.
So, first, I gave the jewelry box a light sanding and grabbed a paint sample I had found in the "Oops" bin at Home Depot.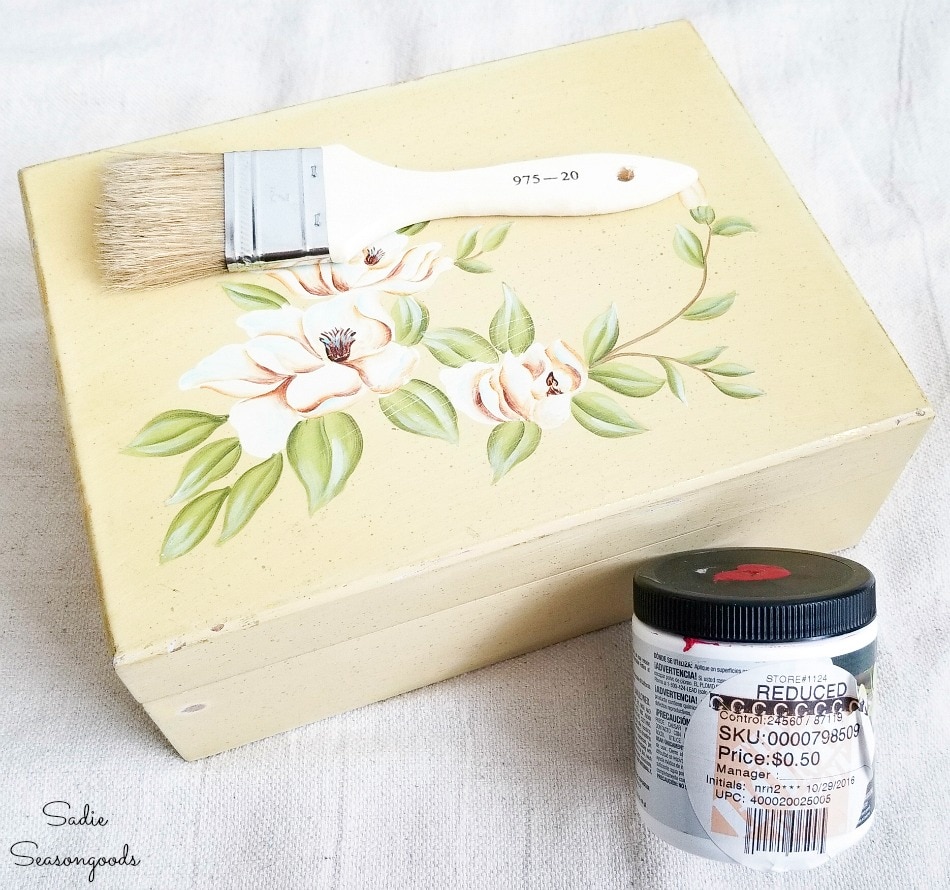 And, not that it matters too much, but the box had the ubiquitous "Made in China" sticker underneath it, which erases any guilt about painting it!
I also lined the inner perimeter with painter's tape before I started upcycling the jewelry box. I have a history of sealing things shut when I paint them and thought this would help alleviate that problem.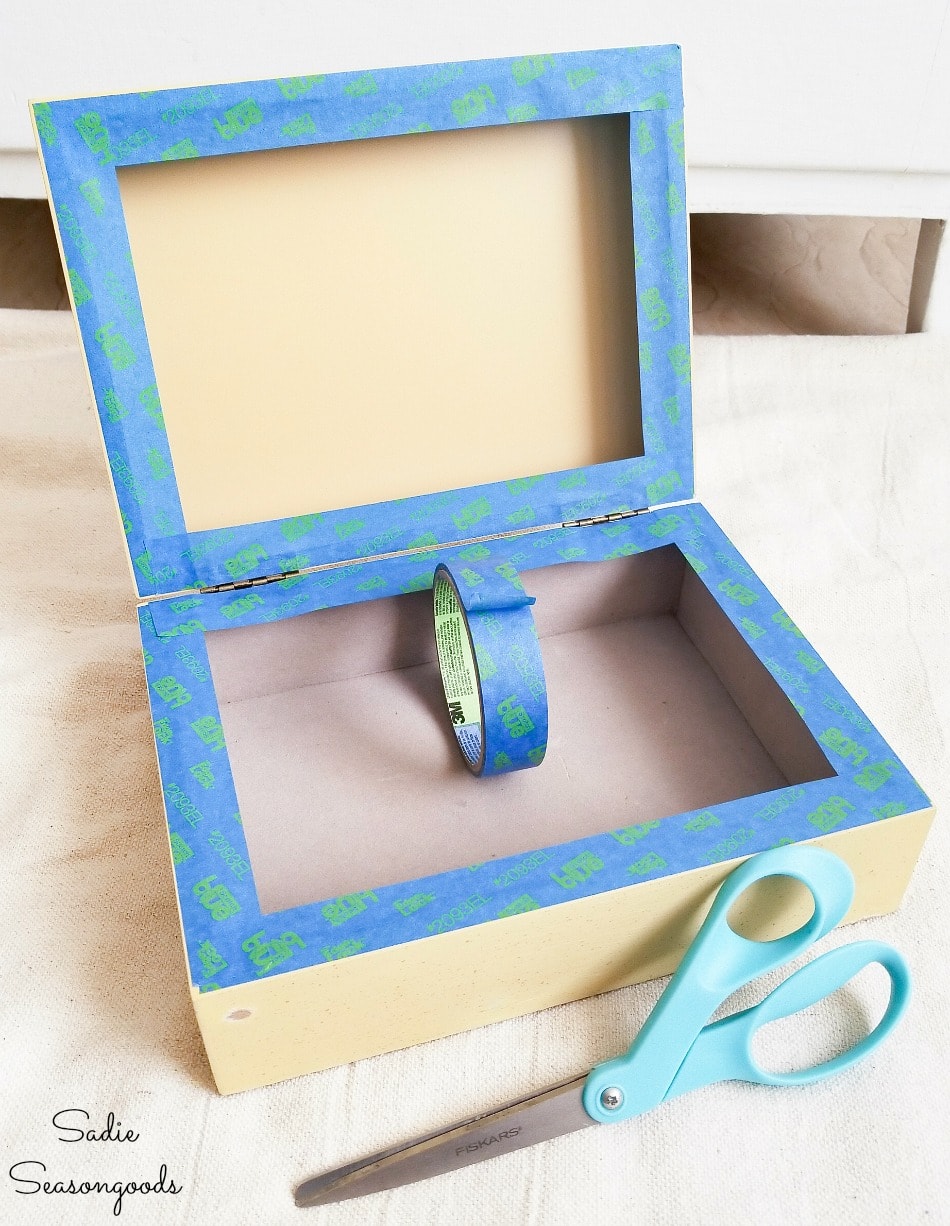 Once the wooden jewelry box had been transformed into a festive red box (two coats of paint later), I grabbed my Buffalo plaid stencil from Funky Junk Old Sign Stencils.
You may recall I used it once before on this tray project of mine– hence the red paint that was already on there!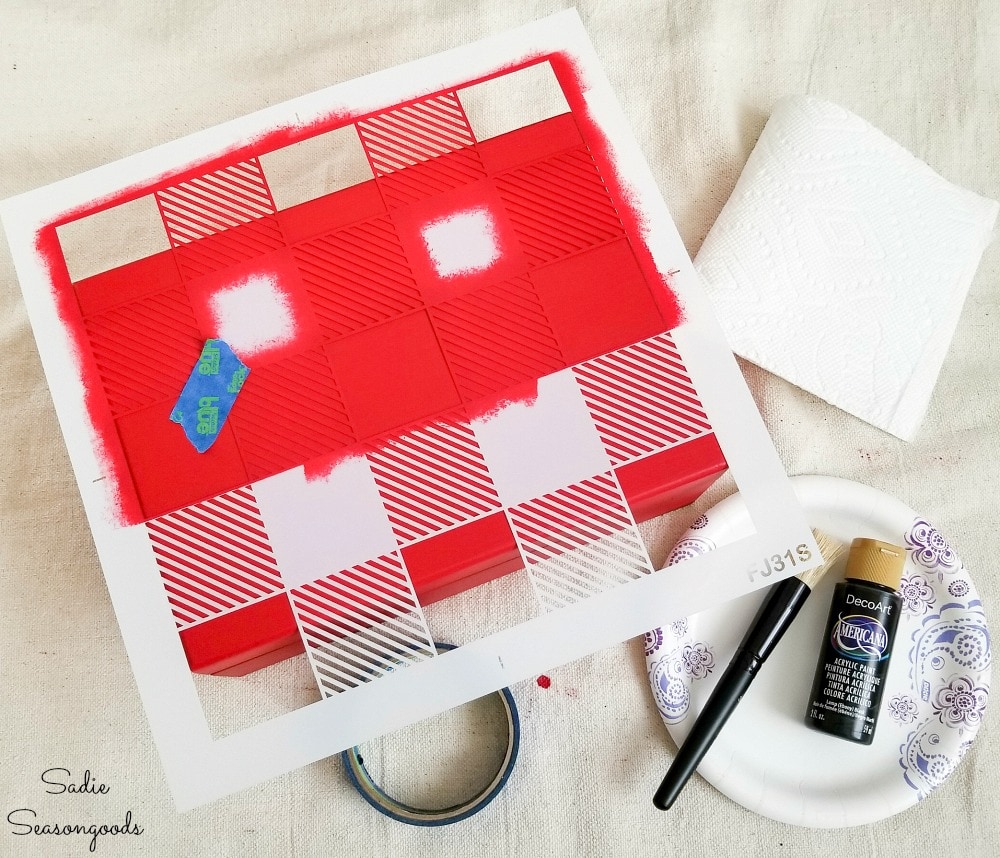 Instead of stenciling red on black like I did last time, though, I stenciled black on red for my holiday card holder. As always, I used my favorite stencil brushes from this online shop.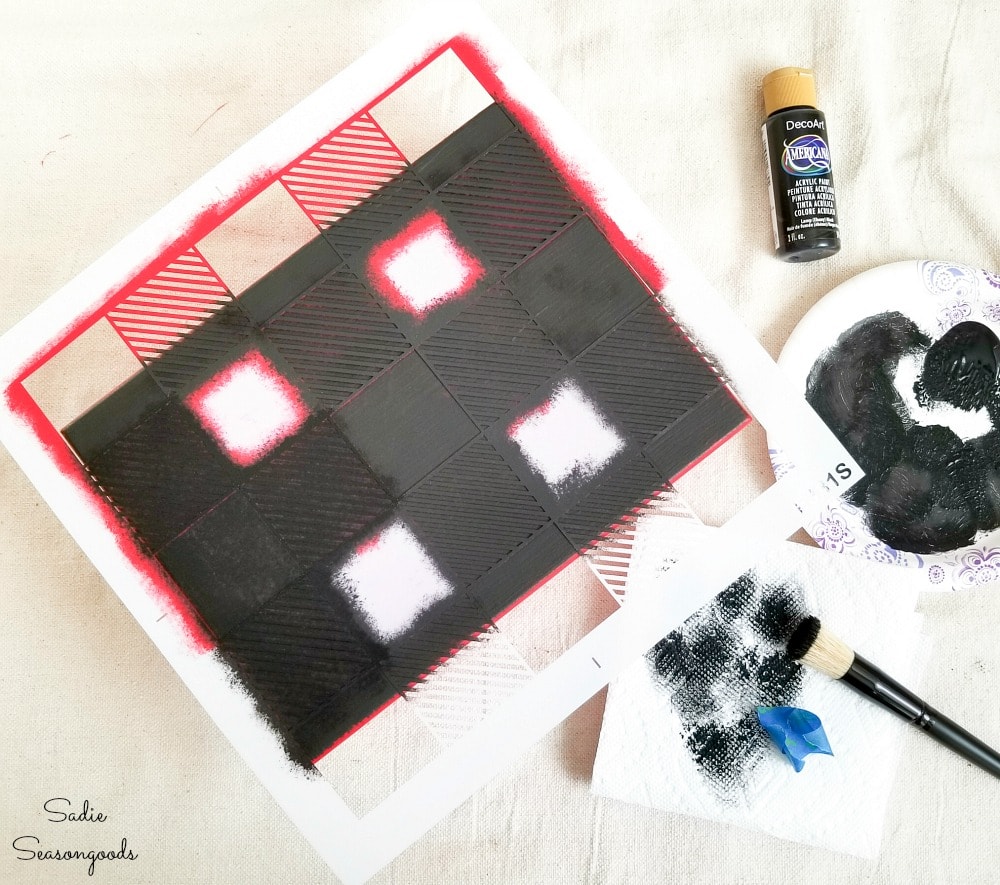 Stenciling a Holiday Card Holder
When all the paint had dried, I had a holiday card holder with a lovely pattern in Buffalo plaid. This was going to be PERFECT for some woodland Christmas decor!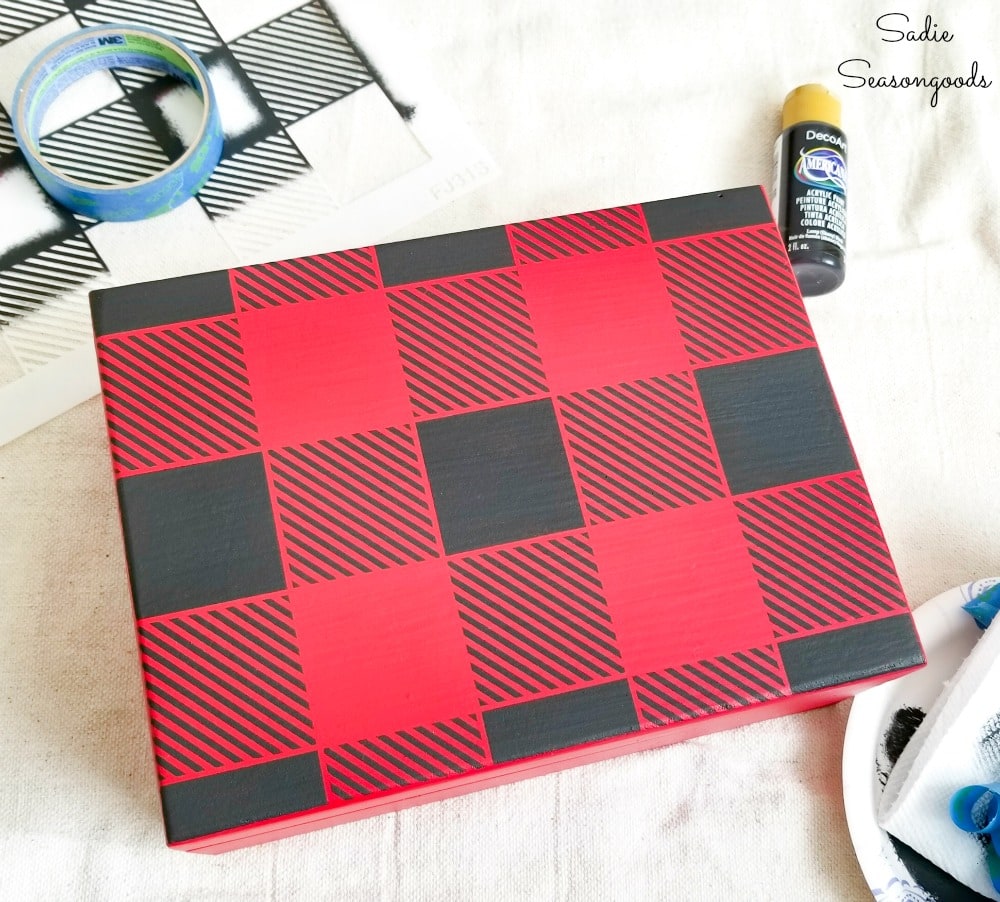 Even though I could have left it just like that, I decided to take it one step further. I already had a Christmas stencil that I had purchased for what turned into a recent "project fail" of mine.
Yes, it's true- some of my projects do NOT go as planned!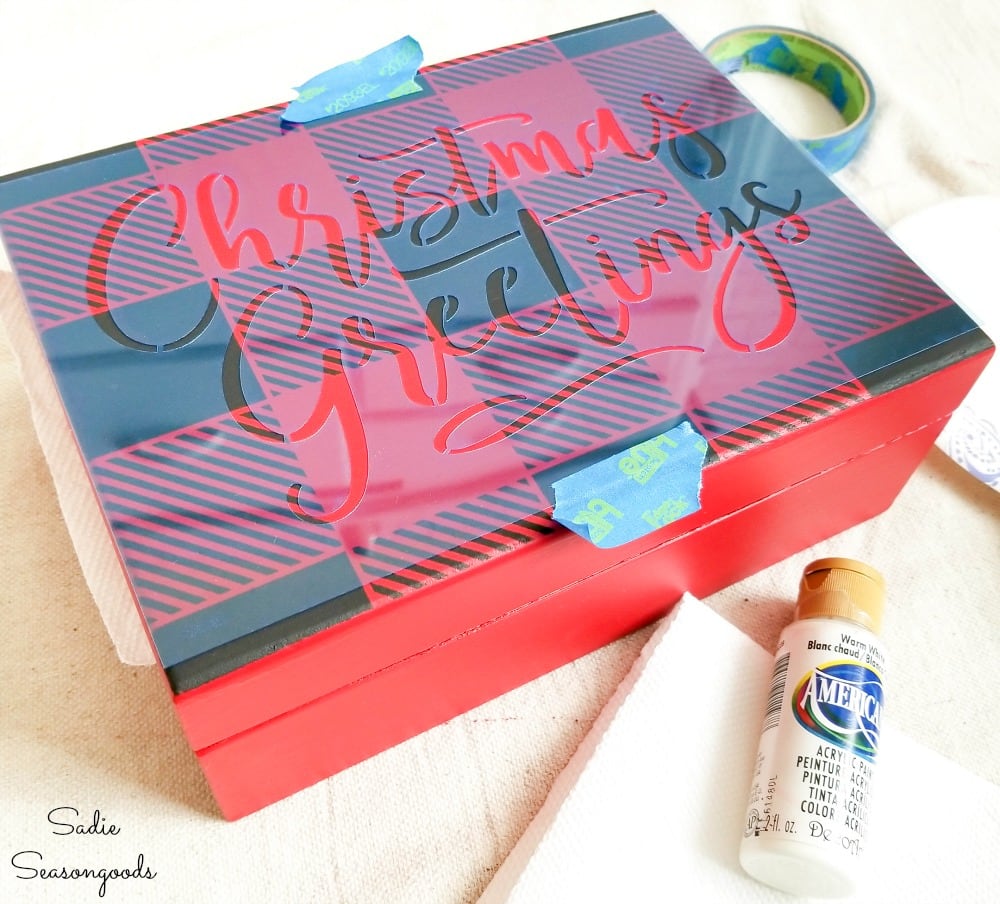 Remember how I mentioned at the very beginning that this was a "fortuitous" project? This is why…the stencil I had purchased for the project fail was a nearly perfect fit for my holiday card holder!
So, I decided to stencil on a little Christmas cheer over the buffalo plaid on my holiday card holder.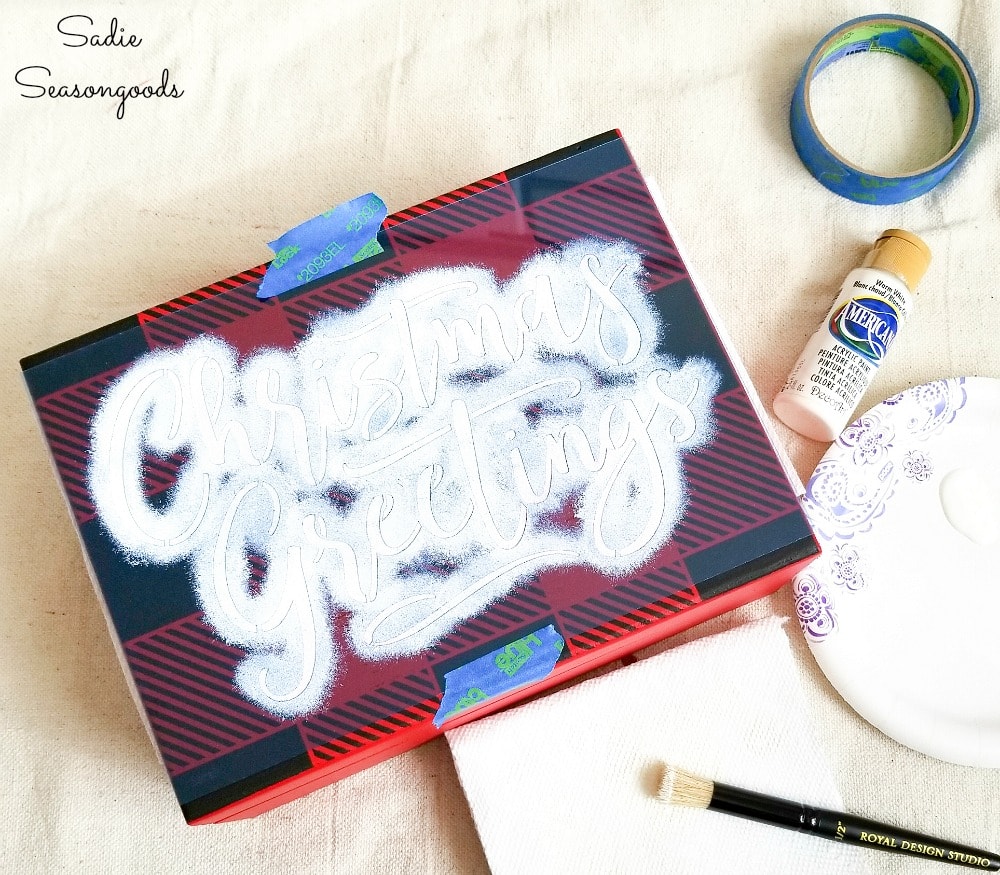 And just like that, my holiday card holder was completely done!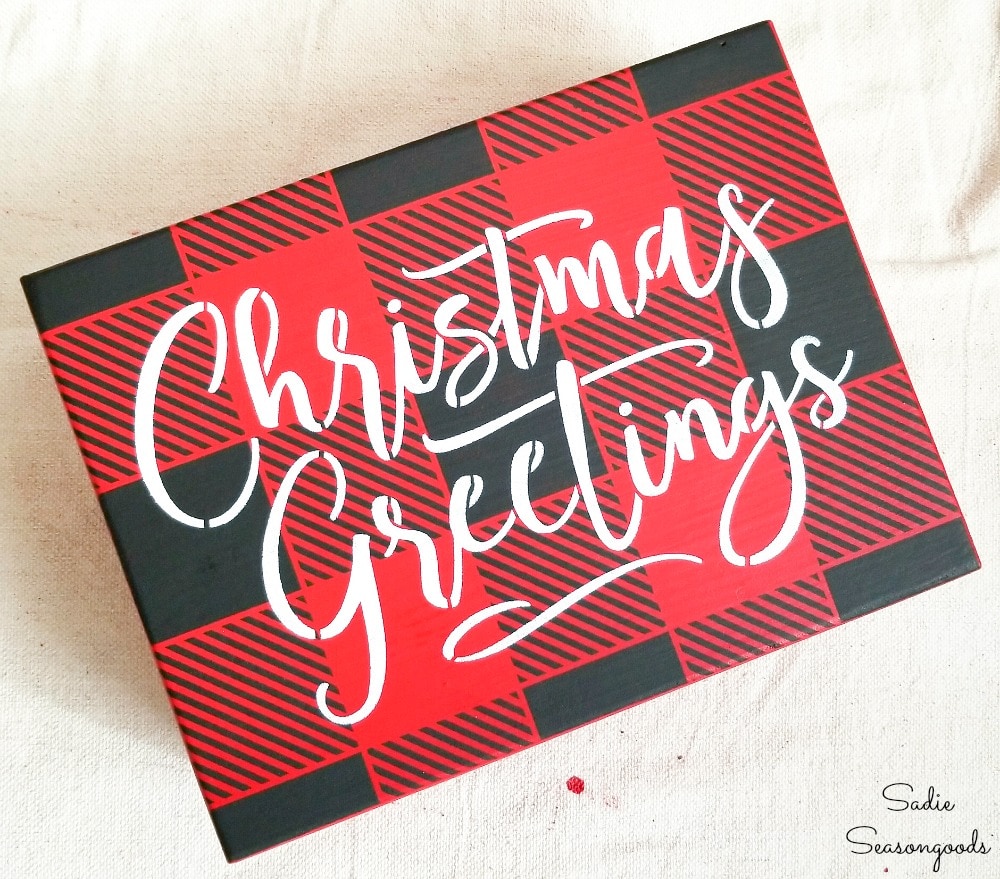 Doesn't that look fantastic? Such an improvement – and all from a wooden jewelry box that came from the Goodwill Bins!
Holiday Card Holder and Buffalo Check Christmas Decor
Plus, it doubles as both a holiday card holder as well as buffalo check Christmas decor when turned on its side!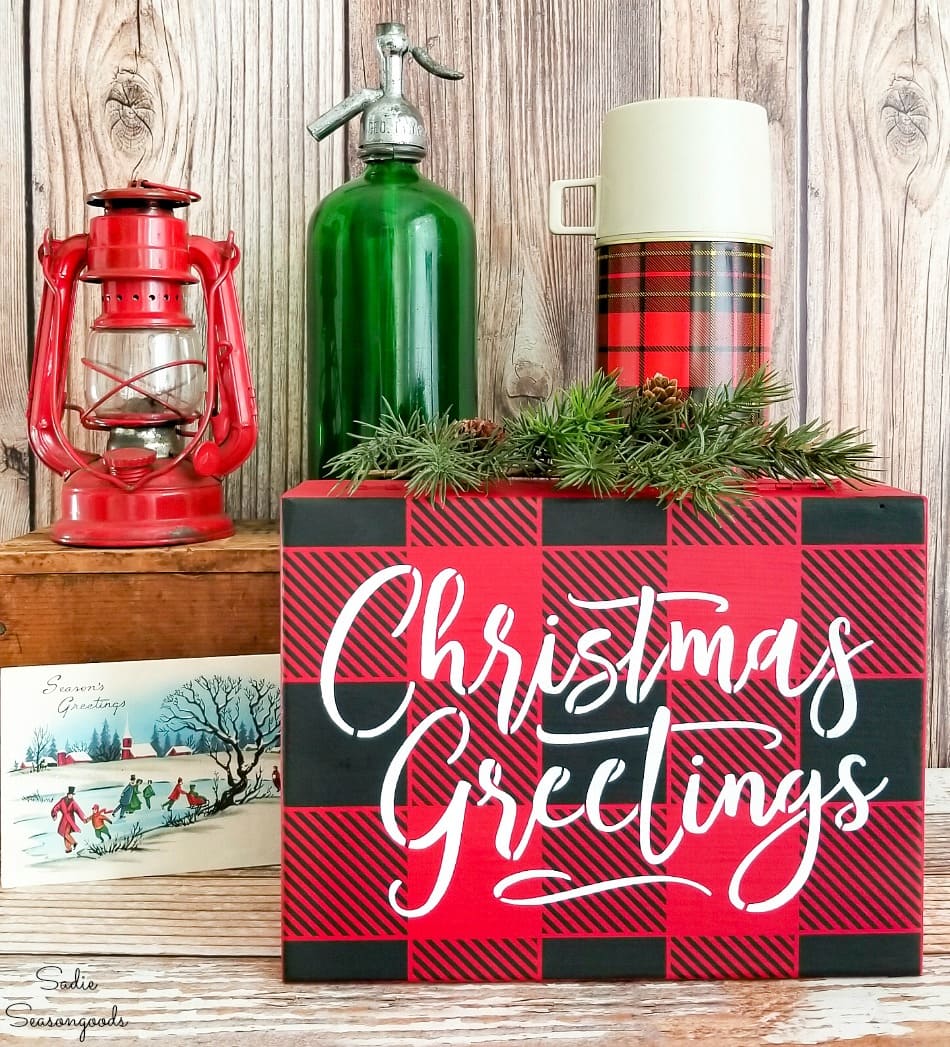 I've saved certain Christmas cards from over the years (such as the last one my husband's grandmother sent before she passed away, etc.). Now I'll be able to keep them safely tucked away all year long.
What a fun new element to add to my Christmas decorating this year. And talk about meant to be, since I already had the paint, the brushes, the tape, and the Christmas stencils.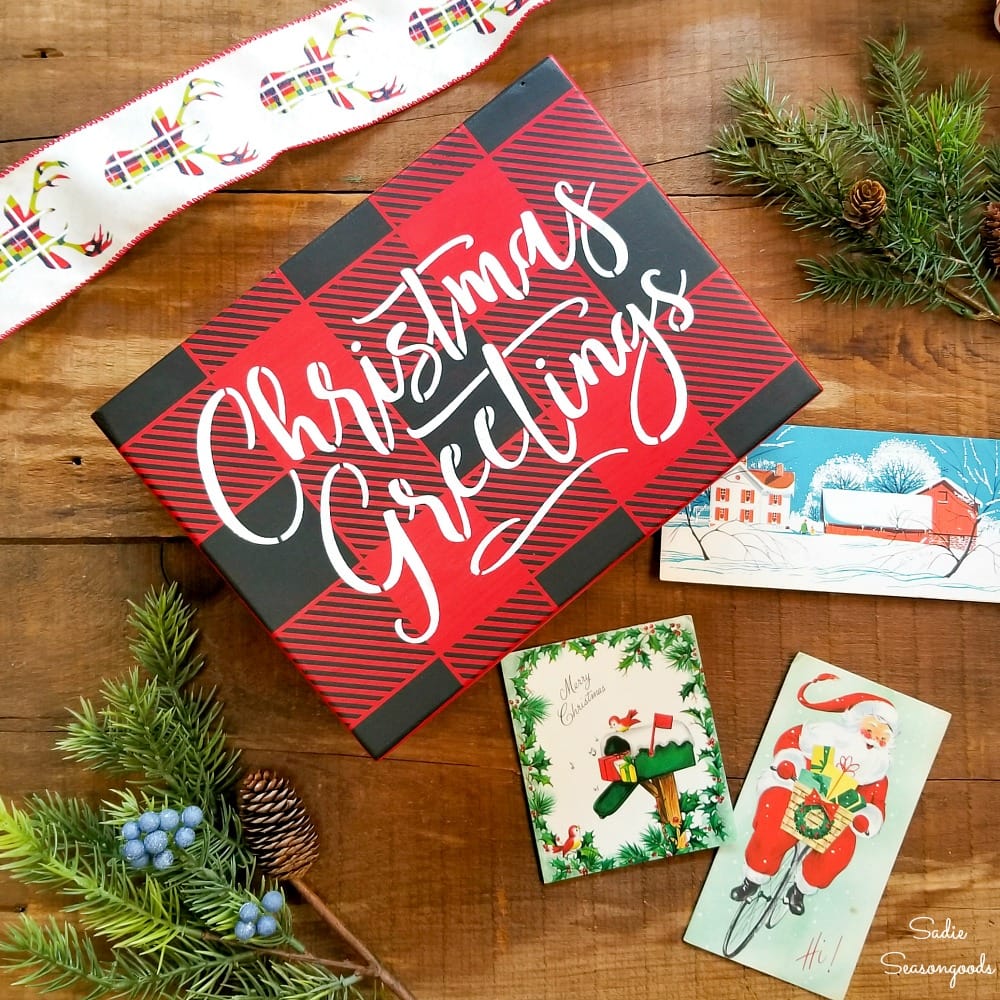 So, if you've ever wondered how to paint buffalo plaid, then I hope you see how easy it is with this stencil! Trust me, this is the best buffalo check stencil out there.
And for more inspiration for woodland Christmas decor, make sure you check out this plaid Christmas wreath I made from flannel shirts!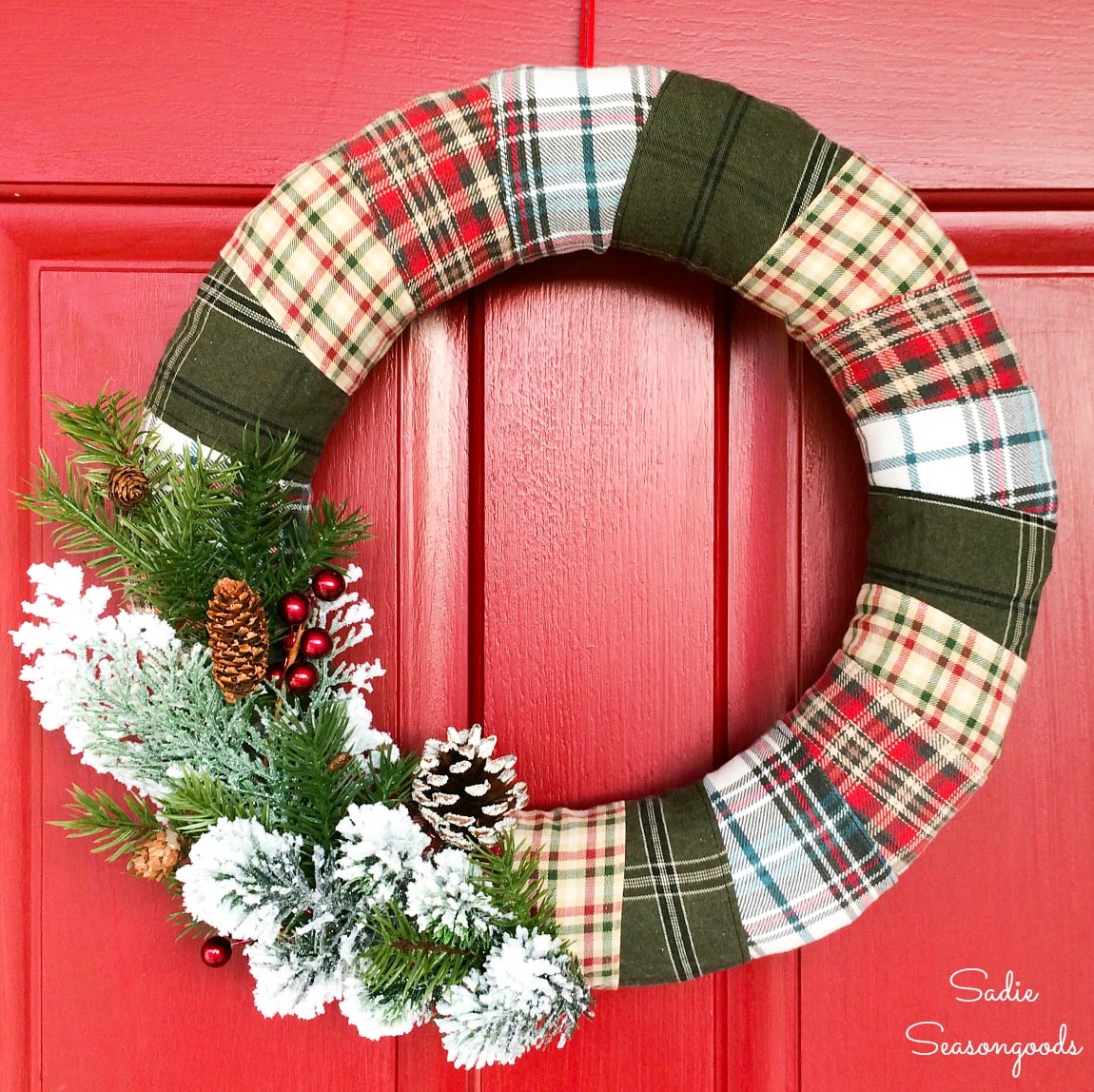 And remember, my book, "Crafting with Flannel", has an entire chapter dedicated to Christmas ideas. So you KNOW it's filled with all things Christmas plaid!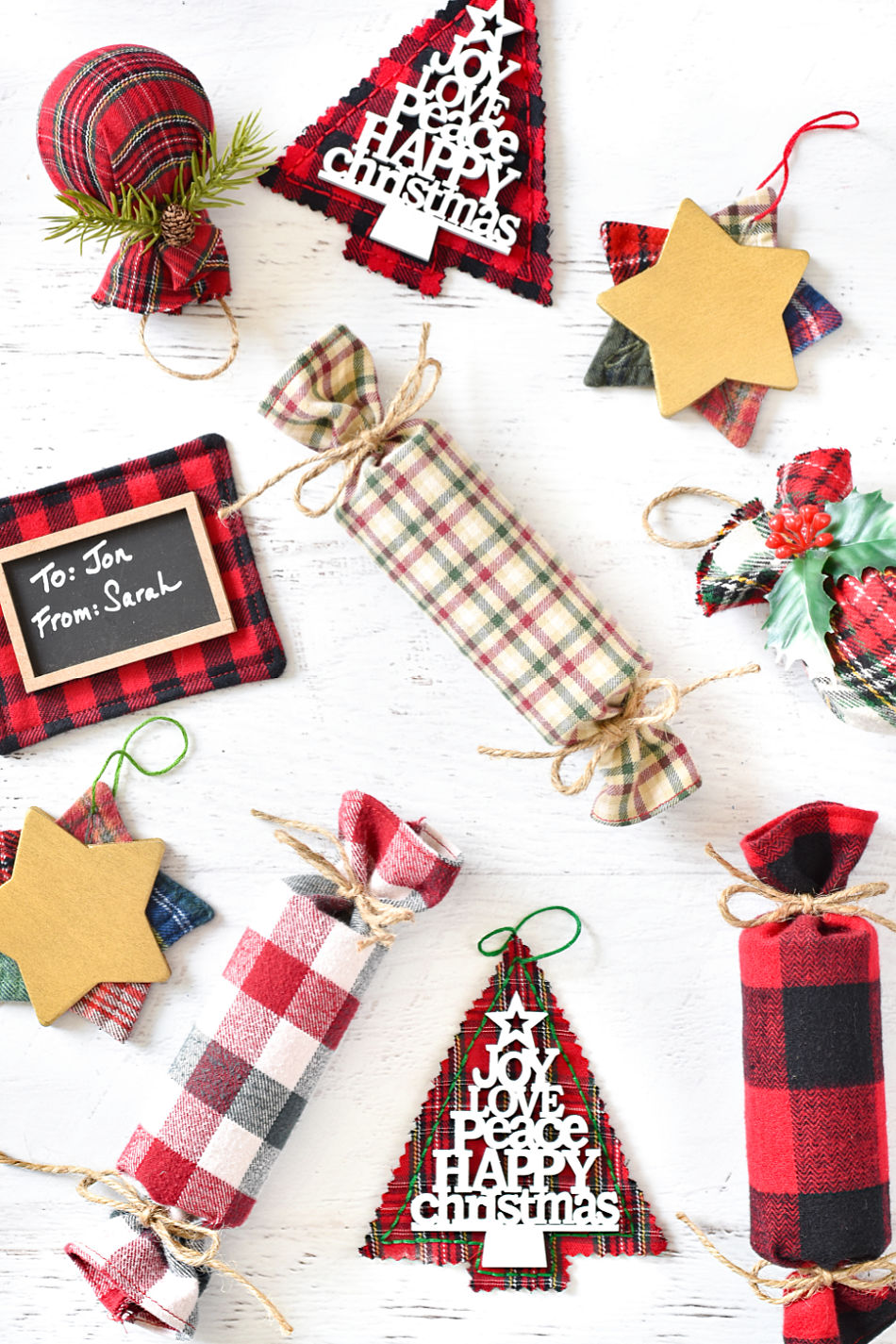 Craft on!
S
Want to be notified when I publish my next upcycling project tutorial?
Subscribe to Blog via Email
Join me on Social Media:

PIN ME!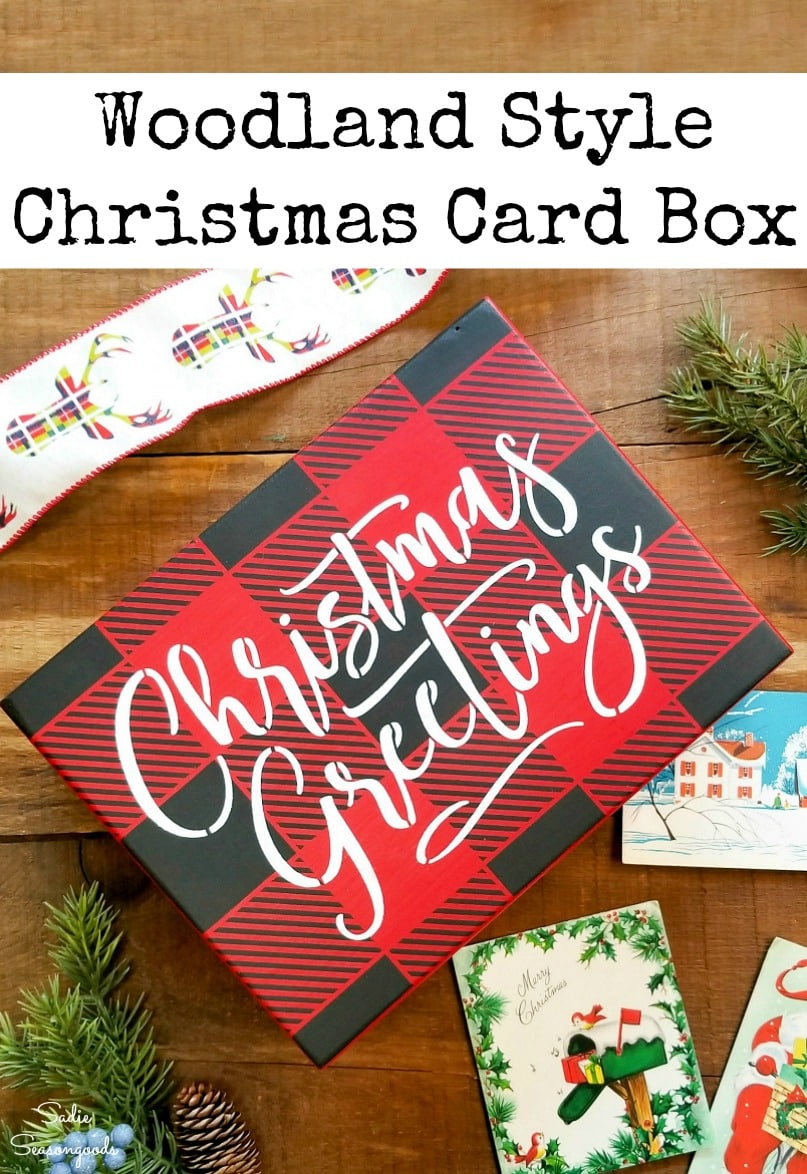 Sarah Ramberg is the owner of Sadie Seasongoods, a website that celebrates all things secondhand. From upcycling ideas and thrifted decor to vintage-centric travel itineraries, Sadie Seasongoods is a one-stop shop for anyone who loves thrifting and approachable repurposing ideas. Sarah is also the author of "Crafting with Flannel" and has been featured in numerous media outlets and magazines.