I wanted to make a a plaid Christmas wreath by upcycling some of the flannel shirts (and scraps) I had. Even though I live in the suburbs, I always imagine that our home is actually a Christmas cottage in the north woods. So, I headed to the thrift store for some Christmas flannel fabric that would work for my craft idea.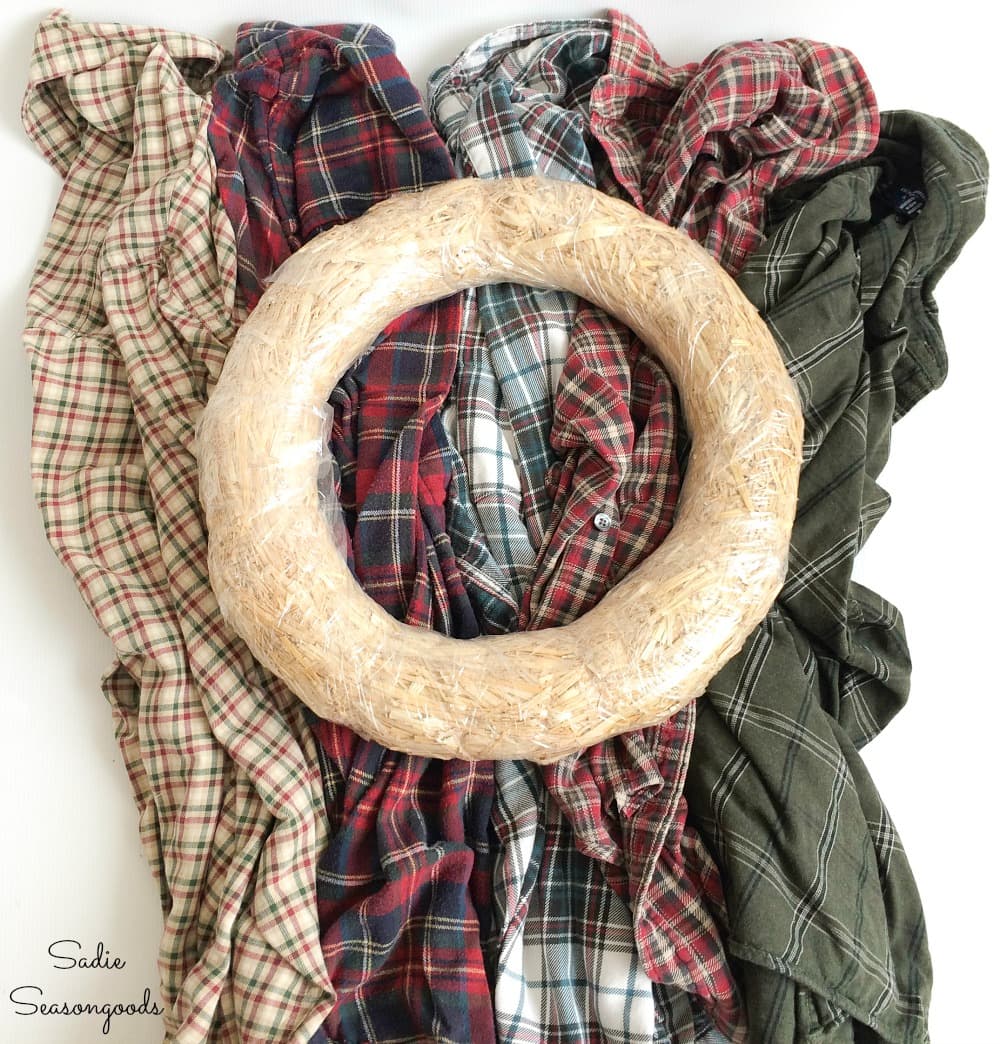 This project is one of the reasons I landed the opportunity to write a book about flannel crafts!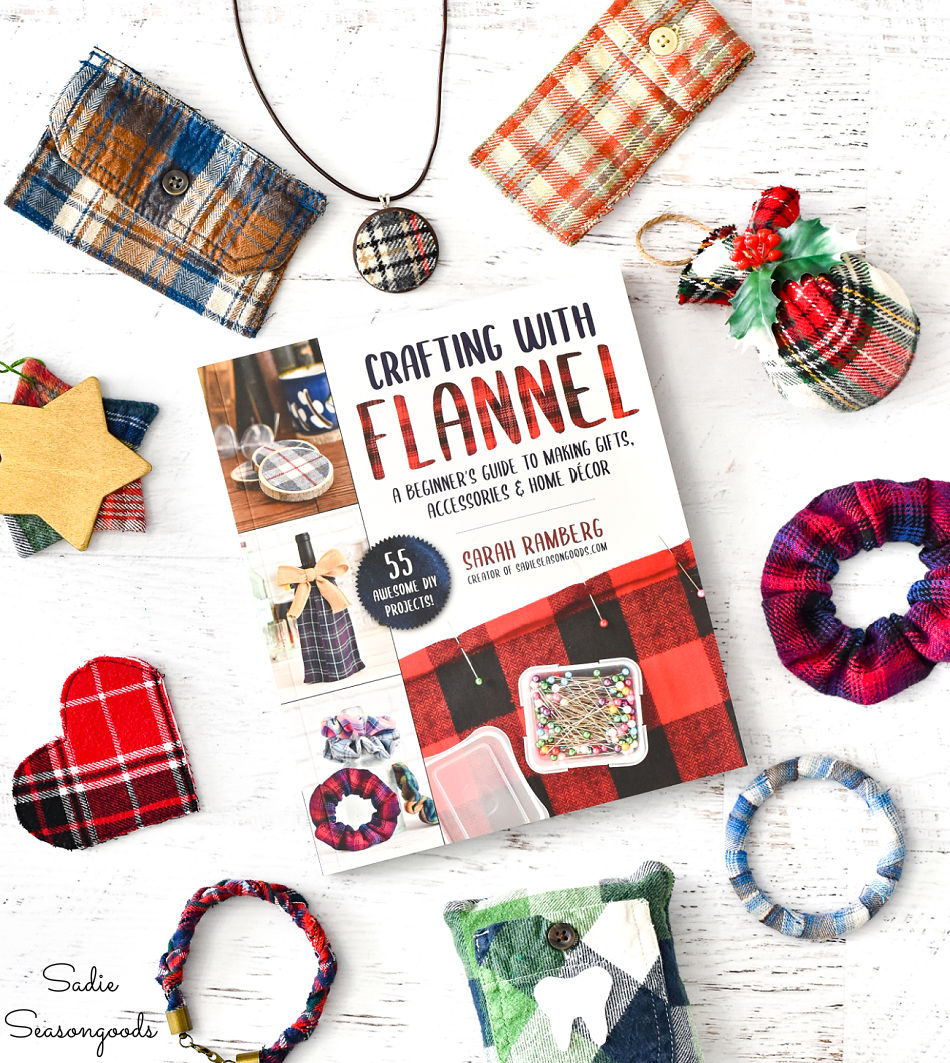 Anyway, back to the wreath project at hand. I also hit a craft store for some woodland greenery and floral stems.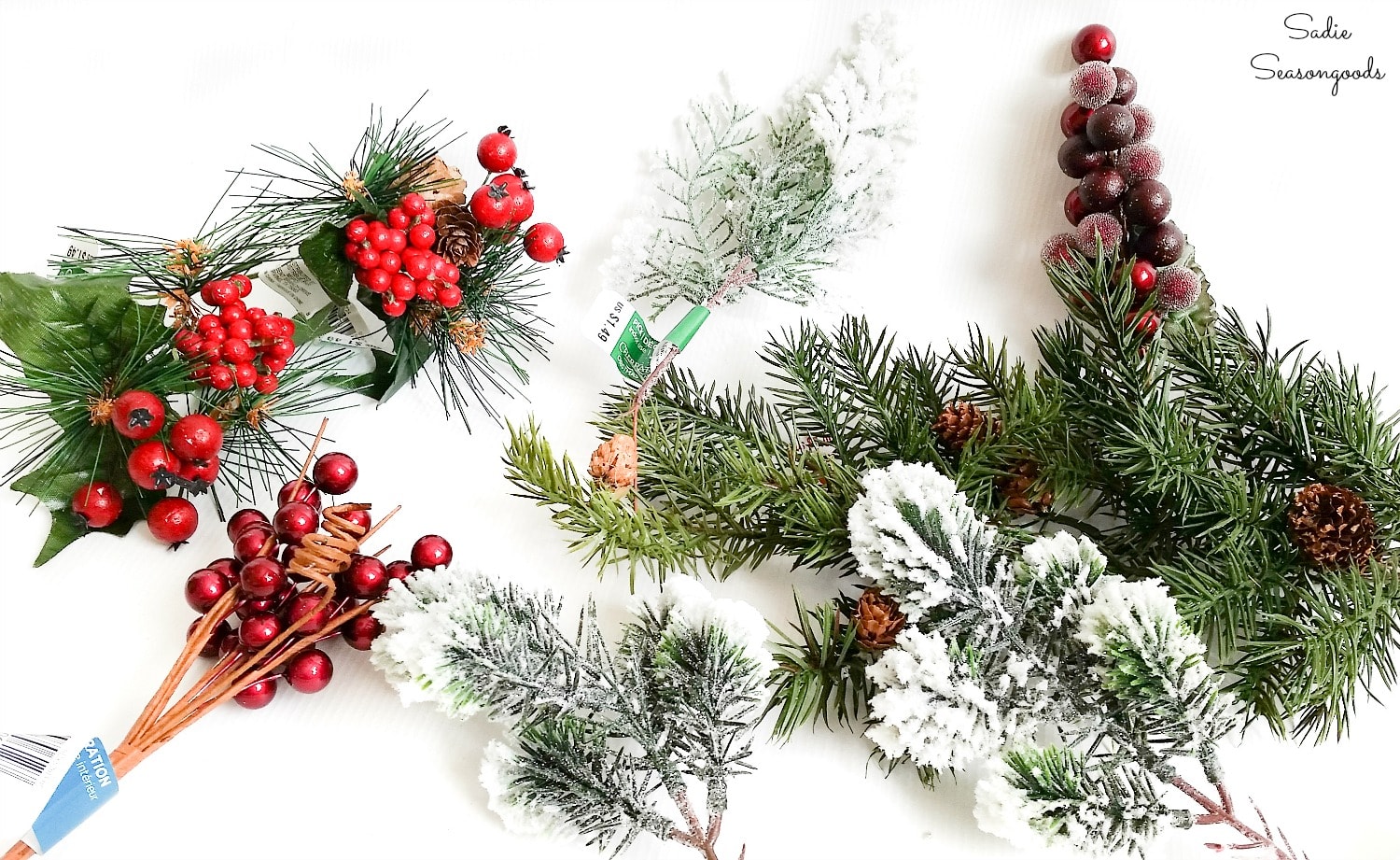 With everything in hand, I was ready to put my vision into motion!
This post contains affiliate links for your crafting convenience. As an Amazon Associate, I earn from qualifying purchases. All blue, bold, and underlined text is a clickable link, either to a product or to a related post.
Rustic Christmas Wreath as Woodland Christmas Decor
First, I measured the thickness of my wreath and cut out strips of flannel fabric that were long enough to wrap around the straw wreath form. Incidentally, the wreath form was ALSO a thrift find!
I made sure there was approximately one inch of flannel overlap on the backside. And somewhat arbitrarily, I decided on a 3½" width for each strip of flannel material.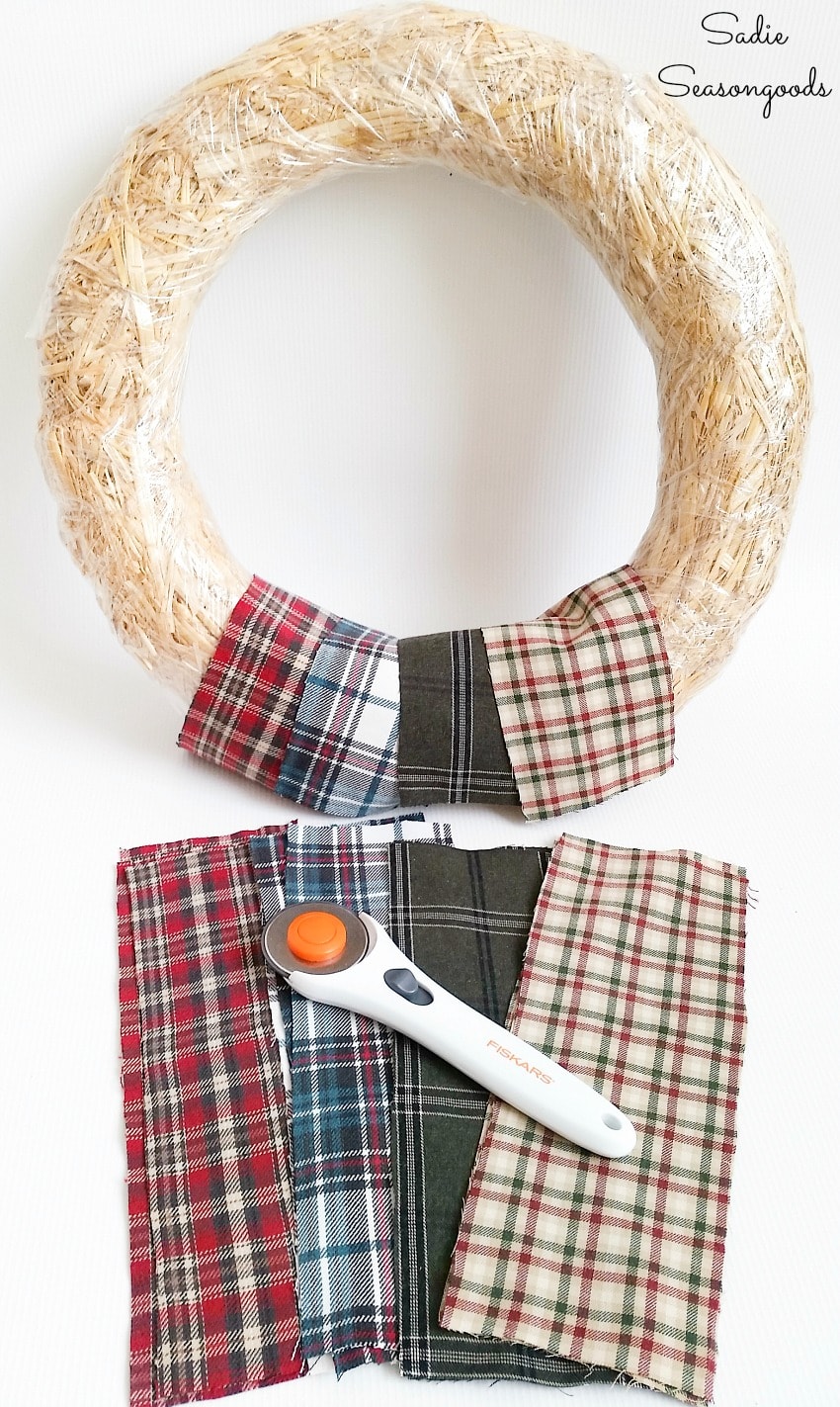 I started out with 4 strips of each of the 4 shirts I ended up using. I ironed the strips (they were pretty wrinkled from my half-baked rolled/folding method I used during storage).
Then, I did a quick ¼" hem on one long side of each fabric strip with my sewing machine.
Next, I wrapped the first strip of flannel fabric around the wreath, pulled it taut (but not stretched), and pinned it in place.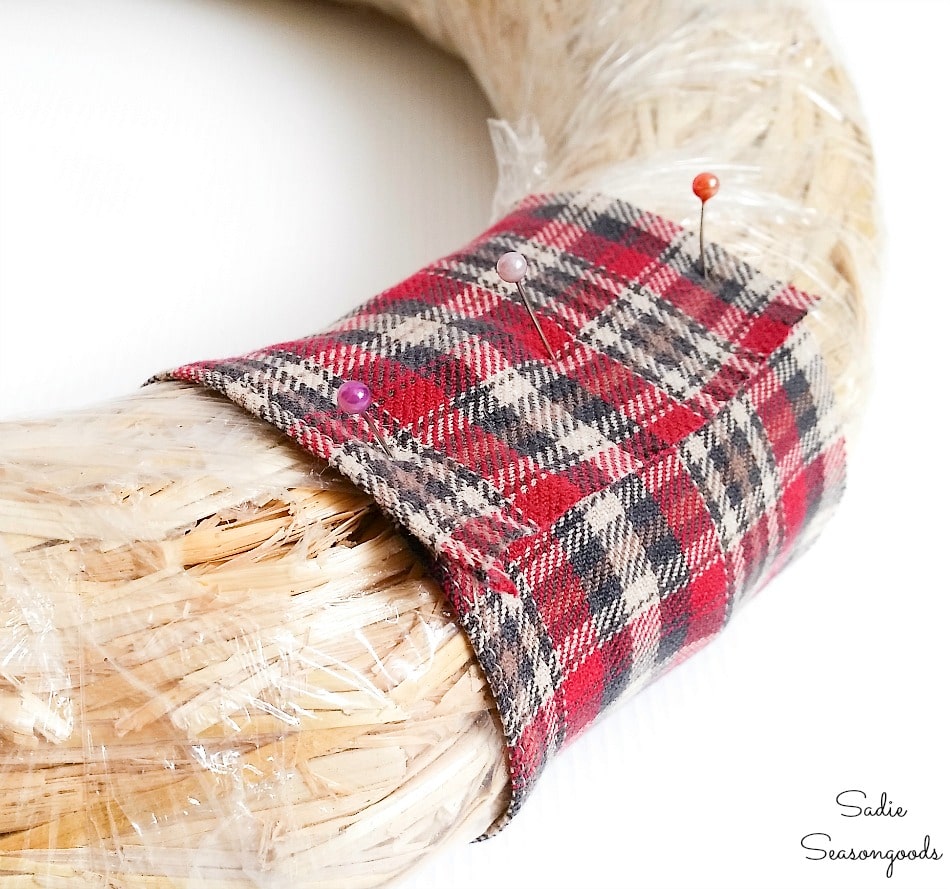 Then, I simply applied a little hot glue to secure it and removed the pins. This will be the backside of the wreath.
I flipped the wreath over to make sure the first strip looked nice and smooth, which it did!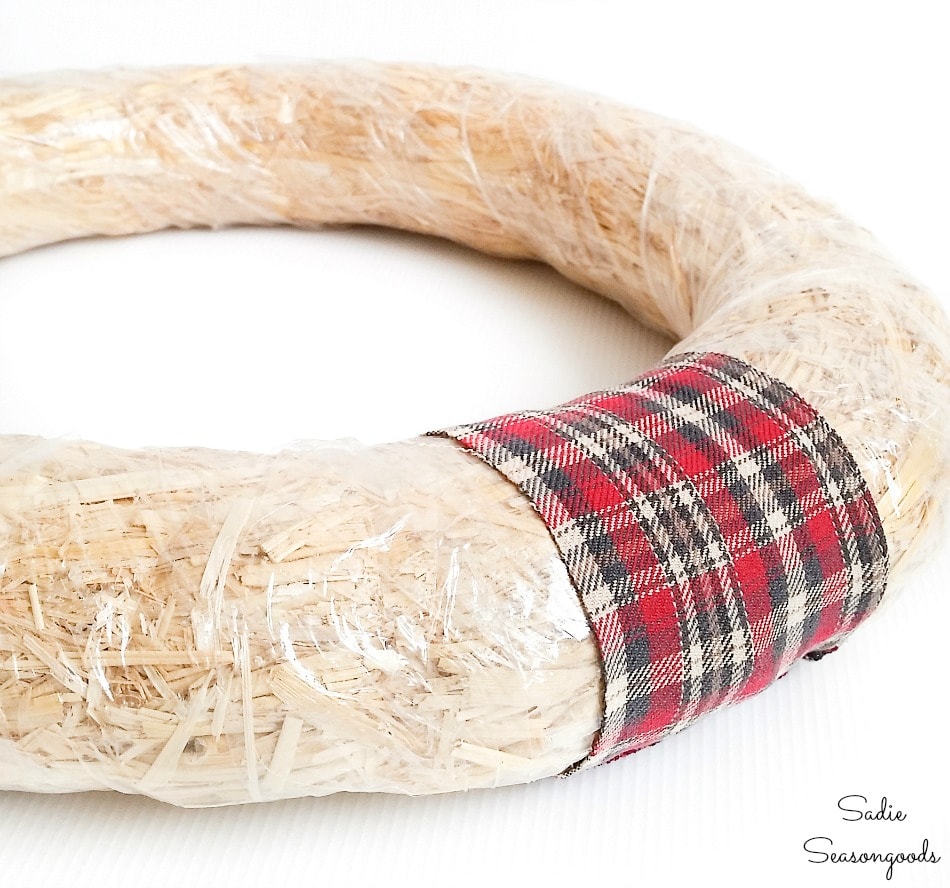 With the first strip done, I continued to do the same thing over and over again. I carefully overlapped consecutive strips over the raw edge of the previous ones, so only the hemmed edge was visible.
Sometimes I like a frayed/raw edge, but I wanted something cleaner for this rustic Christmas wreath.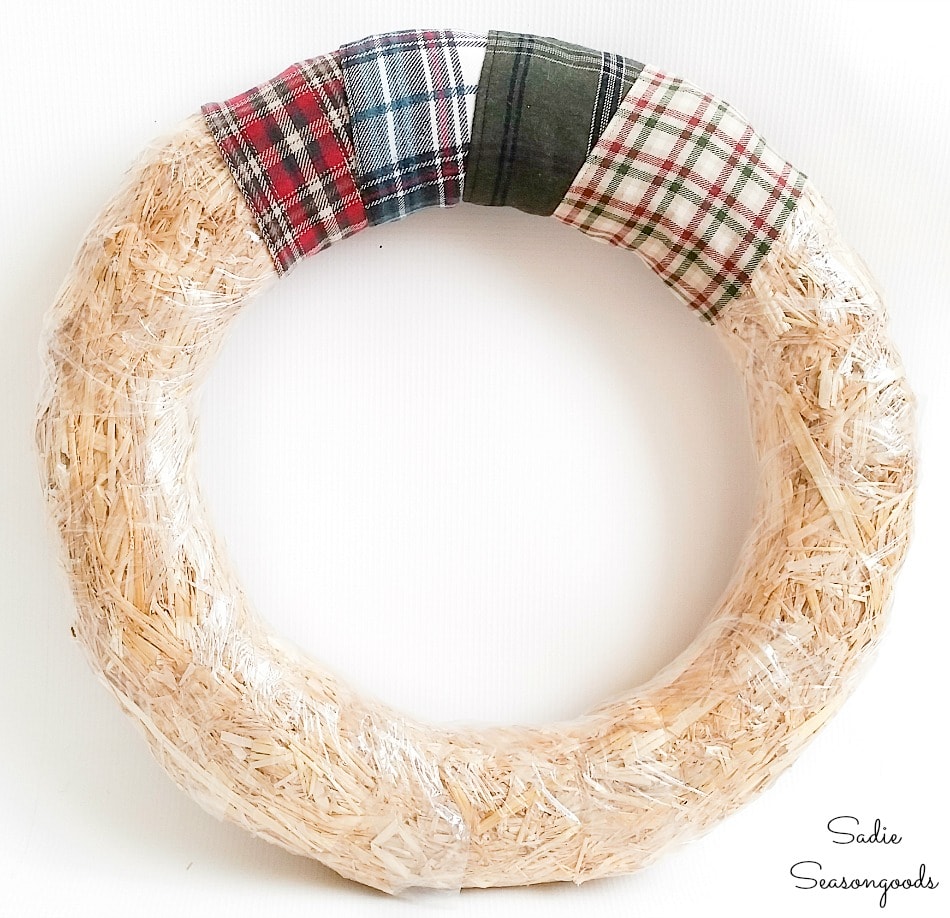 I ended up needing 2 more strips of flannel material than I originally cut. So, I decided to hem both edges of the final strip (that wider red one on the lower left).
I also trimmed the final strip into a long triangle before hemming- like of a long narrow pizza slice.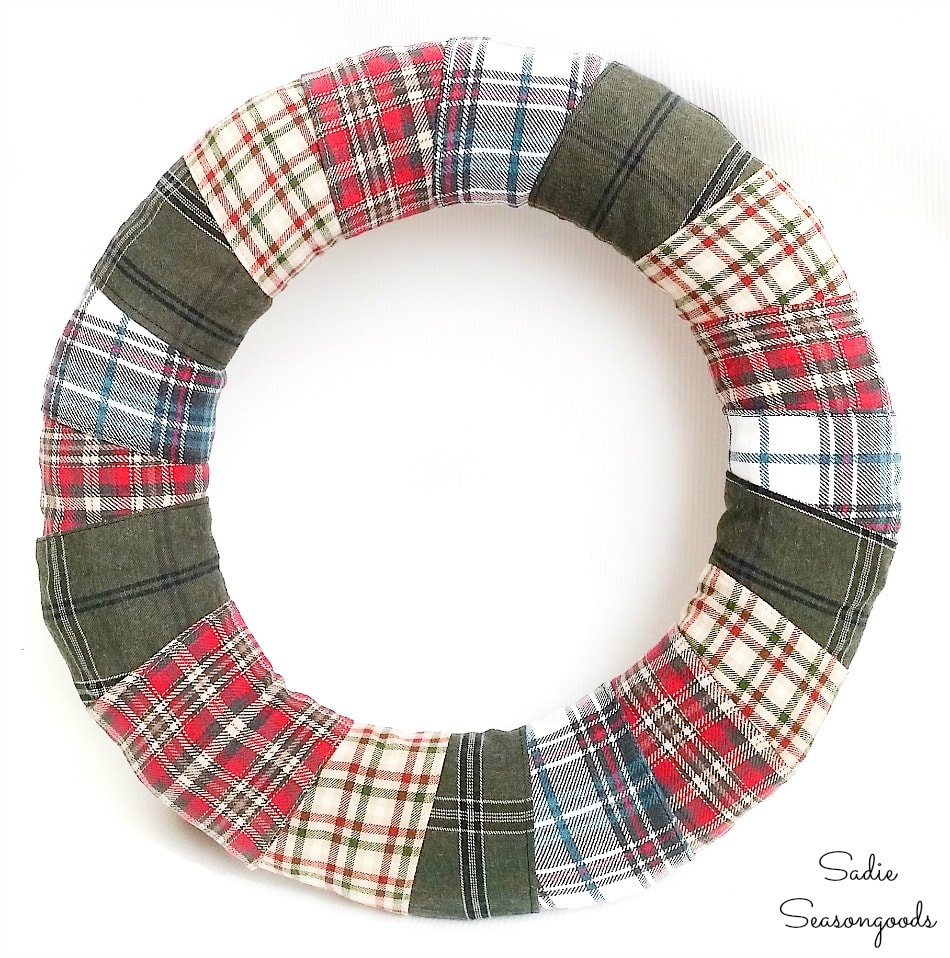 Doing so and hemming it along both edges made a big difference in the end, I think- nice and clean and it fit the remaining space perfectly.
And then I was done with wrapping flannel fabric around my plaid Christmas wreath. Now I just needed to arrange the Christmas greenery and floral stems on the wreath and I'd be done!
Plaid Christmas Wreath from Recycled Flannel Shirts
Finally, I pinned a loop of red ribbon to the back of my wreath and hung it on our front door! It looked FABULOUS against the red door.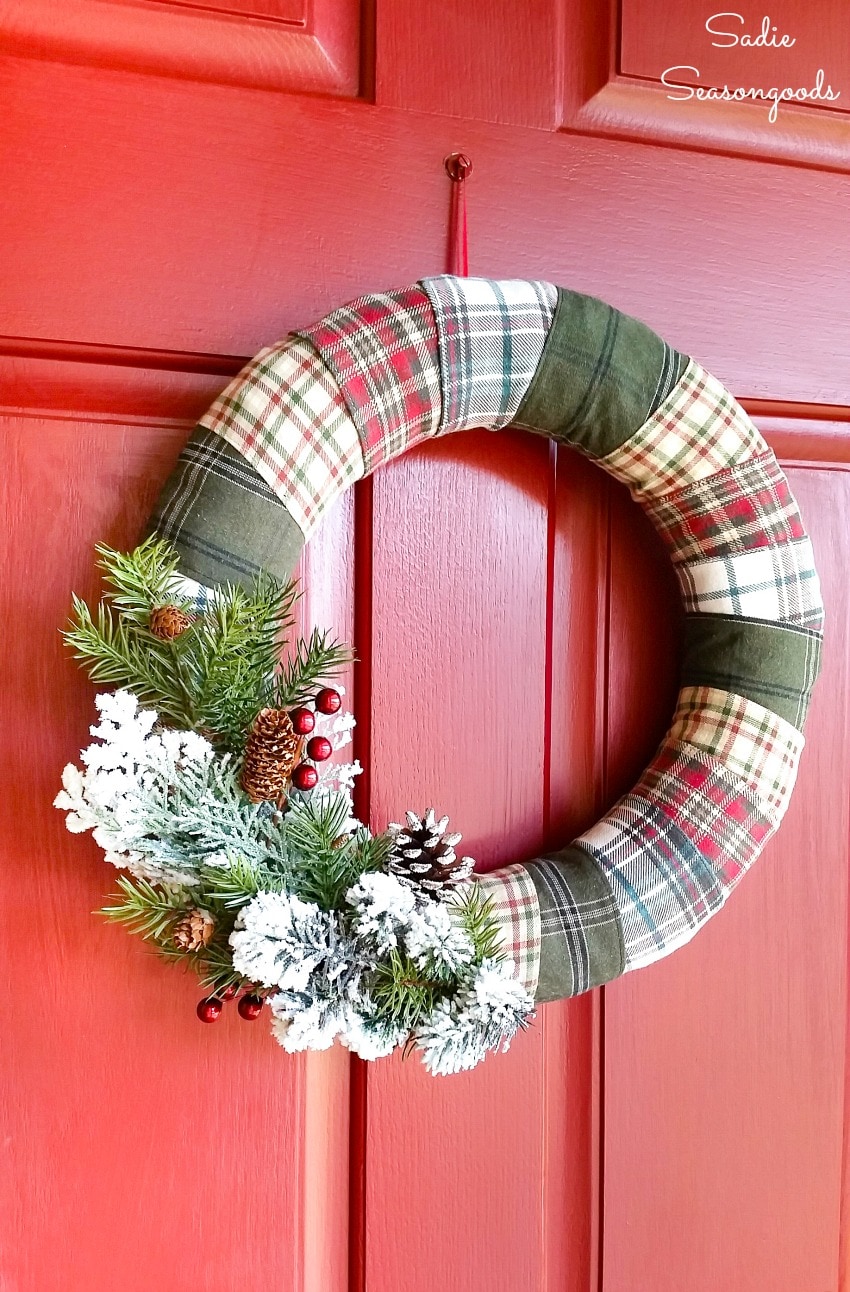 Truly the perfect wreath for a cozy Christmas, don't you think? Woodland Christmas decor at its finest, if you ask me.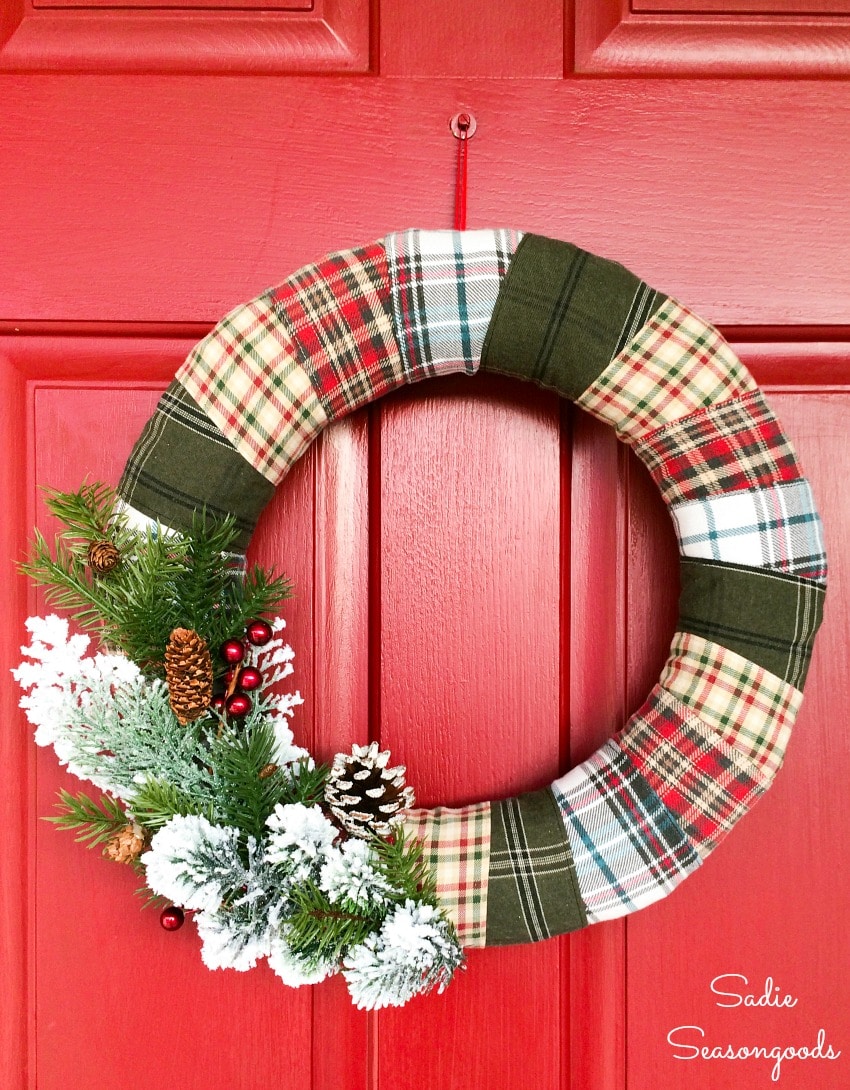 I recently learned of the Norwegian word "koselig" which effectively means "a sense of coziness"…and I think this wreath embodies the idea of koselig quite nicely.
And don't forget, my first book is now available! If you enjoy working with flannel fabric on craft projects, then you will love my book on flannel crafts!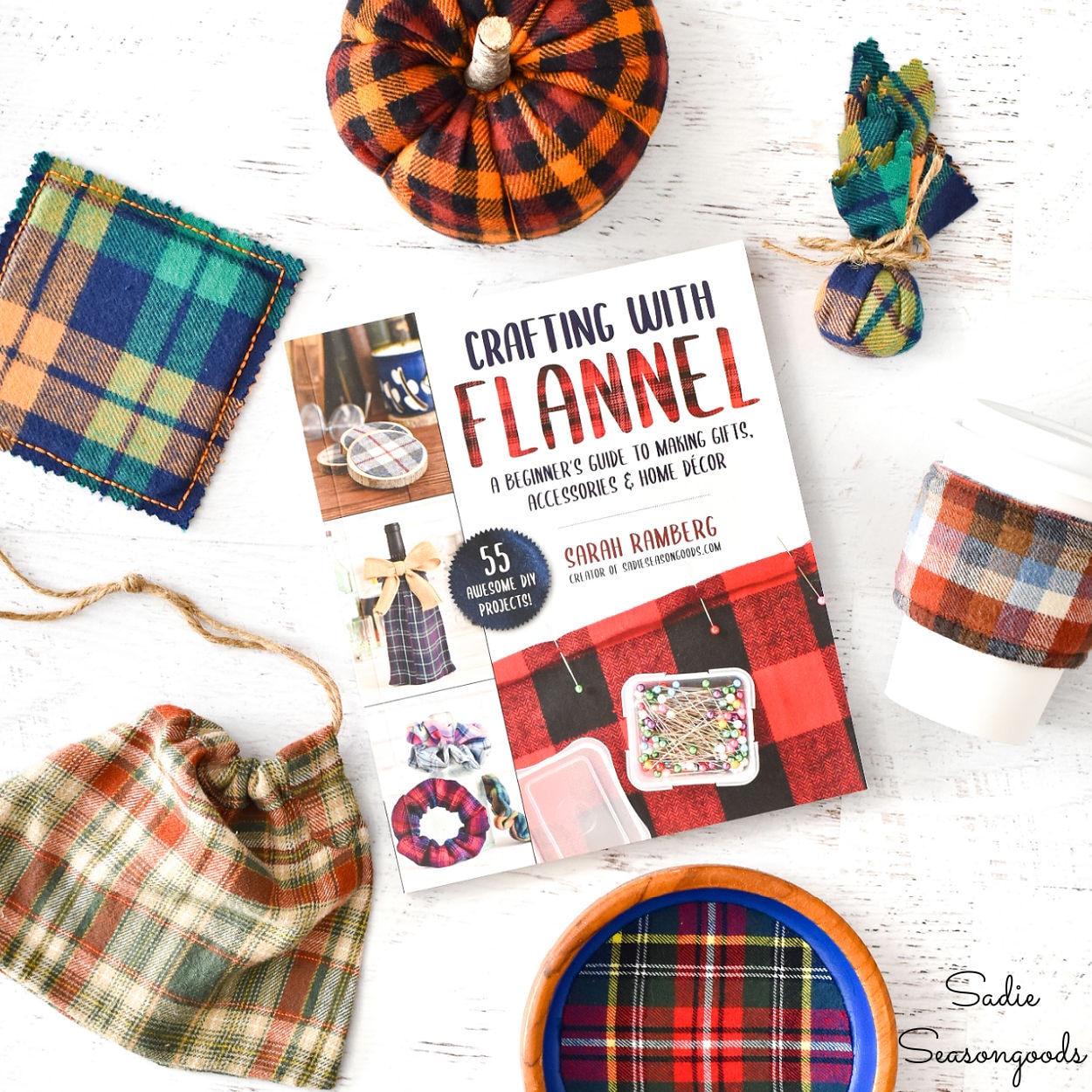 And if you enjoyed this upcycling idea for Christmas decor, then you'll love how I upcycled this cheese dome into a winter Christmas scene!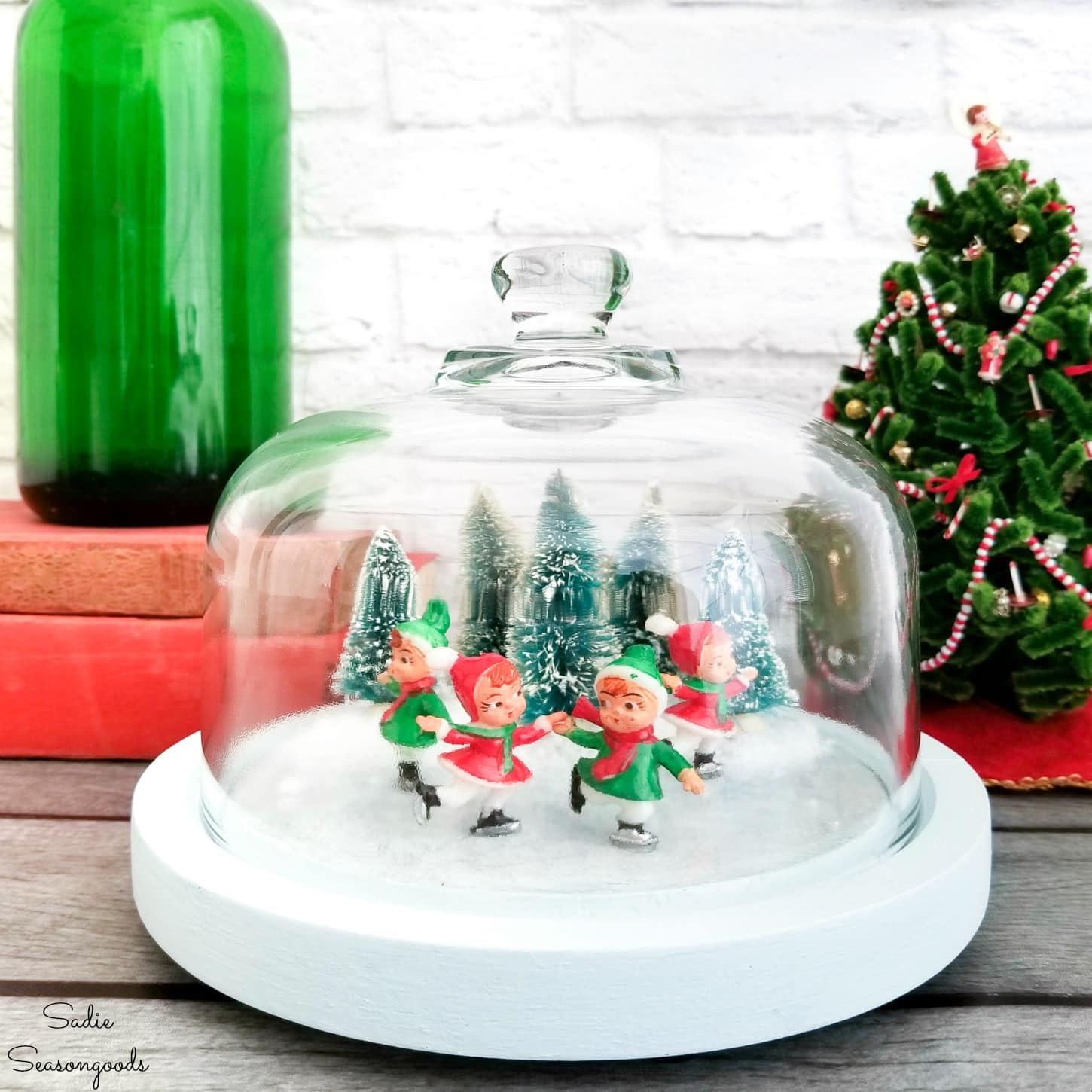 Craft on!
S
Join me on Social Media:

PIN ME!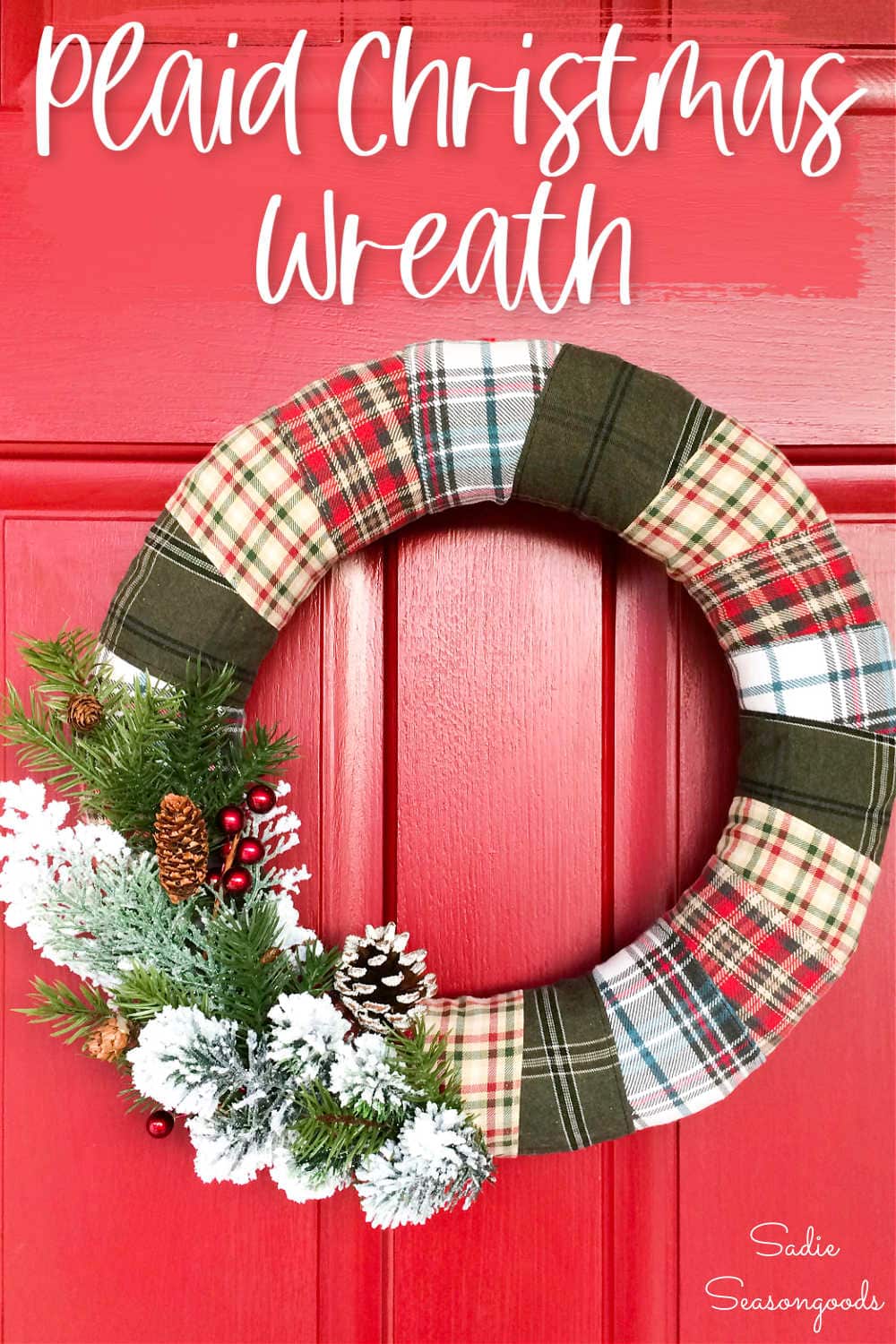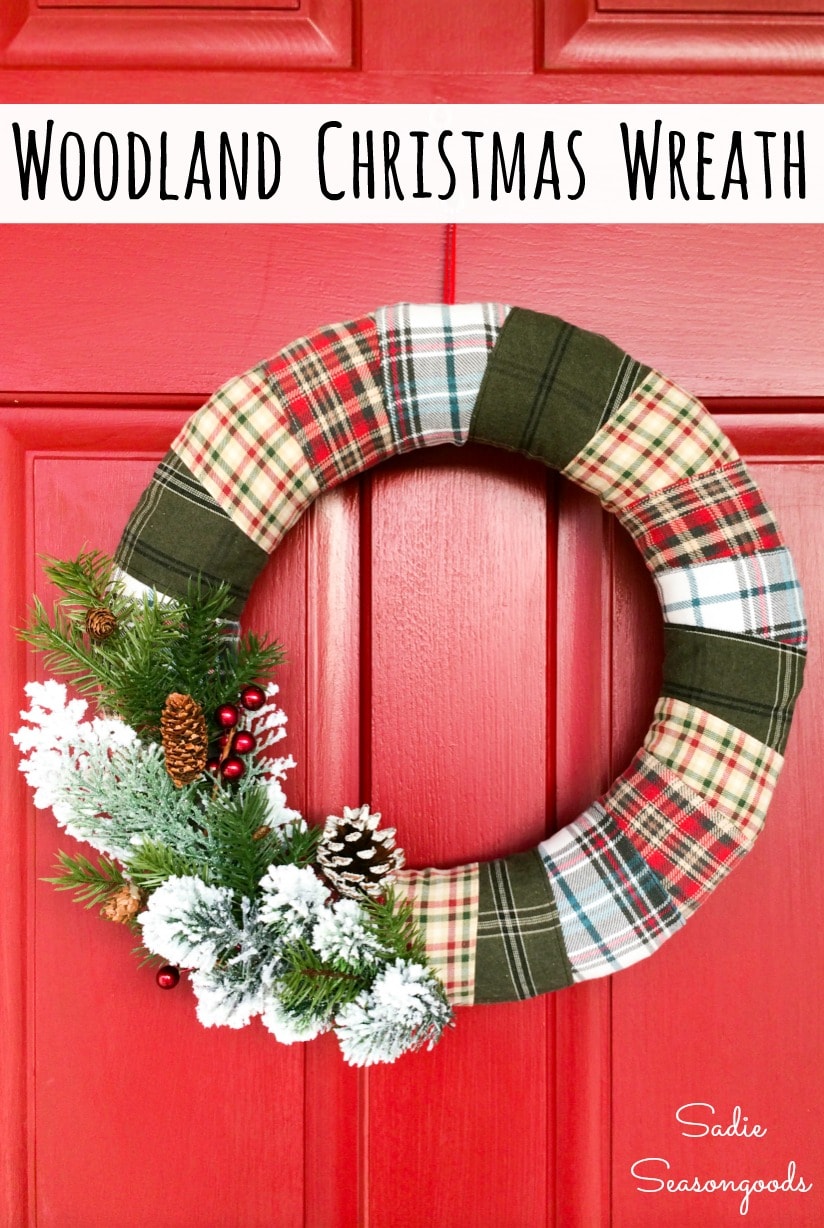 Sarah Ramberg is the owner of Sadie Seasongoods, a website that celebrates all things secondhand. From upcycling ideas and thrifted decor to vintage-centric travel itineraries, Sadie Seasongoods is a one-stop shop for anyone who loves thrifting and approachable repurposing ideas. Sarah is also the author of "Crafting with Flannel" and has been featured in numerous media outlets and magazines.