This project, my friends, was driven entirely by my obsession with one of Funky Junk Interiors' most recent stencils. She created a Buffalo check stencil for her Old Sign Stencil Shop (affiliate link) and I have been dying to try it out. I decided to create some Buffalo check decor on a wood tray from the thrift store using her stencil. I thought it would be lovely as rustic cabin decor to use for my autumn decorating!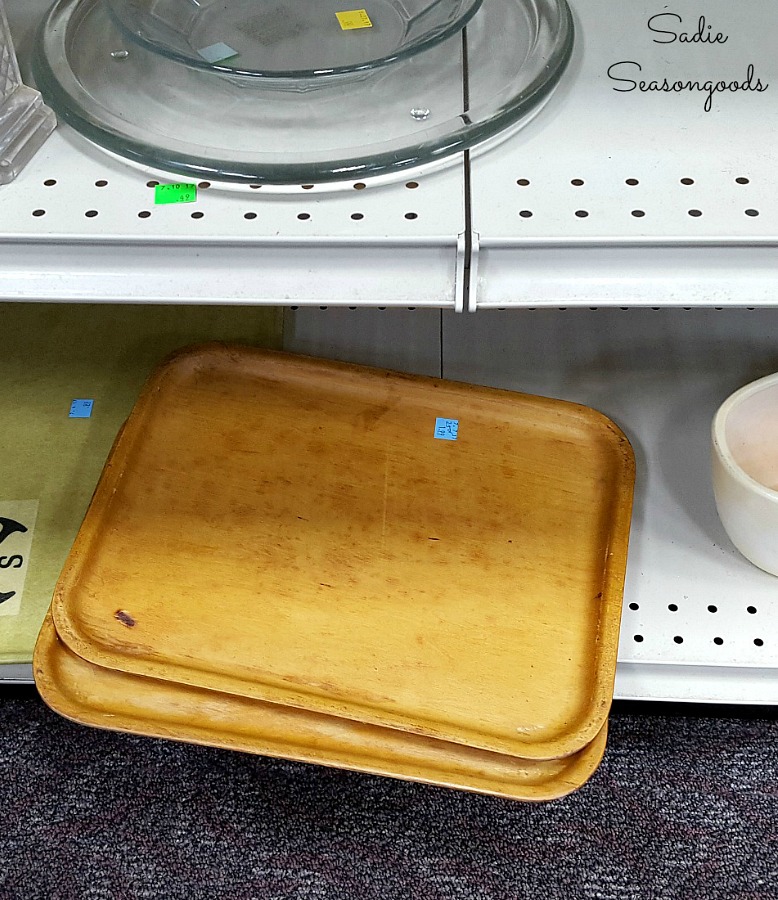 This post contains affiliate links for your crafting convenience. As an Amazon Affiliate, I earn from qualifying purchases. All blue, bold, and underlined text is a clickable link, either to a product or to a related post.
The buffalo check stencil used for this project was provided by Funky Junk Interiors / Old Sign Stencils at no cost to me. However, all opinions are my own.
Using a Buffalo Plaid Stencil on a Wood Tray
First, I needed to sand down each wooden tray. I wanted to do this to remove the old finish and prepare them for wood stain.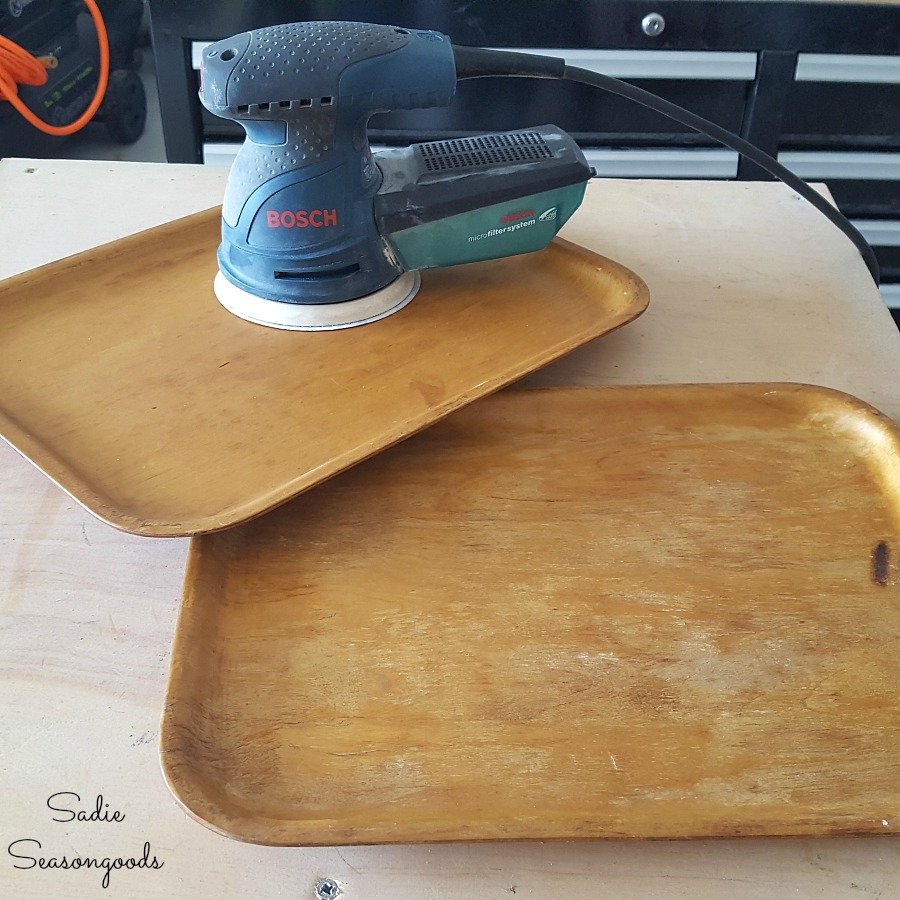 Next, I finished sanding down the wood trays and wiped away any dust left behind. Then, I grabbed a favorite can of wood stain from my paint locker.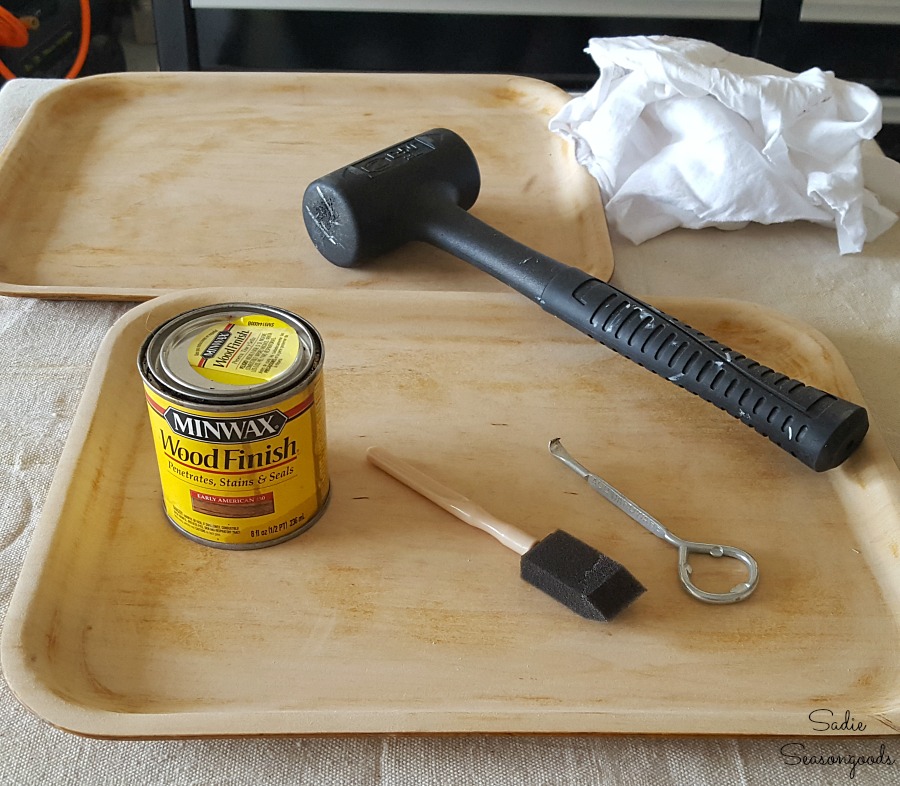 Once the stain dried overnight, I gathered my stenciling supplies: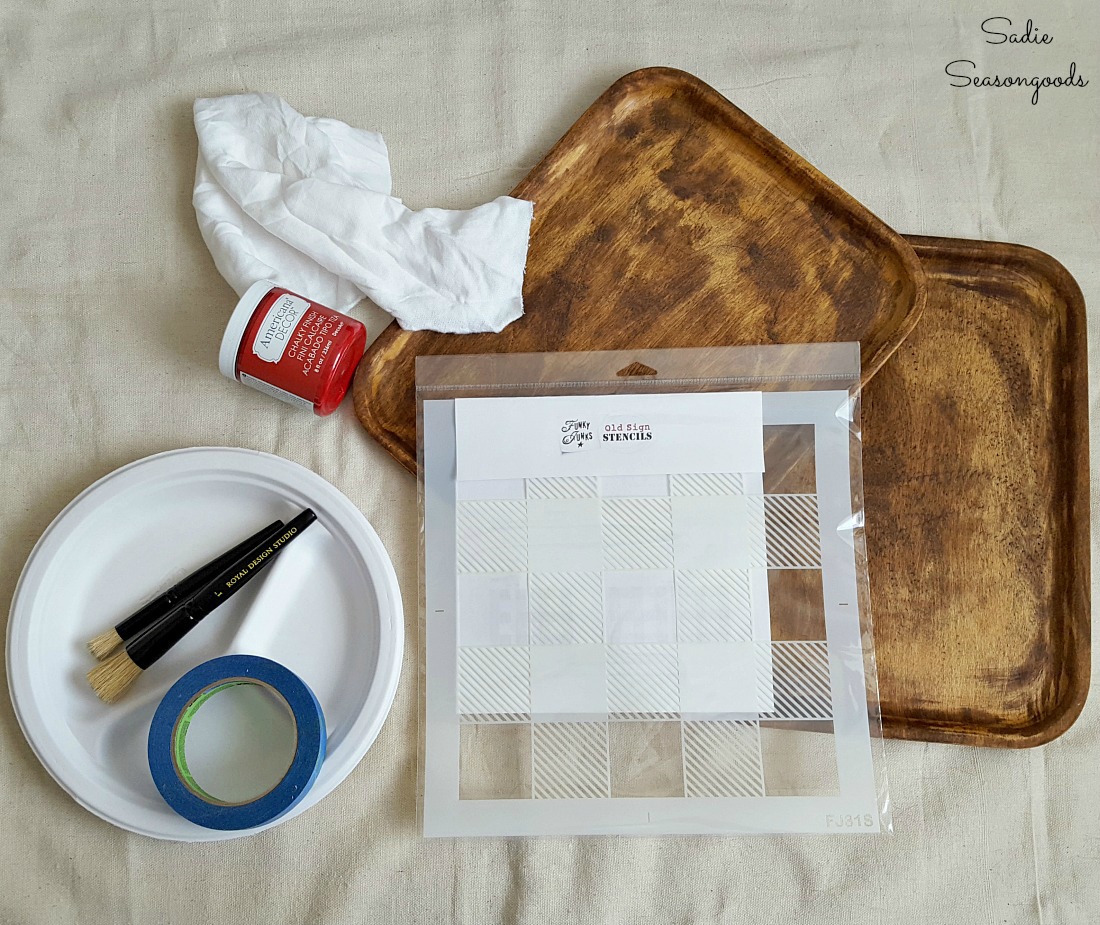 My initial plan was to use the wood background of the tray as one of the "colors" of my Buffalo check decor. So, I centered the Buffalo check stencil on my wood tray, taped it in place, and began to stipple red paint through the checks.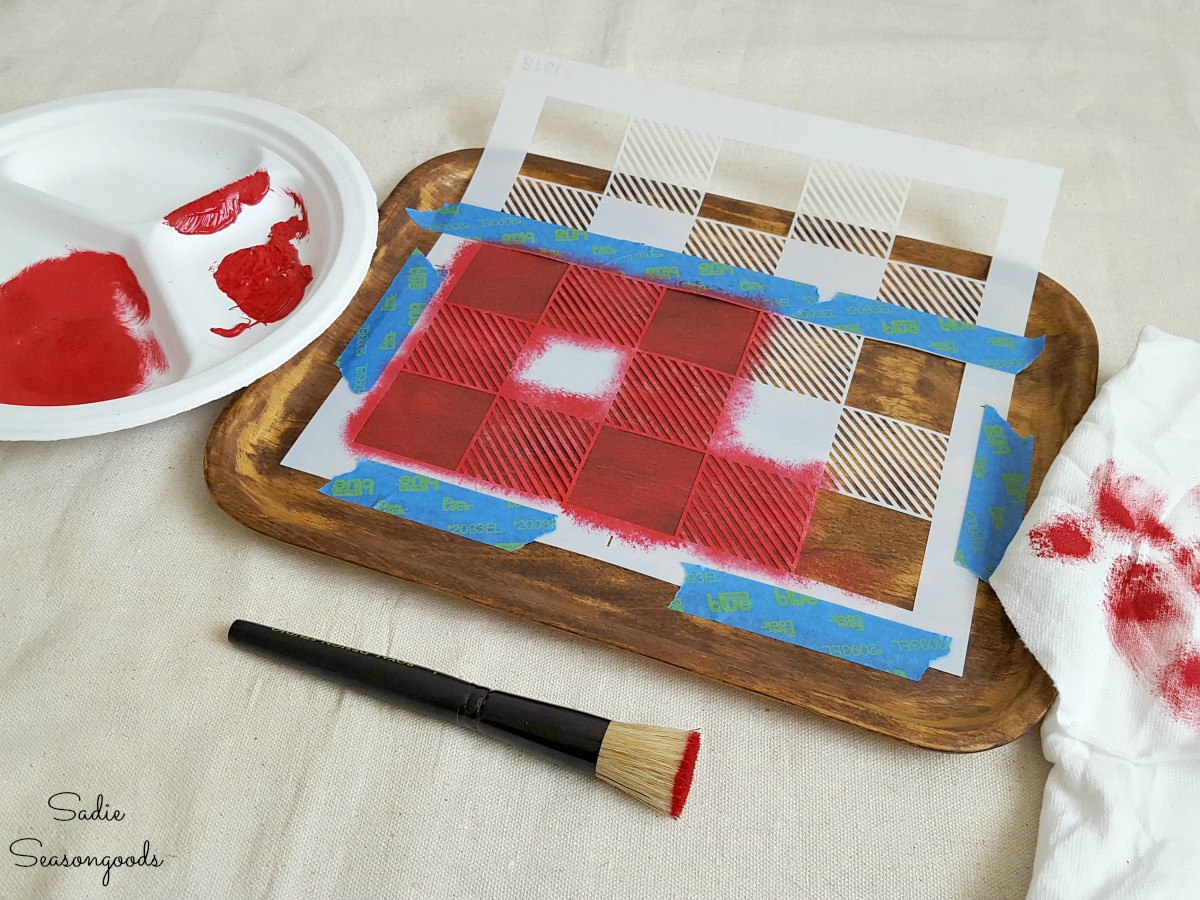 But when I was done and the paint had dried, I was really underwhelmed- NOT because of the Buffalo plaid stencil (which worked brilliantly) but because the red paint against the wood stain just didn't look great. The Buffalo check design was lost and unable to "pop".
So, I fussed at the tray, fussed at myself, and pushed everything aside for a while. Sometimes, you just need to walk away from a problematic project for a bit to clear your head.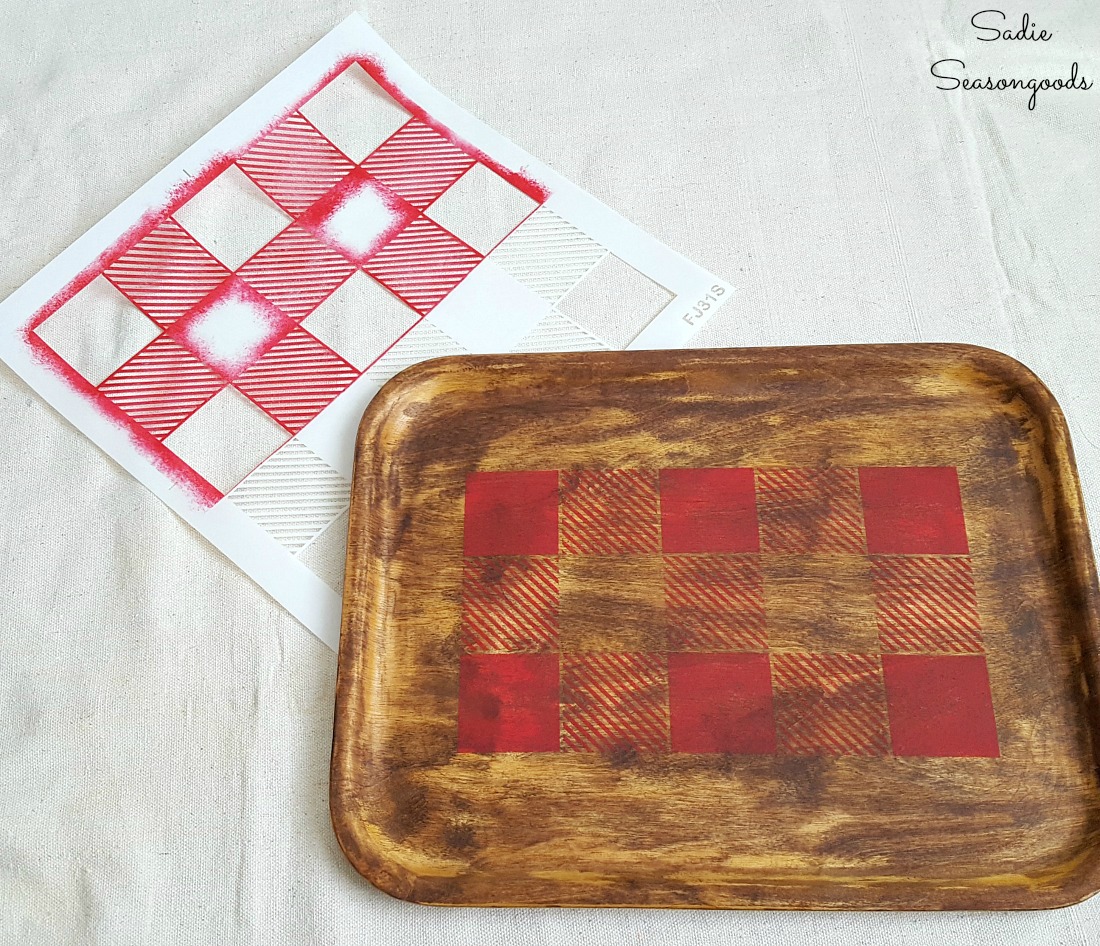 See…in my mind, I didn't need to stencil two colors. I was sure that the red paint would pop against the stain, but I was wrong! But, after I calmed down, I resolved to try it again.
Buffalo Check Decor for Autumn with a Wooden Tray
I retrieved my painter's tape and placed strips of tape RIGHT UP AGAINST the red stenciling. Like- right up next to it.
And with paint brush in hand, I quickly covered my red stenciling job with a rectangle of black craft paint.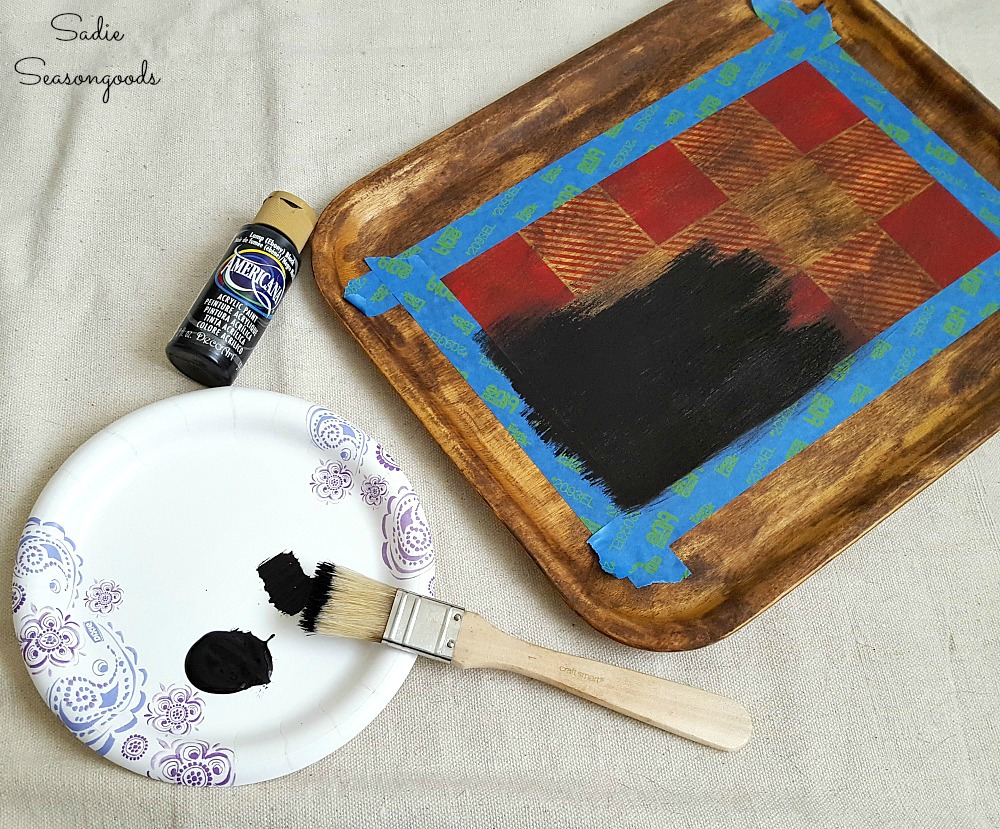 And when THAT paint had dried, I re-centered the Buffalo check stencil over the black paint, taped it in place, and once again stippled on some red paint. If my idea for Buffalo check decor didn't work out this time, the tray was going to end up in the Goodwill pile!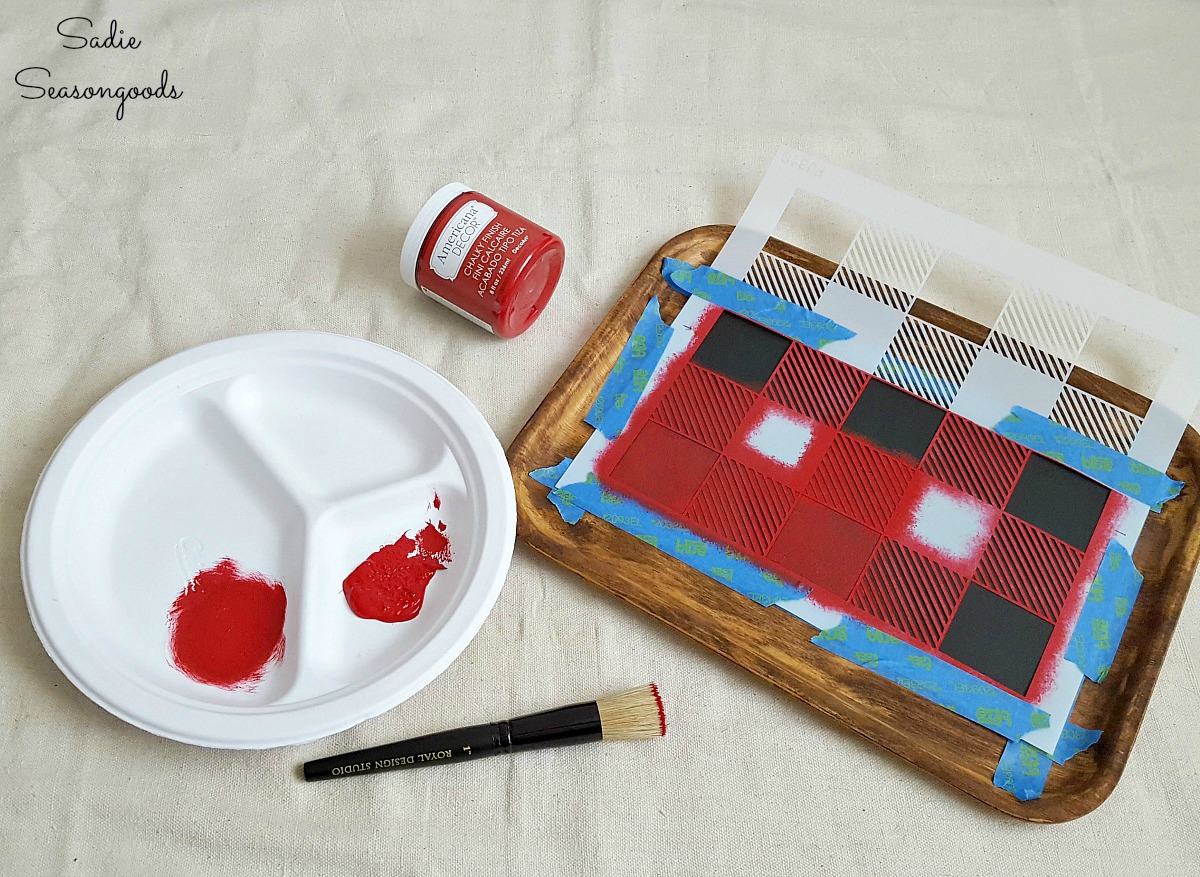 When I was done, I had a VERY good feeling- as if I had made a fortuitous mistake…because it looked PERFECT!
Would I finally have the Buffalo plaid decor / rustic home decor that I had wanted from the start??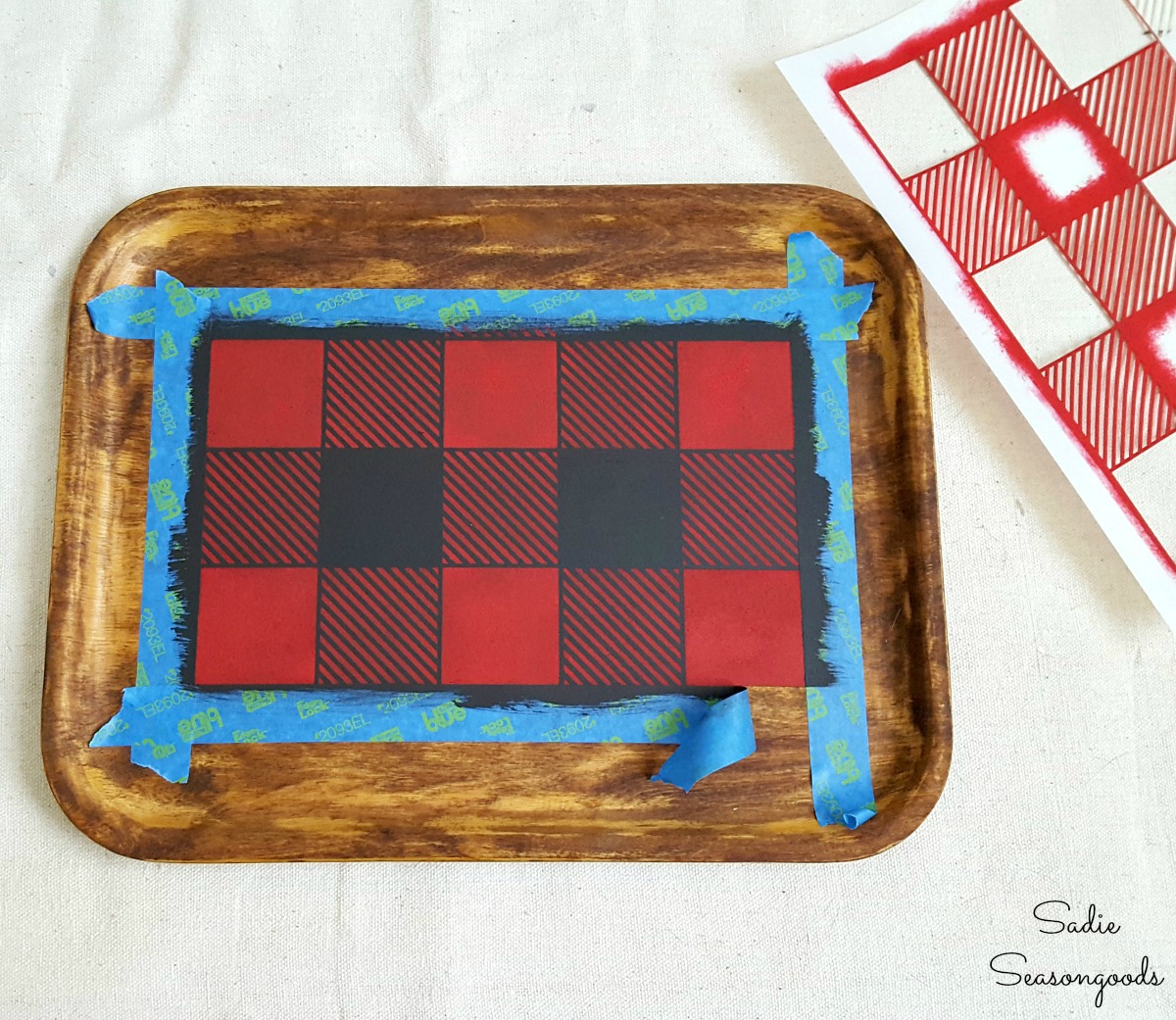 The answer was YES – second time was the charm! It was totally worth walking away for a bit to regroup and then try, try again. Because my wood tray FINALLY looked like the vision of Buffalo plaid decor I had in my mind.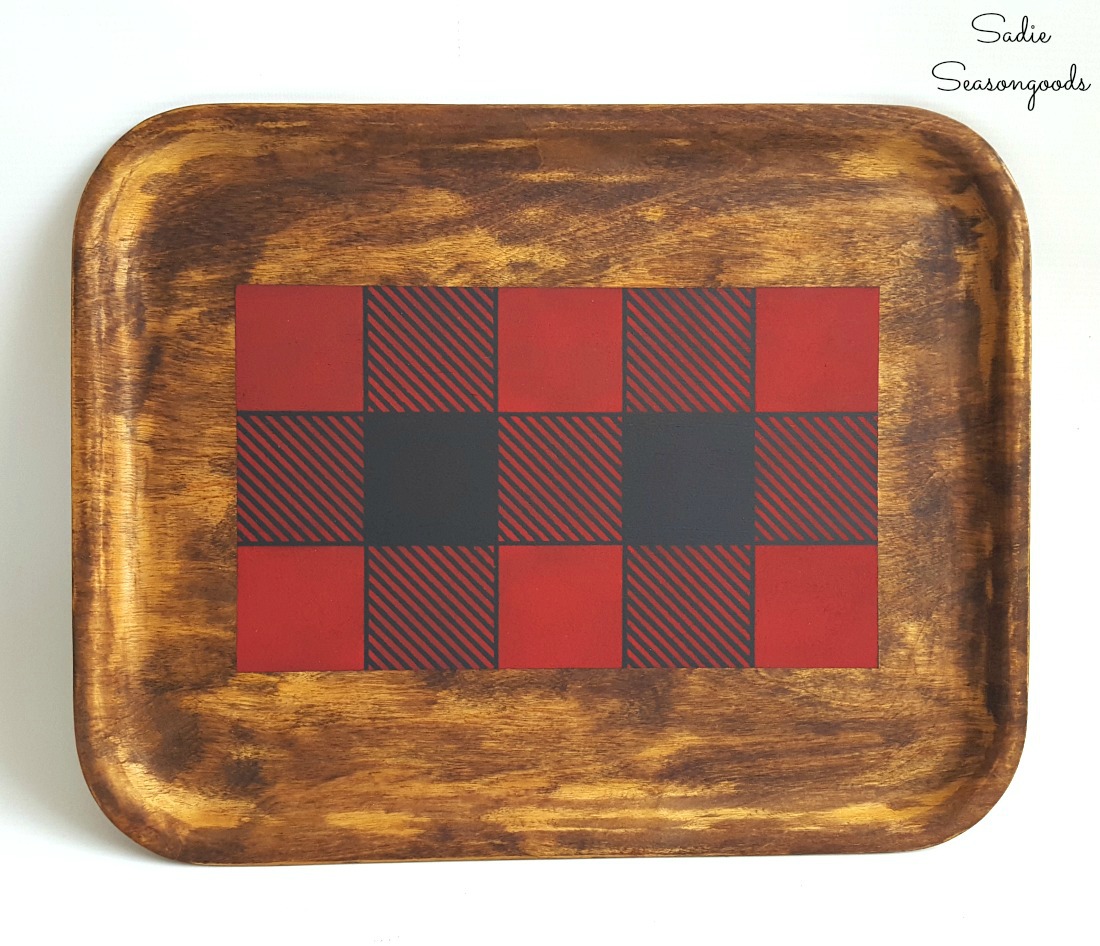 The funny thing is, had I decided to use both colors from the very start, I would have had to measure a million times to make sure I painted the exact-perfect-no-room-for-error black rectangle.
But instead, I simply painted black paint over my previous stencil- which required absolutely no measuring! So, if you think about it…it actually worked out better this way, right?
Now- I can use my wooden tray as rustic cabin decor for Fall and into winter…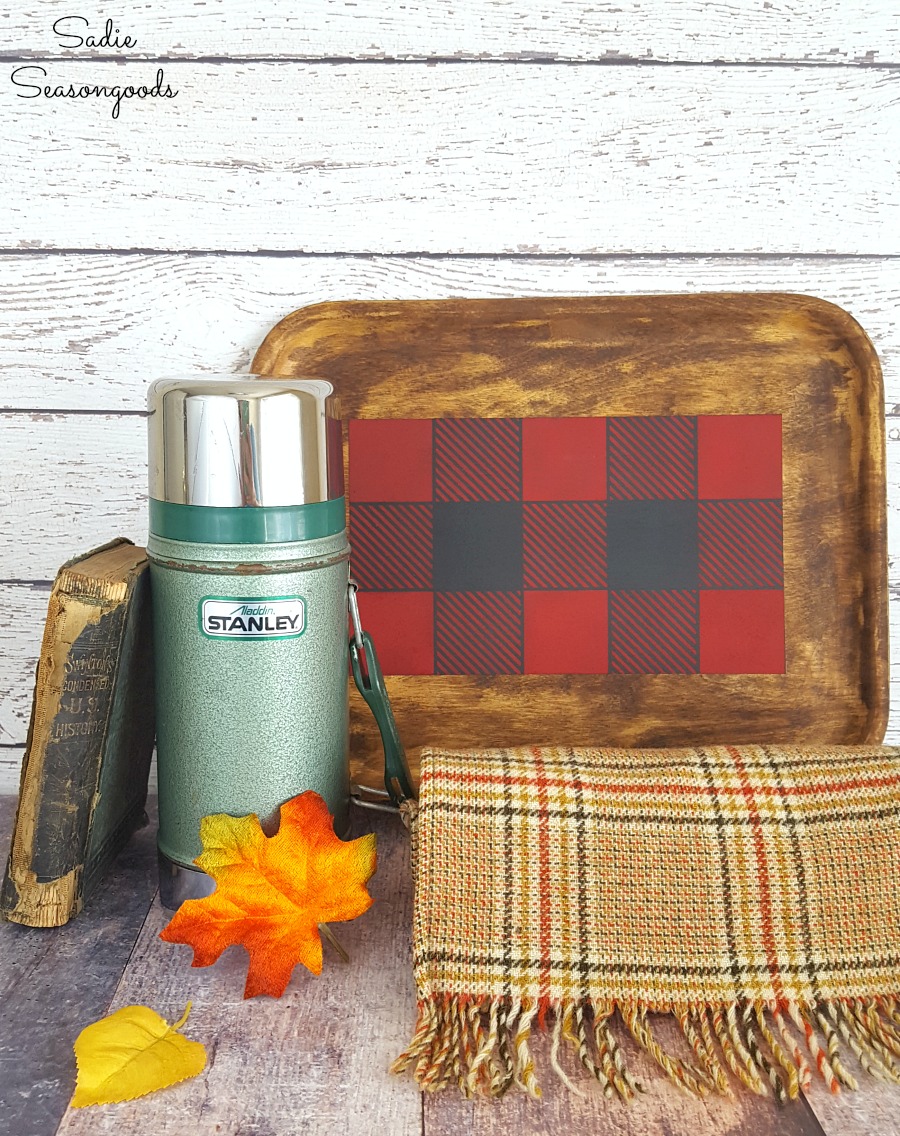 Or, I can use it as a pretty tray- to set magazines on, or carry out drinks, etc. Both decorative and functional- can't beat that.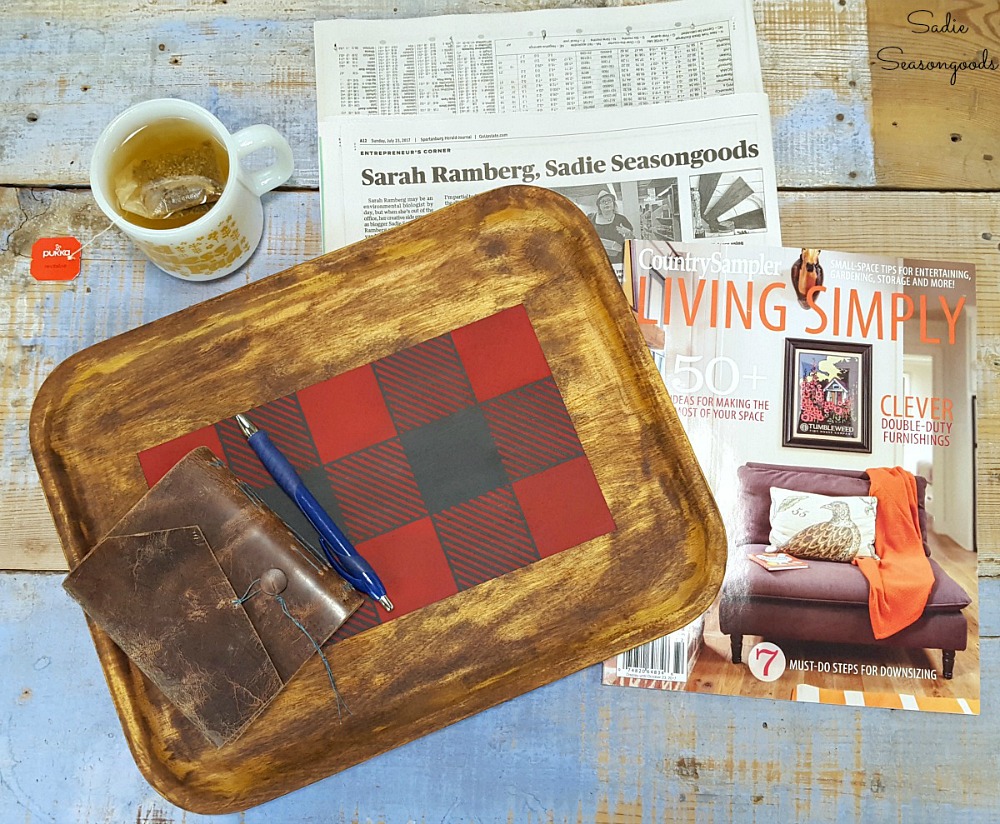 All I can say is: Thank Goodness I didn't give up after the first round of stenciling- because not only do I seriously love my tray, but I really do think it was a blessing in disguise.
If you enjoyed this upcycling idea for rustic cabin decor to decorate for Fall, then you'll love my autumn wreath with a leather quiver!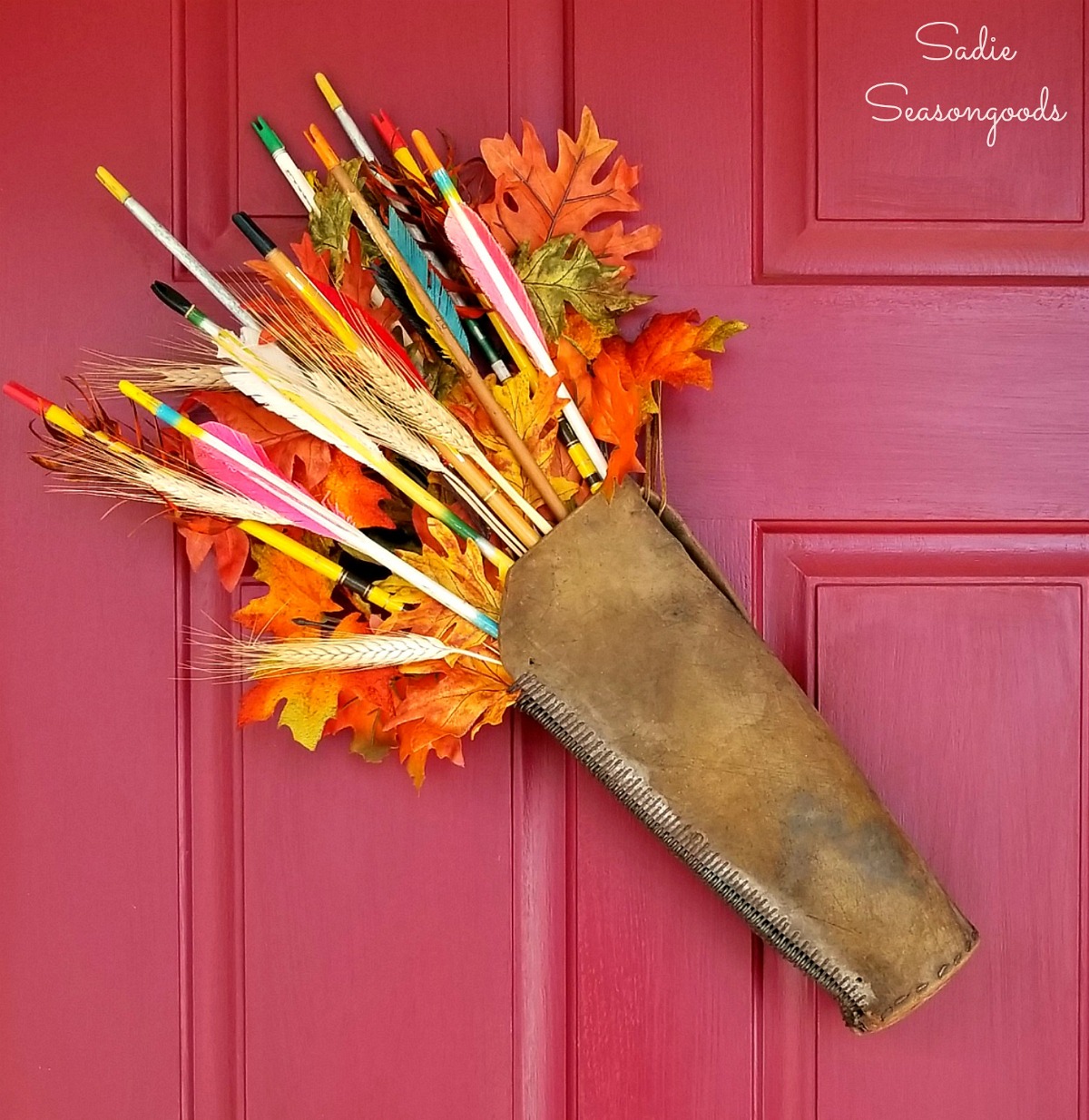 And be sure to check out how I used the Buffalo check stencil for a Christmas project here, as well!
Craft on!
S
Want to be notified when I publish my next upcycling project tutorial?
Subscribe to Blog via Email
Join me on Social Media:

PIN ME!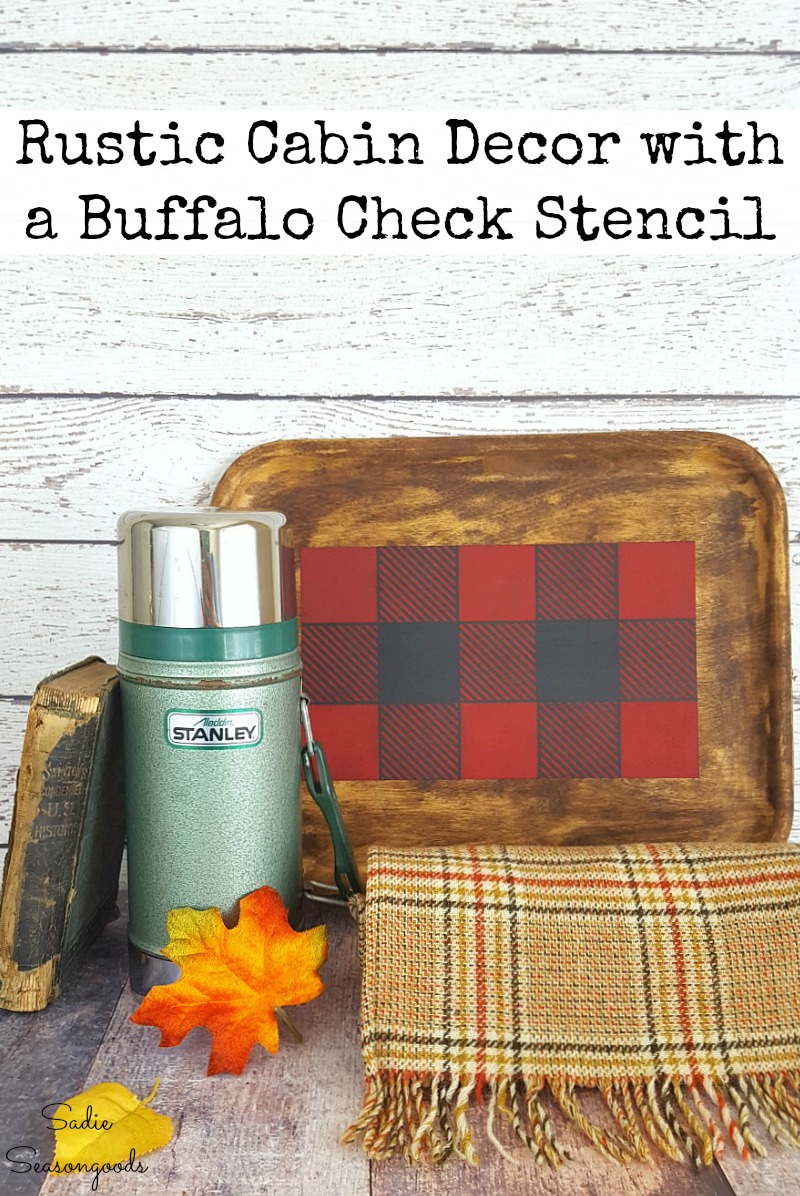 Sarah Ramberg is the owner of Sadie Seasongoods, a website that celebrates all things secondhand. From upcycling ideas and thrifted decor to vintage-centric travel itineraries, Sadie Seasongoods is a one-stop shop for anyone who loves thrifting and approachable repurposing ideas. Sarah is also the author of "Crafting with Flannel" and has been featured in numerous media outlets and magazines.