I've upcycled a LOT of thrift store finds into jewelry storage and organization projects over the years. Probably because I have such an affinity for vintage costume jewelry. Give me flashy rhinestones over diamonds any day of the week! And while most of my jewelry organizers have been "quirky", none of them would be considered "elegant". That is, until I found a silver candelabra at the thrift store and decided to repurpose it into a jewelry tree stand.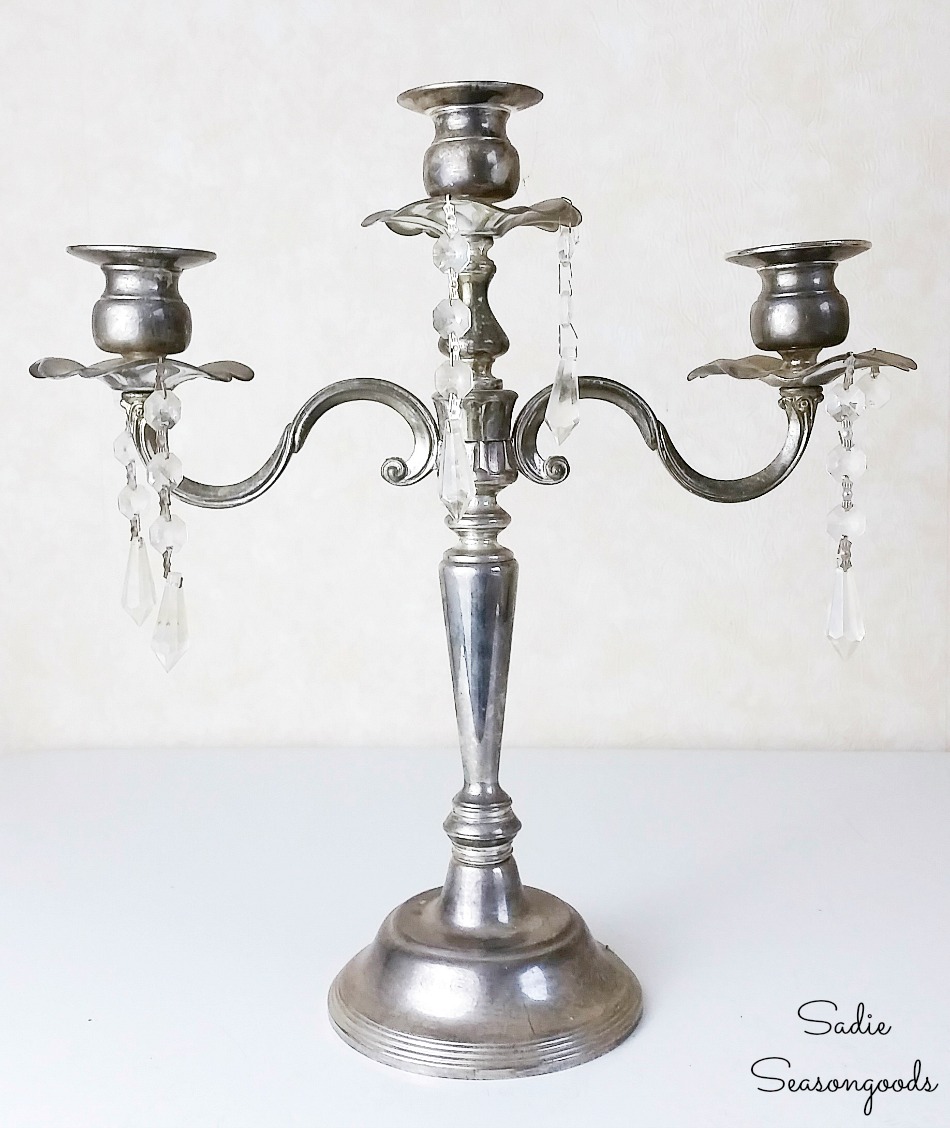 It had a hard-earned tarnish (or "patina", as I prefer to call it) and even came with a few candelabra crystals still attached.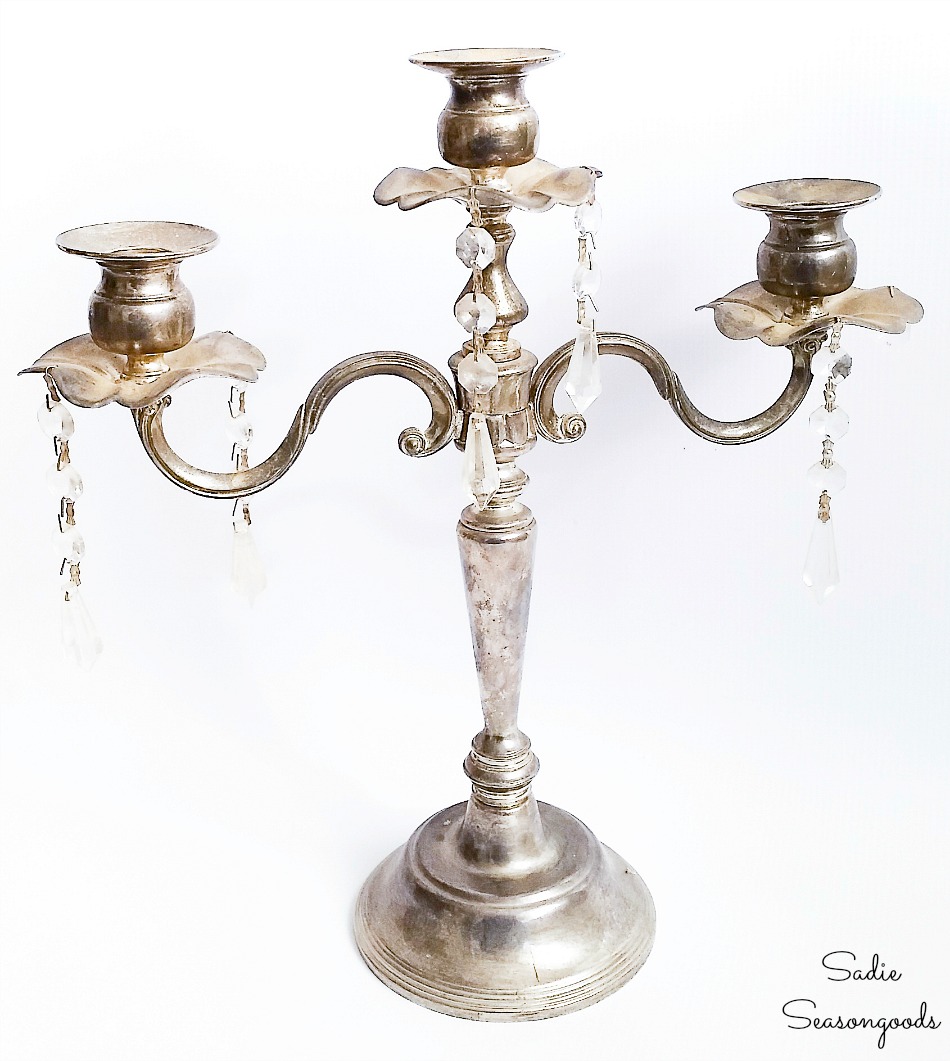 Grimy and covered in neglect, it was in desperate need of some attention. And since the candelabra crystals reminded me of dangle earrings, I knew that upcycling it into a jewelry tree stand would be perfect.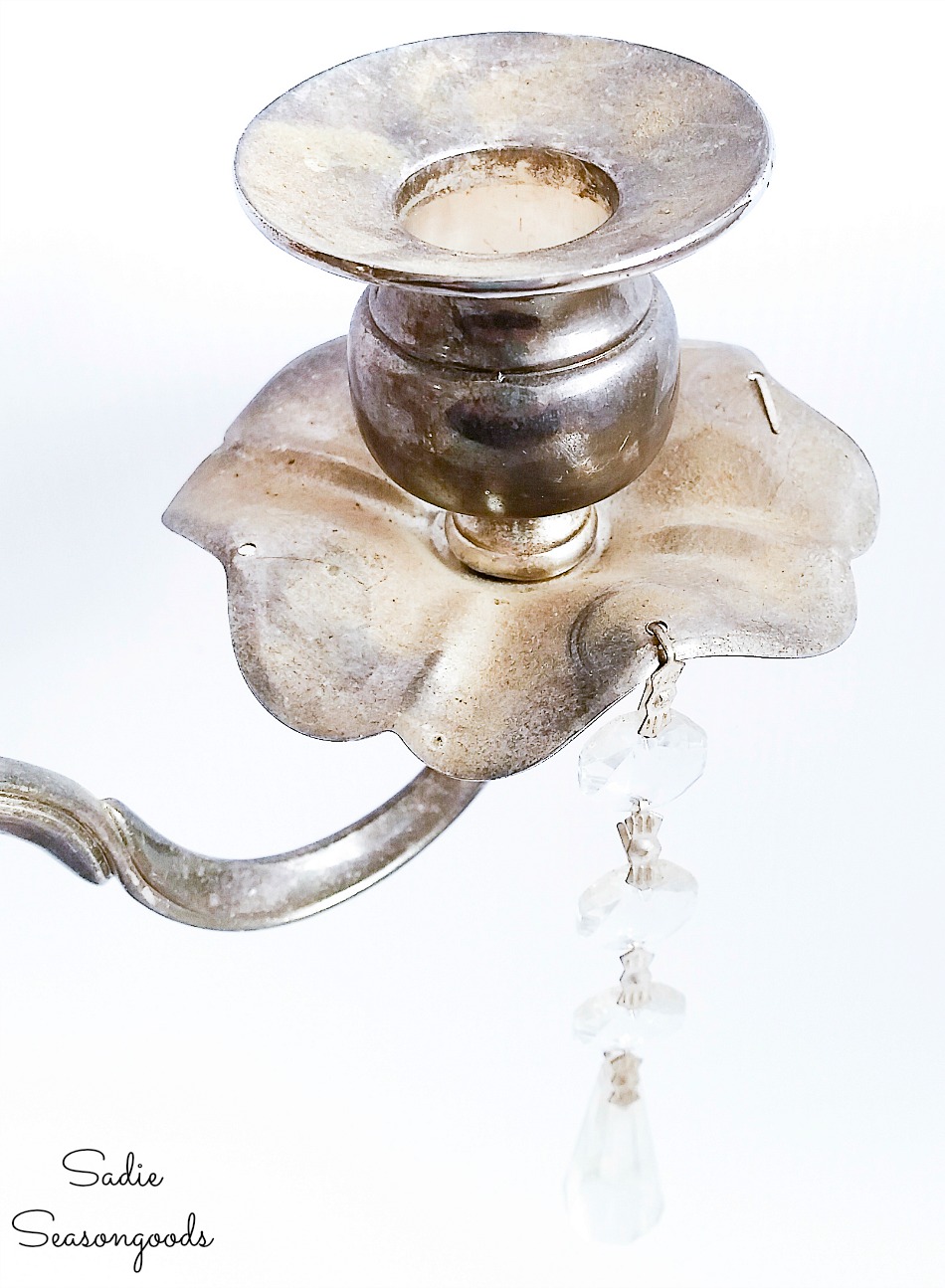 This post contains affiliate links for your crafting convenience. As an Amazon Affiliate, I earn from qualifying purchases. All blue, bold, and underlined text is a clickable link, either to a product or to a related post.
Upcycling a Silver Candelabra into a Jewelry Tree Organizer
With a little tinkering, I discovered that the silver candelabra could be broken down into a dozen or more pieces! This was a pleasant discovery as it made cleaning a snap…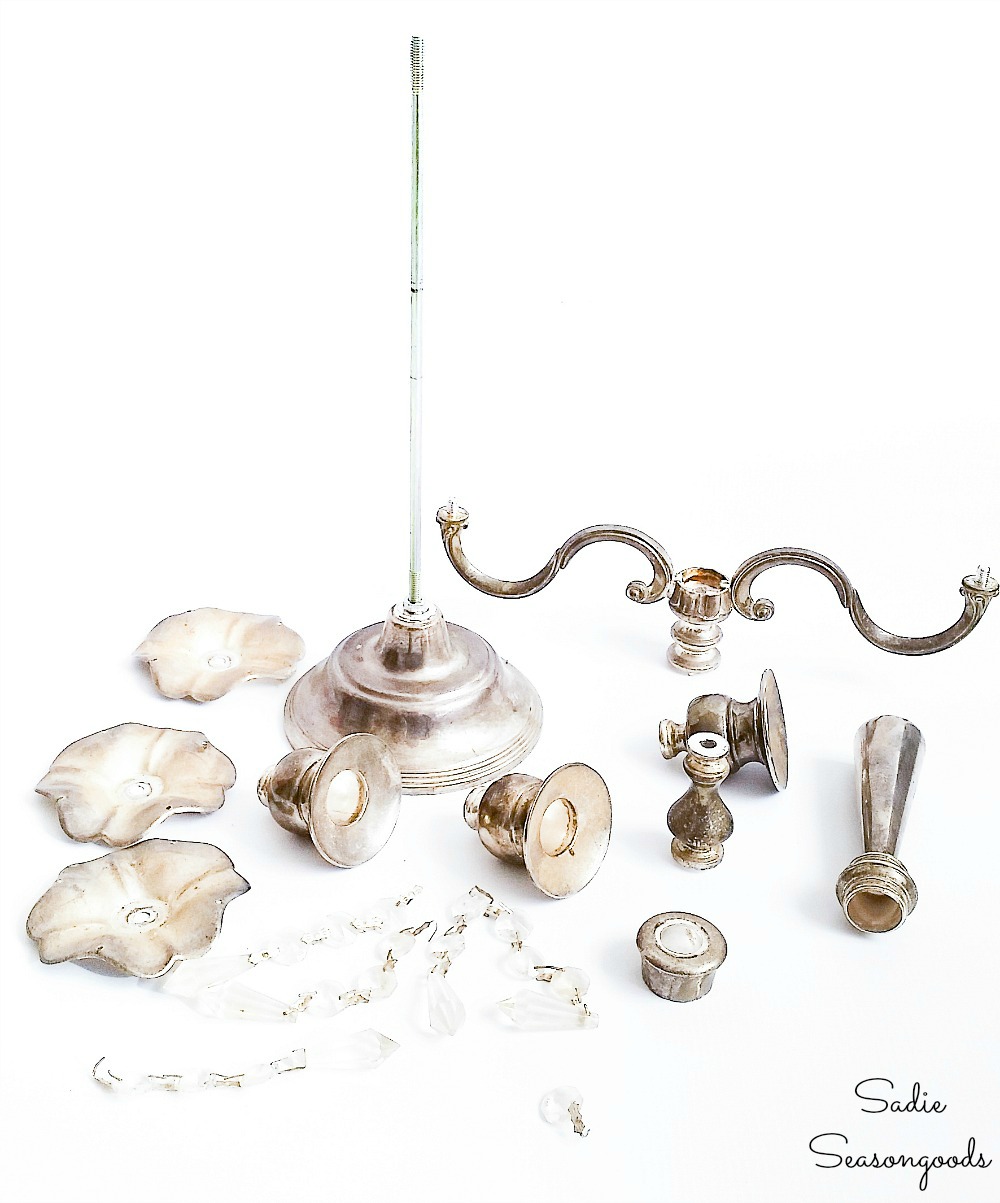 But I was really glad I took snapshots of it put together so I could reassemble it again!
Since I didn't need the candelabra crystals, I set them aside for future projects, such as these Christmas ornaments with tea infusers!
Here's the best part of this upcycling idea – the absolute only thing I needed to do was slightly alter the bobeche. Those are the wax collars that keep candle wax from dripping everywhere.
In other words, the thingamajiggies that displayed the chandelier crystals.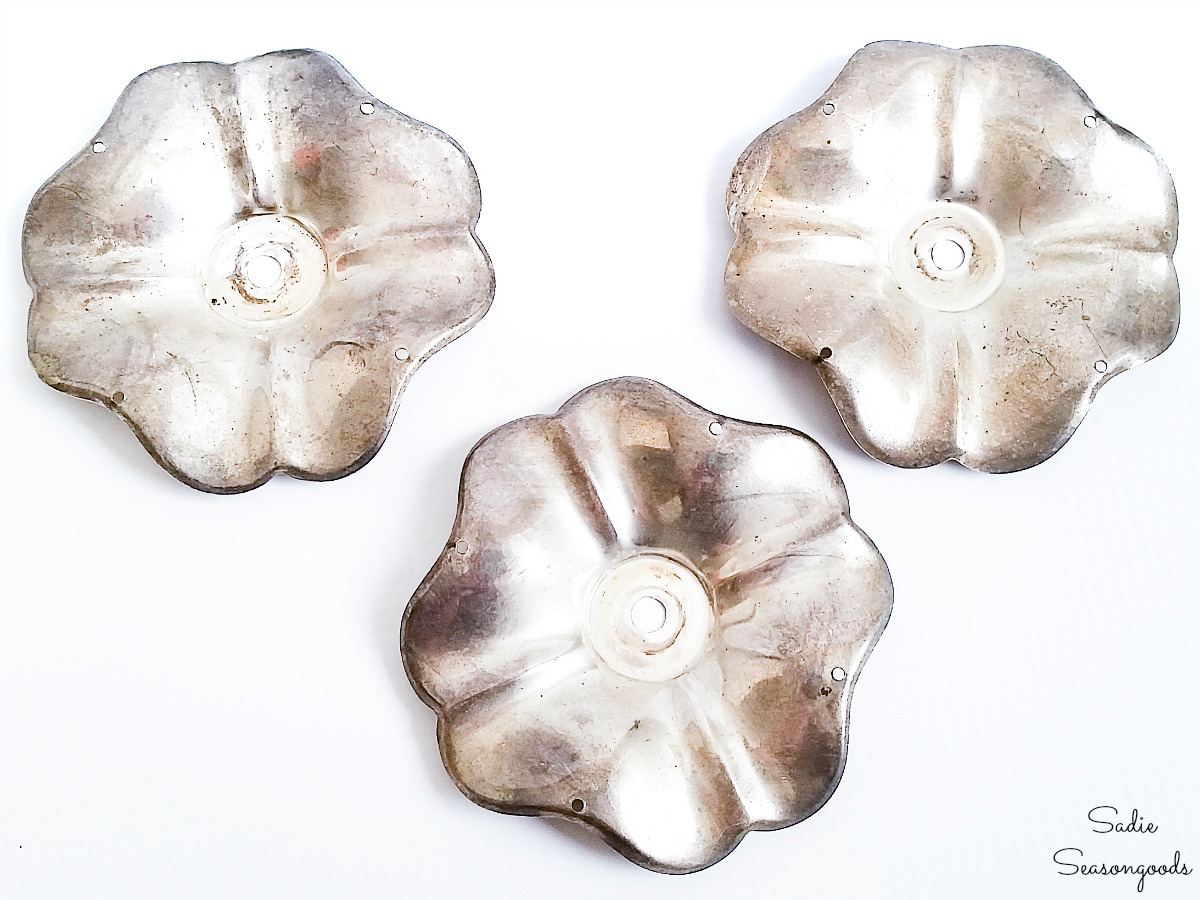 As you can see, each bobeche or wax collar had a single hole on each side.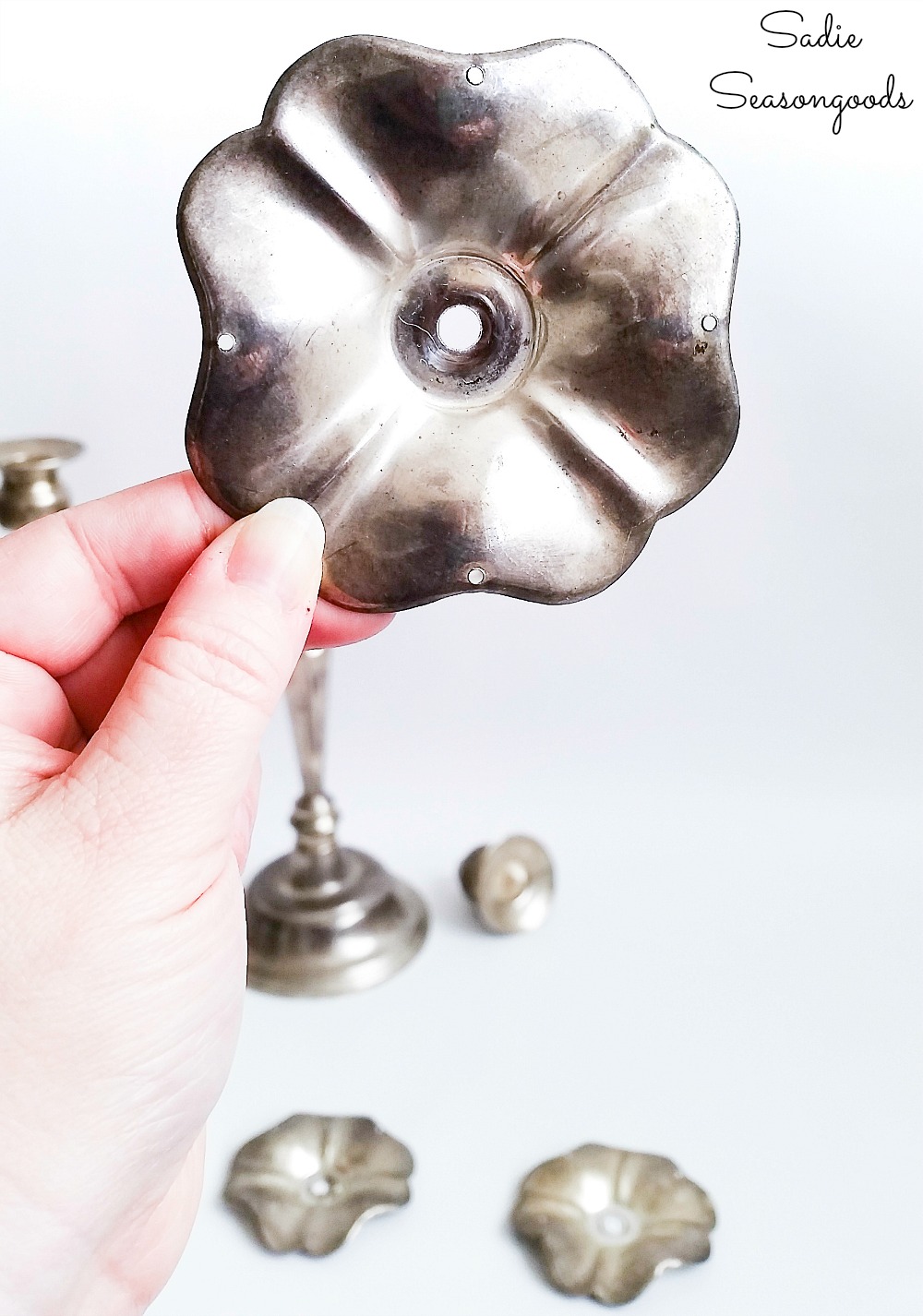 All I did was use a metal punch or awl to add a matching hole to the existing holes. Now each wax collar could hold several pairs of earrings!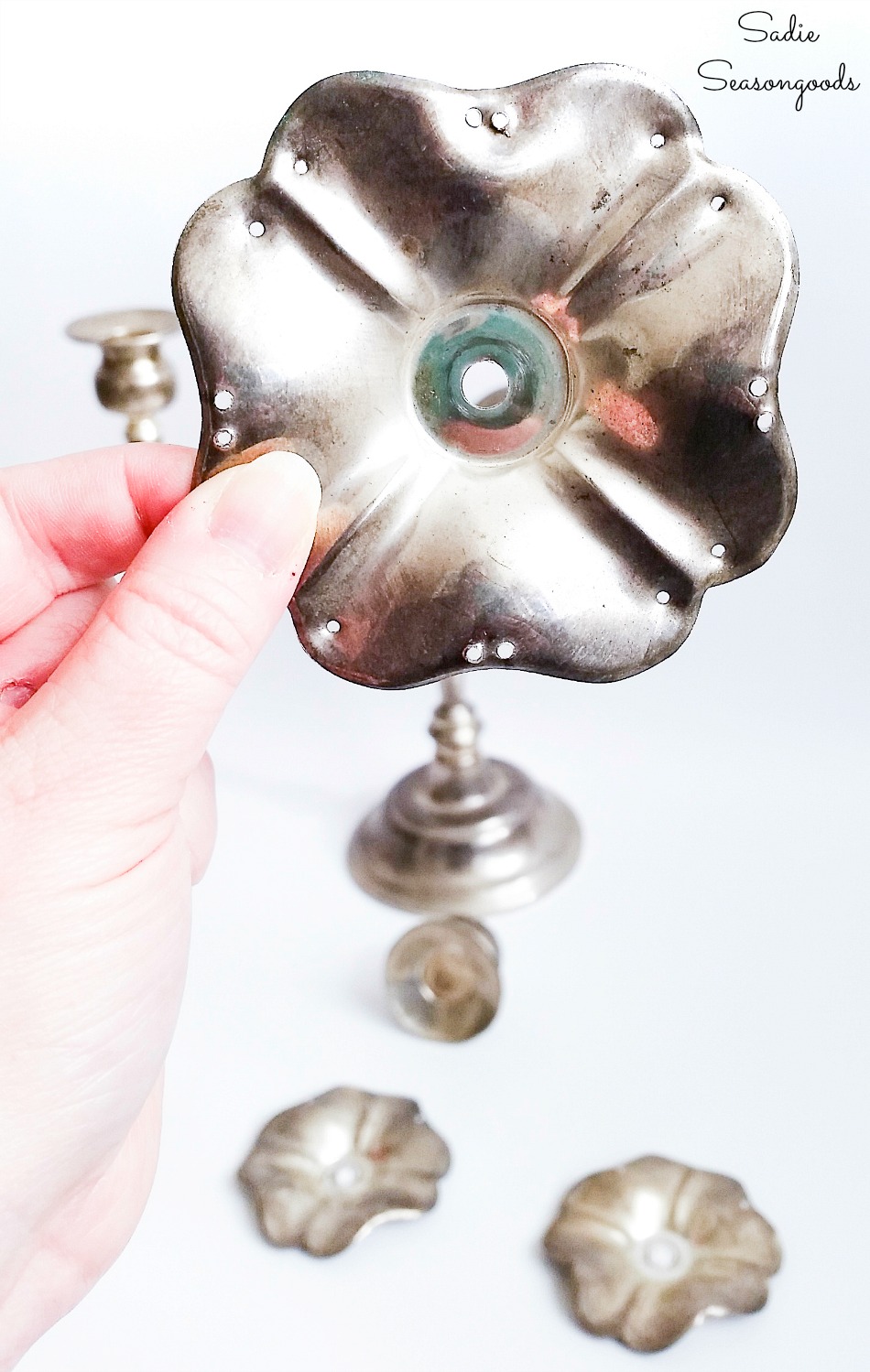 To do this, I set the wax collar on a piece of scrap wood. Then, I simply tapped a new, tiny hole with my awl and hammer right next to each existing hole.
And that was it! Once I had punched extra holes in each of the three wax collars, I reassembled the silver candelabra.
Now I could start using it as a jewelry tree stand!
Jewelry Tree Stand and Organizer
First, I looped some necklaces around the arms. The natural dips in the candelabra arms made it easy to set longer necklaces in them.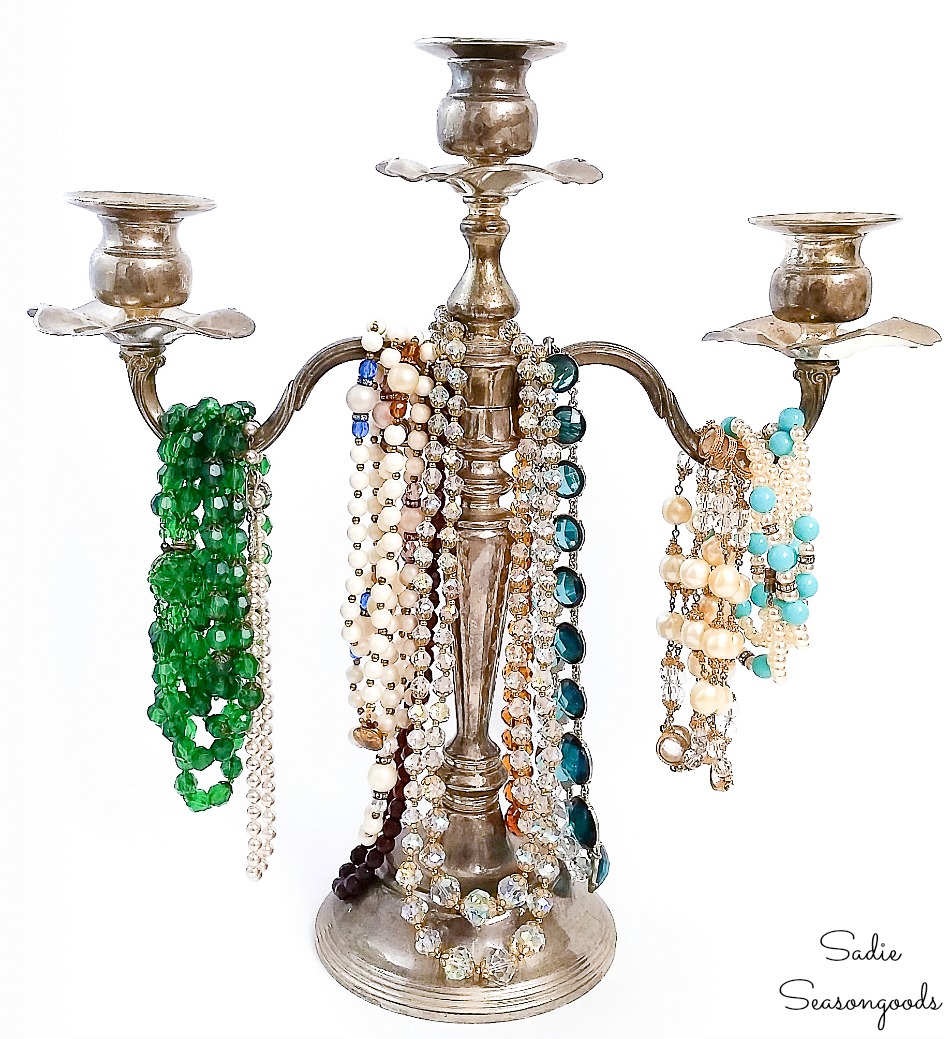 Then, I hung pairs of earrings on the wax collars. That's why I needed two holes on each side!
Since I don't actually have pierced ears, I borrowed some earrings from my good friend, Pink Dogwood Jewelry.
Don't those wax collars work perfectly as an earring display, though?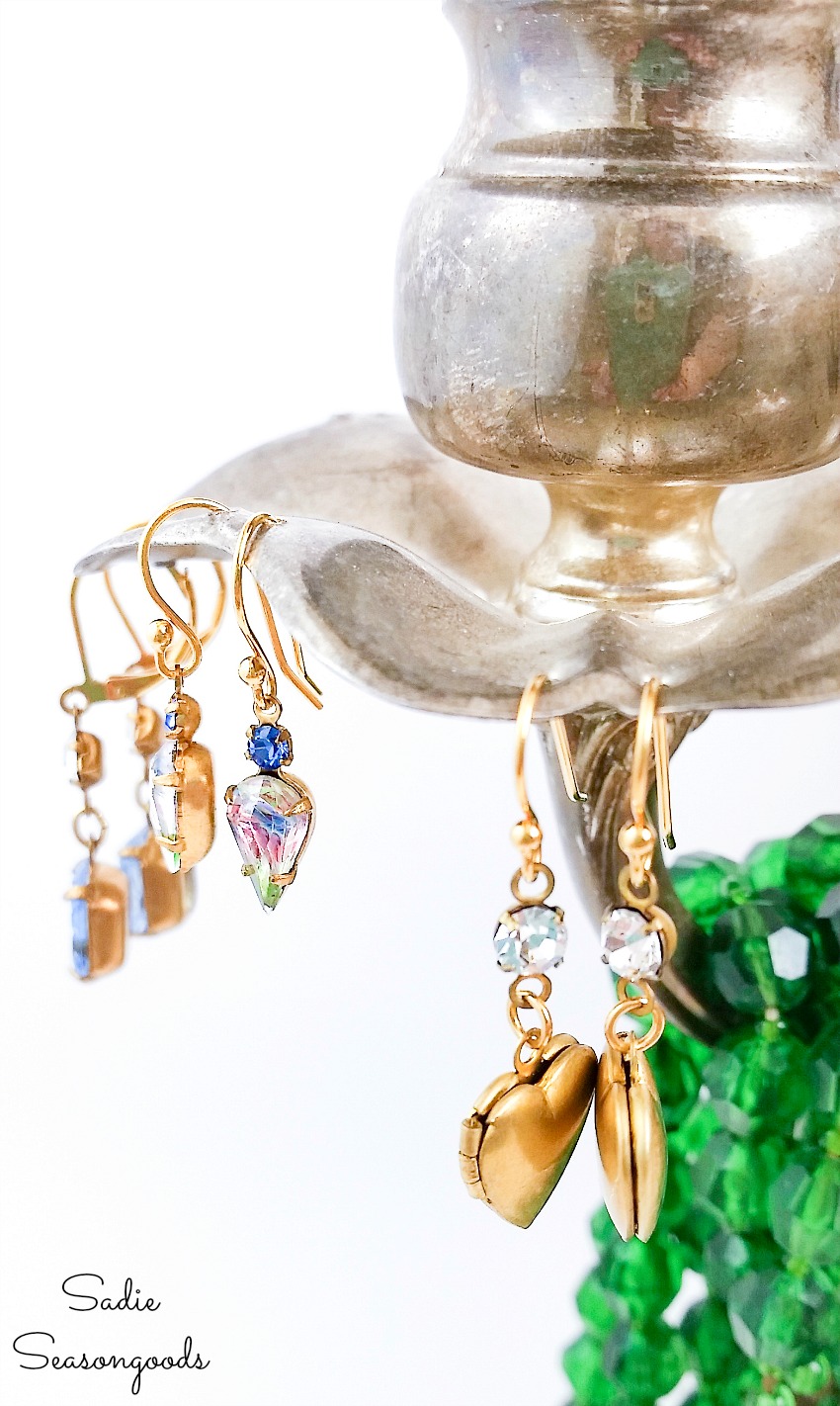 I love that the only thing I needed to do for this entire project (besides cleaning the candelabra) was add extra holes to the wax collars.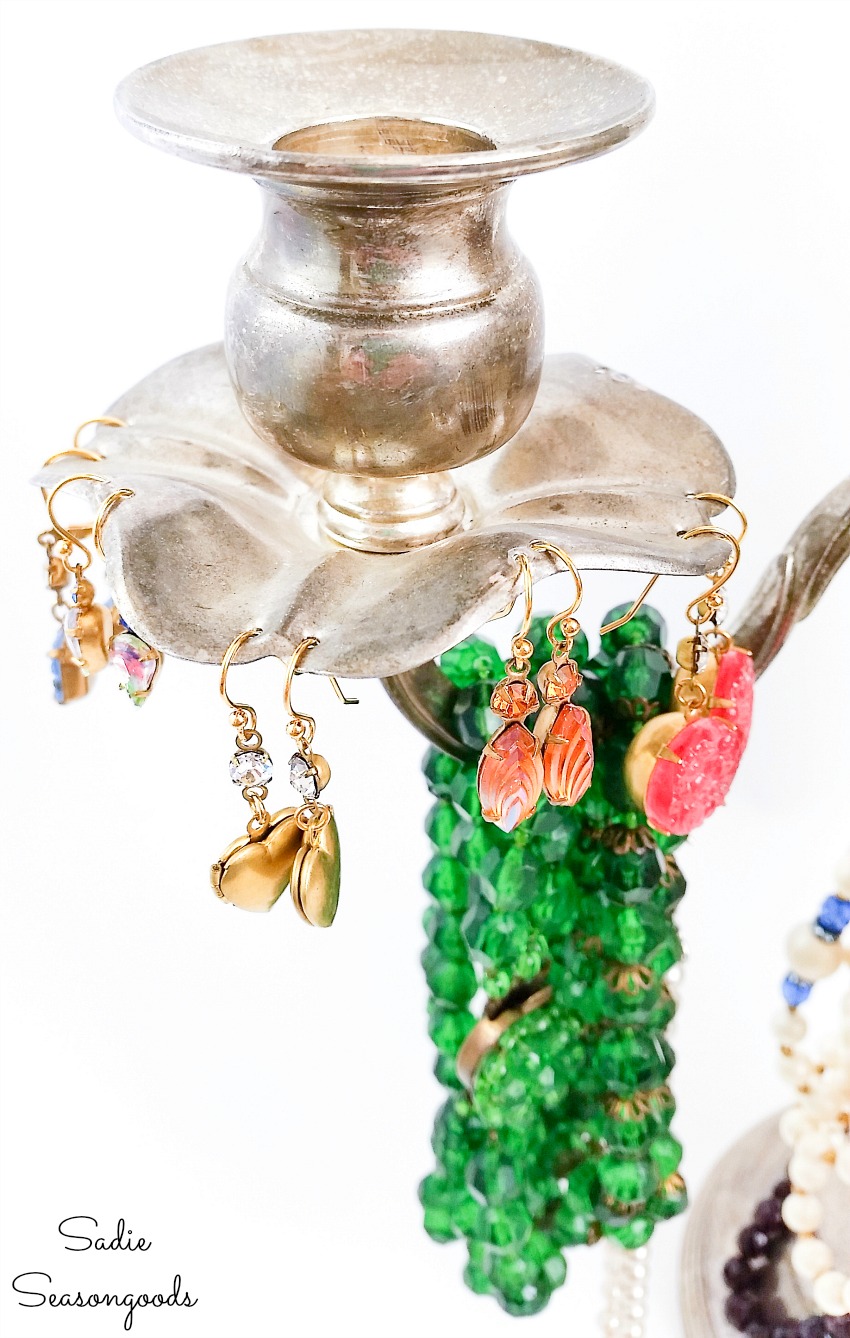 Now I just needed to add some bangle bracelets and my jewelry tree stand would be full (and gorgeous)!
Silver Candelabra as a Jewelry Tree Stand
Lastly, I stacked some bangles over the actual candlesticks, on top of the wax collars.
You could place any type of bracelet here, such as clasp bracelets or even bulkier cuff bracelets.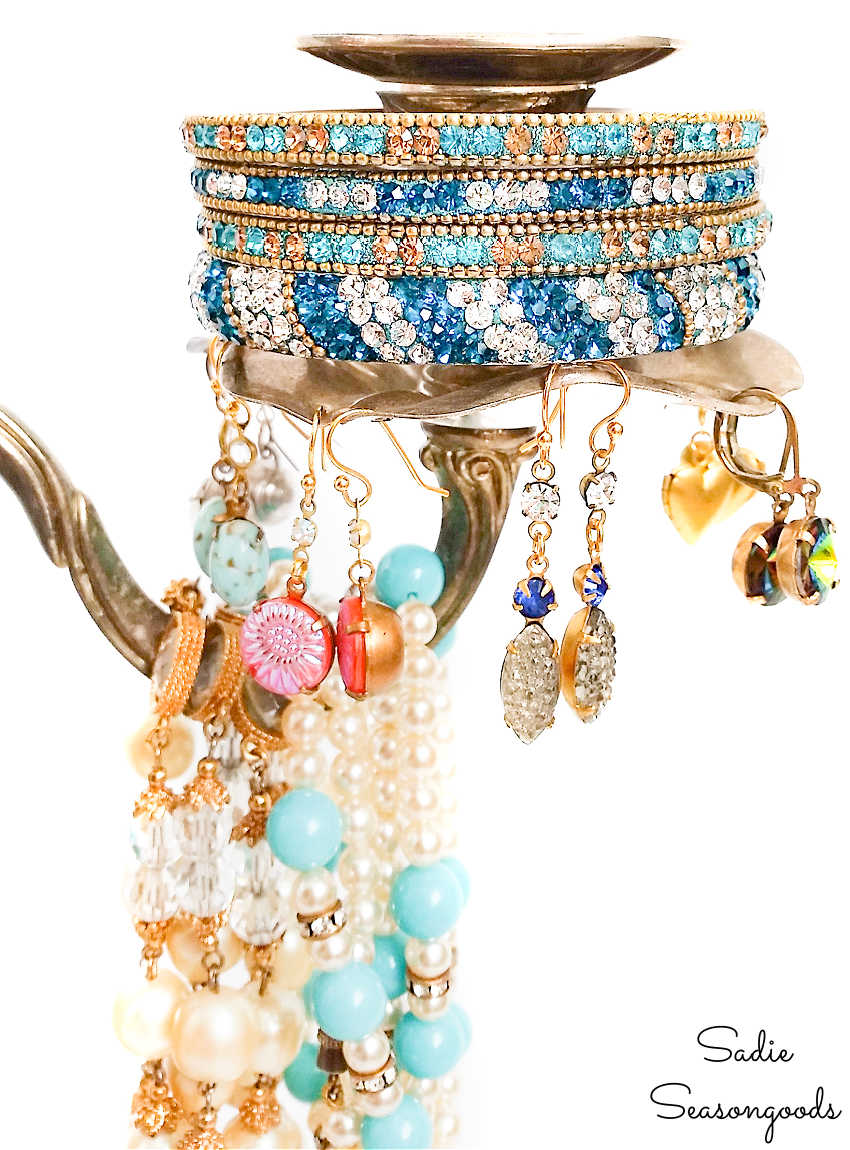 But let's face it, these Indian bangles were MEANT to be displayed on a jewelry tree stand like this!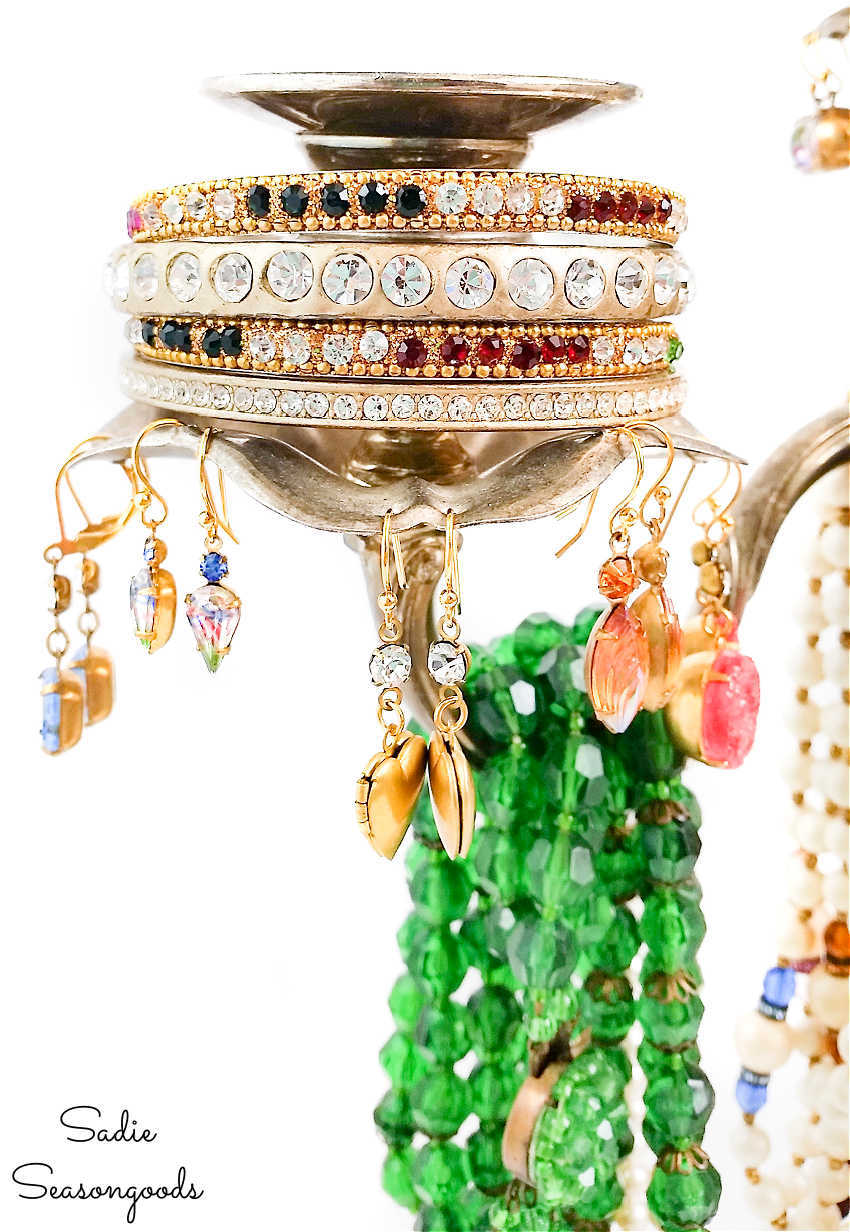 And just like that, a silver candelabra had been completely transformed into a necklace tree.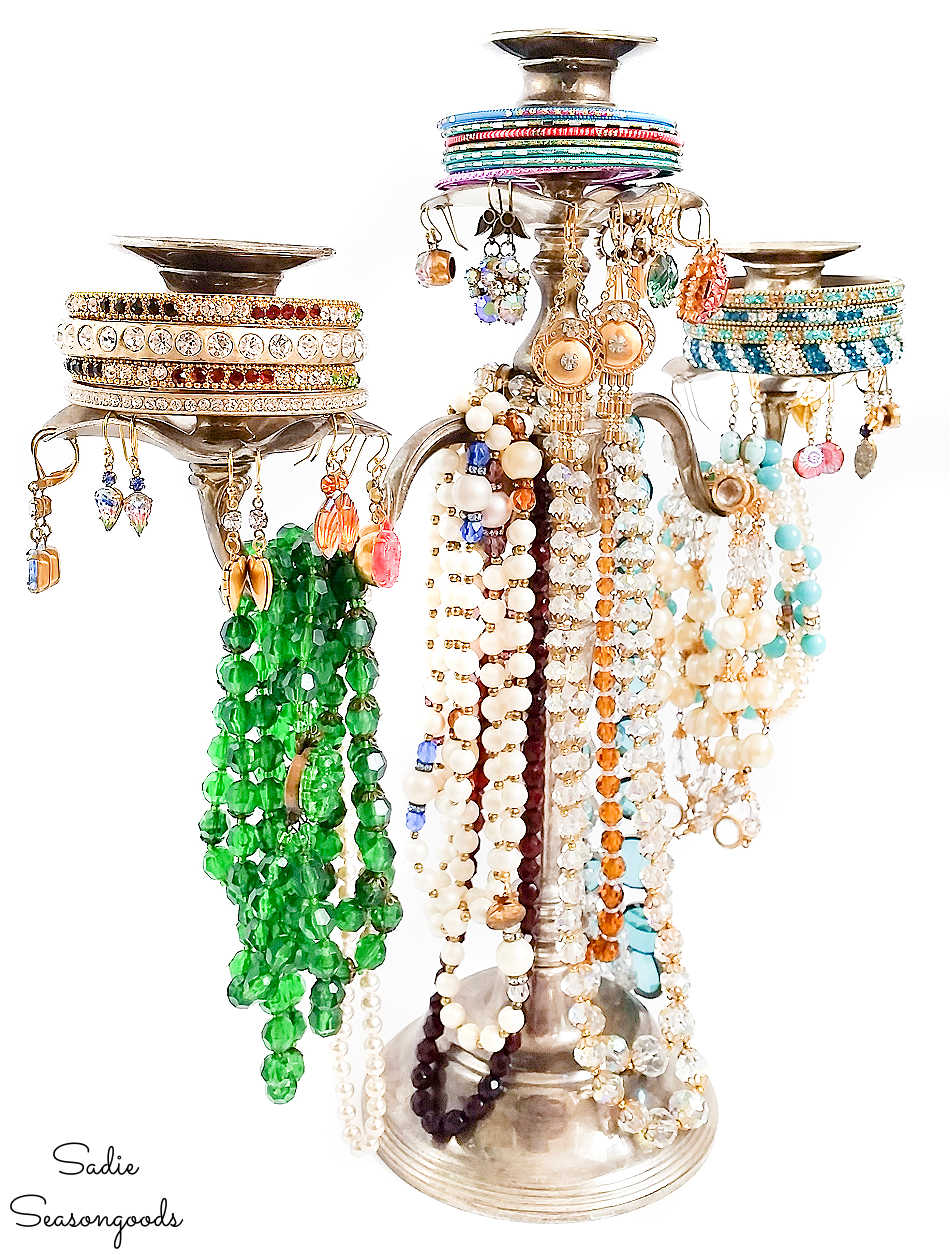 The best part is that this jewelry tree is wonderfully sold and stable. No wobbles or fear of tipping over!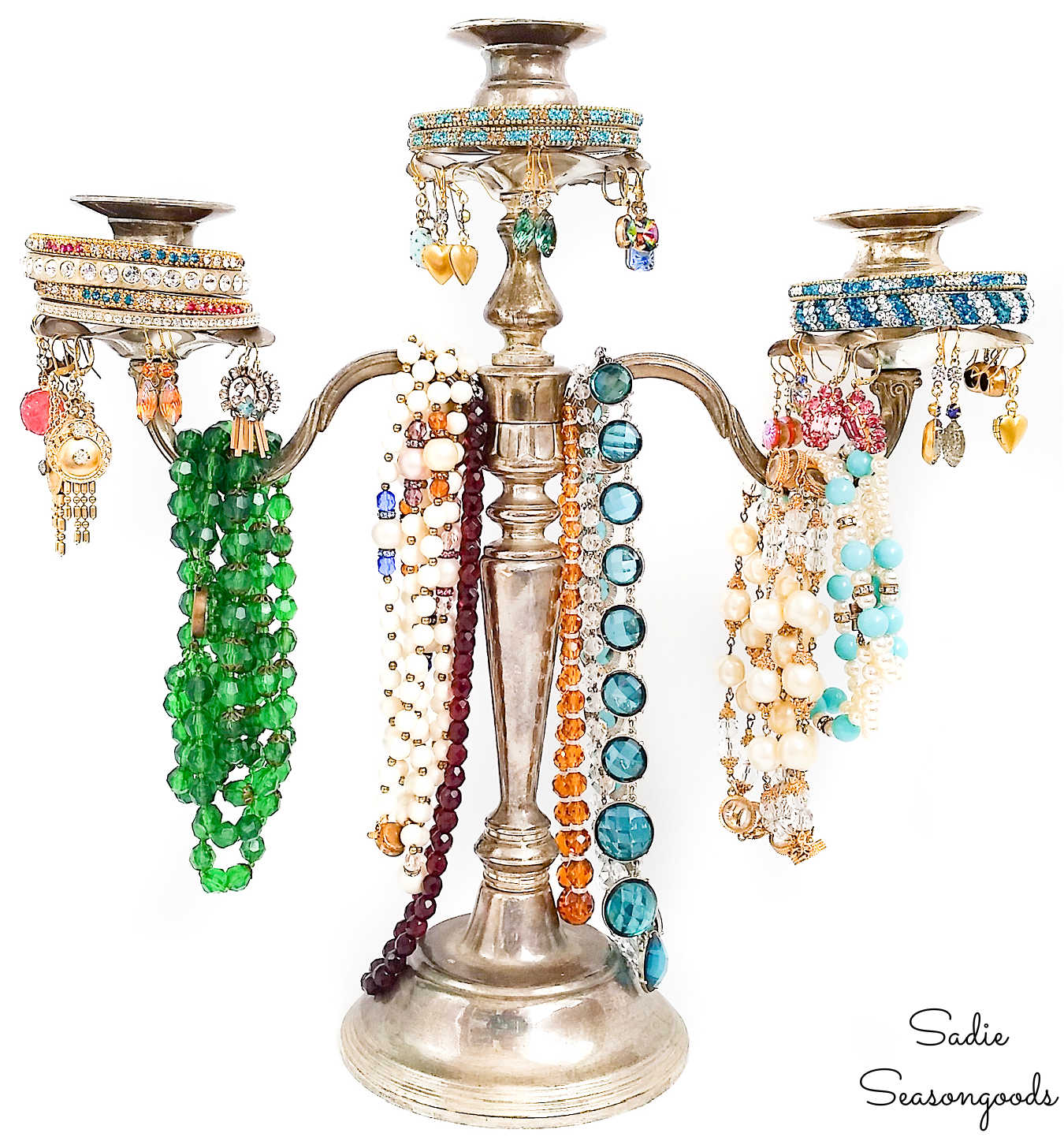 I don't think it gets easier than that when it comes to a jewelry tree stand that started as a thrift store find! No painting, no hanging, no adding hardware. Just a few extra holes and you're ready to fill it up!
If you enjoyed this upcycling idea for a jewelry tree stand, then you'll love how I created this beach jewelry from a strand of pearls from the thrift store!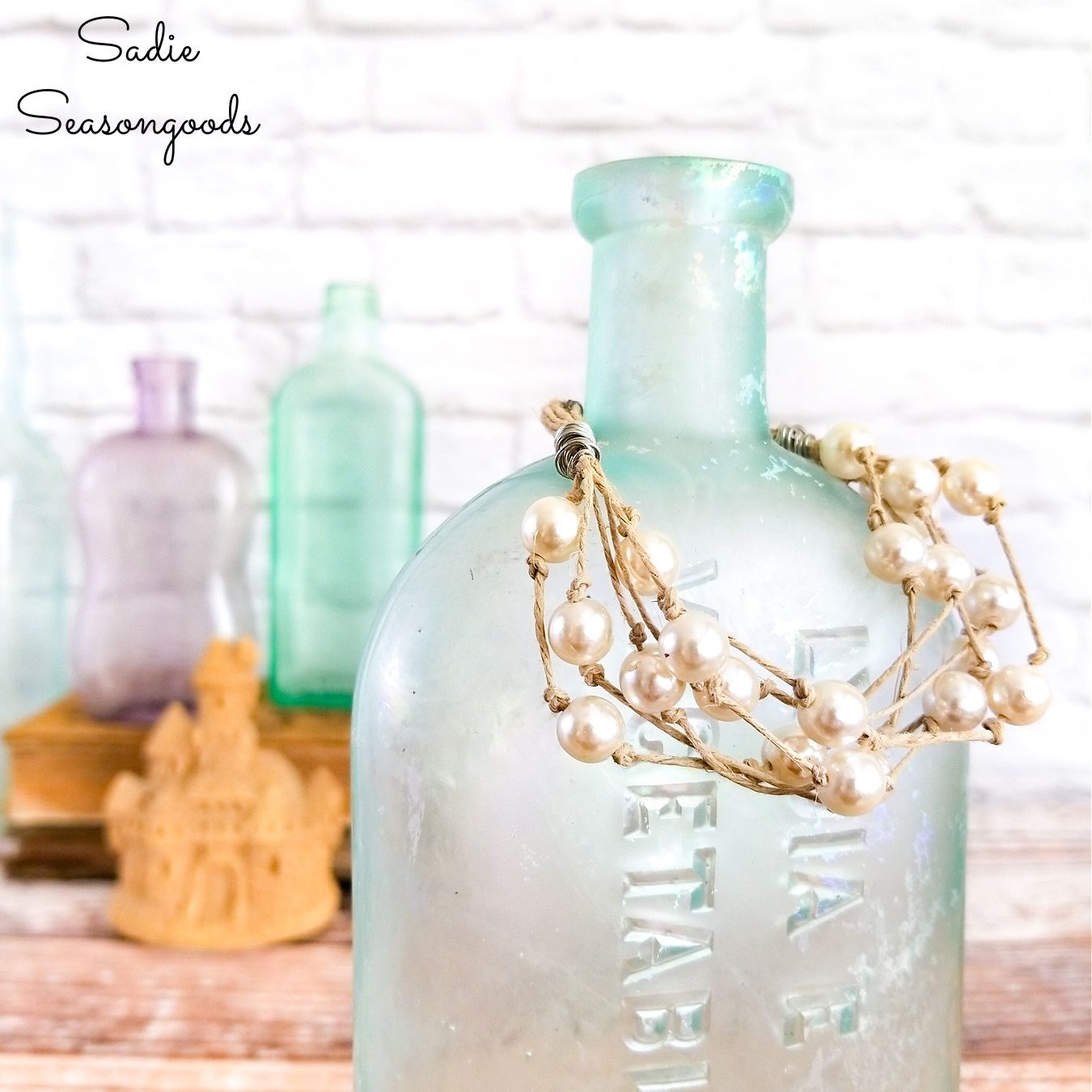 Craft on!
S
Join me on Social Media:

PIN ME!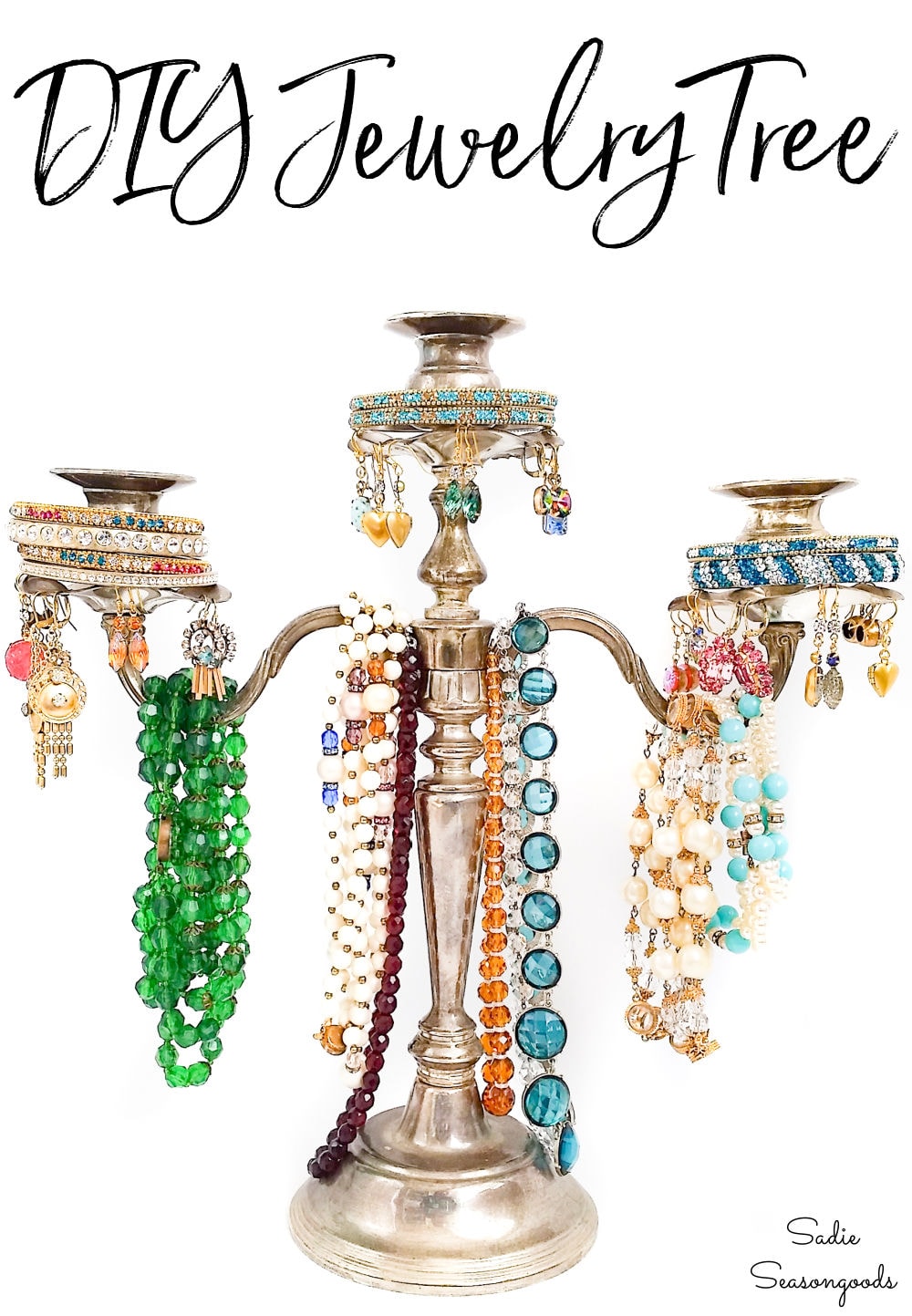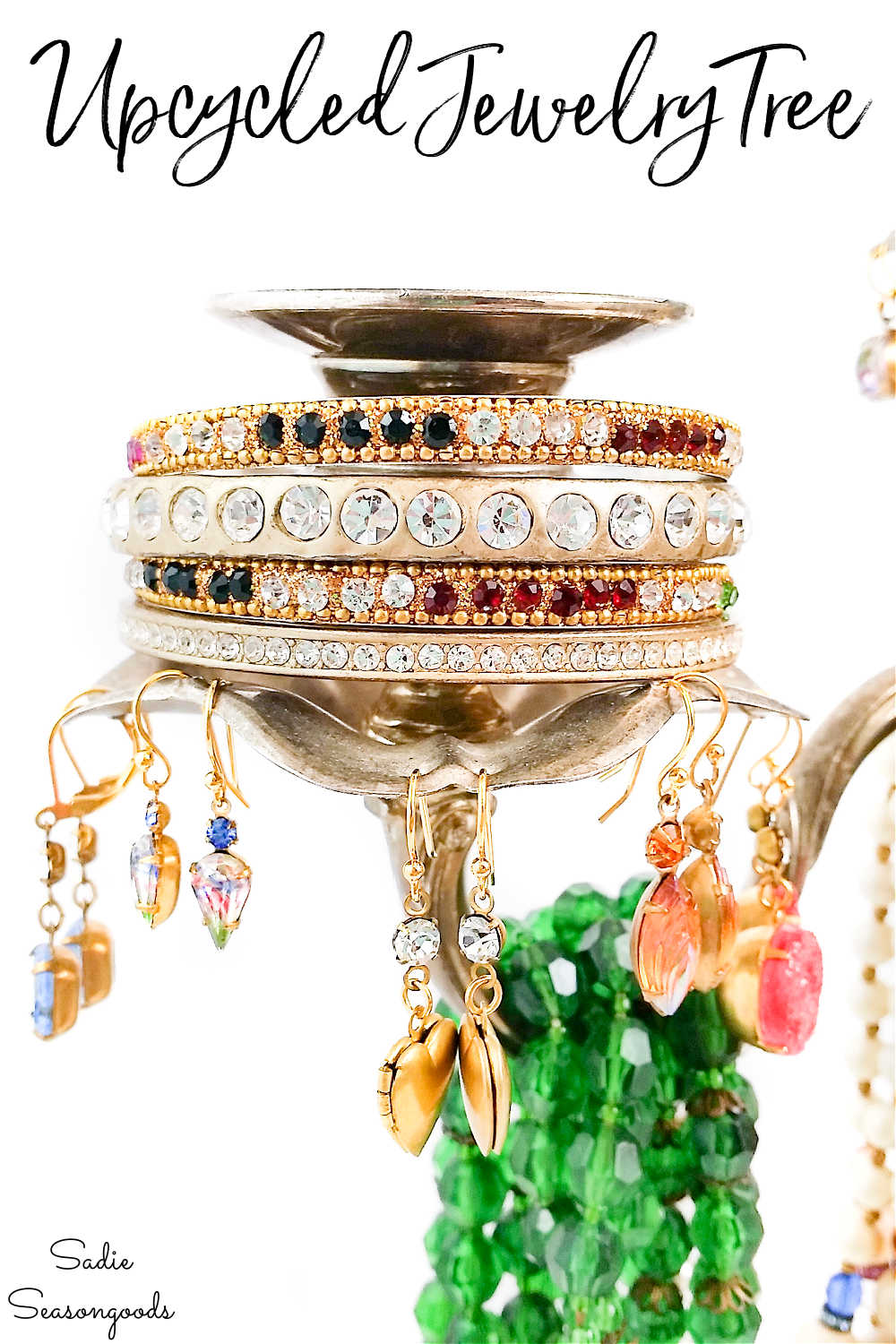 Sarah Ramberg is the owner of Sadie Seasongoods, a website that celebrates all things secondhand. From upcycling ideas and thrifted decor to vintage-centric travel itineraries, Sadie Seasongoods is a one-stop shop for anyone who loves thrifting and approachable repurposing ideas. Sarah is also the author of "Crafting with Flannel" and has been featured in numerous media outlets and magazines.