Most thrift stores are positively littered with the remnants of wedding registries from days gone by. In particular, stacks of silver plate are a pretty common sight at secondhand shops. Trays, platters, bread baskets, pitchers- and today's crafters are finding fresh ways to repurpose those silver-plated items in new and exciting ways.
Dining Room Wall Decor
A collection of silver plate trays and platters is a great (and usually inexpensive) way to fill up wall space like this. Such a fun way to create dining room wall decor on a budget- and collecting pieces would be a fun scavenger hunt to go on!
Painted Tray and Sign
Doesn't this tray look like it came from some high-end home decor boutique? But alas…it's a thrifted silver tray that got quite the posh makeover thanks to paint and transfers.
Silver Plate Spoon Pendants
Silver-plated silverware is easy to bend, flatten, and manipulate into various jewelry projects. In this case, silver-plated spoons are the perfect base to show off some colorful vintage cameos.
Tiered Tray Bird Feeder
There is no shortage of upcycling ideas for silver-plated trays. And in this case, a tiered tray is re-assembled into a fun and fancy bird feeder for the backyard. It's a simple upcycle that requires very few tools and skills!
Recycled Yard Decor
Candle snuffers might not be the first thing that comes to mind when you think of funky garden decor. But look how cute they can be as painted flowers like this!
Scarf Hooks
Since silver-plated flatware is so easy to bend, random pieces are perfect for upcycling into unique hooks. They could be used for anything- hats, jewelry, belts; but in this case, hooks for scarves.
Colorful Decoupaged Tray
There are all sorts of silver plate trays to be found- some round, some rectangular, some with feet, some with raised sides. It's just a matter of what you find on your thrifting adventures. But all of them are fun to repurpose in fresh and modern ways, like this boho-inspired drink tray.
Faux Turned Wood
Pitting is a type of corrosion that happens on silver plate, caused by a variety of factors. Which means that pitted silver-plated pieces (like these candlesticks) are ideal for painting projects. Perhaps faking the look of turned wood in this case?
From Casserole Server to Trendy Tray
The silver plate casserole server is meant to fancify your glass casserole dish for a pot luck or party. But they can also be upcycled into useful, trendy trays like this. (And no paint on the silver- for the purists that may be reading this!)
Candelabra Jewelry Tree
A stuffy candelabra isn't something you see in today's far more casual world. But it doesn't mean they aren't still useful, even in unorthodox ways. Check out how fabulous this one is as a jewelry tree- it just needed a few tiny tweaks!
Gold Gilding on Silver Plate
Sometimes, it's the details on a silver-plated tray that can be the most eye-catching. A little upcycling alchemy turns those details from tarnished silver to glamorous gold with this gorgeous repurposing idea.
Silverware Plant Markers
Stamping on silver-plated flatware is a fun craft with lots of applications- jewelry, charcuterie accessories, and in this case- plant markers. Of course, you likely already know which plants are which, but adding a little whimsy like this is never a bad idea, either.
Bread Basket to Farmhouse Bowl
For better or worse, a silver plate bread basket is definitely out of touch in today's laidback society. But, with the right ribbon and paint, you can easily transform it into a decorative bowl that'll never need polishing again.
Silver Service Wind Chimes
If serving water in silver-plated goblets isn't on your to-do list, perhaps making DIY wind chimes like these is! Quirky and fun, it adds whimsy to your yard and puts those stuffy silver serving pieces to good reuse.
Upcycling Ideas for Silver Plate
I hope these ideas give you some much-needed inspiration before your next thrifting trip. Because if you see a stack of trays or a basket of silver-plated flatware, you'll be swimming with ideas.
Craft on!
S
PIN ME!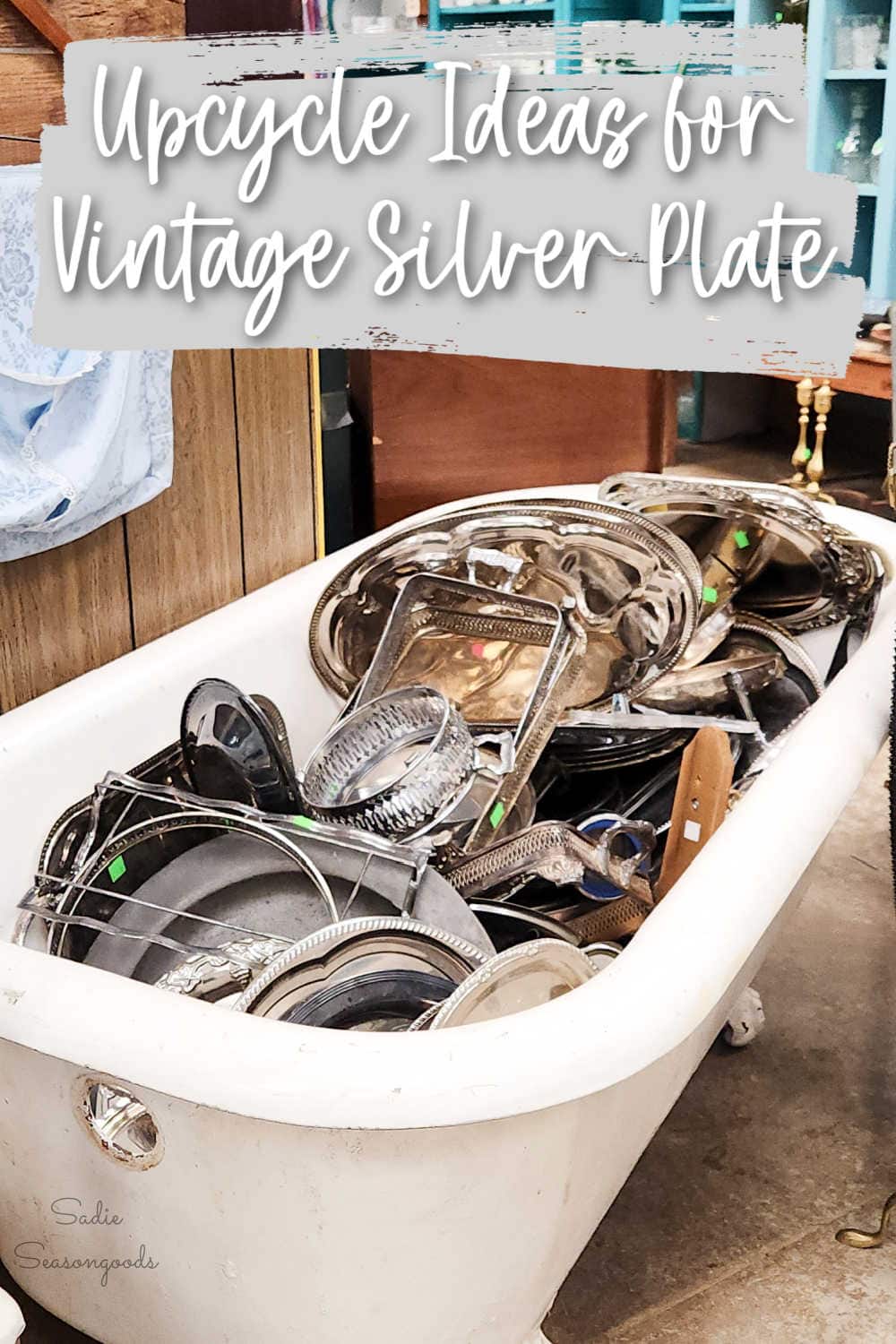 Sarah Ramberg is the owner of Sadie Seasongoods, a website that celebrates all things secondhand. From upcycling ideas and thrifted decor to vintage-centric travel itineraries, Sadie Seasongoods is a one-stop shop for anyone who loves thrifting and approachable repurposing ideas. Sarah is also the author of "Crafting with Flannel" and has been featured in numerous media outlets and magazines.