I have a LONG history now of decorating my front door each season with various wreaths. And because I'm an upcycling blogger, I have a tendency to repurpose something random into a wreath. As long as it can be hung on a door, it has wreath potential, right? And for an autumn wreath, I decided to upcycle a leather quiver and wooden arrows into harvest decor for my front door.
But first, a quick reminder of some of my other seasonal wreaths that didn't start off as wreaths. Such as this Easter basket wreath using a flat back door basket…
A Valentine's Day wreath by upcycling a chocolate heart box (vintage, of course)…
A straw tote bag filled with flowers for a Spring wreath…
And last, but not least – a Christmas wreath made by upcycling a vintage clothespin bag, of all things!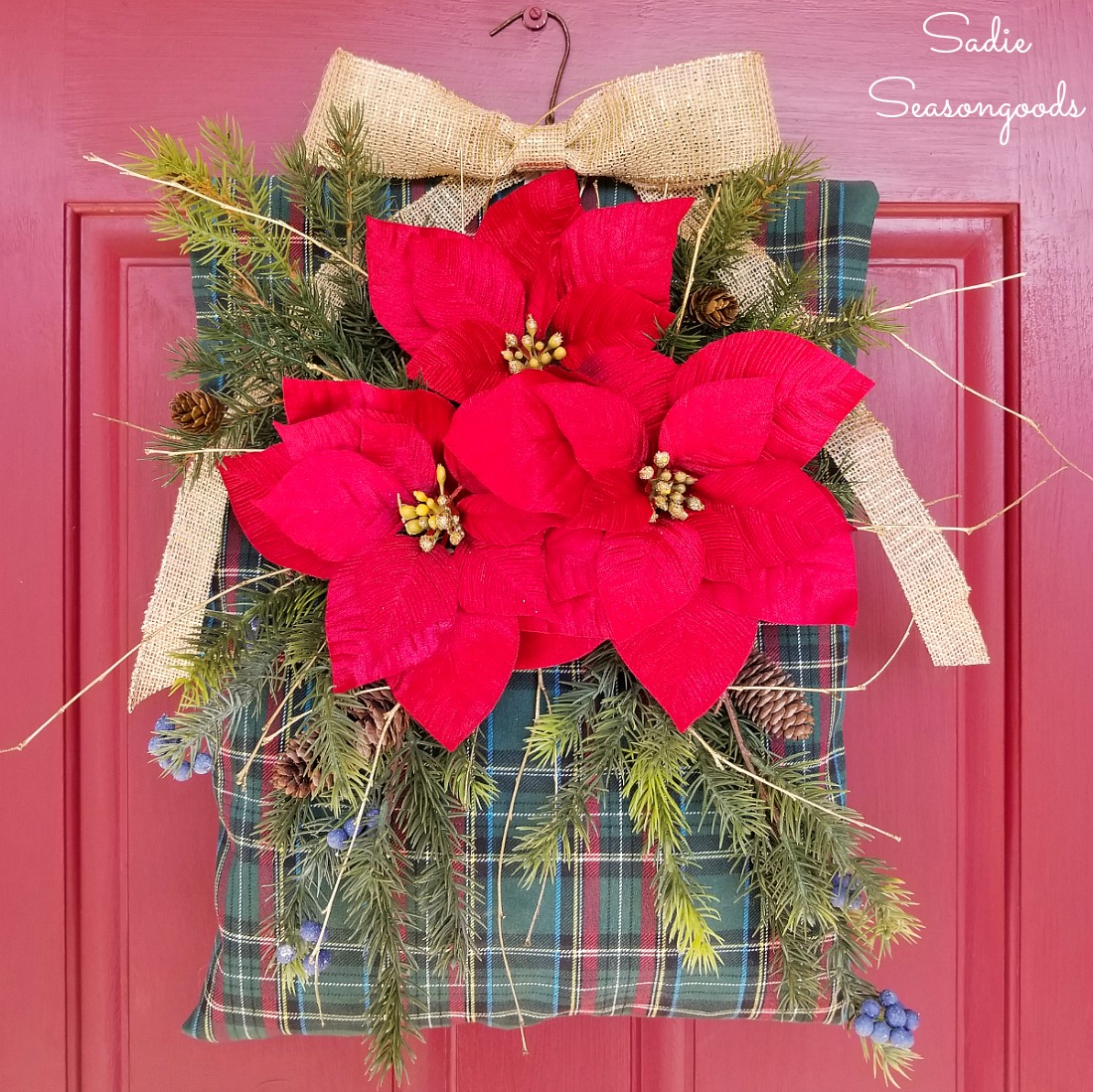 So, obviously I HAD to do something unusual and unique as an autumn wreath, right? This post contains affiliate links for your crafting convenience.
Autumn Wreath with a Leather Quiver
Now, even though I don't hunt or even go fishing, I recognize that autumn is a celebration of the harvest. And in that theme of harvest decor, I purchased this leather quiver to create my autumn wreath.
It was this exquisite combination of ruggedness and beauty – rustic, romantic, maybe even sexy…
And what goes better with a leather quiver / archery quiver than arrows? And more specifically, vintage arrows or wooden arrows to keep with the rustic and vintage theme…
So, I arranged the wooden arrows in the leather quiver and used some crumpled newspaper in the bottom of the quiver to stabilize my arrangement.
I could almost hear crunching leaves beneath the feet my favorite archers – Robin Hood, Legolas, and Katniss Everdeen…
I loved it! But I've improved upon it in recent years. I thought my autumn wreath needed a little "something" extra to fill it out.
Leather Quiver and Wooden Arrows for an Autumn Wreath / Harvest Decor
So I played around with the idea of adding faux foliage stems and dried wheat sheaves.
I thought the wheat resembled an arrow's fletching. AND, if you couldn't find wooden arrows, dried wheat would be a perfectly pleasing (and inexpensive) option.
Ultimately, I combined everything – wooden arrows, dried wheat, and faux autumn foliage – in my leather quiver. It was the best of all worlds and punched up my autumn wreath exactly as I had hoped.
Isn't that perfect for an autumn wreath and harvest decor? I can't think of anything better than a leather quiver and wooden arrows as way to honor the harvest each autumn.
And if you enjoyed this upcycling idea for fall decor, then you'll love these glass pumpkins that have been transformed with alcohol paint!
Craft on!
S
Want to be notified when I publish my next upcycling project tutorial?
Subscribe to Blog via Email
Join me on Social Media: