Nowadays, we have a wreath for every season and holiday. But no wreath is as iconic and classic as the Christmas wreath, if you ask me. And while the traditional ring of Christmas greenery is always a festive choice, there are a lot of other Christmas wreath ideas to consider. Especially if you love to upcycle and repurpose unexpected elements as door decor. If so, then this collection is definitely for you!
Vintage Snow Shoe
A vintage snow shoe– or even a newer one- is definitely not the typical Christmas wreath. But, not only is it fun to decorate with greenery and ribbon, but the shoe itself is a fun way to show off a few of your favorite Christmas cards, as well.
Christmas Village Wreath
For a more neutral-hued Christmas wreath, this DIY village wreath is about as cute as it gets. Bottlebrush trees and mini village buildings are used to create a soft and sweet wreath that is perfect for your front door.
Christmas Wreath Ideas with Sleds
An old-fashioned sled adorned with ice skates has become a favorite pairing when it comes to holiday decor. And if you find a small decorative sled like this, you can recreate that look as door decoration for the holidays. Complete with DIY baby skates!
Vintage Flocked Wreath
This vintage flocked wreath was adorable plain, but had gotten slightly damaged over the years. Gaps had formed in the bristles and other areas had flattened out. But with the addition of a few vintage ornaments, it looks full and festive once again!
Picture Frame Door Decor
One thing all thrift stores have in common is their selection of picture frames. Large, small, ornate, and plain, there are any number of inexpensive frames available. Which means they're perfect for upcycling into a fun and festive wreath for your front door.
Plaid Bag Door Hanger
If a round wreath isn't catching your eye this season, then maybe a quirkier door hanger is in order instead. And what goes better with Christmas than a plaid bag upcycled to hold greenery sprigs and red berries on your front door?
Playful Holiday Wreath
This Christmas wreath has a retro feel, thanks to the vintage decorations and old fashioned Santa graphic in the center. But the best part is that it was made by upcycling a plastic tray from the thrift store.
Winter Tree Wreath
If you prefer a wreath that is more "winter" than "holiday" and can stay up long past New Year's Day, then this winter wreath is the perfect solution. Vintage bottlebrush trees (or even new ones) as well as other natural elements give this wreath a serene look that is gorgeous all winter long.
Christmas Wreath Ideas with Flannel Shirts
One of the coziest wreaths you can make for the winter holidays is one that involves plaid flannel shirts like this. The red and green make it Christmas-y, but you could just as easily focus on blue, white, and green for a winter version, as well.
Cookie Cutter Wreath
If you inherited a box full of old cookie cutters, perhaps this DIY wreath idea is just what you need to put them to good use. Fitting together vintage cookie cutters is definitely one of the cuter Christmas wreath ideas out there using unexpected craft supplies, isn't it?
Embroidery Hoop Wreath
Extra large embroidery hoops are a wonderful craft supply to create door wreaths with. There are lots of ways to do this, but showcasing some fabulous seasonal fabric is one of the most simple and straightforward ways to do this.
Christmas Wreath Ideas from the Hardware Store
The hardware store might not be the first place you think of when it comes to craft supplies, but it's chock full of them. Sometimes, you just need a clever idea to spark your imagination; perhaps this Christmas wreath made with metal plumbing clamps will do the trick?
Feed Bag Door Decor
Santa may use feed bags for his reindeer, but you can use them in this unexpected way: Christmas door decor! Perfect for anyone who loves a more rustic approach to the holidays, this feed bag door decor is begging to be filled with all sorts of holiday greenery and other floral stems and picks.
Christmas Wreath Ideas with Baking Pans
Round baking pans from your kitchen or the thrift store (bundt cakes…Jell-o molds…) are already wreath shaped and usually a blank canvas for decorating. So why not turn one into a fun and festive wreath like this?
Peg Bag Door Decor
A vintage clothespin bag or peg bag wouldn't normally scream "Christmas wreath". Unless, of course, it was already sporting some Christmas colors! Then it's the perfect thing to repurpose into a Christmas plaid door hanger during the holidays.
Christmas Wreath Ideas to Make This Holiday Season
I hope this collection of Christmas wreath ideas sparked some creativity for you as the holiday season begins. There are so many things that can be upcycled into door decor, some of which you may already have lurking in a closet or kitchen. And there are so many ways to transform them into fun and festive elements for your front door all holiday season long!
Craft on!
S
Join me on Social Media:

PIN ME!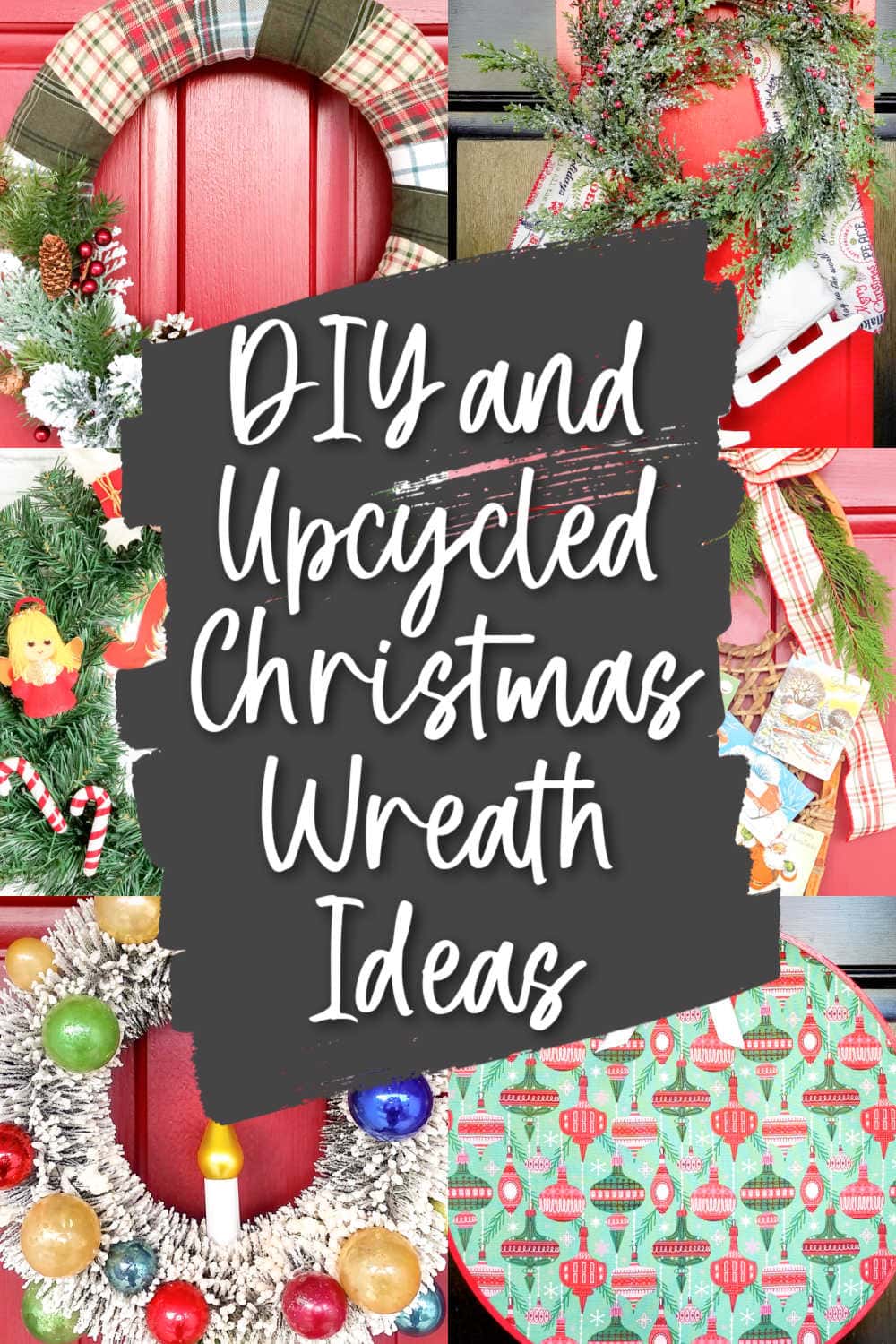 Sarah Ramberg is the owner of Sadie Seasongoods, a website that celebrates all things secondhand. From upcycling ideas and thrifted decor to vintage-centric travel itineraries, Sadie Seasongoods is a one-stop shop for anyone who loves thrifting and approachable repurposing ideas. Sarah is also the author of "Crafting with Flannel" and has been featured in numerous media outlets and magazines.