Even though we've lived in this house for a while now, I'd yet to create a wreath project for it! That all changed, though, when I spotted an artificial boxwood wreath at Habitat the other day. And since I'd never made a St. Patrick's Day wreath, I decided to go in that direction this time around.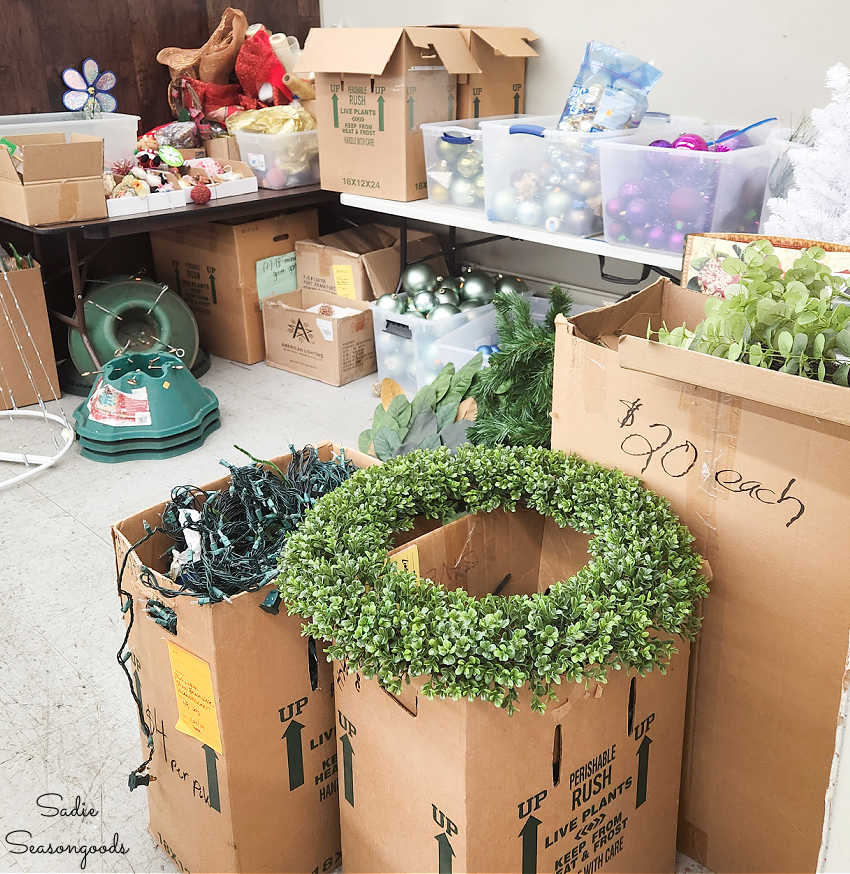 Why a St. Patrick's Day wreath in particular? Because that was the closest upcoming holiday, honestly.
But THEN, that idea solidified when I found a shamrock garland at a different Habitat on that same thrifting day!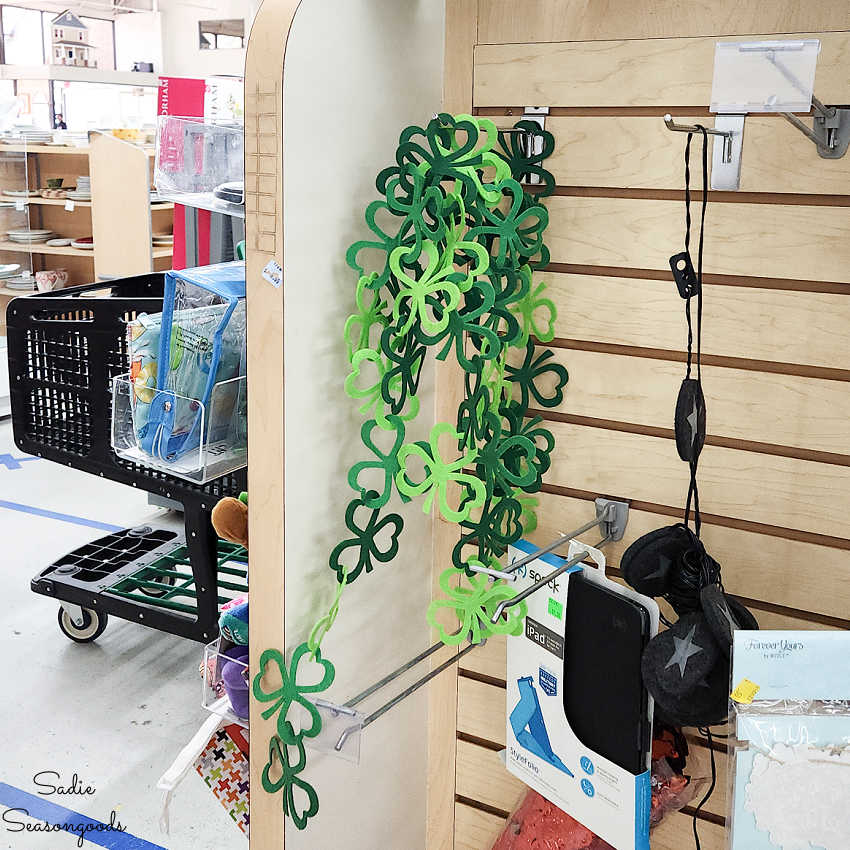 I'm pretty sure it's the same felt garland that Michaels sells at this time of year, but you know how I love me some secondhand craft supplies!
So, I gathered my boxwood wreath, the felt garland, and some rainbow ribbon that I'd gotten on clearance at Michaels a while ago, and started strategizing my approach.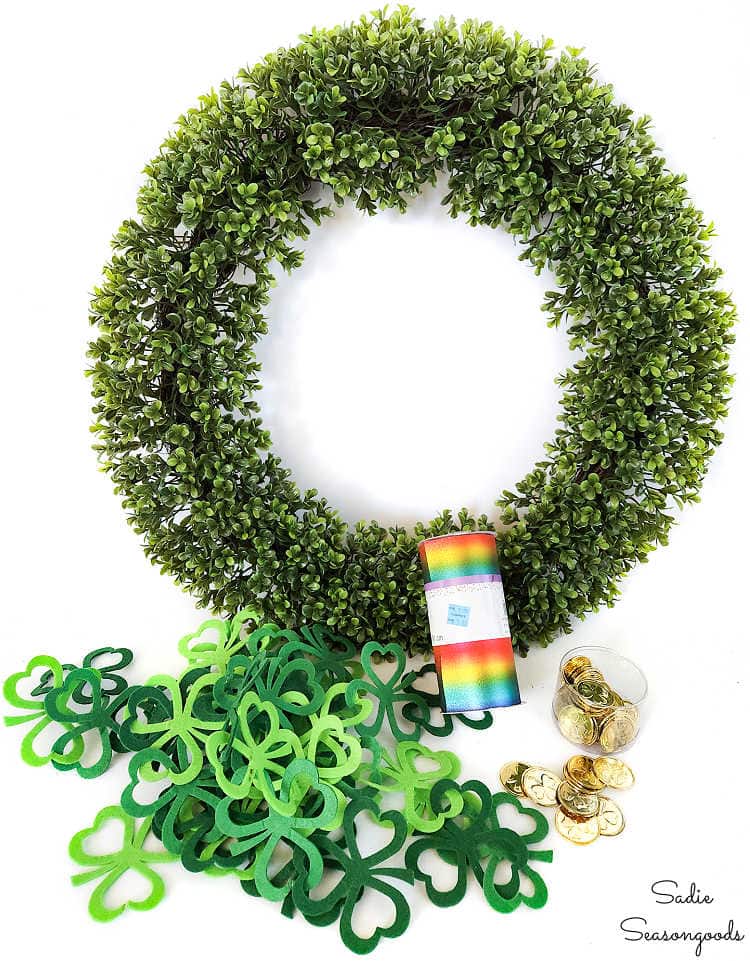 This post contains affiliate links for your crafting convenience. As an Amazon Affiliate, I earn from qualifying purchases. All blue, bold, and underlined text is a clickable link, either to a product or to a related post.
Rainbow Bow for a St. Patrick's Day Wreath
Here's a closer look at the rainbow ribbon. It's a faux leather material, so it has body to it as well as a great shimmer.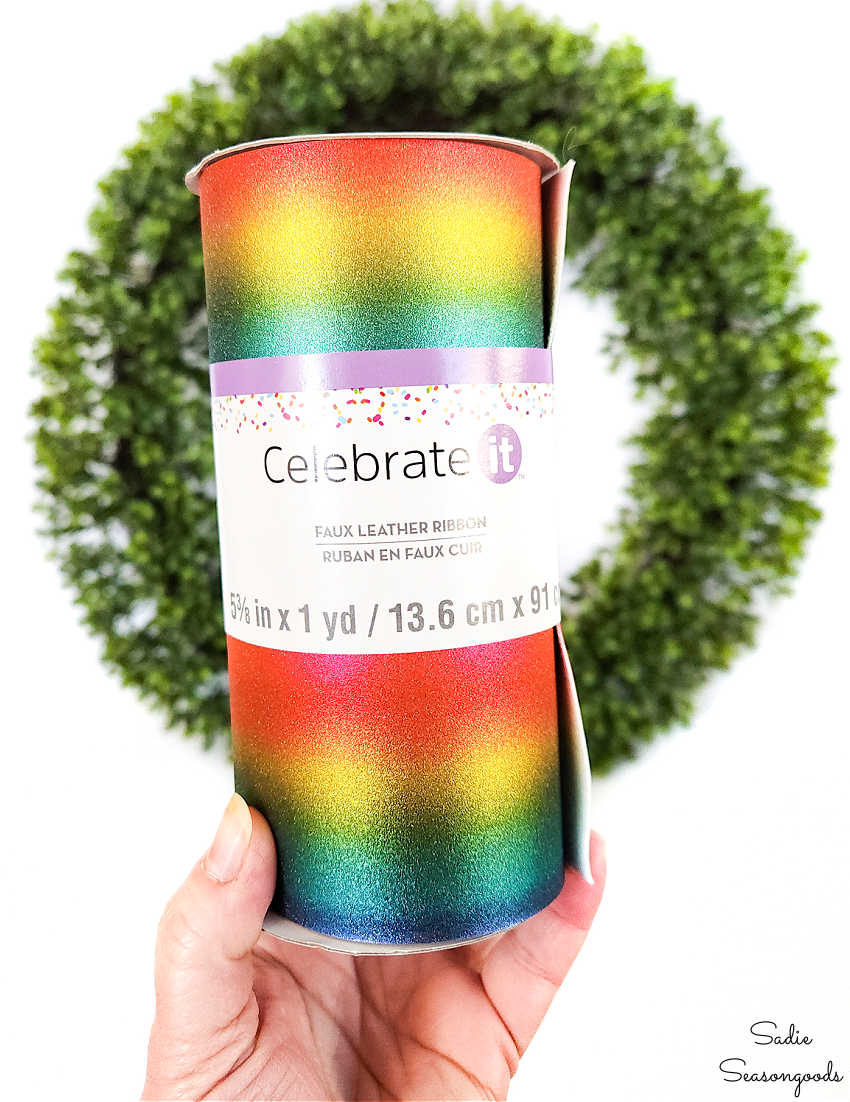 As I mulled over ideas for the wreath, I decided to make the entire thing "short term". In other words, nothing adhered or glued to the boxwood wreath.
But back to the rainbow ribbon and making a bow! First things first, I unspooled the entire length (which was unsatisfyingly short), and cut it in half.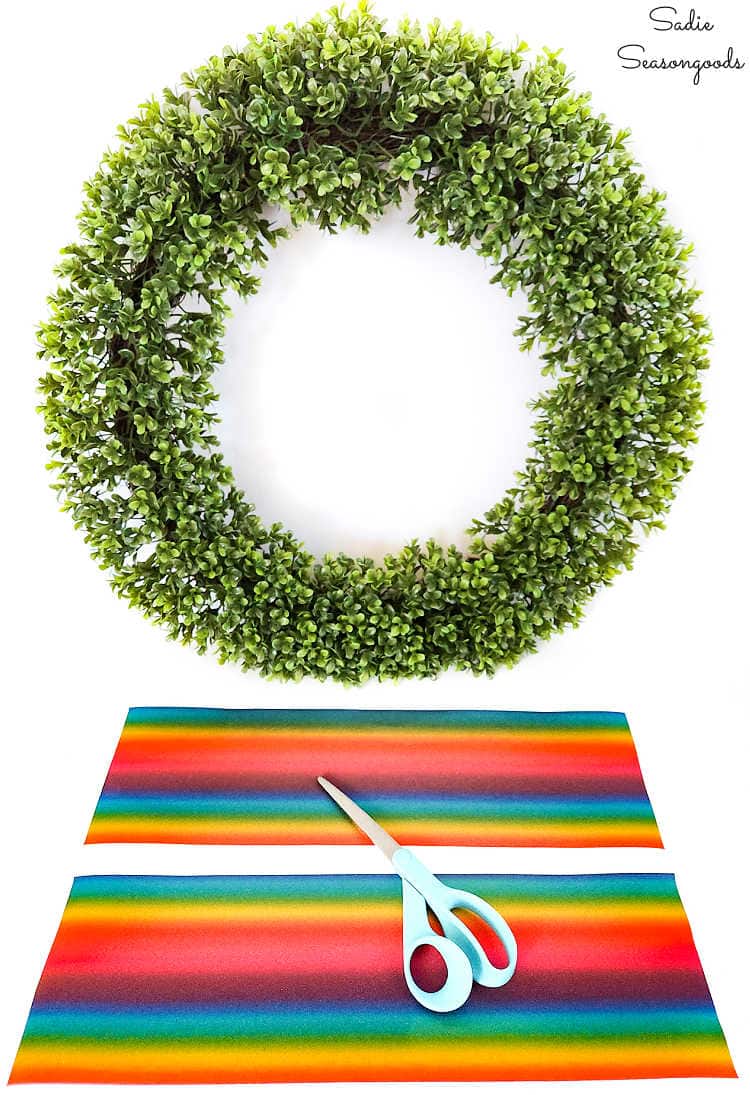 Why half? Well…I'm not an expert bow-maker by any stretch. But it seemed fair to use half for the bow and half for the tails. Either way, it was a DIY gamble and I convinced myself it made sense!
Next, I took one half and hot-glued the ends together, forming a cylinder. I snipped a long length of gold jewelry wire, laid the wire through the ribbon cylinder, and pinched the center of the rainbow ribbon together.
I did this a couple of times until I liked how the bow looked. Once I was satisfied, I added another drop of hot glue inside the pinch which held the bow shape together.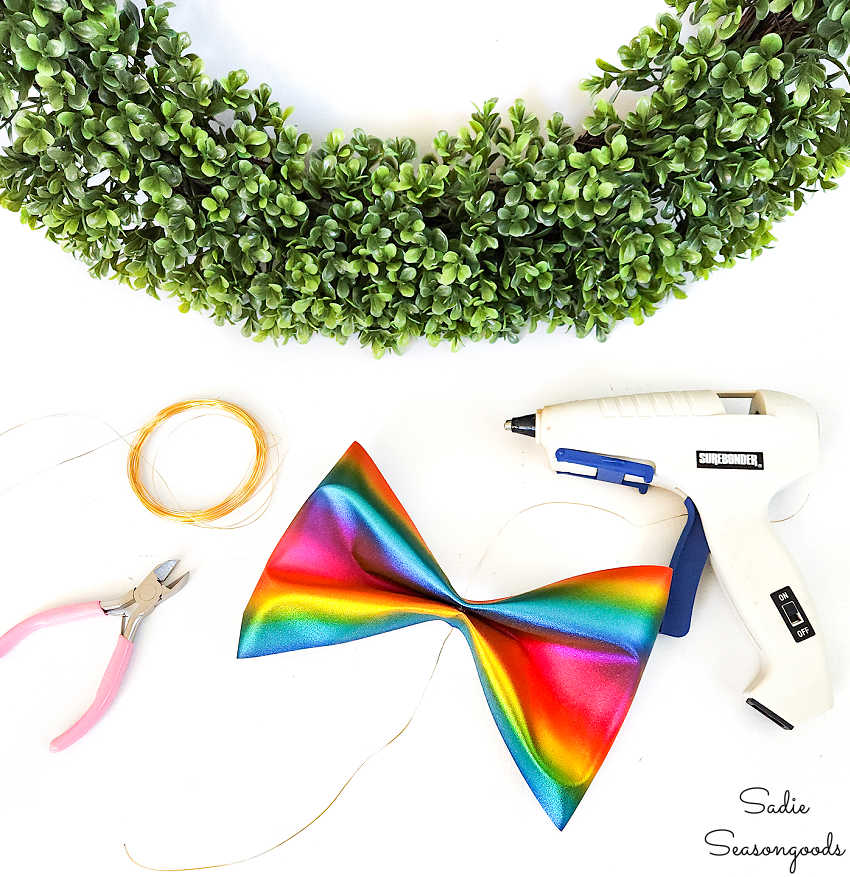 Then, I cut the other half lengthwise to form two tails for my wreath bow.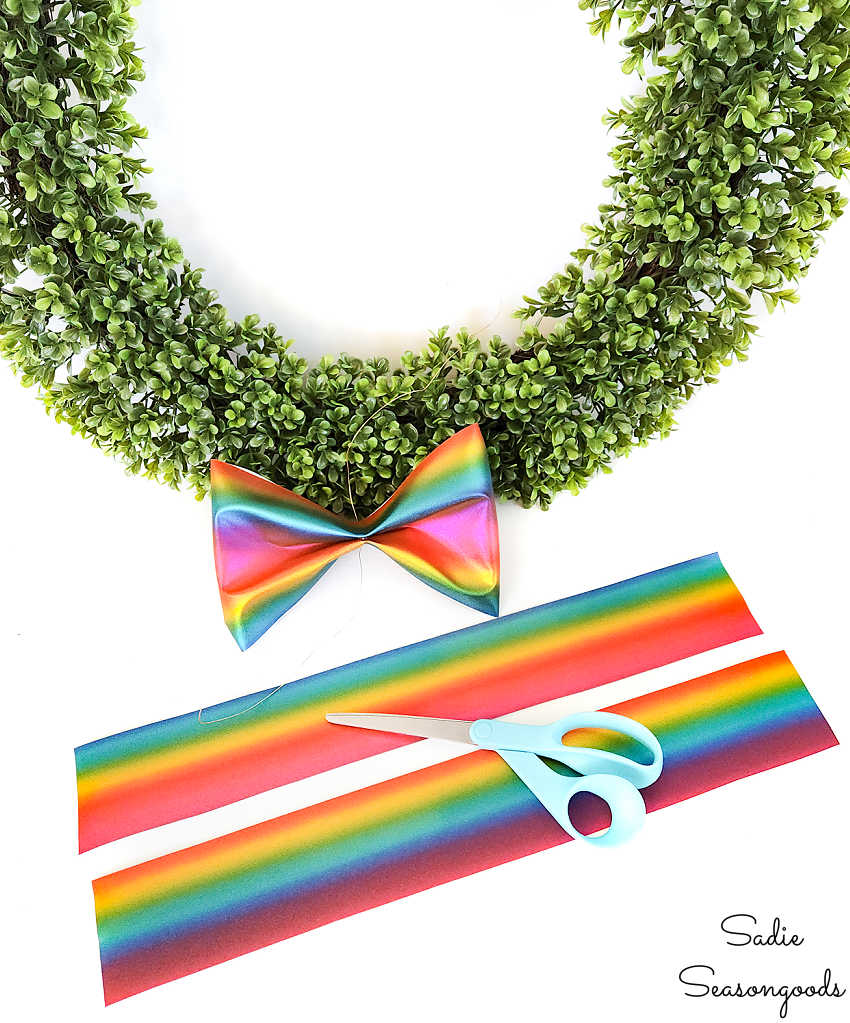 From there, I folded the corners in at one end to form points, using hot glue to hold the corners down.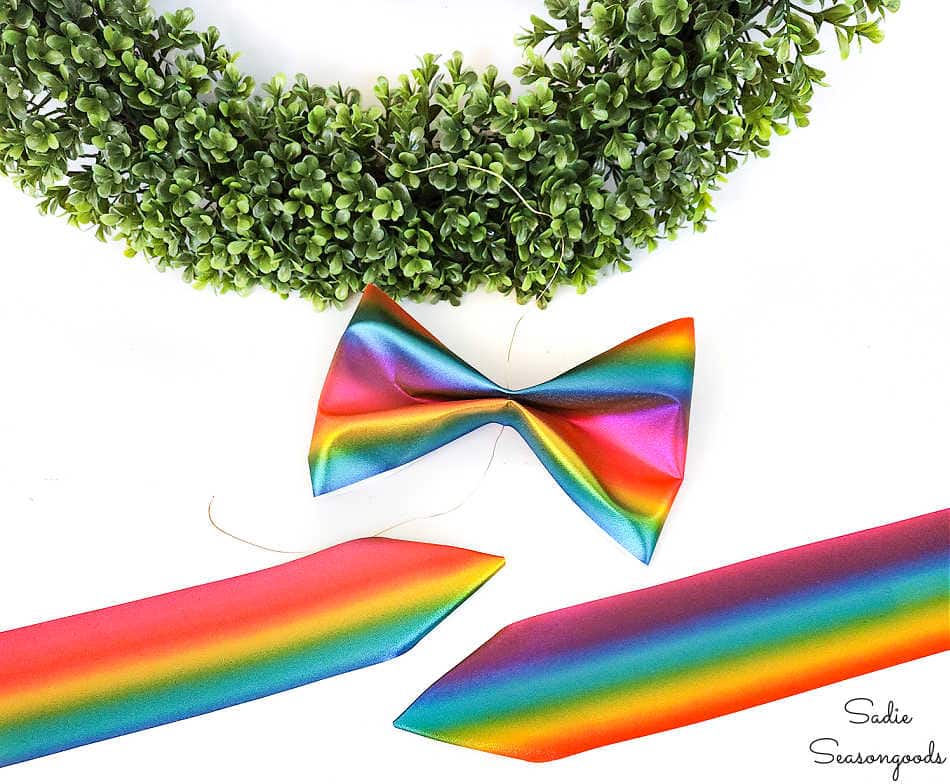 I suppose in retrospect I could have cut the ends into points, but didn't. Either way would likely be fine, I suppose.
Anywho, now I was ready to finish up my wreath bow!
Finishing the Bow and Making Shamrock Ornaments
Next, I hot glued the "pointed" ends of my ribbon tails behind the rainbow bow. I also hot glued a plastic gold coin to the center of the bow, as well.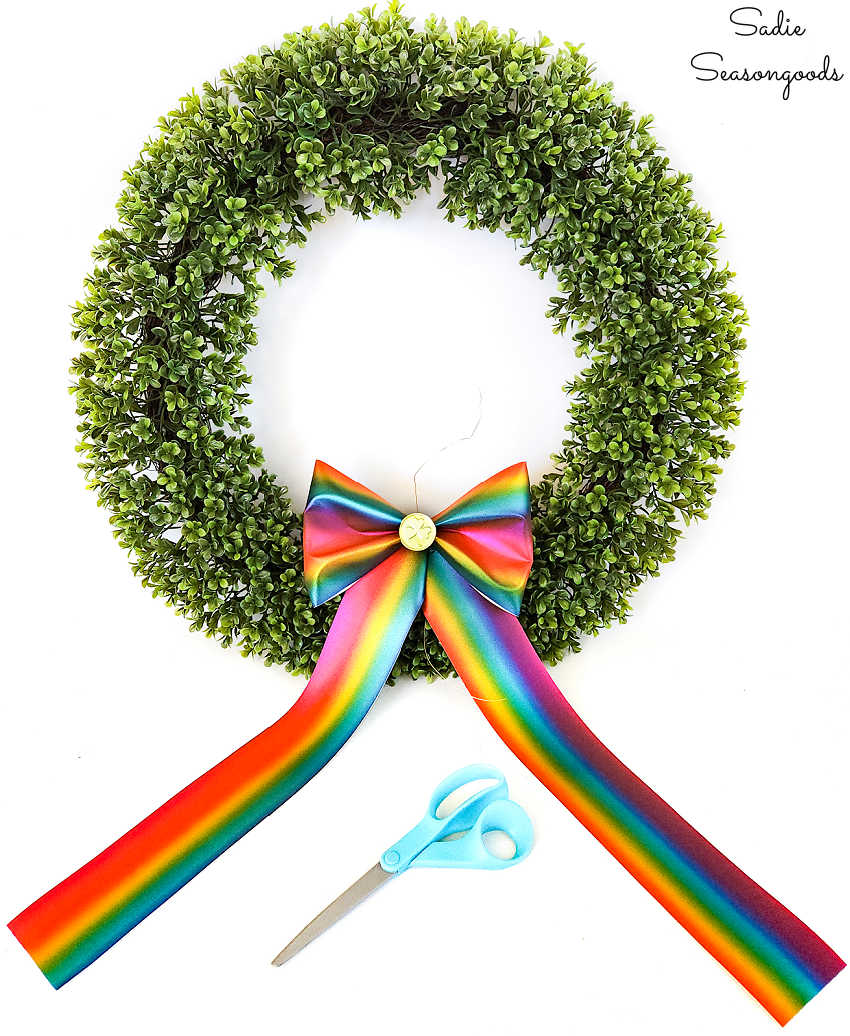 I'd also gotten those plastic coins at Michaels when I needed them to decorate these shamrock bowls from last year!
Finally, I fixed the bow to my wreath using the gold jewelry wire that I'd inserted at the very beginning! (And I trimmed the tails to be a more appropriate length).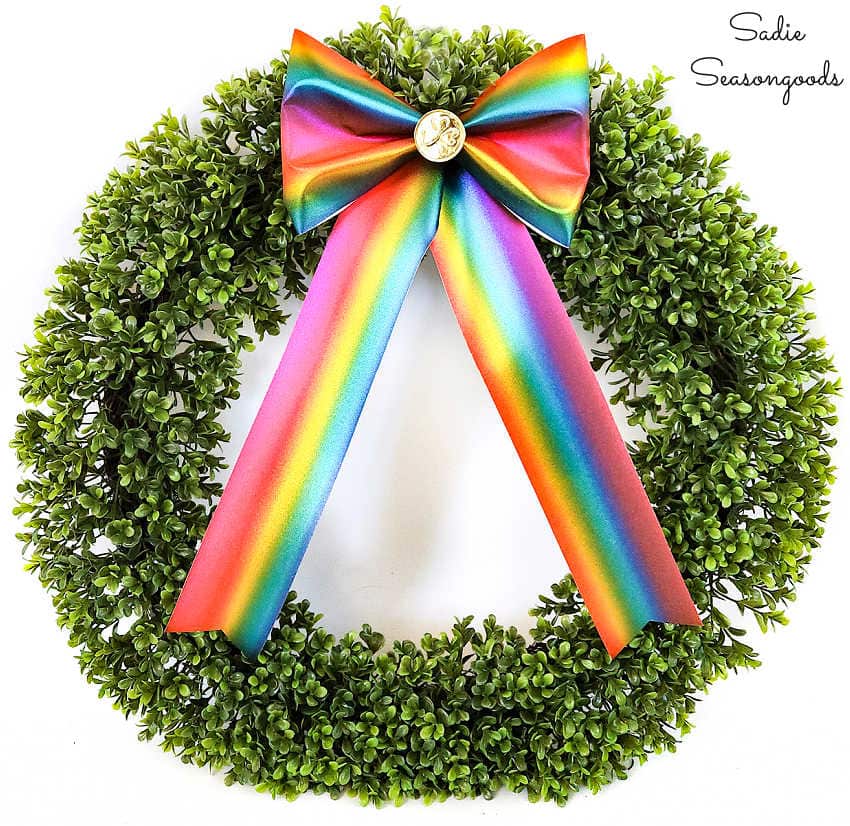 Now for the St. Patrick's Day garland that I'd thrifted! Each felt shamrock had a glued-together cut in order to string them together.
So, I simply pulled apart the cut again to isolate single shamrocks for my St. Patrick's Day wreath!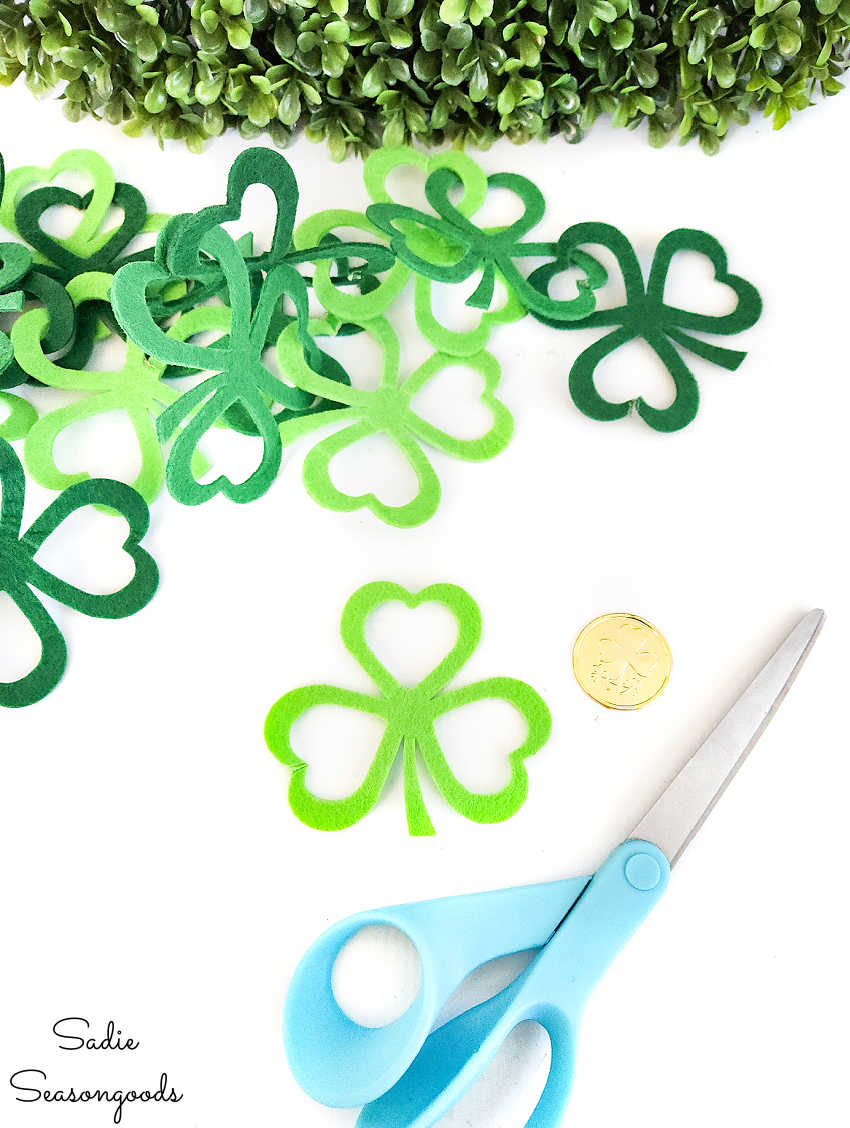 After that, I re-glued the cut as cleanly as possible. Once I'd done that, I then glued a coin to the center of each shamrock. Easy peasy!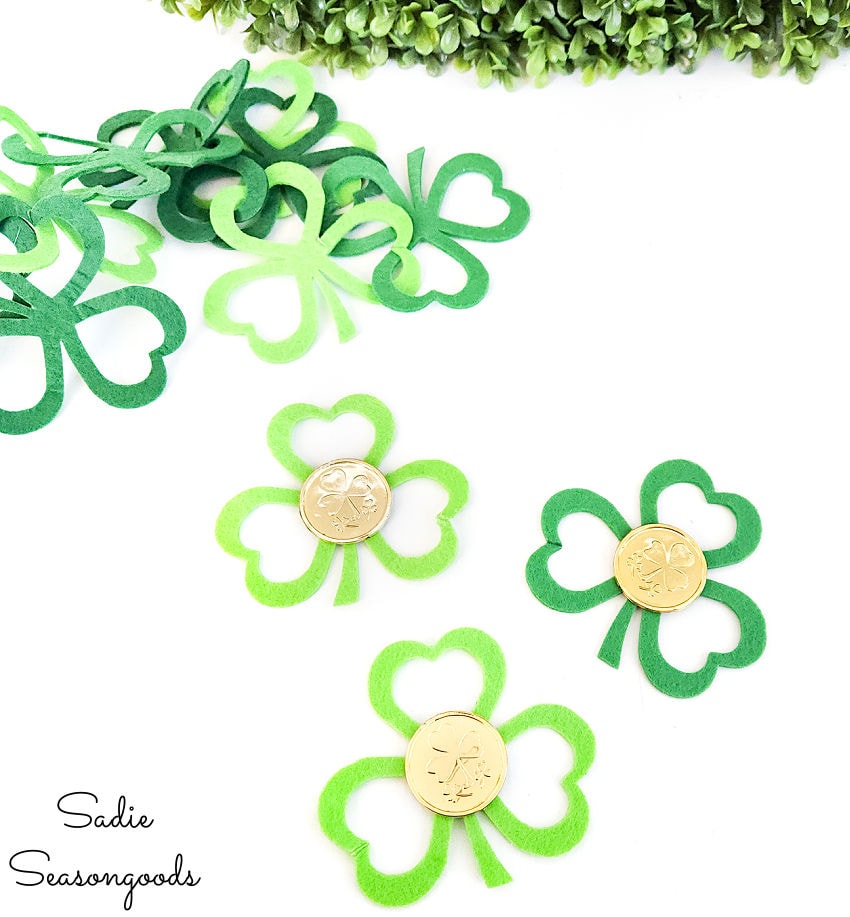 Then, I arranged the shamrock ornaments along my wreath and used green thread to tie them to the wreath and hold them in place. Remember, I didn't want to do anything permanent to the wreath itself so I can reuse it again!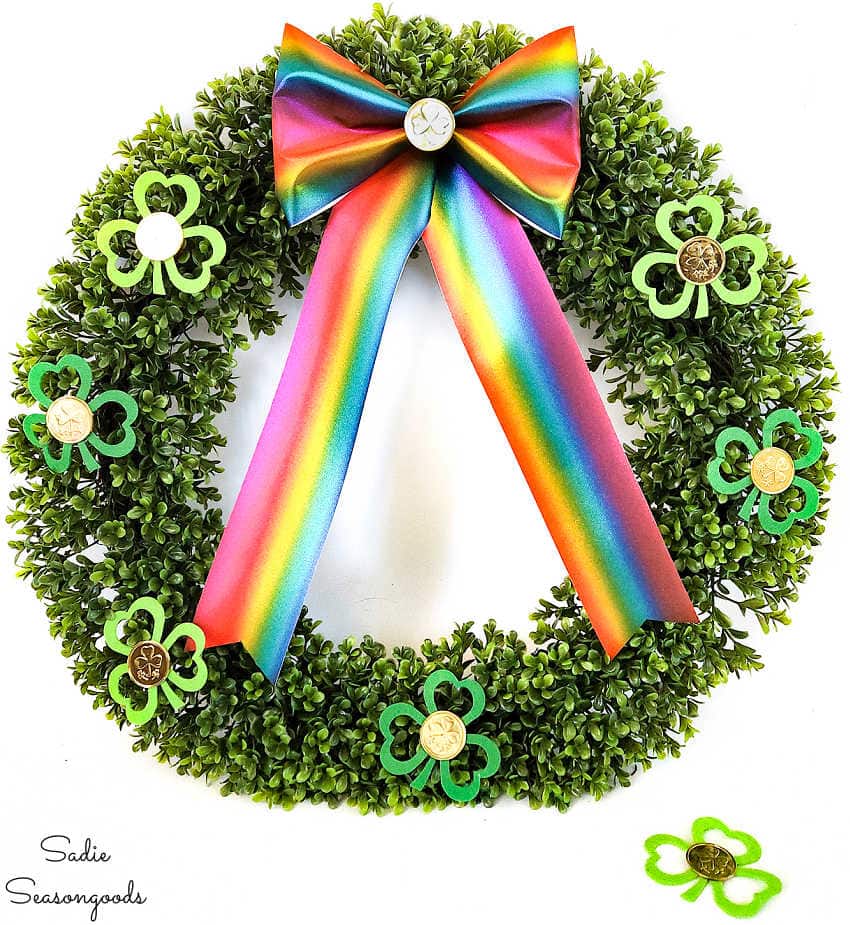 And that was it! My St. Patrick's Day wreath was finished and ready to hang on the front door.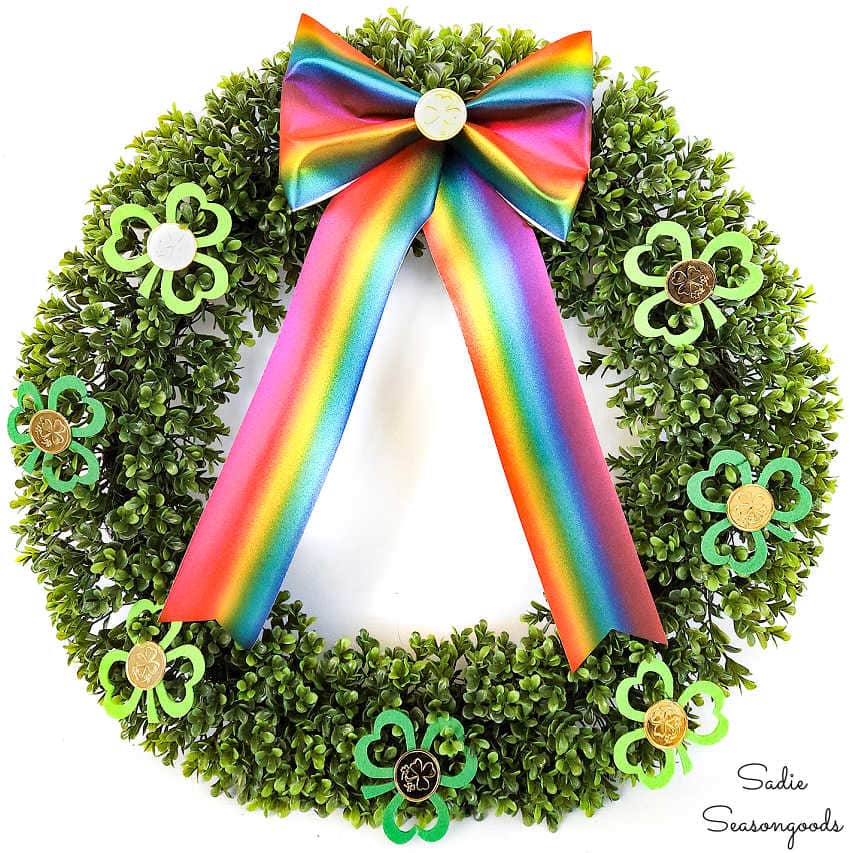 St. Patrick's Day Wreath
I suppose it may be too simple and understated for some folks, but it captured everything I love about St. Patrick's Day: rainbows, shamrocks, and gold coins! And of course, plenty of green.
Here it is on an interior white door before I brought it outside.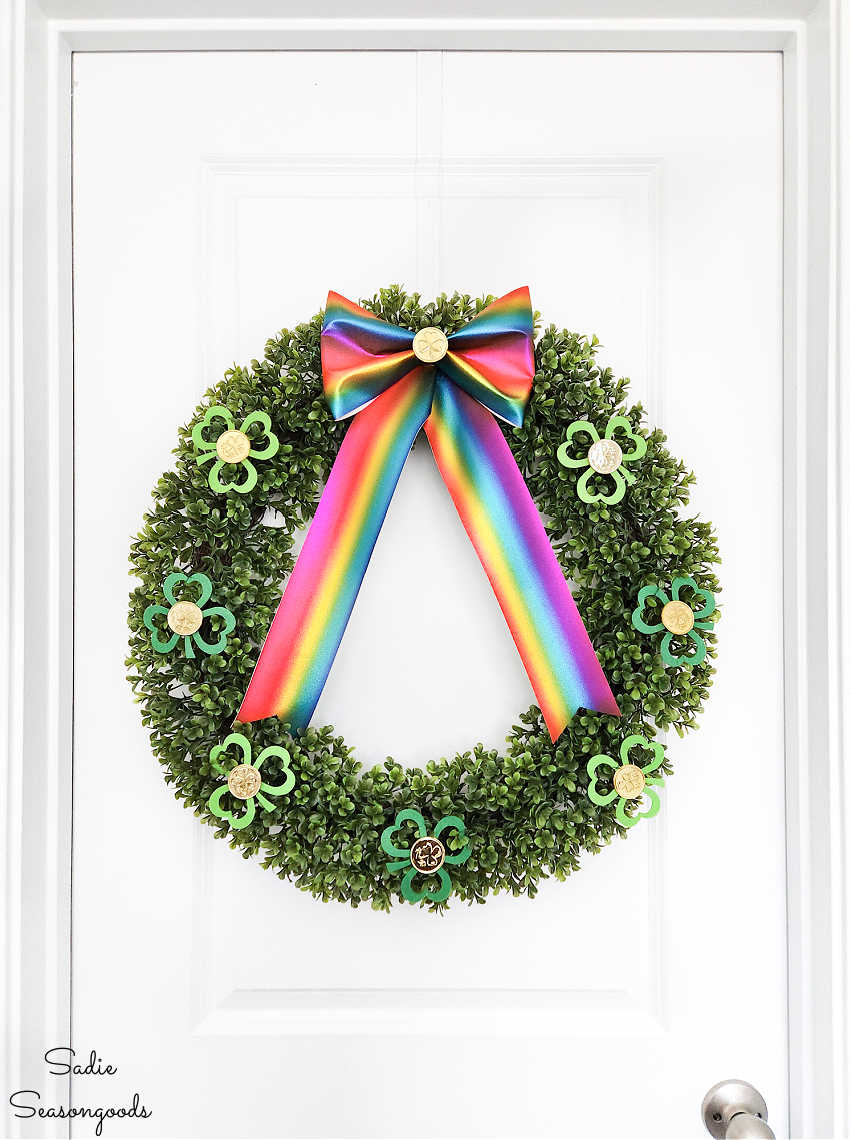 Then I hung it on our front door! Which is actually a deep peppercorn gray but looks weirdly blueish in this light. Don't believe that, it's definitely a dark gray!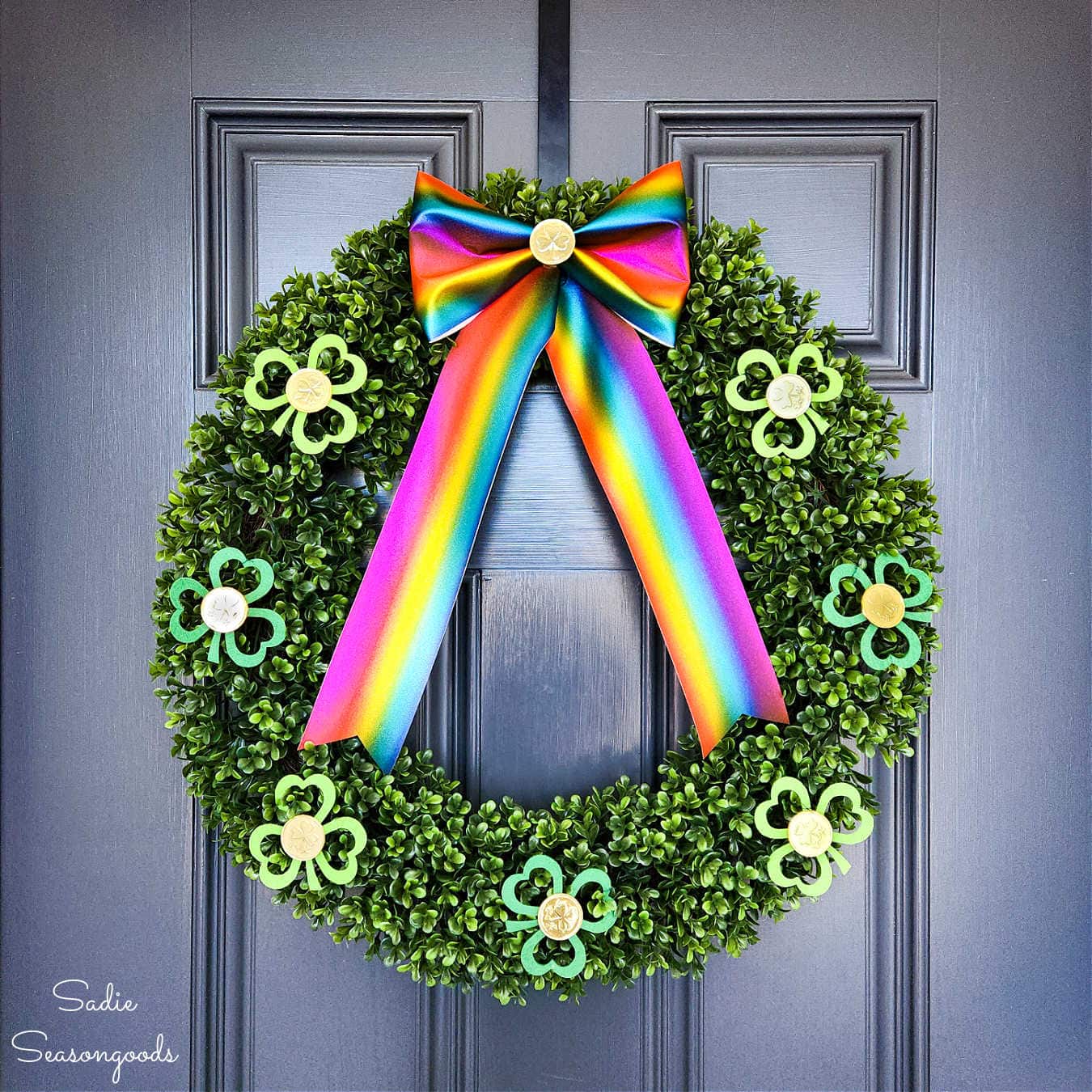 And if you recall the photo of our house from the top of this blog post, then you may recall how far set in the front door is. Nicely protected from the elements, so wreaths are safe outside!
I really do love how it turned out! And with a quick snip of threads on the shamrocks and untwisting the wire behind the bow, it can be a plain wreath once again. Which means, yes, yes, I'm afraid you'll be seeing this boxwood wreath again on the blog someday!
Before you head out, though, today is Thrift Store Decor Team Day! Hope you'll check out what my blogging gal pals have been up to before you go.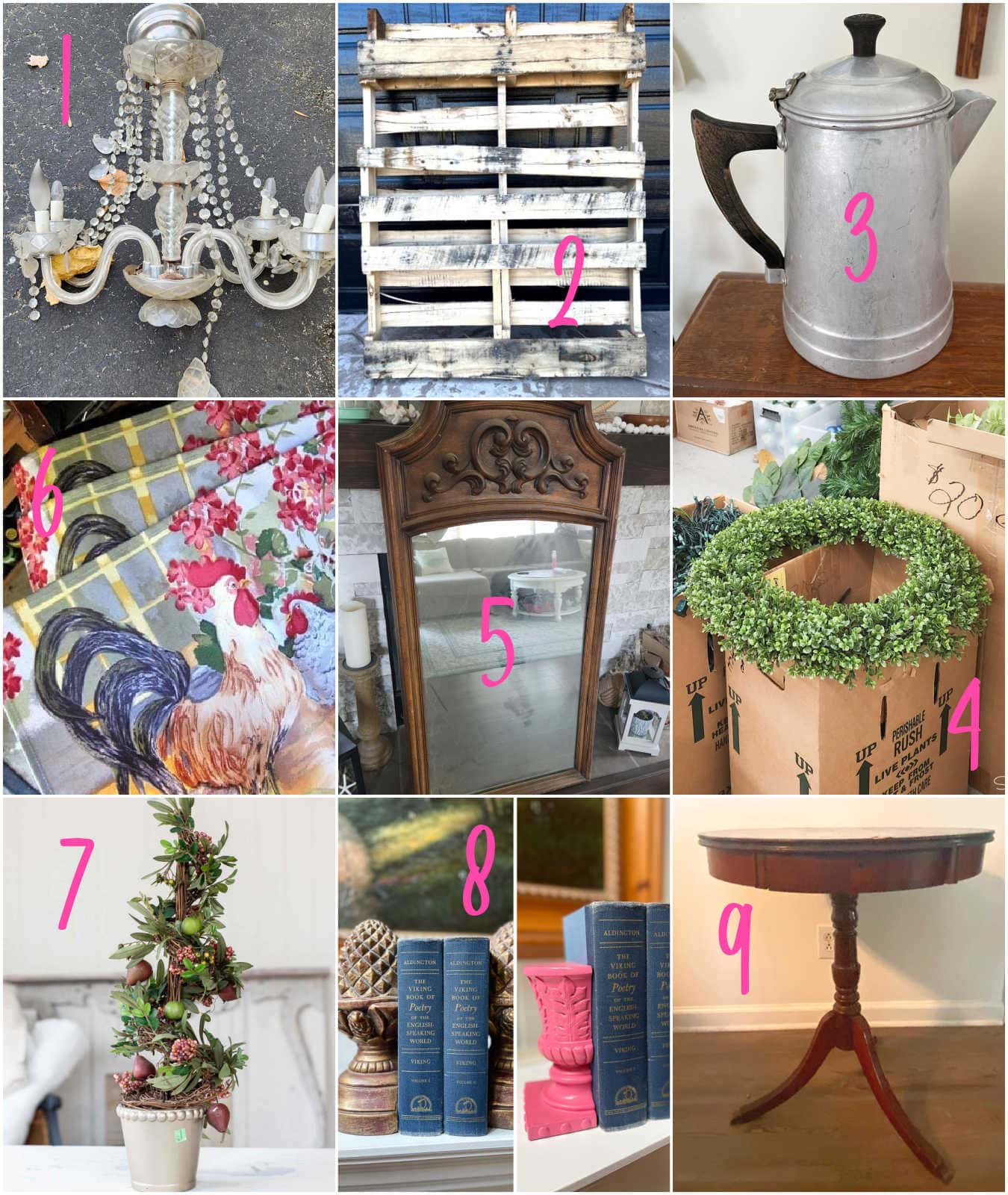 1. Upcycled Glass Chandelier – My Repurposed Life
2. Pallet Herb Garden – My Uncommon Slice of Suburbia
3. Old Coffee Pot Upcycled as a Flower Pot – Organized Clutter
4. St. Patrick's Day Wreath – Sadie Seasongoods
5. How to Update an Old Mirror – Domestically Speaking
6. Chicken Wall Decor Idea – Petticoat Junktion
7. Thrift Store Upcycle Idea for Spring – My Reinvented Delaware
8. Whitewashing Home Decor – Our Southern Home
9. Thrift Store Painted Side Table – Shop at Blu
And, of course, it wouldn't be St. Patrick's Day without showing off this cute little mason jar project I made a long time ago! I mean, who wouldn't want the Irish countryside miniaturized in a vintage jar, right?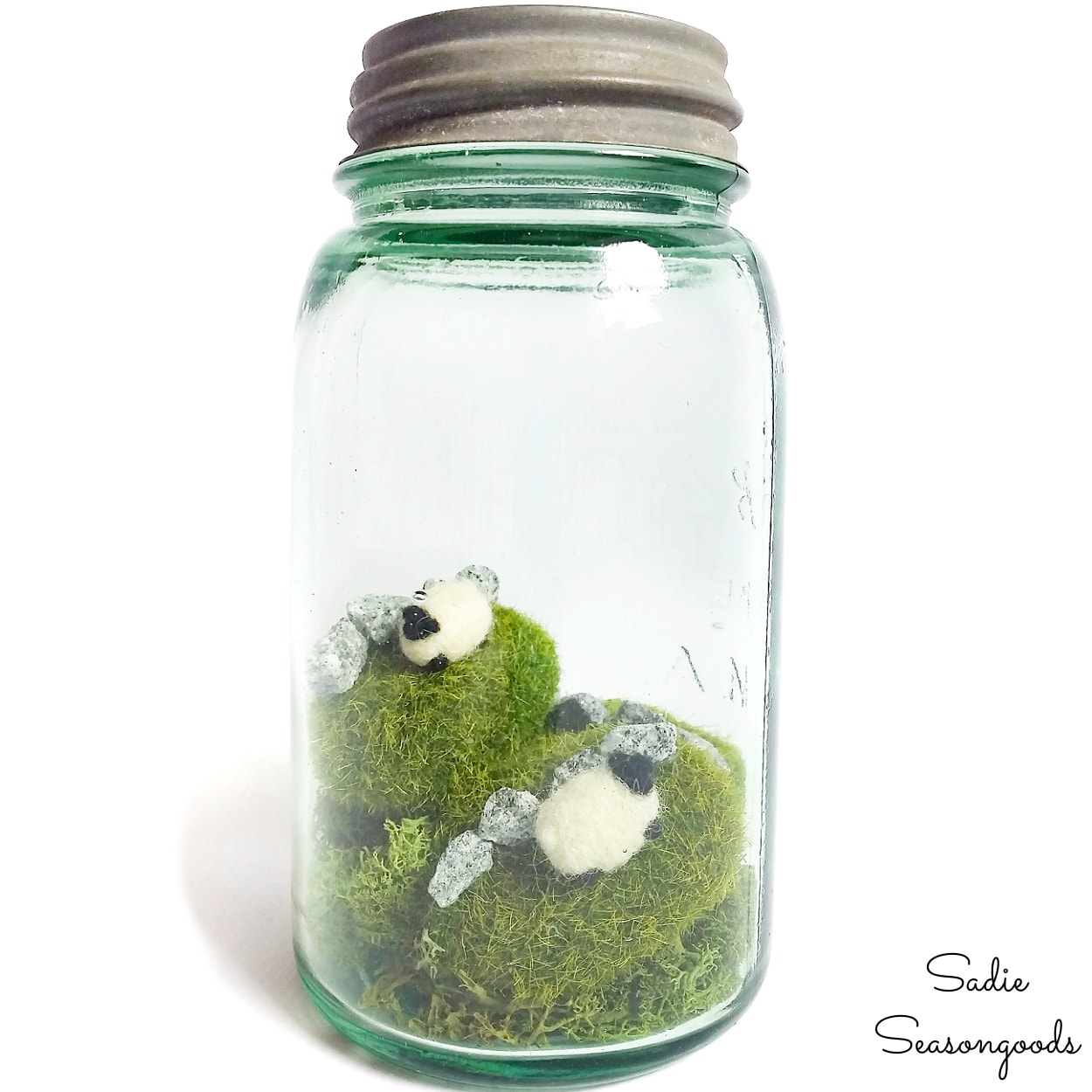 Craft on!
S
Want to be notified when I publish my next upcycling project tutorial?
Subscribe to Blog via Email
Join me on Social Media:

PIN ME!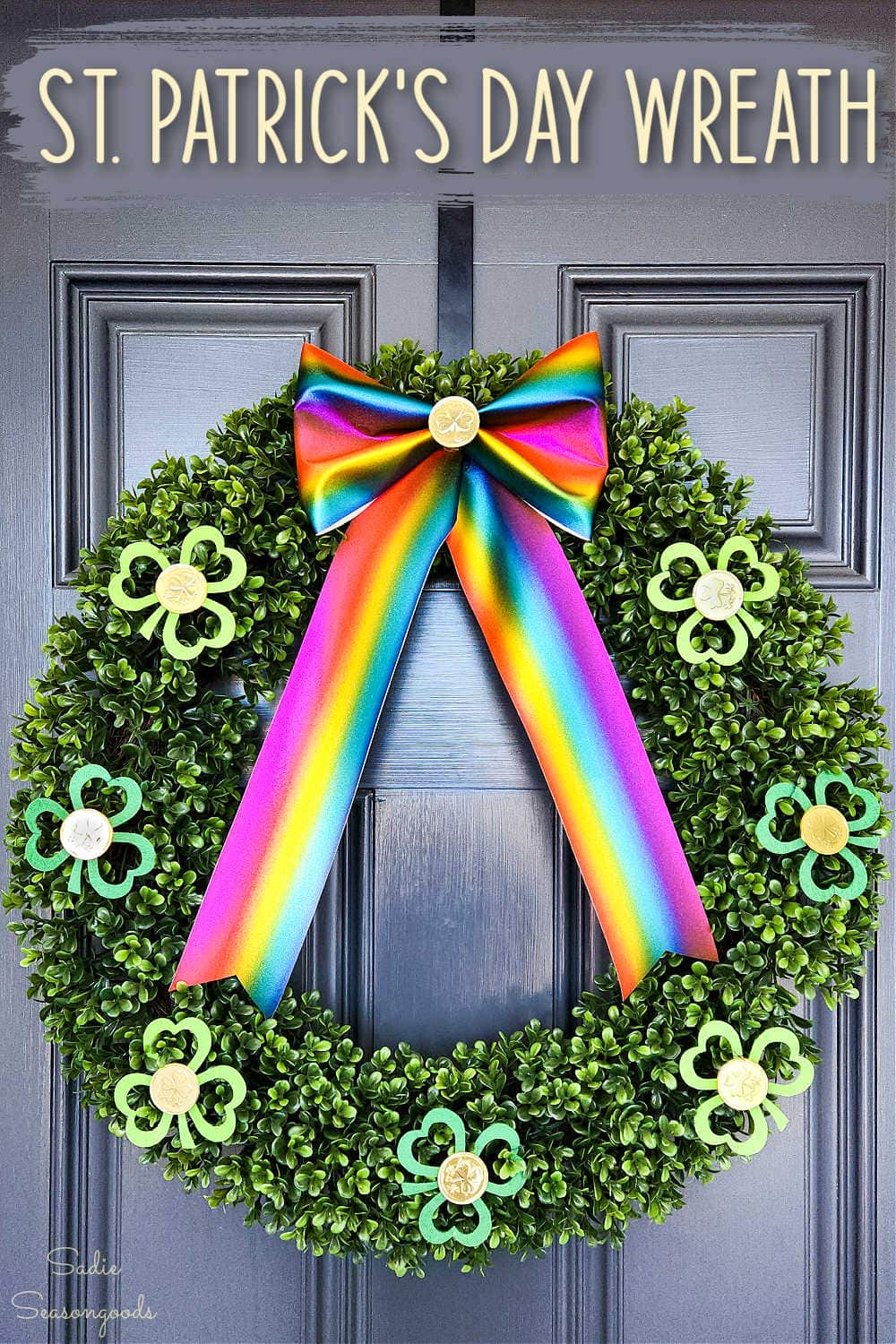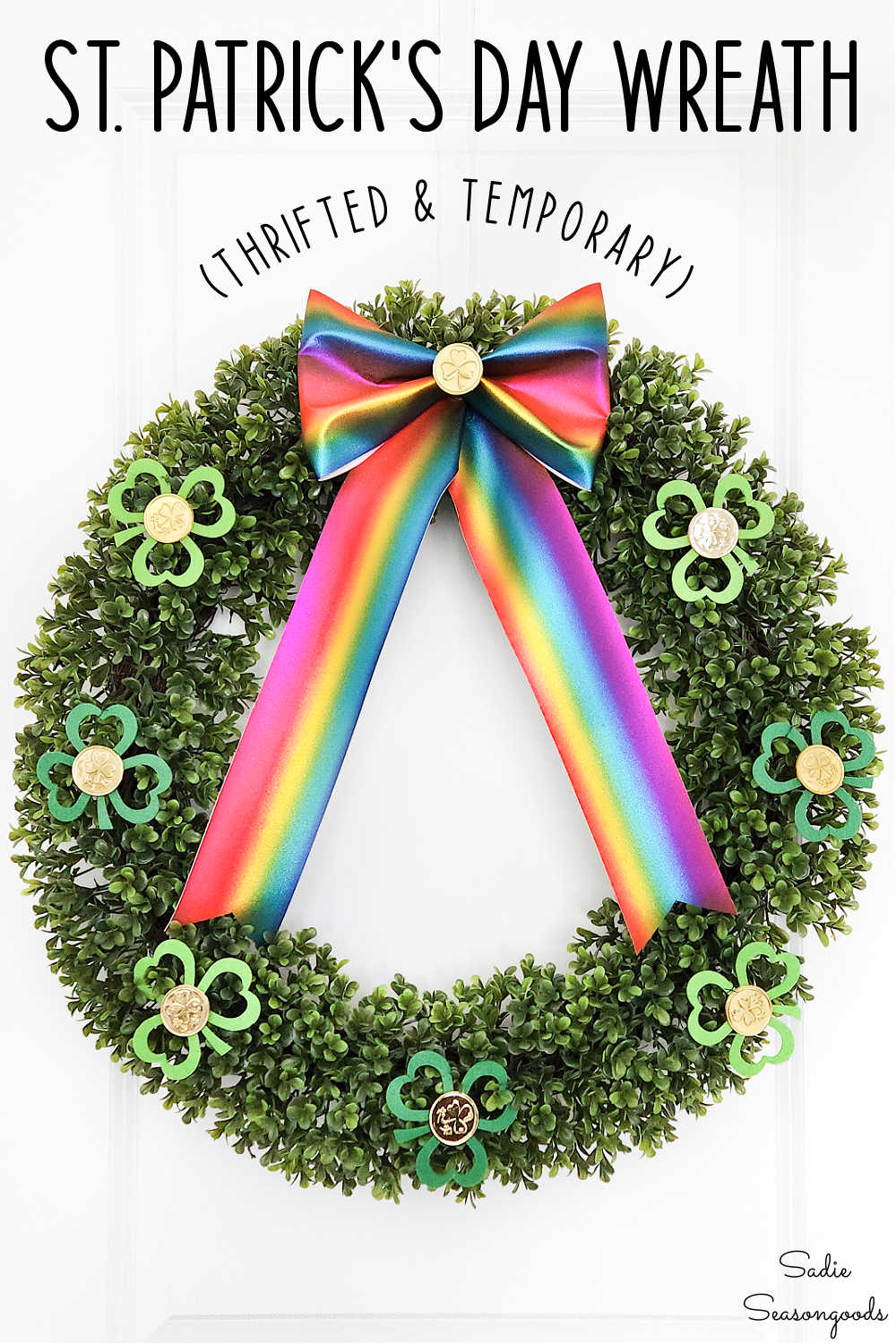 Sarah Ramberg is the owner of Sadie Seasongoods, a website that celebrates all things secondhand. From upcycling ideas and thrifted decor to vintage-centric travel itineraries, Sadie Seasongoods is a one-stop shop for anyone who loves thrifting and approachable repurposing ideas. Sarah is also the author of "Crafting with Flannel" and has been featured in numerous media outlets and magazines.