I wasn't entirely sure what this was when I first spotted it at the thrift. But when I got close enough to inspect it, I realized it was a folding candelabra of sorts. I thought, "Well, this will look lovely in front of our fireplace"…and slowly an idea for modern fall decor started to percolate in my mind.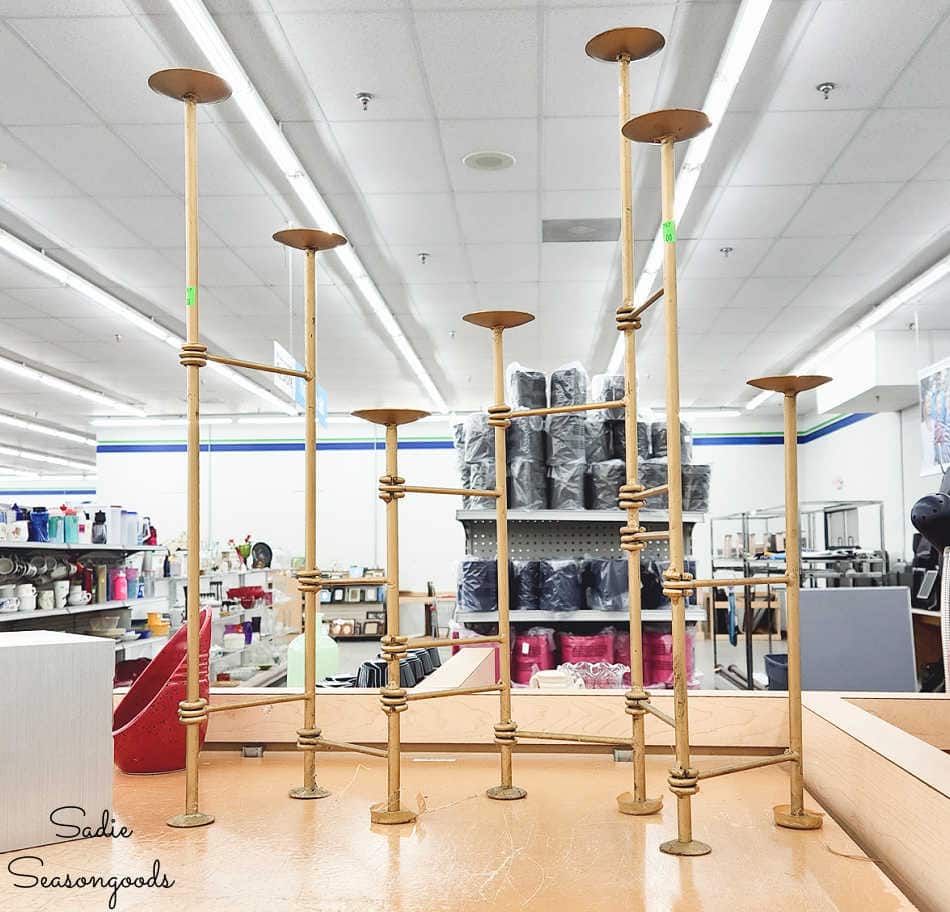 I envisioned some heirloom pumpkins placed upon each candle holder. And as luck would have it, I also spotted this single brass candlestick that was quite tall on its own.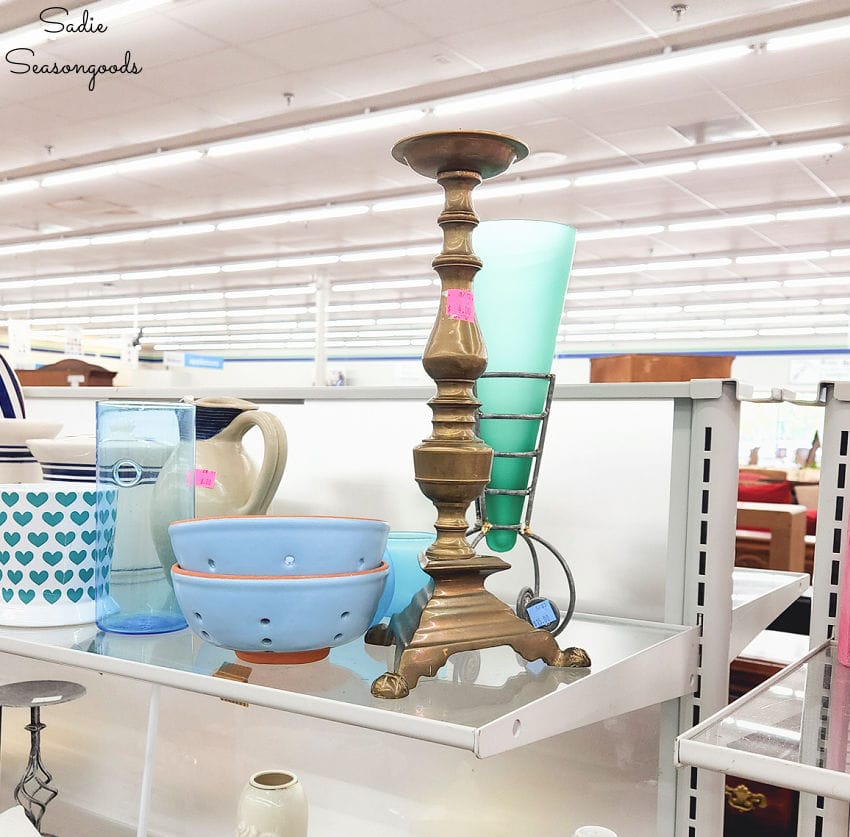 Along with the OTHER vintage brass candlesticks that I've thrifted over the years, I was pretty much all set.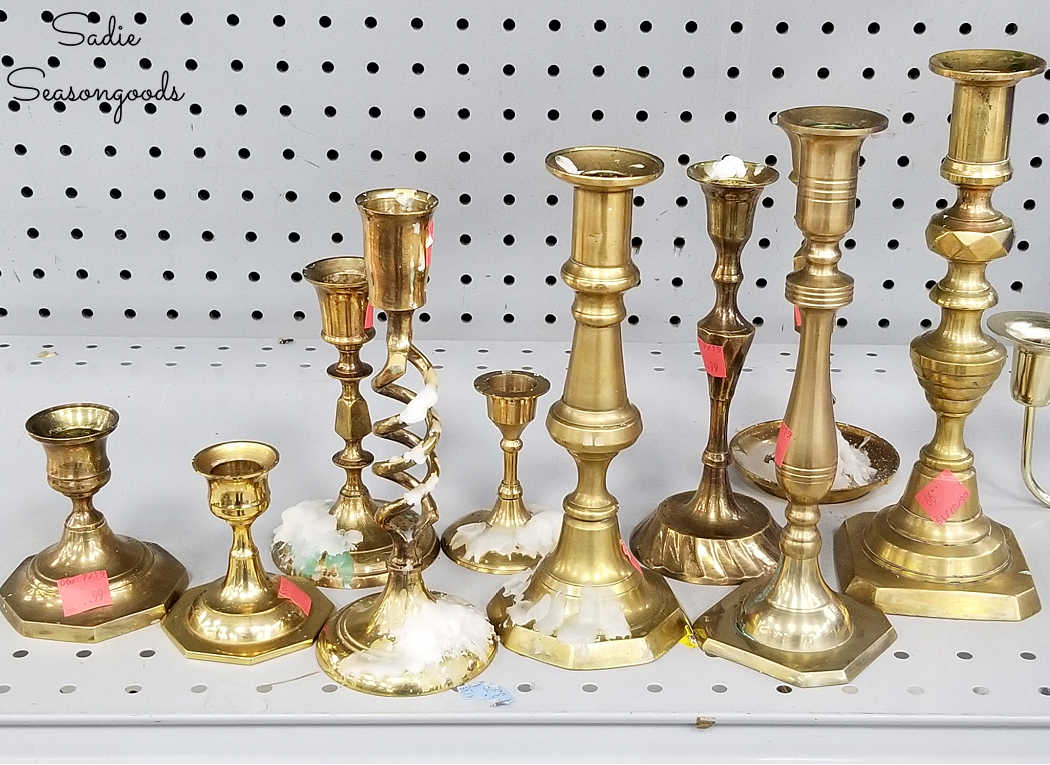 Now I just needed a bunch of heirloom pumpkins and a few other things to bring my Fall vision to life!
This post contains affiliate links for your crafting convenience. As an Amazon Associate, I earn from qualifying purchases. All blue, bold, and underlined text is a clickable link, either to a product or to a related post.
Vintage Brass Candlesticks for Modern Fall Decor
Now, my most recent acquisition (the large folding candle holder) isn't what I'd call vintage, per se. But it had the right look for some modern fall decor that had an eclectic, vintage twist.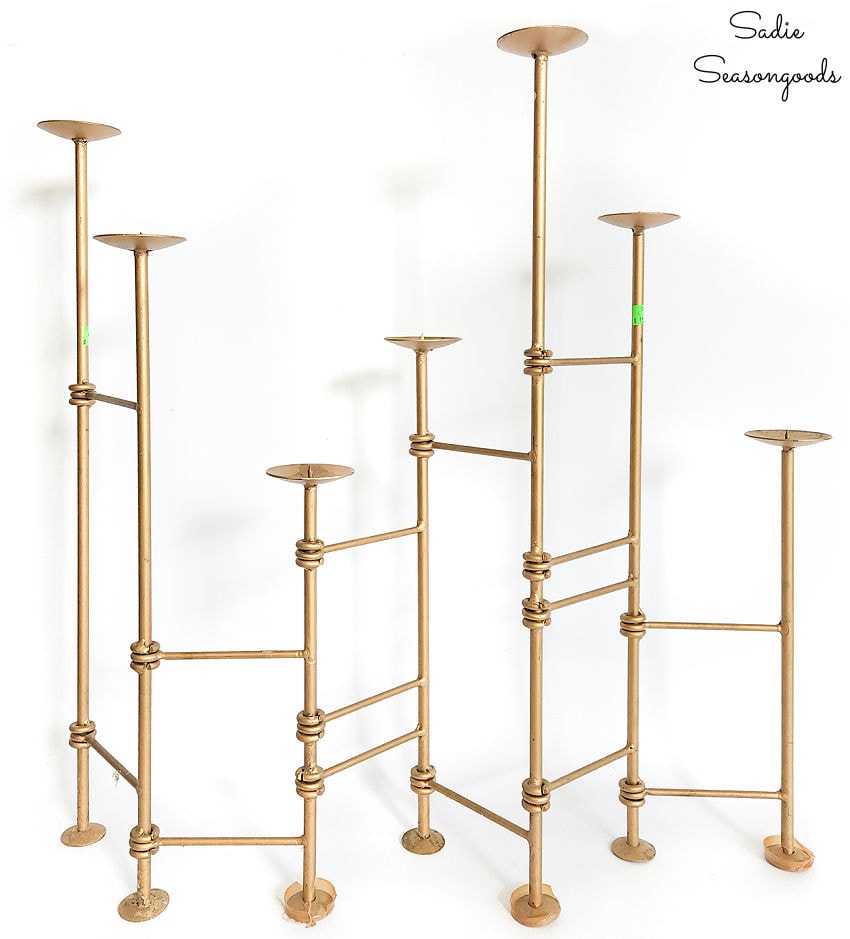 The key to it, as well as the single large brass candlestick, was that they were meant for pillar candles. Which meant they had that metal spike in the center of the candle platform.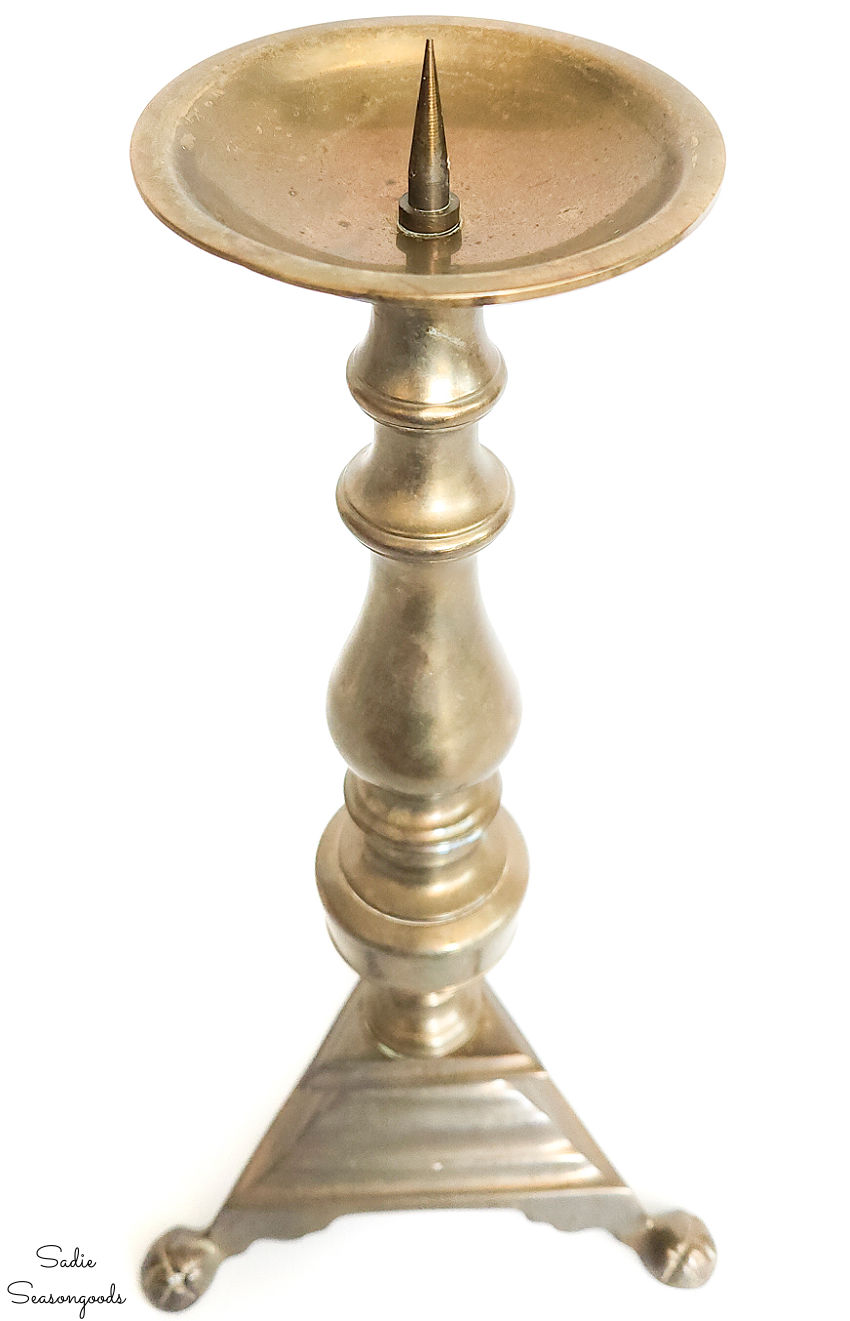 You see, craft pumpkins could be pierced on the bottom so that they'd sit quite perfectly on the candleholders.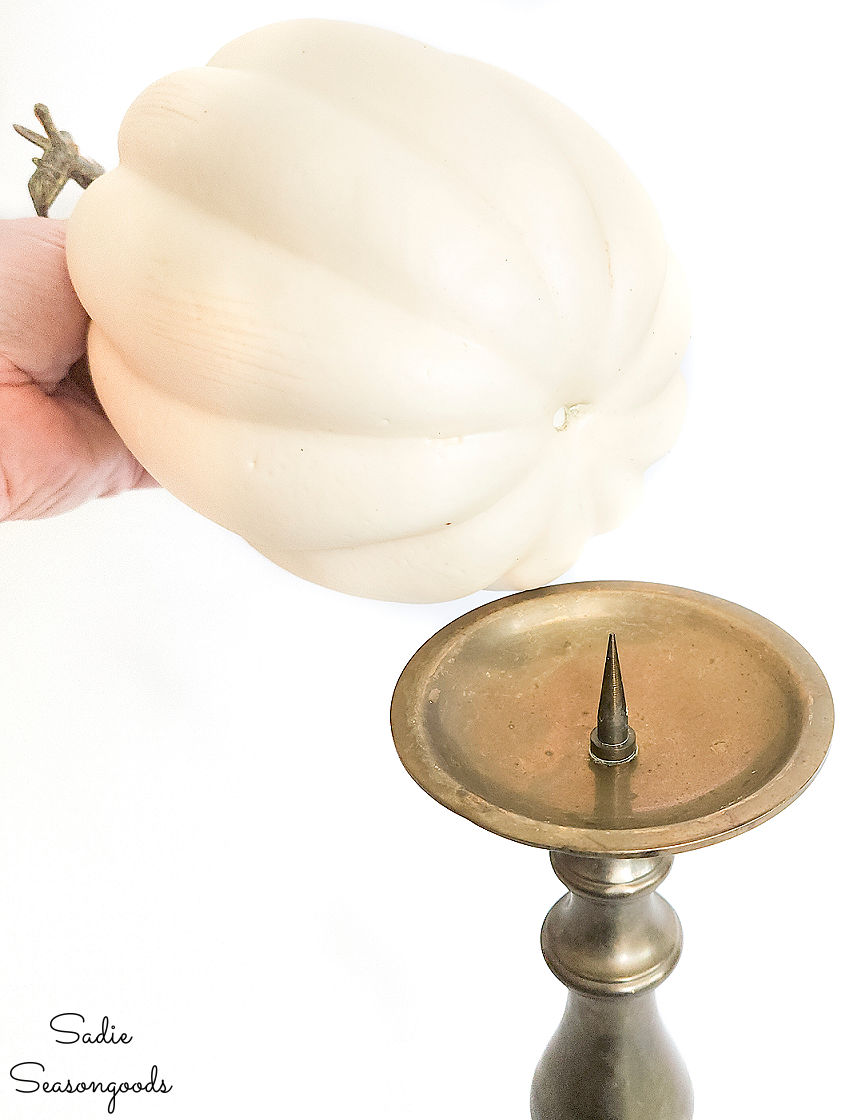 Just like this! While the spike wouldn't secure the pumpkins permanently, of course, it would definitely stabilize them a bit more.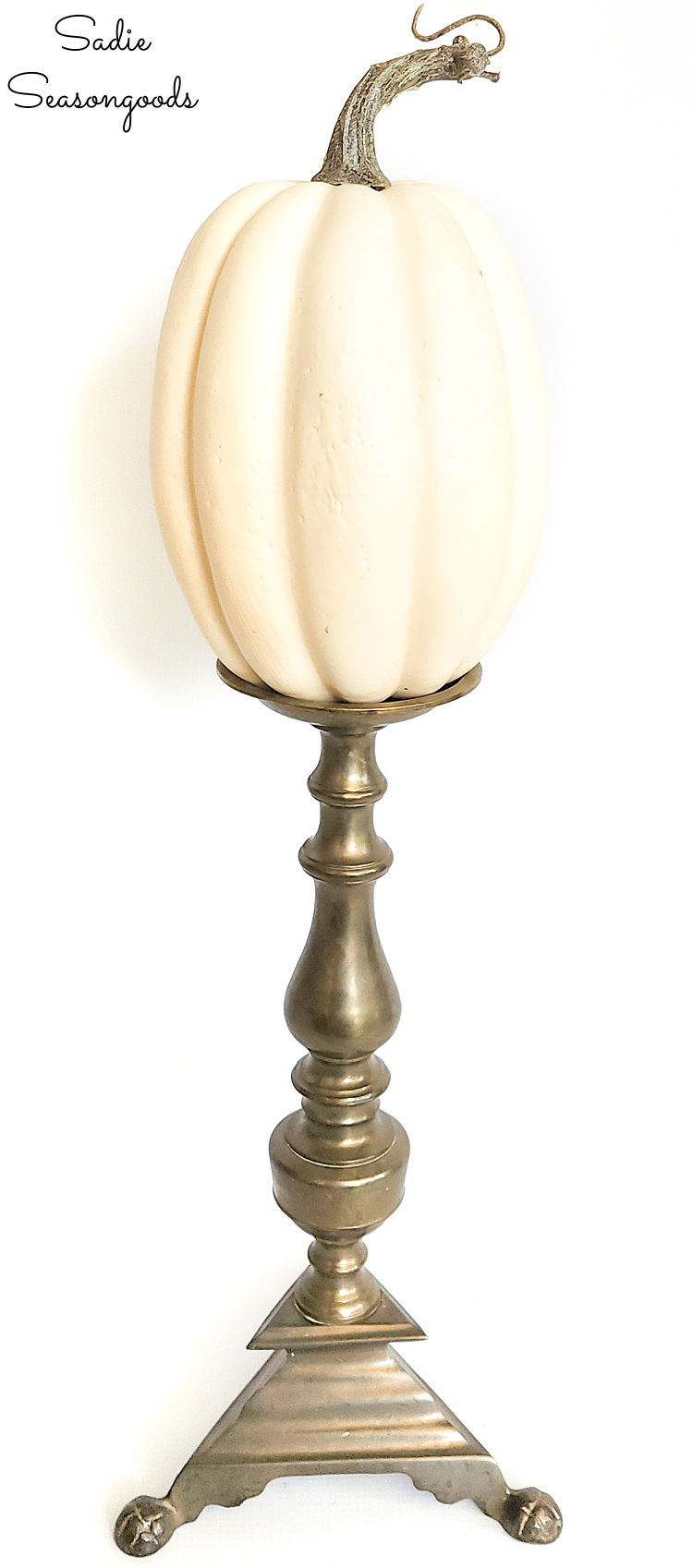 Next, it was time to focus on said pumpkins- with a little paint, of course!
Painting Pumpkins for the Fireplace Display
Most of the craft pumpkins that I purchased were the wrong color- either plain white/cream or bright orange. So, I needed to change that by painting them!
First, I gave one a basecoat in a matte green. I used paint colors from Folk Art's line of matte craft paints, and they worked wonderfully!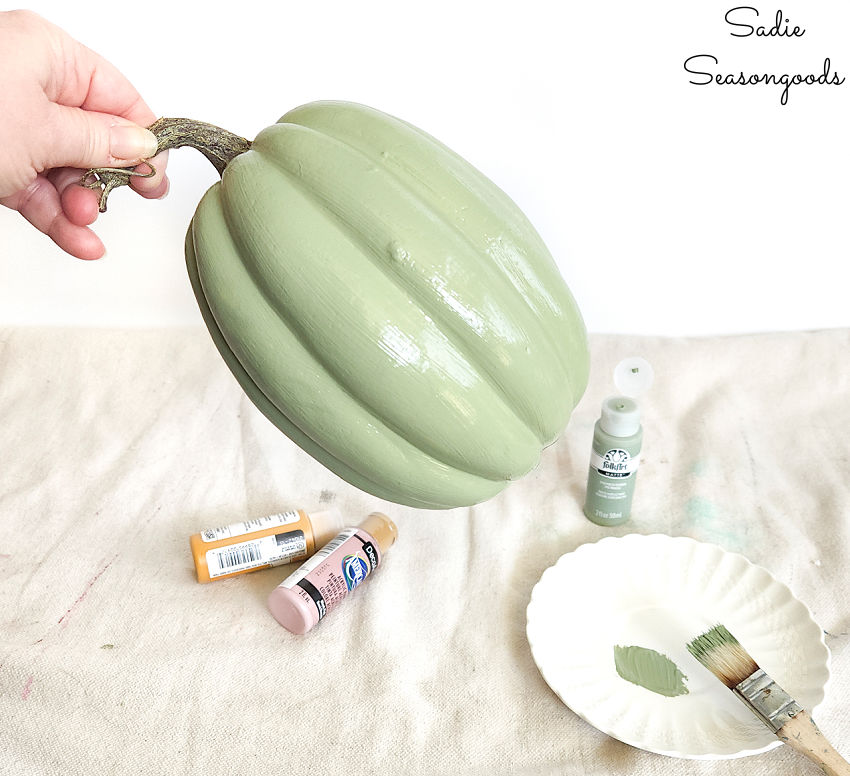 Then, before the basecoat was totally dry, I dipped the very tips of my same paint brush in a contrasting color. Brushing it in smooth lines up and down the pumpkin gave it some natural look color striations, just like real pumpkins have.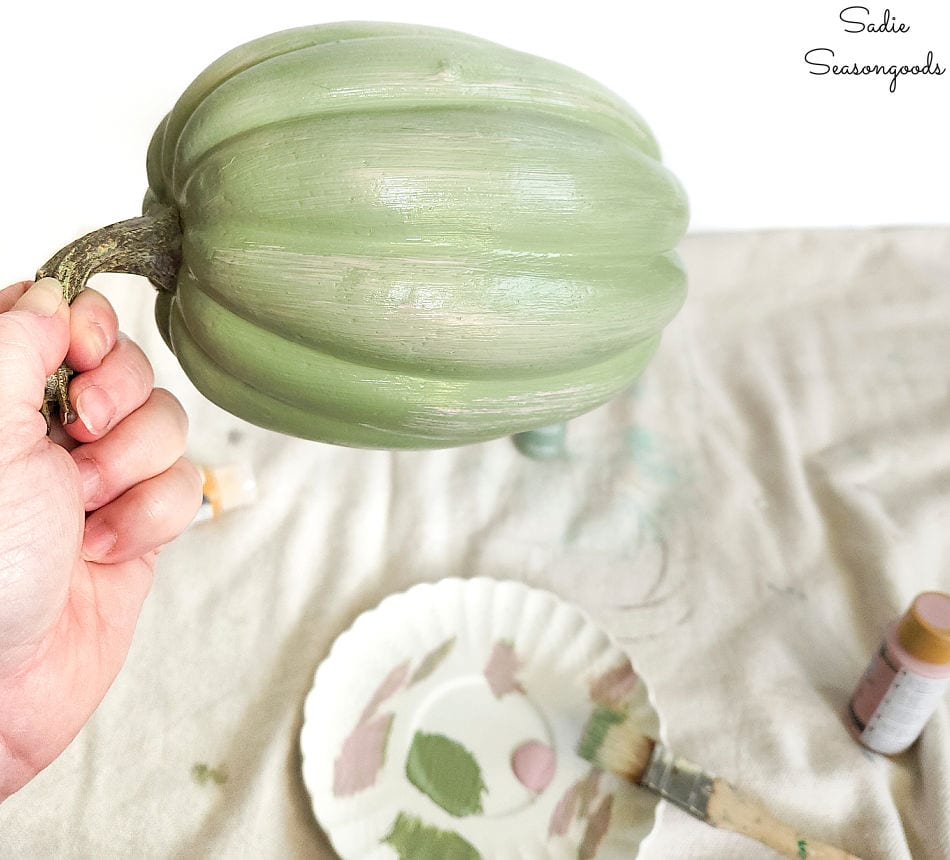 In some cases, I even added a hint of a third color! Either way, it was fun to experiment with color combinations.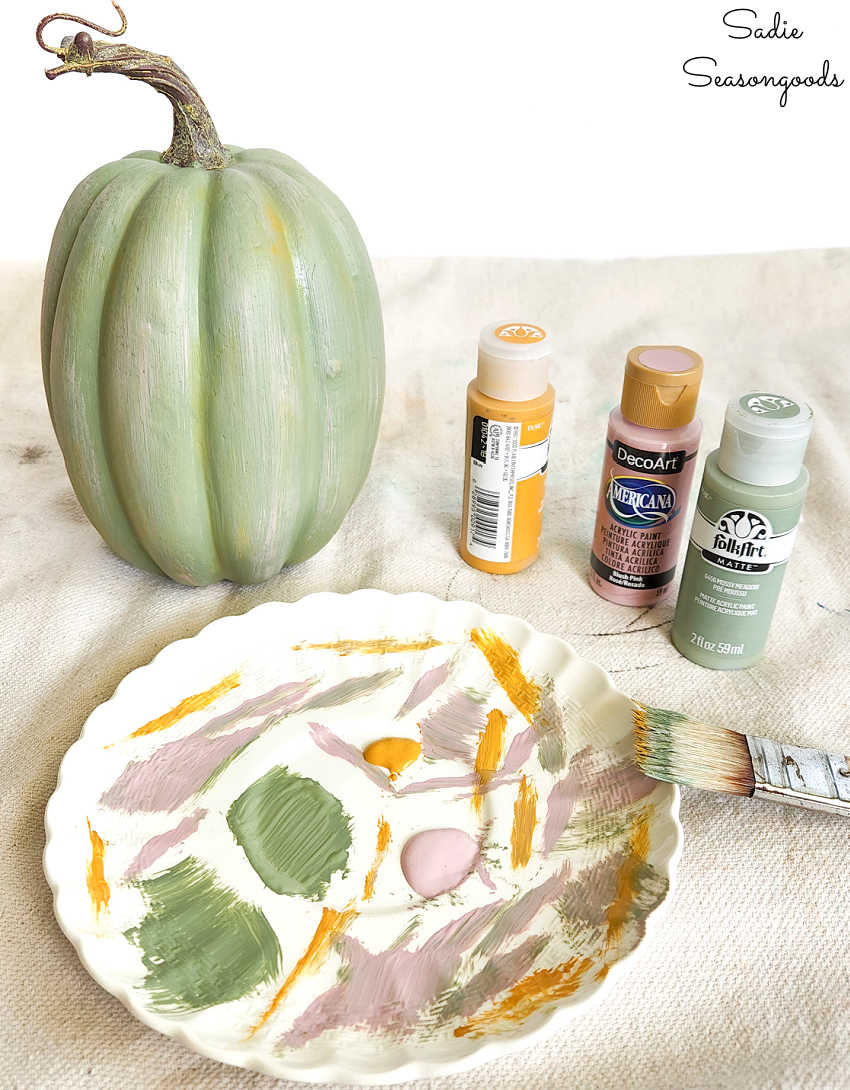 Once all of my heirloom pumpkins were painted, it was time to set the scene!
First, I placed my pillar candelabra in front of our fireplace. Doesn't it look great there- even undecorated?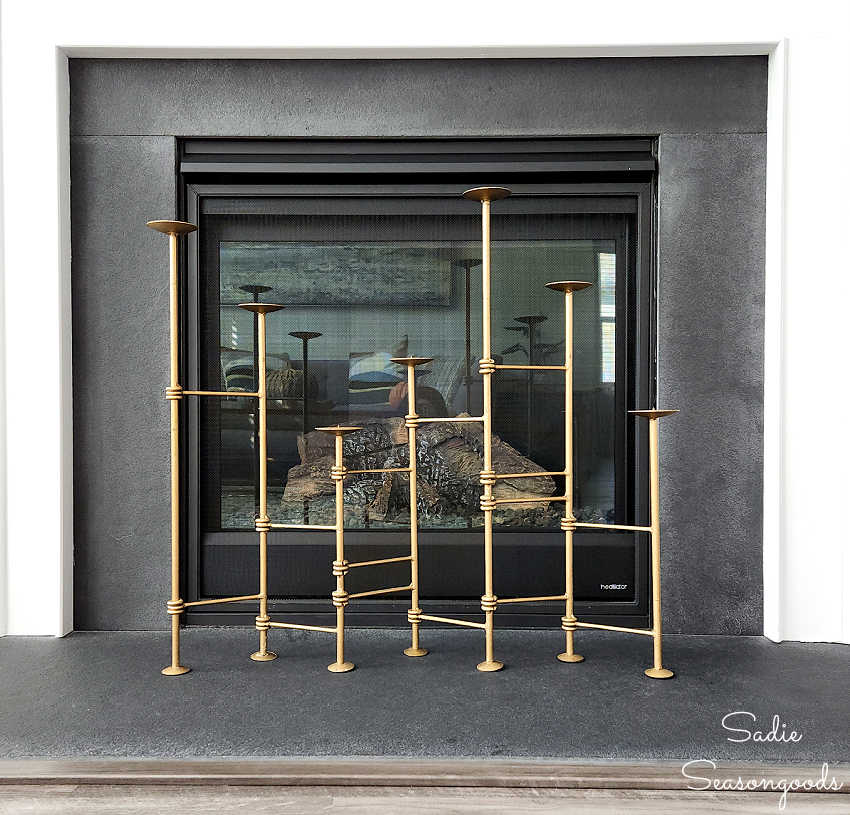 Then, I began placing pumpkins on it. Thanks to all the craft store sales, I was able to buy a few extra so that I could play around with the placement until I was satisfied.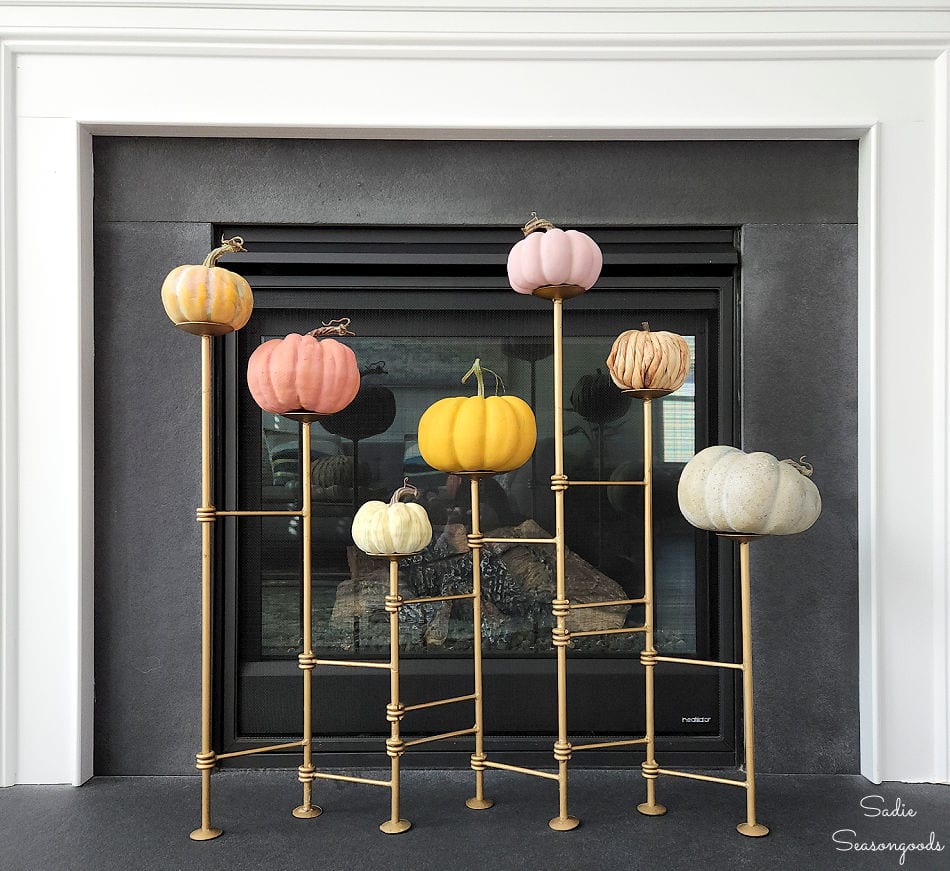 It just needed a few more things and then my modern decor for the fireplace would be perfectly put together!
Modern Fall Decor for the Fireplace
Lastly, I added a few more pumpkins in front of the folding candelabra, as well as some vases that held some faux pampas grass.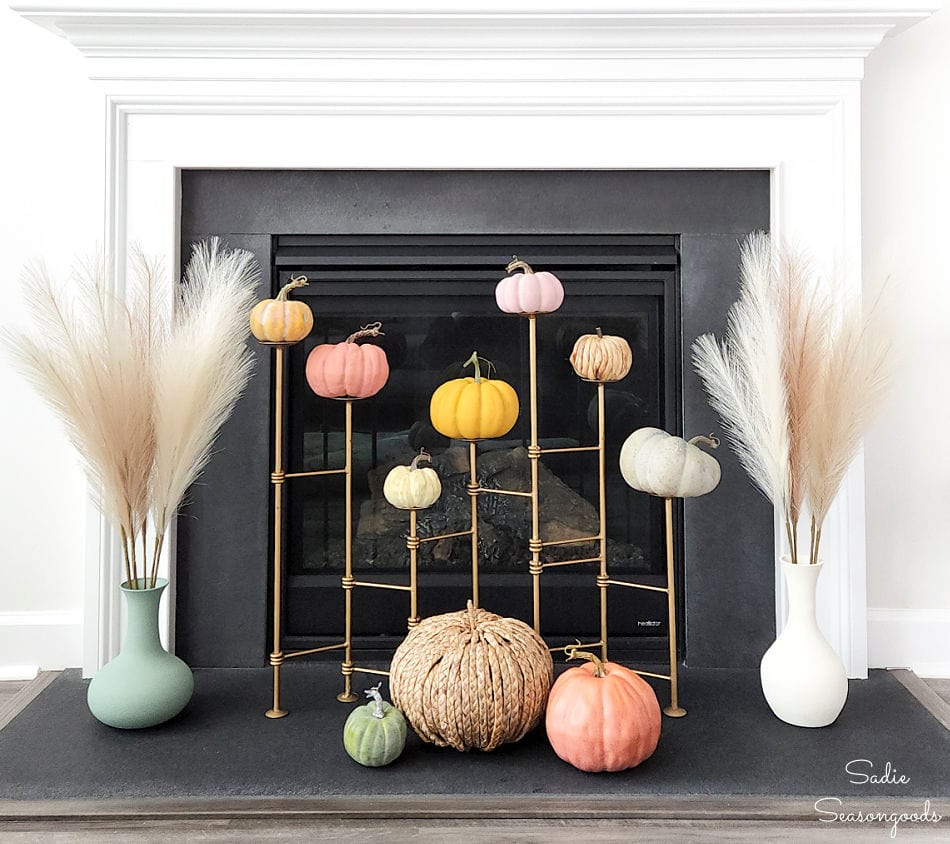 Ready to see the entire look, complete with my minimal mantel decor, too? I kept it clean and simple- modern but eclectic.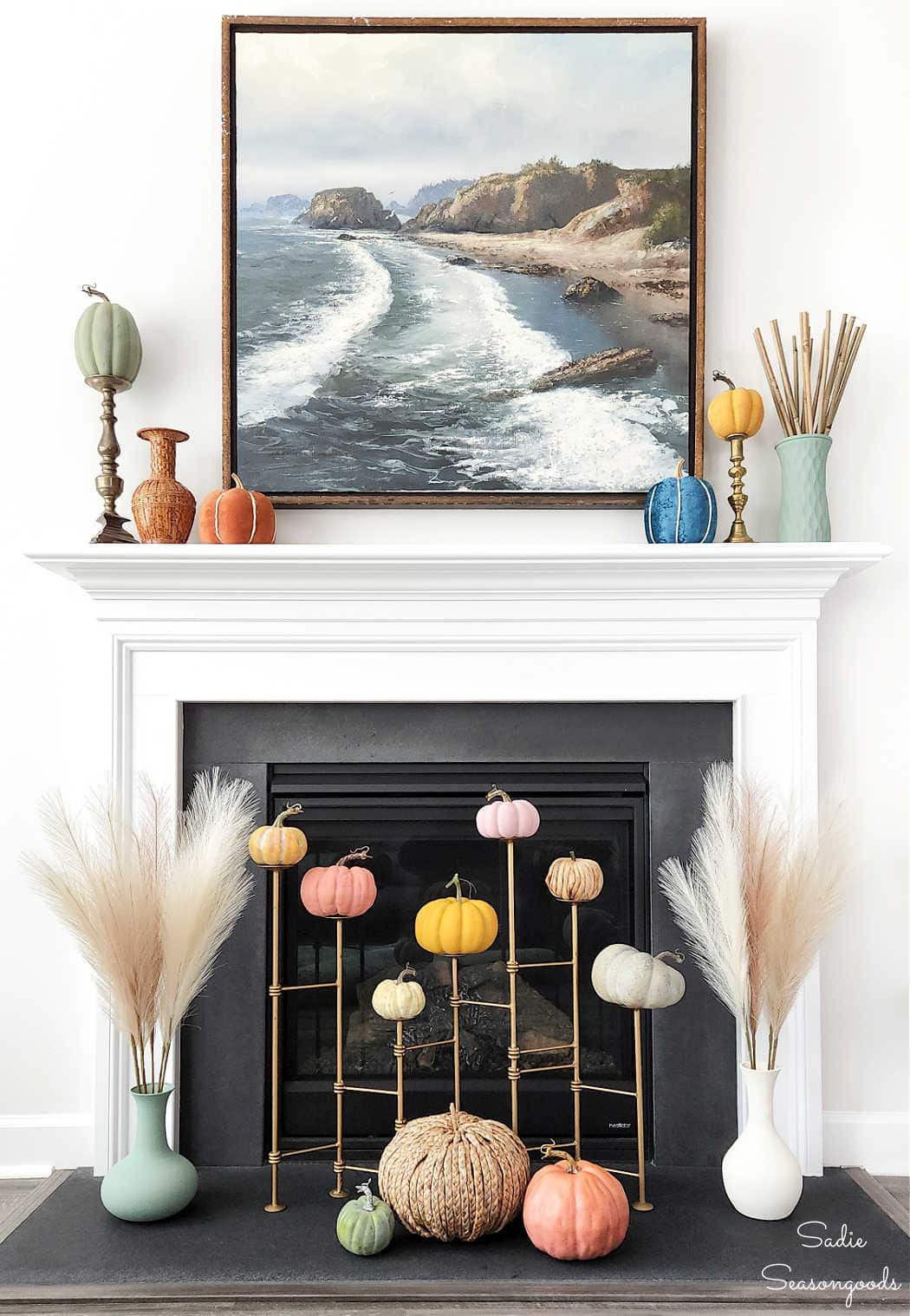 Colorful, but in an understated fashion. Minimal, but full enough. Modern, but with vintage and upcycled touches.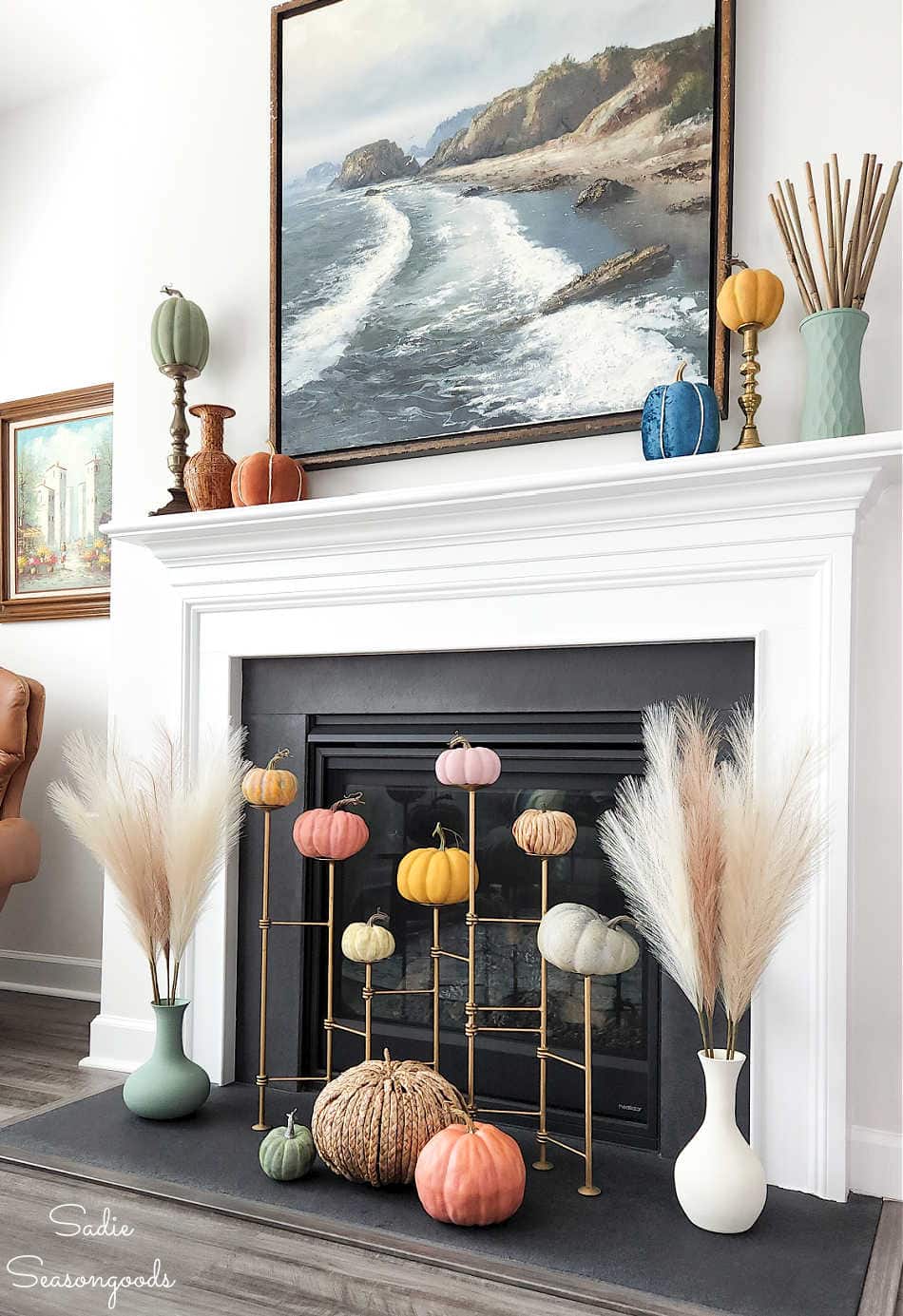 I just love how it turned out! Never did I think I'd be the modern fall decor type, but here I am- loving it completely! Maybe it's more eclectic modern, which is just fine by me.
AND, guess what today is? It's the second Wednesday of the month, which means it's Thrift Store Decor Team Day! Check out what my blogging gal pals have been up to: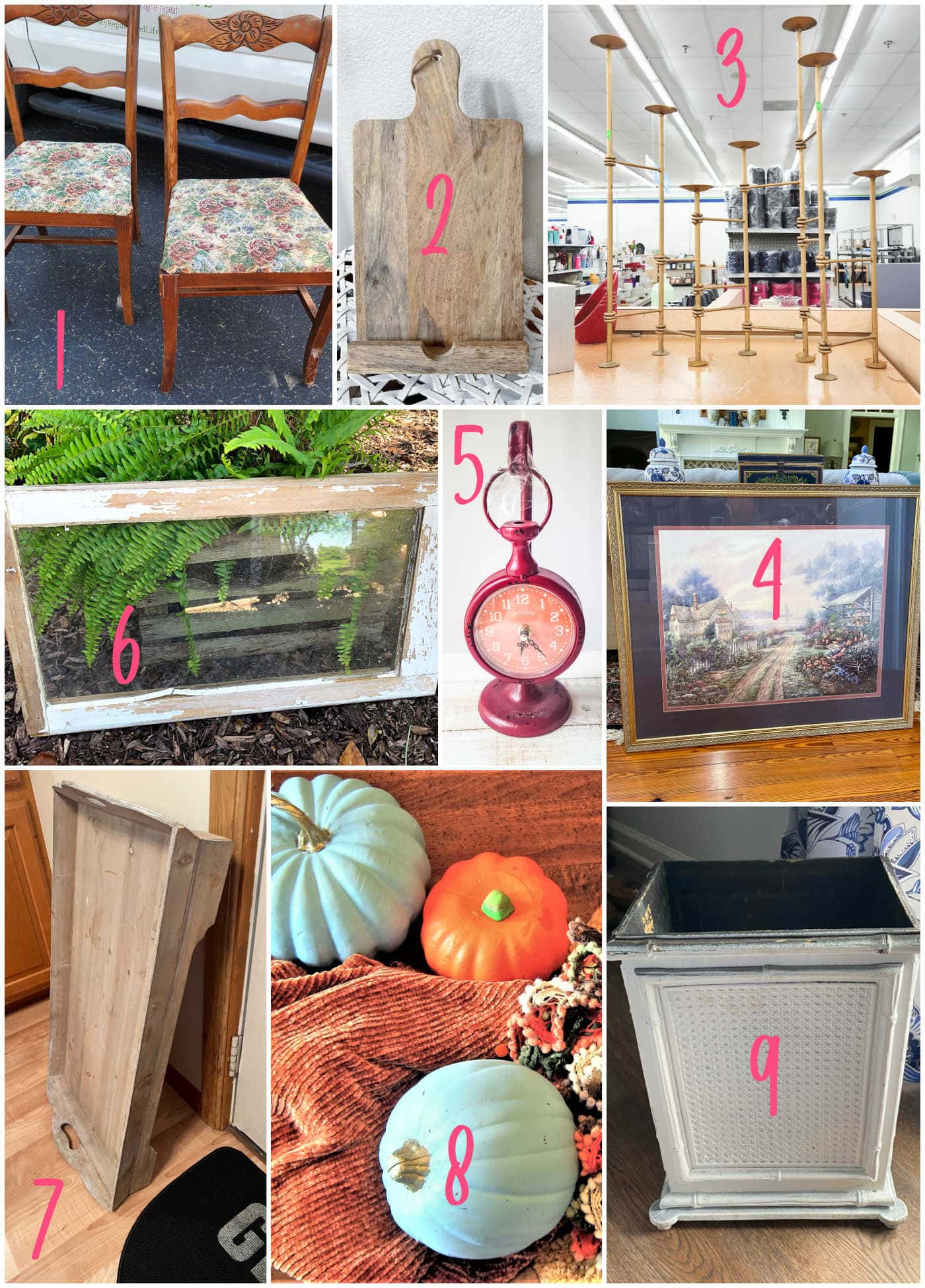 1. Rose Back Chair Makeover – My Repurposed Life
2. Transfer a Recipe to a Cutting Board – My Uncommon Slice of Suburbia
3. Modern Fall Decor for the Fireplace – Sadie Seasongoods
4. Framed Wedding Seating Chart – Our Southern Home
5. Desktop Hanging Clock Makeover – Domestically Speaking
6. Window Art with Glass Plates – House of Hawthornes
7. Large Thrifted Wooden Tray Makeover – Organized Clutter
8. DIY Recycled Sweater Pumpkins – Petticoat Junktion
9. Vintage Trash Can Upcycle – Shop at Blu
You might also recognize that green vase on the mantel from when I posted it earlier this year! As for the jugs on the hearth? Well, stay tuned for those, as well…
Craft on!
S
Want to be notified when I publish my next upcycling project tutorial?
Subscribe to Blog via Email
Join me on Social Media:

PIN ME!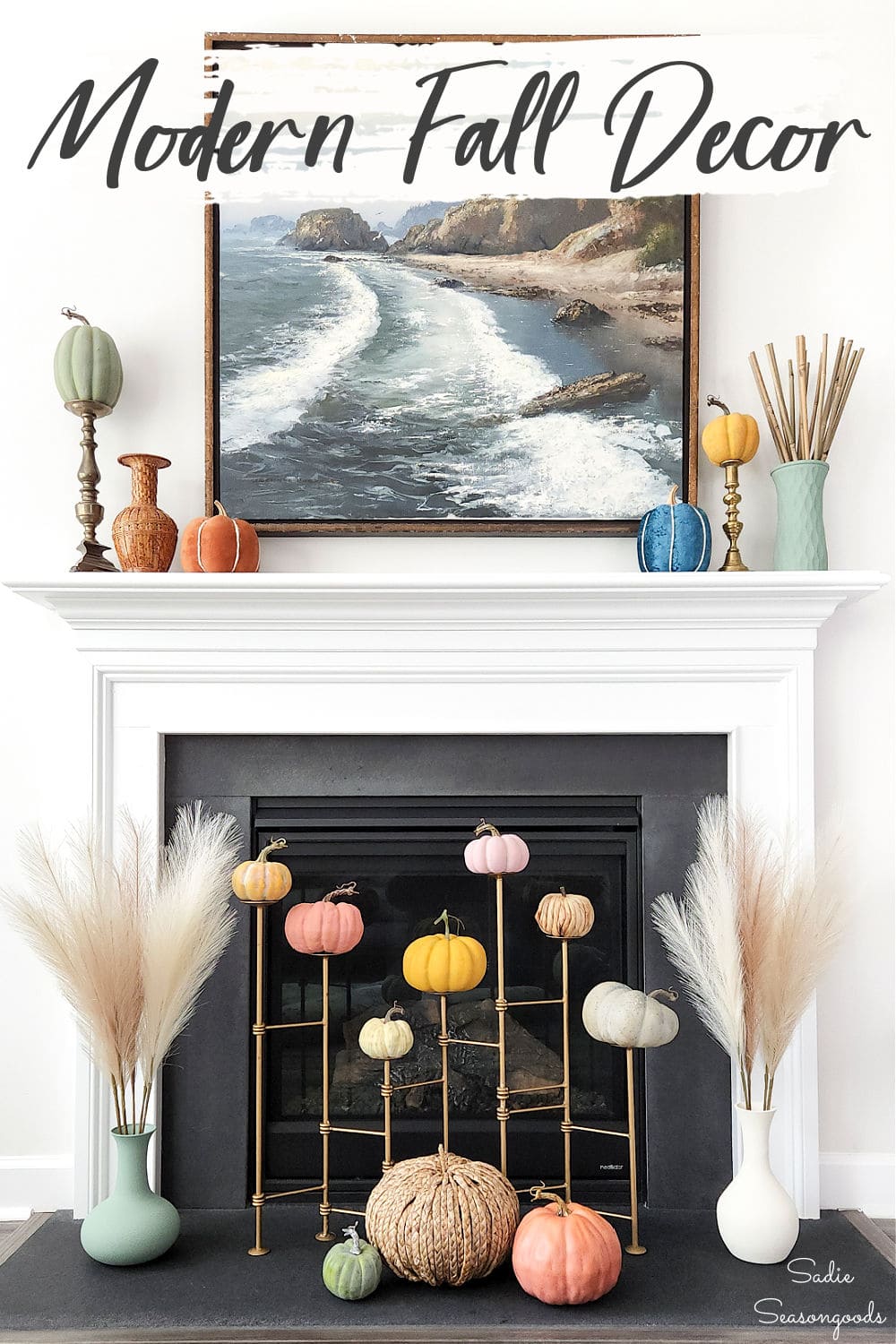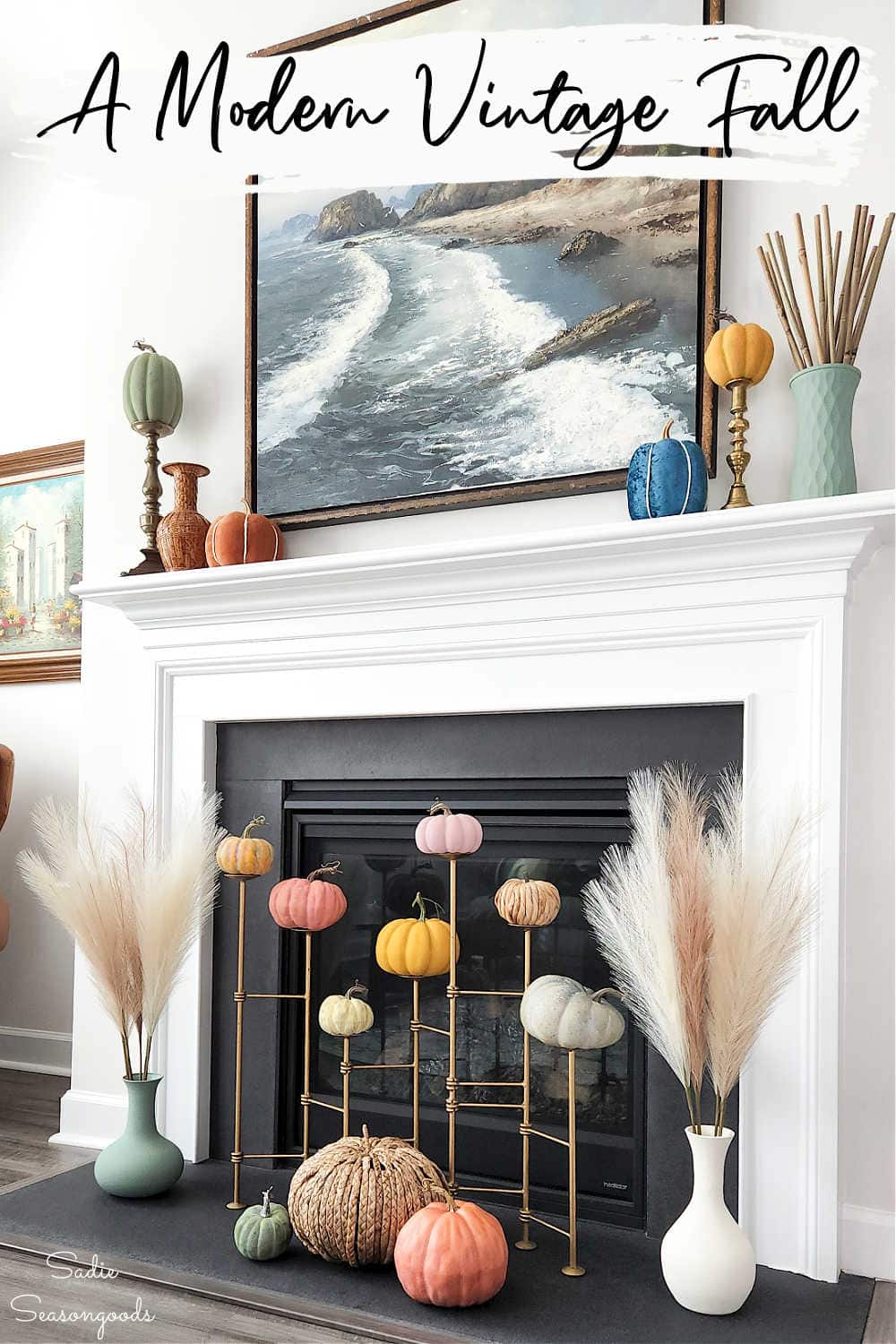 Sarah Ramberg is the owner of Sadie Seasongoods, a website that celebrates all things secondhand. From upcycling ideas and thrifted decor to vintage-centric travel itineraries, Sadie Seasongoods is a one-stop shop for anyone who loves thrifting and approachable repurposing ideas. Sarah is also the author of "Crafting with Flannel" and has been featured in numerous media outlets and magazines.