Back when I was writing my book, "Crafting with Flannel", I thrifted several shirts that were pretty enough to photograph as-is for the book. One of them sported an assemblage of colors that made me think of Fall in a funky and alternative way. So, I set it aside for a year, mulling over several ideas, including a pumpkin throw pillow.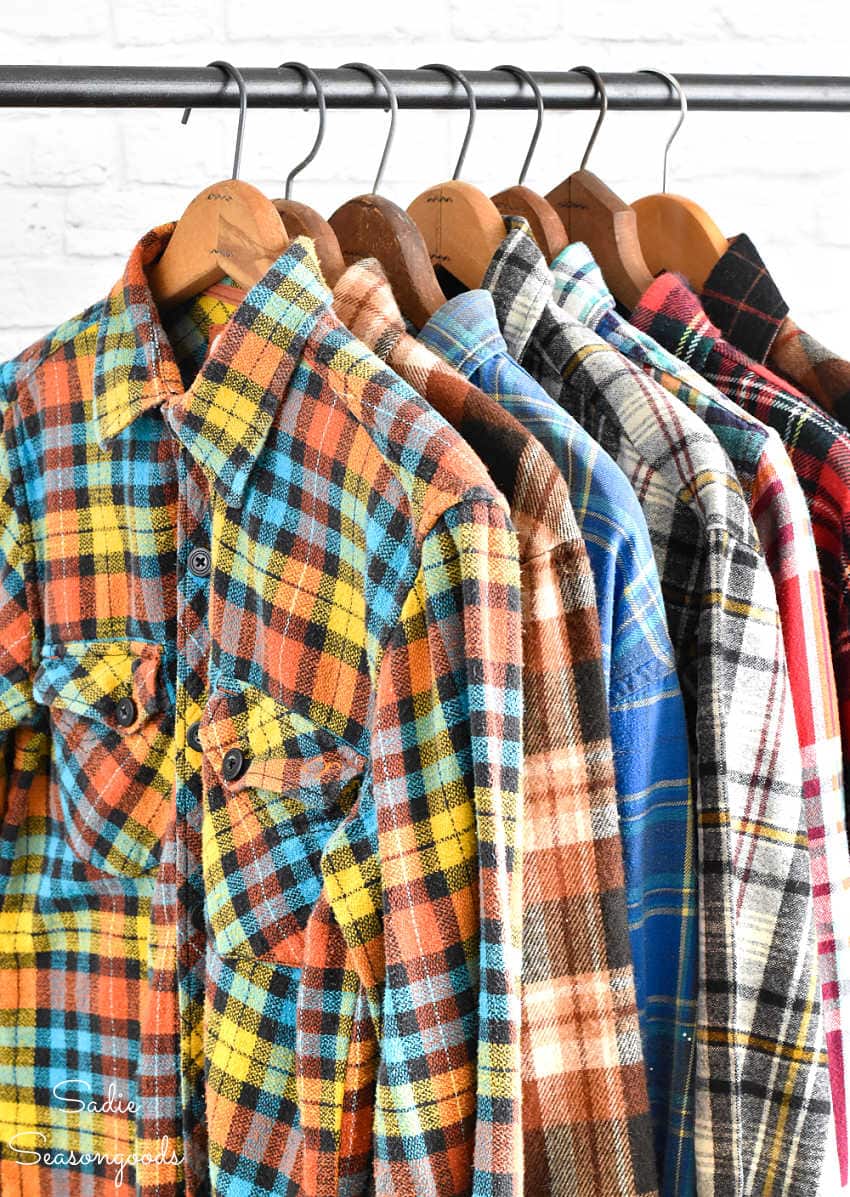 It hung in my crafting closet all that time, waiting for Fall to arrive. But then recently, I was at a favorite Habitat ReStore and spotted a blue microfiber pillow. There was only one and I wondered if it was the same blue as what was in my funky flannel shirt.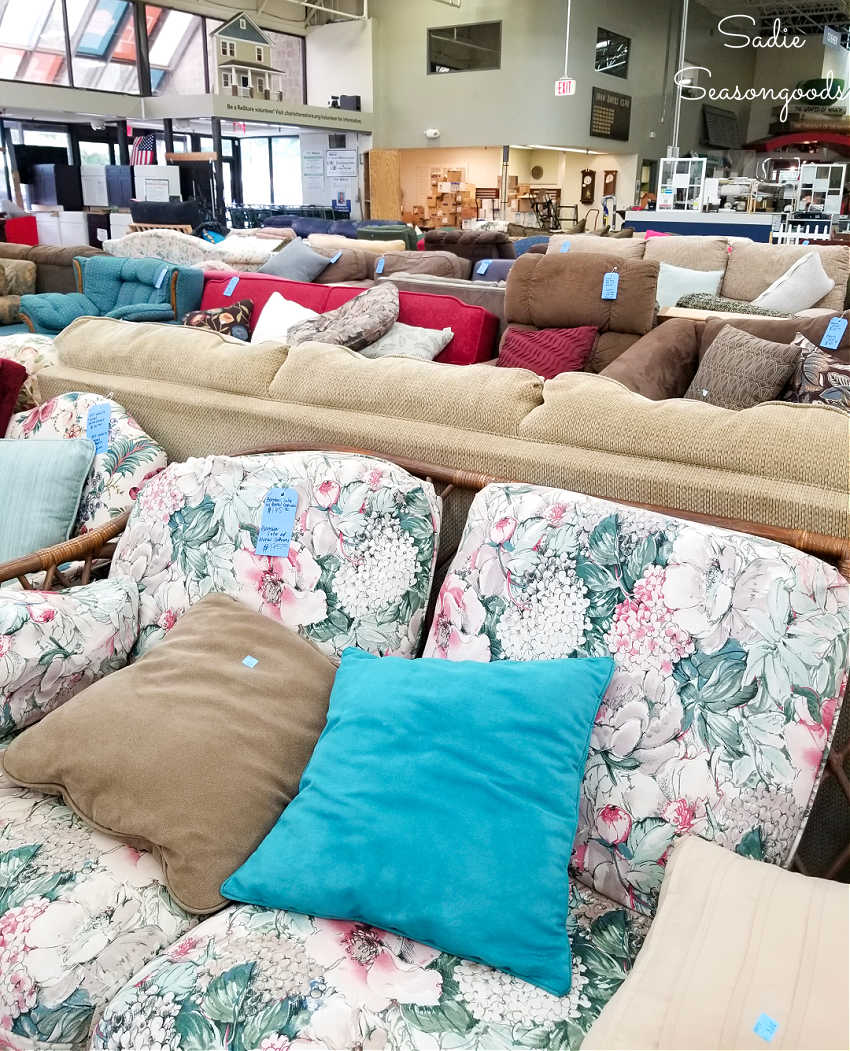 I took a chance and brought it home. And you know what? It was pretty darn close! So I set forth to create a pumpkin throw pillow with the pair of them.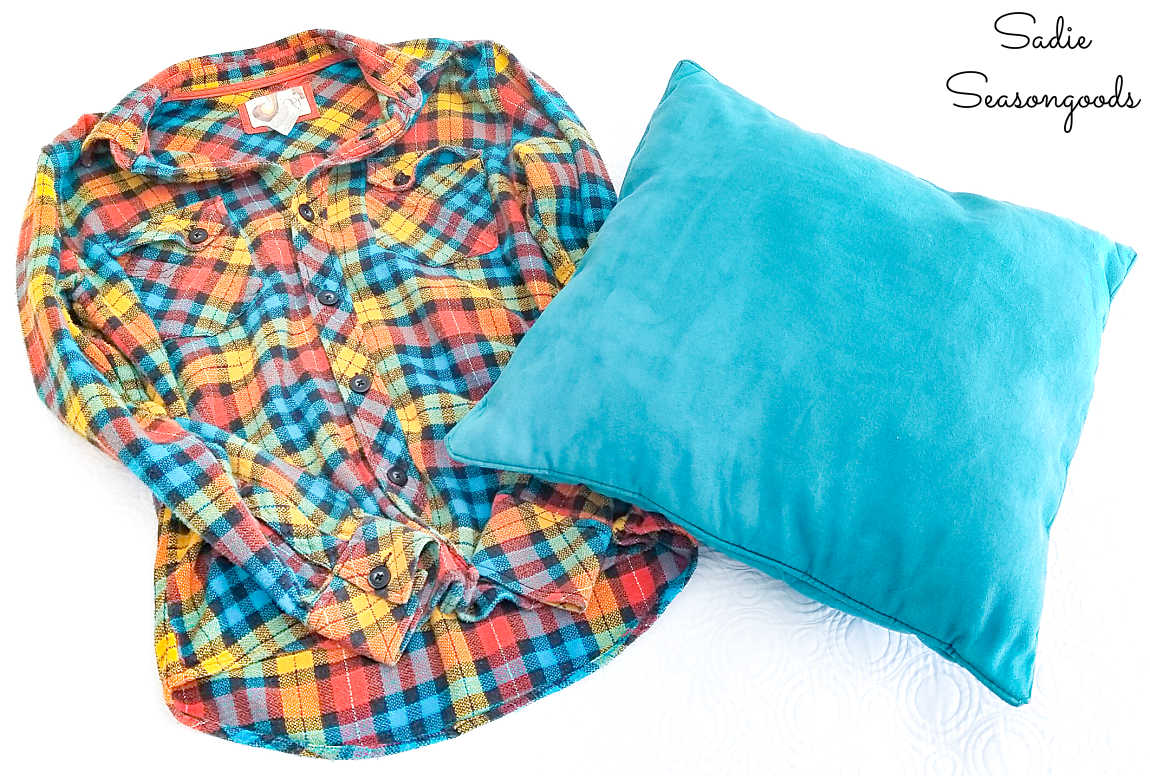 I'm publishing this particular project today because it's Thrift Store Decor Team Day! And my lovely blogging friends wanted to celebrate my book by creating flannel projects inspired by the tutorials in "Crafting with Flannel". My heart is so full it could burst, let me tell you.
This post contains affiliate links for your crafting convenience. As an Amazon Affiliate, I earn from qualifying purchases. All blue, bold, and underlined text is a clickable link, either to a product or to a related post.
Making a Pumpkin Throw Pillow
Before I get started, I had to make this project in a hotel room! Our air conditioning was broken for 11 days during a heat wave, so we temporarily moved into a hotel. Thankfully, this project didn't require spray painting or power tools, eh?
Anyway. Back to the tutorial…
First things first, I needed to create a pumpkin template. Using a piece of blank newsprint, I traced the blue pillow on it. From there, I sketched out a pumpkin within the tracing and cut it out.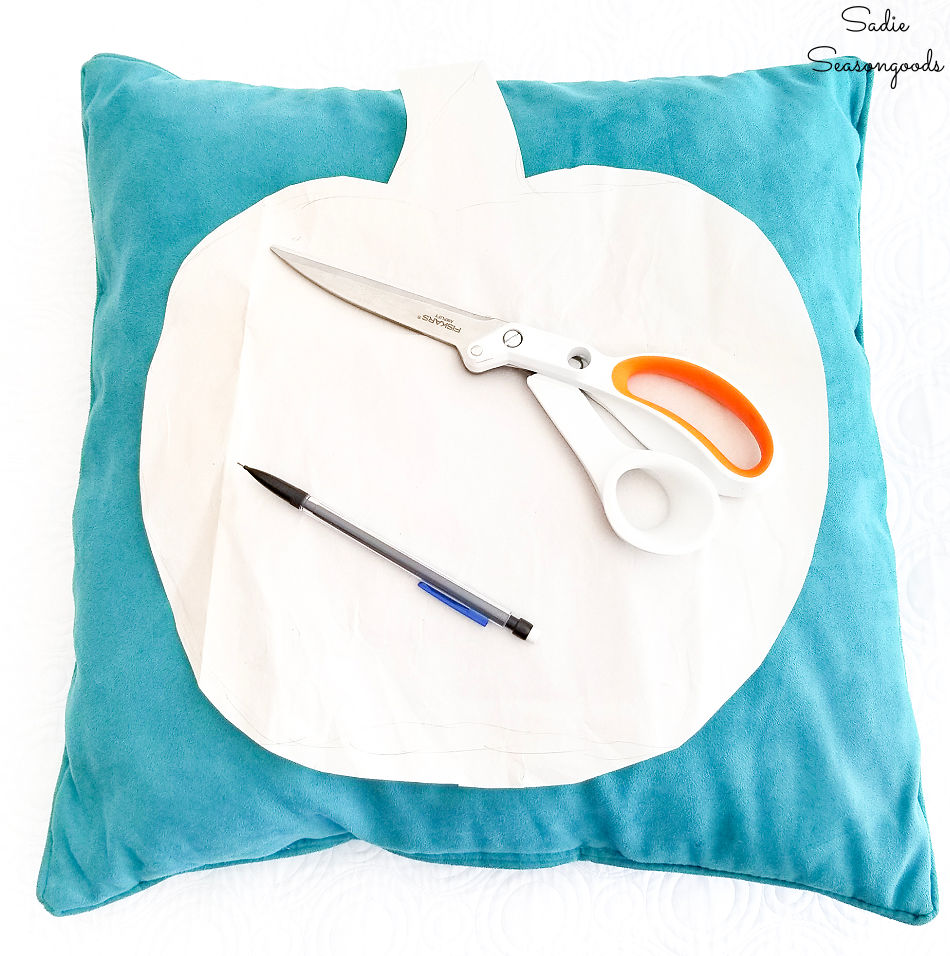 In retrospect, it might have been a bit more apple-shaped than pumpkin-shaped. But I'm blaming the chaos of hotel living for that.
Next, I opened up the flannel shirt and pinned my paper pumpkin to the back.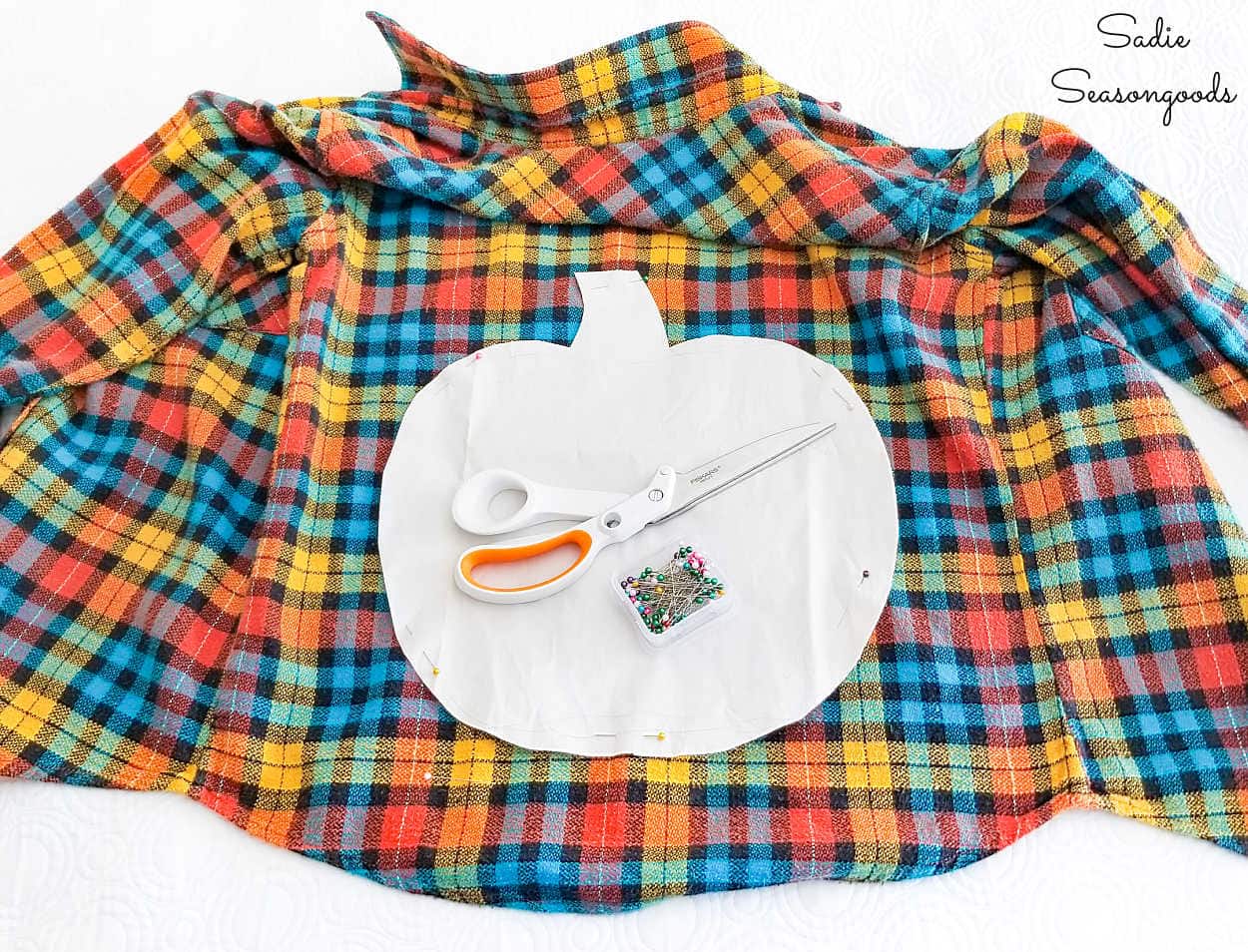 After cutting out the flannel pumpkin, I placed it on the pillow to double check that it fit- and it did!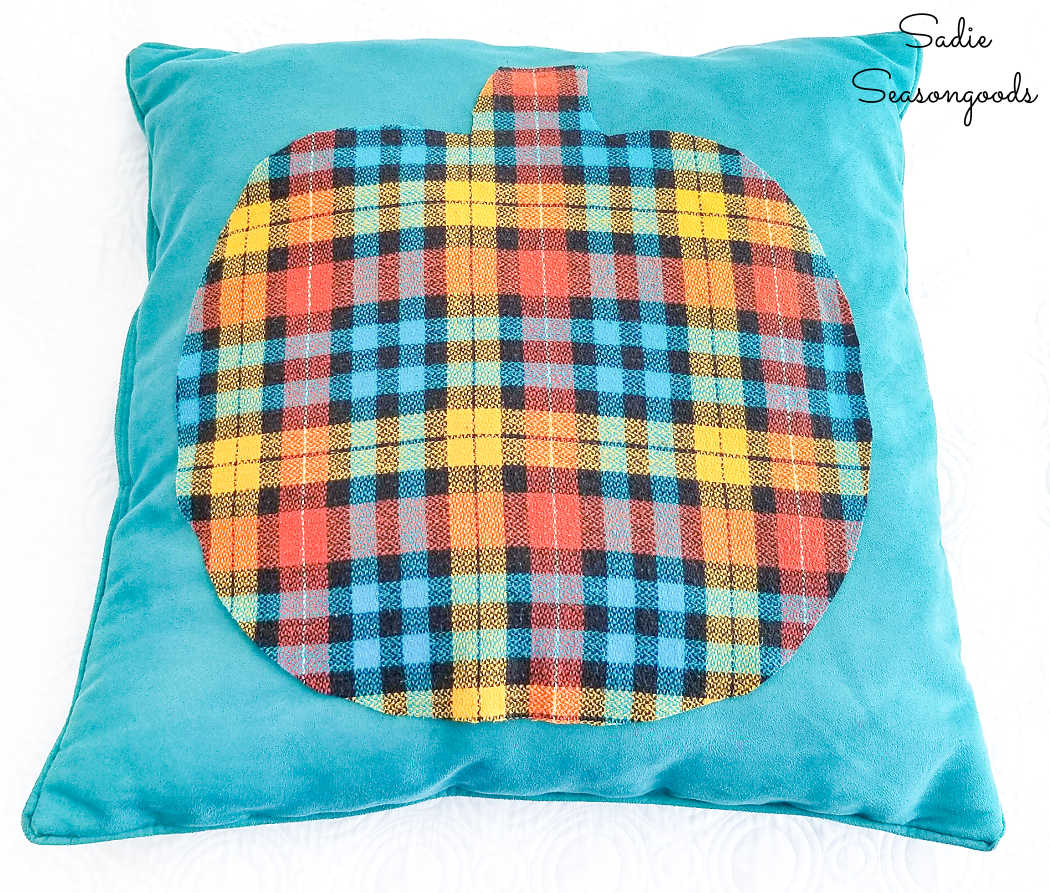 Now, because I was using a ready-made pillow, I couldn't stitch it to the pillow very easily. But I wanted it to look like it was stitched on.
So, I hauled my sewing machine and supplies to the hotel room! I threaded my machine with some yellow thread and simply stitched all around the pumpkin and stem.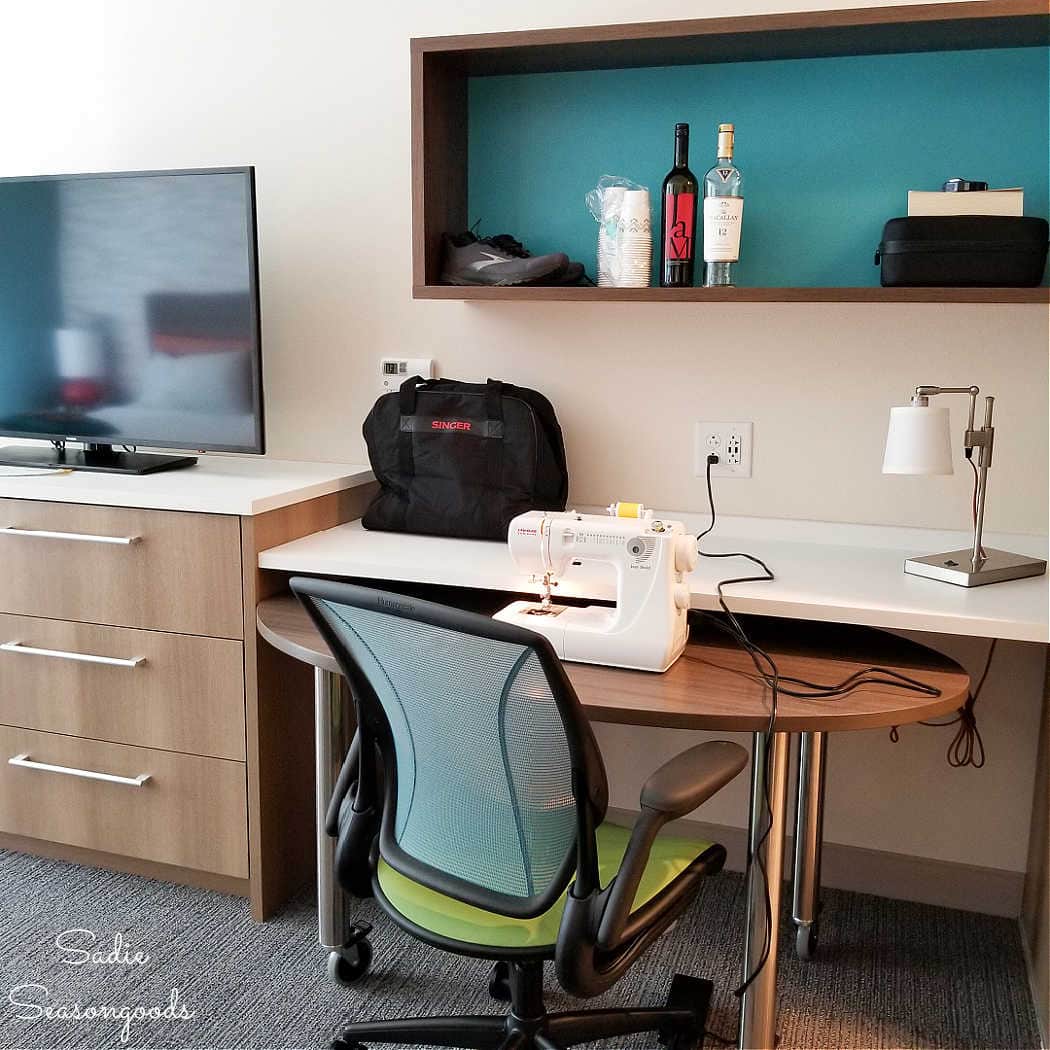 Changing Things Up with Blue Fall Decor
Once I had stitched all the way around, I needed to iron it before attaching the pumpkin to the pillow. Hurray for my hotel room's iron and ironing board!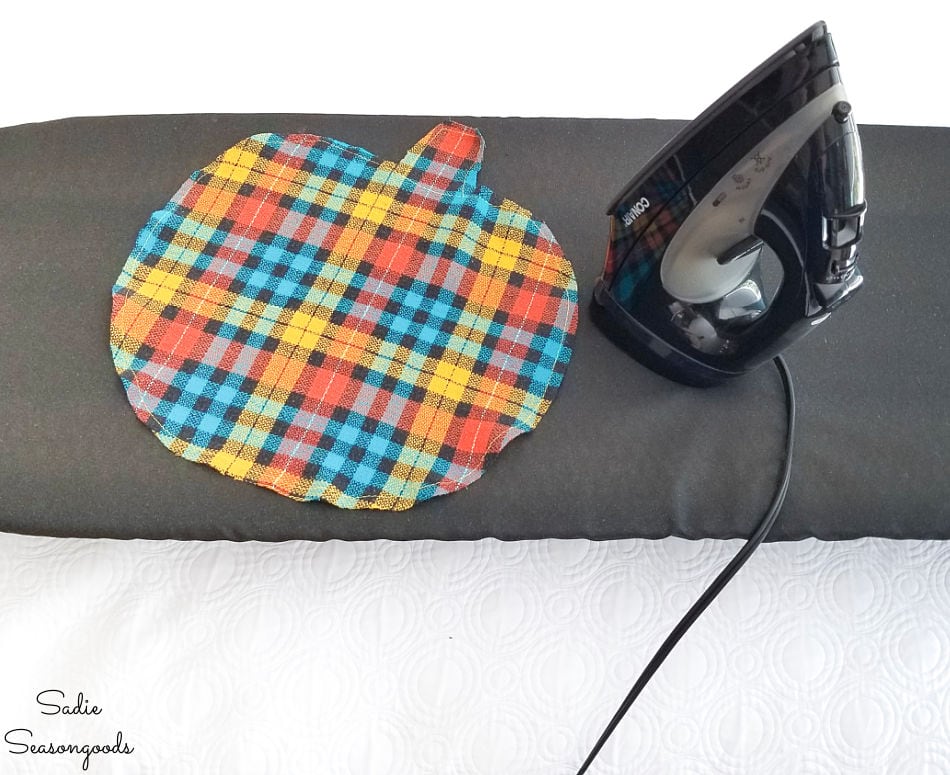 Now I could finally put my pumpkin throw pillow together! First, I centered the flannel pumpkin on the pillow and brushed on a touch of fabric glue to hold it in place.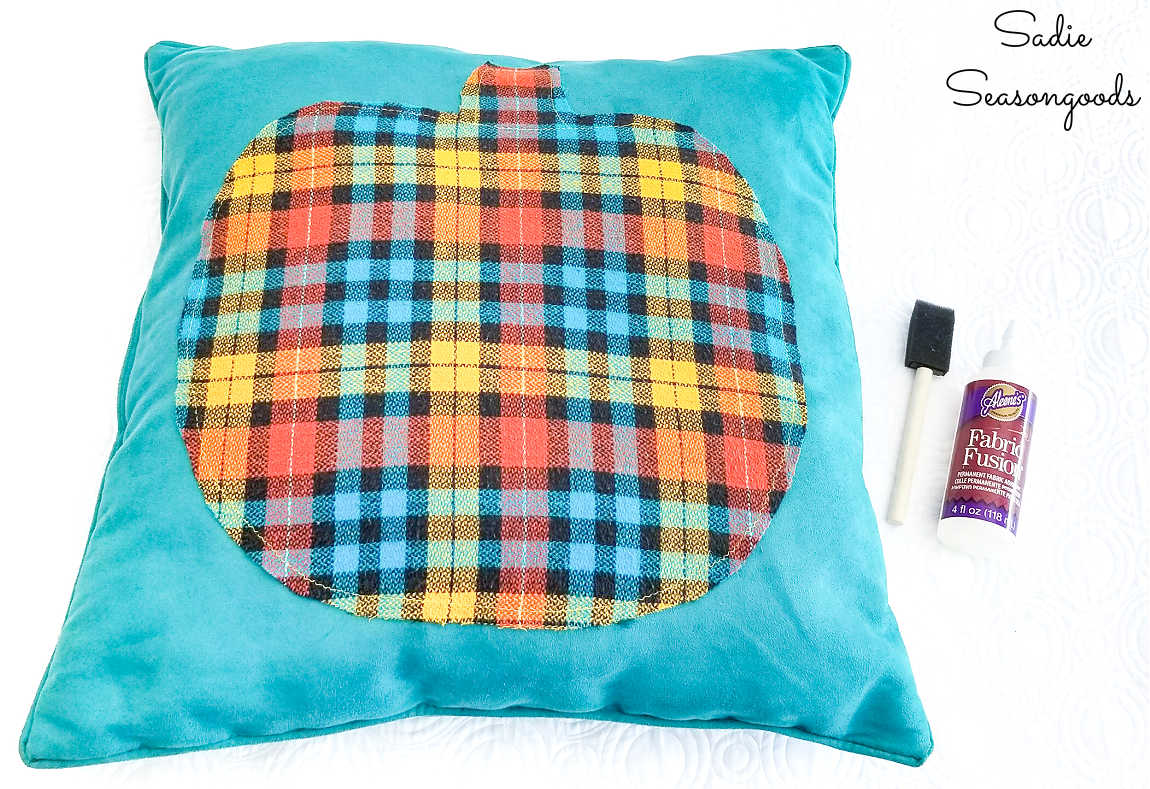 Normally, I'd squirt some glue on a paper plate for easy access with a foam brush. But hotel living meant I turned a Dixie cup upside down and used that as a surface to dip my brush into!
Then, I lightly brushed glue under the edges of the flannel pumpkin before smoothing them down. Once I verified that the pumpkin perimeter was secured, I grabbed some accents to add to my pumpkin throw pillow.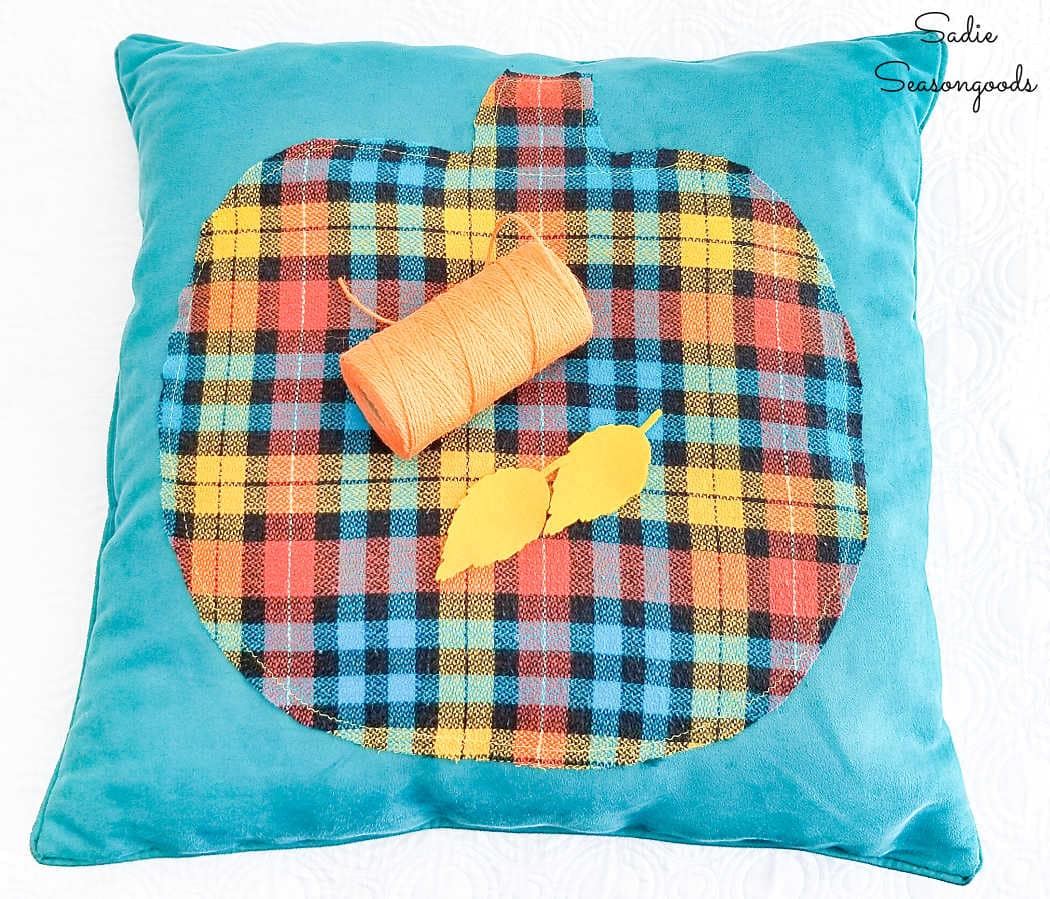 Specifically, these felt leaves and some orange twine.
Lastly, I tied a bow with the twine (with an additional loop of twine around the center of the bow for more tails). Then, I glued on the leaves and twine bow with my fabric glue and foam brush.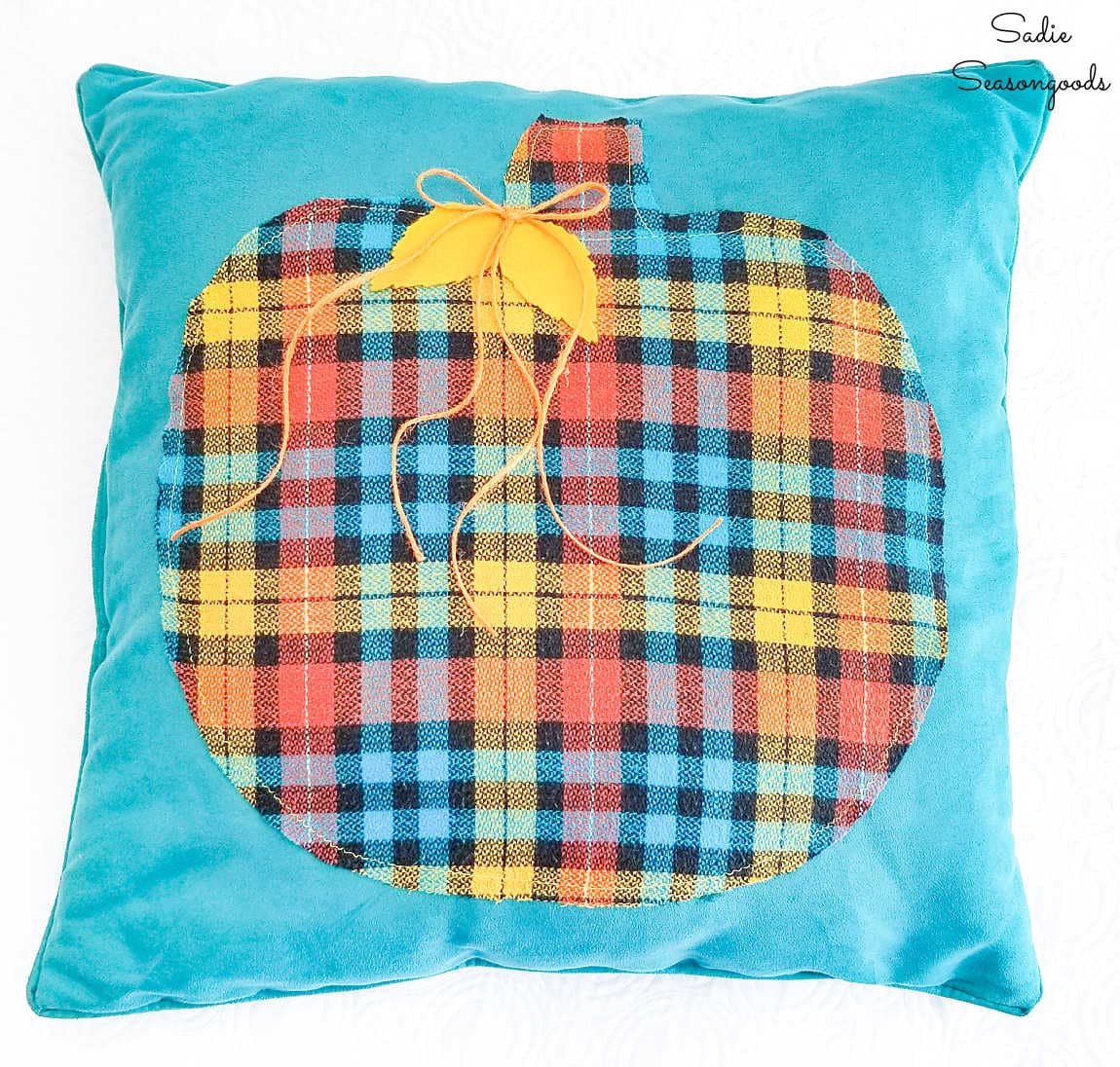 Blue Fall Decor with a Pumpkin Throw Pillow
And that was it! I had successfully crafted a pumpkin pillow in my hotel room! See, there it is on the bed shortly after housekeeping had arrived.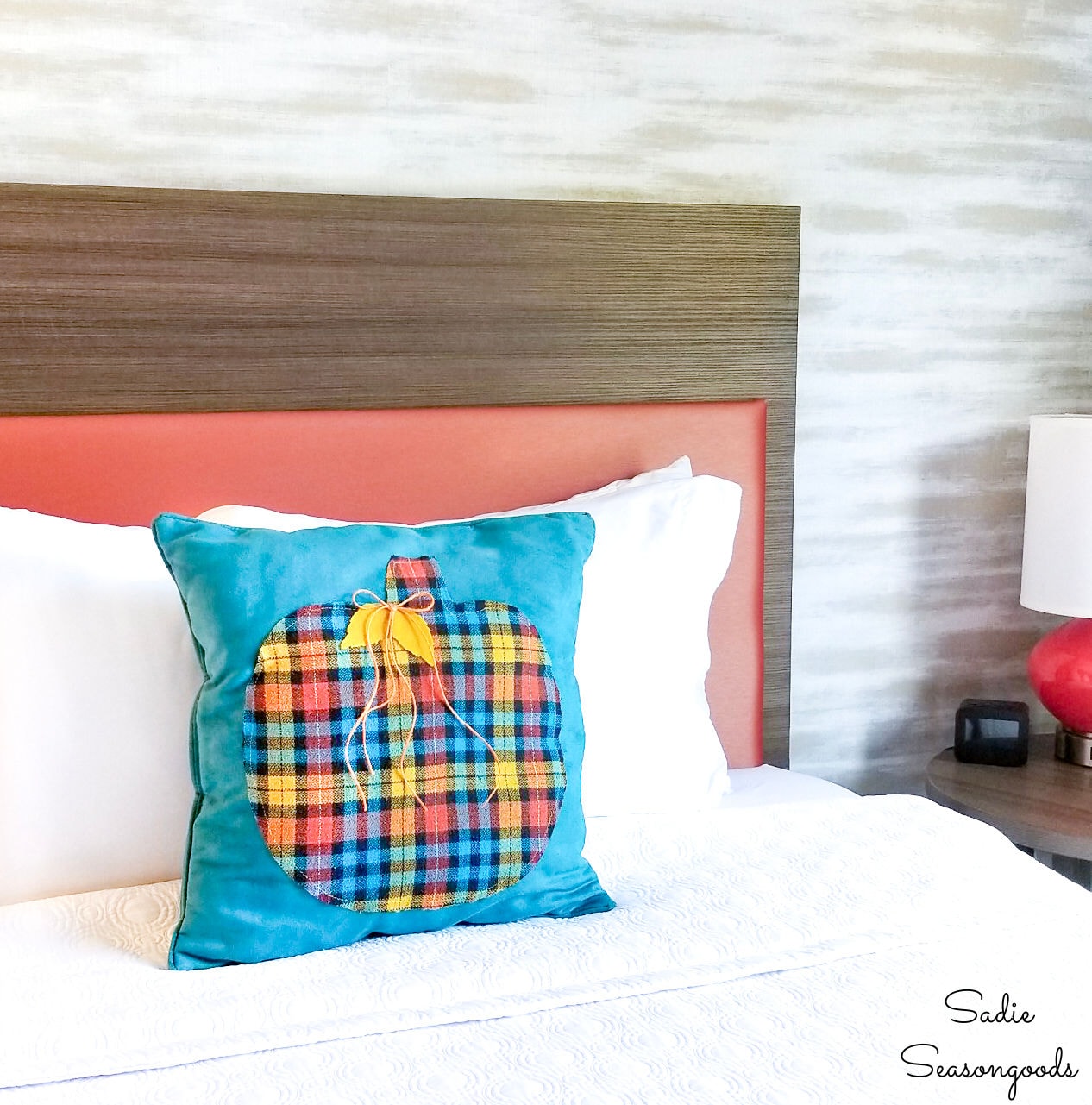 I've been waiting and waiting to upcycle that flannel shirt, ever since I thrifted it. And while it may be a bit funky for some, I love the colors of my pumpkin throw pillow! Besides, blue fall decor is a great way to shake things up for a change…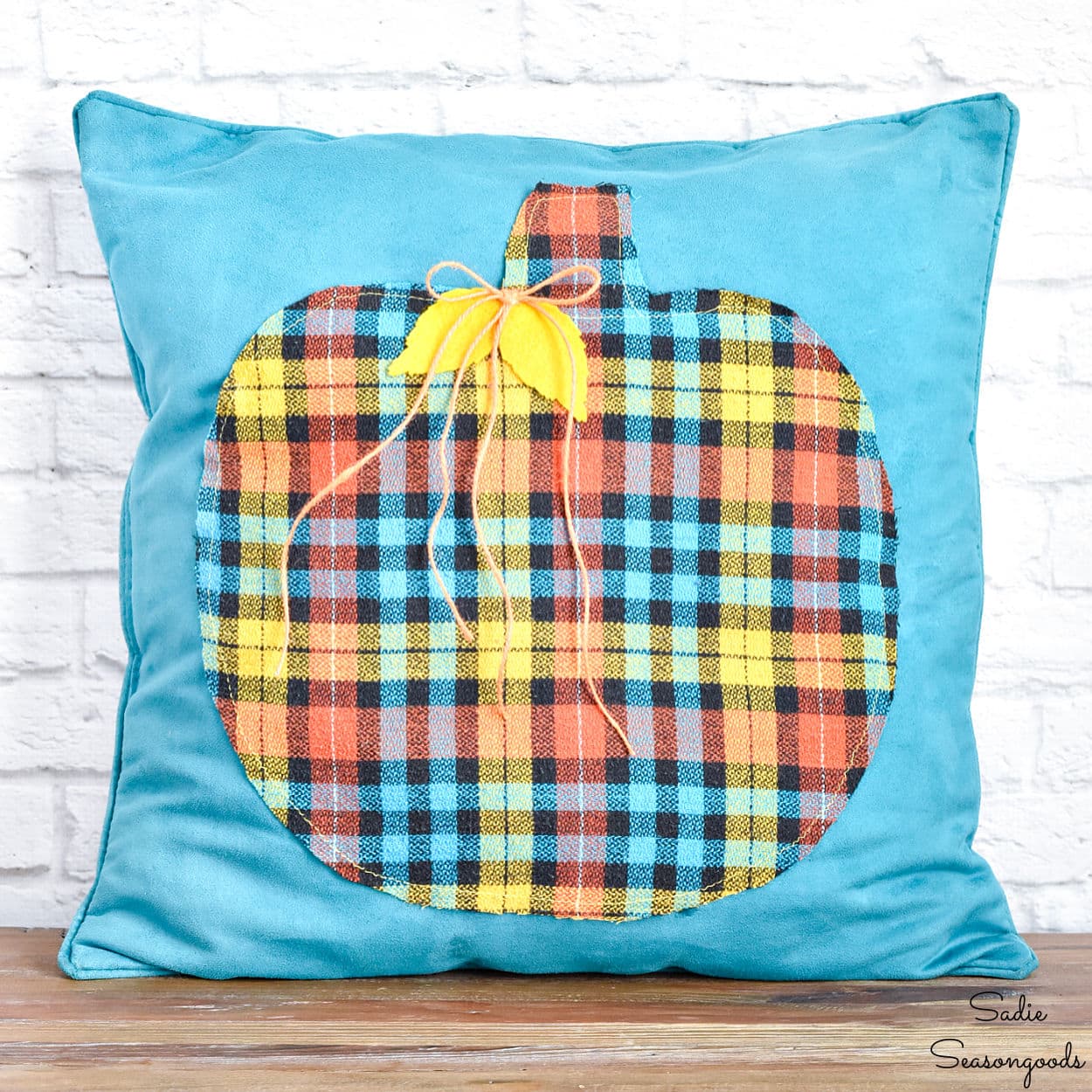 Plus, I have lots of flannel shirt leftover for future projects- maybe something else from my book? Or maybe something entirely new and unexpected…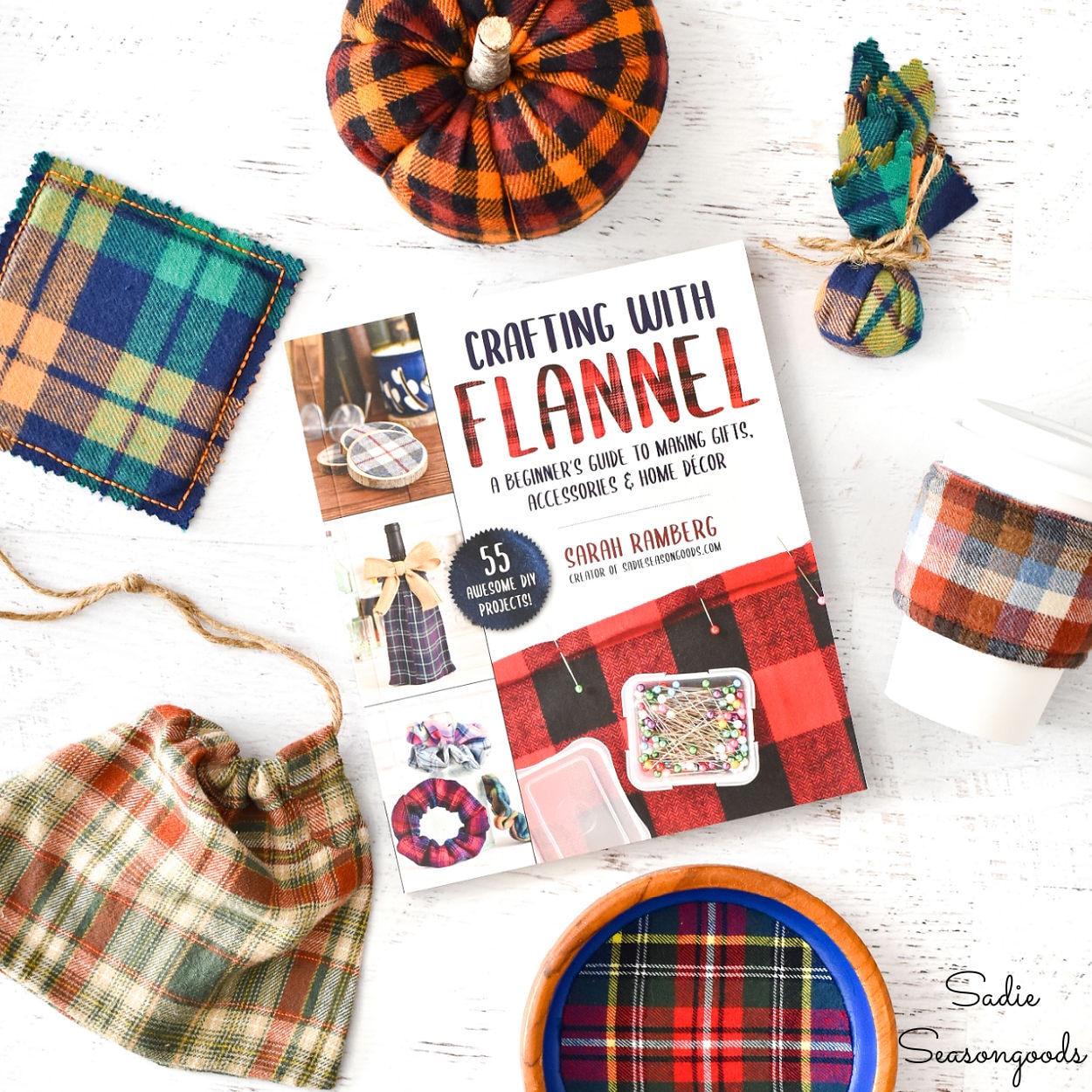 *****
AND, here are all the flannel projects that the Thrift Store Decor Team has been working on! I'm so tickled that they wanted to help me celebrate my book in the Fall (since its release was delayed last year).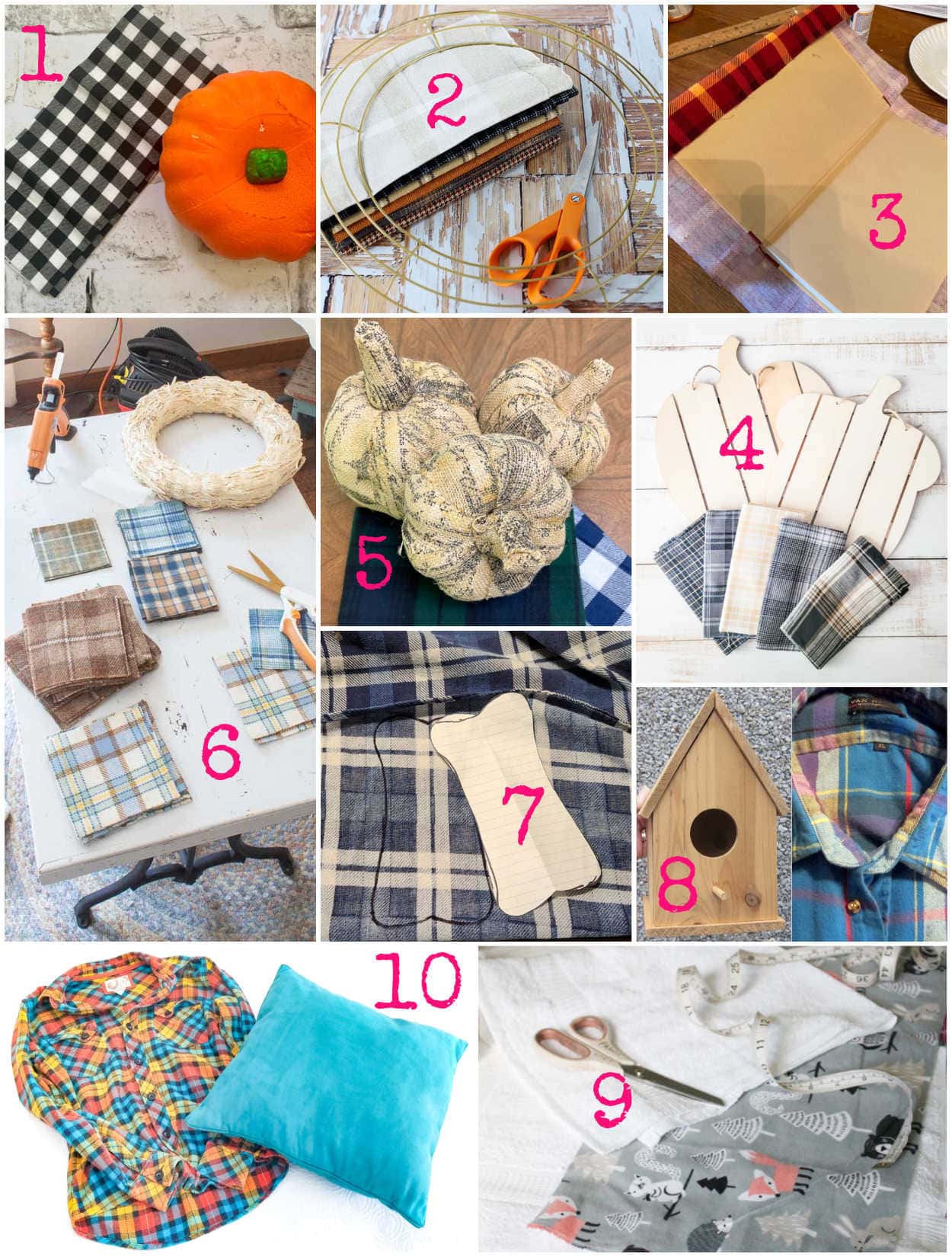 1. Easy DIY Fall Flannel Pumpkins – My Uncommon Slice of Suburbia
2. Rag Wreath DIY – House of Hawthornes
3. Flannel Covered Books – Organized Clutter
4. Plaid Pumpkin and Acorn – Domestically Speaking
5. No Sew DIY Flannel Pumpkins – Our Southern Home
6. Cheap Wreath for Fall – Reinvented Delaware
7. DIY Easy Projects with Flannel Scraps – My Repurposed Life
8. Flannel Wrapped Wreath – Petticoat Junktion
9. Flannel Embellished Hand Towels – Shop at Blu
10. Blue Fall Decor with a Pumpkin Throw Pillow – Sadie Seasongoods
*****
I hope you enjoyed a fresh new flannel craft from me! It was, in fact, inspired by this project in my book. Because you KNOW how much I love Fall and Flannel, after all…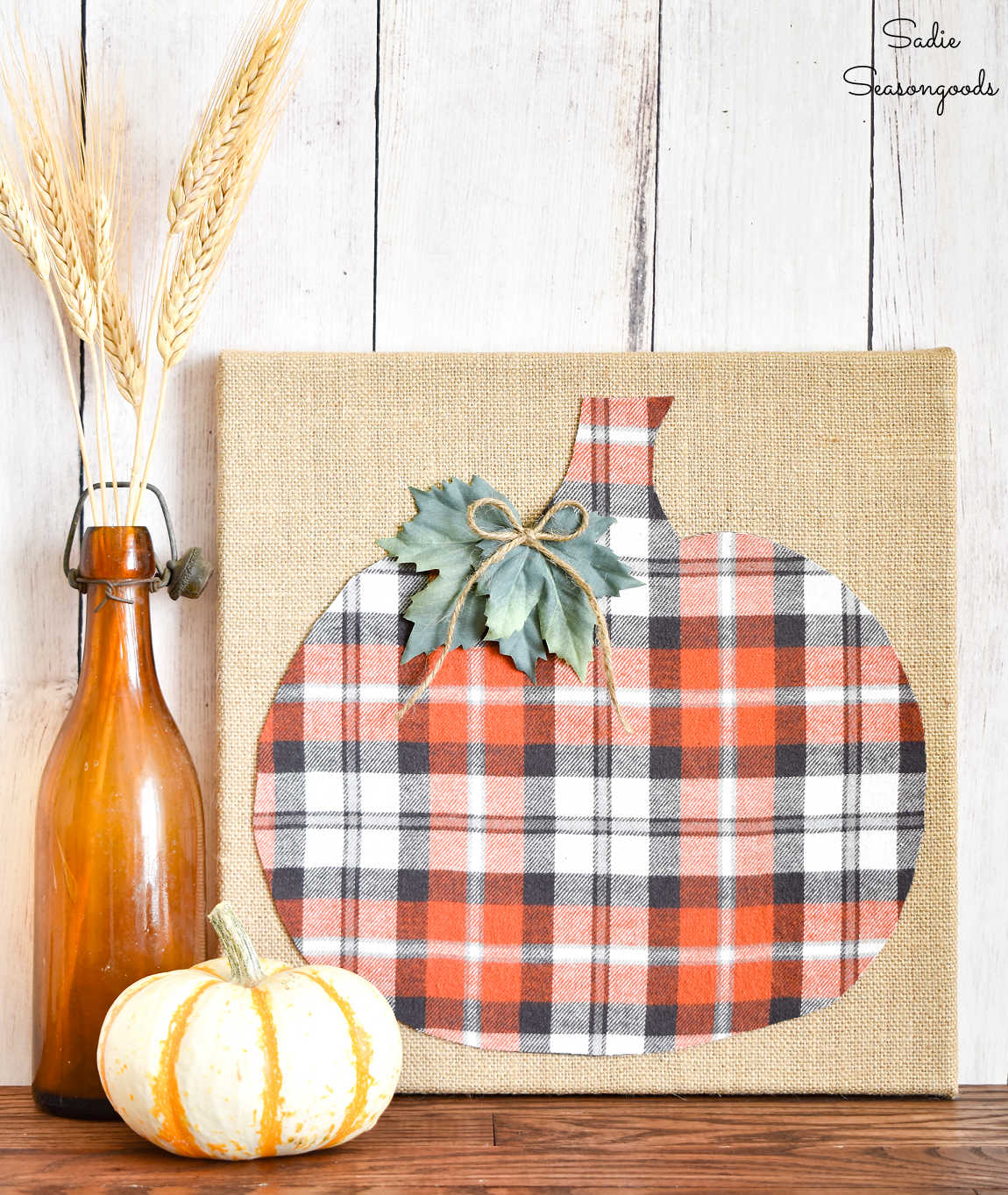 Craft on!
S
Want to be notified when I publish my next upcycling project tutorial?
Subscribe to Blog via Email
Join me on Social Media:
PIN ME!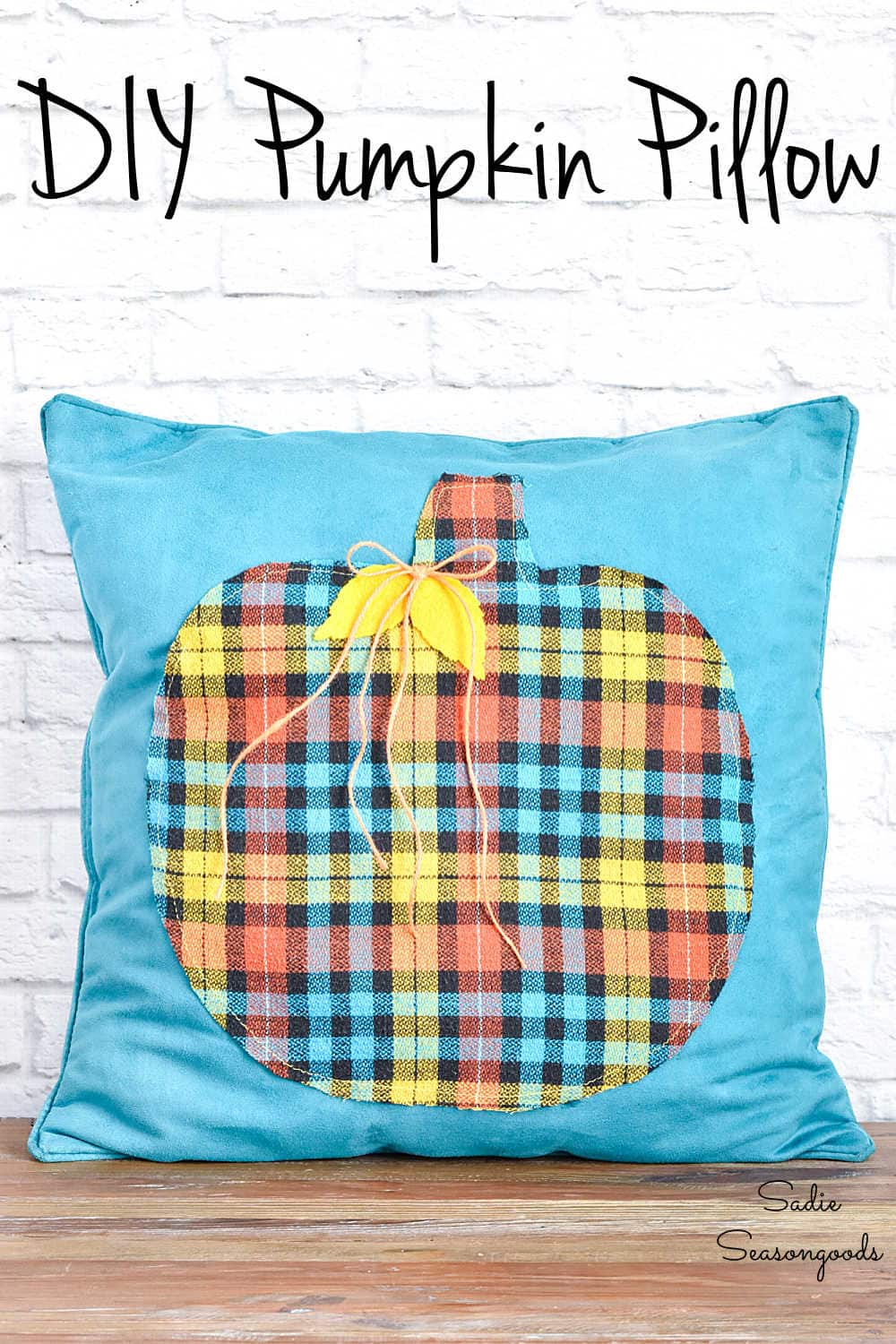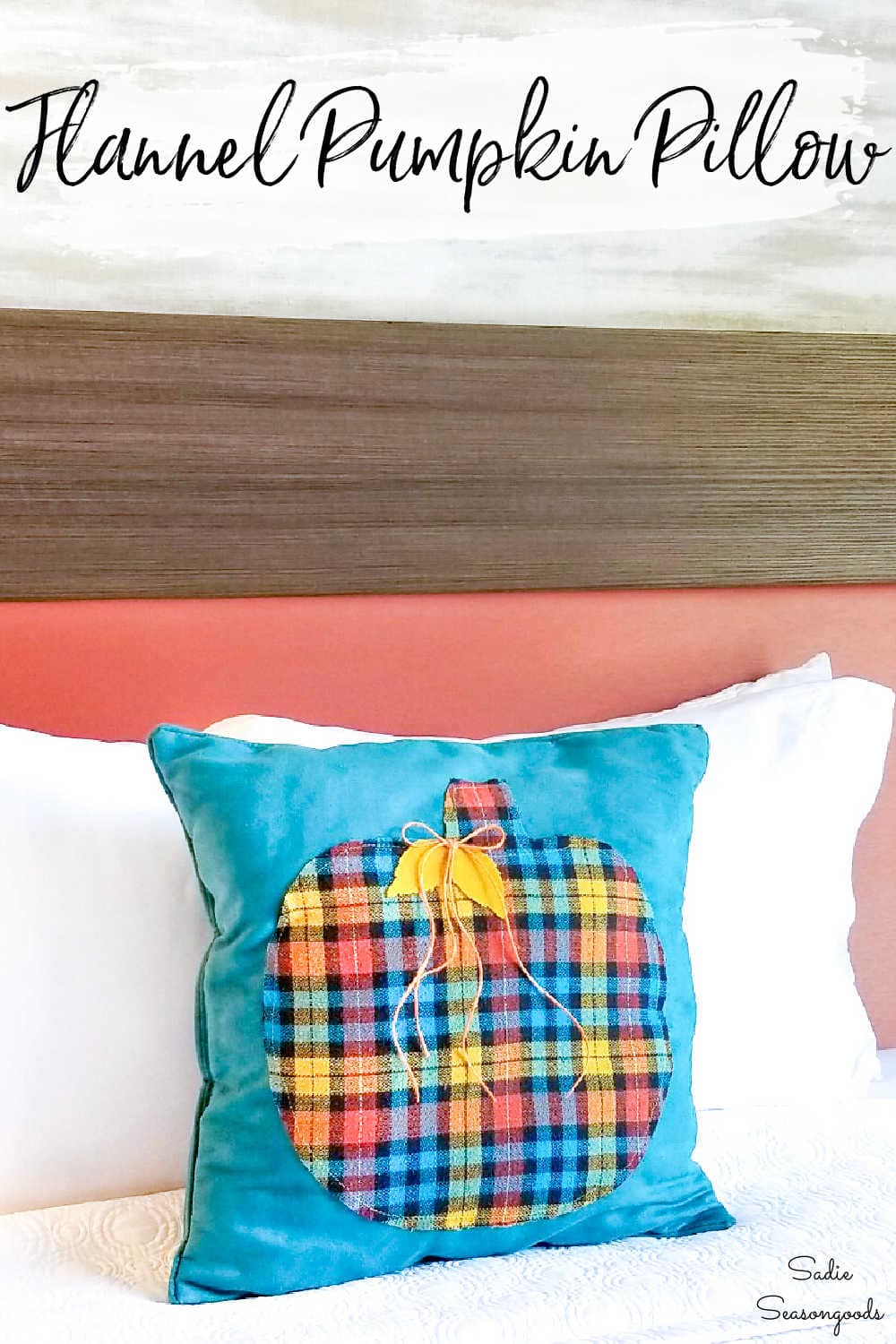 Sarah Ramberg is the owner of Sadie Seasongoods, a website that celebrates all things secondhand. From upcycling ideas and thrifted decor to vintage-centric travel itineraries, Sadie Seasongoods is a one-stop shop for anyone who loves thrifting and approachable repurposing ideas. Sarah is also the author of "Crafting with Flannel" and has been featured in numerous media outlets and magazines.