Summertime and beach house decor go hand-in-hand, no matter where you live. But since beach house living is not realistic for most budgets, one must get creative to achieve that same breezy, coastal vibe at home.
Beach House Decor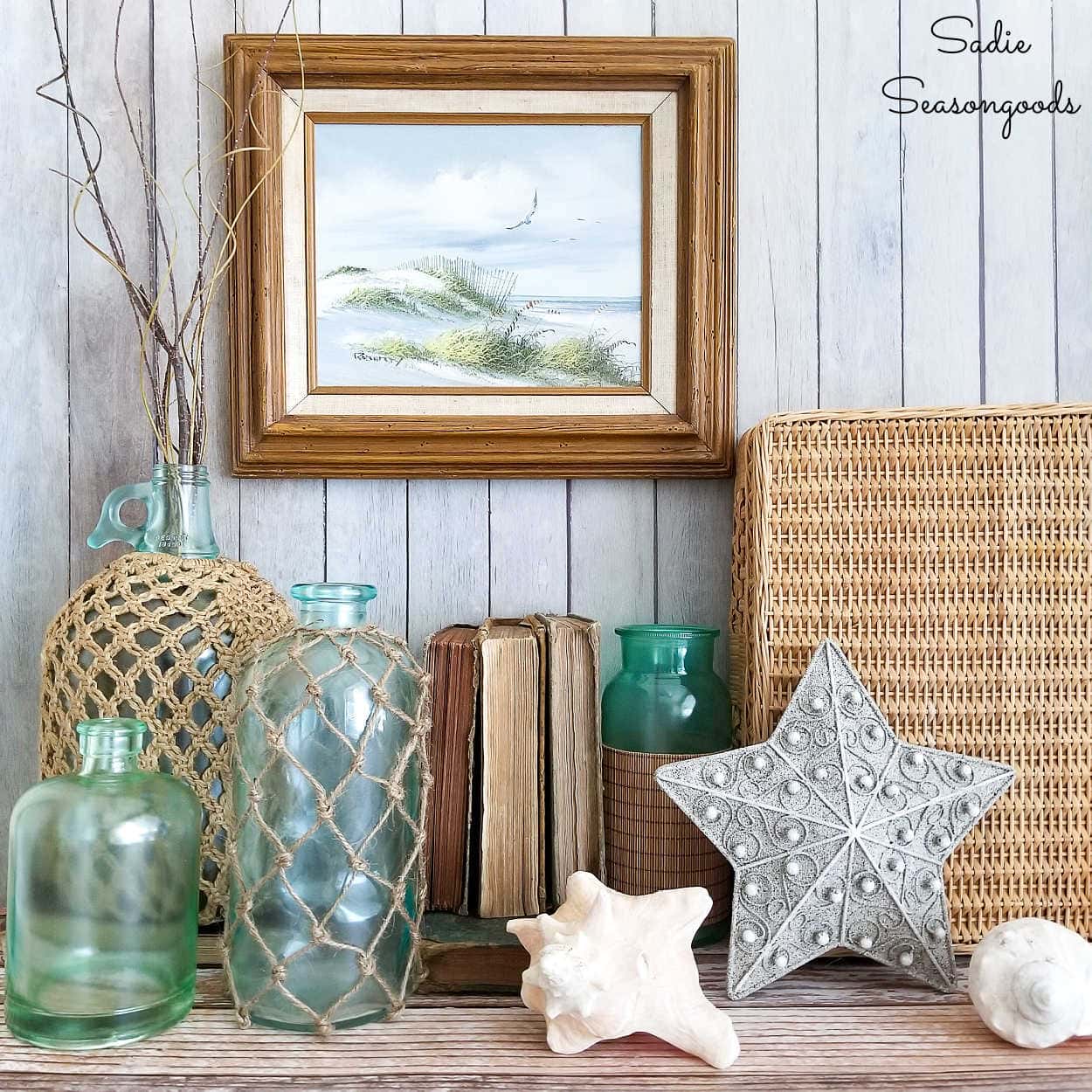 The good news is that there are lots of thrifty ways to add beachy touches to your home, and a lot of them start at the thrift store. Upcycling your way to beach house decor helps you stay well within whatever your budget may be.
Coastal Tray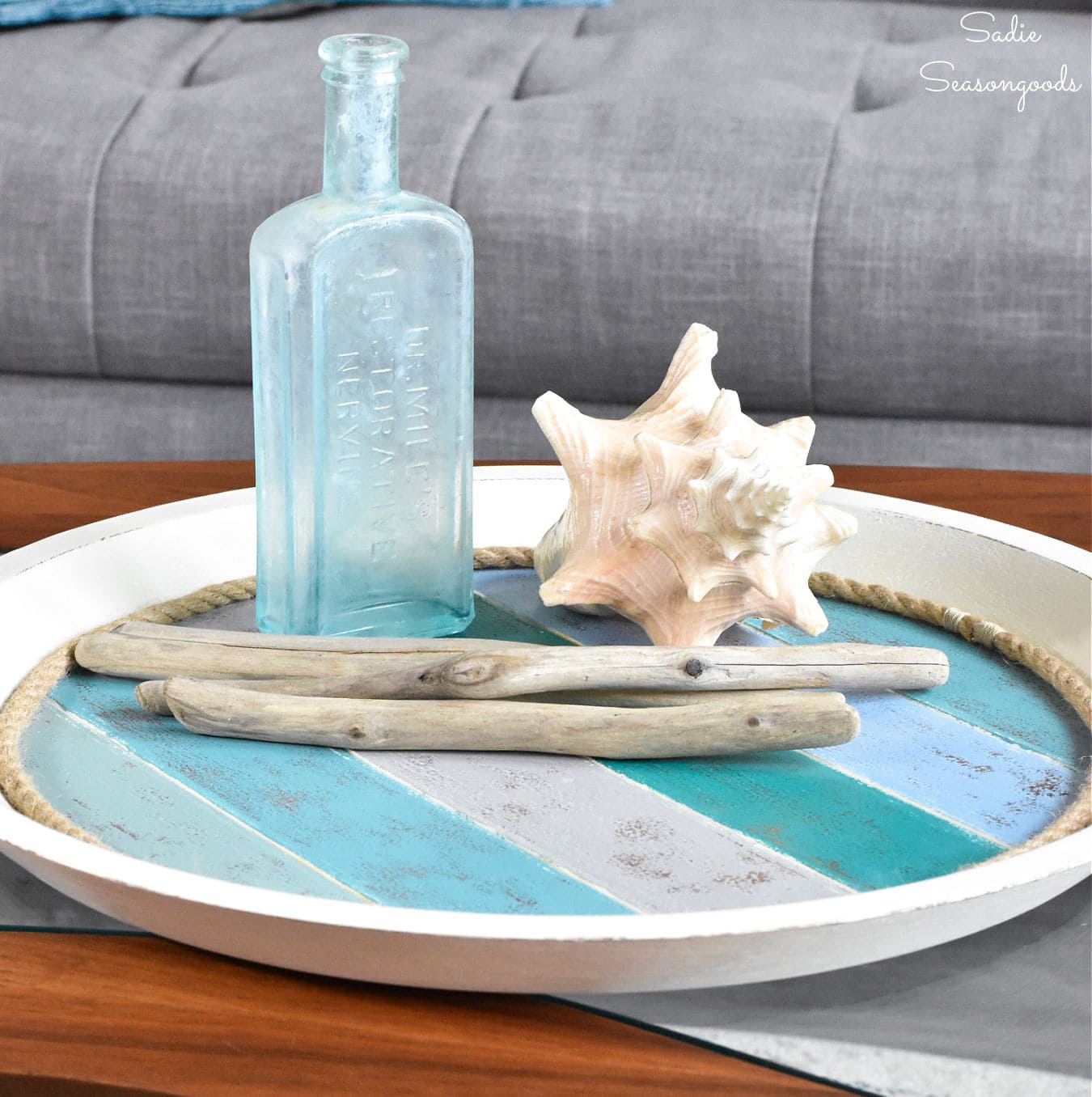 Giving a plain tray a coastal-inspired makeover with inexpensive chalk paint from the craft store is a great place to start. Trays are always trendy and are a good base for displaying some beachy treasures on a coffee table.
Beachy Bottles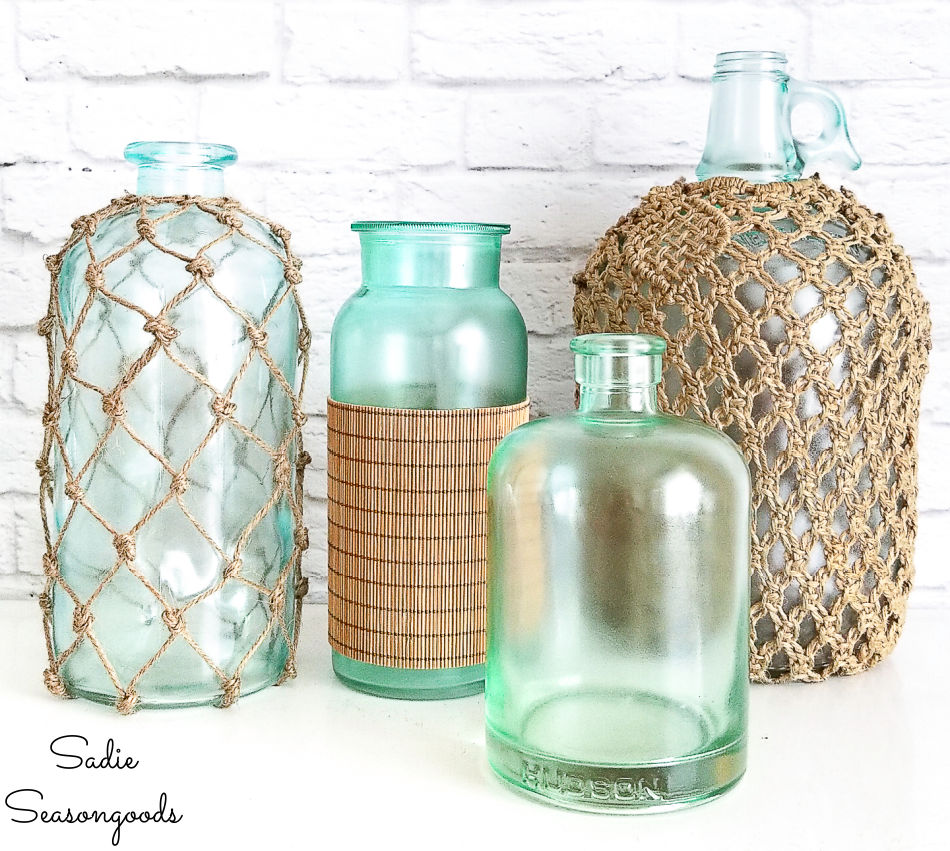 Upcycling some bottles into these coastal beauties is an easy and inexpensive idea for coastal decorating- especially since the bottles may come from your own recycling bin! You can tint the bottles with specialty spray paint and add the netting yourself- DIY or pre-made!
Faux Nautical Antiques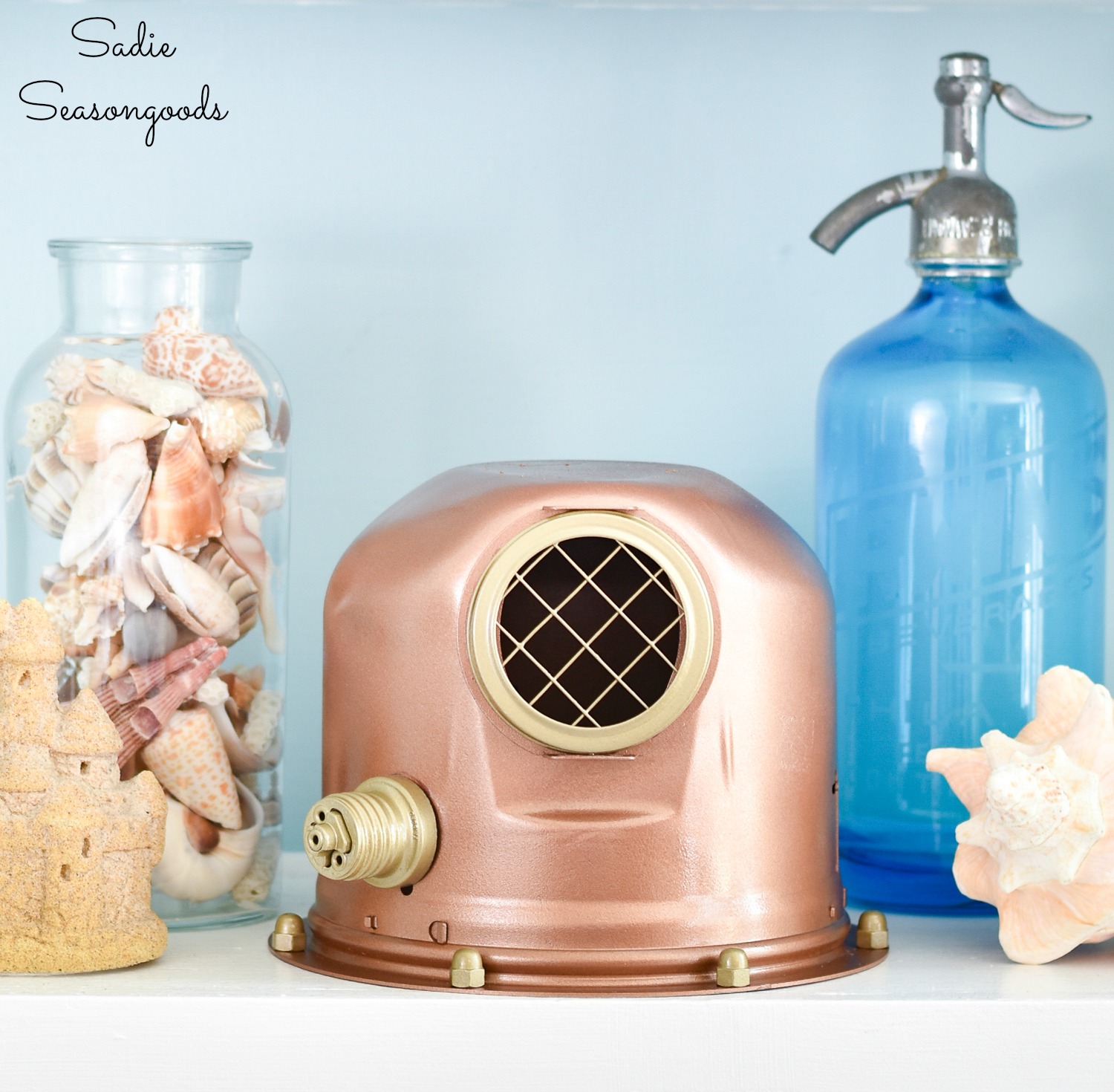 An antique diving helmet is an elegant curiosity for a coastal home, but is usually reserved for those who can afford one. But upcycling a light fixture into a faux version is a much more approachable option.
Beachy Wreath
Beach treasures- seashells, beach glass, etc.- are some of the best free craft supplies out there. Using them to create a breezy wreath like this is a fabulous way to get that beachy feeling on your front door.
Beach Jars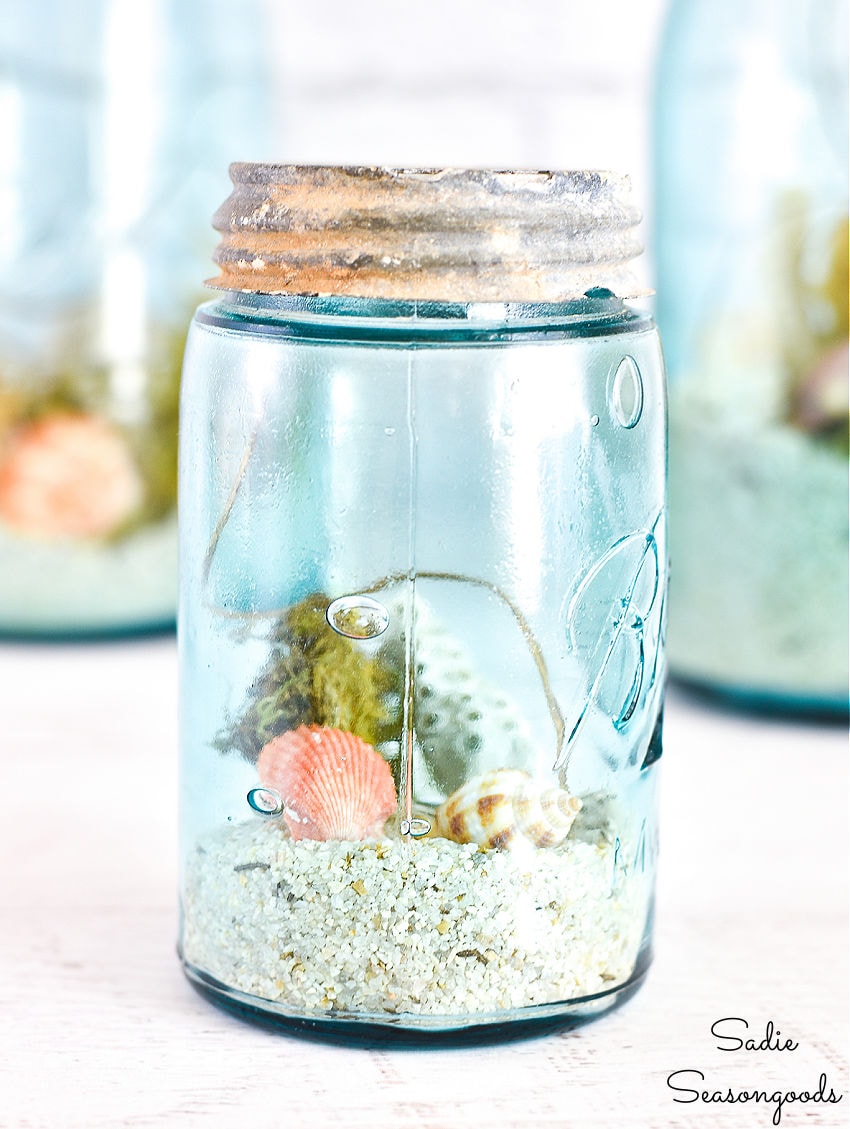 Speaking of beach treasures, creating coastal scenes in aqua mason jars is a lovely way to display your beachcombing finds. They look divine when clustered on a coffee table or mantel, and require zero craft skills to put together.
Decorative Sailboats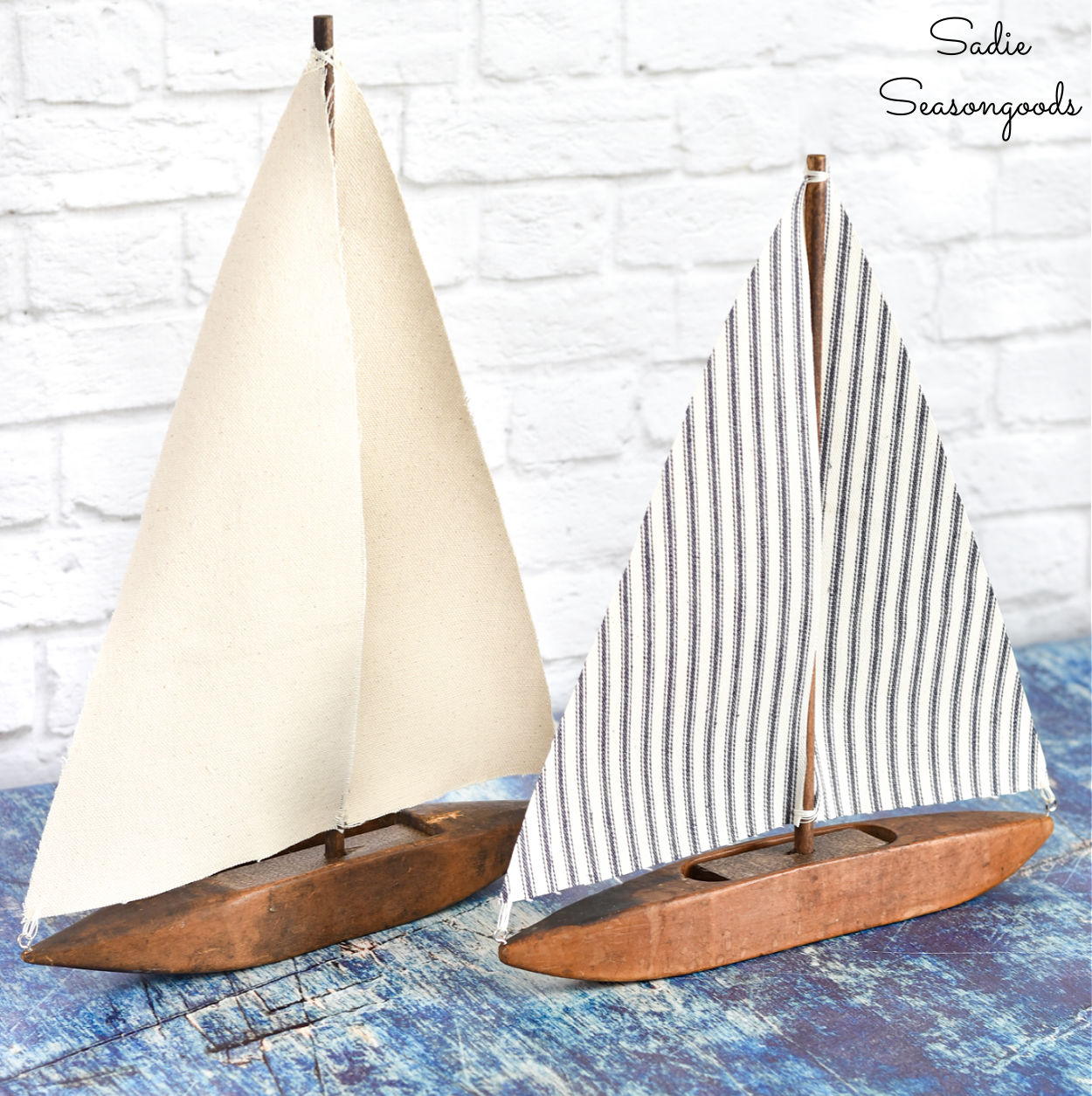 Decorative sailboats are a delightful touch of nautical decor for your home throughout summer and even year-round. You can make them with a variety of items, so long as the wooden part can pass as a boat shape!
Seashell Collage
Teeny, tiny shells are available by the thousands on most beaches. Grab a few handfuls and use them to create coastal-inspired collage projects like this.
Beach House Coasters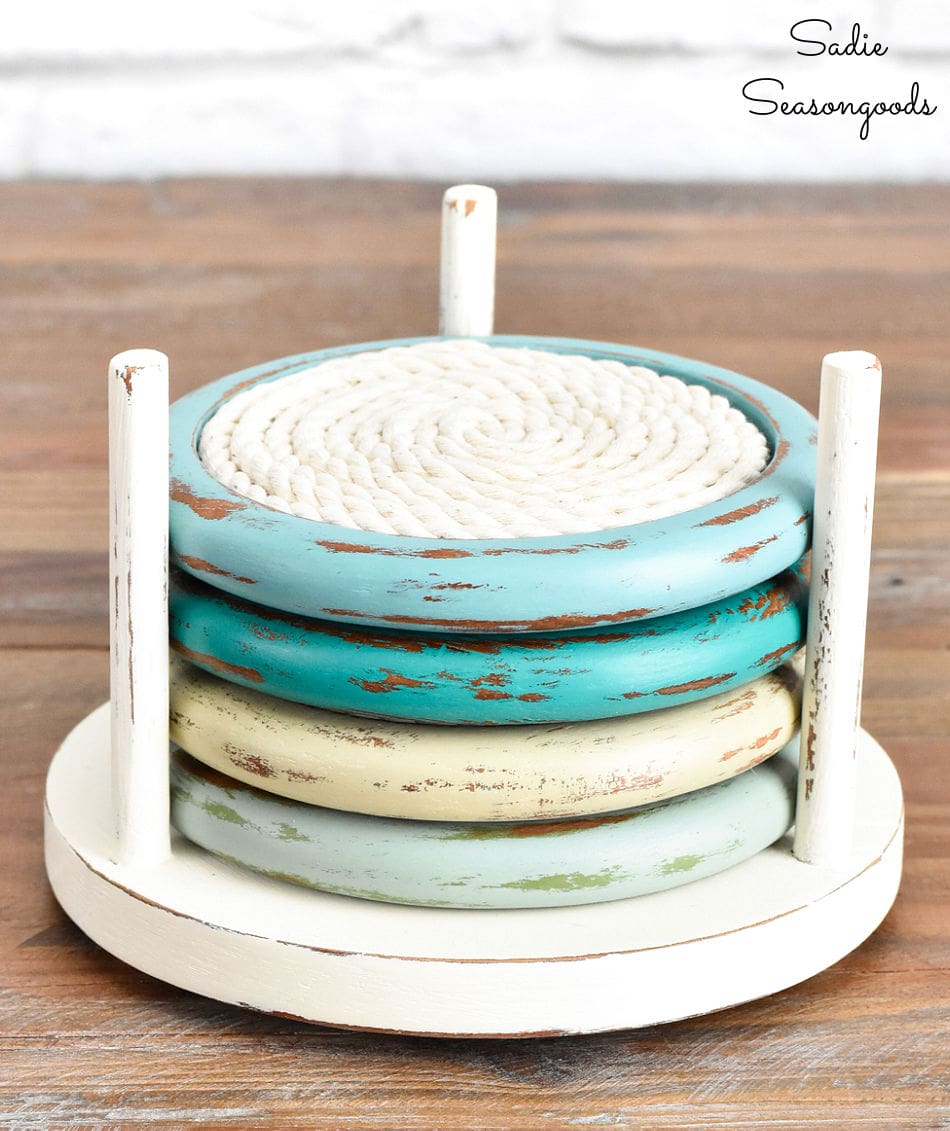 A set of wooden coasters from the thrift store can be "beachified" with this easy makeover idea: chalk paint and string! Functional decor is especially thrifty because it works hard to earn its keep.
Oversized Shell Bowl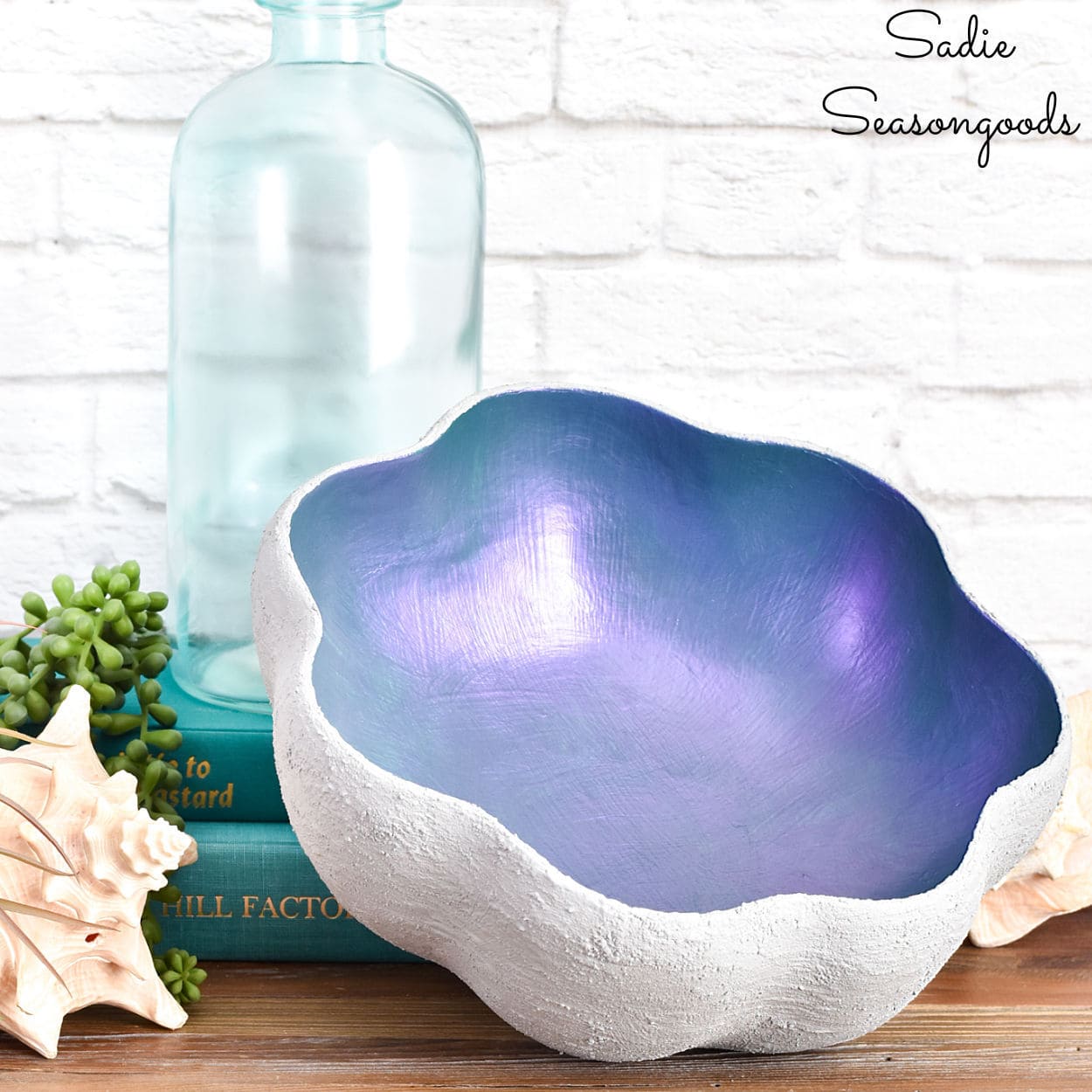 Abalone shells are sought after for that magical, iridescent color pattern that they have. But you can fake that look on a large wooden bowl with some specialty craft paints and it looks fantastic!
Netted Cloche
Netting changes anything from ordinary to coastal extraordinary, doesn't it? But the craziest part is where the netting for this beach cloche came from! Talk about being resourceful for beach house decor.
Sea Glass Bottles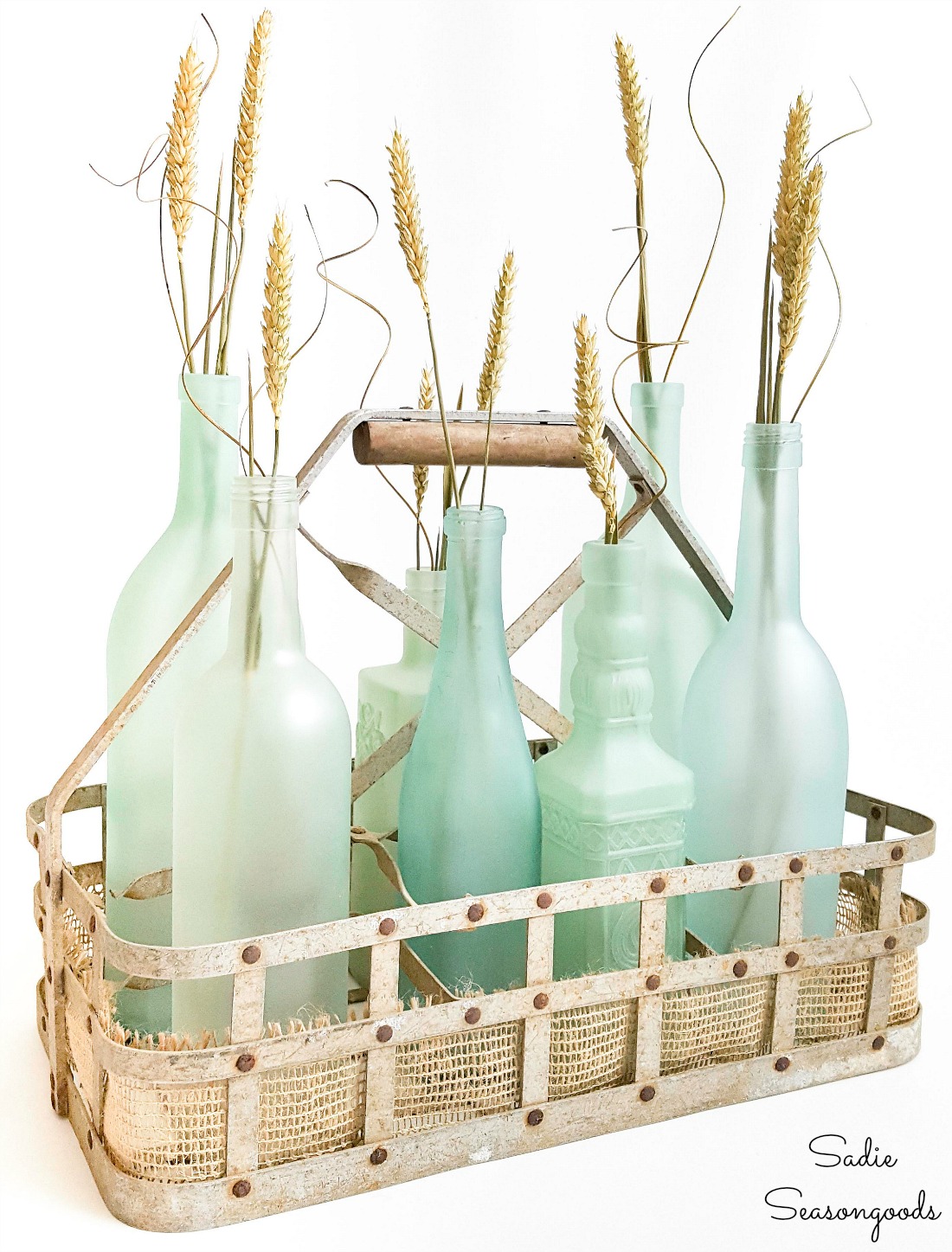 Sea glass bottles look like they've rolled along the ocean floor for decades, maybe longer! But you can fake the look beautifully with some spray paint and wine bottles from your recycling bin.
Nautical Sign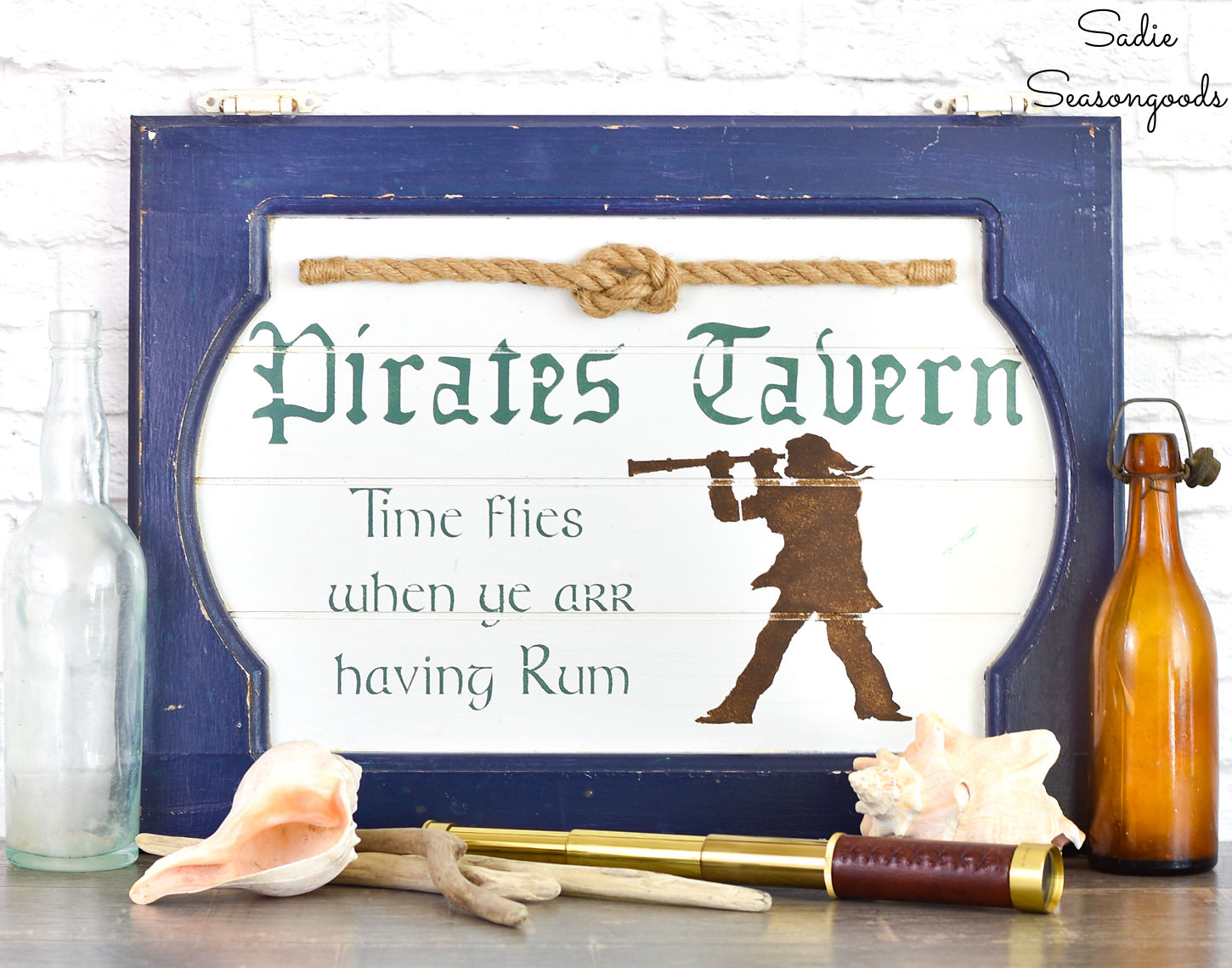 Decorative signs are some of the trendiest, most popular elements of home decor these days. And a nautical version like this gets that beach house look on a thrift store budget if you upcycle something like a cabinet door or scrap wood to make one.
Fishing Floats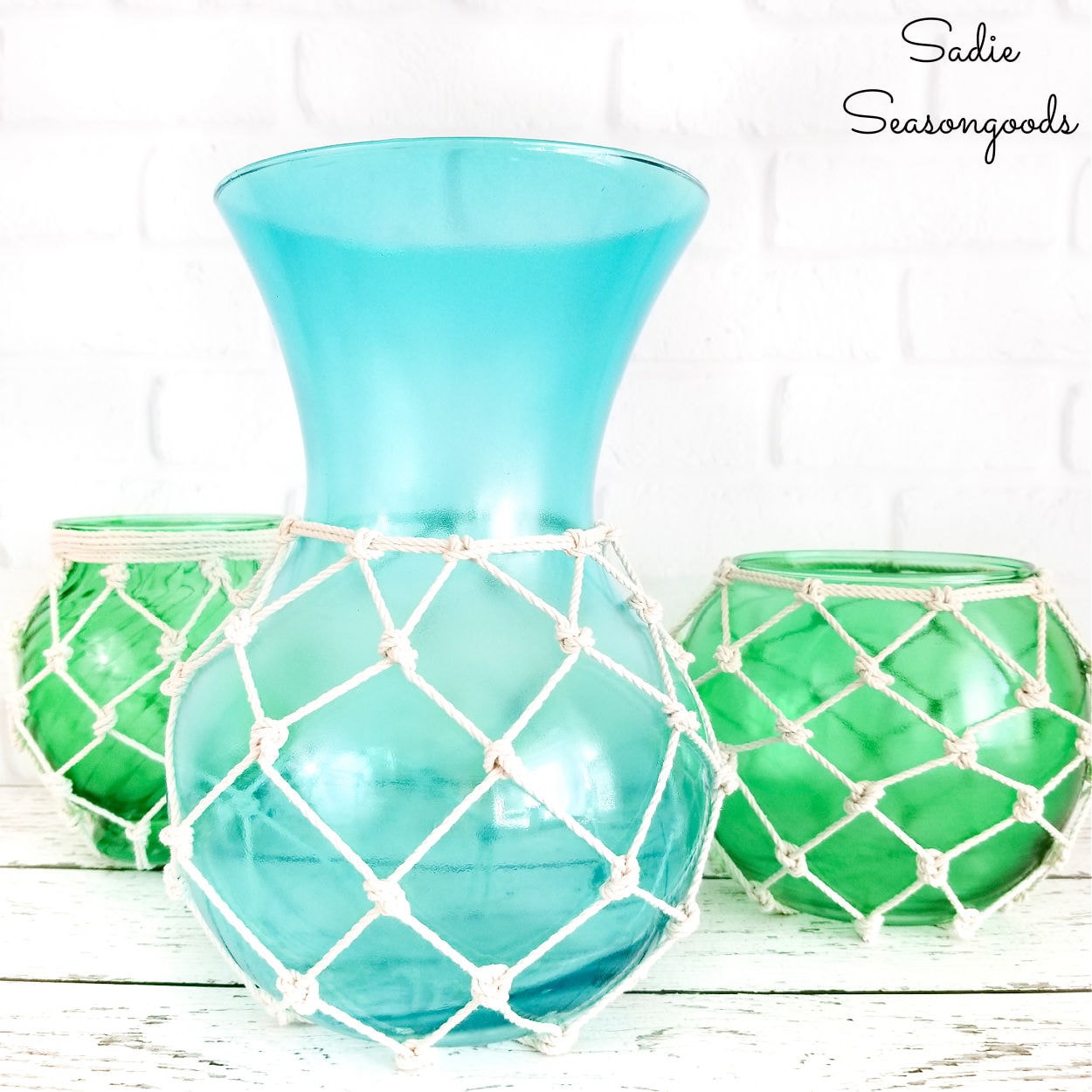 Authentic fishing floats- those glass orbs covered in netting- are an antique collector's dream. But they are rare and PRICEY, so this DIY version uses glassware from the thrift store to keep it budget-friendly.
Beach House Decor on a Thrift Store Budget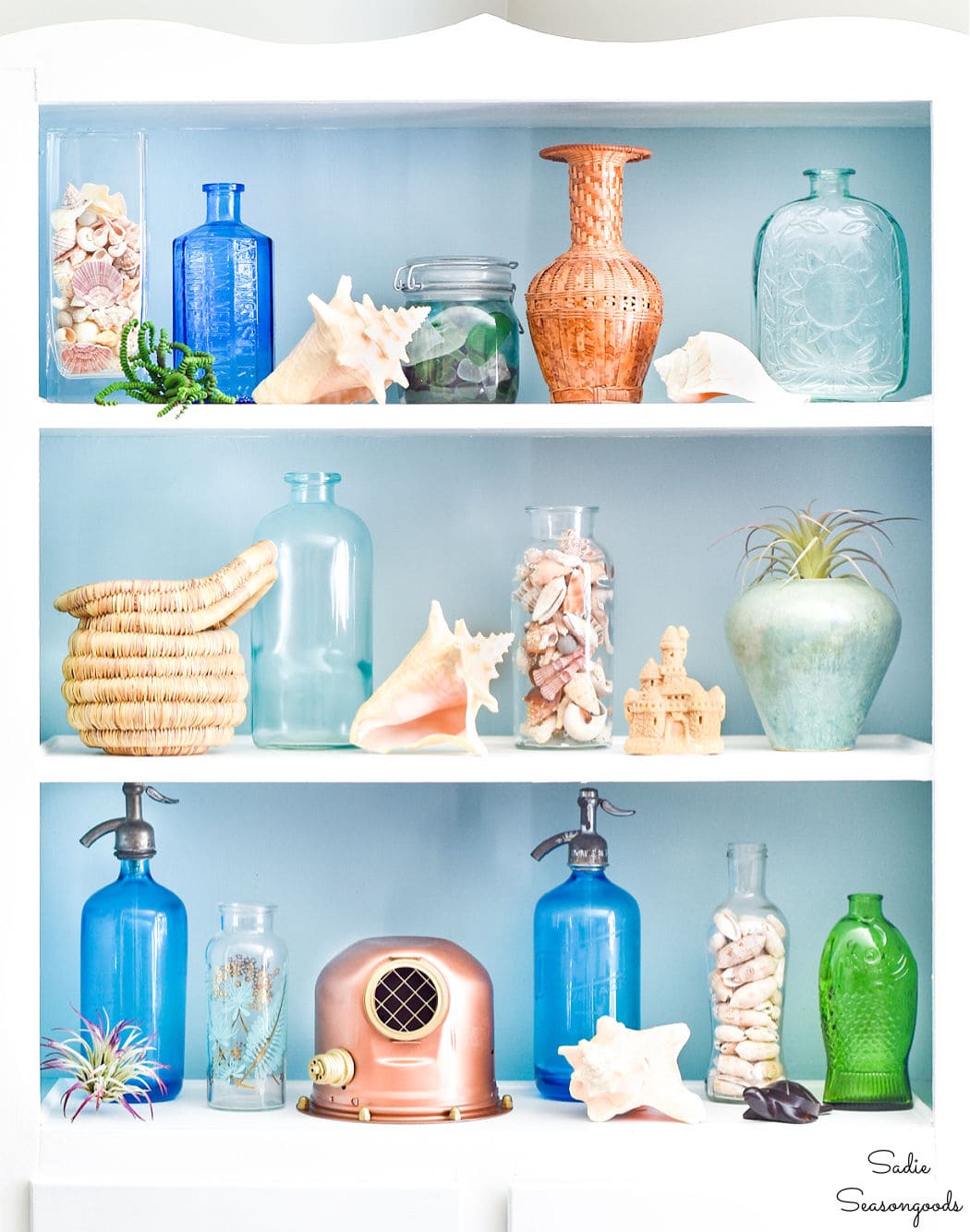 Thank goodness for thrifting and upcycling to make our beach house decor dreams come true. Landlocked or seaside, this breezy style is a perennial favorite- no matter where you live.
Craft on!
S
Join me on Social Media:

PIN ME!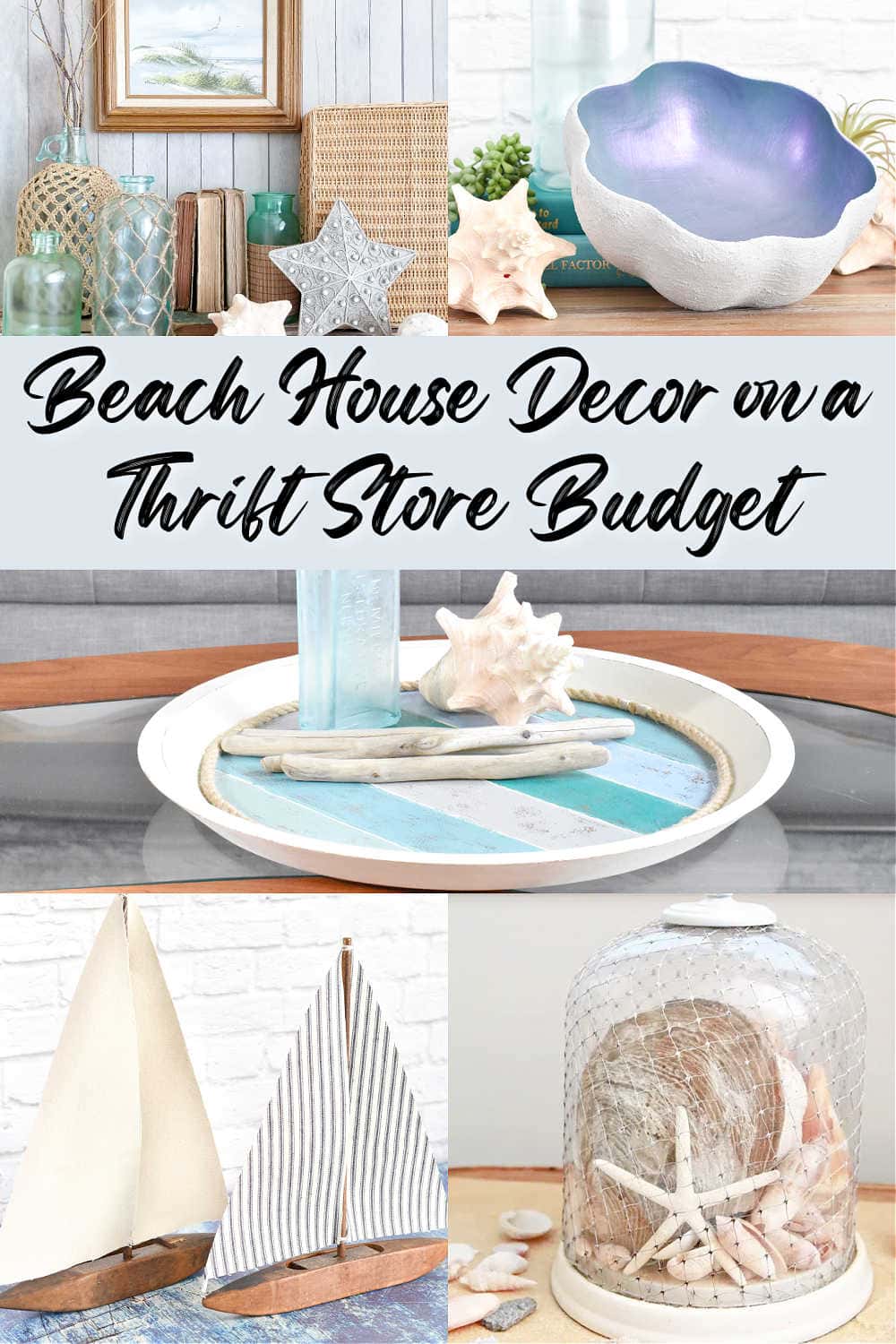 Sarah Ramberg is the owner of Sadie Seasongoods, a website that celebrates all things secondhand. From upcycling ideas and thrifted decor to vintage-centric travel itineraries, Sadie Seasongoods is a one-stop shop for anyone who loves thrifting and approachable repurposing ideas. Sarah is also the author of "Crafting with Flannel" and has been featured in numerous media outlets and magazines.