I've confessed my love of accessories to you before- particularly with scarves and vintage costume jewelry. But I am ALSO a lover of hats…especially during the humid southern summers! So, while I've made plenty of accessory organizers over the years (as well as other kinds of organizers), I was clearly overdue to make a hat holder or something similar for my Trilby hat collection
Well, my friends…finally, that day is here!
I love the look of vintage hat stands, but they are hard to come by and unsurprisingly pricey. But the look- their shape- is something that can be replicated using a few parts & pieces from the thrift store…in fact, it was this set of wooden bowls that inspired my project.
The clear varnish had nearly flaked away over the years, but otherwise, they were the perfect size and shape to hold a Trilby hat- even with their footed bottom. Now, I just needed to find some decent wooden candlesticks to pair them with.
I found these- and while they weren't perfect (more on that later), they would more than do and I could work around their flaws.
So- here's where my hat holder / hat storage vision is going…
This post contains affiliate links for your crafting convenience. As an Amazon Affiliate, I earn from qualifying purchases.
Making a Hat Holder / Hat Storage
But I needed to do a little prep work first! Using our orbital sander, I smoothed out the tops of the wooden candlesticks. This would allow the upturned bowls to sit more flush against them.
But while cleaning out the remnant candle wax, I realized just how deep that brass core was…which meant I wasn't going to be connecting the wooden bowls to the candlesticks with a screw (my original intention). It could be done, but seemed more troublesome than it was worth.
The wooden candlesticks also didn't have a large, stabilizing base- so, to hold something like a wide-brimmed hat, I would need to add a more secure base to each candlestick.
Enter a pair of wooden plaques that would serve as bases! Now I had all three parts that my hat holder project would need!
As I studied my parts, I wondered how to coordinate them- staining the wooden bowls and bases to match the candlesticks sounded awfully daunting. I LOVE wood stain, but I suspected that no amount of stain-matching would yield a seamless appearance.
Plus, it sounded like a lot of work in my garage and it was, like, 97°F outside. So, I decided to paint them- not my first choice (I really did want the look of natural wood), but the splashy blue won me over in the end.
To connect my hat holder project together, we drilled a hole through the center of the base, a pilot hole into the bottom of the wooden candlesticks, and drilled a 2" wood screw through each.
Then, I used my favorite wood glue to fix the wooden bowls to the candlesticks. A screw would have been ideal, but sometimes thrifters can't be choosers!
Because these wooden salad bowls were vintage and hand-turned, they were a little uneven on the inside. But I like the touch of askew-ness and it doesn't affect its hat-holding abilities at all!
Hat Holder by Upcycling Wooden Bowls and Wooden Candlesticks
After the wood glue had set, I re-enforced the junction with a bead of hot glue– it's not visible unless you turn over the hat holder, and I'm all about a little glue insurance. Especially since my original plan to use screws was thwarted.
And there you have it- hat storage that is simply perfect for a Trilby hat! I love creating accessory organization from thrift store finds.
I'm already on the hunt for additional wooden candlesticks- I still have three wooden bowls left…and many more hats!
If you enjoyed this upcycling idea for a hat stand, then you'll love this belt hanger / belt organizer that I made from a pants hanger!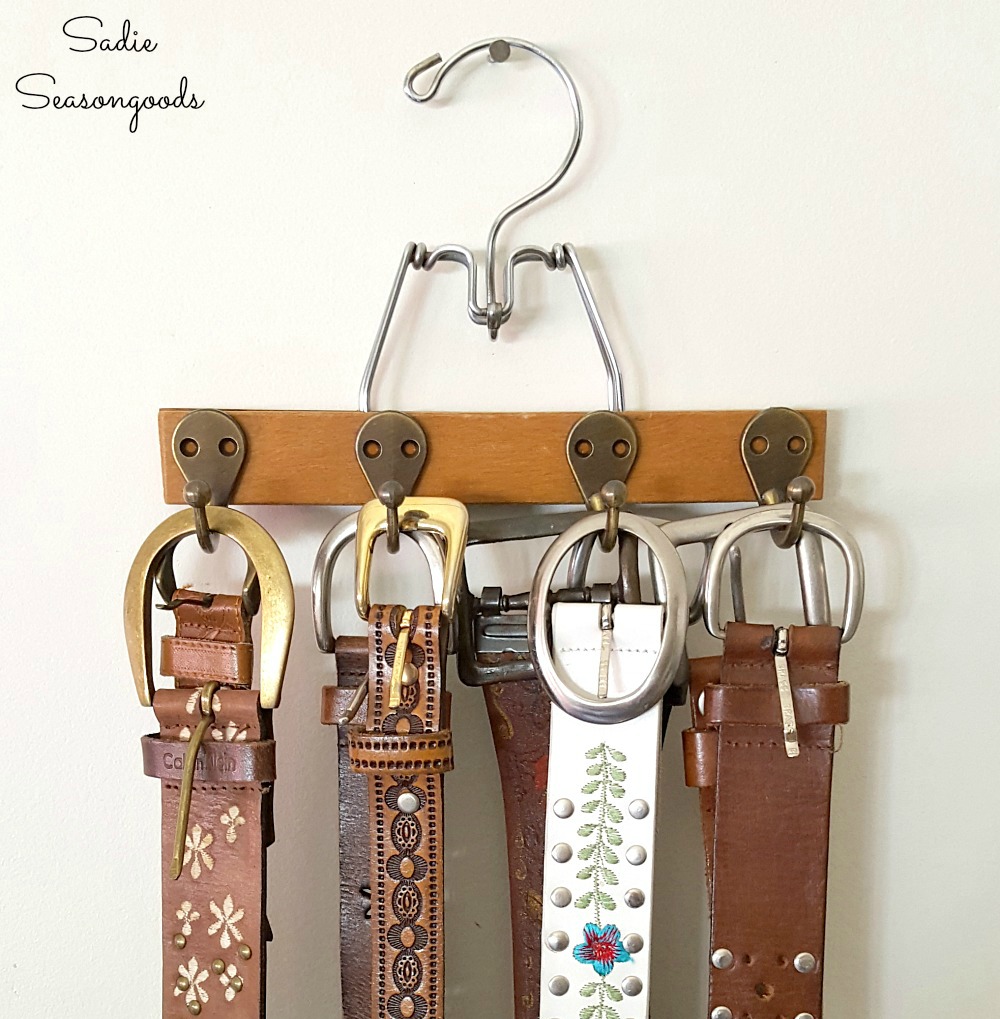 Craft on!
S
Want to be notified when I publish my next upcycling project tutorial?
Subscribe to Blog via Email
Join me on Social Media: