I didn't set out to make boho jewelry when I lopped the heads off of vintage tennis rackets for my Christmas cross stitch project. But, crafting kismet took over right from the start.

I *thought* all I wanted were the wooden tennis racket heads for large scale cross stitch…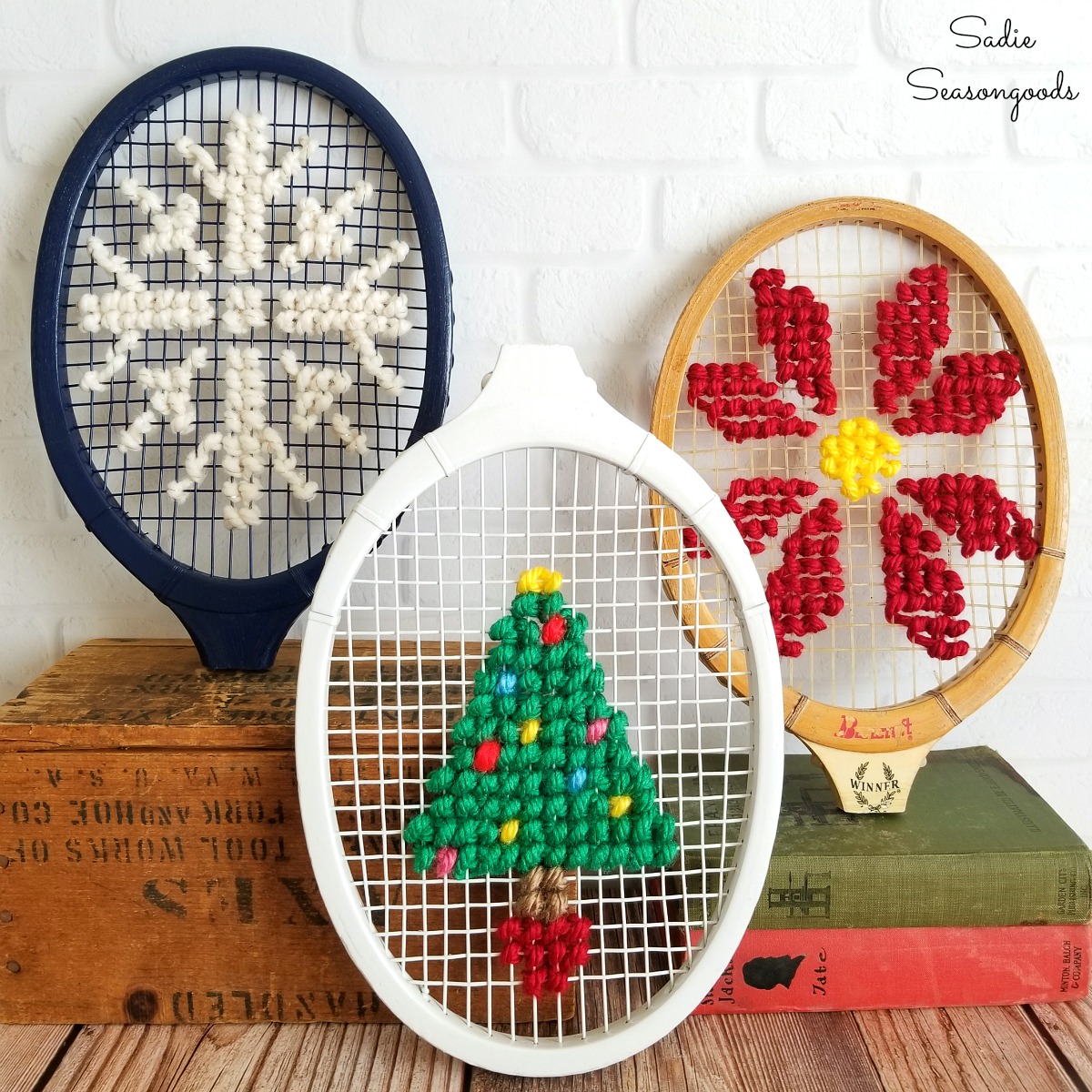 As it turns out, however…vintage tennis rackets (you know, the wooden kind you see at thrift stores ALL THE TIME) are made of very interesting combinations of wood. And I found this out when I ended up with a serious of wooden tennis racket handles after cutting them off with a miter saw.
When lo and behold, I discovered something crazy – the vintage tennis racket handles had AMAZING cross sections! I had four different wooden tennis rackets and each one looked gorgeously different. Different grains and colors, stacked together…hidden underneath the leather and tape.
They reminded me of those gorgeous cutting boards and clipboards you see at art festivals, the ones striped with different wood and are seamlessly put together. All of us realized that the handles were definitely NOT to be discarded, and that we could do something with them…something that would showcase their interior.
In a word: Jewelry. Boho jewelry. Specifically, wood pendants! This post contains affiliate links for your crafting convenience.
Creating the Boho Jewelry from Vintage Tennis Rackets
So, I went back to the miter saw and sliced off small segments, each one approximately ¼" to ⅜" thick, which seemed the appropriate size for a wood pendant.
These would make LOVELY wooden pendants…perfect for Boho jewelry or Bohemian jewelry. They just needed a few more touches…
First, I gave each little pendant a little sanding and applied wood conditioning oil (this was my favorite). The wood conditioner breathed new life into the dry wood from the vintage tennis rackets.
Next, I used a pin vise (a little hand drill; like this one here) to "drill" a dainty hole into the top of each wood pendant. From there, I inserted a dainty eye screw.
All that was left was to add a chain of some sort, and I elected to go with leatherette cords from a craft store. They had the right Boho jewelry vibe to match my wood pendants!
Wood Pendants as Boho Jewelry from Wooden Tennis Rackets
I mean, seriously. Even if chunky wood pendants aren't your style of jewelry, isn't it amazing that this Bohemian jewelry came from vintage tennis rackets? 100% wild, 100% true. Their awesomeness is… hard to handle… if I do say so myself.
For several years, I made many of these wood pendants or Boho necklaces for my (now closed) Etsy shop, but I wanted to share the photos because they're each so different! For instance, this wood pendant came from a vintage tennis racket that had a lovely blue handle.
I fell in love with this style and ended up keeping one for myself! I'm not a huge Boho jewelry person, but I couldn't give it up.
My vintage tennis racket Bohemian jewelry discovery is proof that you just never know where the upcycling road will lead you!
And if you're looking for more of my DIY Upcycled Jewelry project ideas, please check out even more ideas here!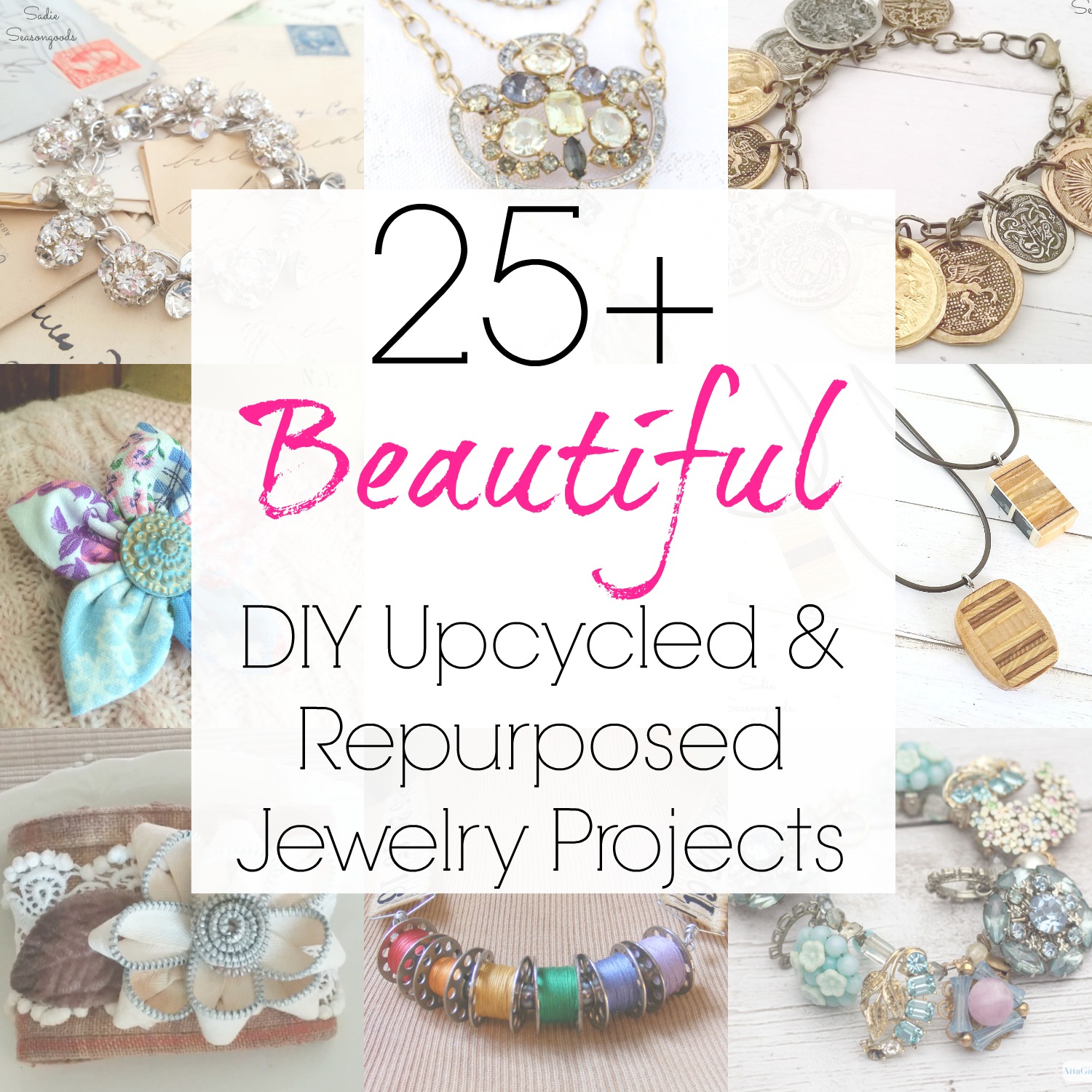 Craft on!
S
Want to be notified when I publish my next upcycling project tutorial?
Subscribe to Blog via Email
Join me on Social Media: