When I was growing up, lots of little girls wore those matching Best Friends necklaces. They consisted of a single heart charm that was "cracked" in half, and each girl would wear one of the halves. Fast forward a few decades to today, where I decided to reinvent the idea of best friend necklaces for adults. And to do so, I'd convert a pair of vintage clip on earrings as the matching pendants!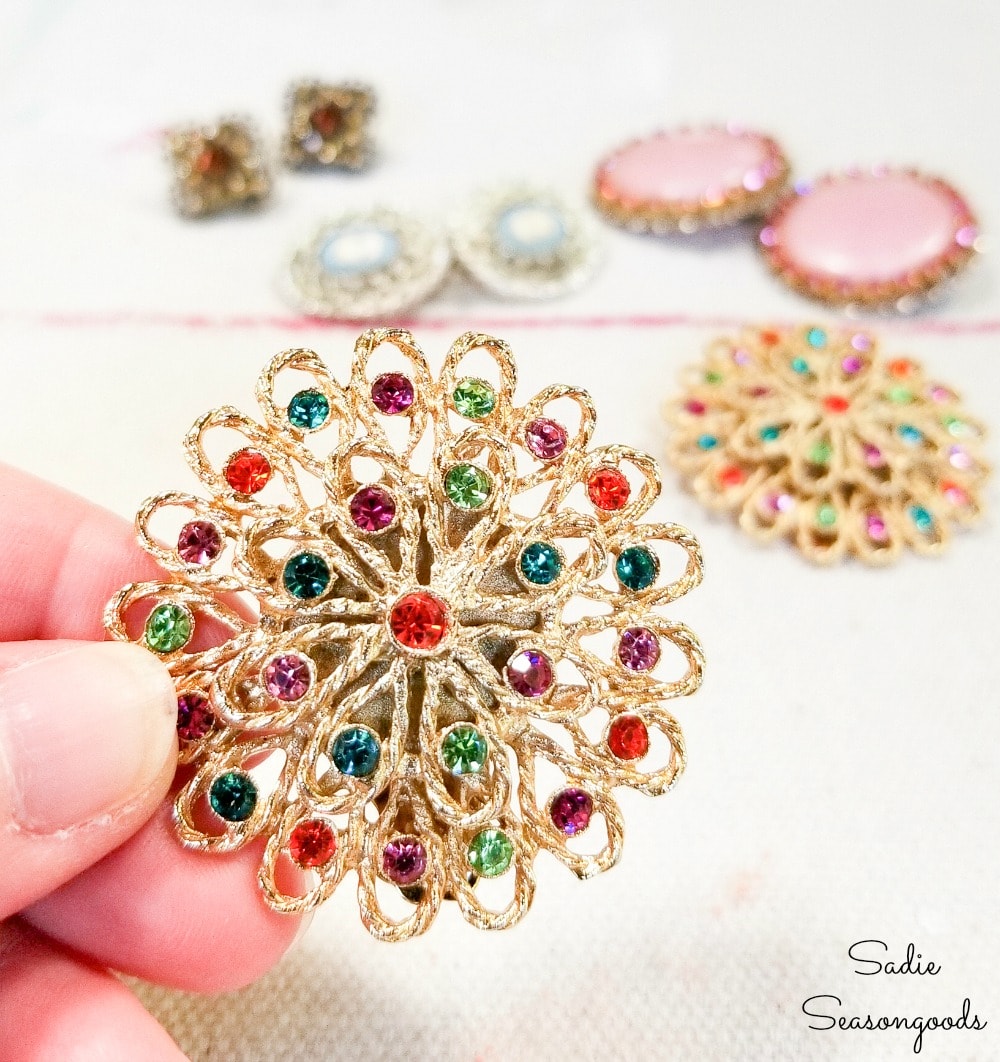 There are SO many of these floating around in a world full of pierced ears. And to create a set of matching necklaces, my plan was to convert a pair of vintage clip on earrings into necklace pendants.
Make sense?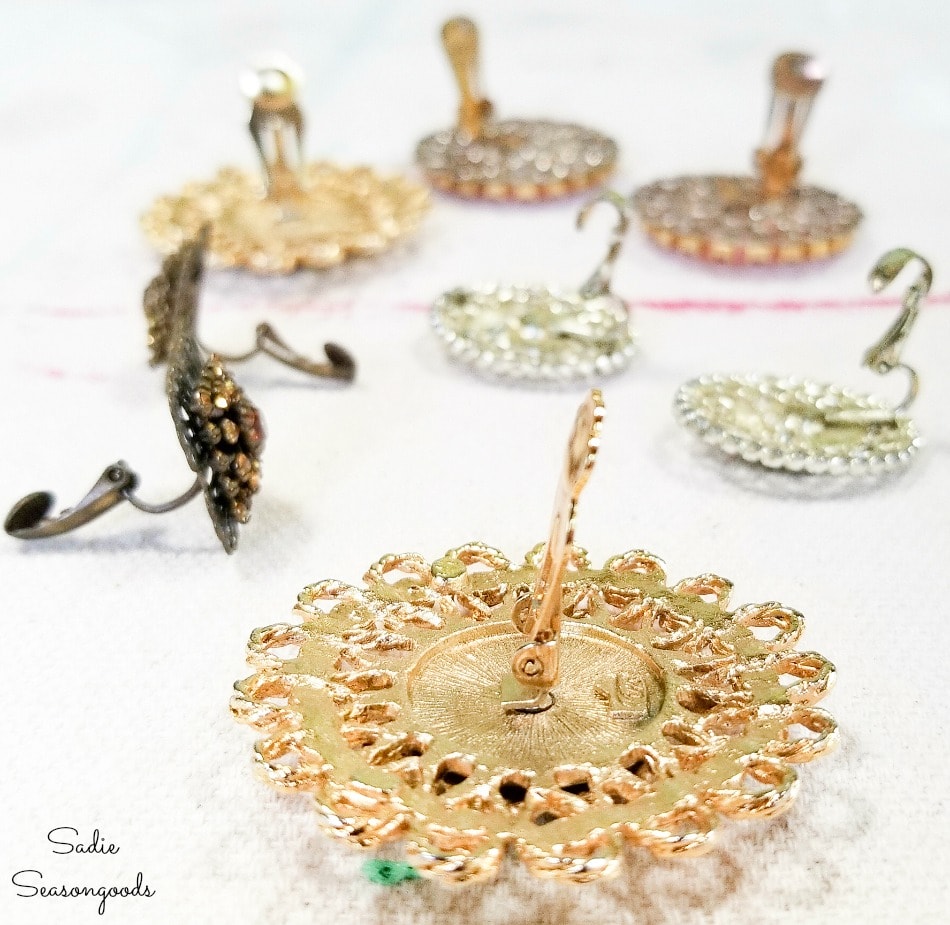 I gathered a few pairs of vintage earrings and my jewelry making supplies. With gorgeous Spring weather leading up to Mother's Day, it seemed like the perfect time to sit on my back porch and make some friendship jewelry.
This post contains affiliate links for your crafting convenience. As an Amazon Affiliate, I earn from qualifying purchases. All blue, bold, and underlined text is a clickable link, either to a product or to a related post.
Converting Vintage Clip On Earrings to Necklaces
The first thing I needed to do was convert the vintage earrings into necklace pendants. This process will vary from earring to earring, but I started with the pink earrings because they seemed easiest to work with.
A special shout-out to Pink Dogwood Jewelry for supplying me with vintage clip on earrings to work with! You can also always find them on Etsy, as well.
First, using jewelry pliers, I carefully bent the clip on the back up, making it easy to snip off.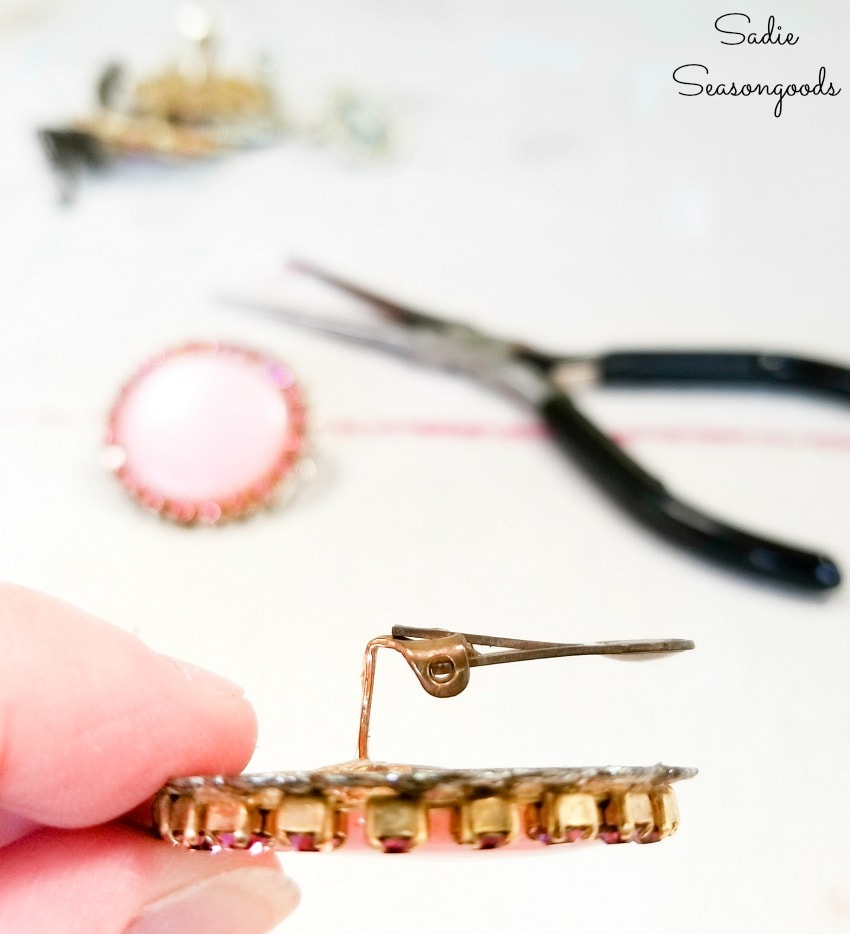 Next, I snipped off the clip as close to the earring as I could using wire cutters.
I then used the flat tip of the wire cutters to bend the remaining clip portion down, until it was flush with the earring.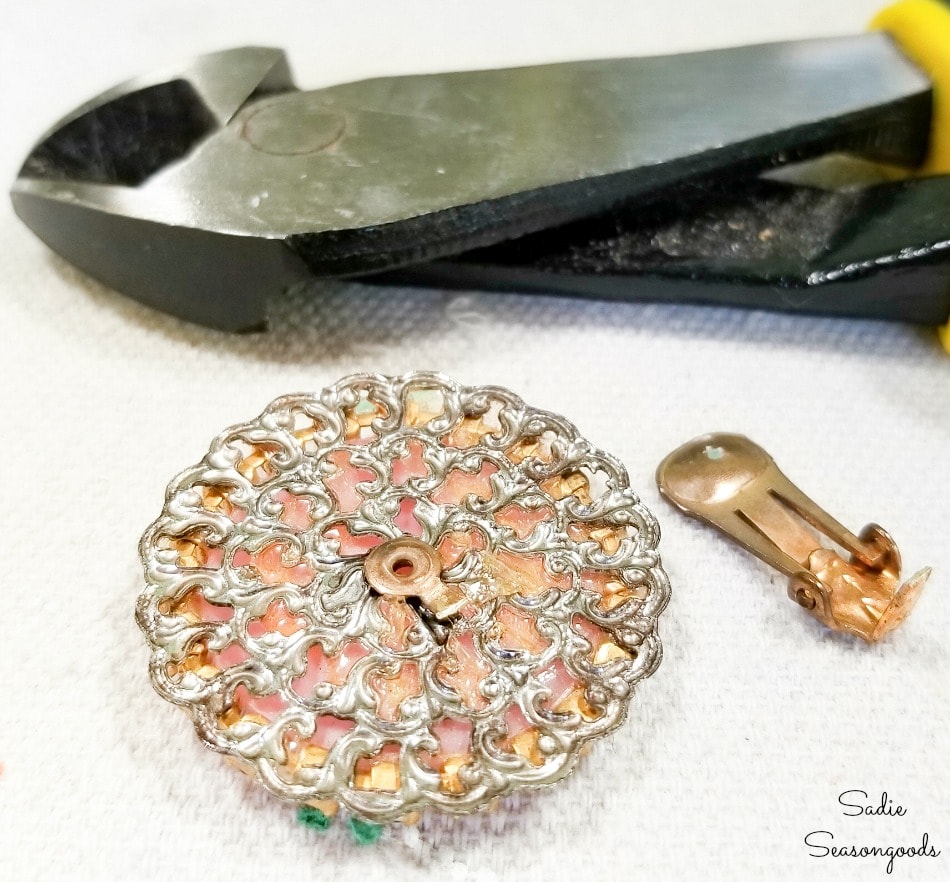 Of course, I did it to both earrings so that I could make a pair of matching best friends necklaces…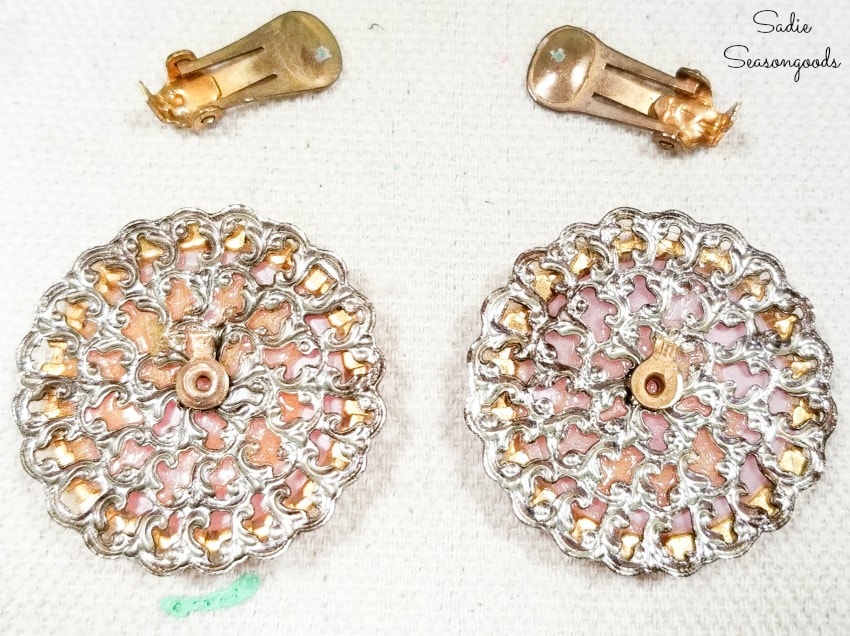 If the metal edges are rough, you could either add a smooth dollop of hot glue to the back or glue a small round of felt to the area.
Next, it was time to move onto converting them into actual necklaces with chain!
Matching Best Friends Necklaces
With the vintage clip on earrings that I worked with, adding chain would be easy, as they're on a filigree base.
Again, this will vary from earring to earring. If you used cluster earrings, you would likely need to glue them to pendant blanks like these.
But instead of just attaching regular chain to my vintage earrings, I decided to add a few pops of color by making some beaded chain first! I used glass beads and eye pins, both of which came from a craft store.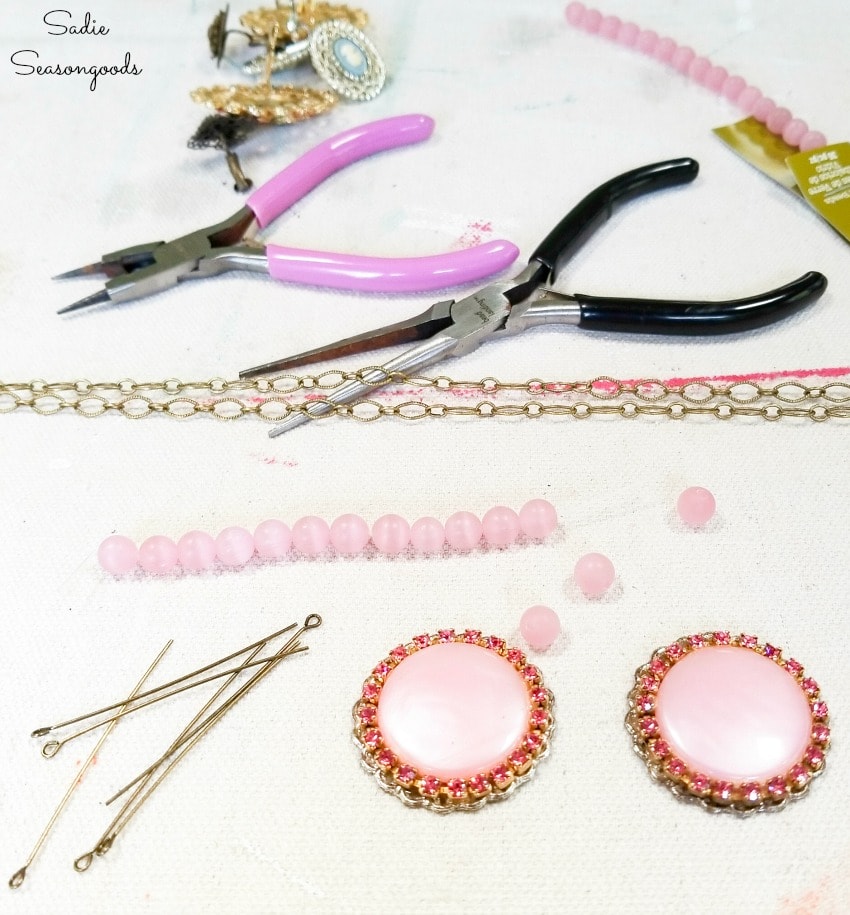 And making a beaded chain is easy. You're basically just adding loops to a bead so that it can connect to chain on either end.
First, I slipped a bead onto an eye pin.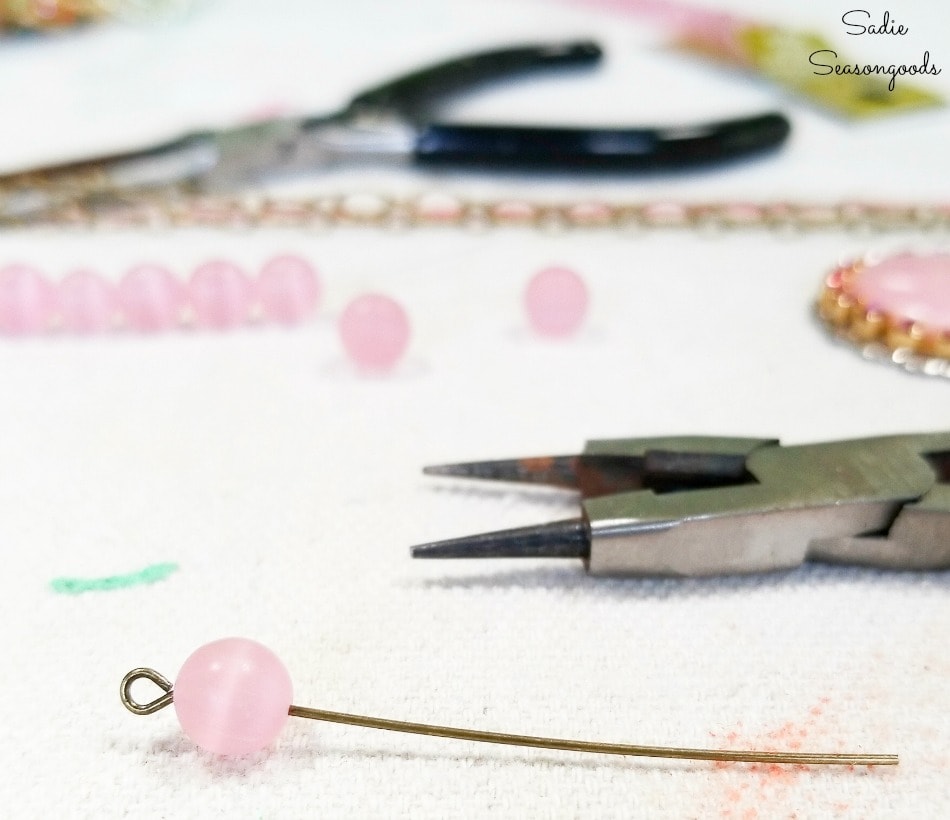 Then, I used my wire cutters to clip off excess pin and my round pliers to carefully curve the pin into another loop.
They're easy to make once you get the hang of it…and it's OK to sacrifice a few eye pins as you practice!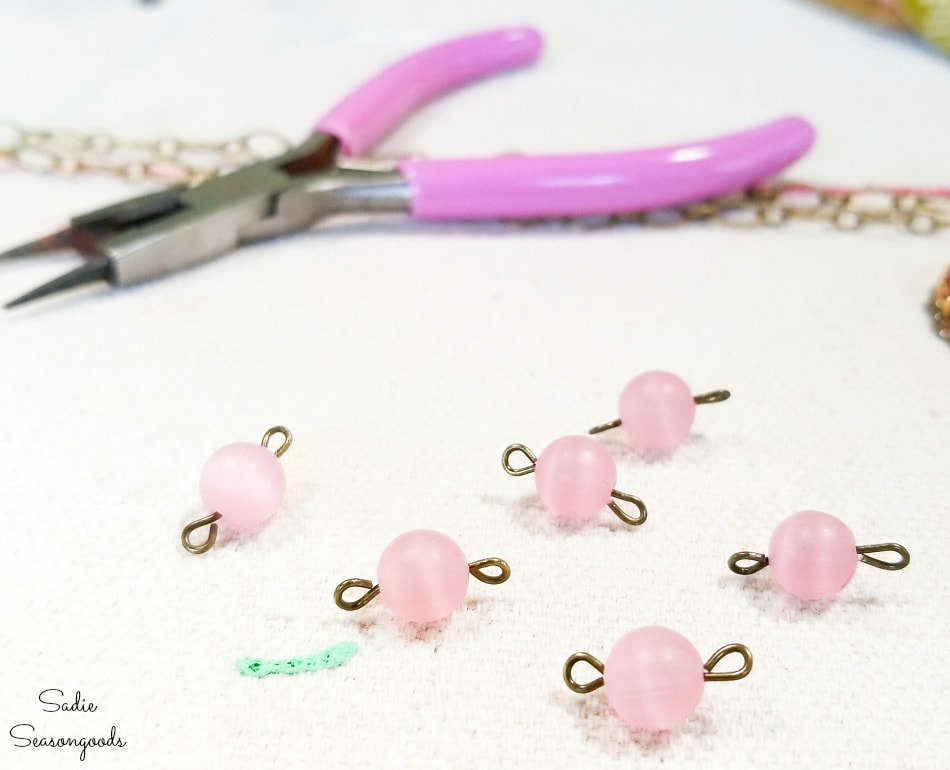 While this was a TOTALLY optional step, I thought it was worth the effort to add a little more "extra" to my friendship necklaces.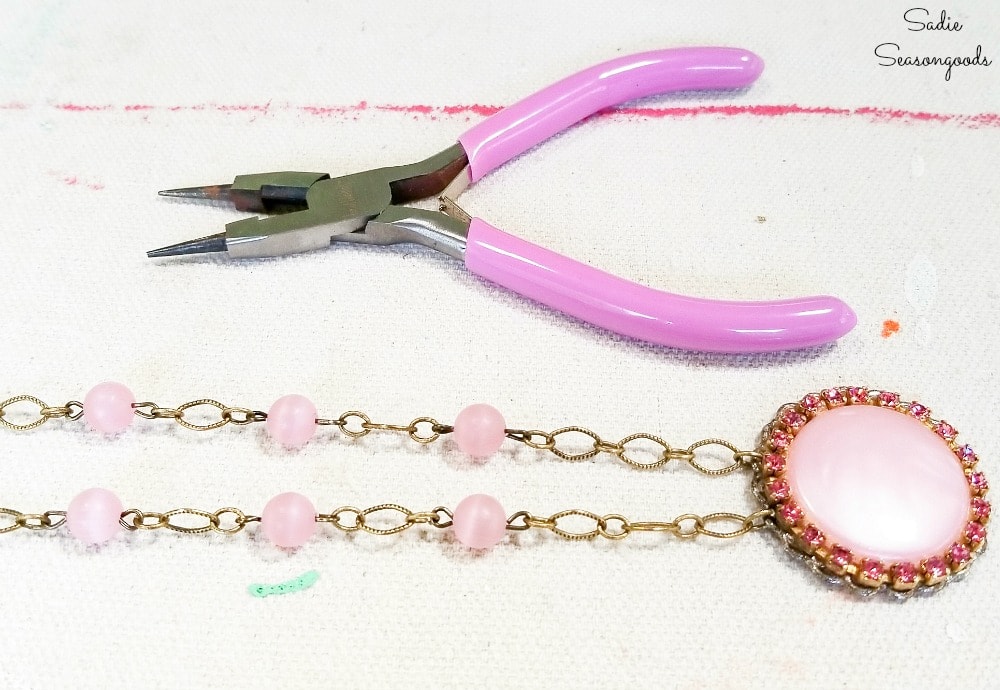 When all was said and done, I clipped off matching lengths of chain, inserted the beaded chain that I had made, and was nearly done!
Vintage Clip On Earrings as Pendants for Matching Necklaces
I ended up making three sets of matching best friends necklaces from three pairs of vintage clip on earrings.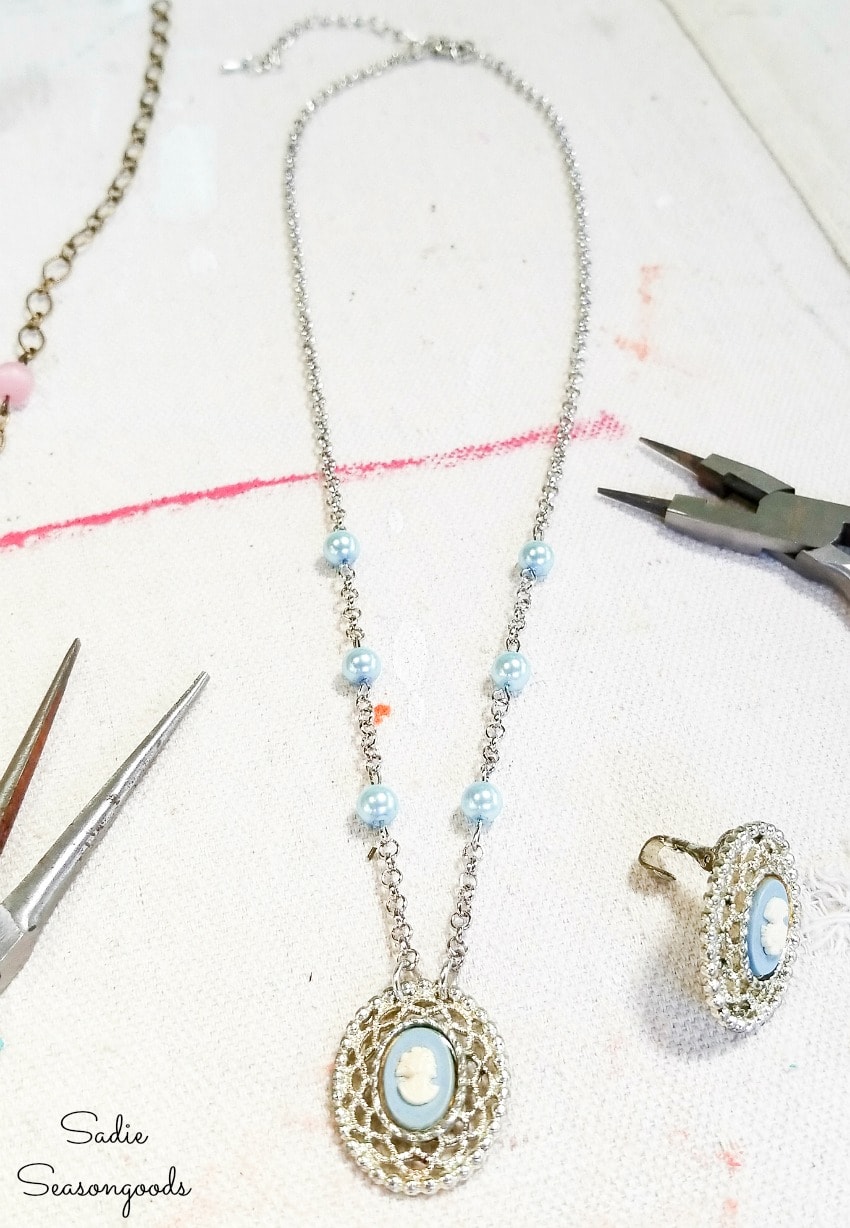 As you can see, Cottonball decided to help me finish them up.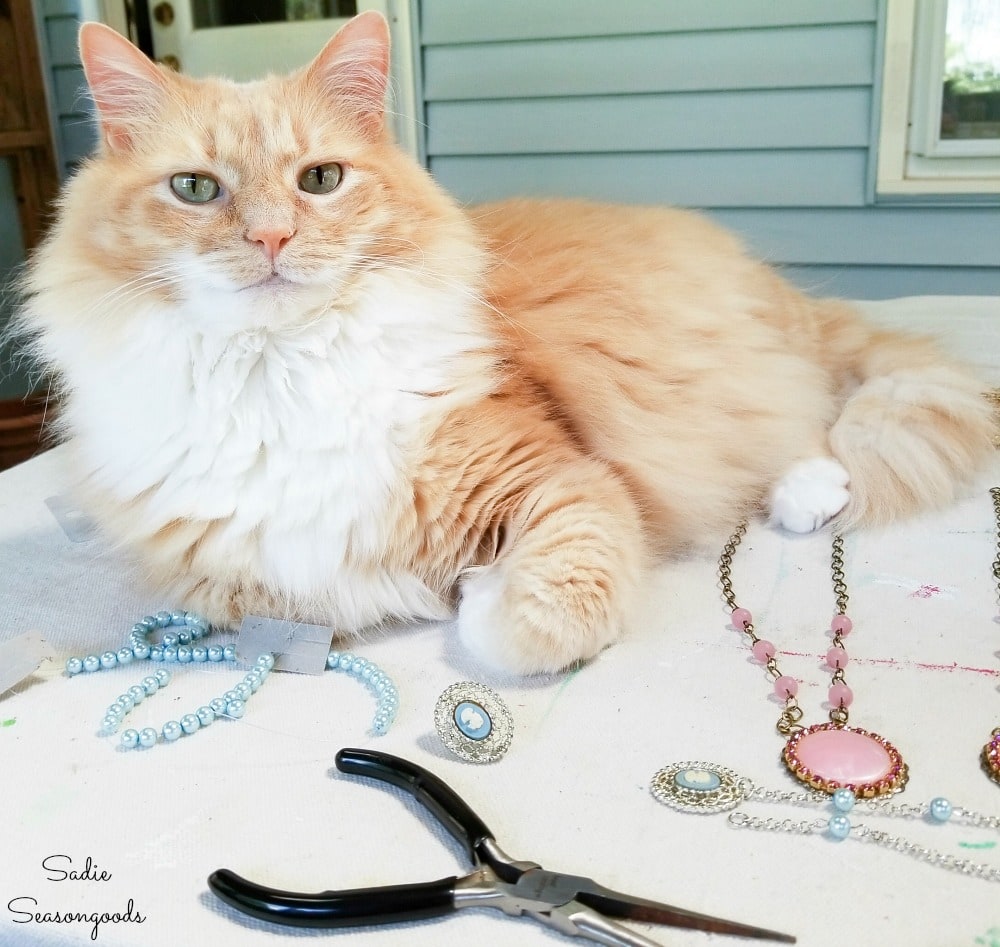 And if you're wondering, yes…I'll be sharing one of these necklace pairs with my mom.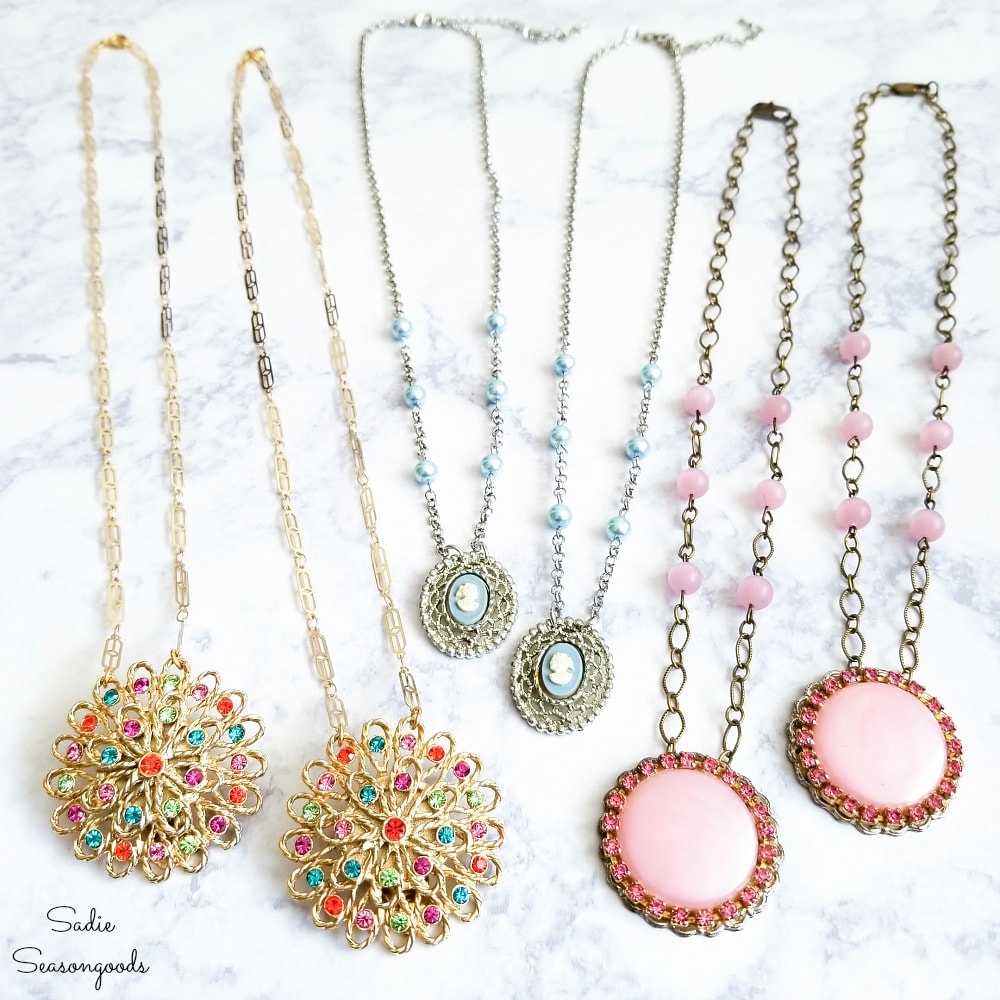 Hope she doesn't mind seeing her Mother's Day gift a little early this year!
Matching Best Friends Necklaces from Vintage Clip On Earrings
Upcycling a pair of vintage clip on earrings into "hers and hers" necklaces is perfect for best friends, moms & daughters, aunts & nieces…you name it!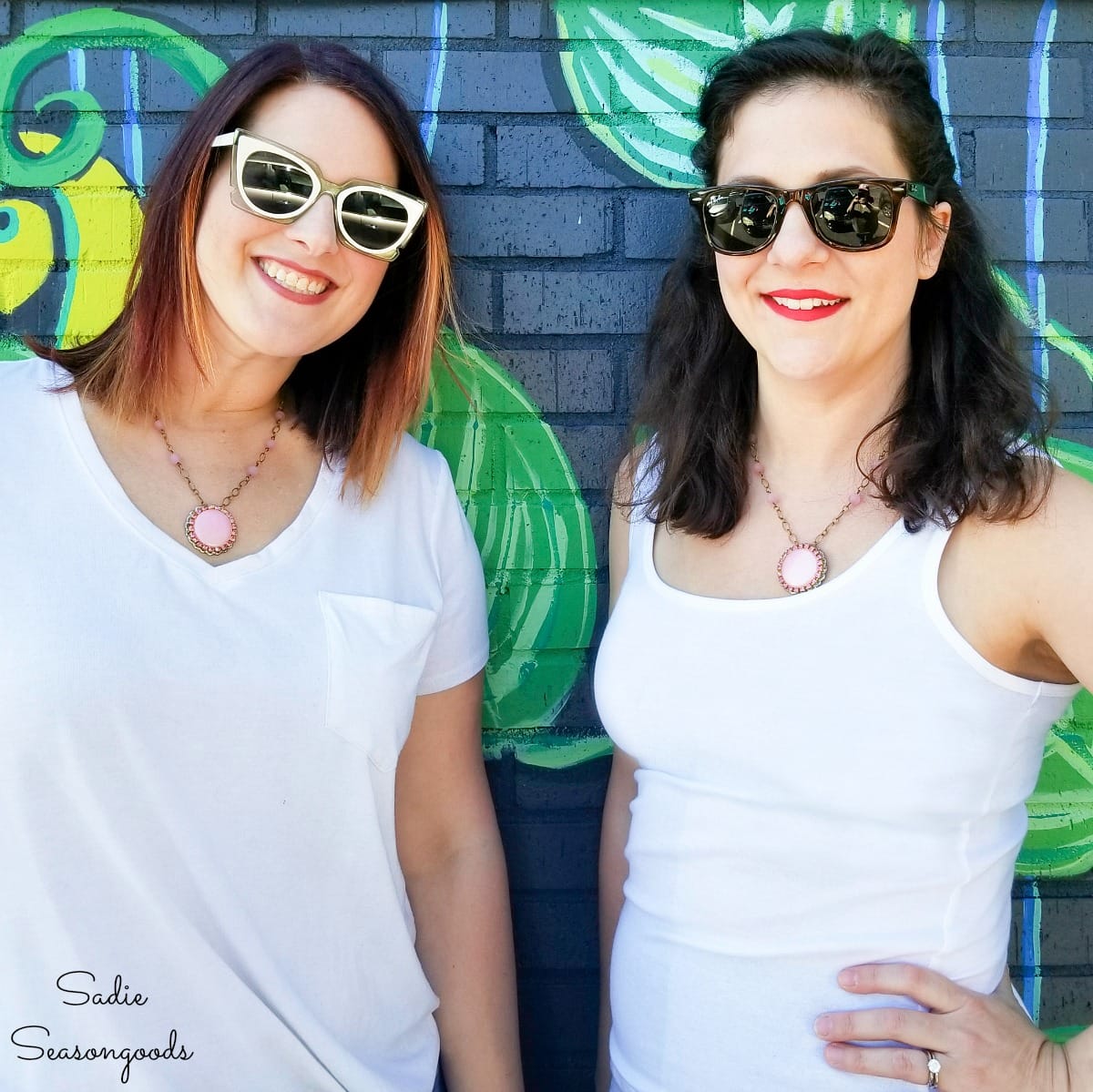 Wouldn't it be extra special if you were able to use a pair of your grandmother's (or mother's) vintage earrings, too?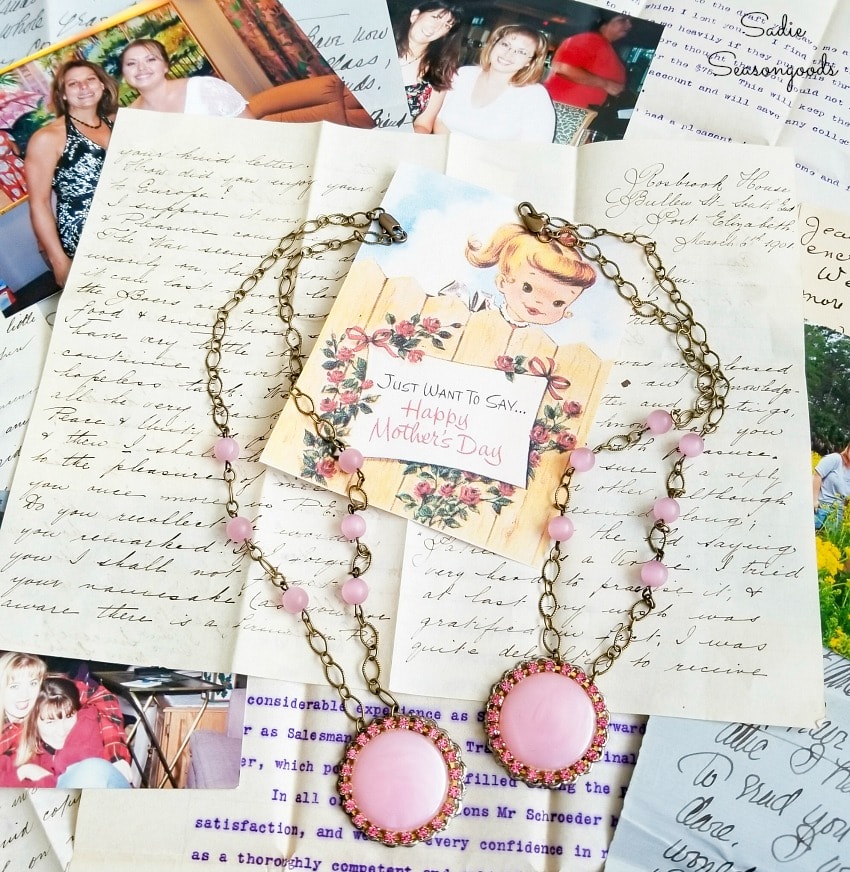 I always like to wear one-of-a-kind jewelry, but I'll make an exception this time around…because these are truly "two-of-a-kind" jewelry!
And if you love unique jewelry, please check out this collection of upcycled jewelry ideas here for even more inspiration!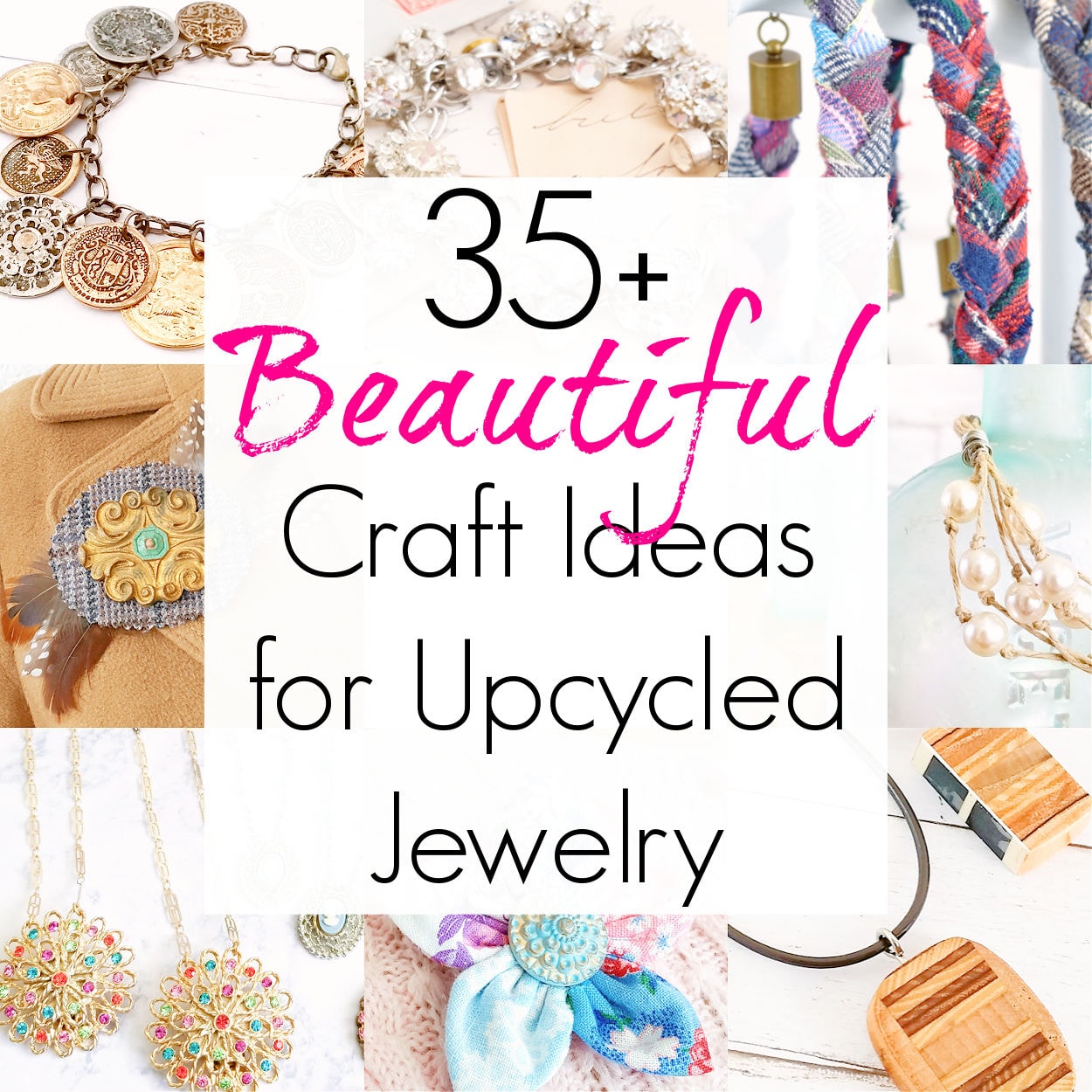 Before I go, allow me to give a quick note of thanks to my good friends who modeled the BFF necklaces for me – Maliasmark and Carla Sue Vintage/Kate DiNatale Vintage!
Craft on!
S
Want to be notified when I publish my next upcycling project tutorial?
Subscribe to Blog via Email
Join me on Social Media:

PIN ME!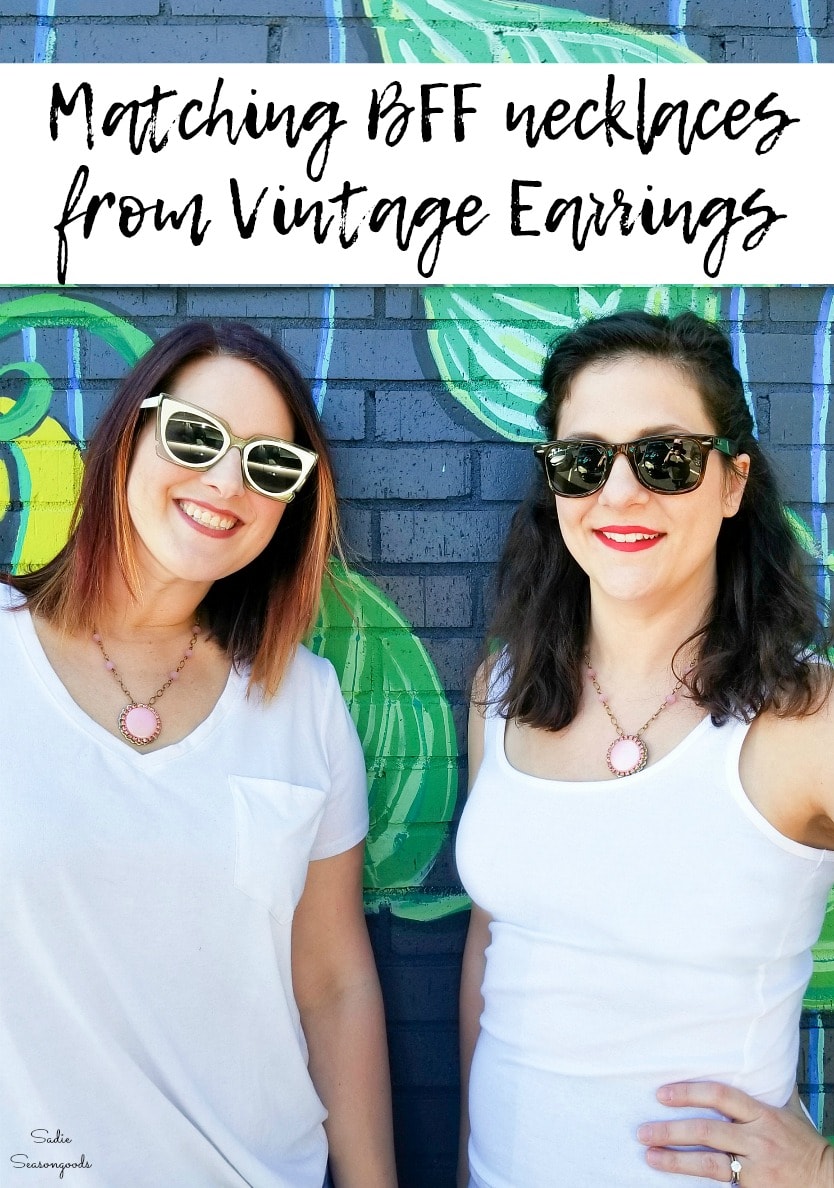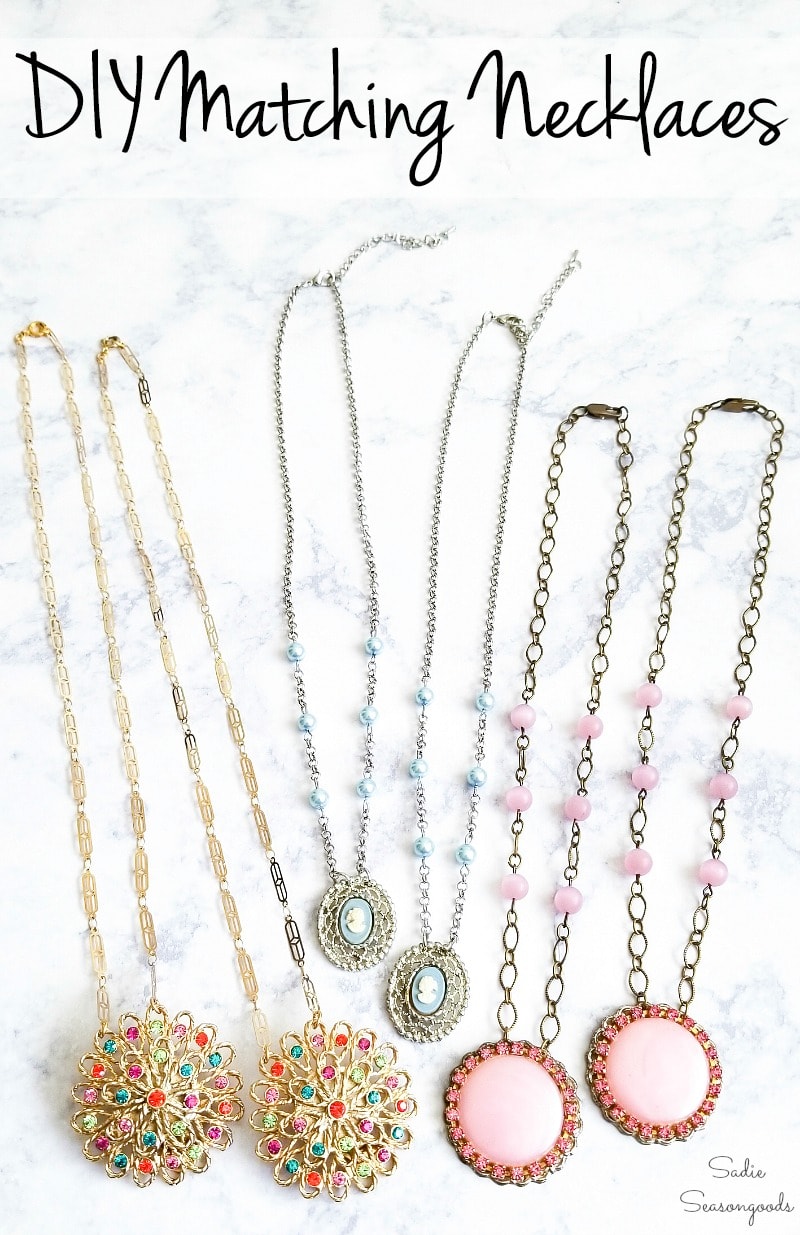 Sarah Ramberg is the owner of Sadie Seasongoods, a website that celebrates all things secondhand. From upcycling ideas and thrifted decor to vintage-centric travel itineraries, Sadie Seasongoods is a one-stop shop for anyone who loves thrifting and approachable repurposing ideas. Sarah is also the author of "Crafting with Flannel" and has been featured in numerous media outlets and magazines.