When it comes to decorating for Christmas, I'm all about a Vintage Christmas. Sometimes that means actual vintage Christmas decor, but that also means upcycling vintage pieces in a festive, merry way. And if you also enjoy vintage holiday trimmings, then this collection of decorating ideas and upcycle projects is definitely for you.
Brass Candlestick Ornament Display
The best part about collecting brass candlesticks is that they all coordinate perfectly together without needing a matching pair. And look how FABULOUS they are as a unique way to display your favorite vintage Christmas ornaments?
Vintage Toy Trucks as Christmas Decor
An old toy truck from your childhood (or even a newer one) is such a great piece of potential Christmas decor! You can outfit it with mini wreaths or little LED light strands. Or in this case, fill up the bed with fresh-cut (bottlebrush) trees. No matter how you decorate it, your little truck was meant to be used at Christmastime.
DIY Ice Skates for a Vintage Christmas
An old-fashioned sled adorned with ice skates has become a favorite pairing when it comes to holiday decor. And if you find a small decorative sled like this, you can recreate that look as door decoration for the holidays. The vintage part? Those "ice skates" started out as vintage baby shoes!
Vintage Christmas Decor on the Porch
An old sled isn't the preferred way to glide down a snowy hill anymore. But it sure is cute when propped up on your front porch during the holiday season! You can decorate it with all sorts of things: a wreath, a pair of skates, or even mittens like these (which were made from a thrift store sweater!).
Displaying Antique Postcards
Vintage Christmas postcards are a favorite collectible, and there are lots of ways to display them. This one utilizes vintage scrub brushes as display stands, but old flower frogs (the sharp kind) are another favorite method.
Waterless Snow Globes
Waterless snow globes are the easiest snow globes to make, and they really are just as cute! And while you can use new jars and decorations from the craft store, I'm partial to old jars and vintage decorative bits like these.
Vintage Flocked Wreath
This vintage flocked wreath was adorable plain, but had gotten slightly damaged over the years. Gaps had formed in the bristles and other areas had flattened out. But with the addition of a few vintage ornaments, it looks full and festive once again!
DIY Christmas Ornaments from Paper Coasters
Remember those paper coasters that stores like Hallmark would sell throughout the year? They were certainly cute and festive, but not all that proficient at being, well…a coaster. The good news is that they're absolutely perfect as a craft supply for this DIY Christmas ornament idea.
Ornament-Topped Bottles
Pretty bottles- old or new- aren't normally considered something to use as Christmas decor. But they're the perfect base to display a few of your favorite (or perhaps most delicate) ornaments. Imagine a Christmas mantel filled with these ornament-topped bottles…wouldn't that be absolutely stunning?
Vintage Snow Shoe
A vintage snow shoe- or even a newer one- is definitely not the typical Christmas wreath. But, not only is it fun to decorate with greenery and ribbon, but the shoe itself is a fun way to show off a few of your favorite Christmas cards, as well.
Upcycled Paper Trees
These recycled paper trees are fun Christmas craft ideas to make with all sorts of paper. Book pages, sheet music, old Christmas cards- you name it. These secret to their cuteness is the torn edges and the vintage receipt spikes that you use to make them.
Vintage Christmas Decor with Ornament Boxes
Once your vintage ornaments are hung on the tree, the empty boxes might be festive enough to use as Christmas decor, as well. Stacked like a Christmas tree so you can appreciate the graphics printed on the sides, it's a fun and unexpected way to decorate for the holidays. And yes, that's a vintage cookie cutter on top, too.
Retro Wreath
This Christmas wreath has a retro feel, thanks to the vintage decorations and old fashioned Santa graphic in the center. But the best part is that it was made by upcycling a plastic tray from the thrift store.
Vintage Soda Crate Display
A vintage soda crate with large enough openings is the perfect thing for displaying some of your most prized ornaments. And here's a bonus- you can use the crate to store the ornaments throughout the rest of the year, too!
Framed Vintage Christmas Postcards
Victorian-era Christmas postcards really are like little pieces of art with their delightful graphics and festive greetings. Which means they're perfect as Christmas decor, either framed like this or displayed in other ways. Plus, they're small and flat which makes them incredibly easy to store throughout the rest of the year.
Peg Bag Door Decor
A vintage clothespin bag or peg bag wouldn't normally scream "Christmas wreath". Unless, of course, it was already sporting some Christmas colors! Then it's the perfect thing to repurpose into a Christmas plaid door hanger during the holidays.
Decorating Ideas for a Vintage Christmas
I hope you've enjoyed this cheery collection of vintage Christmas decorating ideas! There are so many ways to add some nostalgia to your holiday decorations and hopefully some of these ideas inspire your own vintage Christmas decor this year.
Craft on!
S
Want to be notified when I publish my next upcycling project tutorial?
Subscribe to Blog via Email
Join me on Social Media:

PIN ME!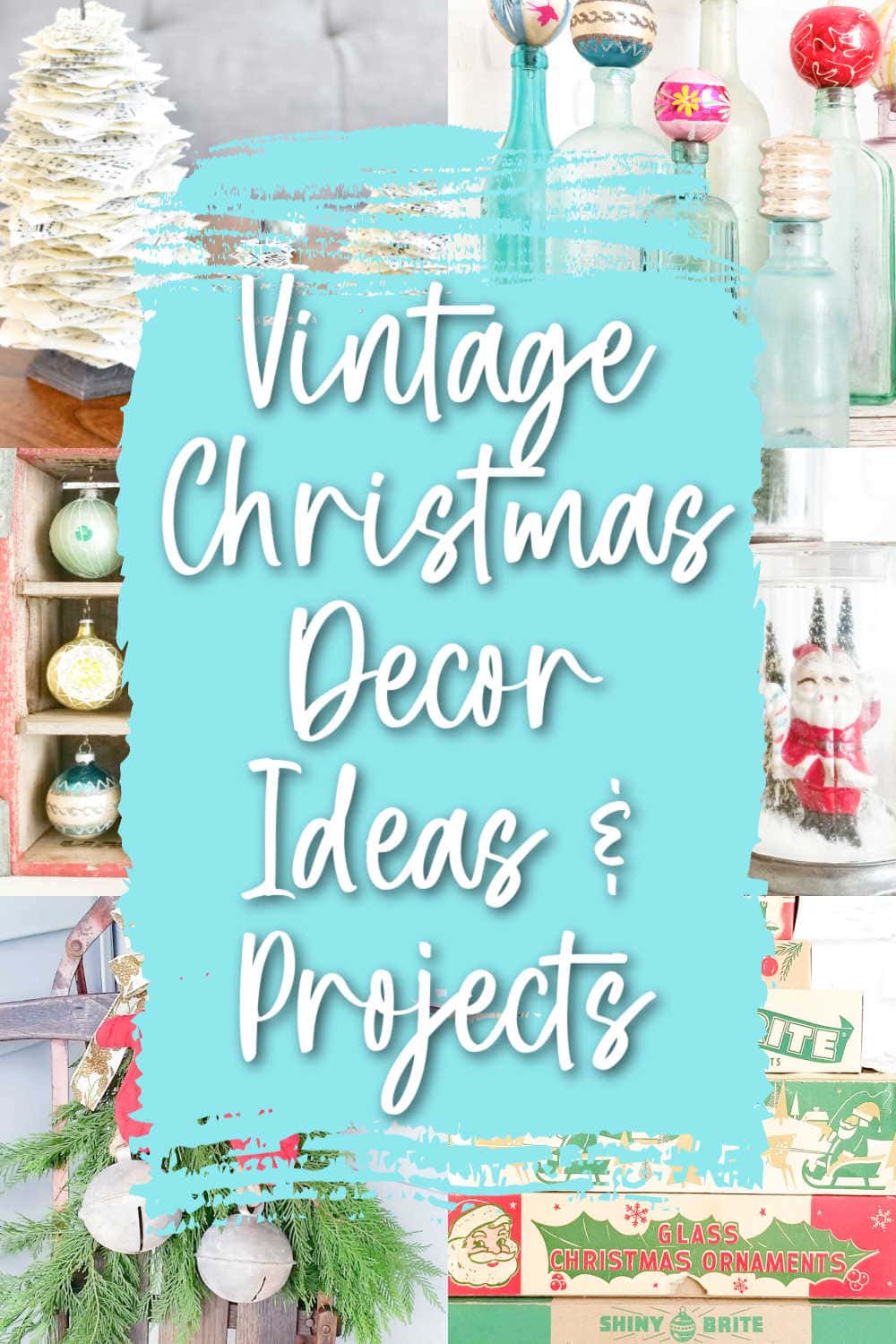 Sarah Ramberg is the owner of Sadie Seasongoods, a website that celebrates all things secondhand. From upcycling ideas and thrifted decor to vintage-centric travel itineraries, Sadie Seasongoods is a one-stop shop for anyone who loves thrifting and approachable repurposing ideas. Sarah is also the author of "Crafting with Flannel" and has been featured in numerous media outlets and magazines.