When you go to a thrift store (or garage sale…or flea market), there are ALWAYS some figurines available. Whether they are ceramic, porcelain, clay, or other material, figurines are a secondhand shop staple. And as I was on my thrifting adventures over the past few months, I picked up a few along the way. I had a sneaking suspicion with just a little bit of paint, I could create Halloween figurines as scary Halloween decorations with them.

I specifically kept an eye out for the "flawed" figurines – ones that had significant chips or cracks, or even some that were missing pieces entirely. This Halloween craft idea is seriously PERFECT for imperfect figurines.
After I had hit a few thrift shops, I had a little army that would become the Halloween figurines / haunted objects of my dreams…err, nightmares!
This post contains affiliate links for your crafting convenience. As an Amazon Associate, I earn from qualifying purchases.
Turning Normal Figurines into Halloween Figurines
First, I set up my spray paint station outside- basically, a sawhorse table with my figurines on top. I wanted to raise the figurines up (as opposed to spray painting on the ground/grass) so that I could make sure I was getting paint in all the nooks and crannies.
Using bubbles of wide painter's tape, I temporarily secured the figurines to my makeshift table. This ensured they wouldn't tip over from the force of the paint or a gush of wind.
Then, I nabbed some glossy black spray paint and my always-gotta-use trigger handle.
Two coats later, they looked like this! Part of me wondered if they would have looked better in a satin or matte black paint, but the glossy finished started to grow on me…
Now comes the secret to giving these a spooky, haunted Halloween look: DEMON EYES!
First, I used a red paint pen, but I was dissatisfied with the color (it was more pink, less scarlet). So, I ended up using chalky red craft paint, which turned out far better and was the perfect red against the black paint on the Halloween figurines.
A quick tip for painting the demon eyes – I didn't use a small paint brush! Instead, I used the blunt round end of a bamboo skewer! It allowed me to pick up the amount of paint I needed and could dab it on the figurine in an eye shape! It sounds crazy, but skewers are a favorite secret crafting tool of mine.
Halloween Figurines / Demon Figurines as Haunted Objects for Halloween Decor
And then the Halloween figurines were done. From sweet to scary in no time at all for very little money.
You could definitely change these up and still keep them spooky- grey spray paint for a more zombie-like appearance…or maybe an olive green for a more swamp-like or Godzilla look.
But no matter how you paint them, it makes for super easy Halloween decor that fits into any budget. And going on a scavenger hunt for weird figurines is a LOT of fun!
If you enjoyed this upcycling idea for scary Halloween decorations, then you'll love these vintage Halloween decorations made from Christmas window candles!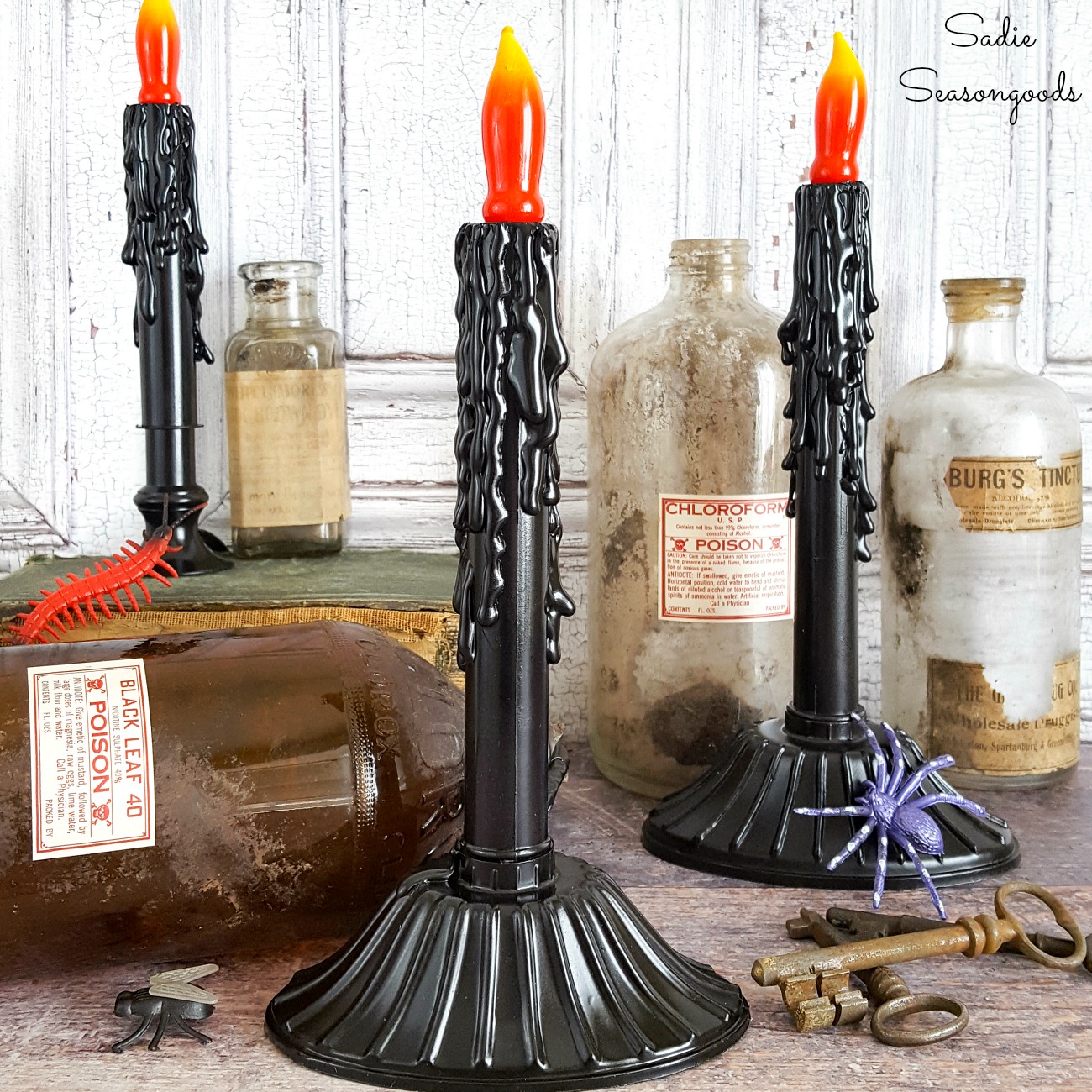 Here's another upcycling idea for Halloween decor that takes no time at all – upcycling those glass light covers into a ghost light!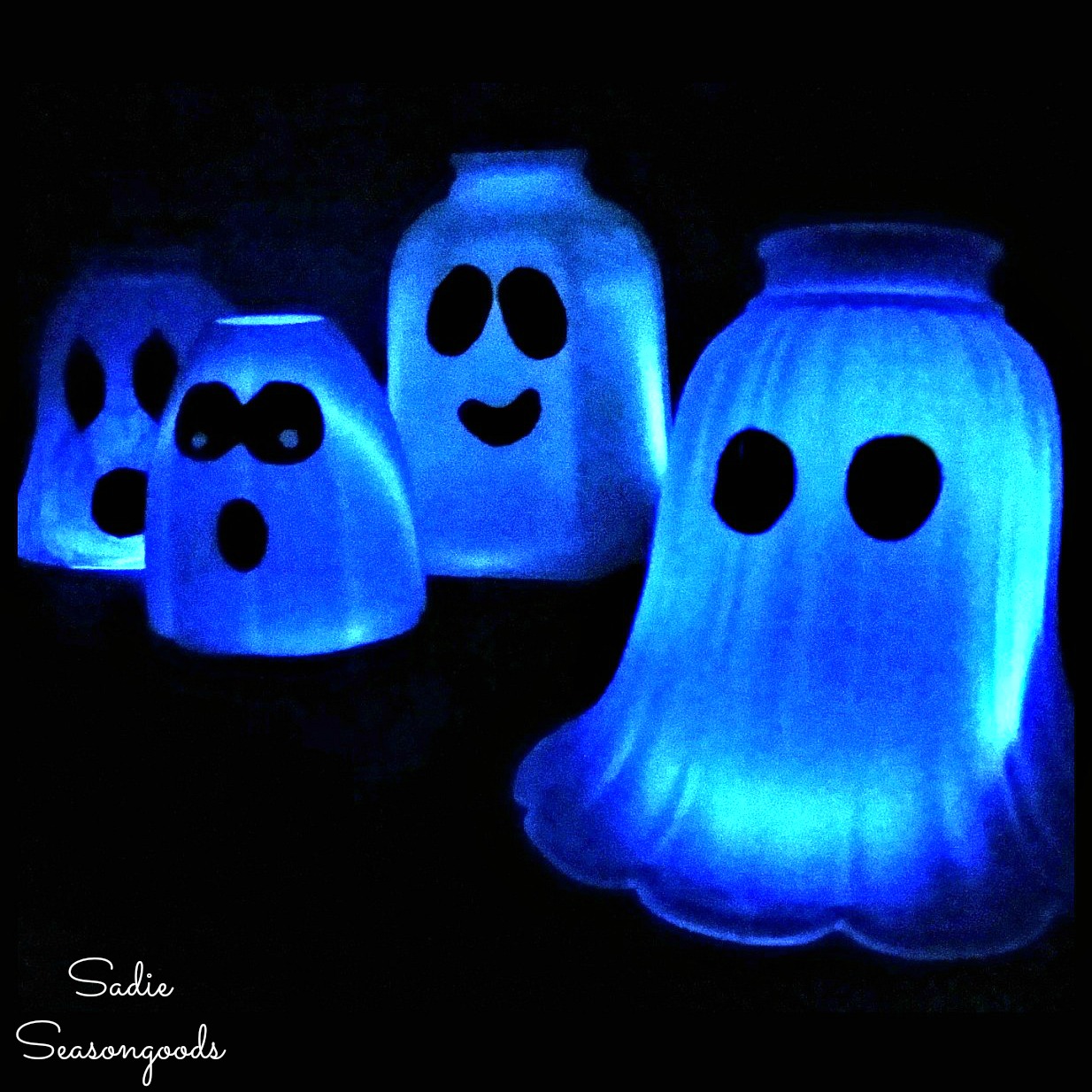 Craft on!
S
Want to be notified when I publish my next upcycling project tutorial?
Subscribe to Blog via Email
Join me on Social Media:



PIN ME!