Lamp shades are a pretty common item at thrift stores, in every size and shape you can imagine. So, I felt a compelling need to come up with an upcycling idea for them, starting with these small lamp shades that I found at Goodwill. I had this niggling feeling that lamp shade frames could be repurposed into metal hanging baskets for a hanging herb garden…

Don't they look like little Fez hats? They were cheap and the outer layer of string was starting to come undone on a few of them, so I knew they were destined to be repurposed. And I was bound and determined to turn them into a hanging herb garden! This post contains affiliate links for your crafting convenience.
Upcycling Small Lamp Shades into Metal Hanging Baskets for Herb Pots
To turn my upcycling idea into reality, I removed the fabric and string from the small lamp shades down to the lamp shade frame. Which took no time at all, because, like I said, they were literally coming undone in the store!
The internal part of the lamp shade frame (that went around a light bulb) just needed to be bent down. NOW there was a platform for my herb pots to sit upon!
Once all the small lamp shades had been "disrobed", so to speak, I was ready to take the next step. Now I could transform them into metal hanging baskets that would become a vertical garden planter or hanging herb garden!
Metal Hanging Baskets for a Vertical Garden Planter
Because I love to use what I already have, I decided to use this lightweight chain to connect my small lamp shades / metal hanging baskets. It was a yard sale find that I hoped would come in handy one day, and well…it did!
I wasn't particularly fond of the maroon paint on each lamp shade frame, so I spray painted them gold to match the chain. Now my future hanging herb garden will look like it was meant to go together, right!
With wire cutters in hand, I carefully cut the chain into matching lengths to go in between the small lamp shades so that the metal hanging baskets would hang evenly and perfectly spaced out.
Then, using inexpensive gold-tone jewelry wire, I carefully connected pieces of chain to each lamp shade frame. Once I was done with that, I connected the small lamp shades together, just like metal hanging baskets. And yes, even though I started out with four, one was just a back up in case something went wrong.
They don't look like Fez hats anymore, do they?
A Hanging Herb Garden from Small Lamp Shades
And just like that, I added herb pots inside my metal hanging baskets. Quick tip – when I was shopping for herbs, I carried one of the small lamp shades with me to make sure it fit perfectly inside!
How cool is that? I have it hanging on our front porch for now, but I'm already thinking about making a second one to hang out back- to hold entirely different herb pots!
I have parsley, thyme, and oregano for now…and with the farmer's market season starting back up now for those of us in South Carolina, I'll be able to pick up a few additional herbs for sure.
Isn't that a fun and unexpected upcycling idea for small lamp shades? But I'm telling you, with a little lightweight chain and some jewelry wire, you can make your own set of metal hanging baskets.
And if you don't want to use them for a hanging herb garden, you could use lightweight flower pots or even artificial plants just for decor!
Looking for more upcycling ideas to create garden planters? Then check out this amazing collection here before you go!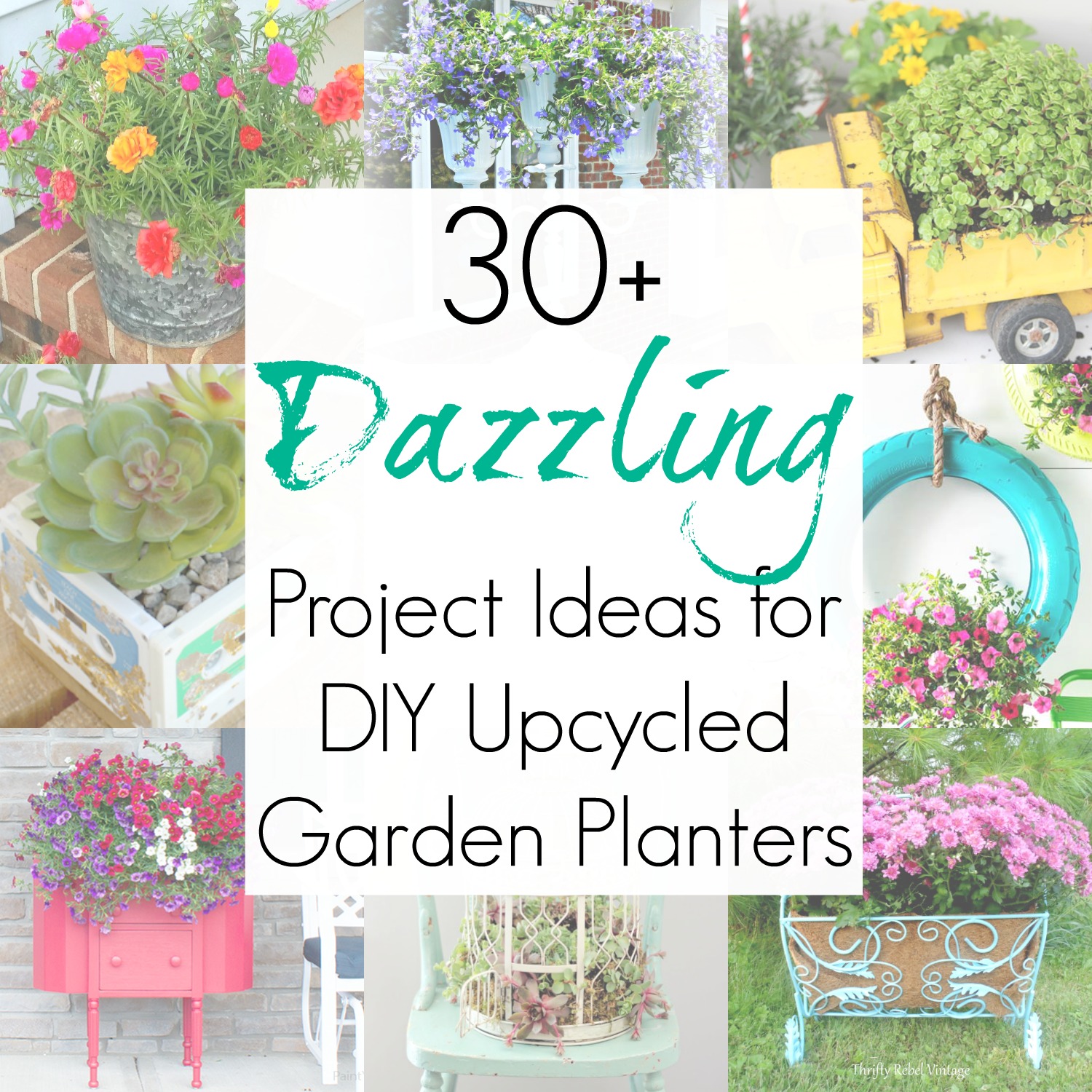 Craft on!
S
Want to be notified when I publish my next upcycling project tutorial?
Subscribe to Blog via Email
Join me on Social Media: