I've had a quiet fascination with all things Dutch for most of my life. Between the tulips and the windmills and summering near Holland, Michigan, I suppose it couldn't be avoided. I also had my own pair of Dutch wooden clogs, and while I no longer have them, I still wanted to turn some into upcycled planters for our front porch.
Yes, this is me as a Dutch girl for Halloween with my personalized Dutch wooden shoes. Incidentally, these came in quite handy for St. Nicholas' Day, too!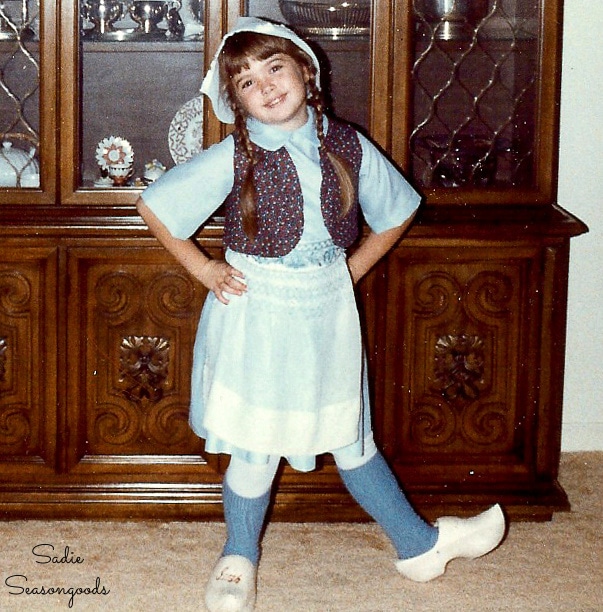 I had previously seen this idea that had repurposed some Dutch wooden shoes as craft room organizers. I just had to give my idea of converting them into unique planters a go!
Since I no longer had my "Sarah" shoes anymore, I acquired a couple of vintage Dutch shoes. These are the smaller (6″ long, or so) souvenir versions, rather than wearable versions.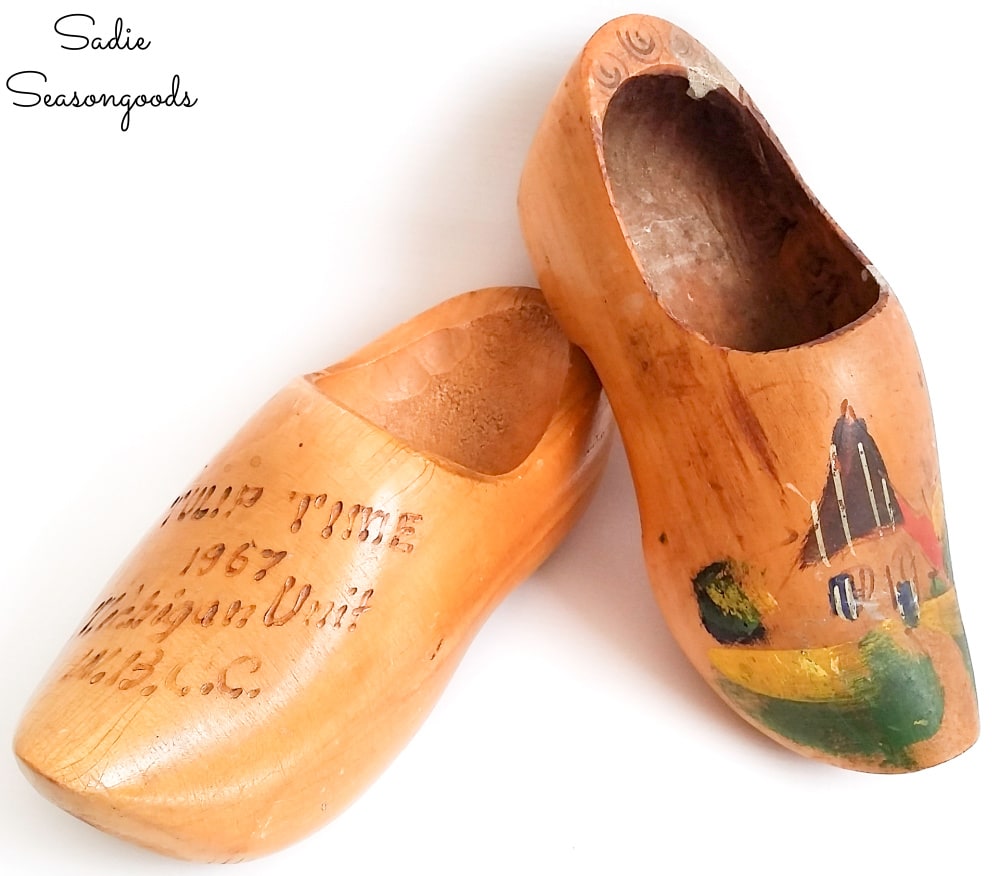 With the changing of seasons on my mind, I was ready to try out my plan to turn them into upcycled planters. And I suspected that it would be INCREDIBLY easy to do.
This post contains affiliate links for your crafting convenience. As an Amazon Affiliate, I earn from qualifying purchases. All blue, bold, and underlined text is a clickable link, either to a product or to a related post.
Upcycling the Dutch Wooden Clogs
First, as I mentioned before, I needed some vintage wooden clogs since my childhood ones were long gone. So, I went on Etsy and snagged a couple.
The shoes were perfect as-is and there was no need to significantly alter them at all for this project. The only thing I really needed to do to them was add some drainage holes.
First, I used my power drill and a small bit to do so to drill holes up through the bottom of the toe into the opening of the shoe. I was careful to not drill through the opening into the top of the shoe, however.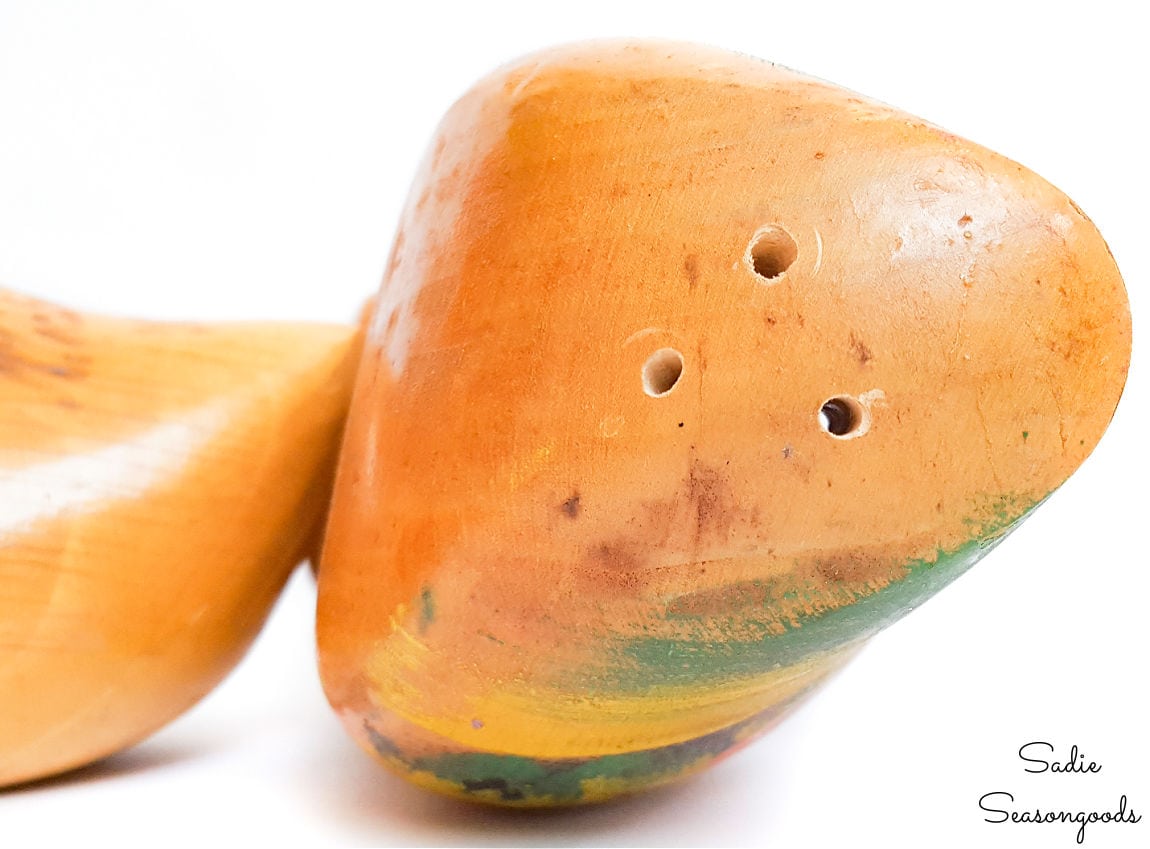 Since I had decided to incorporate my Dutch wooden shoes into front porch decor, I needed to prop them up on something. Thankfully, each vintage wooden shoe had a hanger nailed into each heel, which saved me a step!
So all I needed was some scrap wood to hang them on. AND we just happened to have plenty of after Mr. Seasongoods replaced our the ramp for our garden shed last year.
Next, I placed the wooden clogs on the board to determine where I wanted them to hang. Then, I tapped a couple of nails into the board.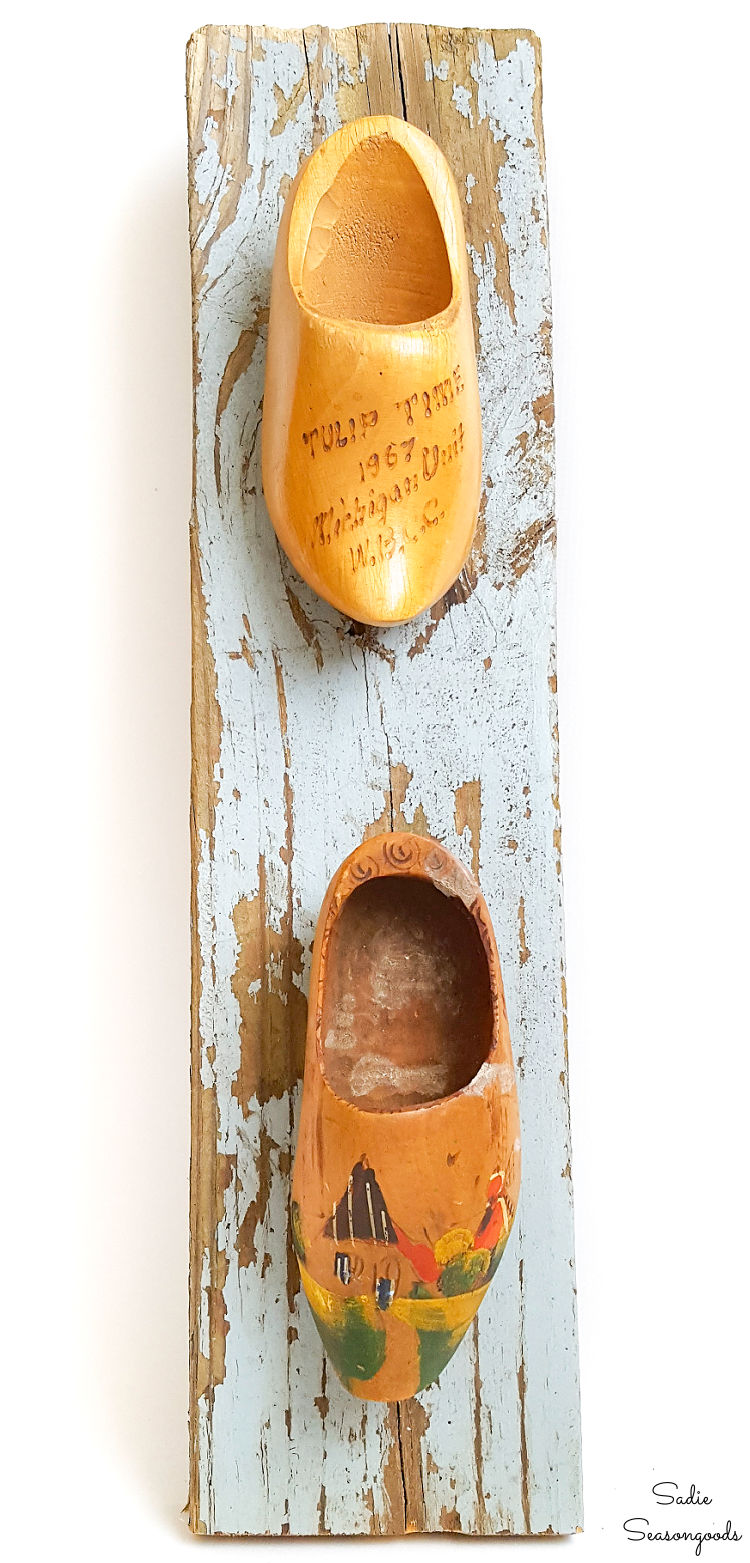 Chippy and summer sky blue- I mean, it's perfect!
Lastly, I headed to a local urban gardening shop for some dainty plants. Once I had them, I repotted them into each of my Dutch wooden clogs, using basic potting soil to fill in the toe.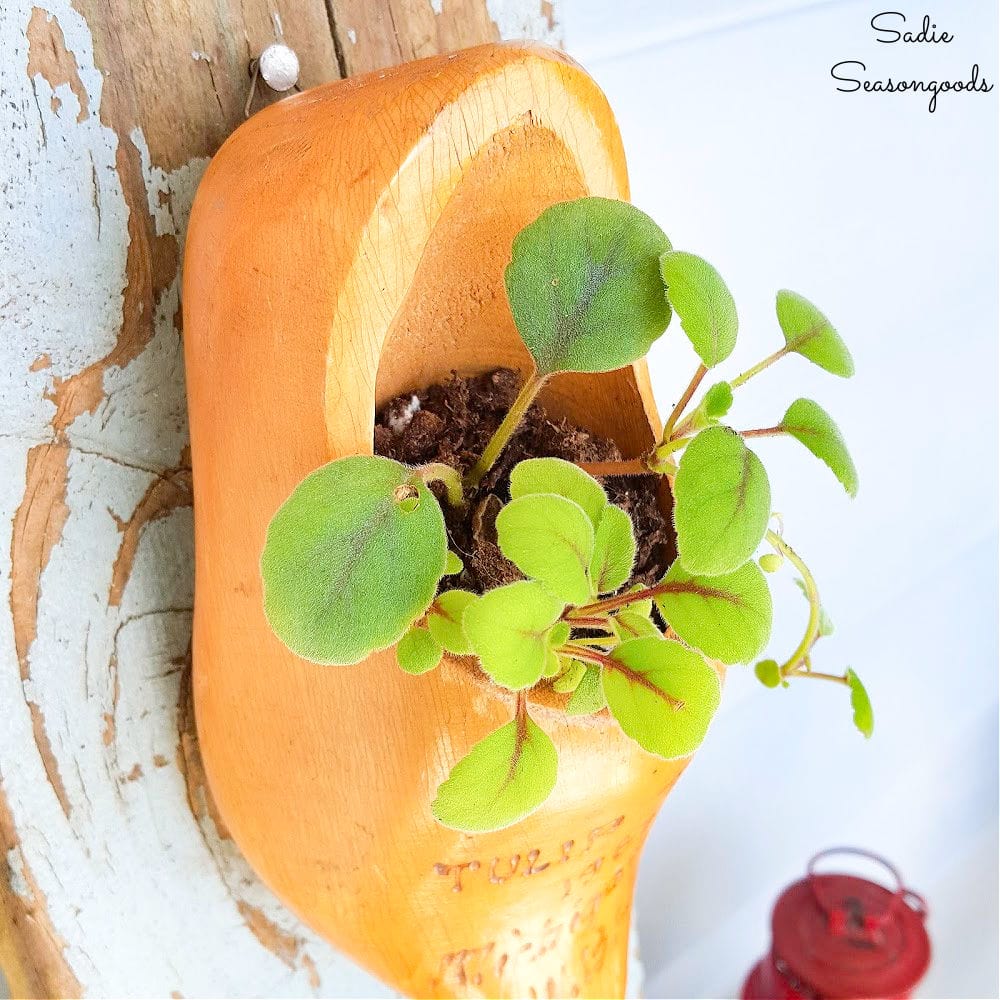 I added a couple of other pieces to my Spring vignette and my front porch decor was done!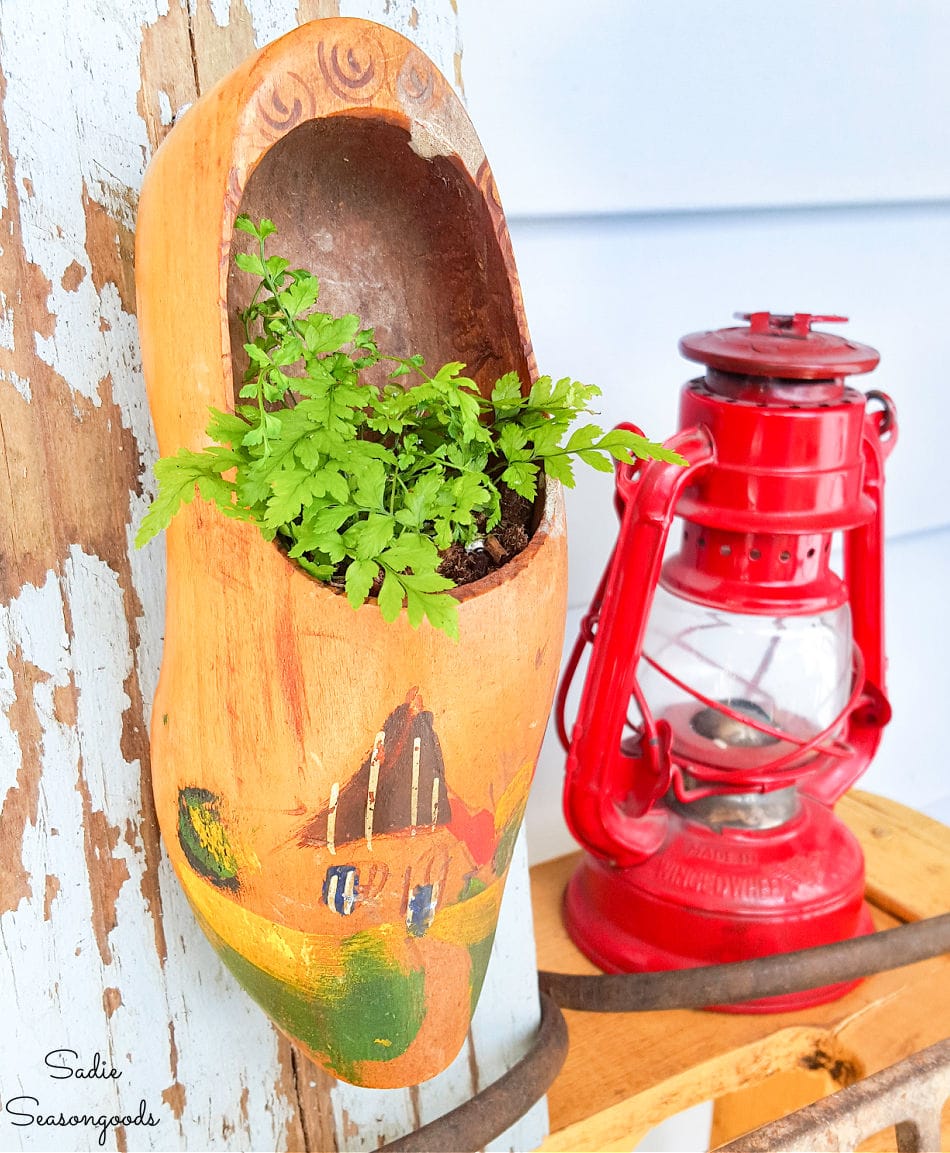 Dutch Wooden Clogs as Upcycled Planters
Dutch wooden clogs truly do transform into seriously adorable upcycled planters. And they take little to no work to transform them.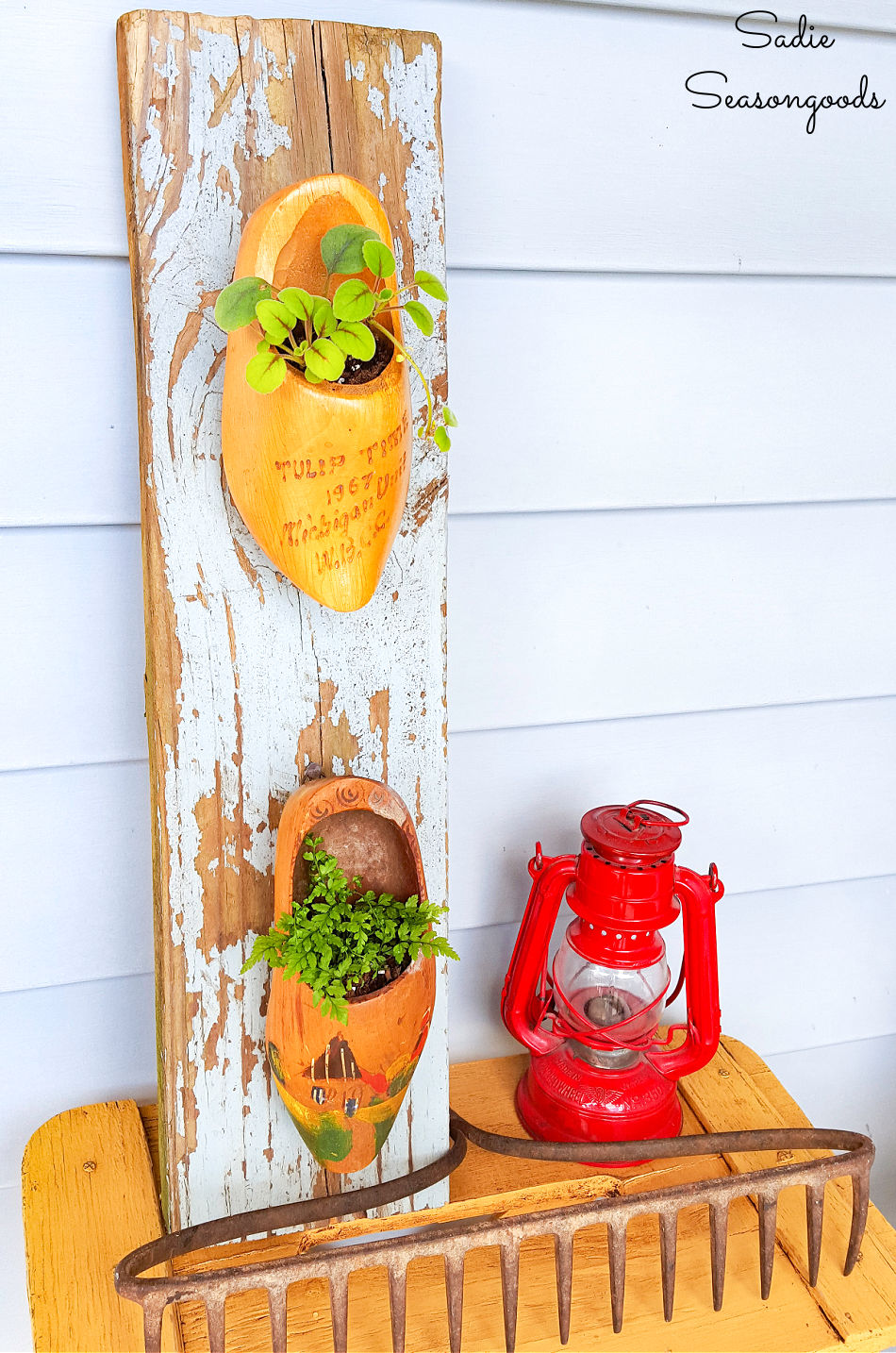 I love the cheerfully bright colors, too. Normally, front porch decor for Spring focuses more on the pastel colors of flower blossoms, so this is a nice aberration from the norm.
And here's a little watering tip for any dainty plants you may have! I'm a biologist in real life and worked in a water quality lab for several years. And these little plastic pipettes are incredibly handy around the house- and now I use them to water my tiny plants! They hold just a wee bit of water, and you can "inject" the soil instead of simply watering from the top!
If you enjoyed this upcycling idea for Dutch wooden clogs as hanging porch planters, then you may also enjoy this idea for a DIY mosaic stepping stone. The best part, however, is the secret UNDERNEATH the stepping stone!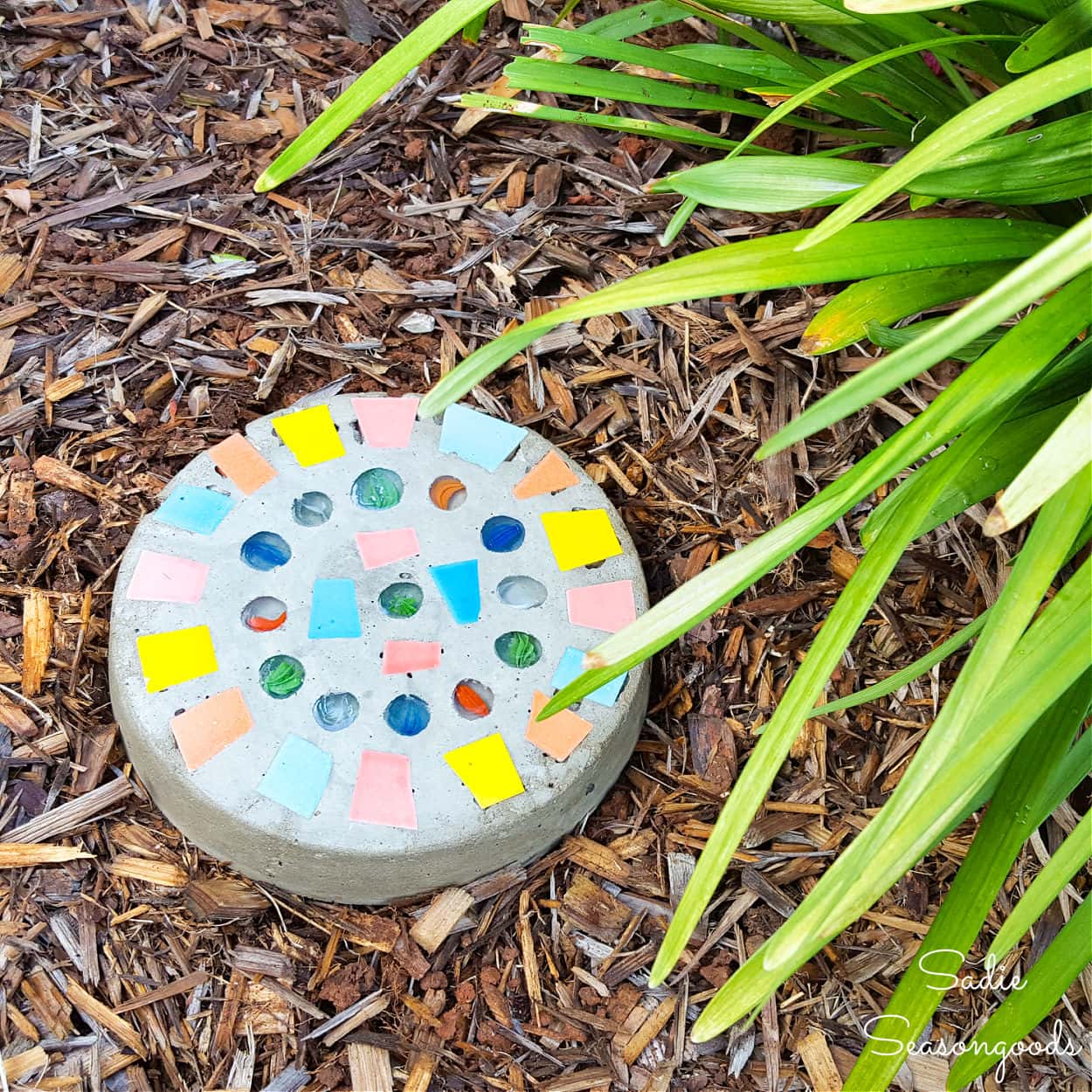 Craft on!
S
Want to be notified when I publish my next upcycling project tutorial?
Subscribe to Blog via Email
Join me on Social Media:



PIN ME!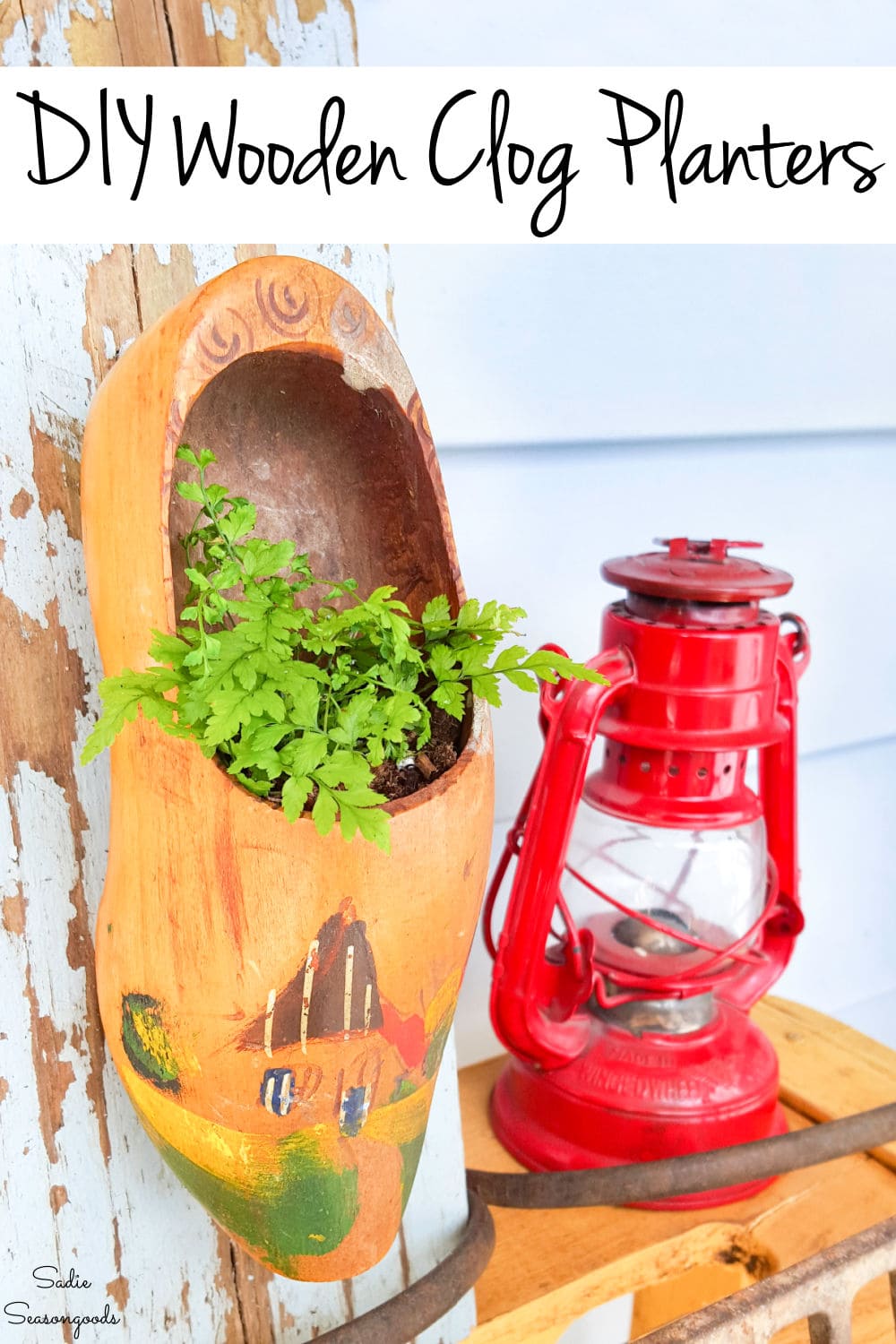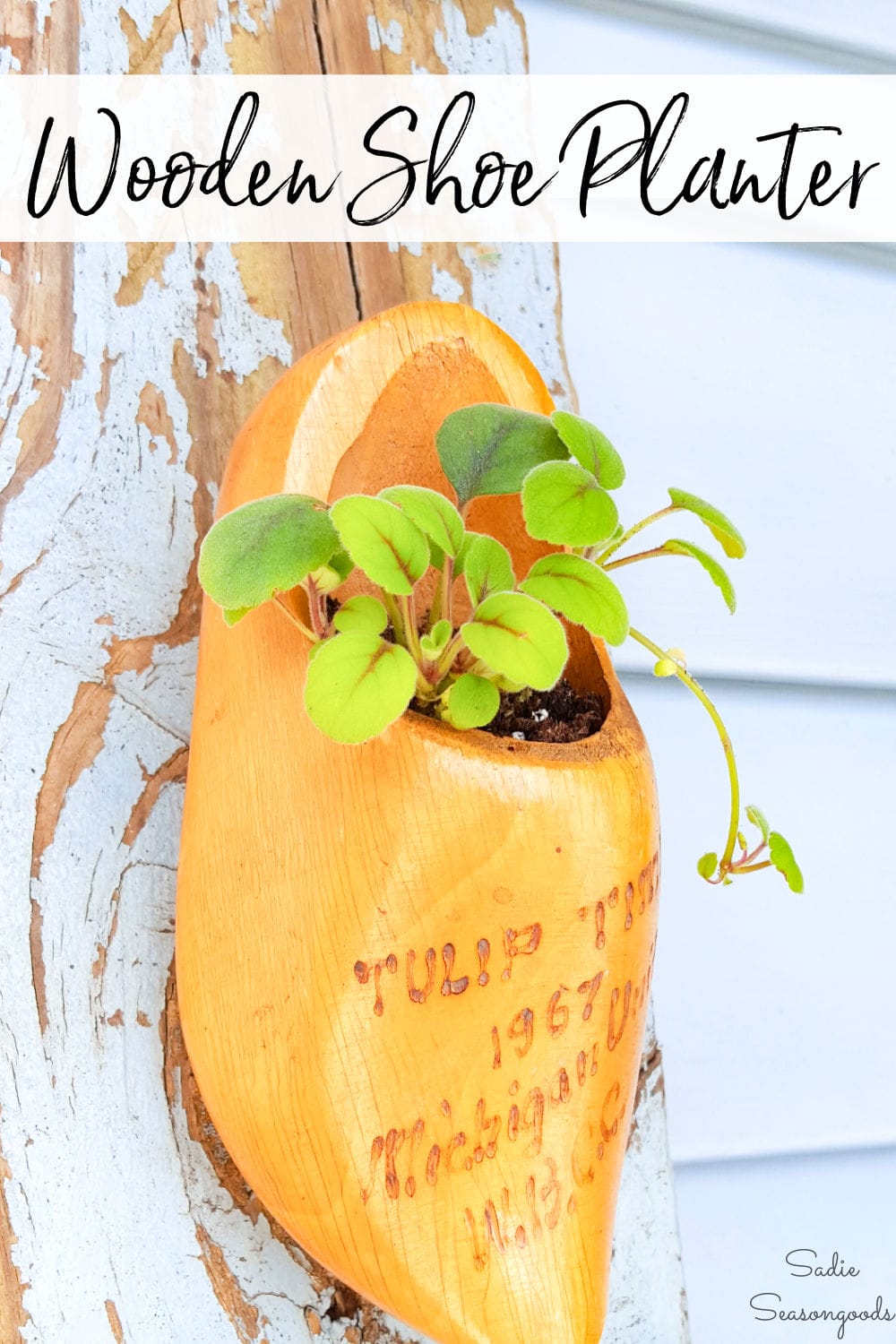 Sarah Ramberg is the owner of Sadie Seasongoods, a website that celebrates all things secondhand. From upcycling ideas and thrifted decor to vintage-centric travel itineraries, Sadie Seasongoods is a one-stop shop for anyone who loves thrifting and approachable repurposing ideas. Sarah is also the author of "Crafting with Flannel" and has been featured in numerous media outlets and magazines.