Getting locked out of the house is not fun at all, is it? It happened to me once, and that was all it took. From that day forward, I decided to make sure it would never happen again. And since I love garden stepping stones as garden decor, I decided to combine a mosaic stepping stone with an outdoor key hider or hide-a-key rock. And I'd upcycle a couple of items to make my vision come to life!
*****
*****
This post contains affiliate links for your crafting convenience. 
Upcycling Idea for Garden Stepping Stones with Outdoor Key Hider
And to test my upcycling idea out, I needed an inexpensive cake pan or baking pan from the thrift store. Why a cake pan? To serve as a mold / mould for creating a mosaic stepping stone.
Once I found the perfect cake pan (those handles really come in handy, BTW)- I assembled a few other components that I would need:
Creating a Mosaic Design for Garden Stepping Stones
I used clear laminating sheets (leftover from last year's Christmas lantern project) to create the mosaic design. Why? The glass mosaic tiles needed to go on the bottom of the baking pan and the sticky sheet will hold the design in place.
So, I traced the bottom of the cake pan on a laminating sheet, cut out the circle…
…and made sure that it fit in the bottom of the pan.
Then came the fun part- creating my design! I used the border/frame of my laminating sheet as a guide to design my mosaic.
First, I created the circular design…
Then, I peeled off the paper from my circle, pressed it on the glass mosaic tiles, and made sure it look a-ok! (This is why I recommend using clear sheets – so you can see your design!)
Mosaic Stepping Stone in a Cake Pan / Baking Pan
With my mosaic design in place on the clear laminating sheet, I could start the actual stepping stone part.
First, I liberally coated the inside (bottom and sides) of the baking pan with nonstick spray. This is a CRITICAL step to ensure that my round stepping stone would release from the pan when it had thoroughly dried.
Once the pan was sprayed, I laid my mosaic circle in the bottom of the pan: colorful tiles facing the bottom of the pan, non-pretty sides of the tiles facing up to meet the concrete.
Next, I mixed up a small amount of Quikcrete and began filling my lubricated cake pan.
Because this is a decorative stepping stone that will never be stepped upon, I didn't add any metal mesh re-enforcement inside the concrete. Instead, I filled up the pan with my Quikcrete, and tapped it on my workspace counter to remove air bubbles (like it was cake batter- ha!).
Then, my last step- and the true test of my upcycling idea to create an outdoor key hider or hide a key rock.
I took my empty pill bottle, and carefully pushed it in to the center of the wet concrete. And as you can see, I only pushed it in near the lip of the cap, but didn't go over (important!).
I let everything sit for a day or two, and then the big moment arrived- did my upcycling idea for a mosaic stepping stone with outdoor key hider work?
Garden Stepping Stones with Outdoor Key Hider or Hide-a-Key Rock
First, I unscrewed the pill bottle first and the cap remained firmly embedded in the concrete- HURRAY!
Then, I carefully turned my pan over and my stepping stone popped out with ease. THAT'S why the non-stick spray is so important. After that, I simply peeled off the laminating sheet circle that had kept my mosaic bits in place.
Before placing it in the yard, I coated the exposed concrete with polyacrylic to seal out water and weather. Then, I dug a small hole in a flower bed for the pill bottle to hide in.
See? It looks like a regular ole' mosaic stepping stone or round stepping stone! Nothing fancy here, right?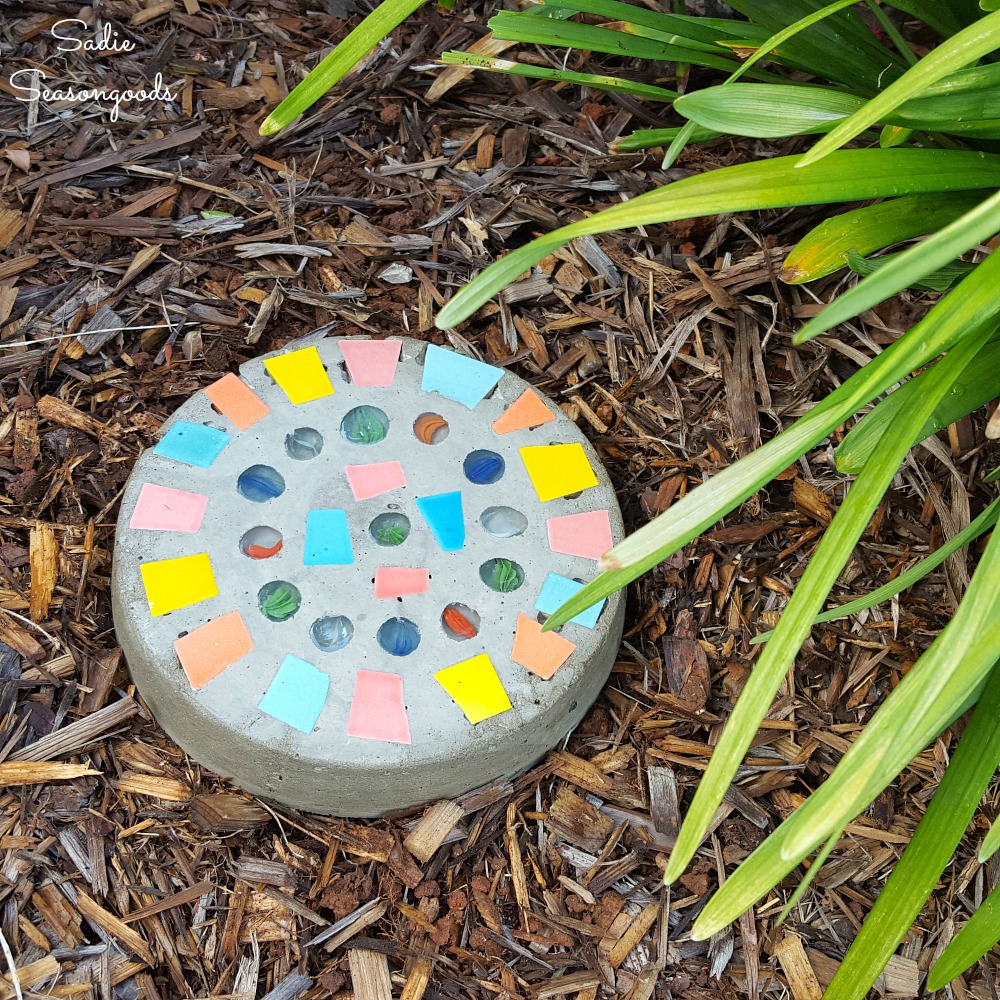 And the secret is underneath – it's a hide a key rock or outdoor key hider! Plus, you're really repurposing twice, right? First with the baking pan and then with the pill bottle.
And if you're really industrious, you could make your own recycled mosaic supplies by taking some glass nippers to vintage dishes from the thrift store.
Because the child-proof lid is permanently embedded in the concrete, I just pushed the bottle down and turned. My upcycling idea worked out better than I ever could have hoped!
If you're worried about security (i.e., leaving a key outside), here are some alternative ideas:
Make two stepping stone key hiders, one for you and one for your neighbor. Keep your house key in the stepping stone key hider that's in their yard and vice versa.
Use your stepping stone key hider to hold a different key- maybe to your garage or shed- and hide your house key inside one of those places.
Put a lock box key in your key hider, hide the lock box somewhere else (where you won't forget it), and put your house key in the lock box.
There are plenty of options and you'll never get locked out again. And besides, making these garden stepping stones is an awful lot of upcycling fun.
If you enjoyed this upcycling idea for a stepping stone, then you'll love these decorative garden stones that were made by upcycling some jelly moulds from the thrift store, as well!
Craft on!
S
Want to be notified when I publish my next upcycling project tutorial?
Subscribe to Blog via Email
Join me on Social Media:
PIN ME!