Years ago, I made a mosaic stepping stone that featured an outdoor key hider underneath it. More recently, I had a hankering to try playing with concrete once again. But this time, I decided to use some jelly moulds or copper molds from the thrift store to make decorative garden stones.
My first and only concrete craft project: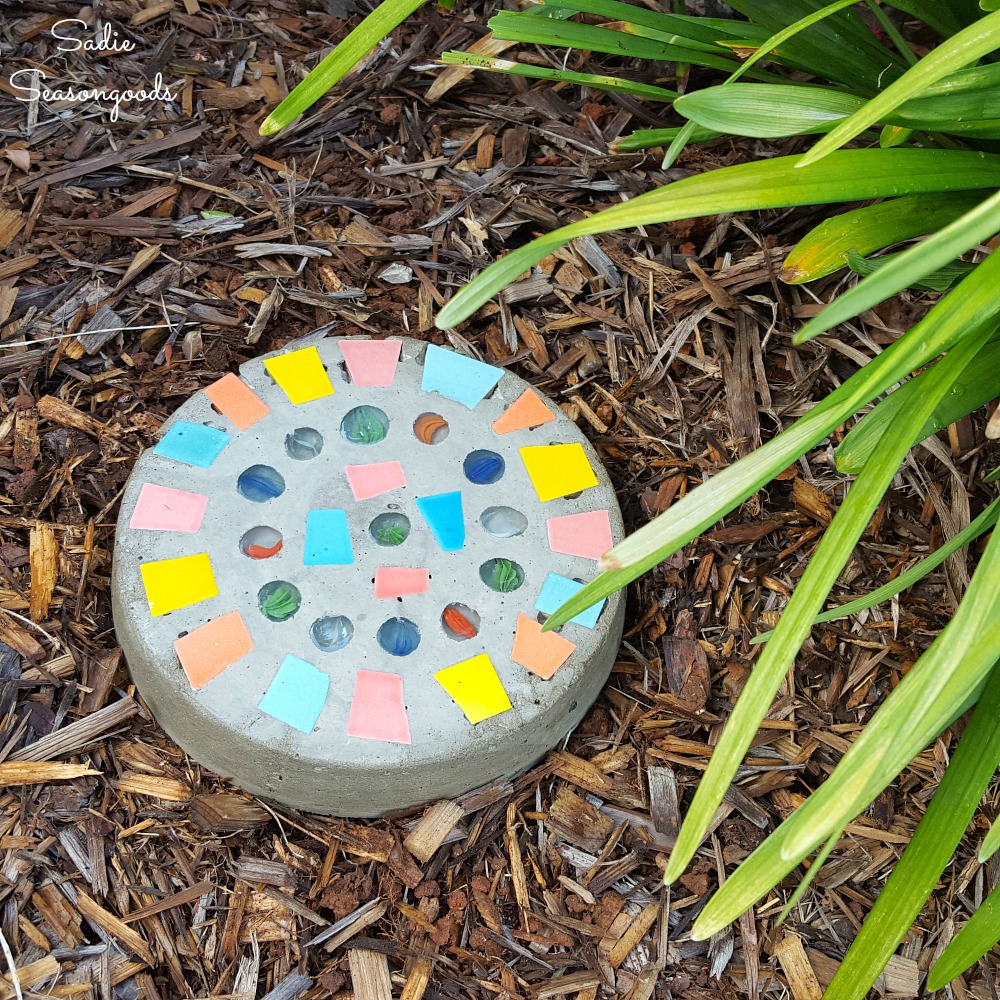 But back to today's upcycling idea! Let's face it, these jelly moulds are ALL OVER thrift store shelves…in any number of shapes and sizes.
This upcycling idea was also a chance for me to try a stepping stone kit instead of the standard Quikcrete, which is a little burdensome to use for craft projects.
So, I gathered up some copper molds to try making some decorative garden stones! This post contains affiliate links for your crafting convenience.
Using a Stepping Stone Kit in Jelly Moulds / Copper Molds
I used this stepping stone kit as my concrete / cement, but it's also available in most craft stores (for a lot less money, too). I really loved that it was a set amount of cement that would be mixed with a set amount of water. Unlike Quikcrete, which is a guessing game!
So, I followed the directions on the box and mixed up the concrete in a bucket. It was much smoother than Quikcrete, without any aggregate (stones) to deal with.
Before I poured the cement into the jelly moulds / copper molds, however, I sprayed them generously with nonstick spray. This is an absolutely CRUCIAL step, and don't be stingy with the spray – bottom of mold AND sides.
Once the copper molds were sufficiently lubricated, I carefully poured the stepping stone mix into each one. From that 8-pound box of concrete, I was able to create three decorative garden stones.
Pro tip: I REALLY wish I had purchased a used wooden spoon from the thrift store before doing this project. It would have been ideal for mixing the cement AND guiding it into the jelly moulds.
I let them sit overnight before carefully popping them out from the jelly moulds. It may not have been needed, but I let them sit an additional night outside the molds (facing up) before decorating them.
Before I started decorating them, though, I brushed each one with a stiff-bristled paint brush to remove concrete dust, loose particles, etc.
Painting Concrete / Decorative Garden Stones
First, I spray painted my decorative garden stones – giving each one 2 or 3 light coats to get vivid color. Concrete is porous, so a few coats made a big difference.
When all was said and done, this is what they looked like. I used foil to wrap parts of the pineapple in order to get both colors.
Next, I hand painted a couple of the decorative garden stones to give them a little more dimension. For this step, I just used regular craft paint.
Last but not least, I applied a top coat to each concrete stone – bottom, sides, and top – with basic polyacrylic. Now they'll be protected from the elements, since they'll live on the ground outside.
Decorative Garden Stones from Jelly Moulds / Copper Molds
And that was it! I had three decorative garden stones that were bright and festive to add to my yard. My upcycling idea for the jelly moulds / copper molds worked out better than I could have hoped!
I still have the cat and fish molds to work with, too – or maybe I should do a giveaway with them? That cat mold is pretty awesome, I have to say…
*****
Guess what today is? It's Thrift Store Decor Team Day! Please check out what my blogging friends did with these thrift store items (See the links underneath collage photo).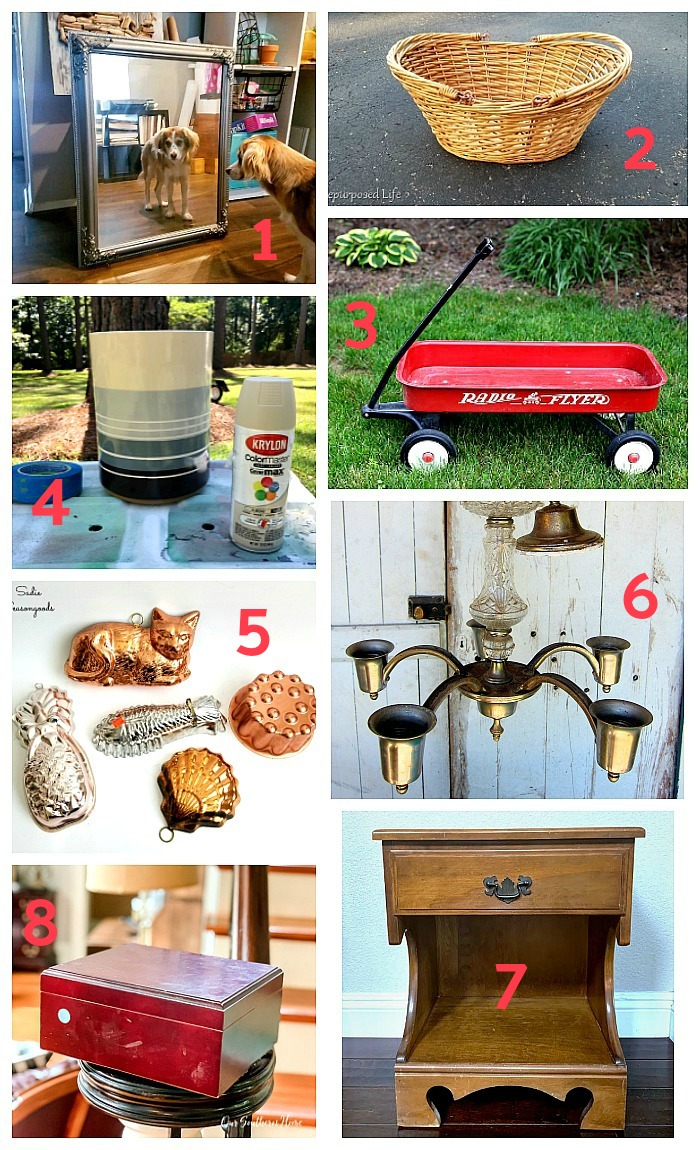 3. Repurposed Little Red Wagon
5. Making Decorative Garden Stones from Copper Molds
*****
If you enjoyed this upcycling idea for garden decor, then you'll love my plant markers made from wooden shoe trees, as well!
Craft on!
S
Want to be notified when I publish my next upcycling project tutorial?
Subscribe to Blog via Email
Join me on Social Media: