Years ago, I thrifted a vintage salt and pepper shaker that looked like a cactus. I used it in my Thrift the Look: Boho post, (see it in the lower righthand corner below?). But, since then, I kept finding one ceramic cactus after another and ended up with enough to make a cactus garden!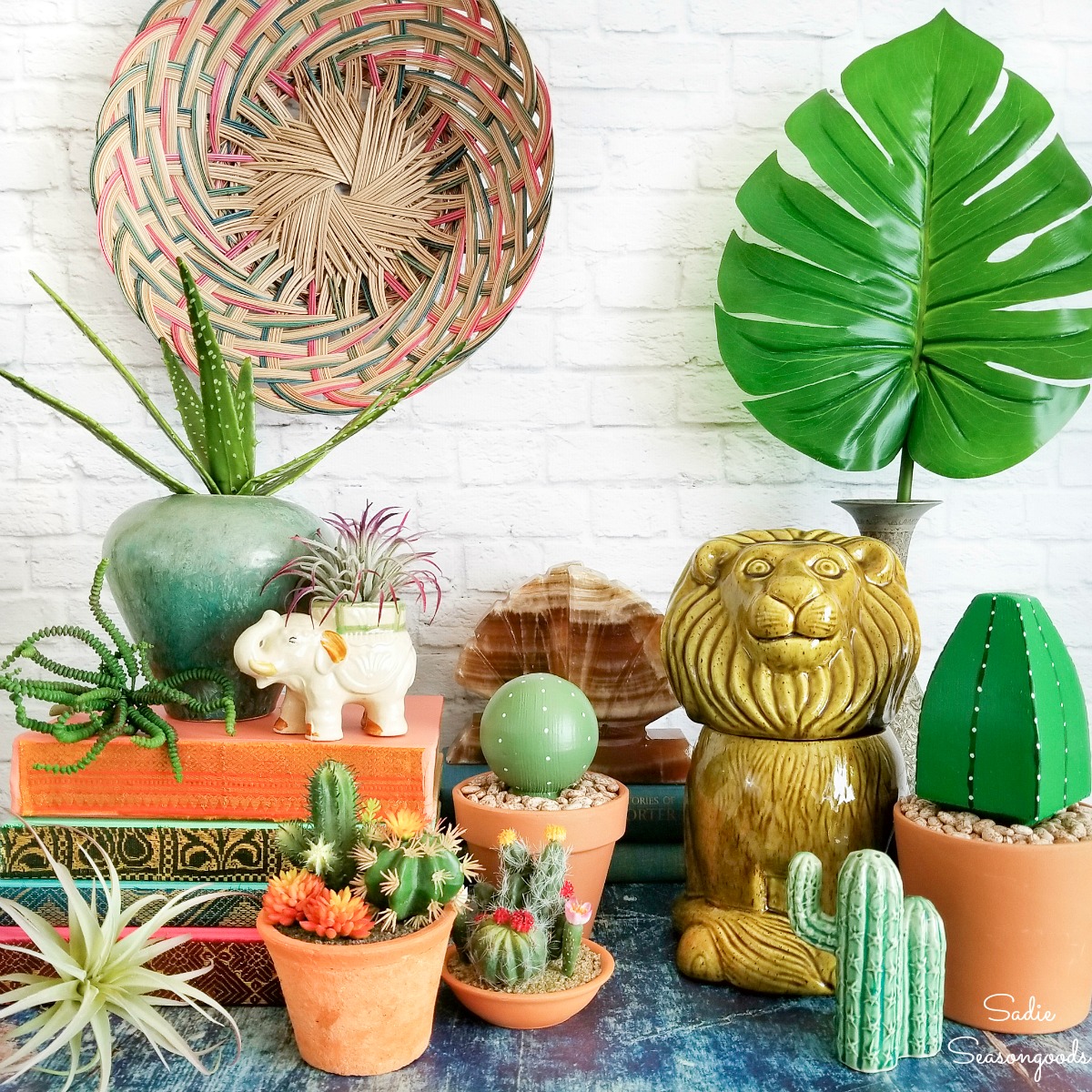 First, there was this ceramic cactus, which I recognized as part of the set that you can buy at Ikea…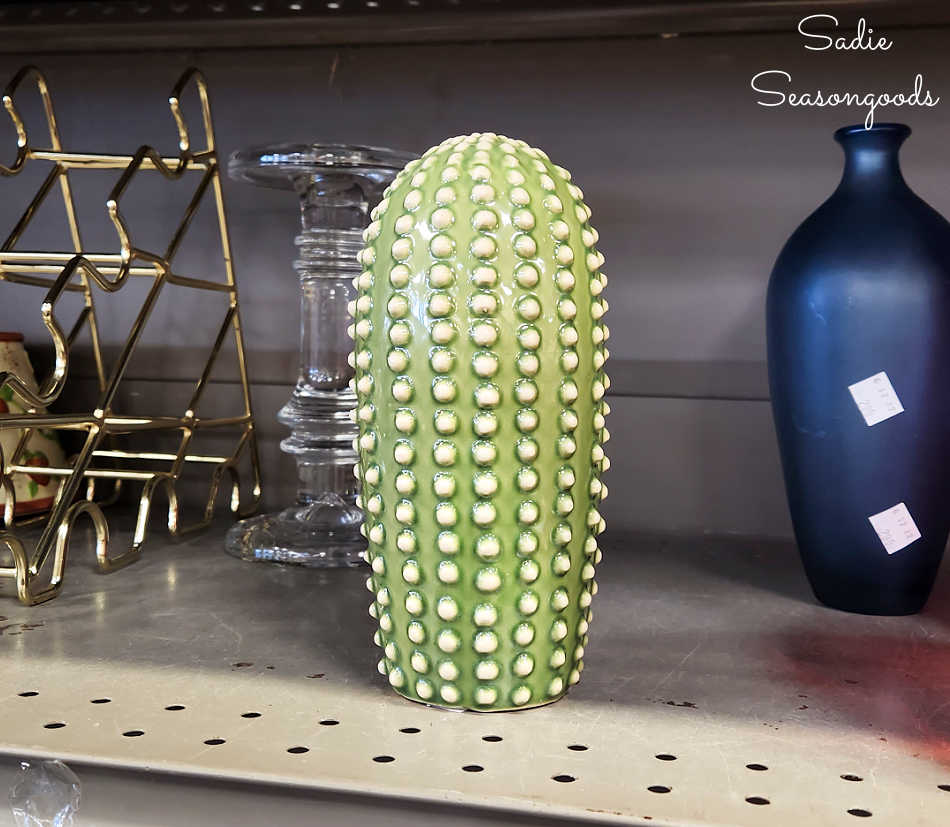 And then I found this little cutie with a cactus flower on top!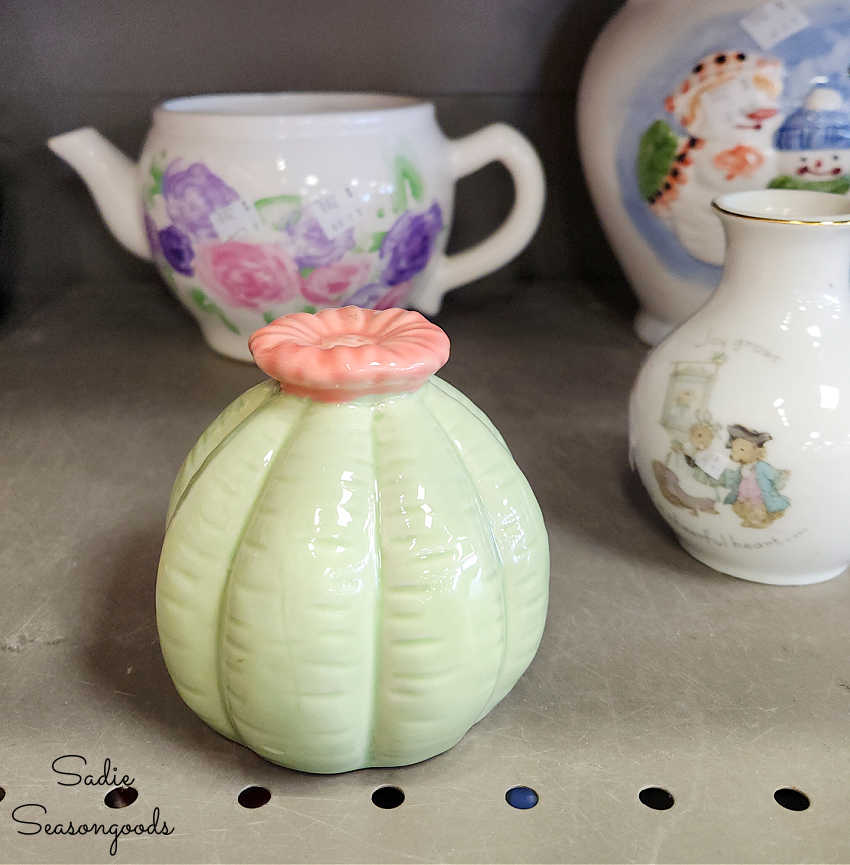 Since I kept snapping them up, I knew I needed to create a little dish garden with them. I'm always looking for new ways to decorate with artificial plants, so I couldn't wait to get started.
This post contains affiliate links for your crafting convenience. As an Amazon Affiliate, I earn from qualifying purchases. All blue, bold, and underlined text is a clickable link, either to a product or to a related post.
Base for a Cactus Garden
When all was said and done, I had accumulated a variety of ceramic cactus specimens, including a trio of vintage salt and pepper shakers.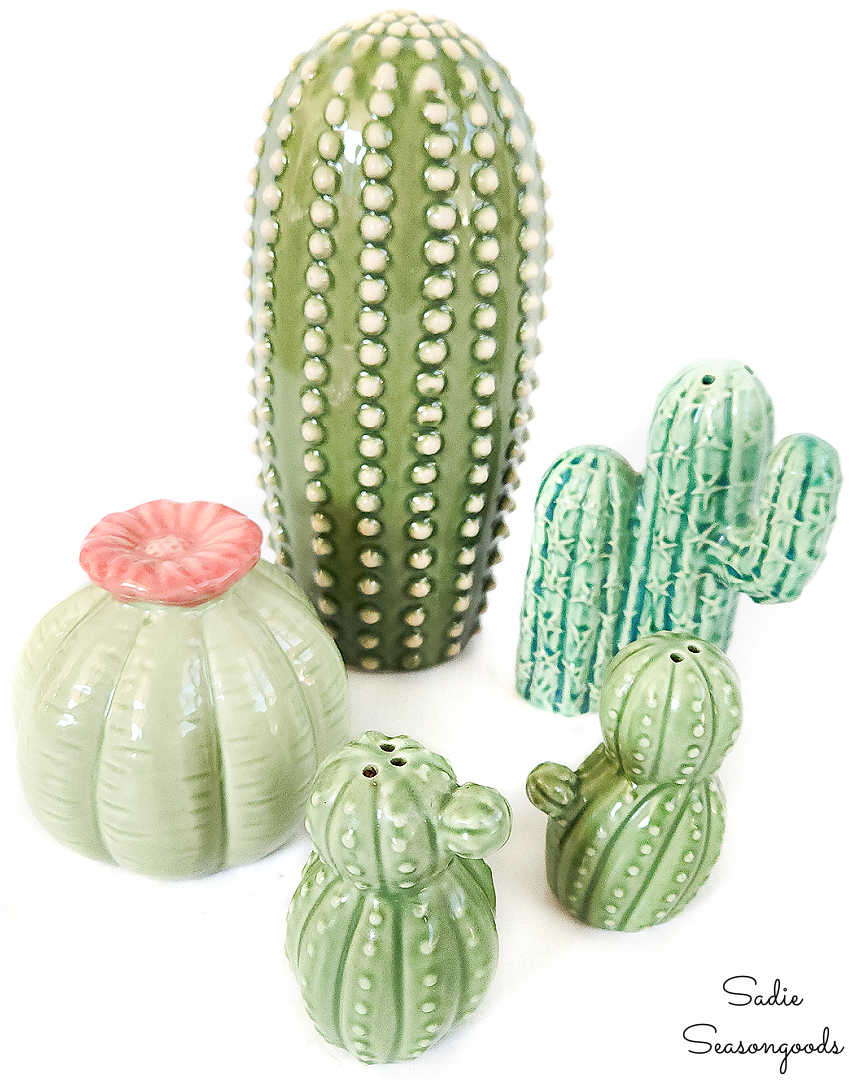 Aren't they cute? A delightful blend of sizes and shades of green. Now I just needed something to "plant" them in.
Thankfully, it didn't take long for me to find the ideal item to use as a base for my cactus garden. I spotted these low basket-trays at Goodwill and thought they might be perfect!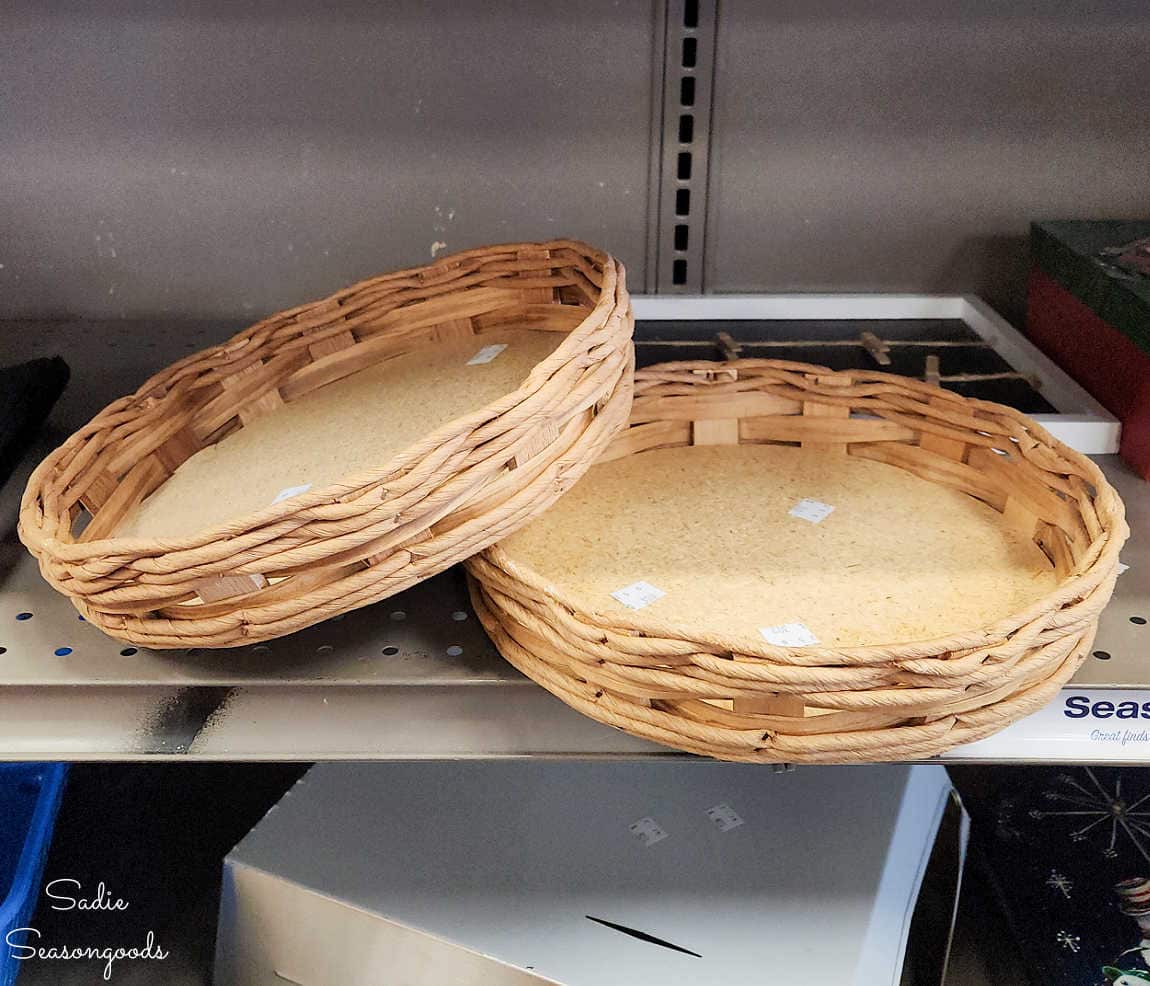 Woven with natural fibers, they also sported a very sturdy cork board base which made the baskets surprisingly heavy. Upon turning one over, I realized why they were so nice!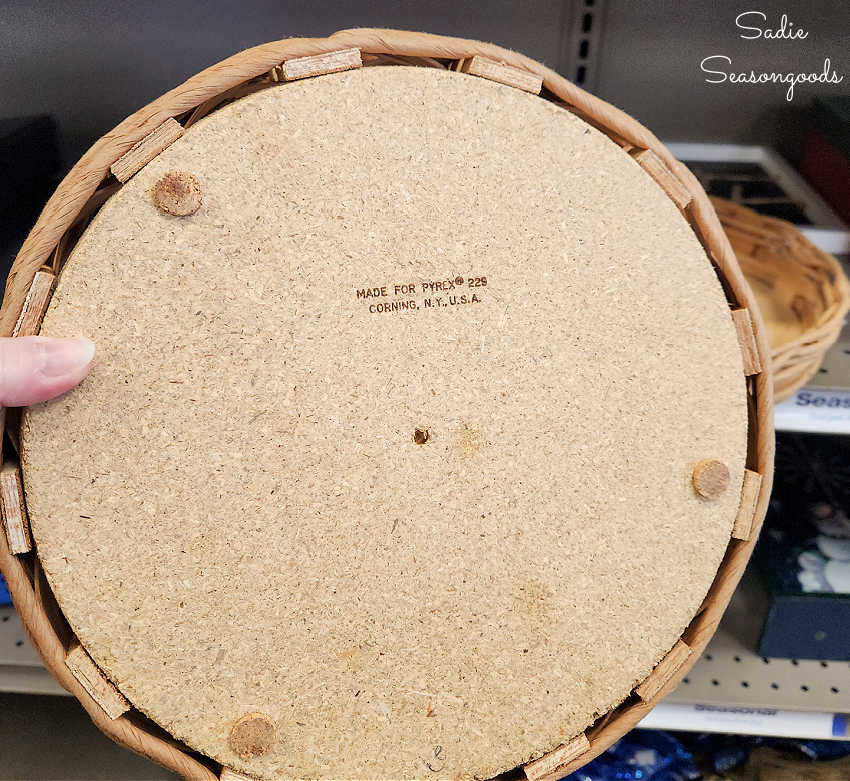 A holder for a Pyrex pie plate! No wonder they were so sturdy and well-made.
Once I got them home, though, I realized how deep it was in relation to each ceramic cactus.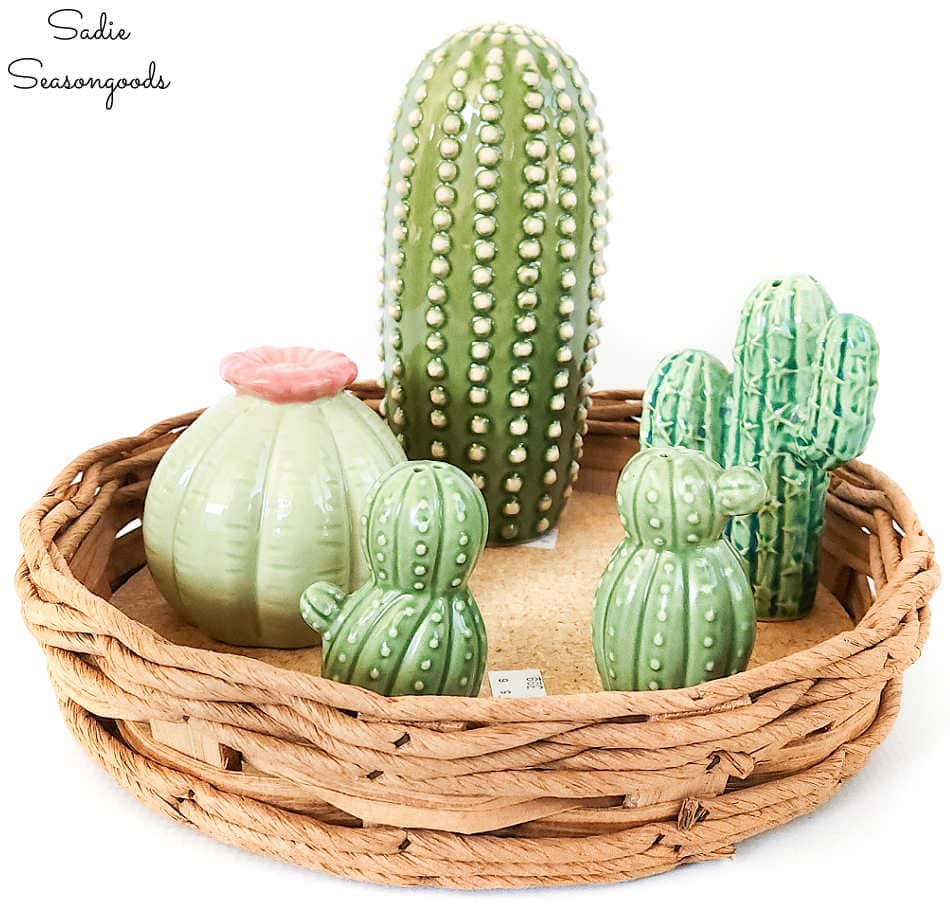 Hmm…I was going to have to build of a riser of some sort, so I put my thinking cap on.
Platform for Ceramic Cactus
So, now I was tasked with coming up with something to "raise" up the interior of my basket base. Whatever I used needed to be flat and even, but not too heavy.
And because we are cat people (and knew about these things), I had the sudden inspiration to use a cardboard refill for their turbo scratcher toy!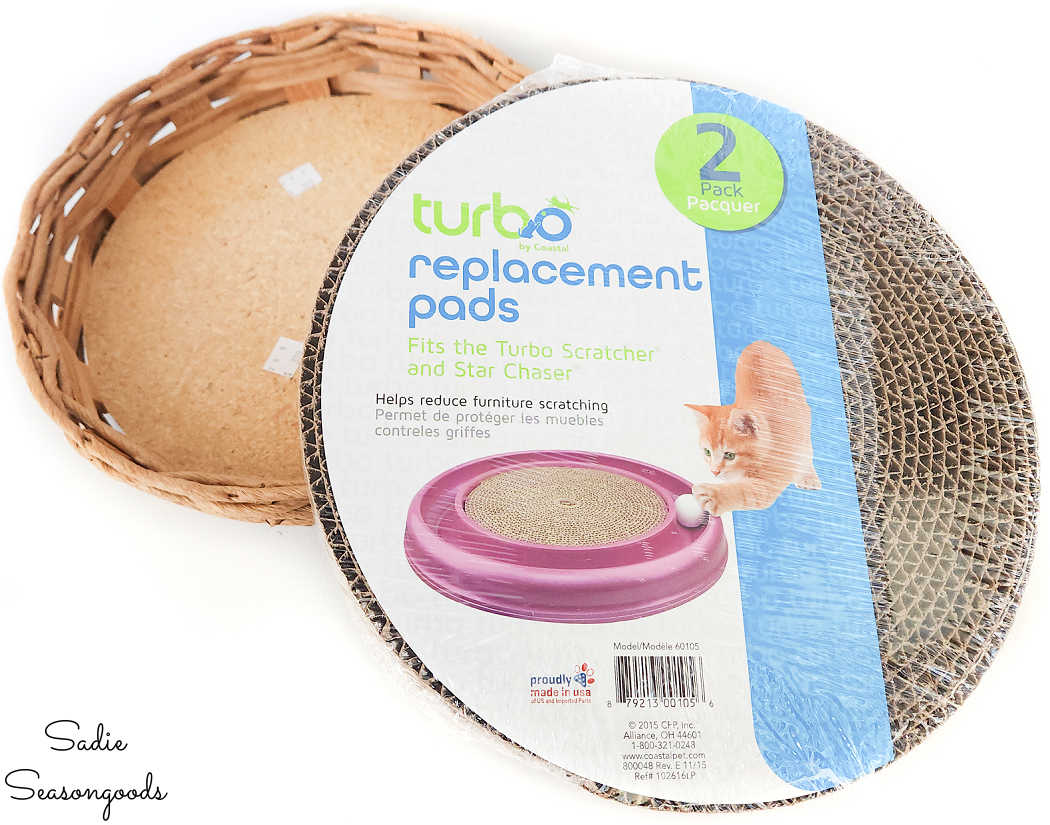 I know it sounds crazy, but it was nearly the right size…was perfectly flat…and obviously super lightweight.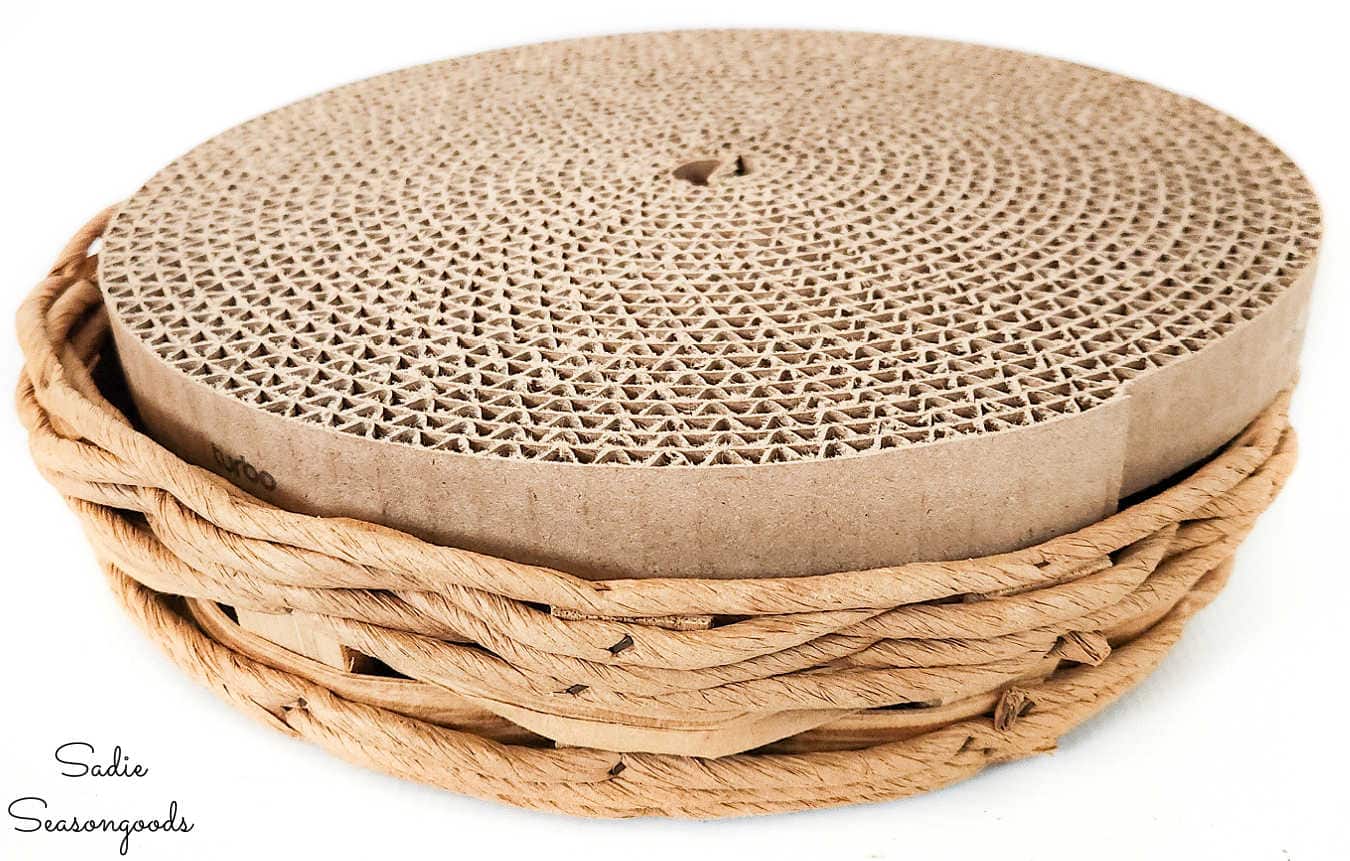 Proof positive that I'll use just about ANYTHING as a craft supply, eh?
It was, however, a touch too wide. Since it's constructed of corrugated cardboard "ribbon", though, it was easy to reduce the diameter of the cardboard disk.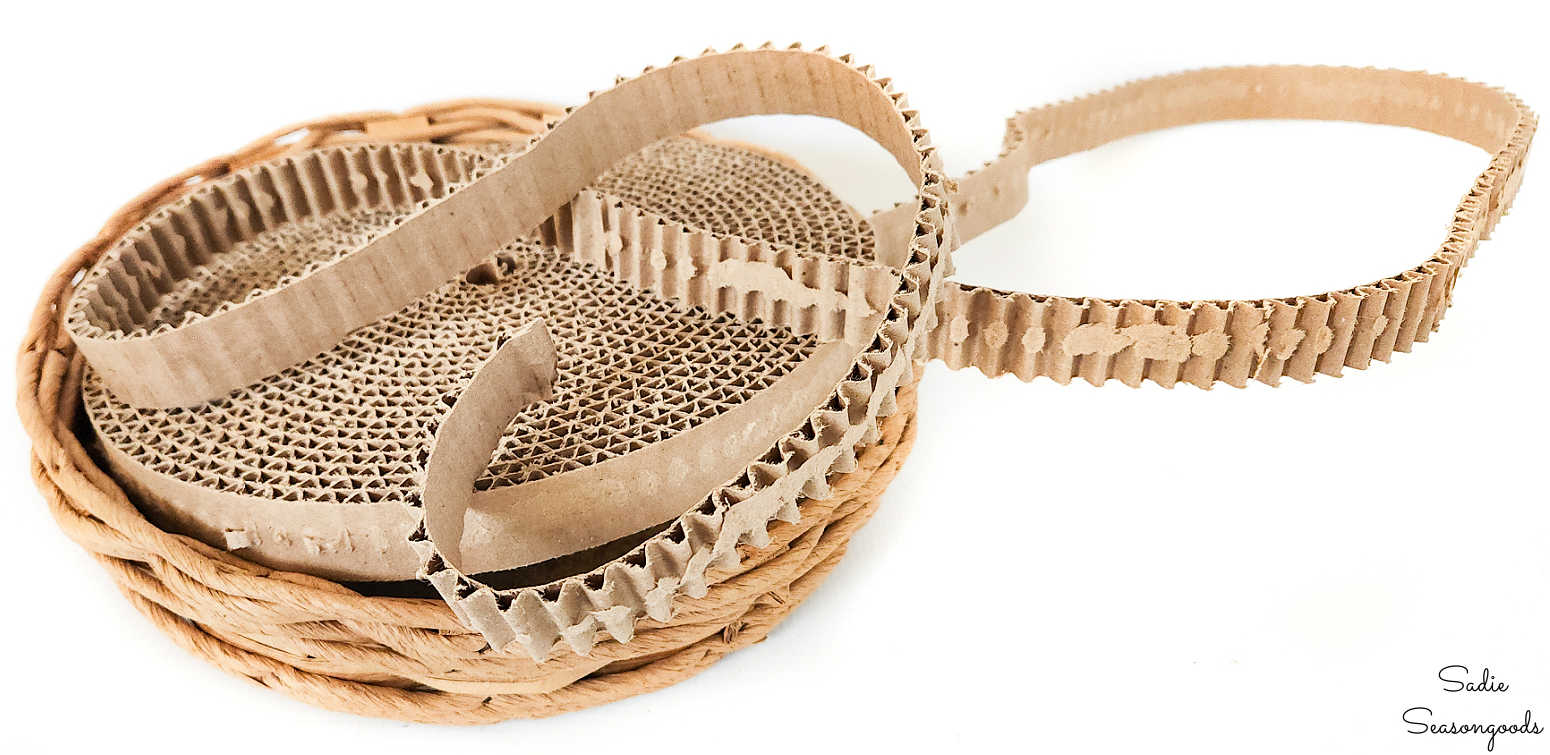 Finally, I peeled off enough cardboard "ribbon" so that the disk fit snugly inside the basket base.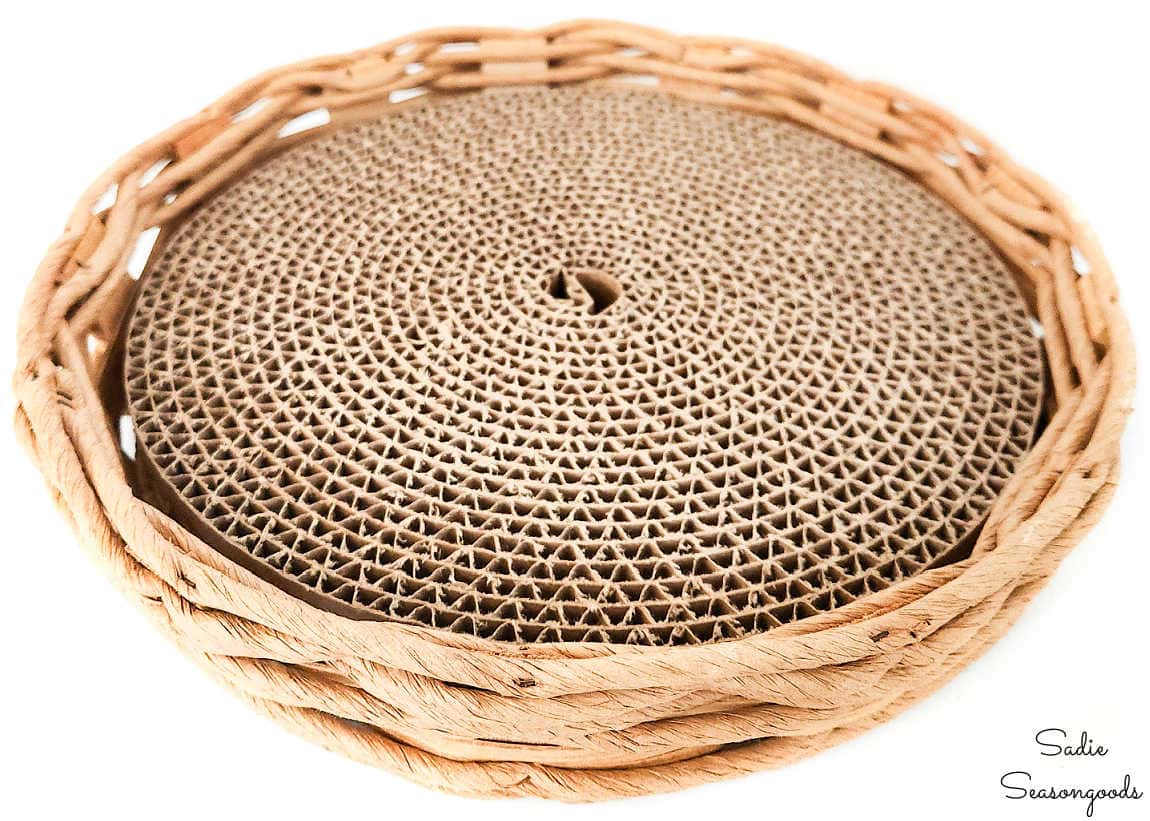 Next, I added a disk of smooth cardboard over the top which would become the final platform for my cactus garden! We had some cardboard boxes in our recycling bin, so I simply used one of those.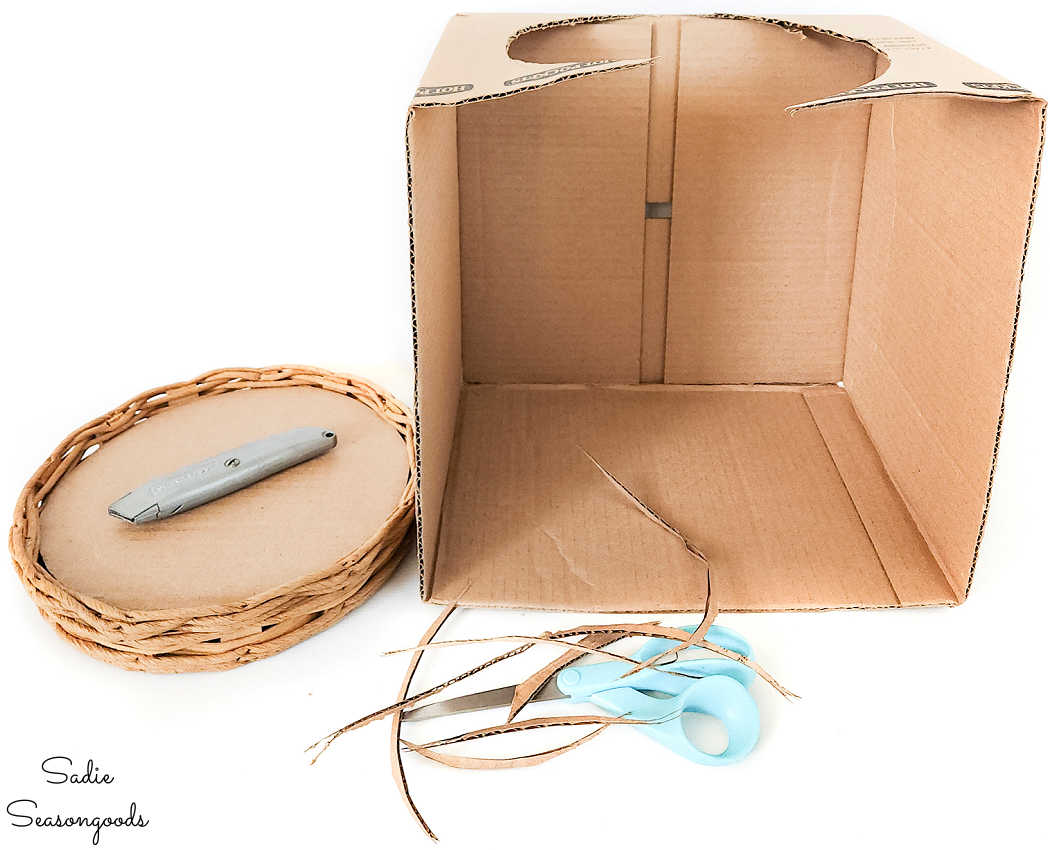 I didn't even need to glue it- it was *just* big enough to get tucked under the interior edges of the basket weaving. So, it was self-holding, if that makes sense!
"Planting" the Vintage Salt and Pepper Shakers
Now that the base for my dish garden was all set, I could secure the ceramic cactuses to it. But I didn't want to use anything permanent (i.e., glue).
So…I grabbed a couple of options: Restickable adhesive dots and a roll of non-permanent mounting tape.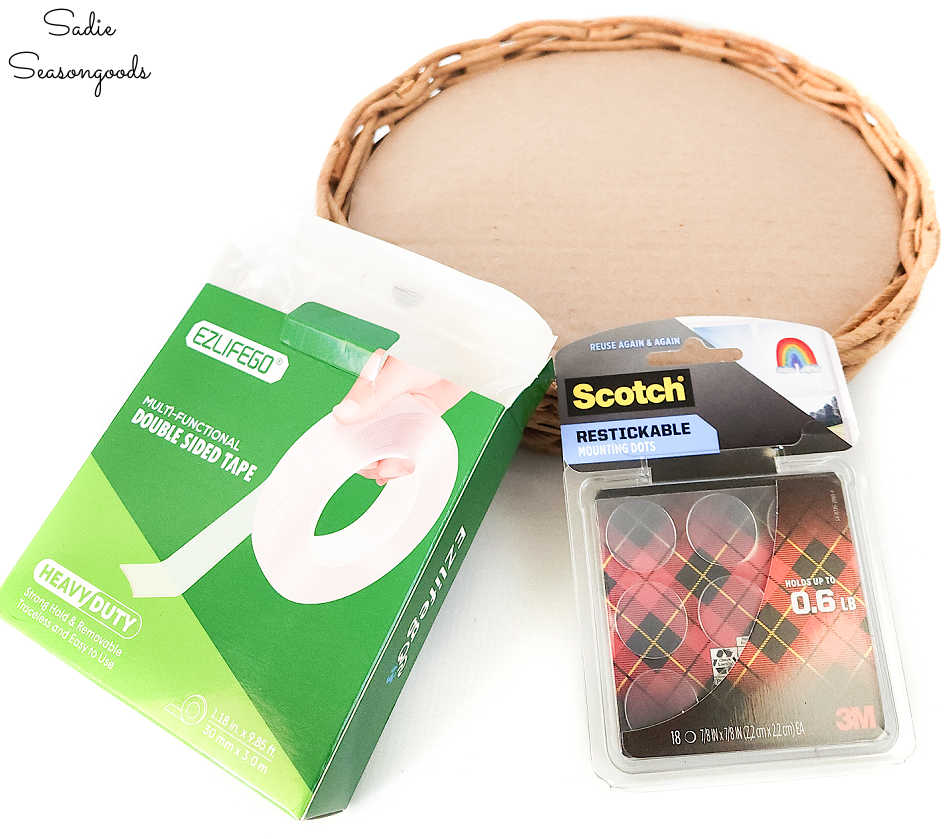 Then, I played around with each and decided that the adhesive dots were easier to use. So, I arranged my collection of ceramic cactus and used the adhesive dots to hold them firmly in place.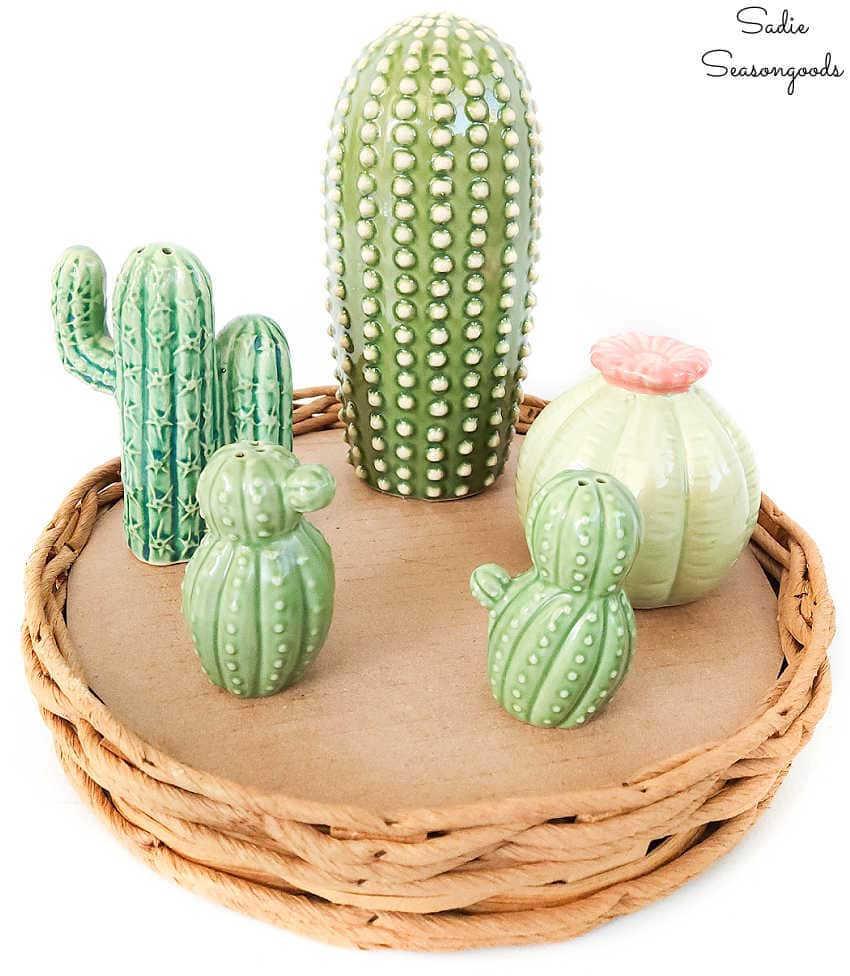 The vintage salt and pepper shakers and the cactus flower figurine were pretty secure using just the dots. The tall fella was still a little wobbly, but remained stuck in place- that was all I could really ask for.
Lastly, I simply had to cover the cardboard base that they were stuck to! I still had some leftover aquarium gravel from this condiment caddy project, so that's what I used.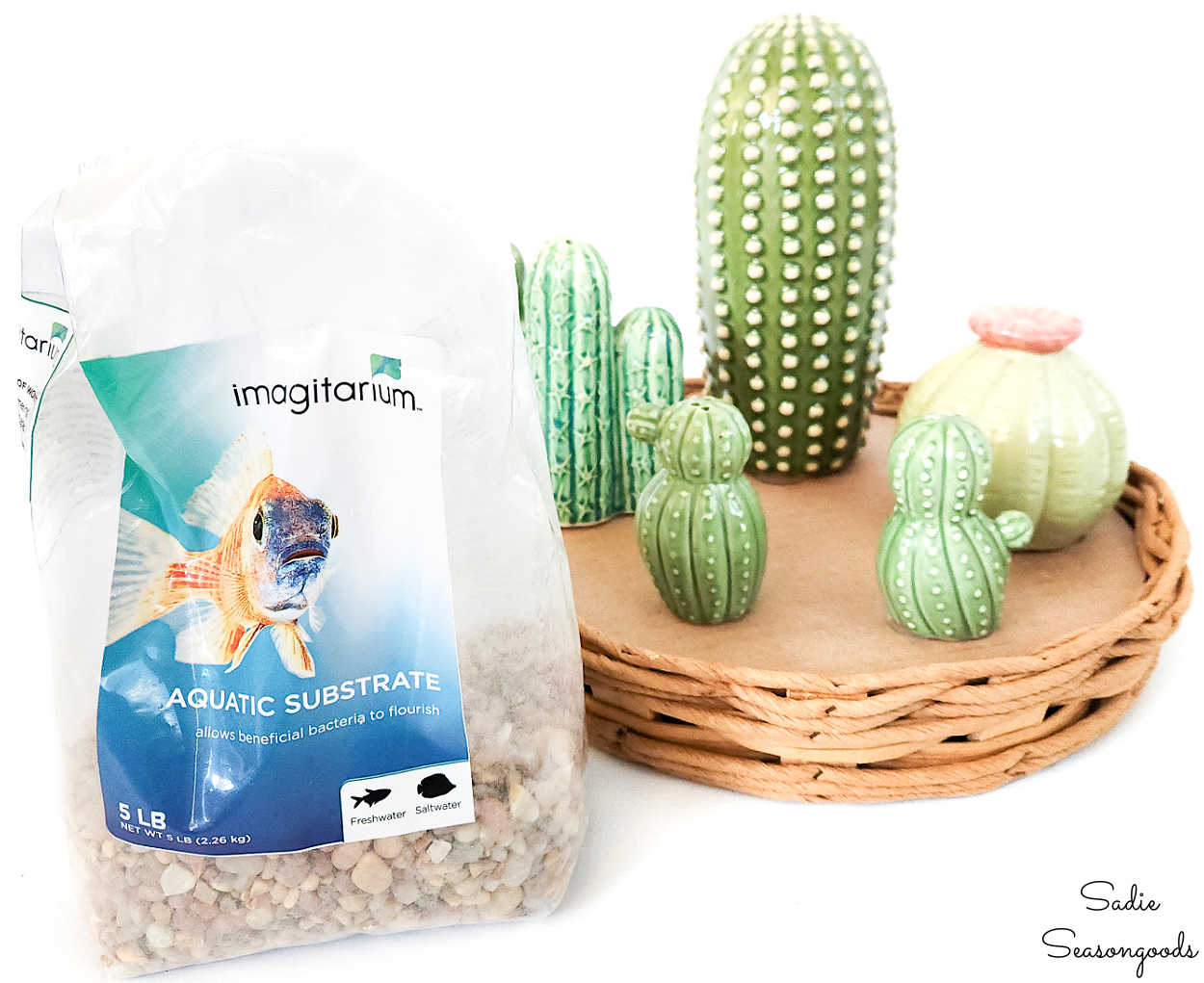 From there, I poured the gravel around each ceramic cactus. And just like that, I had a cactus garden that was SERIOUSLY cute, unique, and maintenance free!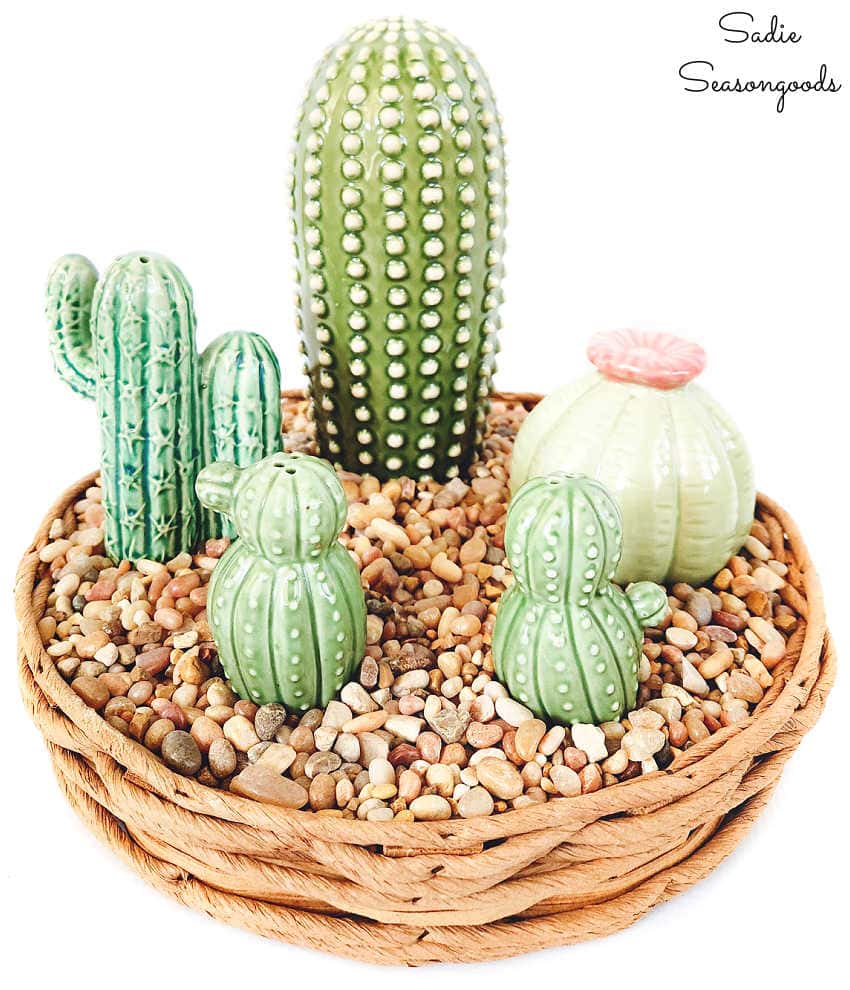 Cactus Garden with Vintage Salt and Pepper Shakers
I mean, COME ON. Isn't that a delightful little cactus garden?? I'm such a fan of decorating with faux plants and this is a fun new way to do it.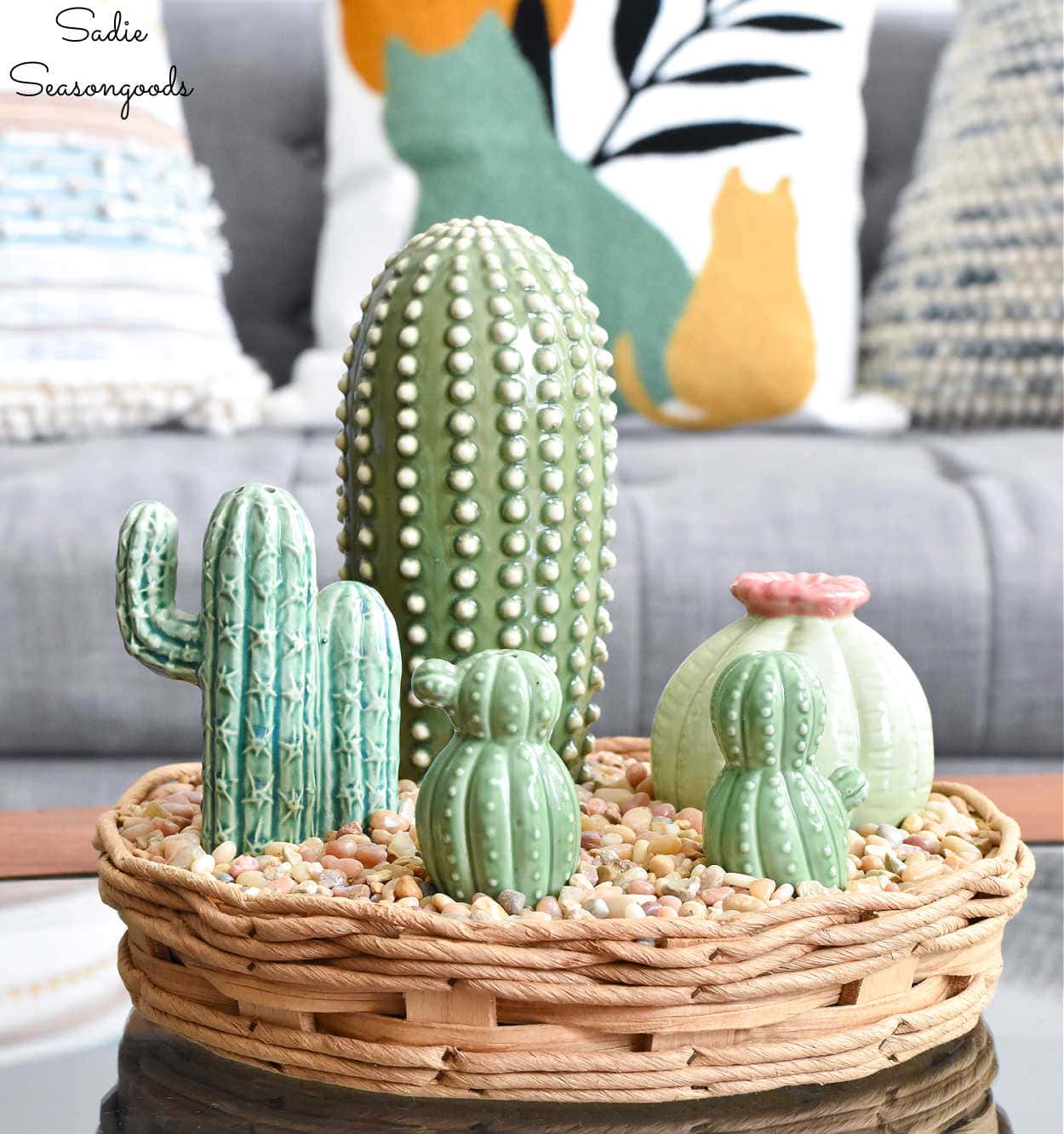 And such a great new way to repurpose the holder for a Pyrex pie plate. I have to admit- I absolutely LOVE pie but have zero desire to go through the trouble to bake one.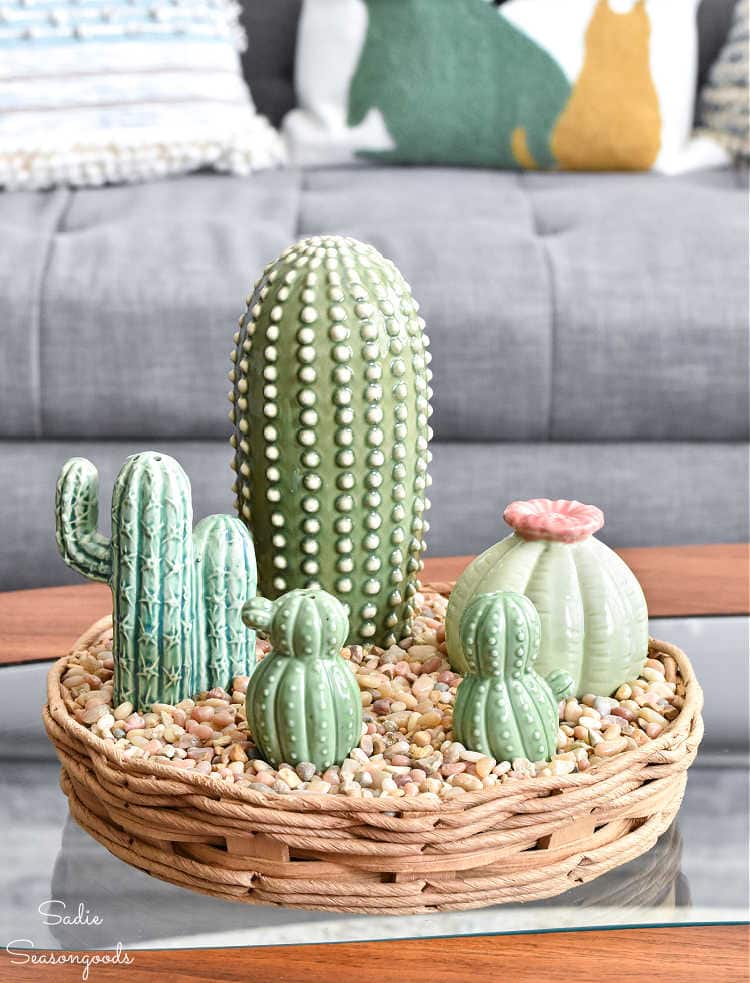 Talk about a cobbled together thrifted project. From the vintage salt and pepper shakers, to the other ceramic cactuses, to the base for my dish garden. I love it when random treasures from the thrift stores come together in such a delightful way!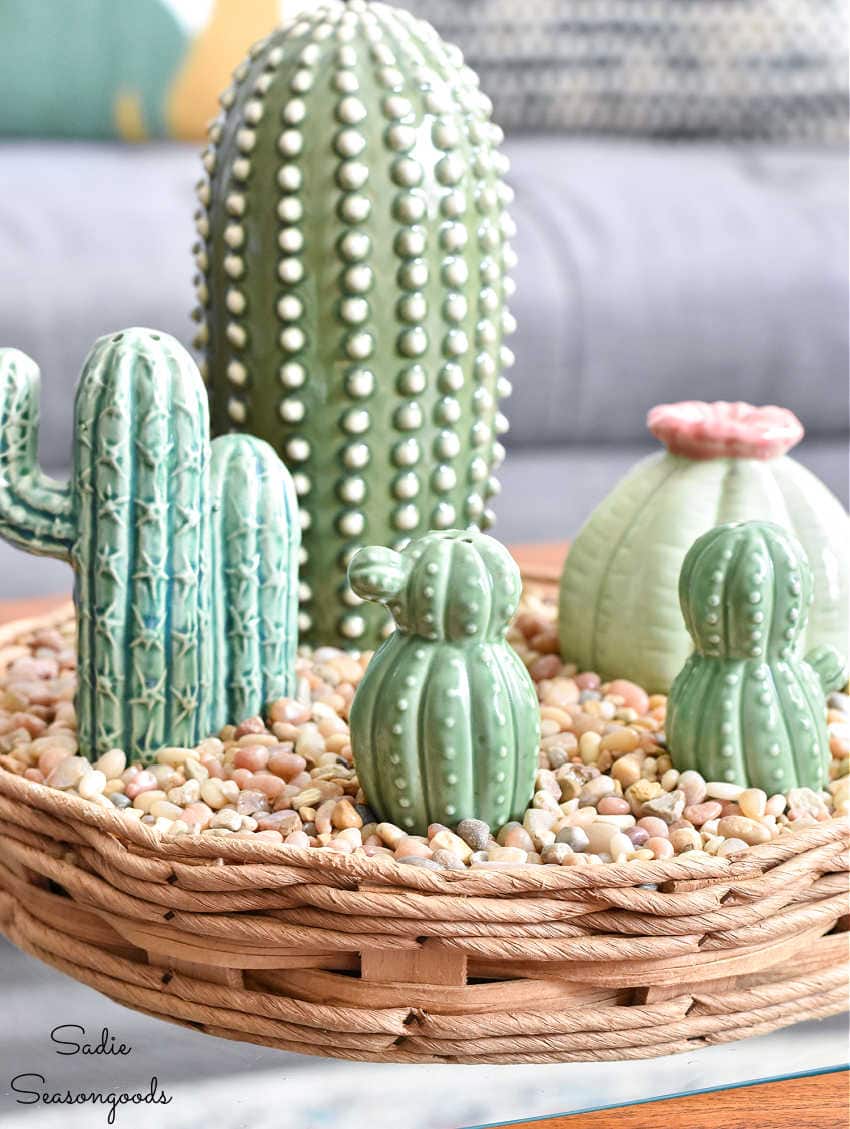 I just LOVE how it turned out and hope you find some inspiration from it, as well! Plus, I still have one basket leftover- either for another project, or perhaps to sell to someone with a Pyrex pie plate 229!
And, guess what- it's Thrift Store Decor Day, which means my bloggy gal-pals have been upcycling, too! Check out their projects below.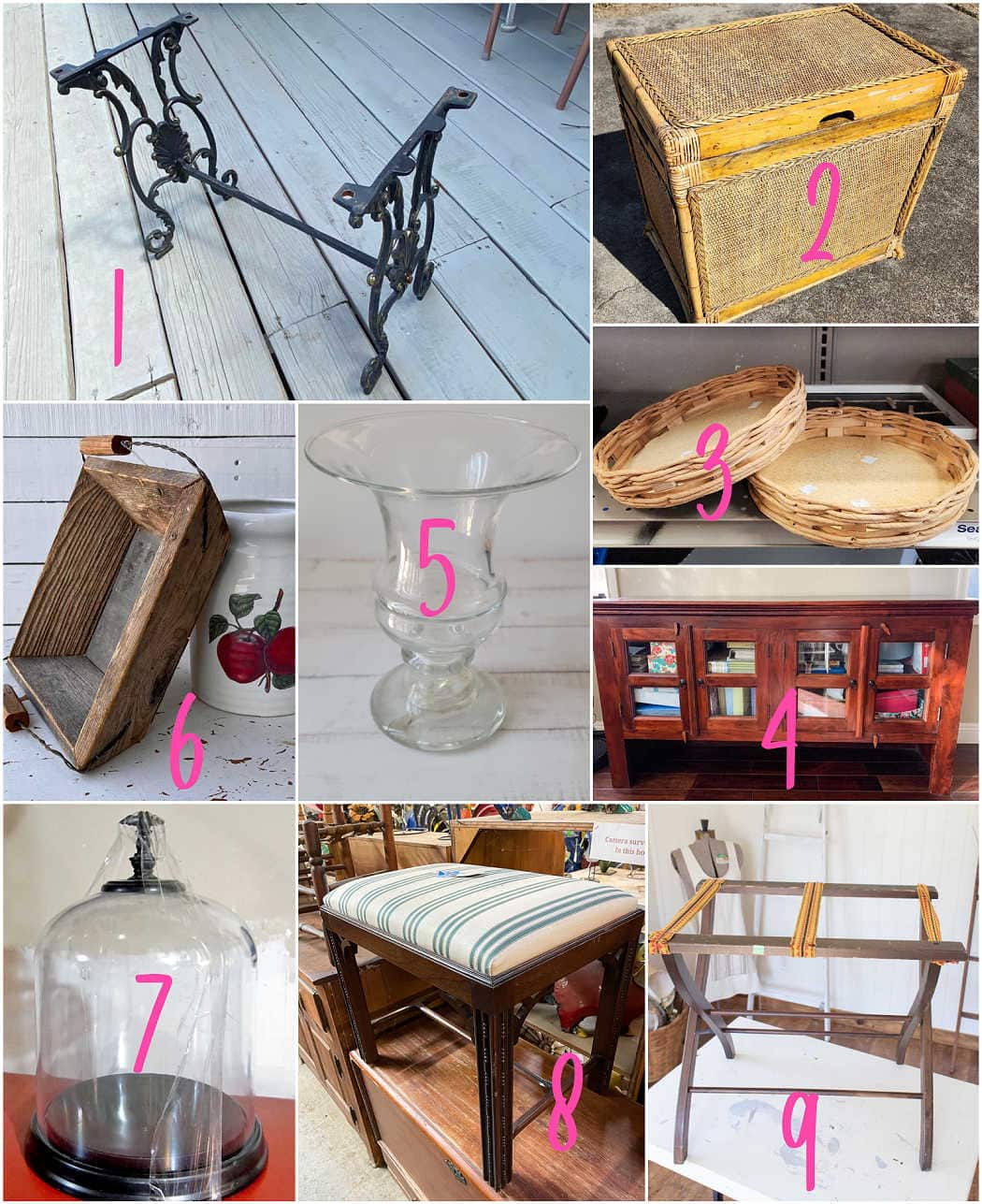 1. Outdoor Footstool Makeover – Shop at Blu
2. Vintage Rattan Trunk Makeover (and Extra Storage!) – My Repurposed Life
3. Cactus Garden with Vintage Salt and Pepper Shakers – Sadie Seasongoods
4. How to Bleach Wood Furniture – My Uncommon Slice of Suburbia
5. DIY Indigo Handcrafted Vase – Domestically Speaking
6. Junky Botanical Planter from Thrift Store Finds – Organized Clutter
7. Coastal Cloche Idea – Petticoat Junktion
8. Classic Stool Makeover (Strip and Reupholster) – Our Southern Home
9. Easy DIY Luggage Rack Makeover for a Guest Bedroom – Reinvented Delaware
If you enjoyed this dish garden with faux cactus, then you may be interested in how I created these wooden cactus plants, as well!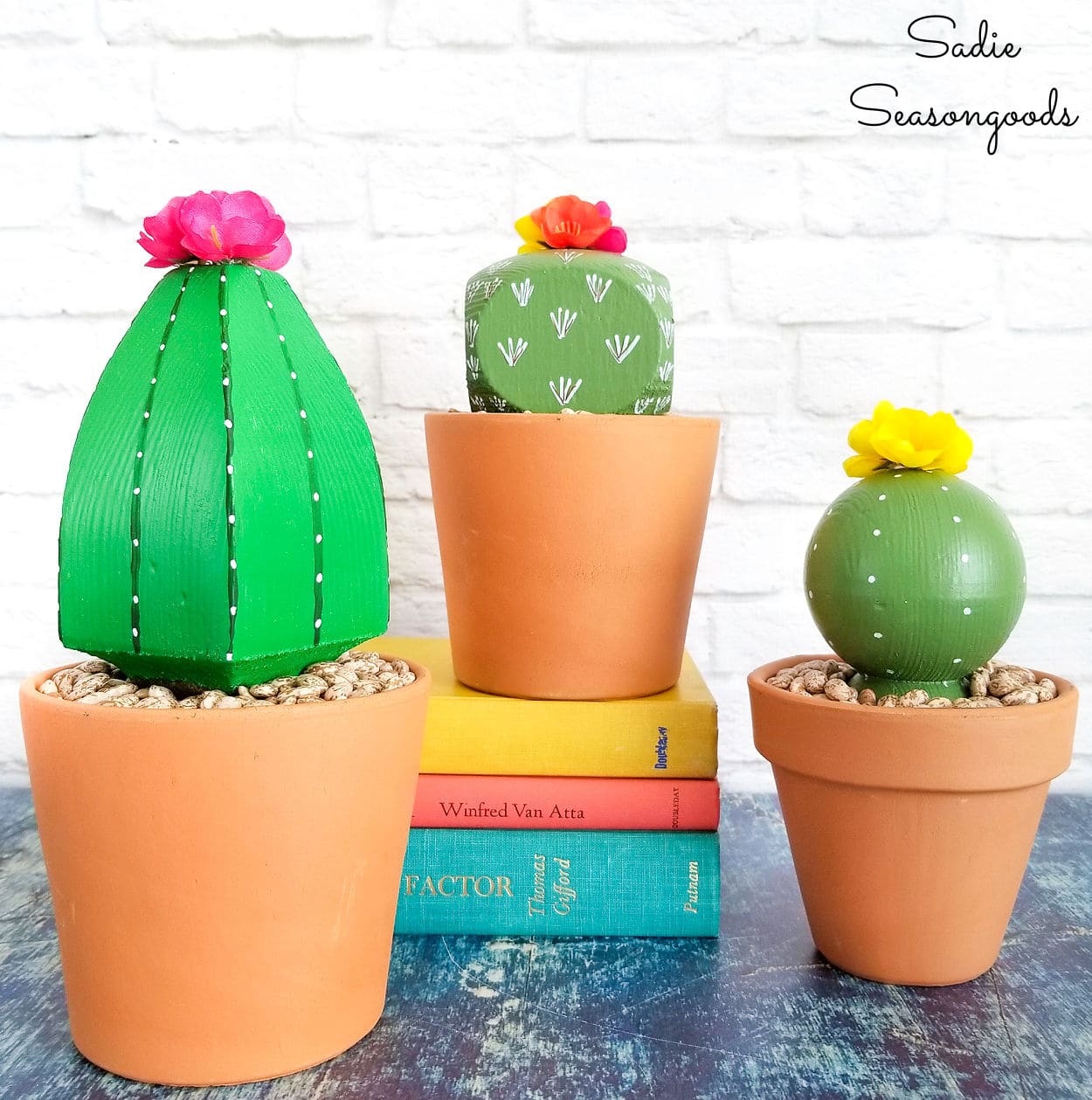 Craft on!
S
Want to be notified when I publish my next upcycling project tutorial?
Subscribe to Blog via Email
Join me on Social Media:

PIN ME!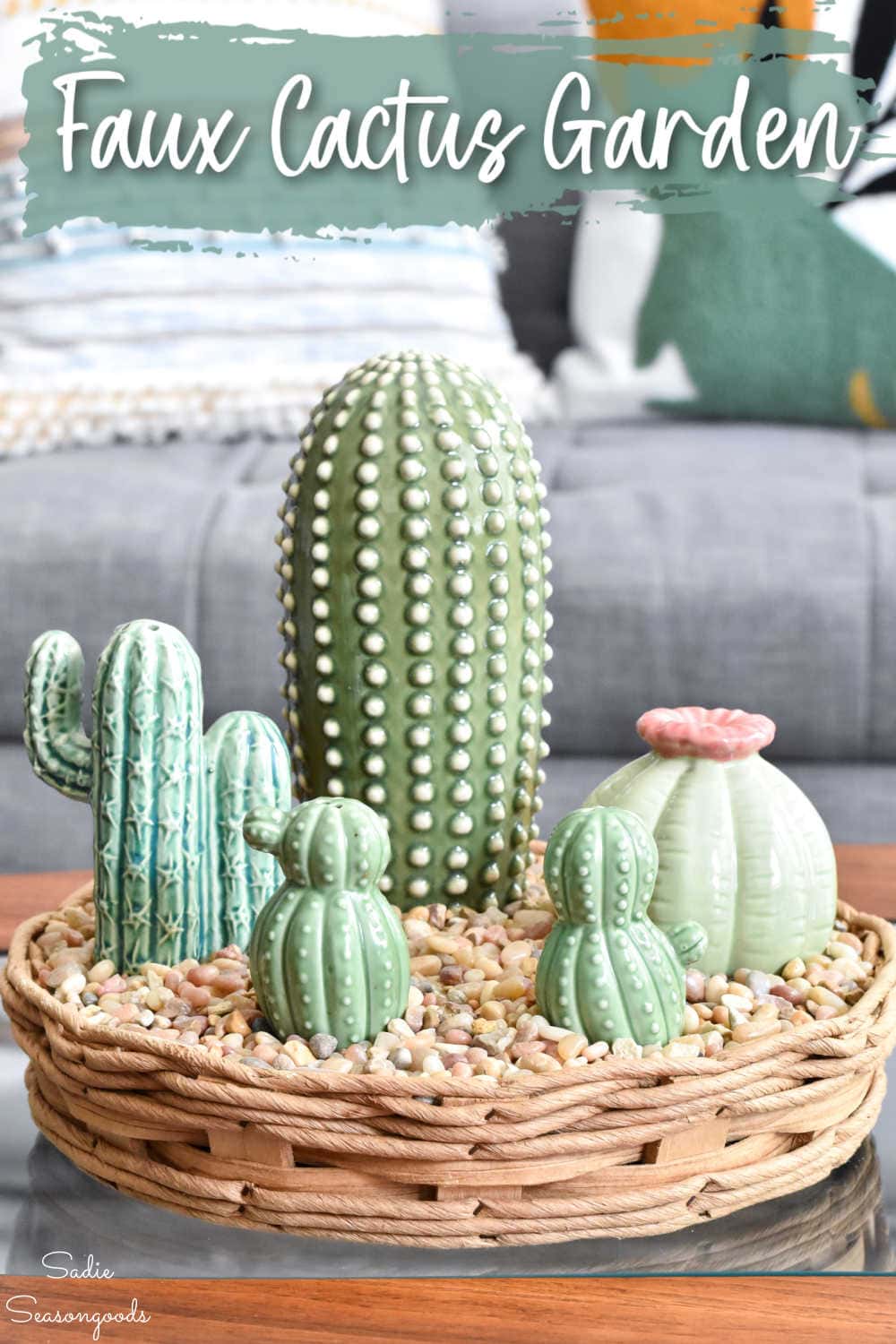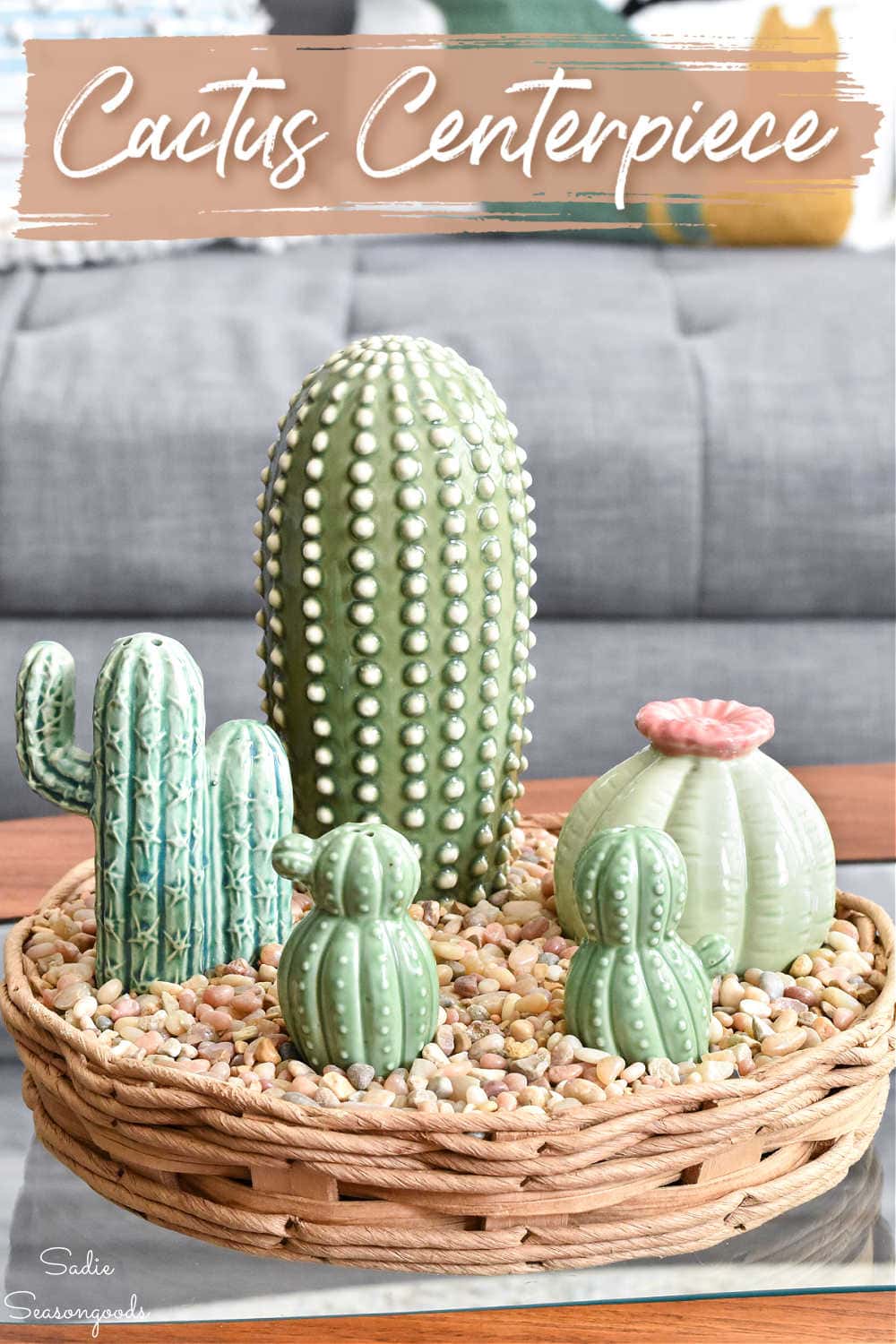 Sarah Ramberg is the owner of Sadie Seasongoods, a website that celebrates all things secondhand. From upcycling ideas and thrifted decor to vintage-centric travel itineraries, Sadie Seasongoods is a one-stop shop for anyone who loves thrifting and approachable repurposing ideas. Sarah is also the author of "Crafting with Flannel" and has been featured in numerous media outlets and magazines.