A friend of mine was cleaning out her barn when she asked me, "Could you do anything with this?". She was holding a camper jack or vintage jack, and all I could think was that it reminded me of a Christmas tree.

These were used for old campers- or "glampers" as we now refer to them. But as you can see, the actual jack part is missing, so it was just the stand.
And since I only had one, it was PERFECT for repurposing into a Christmas lantern to use with my collection of vintage Christmas decorations. This post contains affiliate links for your crafting convenience.
Transforming a Camper Jack into a Christmas Lantern
First, I cleaned it up a little before giving it a paint job.
Because it's made of rough metal, I decided to use latex paint (instead of basic craft paint). Plus, that allowed me to pick the exact color I envisioned – a very retro lime green. So, I got a sample of Behr paint from Home Depot and gave the camper jack a couple of coats of paint.
But what now? Where would the project go from here?
After some brainstorming and craft room-puttering, I knew what I'd do. Earlier this year, I hit up an estate sale and came back with a box filled with vintage wrapping paper or Christmas gift wrap.
So I dug through the box and came away with several squares of paper that coordinated well with the camper jack!
I had so many pieces of Christmas gift wrap with gorgeous designs that I couldn't decide which to use. So, I decided to use four different pieces for my Christmas lantern!
First, I measured the side triangles on the camper jack and cut out a slightly larger version from one of the Xmas wrapping paper. And since the paper was delicate and easily torn, I used double-sided laminating sheets on each triangle- to protect it and give it more strength.
I pressed the gift wrap panel to the laminating sheets and rubbed over it with a plastic spatula to remove air bubbles. After that, I trimmed off the excess lamination and ended up with this!
Then, I made three more panels for the camper jack, each with a different piece of Christmas gift wrap.
Then, I simply dragged a bead of hot glue along the inside edges of the camper jack and carefully set each "panel" inside.
Vintage Christmas Decorations with a Camper Jack and Christmas Gift Wrap
And just like that, I had a lovely Christmas lantern with my vintage jack.
Here are all sides of the Christmas lantern! Using different Xmas wrapping paper for each panel worked out perfectly, don't you think?
Now to see it lit up!! I didn't have a bright enough LED pillar candle, so I used a cluster of these awesome bright white LED tealights instead.
I didn't want the amber glow of traditional LED tealights, so the cool bright white was perfect! And with battery-operated candles, there was no dangerous flame to worry about.
And here are all the different panels lit up at night. Who would have thought that a camper jack would become part of my collection of vintage Christmas decorations?
How fun is that?? I love the different designs and how they are illuminated from within my camper jack Christmas lantern! Such festive Christmas home decor- and it definitely puts me in the holiday spirit.
And if you enjoyed this upcycling idea for Christmas decor, then you'll love this minimalist Christmas tree that was made from a coffee mug tree!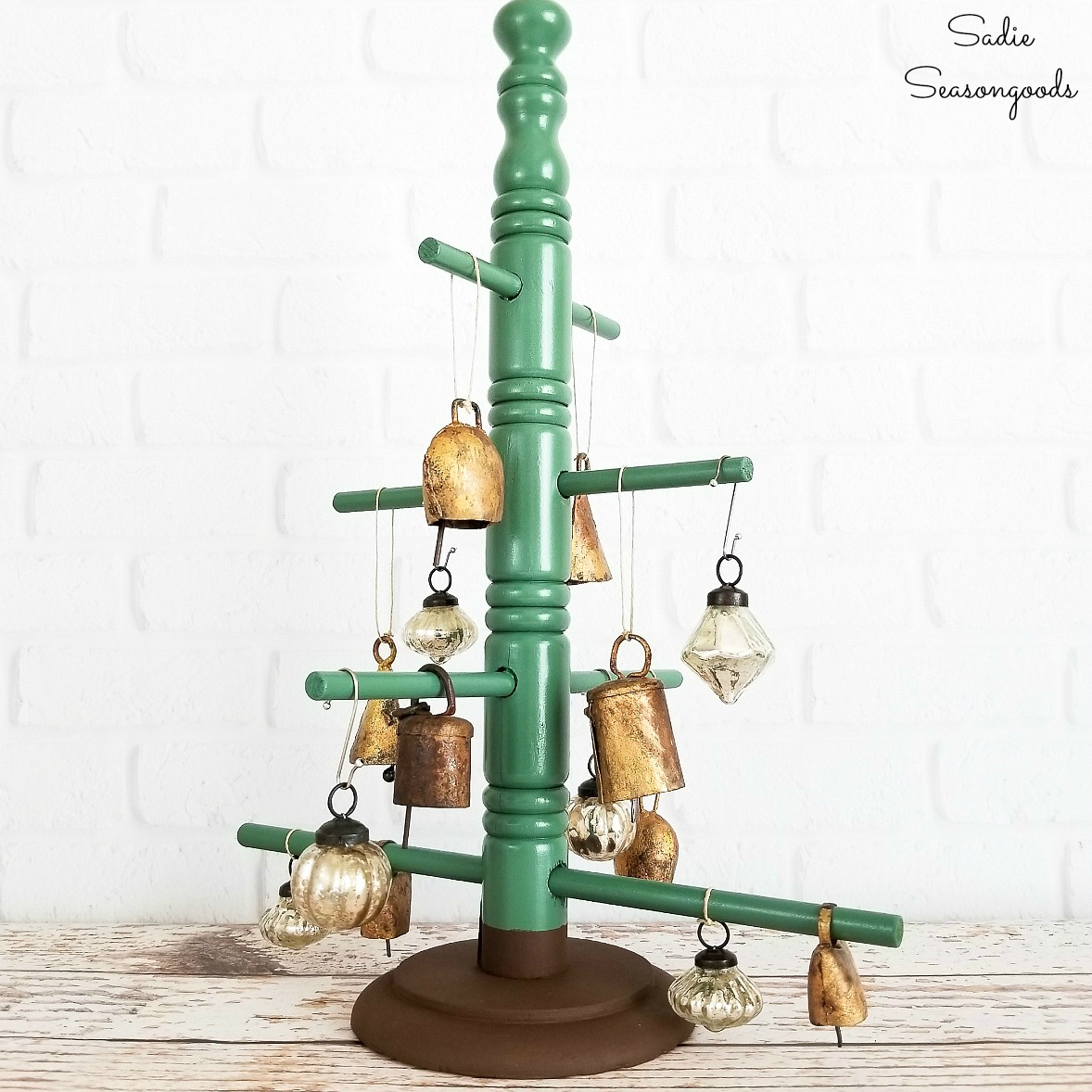 Craft on!
S
Want to be notified when I publish my next upcycling project tutorial?
Subscribe to Blog via Email
Join me on Social Media: