Every Spring and Summer, my Pinterest and Facebook news feeds are filled to the brim with big, beautiful potting benches! Whether constructed from pallets or old doors, or even a genuine vintage potting table, they are stunning and, well, LARGE. But, here's the thing- I'm a gardener on a very small scale…I simply don't have the space for the classic potting bench. So, I set forth to create something on a smaller scale…
My idea? Well…bringing it to life required two things. First up, a folding tray table from the thrift store…
And second, a shallow drawer from Habitat ReStore.
By combining the two, I figured I could have something similar to a butler tray table- but to be used outside. And when the planting season winds down, I can simply collapse it and stow it away until the following year.
This post contains affiliate links for your crafting convenience. As an Amazon Affiliate, I earn from qualifying purchases.
Stencil was provided free of charge by Old Sign Stencils for use in this project, but all opinions are my own.
Potting Bench Plans for a TV Tray and Shallow Drawer
To put my plan in motion, I first needed to remove the excess parts from my drawer- namely the drawer front and the slides on each side. So, I grabbed my drill, removed them, and was left with a nice naked shallow wood box.
Since I'm not into blondes (in terms of wooden furniture), I sanded down both the drawer and tray table to prep them for a makeover.
Now- my plan was to give a new-to-me product a whirl! I was excited to try out this Weathered Wood Accelerator because it's mysterious. It reacts differently to various types of wood (think of it like a mood ring, but for staining wood).
But, to be honest? I wasn't thrilled with the results- at least on whatever wood this shallow drawer was!
So, to fix my dismay, I used a favorite wood stain on top of the first product. NOW I was happy- NOW it looked beat up and weathered, like an old fruit crate.
Using Vinyl Stencils on a DIY Potting Bench
Once I had the look I wanted on the drawer, I decided to give it just a touch more character. Using a gorgeous potting shed stencil from Funky Junk's Old Sign Stencils (affiliate link) I set up stenciling shop.
I used my favorite stenciling brushes (from this online shop) and some plain black craft paint. Then, I taped the stencil in place and stippled the paint over the sign.
And it came out perfectly! I'm already planning on my next project using a stencil from her shop- I mean, did you SEE the Buffalo Check one??
But let's finish this potting bench first…
A Potting Bench for the Part-Time Gardener
After stenciling, I gave it two light coats of a matte sealant, and then used wood glue to attach the drawer to the folding tray table. Speaking of which, I painted the TV tray brown to coordinate with the shallow drawer.
When all was said and done, I had a sweet little potting table- emphasis on little. And yes, you could also use flat-head screws to connect the drawer to the tray table.
And it's perfect for setting up under a shade tree and doing some potting…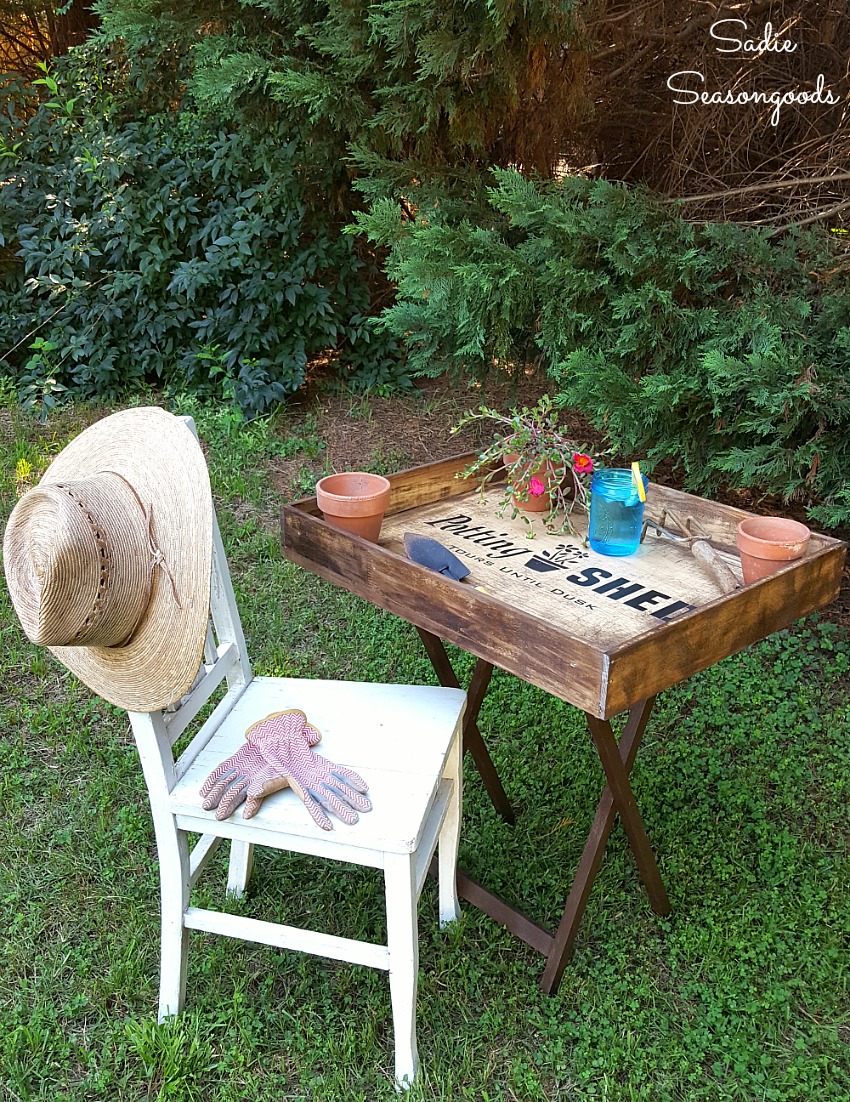 Isn't it cute? And the high sides of the shallow drawer will keep things like seeds from rolling off into your grass!
Portable Potting Bench for Easy Storage
But the best part really is this: either after each use or just at the end of summer, I can fold it up…
And store it in our shed. It takes up virtually NO room at all and will be as good as new next Spring.
I will probably always love the big potting benches with all their bells, whistles, and chippy paint goodness…but with neither the space nor the robust gardening plans, this little potting table is much more my speed.
If you enjoyed this potting bench idea, then you may also be interested in this upcycling collection of garden planters and garden pots, as well!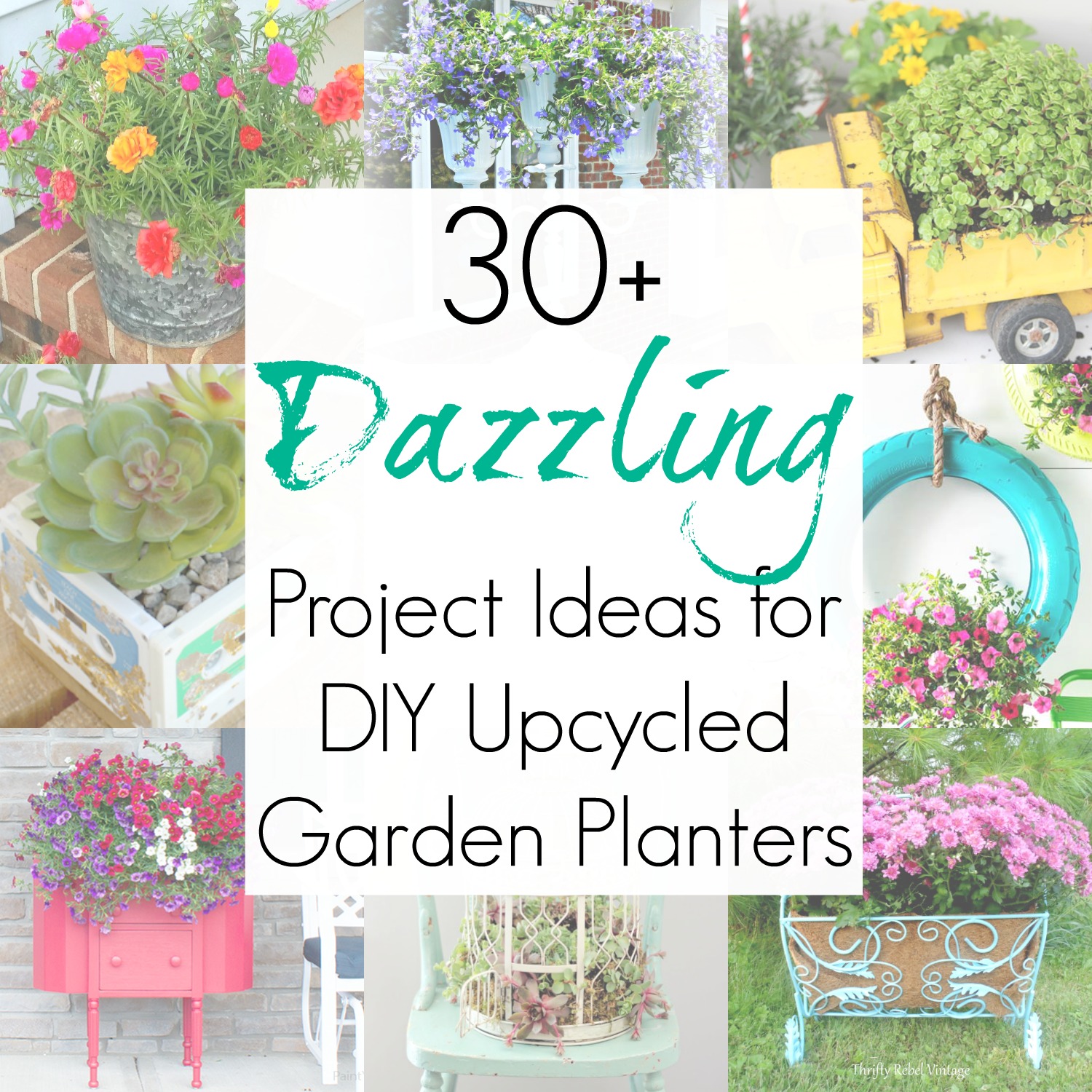 Craft on!
S
Want to be notified when I publish my next upcycling project tutorial?
Subscribe to Blog via Email
Join me on Social Media: