Here we are, at the end of 2019 and the first year of my weight loss journey. I thought it would be most appropriate for me to blog about where my weight loss journey stands, how far I've come, and what comes next. But most importantly, let's get right to my latest milestone: 25 lbs!
It may have taken me the better part of this past year to do it, but from March 2019 to December 2019, I lost 25 pounds.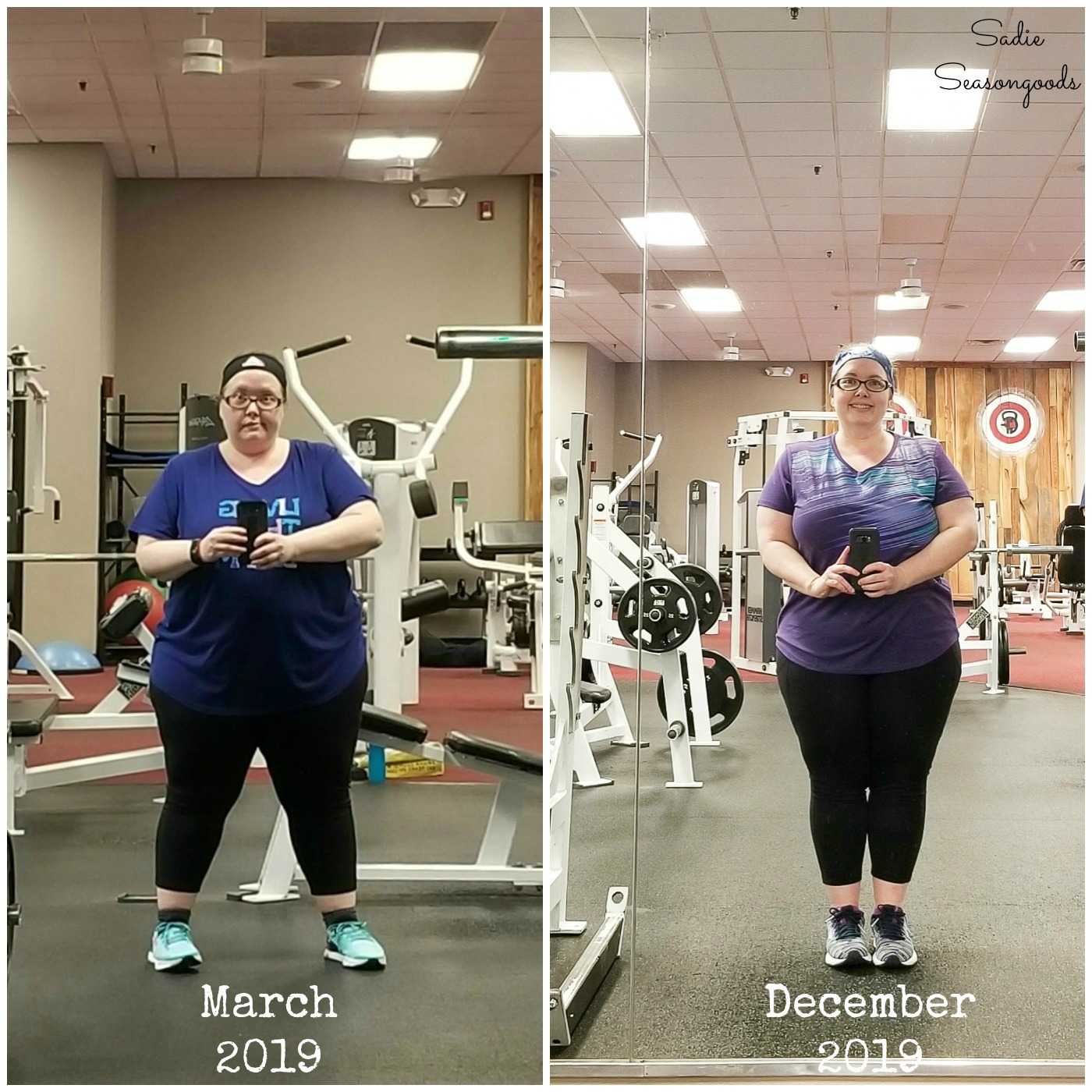 Perhaps the biggest takeaway from that comparison photo (besides the obvious physical differences) is that I'm now officially two clothing sizes smaller. WHICH MEANS that I'm shopping in the "regular part" of the clothing store now…not the plus size department.
And for me, personally, that is a HUGE accomplishment. I may not do much clothing shopping in general, but to be able to go into ANY store and peruse the main racks instead of seeking out a tiny section of larger clothes?
That's a BIG, BIG DEAL.
Losing 25 Lbs Puts Me in "One-derland"
Because, you see, for a woman who needs to lose quite a bit of weight (like myself), there are two types of "One-derland":
When your size begins with a "1" and not a "2"; and

When your weight begins with a "1" and not a "2".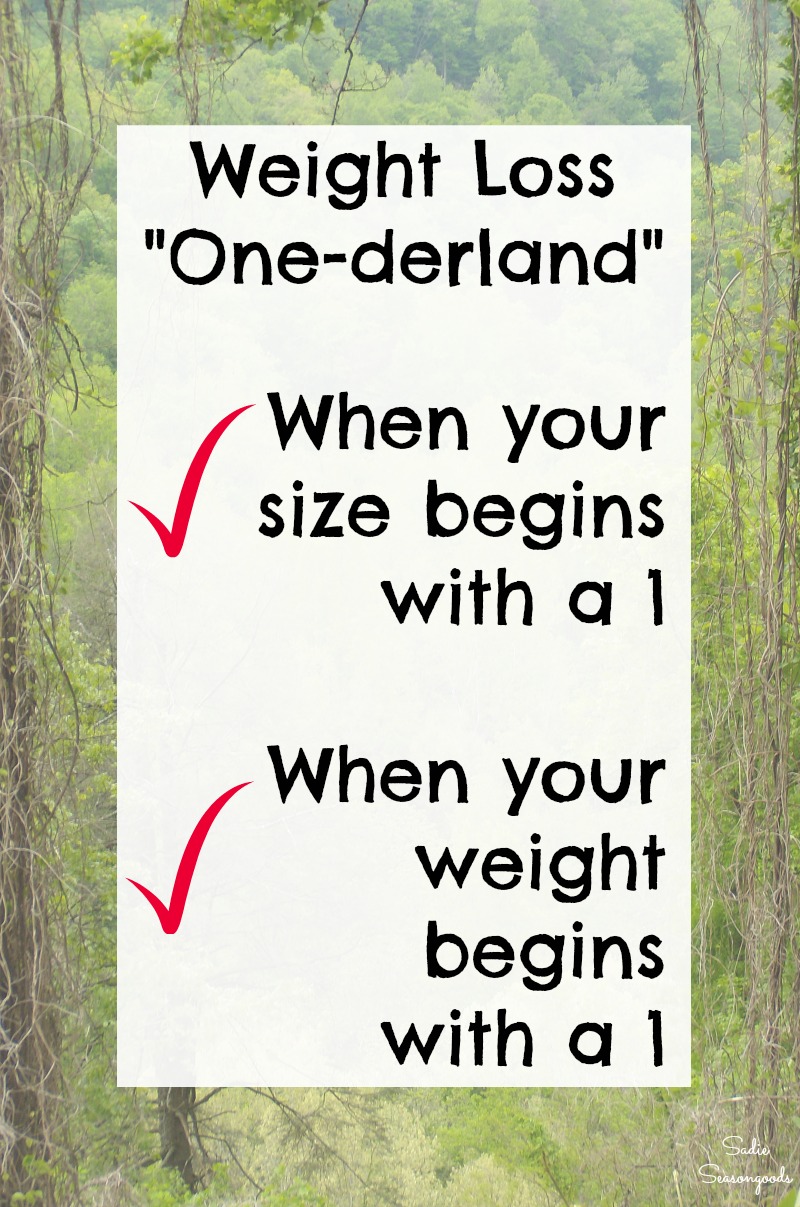 With my 25-pound loss so far, I've achieved #1 above. And if all goes as planned, I'll easily achieve #2 in 2020.
New decade, new body – here I come!
Current Weight Loss Program
My current weight loss strategy hasn't changed very much in the past several months. I still go to a no-nonsense, inexpensive gym 5 days a week. I do approximately 40 minutes of high intensity cardio (usually on an elliptical machine) and then work on strength training.
The biggest change is that I'm finally brave enough (and self-confident enough) to do some arm work in the free weights area, away from the safe confines of the weight machines.
The free weights is usually occupied by 98% men, which makes it intimidating. The first few times I worked out in the free weights, my husband, Jon, was right beside me.
But now I'm comfortable working out there alone – and you know what? The guys working out in the free weight area are actually quite helpful and accommodating, so I worried about nothing!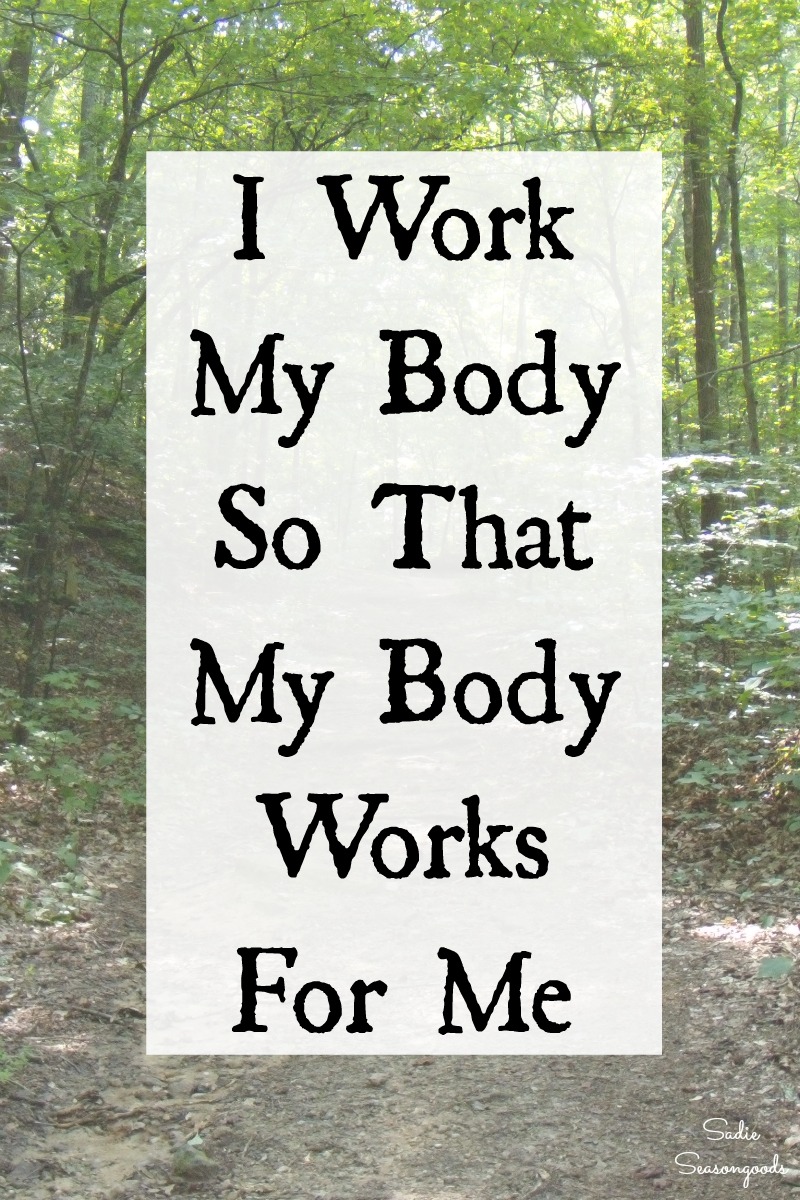 Also, if you've been following along with this weight loss journey of mine (or my blog and/or social media in general), then you know I've been writing my first book! And as part of that, I needed to have new professional head shots taken.
Check out the difference in my face and neck!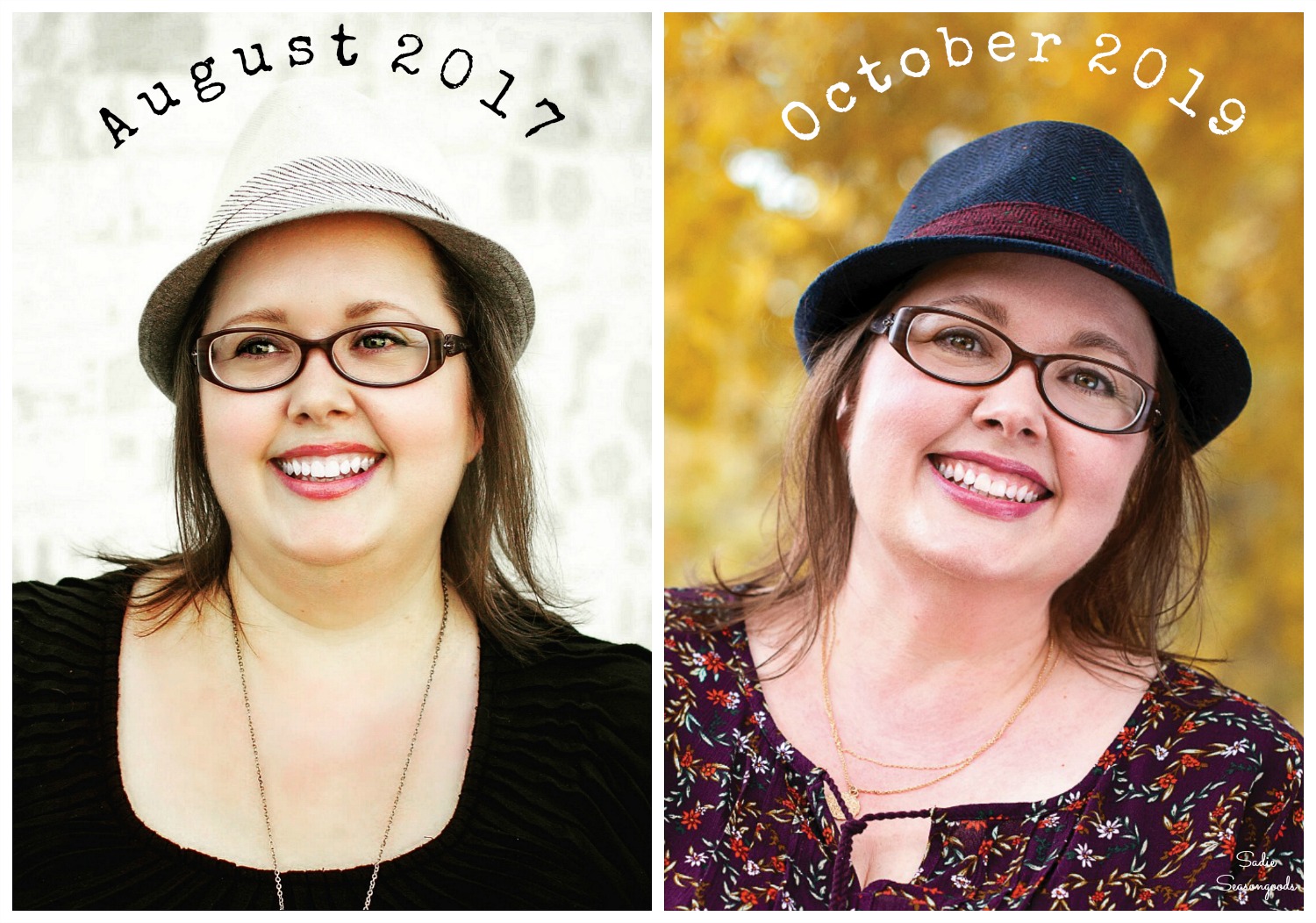 Anyway, I'm on track to submit my full manuscript on February 1! And it will be a craft/upcycling book, not a weight loss book – just in case I hadn't been clear about that.
My Wellness Journey and Next Steps After the First 25 Lbs
When I sat down at the salon recently, my hair stylist commented on how different I looked. So, of course, we began chatting about being women in our 40s and finding time to prioritize our health. She just kept saying that "she doesn't have time to work out".
Which sounded AWFULLY familiar because I'd used that same excuse for years and years.
And it does seem that way at the beginning. We're all just so busy that carving out time to start a fitness routine feels like we're adding something massive to our to-do lists. And for women especially, it feels indulgent and selfish to prioritize ourselves over our families and obligations.
At least it did for me. And I don't even have kids or an overly needy husband. Which really meant it was JUST an excuse and I was kidding myself that entire time.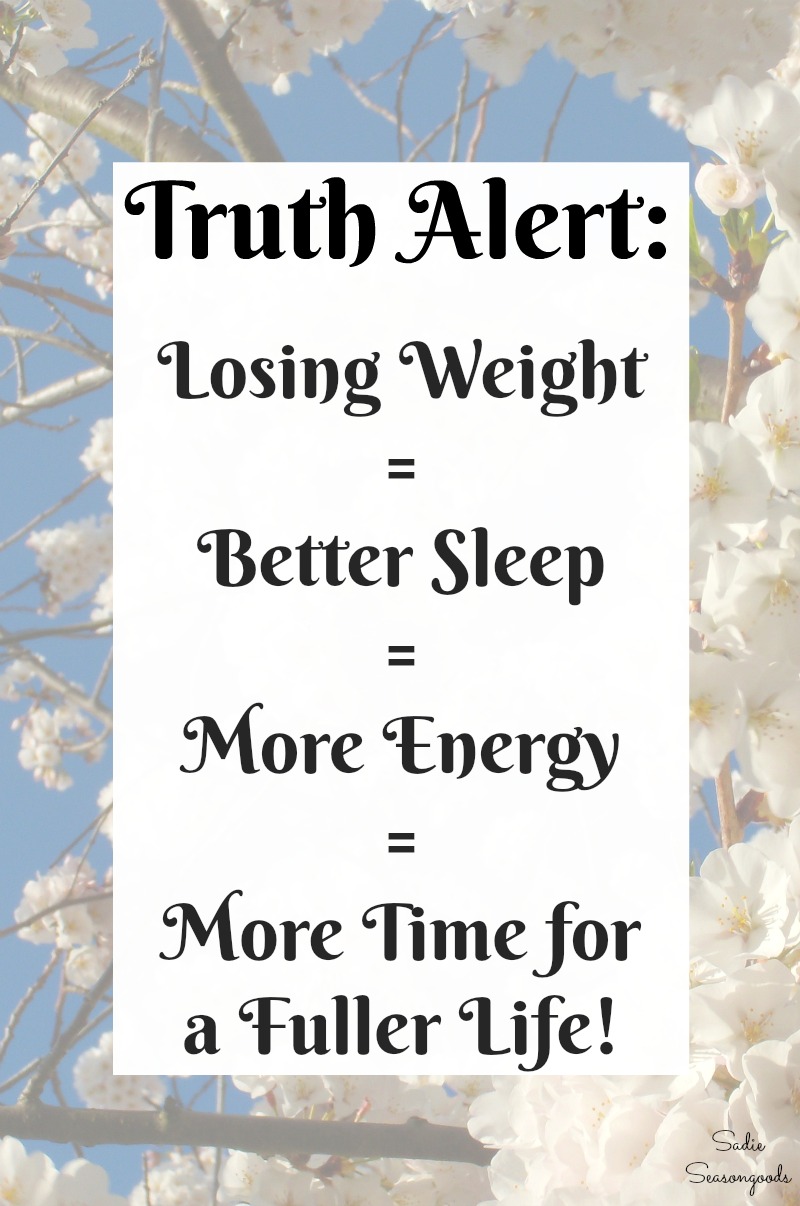 Because the truth of it is, losing weight has actually had the opposite effect. I feel like I have MORE time now. In fact, I *KNOW* I have more time now because I have so much more energy and get so much more done than I used to.
So…what comes next after these first 25 lbs that I lost? How do I continue to lose weight in 2020 without losing momentum? Here are some of my ideas:
More strength training (squats, etc.).

Changing up my cardio with hikes outside, running stairs, etc.

Maybe even try jogging and ultimately signing up for a 5k run.

Continue to eat SMART, not just LESS.

Thrift for an even larger wardrobe in smaller sizes!
Will any of that come to fruition? I promise to continue blogging about my weight loss journey into 2020, and I hope you'll continue to follow along with me!
*****
Thanks again for reading this new blog series of mine. By doing this, I hope to not only stay accountable and on track, but to bring comfort to anyone else out there who is ashamed of their body or weight-related health. I am not a doctor or medical professional in any capacity, so everything I blog about during my weight loss journey is simply my own opinion and experience. Please consult a medical or health professional before beginning a weight loss program or for medical related questions.
If you want to read all of my weight loss journey blog posts, you can find the full series here. And because I'm not sending my weight loss blog posts to my current subscribers, please let me know if you would like to be added to my separate weight loss subscription list.
Keep on keepin' on,
S
To be notified of my next upcycling project tutorial, Please subscribe!
Subscribe to Blog via Email
Join me on Social Media:
Affiliate links for your own wellness journey! As an Amazon Associate, I earn from qualifying purchases.


PIN ME!