When people think of cork crafts, they automatically think of wine corks. And for good reason, since there are tons of ideas out there for repurposing them. But there are other forms of cork- tiles, cork fabric, corkboards, and coasters- that can also be crafted with.
Coffee Can Planter
Believe it or not, but that planter started as a bright red plastic tub of Folgers coffee, the kind you buy at the grocery store when it's on sale. But the magic of cork fabric really transformed it into mantel-worthy decor.
Table Decor
Cork squares aren't something you would normally think of as seasonal table decor. But when cut into themed shapes and painted in a color block style, they are suddenly an inexpensive and incredibly chic way to decorate your holiday table.
Stenciled Corkboard
This cork board started at the thrift store and was as plain and sterile as all get out. But for a flashier look, the frame was painted and stencils were used to add interest and color to the cork itself. Perfect for adding some pizazz to your office walls!
Cork Crafts with Vases
Planters and vases are often painted to give them a makeover. But what about wrapping them in cork? It's a different take on upcycling that adds great texture and subtle color, giving them a brand new look.
Hidden Cork Coasters
Plain cork coasters are a blank canvas for any number of upcycling ideas and cork crafts. But if you don't feel like painting them, you can encase them in fabric for a completely different look! All the absorbency and furniture-protection of cork enhanced by the fabric of your choice (and style).
Details for this project can be found in my book, "Crafting with Flannel".
Jewelry-Making Cork Crafts
Cork isn't something you might think of when it comes to jewelry, but it's surprisingly versatile. Especially cork fabric, which is incredibly flexible and works wonderfully for making cork cuffs like these.
Stamping on Cork
These coasters are meant to resemble oversized bottle caps for a beer lover- and started as a set of vintage tart tins. But adding round cork coasters inside and stamping them is a great way to personalize them for gifts.
Covered Cork Board
Covering a plain corkboard in fabric is a terrific way to turn it into a decorative memo board or display board. And it no longer looks corporate or office-like, which is ideal if you want to use it elsewhere in your home.
Details for this project can also be found in my book, "Crafting with Flannel".
Cork Crafts with Cross Stitch
Cork tiles work wonderfully as trivets under something hot, but they can be a little plain. So, a little cross stitch around the perimeter like this is a fun way to embellish a cork trivet in a way that won't get damaged by heat.
Cork Fabric Box
Cork fabric has so many applications, and you can even use it to jazz up a plain box like this. Sometimes, storage needs to be decorative depending on your space, and this is a great way to achieve that.
Decoupaged Map Board
Hexagon-shaped cork tiles are extra interesting for cork crafts, aren't they? And when decoupaged with maps, you can highlight a few favorite cities in a unique and eye-catching way- and still use it as a cork board!
Boho Earrings
How fun and stylish are these cork earrings with fun printed designs? Plus, they're made of cork so they'll be lightweight for easy and pain-free wearing!
Framed Cork Board
If you prefer a smaller cork board than the ones typically sold at office supply stores, it's easy to make one. Cork tiles and thrift store picture frames are a match made in cork board-making heaven, and can be personalized further with paint.
Heat Stamping on Cork
Want to embellish some cork coasters with words or names? Then heat stamping is the key to your crafting success! The end result looks fantastic and is perfect to keep or give a set as a gift.
Cork Crafts with Wine Corks
Now that we've looked at project ideas with cork boards, tiles, fabric, and coasters, we truly can't ignore their bottle-stopping cousin, the wine cork. And there are tons of wine cork craft ideas out there, as well- check out this collection for some inspiration!
Craft on!
S
PIN ME!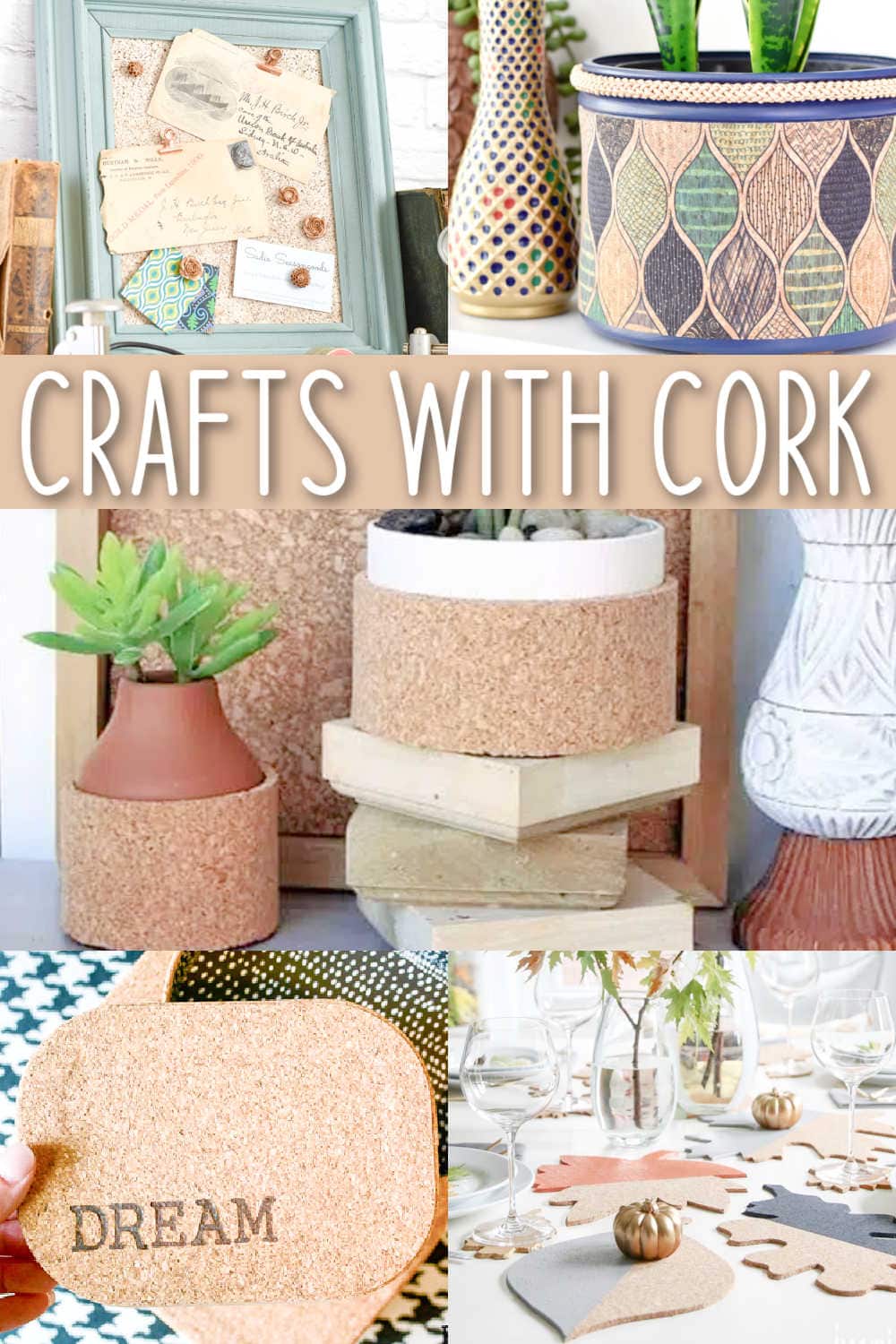 Sarah Ramberg is the owner of Sadie Seasongoods, a website that celebrates all things secondhand. From upcycling ideas and thrifted decor to vintage-centric travel itineraries, Sadie Seasongoods is a one-stop shop for anyone who loves thrifting and approachable repurposing ideas. Sarah is also the author of "Crafting with Flannel" and has been featured in numerous media outlets and magazines.